Virtual Reality Journalism: a New Way to Experience Empathy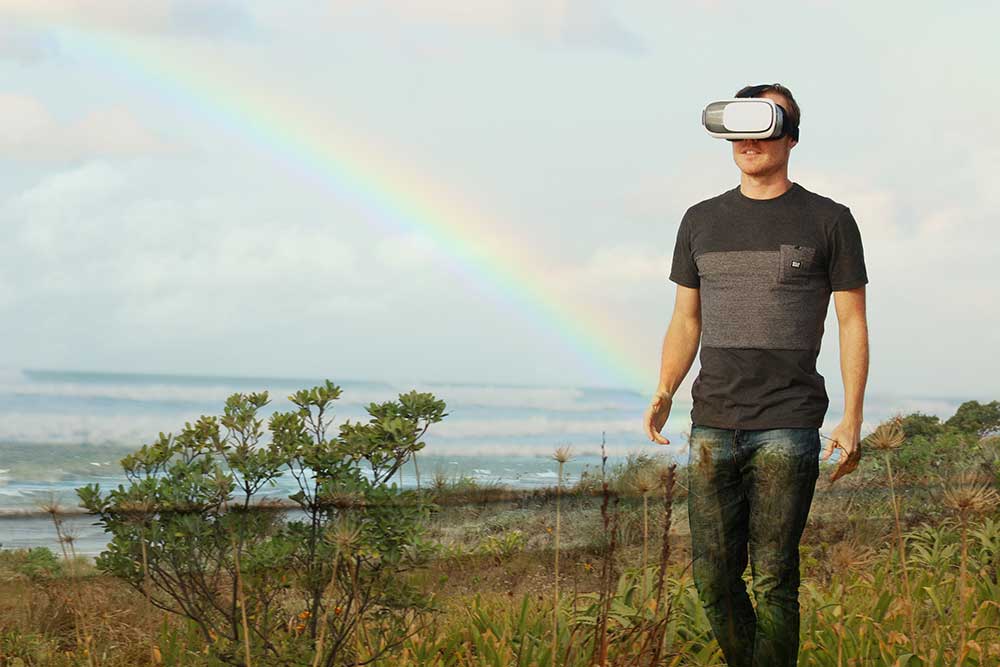 Until recently, 'to walk in someone else's shoes' was only a saying meant to help people gain perspective on the lives of others.  It was a statement of imagination.  However this is no longer true.  The days where thinking about the experiences of others have now evolved with the help of virtual reality.  Now we can literally 'walk in someone else's shoes'.  We can see what they see, interact with what they interact, and be given the freedom to roam and act within their environment and situation.
In an interesting talk during this year's New York Tech Crunch Disrupt Fred Wilson touched upon the topic of

The Machine to be Another

: an artistic project that put people in different and controversial situations they wouldn't be able to access through simply watching the news or a documentary.   Most of us haven't been soldiers on a battlefield, disabled, or elderly.  None of us have ever looked into the mirror and seen another face- except those using virtual reality to "be another".Virtual reality gives us the option to remove what little distance there is that a camera and TV screen leaves us when we watch the news.  VR journalism is a term describing the new ways to put viewers directly in on the front lines in Syria or in blast radius of tear gas during a protest.  VR journalism removes us from our third party positions and turns us into participants.  Instead of watching journalists or narrative documentaries,  VR journalist allows views to hear a story by being in it instead of being told.In situations such as violent crime, it has the power to make us not only feel what it feels like to be a victim, but also to feel what it feels like to be the assailant.  Take for example the report of an armed robbery.  It's easy to assume what it would be like to experience what the victim experiences: fear, anxiety, helplessness.  But to experience a burglary through the perspective of the burglar makes for an interesting spin on how we empathize.  What does a criminal experience while committing a crime?  Sometimes we forget that empathy is a two way street.  It's an emotion that can be experienced not only for those victimized but also for those who are creating victims. What implications does this have on our psychology?  In a world where we can (almost) physically occupy the situations of others, how does our deepened sense of empathy have an effect on our daily lives?  What's remarkable about virtual reality is that it's applications are proving to exceed merely areas of film and entertainment.  It's proving to be useful to society and to public psychology.If VR journalism can put a Trump supporter in the shoes of an illegal immigrant, or a pro-life activist in the shoes of young woman getting an abortion, how will this affect common controversies in today's society?  How will it affect the way an individual draws their conclusion? Looking for a VR set?  Check out our reviews on the best VR set you can buy today.
Secret Lab Titan Series Review: A Gamer's Dream Chair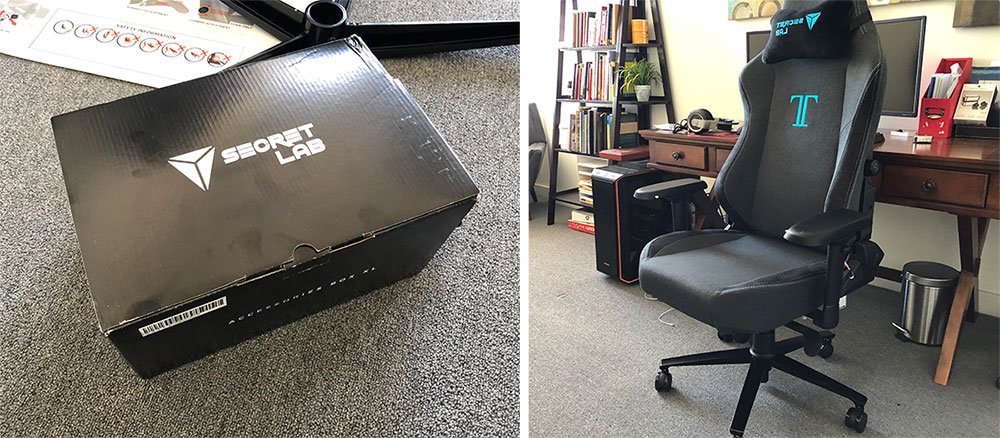 Secret Lab
is a company that began in 2014 with a mission to build the best gaming chair in the industry. Despite the already saturated market and fierce competition, Secret Lab decided to launch their first line of gaming chairs in 2015. They're now distributing in over 40 countries giving gamers everywhere the competitive advantage of being able to stay in the game longer more comfortably. Their current product line consist of the
THRONE
,
OMEGA
,
TITAN
and Neue series.We received the
Secretlab Titan in Charcoal Blue Softwave Fabric
for this review. The Titan is currently considered the largest chair available from Secret lab. It comes with a load of features you'd expect from a $400+ gaming chair in addition to being able to support up to 290lbs, which should be plenty for anyone between 6'0 - 6'4. The Titan comes with three different upholstery options, each at different prices. You can get the Pu leather at $399, Softwave fabric for $429, and premium Napa leather for $949. With the Pu leather option, you also get to choose between six different color options. With the Softweave fabric, you only get two color options. And the Napa leather only comes with one color scheme.
Assembly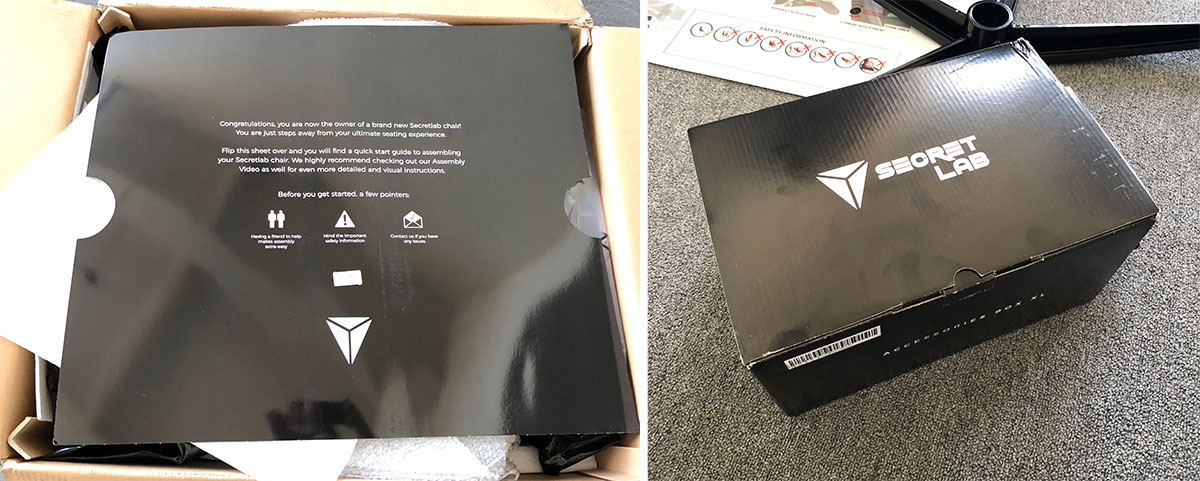 Branded packaging
The Titan comes in a large black box with their logos and branding on all sides. This was a surprise for me since a lot of other gaming chairs we have at the office typically comes in a cheap looking cardboard box deprived of any kind of branding or color. They could've easily gotten away with just a regular cheap cardboard box, but they chose not to go the frugal route, given you just paid $500 for it. Opening it for the first time, you definitely felt like you were opening something premium.

Clear instructions
Forget those generic thick manuals that contain 90 pages of instructions in every language known to man, and only one page of English instructions that you have to dig to find. Secret lab knew we hated that and decided to do things a little differently. As soon as you open the box, you're greeted with a large sheet with the assembly instructions and warranty information. The instructions are visually pleasing, easy to understand, and laid out in a way that you only need visual cues to put the whole thing together.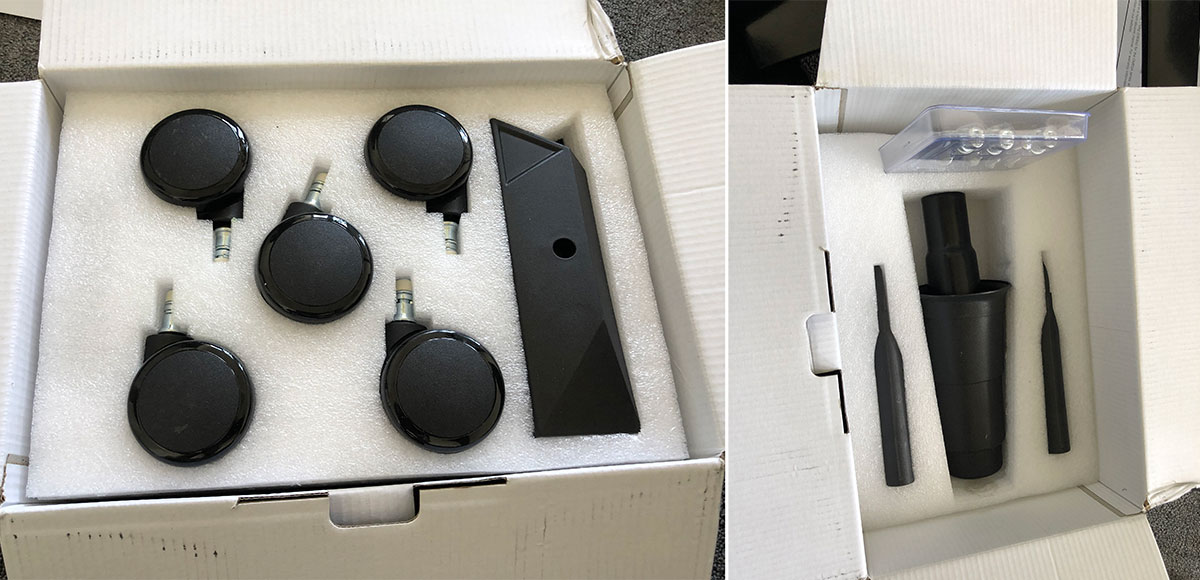 Intelligently packaged and systematically ordered
Everything was intelligently laid out layer by layer. You can tell a lot of thought went into organizing everything this way. The layers coincide with the instructions, so you don't need to lay everything out on the floor and then struggle to find any part. Secret lab definitely nails down the user experience right from the get-go. No one in our office has much experience putting chairs together, yet it only took one of our writer about 10 minutes to put the entire thing himself. The online video was a nice touch, however it wasn't needed in our build thanks to the clear instructions and intuitive layering system they have going on.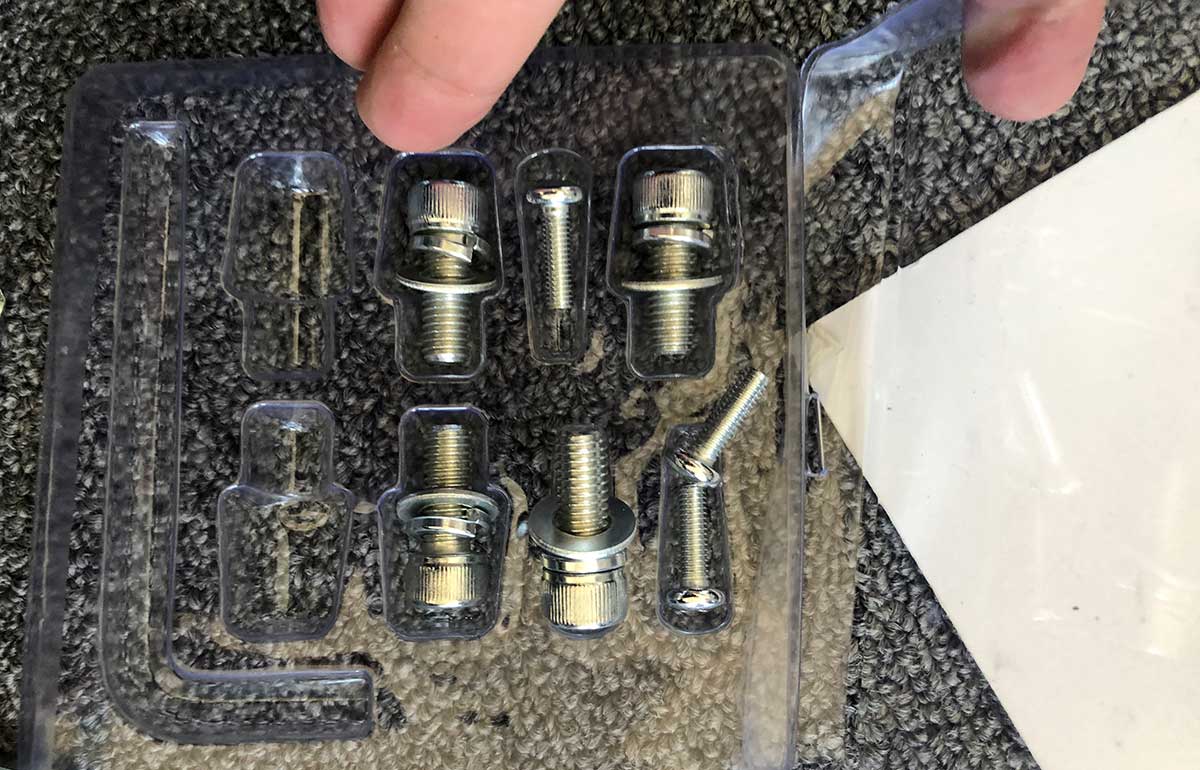 Pre-assembled nuts. Why isn't everyone doing this?!
All the tools are included in the box, so you don't need anything extra. They even went ahead and put all the rings and washers onto the nuts so you only need to screw them on. We wish more manufacturers would take the time to do these little things. Sometimes manufacturers forget no one wants to spent an hour struggling to put together a product they paid $500 for. They just want to assemble it as quickly as possible, and get back to gaming. Secret lab understands that.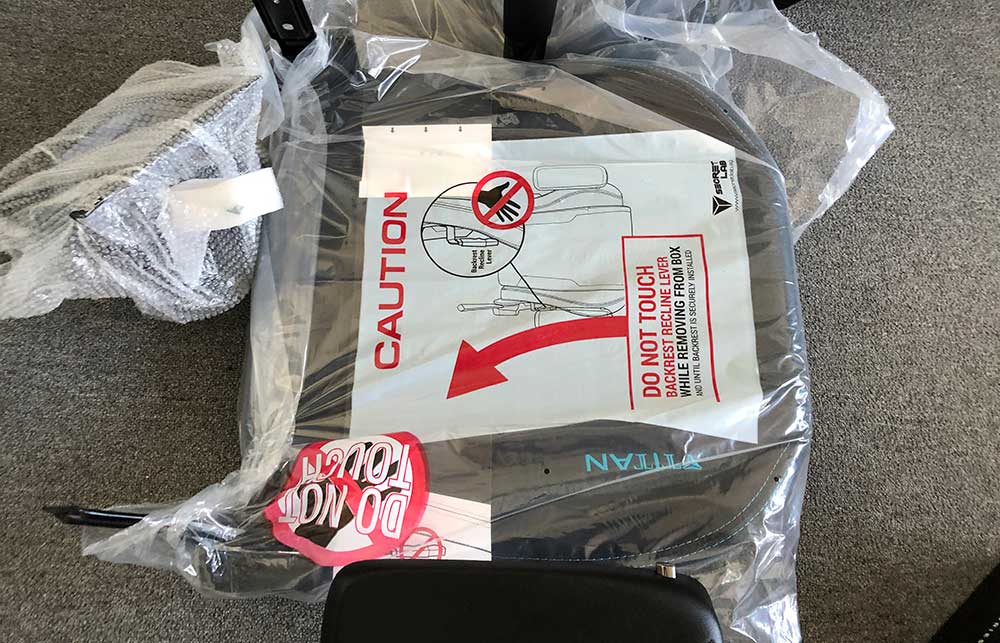 Complaints with assembly
As easy as everything was, there are a few small complaints that we had. The one thing you need to be careful of is the mechanical lever for releasing the backrest. There is an obvious warning tag that lets you know NOT to touch it until it's fully assembled. We pressed it by accident because the label was stuck between the cushion and it fired like a gun.The second complaint is the side pieces. They're really just for aesthetic purposes, but they're ridiculously difficult to screw on because you have to "align" the holes while applying pressure.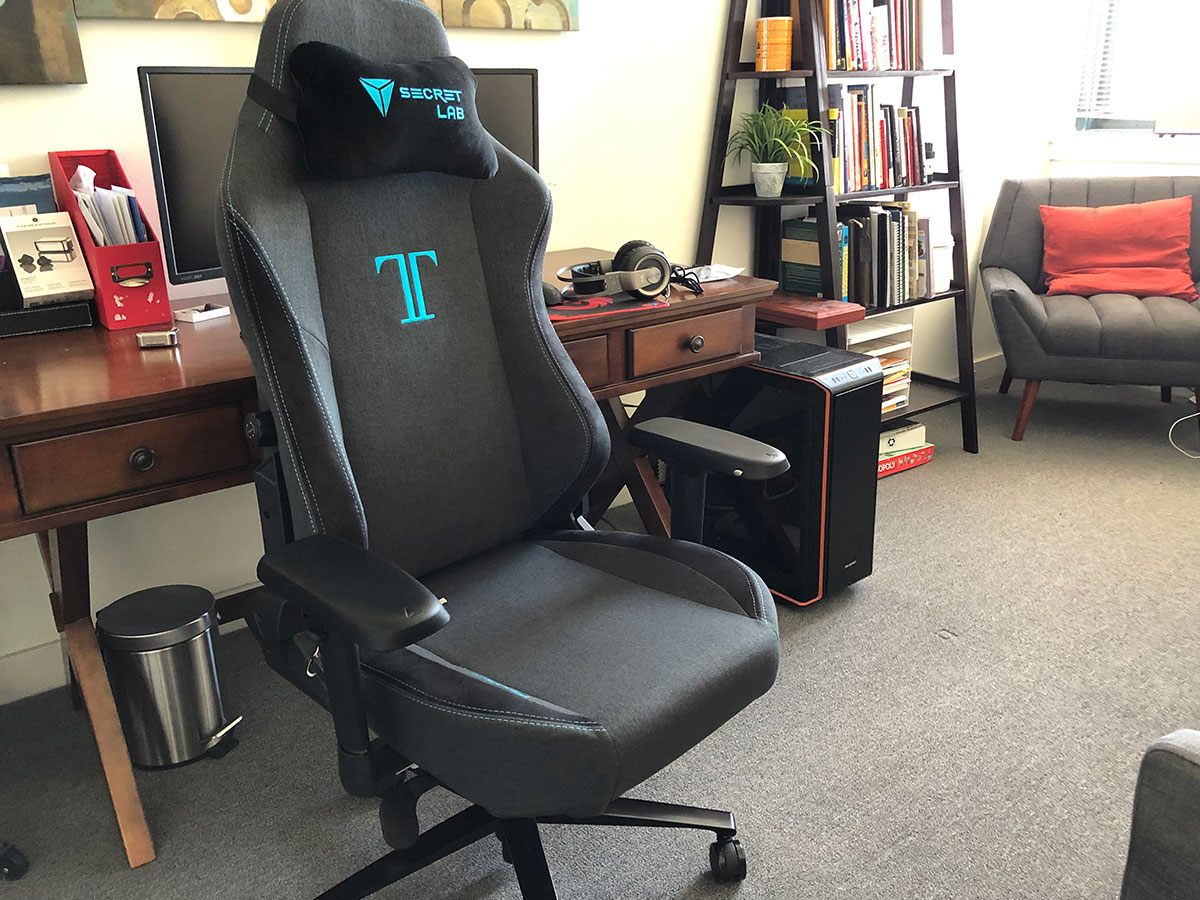 Fully assembled!
After 10 - 15 minutes, everything was fully assembled.
Looks And Feel
Aesthetically, it's one of the most well designed gaming chair money can buy right now. We appreciated the simple and elegant styling instead of the over-the-top RGB that some chairs come with. It definitely carries a more mature look, making it suitable for home or office use. This is a chair was built for hard-core gamers and it can also be put in an office without looking out of place.The Cold Cure Foam is firm and supportive. It's not as cushiony or soft as you'd expect when you first sit on it. And that's because it's meant to provide the needed support and comfort without compromising your focus while gaming. The chair is big and hugs you as you sit in it. There's plenty of adjustments to play around here. The arm-rest can be adjusted up/down and forward/backward. There's a nice lumbar adjustment knob on the side. On the side, there's also a lever that enables you to recline the backrest as much as 165 degrees.
Build Quality & Adjustments
Sitting down in the Titan for the first time, you could easily tell it's a premium chair made of the highest quality parts. There's no squeaking or strange noises as you're adjusting and moving around. Everything just felt solid - the way it should be. The multi-functional tilt system works flawlessly as it should. The 4D arm-rest adjustments are easy to control. And the larger than normal XL wheels are silky smooth when attempting to roll around.
Real Life Performance Test
We put the Titan to the test by having our in-house writer, whom also happens to be a Fortnite/Apex gamer, test it out for a week. The typical gaming session is around 2-3 hours on a weekday. And on weekends, his gaming sessions on Apex hovers anywhere from 5 - 6 hours. After an entire week of shooting and looting on the Titan, our tester absolutely loved the chair. The firmness took a while to get used to, but it's only during the extended weekend sessions that you really notice the difference. The chair isn't noticeable. It provides support and keeps you in place. You don't slide around, it doesn't make a sound, it doesn't bother you, and there's nothing about it that would make you even think about it. And that's the hallmark of a great gaming chair. One that simply does it's job and keeps the gamer hyper focused and comfortable.
Verdict
It can be challenging to justify $500 on a gaming chair. It might just be one of the most, if not the most, expensive equipment besides your PC rig. But if you're a serious gamer who spends 20 - 30 hours a week gaming, having a chair that doesn't compromise your posture, health, and gaming experience can be invaluable. Overall, the Titan (any version) is one of the best gaming chair available today and at $500 ($429 if on sale) it's worth every penny.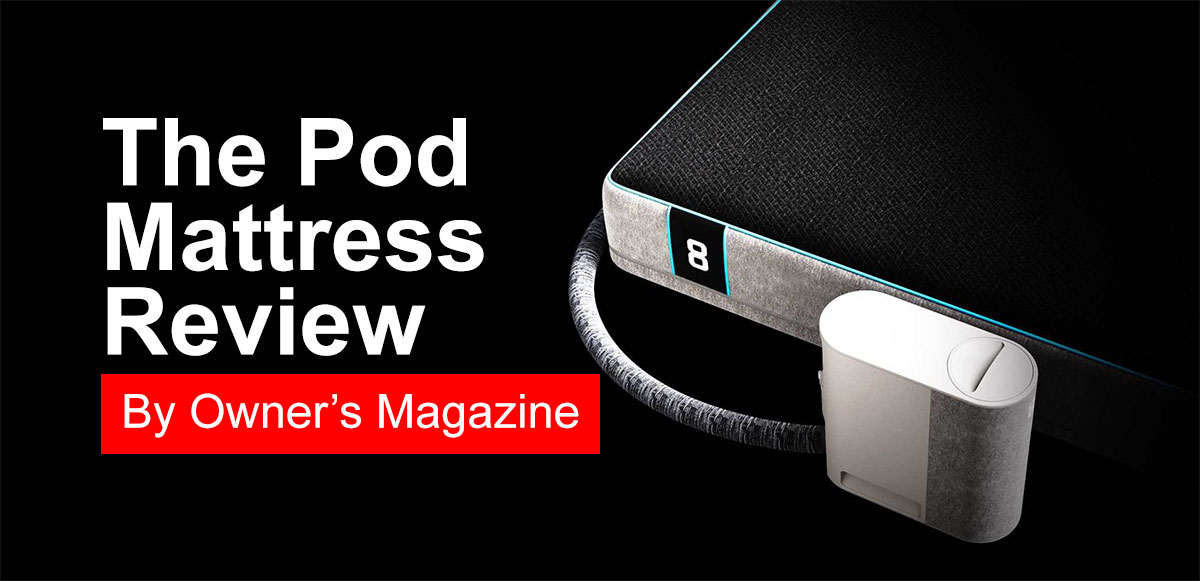 Lack of sleep is one of the underlying reasons for several mental and physical conditions. If you've ended up on this product overview due to uncomfortable slumbers, we'll introduce a solution that's too tempting to resist. If smartphones and smart homes are making waves in the market today, this particular "smart mattress" is something you don't want to miss.
Introducing the Eight Sleep mattress — the mattress that brings you convenience, comfort, relaxation, and connectivity. This Eight Sleep POD Mattress review will answer all your worries about having interrupted or lack of sleep due to several factors:
Not having the right mattress firmness
Material construction that absorbs humidity and hot temperature
Foam that interrupts sleep due to noticeable motion transfer
Sleepers that have back, neck, shoulder, or hip strains
The Eight Sleep App

We're actually going to start by talking about how well designed and feature-rich the integrated iOS/Android app is. The mattress is great, but we believe it's the well designed and functional app that's responsible for separating the Eight Sleep mattress from all other mattresses.
We were skeptical when any regular product comes packaged with an "app". 9/10 times, the app is barely functional, doesn't connect, or doesn't get enough updates to be usable by consumers. Fortunately, that isn't the case with the Eight Sleep mattress.
Polished, well designed, & coded: The App is polished, easy to use, and has a plethora of features to help you get the most out of the mattress and your sleep. I personally appreciate the White-noise feature that it comes with. The App will play a white noise track to help you fall asleep, then stop once you're asleep. Before I had another app for this purpose, but now I just use the built-in feature the Eight Sleep app provides.
Exceptional connectivity: The app connected to the POD device the very first time (very rarely does this happen) and has worked since then without any issues. Never once has the app failed to run or miscalculated the temperature or settings that we inputted. The App could either make or break the mattress and in this case, it definitely made the Eight Sleep mattress truly an exceptional mattress above the rest.
Loaded with features: The App comes with insightful analytics to give you a breakdown of how well you sleep. It also comes with an alarm (you can set it to change to a certain temperature to wake you up), ambient white-noise to help you sleep, coaching/relaxation tips, and can connect with Alexa.
Dual temperature control: You can also control the temperatures on both hemispheres independently. So if you have a partner that likes to sleep cold, you can adjust the settings to reflect their preference, meanwhile preserving your sanity.
Eight Sleep mattress at a Glance: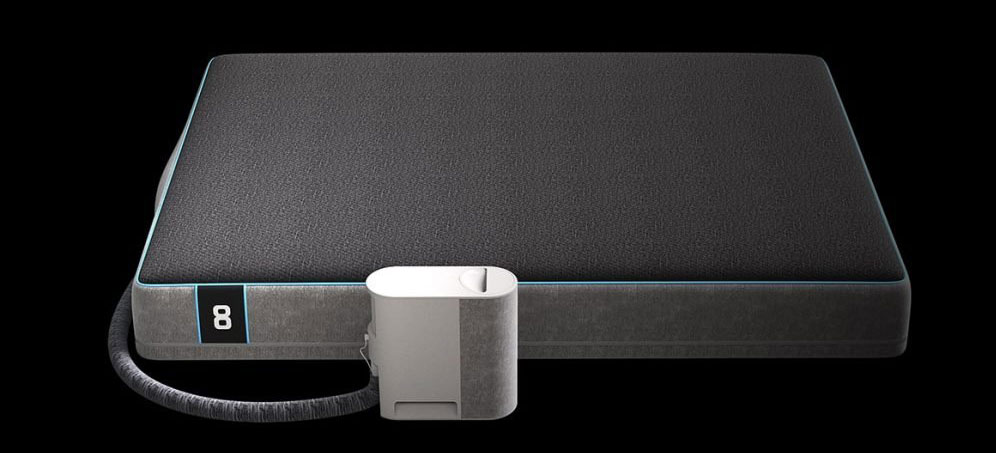 If you've been searching for a perfect sleeping companion that leaves you feeling refreshed in the morning, here's a possible matchup. Let's look at the Eight Sleep mattress benefits checklist:
✔ Just the right firmness
✔ Comes with thermo alarm
✔ Soft and comfortable foam construction with Active Grid Technology
✔ Provides just the right temperature between 55 to 115 degrees Fahrenheit
✔ Eight Sleep mattress app that tracks heart rate, REM, and more sleeping patterns
✔ Compatible with AI devices
Eight Sleep Mattress Benefits:
Let's look into the Eight Sleep mattress features and benefits.
High-Density Foams for Full Support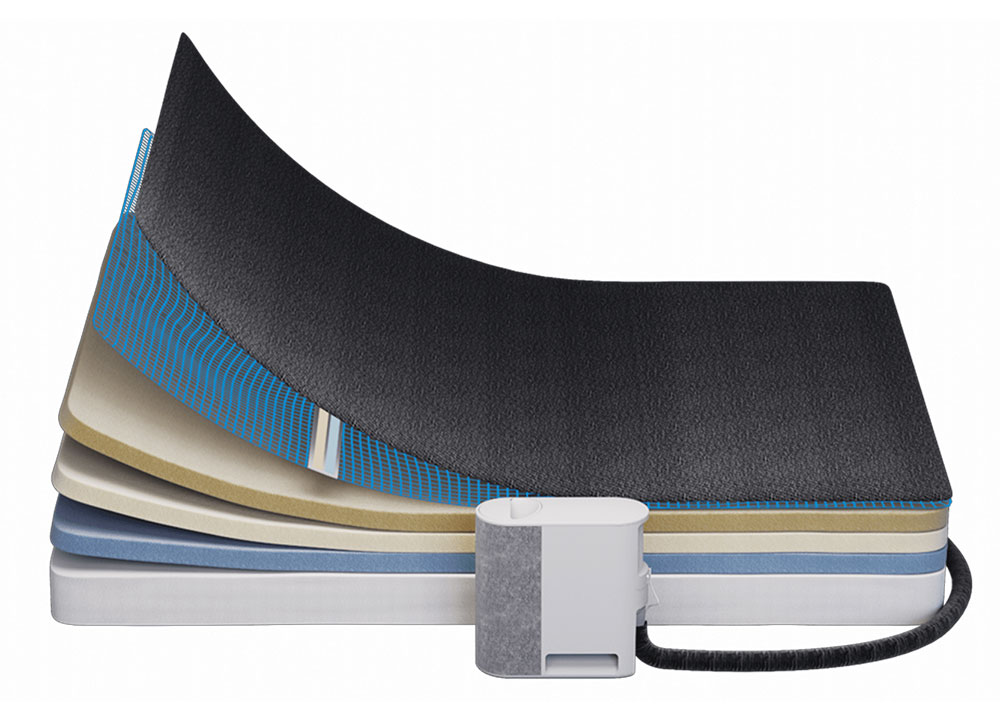 The Eight POD Mattress is constructed with four-layer high-density foams for all-out support. All kinds of sleepers will undeniably sleep like a baby with this material type. The total mattress height is 11 inches to give just the right thickness — not too thick and not too thin. Luracor foam which encompasses the first layer provides that initial support. Next comes the Visco foam to ensure equal sleeper's weight distribution on the surface.
The third layer is made of Polyfoam, measured at 2 inches, just like the first two. This layer acts as the support for the base which comes after. Last but not least is the five-inch base that is made of high-density Polyfoam. This final layer is the base that makes the Eight POD Mattress a force to be reckoned with.
With all these layers combined, it's no surprise why the Eight Sleep mattress has stability and durability that can withstand more than the average weight.
Active Grid Technology for Pressure Relief
The high-density foam is only the cherry on top. The Active Grid Technology is what makes the entire product unique.
Active Grid Technology is embedded in the different layers that make the Eight POD Mattress so cool and comfortable to sleep on. Due to the perforated material, air flows seamlessly in between the mattress and your back — allowing for a more refreshing slumber. The malleable mattress also makes tossing and turning more satisfying as the foam perfectly hugs your back contours, regardless of any sleeping position you're in.
Medium Firmness for All Kinds of Sleepers
From a firmness range of one to 10, the high-density foam has a firmness level of six. This provides just the right firmness for side sleepers, back sleepers, and stomach sleepers. The firmness also prevents any disruptive motion transfers from another sleeper. For sleepers on the plumper side, a firmer material may be more comfortable to hold their weight. However, the robust material ensures that they'll feel sufficient comfort and support throughout the night.
Thermo Adjustment for Soundless Alarms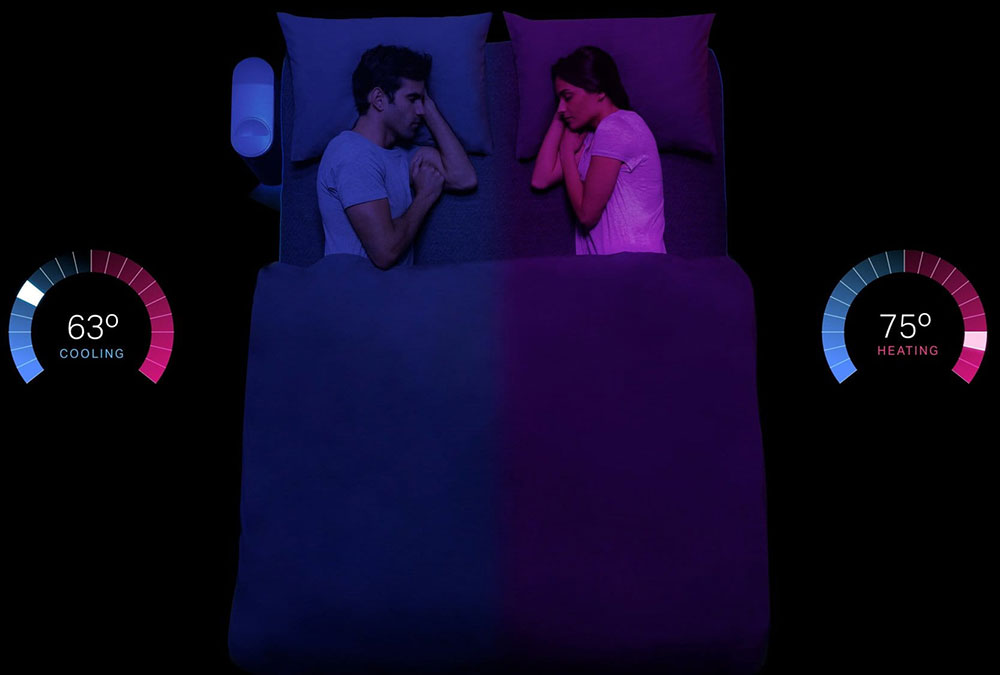 The Eight Sleep mattress is changing the way sleepers wake. From the loud, ringing sounds of alarm clocks to the POD's thermo alarm, you can now wake up on the right side of the bed naturally, and quietly. You can set the temperature from the most comfortable levels at a certain time when you're sleeping. Then gradually lower it to the most uncomfortable levels to give you a gentle nudge and wake you up naturally.
Eight Sleep Mattress Prices
For a full-size pod with dimensions 54 x 75 x 11, you only need to shell out a meager $1,995. A queen-size pod with dimensions 60 x 80 x 11 and a king-size pod with dimensions 76 x 80 x 11 only cost $2,195 and $2,495, respectively. The biggest, which is the cali-size pod with dimensions 72 x 84 x 11, will cost you $2,495.
Conclusion
To top all these features and affordable prices off, customers can take home an Eight POD Mattress and try this heavenly bed for 100 days. If in case they won't like it, they can get a full refund after shipping the item back.
Excruciating sleeping habits will be a thing of the past with the Eight Sleep mattress. Try one of these now, and you'll never want to get up from it — and don't say I didn't warn you!
The Best Competitive Gaming Chairs of 2019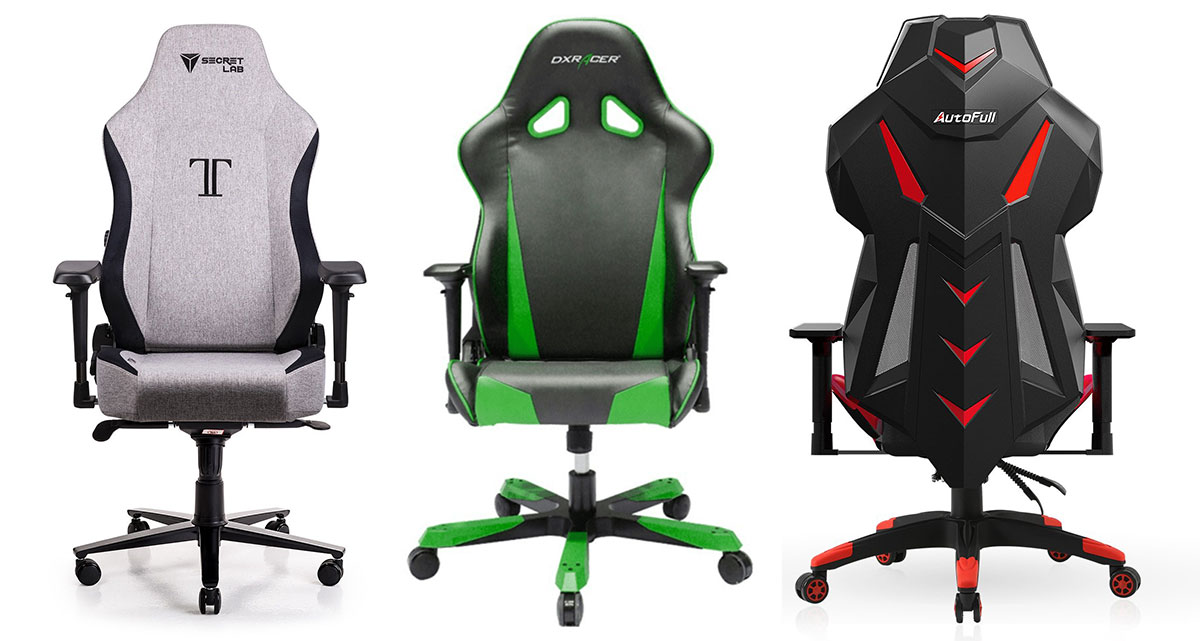 Competitive gaming is still a relatively new phenomenon. And with it comes the development of all sorts of peripherals and gadgets to give players in the competitive space an edge. Gaming used to be much simpler back when I was in grade school. I used to bike over my friend's house after school. My friends and I would finish an episode of Dragon Ball Z, and then head into his basement where he'd  turn on his Nintendo 64 and we'd go four-player split screen death match in Golden Eye. And back then, we didn't need much other than a decent controller. We'd all sit on the floor backs hunched over waiting for scoliosis to kick in as we waste one another.
Those days are long gone, and nowadays competitive gaming has evolved greatly. And along with it, the need for better support equipment, mainly back support. In recently years, there's been a lot of new companies entering the e-sport market, especially the gaming-chair category. Gaming chairs have become an essential gaming equipment that professional players can't go without. If you watch either Fortnite or Apex streamers on Twitch, you'll notice just about everyone sits in a professional gaming chair. And there's a good reason for that. A player with better support equipment will outlast and outperform a player. And that's why nowadays, everyone is investing in a good gaming chair. But not all gaming chairs are created equal. Which chair should you invest in?
Having only been founded in 2014 and launching their line of products in 2015, Secret Lab is a fairly new company. But being the new kid on the black doesn't mean their products aren't among the best in class. We review and test the Secret Lab Titan Series, and so far, it's one of the most comfortable, versatile, adjustable, and well balanced chair we've ever tested.
At $429, it's certainly not among the cheapest or affordable equipment. But there's a reason why we chose the Secret Lab as first on the list. The build quality, features, and premium materials they used for this chair is unrivaled, even by others on the list. Additionally, we like the clean look of Secretlab chairs. They opted for a more elegant and premium look. And looking at it, it really does look like an expensive chair. When we put it to the test, it performed as expected. Even after six hours of non-stop Apex domination, our reviewer felt the Secret Lab Titan Series provided exceptional support and comfort, especially in long sessions.
More petite gamers often have a difficult time finding a chair that fits them just right. Often times they're stuck with a chair that's too large for them, and they have to sit leaning forward because the backrest is too far away. Prolong exposure to sitting in a chair made too large for you can result in discomfort and lack of focus. And that's where the Arozzi Verona Junior shines. As the name implies, the Arozzi Verona Junior is a chair that's made for gamers under 5'2. It's well structured and molds to a smaller frame, giving unequivocal comfort.
DXRacer is an old and respected company that pre-dates a lot of companies on this list. And with that, at least one of their chairs are expected to make the list. The DXRacer Tank's is unique in that it can support a gamer up to 450lbs and it's back support is large enough to accommodate a 6'7 giant. It's a sturdy chair that's made for a specific audience and also comes at a fairly steeper price tag of $600.
Autofull is a great value chair. It's not cheaply made, and it's price certainly doesn't reflect that. But it's also not overly expensive with quirks and features you'll never need. Autofull made a chair that's just perfect for the middle market. Someone who has a little bit of budget, wants to invest, and only invest in a chair that can deliver the essential comfort and features they need. And with that, Autofull absolutely delivers. Being at $200, it's price point is just right. And even at that price point, they still managed to squeeze in features you'll be surprise to find.
Vertagear is popular among Twitch streamers and many Youtubers. It's a highly adjustable and ergonomic gaming chair with all your essential features in addition to the memory foam being on the firm side. The back can actually be adjusted. You can lift it up or down to adjust accordingly to your height, a feature not found on many chairs. Veragear also lets you choose from a wide variety of colors to ensure the chair fits your setup/colorscheme.