Wally Amos: From Chocolate Chip Entrepreneur to Hardship Connessior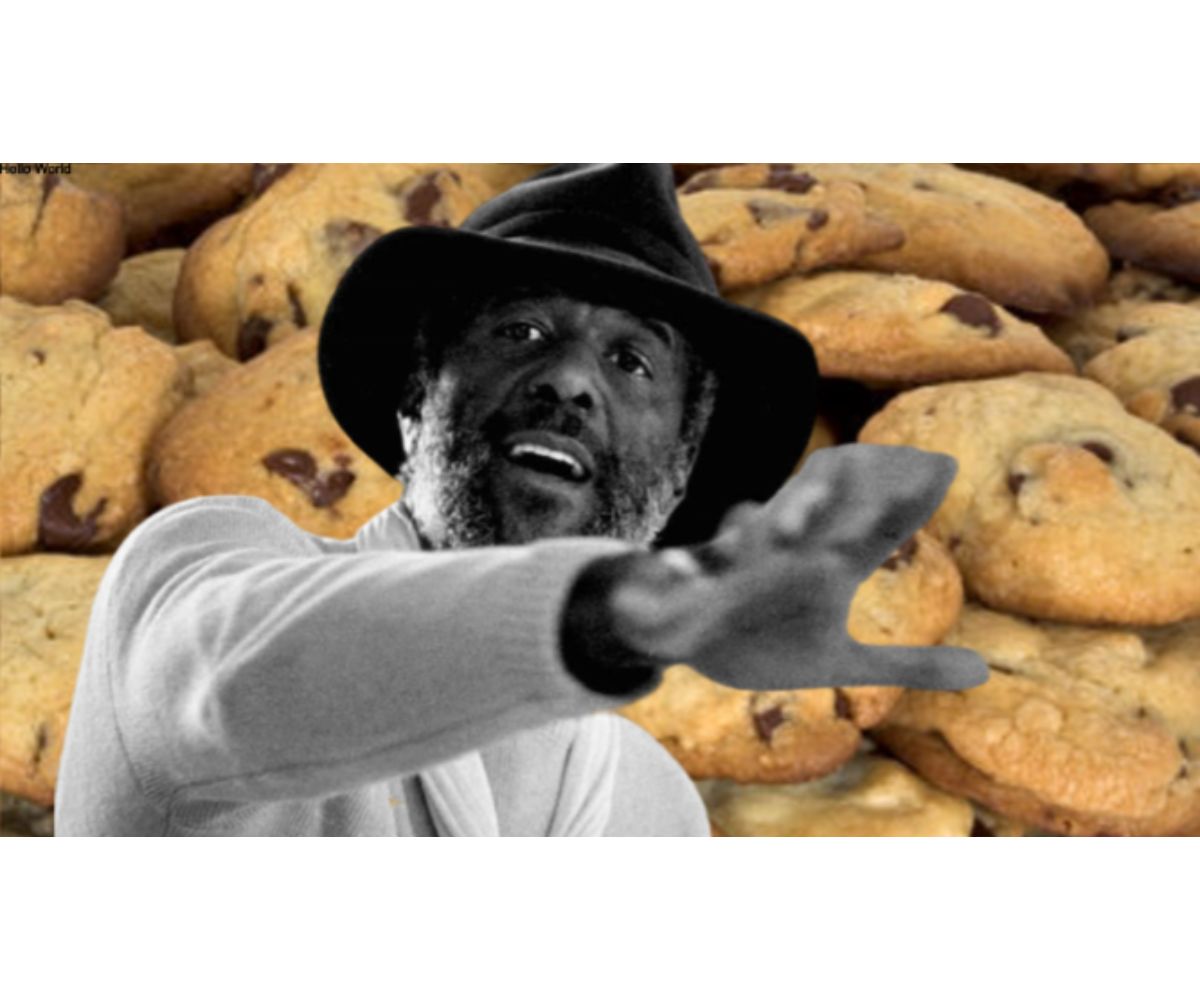 It feels like a cliche. An ancient trajectory sneered at in countless films, television specials, and mockumentaries: the self-made business owner (or musician or internet influencer or janitor-turned-radio-personality) of a prominent, big-name venture who ascends to grand cultural heights only to have their joyride through fame, wealth, and celebrity shoulder-brushing suddenly cut short.
Wafting back down to ground level, the protagonist finds themself among the lowly ranks of normal, everyday people. Subject (once again) to life's hollow indignities—but now with the everpresent melancholy tint of past riches lurking.
Sure, there are some big takeaways about the greater virtues of humanity or the immense loneliness of celebrity life. But we understand that these are typically written to secure some semblance of a happy ending, increase commerciality, and cushion the notion of modernity's inherent sadness.
The fact of the matter is: being poor sucks. Being poor—then achieving fame and prosperity—only to fumble it back into poverty, must really suck. And while most folks have only bore witness to this trope in cinematic or literary instances, an unfortunate few have full-on lived it.
Among them is Wally Amos.
Of Famous Amos fame.
Who is "Famous" Amos?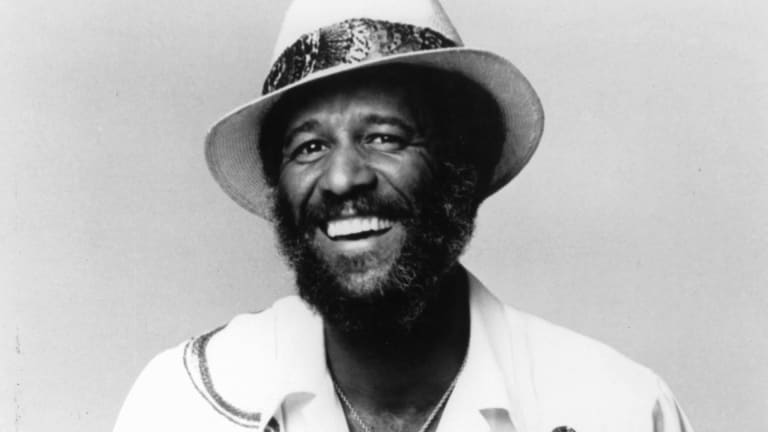 When it comes to feelings about Famous Amos, I imagine people typically fall into one of three groups:
The first group—being made up of mostly young people (probably; I've no data)— has zero knowledge of the brand at all. If the name doesn't conjure visions of second-rate vending machine options (D4 at best) then you're likely in this group.
The second group knows of Famous Amos and is familiar with its underwhelming status as a dollar store checkout counter snack food. Reasonable.
But the third group has a different view of the matter. A much more romantic take on the treat. Because this group remembers Famous Amos as a mouthwatering gourmet delicacy. A top-shelf cookie purveyor with an outspoken, charismatic owner in Wally Amos.
Why such a harsh disparity? How can a company less than 50 years old have such contradicting reputations among different generations?
There was a time, just a few decades ago, when Amos was a household name. A successful brand with big-name celebrity investors, upscale distribution, and a first-year total sales revenue of $300,000.
But by the mid-80s, the brand was hemorrhaging money. Amos would lose his house and eventually sell a majority stake of the company. Many people were left to wonder: how did one of the most successful snack companies of the last decade so quickly decay into financial shambles?
How did Amos find himself on the butt-end of a bad break?
These are interesting questions, and sure to be answered. But first, it's worth understanding Famous Amos' rise to popularity, understanding what made this gourmet cookie company so successful, so, well— I'm not gonna say it, I am not going to—famous.
Wally Amos' Rise to Fame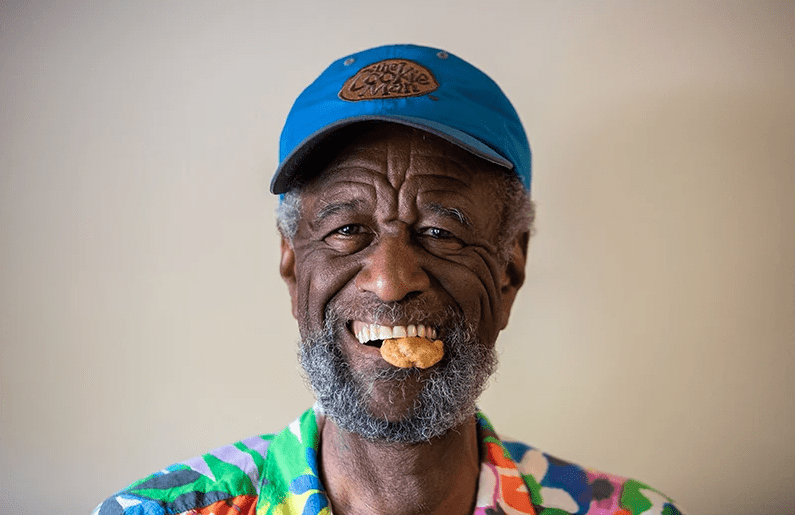 Wally Amos came from a classically humble upbringing, born in 1936 in Tallahassee, Florida to poor, illiterate parents. At age 12, he moved to New York to live with his Aunt Della. It was here that he learned of the famous recipe. (More on this in a bit.)
Amos, who dropped out of high school, would receive his G.E.D. after joining the Air Force. Returning to New York a mature, educated man, he found work in the William Morris Agency, a Hollywood-based talent agency once considered "the best in show business."
He began in the mailroom, eventually working his way up to becoming the first black talent agent in the entertainment industry.
This was more than just a side-quest for an aspiring baker; Amos now headed the rock'n'roll department at William Morris, where he signed Simon and Garfunkel and worked with Motown legends like Diana Ross, Sam Cooke, and Dionne Warwick.
It was only after growing disillusioned with the industry that Amos sought refuge in his aunt's baking once more.
Wally's son, Shawn Amos, said:
"Cookies were a hobby to relieve stress."
It wasn't long before the cookies took the main stage.
Amos told The New York Times in 1975:
"I'd go to meetings with the record company or movie people and bring along some cookies, and pretty soon everybody was asking for them."
Amos' connection with the entertainment business helped his business aspirations tremendously. He received significant contributions from industry stars Marvin Gaye and Helen Reddy, who gave Amos 25,000 for his new venture.
In 1975, Amos launched his first brick-and-mortar location. 7181 Sunset Blvd. in Los Angeles.
And it was a big deal. The grand opening was a star-studded gala attended by 1,500 people.
Success was sudden. After selling $300,000 worth of cookies in its first year, the brand continued to climb in popularity. By 1982, Famous Amos was making $12 million in yearly revenue.
Famous Amos's success was the result of exploiting a hole in the market. In the mid-70s, the grocery store shelves were loaded with preservative-dependent snack options. Amos carved out a lucrative niche by marketing the product as a gourmet, zero-preservative, craft-made cookie. A risk well rewarded.
From "What's Going On?" to "What's Going On???"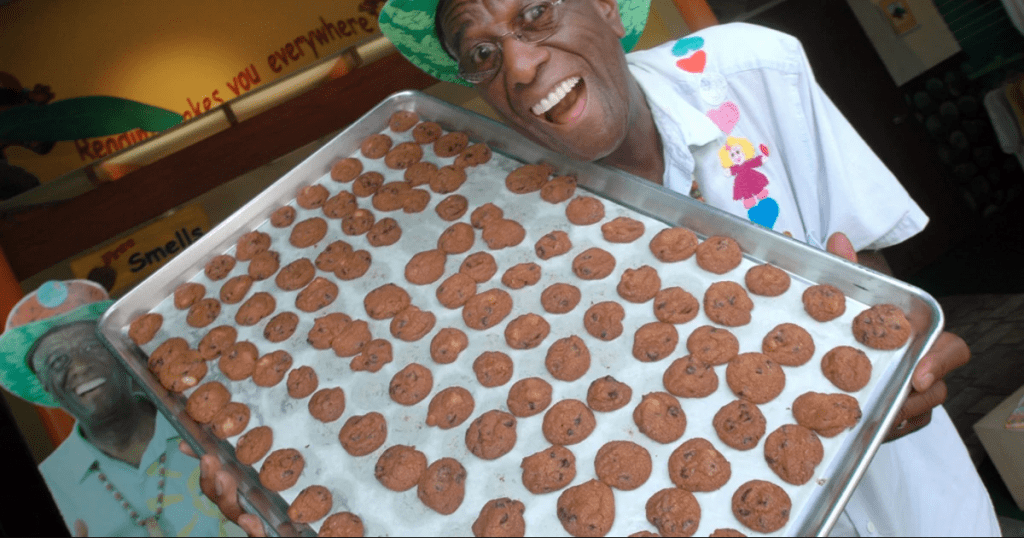 With any great market advancement, a plethora of eager competitors emerge. And shortly after arriving on the scene, Famous Amos was met with rival brands like Mrs. Fields, and new, upmarket product lines from Nabisco and Duncan Hines.
A combination of these market competitors and Amos' inability to keep up with his success led to the first cracks in the business. By 1985, Famous Amos reported a $300,000 loss on sales of $10 million.
Later that year, Amos officially gave up the reigns of his company, selling a majority stake to Bass Brothers Enterprises for $1.1 million.
Two years later, the new owners upended the recipe entirely, adding preservatives and shelf-stable ingredients. Famous Amos was rebranding as an affordable brand. It wasn't entirely unexpected; such mission-statement-defying practices are common for newly bought companies, but the decision prompted original owner Wally Amos to depart.
In 1992, President Baking Company bought Famous Amos for $61 million—more than 55 times what Wally Amos sold his controlling stake for just a few years earlier.
Amos wasn't through with the cookie business, however. Later in 1992, he launched his new venture…
And was promptly sued.
Turns out: the latest Amos product— Wally Amos Presents Hazelnut Cookies— stood in direct violation of the contract he had signed years prior when selling his first business. The one that expressly prohibited Amos from using his own name and likeness in the selling of any product.
Undeterred, he changed the name of his company, operating instead as Uncle Nonamé. Boldness had treated him well in the past— and I think it's an undeniably ballsy way to approach being sued over your own identity— but the market operates in mysterious ways. In 1996, Uncle Nonamé filed for bankruptcy.
What Became of Wally Amos?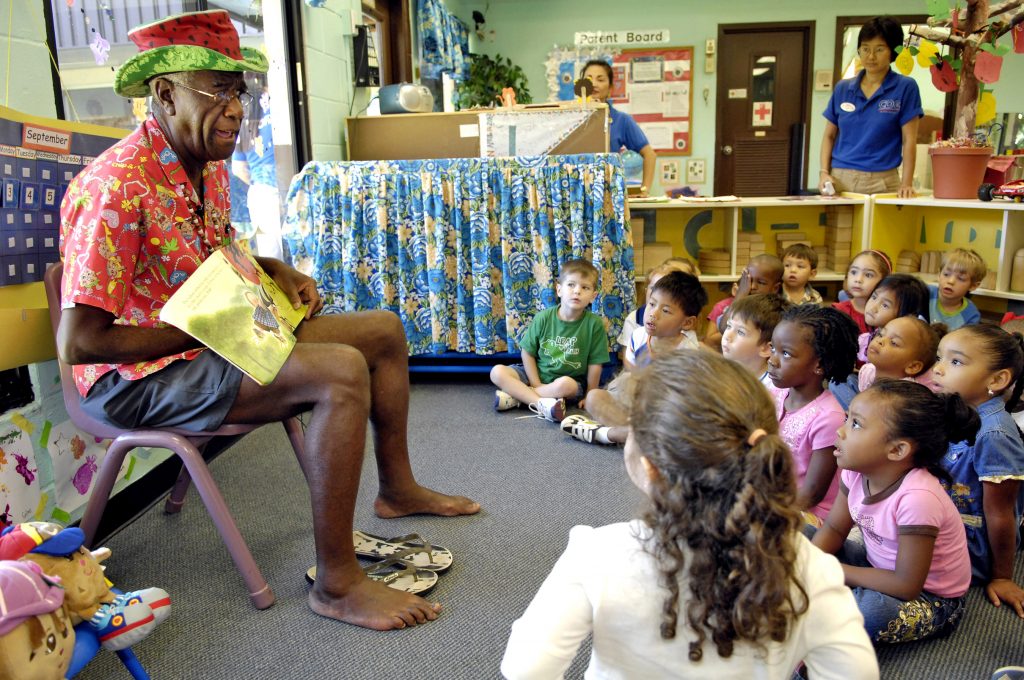 By 1999, Amos was in talks with Keebler, the new owner of Famous Amos. An agreement had been reached: Wally Amos would become a paid spokesperson for the brand under the condition that they craft the recipe closer to the original.
And it feels like a solid ending to the story. The sweet embrace of a father and son after a long, arduous journey, complete with lawsuits, bankruptcies, and foreclosure. Ending up together would be fitting— if a bit too good to be true.
"It was bittersweet,"
says his son, Shawn Amos.
"He was happy to be back in the center of the brand he started, but he also had a hard time accepting the fact that at the end of the day, he was just a paid spokesperson."
The feeling of being alienated from one's own brainchild eventually led to a short-lived reunion between Amos and the brand that bears his name.
After leaving once and for all, Amos pivoted to making muffins with Uncle Wally's Muffin Co., opening a bake shop in Hawai'i.
Amos wrote multiple books about his experience over the years, including Power In You, Man With No Name: Turn Lemons into Lemonade, and The Famous Amos Story: The Face That Launched 1,000 Chips. He has also been a vigorous advocate for literacy and was granted a National Literacy Honors Award by President George H.W. Bush.
At age 80, Amos appeared on the hit television show, Shark Tank, pitching another new business, "The Cookie Kahuna". The business ultimately failed.
In 2017, he launched a GoFundMe announcing he was struggling to pay for food, gas, and rent.
No longer famous, Wally Amos continues on with his baking and entrepreneurial spirit. His life is a statement of hard work and resilience, but also a cautionary tale about success, hubris, and the risks we make along the way.
Netflix Gaming Is An Embarrassment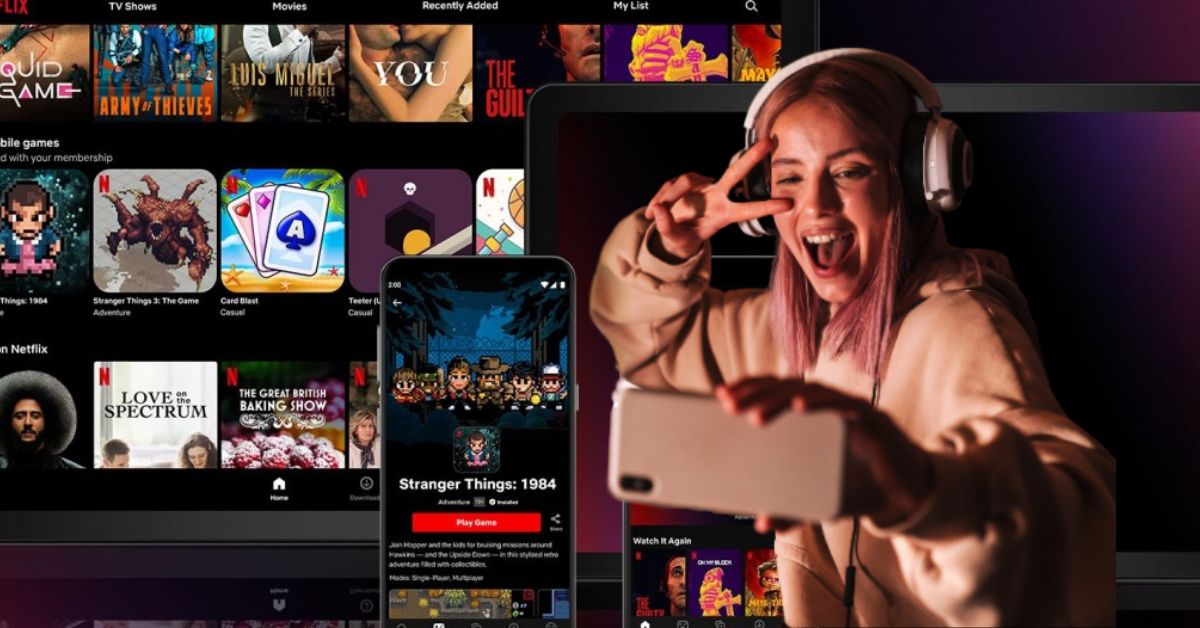 Netflix is having a hell of a time, ain't they? The once innovative content titans of Silicon Valley are now playing a desperate game of catch up. They've lost subscribers, they're introducing commercials, and now they're trying to promote the awkwardly invested Netflix Gaming.
Netflix Gaming has been available for less than a year, and subscribers do not appear to be interested. According to Apptopia, less than one percent of Netflix's subscribers have engaged with this new content.
And yet, Netflix plans to increase its game catalog from 24 to 50 by the end of 2022. We just have one question:
Um… Why?
A letter to shareholders revealed that Netflix considers Epic Games and TikTok as competitors. Call me crazy, but I would have guessed that Hulu, Disney+, and HBO Max would be more appropriate competitors.
It's like hearing Applebee's call Wendy's a competitor. They're not really the same thing, are they?
Fortunately, I am not among Netflix's shareholders. If I were, I'd probably question the direction of this strategy. Tom Forte, D.A. Davidson senior analyst said on the matter:
"One of the many advantages to Netflix in pursuing the strategy is the ability to drive engagement beyond when the show first comes out on the platform." 
Mkay. Seems more like a marketing strategy than an argument for why gaming is the direction should go in. Maybe don't spend $30 million an episode for Stranger Things? It was a pretty big hit when it was just $7 million an episode.
In this difficult time for Netflix, the company's COO Greg Peters has one take on this strategy:
"We're going to be experimental and try a bunch of things."
Okay, that's not particularly reassuring.
"I would say the eyes that we have on the long-term prize really cater more around our ability to create properties that are connected to the universes, the characters, the stories that we're building." 
Alright, I can get behind that. World-building and fan-favor is often fun and super engaging. Whether its memes or parodies, fans love to play around with their favorite series and movies. Netflix has clearly noticed that a lot of fans share these experiences on platforms like TikTok.
Can Netflix's head of external games, Leanne Loombe, offer more insight into why gaming will be a worthwhile investment for the company?
"We're still intentionally keeping things a little bit quiet because we're still learning and experimenting and trying to figure out what things are going to actually resonate with our members, what games people want to play."
Okay so, no. She can't offer more insight. 
Why can't Netflix invest more in series that people will want to watch? Why cheap-looking games?
Netflix Gaming Wants In On That Sweet Mobile Gaming Money
Ah, of course. Mobile gaming. Netflix saw the now decade old Candy Crush success and thought "us too."
Netflix recently acquired Finnish game developer Next Games for a whopping $72 million. This isn't some cute little side hobby – this is a real, serious investment for a company best known for zombie-like binging and code for hooking up.
This is head scratching, to say the least. Netflix is known for upending the television and movie industry. Experts in the field warned that the major networks (NBC, CBS, etc.) were going to catch up. Now, they have. You see Peacock, Paramount+, Disney+, and more
How did Netflix plan the coming competition? By throwing money at anything and everything.
Co-CEO Reed Hastings said this about the company's latest investment in gaming:
"We've got to please our members by having the absolute best in the category. We have to be differentially great at it. 
"There's no point of just being in it." 
It's no wonder that Netflix is in trouble. I have zero doubt that Netflix Gaming will be an utter failure and total embarrassment. But, you do you girl.
10 Subscription Based Services Business Owners Need to Try in 2022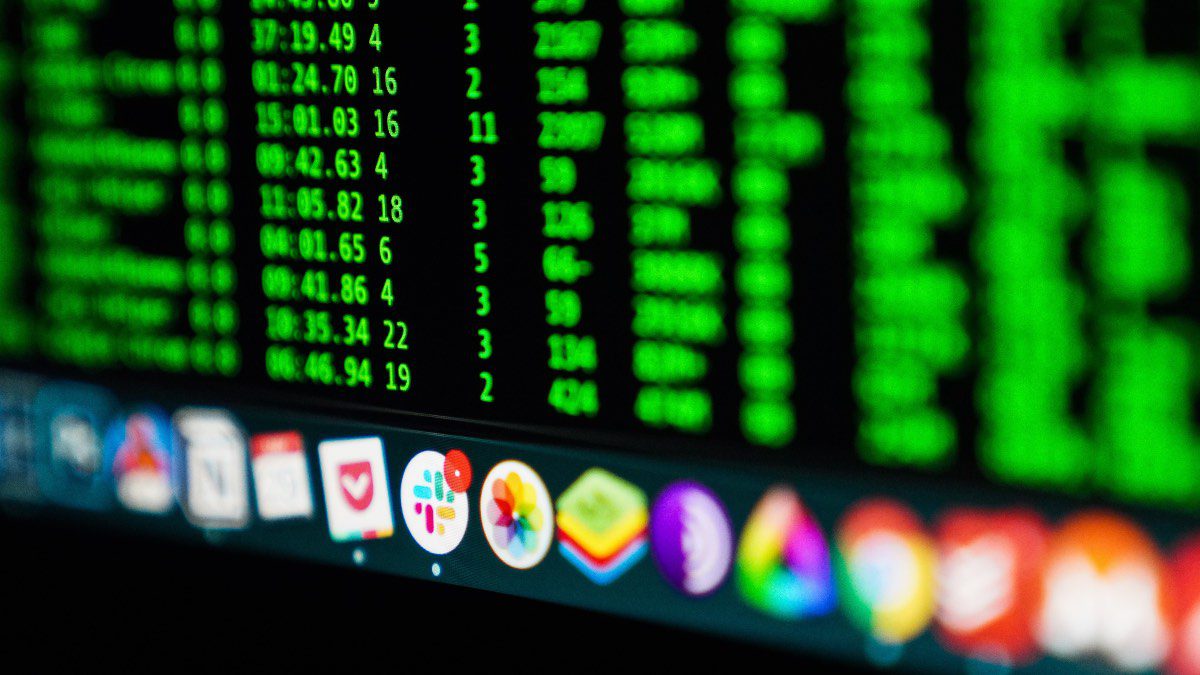 Over the past decade, subscription-based services have taken the business world by storm. Cloud-based infrastructure makes it easier for businesses to start, scale, and succeed. Paying a simple regular fee to use a software or service helps keep all your expenses in order.
Nobody wants to get tangled up in too many subscriptions. And with so many services on the market, it's easy to end up with more than you need. That's why we've assembled 10 great subscription based services for your business needs.
1) Hive – Subscription based project management tool
Project management is one of the areas where cloud-based tools come most in handy. Real-time collaboration is a great way to keep track of everyone's work and ensure that it all gets done.
Hive offers just that. On top of task management and time tracking, they offer a variety of views to help each team member visualize their work the way they see fit, whether it's as a kanban board, Gantt chart, calendar, or table.
There are plenty of great project management tools to choose from, but Hive's versatility puts it over the top. They offer quick integrations, automations, and even a built-in messaging system.
Pricing: Unlike the rest of these services, Hive only has a single paid subscription plan. They offer three options:
Solo – Free of charge, for individual users.
Teams – $12/user/month. Includes shareable forms, an in-app calendar, and Zoom and Slack integrations.
Enterprise – Bespoke plans for enterprise customers. Include flexible add-ons, heightened security, custom analytics, and dedicated support.
2) Omnisend – Subscription based ecommerce marketing service
Marketing solutions aren't exactly hard to come by, but what if your company has specific needs? For ecommerce brands, that's where Omnisend comes in. This SaaS has everything you need to create successful, automated email and SMS marketing campaigns.
Tools like sign-up forms are geared directly towards ecommerce. They offer integration with all the major platforms, including Shopify, WooCommerce, and dozens more. They also have some pretty extensive analytics tools to help you keep track of your campaigns' success.
Pricing: Omnisend comes in three tiers:
Free – $0/mo. Reach up to 250 contacts. 500 emails/mo.
Standard – Starts at $16/mo (pricing based on contact list size). 6,000 emails/mo.
Pro – Starts at $59/mo. Unlimited emails. 3,933+ free SMS credits.
3) Identity Guard – Subscription based data theft protection
Identity theft protection services are often geared towards individuals and families. But while security may start at home, your business' data is just as precious.
If you're looking for data theft protection for your business, look no further than Identity Guard, an AI-driven subscription based service by AURA. They offer robust data breach protection as well as employee protection plans, all backed by IBM's iconic Watson AI.
Pricing: Breach protection comes in two plans:
Value – $36/year per activation code
Total – $120/year per activation code. Includes bank account and credit monitoring.
Employee benefit plans are custom-built.
4) Zoho CRM – Subscription based CRM platform
Zoho offers a staggering range of cloud-based software solutions, including email, customer service, docs, HR, and much more. But their first, foremost, and perhaps best offering is their customer relationship management (CRM) platform.
Zoho has great customer solutions for businesses big and small. You can micro-manage operations with their detailed analytics, or streamline your process with automated workflows. On top of all that, it's totally customizable, so you can create your ideal workspace.
Pricing: Zoho's CRM comes at five tiers:
Free – $0. Includes up to 3 users, essentials like leads, documents, mobile apps.
Standard – $14/user/month. Includes automated workflows and custom dashboards.
Professional – $23/user/month. Includes real-time notifications and inventory management.
Enterprise – $40/user/month. Includes AI, mobile SDK, advanced customization.
Ultimate – $52/user/month. Includes advanced BI and highest possible feature limits.
In addition, you can buy Zoho CRM Plus, which combines 8 other Zoho services, for $57/user/month. Bigin, a pipeline-based CRM for small businesses, starts at $7/user/month.
5) HubSpot CMS Hub – Subscription based content management system
Like Zoho, HubSpot offers a wide range of software solutions for businesses, which they call "hubs." You can buy these hubs individually according to your needs or combine them for discounted bundle pricing.
Their content management system (CMS) is one of their more impressive hubs. It includes handy tools for secure website hosting and building, including a drag-and-drop editor and mobile optimization. On top of building websites, HubSpot makes it easy to scale with multiple plans and performance monitoring.
Pricing: HubSpot CMS Hub comes in four plans:
Free – $0. Allows for 1 blog and up to 25 web pages. Includes analytics, hosting, SEO, drag-and-drop editor.
Starter – Starts at $23/mo. Includes 50 web pages, ad management, URL mappings, payment support, reporting dashboards. Removes HubSpot branding from site.
Professional – Starts at $360/mo. Allows for up to 100 blogs and 10,000 web pages. Includes custom analytics, advanced SEO, dynamic personalization, content staging, video hosting, site tree.
Enterprise – Starts at $1,200/mo. Includes highest limits on all features, custom objects, site performance monitoring, web apps, sandboxes, permissions.
A 14-day free trial is available. Add-ons such as custom SSL and limit increases can be built into your plan.
6) Penji – Subscription based graphic design service
Content management is one thing, but where do you get the content itself? When it comes to graphic design, Penji offers professional-quality designs on a subscription basis.
With Penji's unlimited model, you can get as many designs as you need. Their plans cover everything from logos to social media graphics. They even design websites and apps. With a global team of full-time designers, they deliver quality designs in a matter of days.
Pricing: Penji offers three plans:
Pro – $499/mo. Includes unlimited graphic design, illustrations, logos and branding.
Team – $699/mo. Includes unlimited web designs, app designs, presentations, and animated graphics.
Daytime – $999/mo. Includes USA daytime designers, same-day turnaround, and a dedicated art director.
All plans come with a 30-day money back guarantee.
7) Rippling – Subscription based HR and IT cloud service
This enterprise software solution is one of the best options out there for payroll maintenance, but it's got much more than that. It combines workflow automation with HR and IT tools, helping enterprises streamline their employer-to-employee processes.
If you've been making use of this list, you'll be especially happy to hear about Rippling's app management. You can set up, manage, and disable employee apps in one simple place, ensuring that you're using everything you need and nothing extra.
Pricing: Unfortunately, Rippling doesn't offer transparent pricing on their site. Because they cater to enterprise customers, they offer quotes based on businesses' precise needs. At the very least, their core platform costs $35/mo, with an additional $8/user/mo for payroll services.
8) Moz Pro – Subscription based SEO tool
Moz was founded as SEOmoz in 2004 as a site for some of the world's earliest SEO experts to share their research. Basically, they wrote the book on SEO.
Moz Pro isn't the cheapest option for SEO on the market, but it uses its history of experience to its advantage. They offer robust, eminently useful data to give your business the search engine boost it needs, crawling your site to precisely pinpoint issues.
Pricing: Moz Pro offers four plans:
Standard – Starts at $79/mo. Includes 3 campaigns, 300 keyword rankings, 60 tracked URLs, 100k page crawls per week.
Medium – Starts at $143/mo. Includes 10 campaigns, 1,500 keyword rankings, 200 tracked URLs, 500k page crawls per week.
Large – Starts at $239/mo. Includes 25 campaigns, 3,000 keyword rankings, 500 tracked URLs, 1.25 million page crawls per week.
Premium – Starts at $479/mo. Includes 50 campaigns, 4,500 keyword rankings, 1,000 tracked URLs, 2 million page crawls per week.
9) Tableau – Subscription based business intelligence service
You can have all the fancy subscription based software in the world, but it won't get you anywhere if you're not paying attention to what works. Tableau is a leader in business intelligence (BI) and analytics. They offer a robust array of digestible data to help your business work smarter.
Tableau is trusted by customers ranging from Whole Foods to Pfizer, Nissan to Charles Schwab. Powered by Salesforce, they also offer integrations with SQL, AWS, and dozens of other cloud services.
Pricing: Tableau offers three cloud-based plans for teams:
Viewer – $15/user/mo.
Explorer – $42/user/mo.
Creator – $70/user/mo.
They also offer server-based plans (on-premise or public cloud), a Creator plan for individuals, and embedded analytics.
10) Bit.ai – Subscription based service for workplace collaboration
The final piece of the puzzle that brings your whole business infrastructure together: collaboration. Plenty of cloud-based offerings include collaboration tools, and many businesses use free tools like Slack and Google Docs to power their communication.
Bit.ai combines all these features and more. Think of it like a document editor that's also a content manager. It lets businesses share, create, and keep track of the content they put out, all with robust communication. They also integrate easily with tools like Tableau, OneDrive, Google Suite, Miro, Trello, Facebook, and more.
Pricing: Bit.ai offers three plans:
Free – $0. Allows for up to 5 members, 50 documents, 1GB storage. Includes content library, integrations, collaboration tools.
Pro – $8/member/month. Allows for unlimited members, unlimited documents, 500GB storage. Includes export, bulk import, version history.
Business – $15/member/month. Allows for unlimited storage. Includes trackable documents, priority support, engagement analytics, guest access.
Bit.ai also offers custom plans for enterprise customers.
Thinking of Investing in An Early-Stage VC?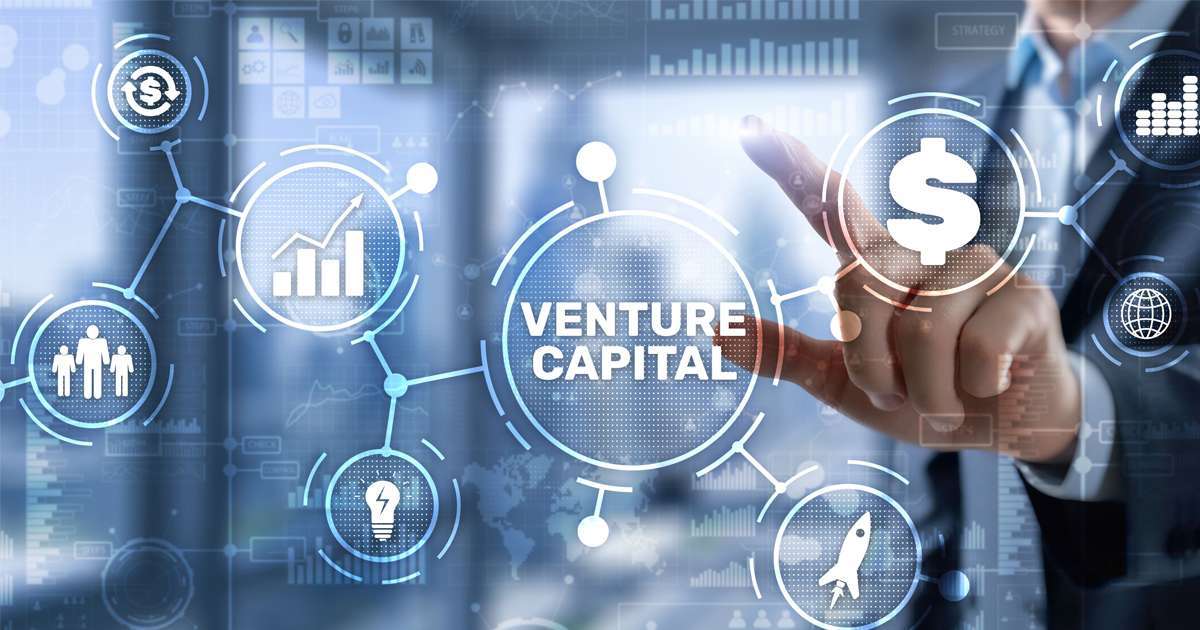 Do you find yourself asking, "should I invest in early-stage VC?" If so, you're not alone. Venture capital has become one of the most popular ways to invest in high-growth startups. It offers high returns and the chance to join the founding team of a company before anyone else. With venture capital, you have not only access to top-notch business management but also an opportunity to build your portfolio.
However, due to its early stage, venture capital investing is not for everyone. Those who are looking for ways to make money fast should consider other options first. Think about it: what do investors require in order to fund a startup? An answer that's likely yes will do it again—at least in this case. The same can be said about the minimum investment required by venture capital firms—it depends on their target sector or geography. This article will help you understand what you need to know before investing in venture capital.
What is venture capital?
Before we tackle the answer to the question, "should I invest in early-stage VC," let's discuss the basics of venture capital.
Simply said, venture capital is the funding of new businesses and expansion. That said, venture capitalists provide funding for startups at an early stage. They see potential in ventures that are often in the "uncertain" stage of their growth and usually lack funds. They provide the necessary capital to help companies realize their full potential. In addition to that, financial and managerial resources may also be offered.
Insider Monkey says the biggest VC companies in the world in 2021 are Google Ventures, Insight Partners, Bessemer Venture Partners, Index Ventures, and Sequoia Capital.
Why do people invest in venture capital?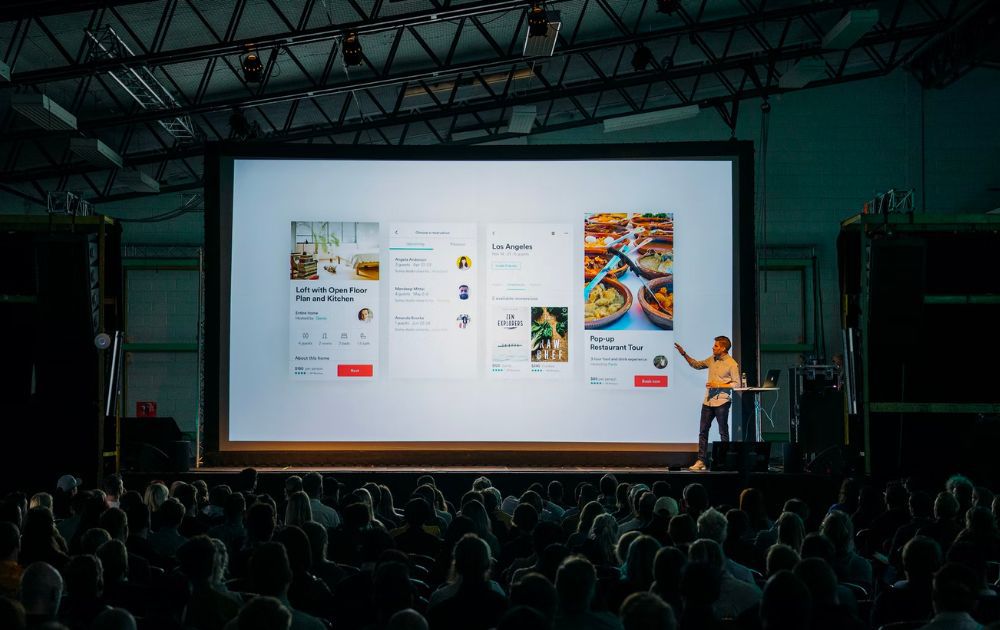 The main reason people invest in venture capital is to gain a high return on their money. Another reason is the chance to build a portfolio of investments. For instance, some investors are interested in the high level of skill involved in the management of a venture capital fund. Some investors, on the other hand, want to be part of launching new products and services.
How does a venture capital firm operate?
VC firms are a unique blend of investment and management. They begin by identifying, researching, and screening a large number of high-potential companies. After evaluating these startups, the VC firm decides which to fund. It then hires management teams to run its companies. As mentioned above, the VC firm provides not just financial support but also expertise and advice. After all, the success of the startup means investment growth.
So, here's the million-dollar question – should I invest in early-stage VC? The answer lies in whether you can stomach the risks. One of those risks is losing your entire investment. For example, a VC firm can fail due to bad investment decisions, poor management, or even bad timing. If you're ready to go through these risks, however, then a VC investment may be for you.
Why should I invest in early-stage VC?
If you're thinking of putting your money in a VC firm, some believe that now is the best time to do it. After all, some VCs have grown to be household names over the last 20 years because of their success. In addition to that, VCs have made a reputation for investing in early-stage SaaS ventures with low startup valuations.
But here's what should be the biggest trigger for you to consider VC investment: global equity prices correction. Due to geopolitical instability, inflation, and many other factors, the economic downturn can be inevitable.
At the same time, many startups today are building products with world-changing potential. And given the high quality of these products, these startups can survive – and even thrive – in recession-like scenarios.
Given these two elements, many startups may be at a "discounted" valuation at the moment, and it would be wise to strike while the iron is hot. After all, VC is one of the most exciting ways to invest in high-growth startups with a potential for high returns.