BumpOut: The Expandable Portable Speaker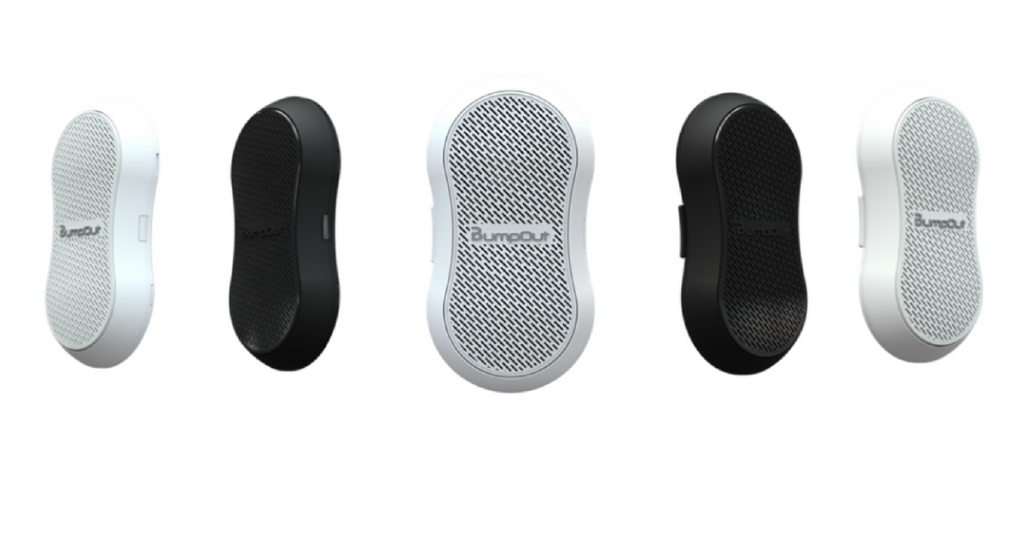 Take your music everywhere with BumpOut, the portable speaker designed for versatility. That was Zac Pierce's initial idea when creating technology. They hit an early milestone by reaching their crowdfunding goal on Indiegogo in 4 days, pre-selling the speaker at a discounted price to backers. What's neat about the speaker is it's Motorized Expansion Technology™, where it expands to generate high-quality audio and rich bass. It connects through Bluetooth with a range of 30 feet and runs for 7 hours before the next charge. You can attach the speaker to any smooth surface with the BumpOut coins, including your phone. We connected with Zac Pierce and the BumpOut team to learn more about the innovative technology behind their portable speaker. 
How would you describe BumpOut?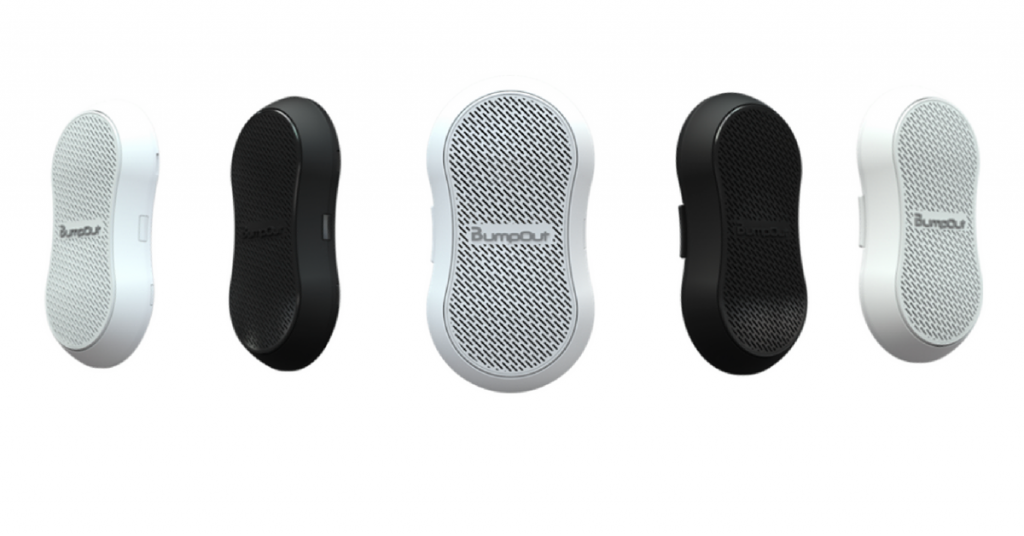 BumpOut is a portable Bluetooth speaker that can fit in the palm of your hand and attach to any flat surface, including smartphones, mirrors, refrigerators, etc. The most unique feature is the speaker's Motorized Expansion System. With one click of a button, the center of the speaker raises, generating high-quality sound & bass that drowns out the most competing products.
What is BumpOut's mission?
Inspire and innovate for those that boldly do what they love, not just what they are told. BumpOut as a verb. Be inspired and work hard as it inspires others.
How does BumpOut differentiate from competitor portable speakers?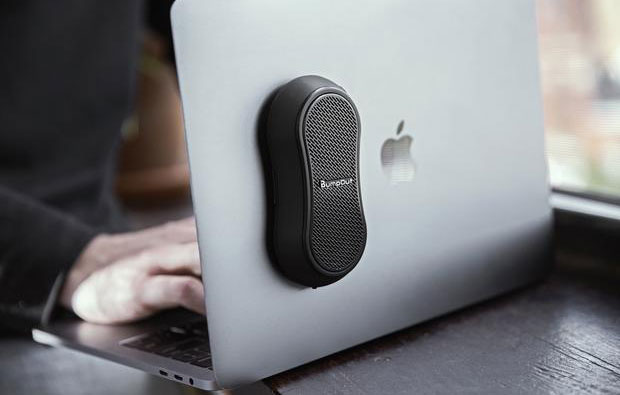 The main differences are portability and innovation. We have engineered a speaker with a  sleek design that fits comfortably in your pocket and can attach directly to your phone or case. Truly portable. Our patented Motorized Expansion Technology™ is an audio industry breakthrough. With the push of a button, the casing of the speaker expands, creating an acoustic chamber that results in powerful, high-quality sound, and rich bass response. We then paired this technology with BumpOut Coins that feature a patented repositionable adhesive that allows you to attach the speaker to any smooth surface, even your smartphone.
When you look at the crowded space of Bluetooth speakers there is a lot of "stuff" under $50 that leaves you wanting more: not loud enough, does not connect to your device easily, poor sound quality, etc… OR if you are willing to spend north of $150 you can get something that might meet your needs but is a big investment. We believe, after extensive research, that you don't need to spend a ton of money to get the results you are looking for. There is an opportunity in the market for a quality portable speaker under $100.
Who is the ideal BumpOut customer?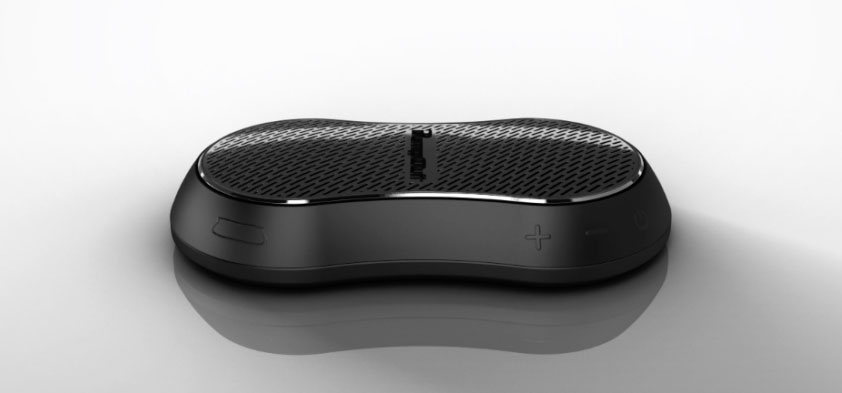 Anyone who listens to music on their smartphone and wants the latest innovation in audio at an affordable price. We are proud that we have been able to incorporate game-changing technology into BumpOut, but the #1 focus is "quality of music". That is why we partnered with the top audio engineers in the country and hired a high-end audio manufacturer to make BumpOut. It needs to sound great and your listening experience needs to be enjoyable.
Describe the use of the coin mounts.
BumpOut comes with coins that can be placed on any smooth flat surface so you can have your soundtrack at home or on the go. Coins have a repositionable adhesive that can be removed and repositioned. BumpOut speaker connects directly to the coins. Our test markets showed us that most youths will place the coin on the mirror in the bathroom so they can connect the speaker (to the mirror) while showering or getting ready for school or going out. Most parents said they will place a coin in the kitchen on the refrigerator so they can attach the speaker and listen to music while making dinner. Almost everyone we surveyed will place a coin on their smartphone for true portability and improve the "sub-par" audio quality and volume smartphones currently provide. Speaker does not need to be attached to the coin to listen to the music. The coins provide an extra feature to mount your speaker in various locations or, if attached to your smartphone, allows for easy portability.
What are some perks of crowdfunding?

Customer engagement. We have been working on this project for 2 years and have spent our own nest eggs on getting to this point. Crowdfunding has allowed us to engage with our customers and backers and bring validity to all of our efforts. You never really know what you have until you "flip the switch" on sales. To hit our Indiegogo goal in 4 days confirms everything we have been working towards.
What are some challenges you've come across along the way?
The biggest challenge with hardware is capital. It is very expensive to manufacture a product, which is why Crowdfunding is such an important process. Also, finding helpful resources for hardware development in Philadelphia is a challenge. We have kept our resources very organized and hope to be able to aid others in the city.
What is your team like?
The core of the team is Founder Zac Pierce and partners Brian Zamrowski and Mat Chacko.  We have surrounded ourselves with high-level specialists to ensure that we are delivering the best possible product for an affordable price.
What is BumpOutU?
We believe in today's youth. By providing guidance and exposure to career paths that foster individual talents, we aim to make a meaningful impact on the Creators of tomorrow. Our first live event held on October 8th brought community leaders, entrepreneurs, and students together for a day of bumping music and breakout sessions developed to inspire creativity and ideas backed by positive action. With our backers' support, our commitment to BumpOutU, and proactive approach to making a difference will scale along with our company.
How did you advertise?
On a budget! In these earliest stages, we rely heavily on PR and focus on technology and audio outlets.
What are some tips you can give to entrepreneurs looking to crowdfund?
It is a LOT of work but, if you go into it with a plan of what you want to learn from the process, it is extremely helpful. You learn about what features really resonate with your consumers.
10 Best Portable Power Stations For The Apocalypse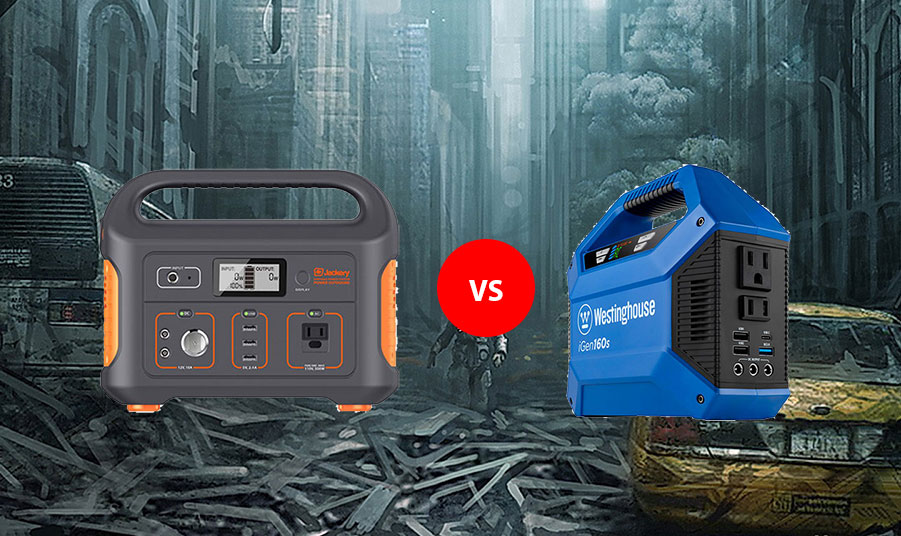 It's the end of the world and you're packing your bags and preparing for the long journey ahead of you. Which portable battery pack would you take with you?
Without a doubt, a portable power station will be your best friend during the early days of the apocalypse. You have to keep moving and you need a pack that can power your laptops, phones, and portable electronics for days at a time. A reliable power station is an essential you won't survive long without.
Think about it, how can you post your apocalyptic #OOTD on IG? You won't be able to share how 'bored' you are on Facebook. Or worse, you can't watch your favorite Netflix series. It can drive you nuts. So don't let that happen by having a backup supply of power.
Kidding aside, with all the uncertainties the world is facing, getting the best portable power station isn't such a bad idea.
What are Portable Power Stations?
Most of us are familiar with the traditional generator that runs on gas. It can supply power to different electronic devices such as television, refrigerators, and air conditioners. And then, of course, we have compact power banks. We commonly use it to ensure that our phones are charged almost all the time. Now, when it comes to portable power stations, it sits somewhere in the middle.
Portable power stations are rechargeable battery-powered generators. It's a power supply more conservative than a monstrous gas-powered generator. but is extra powerful than a hand-held power bank.
It's a great backup in case of unexpected power interruptions or if you just want to camp outdoors (but not go too primitive). Portable power stations are also ideal if you work from home because you certainly can't just delay projects and reports.
The truth is, there are a lot of portable power stations to choose from. But if you are not familiar with the technology, it could be a challenge to pick the right one for your needs. And this is where we can help you.
10 Best Portable Power Stations 2020
Our team consists of in-born warriors and 'worriers'. So we searched for the best portable power stations just in case a huge asteroid hits the planet, cuts the power line, and deliverables pile up!
1. Jackery Explorer 500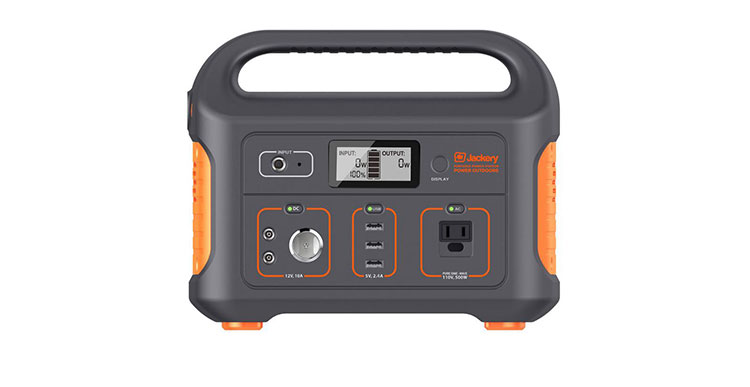 Jackery's Explorer 500, a 518Wh lithium portable power station, is one of the best on the market today. What we love about this power station is its rugged, functional, and simplistic design. It has an easy-carry handle, which is a simple feature that has a maximum impact. That means you can easily transport it, just like how people used to carry their boombox in the 80s.
It also boasts multiple output ports for different devices and small appliances. You can charge your phone, laptops, and even power a small fridge. Plus, the digital display helps in identifying the status of your power station.
You can charge this in different ways. Either you use AC outlets, DC carport, and optional solar panels. The solar panels can be purchased separately. Though we highly recommend it if you wish to go off-grid. The Jackery Explorer 500 is available for $499.
2. ChargeTech 54K Dual AC Battery Pack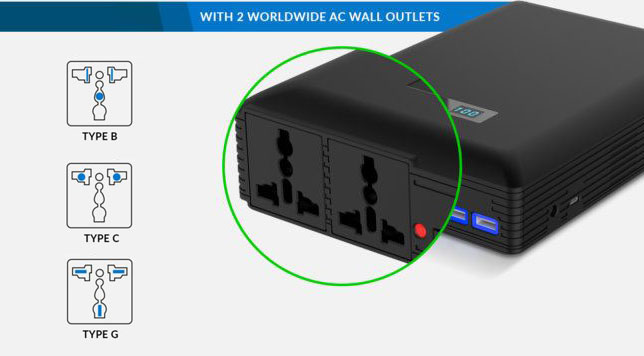 The Jackery is great, but it's heavy. What if you're looking for something a bit…lighter? Then look no further. Chargetech has just the device for you – the 54K Dual AC Battery Pack. Despite its size, this battery pack comes equipped with TWO AC outlets so you can keep your laptop powered. It also comes with USB and USB-C ports to replenish your smartphones, speakers, and anything under 250 watts.
Depending on your needs, you can either choose their PRO model for daily use and road trips, or the TRAVEL model for long haul flights and international trips.
This relatively tiny power station allows 30+ smartphone recharges or 5+ laptop recharges. It can even power up television for 3+ hours, and 7+ hours for your fridge. If you want, you can get accessories such as a wireless charger.
For $279, it's a steal considering you get 54,000 mAH and dual AC outlets.
3. Sungzu SKA1000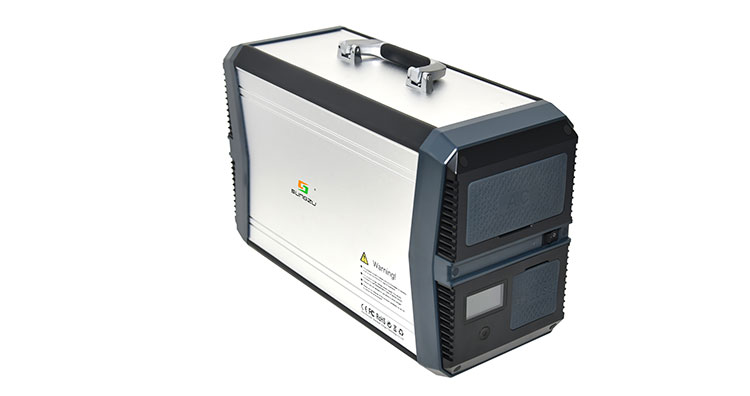 Included in our list is Sungzu SKA1000. Like most portable power stations in this list, it can power up small appliances such as your coffee machine or your light bulbs. This makes it ideal even for outdoor activities like camping.
Got stuck in the middle of the forest? You don't have to worry. Just charge your power station using solar panels and you can use your gadgets once again.
One of the best features of Sungzu SKA1000 is that it has multiple protection. You don't have to worry about short-circuiting, overheating, overcharging, or over-discharging. That alone makes it more family-friendly.
The power station is at $799. It might look costly at face value but with its features and safety measures, we have to say it's worth it.
4. GoalZero Yeti 1000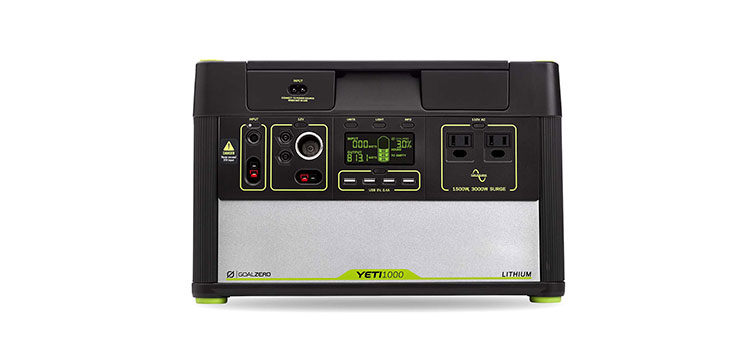 We've seen a lot of amazing reviews about the GoalZero Yeti 1000 and we were a bit skeptical. It just sounded too good to be true. We wanted to prove these people wrong. But we were surprised that GoalZero Yeti 1000 is indeed one of the best power stations in 2020.
It can charge and power a wide range of devices which makes it a crowd favorite. However, this isn't as portable as we would want it to be. But for home use where you just need to transfer it from one room to another, it is the perfect buy.
If you are looking for a power station that is easy to use yet can house the maximum power, get GoalZero Yeti 1000 for $1,400.
5. Westinghouse iGen160s Portable Power Station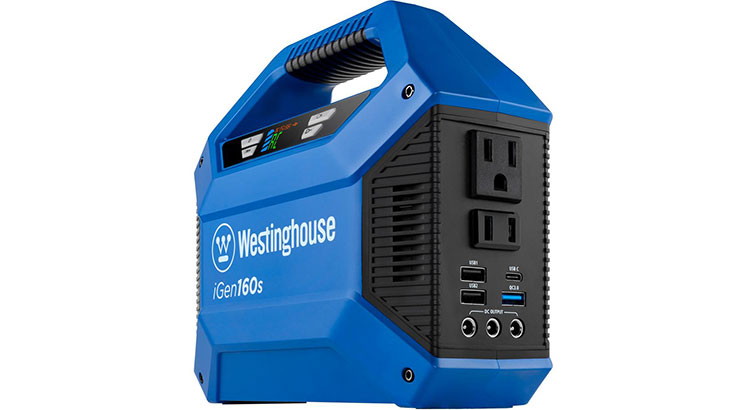 The compact yet rugged design of this power station has won a significant percentage of the market. In fact, this model is almost always unavailable due to high demand. That alone speaks a lot about the capacity.
Westinghouse's portable power station is what you need for your sensitive electronics. So if you want to power up your GoPros or your smartphone, this is your best bet. And since it has a built-in flashlight, it's one of the highly recommended power stations by travelers and campers. It's also budget-friendly too for only $139.99.
6. MAXOAK Bluetti EB150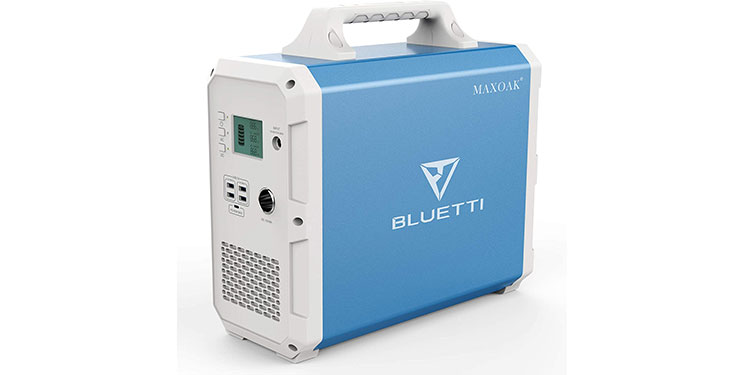 The Bluetti EB150 is easily one of the most powerful units on this list. It can power just about anything with its massive 1500wh lithium-ion battery. At 38lbs, it's not light. But it's not heavy if you consider how much power you're getting. You get 4 USB ports, 1 USB-C port, and 2 A/C outlet on the rear. From cellphones, laptops, TVs, hairdryers, to microwaves, the Bluetti EB150 will keep everything powered through the night.
This backup power generator power station can be fully charged in 10 hours by using a wall outlet. You can also charge it with solar panels. But unlike their competitors, the EB150comes with an MPPT controller instead of the cheaper PWM alternative.
If you're looking for something for a portable "power generator", the EB150 offers the most bang for your bucks. At $1299 it's actually an incredible deal considering many of its competitors charge $1600 – $2000 for the same power.
7. SUAOKI Ares G1000 Power Station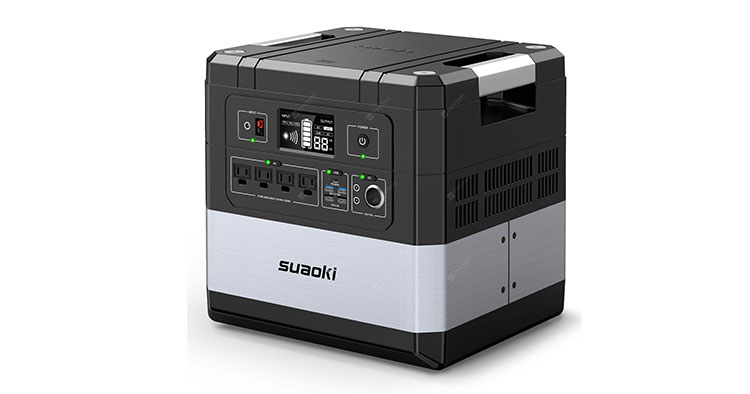 This power station is completely immune to power outages. It's so powerful that it can power 4 laptops at the same time. Having said that, you better get one not just for your home, but for your small office as well. We need to hustle and no apocalypse should stop us from delivering to our clients.
With SUAOKI Ares G1000, you can use your electric fan for 16 hours, your sweeping robot for 13 hours, your coffee maker for 7 hours, and your CPAP for 3 nights. If that's not good enough for you, we don't know what is. But for a hefty price of $1,639.51, make sure that you have an extreme need for power backup.
8. NEXPOW Portable Power Station YP-150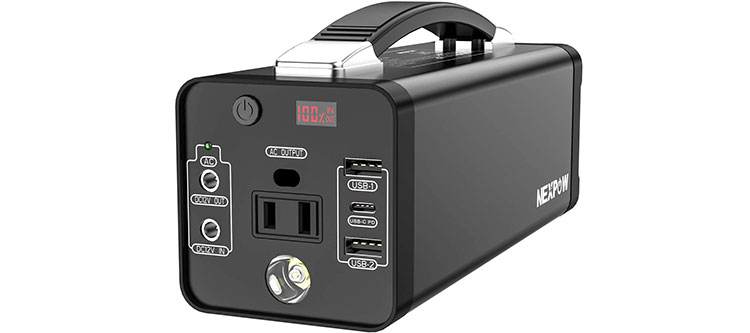 You might want to consider NEXPOW's portable power station if you are particular about the weight. This is extremely lightweight yet holds a decent power for its size of 48000 mAh.
Wondering if you can charge your MacBook pro? With NEXPOW, you don't even need an adapter. Just plug it in and use your laptop to your heart's content.
This amazing portable power station can be yours for only $125. It might be one of the cheapest power stations on the list, but it's one of those gadgets that took us by surprise.
9. nrgGo 400 Portable Power Station

First off, the design is either you love it or you hate it. For others, the exterior looks ugly. But we guess it's a personal preference so we can't say the same. And besides, we are after the core functions and not the aesthetics. In that case, nrgGO 400 did not disappoint.
This portable power station uses battery cells made by a globally-trusted company. Safety definitely gets a big check for that alone. You can power an LCD monitor for at least 4 hours! And that's good enough given its size. But you have to be careful when storing this power station as the power buttons can be accidentally turned on or off in just one light press.
This will not cost you to burn your savings. Get yours right now for only $449.99
10. EcoFlow River 370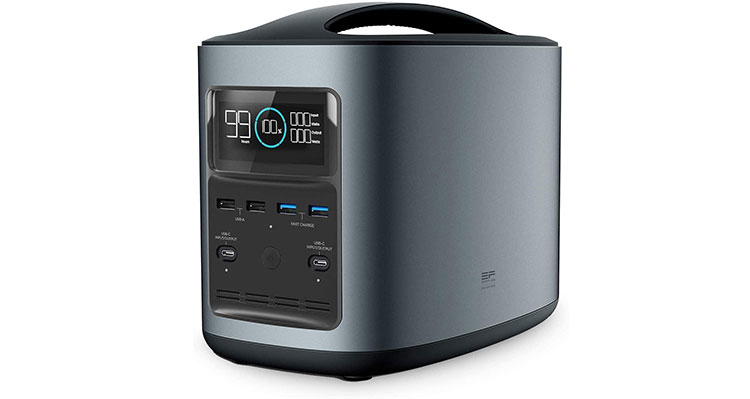 EcoFlow River 370 has 9 outlets, but that's not the main reason to be impressed. What makes this amazing is that you can use these outlets and charge 9 devices all at the same time.
You better get your hands on this, not just for camping or for leisure activities, but even for more harrowing events like a hurricane. And for only $549, it's a mortal sin not to buy one right now.
Wrap Up
As crazy as it may sound, you have to be prepared for the worst. Aside from stacking canned goods, dried food, and toilet paper, the best portable power station should be included in your 'doomsday prepper's checklist'. After all, who wants to live in the dark?

Top 10 Best Noise-Cancelling Headphones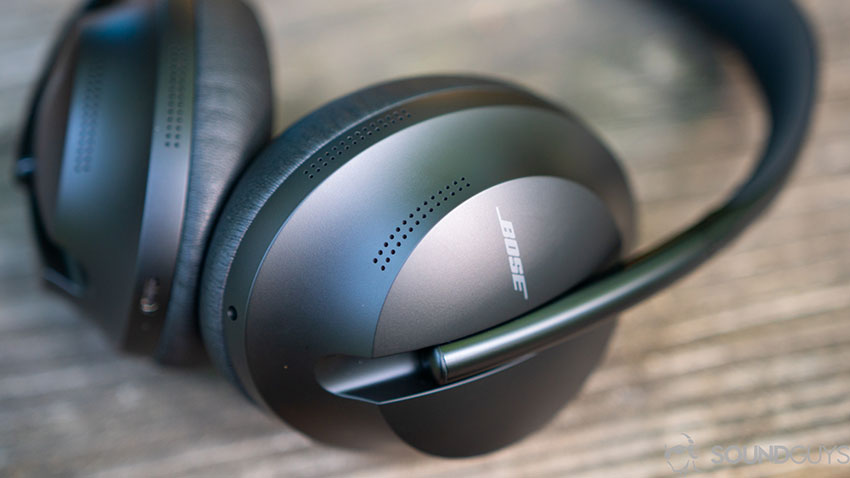 There's no shortage of options when it comes to noise-canceling headphones nowadays. Choosing the right one with the right features AND fits your budget can be a challenge. We've done the scouting for you and put together a list of the best noise-canceling headphones for every budget and needs.
Top 10 Noise-Cancelling Headphones
To make our list comprehensive, we chose noise-canceling headphones priced at least $100 and have all the necessary bells and whistles of a modern noise-canceling headphone. We won't be listing out all their features, as there are many overlaps, and if you're interested in a more in-depth review, check out our independent reviews of each one.
1. Sony WH-1000XM3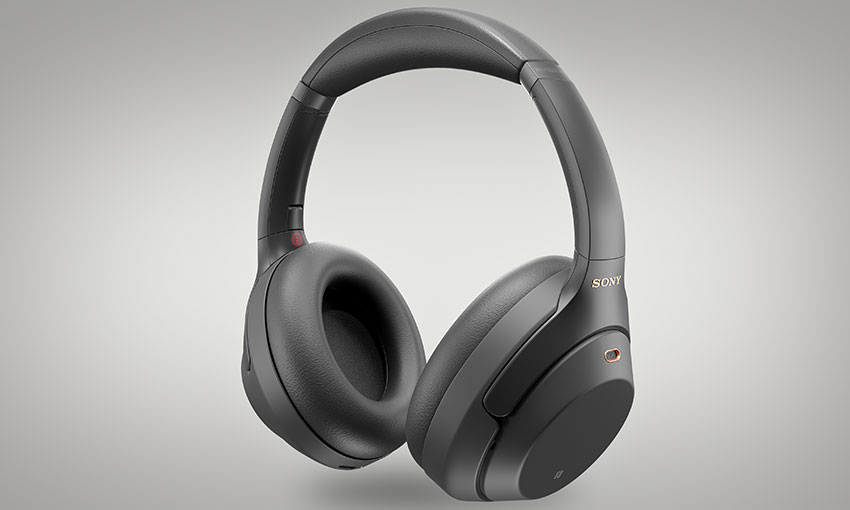 Sony needs no introductions. If you want outstanding noise-canceling headphones packed with features and versatile for both classroom and living room use, then the Sony WH-1000XM3 is a safe bet. Its active noise-cancellation technology is among the best in the industry.
The design is clean, minimalistic, and functional. The earcups are generously big and comfortable enough to use all day without feeling ear-fatigue. The headset offers a precise sound that's a step above anything you've ever used before. It also features touch controls on the side so you can swipe to skip songs.
The Sony WH-1000XM3 has a clever design that lets you listen to your surrounding just by covering one of the earcups with your hand. Gone are the days when you have to pause your music and take your head off to listen to oncoming traffic.
Battery life is also outstanding and manages to squeeze 36+ hours of use before needing to recharge. With that kind of battery life, you'll be able to sit through an entire trans-Atlantic flight without plugging in.
Price: $348 | BUY IT HERE
2. Bose 700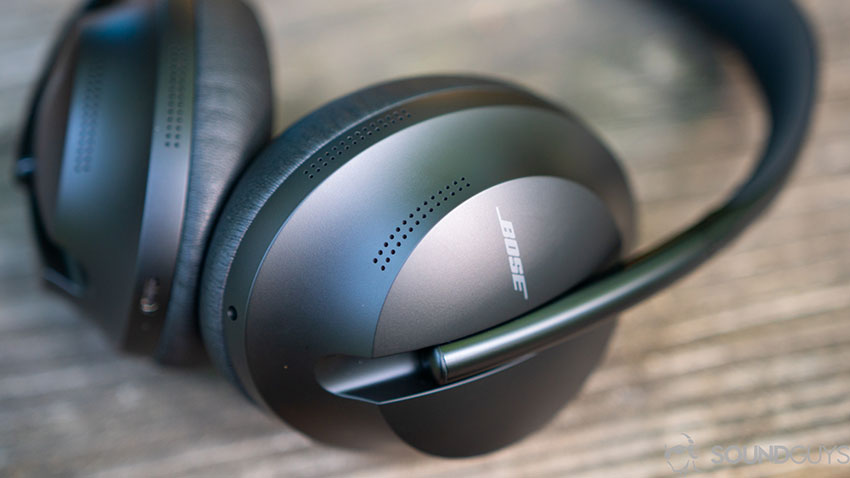 This list wouldn't be complete without at Bose headset would it? Some hail the Bose 700 as the perfect noise-canceling headphones. While I'm not bold enough to make that claim, I absolutely agree that it's one of the best noise-canceling headphones of 2020.
Similar to the Sony WH-1000XM3, the Bose 700 features intuitive touch controls, aluminum constructions, and a whole list of features to elevate your listening experience. What separates the Bose 700 from everything else on the list is its augmented reality audio technology that promises the best listening experience.
At $399, it's not an affordable option, however a worthwhile investment for enthusiasts and audiophiles.
Price: $399 | BUY IT HERE
3. Skullcandy Venue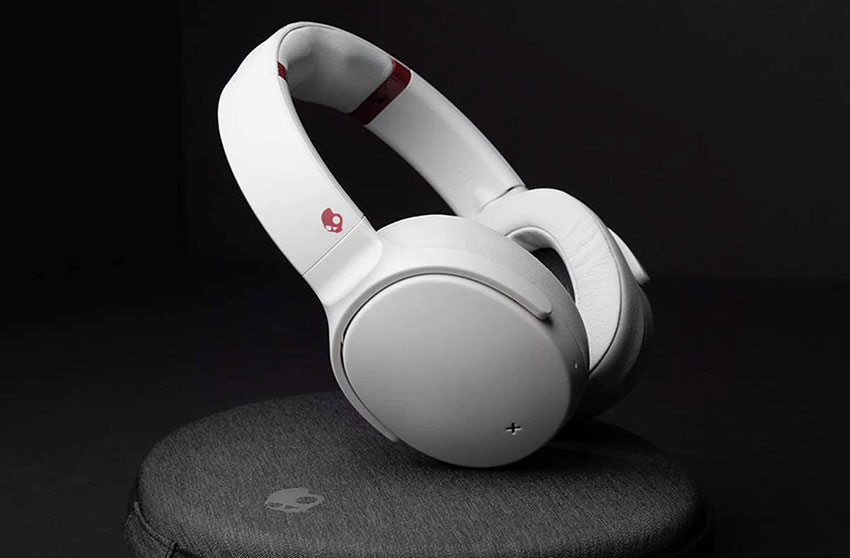 Marketed towards students and aspiring artists, the Skullcandy Venue gives you exceptional noise-canceling performance at less than half the cost of rivaling headphones on this list. The budget-friendly gadget features ANC (active noise cancellation) technology that works reasonably well for the price.
It can last up to 40 hours on a single charge and features quick-charge that can give you 2 hours of listening for every 10 minutes of charging. One of Skullcandy's best features is the Tile integration. Never worry about losing your headphones again with the integrated Tile chip. You'll need to download and install the Tile app separately, but it's a nifty little feature that gives added security.
Price: $129 | BUY IT HERE
4. Beats Solo Pro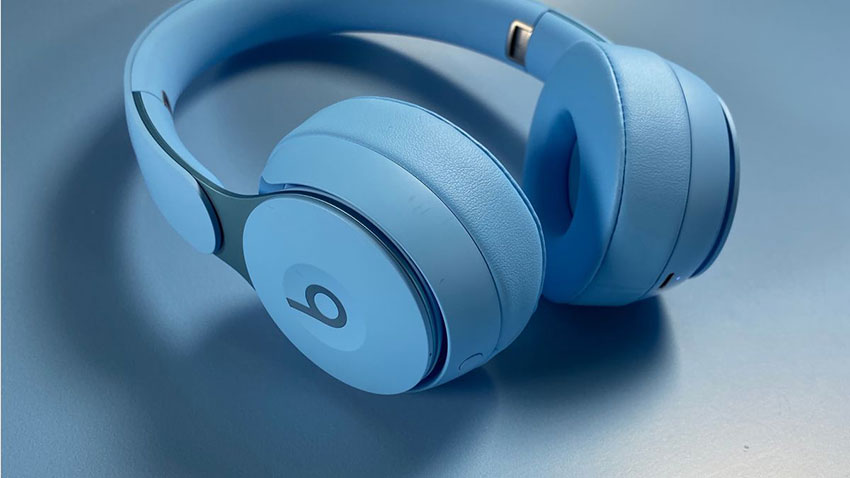 Beats Solo Pro is a headphone made for people who are always on the run. It offers exceptional ANC technology that's on par with more expensive headsets. The Beats Pro also comes with Bluetooth 5.0 built-in for fast and reliable connections.
The "Fast-fuel" charging also lets you enjoy 3 hours of music for just 10 minutes of charge, similar to the Skullcandy Venue. The sound quality is still heavy on bass. But that's already expected from a Beats product. The Beats Pro will play nicely with all your Apple devices if you're married to Apple's ecosystem. The downside is that it doesn't come with a Mic, so you won't be able to make any calls with this headset.
Price: $299 | BUY IT HERE
5. Bose SoundLink Around-Ear Wireless Headphones II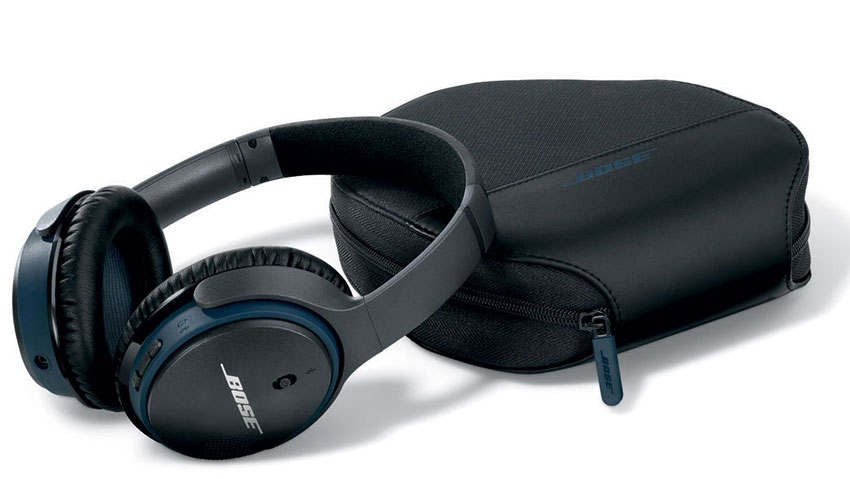 We did try to keep Bose from having more than one product on this list, but we couldn't help it. The Bose SoundLink is a fantastic value proposition from Bose. Think of this as their "budget" headphone.
The headphone offers bose-quality ANC and delivers crystal clear audio playback. The sound packs quite a bit of punch considering its size. It's perfect for smooth sounds but not the ideal for hip-hop or bass-intensive playlists.
Its battery life is recorded at only 15 hours, so it's nothing to write home about. It regularly charges via USB without any quick-charge tech. It can be used as a regular headphone if the batteries run out. However, the sound quality is greatly diminished, and ANC won't work as well running from 3.5mm jack.
Price: $229 | BUY IT HERE
6. Lindy BNX-60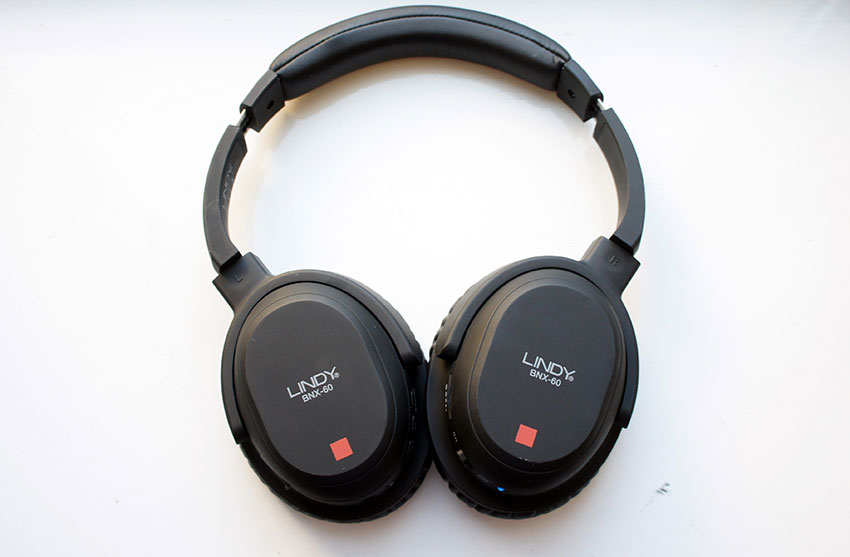 You've probably never heard of Lindy before, and that's for a good reason. The company doesn't have a strong presence in the United States, but they do make excellent quality ANC-enabled headphones at an affordable price. Probably one of the cheapest headphones you can get with a decent ANC.
Price: $59 | BUY IT HERE
7. AKG N700NC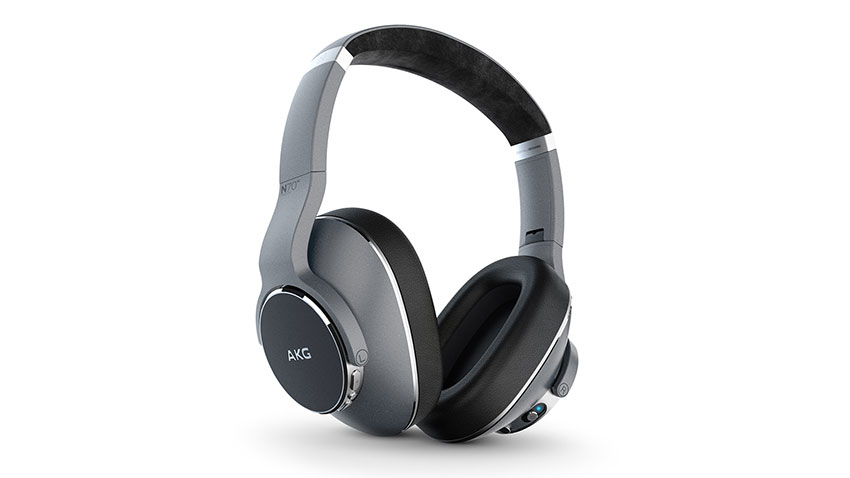 There is so much to love about AKG N700NC. It has a smart design that can fold completely flat for secure storage. Build quality is impressive, especially at this price range. The sound quality and ANC are also no slouch, either. And unlike some headphones twice its price, the AKG comes with a decent set of mics for you to make calls with if you ever need to.
Price: $99 | BUY IT HERE
8. JBL Live 650 BTNC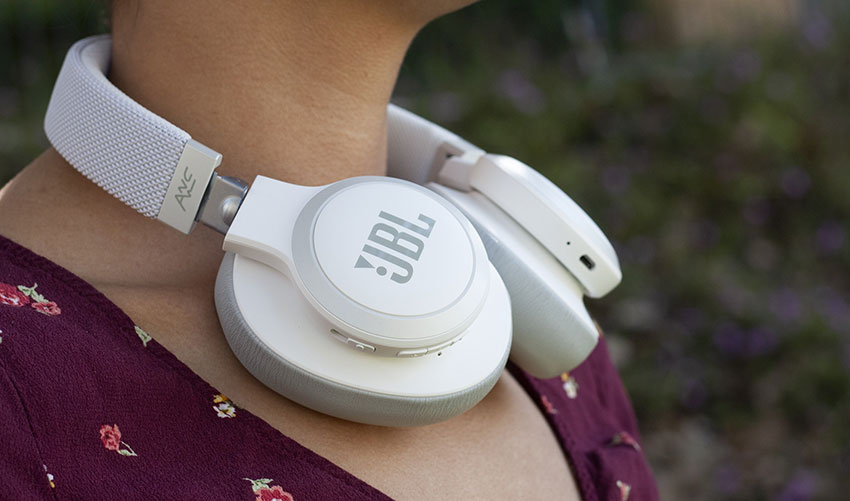 Looking for a quality pair of headphones that you can comfortably wear all day? The JBL Live 650 BTNC offers comfort, sound quality, features, AND build quality of premium headphones at half the price. It offers good ANC. The generously sized earcups deliver punchy and dynamic audio, perfect for tracks with a lot of bass.
It's also an excellent looking headphone that looks more expensive than it is. At $199, you're getting a lot more bang for your bucks than competing brands.
Price: $199 | BUY IT HERE
9. Bowers & Wilkins PX Active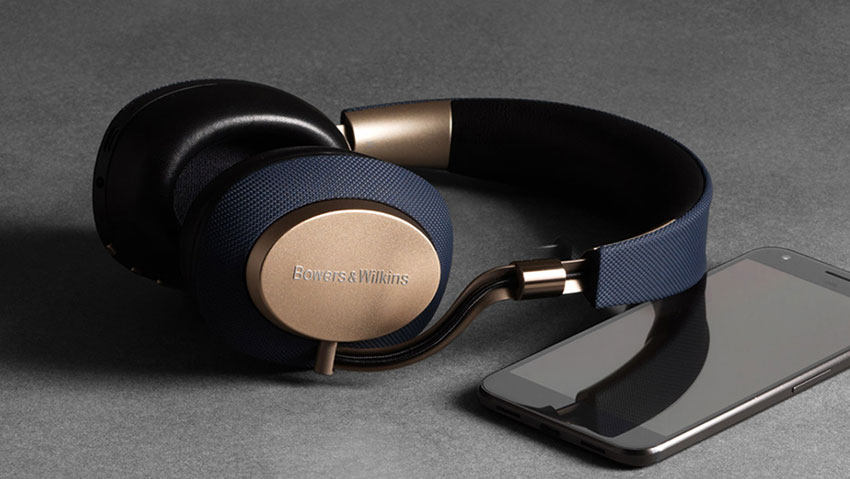 The Bowers & Wilkins PX Active is an expensive headphone that offers decent performance. It features adaptive noise cancelation instead of active and has a handful of useful features. If you lift the earcups up to listen to someone talk, the headphone will automatically pause your music and instantly resume when you put the earcup back.
What makes the Bowers & Wilkins PX Active stand out is its design. It's a gorgeous pair of headphone that looks and feels premium. Expect to turn heads when wearing this on your next trip.
Price: $219 | BUY IT HERE
10. Audio-Technica ATH-ANC9 QuietPoint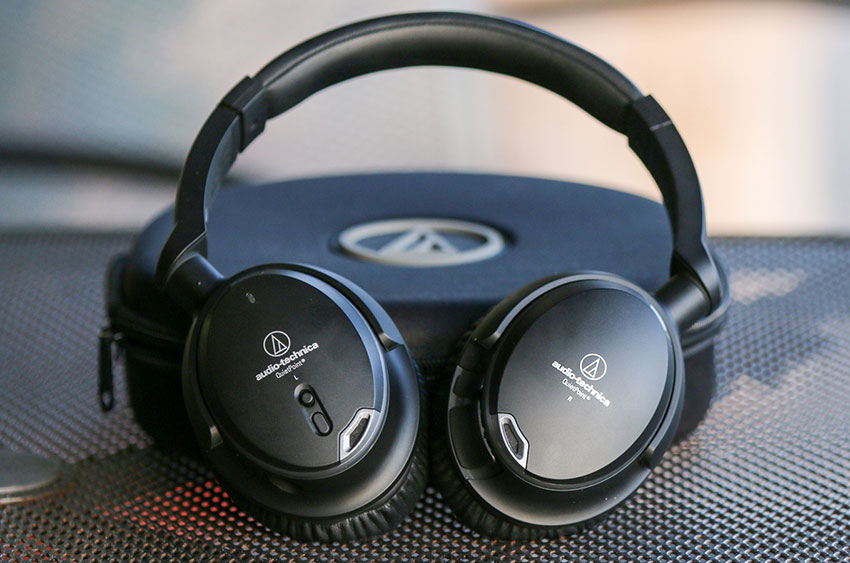 The Audio-Technica ATH-ANC9 has a ridiculous name that's impossible to remember. But it makes up for it by being comfortable, spacious, and well built. It's not the sexiest thing on the market, but it's a pair that will last you. It comes with every feature you'd expect, including a mic. The one function that's missing is a rechargeable battery. I'm not quite sure why the engineers at Audio-Technica opted for AAA batteries instead of lithium ions, but it's a technical choice that might not sit well with younger audiences.
Despite the flaw, it's still a solid set headphone that made the list because you can easily get this $199 headphone for about $70 – $100 on a sale.
Price: $199 | BUY IT HERE
Top 11 Best Gaming Laptops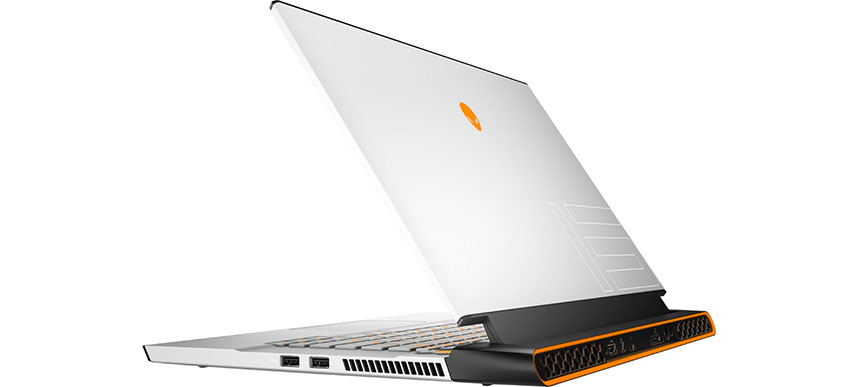 Tired of looking for the best gaming laptops?
If you want an amazing gaming experience, then we have here the best gaming laptops. But of course, your choice should depend on your gaming routines and budget. That's why we made our list as diverse as possible.
Best Gaming Laptops 2020
Take a look at our top gaming laptops for this year.
1. MSI GS65 Stealth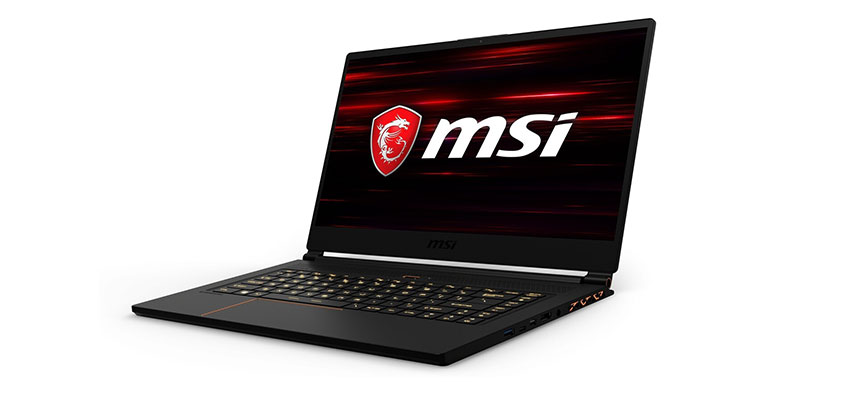 If you are searching for a manly-looking and handsome gaming laptop, then MSI GS65 Stealth is one of the best choices. It weighs 4.39 pounds which makes it travel-friendly. At least you don't have to carry a heavy device if you plan to take a vacation somewhere else. Its keyboard is outstanding and you can easily work on it.
You also get multiple port selections from this gaming laptop. On the left side are mic and headset jacks, an Ethernet jack, and two USB ports. On the right side, you will find a power connector, USB-A port, USB-C port, a mini DisplayPort output, and HDMI port.
Price: $1,799
2. Asus ROG Strix Scar III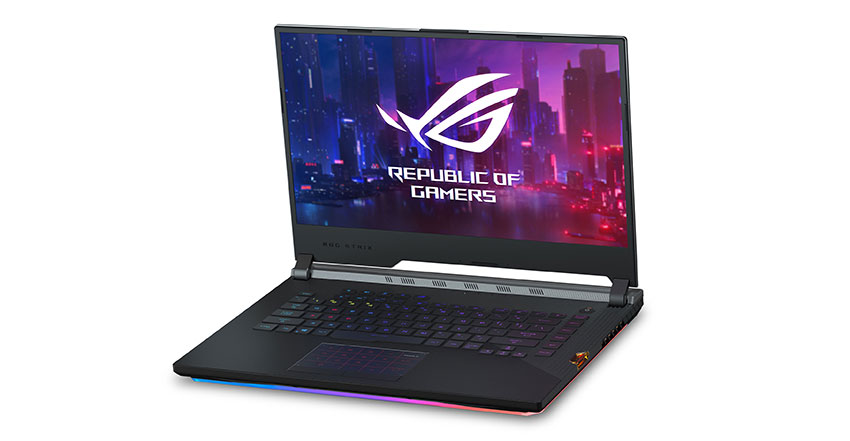 If we talking about performance, a great display, and decent battery life, you better get your hands on your own Asus ROG Strix Scar III. It has a smooth 240-Hz display, a comfortable keyboard that you can use for hours, and good speakers.
You can juggle 40 Google Chrome tabs with this device. In addition, the battery can last for more than five hours. The downside of getting this gaming laptop is that it doesn't have a webcam. But still, this one deserves to be on our 'best gaming laptops' list.
Price: $2,084
3. Gigabyte Aero 17 HD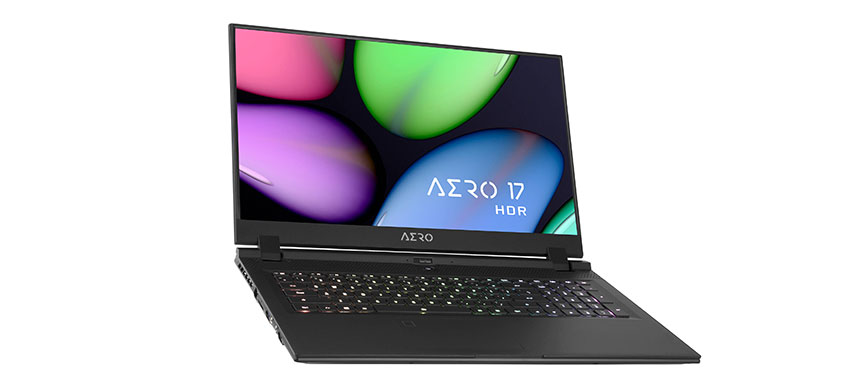 They say that this laptop can take gamers to heaven and we couldn't agree more. Gigabyte Aero 17 HDR is perfect for hardcore gamers. The speed is awesome and ideal for challenging games. It has a sleek design if you aim for a minimalist gaming laptop. But of course, this is not built for mobility. And most gamers using this laptop would rather just play at home.
You can also take advantage of the sliding lens cover for the webcam. After all, who doesn't value privacy? However, it is located below the monitor which can result in unflattering shots when you use it. It is a bit pricey but you'd get maximum enjoyment.
Price: $2,799
4. Razer Blade 15 Advanced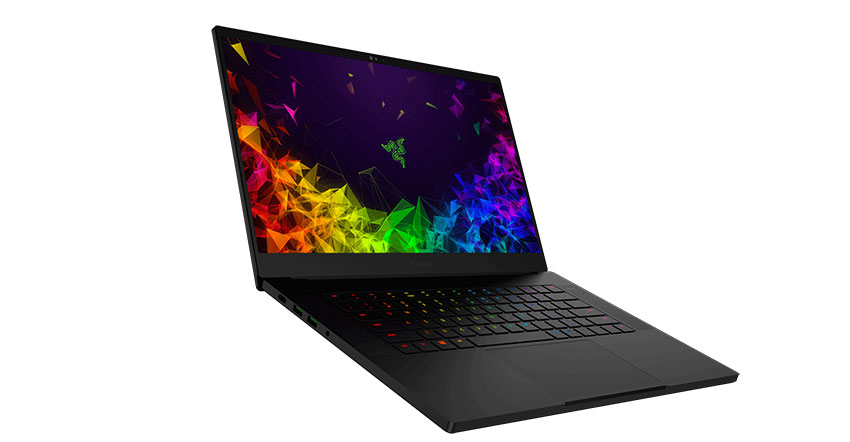 Razer Blade 15 Advanced is for gamers and creators. You get to enjoy full HD display and audio that is almost perfect. The performance is topnotch and the build is of high quality. What we don't like though is that the keyboard is below average. This could be a major point for improvement.
Its RAM options are fixed at 16GB. As for the battery, it's not the best in the market, but it should serve you well for your gaming needs. Simply put, the price fits it well.
Price: $2,349
5. Dell G3 15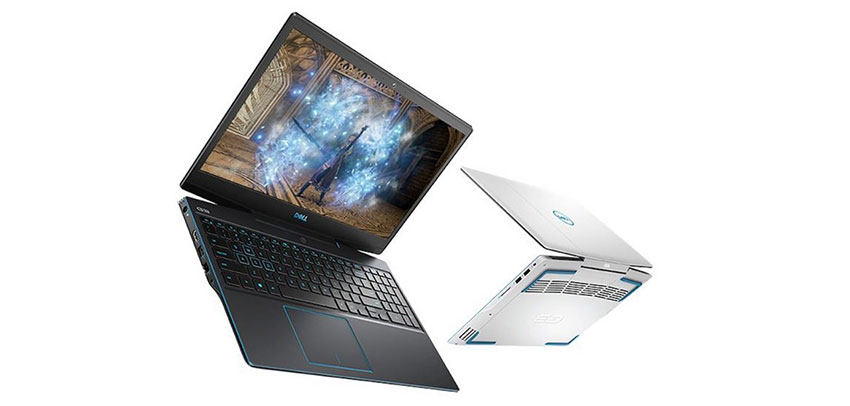 Are you looking for the best gaming laptops that are easy on the budget? Look no further and get Dell G3 15. But of course, you must manage your expectations as this couldn't be on par with the other gaming laptops on this list. If you must know, the display can be a bit dull. But the design itself is pretty neat.
You can also find multiple ports that are common for a gaming laptop. As for the keyboard, it might look cheap but you'd be surprised that it's comfortable to use. For the performance, we have to say that it's better than other affordable gaming laptops. If you are a newbie, we recommend that you get this.
Price: $799
6. Acer Predator Triton 500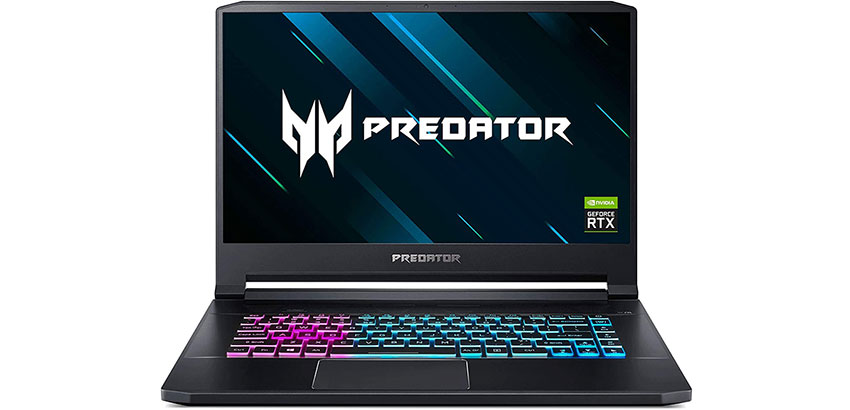 Acer Predator Triton 500 is a decently-priced gaming laptop. It's not too cheap nor too expensive. One of the things that we like about this particular gaming laptop is that it is easy to carry. It's perfect for a gamer who loves to travel a lot. It can also last for 6 hours.
This could go lower though if you use it to edit videos or even browse the internet. One of its cons is that it's hard to upgrade. Plus, Acer Predator Triton 500 doesn't feature per-key RGB lighting on its keyboard.
Price: $1,800
7. Alienware M15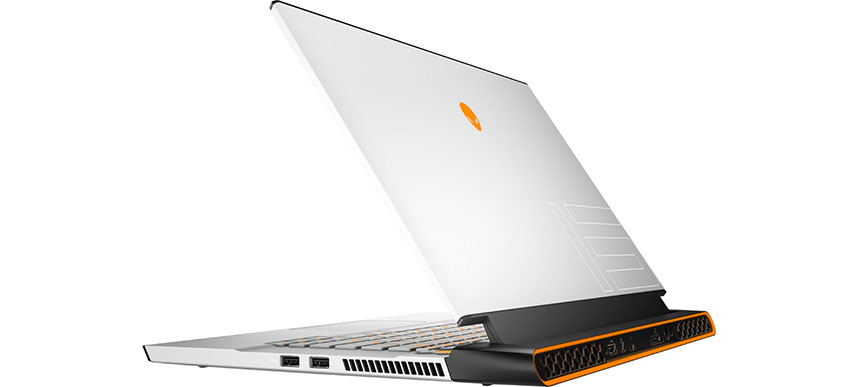 If there is a competition for gaming laptops in terms of being thin and light, Alienware M15 could probably win the category. In fact, the design keeps getting better. However, it might need to improve its speakers and trackpad. Nevertheless, it can bring your gaming experience to a whole new dimension.
Alienware is known as a powerful laptop and this model certainly meets the expectation. We have to say that this is reasonably priced too.
Price: $1,399
8. Lenovo Legion Y740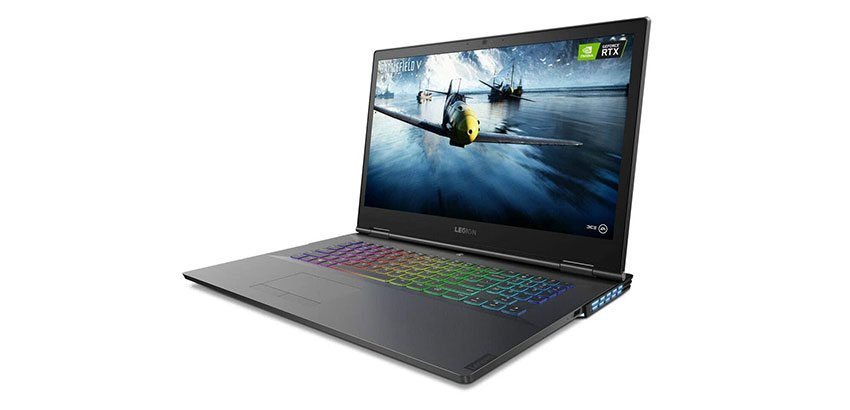 Lenovo Legion Y740 is on our 'best gaming laptops' list because of its performance and display. The well-lit keyboard is also a plus for us. What we don't like though is the battery life and the placement of its webcam. All things considered, this is still a great buy.
Price: $1,739
9. Asus ROG Zephyrus S GX502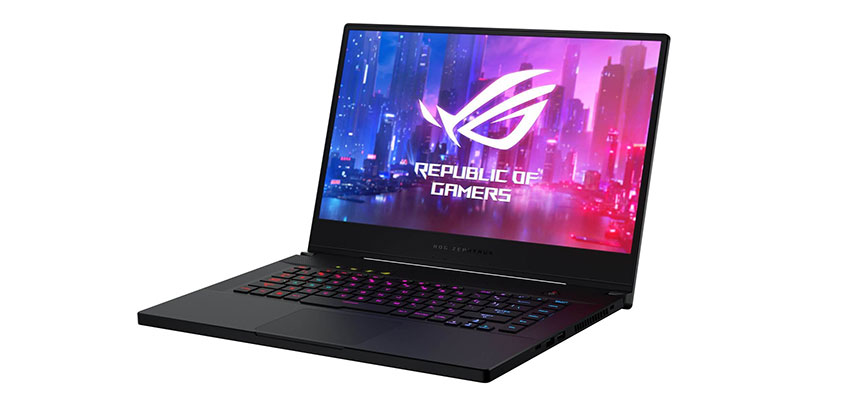 Asus ROG Zephyrus S GX502 is nothing short of outstanding. If you want to have an excellent gaming experience, investing in this laptop is a must. The keyboard is a good feature because it is spaced accordingly. That means it's easy to play and to even finish a simple typing job. Battery life is above average as well. If you don't mind a noisy gaming laptop, this could work for you.
Price: $2,099
10. HP Omen 15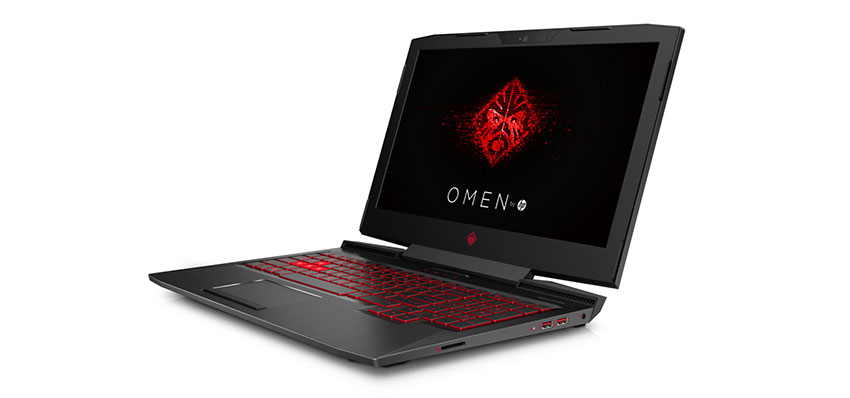 There is a base model that costs only $749. But for this review, we chose the higher-tiered model. HP Omen 15 is also a powerful gaming laptop. It has a lot of ports that can improve your overall gaming experience.
As for the display, we consider this outstanding. Even if you are playing or watching movies, you can expect superb quality. We were pretty surprised about the audio as well. Even if it is located at the bottom, the quality of sound is decent.
Price: $1,149
11. MSI GL63 8RC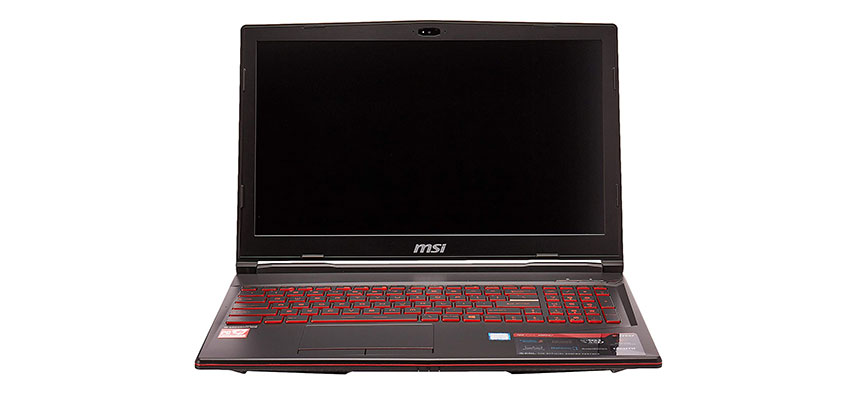 For those who are looking for an entry-level gaming laptop, MSI GL63 8RC is a good option. The keyboard though is just satisfactory and we believe it might need some tweaks in the future. As for the performance, do not expect that it can compete with the more expensive and other best gaming laptops. However, it can still give you that worthy gaming experience.
Price: $900
Conclusion
If you wish to splurge and get the best gaming laptop, consider Gigabyte Aero 17 HDR. Yet again, for those who are working on a tight budget, the gaming laptop from Dell should do the trick.