BumpOut: The Expandable Portable Speaker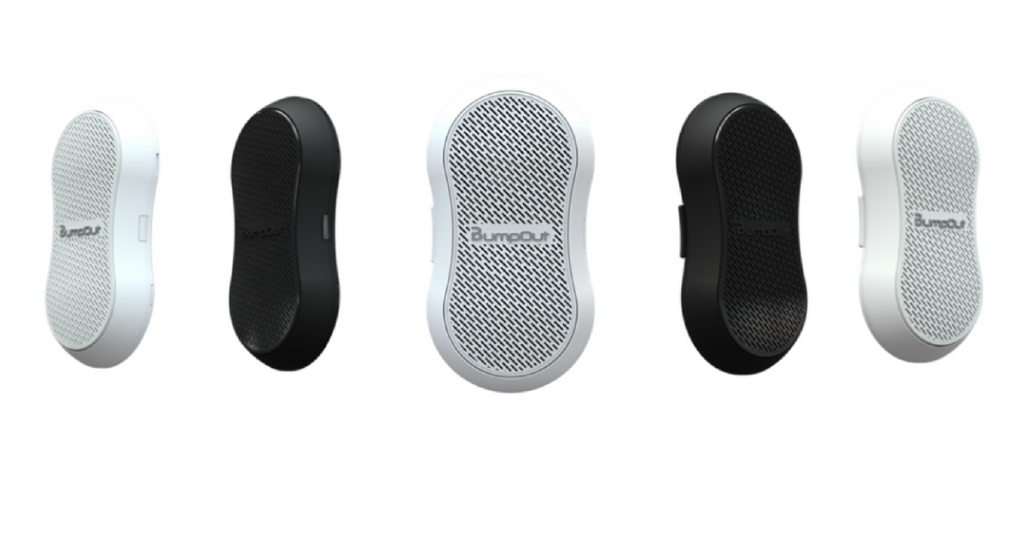 Take your music everywhere with BumpOut, the portable speaker designed for versatility. That was Zac Pierce's initial idea when creating technology. They hit an early milestone by reaching their crowdfunding goal on Indiegogo in 4 days, pre-selling the speaker at a discounted price to backers. What's neat about the speaker is it's Motorized Expansion Technology™, where it expands to generate high-quality audio and rich bass. It connects through Bluetooth with a range of 30 feet and runs for 7 hours before the next charge. You can attach the speaker to any smooth surface with the BumpOut coins, including your phone. We connected with Zac Pierce and the BumpOut team to learn more about the innovative technology behind their portable speaker.
How would you describe BumpOut?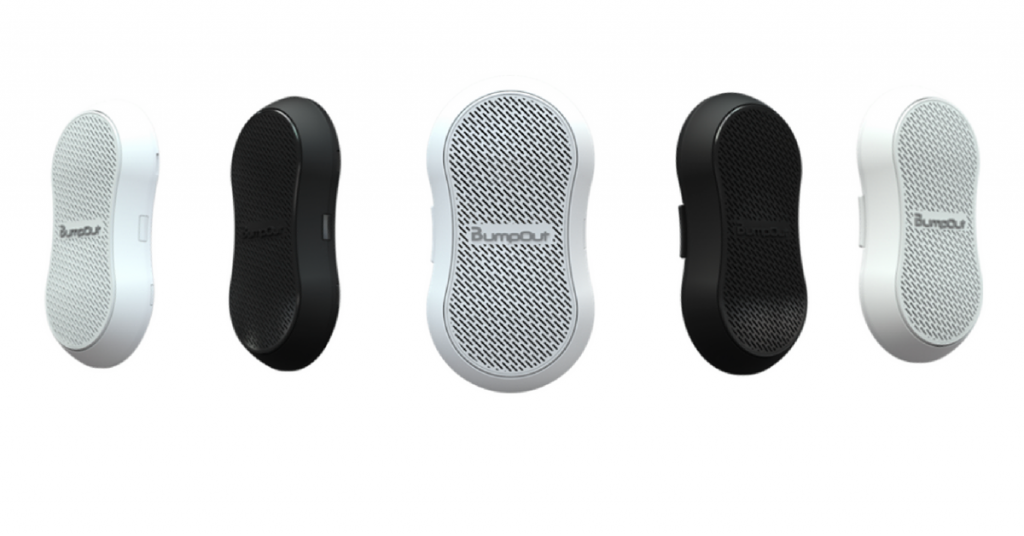 BumpOut is a portable Bluetooth speaker that can fit in the palm of your hand and attach to any flat surface, including smartphones, mirrors, refrigerators, etc. The most unique feature is the speaker's Motorized Expansion System. With one click of a button, the center of the speaker raises, generating high-quality sound & bass that drowns out the most competing products.
What is BumpOut's mission?
Inspire and innovate for those that boldly do what they love, not just what they are told. BumpOut as a verb. Be inspired and work hard as it inspires others.
How does BumpOut differentiate from competitor portable speakers?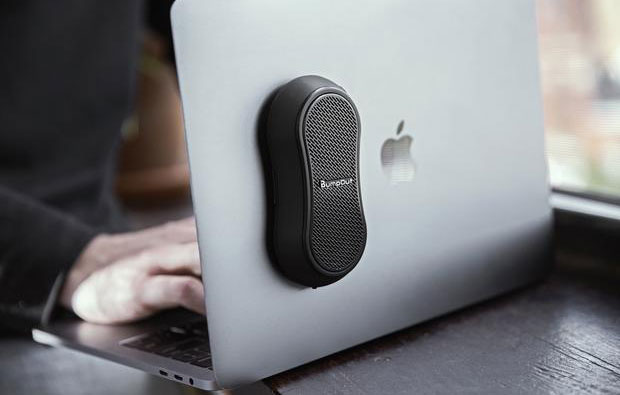 The main differences are portability and innovation. We have engineered a speaker with a sleek design that fits comfortably in your pocket and can attach directly to your phone or case. Truly portable. Our patented Motorized Expansion Technology™ is an audio industry breakthrough. With the push of a button, the casing of the speaker expands, creating an acoustic chamber that results in powerful, high-quality sound, and rich bass response. We then paired this technology with BumpOut Coins that feature a patented repositionable adhesive that allows you to attach the speaker to any smooth surface, even your smartphone.
When you look at the crowded space of Bluetooth speakers there is a lot of "stuff" under $50 that leaves you wanting more: not loud enough, does not connect to your device easily, poor sound quality, etc… OR if you are willing to spend north of $150 you can get something that might meet your needs but is a big investment. We believe, after extensive research, that you don't need to spend a ton of money to get the results you are looking for. There is an opportunity in the market for a quality portable speaker under $100.
Who is the ideal BumpOut customer?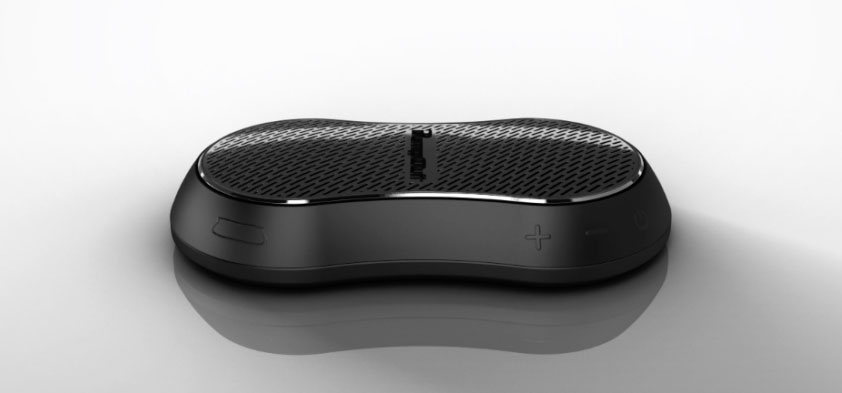 Anyone who listens to music on their smartphone and wants the latest innovation in audio at an affordable price. We are proud that we have been able to incorporate game-changing technology into BumpOut, but the #1 focus is "quality of music". That is why we partnered with the top audio engineers in the country and hired a high-end audio manufacturer to make BumpOut. It needs to sound great and your listening experience needs to be enjoyable.
Describe the use of the coin mounts.
BumpOut comes with coins that can be placed on any smooth flat surface so you can have your soundtrack at home or on the go. Coins have a repositionable adhesive that can be removed and repositioned. BumpOut speaker connects directly to the coins. Our test markets showed us that most youths will place the coin on the mirror in the bathroom so they can connect the speaker (to the mirror) while showering or getting ready for school or going out. Most parents said they will place a coin in the kitchen on the refrigerator so they can attach the speaker and listen to music while making dinner. Almost everyone we surveyed will place a coin on their smartphone for true portability and improve the "sub-par" audio quality and volume smartphones currently provide. Speaker does not need to be attached to the coin to listen to the music. The coins provide an extra feature to mount your speaker in various locations or, if attached to your smartphone, allows for easy portability.
What are some perks of crowdfunding?

Customer engagement. We have been working on this project for 2 years and have spent our own nest eggs on getting to this point. Crowdfunding has allowed us to engage with our customers and backers and bring validity to all of our efforts. You never really know what you have until you "flip the switch" on sales. To hit our Indiegogo goal in 4 days confirms everything we have been working towards.
What are some challenges you've come across along the way?
The biggest challenge with hardware is capital. It is very expensive to manufacture a product, which is why Crowdfunding is such an important process. Also, finding helpful resources for hardware development in Philadelphia is a challenge. We have kept our resources very organized and hope to be able to aid others in the city.
What is your team like?
The core of the team is Founder Zac Pierce and partners Brian Zamrowski and Mat Chacko. We have surrounded ourselves with high-level specialists to ensure that we are delivering the best possible product for an affordable price.
What is BumpOutU?
We believe in today's youth. By providing guidance and exposure to career paths that foster individual talents, we aim to make a meaningful impact on the Creators of tomorrow. Our first live event held on October 8th brought community leaders, entrepreneurs, and students together for a day of bumping music and breakout sessions developed to inspire creativity and ideas backed by positive action. With our backers' support, our commitment to BumpOutU, and proactive approach to making a difference will scale along with our company.
How did you advertise?
On a budget! In these earliest stages, we rely heavily on PR and focus on technology and audio outlets.
What are some tips you can give to entrepreneurs looking to crowdfund?
It is a LOT of work but, if you go into it with a plan of what you want to learn from the process, it is extremely helpful. You learn about what features really resonate with your consumers.
Penji Review: How unlimited is it REALLY? (+25% Promo Code)
Move over Fiverr. Unlimited graphic design services are the newest alternative to hiring a graphic designer. But, these services bring up many questions. For example: How unlimited is unlimited graphic design?
We tried out one of the top services: Penji.
Like many of their counterparts, Penji offers graphic design work on a monthly subscription. We put their promise of fast turnaround, high-quality, and affordability to the test.
You can submit as many design projects as you want via their online portal, and they'll complete your requests one at a time until your queue is complete. This type of service promises to be a great added resource for teams to improve productivity.
Does it sound too good to be true? We thought so too. So, we signed up to see for ourselves.
This article was updated on June, 2021.
Quick Summary
As with any service, there are pros and cons. To help with your graphic design hiring decision, we decided to condense what we found in a bulleted list below. Here's a quick summary of our review of Penji's unlimited graphic design service.
(Still wondering what "unlimited graphic design" is? We explain what it is here.)
Pros
Easy and quick to create design projects
Storage for all my requested designs
VERY fast turnaround on most projects. I expected just 1 draft in 24 hours but instead received 3 drafts. Revisions were sometimes completed the same day I submitted them.
Helpful features such as a revision tool, ability to invite team members, brand profile, and more
Upbeat and direct communication from everyone I interact with
A dedicated and responsive account manager who replies within a few hours
Cons
Can't call or talk to designers
Best if you have design projects ready to submit
Not available as an app
Overall Experience
Penji's "unlimited" design model is a great choice if you have the right expectations going in. The service is affordable for growing businesses and their output is reliable. However, if you're expecting to be on-call or face-to-face with your designer, this type of service is not for you.
Compared to designing yourself, hiring freelancers, or using Fiverr, Penji is a much better service and value by a long shot. Their team of designers lived up to the promise and exceeded my expectations.
Thinking of trying Penji out for yourself? Here's a special promo code for Owner's Mag readers:
Use the Penji promo code "OWNER25" to get 25% off your 1st month.
---
PENJI FULL REVIEW

We put Penji to the test by signing up, requesting a design, and examining the results. Here's how it went.
Final Verdict
We get it. You want to know how it went without reading all the mumbo jumbo.
All four projects were completed within two weeks and I was impressed with how they all turned out. If I had paid hourly or per project, these would've easily cost me well above $1200+ to get done, and probably taken weeks.
With Penji, it took just a few days and I paid a fraction of what I would've paid elsewhere. Definitely impressed with both the turnaround, quality, communication, and value this startup has to offer.
But Penji isn't without its flaws. The service definitely isn't for everybody.
Who would benefit:
business owners
marketers
agencies
creatives with consistent design needs
If you don't have a consistent need, the bill will start racking up after a couple of months and you won't see the value in the subscription.
However, if you do happen to fit their target demographic, then there's no better alternative out there. The speed and quality of their work easily rival other services I'd ever used. For $399 per month, this is an absolute steal.
What I Did Step by Step
Now, if you want to get into the meat of how it went, keep on reading for every detail of how I got from the sign up screen to the final project.
Signing Up For Penji
Signing up for Penji was a relatively quick and painless process. All of my questions were answered in less than 5 minutes by customer support via Intercom and another 2 minutes to complete the checkout process.
Communication with Penji's Support Team
How fast and reliable a company's support team is before you are an active customer is a reflection of what's to come. If they're unresponsive now, it will only get worse once I'm a customer. I reached out to Penji's customer support team via their Intercom chat popup and got a response within 30 seconds, which is pretty good. I asked basic questions and the agent seemed knowledgeable.
Communication as a Customer
All communication is done online through Penji's proprietary online portal. That includes revisions, feedback, and answering any questions my designers may have.
Communication with Your Designers
Penji assigned me 1 designer, Billie, and communication with her was easy. If you have used any messaging platforms like Slack, Facebook Messenger, or Discord, you'd be familiar with this form of communication.
Billie was responsive, attentive, and always seemed to have a positive attitude no matter how demanding my requests were. She had many questions about the projects, which I tried my best to answer as a customer. Though the back and forth took longer than I wanted, I realized she was just being thorough to get the design done right, which I appreciate.
Communication with Your Account Managers
They assigned me an Account Manager, Charmaine, who was very quick whenever I needed something. It usually takes just a few hours for me to get a reply via email from her. When I had an issue with one of the projects, she quickly stepped in and helped resolve the situation.
1. Choose the Right Package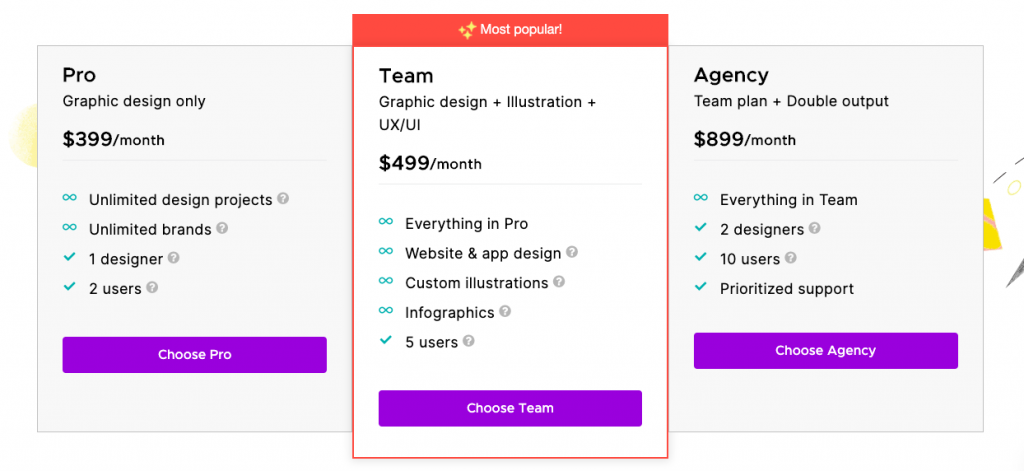 All the packages are laid out with monthly, quarterly, and yearly pricing. Starting at $399 per month for the Pro plan, you'll be able to make unlimited graphic design requests with a 24-48 hour turnaround. As your design needs grow, you'll have the Team and Agency packages to choose from.
2. Checkout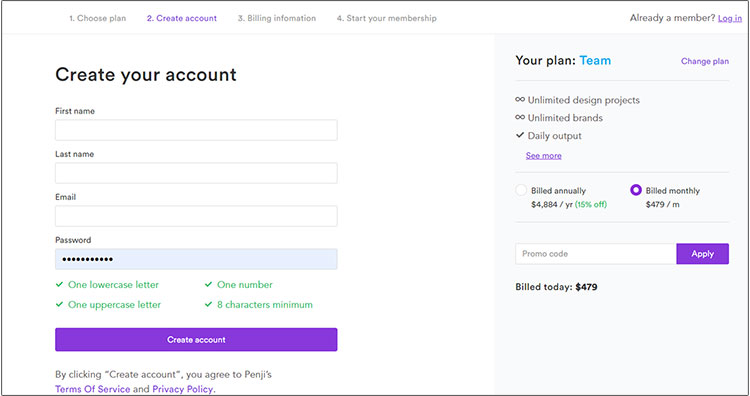 The form is straightforward and easy to fill out. Checking out was a breeze and took about 2 minutes.
---
3. Submit a Design Project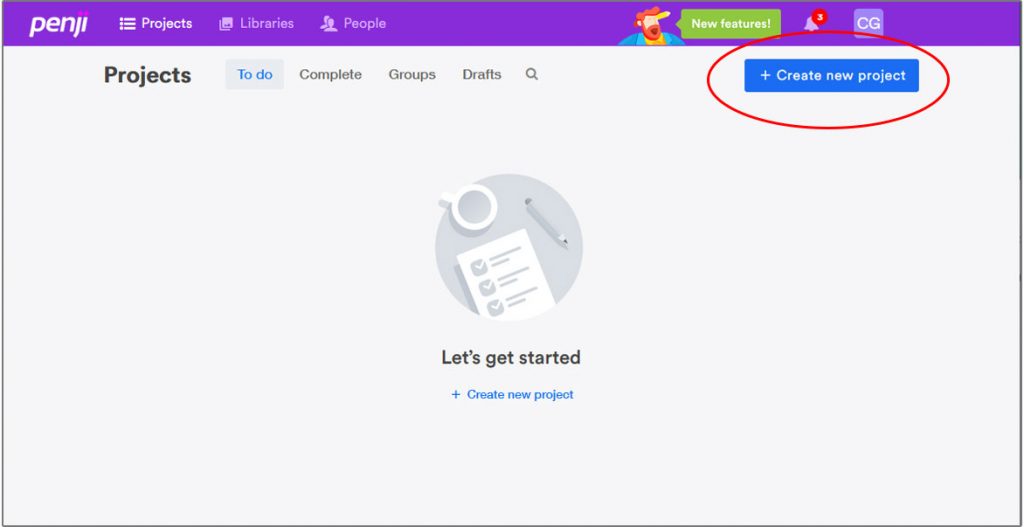 Clicking on the "+ Create new project" button, I'm presented with a visual chart of all the design categories they offer. They offer an extensive selection of options and even the ability to request a custom project.
4. Fill Out the Request Form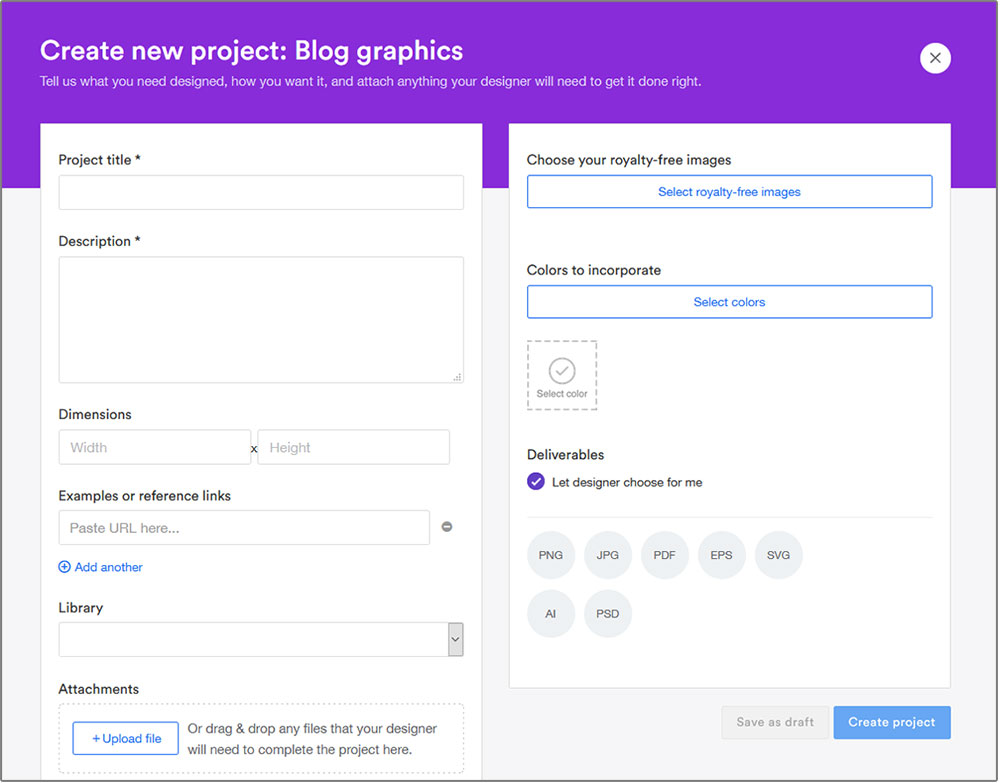 Next, I filled out a short form detailing what I wanted them to design. For those of you who hate long forms, this one from Penji is easy to follow and doesn't ask too many questions. Most of the questions are actually optional so you can be as descriptive or non-descriptive as you like.
My test projects
As a digital publisher, we produce content on a daily basis and always have a need for on-brand graphic design. I created several projects to test how well-rounded Penji is and how they handle both simple and complex requests. A simple banner should be difficult, but can they handle a complex infographic with lots of texts and imagery?
Here are my test projects:
Blog Graphic: Best DSLR Camera Equipment For Beginners
Custom Illustration: Best Vacuum Cleaner Money Can Buy
Facebook Post: Isometric Tech Gadget Graphic
Magazine Print Cover (Owner's Magazine's 2020 May Edition
Despite creating four projects, the entire process was quick and smooth. It only took a few minutes to create them and their internal platform was lightning fast. At this pace, I can see myself submitting multiple projects on their platform with ease.
---
Turnaround Time
I expected at least one draft the next day. What I didn't expect were three drafts ready for review. To give you a comparison, most freelancers and design firms we've hired take several days to submit just one draft.
The designs were surprisingly good considering that it's the first draft AND they had a 24-hour turnaround. After reviewing, I realized how they did it. Every project had a different designer. I wasn't assigned just one designer. It was like having my very own virtual design team.
4. Requesting Revisions
Though the designs were good, I still needed a few revisions. The drafts were turned around usually the same day or by the next day. Their support agent actually told me it will take 24 hours to turn around revisions. The revisions that took 24 hours were typically much more involved.
Overall, revisions were quick. Most came back within a few hours after I submitted them.
My one gripe would be that I prefer to have some sort of real-time chat with my designer or at least have a Zoom call. That's one thing I like about working with my freelancers. Whenever they were online, we could just have a back and forth conversation to get the revisions across. I can't do that with Penji.
Built-in Revision Tool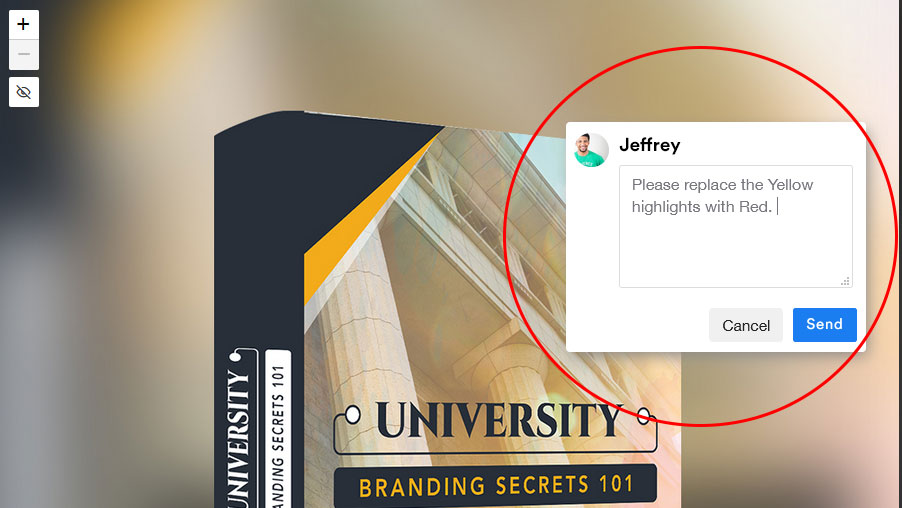 Penji has a built-in revision tool that lets me click anywhere on the design to leave a revision. I found this incredibly useful as it enables me to pin-point what I want to change.
---
The Results
It took about 1 week to go back and forth with revisions and edits for all 4 design projects. At the end of the week, I received the final drafts for all three. Here are the results of the three test projects.
1. Blog Graphic: Best DSLR Camera Equipment For Beginners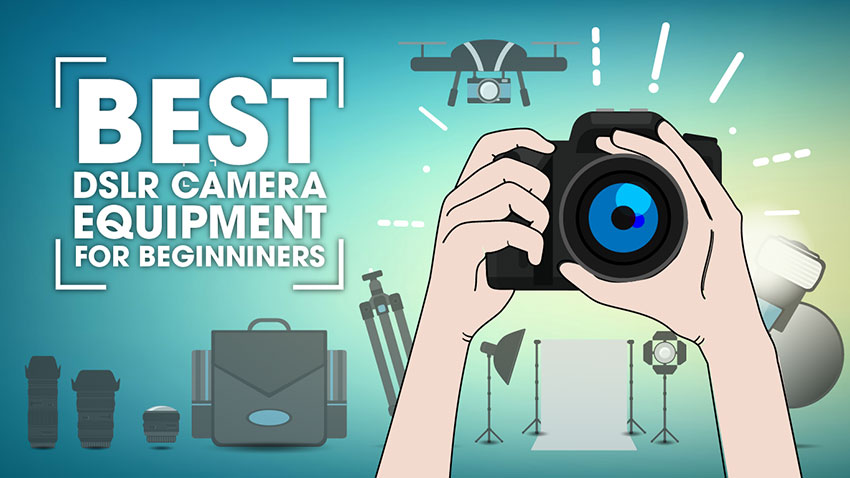 This far exceeded my expectations and will more than do for the blog I'm writing about DSLR camera equipment. I think most designers would probably just stop with 1-2 icons and graphics for this design. My designer decided to add the tripod, three lenses, drone, backpack, and a whole entire stage lighting kit.
I didn't ask for those, but I'm impressed with the quality of the design. No revisions needed. I approved this project on the first try.
2. Custom Illustration: Best Vacuum Cleaner Money Can Buy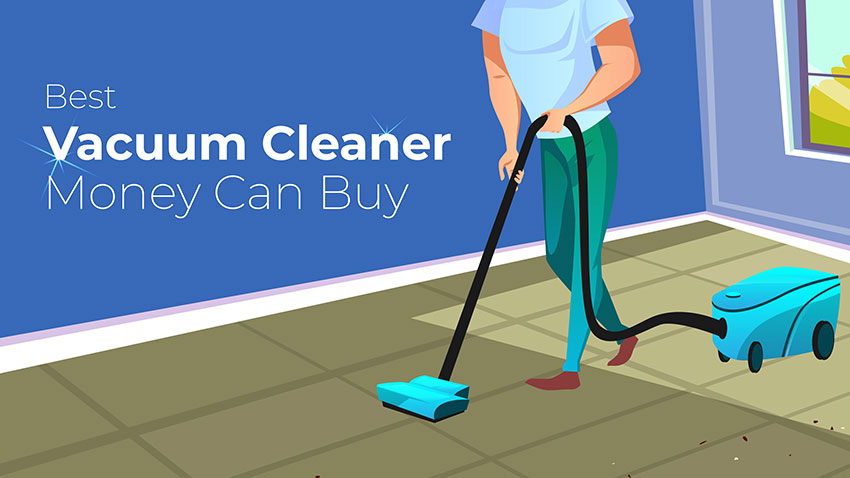 For this project, I asked my designer Kei to do a custom illustration of a man vacuuming his floor. He actually drew it up and sent me a rough sketch first before he started coloring it in. That was an extra layer of care and attention to detail I wasn't expecting. Needless to say, I approved of his drawing and he delivered this draft the next day.
Revision
Everything in this graphic was hand-drawn and then colored digitally. Like the first project, I couldn't think of any revisions except asking him to put the texts "Best Vacuum Cleaner Money Can Buy" on the graphic.
He went the extra mile and designed the text to fit the graphics. See for yourself above. It's details like these that I would have had to harass my freelancer and he would try to nickel and dime me for every revision. Great work Kei!
3. Facebook Post: Isometric Tech Gadget Graphic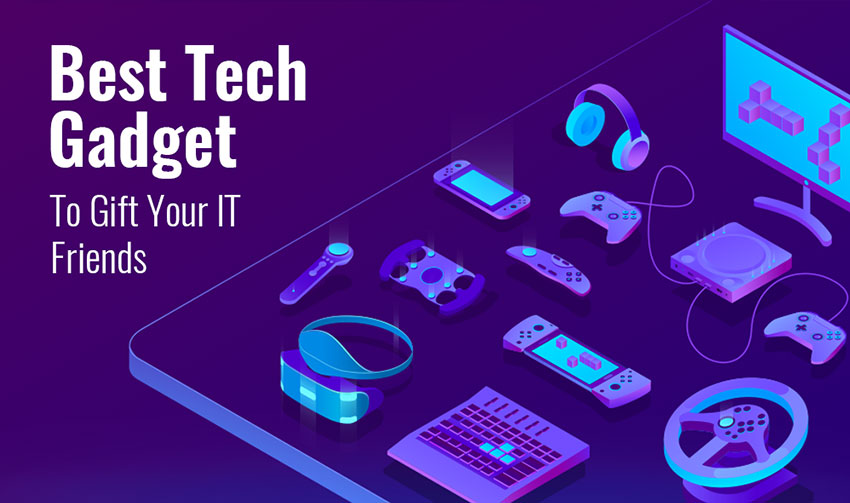 My designer Jave's first draft amazed me because of how much detail he put into this project. I had asked for an isometric graphic with various tech products laid out on an isometric glass plane. I honestly thought my description may have been a bit too vague, but he understood my vision even better than I did.
4. Magazine Print Cover (Owner's Magazine's 2020 May Edition)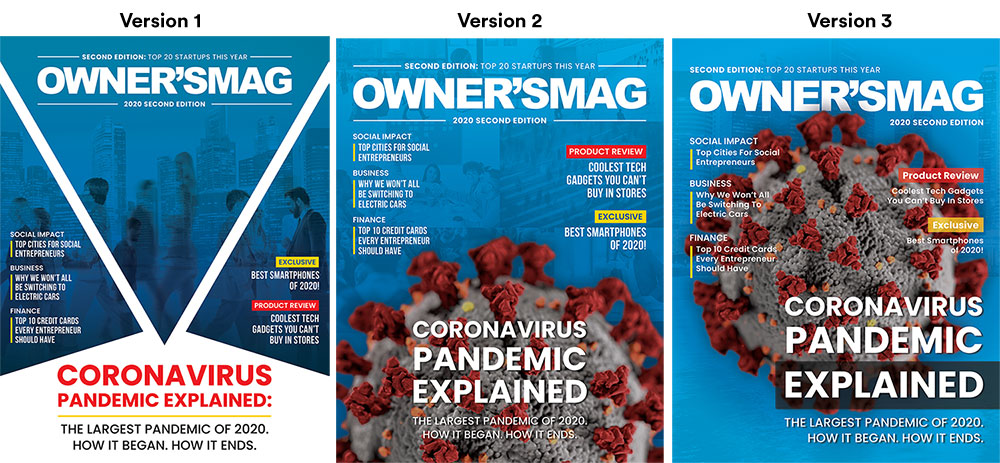 My designer Billie gave me 3 versions of the magazine cover. I don't like version 1 at all. It looks too templated. I personally like version 2 and 3 and left revision notes accordingly. The coronavirus image was entirely her idea and I love it.
Revision
This project took a bit longer than the others because my designer Billie had questions and we had a lot of back and forth. I didn't mind at all since she was asking good questions that I should've included in my design request. Overall, I appreciated the extra time she took to understand me and the project better.
About three days later, I received another draft which blew everything before it out of the water.
---
Reviews From Other Sources
Because you may not take our word for it, here are some of the most recent reviews from other sources:
Jan Kartusek
Jorge Vila
IM Nights
Disclaimer: we receive an affiliate commission when the Penji promo code is used, however, the review is based on our experience.
Fully Jarvis Standing Desks: Are They Worth $1,000+?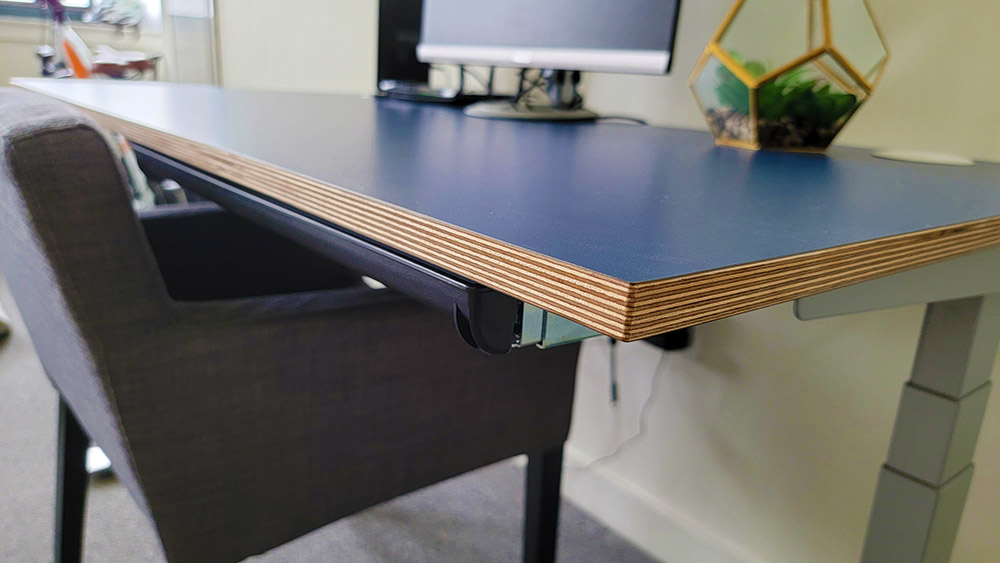 Standing desks are all the rage nowadays, especially with the new work from home environment. Everyone is looking to "hack" their productivity, and getting a shiny new desk is one of the first items on that to-do list.
Standing desks are a hot item this year for good reasons. They're practical, functional, and can help you be more effective. Unfortunately, there are just too many choices to choose from. You'll find cheap $100 desks from Amazon that will ship the next day. On the other end, the premium brands such as Fully offer their desks in the $500 range. And if you're feeling fancy, you can even go for their more premium line of standing desks – the Jarvis Designer Ply, which will set you back at least $1,000 with options.
Do you go with a cheap disposable desk? Or do you invest in a premium workstation? That's a tricky question that only you can decide. However, we can help you figure out whether or not the Fully Jarvis standing desk is worth their asking price. So let's dive right in!
About the company – Fully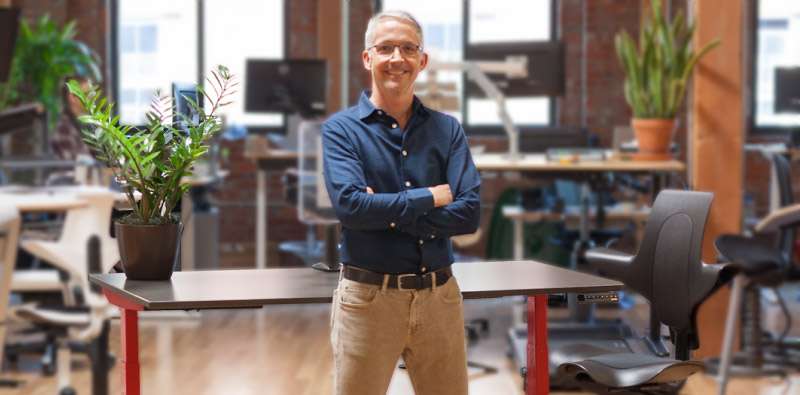 Fully is a Portland, Oregon-based company founded in 2005. The company was initially called ErgoDepot and later renamed Fully. They also one of the few companies in the space that's a Certified B Corp. For those who don't know, qualifying as a Certified B Corp is incredibly difficult and requires the company to focuses on being environmentally responsible in all parts of their manufacturing process.
David Kahl, Fully's founder, has a vision of making the workplace healthier and more vibrant by introducing movement and flow. Much of that vision can be seen in their products, all of which are easy on the eyes and have a natural look and feel.
The options & customizations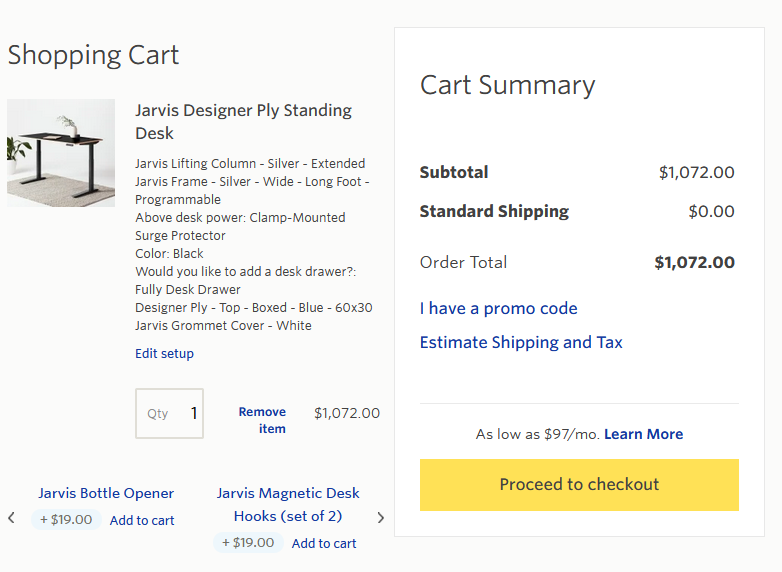 If you like customizations, you're in the right place. Fully doesn't shy away from offering a plethora of options for you to choose from. Anything from the table top's material, size, color to the frame can be configured. The possibilities aren't overwhelming, but they are more than what you're used to when shopping for a new desk.
For our desk, we decided to go all out and try to customize a Jarvis desk to be in the $1,000+ range. Here's our configuration.
Jarvis Designer Ply base price: $639
60×30″ Designer Ply Top Blue (+$250)
3-stage frame ($20)
Programmable memory handset (+$35)
Fully Desk Drawer ($59)
Our total came out to $1,101.44 with taxes and free shipping.
Intuitive customization & checkout
Shoutout to the website's UX/UI designer for making this process intuitive and painless. Given the myriad of combinations, you'll need a bit of guidance to figure out what you want. Fully's checkout process shows you exactly how each option will look, so you don't have to wonder what's the difference between a Natural Bamboo and a Dark Bamboo finish. We include it in the review because it's an essential part of the customer's experience.
Assembly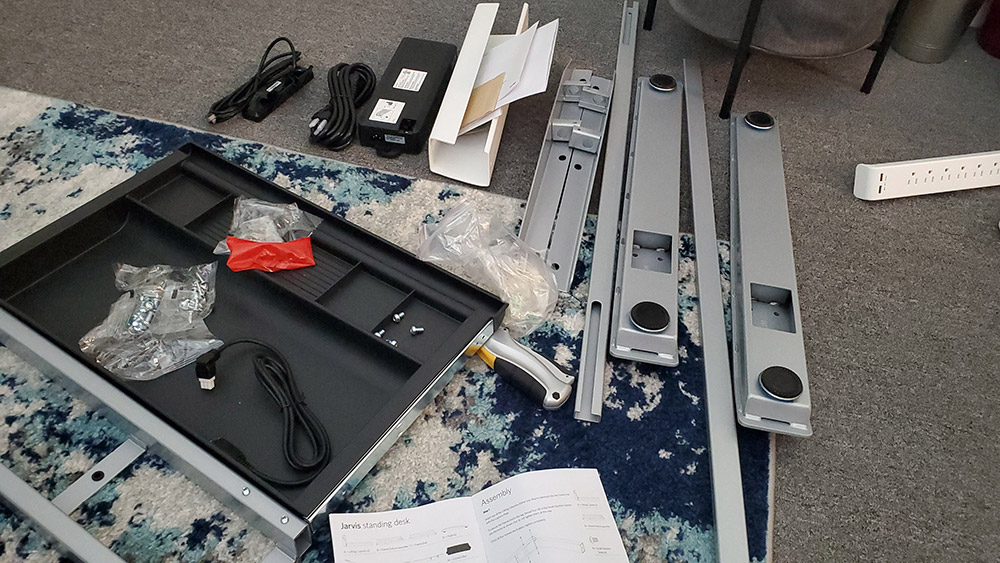 Assembly was simple, the instructions were clear, and all the pieces were accurately labeled and fit perfectly. The entire assembly process took about an hour, which is pretty quick. All the nuts and bolts are perfectly marked and go in without any issues. I highly recommend following the instructions, particularly with how to orientate the legs. The frame and legs are weighty, and you'll have a difficult time if you don't build them on top of the tabletop.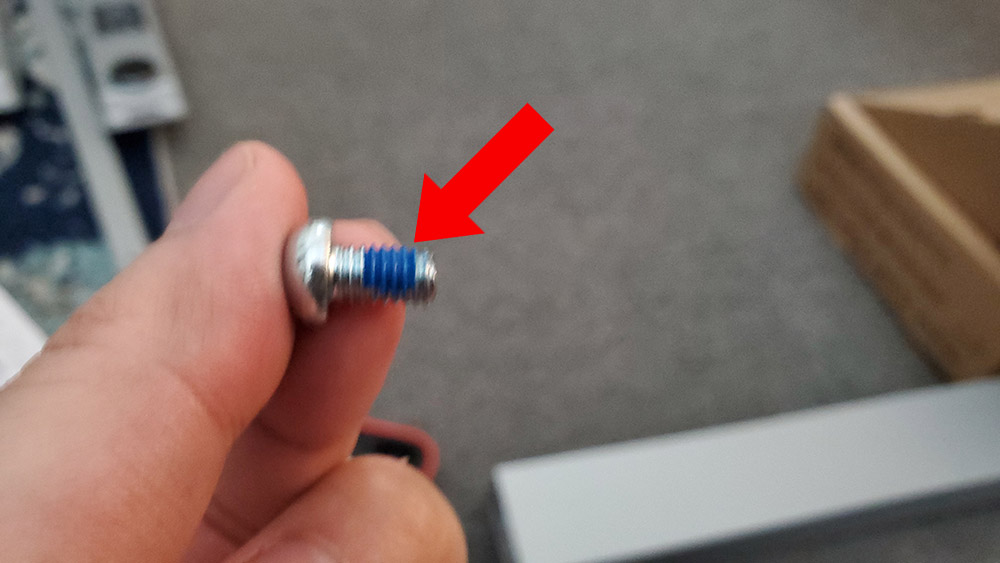 One tiny little detail I appreciated was that all of the screws had thread lock on them. The blue glue-like substance on the screw's tips ensures a snug fit and prevents it from unscrewing itself for the next thousand years.
This L Wrench…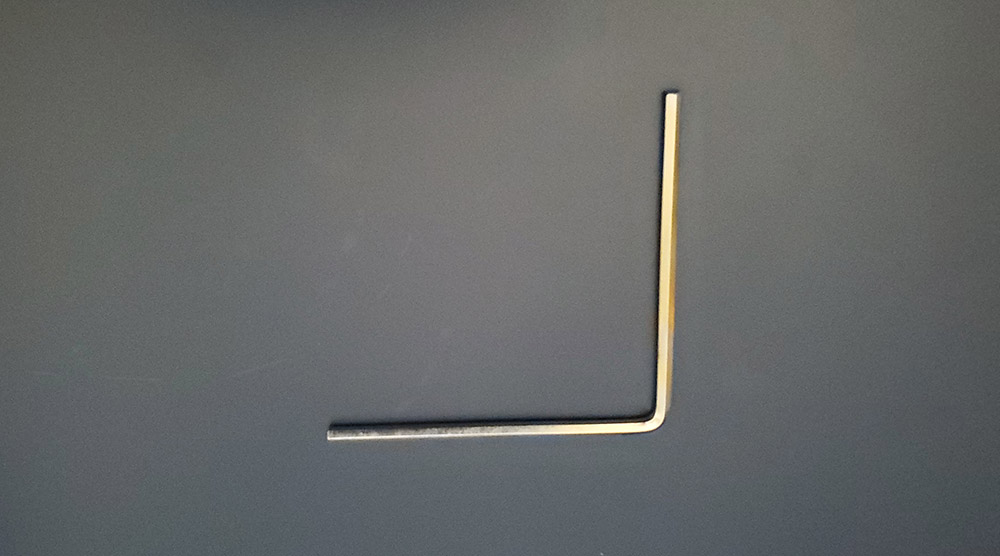 I've reviewed and assembled other desks. However, this is the first time I've seen this type of L wrench. This odd-looking wrench made all the difference during the assembly process. This wrench needs to become a standard tool that comes with every desk.
Build quality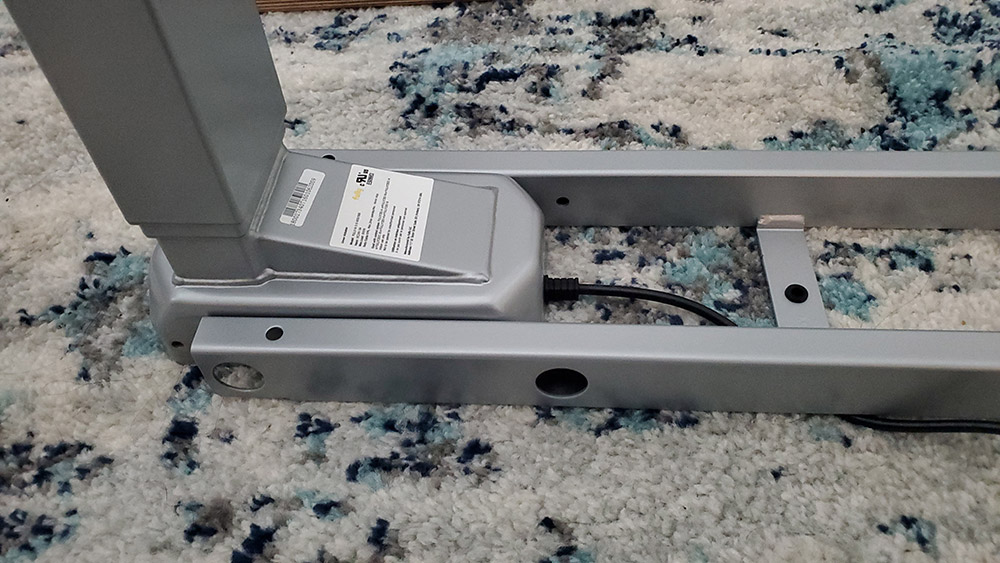 The Fully desk's build quality is exceptional. I expected a few holes to be slightly misaligned, but every holes and socket were precisely in place. In addition, the legs and frame have a wear-resistant coating similar to what you'd find on cars. This protective coat will help protect your desk from toddlers and pets.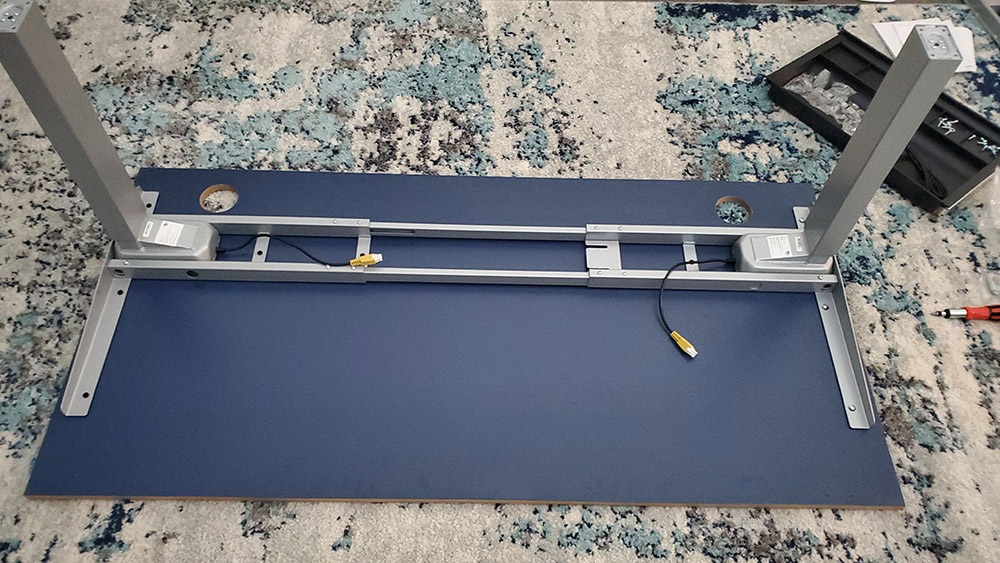 The tabletop has a textured finish that seems scratch-resistant. It's thick, rigid, stable, and good-looking. The Fully desk doesn't look out of place no matter which room you place it in.
Attention to details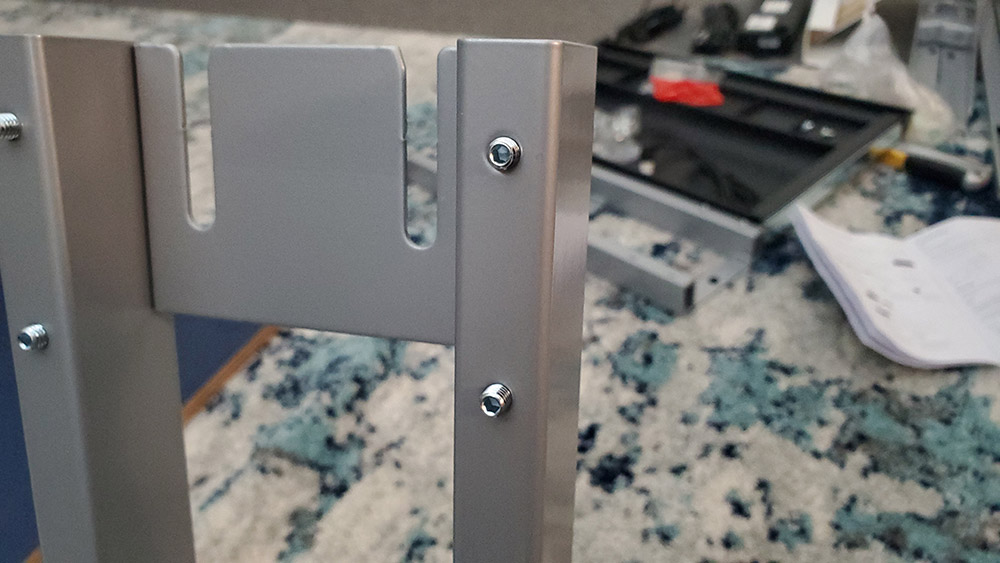 One thing Fully did exceptionally well was paying attention to the little details. The instruction manual is precise and detailed. The way they packaged everything made unpacking and finding all the parts easy (you don't have to worry about accidentally throwing away the parts bag). And the quality of life details such as the extra-long Allen wrench and pre-installed thread lock made me feel like they genuinely care about my experience.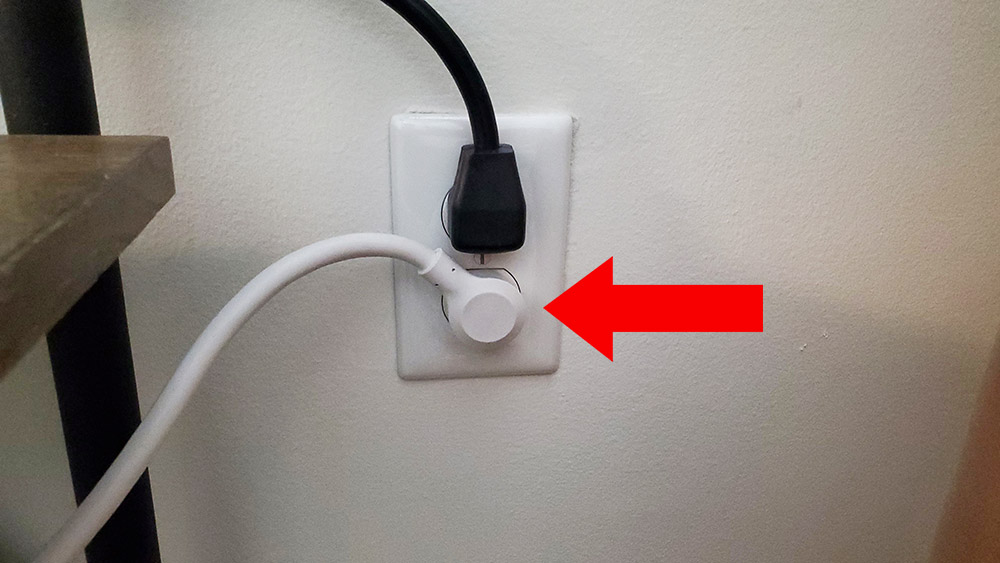 Even the extension cords that it came with were thought out (see image above). Fully didn't invent the angled plug, but they thought about it and cared enough to include it. I wish more companies paid this much attention to the little details.
Functionality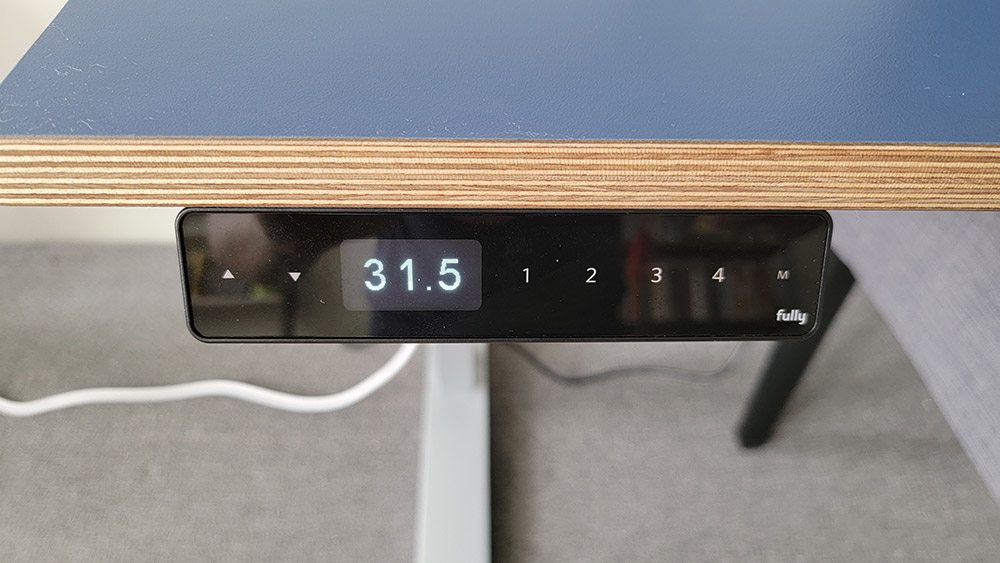 Once the desk is fully set up, the last thing is connecting the wires and installing the control unit. You can screw the control unit on either the left or right side. The control unit doesn't have physical buttons. Instead, it's touch-sensitive with a digital display showing you the current height.
I'm not a fan of touch-sensitive controls and prefer the feedback of physical buttons of mechanical levers. The desk will automatically configure itself to the exact height from memory at a touch of a button. You can save up to four memory settings.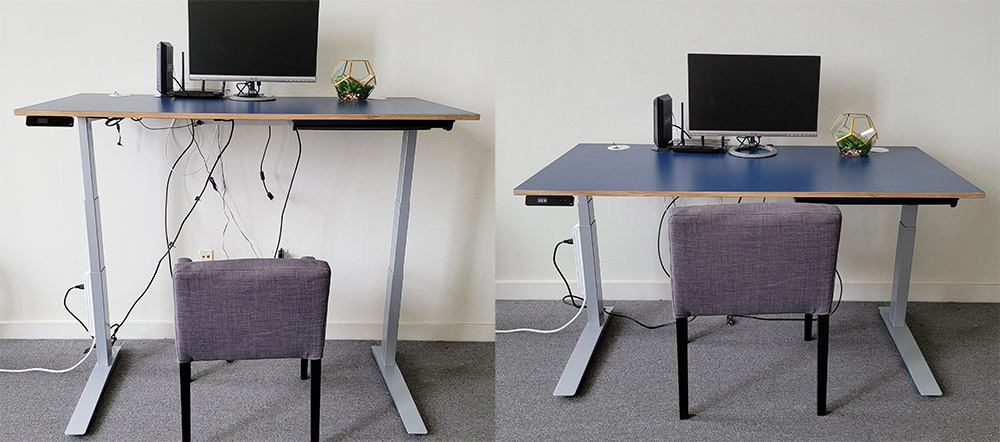 The leg's motors are relatively quiet and powerful despite their size. The legs can go down as far as 25.5 inches and rise as high as 51.1 inches. Although I'm not a fan of the touch controls, they are precise. With a bit of intuition, I could get the desk to stop at just the perfect height each time.
Our verdict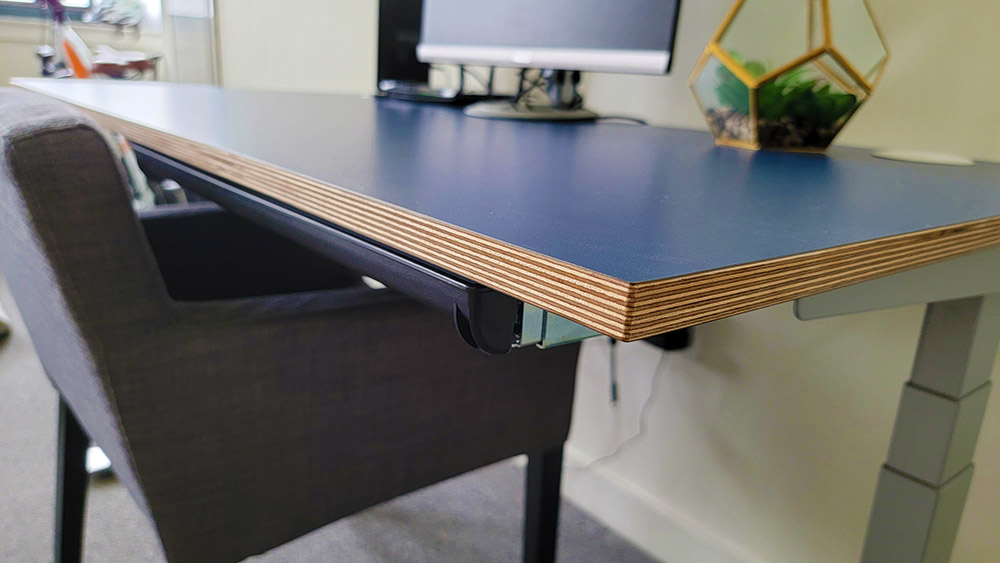 Although my configuration came out to $1072 before taxes, it was worth every penny. It's a beautiful, functional, and elegant tool that looks good in any room and can significantly enhance productivity. The Fully Jarvis is an exceptional standing desk that offers both form and function without compromises. So for all those looking to invest in their work from home setup, put the Fully Jarvis standing desk at the top of your shopping list.
What to Know About ClickSend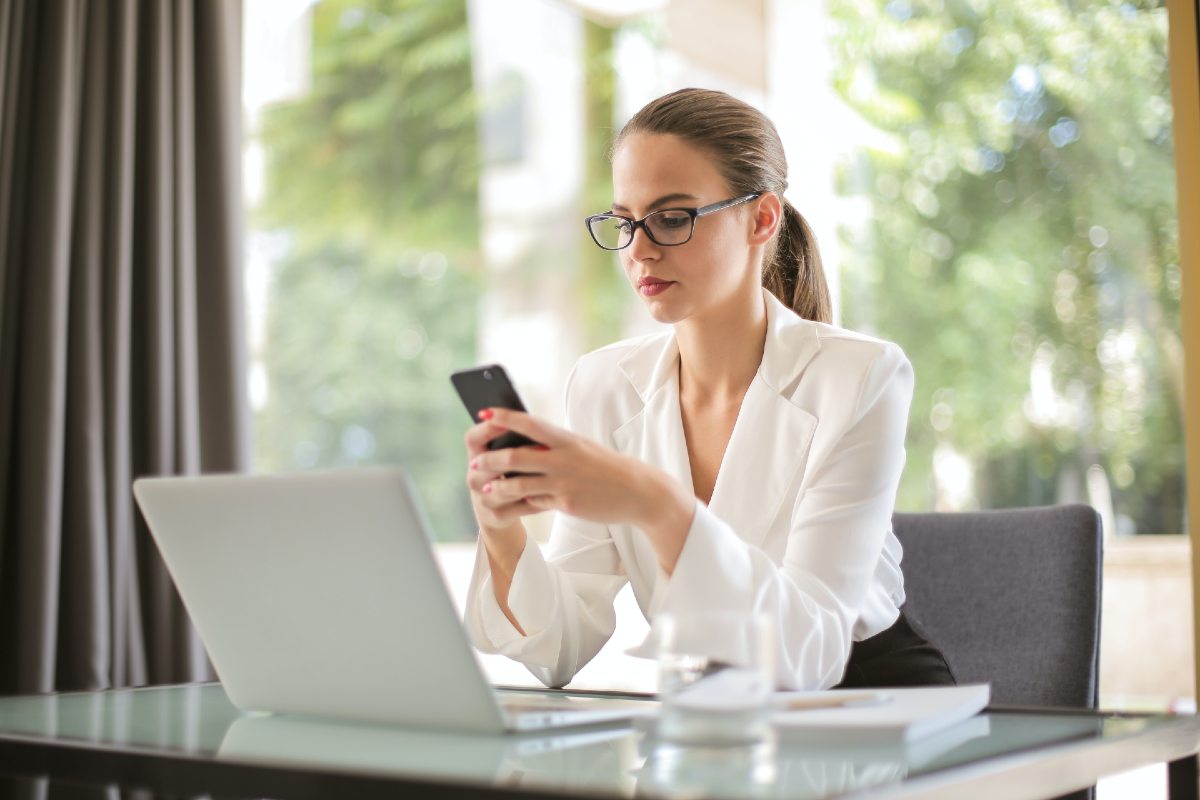 At least 67% of consumers are comfortable texting a business for appointments or inquiries rather scheduling through email and call. So if you're thinking about taking your SMS marketing to the next level, you're on the right track. Due to our ever-evolving technology there are a lot of SMS marketing platforms to choose from. In this article, let's take a deep dive and learn if ClickSend is one of the best SMS platforms out there. 
ClickSend Software Overview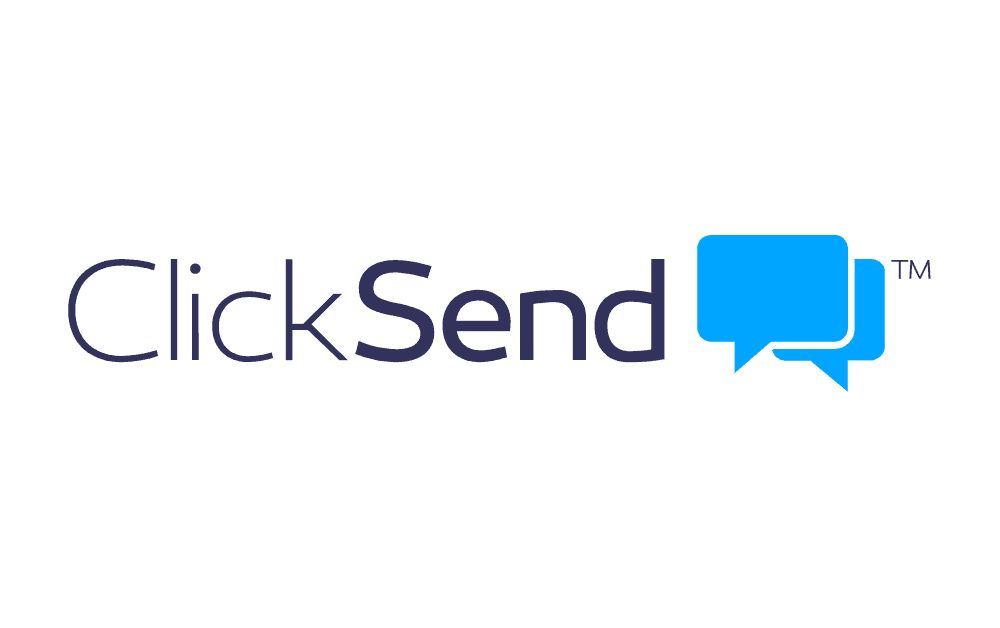 ClickSend is an SMS software for any type of business worldwide. Other than sending, receiving, and tracking SMS, it lets businesses send marketing or transactional memos to clients. It lets users send SMS using two ways: 
From a user dashboard, using ClickSend's SMS gateway.
Using a designed application program interface.
How Does It Work?
ClickSend is one of the popular cloud-based providers for SMS. It offers a variety of features to address client's SMS marketing needs and more. For example, brands can send and receive memos through API or dashboard via:
SMS
MMS
Faxing
Email Messaging
Text-to-speech calls
Letters via online cloud
Rich messaging channel
What Types of Businesses Uses ClickSend?
The SMS software is meant for medium and large enterprises. Specifically, the provider caters to industries such as:
IT
Retail
Advertising
Marketing
eCommerce
Hospitality
Healthcare
Banking and finance
Sporting associations
Transport and logistics
Non-profit organizations
Emergency services
ClickSend Features
Other than sending inbound and outbound SMS, ClickSend is a reliable provider that can improve communication. It allows users to:
Send bills or invoices
Offer customer service via text message
Personalize advertising
Manage and analyze marketing leads
Oversee delivery communications with the suppliers
Send our promos to customers
Remind customers about meetings and event via SMS
ClickSend: Pros and Cons
In this section, let's weigh the pros and cons of using ClickSend as the SMS provider of your business.
ClickSend Pros
Unlike other SMS providers, ClickSend only charges what you use. No need to pay for anything that's not relevant to your business needs. You only need to pay for the company's outgoing messages. There might be instances where your provider will charge some incoming messages. With this system, say goodbye to the wasteful monthly maintenance fee that's never applicable to the services you REALLY need.
Within a 14-day time frame, you can request for a refund. All you need to do is request within the time frame, and the ClickSend team will review your case.
ClickSend will beat comparable cheaper quotes
According to ClickSend, they can bet cheaper quotes by other SMS providers. So before you inquire about their custom pricing, be sure to check the prices from ClickSend alternatives.
Internal and external communications
The software allows users to communicate via email, SMS, voice calls and faxes. It allows your business to connect externally with clients and internally with the staff members. The other perks of using it is the ability to reply to inbound messages directly from its platform. It saves you the hassle of switching applications. 
Users highly praise the convenient SMS features of ClickSend. More specifically, they love its reply features that carry nearly any carrier options.
You can reach most countries without registration and additional cost. However, some countries need pre-registration, it depends on the regulation and restrictions of the country.
The company offers great customer support for their users. You can reach ClickSend's sales or support team via live chat. It's also possible to access the Knowledge Base section of their website in case your inquiry has been addressed there.
Generally, ClickSend is simple to use. Users can easily upload their client contact list and send out bulk messages if needed.
ClickSend has simple reporting and engagement metric features. It's a convenient tool to let users see the exact numbers of the messages they've sent. Also, you can keep track of how many text messages bounced, so it allows you to act more efficiently.
If your business uses Zapier, ClickSend has pre-built zaps for easy marketing automation.
ClickSend Cons
Data export and sharing insights is not possible
As mentioned in the pros, ClickSend allows a simple reporting feature. However, it's too simple. If you need to export and share your business insights, there's no easy way available using the software.
Some users complain about a few issues in creating their SMS campaigns. There will be moments where you need to modify or adjust some settings. Others say that they need to recreate the copy of their campaign entirely, and go back to step one.
ClickSend has a tight character limit. It also does not allow you to use any emoji on your text as it automatically sets your SMS into "two messages." As the pricing works on a per text basis, you might want to limit your message to one per recipient.
Not great for time-sensitive SMS campaigns
Some reviews also say that sticking to a time-limited campaign is not easy. Basically, whenever you send out an SMS memo, ClickSend needs to approve them. So while the team conducts their approval process, this might cause a setback for campaigns that needed to be released on schedule. To avoid this possible issue, it's best to set up your SMS campaign in advance.
Not the SMS marketing software for developers
ClickSend is a simple SMS provider. So if you're a developer, it will appear "too simple" in your perspective. As it is a great tool for marketers, ClickSend is not the software if you're a developer. It's not the ideal SMS marketing platform if you plan to do a lot of customized programming and automation.
ClickSend Pricing Plan
One of the pros of using ClickSend is their pay as you go pricing plan for outbound messages. It means you only need to pay for the services you've use.
Outbound SMS Pricing
ClickSend's rate per estimated messages:
Under 2,000 messages, $0.0271 per SMS
2,000 or more, $0.0194 per SMS
10,000 or more, $0.0132 per SMS
100,000 or more, $0.0097 per SMS
For outbound messages higher than 200,000 you'll need to contact ClickSend's team to give your business a quotation.
Inbound SMS Pricing
Dedicated ClickSend Number
$1.94 per month, no setup fee needed
Dedicated Shortcode
$1123.32 per month
$1123.32 setup fee
ClickSend: Frequently Asked Questions
Does ClickSend offer a free trial sign up?
Yes. ClickSend offers a limited free trial.
Is it possible for multiple users to share one account?
It's possible to add, manage and view as many accounts needed in your team. As the account owner, you can designate employees their own "subaccounts."
Does ClickSend have a character limit per message
We have two categories when it comes to ClickSend's character limit:
Users have a 160-character limit per one Standard message.
Unicode messages only allow up to 70 characters.
Is it worth it to use ClickSend?
In the end, ClickSend is one of the best SMS marketing platforms that boasts high ratings from users. It has a user-friendly software that delivers efficient, reliable and satisfying results.
Alternatives You Should Know About
If you're still undecided if ClickSend is perfect SMS software for your business, you can explore other alternatives:
SimpleTexting
TextMagic
HeyMarket
Salesmsg
Yotpo