Guide To Choosing The Best VR Headset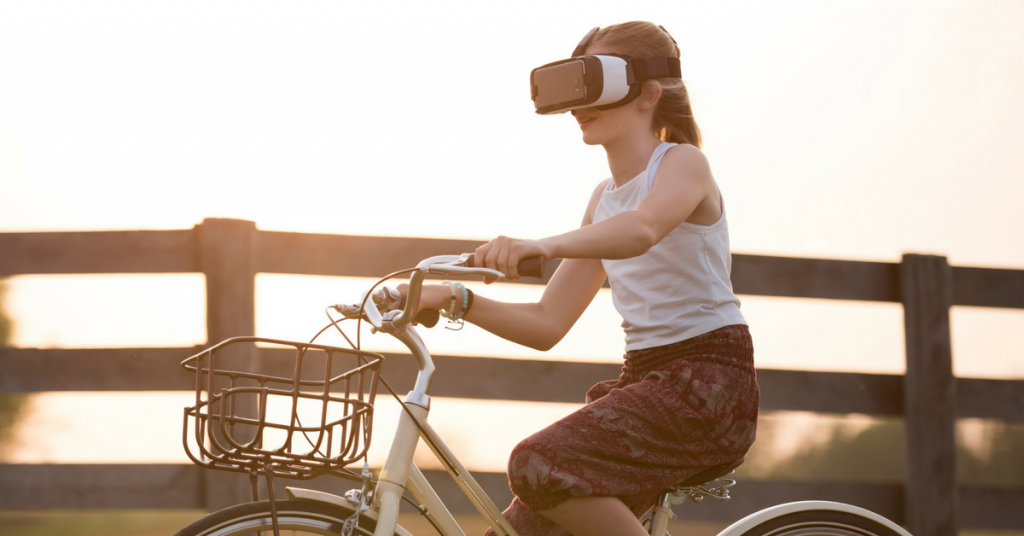 You're about to take the plunge in virtual reality (VR). You see how much fun your friend is having playing with his Oculus Rift. Your Galaxy S7 toting friends are showing off their Gear VR. You've played with an HTC Vive in the store, and now you are ready to get into VR. How exactly do you do that? What VR platform should you invest in? Virtual reality broke out in a big way in 2016 with big names such as Sony and Facebook (via Oculus) releasing VR headsets for the masses.

While virtual reality isn't new by any means (the first VR headset was built in 1968), 2016 was the year that VR truly broke out into the mainstream. Cheap VR headsets can now be found in several big box stores and even grocery stores such as Wegmans. Despite the coming out party for VR, it's still very much an early adopters market. How the rest of the market responds to VR in the long term remains to be seen since we're still on the first versions of current VR headsets. With that said, here are the top VR headsets to look at:
Oculus Rift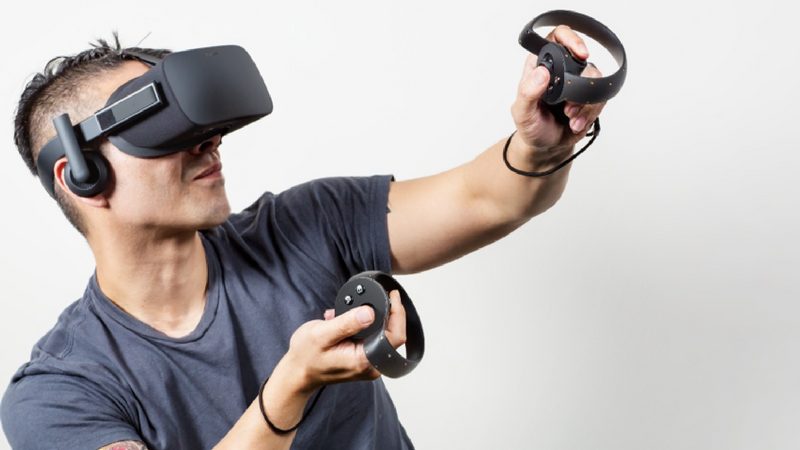 Starting out this list is the Oculus Rift. The Rift started out as the brainchild of Oculus founder Palmer Luckey and id Software cofounder John Carmack. After Luckey created a

Kickstarter

for the Rift back in 2012, it quickly became the darling of the gaming industry and raised upwards of $2.5 million. The Rift has gone through several iterations starting with the Development Kit 1 or DK1. Each successive iteration of the Rift improved on the specs dramatically such as screen resolution, refresh rate, and frame rate.In 2014, Oculus was bought by Facebook for $2 billion. The influx of cash from Facebook allowed Oculus to finish development of the Rift and it finally went on sale on March 28, 2016 for $600. Oculus formed a partnership with Microsoft to allow Rift games to be played natively with the Xbox One controller (which was also packaged in with the Rift headset). Initial

reviews

of the

Rift

were overwhelmingly positive with many reviewers praising the comfort of the headset and truly high end graphics that don't compromise.The major drawback was the lack of the Oculus Touch controllers at launch. The Oculus Touch Controllers free the user's hands and allow more immersive VR experiences. The Touch controllers were later released in early December. The Touch Controllers connect to the Rift via Bluetooth thereby freeing up a USB port. However, even with the two cameras, the tracking may occasionally go out.The solution is to buy a 3rd camera sensor which eats up another USB port and costs $80. Unfortunately, in order to render the detail required of Rift in a manner that doesn't make the user nauseous, a PC with a high-end graphics card was required (NVIDIA GTX 970 or AMD Radeon R9 290).In October 2016, Oculus lowered the system requirements a little by adopting the "motion interpolation" technology which allows games to run at lower frame rates. This would also allow cheaper computers with lower specs to run VR games on the Rift. That said, computers that can run VR games comfortably still cost around $600-700 not to mention the cost of the Rift itself.
HTC Vive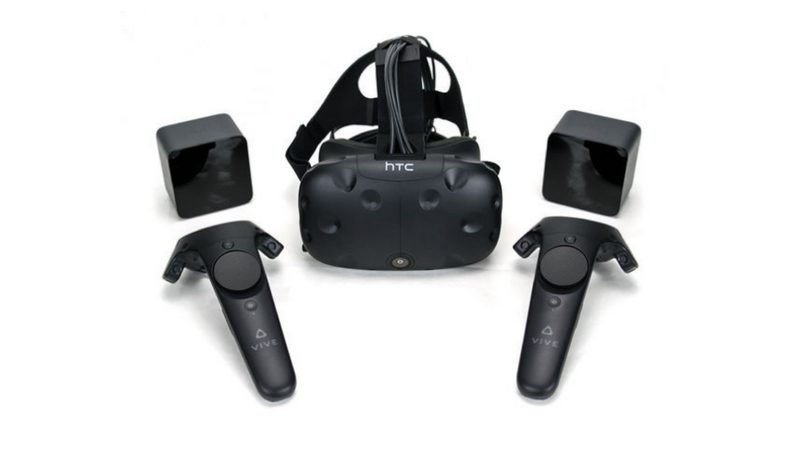 Up until March 2015, HTC was primarily known as a smartphone maker. The Taiwan based company unveiled the Vive at Mobile World Congress on March 2015 as a collaboration with gaming company Valve. HTC engineered the actual VR headset while Valve created SteamVR operating system for use on the Vive. The Vive was designed as a whole room experience from the beginning.It utilizes two IR cameras placed on opposite sides of the room as well as two motion controllers to allow full movement in a VR environment. Up until the release of the Oculus Touch Controllers for the Rift, the HTC Vive was the only one allowing full room scale VR.Most early VR games for the Rift were created for traditional couch gaming using the Xbox One controller, just with the added benefit of VR head tracking. In order to prevent users from bumping into the wall or furniture, the Vive has a feature called Chaperone which actually shows a cool "Tron" view of the real world using the built-in camera on the front once the user gets too close to an obstacle.Reviews for the Vive were also

favorable

with many lauding the complete immersion offered by the motion controllers. Unfortunately, some reviewers

complained

how bulky and uncomfortable the Vive headset was compared to the Rift.Additionally, be prepared to set aside about 15-20 minutes setting up the play space if you want the full room-scale games. The Room-Scale mode requires you to place the IR cameras (called Lighthouses) on opposite sides of the room. The space requirement can be as small as 6.5ft by 5ft or as large as 15ft by 15ft.Fortunately, there is a Standing-Only setting that allows you to use the Vive in tighter spaces. Like the Rift however, all of that VR goodness doesn't come cheap.In fact, the HTC Vive retails for about $800, a good $200 more expensive than the base Oculus Rift. That's also not factoring in the cost of the high-end computer needed to render the VR graphics on the Vive.  
PlayStation VR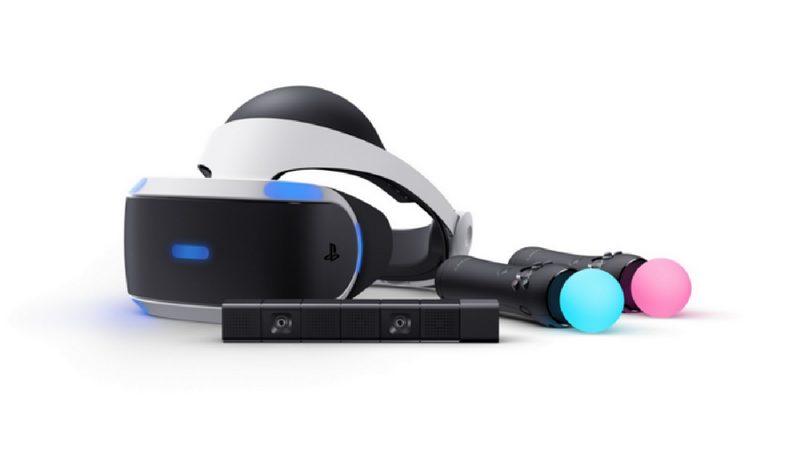 Not to be left in the dust, Sony released their PlayStation VR (PSVR) on October 13, 2016. Unlike the HTC Vive and the Oculus Rift, the PSVR was designed to be connected to the PlayStation 4 console instead of a PC. The PSVR is meant to be a more affordable entry into the VR space as most people who purchase it will probably already own a PS4. Also, the price the PSVR itself is only $400.The complete system consists of the headset itself, a processor box to output video to the TV and 3D audio, the PS camera, and two PlayStation Move controllers. Some readers may recognize the Move controllers from Sony's previous foray into motion controllers to compete with the Nintendo Wii.The main drawbacks to the PSVR is that it's not quite as powerful as the Rift or the Vive. The PS4 is much weaker than high end gaming computers and thus the PSVR is limited to 1080p resolution. While 1080p is crisp from a distance, the pixels can be seen when viewed up close.Also, while the Move controllers are a welcome addition and do provide more immersion than a PS4 DualShock controller, the limited viewing angle of the camera can cause the loss of tracking of the Move controllers. While the setup doesn't require you to place cameras everywhere, the plethora of cords can be a real pain. Regardless, for the price, the PSVR remains a solid entry into the VR market.
Google Daydream View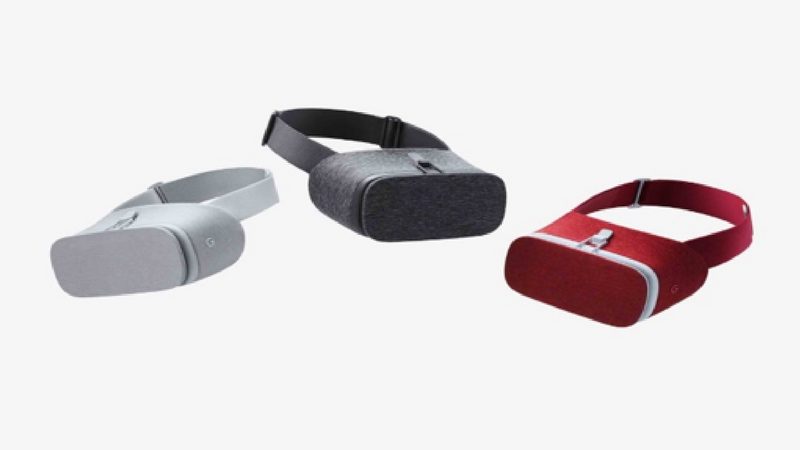 Google's Daydream View headset utilize smartphones to provide the VR experience. Before Daydream, there was Google Cardboard. It's literally what you think it is: a cardboard box with two lenses inside that had a slot for sliding in a smartphone. Google wanted a cheap and easy way for people to experience VR for themselves.Google also positioned Cardboard for education and schools. Teachers could use Cardboard in the classroom for more immersive learning experiences. Unfortunately, VR on phones was still a budding concept and experiences, while novel, were not the best.To remedy that, Google unveiled the Daydream VR platform and Daydream View headset alongside the Pixel smartphone on October 4, 2016. Initially designed just for the Pixel, Daydream View is a small VR headset made of fabric that has an opening for the Pixel.It also came with a simple motion controller for pointing and interacting with virtual objects. Nothing as fancy as the Rift and Vive or even the PSVR Move controllers but for affordable VR, it gets the job done. Google is leveraging the Daydream VR platform on Android to allow developers to easily create VR experience for Android based devices such as smartphones.
Samsung Gear VR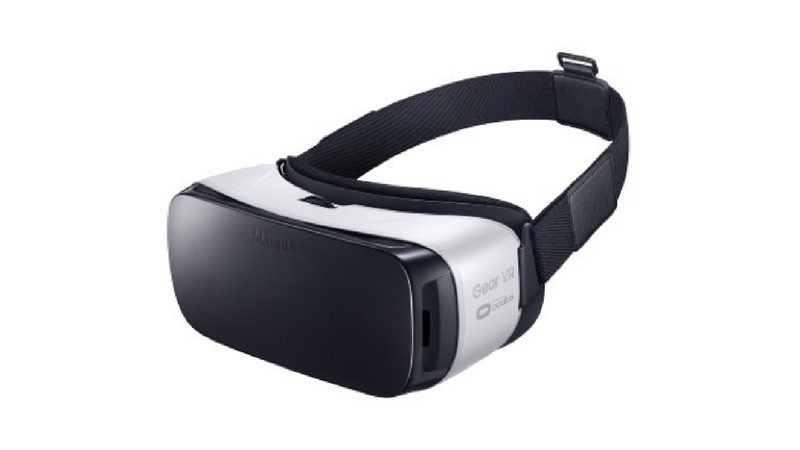 Samsung also stepped into the virtual reality ring with its Gear VR. The Gear VR was originally released in November 2015 for use with Samsung's flagship smartphones such as the Galaxy S6/S7. It was developed with input from Oculus and provides a cheaper alternative to high end VR headsets.The first edition of the Gear VR was released to developers in December 2014 and only worked with the Galaxy Note 4. Technically, consumers could buy it as well but it was marketed towards developers so they could get a handle on the technology in order to create applications for it.There are currently around 185 applications for the Gear VR. In fact, Six Flags Magic Mountain partnered with Samsung to create the first

roller coaster

with VR in North America.So which VR headset should you pick? That question largely hinges on what your bank account is looking like. If you own a gaming PC with a relatively newer graphics card then go for the HTC Vive or Oculus Rift. Both offer uncompromised VR experiences allowing you to fully utilize a room. Because of the high-end graphics and resolution, there's much less chance of feelings of nausea or motion sickness.If you own a PS4 and don't want to shell out for a high end gaming PC, then the PSVR would make a better bet. While the screen resolution isn't as high as the Vive/Rift, it's not so distracting that it takes away from the experience. Plus, because the PS4 already has a huge install base, game developers are more likely to create games for it.On the downside, the Rift, Vive, and PSVR all suffer from a copious amount of cables that must be managed. If you don't own a PS4 or high end gaming PC (or maybe you just don't want to shell out $400 for PSVR), the Samsung Gear VR or Google Daydream View are viable options especially if you own a Samsung or Google phone.In fact, most people will probably use these as stepping stones into the world of VR. However, the VR experiences on these devices still pale in comparison to the higher end VR headsets, not to mention significantly eating into battery life on the smartphone. If you're interested in the Daydream View but don't own a Pixel, don't fret.

Google announced that companies such as Samsung (ironically), HTC, LG, Alcatel, Xiaomi, Huawei, ZTE, and Asus will all create Daydream ready smartphones.
The Best Unlimited Graphic Design Services of 2019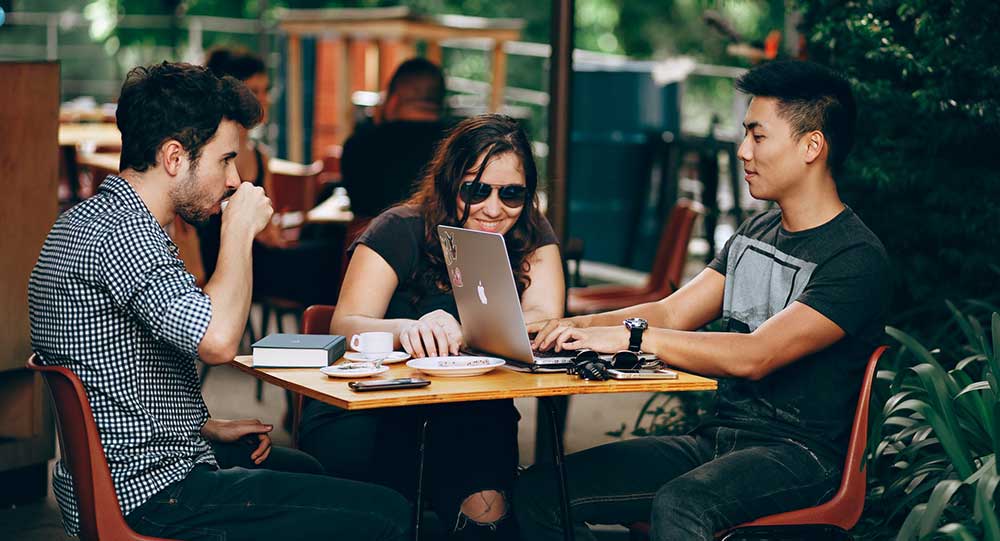 Looking to hire an in-house graphic designer or trying to scale graphic design offering to
grow your business
? What used to be an expensive and unpredictable endeavor has been disrupted by a new wave of companies who call themselves "Unlimited graphic design services". These startups are able to offer you the same benefit of a full-time graphic designer but at a fraction of the price.
What Does Unlimited Graphic Design Mean?
Just about every Unlimited Graphic Design provider offers the design service via a monthly subscription. After checkout, you gain access to their workflow. Some connect you to their Trello board, others resort to giving you a special email to send your design requests to, and a few more sophisticated providers have their own online platform/portal.Once you're connected to their workflow, you can begin submitting as many design requests as you want. Although they all claim "Unlimited", it generally means you can "create" unlimited design requests. It doesn't necessarily mean they'll work on them all at once. Usually, they just work on one design at a time. When one completes, they start the next design. The usual turnaround time is between 1 - 2 days, and that's just for the first draft. It doesn't mean your whole entire request is done. If you don't like it, you can request as many revisions as you want, and that will take more time. So it can take up to a week to actually get design complete if you have a lot of revisions.Another thing to keep in mind is content. You need to be able to have everything ready and
provide all the content
needed in order for their designers to get started.
Are they worth it?
If you have a lot of design needs, they're definitely worth it. Being it's a monthly recurring investment, you'll need to make sure that you have the need for ongoing graphic design service. This graphic design service model is comparable to outsourcing a designer yourself, except much of all the management work is done by the company. The quality of designs and turnaround time also tends to be significantly better when outsourcing a designer yourself.
Which Provider Should You Choose?
We've done the homework and curated a list of Unlimited Graphic Design providers for you and also negotiated special deals on your behalf. You can see them all below and decide which one fits your needs.
---
Unlimited Graphic Design Providers
Master & Dynamic MW07 Review: Beauty & Performance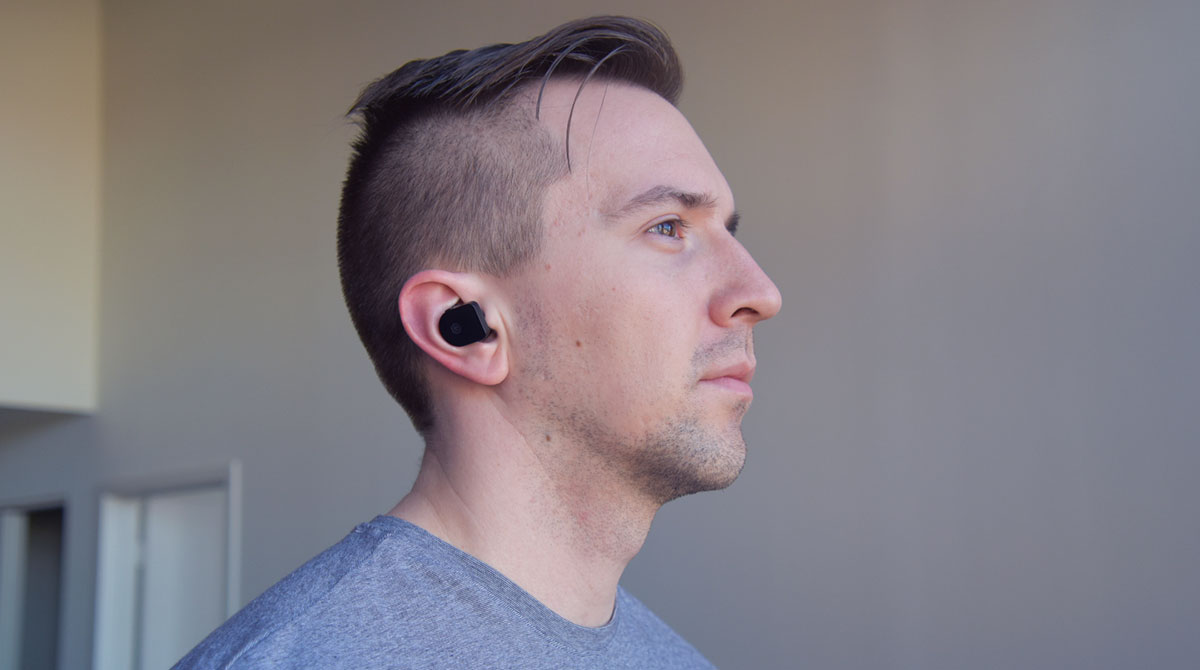 True wireless earbud has been the hottest tech wearable trend in 2018 and will likely remain the case heading into 2019. The competitive space is packed with heavy hitters like Sennheiser, Apple, Samsung, Nike, and Jabre each with their unique product claiming their fair share of the market. Enter Master & Dynamic MW07, a true wireless earbud that debut in the later quarter of 2018. With a price tag of $299 and a laundry list of features rivaling every other major player on the market,
Masters & Dynamic MW07
is a serious contender in the space.Master & Dynamic is a New York-based company that launched in 2014 and have since made a name for themselves among the creative community. The company is founded on the belief that their products should be beautiful and built to last without compromising sound quality. And every bit of that philosophy can be seen and felt when unboxing the MW07 for the first time.
Unboxing the MW07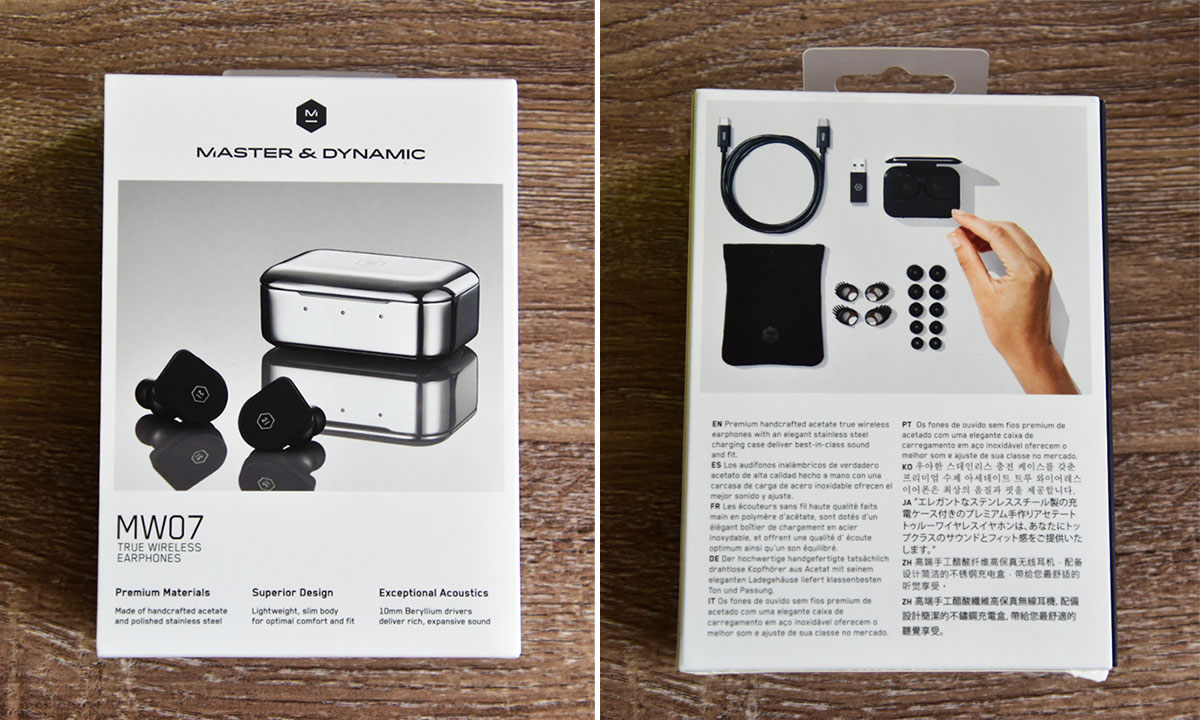 The box is well designed and looks simple, it has almost an Apple feel to it. Upon unboxing, you're greeted to the usual wires, different silicon ear-wing sizes, manual, and interestingly - a USB-C charger. Not many wireless earbuds come with USB-C charging ports, so it was a surprise to see it on the MW07. They also included an adapter to regular USB for your convenience.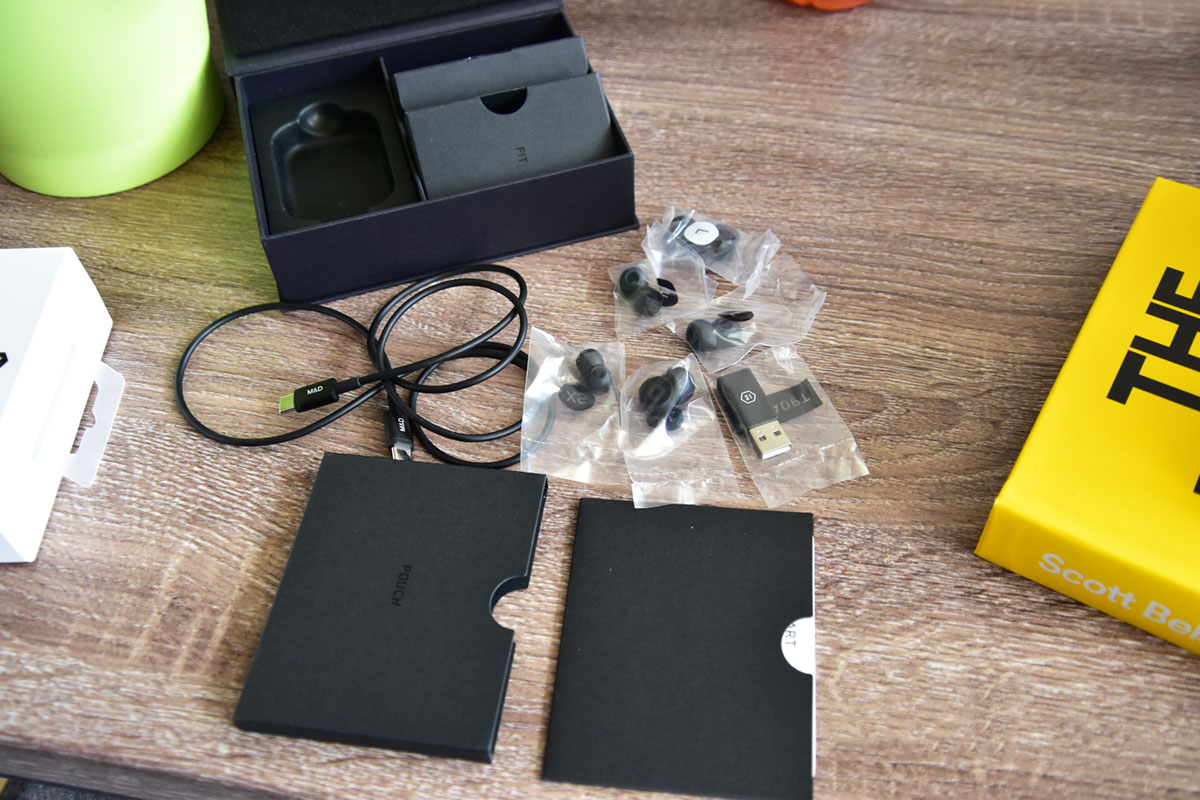 And of course, there's the unmistakable shiny box that's housing the earbuds. Its polished steel construction gives both a beautiful yet sturdy feel in your hand. It doesn't feel flimsy or cheaply made, simply because it wasn't.
The polished steel case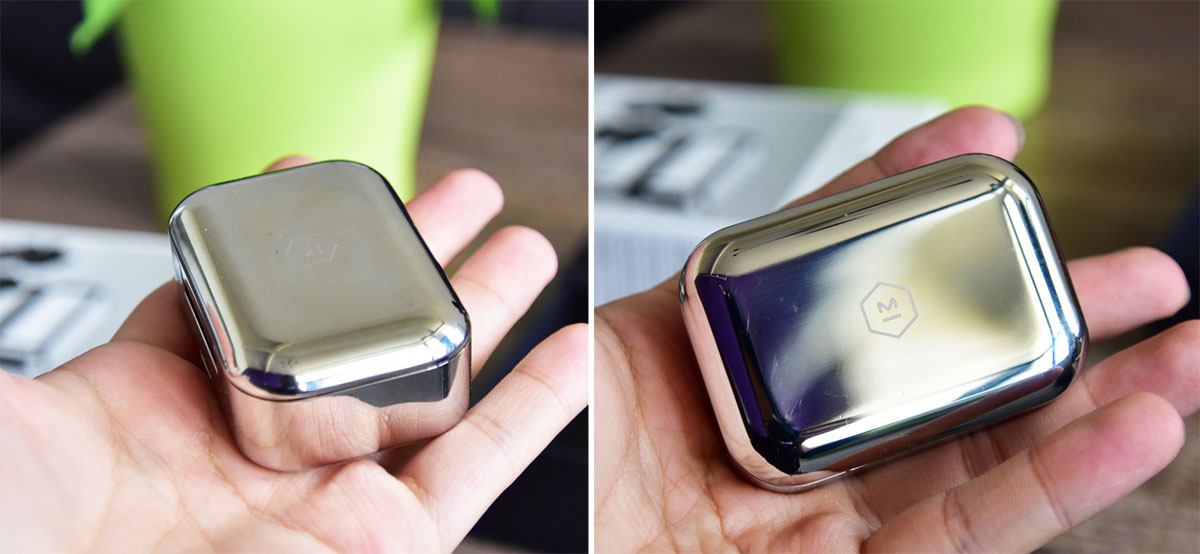 The polished steel casing deserves some attention. Given the casing is 50% of the product and something you need to carry around all the time, it needs to be well designed and well thought out. And Master & Dynamic absolutely nails the design of the case. It's easily one of the most beautiful tech gadgets you'll see this year and easily mistaken as a jewelry case.It's polished steel all-around. No complicated buttons, dials, exposed hinges, obnoxious branding, or anything that would distract you. On top, you'll find the Master & Dynamic logo subtly laser engraved. Other than that, you won't find MW07 or any branding on the case. After all, why would they need to? The case is already distinctive and unique compared to anything else on the market. There's no need to shout when your presence is already known.One downside to the case is that it's heavy. And that can be a good or bad thing depending on how you look at it. It's heavy enough to assure you it was built to protect your $299 earbuds, but the weight can be distracting if you plan to carry it out for a jog.
The Case's Features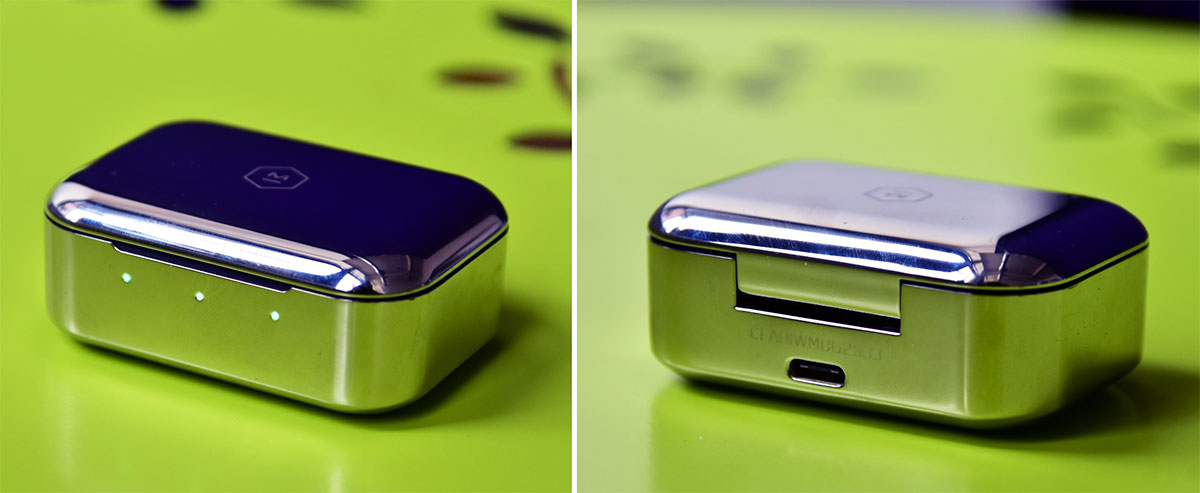 The MW07 isn't flashy, and it isn't intended to be. That design philosophy can be seen on how the case indicates battery level of the case and of the left and right earpieces. The power indicator is presented by 3 tiny lights on the front of the case. The left and right lights indicate the left and right earbuds. The center light indicates battery level of the case itself.Opening and closing the case is secured via a solid hinge that doesn't have much wiggle room and feels sturdy. The magnetic clasp for opening and closing is strong and satisfyingly tight. It's strong enough to keep everything secure, but not strong enough to be annoying to open with one hand.On the back is a USB-C port for charging. The MW07 also comes with a regular USB adapter for convenience, a nice touch.
The Earbuds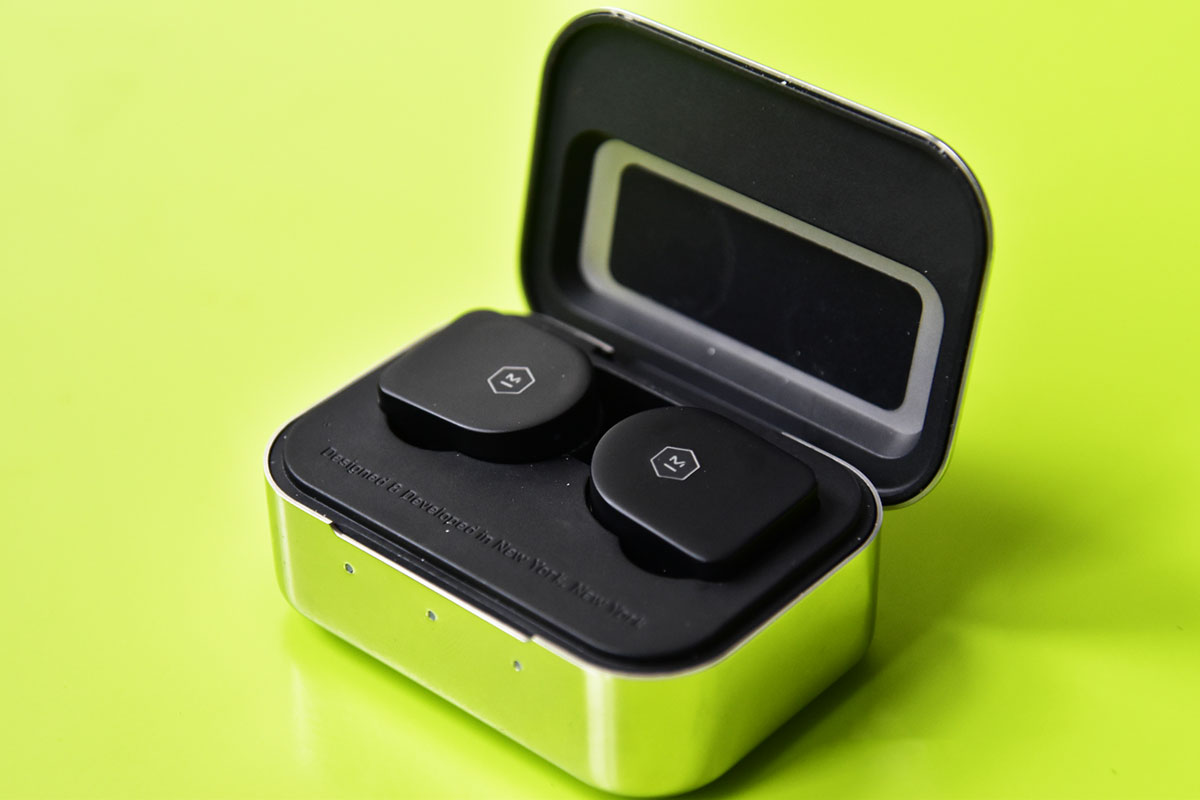 One thing I appreciate about Master & Dynamic is their subtle branding. The piece feels very personal and the branding is kept to a minimal. The top lid has a minimalistic laser engraving of their logo. Opening the case, you're greeted to the same subtlety. The earbuds don't feature any eccentric edges, sharp corners, or exotic flairs. It's a simple and minimalistic design that's elegant and stays true to the maker's design philosophy.

The right earpiece has one button on top. Double click to skip a song and triple click to go back to the previous song. Left earpiece has seesaw buttons for adjusting the sound. There's no touch sensitive feature or gesture controls. At this price point, I was expecting some level of gesture control or more functionality that their competitors offer.
The Fit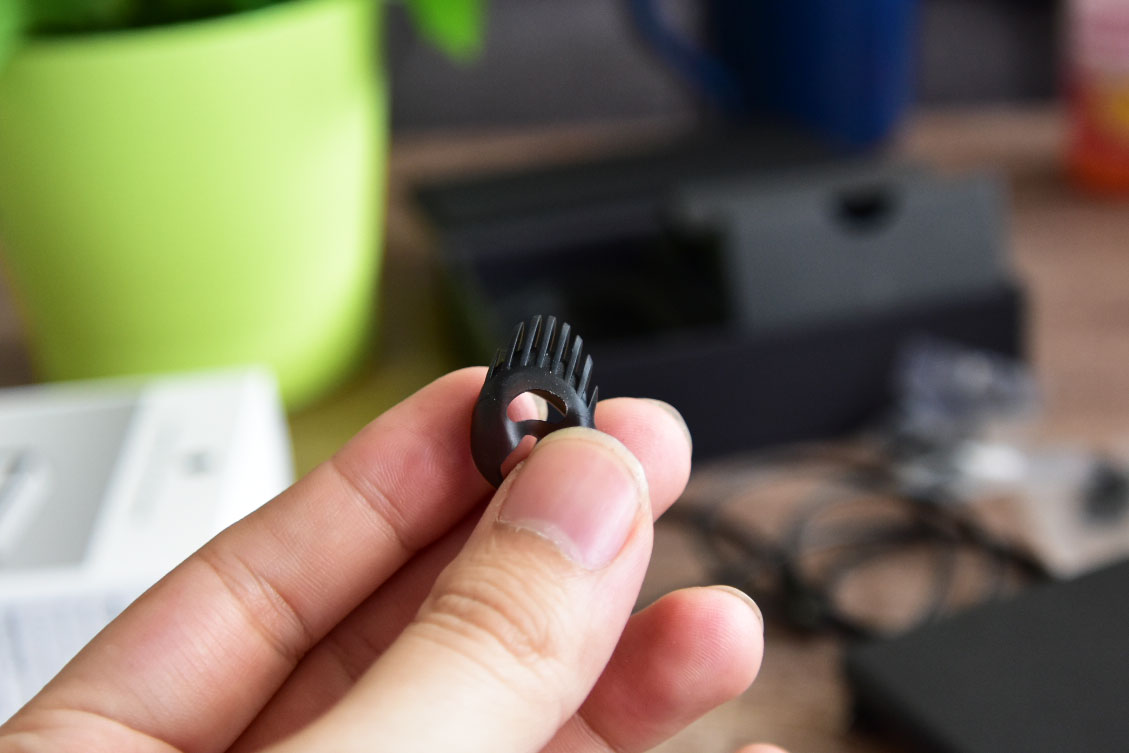 The ribbed wingtip looks weird at first, but it does provide a secure and comfortable fit even while jogging. The MW07 also comes with several other sizes of tips for you to try on. Our tester was able to get a secure and snug fit with the medium size. During jogging sessions, long walks, and a casual day in the city, the Master & Dynamic MW07 managed to stay secure all day. There were a few occasions where it loosen up a bit but never fell out.
The Looks & Performance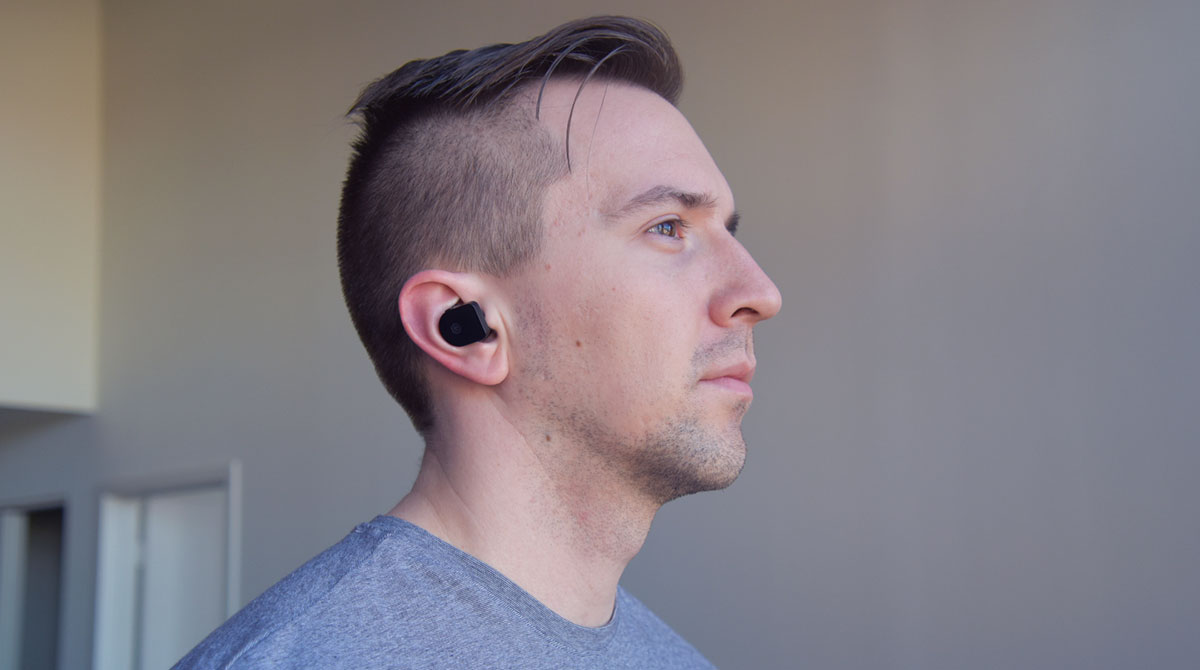 Although it fits well, it is highly visible and not something that will go unnoticed. But it does have a simplistic and functional look. There aren't protruding buttons, weird angles, or ridiculous air vent designs to make it look futuristic or "advanced". And that choice of design can work for a more sophisticated audience.And when it comes to sound...my goodness. It absolutely performs as promised and more. The bass is deep, rich, and gives you a nice surround experience without being too overwhelming. Voices and instruments are crystal clear. And the MW07 is surprisingly louder than many other wireless earbuds on the market. There's plenty of sound to be had and you'll rarely need to crank the volume to the max just to bypass pedestrian noises on the street.The 4.2 Bluetooth connection was solid. We never once lost connection, although there were some skipping every now and then when we're moving and the phone is inside a jacket.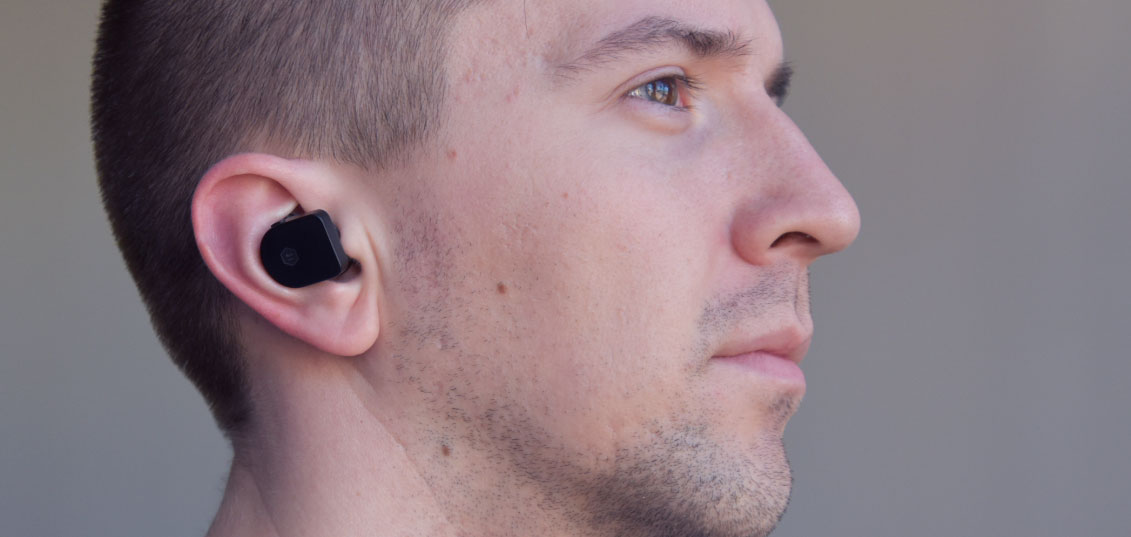 Similar to the Apple Airpods, it auto-detects when you put it on. As soon as you put it on, it auto-connects to your phone (or whichever device you paired it with). That is one thing I personally appreciated about the MW07, was that there was always a seamless connection. I never had to worry about whether it was going to connect. Didn't have to unpaired and repair in my phone settings. The connection always works, and that's a major win for a wireless device.
The Battery Life
Battery life is about 3.5hrs and the case can give you 3x charge before it needs to be recharged. Overall, not the best in class in terms of battery life, but during real life testing, we didn't experience any issues with the battery life.
Final Verdict
The MW07 was made for a very specific audience. It wasn't designed to impress anyone except those who demand artistic design, elegant engineering, and won't compromise either for performance. The Master & Dynamic MW07 is a rare species of wireless earbud that's able to accomplish all 3. From the over-engineered stainless steel case to the beautiful sound it generates, the MW07 is an original and unique animal in it's own right. It's not trying to compete with the Apple Airpods or out-feature Jabra or Sennheiser. It's a beautifully designed, well engineered, reliable, and high performing wireless experience that knows who it's target is, and priced accordingly. At $299, it's certainly not cheap. But it's worth every single penny.
Buy it here
Wisewear- Smart bracelet for women's protection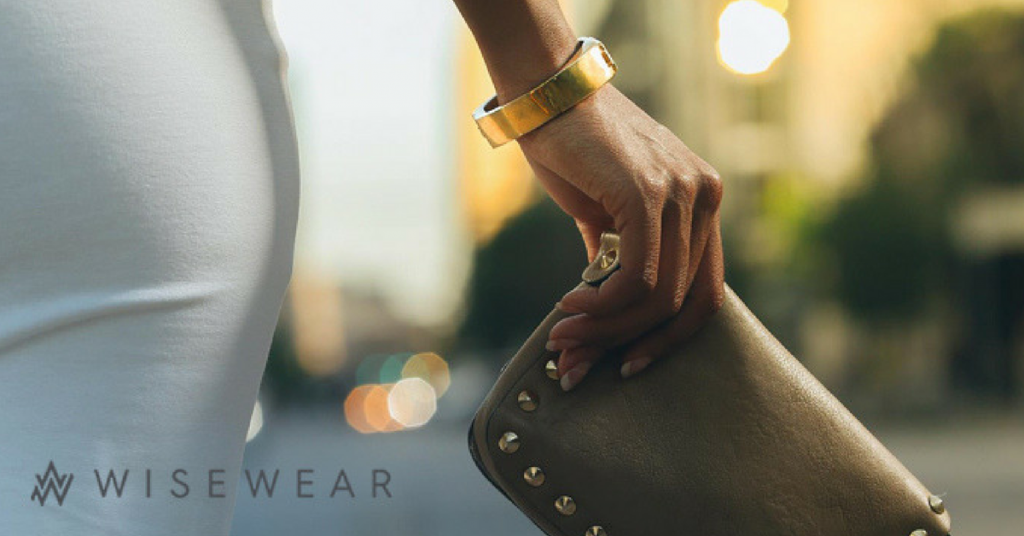 As someone who thoroughly enjoys dressing up, I understand that at times, beauty is pain. Constantly, I am uncomfortable, with the heavy material, flashy design, and poor quality. Ever since the tech industry started introducing themselves in the world of fashion though, I couldn't be more thrilled with their share. The combination of fashion and tech is hard to merge for the liking of some. Fashion is all dependent on the quality and look, but with the tech side entering in with their dominant image, it's not supported. The tech industry is viewed as mostly a male dominated interest, and on the other hand, fashion is supported by more of a feminine background. In this collaboration between these two fields, the concept of
women in the tech field
is supported. Thus creating Wisewear.Since the tech fans are growing in women popularity, some features are created to cater to us. There was an immediate attraction with smart wear after the release of the apple watch. In unique features that can track your activity in steps, calories, and burned distance, I can understand their intense popularity. Importantly though, in most designs, the simple look is not only handsome but beneficial for women. Standing out is not good.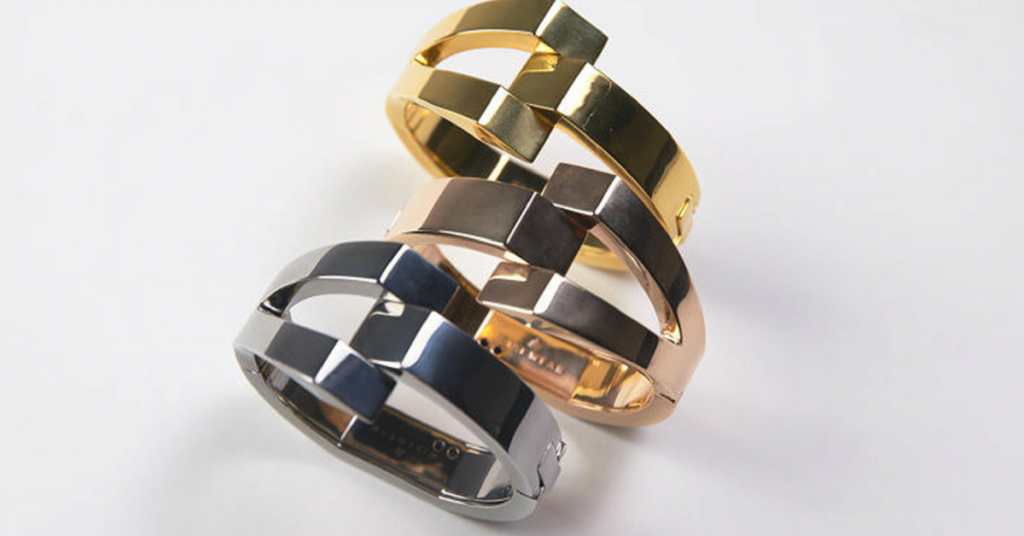 Wisewear, the industry that creates smart accessories that can keep us safe, maintains a look that will not raise eyebrows in the process. Wisewear provides 3 different colors that includes silver, rose gold, and gold, solidifying the agreement that tech can be well fitted in fashion wear still. Their industry smoothly implemented tech into our wardrobe successfully. In the means of getting this, I won't get harassed for standing out.In other amazing features in addition to receiving notifications by low vibrations on my wrist, the most significant concept from the Wisewear accessory is the access of connecting with my emergency contact in the means of danger. As someone who carries pepper spray, I feel safe in the hands of Wisewear. Speaking on the behalf of women, this is for all of the times when I was alone in the parking lot. Perhaps even when I am simply walking alone. Danger lurks in every corner, from the fear of robbery, harassment, or even rape, it doesn't hurt to be cautious.In some instances, there will be nights that I am forced to walk alone in. This may be a simple task that everyone has to do now and then but for my case, I take extra precaution. Of course, you may be afraid to get jumped considering the situation you're in, but for me or like most of you, I'm a woman. From that fact, I'm easily more targeted. The likelihood of women to be harassed is significantly higher. Without a doubt, I always carry around protection. Perhaps they aren't successful though, there is no other way to defend myself when in need of immediate help. With the Wisewear bracelet, in 3 simple taps, the distress messaging feature can notify my emergency contact with a discreet message and a gps to my exact location.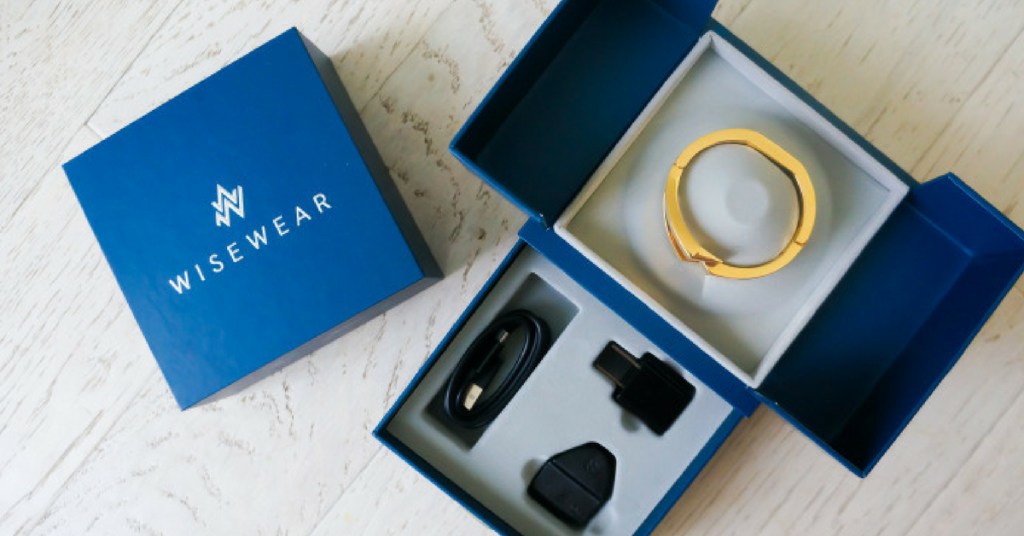 When I walk alone and sense that someone has been following me, I instantly tap my bracelet 3 times. Since it looks like any other accessory wear, I won't cause any alarm. My emergency contact will then rush to my given location or better yet, call help there. In a good situation, I am left alone and that was just a false alarm. Or worse, my instinct was right and I am now taken under force. Although I was being targeted, I can feel some comfort knowing that someone is coming and I did not lose. This Wisewear bracelet can save women in situations like this.Many may disagree with the product, seeing that its price range is from $395. After seeing the features in the activity tracking, advanced notifications, and more importantly, the distress messaging feature, my personal safety as a woman is where is matters most. The collaboration of high level tech with a chic design is arguably worth it. This discreet emergency protection allows me to feel safely assured that there is a plan B.