Guide To Choosing The Best VR Headset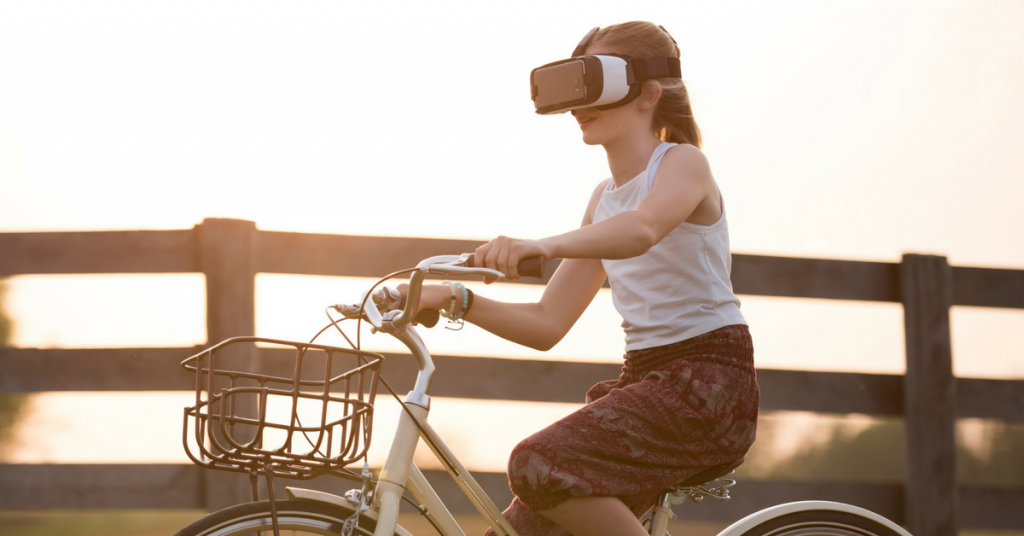 You're about to take the plunge in virtual reality (VR). You see how much fun your friend is having playing with his Oculus Rift. Your Galaxy S7 toting friends are showing off their Gear VR. You've played with an HTC Vive in the store, and now you are ready to get into VR. How exactly do you do that? What VR platform should you invest in? Virtual reality broke out in a big way in 2016 with big names such as Sony and Facebook (via Oculus) releasing VR headsets for the masses.
While virtual reality isn't new by any means (the first VR headset was built in 1968), 2016 was the year that VR truly broke out into the mainstream. Cheap VR headsets can now be found in several big box stores and even grocery stores such as Wegmans. Despite the coming out party for VR, it's still very much an early adopters market. How the rest of the market responds to VR in the long term remains to be seen since we're still on the first versions of current VR headsets. With that said, here are the top VR headsets to look at:
Oculus Rift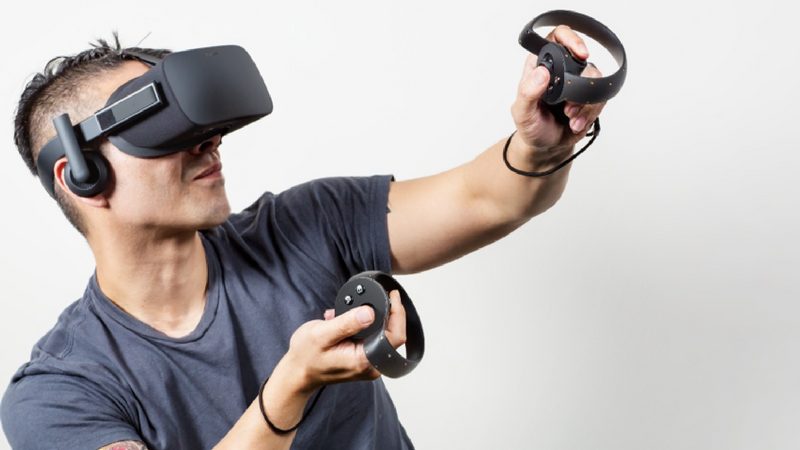 Starting out this list is the Oculus Rift. The Rift started out as the brainchild of Oculus founder Palmer Luckey and id Software cofounder John Carmack. After Luckey created a Kickstarter for the Rift back in 2012, it quickly became the darling of the gaming industry and raised upwards of $2.5 million. The Rift has gone through several iterations starting with the Development Kit 1 or DK1. Each successive iteration of the Rift improved on the specs dramatically such as screen resolution, refresh rate, and frame rate.
In 2014, Oculus was bought by Facebook for $2 billion. The influx of cash from Facebook allowed Oculus to finish development of the Rift and it finally went on sale on March 28, 2016 for $600. Oculus formed a partnership with Microsoft to allow Rift games to be played natively with the Xbox One controller (which was also packaged in with the Rift headset). Initial reviews of the Rift were overwhelmingly positive with many reviewers praising the comfort of the headset and truly high end graphics that don't compromise.
The major drawback was the lack of the Oculus Touch controllers at launch. The Oculus Touch Controllers free the user's hands and allow more immersive VR experiences. The Touch controllers were later released in early December. The Touch Controllers connect to the Rift via Bluetooth thereby freeing up a USB port. However, even with the two cameras, the tracking may occasionally go out.
The solution is to buy a 3rd camera sensor which eats up another USB port and costs $80. Unfortunately, in order to render the detail required of Rift in a manner that doesn't make the user nauseous, a PC with a high-end graphics card was required (NVIDIA GTX 970 or AMD Radeon R9 290).
In October 2016, Oculus lowered the system requirements a little by adopting the "motion interpolation" technology which allows games to run at lower frame rates. This would also allow cheaper computers with lower specs to run VR games on the Rift. That said, computers that can run VR games comfortably still cost around $600-700 not to mention the cost of the Rift itself.
HTC Vive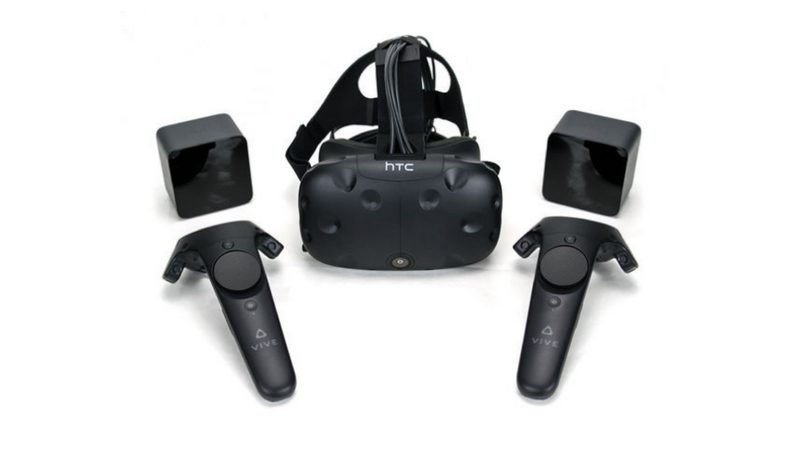 Up until March 2015, HTC was primarily known as a smartphone maker. The Taiwan based company unveiled the Vive at Mobile World Congress on March 2015 as a collaboration with gaming company Valve. HTC engineered the actual VR headset while Valve created SteamVR operating system for use on the Vive. The Vive was designed as a whole room experience from the beginning.
It utilizes two IR cameras placed on opposite sides of the room as well as two motion controllers to allow full movement in a VR environment. Up until the release of the Oculus Touch Controllers for the Rift, the HTC Vive was the only one allowing full room scale VR.
Most early VR games for the Rift were created for traditional couch gaming using the Xbox One controller, just with the added benefit of VR head tracking. In order to prevent users from bumping into the wall or furniture, the Vive has a feature called Chaperone which actually shows a cool "Tron" view of the real world using the built-in camera on the front once the user gets too close to an obstacle.
Reviews for the Vive were also favorable with many lauding the complete immersion offered by the motion controllers. Unfortunately, some reviewers complained how bulky and uncomfortable the Vive headset was compared to the Rift.
Additionally, be prepared to set aside about 15-20 minutes setting up the play space if you want the full room-scale games. The Room-Scale mode requires you to place the IR cameras (called Lighthouses) on opposite sides of the room. The space requirement can be as small as 6.5ft by 5ft or as large as 15ft by 15ft.
Fortunately, there is a Standing-Only setting that allows you to use the Vive in tighter spaces. Like the Rift however, all of that VR goodness doesn't come cheap.
In fact, the HTC Vive retails for about $800, a good $200 more expensive than the base Oculus Rift. That's also not factoring in the cost of the high-end computer needed to render the VR graphics on the Vive.  
PlayStation VR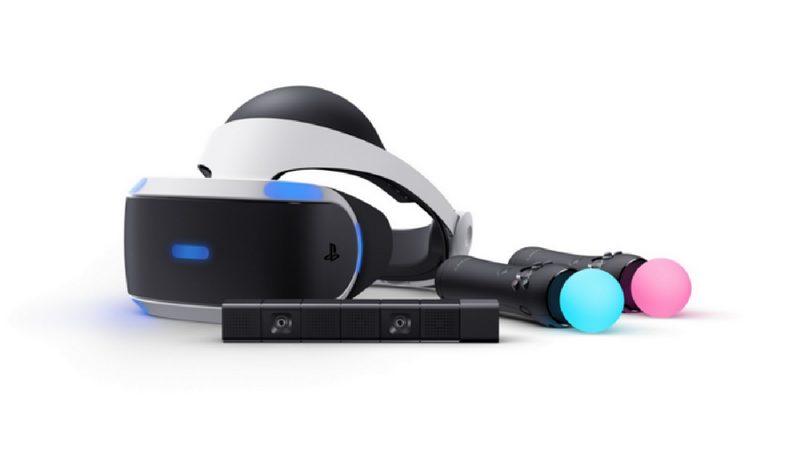 Not to be left in the dust, Sony released their PlayStation VR (PSVR) on October 13, 2016. Unlike the HTC Vive and the Oculus Rift, the PSVR was designed to be connected to the PlayStation 4 console instead of a PC. The PSVR is meant to be a more affordable entry into the VR space as most people who purchase it will probably already own a PS4. Also, the price the PSVR itself is only $400.
The complete system consists of the headset itself, a processor box to output video to the TV and 3D audio, the PS camera, and two PlayStation Move controllers. Some readers may recognize the Move controllers from Sony's previous foray into motion controllers to compete with the Nintendo Wii.
The main drawbacks to the PSVR is that it's not quite as powerful as the Rift or the Vive. The PS4 is much weaker than high end gaming computers and thus the PSVR is limited to 1080p resolution. While 1080p is crisp from a distance, the pixels can be seen when viewed up close.
Also, while the Move controllers are a welcome addition and do provide more immersion than a PS4 DualShock controller, the limited viewing angle of the camera can cause the loss of tracking of the Move controllers. While the setup doesn't require you to place cameras everywhere, the plethora of cords can be a real pain. Regardless, for the price, the PSVR remains a solid entry into the VR market.
Google Daydream View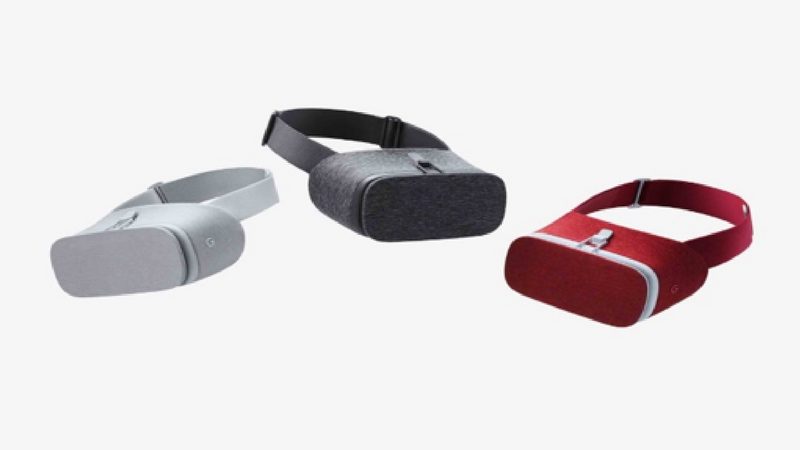 Google's Daydream View headset utilize smartphones to provide the VR experience. Before Daydream, there was Google Cardboard. It's literally what you think it is: a cardboard box with two lenses inside that had a slot for sliding in a smartphone. Google wanted a cheap and easy way for people to experience VR for themselves.
Google also positioned Cardboard for education and schools. Teachers could use Cardboard in the classroom for more immersive learning experiences. Unfortunately, VR on phones was still a budding concept and experiences, while novel, were not the best.
To remedy that, Google unveiled the Daydream VR platform and Daydream View headset alongside the Pixel smartphone on October 4, 2016. Initially designed just for the Pixel, Daydream View is a small VR headset made of fabric that has an opening for the Pixel.
It also came with a simple motion controller for pointing and interacting with virtual objects. Nothing as fancy as the Rift and Vive or even the PSVR Move controllers but for affordable VR, it gets the job done. Google is leveraging the Daydream VR platform on Android to allow developers to easily create VR experience for Android based devices such as smartphones.
Samsung Gear VR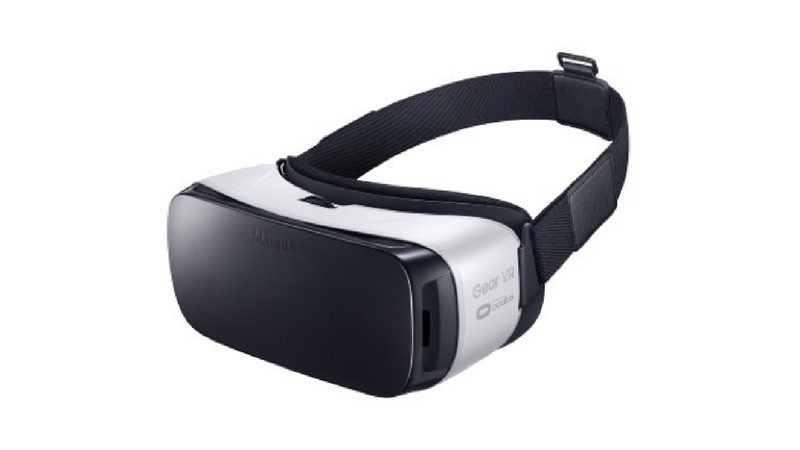 Samsung also stepped into the virtual reality ring with its Gear VR. The Gear VR was originally released in November 2015 for use with Samsung's flagship smartphones such as the Galaxy S6/S7. It was developed with input from Oculus and provides a cheaper alternative to high end VR headsets.
The first edition of the Gear VR was released to developers in December 2014 and only worked with the Galaxy Note 4. Technically, consumers could buy it as well but it was marketed towards developers so they could get a handle on the technology in order to create applications for it.
There are currently around 185 applications for the Gear VR. In fact, Six Flags Magic Mountain partnered with Samsung to create the first roller coaster with VR in North America.
So which VR headset should you pick? That question largely hinges on what your bank account is looking like. If you own a gaming PC with a relatively newer graphics card then go for the HTC Vive or Oculus Rift. Both offer uncompromised VR experiences allowing you to fully utilize a room. Because of the high-end graphics and resolution, there's much less chance of feelings of nausea or motion sickness.
If you own a PS4 and don't want to shell out for a high end gaming PC, then the PSVR would make a better bet. While the screen resolution isn't as high as the Vive/Rift, it's not so distracting that it takes away from the experience. Plus, because the PS4 already has a huge install base, game developers are more likely to create games for it.
On the downside, the Rift, Vive, and PSVR all suffer from a copious amount of cables that must be managed. If you don't own a PS4 or high end gaming PC (or maybe you just don't want to shell out $400 for PSVR), the Samsung Gear VR or Google Daydream View are viable options especially if you own a Samsung or Google phone.
In fact, most people will probably use these as stepping stones into the world of VR. However, the VR experiences on these devices still pale in comparison to the higher end VR headsets, not to mention significantly eating into battery life on the smartphone. If you're interested in the Daydream View but don't own a Pixel, don't fret.
Google announced that companies such as Samsung (ironically), HTC, LG, Alcatel, Xiaomi, Huawei, ZTE, and Asus will all create Daydream ready smartphones.
Hypage Review: Is It Better than Linktree?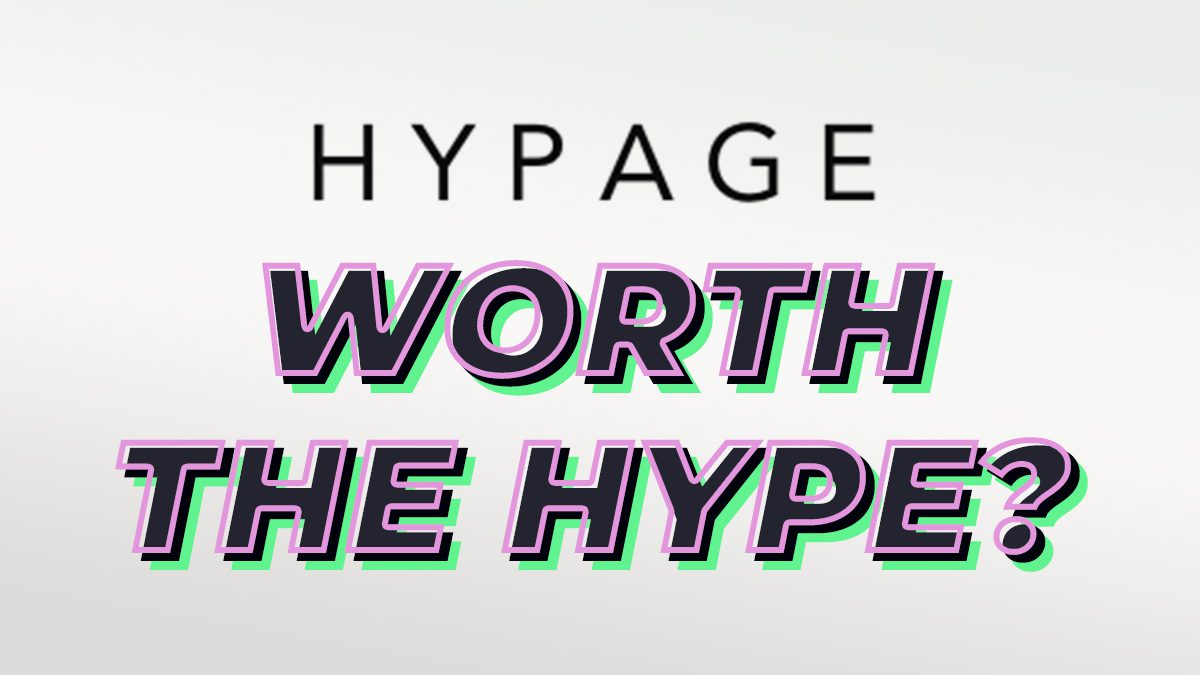 "Link in bio."
The phrase is so ubiquitous, it's almost lost its meaning. If you have a public-facing social media presence, you've had to think about what link you'll put in your bio.
Hypage offers a new solution. Like Linktree, it lets you put your socials, your work, and all your other important links in one place. But it also lets you sell merch, subscriptions, and other digital products.
Is this the next big thing for content creators and entrepreneurs? Here's our Hypage review.
What's Hypage?
Hypage is a product by Hyax, a broader platform for selling digital products. Hyax itself is part of Rgrowth, a product incubator that also created the giveaway tool Vyper.
But chances are, you don't care about all that. What can Hypage do for you?
First of all, chill. Second of all, Hypage claims it can cover your bases from all of the following services in one:
Linktree—Compile all your links in one place
Gumroad—Sell digital content to your fans
Patreon—Create your own membership
Ko-fi—Accept instant donations
Substack—Curate an email list
On top of everything else, Hypage takes zero transaction fees. They're a subscription-based service, so you pay a simple monthly fee and get to keep whatever you earn from your content.
Hypage pricing
Anyone can sign up for Hypage for free, but like I said, they make their money off of subscriptions. That means, as the old saying goes, you gotta spend money to make money.
Hypage offers three payment plans:
Free – An unlimited free tier that lets you create a fully custom bio link with a hy.page URL.
Pro – $19/mo. Allows you to sell products, accept donations, take fan requests, removes Hypage branding.
Enterprise – $39/mo. Allows you to sell subscriptions and memberships.
How to sign up for Hypage
You can either sign up for Hypage with a free account, or try a free trial of a Pro plan. Either way, your first step is creating a username, email and password.
Once you sign up, you'll be asked what industry you're in. The options include ecommerce, SaaS, music, digital marketing, and a few others. For the purpose of this review, I chose blogging.
Projects
On the next screen, you're asked to create a project; on the Pro plan, you can have up to three. Think of each project as a different brand, each with its own URL. Each project also has its own dashboard.
The Hypage dashboard
The homepage of your dashboard includes a summary of your page's activity: new people, orders, and revenue. Beyond that, there are sections dedicated to Hypage's main functions:
Your link page
Products
Membership
As well as sections to keep track of orders, users, and settings.
Setting up your link page
Before you get into page design, you're invited to add as many links as you'd like. With custom icons and unique link settings, you can really add and customize any link you can imagine. You even have the option to embed code, including video.
Next, you're taken to the design tab, where you can fully customize your text, colors, and backgrounds. The layout is stagnant, but in my opinion, it looks more stylish and functional than the default layout for Linktree.
Keep in mind, on a free plan, your page will include Hypage branding. Pro users can eliminate that branding, but you'll still have to use either a hy.page or links.page URL.
Another unique feature is uploading a custom thumbnail to appear on social media. For sellers, you can also add your own custom terms of service and privacy policy, and choose whether or not to require customers to check them.
Selling products and memberships
Hypage offers a great deal of free rein for selling products and services. It's a bit of a cheat, but you could really use this as an ecommerce tool. At the very least, ecommerce companies can easily use this platform to showcase their latest and most popular products.
You can create a description, add images, set an inventory, add digital files and links for deliverables, and choose from a range of pricing options. They seem to emphasize Stripe integration, but you can also set up through PayPal.
Memberships are where the industry you picked when you signed up comes into play. Since I signed up as a blogger, it orients my membership page as a blog.
The customization options are similar to those of your link page. It's not nearly as in-depth as a web design tool like WordPress, but it's fairly in line with other subscription blogging platforms like Medium, Substack, and Patreon.
The layout is slightly different for users in other industries. Still, you basically create separate outlines for the homepage and for each individual post. You can also choose whether each post is paywalled or free.
Final Hypage review: Is it the future?
Let's return to the question of Hypage vs. Linktree.
Linktree's Pro plan costs $9/mo, less than half of Hypage's. For that price, they offer extensive analytics, design options, martech, and yes, monetization tools. You can accept payments and sell ecommerce products directly through Linktree.
Still, Hypage certainly offers a few things that Linktree doesn't. Most notably, it allows you to create a Patreon-style subscription page embedded in your bio link. The analytics aren't all that impressive, but this feature certainly sets them apart.
You also have to consider the basic product. As a free, bare-bones bio link service, is Hypage better than Linktree? Honestly, yeah. It's just well designed, with a great array of custom options.
No, Hypage is not the only place to create a bio link and sell digital products on one site. With its high prices, it's not likely to shake the table, even though it lets you keep your revenue. Unless you have a huge audience, the cut you take from Substack or Patreon is probably a better deal.
For marketing, however, it's always great to cut out excess and try to keep everything in one place. In that regard, and as a more stylish option for simple, free bio links, Hypage does have something to offer.
Final grade: 6/10 🤷
Penji Review: Unlimited Graphic Design Details, Pricing, and Features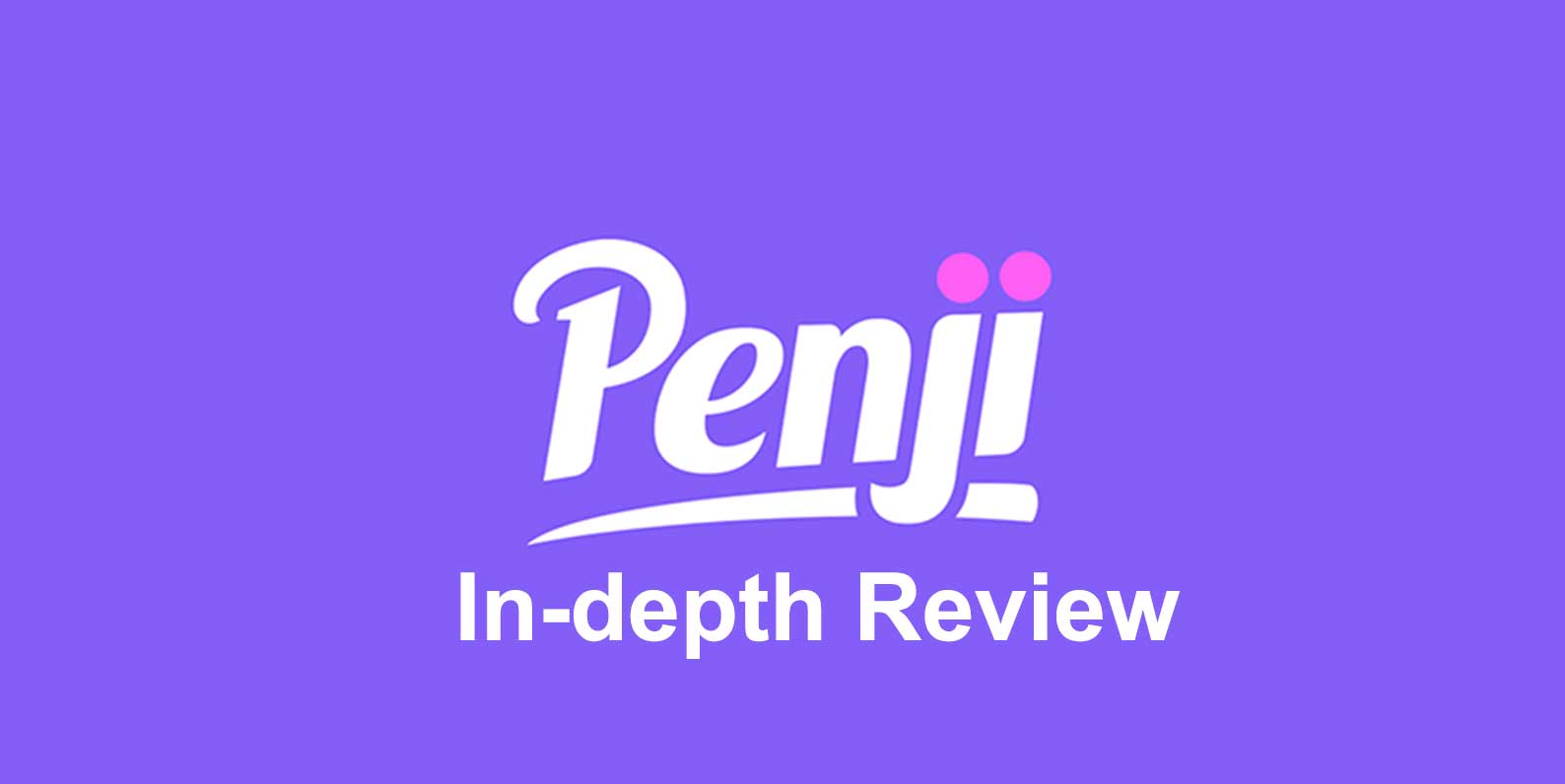 Move over Fiverr. Unlimited graphic design services are the newest alternative to hiring a graphic designer. But, these services bring up many questions. For example: How unlimited is unlimited graphic design?
We tried out one of the top services: Penji.
Like many of their counterparts, Penji offers graphic design work on a monthly subscription. We put their promise of fast turnaround, high-quality, and affordability to the test.
You can submit as many design projects as you want via their online portal, and they'll complete your requests one at a time until your queue is complete. This type of service promises to be a great added resource for teams to improve productivity.
Does it sound too good to be true? We thought so too. So, we signed up to see for ourselves.
This article was updated on August 24th, 2022.
Quick Summary
As with any service, there are pros and cons. To help with your graphic design hiring decision, we decided to condense what we found in a bulleted list below. Here's a quick summary of our review of Penji's unlimited graphic design service.
(Still wondering what "unlimited graphic design" is? We explain what it is here.)
Pros
Easy and quick to create design projects
Storage for all my requested designs
VERY fast turnaround on most projects. I expected just 1 draft in 24 hours but instead received 3 drafts. Revisions were sometimes completed the same day I submitted them.
Helpful features such as a revision tool, ability to invite team members, brand profile, and more
Upbeat and direct communication from everyone I interact with
A dedicated and responsive account manager who replies within a few hours
Cons
Can't call or talk to designers
Best if you have design projects ready to submit
Not available as an app
Overall Experience
Penji's "unlimited" design model is a great choice if you have the right expectations going in. The service is affordable for growing businesses and their output is reliable. However, if you're expecting to be on-call or face-to-face with your designer, this type of service is not for you.
Compared to designing yourself, hiring freelancers, or using Fiverr, Penji is a much better service and value by a long shot. Their team of designers lived up to the promise and exceeded my expectations.
Thinking of trying Penji out for yourself? Here's a special Penji promo code for Owner's Mag readers:

Use the Penji promo code "OMPNJ25" to get 25% off your 1st month.
---
PENJI FULL REVIEW

We created this Penji review by signing up, requesting a design, and examining the results. Here's how it went.
Final Verdict
We get it. You want to know how it went without reading all the mumbo jumbo.
All four projects were completed within two weeks and I was impressed with how they all turned out. If I had paid hourly or per project, these would've easily cost me well above $1200+ to get done, and probably taken weeks.
With Penji, it took just a few days and I paid a fraction of what I would've paid elsewhere. Definitely impressed with both the turnaround, quality, communication, and value this startup has to offer.
But Penji isn't without its flaws. The service definitely isn't for everybody.
Who would benefit:
business owners
marketers
agencies
print on demand sellers
creatives with consistent design needs
If you don't have a consistent need, the bill will start racking up after a couple of months and you won't see the value in the subscription.
However, if you do happen to fit their target demographic, then there's no better alternative out there. The speed and quality of their work easily rival other services I'd ever used. For $399 per month, this is an absolute steal.
What I Did Step by Step
Now, if you want to get into the meat of how it went, keep on reading for every detail of how I got from the sign-up screen to the final project.
Signing Up For Penji
Signing up for Penji was a relatively quick and painless process. All of my questions were answered in less than 5 minutes by customer support via Intercom and another 2 minutes to complete the checkout process.
Communication with Penji's Support Team
How fast and reliable a company's support team is before you are an active customer is a reflection of what's to come. If they're unresponsive now, it will only get worse once I'm a customer. I reached out to Penji's customer support team via their Intercom chat popup and got a response within 30 seconds, which is pretty good. I asked basic questions and the agent seemed knowledgeable.
Communication as a Customer
All communication is done online through Penji's proprietary online portal. That includes revisions, feedback, and answering any questions my designers may have.
Communication with Your Designers
Penji assigned me 1 designer, Billie, and communication with her was easy. If you have used any messaging platforms like Slack, Facebook Messenger, or Discord, you'd be familiar with this form of communication.
Billie was responsive, attentive, and always seemed to have a positive attitude no matter how demanding my requests were. She had many questions about the projects, which I tried my best to answer as a customer. Though the back and forth took longer than I wanted, I realized she was just being thorough to get the design done right, which I appreciate.
Communication with Your Account Managers
They assigned me an Account Manager, Charmaine, who was very quick whenever I needed something. It usually takes just a few hours for me to get a reply via email from her. When I had an issue with one of the projects, she quickly stepped in and helped resolve the situation.
1. Choose the Right Package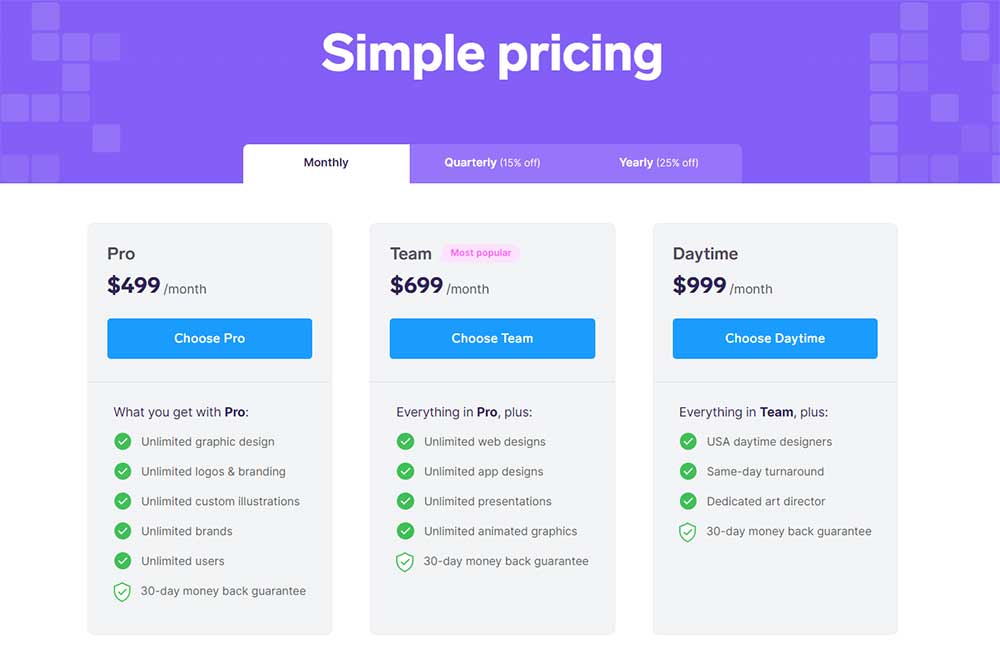 All the packages are laid out with monthly, quarterly, and yearly pricing. Starting at $499 per month for the Pro plan, you'll be able to make unlimited graphic design requests with a 24-48 hour turnaround. As your design needs grow, you'll have the Team and Daytime packages to choose from.
2. Checkout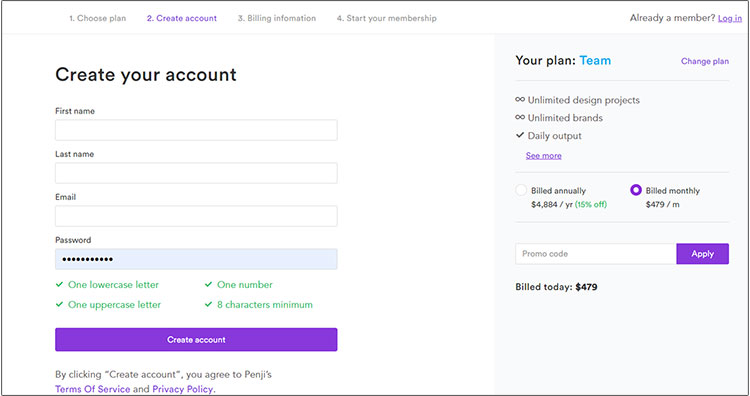 The form is straightforward and easy to fill out. Checking out was a breeze and took about 2 minutes.
---
3. Submit a Design Project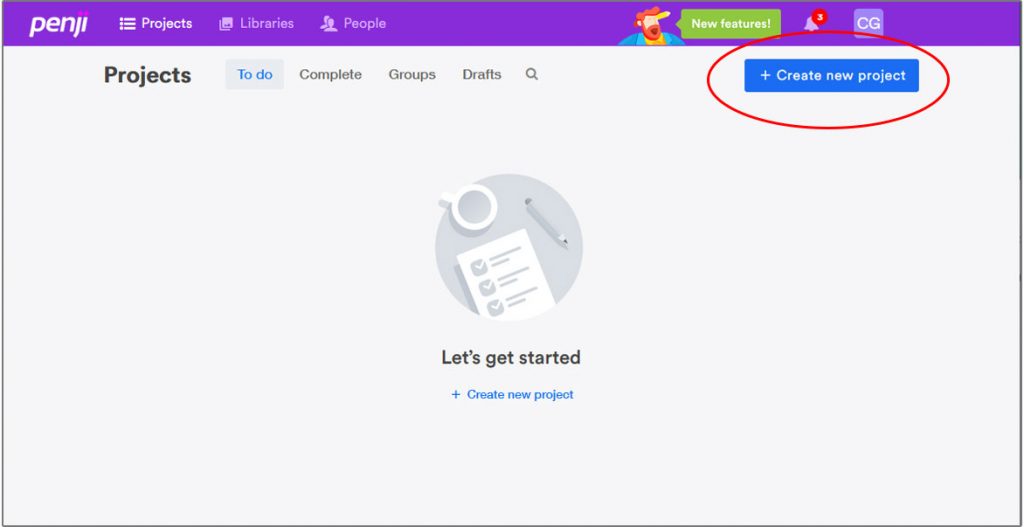 Clicking on the "+ Create new project" button, I'm presented with a visual chart of all the design categories they offer. They offer an extensive selection of options and even the ability to request a custom project.
4. Fill Out the Request Form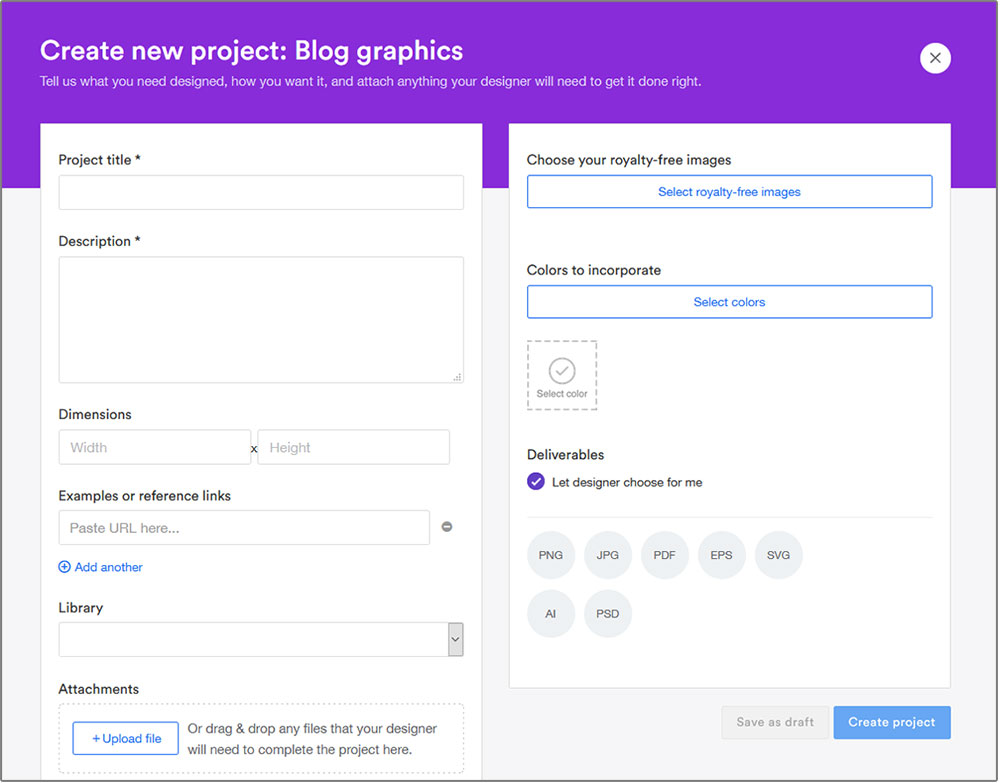 Next, I filled out a short form detailing what I wanted them to design. For those of you who hate long forms, this one from Penji is easy to follow and doesn't ask too many questions. Most of the questions are actually optional so you can be as descriptive or non-descriptive as you like.
My test projects
As a digital publisher, we produce content on a daily basis and always have a need for on-brand graphic design. I created several projects to test how well-rounded Penji is and how they handle both simple and complex requests. A simple banner should be difficult, but can they handle a complex infographic with lots of texts and imagery?
Here are my test projects:
Blog Graphic: Best DSLR Camera Equipment For Beginners
Custom Illustration: Best Vacuum Cleaner Money Can Buy
Facebook Post: Isometric Tech Gadget Graphic
Magazine Print Cover (Owner's Magazine's 2020 May Edition
Despite creating four projects, the entire process was quick and smooth. It only took a few minutes to create them and their internal platform was lightning fast. At this pace, I can see myself submitting multiple projects on their platform with ease.
---
Turnaround Time
I expected at least one draft the next day. What I didn't expect were three drafts ready for review. To give you a comparison, most freelancers and design firms we've hired take several days to submit just one draft.
The designs were surprisingly good considering that it's the first draft AND they had a 24-hour turnaround. After reviewing, I realized how they did it. Every project had a different designer. I wasn't assigned just one designer. It was like having my very own virtual design team.
4. Requesting Revisions
Though the designs were good, I still needed a few revisions. The drafts were turned around usually the same day or by the next day. Their support agent actually told me it will take 24 hours to turn around revisions. The revisions that took 24 hours were typically much more involved.
Overall, revisions were quick. Most came back within a few hours after I submitted them.
My one gripe would be that I prefer to have some sort of real-time chat with my designer or at least have a Zoom call. That's one thing I like about working with my freelancers. Whenever they were online, we could just have a back and forth conversation to get the revisions across. I can't do that with Penji.
Built-in Revision Tool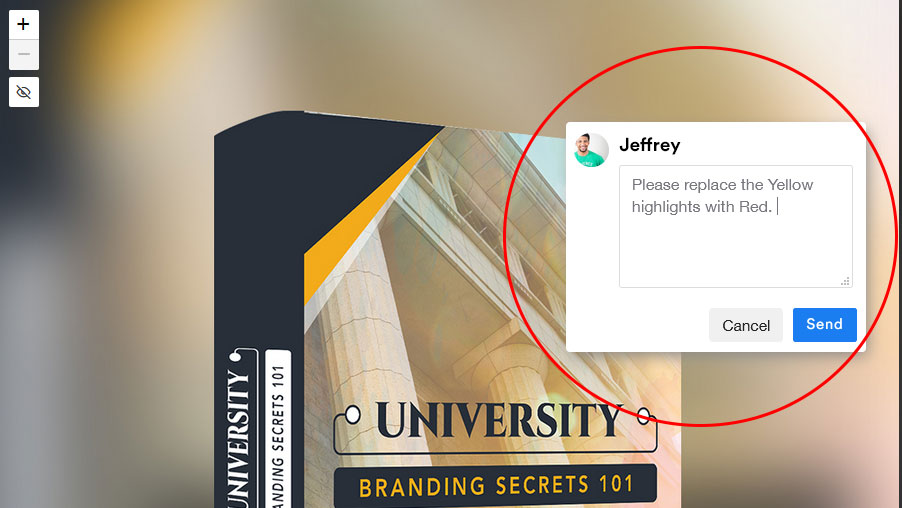 Penji has a built-in revision tool that lets me click anywhere on the design to leave a revision. I found this incredibly useful as it enables me to pin-point what I want to change.
---
The Results
It took about 1 week to go back and forth with revisions and edits for all 4 design projects. At the end of the week, I received the final drafts for all three. Here are the results of the three test projects.
1. Blog Graphic: Best DSLR Camera Equipment For Beginners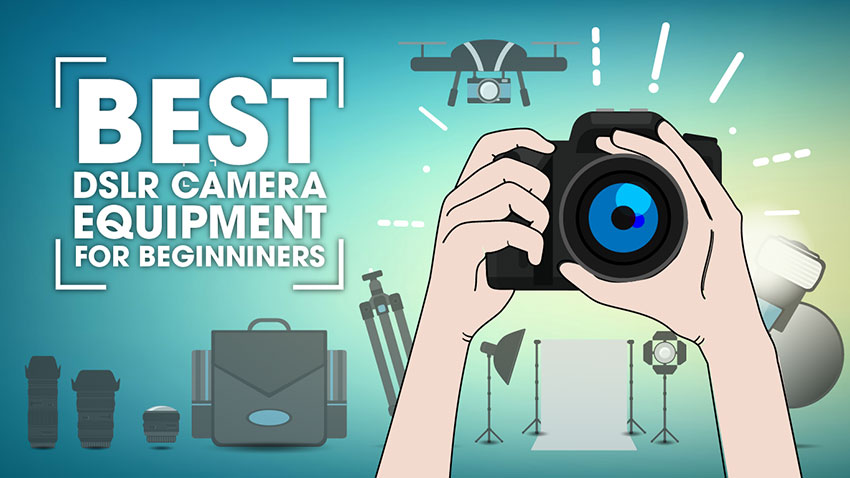 This far exceeded my expectations and will more than do for the blog I'm writing about DSLR camera equipment. I think most designers would probably just stop with 1-2 icons and graphics for this design. My designer decided to add the tripod, three lenses, drone, backpack, and a whole entire stage lighting kit.
I didn't ask for those, but I'm impressed with the quality of the design. No revisions needed. I approved this project on the first try.
2. Custom Illustration: Best Vacuum Cleaner Money Can Buy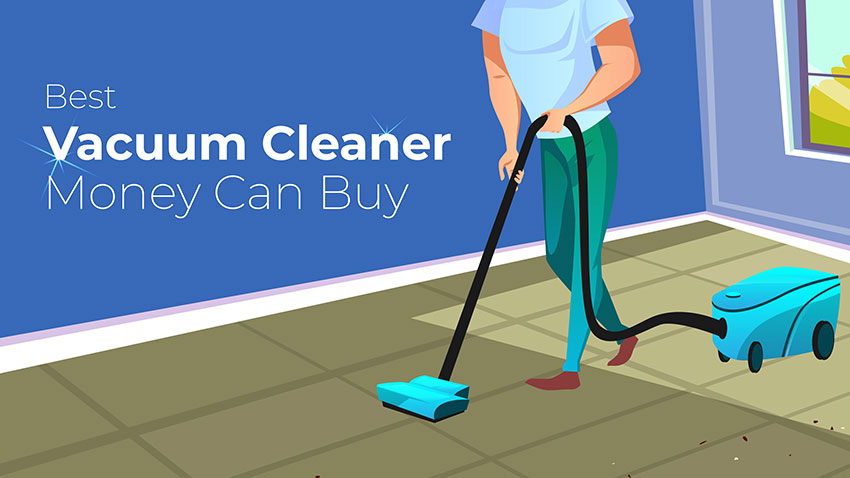 For this project, I asked my designer Kei to do a custom illustration of a man vacuuming his floor. He actually drew it up and sent me a rough sketch first before he started coloring it in. That was an extra layer of care and attention to detail I wasn't expecting. Needless to say, I approved of his drawing and he delivered this draft the next day.
Revision
Everything in this graphic was hand-drawn and then colored digitally. Like the first project, I couldn't think of any revisions except asking him to put the texts "Best Vacuum Cleaner Money Can Buy" on the graphic.
He went the extra mile and designed the text to fit the graphics. See for yourself above. It's details like these that I would have had to harass my freelancer and he would try to nickel and dime me for every revision. Great work Kei!
3. Facebook Post: Isometric Tech Gadget Graphic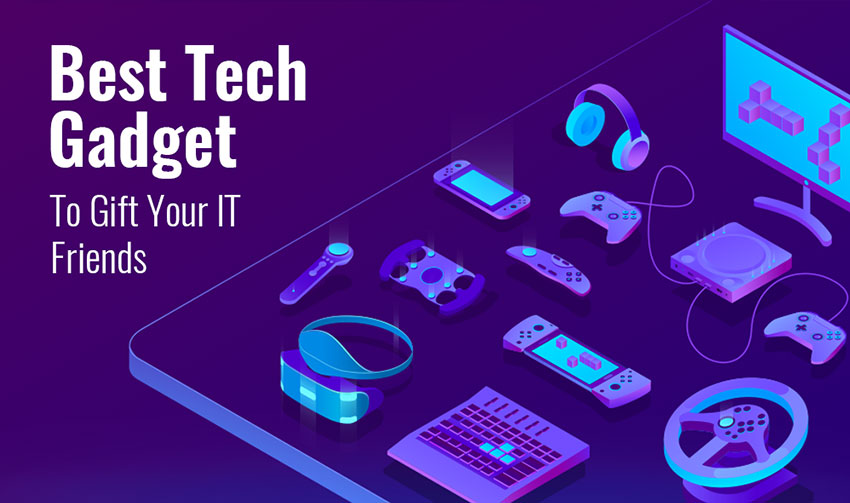 My designer Jave's first draft amazed me because of how much detail he put into this project. I had asked for an isometric graphic with various tech products laid out on an isometric glass plane. I honestly thought my description may have been a bit too vague, but he understood my vision even better than I did.
4. Magazine Print Cover (Owner's Magazine's 2020 May Edition)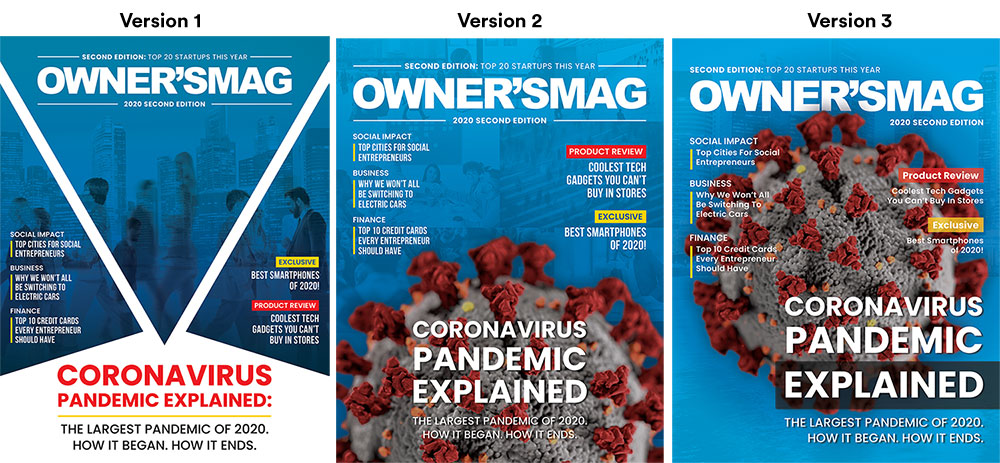 My designer Billie gave me 3 versions of the magazine cover. I don't like version 1 at all. It looks too templated. I personally like version 2 and 3 and left revision notes accordingly. The coronavirus image was entirely her idea and I love it.
Revision
This project took a bit longer than the others because my designer Billie had questions and we had a lot of back and forth. I didn't mind at all since she was asking good questions that I should've included in my design request. Overall, I appreciated the extra time she took to understand me and the project better.
About three days later, I received another draft which blew everything before it out of the water.
---
Reviews From Other Sources
Because you may not take our word for it, here are some of the most recent Penji reviews from other sources:
Jan Kartusek
Jorge Vila
IM Nights
Disclaimer: we receive an affiliate commission when the Penji promo code is used, however, the review is based on our experience.
Omnisend Review: A New Frontier in Ecommerce Marketing?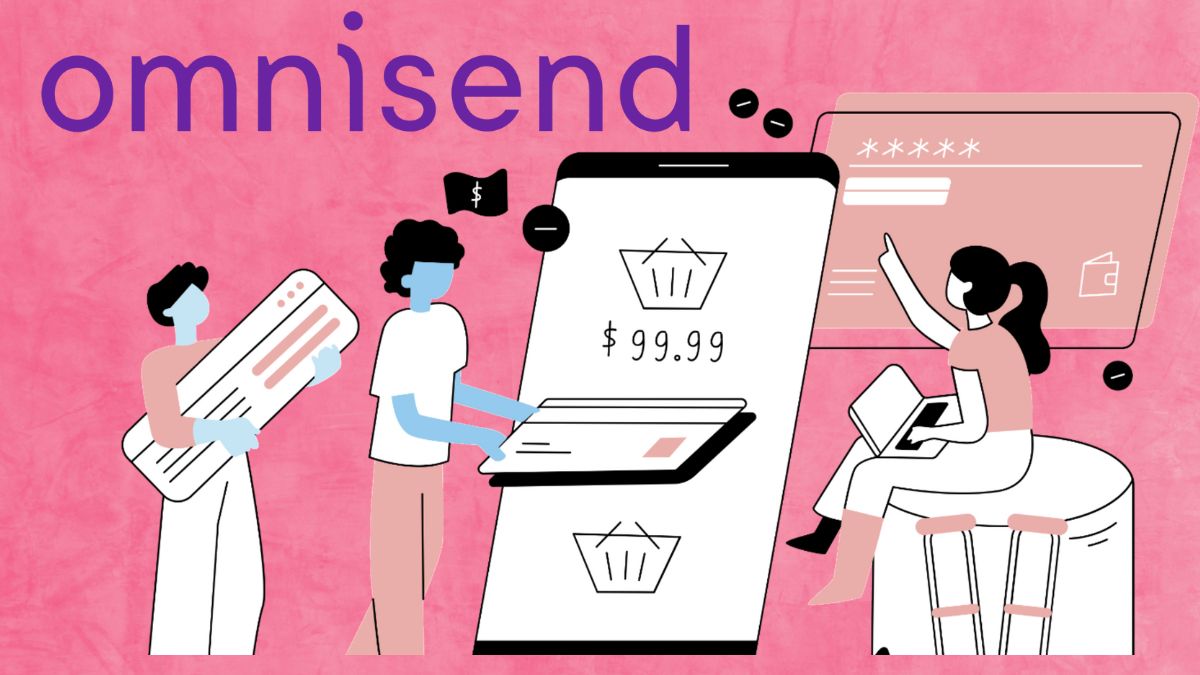 Interested in giving Omnisend a try? Help us out by signing up with this link.
Anyone in the ecommerce industry knows how hard it is to engage customers.
How do you turn one-time shoppers into a reliable relationship? There's a tricky balance between reaching a broad audience and creating a personal connection.
Omnisend is a marketing automation tool that specializes in ecommerce. With thousands of platform integrations, can they make the difference for your business? Here's a review of what they offer.
A brief history of Omnisend
Before Omnisend, there was Soundest. The email marketing platform was founded in 2014 by Rytis Lauris and Justas Kruikas. What started in Lithuania quickly expanded into the UK, and later around the world. They grew beyond email to become an omnichannel automation tool and worked with over 70,000 ecommerce brands.
What they offer
While email remains front and center for Omnisend, their marketing tools go much further. The all-in-one marketing platform provides:
SMS tools
Email templates
Drag-and-drop content and automation editors
Customer engagement and behavior data
Pop-ups
Landing pages
Campaign and automation data
Facebook and Google ad retargeting
And more.
Omnisend pricing
Anyone can reach up to 250 contacts at no cost with Omnisend's Free tier. Beyond that, pricing is based on how many contacts you plan to reach.
The Free tier is always free, but you can only reach 250 contacts, send 500 emails per month, and send 60 SMS messages.
The Standard tier starts at $16/mo for up to 500 contacts. It includes unlimited web push notifications and up to 6,000 emails per month.
The Pro tier starts at $59/mo for up to 500 contacts. It includes unlimited emails, unlimited web push, and free SMS credits equal to the cost of your monthly plan, starting at 3,933 per month.
For further details, check out their pricing page.
Getting started with Omnisend
You can sign up for Omnisend with your email address or directly through your Shopify account. Once you verify your accounts, you're asked to input your name, your business' name, your timezone, and your physical address. (A bit much, if you ask me.)
From there, you're taken straight to your dashboard, where you can explore the site and get started on your first campaign.
Marketing with Omnisend
The Omnisend web app includes six tabs:
Dashboard
Campaigns
Automation
Forms
Audience
Reports
Here's a breakdown of what you can do with these functions.
Dashboard
When you first sign up for Omnisend, your dashboard includes a welcome message and tips for getting started. Once you have campaigns running, your dashboard will contain stats on your overall performance and a live view of your store's sales.
To do any of that, you'll have to connect to your store. Omnisend integrates with ecommerce platforms including:
Shopify
BigCommerce
Magneto
PrestaShop
WooCommerce
Opencart
Zencart
Drupal Commerce
Übercart
OXID Esales
Wix
You can also integrate with any custom ecommerce platform using their API. The setup process takes only a few minutes.
Campaigns
Once you've connected your site, you're ready to set up your first email campaign. At the top of the campaign settings field, you'll see a safe sending volume. This volume indicates the ideal number of emails to send to optimize your reputation from ISPs and ensure the most engagement. For the standard plan, it starts at 20,000.
From there, you start by setting up how it'll look in people's inboxes. You can edit the sender name, subject line, add emojis and even personalization elements. These elements, such as name, date, and city, will appear differently for each recipient and can help drive engagement.
Next, you pick a template for the campaign. Omnisend has a small sampling of stylish templates to help you announce a product, offer a discount, or just send out a weekly newsletter. There are only 12 templates to choose from, but they get the job done.
From this window, you can also go straight to your brand settings through the "Manage your brand" button. Over there, you can input a logo, assets, and color schemes to be included in your campaigns.
Campaign editor
Once you've picked a template, you're brought to an editor to make it your own. It's more rigid than designing it yourself, but it has all the tools you need to make a captivating email. I especially like how easy it is to add layout elements and personalization tags. You can also send a test email before it goes live.
Automation
On top of building emails, you can also build automations to ensure you reach out to new and returning customers at just the right moment.
For instance, one template is the three-email "Abandoned Cart" workflow. This triggers when a customer adds items to their cart and doesn't check out. It sends an email 1 hour later, another one 11 hours later, and a final offer after 12 hours.
You can customize these workflows and add more using app integrations. Omnisend has a whole marketplace of apps to integrate with. This includes tools for advertising, automation, loyalty, logistics, customer support, email capture, and more.
Forms
The forms tab lets you create pop-ups, which are an effective way to turn visitors into email subscribers. This tool has a wider range of templates than the campaign editor, but it gives you less freedom to move things around.
Templates include a standard sign-up box as well as discounts, free shipping, and Black Friday deals. There are also different layouts related to image placement (and of course, you can change details in the editor).
Once you've completed the signup form, you're asked to set up its workflow. Ensure that customers get the right email, discount, or whatever else you intend to send them when they sign up.
Audience and reports
The audience tab lets you keep track of your customers, while the reports tab keeps up with campaigns. Using these two tools, you can easily gain insight into how your campaigns are doing and what you can do to improve them.
Omnisend's advanced reporting tools are one of its best features. They display everything from customer life cycles to sales data, with even more data for Pro subscribers.
To get even further insights, you can divide your customers into segments. These can be custom-made or taken from pre-built templates like "frequent store visitors" or "at risk of churn."
Is Omnisend right for your ecommerce business?
All in all, I was pretty impressed with what Omnisend had to offer. Their campaigns, automations, and data are perfectly geared for ecommerce and surprisingly thorough.
There are a few things I would fix. The email templates are lackluster, and marketing tools that go beyond email are fairly limited. Still, it's a robust tool for creating and keeping track of email campaigns.
If you're looking to build and maintain your audience as an ecommerce business, Omnisend is the tool for you. Get started today with this link.
Final rating: 9.1/10 ?