Motivating Employees – The Right Way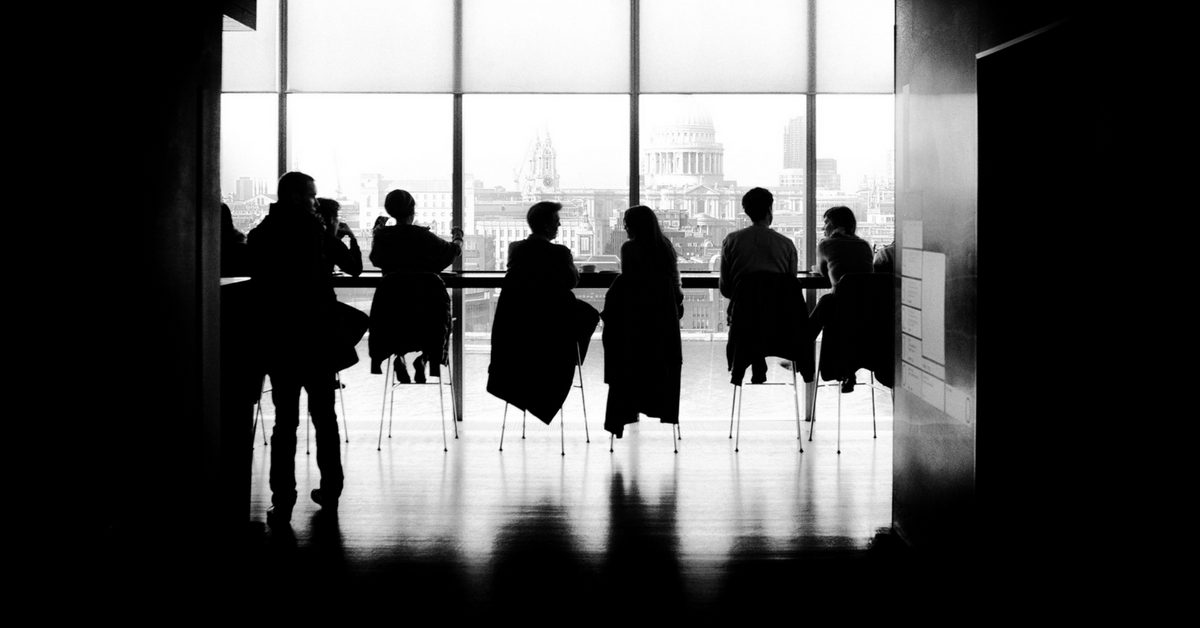 Motivating employees the correct ways is essential for growth. Motivated employees are instrumental in success or failure of any organization. As an entrepreneur, you aim at maximizing revenue and increasing the productivity, and for that, you need a team of efficient employees. This can happen only when there is a motivating workplace environment. Motivation is the driving factor that leads people to be more productive for their organization and is also the most important contributing factor to overall satisfaction thus leading to higher employee retention. Instilling motivation isn't easy, but it's necessary if you want your employees to be satisfied. Here, we are listing some useful ways to keep your team happy and driven at the workplace.
Keep a friendly work environment.
Your workforce spends most of their day in office, so try and create a comfortable and friendly atmosphere. Avoid cramped workstations. Employees should have free space to move around. The lighting in the office should make the workplace look lively, and you should also try to design the place in such a way that natural light can come in. A friendly work environment will make a big difference in motivating employees. In addition to keeping a friendly environment, don't forget to keep it safe.  To learn how to make your work environment both friendly and safe, check out this article.
Give individual attention.
Giving individual attention to each member of the team makes a lot of difference especially for motivating employees. An employee can feel unrecognized when the team size is large. Taking a moment to speak to an individual personally can get him feel appreciated. Directly praising an individual who has exceeded in performance goals not only makes the employee feel special, but will also increase the motivation level of the workforce. 
Lead by example (Key for Motivating employees)
If you want your employees to work hard, then you must ensure that you show your excitement and determination about achieving the company's goals. As a leader, you need to lead by example, show optimism, understanding, and set an ethical culture. The employees would mirror that feeling and would feel enthusiastic to achieve the goals. Check out this article for more leadership qualities your team is looking for in you.
Empower your employees.
Give your employees the freedom to express their ideas and concerns. Take inputs and suggestions from them on how to improve their performance. Do regular employee reviews to discuss with them on how they can be more efficient and what they have done well. Take their advice and implement them. This will make them feel motivated and empowered. Read this article to learn how to extract feedback and encourage your team to share feedback with you. 
Give your employees advancement opportunities.
Handling the same job profile for a long period of time can make the employee feel de-motivated. However, if you give them growth opportunities, they will feel motivated and work harder. For example, offering internal promotions to your employees, rather than hiring a resource from outside. Providing training, advancement opportunities and helping your employees to grow can be a great morale booster for them.
Reward your employees for the hard work.
Rewarding the employees from time to time can work as a great motivational factor. For example, run contests and those who achieve the set targets can be rewarded and publicly praised. Rewards can be anything that makes the employee feel special – a certificate of appreciation, cash reward, small gifts, etc. Recognizing employees for a job well done is a great way to keep them motivated. Your employee's happiness is essential, make sure you don't neglect it.
2020 Cyber Week Deals for Businesses and Entrepreneurs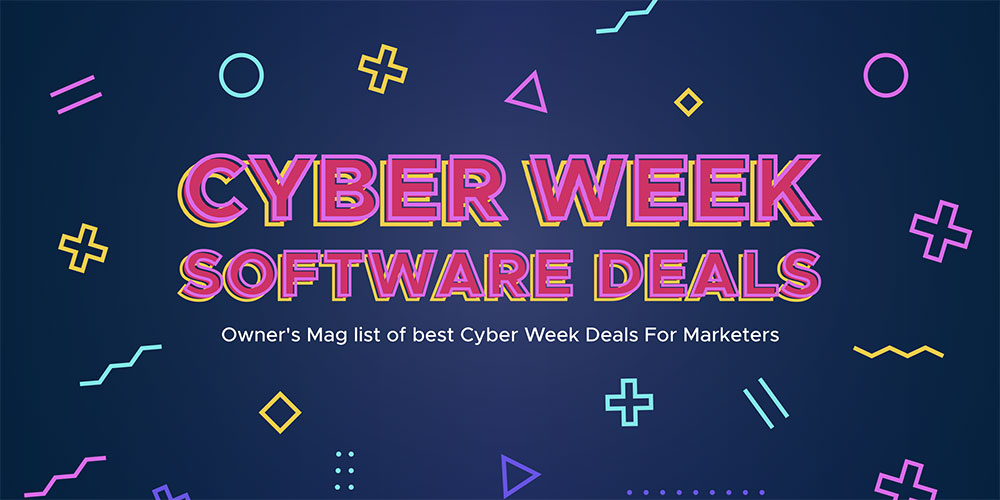 Are you looking for the best deals for Black Friday and Cyber Monday? We understand 2020 has been quite the rollercoaster. So, we compiled a list of Cyber Week deals specifically for growing your business. Here is the ultimate list of marketing, sales, lead gen, and SaaS tools you don't want to miss.
*Bookmark and revisit this page for updated Black Friday and Cyber Monday promotions.
Analytics
Business Development
Design
Email
Finance
Marketing and Social Media
Project Management
Web Development
Top 10 Black Friday Deals for Digital Marketers 2020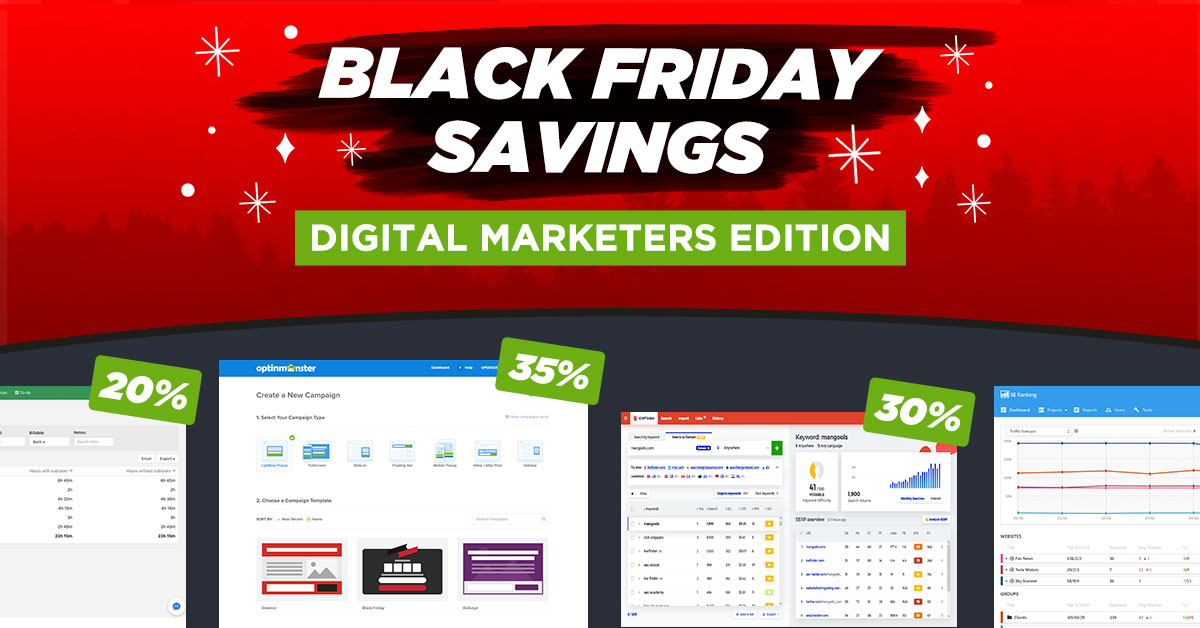 Rejoice, agencies and digital marketers! Black Friday deals aren't just for flatscreen TVs and doorbusters. This year, you can also get ridiculous discounts and offers for software and services to help take your business to the next level. Here are the top 10 hottest Black Friday deals you can take advantage of right now
Penji

We're marketers, not designers. And hiring freelancers is a time-consuming process I don't enjoy. Meet Penji. It's a graphic design service that lets me work with a vetted designer on as many design jobs as I want – for a flat monthly rate of $399/m.
And if that deal isn't already good enough, here's their Black Friday promo code to make it even sweeter.
The deal: 50% off any plan 1st month. Use promo code OMBLK50. Code is limited to the first 100 customers. Valid from now until 11/29/20.
SEMRush

All the SEO tools you'll ever need under one roof. SEMRush's comprehensive toolbox lets you manage your SEO performance, track daily rankings, analyze your competitors, research backlinks, and much more. They're rated one of the most reliable and robust SEO tool on the market right now. Prices are usually more expensive than other software, but they're well worth the investment.
The deal: Get 30% off on the annual SEMrush Competitive Research bundle. Valid between 11/25/20 – 12/15/20. For new users only.
Timecamp

Want a time + activity tracking software your team will actually want to use? Then meet Timecamp. Timecamp has just what you're looking for. The SaaS software allows you to monitor activities and track your team's attendance. In addition to tracking, there are over 100+ integrations to the software you're already using.
The deal: Get 4 Months of TimeCamp for Free! Use this code at checkout: BFDEAL2020. Offer starts 11/23/20 and ends on 12/1/20.
SE Ranking

Marketing agencies and digital marketers are probably already familiar with keyword and competition monitoring software. You've probably already heard of SE Ranking for that matter. SE Ranking is a densely packed SEO tool with features such as competitor monitoring, rank/keyword tracking, keyword research tools and backlink analysis.
It even has auditing tools to show you what you need to fix on your website to rank better. We actually use this ourselves and love it.
The deal: Get 30% off ANY plans. There's also a small chance your membership benefits will double if you're one of 3 lucky winners after their drawing. Use code BLACKFRIDAY2020 at Checkout.
Email List Validation

Email marketing is great…when the emails actually deliver. Solve your email deliverability issue with Email List Validation. The software lets you verify and clean your email database to ensure you're only sending it to working emails.
The deal: Get 25% off all plans. No code needed, just visit link below.
OptinMonster

Remember when everyone keeps saying email is going to go away? Yea…here we are 20 years later. And OptinMonster is proving that email marketing is here to stay. OptinMonster helps you convert and monetize your website's traffic. Get your visitor's attention with event-triggered popups and capture their interests with exit-intent forms.
The deal: Get 60% off all plans.
SocialPilot

This one is for agencies and marketers managing multiple client's social media accounts. Put all of your client's social media accounts on SocialPilot and leave it on Auto-pilot (bad pun I know…) SocialPilot lets you create, manage, schedule, and even finetune all your posts in one place.
The deal: Get 20% off discount on all lifetime plans. No promo codes needed. Just check out link below.
LongTailPro

LongTailPro is for marketers, bloggers, and digital marketing agencies looking for an effective tool to help research and track long-tail keywords. In addition to its robust search feature, you can also track rankings for all your keywords on major search engines.
The deal: Get 30% off all plans with BONUS access to competitor research and SERP analysis tools.
Mangools

Mangools is more than just a keyword research tool. It's actually 5 tools combined into one platform, making it an amazing deal for marketers. You get the Keyword explorer, SERP checker, SiteProfiler, SERP watcher, and Linkminer all for the price of one.
The deal: Get 25% off
For Black Friday, Mangools gives a 25% discount on its SEO tools, including KWFinder, SERP Analysis, Backlink Analysis, and Rank Tracking. The offer data starts on November 29th.
HelpCrunch

HelpCrunch is a marketer's wet dream come true. Create chat automations and popups to guide and convert visitors. Have live chat to provide instant assistance to browsing prospects. Create a knowledge base for your customers to find answers themselves. And the list of feature goes on.
The deal: 20% off any plan
Arctis Pro + Gamedac Review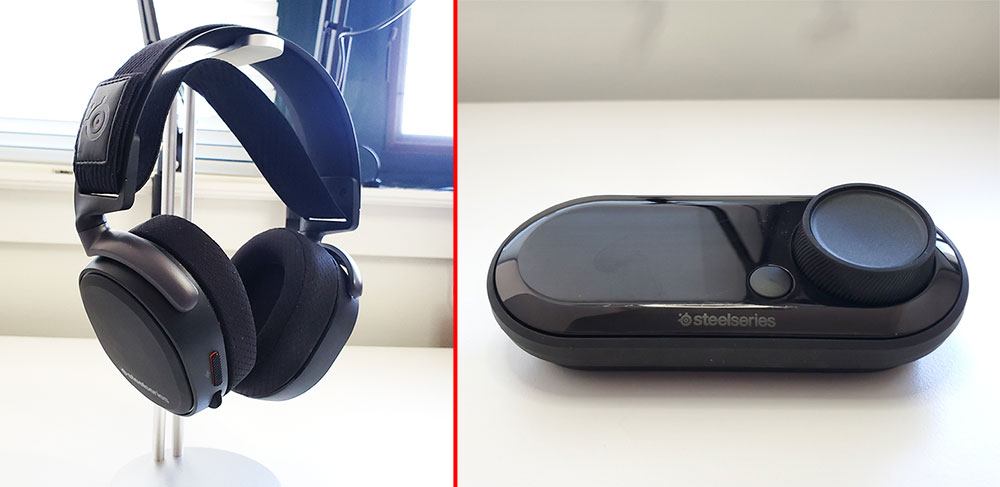 E-sports is taking over the world and have gained even more momentum due to stay-at-home orders. This year, the competitive landscape has heated up with games like Apex Legends, Fortnite, Valorant, and League taking the helm.
If you've ever played competitive FPS, you'll know just how important high fidelity audio is. The ability to hear which direction your enemy is approaching from is often key to winning the battle.
Nowadays, you can settle for a wide array of gaming headphones at just about any budget. However, for those who serious about keeping their KD ratio high and absolutely need every last bit of advantage, Steelseries has the answer for you.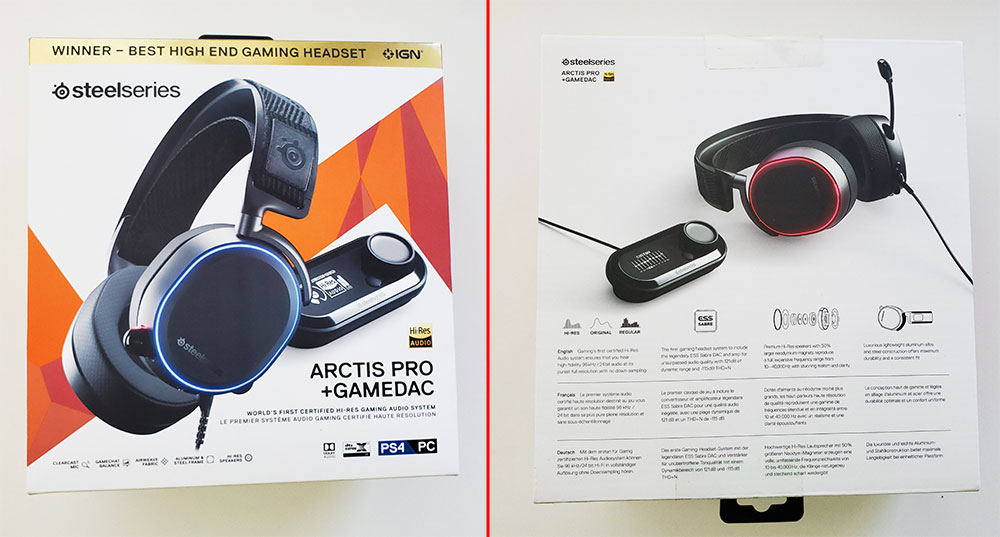 The Arctis Pro with Gamedac is a wired gaming headset that offers high-resolution audio through a digital-to-analog converter. The headset works with PlayStation, Xbox, and PC and comes equipped with all the wires you need to get set up.
The Gamedac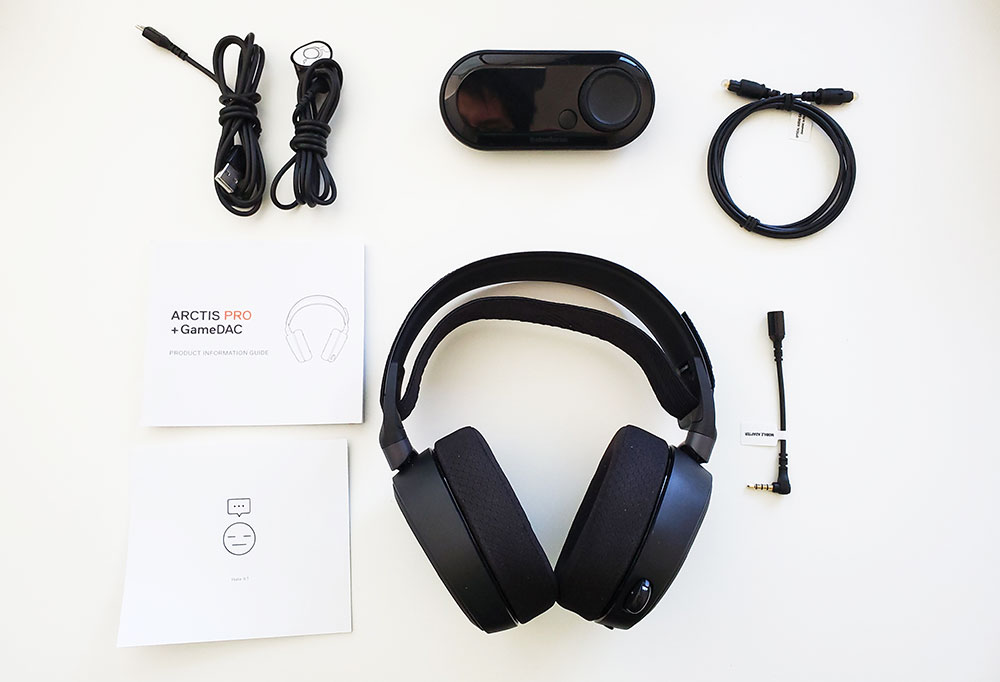 Steelseries have upgraded their Gamedac significantly since the last iteration. Connectivity is seamless and instructions are easy to follow. Unlike traditional headsets where you can just plug directly to your PC to get rolling, the Steelseries Arctis requires an extra step.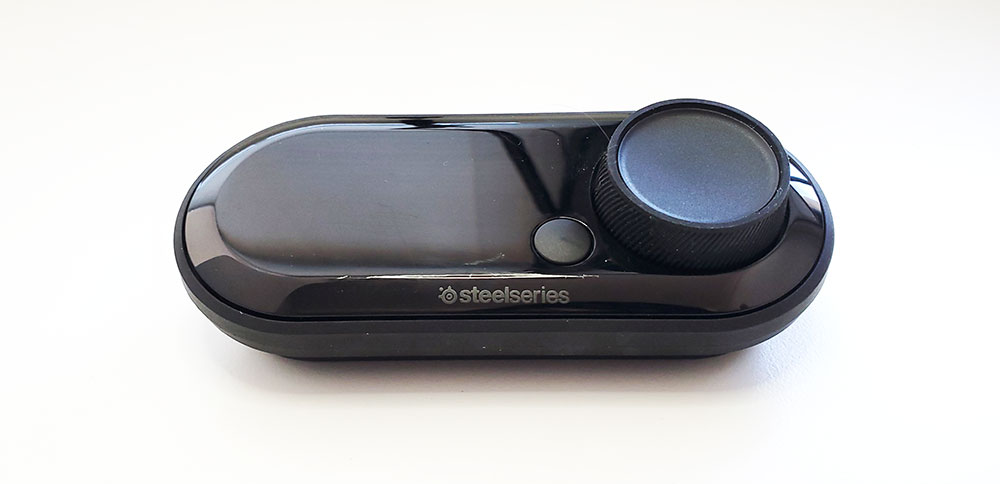 You can't just plug directly via USB. Instead, the headset connects to the Gamedac via an unusual micro USB port, and the Gamedac connects to your PC via USB. Once plugged in, the unit powers up instantly and you're greeted with an intuitive 19-steps tutorial onboard the Gamedac's built-in LCD screen. This is one of the most intuitive and clever tutorial/instructions I'd ever seen on a gaming headset. No confusing manuals, no complicated wired setups, just plug and play.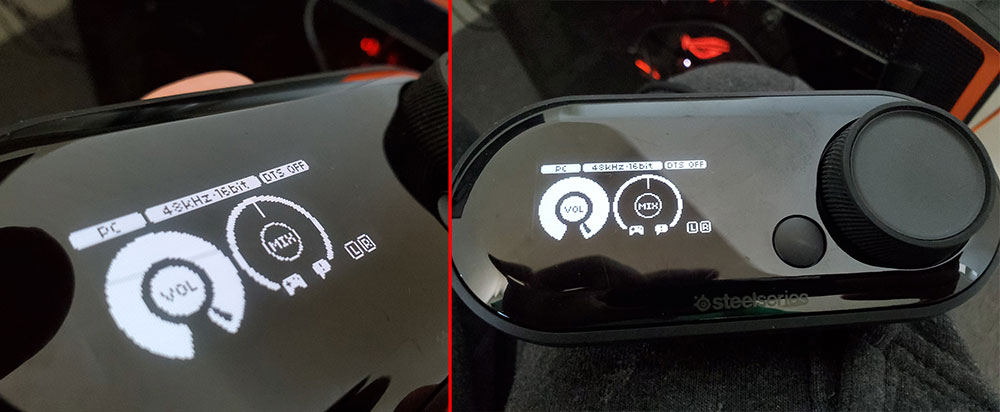 The Gamedac is super simplified with just a dial knob and a back button to control everything from volume, mixer, EQ, to various other display settings. Use the dial to navigate left and right. Press to select. And hold down for menu options. It's so simple, I didn't even crack open the manual.
The headset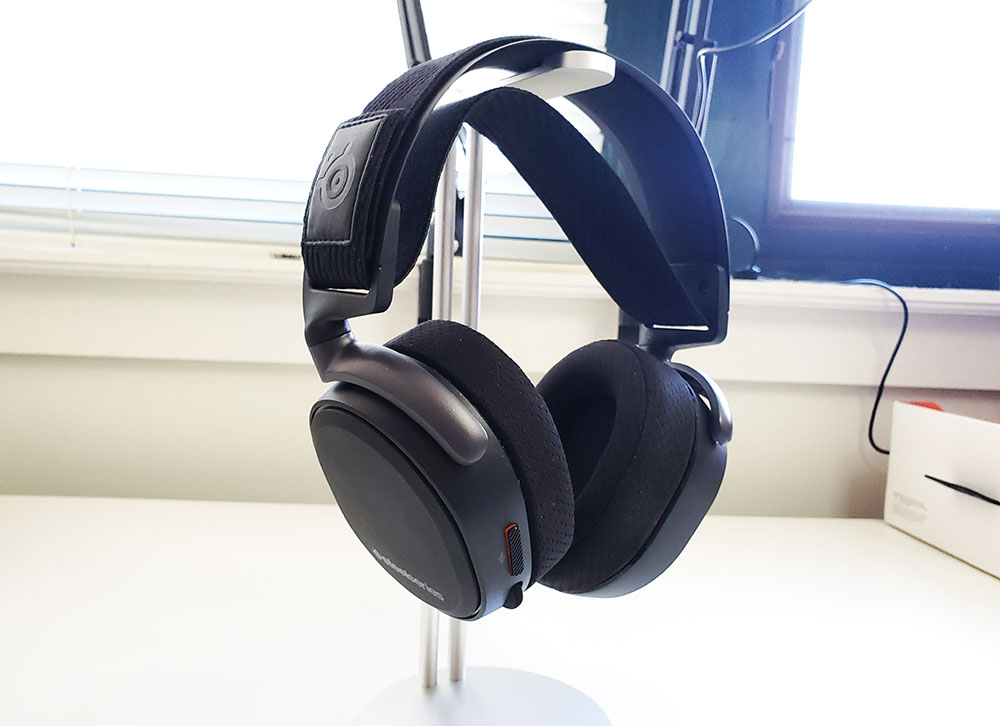 One word I would use to describe Steelseries Arctis – elegant. The design choice here is simplicity, sophistication, yet functional. It's not edgy, angular, or futuristic like most gaming headsets on the market. It's design language reminds me of Sennheiser or Bose.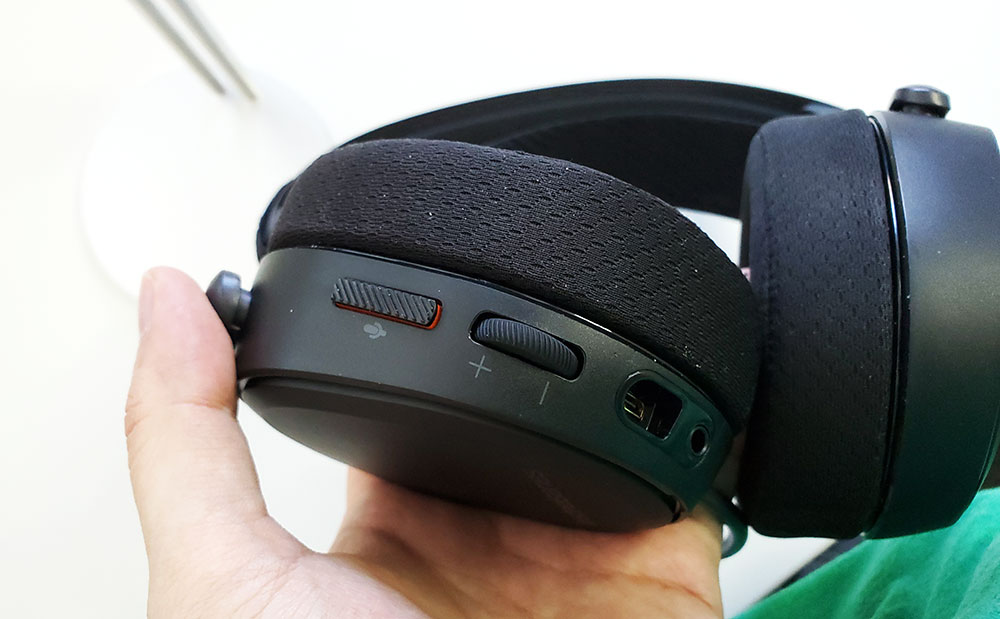 The earcups are spacious and the foam is soft to the touch. The RGB lighting surrounding the earcup is subtle. Unfortunately the RGB simply cycles through the color wheel and the Gamedac doesn't give any lighting options. It's also always on and can't be disabled.
Build quality

Build quality is what you'd expect from a $250 headset. The Gamedac is small and will fit just about anywhere without getting in the way. The headset is sturdy and has a solid feel to it. It's not heavy, but feels dense. Unlike cheaper headsets where you can feel the empty space inside, the Arctis feels like every Milli-cubic of space is put to good use.
Headband adjustment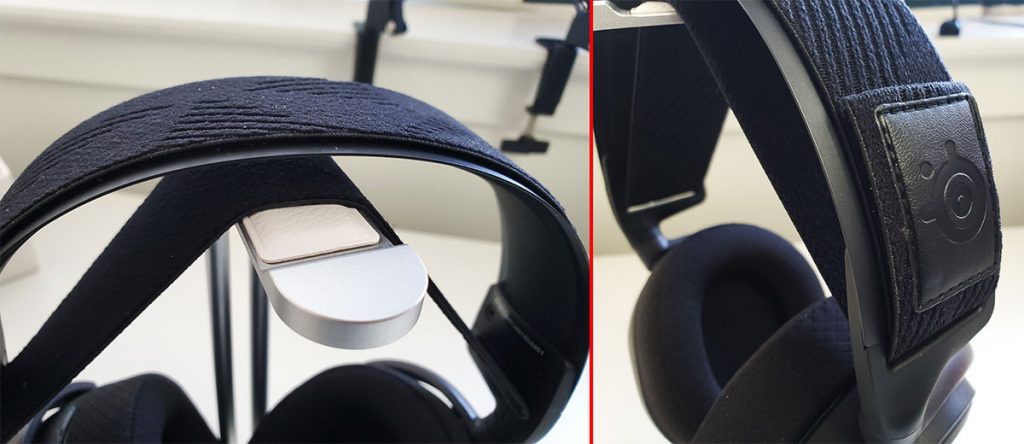 I like Steelseries' unique approach to head adjustment. Instead of the usual telescopic design that lets you adjust the height of each earcup individually, the Arctis' headband is adjusted via a velcro strap. It's hard to describe, but the picture above will give you an idea. The tension of the adjusted band creates the cushion for your head. It's a clever way of providing cranial cushion without a foam padding on the band. The result is a design that's both simple, functional, and comfortable for hours of gaming.
High Resolution Audio Performance
We decided to put the high-resolution certification to the test. Luckily one of the writers in our office happens to play competitive first person shooters. We tested the Steelseries with Call of Duty Warzone and Apex Legends. Both games are first person shooter where the ability to the direction of footsteps and gunshot is pivotal.
The Arctis outperforms just about any other headset on the market today in terms of audio quality. Everything sounds crystal clear. Explosions sounds like explosions. The surround sound easily identified the direction of gunshots and footsteps. The Gamedac's ability to easily adjust between voice audio and game audio on the fly greatly enhanced our gaming experience.
Overall, there's not a doubt in our mind why the Steelseries Arctis is High-resolution audio certified.
Final Verdict
The Steelseries Arctis + Gamedac is a high performance gaming headset for all games, not just the purists. At $250, it's definitely an investment but definitely one that's worthwhile. It's an easy choice to recommend to gamer given the build quality, comfort, high-resolution audio, and crystal clear microphone output. You don't need to play competitive to get your money's worth. The high-res audio can heighten immersion in any single-player games.