10 Tools To Help Create Better Content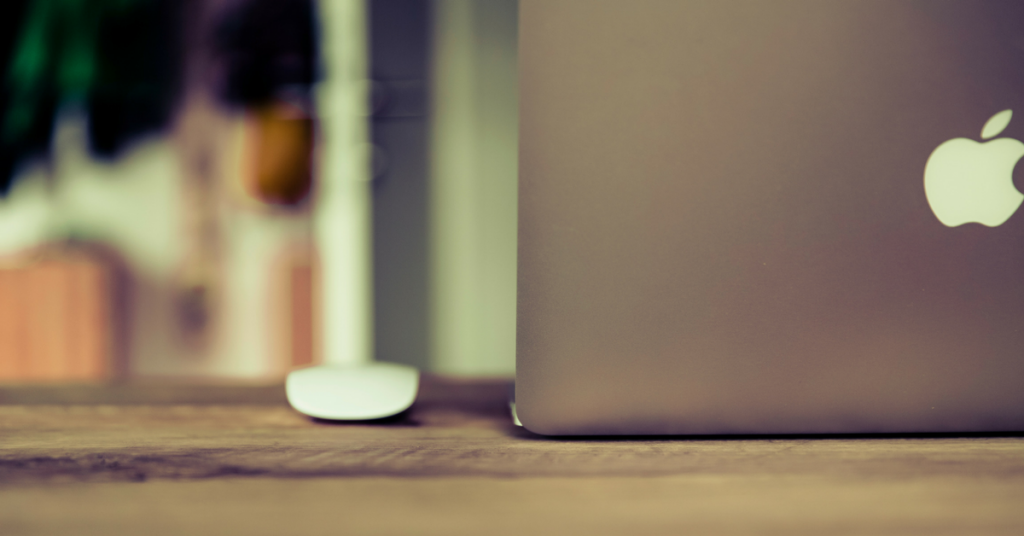 Producing good quality content is a challenge for many bloggers and content marketers. Blogs that have good content have better following which can help boost credibility and sales. Coming up with a good topic to write about on a regular basis can be difficult because you need to keep readers engaged and in order to create a high volume of quality content, you need the right tools to make you efficient. Here are some tools you can use to create better content for your newsletters and blogs.
1. Headline Tools
Yes, it's only a few words but it can make readers read the whole article or close the tab. Writing the correct headline means getting better traffic compared to the wrong one. Some of the best and easy to use online tools include Title-Generator.com, CoSchedule.com a headline analyzer and Portent.com's title maker.
2. Topic Generator
Coming up with ideas for engaging high quality content can also be hard. Luckily, tools like Hubspot's Blog Topic Generator is free and easy to use. You can also Portent.com. It does not only give title suggestions but content strategy too. ContentIdeaGenerator.com helps you come up with ideas for blogs, articles, Tweets, press releases and many more.
3. Evernote
Evernote is not just for note-taking. You can also utilize it to make better content by using it to save posts and pages that have great research or ideas for posts you can refer to later. This is better than bookmarking because you can add your personal notes like "idea for next blog" or "great statistic for reference".
4. Google Docs Research Tool
Fans of Google Docs already know this. Activate the research panel by going to Tools > Research or pressing  Ctrl + Alt + Shift + I.  A research panel will pop out and you use this to research Google for any resource. It can also be used to insert links to your post.
5. Infographics
Infographics are useful in a blog because they convey complex data in visual form that is easy to understand to help you create better content. You can create and insert infographics to your blogs and articles by using Piktochart or infogr.am
6. Interactive Content
If you want to increase readership, try putting in some interactive content to your blog. Interactive content are essentially clickable images. For instance, you can have different images when readers hover their mouse on a certain part of the image. You can try Thinglink for this to help create better content.
7. Memes
If you've been using the internet during the last few years, you're probably familiar with the meme. Generally, it is a picture with big text that represents internet culture. Memes are popping up in blog posts lately because they are easy to make, very visual and casual. Plus, they are amusing and funny. Make a meme by clicking Memegenerator.net.
8. Slideshows
Many people get intimidated when they click on a blog and see how long it is. While it is important to give readers important information that they can use, you also have to create better content and make it engaging so that you won't bore readers out of their minds. One way to do this is by presenting important points by using a slideshow. But don't worry because there are tools like Haiku Deck that will help you crate slideshows like a pro.
9. Scrivener
Blogs are usually short and sweet. However, there are times when you need to impart more so your content is longer than usual. For this kind of task you need Scrivener to compose and structure long documents. This tool is usually used by novelists and writers but bloggers can also use it to structure ideas, take notes, view your research as you write and compose constituent pieces of your text. In other words, it is an all around tool that consolidates separate tools in one application.
10. Word2CleanHTML
Most bloggers and writers use Google Docs or MS Word to compose their work. The problem happens when you paste content to WordPress and hell breaks loose. Suddenly there is too much spacing or the link is not working or the bullet points are not aligned. In some cases it can take time to sort through the chaos of your (mutilated) work. Word2CleanHTML converts your MS Word or Google Doc into HTML. Just paste your content, click "generate" and you can now paste clean HTML code directly to your WordPress for better and cleaner results.
Strategies and Tools for a Growing a Pandemic-Proof Business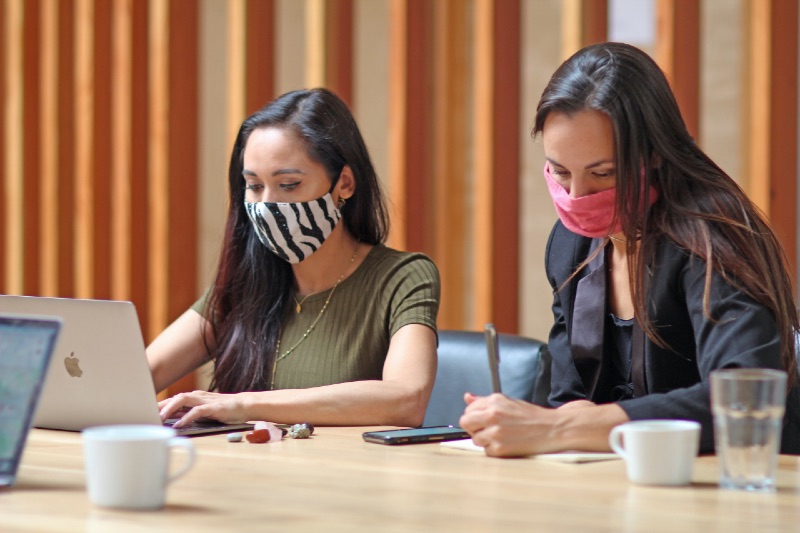 For the past year, businesses have been met with unrelenting challenges. Because of this, founders are more careful about where to put their time and funds. Longevity in business is desired, so thinking critically about the strategic principles of business is a must. Growing a pandemic-proof business is possible. But how are you going to make it happen? We took our questions to Facebook groups Tech Ladies and Societygal to ask women in the industry about their input on how to grow a business successfully and efficiently.
1. How important is getting your business assets right? (logo, website, branding guidelines, etc)
When it comes to the creative aspect of building a business, there was a split in what is necessary. Recently, founders and business owners have been turning to creative services like Penji for increased design output. While there are still repercussions from the pandemic, businesses are learning to adapt by discovering these new innovative solutions.
Some of our friends at Tech Ladies and Societygal believe that it is crucial, especially when it comes to setting yourself apart from competition. Others choose to focus on other aspects of the business. Here's what they had to say:

"Hi. I think that for number 1-It doesn't really matter. I think what people want is results. Connect with them, and show them what your products or service can do for them. How does it solve the problem that they have." – Prerika Agarwal, Tech Ladies

"I think that these branding pieces really matter as a way that establishes how your company will move and grow. I've seen a lot of small businesses that kind of wing it and I think that especially in terms of social media and web, a cohesive brand can really make a business stand out." – Charlotte Clark, Tech Ladies

"I think it's less about getting it right and more about being consistent and looking professional. A business that visually appears fractured hurts its own credibility." Natalie Sharma, Tech Ladies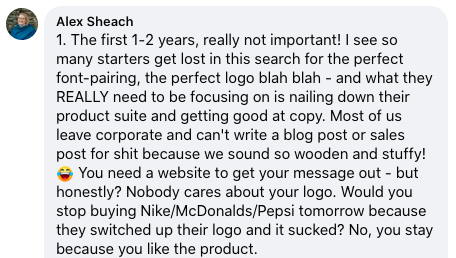 "The first 1-2 years, really not important! I see so many starters get lost in this search for the perfect font-pairing, the perfect logo blah blah – and what they REALLY need to be focusing on is nailing down their product suite and getting good at copy. Most of us leave corporate and can't write a blog post or sales post for shit because we sound so wooden and stuffy! 😂 You need a website to get your message out – but honestly? Nobody cares about your logo. Would you stop buying Nike/McDonalds/Pepsi tomorrow because they switched up their logo and it sucked? No, you stay because you like the product." – Alex Sheach, Societygal
What is a common mistake that businesses make when trying to grow?
Growing a business is not easy, especially now. With the increased number of businesses shuttering their doors because of COVID, one can only benefit from avoiding common mistakes.

"I think that one mistake is that businesses don't take advantage of how research can validate and verify your ideas going forward. There should be a certain level of confidence in what your next steps are and how they'll fair." – Charlotte Clark, Tech Ladies

"The main pain point of scaling I've seen is failure to document and inform. If one hand doesn't know what the other is doing then you aren't on the same page and you can't help each other when things go wrong." – Natalie Sharma, Tech Ladies

"Getting sucked into downloading YET ANOTHER (usually very disappointing freebie) which moves them no closer to their goals. Get your UNSUBSCRIBE vibe switched ON, tune out all that low-level noise and commit to your OWN ideas and vision." – Alex Sheach, Societygal
What can people take advantage of now that is often overlooked?
Innovation and creative thinking is key to a pandemic-proof business. As we adapt to the current lifestyle of consumers, founders are taking advantage of what is in front of them. Here's what members suggested.

"What's overlooked is the human aspect of things not being perfect and just going with inspired action once you have some clarity about your business." – Prerika Agarwal, Tech Ladies

"With staying at home still being a large part of life, I think people should take advantage of having more people online and the ability to do webinars, virtual networking, and doing research directly with your specific users or customers." – Charlotte Clark, Tech Ladies

"Digital businesses should take this opportunity to rise to the occasion to help their local communities. As a digital business owner I can confirm we spend a lot of time virtually hustling. Show the world around you that you exist and that you care. It pays dividends for both of you." – Natalie Sharma, Tech Ladies

"Not enough people are stepping up to lead with vision. They're waiting for permission to release, launch & grow. JFDI!" – Alex Sheach, Societygal
Top 10 Shared Hosting Companies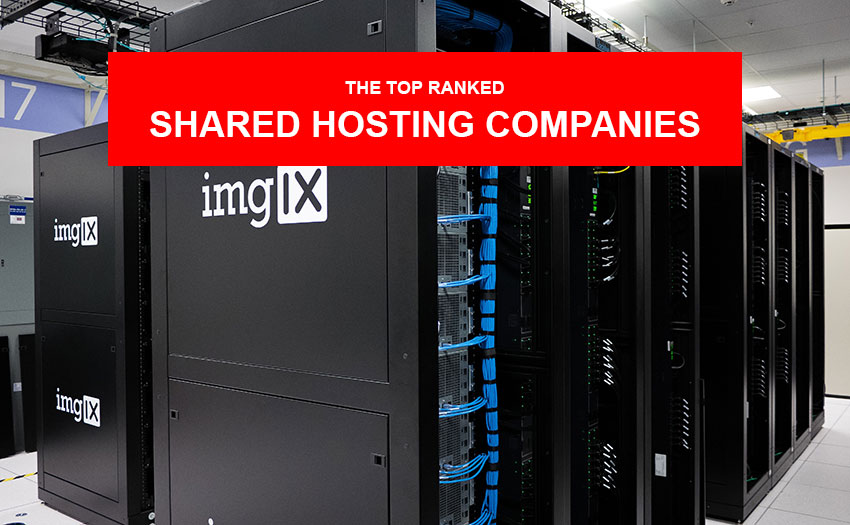 According to Google, if your website takes more than 10 seconds to load, people are 123% inclined to leave your site. That's why you need excellent hosting service to prevent that.
Dedicated hosting services can help ease that pain, but it can break your bank. So, it's best to go for an affordable option so you can save up on the things that matter. That's why you should consider going for a shared hosting service to keep your site running smoothly.
Let's take a look at the top 10 shared hosting companies on the internet.
1. FastComet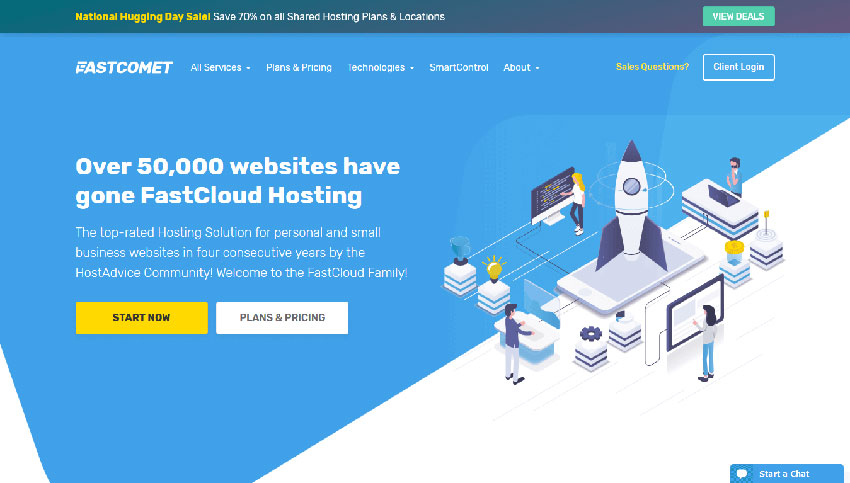 FastComet renamed its shared hosting services to FastCloud plans. Previously, FastComet named it StartSmart, ScaleRight, and SpeedUp.
Features include the following:
cPanel
SSD Space
Free Domain Transfer
Free Website Transfer
Unlimited bandwidth
The regular price for their FastCloud plans starts at $9.95/mo, while the most expensive one, FastCloud Extra, is $19.95/mo. At the time of writing, all plans are 70% off with FastCloud at $2.95, FastCloud Plus at $4.45, and FastCloud Extra at $5.95.
FastComet users may experience faster loading times boasting speeds at 200 milliseconds. Not only that, but users get a 99.99% uptime. So, website visitors don't encounter any site downtime. Plus, according to Website Host Rating, their shared server is secure for all users, which is why it's one of the top 10 shared hosting companies on the net.
According to Blogger Sneed, there's no dedicated IP address for the shared hosting server. While FastComet has better loading times and even performance than its competitors, the FastCloud plan may not load faster than usual. So, it's a much better option to upgrade to the higher plans.
2. ChemiCloud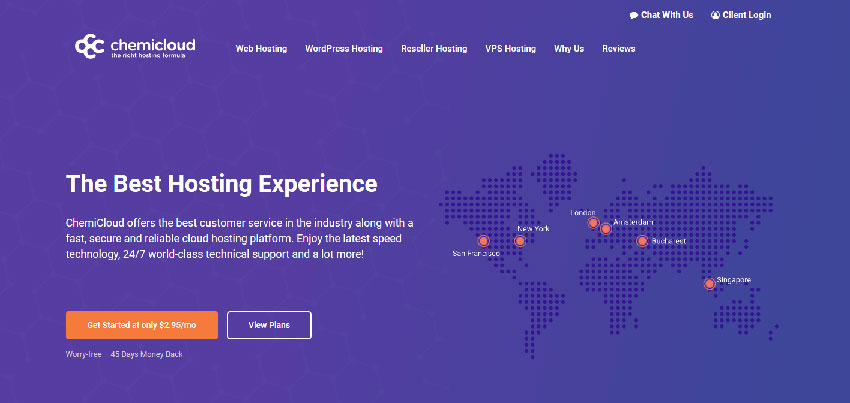 Potential customers of ChemiCloud can choose among three plans on the site. It's on sale at the time of writing, so the most affordable plan is the Web Hosting Starter for 3.95/mo for three years. ChemiCloud priced it originally for $7.90/mo. Their most expensive plan, the Web Hosting Turbo, is for $7.66/mo for three years. It's 10x faster than its two other plans.
Some features of the ChemiCloud plans:
Free Let's Encrypt SSL
Different server locations
Free migrations
For some experts, uptime is one of the many pros of the ChemiCloud hosting service. Rare are downtimes with using ChemiCloud, and there's a 99.98% of uptime most of the time. Another thing is you can migrate your site for free within 24 hours, WP Glossy says.
According to Host Review Now, ChemiCloud can be difficult to navigate since there's no FAQ or guides. Billing may become an issue for many users due to its billing cycles.
3. iPage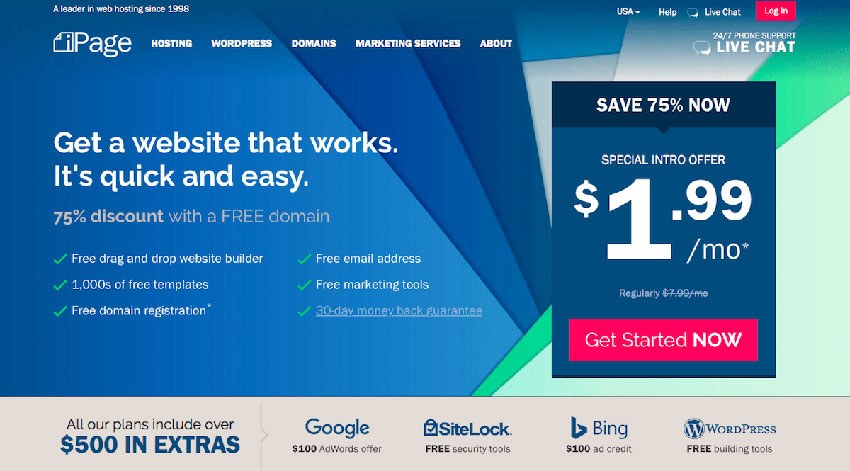 For many users, iPage is one of the top 10 shared hosting companies. The cost for an iPage shared hosting service is $1.99/mo (regularly $7.99/mo) for the first term of service. Users get some of the following features:
Free SSL certificate
Unlimited disk space
Shopping cart integration
One pro of the iPage hosting service is its user-friendly cPanel that even beginners can use easily. It's great for small business owners that need a domain quickly. TechRadar also noted that it has incredible performance even during the testing period.
Even if the starter price is lower than most hosting services, iPage tends to upsell to their customers. Another con for using the iPage shared hosting service is there's no cPanel. Besides, users have mixed reviews over their support. Also, if you'll have to migrate a site, you'll need to pay $150.
4. Hostpapa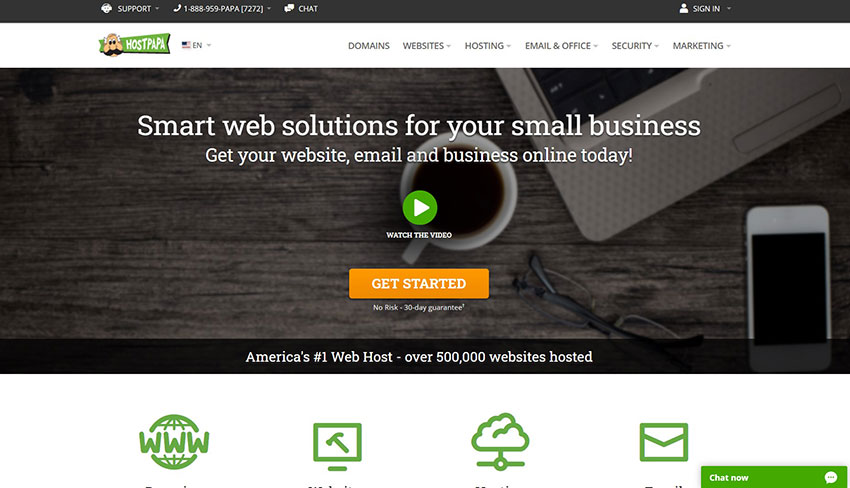 Hostpapa offers three shared hosting plans for potential customers: Starter, Business, and Business Pro. The hosting site recommends that its customers go for a Business plan. Its regular price is $12.99/mo, but they have a deal that is $3.95/mo for three years. The most expensive subscription is $19.99/mo (regular price), and their most affordable is $7.99/mo.
You can get the following features in all plans:
SSD Storage
Unmetered bandwidth
Free domain registration
Choose between a Canada or US server
Hosting Facts says that small businesses can get a bang for their buck on the Starter Plan. They offer essential features even on the plan, so it's good value for money. Another reason why small businesses could go for Hostpapa is because of the performance and speed it gives to their sites.
According to Hosting Facts, additional fees can become a deal-breaker for some potential customers. Service can be a hit or a miss from users who left reviews in TrustPilot and Host Advice.
5. Arvixe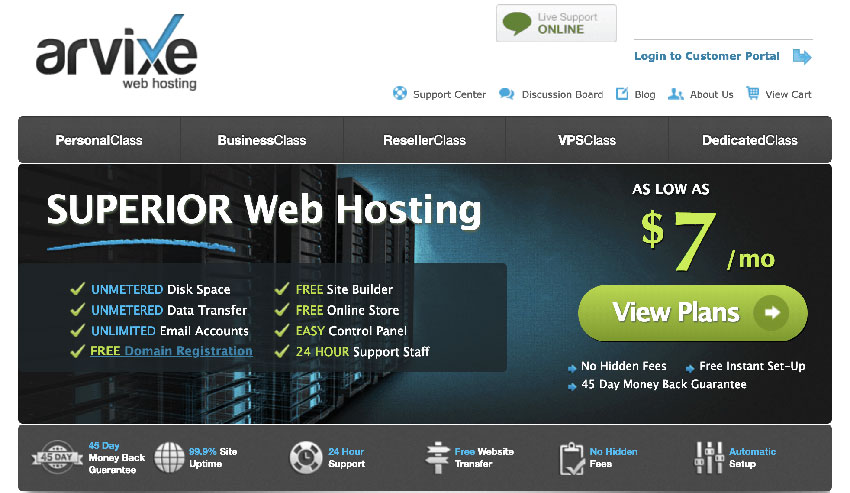 Arvixe has two plans with two categories for its shared hosting service. You can choose between a personal or business plan and a Linux or Windows shared hosting one.
Their most affordable shared hosting service is the PersonalClass Linux shared hosting service that starts at $7.70/mo. You can get a PersonalClass Pro starting at $11.00/mo. You can upgrade to more features for $20/mo.
Some features of the PersonalClass plan are:
Unlimited disk space
Free domain name
Use of cPanel
Arvixe isn't just a website hosting site. You can build a site and get excellent uptime during the testing period, according to PCMag. Plus, you may get a 60-day money-back guarantee if you want to try out Arvixe for a while.
One disadvantage of using Arvixe is that you'll need to buy an SSL certificate for $25.00 a year. You might want to consider other hosting sites if you need support often since many users across different review sites aren't pleased with them.
6. Namecheap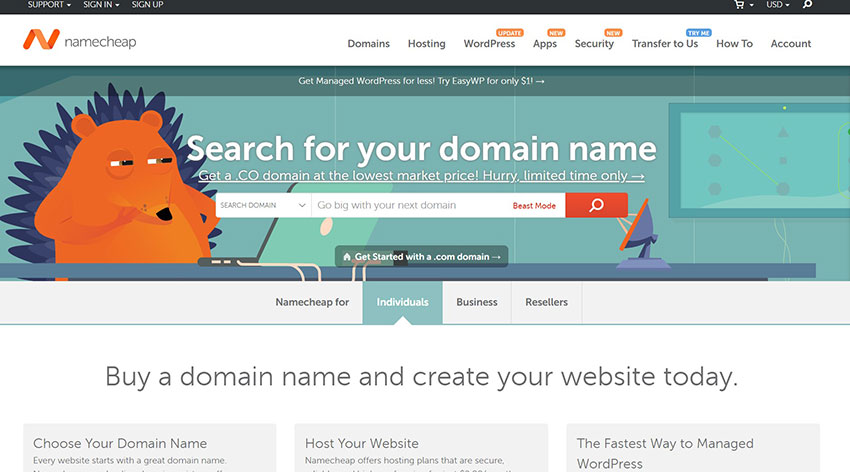 If you want to avail of a Namecheap shared hosting server, you've got three options and two servers to pick from before you purchase a plan. You can opt for a Stellar, Stellar Plus, or Stellar Business plan. Meanwhile, the two data center locations available are US and UK.
Small businesses can get more out of a yearly subscription on a US server since it also includes cloud storage. The price is $52.88 for the 1st year and $104.88 a year ($8.88/mo). They do recommend availing of the Stellar Plus subscription. You'll pay $29.28/yr for the first year, and it renews at $57.88/yr ($4.88/mo).
Some features you get on the Stellar plans are:
50GB SSD
Unlimited websites
Free one domain name
According to WhoIs Hosting This, your account and data are secure on Namecheap because they enable two-factor authentication. The cPanel is also something many find an advantage against its competitors. It's because of the ease of use and design.
Some experts note they face issues over uptime. They found that it has less than 99.99% uptime, which isn't a good thing. Plus, not many are satisfied with the support given by Namecheap.
7. Hostinger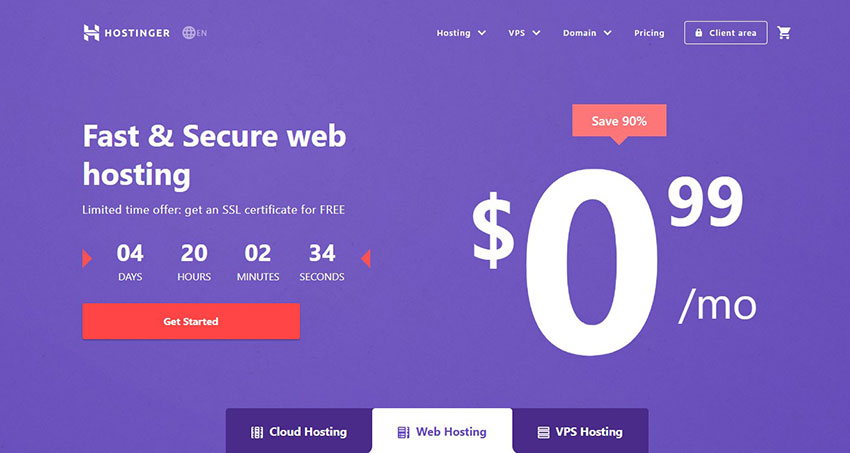 Hostinger recommends that small businesses go for Business Shared Hosting for $3.99/mo for four years. It will renew to its regular rate of $15.99 after that period. Its most affordable plan, the Single Shared Hosting Plan, is at $0.99/mo for four years. The Single Shared Hosting plan is limited, so it's best to opt for a Premium Shared Hosting plan or higher to get more features.
Here are some features you get if you choose a Premium Shared Hosting plan and above:
Free SSL certificate
Free domain
Unlimited bandwidth
Unlimited number of websites
If you want to save money, you'll need to avail of a 1, 2, or 4-year plan.
Experts notice that support is one of its main issues because you can't call their support. Otherwise, many do like that support is responsive online, so that's a plus. That's why users do find that Hostinger is one of the top 10 shared hosting companies.
8. KnownHost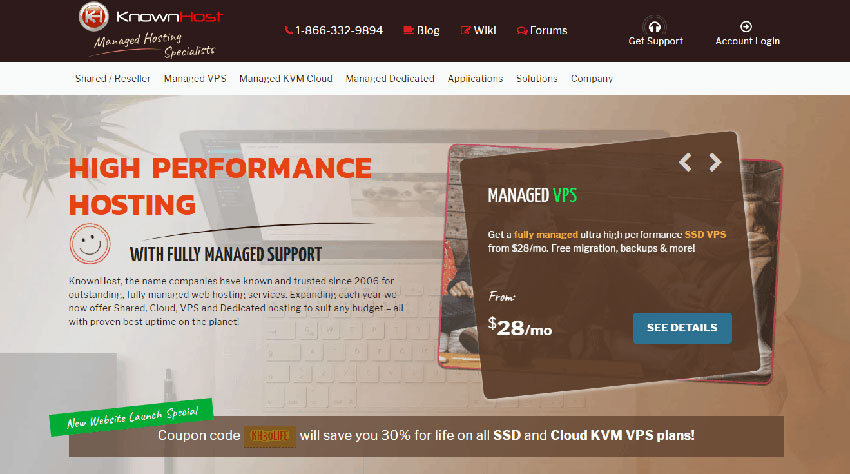 For KnownHost, they present you with three options (prices discounted for three years only):
Basic ($3.47/mo)
Standard ($6.47/mo)
Professional ($9.97/mo)
KnownHost promises unlimited bandwidth for all tiers and free SSL certificates.
Experts and users alike report that uptimes are as advertised. It seems many find satisfaction with support also. One downside about using KnownHost is that it hosts using Linux only. Otherwise, it's an excellent service overall.
9. Hostens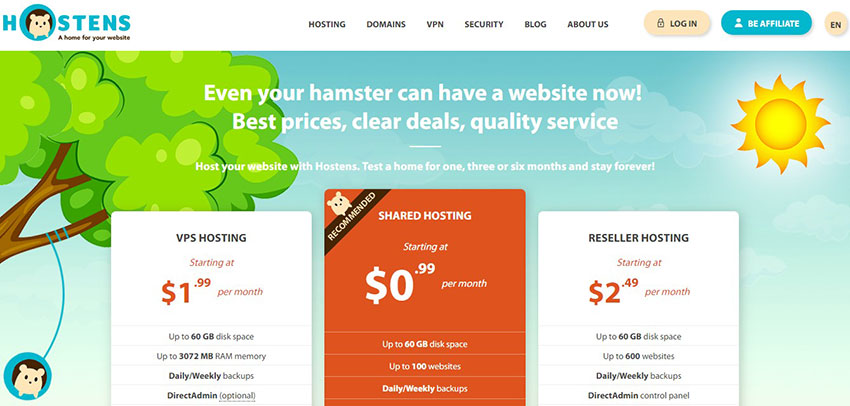 Like most of the shared hosting companies on this list, they also offer a 1, 2, or 3-year subscription. But if you just want to test the waters on Hostens, you're free to opt for a monthly subscription paying their regular price.
Their most affordable plan is the S10 plan for only $0.99/mo for three years. They do suggest you avail of their S20 plan for $1.80/mo for three years. Their most expensive shared hosting plan is $3.60/mo for three years.
Common features of the three plans:
cPanel
Free website builder
Different server locations
Aside from its affordability, Website Planet finds that there's the ease of use and the one-click installer for programs. One main disadvantage of using Hostens, though, is it doesn't offer DDoS, and it could affect your website. Despite such, it's one of the top 10 shared hosting companies on the list.
10. TMDHosting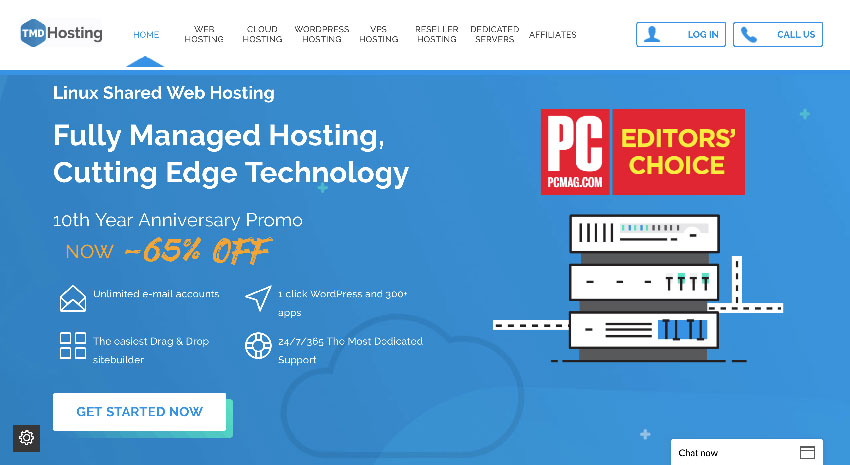 Similar to other hosting companies, you have three plan options that would best suit your small business. Their recommendation is the Business Plan priced $4.95/mo, while the regular price is $7.95/mo.
You can get the following perks when you use TMD Hosting:
Unlimited SSD space
Unlimited bandwidth
Let's Encrypt SSL
Plesk Control Panel
Website Planet finds that free daily backups are helpful. Another point goes to TMDHosting because they have servers in different locations. However, there are frequent complaints about billing from users. Other than that, TMDHosting is one of the top 10 shared hosting services for some users.
Top 10 VPS Hosting Companies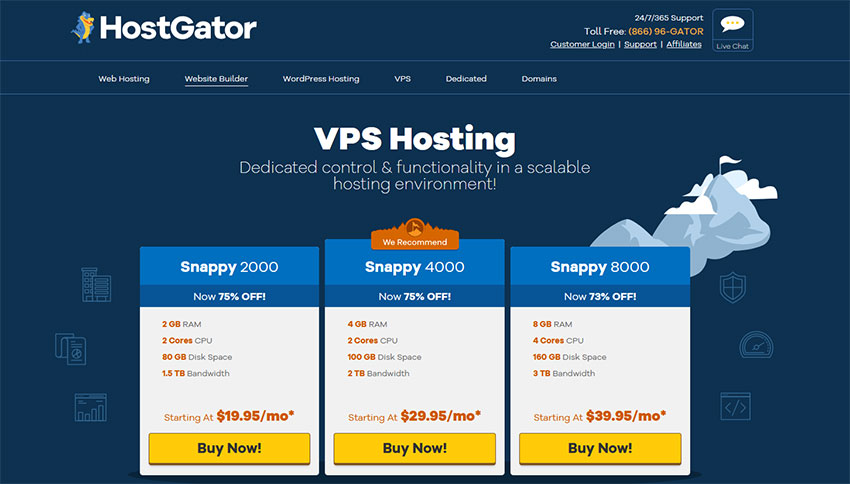 Looking for the best VPS is what probably got you here, read on to get to know ten of the top hosting companies this 2020. Finding the lovely blend of reliability and affordability can be a daunting task, so we scoured around to give you the rundown and help you make an informed decision.
What is VPS Hosting?
Publishing a website online means having to upload your files to a web server. Typically, you purchase this service from a hosting provider. This is what is known as web hosting. Think of this as cyber real estate. Shared hosting means renting a portion of the space, and dedicated hosting is where you have space all to yourself. This is what makes VPS (Virtual Private Server) special.
Shared hosting is perfect for simple websites, but as your website's needs grow, this type of hosting won't be enough. A dedicated server would be ideal but can be expensive. Then comes VPS that's almost the same as shared, but faster and cheaper than a dedicated one. You still share a server with other websites, but with less population, which is what makes it better and inexpensive.
The bigger question now is, what VPS hosting do I go for? With the multitude of choices out there, we made choosing simpler for you. Here are the top 10 VPS hosting companies we think are the best and the brightest:
1. InMotion Hosting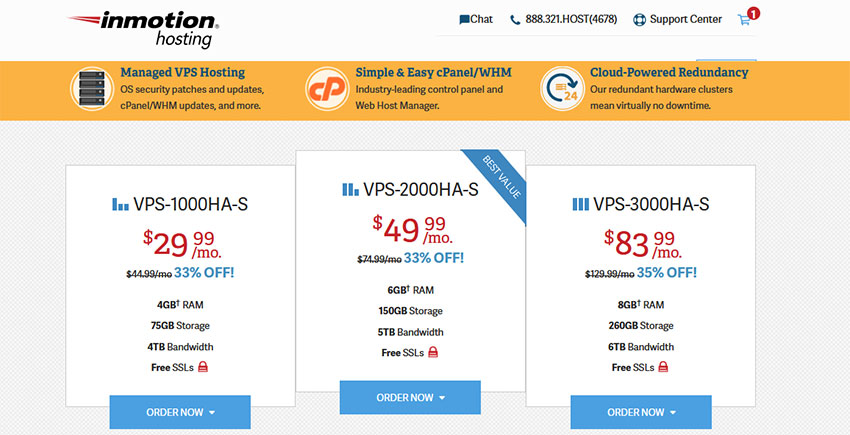 One of the strongest and most deserving of the top spot on this list, InMotion Hosting has smart features at a fair price. A few of these are its 75GB SSD storage, 4TB bandwidth, 4GB RAM, and free SSLs, among many others. They also provide shared and dedicated hosting as well as web design and tools to help with site maintenance.
They provide three hosting plans with a price range from $29.99 to $83.99 per month. These come with a 90-day money-back guarantee and chat support that's available 24/7.
2. Hostinger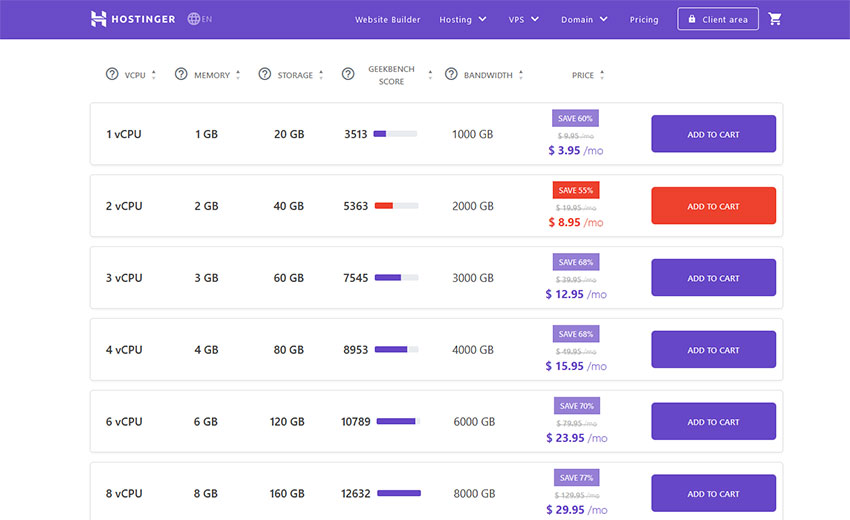 Boasting of a VPS hosting service that mimics a dedicated server, Hostinger offers one of the most affordable in its class. Starting at $3.95 a month for its basic plan of 1G bandwidth to $29.95 with 8GB bandwidth. Each plan is broken down by storage, memory, vCPU, and others.
All of their plans include IPv6 support, a dedicated IP, 100 Mb/s Network aside from the usual Ubuntu, CentOS, and Suse hosting services. Along with their fully refundable plans that allow you to try them, they also have 24/7 customer support.
3. HostGator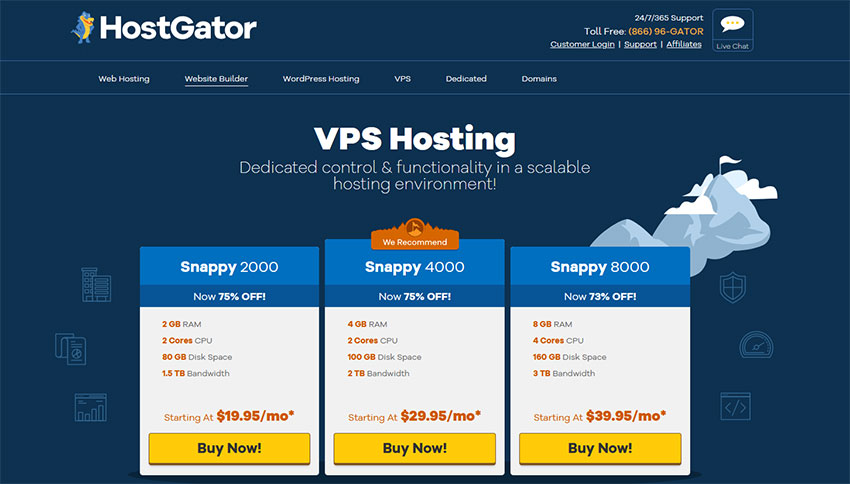 A VPS hosting that has one of the best uptimes and feature-packed plans, HostGator is also one of the most popular and reliable. It provides flexible hosting solutions that include full root access, one-click upgrade system, development tools, and offsite backup.
Prices start at $29.95 for the basic plan, which comes with 2GB RAM to $49.95 with 8GB of RAM per month. You'll get all the services of a typical hosting service, but you can also avail of their SEO services, PPC advertising as well as web design services.
4. Bluehost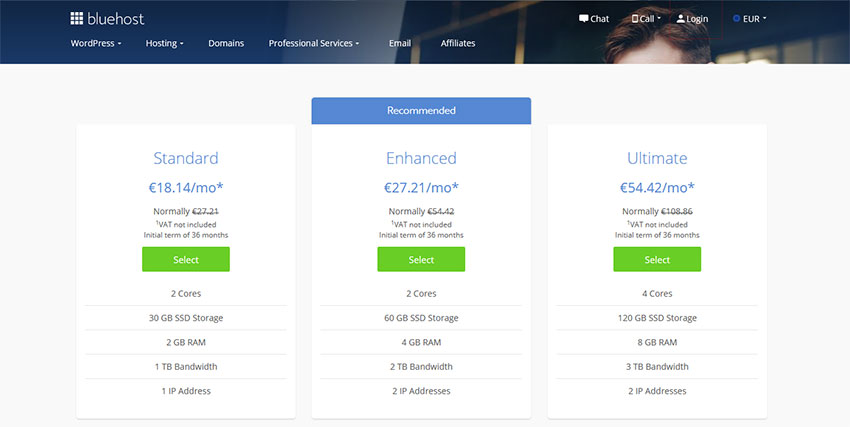 If you're looking for a VPS hosting company that gives out free domain permanently, Bluehost is for you. It lets you add more space to your account any time with their multi-server management services. Their main selling points are their 8GB of RAM and 4 CPU cores, plus their unlimited email accounts.
Their Standard plan costs $19.99 with 1TB bandwidth and 30GB of SSD storage while their Ultimate plan will get you 3TB bandwidth and 120GB of SSD storage.
5. Hostwinds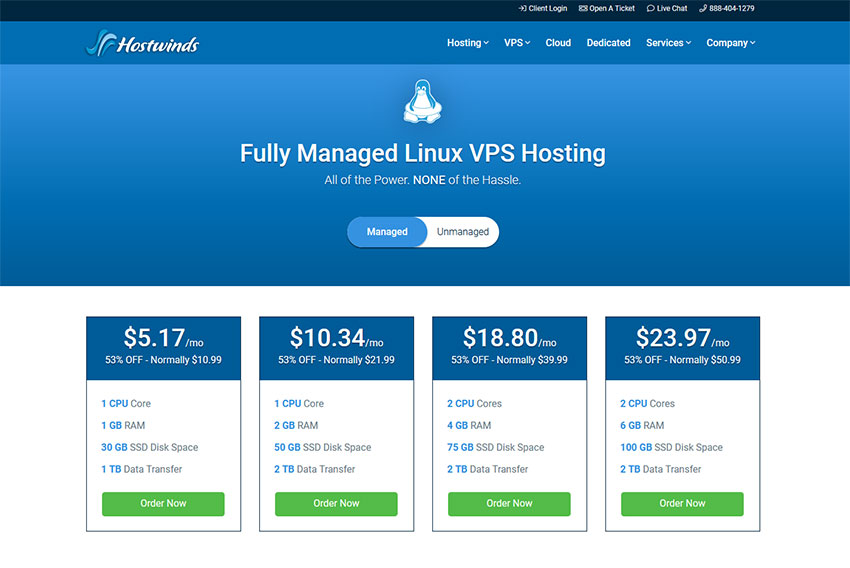 Offering unlimited email accounts, domains, and monthly data transfers, Hostwinds truly deserves this spot on the top 10 VPS hosting companies. They have several VPS hosting plans from Fully Managed Windows to Unmanaged Linux VPS, all aimed to provide specialized services.
Their Managed Windows basic plan starts at $7.99 with 1GB of RAM and 30GB of SSD disk space. The premium plan goes for $26.79 per month, which comes with 6GB of RAM and 100GB of space.
6. A2 Hosting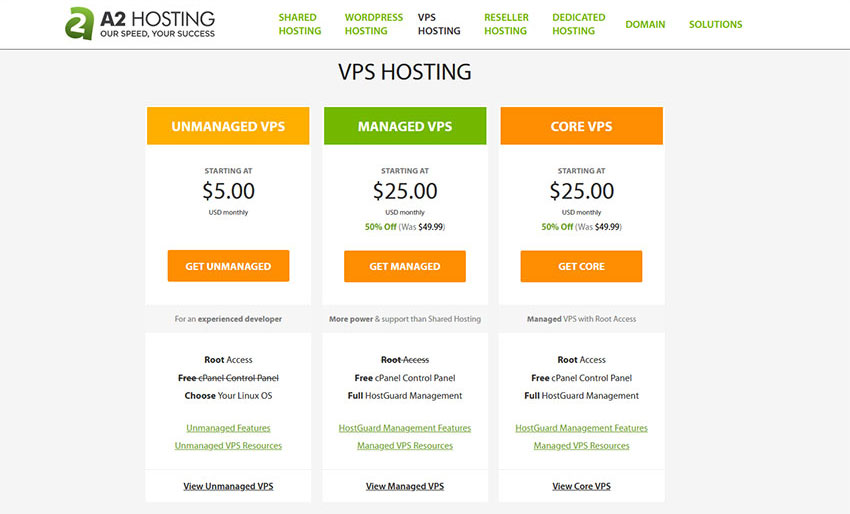 For newbies in the VPS hosting scene, A2 Hosting provides intuitive service and the best speed for your website. It also has features that even the experienced will appreciate, such as their Railgun Optimizer and preconfigured server caching. They are one of the few that take speed seriously, with an average load time of 99.99% at 424 ms.
Their plans' prices range from $25 for their Power+ plan that includes 4GB of RAM, 75GB storage space, and 2TB transfer rate. The Pinnacle+ plan is at $50 per month of 8GB RAM, 150GB space, and 4TB of data transfer.
7. iPage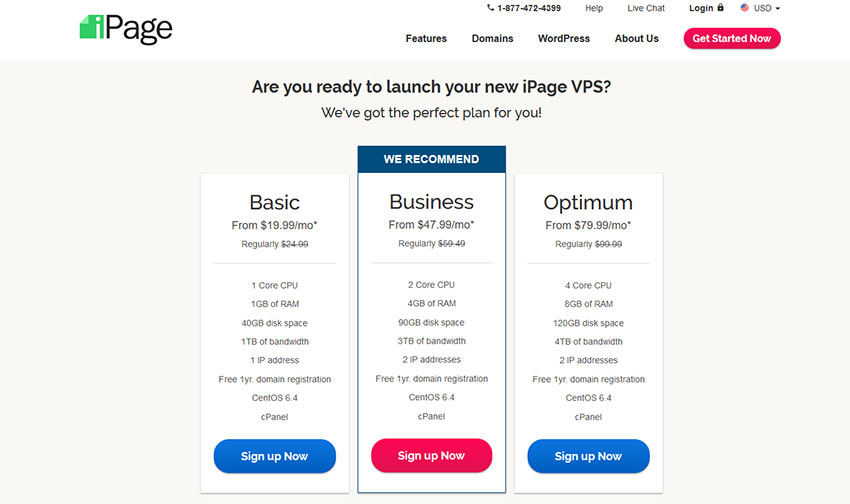 Probably the least expensive on this list, or anywhere else on the web, iPage offers great value for your money. Their unlimited disk space, scalable bandwidth, free site backups, and superb customer service are just but a few wonderful features. With an above-average uptime of 99.96% over 24 months and an average of 746ms page loading time, this is pretty fast for something so cheap.
Their one and only plan will cost you $1.99 a month, so what's not to like?
8. Liquid Web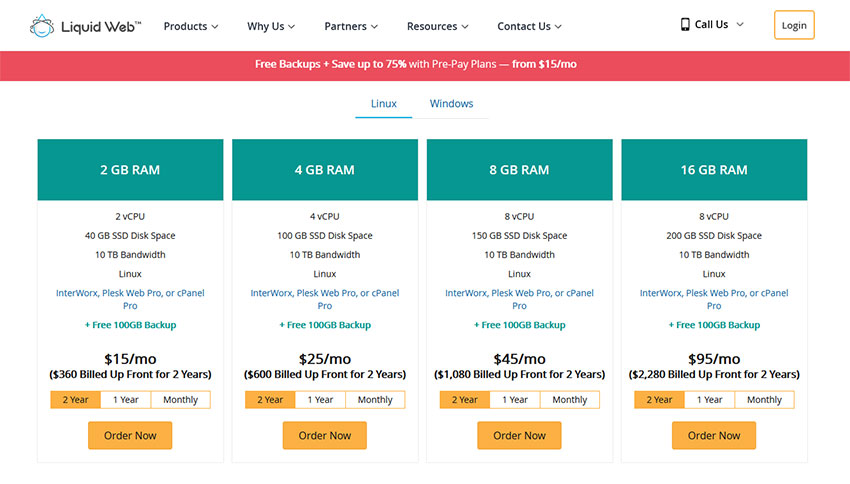 From hardware management to proactive service monitoring, Liquid Web will do almost all of the work for you. Boasting the best customer service around which they named "Most Helpful Humans in Hosting®," they are a solid choice. With 99.999% uptime, they will assure you of top quality service at $15 to $95 a month.
Although one of the costlier choices, they match it with services that are unparalleled in the industry.
9. GoDaddy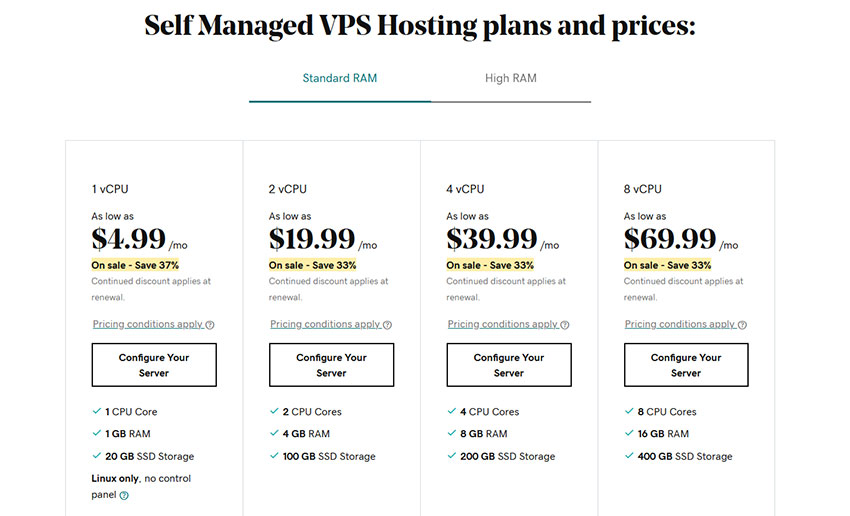 With unmetered bandwidth, stable and fast hosting (99.97% uptime, and 554ms average), GoDaddy is also one of the most well-known choices. This hosting provider allows you to integrate with 125 popular web applications. Just one click installs WordPress, Joomla, Drupal, and more.
The Economy plan is worth $7.99 per month with 100GB of storage space, while the Ultimate plan is at $16.99 per month and the Maximum plan at $24.99, which includes twice the memory load speed and free SSLs.
10. DreamHost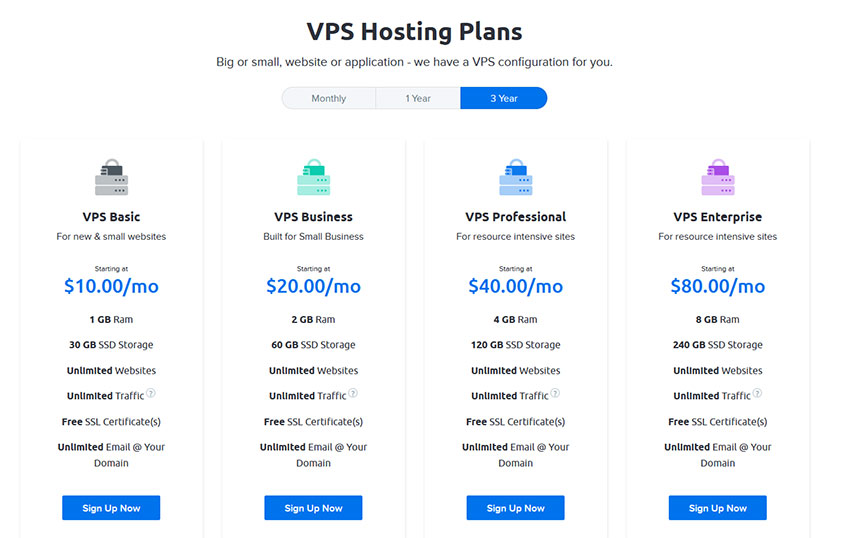 One of the oldest in this list, DreamHost, hosts more than 1.5 million sites, proof that it's also one of the best. Its above-average uptime of 99.94% and page load speeds of 648ms is practically still the same as the day they started, some 25 years ago. They have a few unlimited features, which include cloud hosting services and data transfers.
The price starts at $10 for their Basic plan, which gives you 1GB of RAM and 30GB of SSD storage. The most expensive plan, the Enterprise costs $80 a month with 8GB of RAM and 240GB of storage space.