Content Creation 101: How To Create, Distribute, And Monetize Your Content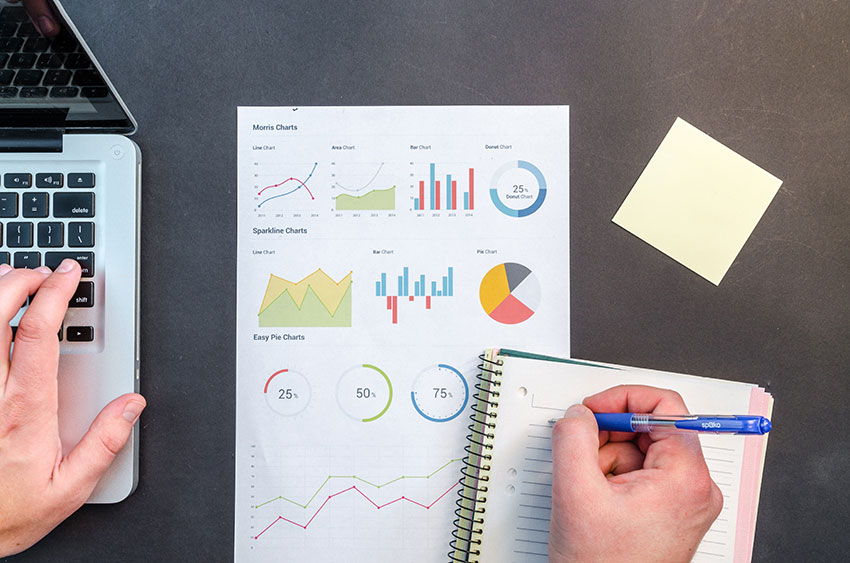 During a recent conversation about networking and cross-promotion, a colleague expressed doubt about her ability to promote my business because she had little traffic on her website and social media. She said creating content would be futile because nobody would see it. The implication was, "I need to build an audience before creating content." She had the equation totally backward. Create content first, and the audience will come, over time. In this article, we will go over several strategies that show you how to create content and help you build your audience online!
Introduction to Content Creation
Consider this analogy. You just moved into a house and want to host a party. Are you going to invite guests over to an unfurnished home? You need couches, chairs, tables, food, music, activities, etc. Is your website or social media page an unfurnished home? Do you provide anything to entice people to stick around? If not, don't expect many people at your party. Would you visit an online magazine without any articles? How do you feel about a website when the last entry on the blog was 18 months ago? I get a mental image of tumbleweeds blowing through a ghost town.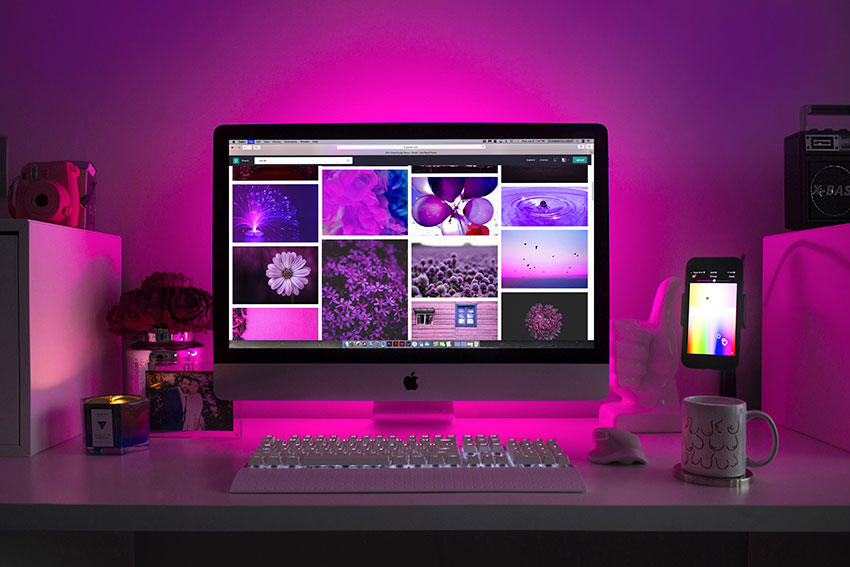 People are attracted to websites and social media pages that provide engaging, valuable, current, and relevant content. We live in a time where we can create and publish our own content whenever we want! We don't need the Yellow Pages or an advertising firm to share our message. If you want to promote yourself and build your brand, content marketing is paramount. There is no excuse for failing to create content. If you are passionate about your project, there are plenty of formats you can choose to broadcast your message, including:
Blogs
If you enjoy writing, this is a great vehicle to share stories about your product or service and to share yourself. You can incorporate pictures, link to other sites, and share on social media.
Social Media
You can share your product or service on several outlets, both on your business and personal page. Share stories about the evolution and improvement of your product or service. Post pictures and show your product or service in action.
Shared Content
Share articles relevant to your project, but it is critical that you add your own commentary. Don't Just Share, Comment and Share!
Videos
People want to know the real you, and this is a great vehicle to share yourself while sharing your product or service. People need to know if they like and trust you before they decide to buy from you. Live videos are starting to explode on social media, so get out of your comfort zone and try it.
Cross-Promotion
Find strategic partners and cross-promote each other. Write guest blog posts, share each other's content on social media, shoot a video together, or even create a page on your website where you promote and link to your partners.
Regardless of your preferred medium, the following factors are critical to creating quality content: Value, Patience, Relevancy, Non-Monetization, and Storytelling.
Provide Value For Your Audience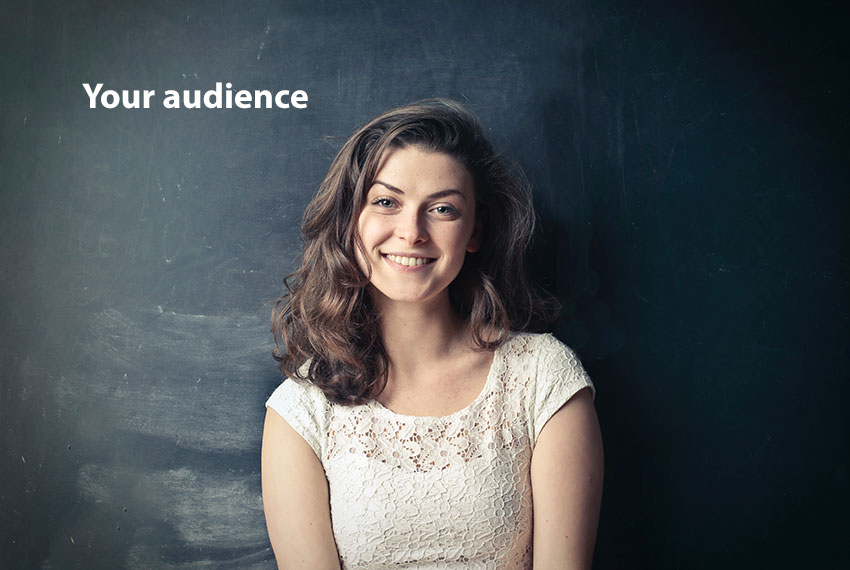 It's all about your audience, not about you! You need to give them real value. Don't waste people's time talking about how great you or your product/service are. Talk about how your product/service will improve the reader/viewer's life by filling a want or need. When I'm scanning a website, I'm looking for content that provides value to me. I'm subconsciously looking for content that makes me think, "I need to read/watch that." I am looking for content that is conducive to my growth or appeals to my needs and wants.
Hooking Their Attention Within 15-30 seconds
Your titles and substantive content should demonstrate how the material will appeal to the reader/viewer's self-interest. When reviewing content, I take about 15-30 seconds to decide if I'm receiving any value. Time is too precious and attention spans are too short. I'm sure cat video metrics might suggest otherwise, but I venture that most people don't go online looking for cat videos. When I find myself sucked into trivial content online, it's almost always by accident, and I get out of there as soon as I recognize I'm wasting my time.
Don't Mislead Your Audience. Give Them What You Promised!
Give your content real value. Don't lure people with the promise of content as a ruse to grab personal information or even worse, hit them with a paywall. Don't do the bait and switch. Have you ever been tantalized by a link description, you click, and then presented with a landing page demanding your email address before revealing any content? When this happens, I know the content is just bait, and I will have to manually opt-out from daily email blasts to escape the funnel. You might generate some leads that way, but you aren't giving value or building a positive brand. Provide value on the front end, no strings attached, you will draw more people in overtime, and you will build a brand that people appreciate. This leads to my next point.
Content Takes Time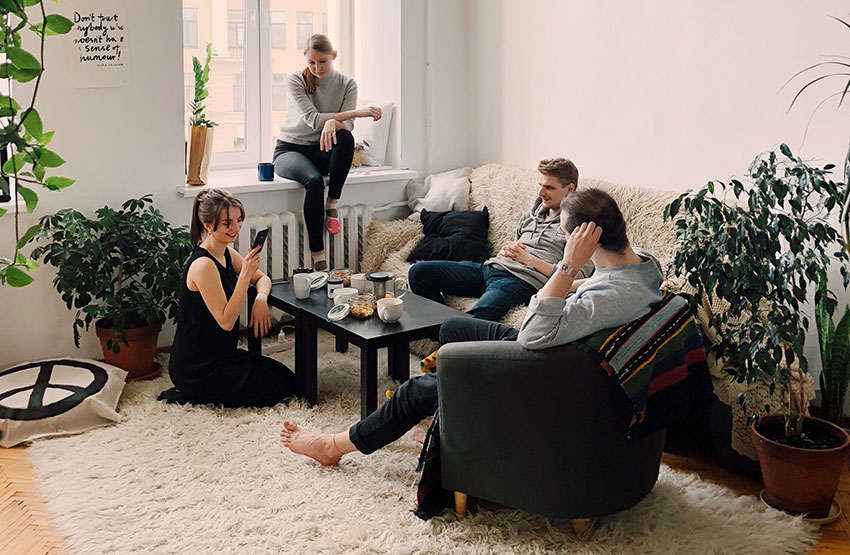 It takes time to build a brand, so manage your expectations. Even if content unexpectedly goes viral, your fame will be short-lived if you don't have other content to entice people to stick around or return.
Adjust Your Expectations
You cannot have a mindset or expectation of immediate gratification. I once shared with a friend that I boosted a blog entry on FB, and he smugly responded, "What's your ROI on that?" I wasn't looking for immediate ROI! I boosted a blog post I thought would resonate. It led to hundreds of clicks, dozens of likes, and new followers on my business page. Certain people didn't know about my business before, but they knew about it after. That's the ROI I was looking for. The immediate business would have been great, but I am patiently building a brand here.
Play The Long Game
When you are creating content for your business, whether it's a blog post, video, or social media post, don't expect an immediate ROI. If you're doing paid advertising, then you certainly want to track ROI, but this article is about content creation, not advertising. Content marketing is a long game.
No Instant Gratification Here…
Don't get discouraged if your content receives little or no engagement at first. Keep plugging away, keep improving your craft, keep putting your message out there. The mere existence of substantive content on your website improves your SEO. Some people need to see you post multiple times before they click and check you out. Some people need to review your content several times before they engage or buy. Those people never would have engaged if you decided, after posting a couple of videos, that you weren't getting enough ROI, and shut it down. There is no instant gratification or overnight success in business, and anything violating this rule is likely illegal or immoral.
Relevancy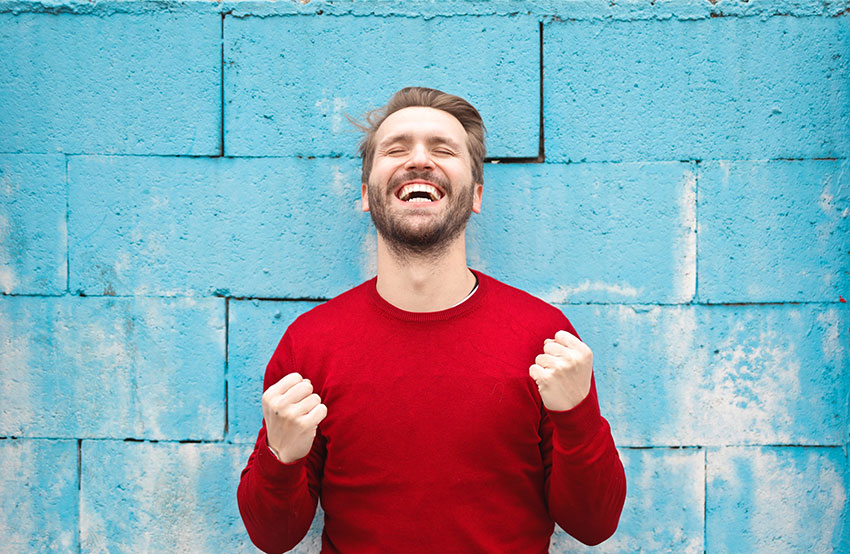 Simply put, your content must be relevant to your business's mission. By all means, have some variance in your content. Change it up. Be original. Push the envelope, but ensure that all of your content is somehow relevant to your business.
For example, if you own an auto body repair shop, don't post about politics! (Avoiding politics is good advice to any business.)  If you own a nail salon, don't post about gardening; if you're an SEO consultant, don't post about woodworking. You get the gist. I know someone in the printer repair business who shares random content on social media having no relation to his business, and every share includes a preamble pitch for his service. The shared content and the message have no synergy or place together. Would you prefer grapefruit with your steak or mashed potatoes with your steak? The whole point of content marketing is to increase brand awareness. This purpose is frustrated when you post irrelevant content.
Monetization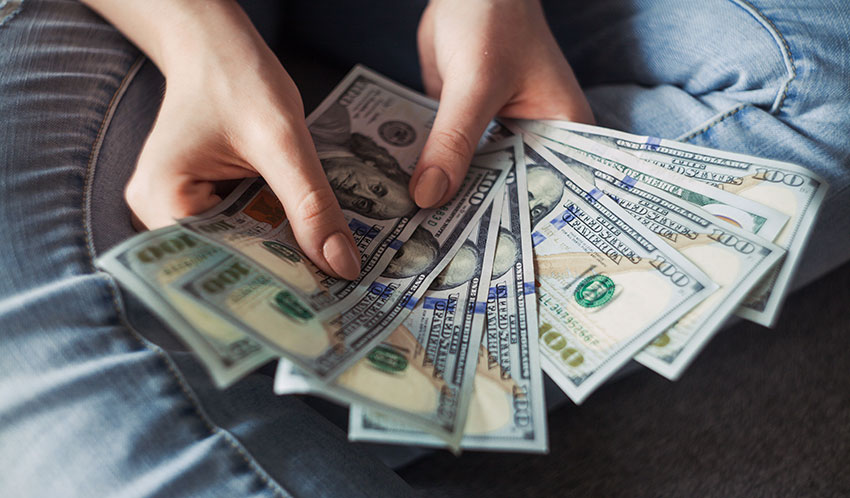 The subtext of your content is for people to create a mental association with your brand. You want people to associate your product or service with their needs, and quality content creates that connection. This is a legitimate quid pro quo. You provide valuable and engaging content, and consumers provide brand recognition and loyalty. Over time, that leads to revenue for your company. This kind of monetization is subtle, indirect and takes time, but is very powerful because the consumer ultimately initiates the sale.  
Don't OVER-monetize Your Content
People are turned off by content that is overtly monetized. Unless one is shopping or sees an ad with cute animals, people do not actively seek advertising. Remember, people view your content because they are enticed by the proposition of receiving free value. People are guarded when they feel they are being sold, especially when they did not expect a sales pitch.
I once attended a "seminar," where the ostensible purpose was to teach about marketing, but the speaker could not stop interrupting himself to pitch his coaching service. He would tease with some marketing nuggets, then pull away saying we could hear the best parts if we signed up for his program. "Seminar" was written in quotation marks because I felt I was attending a live infomercial against my will. I got fed up and walked out. I feel the same way when I'm viewing disingenuous content online. Don't publish thinly-veiled advertorials. The value of your content is tainted when it is overtly monetized.
Don't get me wrong here. There is nothing wrong with selling. If you want to overtly sell your product or service, then go for it! Just don't be deceptive.
Story Telling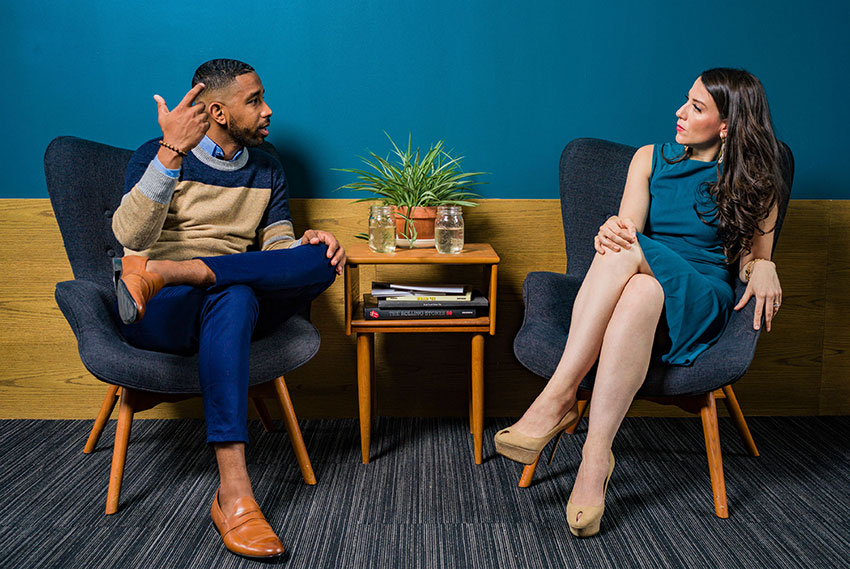 Facts tell stories to sell. Couch your messages in terms of stories, and people will engage with your content on a deeper level. People remember stories that touch them emotionally, and they remember the source of the story – your business. People are attracted to stories, it's just human nature. Most people lack the attention span to delve into dense factual material, and you'll lose most of your audience
Do not wait for an audience to build before you start creating content for your business. Start creating and publishing content now, and you will grow a following over time. If you seamlessly weave facts about your product or service into a story, while giving value and avoiding overt monetization, you can create powerful content and a powerful brand.
Design Pickle Vs Penji: Which Is The Best Unlimited Graphic Design Service? (w/Promo codes)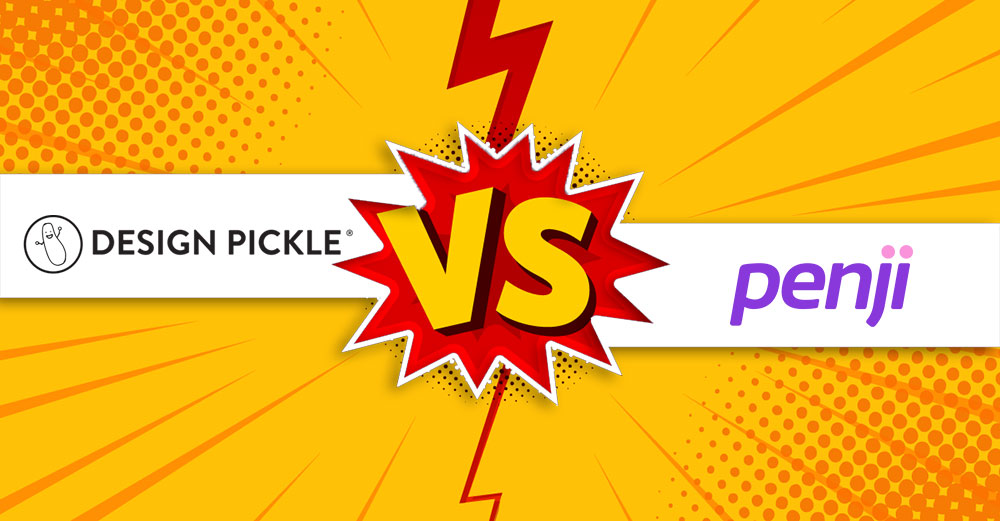 Two names dominate the unlimited graphic design space – Penji and Design Pickle. Design Pickle vs Penji, which is the better service for you? We signed up for both companies and see who offers a better service, so you don't have to.
Unlimited graphic design companies are a new breed of services that are gaining popularity in the last few years (see the complete list of unlimited graphic design companies). Their promise is simple, you pay a flat monthly rate and get unlimited design projects for the month.
No hiring, no HR, no interviews, and absolutely no managing on your part. Just submit the designs, and the company will find the best designer for you and take care of the rest. Sounds too good to be true? We did an in-depth review of Penji and Design Pickle (coming soon) to see if the promise is real, and the promise holds up.
Today, we'll see which of these two unlimited graphic design service providers offer the best value for your money. For our comparison review, we're going to be comparing these two companies based on the following criteria: Speed, Quality, Communications, Ease of use, and Value.
DESIGN PICKLE VS PENJI – QUICK SUMMARY
This is a rather long and extensive review. So if you don't want to go through everything, here's a quick 2-minute summary of everything.
We signed up for both Penji and Design Pickle's $399 plan to see which company provided a better service and experience.
Pricing differences: Penji's pricing included more design types. Design Pickle didn't include Logos, complex infographics, and presentations.
Custom Illustrations: Included with Penji's Team ($499) and Agency ($899) plan. Design Pickle charges $499 add-on on top of your existing plan.
Design quality test: Both companies received the same four projects with the same exact wording, attachments, etc.
Design Pickle won "Versus" blog Featured Image
Penji won Facebook Cover Image For Digital Pub, Print Magazine Cover Re-Design, and Content Infographic Re-Design.
Creativity & details: Penji's designs were more creative and got the small details
Customer support: Design Pickle had more responsive support and online knowledgebase. Penji's account manager was more responsive and proactive emailed us.
Turnaround: Both companies delivered 2-3 drafts within 24 hours. Revisions were also speedy. Design Pickle took 12 – 24 hours for revisions, while Penji usually turnaround revisions the same day.
Platform & Integrations: Both had intuitive and easy to use platforms. Design Pickle had more integrations. Penji's slack integration was difficult to use and requires dev help.
Final verdict
Design Pickle vs Penji, the winner is Penji in several categories. Design Pickle did win in a few categories. However, Penji won in the major categories that mattered. Penji's design quality, attention to detail, and creativeness tends to be superior.
Penji offers better value as covering more design categories. Penjis' team also was more responsive and felt like working with people instead of processes and canned responses.
Design Pickle was excellent in terms of their processes and operations. However, that shows in the design output and communication. Everything felt more mechanical, robotic, and templated.
Penji promo code
If you want to give them a try, use this Penji promo code "OWNER25" to get 25% off your 1st month. Full disclaimer, we receive a commission when you use the code.
Design Pickle's promo code
---
DESIGN PICKLE VS PENJI FULL REVIEW
Although both companies offer the same services, their pricing model is very different. Design Pickle separates their plans into Pro and Standard. Standard starts at $399/month and you'll be working with a Philippine designer for next-day turnaround.
Meanwhile, the $995 lets you work with the designer via Slack for real-time communication and same-day delivery. You also get advanced infographics, animated GIFS, and Powerpoint designs for the Pro plan.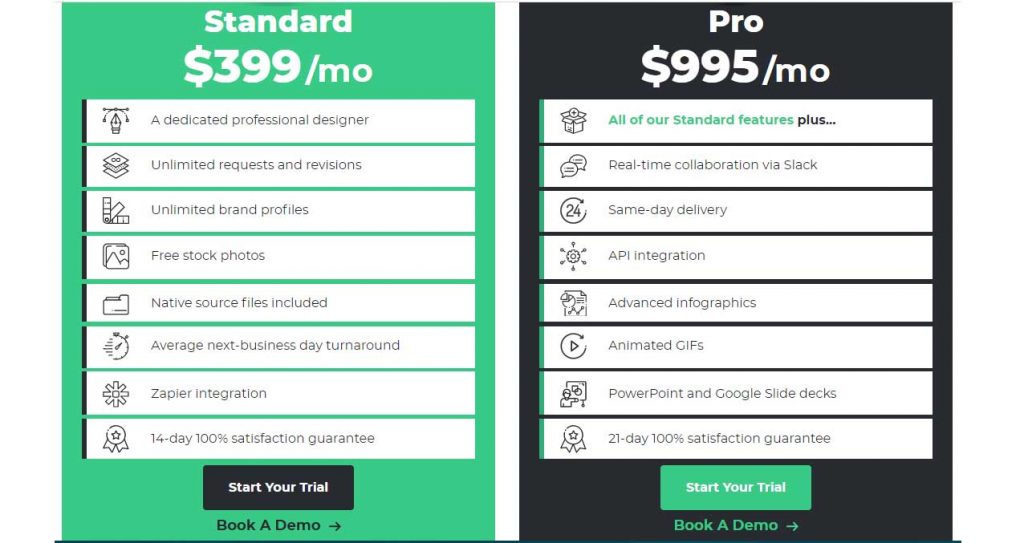 Penji's pricing, on the other hand, has three tiers. Penji's low plan is ironically called its "Pro" plan. At $399/mo it costs the same as Design Pickle's Standard plan and appears to offer the same level of design service. Design Pickle offers Zapier integrations. Although Penji doesn't offer Zapier integrations, they have an Invite feature that lets you add more than one user to the account. I personally find that very useful.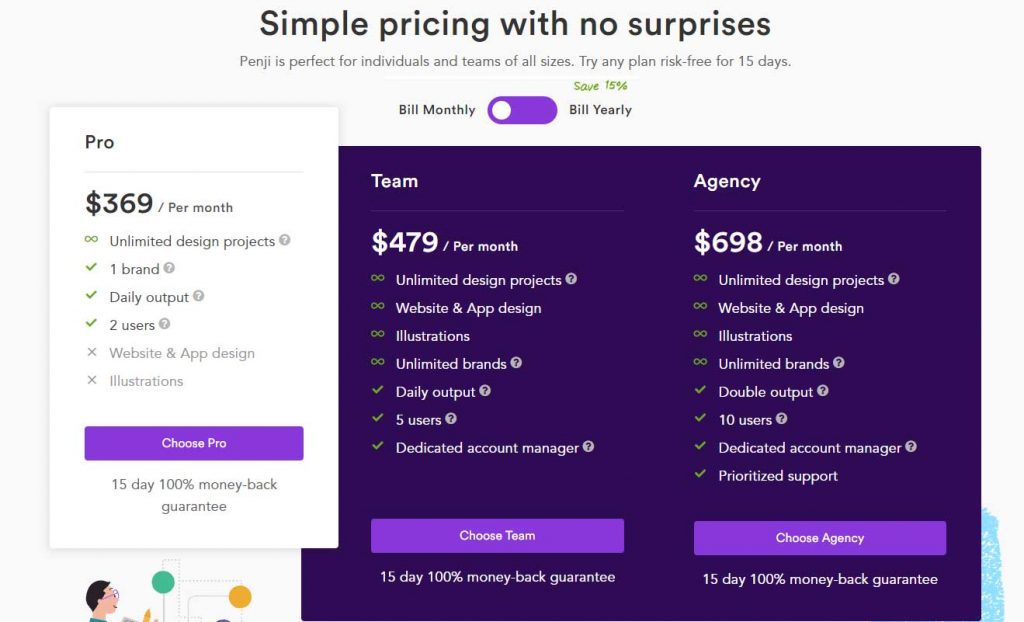 For this review, we chose to sign up for the $399 Standard plan from Design Pickle vs $399 Pro plan from Penji. Here's a chart to compare the two plans side by side.
DESIGN PICKLE VS PENJI $399 PLAN COMPARISON
The pricing page alone doesn't tell the whole story. We want to know exactly what each plan offers and what you get in terms of design offerings for $399/month. After digging around their websites and asking their support chat, we uncovered more details each plan has to offer. Here's a chart we made to showcase all of the hidden features and important benefits included with the $399 plan from each company.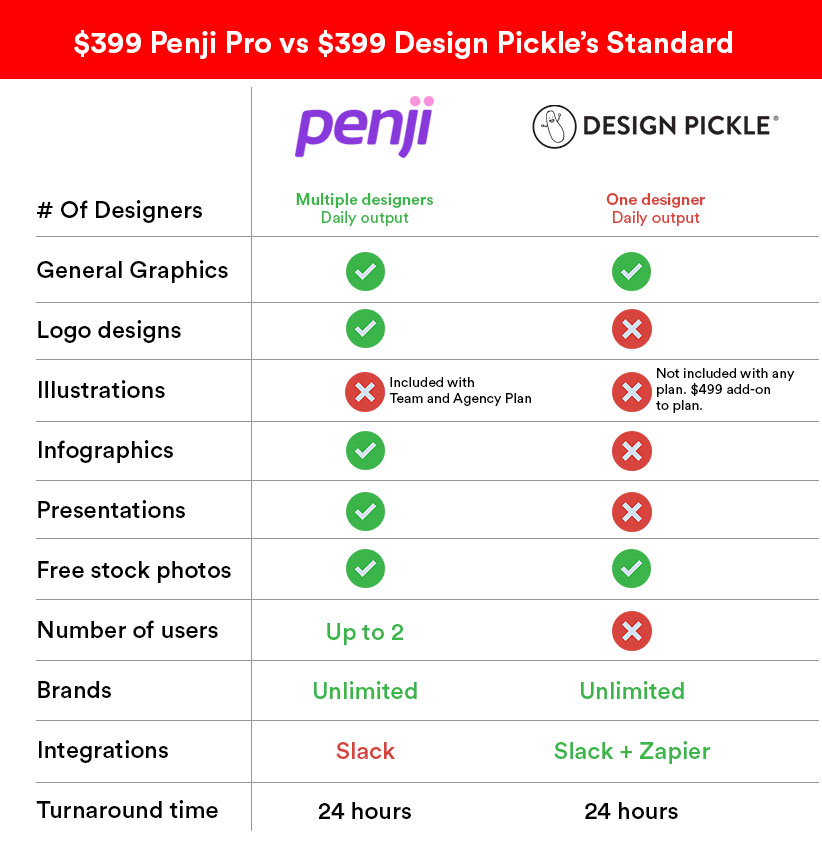 There's a number of differences between the two Company's offerings for their base $399 plans that you need to be aware of.
# Of Designers
This is how many designers you'll be working with essentially. Design Pickle's pricing plans indicate that you'll be assigned to 1 designer and be working with just that designer. Meanwhile, Penji doesn't assign you to any designer until you actually create a project. When you create a project, they will assign you to the best available designer for that type of project.
Penji's support team told me they utilize this method of assigning to make sure we only work with designers who are actually good at the type of design we're requesting. I'll have to give a point to Penji for this one.
Logo Designs
Design Pickle explicitly stated that they only offer Logo design for their Pro plan ($995/m). It's not explicitly stated on Penji's pricing page, but their customer support confirmed logo design is included for all plans.
Illustrations
Neither company offers custom illustrations as a part of their $399 plan. However how they incorporate it is uniquely different. Penji packaged Custom Illustration in their Team ($499) and Agency ($899) plans.
Design Pickle doesn't include Custom Illustration in their Pro plan ($995). To get Custom Illustrations, you will need to pay an extra $499 add-on every month that you need an illustrator.
Design Pickle vs Penji: Here's what it will cost you to get custom illustrations with each company.
Penji: Team plan $499 / month (includes Custom Illustrations)
Design Pickle: Pro plan $399 + $499 Custom Illustration add-on = $898 / month
It costs quite a bit more to get custom illustration with Design Pickle. If you rarely need custom illustrations, this won't be an issue. But if custom illustration is a big part of your design needs, you might need to look closely at this.
1. REGISTRATION AND ONBOARDING
Design Pickle vs Penji's registration process was both smooth and efficient. I didn't feel either one asked too many questions or was complicated. Penji allows you to sign up for any plan you want right away. Meanwhile, Design Pickle only lets you sign up for the Standard plan. To register for the Pro ($995) plan, you need to schedule a demo
Design Pickle versus Penji's Onboarding
After I signed up for their services, both led me straight into their online portal right away. I was able to create my first project almost immediately. I didn't actually get a "Welcome" email with Design Pickle, which was strange, I figured they'd send me something. I did get a handful of emails, one of which was a brilliantly created video that showed me how to write a better project description. The video was quite long, but it was polished, well written, and hilarious. I love that about their company.
Penji was very conservative with their onboarding. I received an official "Welcome to Penji" email with essential information, which was nice. Then the next day I received an email from someone named Charmaine from their company. It wasn't a templated or auto-responder email, it was my account manager emailing asking how I was doing. I liked that.
2. CREATING DESIGN PROJECTS
Now for the real question – who provides better quality designs? All the features, bells, and whistles are pointless if the company can't turnaround quality designs for you.
We created three test projects and posted them to Penji and Design Pickle. To make sure everything was fair, all projects have the exact same description and attachments. We even went as far as giving them the same exact feedback on each of the drafts.
Here are the test projects:
Facebook Cover Image For Digital Pub
Print Magazine Cover Re-Design
Content Infographic Re-Design
"Versus" blog Featured Image
As a digital publication, we work with design agencies and freelancers to get our design work done. These projects are taken directly from our queue. We chose these projects specifically because they all require different skills to complete and will give us an idea of how versatile each company is.
3. TURNAROUND TIME
We submitted the four projects to both Penji and Design Pickle respectively. Both the drafts and revisions were quick by both companies.
Design Pickle
We received drafts for 2 out of 4 projects back the next day. This was very fast, much faster than any of the freelancers we've hired. One of the projects didn't receive submissions because my designer had a question that needed a response, which was understandable.
Upon submitting revisions, I started to see delays. Even when I submitted simple revisions, it seems to always take 24 hours no matter how small or big the revisions were.
Penji
We received drafts for 3 out of the 4 projects back from Penji within 24 hours. Just as fast as Design Pickle. My designer also asked a question about one of the projects, but she skipped that one and worked on the 4th project instead of waiting for my response.
Revisions were usually done the same day. And I noticed that if my designer isn't online, my account manager would assign another designer to quickly jump in and make the revisions.
Turnaround Winner…Penji
Design Pickle vs Penji in terms of turnaround time, Penji is the faster company. Both companies were fantastically speedy with delivery and I can't say I was disappointed with either company. However, Penji was able to deliver fast revisions, especially simple ones much quicker. And that's important because waiting 24 hours for a fix on a small grammatical error is frustrating.
4. DESIGN QUALITY
Now for the ultimate reveal. Design Pickle vs Penji, which company produced better quality design? See for yourself.
"Versus" blog Featured Image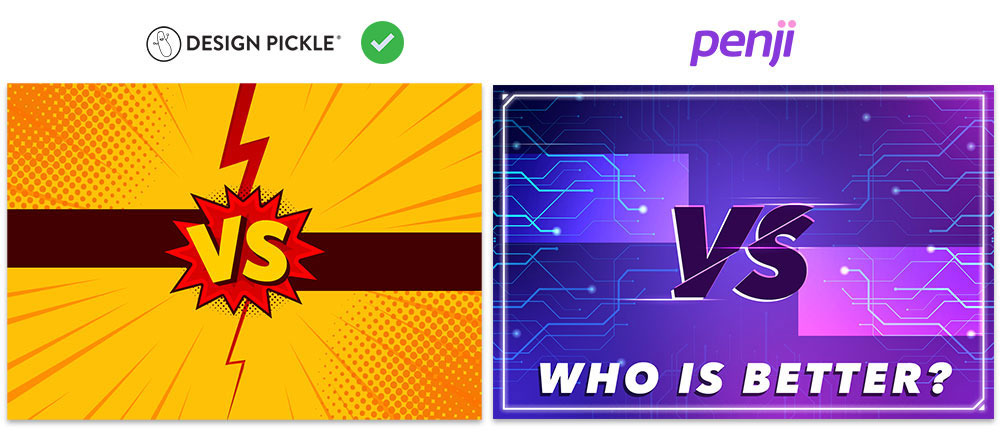 View DP's design | View Penji's Design
This was a fairly simple blog graphic request. We write a lot of comparison articles and wanted a featured image that we can use as a template and swap out names of products or companies we're comparing.
Design Pickle: My designer was Arvin. It took us several revisions to get to the final product, and overall it's very close to what I had envisioned. 8/10
Penji: My designer was Kenny. It also took several revisions, however, I can't say I was pleased with the final product. It felt like Kenny was just following literal instructions and nothing more after the 2nd revisions. I give this project 5/10.
---
Facebook Cover Image For Digital Pub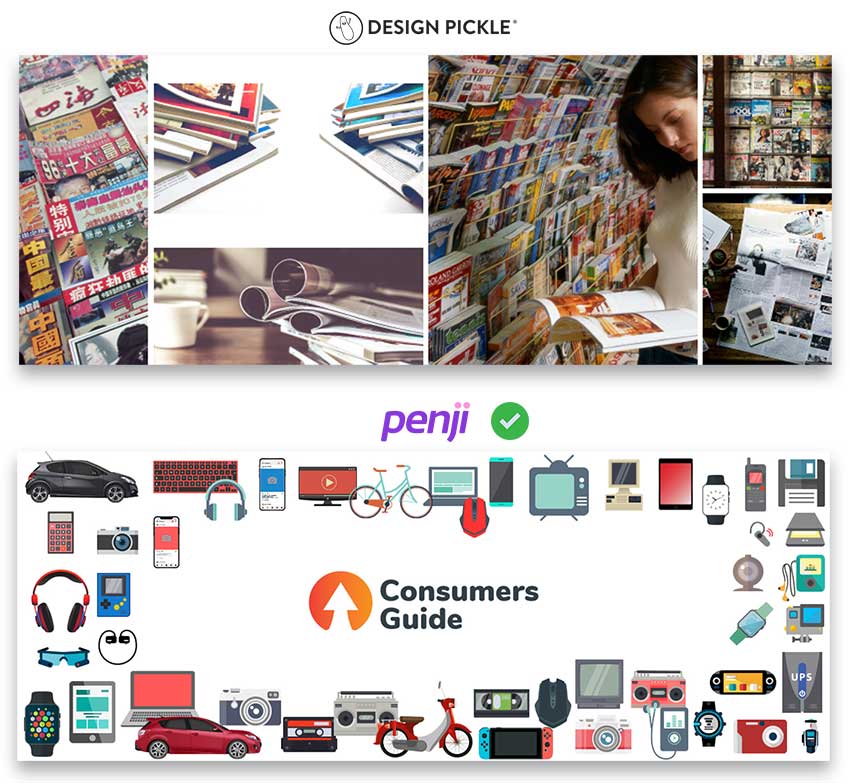 View DP's design | View Penji's Design
One of our publishing partner Consumer's Guide needed a new Facebook cover photo. This was a fairly simple design request, with the exception that you have to check out the website and understand what the company does in order to create a banner. I gave special instructions such as …use the Logo in the design and showcase what the publication does on the cover image.
Design Pickle: Given I was impressed with Arvin on the 1st project, I was thoroughly disappointed with this one. I don't think the designer ever went to the website to review the publication at all. Just a glance would've helped. This looks like 6 random images from Pexel or Unsplash stitched together. 3/10
Penji: Rowell (a different designer) was assigned to this project, and it seemed like he took the time to review the website before designing. I didn't even know, but apparently there was a new logo on the website that I wasn't aware of. Rowell took the time to ask for the new logo. The end result was beautiful and our friends over at Consumer's Guide loved it. 9/10
---
Print Magazine Cover Re-Design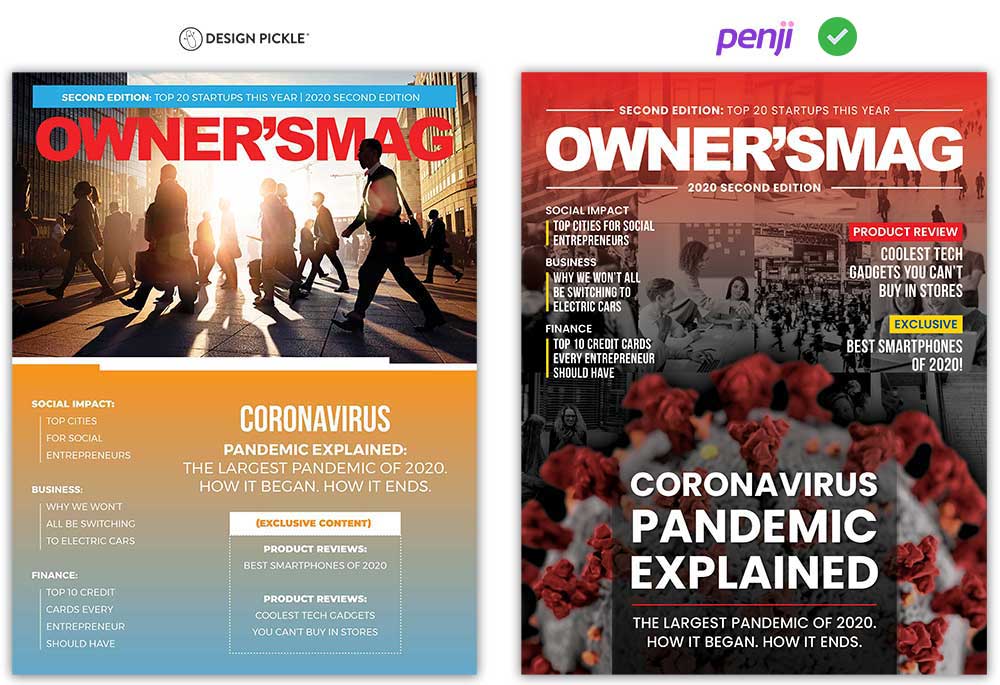 View DP's design | View Penji's Design
By far one of the most important projects for us. We're both a digital and a print publication and this spring we're releasing another edition of Owner's Mag. The designers are tasked to design the actual cover for Owner's Mag second edition print magazine. All instructions, copy, and even past designs were given. The cover needed to look professional, refined, and most importantly highlight the Coronavirus Pandemic. I also asked for this to design in Photoshop.
Design Pickle: I was assigned to Alyssa randomly, and wasn't sure why. The first draft was atrociously bad and she gave me Adobe Illustrator files instead of Photoshop like I had requested. Arvin (my main designer) was quickly re-assigned to fix the design. Several drafts later, it's just nowhere near the level of polish and professionalism that we needed. I gave instructions to "Highlight the Coronavirus" section. My designer proceeded to make the texts CORONAVIRUS texts bigger. Quality rating: 3/10.
Penji: Billie was assigned to this project. The first several drafts were simply amazing. It was clear to me that Billie has designed plenty of magazine covers before as she knew where to place things and how to organize content blocks on a cover. It took a few revisions to be perfect, but I was happy from the beginning.
What I was most impressed with was how she clever highlighted the "Coronavirus" section. I was speechless at the final product. I showed the design to my editor and they couldn't believe it didn't come from one of the design agencies we hired. Of all the designs we submitted, the quality and level of creativity in this design far exceeded our expectations. And this is the design we will likely be going with for our print edition. Quality rating: 10/10
---
Content Infographic Re-Design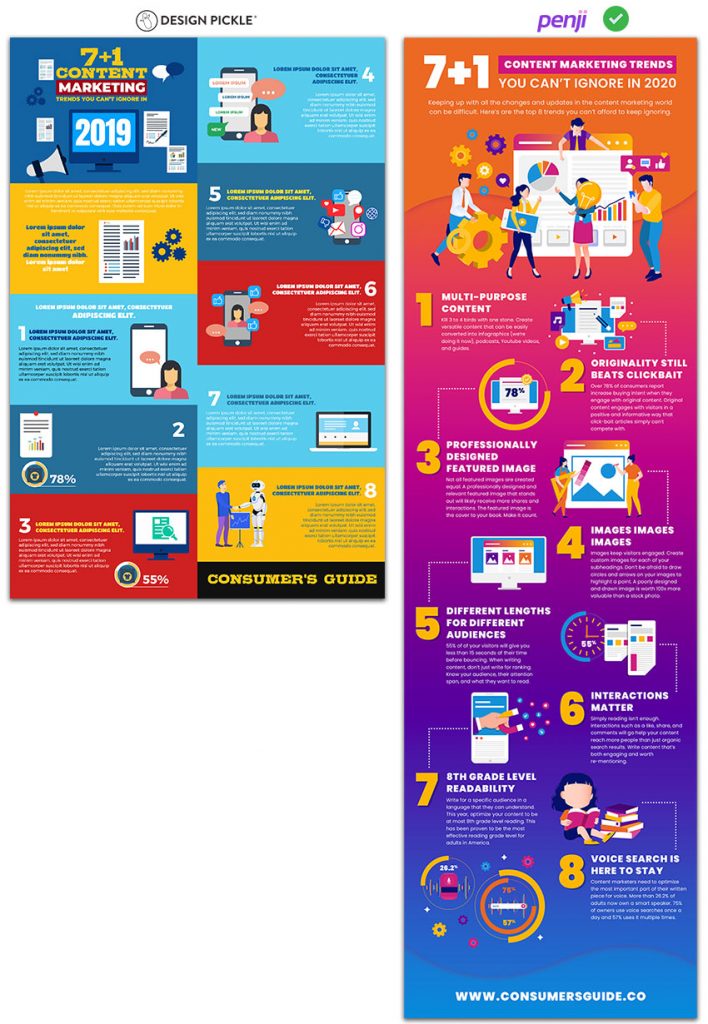 View DP's design | View Penji's Design
Infographics are some of the most challenging and difficult designs to get right. We've hired a lot of people to design infographics for us, and it's hard to find someone good who understands how to design infographics. Infographics need to be entertaining to look at. And they also need to present statistics and numbers in a creative and meaningful way that's easy to read and digest. We weren't sure how either Design Pickle or Penji would fare in this. If anything, we expected both companies to do poorly.
Design Pickle: Arvin did follow instructions, however, there was no creativity in the design. It's just left and right blocks of texts and icons. The icons were all of the different stylings, clearly from different designers on Freepik or another free resource site. And there's just no creativity in this design. It looks boring, bland, and the numbers are just displayed. It's hard looking at this design and imagining a lot of thought went into it.
I have to be fair and say that it's not a bad design, but it's not an infographic. Not even close. And this isn't something we can use to publish for our audience. Design quality: 4/10
Penji: I was assigned another designer from the beginning, but requested for Billie given how impressive her Magazine cover design was. The result – absolutely breath-taking. The gradient is beautiful and easy to look at. Each item from 1 – 8 was organized and flow gracefully down the page.
Each icon makes sense with its content block. And the way the 55%, and 78% statistic was intelligent and meaningful. All of the content seems like they fit and flow together. This infographic design is on the same level of professionalism and detail that we're used to from working with design agencies in our city. Design quality: 10/10
5. ATTENTION TO DETAILS

Both designers from Penji and Design Pickle were fantastic individuals to work with and we don't have complaints with either Arvin or Billie. However, designers from Penji seem to pay more close attention to the details of the designs. In several designs, if you inspect closely, you can see how much attention Penji designers put into all the little details.
There was a lot of little errors from Design Pickle's submission. The woman in the pink shirt icon is duplicated in two of the graphics. The 78% graphic didn't make any sense and you can't see the tiny icons inside of the icon.
The other thing that bothered us was the use of colors. The design on the left had poor color choices for the background colors. The light-blue is used twice, and they connect and bleed into each other (1 and 7). Penji's design on the right had colors that complement one another and just overall looks more professional.
6. CREATIVITY

Creativity is a difficult thing to measure and ask for. It's easy to tell your designer to "be creative" with the design, but it's almost impossible to pinpoint. Creativity is one of those things where you just have to trust that your designer has.
My experience working with Design Pickle vs working with Penji was polarizing. Despite giving the same instructions and feedback word for word, the outcome was completely different. Design Pickle's designers were great at following detailed instructions and almost too good to the point where they didn't put in their own creativity.

For the Magazine cover design, I gave the following instructions
Have stock images of people moving and working in the background to show movement
Make Product Review and Exclusive sections stand out
The major headline is "Coronavirus Pandemic Explained". Make this the most prominent element on the page
As you can see from the image above, the two designers both had a different creative vision for how to make the Coronavirus section stand out. To us, Penji's vision was more creative and impactful.
ONLINE PLATFORM
Both Design Pickle and Penji have their own dedicated platform, which is both a good and a bad thing. We personally prefer if their designer just joins our platform and works with our team on Asana or Trello. But we understand their business model can't allow for that kind of personalization.
Both platforms were super easy to use and I have very little complaints. They're not complex platforms and are both seamless enough that you won't need any complicated tutorials or share-screen walk-through to get the hang of.
I didn't like how Design Pickle's platform constantly tries to sell me their CEO's content. The platform tries too hard to get me to click on links to his podcasts, webinars, etc. and I was more annoyed than appreciative.
Penji's platform is cleaner, less bulky, and didn't try to sell me anything. And that, I appreciated. I get that Design Pickle wants to get more clicks and signups for their CEO's webinars, but there are better ways to do that.
INTEGRATIONS
One of the things I love about Design Pickle is its abundance of integrations thanks to Zapier. Although I haven't used it myself, my co-workers swear by it and have used Zapier integrations with other software. I don't know how their Slack integration works because we signed up for the Standard plan, but I have a feeling it's not actually an integration, but more so someone joining our slack team and working with us. And that's a great thing.
Penji didn't have Zapier integration, instead, they have Slack Integration API. It was a bit complicated and required our developer to actually setup with our Slack. Definitely not user-friendly or intuitive. This point goes to Design Pickle.
COMMUNICATIONS
Communication is VERY important in graphic design. Both companies did an exceptional job communicating within all of the design projects. Despite not being able to meet or talk to any of the designers and having everything be done online, communication always felt responsive and tight with both companies.
The one thing I like about Penji was that my account manager was very active in communicating with me. I believe I also had an account manager for Design Pickle, but I can't even remember their name since they rarely contacted me except when I wanted to cancel.
My account manager, Charmaine, emailed me right after I signed up and personally contacted me when she saw that I wasn't happy with some of the revisions. That's an extra layer of care that Penji gave that was missing from Design Pickle. And to me, it made a huge difference in my overall satisfaction.
CUSTOMER SUPPORT
Design Pickle vs Penji's customer support. Both companies provided top-notch customer support and both were very responsive to my needs.
Design Pickle shined in two major areas when it comes to their support. They use Intercom for live chat and during most day-time hours someone was available to answer me. They also have a knowledge base where you can look up commonly asked questions, although I'm not sure how useful this would be since this is a service and not a complex SaaS software. Regardless, it was a nice thing to have just in case.
Penji's customer support was also excellent as my account manager was a real person who constantly checks on my projects and contacts me proactively whenever there was an issue. I really liked the human element that Penji always seems to provide. The downside is that there's no live chat. And whenever I needed help, the chat interface of Penji just sends an email out to my account manager.
Overall, both companies were great. Design Pickle responds faster and has more online help resources. Penji, on the other hand, has a very active account manager who proactively emails me.
OUR FINAL VERDICT
Choosing a winner is difficult as both companies are great in their own respective ways. Both have been around for several years, however, I believe Design Pickle has been around longer. Both provide a great experience and I can't say I'm upset or disappointed with either service. But there are many areas where one outshines the other.
Design quality – Penji
Of the four projects, Design Pickle won 1/4. Penji won the remaining 3/4. The clear winner in terms of design quality goes to Penji. From our experience, the design quality, creativity, and attention to detail were better with Penji than with Design Pickle.
Turnaround time – Tie
Design Pickle vs Penji in turnaround is a complete tie. Both were exceptionally fast with their initial drafts and also revisions. Design Pickle lagged a bit and usually took 12 – 24 hours to complete revisions, but my designer turned around more drafts than Penji.
Penji even though turned over fewer initial drafts, the designs were higher quality and revisions were usually the same day. Both providers were incredibly fast by any standards, therefore we call this one a tie.
Attention to detail – Penji
Penji outright wins in this category. In just about every design submission we received, our designer from Penji seems to pay closer attention to the little details than their counterpart at Design Pickle.
Creativity – Penji
Design Pickle vs Penji's creative output is actually a close one. Arvin from Design Pickle was great at the Versus blog graphics. It was so creative that we're using it for this specific review. However, Arvin and the other designers assigned to me seemed to stumble at more complex projects such as the infographic and Magazine cover.
Penji designers tend to ask me more questions and submit more drafts for me to choose from. You can see from the designs above, submissions from Penji generally appear more refined, creative, and artistic.
Overall, Penji wins at the creative output.
The winner…
Design Pickle vs Penji – the winner has been decided. It's Penji. Both companies are exceptional, however, we chose Penji for the following reasons:
Penji offered more value for the same price
Better quality design, attention to detail, and creativity
Felt like I was working with real people more than processes and automation
This certainly doesn't mean that Design Pickle doesn't have good designers. We acknowledge that luck could play a role. Perhaps Arvin from Design Pickle wasn't the best pick for us. And perhaps we got paired with the best designer on Penji. Who knows. But factoring in multiple criteria and testing various types of design projects, we concluded that Penji gave us a better experience and proved to be a better value.
Penji Review: Unlimited Graphic Design Service (w/25% Promo code)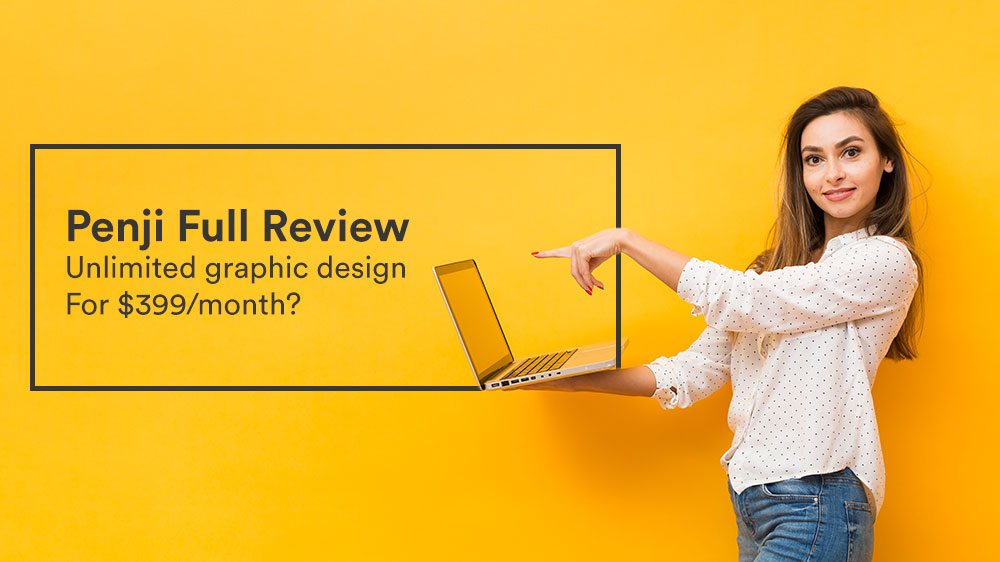 Penji is a relatively new startup based in Philadelphia, PA offering a unique business model. They offer unlimited graphic design services for a flat monthly rate. You can submit as many design projects as you want via their online portal, and they'll complete your requests one at a time until your queue is complete.
This type of service promises to be a great added resource for teams to improve productivity. Sounds too good to be true? We thought so too, that's why we decided to sign up and see if the promise is real.
Quick Summary
Don't feel like reading? Here's a quick summary of our review with Penji's unlimited graphic design service.
Pros
Easy and quick to create design projects
VERY fast turnaround on most projects. I expected just 1 draft in 24 hours but instead received 3 drafts. Revisions were sometimes completed the same day I submitted them.
A lot of features such as Revision tool, Invite team members, Brand profile, and more.
Upbeat communication from everyone I interact with.
Dedicated and responsive account manager that replies within a few hours.
Cons
Can't call or talk to designers
Final Verdict
Penji's "unlimited" design model turned out to be an amazingly high-quality service at an affordable price that's backed by a great team. But you need to have the right expectations going in. The experience is entirely online and you won't get any face-time with your designer.
Compared to designing yourself, hiring freelancers, or using Fiverr, Penji is a much better service and value by a long shot. Their team of designers lived up to the promise and exceeded my expectations.
Penji Promo Code
If you want to give them a try, use this Penji promo code "OWNER25" to get 25% off your 1st month. Full disclaimer, we receive a commission when you use the code.
---
PENJI FULL REVIEW

Signing Up For Penji
Signing up for Penji was a relatively quick and painless process. Overall, took about 5 minutes to get all of my questions answered by their customer support via Intercom and another 2 minutes to complete the checkout process.
1. Support Chat
This is something I personally test every company for – how fast and reliable their support is. If they're unresponsive now, it will only get worse once I'm a customer. I hit up Penji's customer support team via their Intercom chat popup and got a response within 30 seconds, which is pretty good. I asked basic questions and the agent seemed knowledgable
2. Choosing a plan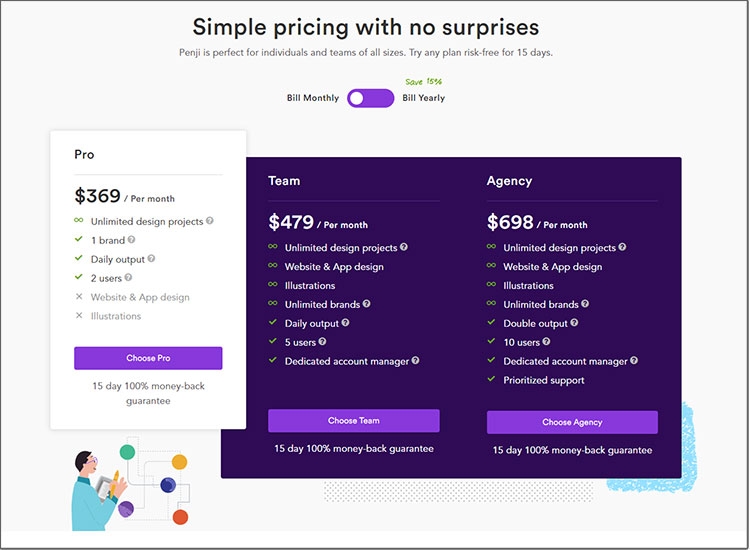 Clear and easy to understand. All the packages are laid out with monthly, quarterly, and yearly pricing. Each of the features also has a little information icon that explains what it is.
3. Checking out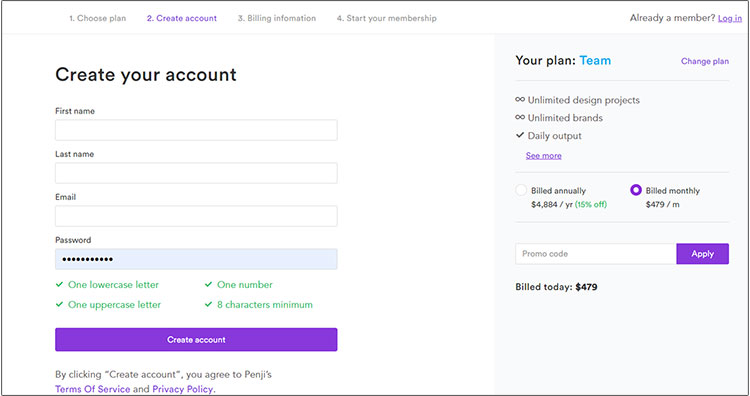 The multi-step process was easy to follow, and what you pay is clearly displayed. Checking out was also a breeze and took about 2 minutes for us.
---
Submitting Design Projects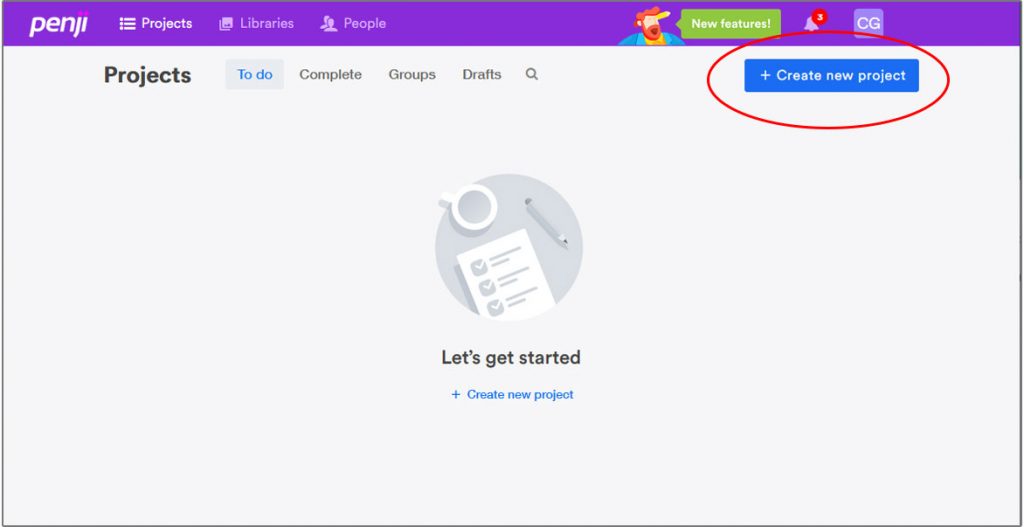 Now it's time to create my first project. Clicking on the "Create new project" button, I'm presented with a visual chart of all the designs they offer. I personally prefer this, because I can see what the designs look like. They offer a lot more categories than I thought and the list is extensive.
Filling out the form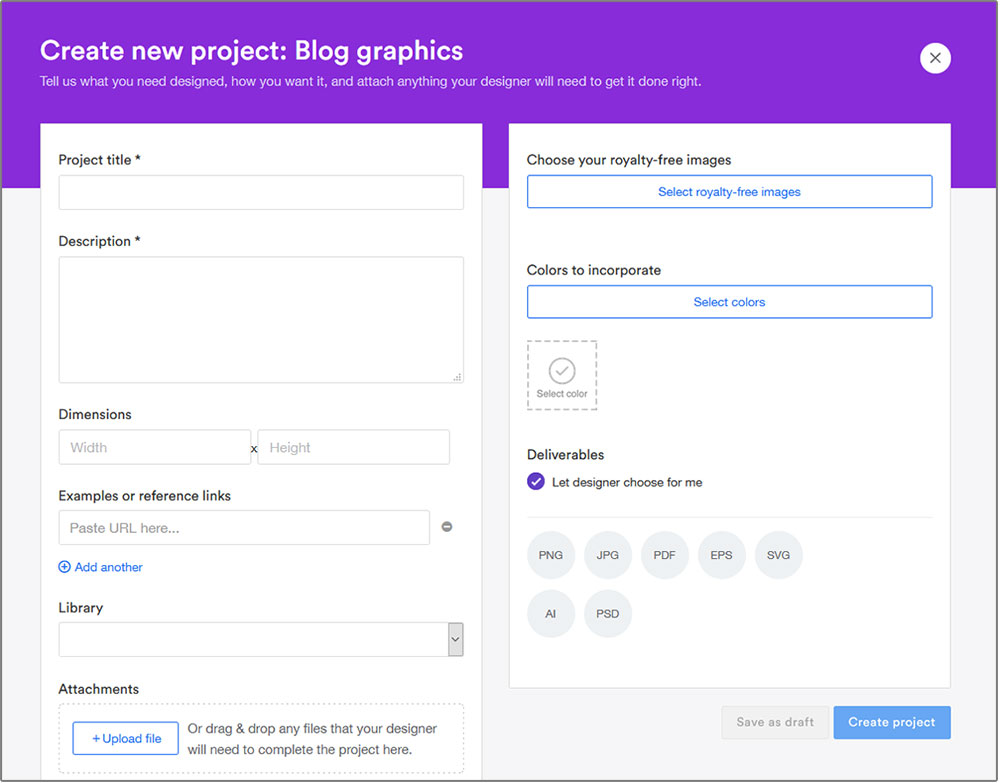 Similar to most other online design services, I have to fill out a form explaining what I want. The form is intuitive, easy to follow, and doesn't ask that many questions. Most of the questions are optional.
My test projects
As a digital publisher, we produce content on a daily basis and always have a need for on-brand graphic design. I created several diverse types of projects to test how well rounded Penji is and how they handle both simple and complex projects. A simple banner should be difficult, but can they handle a complex infographic with lots of texts and imagery? Here are my test projects.
Blog Graphic: Best DSLR Camera Equipment For Beginners
Custom Illustration: Best Vacuum Cleaner Money Can Buy
Facebook Post: Isometric Tech Gadget Graphic
Magazine Print Cover (Owner's Magazine's 2020 May Edition
Despite creating four projects, the entire process was quick and smooth. I didn't feel like I spent too much time creating them and their internal platform was lightning fast. At this pace, I can see myself submitting a ton of projects on their platform with ease.
These four projects range in difficulty and should be enough for me to evaluate Penji's competency. Now that the projects have been created, I'll wait and see if Penji can deliver on the promise of these being turned around within 24 hours.
---
Turnaround Time
I expect at least one draft the next day. What I didn't expect were three projects to have drafts. That's absurdly fast by any standards. Most freelancers and design firms we've hired take at least several days to turn around just one draft.
After reviewing the designs, which were surprisingly good considering it's the first draft AND were turnaround within 24 hours, I realized how they did it. Every project had a different designer. I wasn't assigned just one designer. That explains how they get things done so quickly.
Revision Turnaround Time
Revisions were turned around pretty fast. Their support agent actually told me it will take 24 hours to turn around revisions. I found that its a same-day turnaround most of the time. The revisions that took 24 hours were typically much more involved.
Overall, I never felt like revisions took too long. Most came back within a few hours after I submitted them.
---
Leaving Revisions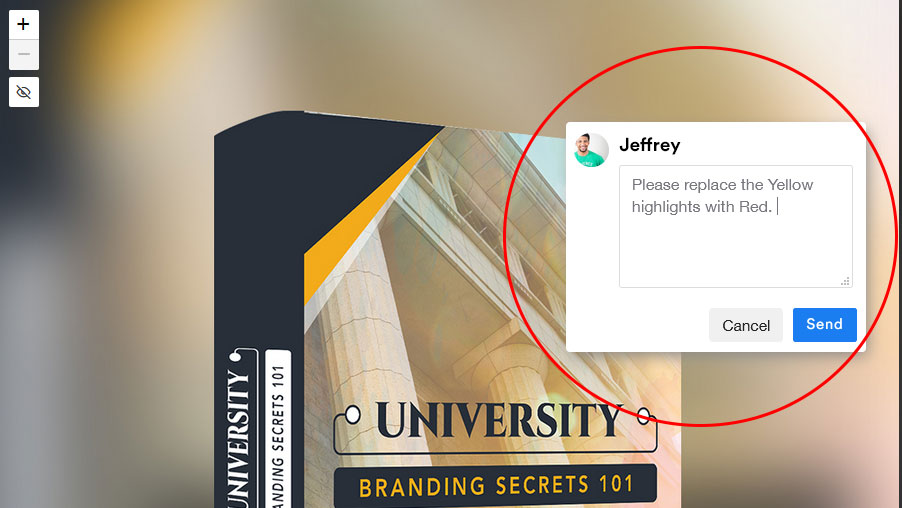 Everything is done online so I can't just call my designer and tell them what I want to change. My one gripe would be that I prefer to have some sort of real-time chat with my designer or at least have a skype call. That's one thing I like working with my freelancers, is that whenever they were online, we could just have a back and forth conversation to get the revisions across. I can't do that with Penji.
Built-in Revision Tool (see image above)
Penji has a built-in revision tool that lets me click anywhere on the design to leave a revision. I found this incredibly useful and enables me to pin-point what I want to change.
---
The Results
It took about 1 week to go back and forth with revisions and edits for all 3 design projects. At the end of the week, I received the final drafts for all three. Here are the results of the three test projects.
1. Blog Graphic: Best DSLR Camera Equipment For Beginners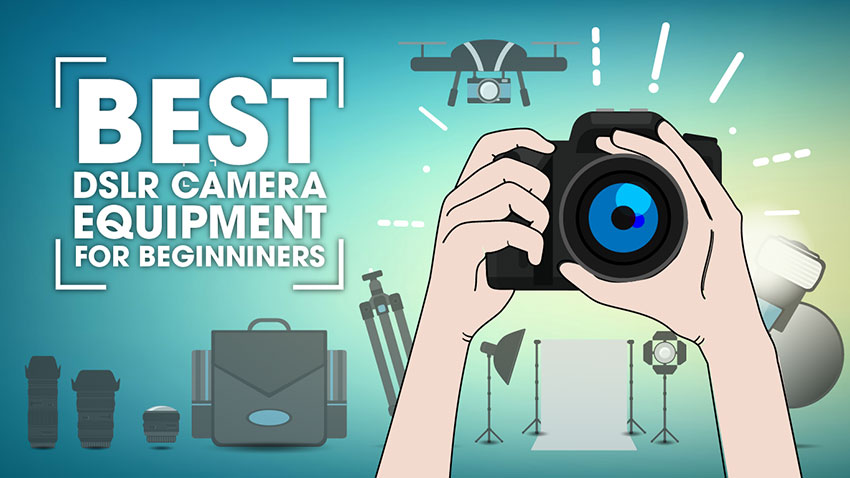 This far exceeded my expectations and will more than do for the blog I'm writing about DSLR camera equipment. I think most designers would probably just stop with 1-2 icons and graphics for this design. My designer decided to add the tripod, three lenses, drone, backpack, and a whole entire stage lighting kit.
I didn't ask for those, but I'm impressed with the quality of the design. No revisions needed. I approved this project 1st try.
2. Custom Illustration: Best Vacuum Cleaner Money Can Buy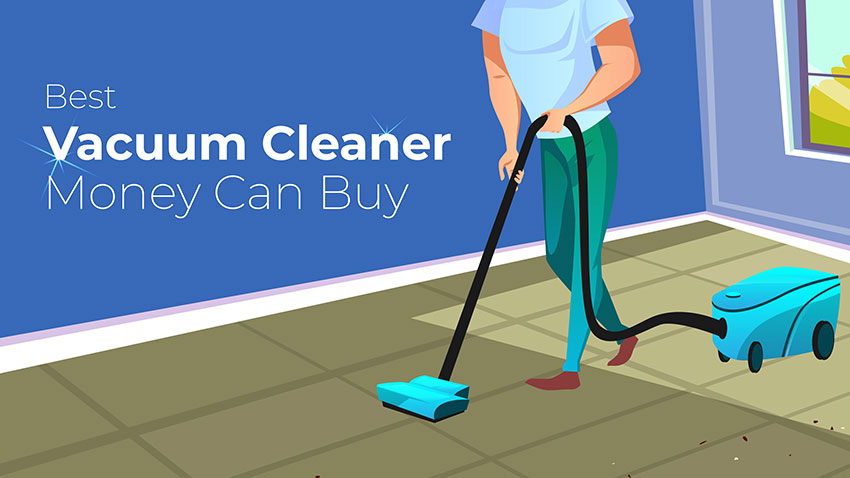 For this project, I asked my designer (Kei) to do a custom illustration of a man vacuuming his floor. He actually drew it up and then send me a rough sketch first before he started coloring it in. That was an extra layer of care and attention to detail I wasn't expecting. Needless to say, I approved of his drawing and then he delivered this draft the next day.
Revisions
Everything in this graphic was hand-drawn and then colored. That's impressive. Like the first project, I couldn't think of any revisions except asking him to put the texts "Best Vacuum Cleaner Money Can Buy" in. Just when I thought Kei couldn't outdo himself…
He went the extra mile and designed the text to fit the graphics. See for yourself above. Details like these I would have had to harass my freelancer and he would try to nickel and dime me for every revision. Great work Kei!
3. Facebook Post: Isometric Tech Gadget Graphic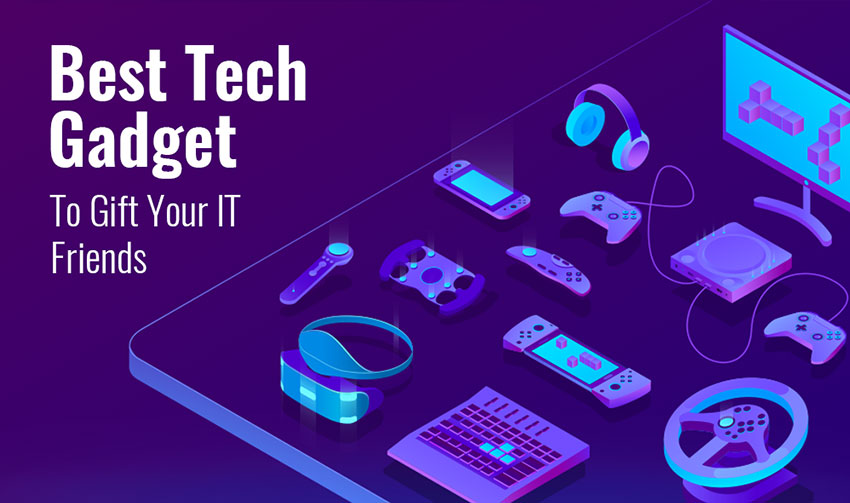 My designer Jave's 1st draft amazed me because of how many icons and details he put into this graphic. I had asked for an isometric graphic with various tech products laid out on an isometric glass plane. I honestly thought my description may have been a bit too vague, but somehow he understood my vision better than me and made it work.
I left one comment for this project, "Wow." and marked it as complete.
4. Magazine Print Cover (Owner's Magazine's 2020 May Edition)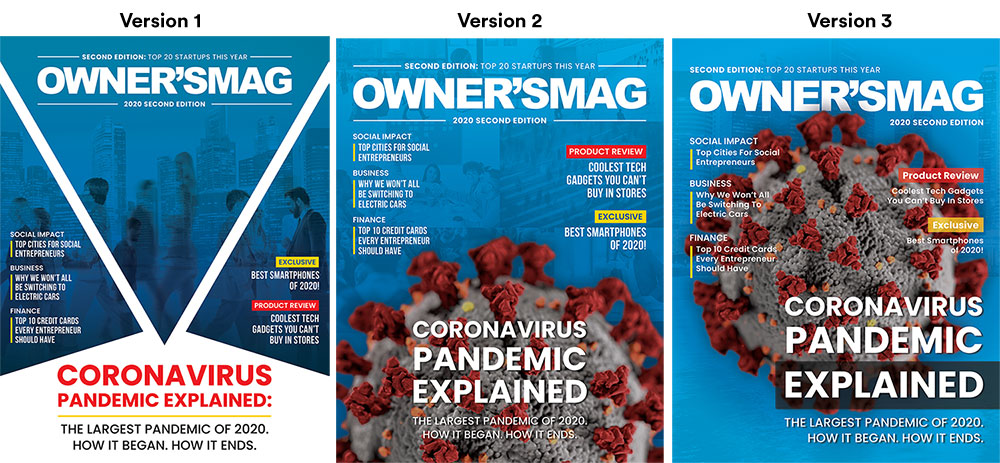 My designer Billie gave me 3 versions of the magazine cover. I don't like Version 1 at all, it seems too templated. I personally like Version 2 and 3 and left revisions accordingly. The Corona Virus image was entirely her idea, and I love it.
Revisions
This project took a bit longer than the others because my designer Billie had a lot of questions and we had a lot of back and forth. I didn't mind at all since she was asking good questions that I should've clarified in the first place. Overall, I appreciated the extra time she took to understand me and the project better.
About three days later I got another draft and this one blew everything before it out of the water.
Communication
All communication is done online through Penji's proprietary online portal. That includes revisions, feedback, and answering any questions my designers may have.
Communication With Designer
I was assigned 1 designer and communication Billie was great. Billie was responsive, attentive, and always seem to have a positive attitude no matter how demand I came off. She had a lot of questions for some of the projects, and the back and forth took longer than I wanted, but I realized she's just being thorough and wants to get the design done right, which I appreciate.
Communication With Account Manager
I was also assigned an account manager who emailed me the first day. Charmaine was very quick whenever I needed something. It usually takes just a few hours for me to get a reply via email from her. When I had an issue with one of the projects, she quickly stepped in and helped resolve the situation.
---
Final Verdict
All four projects were completed within two weeks and I was impressed with how they all turned out. See for yourself below. If I had paid hourly or per project, these would've easily cost me well above $1200+ to get done, and probably taken weeks.
With Penji, it took less than a week and I paid a fraction of what they should've been worth. Definitely impressed with both the turnaround, quality, communication, and value this startup has to offer.
But Penji isn't without its flaws. The service definitely isn't for everybody. Their service is more catered to business owners, marketers, agencies, and creatives with consistent design needs. They'll take all the heavy lifting off of your shoulder. If you don't have a consistent need, the bill will start racking up after a couple of months and you won't see the value in the membership.
However, if you do happen to fit their target demographic, then there's no better replacement out there. The speed and quality of their work easily rivals of not exceed any other services I'd ever used. For $399/month, this is an absolute steal and I can't recommend them enough.
Popping the Bubble: How to Escape the Social Media Echo Chamber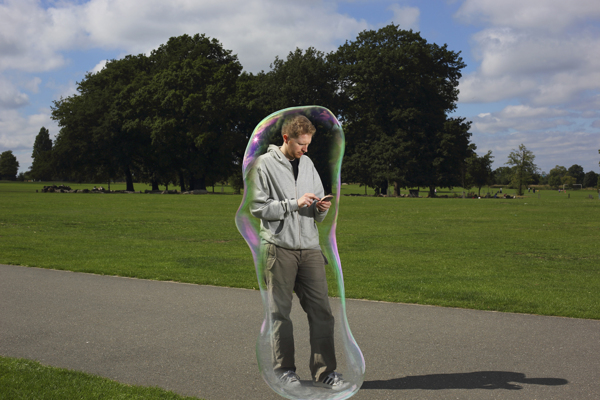 This past election has left most millennials in a cloud of surprise. I know that on my own Facebook news feed there was a very anti-Trump/pro-Bernie vibe. In the months prior to the election, my outlets for social media were bombarded by very specific opinions against the reality TV billionaire. All I heard were calls to "feel the Bern". To me, and I think to most people my age, it appeared unanimous that Trump would lose. However this was not the case. So what happened?
One issue with social media is that it's prone to creating echo chambers: places where our ideas are reaffirmed by the consensus of our networks. Don't like one particular friend's libertarian view? Easy. Unfollow them. This ability to unfollow, paired with algorithms that curate content towards to your taste depending on what you like/react to, creates the walls that seal us into comfort zones with like-minded people. It traps us into a biased reality; a bubble that prevents us from ideas different than our own. Here are three simple ways to combat the bubble, and allow for the diffusion of ideas. No one's saying it's easy, but those who do are the guardians who keep the dialogue open during difficult times and with controversial ideas.
Actively like and react to diverse new sources and pages
Much of the power and control that users have over their social media is in curation. Your feed is curated according to the content you interact with. Simply being aware of this fact can make help make you more conscious about how and what appears in your feed. If you're not seeing a lot of diversity in content, maybe try interacting with new stuff.
Watch out for confirmation bias
Does it always sound like you're right? When you log onto your Facebook, does every status update and shared article resonate with your own beliefs? It's easy to be drawn by the gravity of people who support your ideas, but to keep an honest perspective on the state of the world, you need to balance out what you expose yourself to.
A wise person once said to me "you like that author's opinion? Then try reading their opposer's book."
Never Unfollow
The "unfollow" feature is meant to be used in times of dire offense. It's understandable that a person be unfollowed because they are insulting or harassing. The problem is that in some subjects like politics and religion, people can resort to both of these behaviors. Because people tend to hold political and religious beliefs close to their hearts, opposing views often respond with even more hostility. Usually in these cases people unfollow not because of the idea itself but because of the primitive and often negative ways people try to convey them.
What makes unfollowing such a bad option is that it closes the dialogue between big contrasting ideas. If you unfollow a friend who disagrees with you, you're basically choosing not to hear their side. Does doing this really make you the bigger person? When we choose to stop the flow of information, we are also choosing to remain within the bubble. Break free by practicing these three simple guidelines. Humans aren't always the best at communicating, but at least keeping an open ear and an open heart leaves the door open to a more harmonious reality, one that actually reflects the ideas of the world, and the people who hold them.