Marketing Tactics That Might Be Scaring Your Customer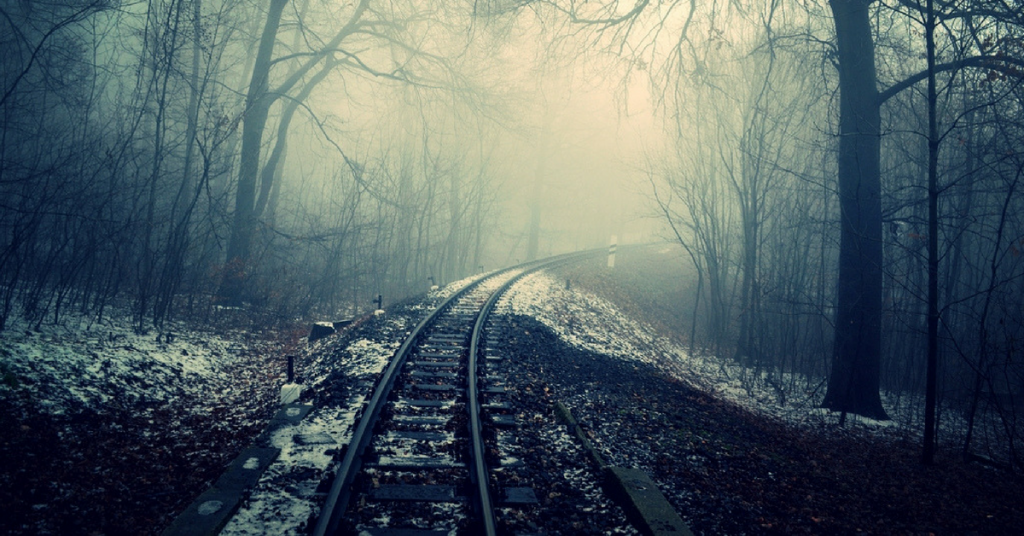 Scaring away customers is a real fear among businesses. When you're an entrepreneur, the goal is to attract customers so that you can convert them into sales. Unfortunately, there are online tactics that could be keeping your leads from converting into sales. Samsung's exploding Galaxy Note 7 is a big blow to the cellphone giant. Volkswagen's dubious emission results have resulted in losses for the company. These two are just a few examples of marketing gone wrong. Here are some marketing mistakes you could be making.
Unfriendly Web Design
When a new customer lands on your website, you want it to be easy for them to figure out how to navigate it. According to research, unfriendly web design is one of the reasons why customers do not linger on your website. To avoid dissatisfied guests, make sure that everything is easy to find. It is also best to have a FAQ section so that common questions can be answered easily. Make your call to action button clear and attractive. Prices and description of products should also be clear to avoid confusion.
Not Mobile Friendly
As the use of smartphones becomes more widespread, people are going to access the internet more and more using these devices. If your website is not mobile friendly and slow to load, your customers might get impatient and visit your competitor's website instead. Studies show that your website has to load in less than 5 seconds, or the customer leaves and goes somewhere else. Mobile ready websites are essentially pared-down versions of the original, which makes them load faster and fit in smaller screens.
Complicated Password Requirement
Most e-commerce sites require customers to register in order to facilitate the purchase process. Many customers are alright with this because having an account gives easier access. The problem is when you require your customers to give complicated passwords. Customers appreciate the security, but this is a double-edged sword. Your customers will forget passwords that are too complicated. One way to combat this is to use social media logins. This way, they have fewer passwords to remember and can share purchases on social media, which for you is a form of free advertising.
Poor Delivery Time and Options
One of the reasons why people shop online is the convenience. Free shipping is a good way to tempt customers, but studies show that fast delivery time outweighs it. Remember, online shopping is all about convenience.  A study from Dotcom Distribution states that 87% of online purchase decision is based on delivery time. Offer good and reliable delivery if you want to keep customers.
Inadequate Customer Service
Sometimes, the sale is not finished once the customer receives the item. There are instances where they will need additional information or assistance. Make sure you have live chat support, telephone support or even email. You might not need all of them but your customer might need 1 kind. Customers want a variety of choices for customer service. Remember that you want your customers to have a good experience when visiting your website because a bad experience could permanently turn them off.
Taking care of existing customers and attracting new ones is the very reason why businesses engage in marketing. Reinvigorate your marketing strategy by considering the tips stated above.
Top 10 Black Friday Deals for Digital Marketers 2020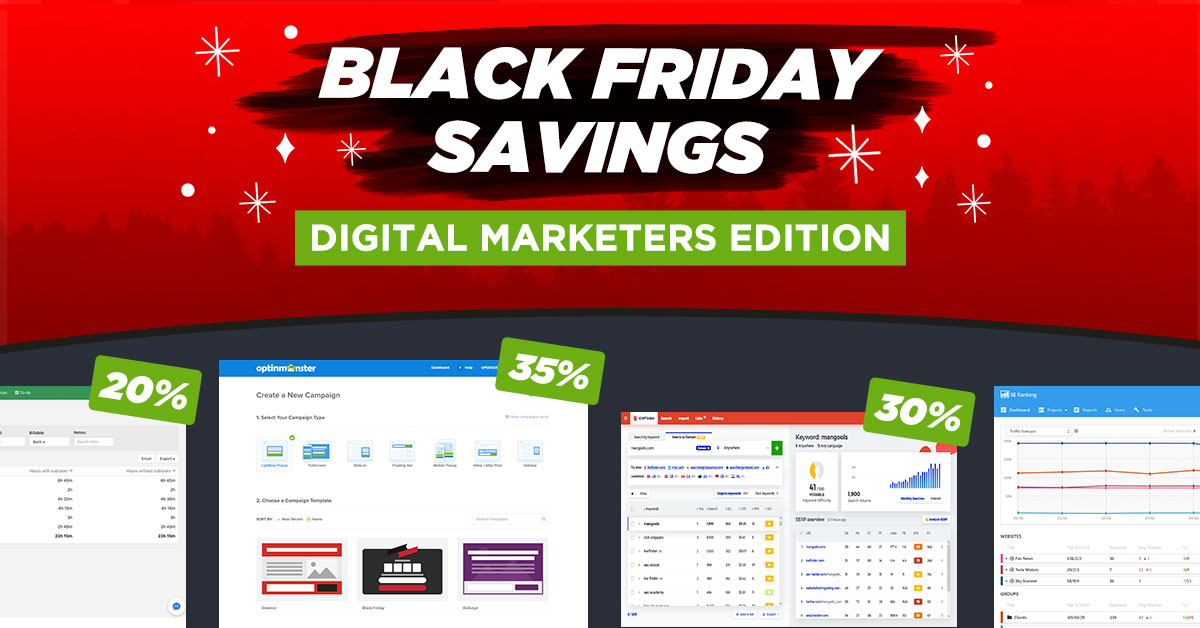 Rejoice, agencies and digital marketers! Black Friday deals aren't just for flatscreen TVs and doorbusters. This year, you can also get ridiculous discounts and offers for software and services to help take your business to the next level. Here are the top 10 hottest Black Friday deals you can take advantage of right now
Penji

We're marketers, not designers. And hiring freelancers is a time-consuming process I don't enjoy. Meet Penji. It's a graphic design service that lets me work with a vetted designer on as many design jobs as I want – for a flat monthly rate of $399/m.
And if that deal isn't already good enough, here's their Black Friday promo code to make it even sweeter.
The deal: 50% off any plan 1st month. Use promo code OMBLK50. Code is limited to the first 100 customers. Valid from now until 11/29/20.
SEMRush

All the SEO tools you'll ever need under one roof. SEMRush's comprehensive toolbox lets you manage your SEO performance, track daily rankings, analyze your competitors, research backlinks, and much more. They're rated one of the most reliable and robust SEO tool on the market right now. Prices are usually more expensive than other software, but they're well worth the investment.
The deal: Get 30% off on the annual SEMrush Competitive Research bundle. Valid between 11/25/20 – 12/15/20. For new users only.
Timecamp

Want a time + activity tracking software your team will actually want to use? Then meet Timecamp. Timecamp has just what you're looking for. The SaaS software allows you to monitor activities and track your team's attendance. In addition to tracking, there are over 100+ integrations to the software you're already using.
The deal: Get 4 Months of TimeCamp for Free! Use this code at checkout: BFDEAL2020. Offer starts 11/23/20 and ends on 12/1/20.
SE Ranking

Marketing agencies and digital marketers are probably already familiar with keyword and competition monitoring software. You've probably already heard of SE Ranking for that matter. SE Ranking is a densely packed SEO tool with features such as competitor monitoring, rank/keyword tracking, keyword research tools and backlink analysis.
It even has auditing tools to show you what you need to fix on your website to rank better. We actually use this ourselves and love it.
The deal: Get 30% off ANY plans. There's also a small chance your membership benefits will double if you're one of 3 lucky winners after their drawing. Use code BLACKFRIDAY2020 at Checkout.
Email List Validation

Email marketing is great…when the emails actually deliver. Solve your email deliverability issue with Email List Validation. The software lets you verify and clean your email database to ensure you're only sending it to working emails.
The deal: Get 25% off all plans. No code needed, just visit link below.
OptinMonster

Remember when everyone keeps saying email is going to go away? Yea…here we are 20 years later. And OptinMonster is proving that email marketing is here to stay. OptinMonster helps you convert and monetize your website's traffic. Get your visitor's attention with event-triggered popups and capture their interests with exit-intent forms.
The deal: Get 60% off all plans.
SocialPilot

This one is for agencies and marketers managing multiple client's social media accounts. Put all of your client's social media accounts on SocialPilot and leave it on Auto-pilot (bad pun I know…) SocialPilot lets you create, manage, schedule, and even finetune all your posts in one place.
The deal: Get 20% off discount on all lifetime plans. No promo codes needed. Just check out link below.
LongTailPro

LongTailPro is for marketers, bloggers, and digital marketing agencies looking for an effective tool to help research and track long-tail keywords. In addition to its robust search feature, you can also track rankings for all your keywords on major search engines.
The deal: Get 30% off all plans with BONUS access to competitor research and SERP analysis tools.
Mangools

Mangools is more than just a keyword research tool. It's actually 5 tools combined into one platform, making it an amazing deal for marketers. You get the Keyword explorer, SERP checker, SiteProfiler, SERP watcher, and Linkminer all for the price of one.
The deal: Get 25% off
For Black Friday, Mangools gives a 25% discount on its SEO tools, including KWFinder, SERP Analysis, Backlink Analysis, and Rank Tracking. The offer data starts on November 29th.
HelpCrunch

HelpCrunch is a marketer's wet dream come true. Create chat automations and popups to guide and convert visitors. Have live chat to provide instant assistance to browsing prospects. Create a knowledge base for your customers to find answers themselves. And the list of feature goes on.
The deal: 20% off any plan
2020 Cyber Week Deals for Businesses and Entrepreneurs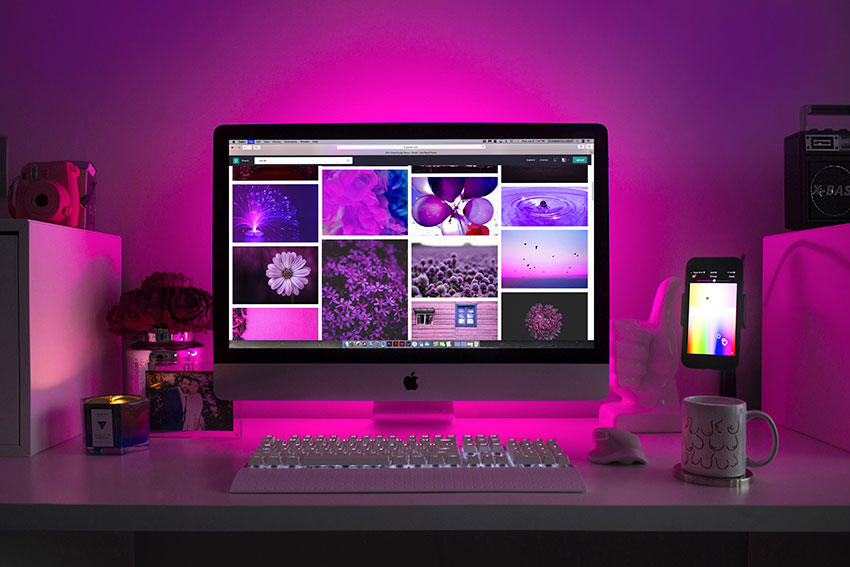 Are you looking for the best deals for Black Friday and Cyber Monday? We understand 2020 has been quite the rollercoaster. So, we compiled a list of Cyber Week deals specifically for growing your business. Here is the ultimate list of marketing, sales, lead gen, and SaaS tools you don't want to miss.
*Bookmark and revisit this page for updated Black Friday and Cyber Monday promotions.
Analytics
Business Development
Design
Email
Finance
Marketing and Social Media
Project Management
Web Development
We Used 99designs For Logos: Here's Our Review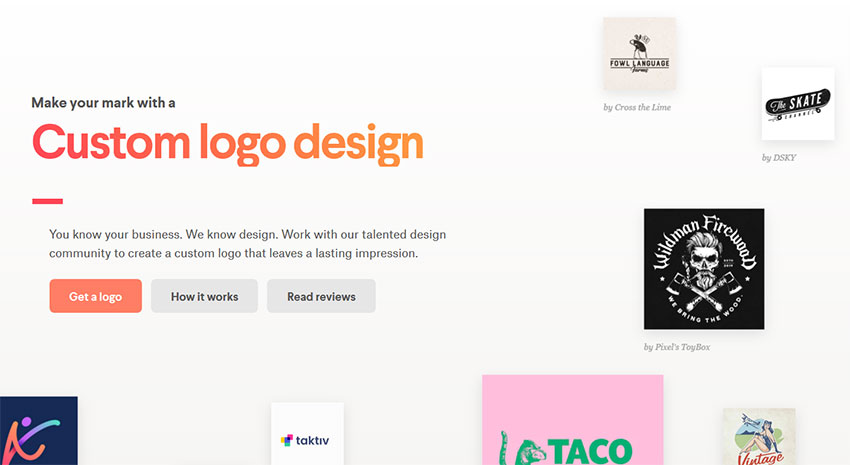 What is it like to use 99designs? We're going to go through the process of creating a design contest from start to finish to show you what the entire experience is like, so you can decide for yourself if 99designs is for you. For this 99designs review, we're going to follow all instructions given and document each step of our journey for you to see below.
For this test project, we're going to submit a contest for Owner's Mag logo to see if 99designs can interpret a better logo for us. Chances of me getting this approved and having the CEO change the logo is practically 0, but this will be a fun project that everyone in our office can contribute feedback to.
1. Creating our design project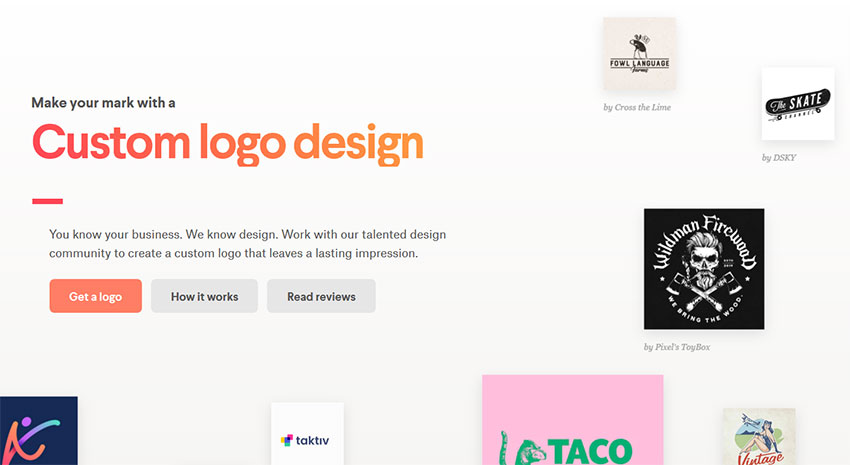 We went ahead and searched "Logo" and went through the process of creating the logo project. When selecting the business category, surprisingly there's nothing related to digital publication, news, or publisher there. We went ahead and chose "Internet" as our category.

2. Choosing a name
Now it's time to name our project. We're going to call this one "Owner's Mag Logo Design". Not sure if I'll ever get the approval to change the logo, but it'll be a fun project that everyone at the office can give inputs on.

3. Types of logo
Logos come in all different shapes, themes, and types. They can be just a word logo, icons, abstract, or something unique with a mascot. Here's where you can tell the 99designers what type of logo you want.

4. Choosing a style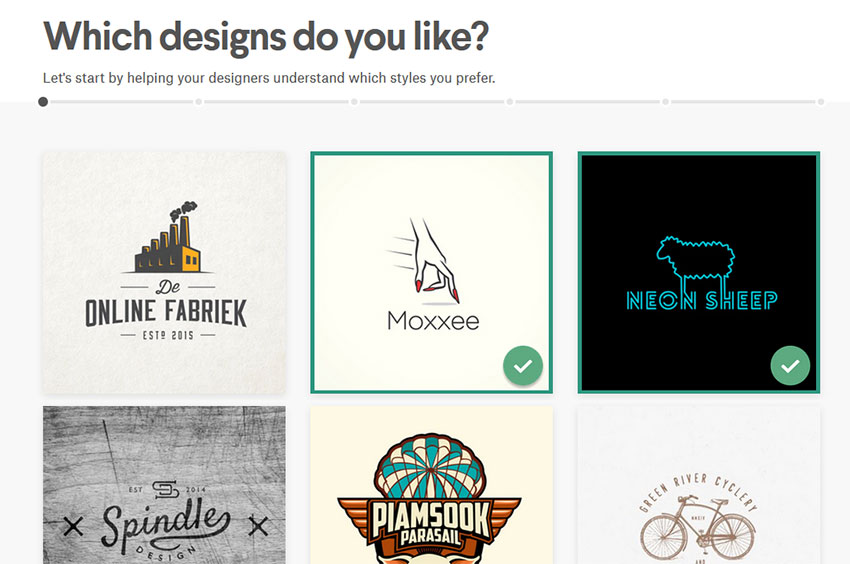 I like this section a lot. Sometimes it's difficult to actually describe what you want. Here, you can browse through a long list of logo designs that cover a wide spectrum of styling. Select the ones that best fit your taste and it'll give the 99designers a better idea of what you want.
I went ahead and chose a few text-focused logo, since Owner's Mag is a text-only logo. The selected examples in the screenshot above aren't the ones I chose.
5. Brand Style Meter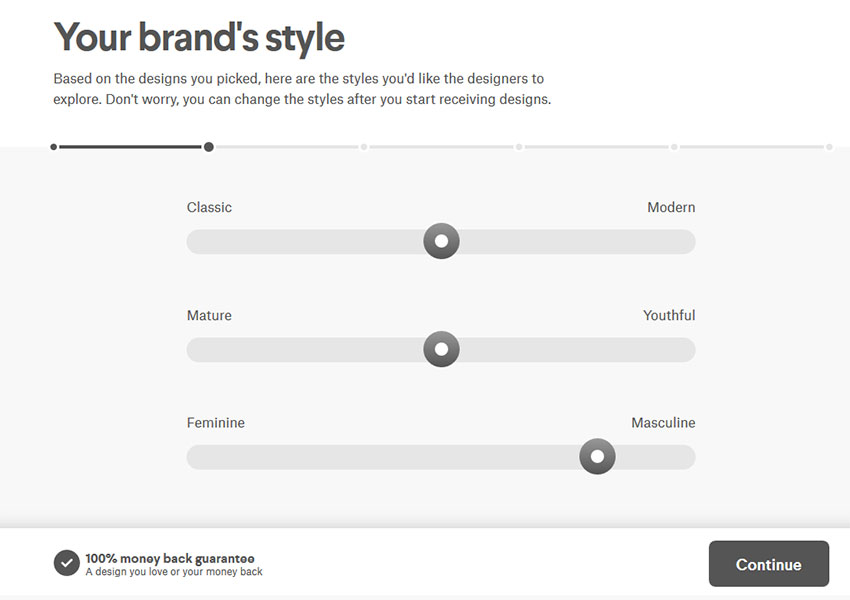 I'll be honest, this section is a bit weird for me. On this page, 99design asked me to explain the style I want using different sliding scales. There's more than the 3 listed in the image above. I personally had a hard time deciding if Owner's mag logo should be "Classic" or "Modern", "Mature" or "Youthful". Femine vs Masculine I can work with. But the other categories aren't intuitive for me.
6. Choosing Colors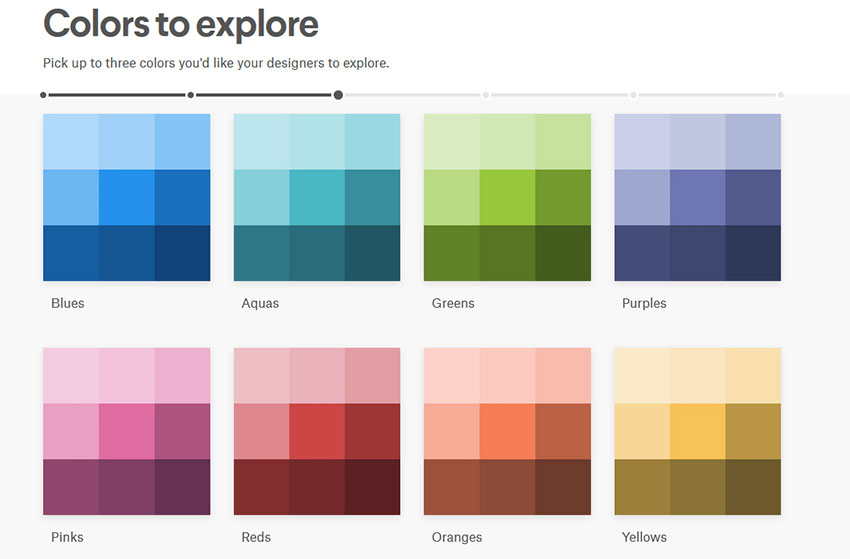 Now it's time to pick our color preferences. I stuck with "Reds".
7. Writing project brief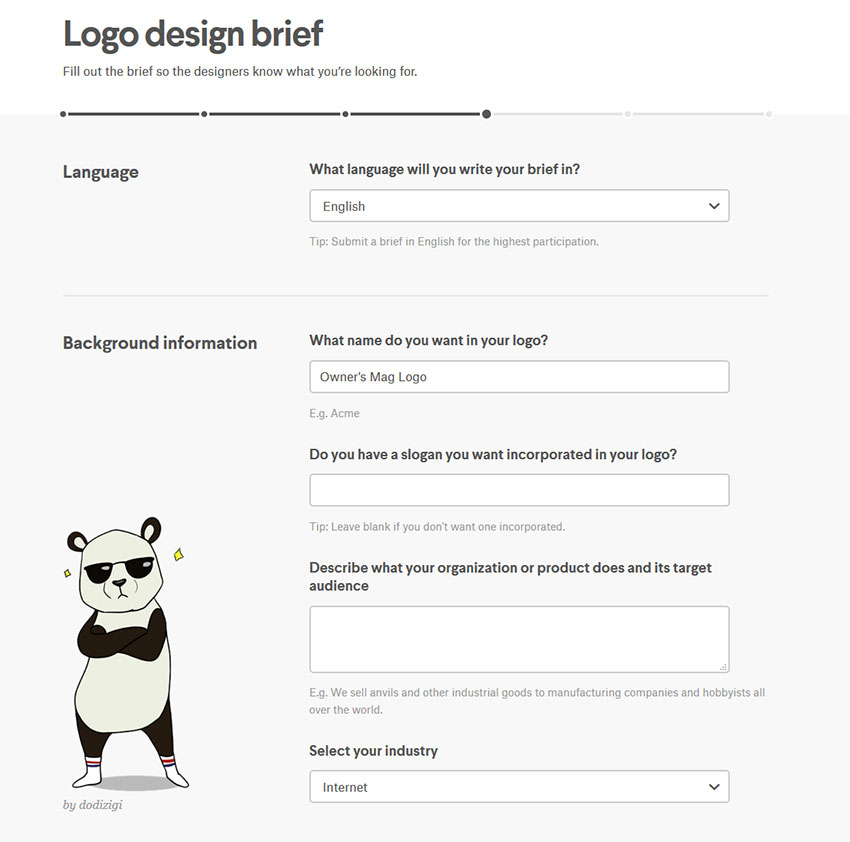 Filling out the project brief didn't take too long. The questions were straight forward and all makes sense. It is odd that the project brief itself is this far down the process.
8. Choose your package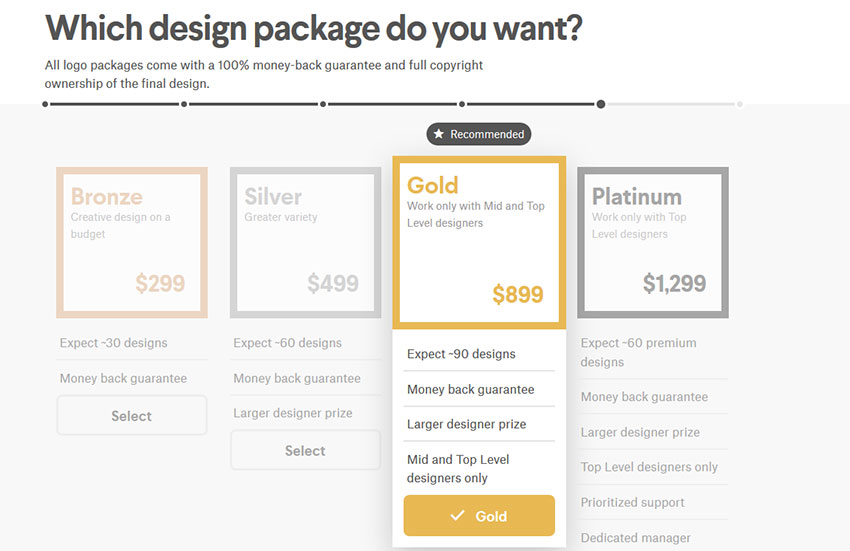 So far, we haven't paid 99designs anything. Now it's time for us to pick a tier for our plan. Although the Logo starts at $299, that's actually for the Bronze tier. The higher tier you go, the more submissions and higher quality the work will be. Or at least that's what 99designs promise.
For this, we chose the Silver $499 plan. We'll be expecting about 60 designs to be submitted with this package.
9. Add-ons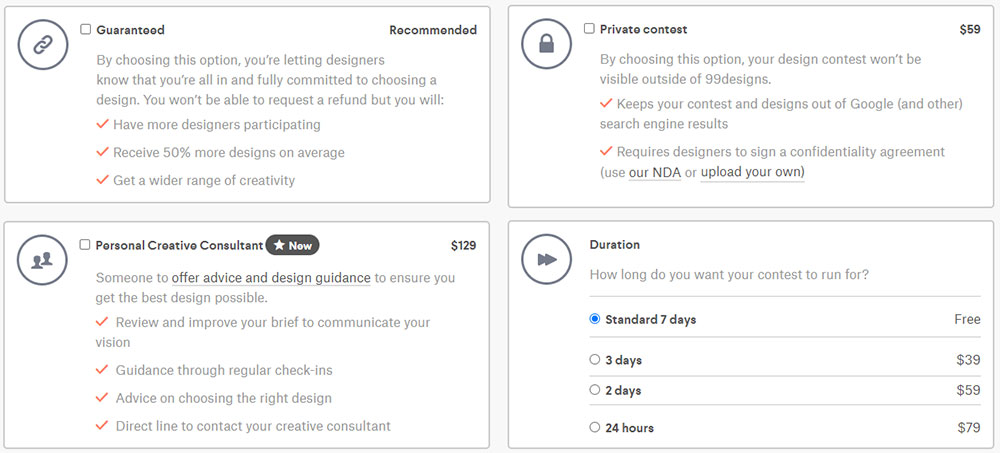 In addition to the $499 we're paying for the Silver tier, 99designs will upsell us for a few things. Some of these I think makes sense, others I felt should be included in the price I'm paying.
Personal Creative Consultant ($129) actually looks like customer support to me. I'm not a designer, of course I will need some help through this process. I felt like this should've already been included in the price instead of being a $129 add-on.
Guaranteed doesn't cost anything. But it will null your money-back guarantee. This ensures the designer WILL get paid if they make it to the final round. Because of 99designs' pay structure, this makes your project much more appealing to designers and more will likely submit drafts if you opt out of their guarantee.
Private ($59), this came as a shocker. I didn't know this would even be public. Why my project is even open to the public in the first place is beyond me. This doesn't feel right. Paying $59 just so 99designs keep my designs private seems like a scare tactic for me to cough up more money. Not a fan.
Duration lets you pay a bit more for faster delivery. For this, I feel the prices are fair and it's typical to pay more for expedited work anyway. You can pay $39 for 3 day instead of 4 day delivery, $59 for 2 days, and $79 for 1 day.
9. Complete! Now we wait…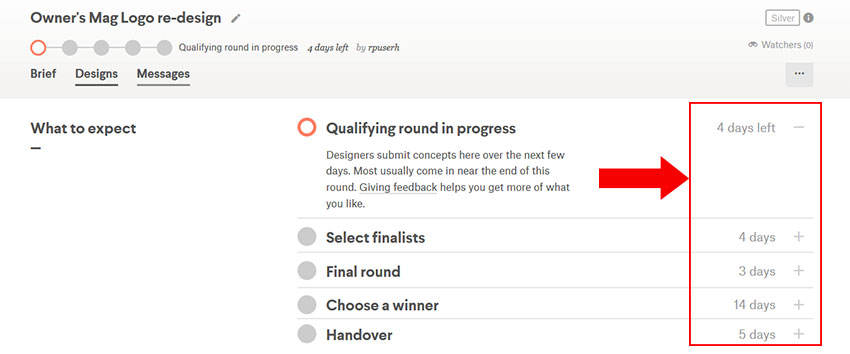 I opted to not purchase any add-ons for this review. Once paid, we're redirected to 99designs' dashboard where we can see the estimated timeline for the project. From today, it'll take about 4 days for all of the designs to be submitted. Each day some designers will submit their work and on the final day, the round will be closed and we have 4 days to pick finalists.
The Designs Are In!
First off, very disappointed that we only received 17 designs instead of the promised 60. I contacted 99designs support about the issue and they claim that they don't guarantee "60", even though their pricing tiers clearly listed "Expect ~60 designs".
Maybe the 17 designs we received are good? I'll let you be the judge of that before we give our verdict.
Here are the 17 designs that 99designers submitted to us after 4 days.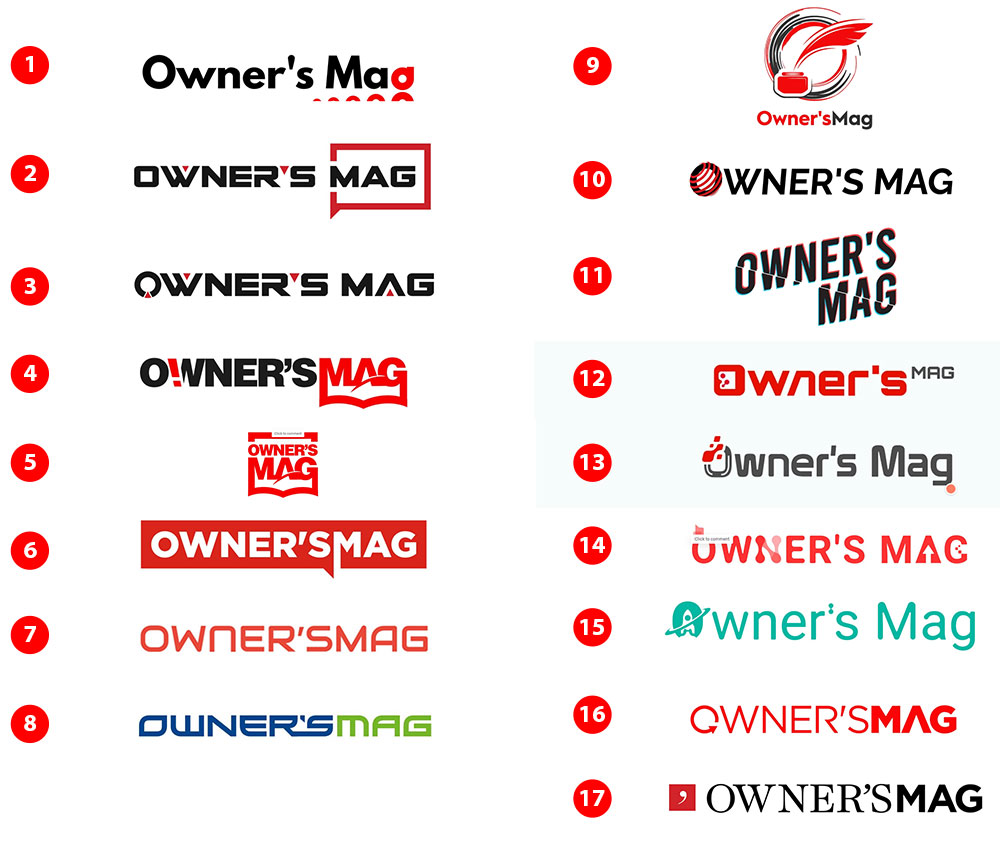 What does our office think?
We passed the designs around our office to get some initial thoughts. Most thought the designs were random and not aligned with any of the directions given. Some look templated. Others look like they just slap a random icon in front of the text and call it a logo.
Overall, none of us were impressed by the results thus far. We eventually picked #6 to give feedback just to move the process along, not because we love the design. We felt let down that only 17 versions were submitted since 99designs promised we'd get around 60 designs to choose from.
We submitted our revisions and now wait for our designer to spin something back to us.
4 days later…
We received new versions of logo #6 within about 3-4 days. Personally I wasn't happy with the new versions, but I shared the new designs with the office. You can probably guess how we all felt about the new drafts. Results…were disappointing and not what we had suggested. At this point, we didn't feel compelled to give any further instructions or move the project to the final round.
We're not happy
We decided not to continue the project given we're not happy with any of the drafts so far. Even revisions were still so far off what we would even accept. I understand graphic design is subjective, and that sometimes you just have a difficult client. I assure you, we're not that difficult and was looking for a very simple logo.
It was hard for us to justify even moving to the final round given the designers barely followed our directions. We specifically asked them to design the logo using our RED, and some of them ignored it completely. We asked them to NOT use any icons and just keep it text-based, yet there were logos with random icons.
Getting a Refund
Our experience could be a unique case and your experience could be much more pleasant. We eventually asked for a refund and was met with another obstacle. You can't get a refund on the website, they request a call to speak to you to "verify" your identity before releasing your refund.
This is an annoying step clearly put in place just to discourage refunds. I oblige and got on a call with a representative. The rep was understanding and didn't try too hard to sell me, which I appreciated. Our refund was promptly processed afterward.
Final Verdict
Our experience with 99designs has been mixed. I like how intuitive the website is and how easy it was to get your logo project started. The biggest let down were the number of submissions we received (17 instead of the promised 60) and the quality of each design. You can judge for yourself. Looking at the logos submitted, I didn't feel like we got even intermediate level designers. These just felt rushed, patched together, and overall unpolished work.
Giving revision was difficult because most of the designs were so far off base. I didn't know where to start, except tell the designer to re-read my project brief and start over.
Overall, it wasn't the best experience for us. We would've gladly paid an agency or a freelancer the same amount and get more dedicated care and attention to produce 2-3 good logos instead of 17 poorly design random logos.