Foot Cardigan Taking Socks One Step Further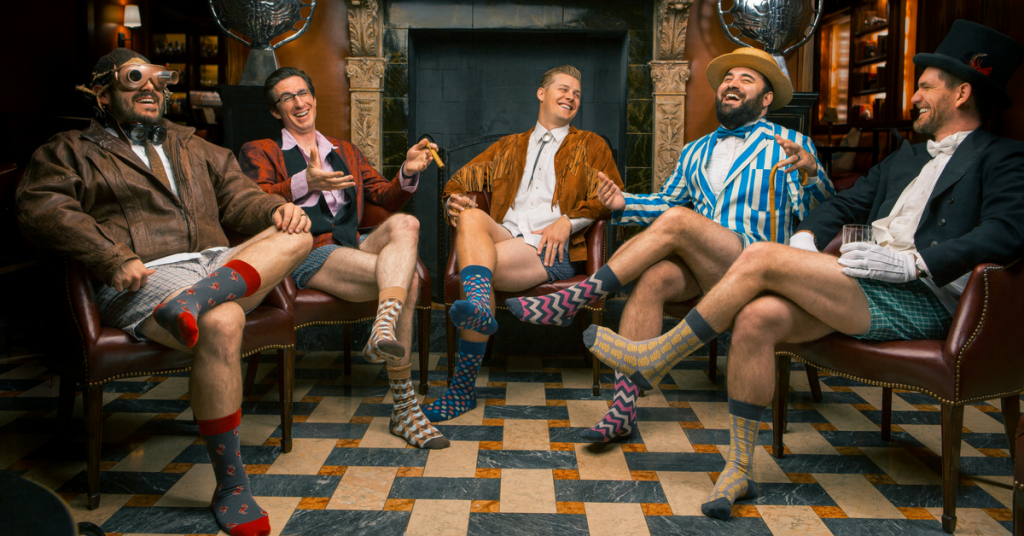 Seeing packages in the mail is probably one of the most underrated and exciting things that happen to us in our digital world. You may know them as the guys on Shark Tank that ripped off their pants. Foot Cardigan is a sock subscription that sends you random socks once a month. From holiday themed to socks covered in sushi, be sure to be surprised every time. Their fun, colorful Instagram feed is a small taste of what you will receive. We interviewed the founder of Foot Cardigan, Bryan Deluca, about how the company got to where they are today.
How did Foot Cardigan get started?
We fell in love with the subscription model after seeing that viral Dollar Shave Club video in 2012. Socks are a commodity so we knew we had a shot at having some success within the space if we came at it from a different angle, you know, like a subscription. Et voila!
Why socks?
The 'fun, crazy, fashion' sock trend was just getting going, so we kind of were at the right place at the right time. I had a little experience in sourcing so I was able to find our first factories and get that going. But I really loved the idea of taking this historically boring product, like a sock, and making buying/receiving it fun.
What makes your socks different from competitors?
Over the last four years, I think we've created our niche within the larger sock industry. Of course I think our product is as good or better than other brands out there, so when you're competing, you have to make sure there's just a quality standard there, or people won't buy your stuff. But beyond that, we've really separated ourselves with our design aesthetic. The words 'whimsical' and 'fun' are probably the most circulated within our design team. But really, it goes beyond the socks. It's the brand. The tone. It's unique to our industry.
Describe your subscription service.
Most people don't think about buying socks until they have to. They've got holes in their current ones, so now they've got to go to the store to buy new ones. It can be a hassle. But with Foot Cardigan, we give you something you need (socks), and we give you an experience you wouldn't expect for such an historically mundane product. You get a random pair of fun socks in your mailbox every month. You don't know what you're getting until you open the package. That's one of our customers' favorite things about us. We make the decision for them, and they get the surprise in their mailbox. No one gets fun mail anymore. And we're proof that people still crave it.
Tell me about your team.
It's really a privilege to work with them every day. They work really hard and are really smart. About half our team is operations and customer service and the other half is marketing/web. It's a good blend of creative people. When I say creative, I don't mean just the designers. We need every position to be creative, with how we respond to customers and how we ship out socks.
Describe your company culture.
It's pretty much exactly what you'd expect from us. Meaning, if you've been to our site or received our socks and you walked into our office, it would make complete sense to you. A lot of laughing. A lot of energy. Whimsical decor. Every person on our team is empowered to do their jobs. And they're encouraged if they make mistakes, because when we make mistakes, we learn and get better. We love taking risks. Sometimes they work and sometimes they don't. We give our team the freedom to think about how to do things better, without the fear of judgement. That matters.
How has being on Shark Tank and HSN affected your business?
The've both been really great. Both are experiences that you never expect to happen, but when they do, you're kind of like 'WHAT?!?! Did that just happen?' But yeah, our business greatly benefited from both experiences.
Do you plan on expanding your product line?
I'm so excited about this. Over the last four years, we've launched four products. In the next 12 months, we have plans to launch almost double that.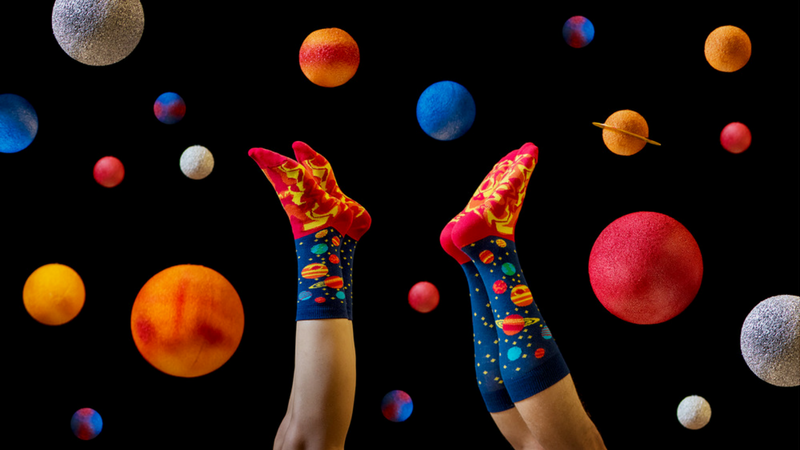 What inspires you?
My family. They are my rock. My three-year old doesn't care that I was on Shark Tank and she doesn't care if I had a challenging day at work. She just wants daddy to cuddle her and play Candy Land. That's really refreshing for me. I thrive off seeing my friends succeed. I have a lot of friends in different industries that are so damn good at what they do. When they have victories, we celebrate, and when they fail, we cry. Being around people who challenge themselves to be the best they can at what they do. That gets me every time.
What is the biggest lesson you've learned so far?
To soak in every single moment of this ride. I find moments every single day to be thankful. I often find myself saying 'I can't believe I GET to do this every day.' Because I'm not guaranteed this will last forever. So I'm going to enjoy it while I can. Tomorrow, the world could decide that socks are terrible inventions and we're going barefoot, and we'd be done. Unless we made socks that looked like people were barefoot….I'll be right back….
What are some obstacles you've come across?
Growth. While it's really exciting to be growing, it's also really challenging. 2/3 of our team have been here less than a year. We've had to create things like an organizational structure, training, etc. Navigating inventory management with our model can be tough, but we're getting there. Oh, and things like at the beginning when we had to figure out how to tell people to buy something that they didn't know was a thing. That was strange.
What was the proudest moment for Foot Cardigan?
It had to be the first customer who bought a subscription that none of the co-founders knew. We went ballistic over the fact that someone who wasn't obligated as a friend or family member bought a subscription because they just loved the product. I'll never forget that.
What is some advice you can give to someone building their own startup?
Get over that fear of failure. I see that the most from people. They work on their thing for a couple years and it never sees the light of day. No one will ever care about your thing as much as you do. We had the idea and launched in 2.5 months. It wasn't the best first site, but it sold sock subscriptions. We tweaked it from there. So yeah, just get your thing out into the world. Don't waste time and money building something people don't want. The sooner you push it out there, the sooner you'll know if it's going to work or not. That's invaluable.
Marketing Lingo you need to know for 2018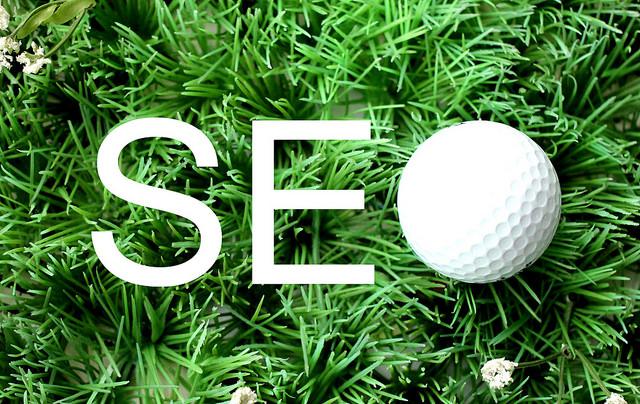 7 Marketing Lingo you need to know for 2018. If you own a small business, chances are you're wondering how you're going to market yourself.  Looking online you're going to find quite a few article and resources for marketing, most of them coming from marketing company themselves.  Give or take an hour of research and you're pretty much ready to quit because there's too many options and because you're not a part of the marketing or digital marketing world, all the lingo being used such as SEM, SEO, Digital Marketing, etc. becomes overbearing. That's ok, we've created a short guide for you to follow that will help you better understand the world of Digital Marketing. These are the essential keywords and lingoes in digital marketing that you'll need in order to navigate marketing information.
SEO (Common marketing lingo)
The first is the most common marketing lingo. Search Engine Optimization.  This is a service that many digital marketing agencies provide to help get more people to come to your website via an organic search result.  When someone online searches for a keyword that your business represent, your website will come up on the front page.  They will then click on your link and be directed to your website.  This doesn't guarantee business, but it does increase the likelihood of you getting more leads and sales.
SEM
Search Engine Marketing.  This service is similar to SEO because it rely on you getting good rankings on the 1st page of Search Engines.  The difference is that SEM depends heavily on paid advertisements to get you there instead of appearing there organically.  You know those ads on top and on the side?  Those are probably the works of an SEM Campaign. Learn more about Search Engine Marketing here. 
PPC
Paid Per Click.  How SEM does it's work is through a Google service known as Paid Per Click.  This is where you pay Google to place your business on the front page in the form of an advertisement.  Whenever someone clicks on the advertisement, you pay google a small fee (anywhere between 50 cents to $20 depending on keyword and competition).
SMM
Social Media Marketing.  The goal for this is to deliver traffic to your website via Social Media.  Depending on your business certain social media platforms may be better suited for you.  A clothing/retail business may benefit more from Instagram and Pinterest than Twitter for example. Learn how to maximize your social media's effectiveness here. 
Digital Marketing
Digital Marketing is a broad spectrum of online marketing services.  Typically a Digital Marketing campaign will include more than one services to accomplish a goal, whether it be branding or simply more traffic and customers.  Digital Marketing can include SEO, SEM, SMM, PPC, and many other online-related marketing services.  Typically it doesn't include direct mail, bill boards, or bus wraps.
CPC
This marketing lingo stands for Cost Per Click and is most common with Google's Pay Per Click model. However many other advertising platforms also utilize CPC to determine the effectiveness of a campaign. Cost per click simply means how much does it cost you every time someone clicks on your promoted ad. Usually you want the CPC to be low, that way you won't have to pay more for people clicking on you ads.
Conversion
This is a confusing marketing lingo because it could mean a lot of things. Conversion could mean the rate at which someone goes onto your website and then converts to become a customer. Your formula would be Sales conversion / Visitors. However Conversion can be something completely different if you're advertising on Google, Facebook, of Instagram. Conversion doesn't mean sales on your website, it could mean simply someone converting and eventually browsing to a desired page on your website, however not necessarily making any transaction. Learn about social media conversion here. 
Simple Ways To Thank Your Clients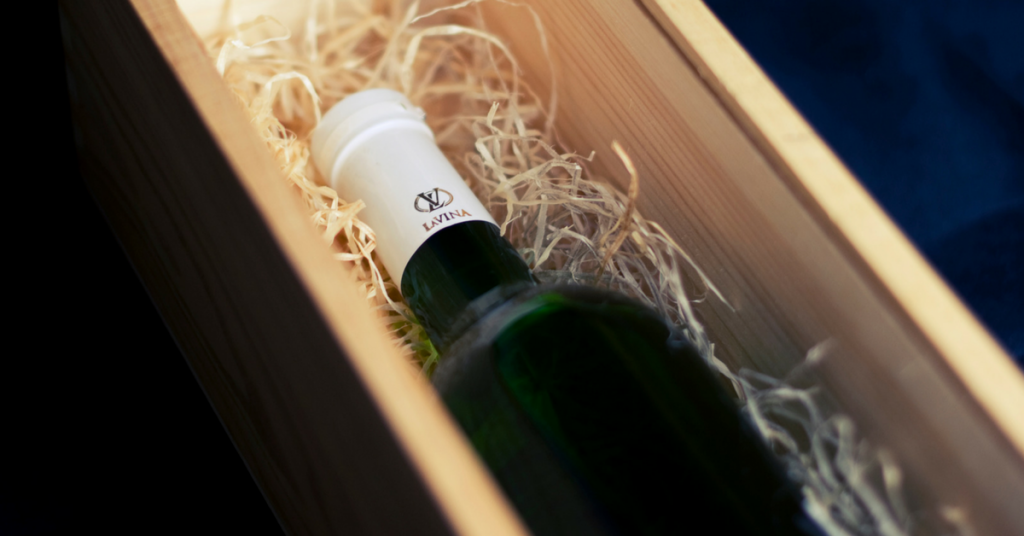 The consumer market has changed drastically. Due to the extreme changes to the way we shop, entrepreneurs are trying to come up with ways that empower customers to have an enriching and engaging experience. Businesses are conducting lots of surveys to collect valuable data and conducting research activities to gain analytic insight using the data to better understand consumers. In simple terms, they are trying to have an advantage over their competitors and trying to attract more customers by offering the best products and services. Thanking your clients is extremely important for customer service and making them feel special.
Various market surveys have concluded that other than providing a better product at a cheaper price, there is one factor which separates each and every business. This unique feature is the customer experience which every business house is concerned about. Several consumer studies have been able to prove that the clients generally tend to pay much more for a better experience. Excellent customer service improves the brand loyalty of any business as well as increases your goodwill amongst the customers. One way to increase your customer loyalty is to thank your customer for their patronage and make them feel special. Here are some of the ways you can thank your customers:
Providing gifts to the customers
Gifts such as mugs, t-shirts, chocolate boxes, and other tokens of appreciation help to win the customer's heart to a large extent. Such gift items can be presented to the customers on certain special occasions such as their birthdays, anniversaries or even on certain holidays such as Christmas or New Year. Gifts can also be sent on any normal day just to show some gratitude to a loyal customer.
A note of thanks
There are a lot of options available to thank your customers, but you should choose the ones which help you with personalized connect. One such method would be sending a simple thank you note. Though there might be a notion that handwritten notes are old school techniques and have lost their charm, it is completely incorrect. The fact remains that with the advent of technology, things such as handwritten notes have become extinct, but instead it has an even greater impact on the people today than in the past.
A day to celebrate with the customers
A day or two must be assigned to celebrate with your customers and value their loyal patronage. There can be special promotional sales and a grand lunch or dinner on these dates for the customers. One should send special invitations to the customers and invite them to have a fun and enjoyable day out.
Reward for the referrals
A referral is the highest compliment which you can receive from your client and it is very useful for the growth of any business. Such gestures from the customers always deserve recognition from your side. This recognition could be in the form of simple gift cards, thank you messages or even discount coupons on goods and services. You always need to appreciate when any customer provides you with more business.
Food
Each and every one of us love food. You could easily send some cakes or cookies from the local bakery to your customer's' office to show your appreciation for their cooperation.
Work can become as enjoyable as leisure if you have a cordial relationship with your clients. The above mentioned ways are great ways to thank them and appreciate them for all the trust and cooperation.
"I'm Fat Let's Party" Guy: Life as a Celebrity Meme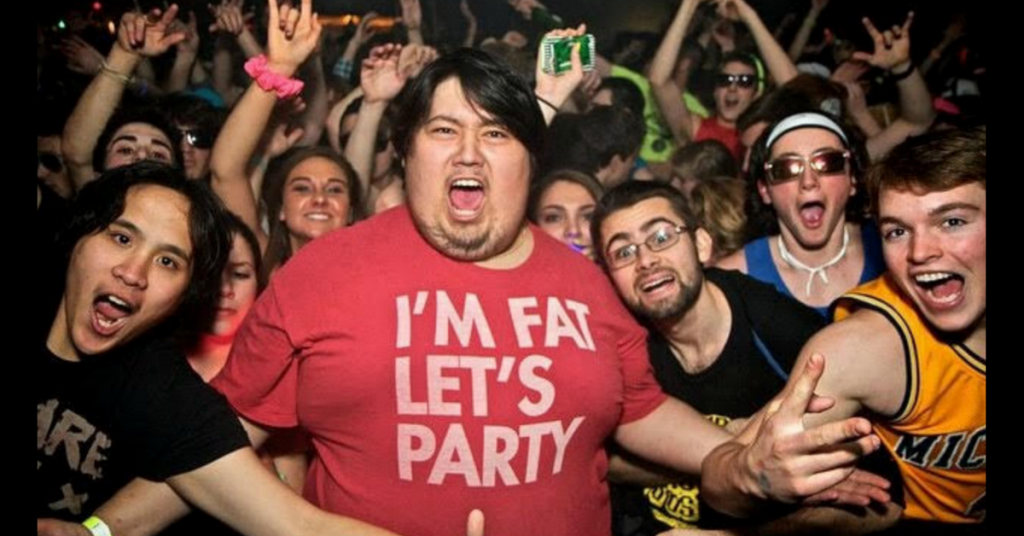 The internet has done a lot to disrupt culture.  Once upon a time, styles, techniques, communities and information were only as transmutable as cable TV and word of mouth.  When compared to the rate of change we see today, the evolution of content has moved from a slow creep to nearing light speed.  Ten years ago the lifetime of any trend in humor could last months, and before that years.  These days, you see a popular meme "break the internet" but one week later a new one is there to take it's place.
Imagine if Charlie Chaplin had risen to fame in this day and age through the vehicle of The Meme.  Would he still be as iconic?  As immortal?
I spoke with Steven Lee… also known as "I'm Fat Let's Party" Guy.  Steven's meme has been sported on the front page of reddit twice and has garnered over 400k in likes and shares on social media within the first hours of being posted.  As it happens, Steven and I actually went to the same schools growing up.  However I am jealous because I cannot say that I grew up to be a world-class meme.  I got the chance to speak with him about Memeology.  Here's what he had to say: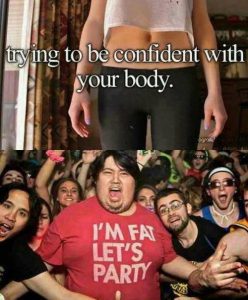 1.  So let's hear about this party…  
The picture was taken in 2011, I was with my friend Dave Leek. We went to Philadelphia at Drexel Factory for a concert. The head Dj was Alesso. When we got there I found out my friend Dj Dubsef was opening so we were allowed in early. When the concert started, since we got in early we got front row, right in the middle. It was crazy we were just having a blast and I saw the photographer "
ATOTHE
" and I just made that pose and everyone went along with it. It was great the high from just being at the concert and all the fun I was having was crazy mainly because I was completely sober. We didn't drink at all it was just the energy that gave me like a high feeling. Definitely an amazing feeling.
2.  Now let's hear about this shirt…
The shirt I got back in 2010 at Comic Con NY. It was at a booth called "Seibei". They were super nice. After I became the meme I sent them an email about it. They thanked me and I told them that I ordered another shirt from them.  They said they were going to throw in some more for me. It was amazing because I ordered two shirt but when the package came they gave me three more shirts two of them were different color versions of the "I'm Fat, Let's Party" shirt. One in black with yellow letters and one in sky blue with yellow letters too. Another note about Seibei is that when I went to Magfest 2015 I got to meet the creator of the shirt there. He was working his friend's booth there and I haven't officially met him before so it was great. Once he saw me he told some customer "I'm sorry but I need to hug this man really quick." He is an amazing man, his name is David by the way. In short, I have three different colors of the shirt.
3.  Who first memed this?  Tell me about the moment you realized it went viral.
So going back to the Photographer "ATOTHE" he posted the original photo on his Facebook page. Then someone who I still don't know posted it to "reddit" and it blew up from there. It's funny I never heard of reddit before that. I saw the post after 14 hours of it being posted and it already had over 400,000  reblogs and likes. It was weird because in the comments some people knew who I was, telling them I lived in NJ and that I went to high school. Some said that I quote "omgz he snapchats me everyday". The worst part of it though was the comments about body confidence saying that I have a mental problem about my body. Then there were other people arguing about it. It was pretty nuts. Also in the comments were people who started to photoshop me into a ton of different memes.  Basically the reason it became a big deal was because it made the front page of reddit and apparently posts only get the front page when it's discussed and reblogged a ton.
4.  How old is this meme now?  How often do you see it reappear? 
It's about 5 or 6 Years old now. It has been reappearing all the time. It's been on the front page of reddit now about 5 times and when it gets posted the meme evolves, which is cool.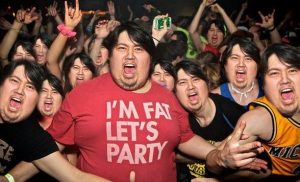 5.  What has been the most surprising side effect of being a "meme guy" so far?
The most surprising part of being "that guy" is that people from all over the world knows the meme and some of them actually know who I am due to mutual friends. The funniest/weirdest time I got recognized was when I was working as a cashier for FiveBelow. These two kids age probably around 12 and 10. They made a comment while I was ringing them up. It was "oh must be a party over here". I was confused at first but then I looked at them and I asked are you referring to the meme. Their faces lit up in excitement when I caught on. What made it weird is that their father was confused and asked what are you guys talking about. My response was that they saw a funny picture of me and he gave me the most confusing look ever. It was funny and weird lolz.
6.  What are your thoughts on meme culture and memes as a vehicle for humor?  What's your favorite meme?  
The meme culture is huge, when it first started it usually was the same pictures with new phrases on them. Now new memes come out every other week. The convention I went to had a huge meme culture following in it. There were people who cosplay a meme that just got popular only a week ago. It's crazy but I also believe sometimes people make memes and take it to a new level. Now memes are videos too. They went from pictures to videos… now that's huge step. But again some of the memes are just too much for me and are part of that I wanna say is stupid humor like doing the stupidest things on purpose.
My favorite meme of all time?  Arthur Fist.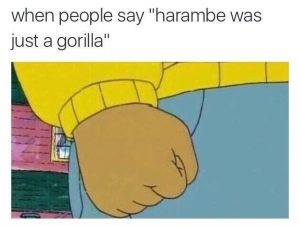 7.  What do you like most about your meme?  What do you like least? 
What I like most about my meme is that I met people who told me that the meme gave them the courage to go out and do things and that made me feel better about themselves. Even though I just was at a party having fun. The thing I like least about it is that some people think that I'm someone who just parties all the time and that makes them think I'm not someone who actually has a head on their shoulders. It sucks but I usually just ignore those guys because everyone has, haters am I right?