Scams To Avoid During The Holidays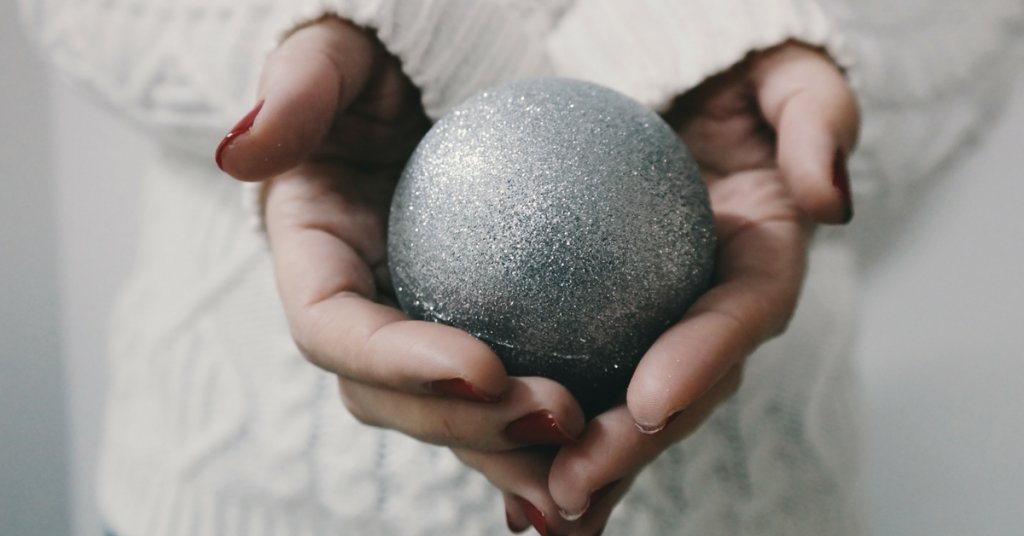 The Holidays is a special time and makes us more aware of our blessings and the needs of other people. It is during this time of the year that many people choose to give a part of that blessing to people who are needy. Unfortunately for us, it is also the time for unscrupulous people to come out of the woodwork to take advantage of this generous spirit. Giving during the Holidays is good and it is encouraged. However, it is also better to be vigilant to ensure that the right people benefit from the generosity. Here are some charity scams to avoid during the holidays.
Fake Charities
During the Holidays, giving is at its peak. It is no wonder then that charities sprout like mushrooms during this time of year. While there are many legitimate charities, be wary of fake charities that aim to take advantage of people's generosity. If you want to give to charitable institutions, give to those who make a public record of donations. The Salvation Army or Toys for Tots are good examples. In order to weed out fake charities, limit your donations to charities that provide financial statements. Check your local business bureau or the chamber of commerce for documentation.
Unfamiliar Websites
Just like fake charities, websites should be taken with caution during the Holiday Season. The FBI cautions shoppers not to shop on websites that look dubious, do not have SSL certificates, or have third party payment systems. Most of these sites are easy to spot since most of them offer products at unbelievable discounts. If it sounds too good to be true, it's probably a scam. The authorities also warn against wiring money as payment, because once money is wired, it cannot be recovered again.
Be wary of emails from e-commerce sites too. Some of them contain links that lead you to purchase products at big discounts. The problem occurs when you pay and they ask for your credit card information. These sites are setup to fish for information so that the scammers can use your financial information later on.
Social Media Mash Ups
Social media is a popular way to connect, which is why it is now a popular way to dupe people out of their hard earned cash. Social media is now being used by scammers to plant malware in your computer. Users of social media should refrain from accepting friend requests from people they do not know.
Aside from malware and viruses, scammers also use social media to monitor your whereabouts. If you frequently post what you're doing or post purchases, they can use this information to track you down and possibly rob you. Think Kim Kardashian and France before posting anything sensitive online.
Apps
Did you know that downloading fake apps can lead to scams? When you download an app, it requests permission to access information about you that's already stored on your mobile device. If you download a fake app, it can use this information such as your credit card details to buy products. To avoid downloading fake apps, use apps of trusted developers and to look for reviews before installing.
Lesbian Bars Were Dying. Now They're Making a Comeback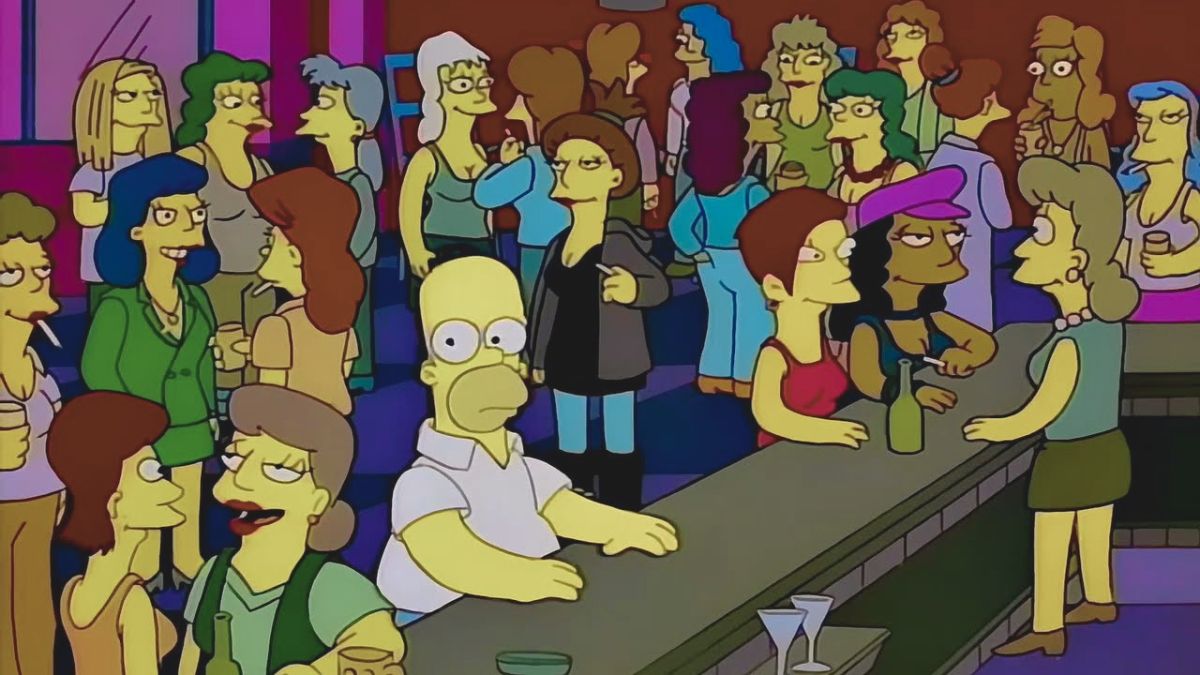 You've at least seen the headlines in passing by now. 21 lesbian bars remain in America. The rise and fall of America's lesbian bars. Why lesbian bars are disappearing.
It's true that the once-thriving niche of lesbian bars has dwindled to a small smattering. Most of those that remain are clandestine tourist destinations littered around the heartland. Indeed, these bastions of lesbian community are now few and far between.
But recent developments may be changing that. As easing restrictions allow bars to open back up, grassroots campaigns are poised to save lesbian bars from the brink.
Let's back up a little.
The origin of lesbian bars
If you're a fan of Moulin Rouge (or French history, I guess), you might know a bit about the inception of the modern lesbian bar. Artist Toulouse Lautrec often chronicled the lesbian nightlife in turn-of-the-century France. Bars like Le Rat Mort were owned and frequented by lesbians.
This phenomenon spread to other areas of high society in the early 20th century. In Weimar Germany, lesbian entrepreneur Elsa Conrad owned multiple such bars. Bars for women were a rarity in the US at the time, but the upper-crust Cafe des Beaux Arts, which operated in New York from 1911-1921, is cited as an early example.
Prohibition and its aftermath
When we talk about the modern history of lesbian bars, the clock usually starts after Prohibition's repeal in 1933. Bars like Roselle Inn in Chicago and Mona's in San Francisco opened shortly thereafter.
It's worth noting, however, that lesbian bars truly started to pop up during Prohibition. Where women had previously been legally discouraged from drinking, the total prohibition of alcohol was ironically an expanding force. Women could drink freely in speakeasies, and even own them.
The lesbian bars that sprung up after Prohibition were the offspring of the lesbian speakeasies that came before, such as Eve's Hangout, which was shut down after a 1926 police raid.
The golden age of lesbian bars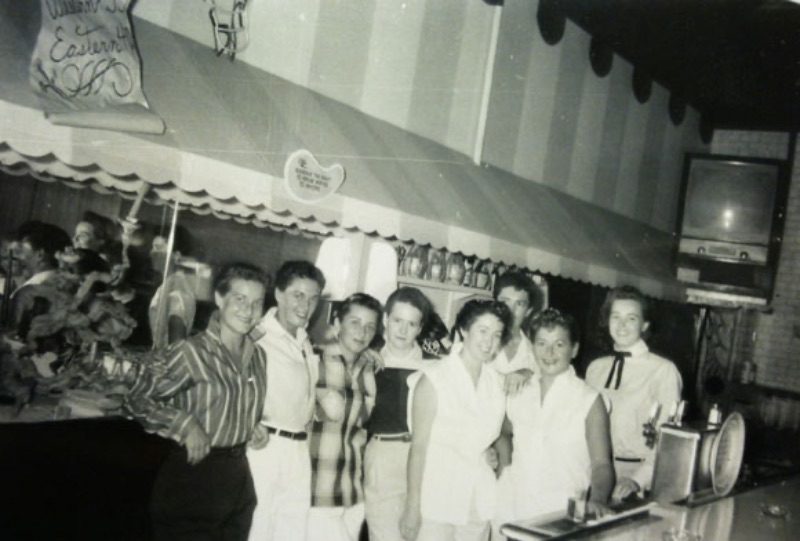 Lesbian bars and communities continued to grow, aided by the growth of cities and economic prosperity that followed WWII. Bars of this era still faced plenty of threats. Gay activity was still criminalized, organized crime was eager to capitalize, and internal debates split the community in twain.
In the '50s, de facto segregation and economic inequality kept many Black lesbians out of major lesbian bars. So did rigid attitudes about lesbian coupling built around butch/femme (or stud/femme) binaries.
Gay rights!
The first lesbian political organization, the Daughters of Bilitis, was formed in 1955. This was an early motion in the broader LGBTQ+ rights movement, which shone a national spotlight on lesbian and gay communities.
As the movement grew throughout the '60s, so did identification with/interest in lesbianism. As lesbian feminism developed in the '70s, lesbian bars became activist spaces in addition to social ones. By the '80s, there were over 200 lesbian bars nationwide.
There's just one problem, and it's a problem that emerges any time social spaces become political ones: politics create conflict. Divisions bubbled over who should and shouldn't be included in lesbian spaces, from trans women to straight "political lesbians." This fed into the damaging notion that "lesbian" itself was an exclusionary term.
The slow, painful fall
These divisions persisted, but lesbian bars remained fairly prevalent throughout the '80s and '90s. New movements led to new expansions. The Combahee River Collective helped open doors for lesbians of color. The community was ravaged by the AIDS crisis, but activism on that front helped bring the broader LGBT community together. By the mid-'90s, the Lesbian Avengers were bringing lesbian issues to the forefront of the community.
So, what did kill the lesbian bar? 9/11? The recession? Is it somehow Ellen's fault?
The truth is, there was no one incident that sent lesbian bars into freefall. The more society as a whole accepted lesbians, the more patronage for these tight-knit neighborhood bars dwindled.
Meanwhile, over the course of the '00s, people kind of stopped meeting each other in person. The social role that lesbian bars once played could now be fulfilled much more accessibly by online forums, and later social media.
Statistics show that interest in the "lesbian" label itself may have declined in the '00s and '10s as well. Post-lesbian discourse has tended to frame the label as too exclusive. While the broader LGBTQ+ community grew substantially in the 21st century, the lesbian community didn't experience the bulk of those gains.
The ravages of COVID-19
Articles about the dramatic decline in lesbian bars started to pop up in the late '10s. In 2019, it was estimated that only 15 such bars remained (in fact, there were 21). A string of closings occurred throughout the '10s as business dwindled and rents went up.
When COVID hit, activists like Erica Rose and Elina Street sounded the alarm. Rose and Street started the Lesbian Bar Project, a campaign aimed at fundraising to keep the remaining bars open.
Lincoln, NE's Panic Bar closed in November 2020. In Philly, Toasted Walnut shuttered in February 2021. Even as Lesbian Bar Project and other campaigns shined a national light on the issue, it seemed like the institution was quickly becoming a thing of the past.
But wait, there's more?
A confluence of factors led to increasingly dire conditions for the country's remaining lesbian bars. Pandemic-era restrictions were the final straw for many. But then, something shifted.
See, the pandemic may have kept us apart from each other, but it also reminded us how much we miss sharing a space. As restrictions were lifted, grassroots movements started to form dedicated to providing new, in-person social spaces for lesbians.
The lesbian bar revival
As the tireless work of the Lesbian Bar Project kept the remaining bars afloat, social groups and pop-ups started to form across the country. Lesbian Social Detroit. SHELiFE in Miami. Sip City Mixer here in Philly.
These groups coordinate regular events that go beyond the narrow scope of a bar: picnics, beach parties, sporting events. At the same time, they reflect a growing, vibrant, and (contrary to the popular stereotype) inclusive lesbian community nationwide.
As You Are in DC began as a pop-up series, but has now set up a permanent home. The Sports Bra, the first women's sports bar, is now open in Portland, where another lesbian bar (Doc Marie's) is opening just this week.
You can thank Lesbian Bar Project for their tireless work keeping remaining lesbian bars alive. You can also thank the internet which, once thought a detriment to the lesbian label, has now invited a new generation of lesbians to flourish.
Looking ahead, more of these pop-ups are trying to set up brick-and-mortar locations. Dave's Lesbian Bar in Queens is fundraising at its monthly events; so is Hot Donna's in LA.
Thanks to a renewed focus on community organizing and mutual aid, things are finally looking up for the humble lesbian bar.
4 Best Time Management Courses on Udemy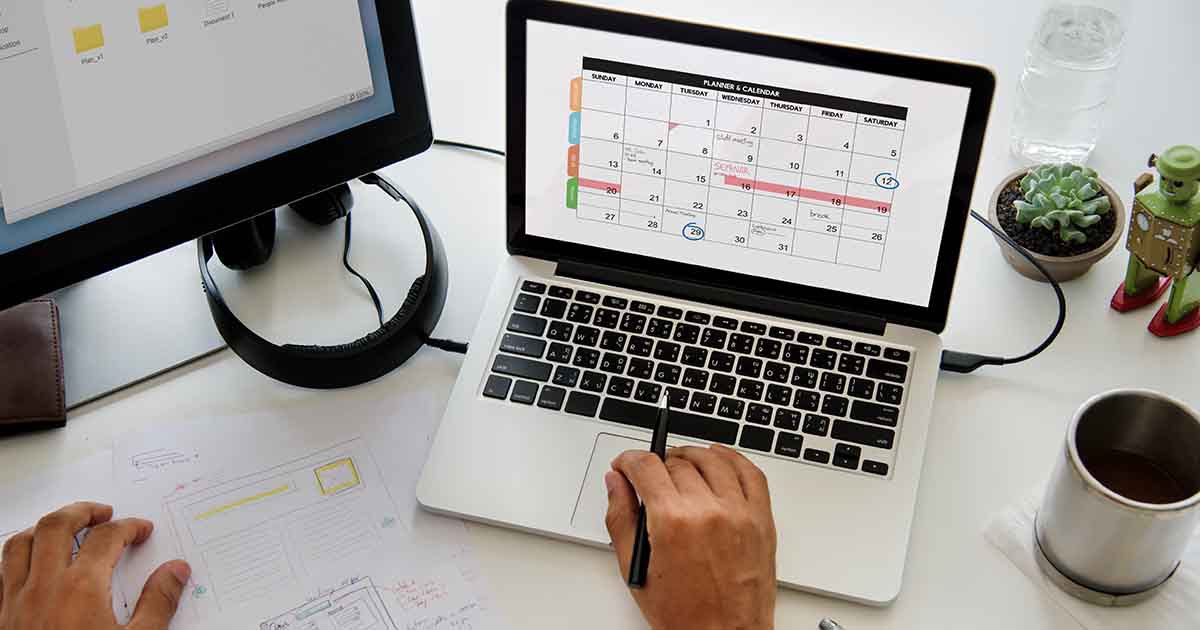 Time management is quintessential for being productive and achieving your goals. If you struggle to stay on top of things or feel like you're constantly running behind, you should consider taking time management courses to learn strategies for staying organized and on track.
These courses are an awesome way to learn new skills without the commitment of a lengthy degree program or the expense of hiring a personal time management coach. To help you choose which time management courses are worth your time, we've listed our top four picks below:
1. Focus Mastery Course by Claudia Simonetto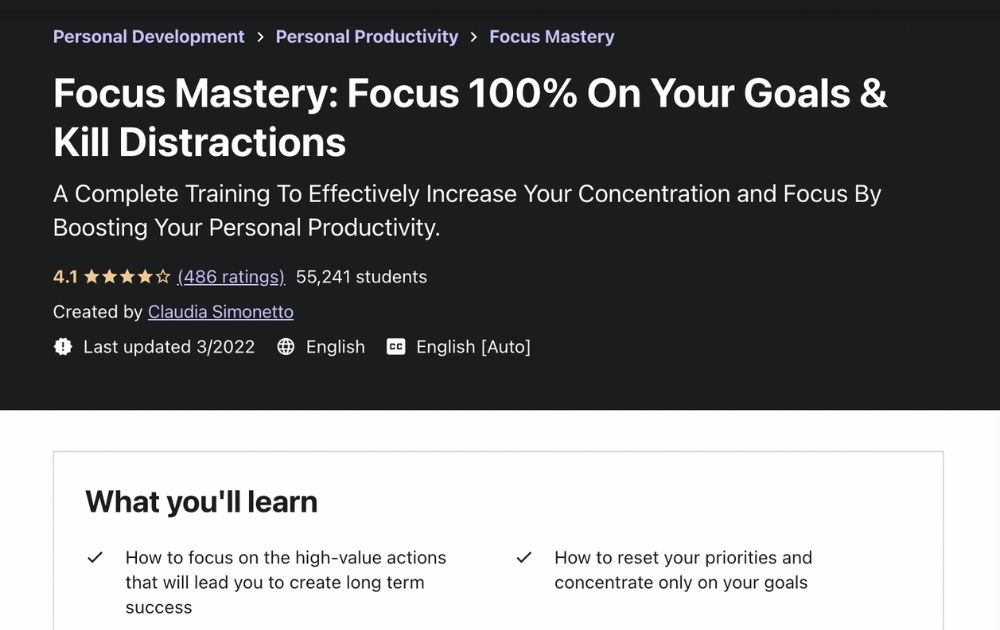 First on our list of time management courses is the Focus Mastery Course by Claudia Simonetto. In this course, you'll learn how to build good habits to improve your focus, how to attain deep focus and improve your work performance, and more.
This course is a great option for anyone looking to improve their time management skills and become more productive. The Focus Course by Udemy has a rating of 4.1 out of 5 stars, and more than 55,241 students have enrolled in the course.
The course includes a one-hour on-demand video, one article, 16 downloadable resources, and a certificate of completion.
2. Time Management Mastery by Alexis Haselberger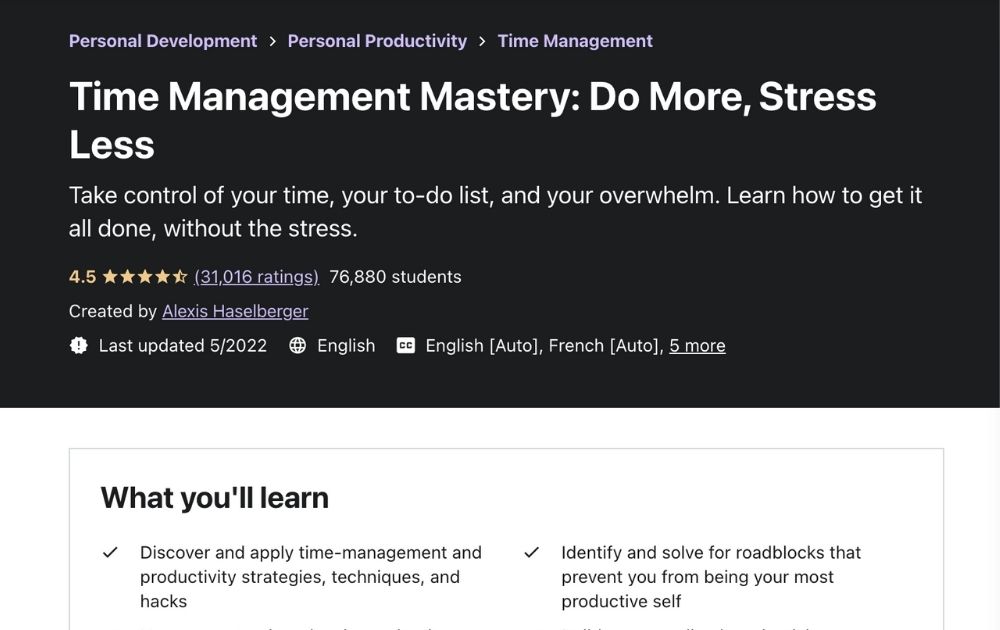 Time Management Mastery by Alexis Haselberger is next on our list of time management courses. This course teaches you how to use your natural tendencies and traits to your advantage to optimize your time and productivity. Moreover, it also tackles how to prioritize effectively to make sure you're working on the right things, at the right time.
The course has a rating of 4.5 out of 5 stars and more than 76,800 students have enrolled. It includes a two-hour on-demand video, 31 downloadable resources, one practice test and a certificate of completion.
3. Morning Routine Masterclass by Leon Chaudhari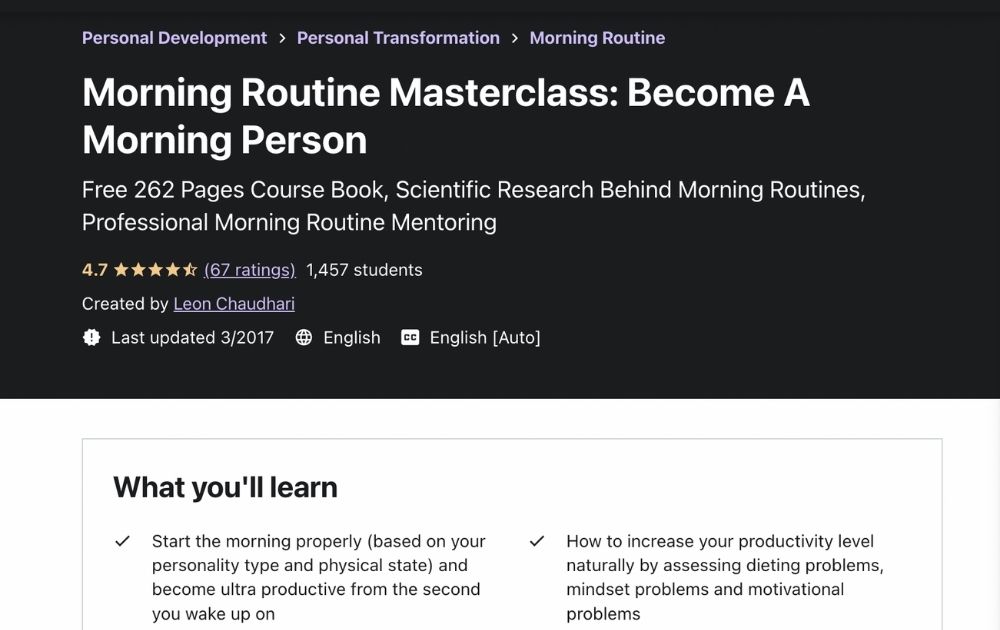 Morning Routine Masterclass by Leon Chaudhari is another excellent time management course on Udemy. This course teaches how to use meditation to help you become more relaxed but overall more productive and internally balanced. Also, it also tackles the concept of mapping and why successful people often use it to increase their productivity.
Though only 1,457 students have enrolled in this course as of writing, it has a high rating – 4.7 out of 5 stars. The package includes 3.5 hours of on-demand video, one downloadable resource, and a certificate of completion.
4. How to Master Your Morning Routine by Chris Oparanozie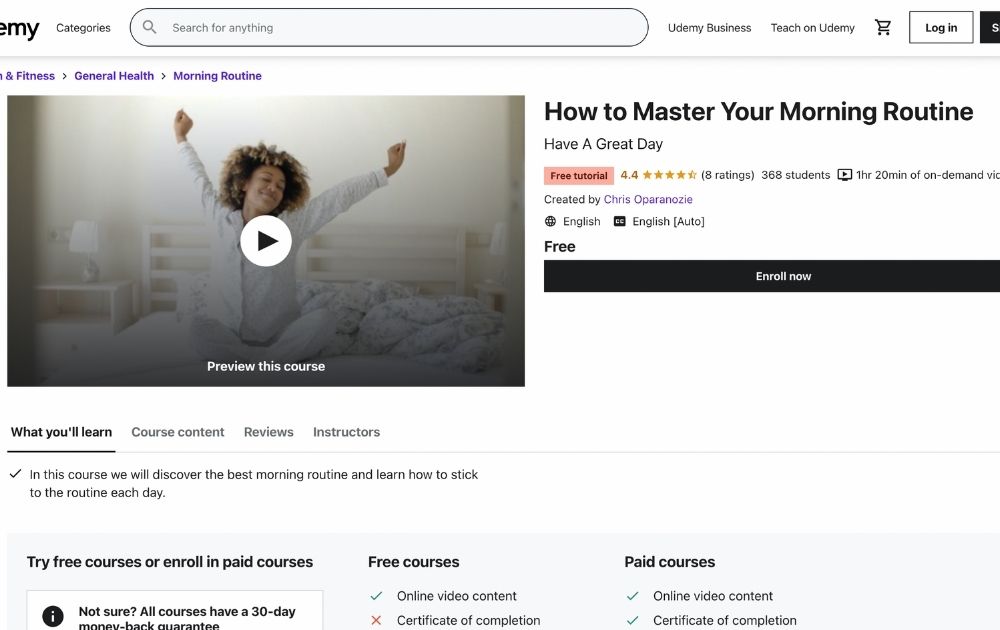 If you're looking for the best time management courses free of charge, then check out How to Master Your Morning Routine by Chris Oparanozie. You know what's the best part of this course? It's a free tutorial. That means you can access one hour and 20 minutes of on-demand video without spending a penny.
The course is for people who are "serious about having great days and learning to start every day with peace and purpose." Aside from learning a great morning routine, you'll also learn how to stick to it and start the day off right. Though this is a free course, it offers sound advice and you'll surely get a tip or two about how to improve your a.m.
The Bottom Line
These time management courses are a great place to start if you're looking to get more organized. These courses cover a wide range of topics – from managing tasks to using to-do lists effectively.
If you're ready to improve your time management skills and are eager to begin, don't waste another second. Check out the links above and research for more courses to suit your needs. After all, there is no time like the present to begin improving your time management skills.
Advocate for Yourself in The Workplace: What is It and How to Do It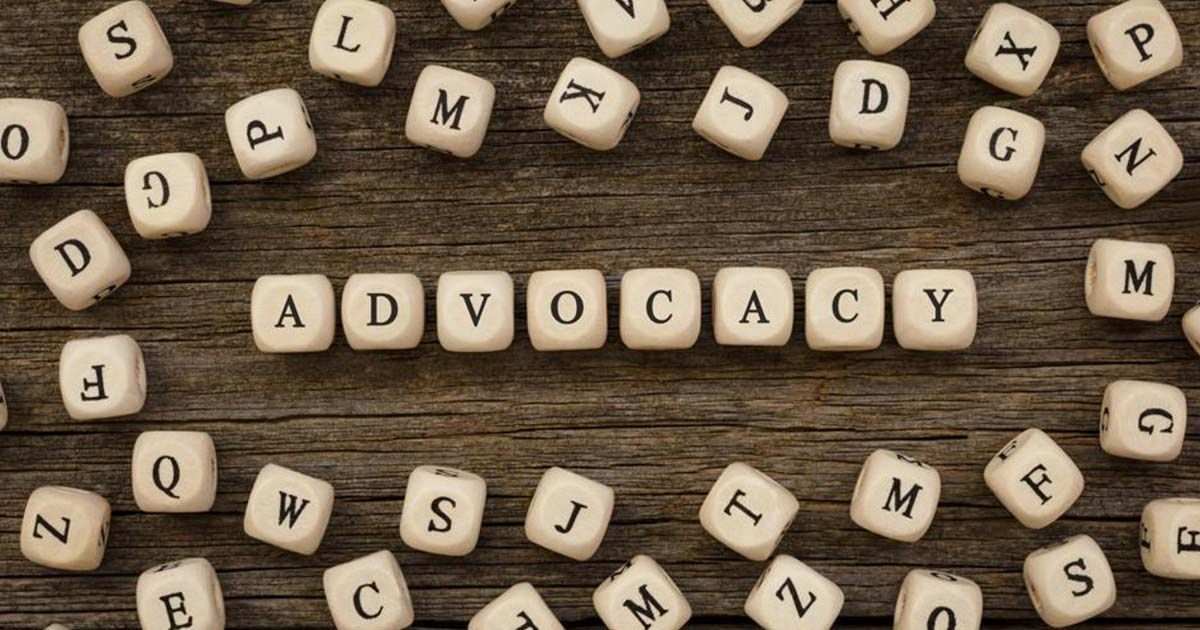 While we frequently hear the term self-advocacy, the practical tools to get there are rarely discussed. Self-advocacy is essential for healthy relationships, long-term success, and happiness. One of the many advantages of self-advocacy that help build these three pillars of overall well-being is when you feel comfortable advocating for yourself. Then, eventually, you can get what you deserve out of your negotiations. Zabeen Mirza, founder of Jobs.mom and host of Mom's At Work podcast, discusses how to advocate for yourself in the workplace and apply it in your daily life. 
What Exactly is Self-Advocacy?
Mirza explains that self-advocacy is teaching other people how to treat you by:
Setting boundaries and expectations
Helping others understand what you need
Asking the kind of support do you need to perform effectively at work
Self-advocacy means communicating those things and helping others understand how they can best support you. A common misconception is that it is merely about speaking out or standing up for yourself. Others believe that only good communicators or extroverts would be good self-advocates. In contrast, you don't need to be outspoken, assertive, or confident to be able to advocate for yourself.
One of the great ways to advocate for yourself in the workplace is by asking your employers to help you grow professionally. For example, ask them for more training, take up a professional development course, or more tasks or responsibilities.
You can also advocate for yourself is by asking your higher-ups their priorities. If you have many tasks to complete and your manager asks you to handle even more jobs, take this opportunity to practice self-advocacy. In this situation, ask your manager something like this – Can you please help me understand the priority? Or What is the deadline? and so on.
Doing this allows you to advocate for yourself in the workplace without being assertive. You are just asking a question for clarification. Likewise, it shows that you're organized. Asking them to prioritize shows that you care about your job enough to monitor your tasks. In addition, it also tells that you're making sure you complete those assignments to the highest level of quality and on schedule.
Sometimes, it can be intimidating to have this kind of conversation with the higher-ups, but remember, lack of self-advocacy triggers more problems like burnout, severe stress, anxiety, etc. All of these can negatively impact employee productivity and performance. 
Remind yourself that you have leverage.
What Are the Barriers to Advocating for Yourself in The Workplace?
The sad reality is that there will be barriers to advocating for yourself, both internally and externally. According to Mirza, implicit bias can play a significant role in self-advocating.
When we picture ourselves through a biased lens, we may feel compelled to advocate for ourselves. And if we are biased toward others, we may ignore critical aspects of a person's identity that maybe they need more support. Each of us should reflect internally and notice our behaviors to recognize these biases.
Once done with the reflections, you can start working on identifying, learning from, and correcting that bias in future interactions.
Mirza said the phrase "easier said than done" perfectly suits self-advocacy. So, if advocating for yourself doesn't come naturally, it will take some time to achieve it. But that's fine, be patient with yourself and trust the process.
In the meantime, Mirza recommends taking a "fake it till you make it" approach. Self-advocacy is like a muscle. It would be best if you exercised it consistently to develop self-esteem.
Practice internal monologue. Instead of saying, I can't, I am not good enough, or they won't appreciate this, say these phrases positively to I can, I will, I am good enough, or they will like this or that.
Again, this will not happen naturally but strive to catch yourself in the act of doubting yourself and your skills.