MSI 1080 TI Duke Unboxing & Review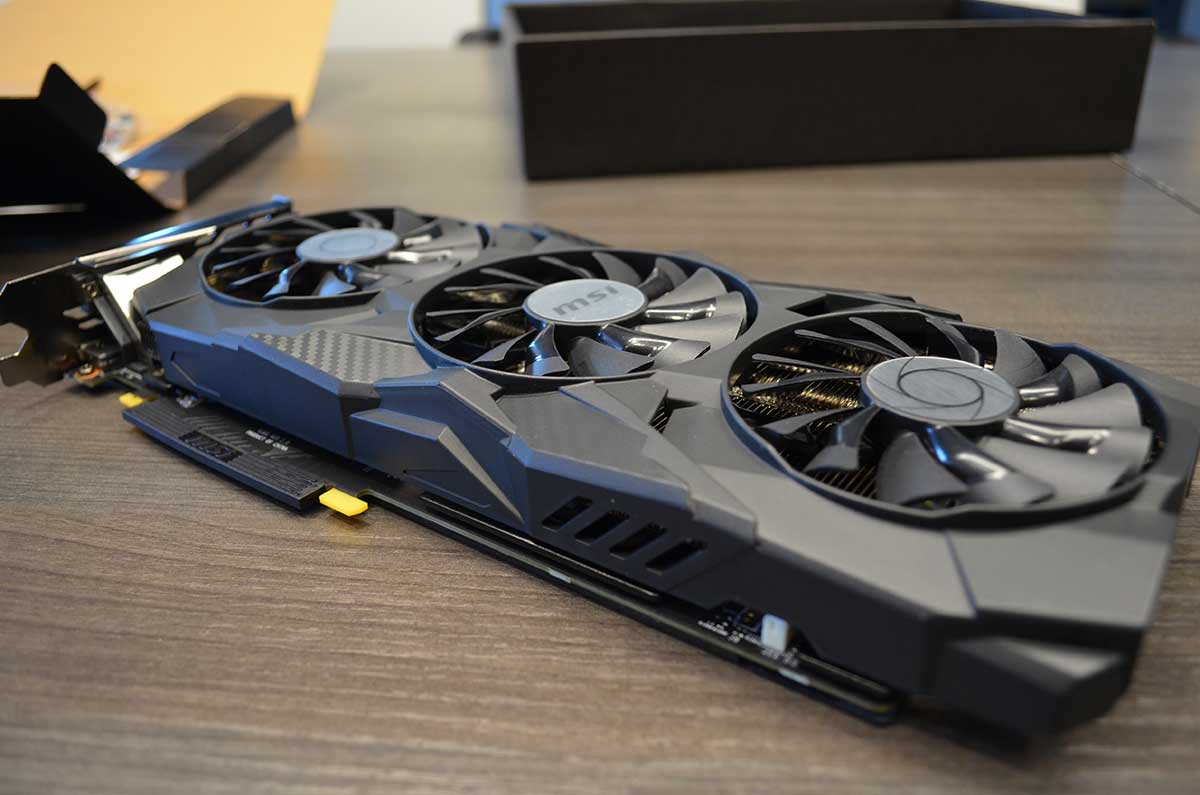 Today we get to unbox and review and new MSI 1080 Ti Duke. MSI released another version of 1080 TI Graphics Card recently under the brand name Duke. The new graphics card boasts 352-bit memory interface with a core base clock of 1480MHz, boost clock of 1582MHz, and 11GB of GDDR5X memory at 11016MHz. Today we're going to do an unboxing of the MSI Duke 1080Ti, review the specs, and also do some real world benchmarking with it to see how it ranks amongst other 1080TI graphics card.
First, we want to make it clear that this isn't MSI's first 1080Ti graphics card, they have an entire lineup of them. You may be more familiar with the MSI Gaming X which features dual fan, a shorter profile, and has MSI's signature red on the casing. We did an overview on the MSI Gaming X previously, you can check it out here.
Unboxing the MSi Duke 1080Ti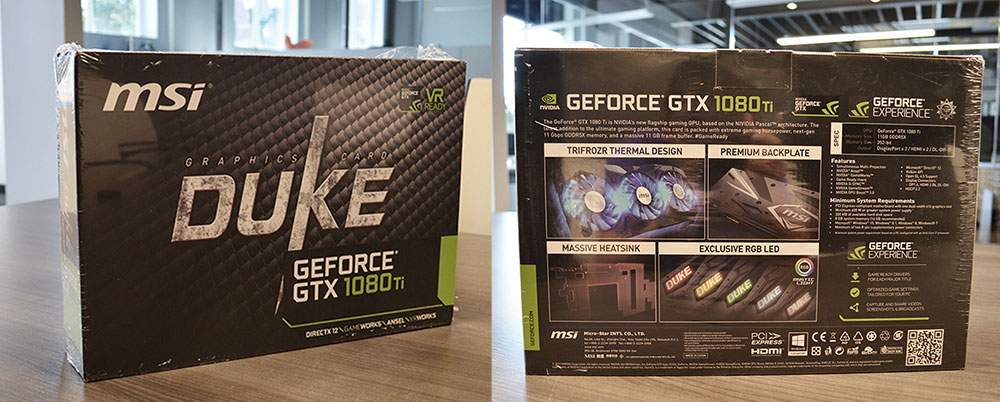 The MSI Duke ships in a beautiful carbon fiber skinned box with the essential letterings on the front side. The backside is more feature heavy and goes into details with all the offering you're getting for a $750 graphics card.
One very nice and small touch that MSI added are the tabs to pull out the entire inside. Usually you'd have to do a little bit of wiggling to get everything out without ripping the box apart. Thanks to these little thumb tabs, you can pull the entire inside box easily.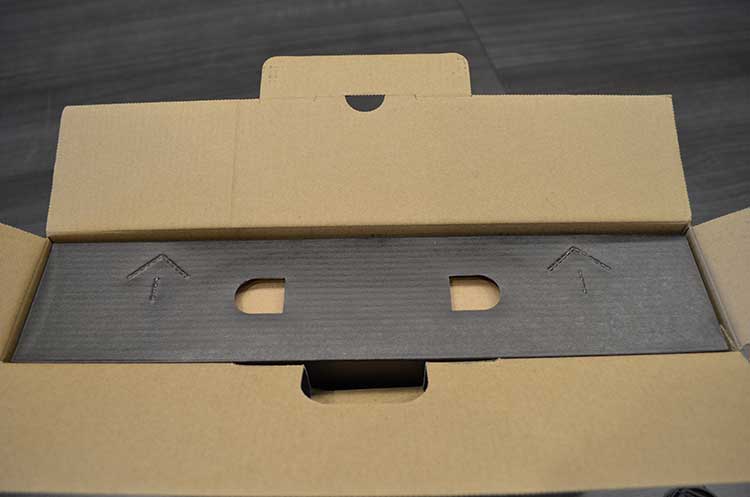 Upon pulling everything out, we're greeted with MSI's subtle logo printed on the matted cardboard box. The top is a thin cardboard box containing the essential manual, some marketing materails, a 6 to 8 pin power adepter (if you're using an older power supply, this is a nice little bonus), and the vestigial installation CD. If you're building a gaming machine and throwing down $750+ on a graphics card, something tells me you're not installing a CD drive. Not sure why manufacturers still include these in the higher end graphics card. For lower end cards it makes more sense.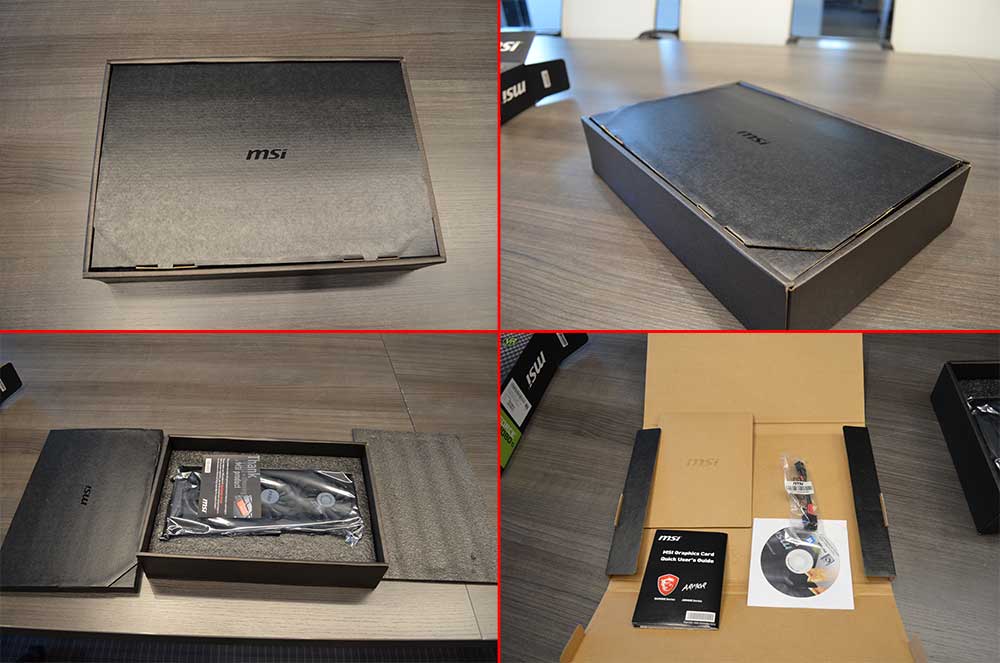 The graphics card itself is encased snuggly inside the foam cushion wrapped in anti-static bag. Opening the wrap reveals a the magnificent looking MSI 1080 TI Duke. It's construction is mostly hard plastic with carbon fiber print tastefully decorated on the face. Make sure you remove the plastic stickers on the fan plates before installing into your machine. The backplate is solid metal and features MSI's logo and some more carbon fiber streaks for aesthetics.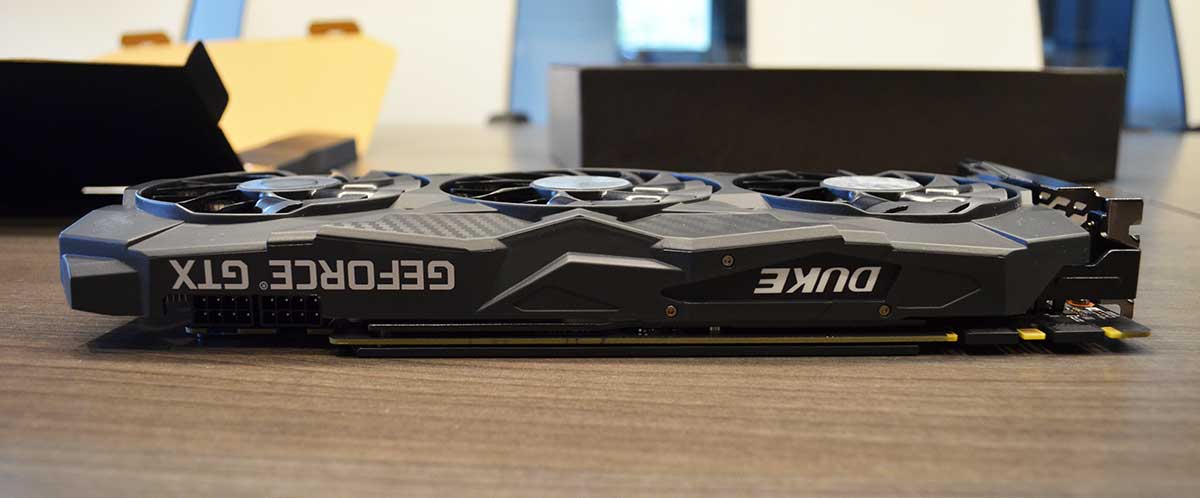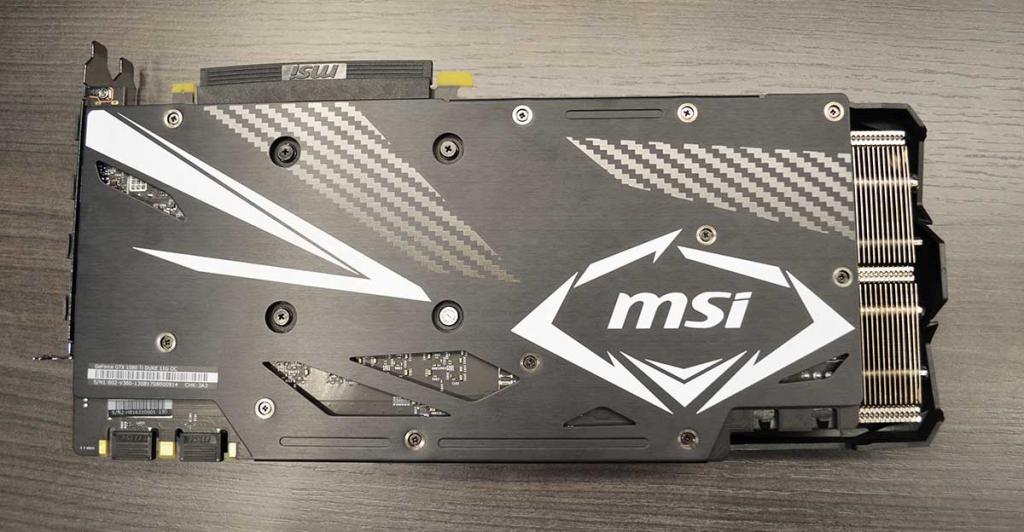 Cooling
The graphics card features MSI's proprietary Tri-Frozr fans. MSI claims the TORX fans have a combined of 2 different blade designs infused into one fan to give superior cooling capabilities. The unique about this card is that the fans actually stop spinning when temperatures are below 60C and only starts when temperatures are above 60C.  Keeping the graphics card cool is a cornerstone of design and one many third party manufacturers focus on optimizing.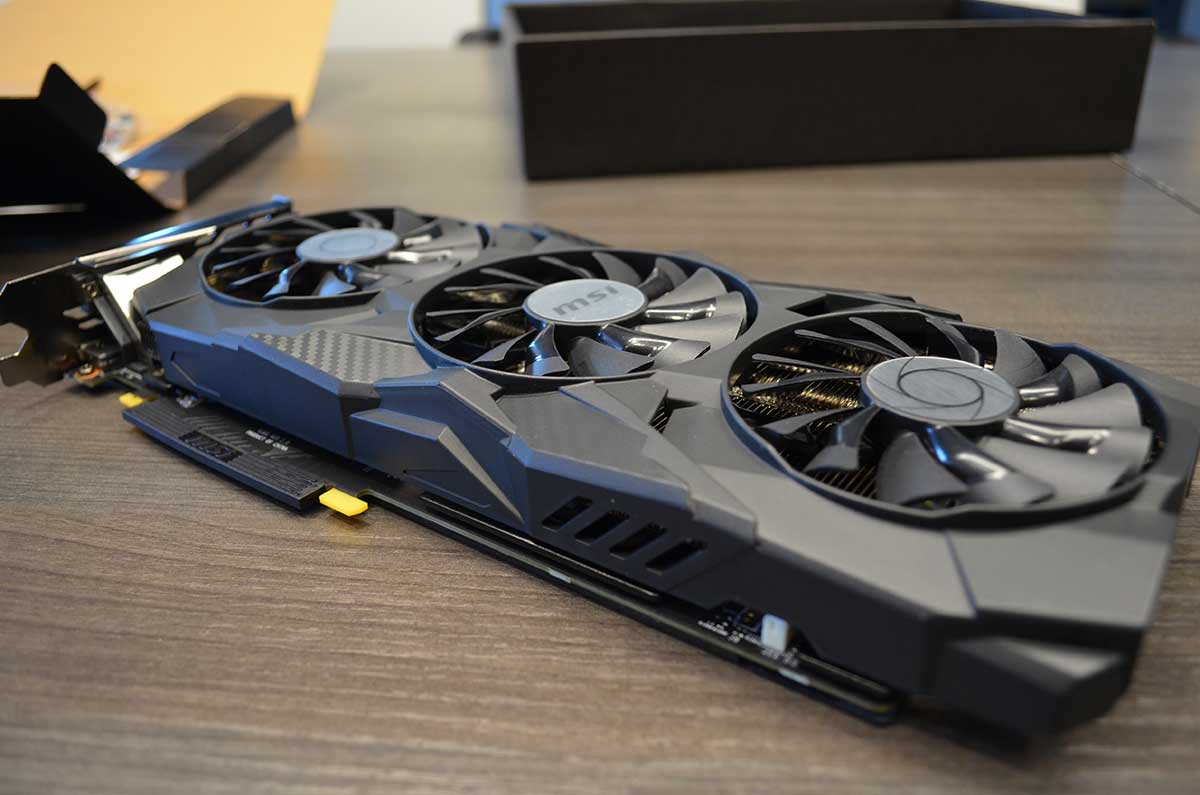 In addition to the fans, MSI also put a massive 8MM heatpipes that also helps dissipate heat during intense operation. The heatpipes also connect to a reinforced metal plate that acts as an additional heatsink and also prevent flexing due to the size of the graphics card.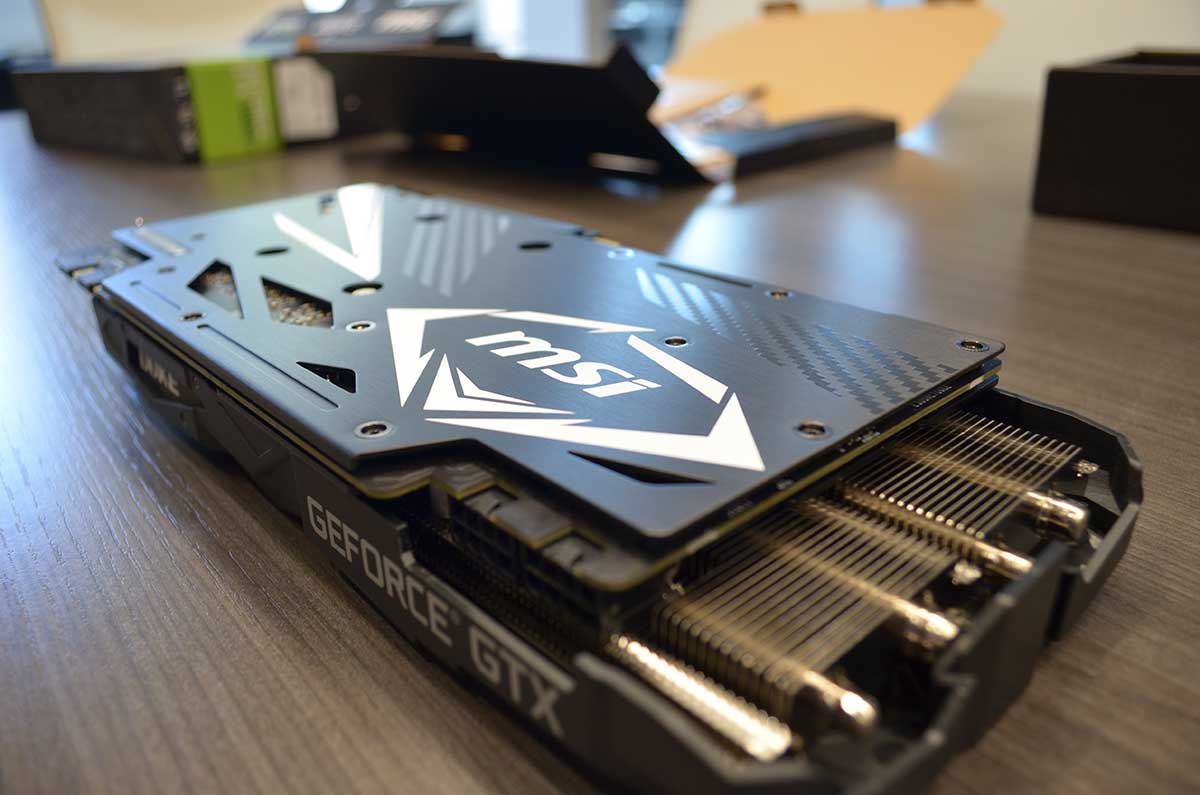 The MSI Duke is also noticeable larger than the MSI X gaming therefore flexing may be an issue. Take a look at the picture below and you'll noticed there's 2 layers of reinforced plating sandwiching the circuitboard to provide both optimal heat dissipation and also anti-flexing. The anti-flexing held true as we did try to bend the graphics card and to no avail.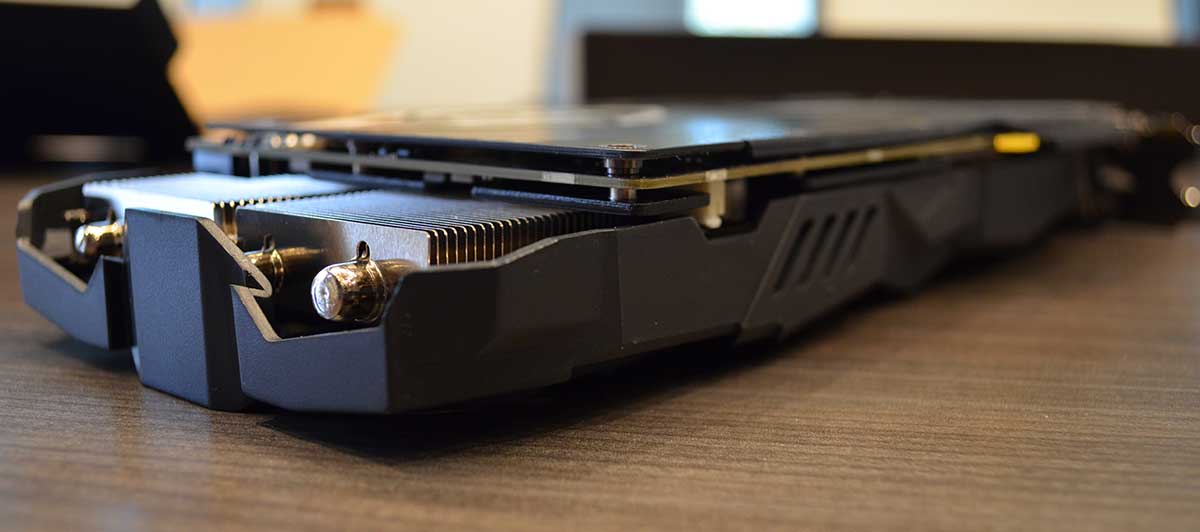 The Ports
The MSI 1080 TI Duke comes with your standard DVI port for those with older monitors. It has 2 HDMI 2.0 that can support 4K at 60Hz. You also get 2 1.4 Display ports that can support 4K at 120Hz or 8K at 60Hz (currently we don't have any 8K displays yet, but in the future when we do, you'll have a graphics card that can take advantage of it). This is the perfect configuration if you're planning to setup your machine for VR.
For power, this graphics card (like all 1080 TI really) requires two 8-pin PCI Express power connectors that's rated at 250 Watts. If your power supply doesn't support 8-pin PCI, MSI graciously included an adapter for your 6-pin.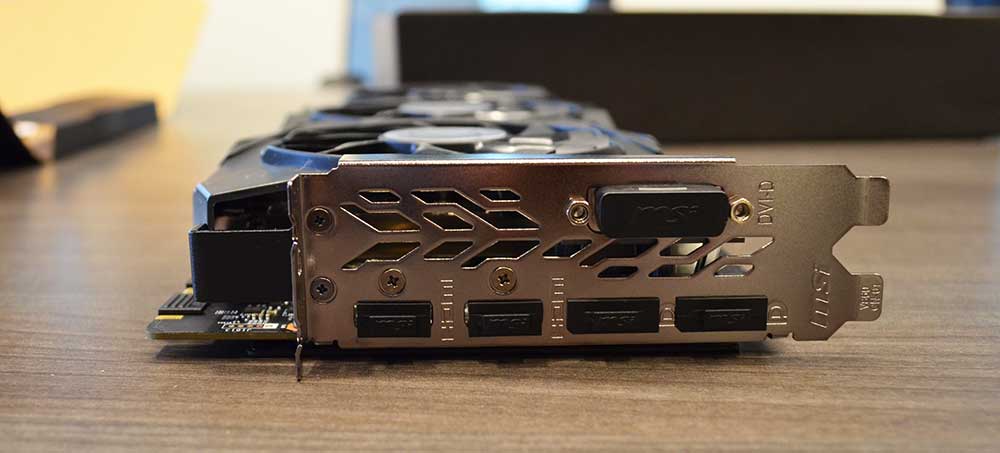 RGB Lighting
MSI promised that this is an RGB model meaning there will be configurable lights. The back plate looks nice and clean featuring MSI logo in all white and carbon fiber streaks, however it doesn't light up. We don't mind this, as when installed, the backplate is hardly visible anyway.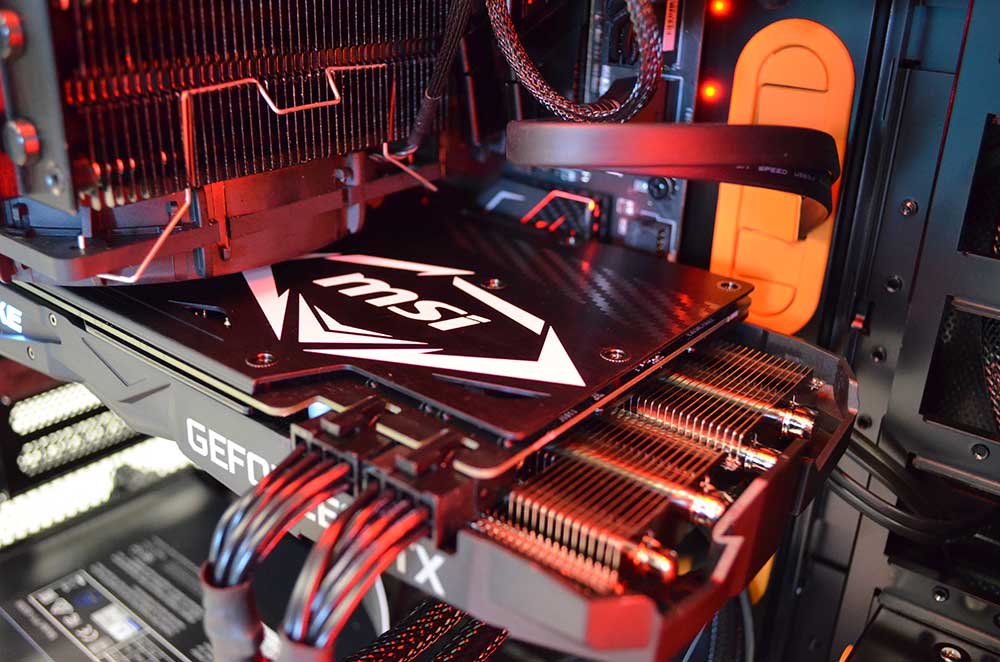 On the side, the MSI DUKE logo does light up and can be configured. The Geforce GTX doesn't light up, probably not a bad thing for us because our poor wiring covers it anyway. Overall, the lighting aspect of the MSI 1080 TI Duke is disappointing as only the DUKE logo lights up.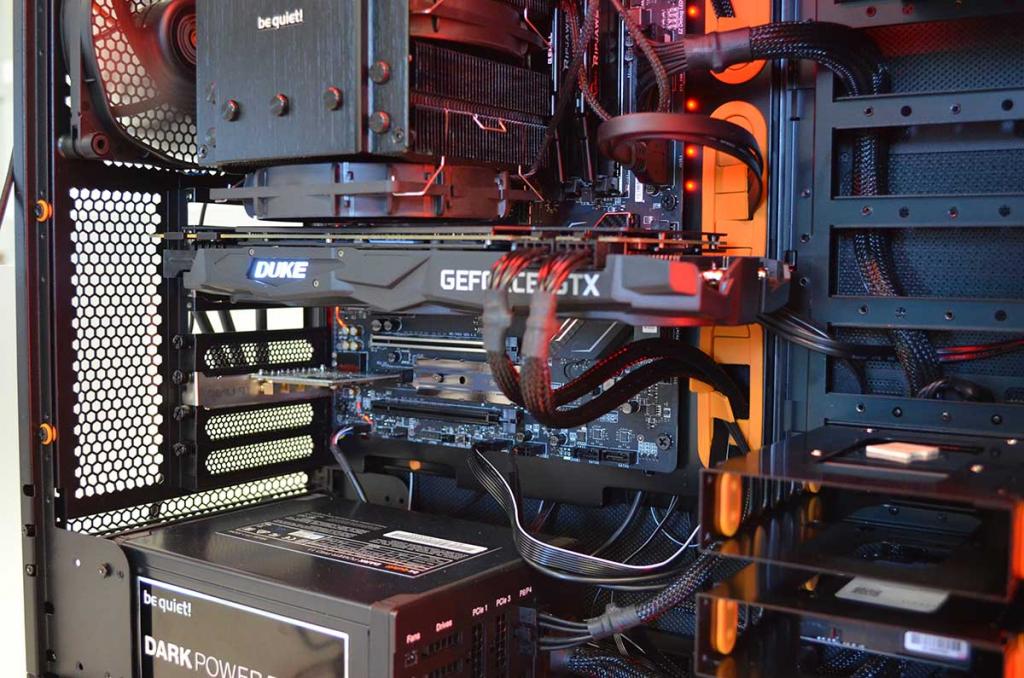 Benchmark
Now it's time to put the card to test. We decided to test single-player games instead of going online to really test the graphics card capabilities. Online games have the added layer of internet connection that could mislead our results.
For testing, we installed the MSI 1080 TI Duke into our rig. Below are the specs for our rig.
Owner's Magazine's Custom Rig
Case – Dark Base 900 Pro (Premium case, bit expensive but definitely worth every penny. Check out our first look HERE)
Power Supply – Dark Power Pro 11 850W 
CPU – Intel 7700K Kaby Lake
CPU Cooler – Dark Rock 3 
Motherboard – MSI Z270 Carbon Gaming Pro
RAM – 32GB DDR4 G.Skill Ripjaws 32
Graphics Card – MSI 1080 TI Duke
Monitor of Choice
We chose Pixio's new 347c Prime monitor to review most of the higher end graphics card. Pixio's 347c Prime is a $600 34″ monitor with aspect ratio of 21:9 giving us ultra-wide 1440p viewing with up to 5MM pixels. This is considerably more challenging output than traditional 1080P monitors, however not quite as demanding as 4K monitors. We enjoy the sweet spot in the middle and also enjoy the extra wide dimension of the Pixio 347c Prime. Review for the Pixio 347c Prime is coming soon.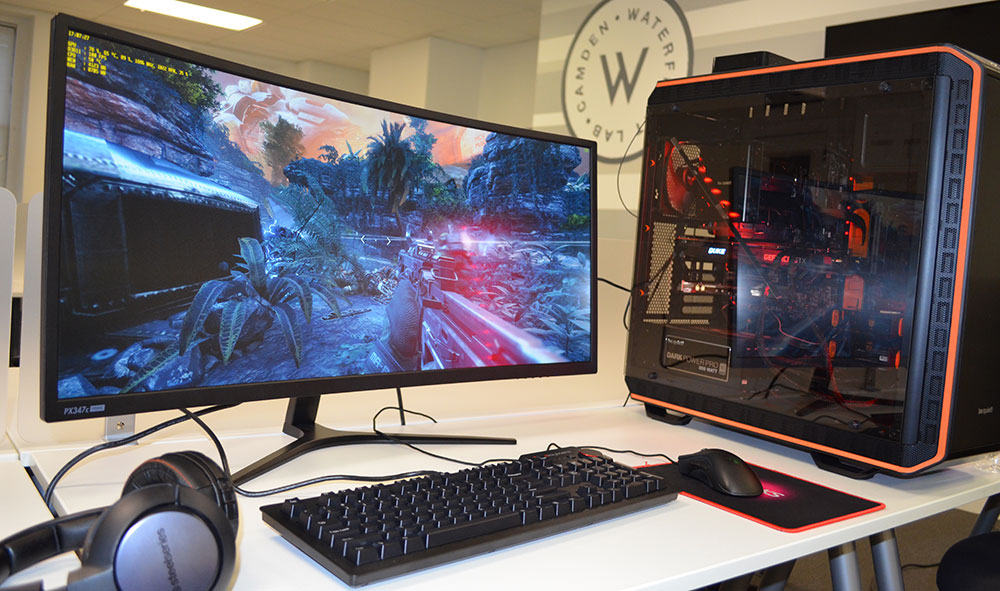 Keyboard
For this review, we decided to use Das Keyboard 4 Professional keyboard. It's a professional grade german-made keyboard that's used by many pros in E-Sport. Review for Das Keyboard 4 Professional coming soon.

Disclaimer: Owner's Magazine wasn't paid by either MSI, Be Quiet! or Pixio to promote products. All of the parts in our PC were chosen due to their respected quality and value determined by our engineers. We used quite a bit of Be Quiet!'s products due to their products generally being whispers even during heavy operation. And we chose Pixio's monitor due to it's value and desirable pixel density for testing high end graphics card. 
Witcher 3
Max FPS: 100
Low FPS: 92
Avg Temperature: 66C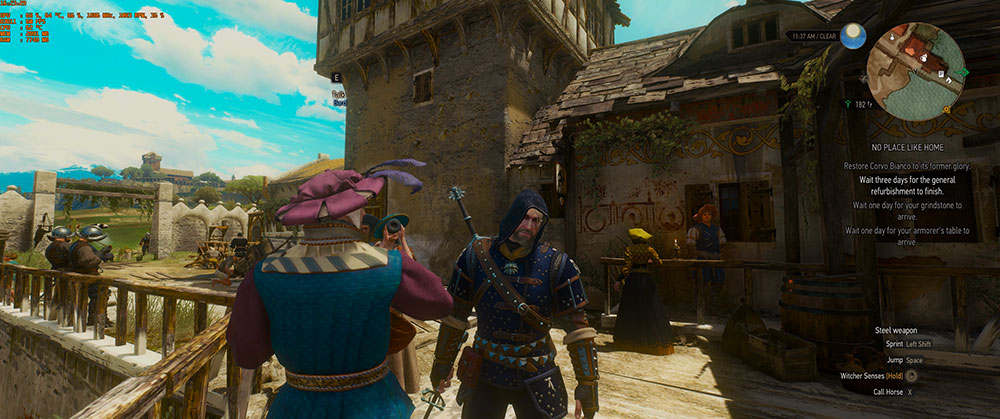 Battlefield 1
Max FPS: 100
Low FPS: 77
Avg Temperature: 71C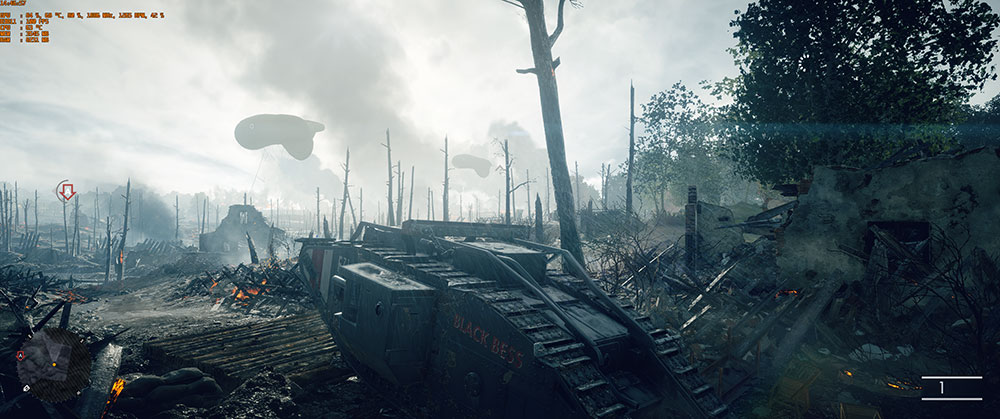 Doom
Max FPS: 100
Low FPS: 74
Avg Temperature: 68C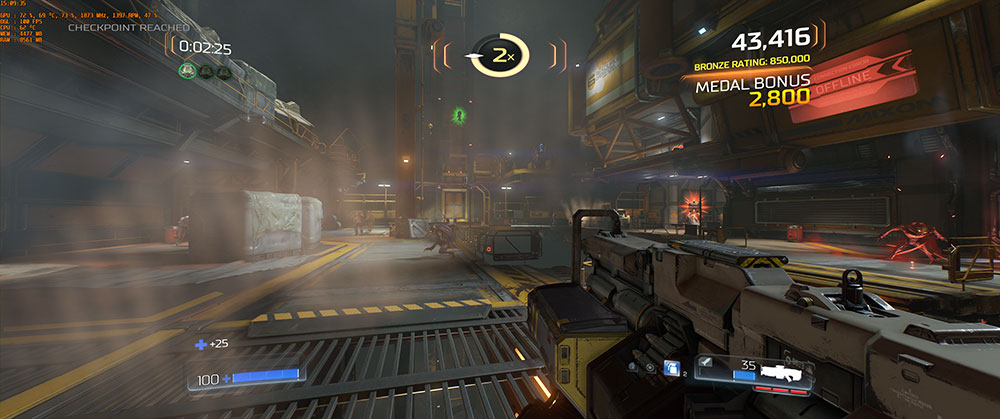 Dishonored 2
Surprisingly dropped below 60FPS during intense fight scenes.
Max FPS: 100
Low FPS: 55
Avg Temperature: 64C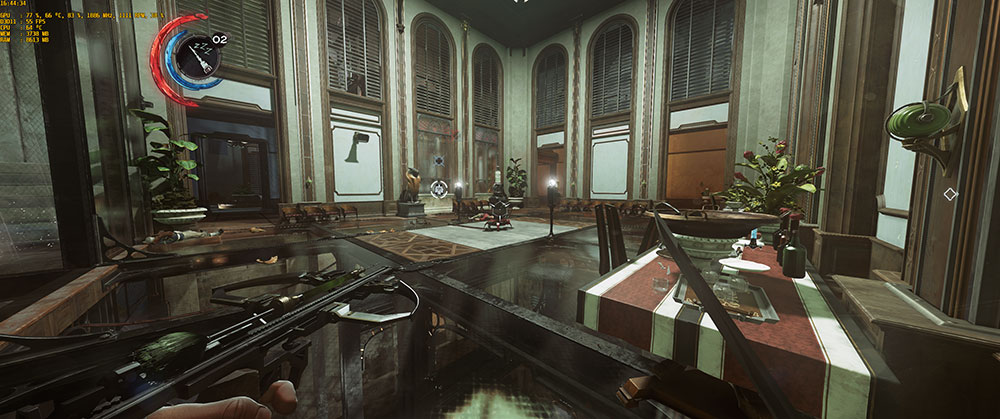 Call of Duty Infinity Warfare
Max FPS: 80
Low FPS: 52
Average Temperature: 79C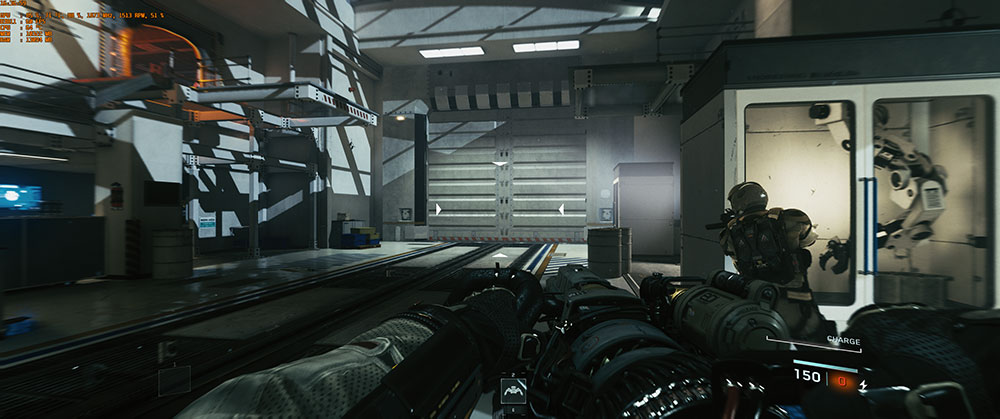 Tital Fall 2
Max FPS: 100
Low FPS: 66
Avg Temperature: 72C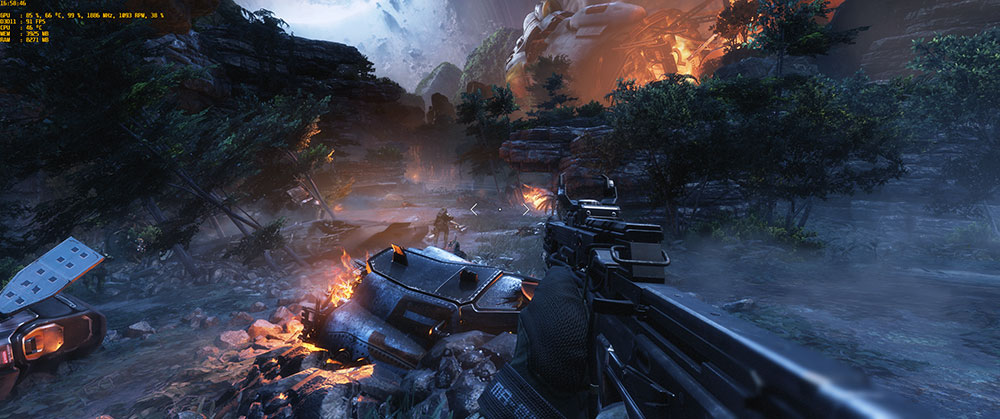 MSI 1080 Ti Duke Verdict
After testing the MSI 1080 TI Duke for several hours the card never got over 77C, and fan speed was silent for the most part. The unit handle most games on the list without a hitch. However that's not surprisingly since 1080 TI typically are made to handle higher end games. Cooling was not an issue with the triple Frozr fans silently doing their job. Frame-rate was capped at 100 for our testing, and most games remained at 100 FPS even during intense fight sequences. The only game that gave us any issue was Call of Duty: Infinity Warfare. The graphics card could only output 80FPS maxed and even dipped below 60FPS during a few sequences. All of this was on a 34″ 1440P ultra-side Pixio 347c Prime monitor, not a 4K monitor.
When you're shopping for 1080 TI, whether you're looking at Asus, PNY, EVGA, or MSI they're all relatively great performing cards. What separates them are the options, features, and bonuses that they come with. At the time of writing, the MSI 1080 TI DUKE is priced at $750 shipped on Amazon and that's quite a steal given everything you get with it. It's a solid performing card that comes with all essential ports for VR, has phenomenal cooling, rigid construction with additional heat plates (why the cooling was so good), slim profile (much thinner than the Asus Strix 1080 ti) making it easy to have SLI configuration, and it runs at no louder than a quiet whisper. The only drawback is the lackluster RGB lighting which they may as well not have done at all. Other than that, we put the MSI 1080 TI Duke right up there with all the other big boys.
BumpOut: The Expandable Portable Speaker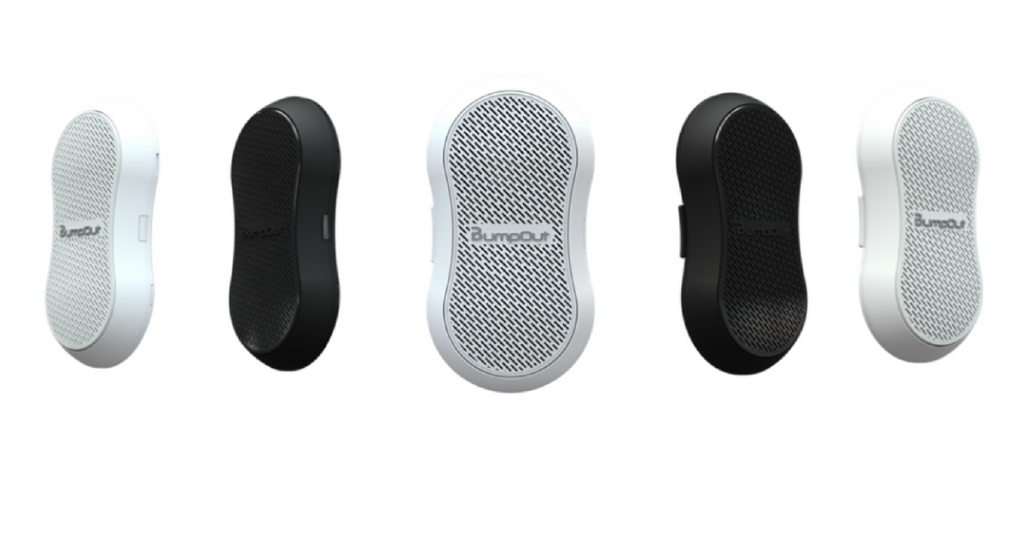 Take your music everywhere with BumpOut, the portable speaker designed for versatility. That was Zac Pierce's initial idea when creating technology. They hit an early milestone by reaching their crowdfunding goal on Indiegogo in 4 days, pre-selling the speaker at a discounted price to backers. What's neat about the speaker is it's Motorized Expansion Technology™, where it expands to generate high-quality audio and rich bass. It connects through Bluetooth with a range of 30 feet and runs for 7 hours before the next charge. You can attach the speaker to any smooth surface with the BumpOut coins, including your phone. We connected with Zac Pierce and the BumpOut team to learn more about the innovative technology behind their portable speaker. 
How would you describe BumpOut?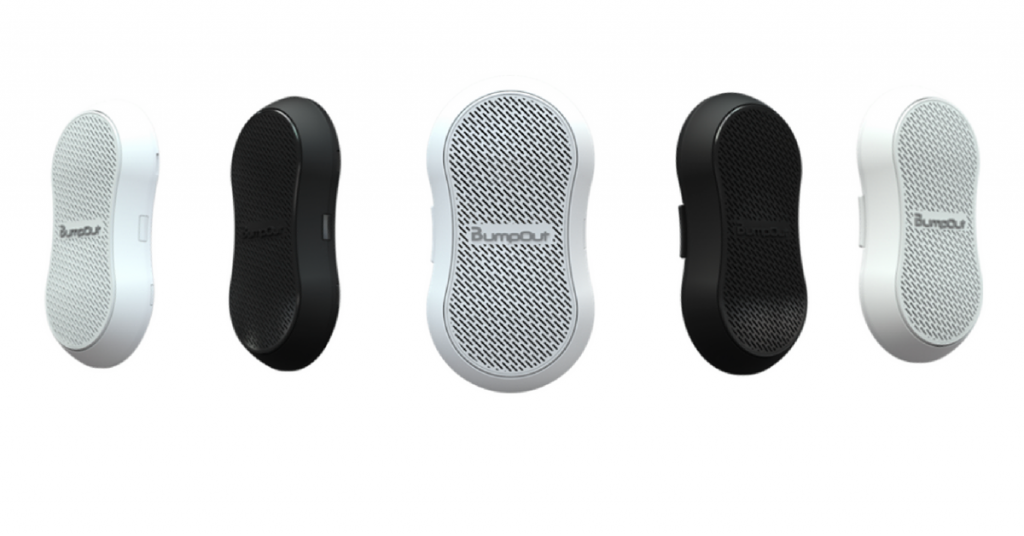 BumpOut is a portable Bluetooth speaker that can fit in the palm of your hand and attach to any flat surface, including smartphones, mirrors, refrigerators, etc. The most unique feature is the speaker's Motorized Expansion System. With one click of a button, the center of the speaker raises, generating high-quality sound & bass that drowns out the most competing products.
What is BumpOut's mission?
Inspire and innovate for those that boldly do what they love, not just what they are told. BumpOut as a verb. Be inspired and work hard as it inspires others.
How does BumpOut differentiate from competitor portable speakers?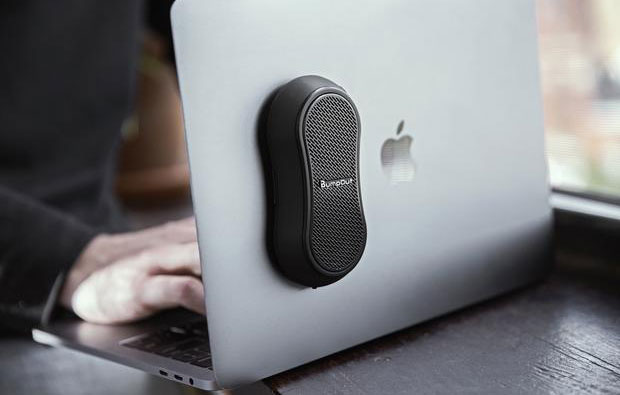 The main differences are portability and innovation. We have engineered a speaker with a  sleek design that fits comfortably in your pocket and can attach directly to your phone or case. Truly portable. Our patented Motorized Expansion Technology™ is an audio industry breakthrough. With the push of a button, the casing of the speaker expands, creating an acoustic chamber that results in powerful, high-quality sound, and rich bass response. We then paired this technology with BumpOut Coins that feature a patented repositionable adhesive that allows you to attach the speaker to any smooth surface, even your smartphone.
When you look at the crowded space of Bluetooth speakers there is a lot of "stuff" under $50 that leaves you wanting more: not loud enough, does not connect to your device easily, poor sound quality, etc… OR if you are willing to spend north of $150 you can get something that might meet your needs but is a big investment. We believe, after extensive research, that you don't need to spend a ton of money to get the results you are looking for. There is an opportunity in the market for a quality portable speaker under $100.
Who is the ideal BumpOut customer?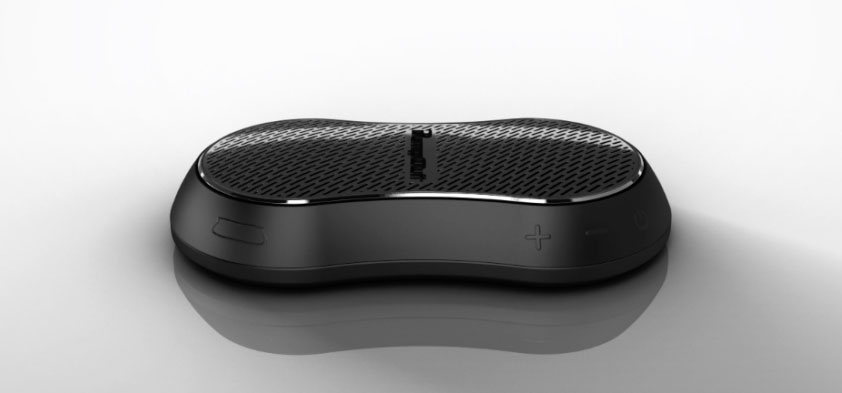 Anyone who listens to music on their smartphone and wants the latest innovation in audio at an affordable price. We are proud that we have been able to incorporate game-changing technology into BumpOut, but the #1 focus is "quality of music". That is why we partnered with the top audio engineers in the country and hired a high-end audio manufacturer to make BumpOut. It needs to sound great and your listening experience needs to be enjoyable.
Describe the use of the coin mounts.
BumpOut comes with coins that can be placed on any smooth flat surface so you can have your soundtrack at home or on the go. Coins have a repositionable adhesive that can be removed and repositioned. BumpOut speaker connects directly to the coins. Our test markets showed us that most youths will place the coin on the mirror in the bathroom so they can connect the speaker (to the mirror) while showering or getting ready for school or going out. Most parents said they will place a coin in the kitchen on the refrigerator so they can attach the speaker and listen to music while making dinner. Almost everyone we surveyed will place a coin on their smartphone for true portability and improve the "sub-par" audio quality and volume smartphones currently provide. Speaker does not need to be attached to the coin to listen to the music. The coins provide an extra feature to mount your speaker in various locations or, if attached to your smartphone, allows for easy portability.
What are some perks of crowdfunding?

Customer engagement. We have been working on this project for 2 years and have spent our own nest eggs on getting to this point. Crowdfunding has allowed us to engage with our customers and backers and bring validity to all of our efforts. You never really know what you have until you "flip the switch" on sales. To hit our Indiegogo goal in 4 days confirms everything we have been working towards.
What are some challenges you've come across along the way?
The biggest challenge with hardware is capital. It is very expensive to manufacture a product, which is why Crowdfunding is such an important process. Also, finding helpful resources for hardware development in Philadelphia is a challenge. We have kept our resources very organized and hope to be able to aid others in the city.
What is your team like?
The core of the team is Founder Zac Pierce and partners Brian Zamrowski and Mat Chacko.  We have surrounded ourselves with high-level specialists to ensure that we are delivering the best possible product for an affordable price.
What is BumpOutU?
We believe in today's youth. By providing guidance and exposure to career paths that foster individual talents, we aim to make a meaningful impact on the Creators of tomorrow. Our first live event held on October 8th brought community leaders, entrepreneurs, and students together for a day of bumping music and breakout sessions developed to inspire creativity and ideas backed by positive action. With our backers' support, our commitment to BumpOutU, and proactive approach to making a difference will scale along with our company.
How did you advertise?
On a budget! In these earliest stages, we rely heavily on PR and focus on technology and audio outlets.
What are some tips you can give to entrepreneurs looking to crowdfund?
It is a LOT of work but, if you go into it with a plan of what you want to learn from the process, it is extremely helpful. You learn about what features really resonate with your consumers.
Popping the Bubble: How to Escape the Social Media Echo Chamber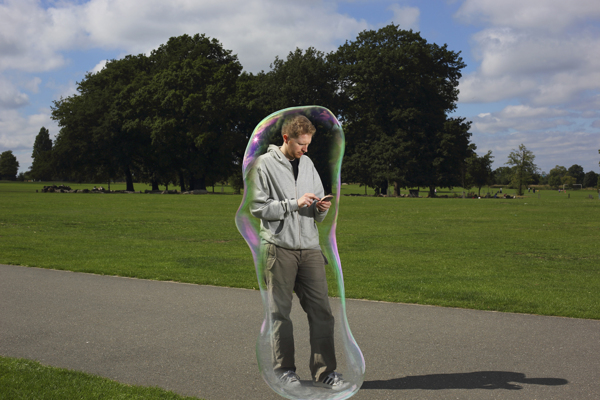 This past election has left most millennials in a cloud of surprise. I know that on my own Facebook news feed there was a very anti-Trump/pro-Bernie vibe. In the months prior to the election, my outlets for social media were bombarded by very specific opinions against the reality TV billionaire. All I heard were calls to "feel the Bern". To me, and I think to most people my age, it appeared unanimous that Trump would lose. However this was not the case. So what happened?
One issue with social media is that it's prone to creating echo chambers: places where our ideas are reaffirmed by the consensus of our networks. Don't like one particular friend's libertarian view? Easy. Unfollow them. This ability to unfollow, paired with algorithms that curate content towards to your taste depending on what you like/react to, creates the walls that seal us into comfort zones with like-minded people. It traps us into a biased reality; a bubble that prevents us from ideas different than our own. Here are three simple ways to combat the bubble, and allow for the diffusion of ideas. No one's saying it's easy, but those who do are the guardians who keep the dialogue open during difficult times and with controversial ideas.
Actively like and react to diverse new sources and pages
Much of the power and control that users have over their social media is in curation. Your feed is curated according to the content you interact with. Simply being aware of this fact can make help make you more conscious about how and what appears in your feed. If you're not seeing a lot of diversity in content, maybe try interacting with new stuff.
Watch out for confirmation bias
Does it always sound like you're right? When you log onto your Facebook, does every status update and shared article resonate with your own beliefs? It's easy to be drawn by the gravity of people who support your ideas, but to keep an honest perspective on the state of the world, you need to balance out what you expose yourself to.
A wise person once said to me "you like that author's opinion? Then try reading their opposer's book."
Never Unfollow
The "unfollow" feature is meant to be used in times of dire offense. It's understandable that a person be unfollowed because they are insulting or harassing. The problem is that in some subjects like politics and religion, people can resort to both of these behaviors. Because people tend to hold political and religious beliefs close to their hearts, opposing views often respond with even more hostility. Usually in these cases people unfollow not because of the idea itself but because of the primitive and often negative ways people try to convey them.
What makes unfollowing such a bad option is that it closes the dialogue between big contrasting ideas. If you unfollow a friend who disagrees with you, you're basically choosing not to hear their side. Does doing this really make you the bigger person? When we choose to stop the flow of information, we are also choosing to remain within the bubble. Break free by practicing these three simple guidelines. Humans aren't always the best at communicating, but at least keeping an open ear and an open heart leaves the door open to a more harmonious reality, one that actually reflects the ideas of the world, and the people who hold them.
Sleep Better With Tomorrow Sleep To Improve Work Performance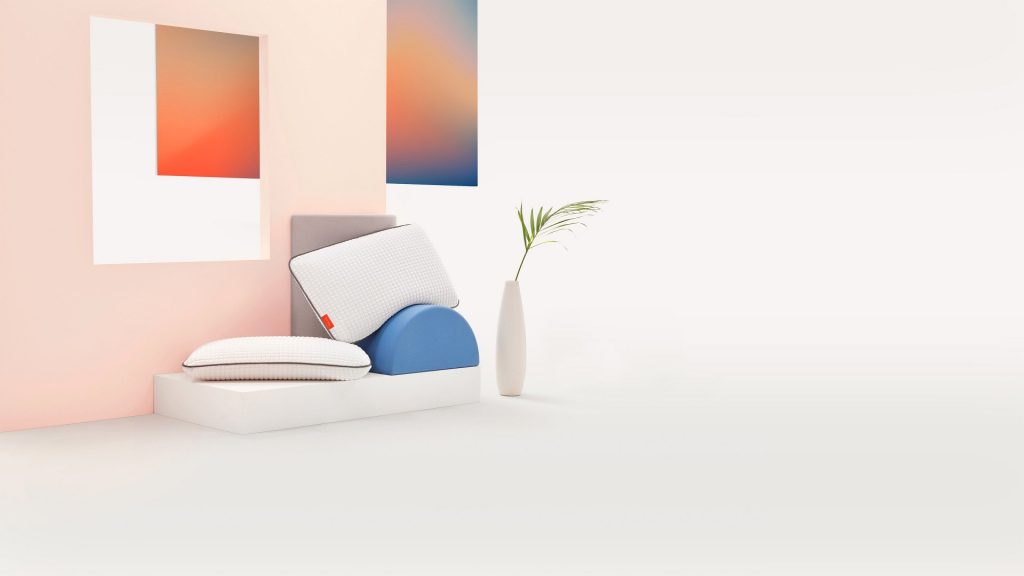 Our working life consists of long office hours to various days of sleepless nights. Tomorrow Sleep is a hybrid between traditional mattresses and new modern technology to help you through those rough nights. Tomorrow products are designed to help improve your wellness by fulfilling your sleeping experience. To ensure comfort and support, Tomorrow has enabled a combination between the temperature regulating memory foam with a stabilizing coil system to enhance your night's sleep. With the additional sleep reports, bed warmer, smart alarm, and more, this mattress company has changed the sleeping industry for the better.
During busy hours, hard workers tend to forget about their well being once their mind is set to work. That alone may be desirable to entrepreneurs since it can boost productivity, however, it can be counted as the negative opposite. Sleep deprivation undergo all of these unhealthy habits. The average amount of sleep hours an adult needs in a day is in close proximity to 8 hours a night. The cost of poor sleep is not in the increase of productivity, but in the lack of quality. A lost in sleep reduces brain function, leaving you unable to produce decent work. The effects of lack of sleep on productivity is well recorded, negatively affecting work performance – productivity and quality. Without proper sleep, you will have more issues in concentrating, learning, and communicating. This can result in slower reaction times on problem solving due to memory lapses, or more noticeably, the moody and intolerant behavior. In an interview with Bryan Murphy, Founder and President of Tomorrow Sleep, he explains how with Tomorrow Sleep, the smart mattress can properly get you the sleep you need in order to be productive the next day.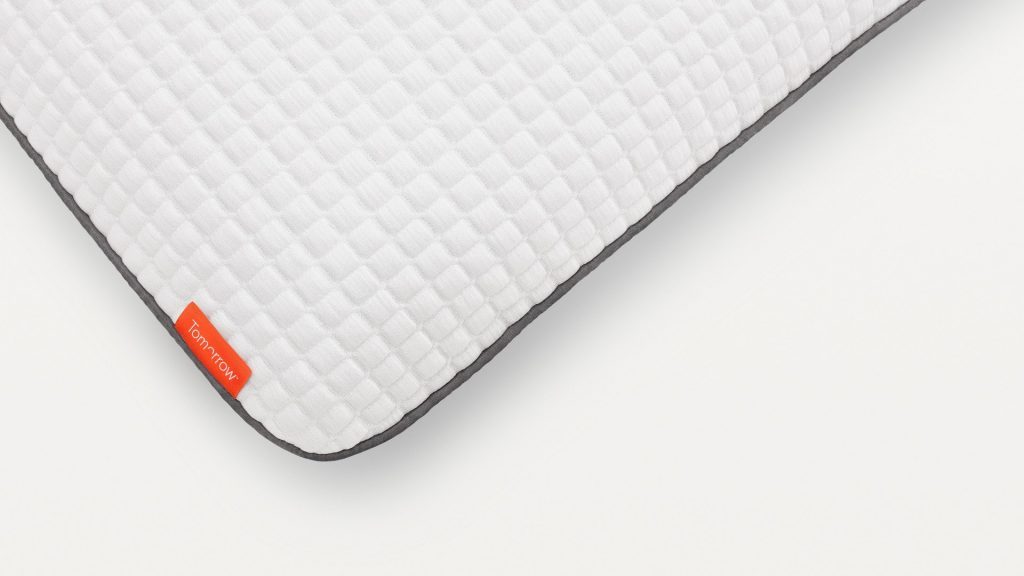 What is Tomorrow Sleep?
Tomorrow, which launched in June, is a new sleep company that combines a direct-to-consumer ethos with 100 years of American manufacturing expertise. Leveraging the knowledge and research of industry leader Serta Simmons Bedding, Tomorrow created the first truly connected sleep system with smart technology designed to help you transform your sleep and achieve your deepest, most restorative rest, offered at an incredible value that wouldn't be possible in traditional brick and mortar stores.
What is the company passionate about?
Tomorrow was founded on the principles of a well-balanced, healthy life. We believe overall wellness requires truly restorative sleep, and having the right tools makes all the difference and that sleep is a fundamental pillar of wellness. We're dedicated to offering our customers a better tomorrow and our mission is to provide a holistic system of products that allows people to achieve their best sleep night after night, so they can be anything they want to be in the morning.
How is Tomorrow Sleep different from other mattresses?
It really boils down to experience, control and scale.  We have over a century of experience designing and engineering sleep products. Our own manufacturing, supply and quality operations here in the US produce millions of beds per year. Having this experience, control and scale allows us to invest in cutting edge, premium materials that deliver real benefits directly to our customer at a great price. As a result, we offer a premium hybrid mattress that's designed with temperature regulating memory foam and a gently stabilizing, wrapped coil system, available at a direct to consumer price.
What started Tomorrow Sleep?
We saw that people are increasingly becoming aware of the importance of sleep as a cornerstone of wellness, however there wasn't a great solution to address that need in the direct-to-consumer space. We set out to solve two problems. First, by and large, most direct-to-consumer mattresses are made up of all foam and as such people complain that they lack support and sleep hot. Second, the bedding microclimate largely governs your ability to fall asleep quickly and stay in deep sleep. So, we set out to design a truly integrated sleep system that would help keep you comfortable, and give you the most restorative sleep possible.  We then paired that system with smart technology that allows you to learn how you sleep and help improve it.
What kind of special features are included to the products?
Tomorrow provides a totally new kind of hybrid mattress, combining premium temperature regulating memory foam with a gently stabilizing, wrapped coil system that offers the perfect balance of comfort and support. Our mattress has been expertly designed and tirelessly tested to ensure every coil in our mattress flexes separately to give you unparalleled head-to-toe support and the freedom to move, while our patented ventilated rail system helps maintain a well-balanced climate all night long.
Additionally, our holistic system – which includes pillows, sheet set, comforter, mattress protector and Sleeptracker® monitor – was designed to work together with the Tomorrow mattress in order to help our customers go from restless to ready for a better tomorrow. Our sleep products are made from premium materials to create the ideal sleep environment.
Is Tomorrow Sleep trying to improve? If so, how?
We're the first sleep company to combine a holistic approach with over 100 years of sleep experience, so we're doing things differently from the start. We're working to improve the mattress market as a whole by offering innovative products designed to help customers transform their sleep and achieve their deepest, most restorative rest.
How is Tomorrow Sleep supporting their customers?
Customer first is a core value. We're giving our customers the tools to transform their sleep and achieve their deepest, most restorative rest. Having a direct and personal relationship to our customer through our direct-to-consumer model allows us to make sure they are happy with our products and helps us to innovate better and more quickly.
What should people look forward to when buying your products?
With Tomorrow's products, customers will have everything they need to sleep to their full potential.
How important is sleep?
We believe that sleep is an essential and critical component of overall wellness, just as important as nutrition, exercise and mindfulness. Sleep has unparalleled restorative powers and when we get a quality night's rest with the proper climate and conditions, we're able to perform better.
Why do others need to be more aware about how they sleep?
Sleep keeps our daily performance at peak condition, and we feel it's important to enlighten consumers on the benefits of getting truly restorative rest. The more aware people are of how they're sleeping, the easier it is to improve and achieve the best sleep possible. Our Tomorrow Sleeptracker® monitor uses bio sensors to peacefully monitor and record sleep cycles, body movements and heart rate, and delivers personalized suggestions for better sleep.  Whether you're in light sleep, deep sleep or REM, our Sleeptracker® monitor knows how much time you spend in each stage and offers feedback and tips to help you understand and directly improve your sleep.
What message are you trying to pass with your company?
Our goal for Tomorrow is to educate people on sleep's role in overall wellness, and provide people with a holistic system of tools designed to help them live a better life, which we believe starts with a good night's rest.