MSI 1080 TI Duke Unboxing & Review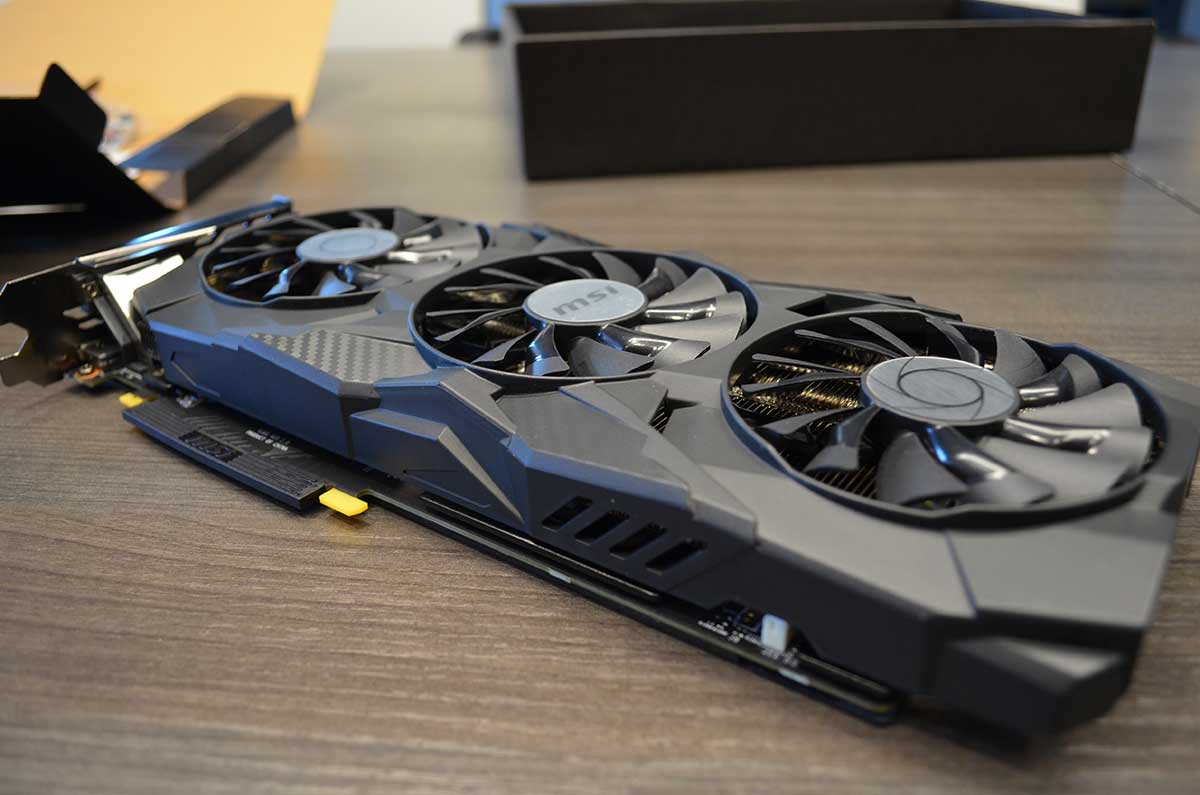 Today we get to unbox and review and new MSI 1080 Ti Duke. MSI released another version of 1080 TI Graphics Card recently under the brand name Duke. The new graphics card boasts 352-bit memory interface with a core base clock of 1480MHz, boost clock of 1582MHz, and 11GB of GDDR5X memory at 11016MHz. Today we're going to do an unboxing of the MSI Duke 1080Ti, review the specs, and also do some real world benchmarking with it to see how it ranks amongst other 1080TI graphics card.First, we want to make it clear that this isn't MSI's first 1080Ti graphics card, they have an entire lineup of them. You may be more familiar with the MSI Gaming X which features dual fan, a shorter profile, and has MSI's signature red on the casing. We did an overview on the MSI Gaming X previously, you can check it out here.
Unboxing the MSi Duke 1080Ti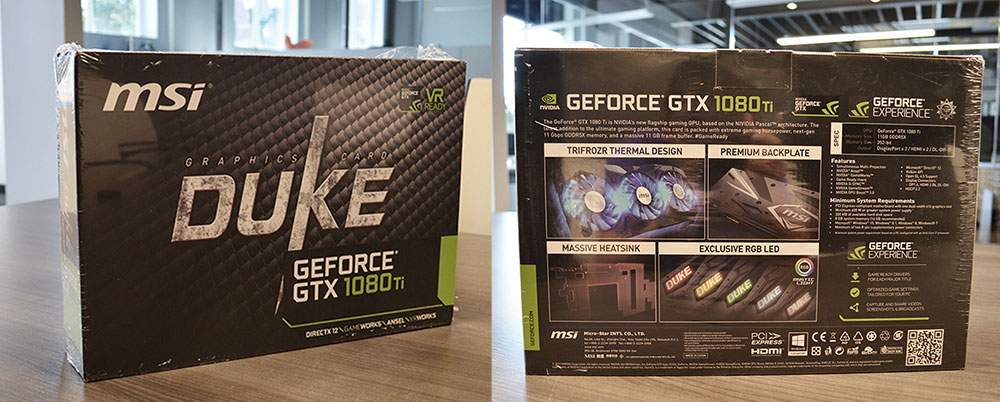 The MSI Duke ships in a beautiful carbon fiber skinned box with the essential letterings on the front side. The backside is more feature heavy and goes into details with all the offering you're getting for a $750 graphics card.One very nice and small touch that MSI added are the tabs to pull out the entire inside. Usually you'd have to do a little bit of wiggling to get everything out without ripping the box apart. Thanks to these little thumb tabs, you can pull the entire inside box easily.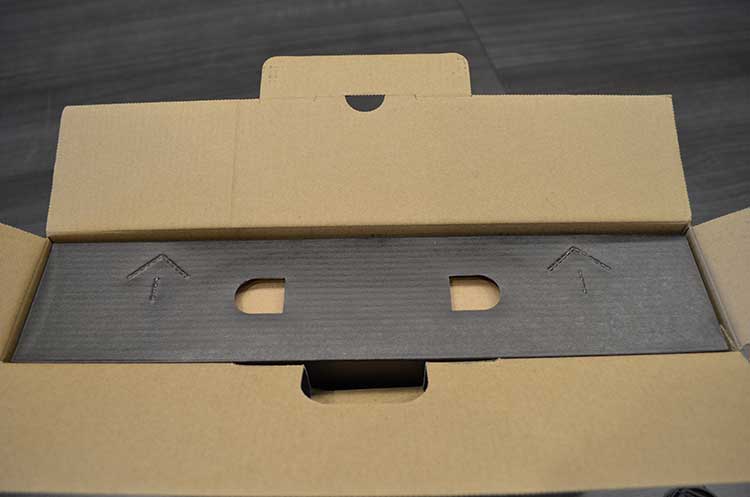 Upon pulling everything out, we're greeted with MSI's subtle logo printed on the matted cardboard box. The top is a thin cardboard box containing the essential manual, some marketing materails, a 6 to 8 pin power adepter (if you're using an older power supply, this is a nice little bonus), and the vestigial installation CD. If you're building a gaming machine and throwing down $750+ on a graphics card, something tells me you're not installing a CD drive. Not sure why manufacturers still include these in the higher end graphics card. For lower end cards it makes more sense.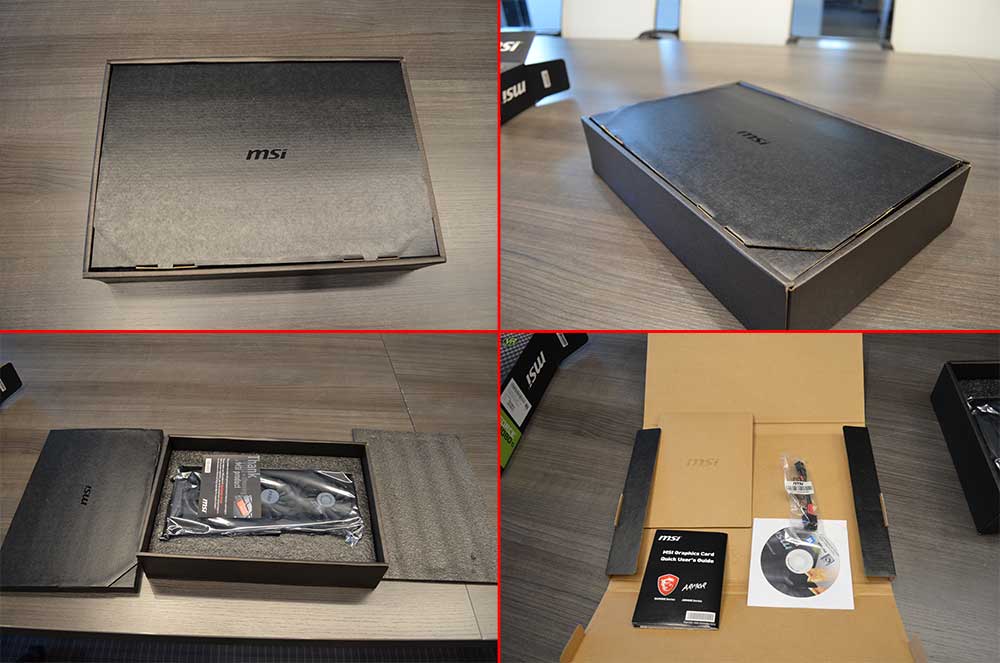 The graphics card itself is encased snuggly inside the foam cushion wrapped in anti-static bag. Opening the wrap reveals a the magnificent looking MSI 1080 TI Duke. It's construction is mostly hard plastic with carbon fiber print tastefully decorated on the face. Make sure you remove the plastic stickers on the fan plates before installing into your machine. The backplate is solid metal and features MSI's logo and some more carbon fiber streaks for aesthetics.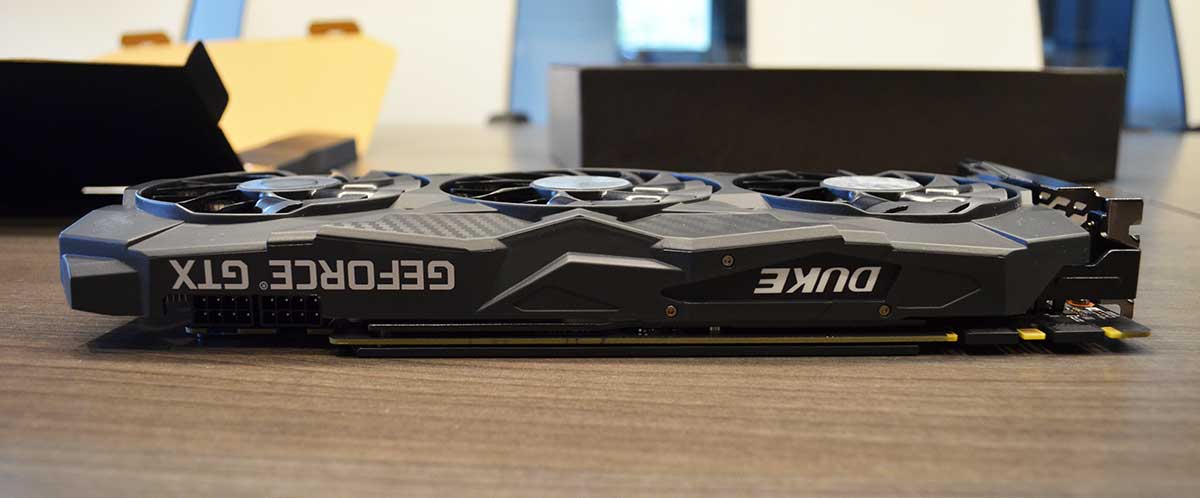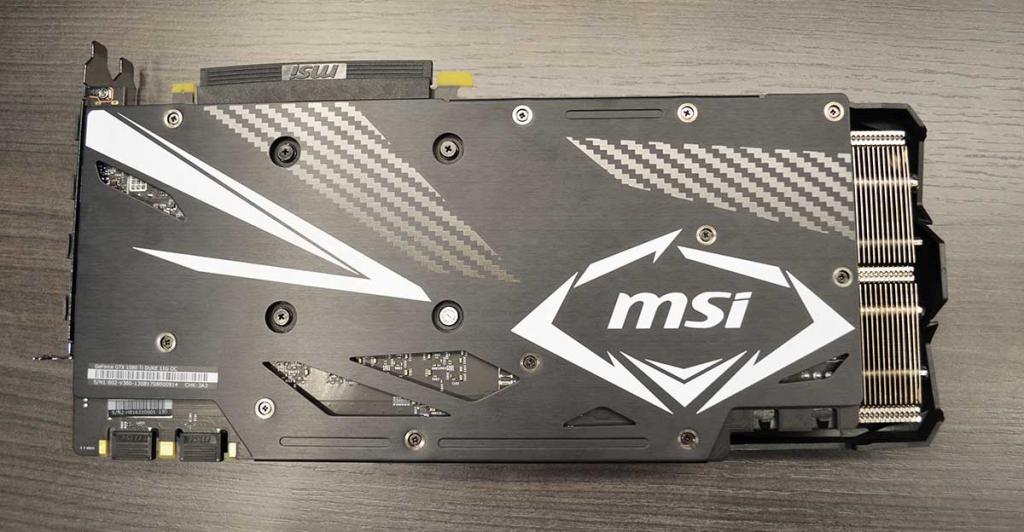 Cooling
The graphics card features MSI's proprietary Tri-Frozr fans. MSI claims the TORX fans have a combined of 2 different blade designs infused into one fan to give superior cooling capabilities. The unique about this card is that the fans actually stop spinning when temperatures are below 60C and only starts when temperatures are above 60C.  Keeping the graphics card cool is a cornerstone of design and one many third party manufacturers focus on optimizing.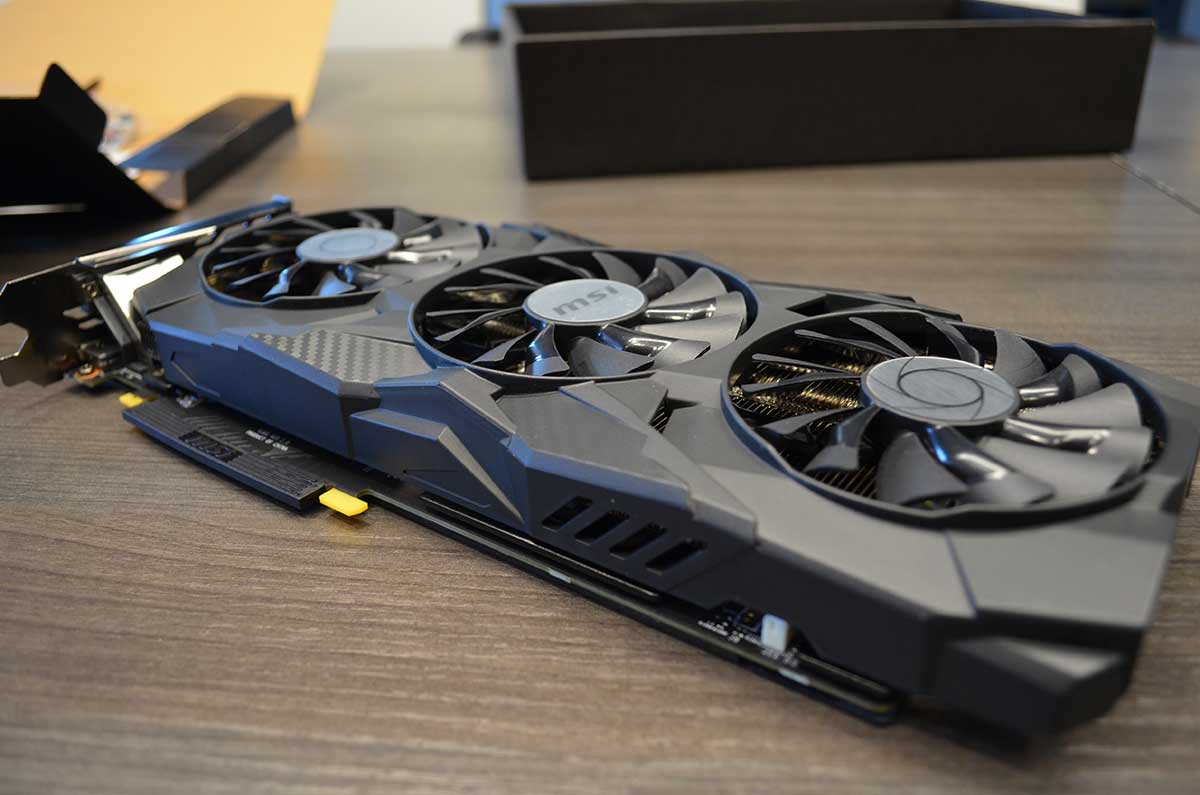 In addition to the fans, MSI also put a massive 8MM heatpipes that also helps dissipate heat during intense operation. The heatpipes also connect to a reinforced metal plate that acts as an additional heatsink and also prevent flexing due to the size of the graphics card.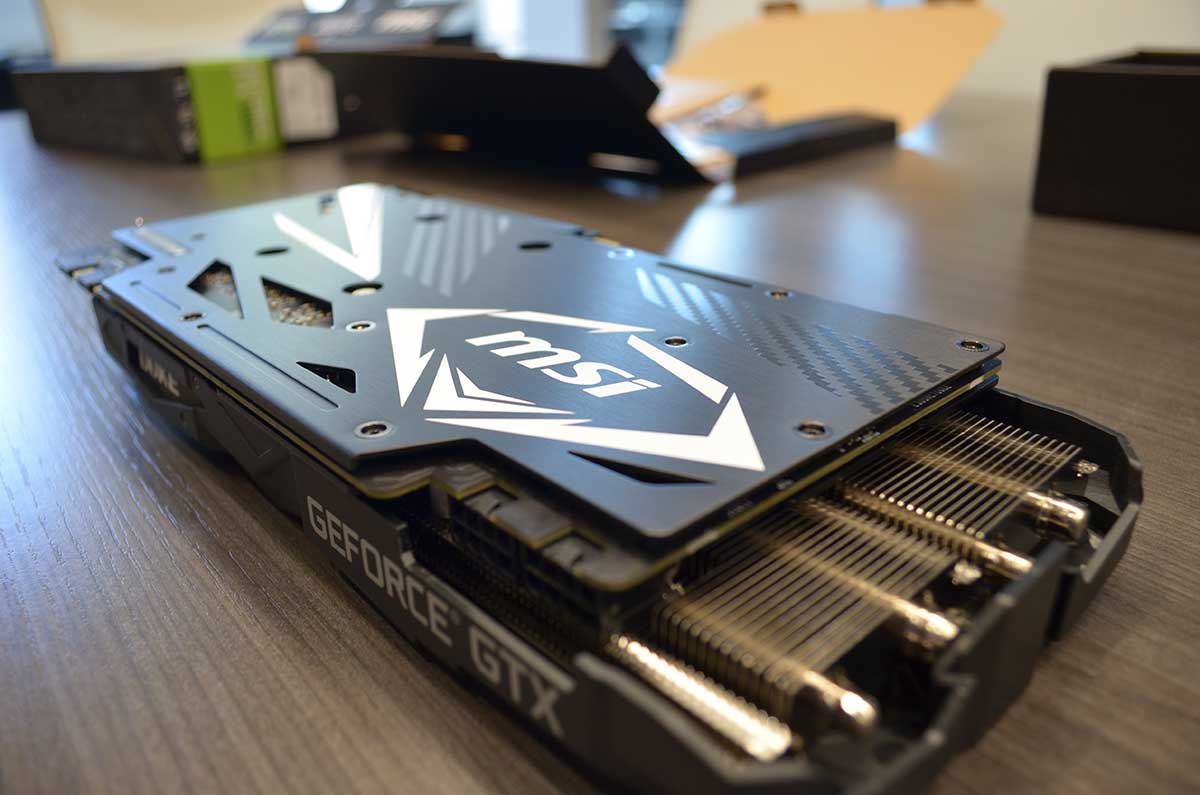 The MSI Duke is also noticeable larger than the MSI X gaming therefore flexing may be an issue. Take a look at the picture below and you'll noticed there's 2 layers of reinforced plating sandwiching the circuitboard to provide both optimal heat dissipation and also anti-flexing. The anti-flexing held true as we did try to bend the graphics card and to no avail.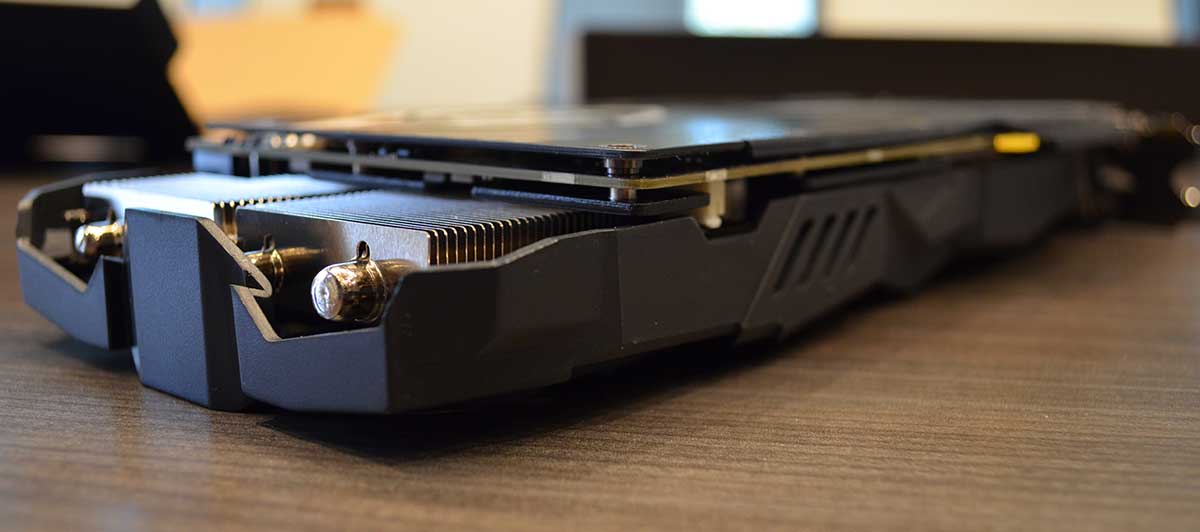 The Ports
The MSI 1080 TI Duke comes with your standard DVI port for those with older monitors. It has 2 HDMI 2.0 that can support 4K at 60Hz. You also get 2 1.4 Display ports that can support 4K at 120Hz or 8K at 60Hz (currently we don't have any 8K displays yet, but in the future when we do, you'll have a graphics card that can take advantage of it). This is the perfect configuration if you're planning to setup your machine for VR.For power, this graphics card (like all 1080 TI really) requires two 8-pin PCI Express power connectors that's rated at 250 Watts. If your power supply doesn't support 8-pin PCI, MSI graciously included an adapter for your 6-pin.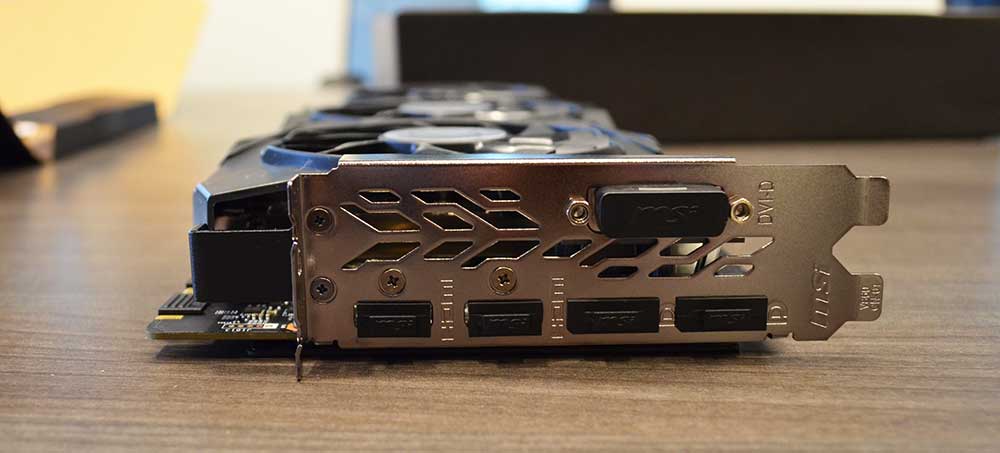 RGB Lighting
MSI promised that this is an RGB model meaning there will be configurable lights. The back plate looks nice and clean featuring MSI logo in all white and carbon fiber streaks, however it doesn't light up. We don't mind this, as when installed, the backplate is hardly visible anyway.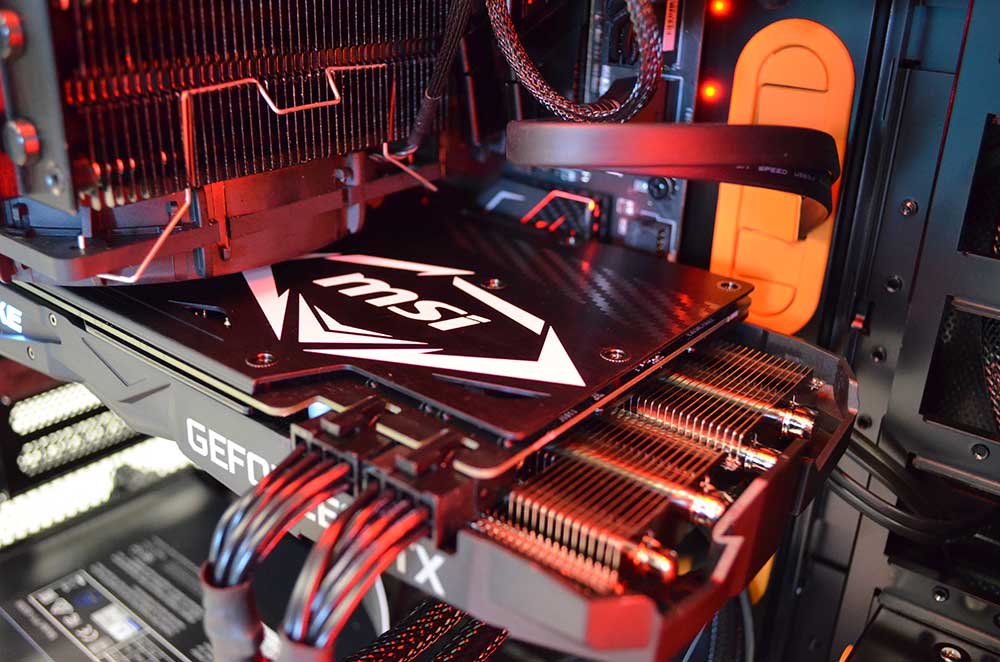 On the side, the MSI DUKE logo does light up and can be configured. The Geforce GTX doesn't light up, probably not a bad thing for us because our poor wiring covers it anyway. Overall, the lighting aspect of the MSI 1080 TI Duke is disappointing as only the DUKE logo lights up.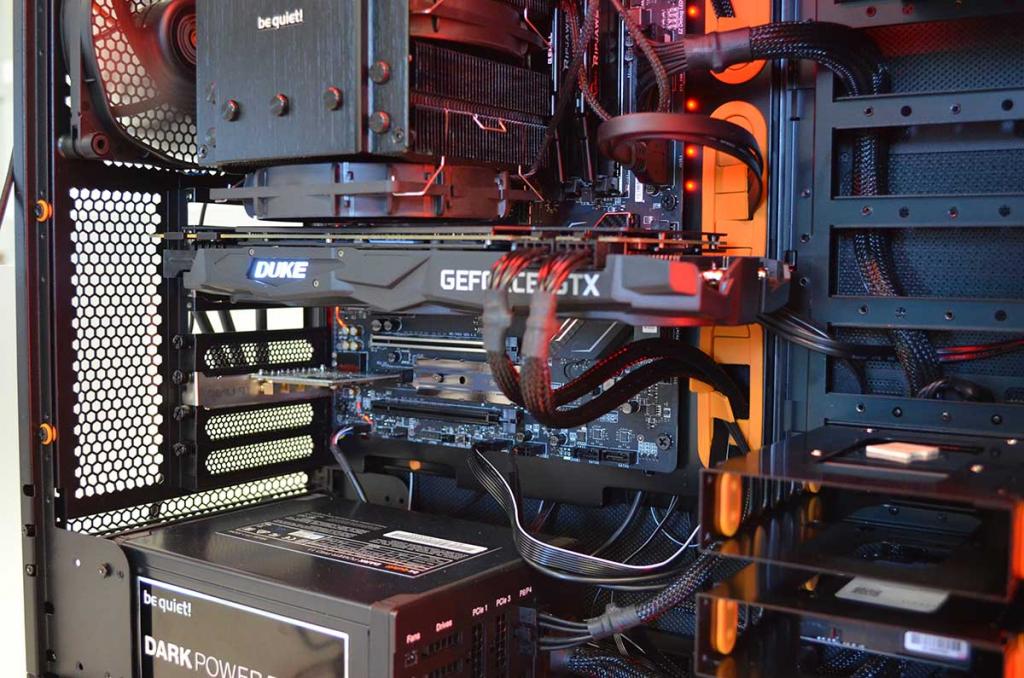 Benchmark
Now it's time to put the card to test. We decided to test single-player games instead of going online to really test the graphics card capabilities. Online games have the added layer of internet connection that could mislead our results.For testing, we installed the MSI 1080 TI Duke into our rig. Below are the specs for our rig.
Owner's Magazine's Custom RigCase
-
Dark Base 900 Pro
(Premium case, bit expensive but definitely worth every penny.
Check out our first look HERE
)
Power Supply
-
Dark Power Pro 11 850W 
CPU
- Intel 7700K Kaby Lake
CPU Cooler
- 
Dark Rock 3 
Motherboard
- MSI Z270 Carbon Gaming Pro
RAM
- 32GB DDR4 G.Skill Ripjaws 32
Graphics Card
- MSI 1080 TI Duke
Monitor of Choice
We chose
Pixio's new 347c Prime monitor
to review most of the higher end graphics card.
Pixio's 347c Prime
is a $600 34" monitor with aspect ratio of 21:9 giving us ultra-wide 1440p viewing with up to 5MM pixels. This is considerably more challenging output than traditional 1080P monitors, however not quite as demanding as 4K monitors. We enjoy the sweet spot in the middle and also enjoy the extra wide dimension of the
Pixio 347c Prime
. Review for the
Pixio 347c Prime
is coming soon.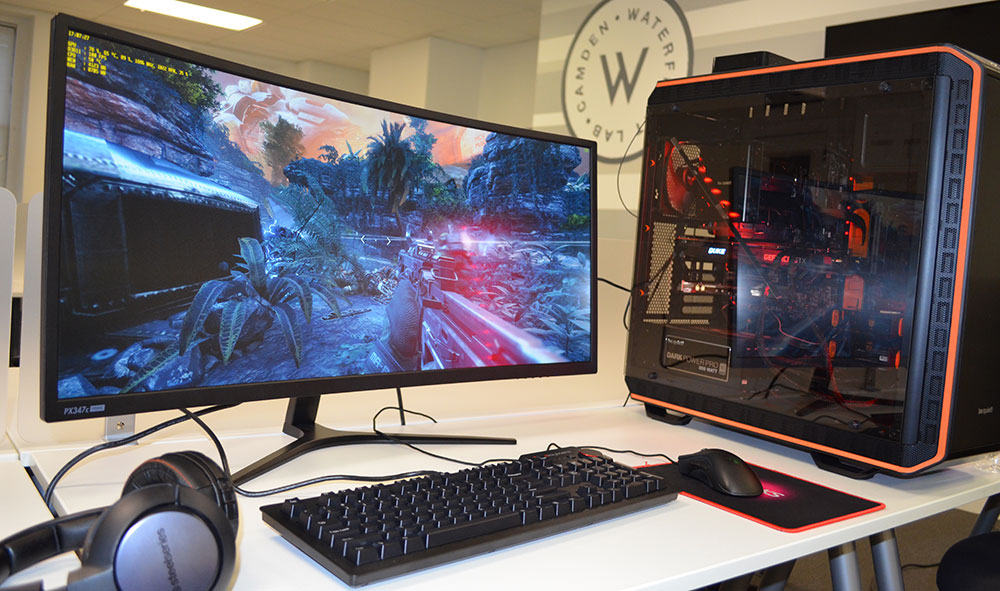 Keyboard
For this review, we decided to use
Das Keyboard 4 Professional
keyboard. It's a professional grade german-made keyboard that's used by many pros in E-Sport. Review for
Das Keyboard 4 Professional
coming soon.

Disclaimer: Owner's Magazine wasn't paid by either MSI, Be Quiet! or Pixio to promote products. All of the parts in our PC were chosen due to their respected quality and value determined by our engineers. We used quite a bit of Be Quiet!'s products due to their products generally being whispers even during heavy operation. And we chose Pixio's monitor due to it's value and desirable pixel density for testing high end graphics card. 
Witcher 3
Max FPS: 100Low FPS: 92Avg Temperature: 66C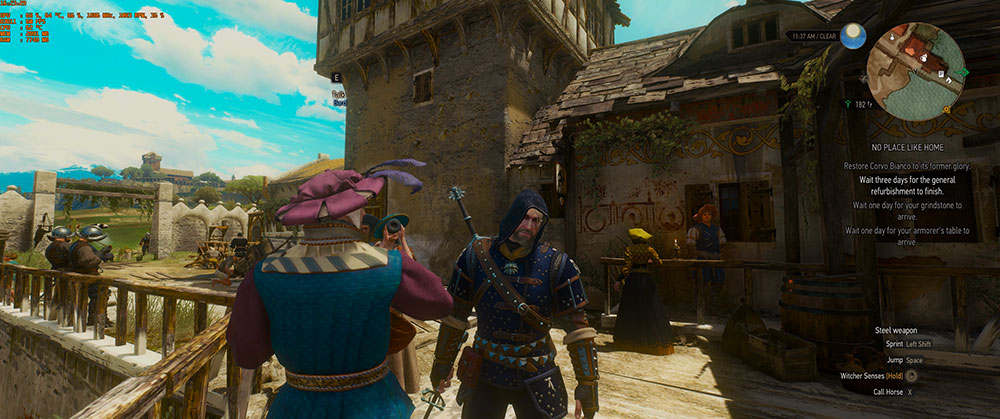 Battlefield 1
Max FPS: 100Low FPS: 77Avg Temperature: 71C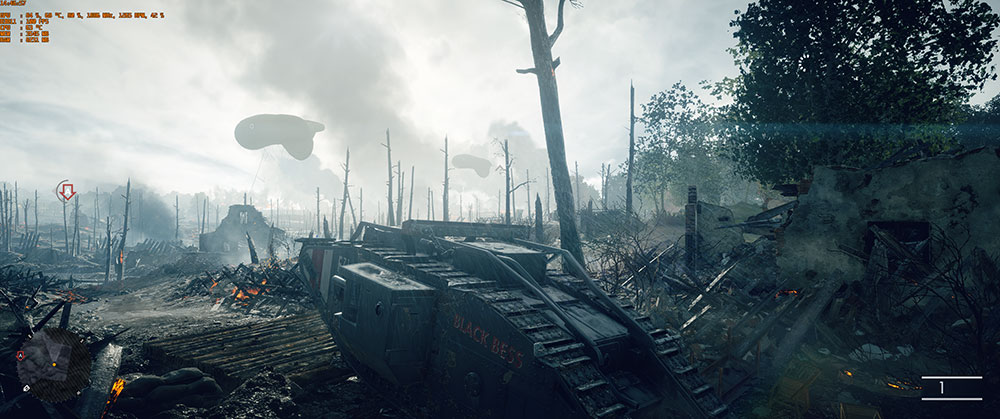 Doom
Max FPS: 100Low FPS: 74Avg Temperature: 68C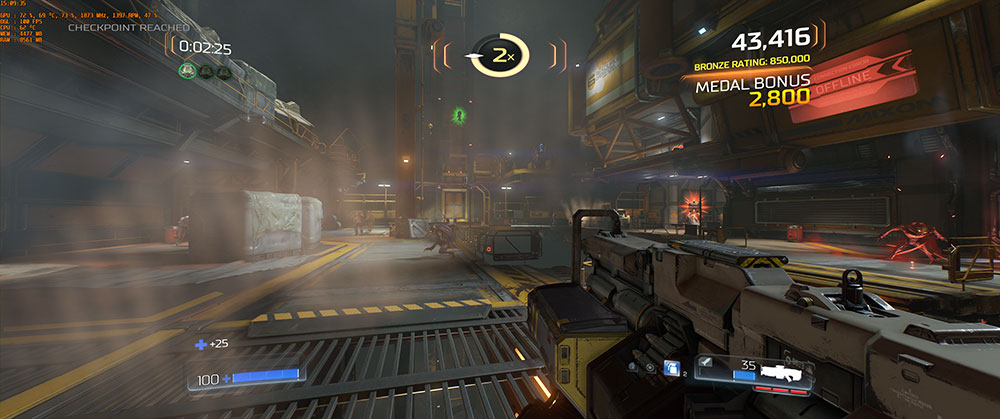 Dishonored 2
Surprisingly dropped below 60FPS during intense fight scenes.Max FPS: 100Low FPS: 55Avg Temperature: 64C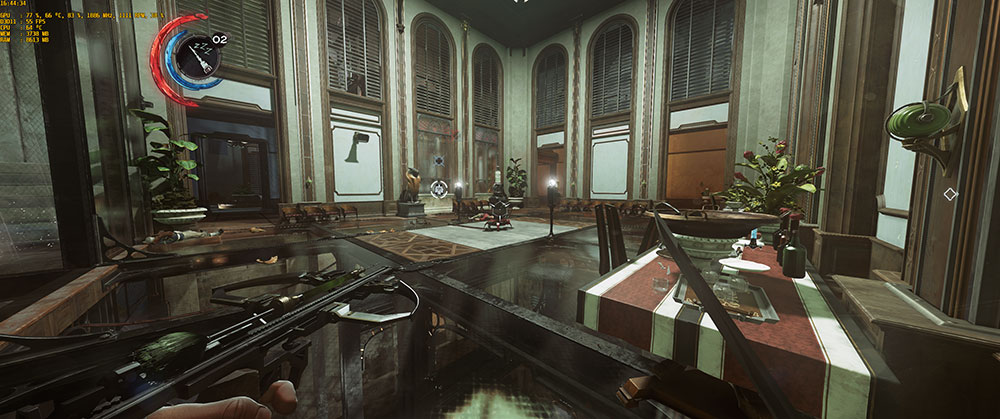 Call of Duty Infinity Warfare
Max FPS: 80Low FPS: 52Average Temperature: 79C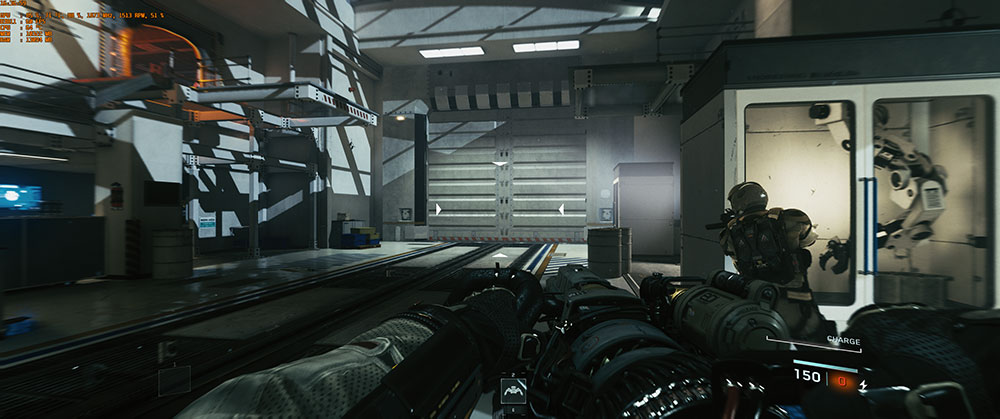 Tital Fall 2
Max FPS: 100Low FPS: 66Avg Temperature: 72C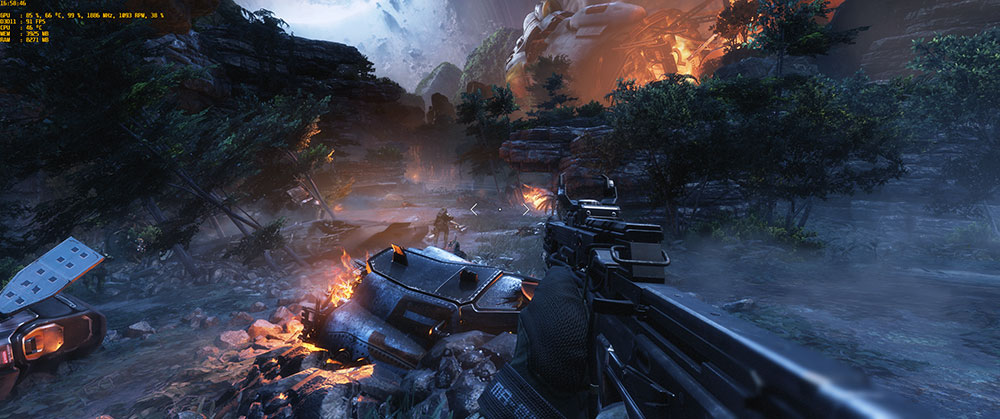 MSI 1080 Ti Duke Verdict
After testing the MSI 1080 TI Duke for several hours the card never got over 77C, and fan speed was silent for the most part. The unit handle most games on the list without a hitch. However that's not surprisingly since 1080 TI typically are made to handle higher end games. Cooling was not an issue with the triple Frozr fans silently doing their job. Frame-rate was capped at 100 for our testing, and most games remained at 100 FPS even during intense fight sequences. The only game that gave us any issue was Call of Duty: Infinity Warfare. The graphics card could only output 80FPS maxed and even dipped below 60FPS during a few sequences. All of this was on a 34" 1440P ultra-side Pixio 347c Prime monitor, not a 4K monitor.When you're shopping for 1080 TI, whether you're looking at Asus, PNY, EVGA, or MSI they're all relatively great performing cards. What separates them are the options, features, and bonuses that they come with. At the time of writing, the MSI 1080 TI DUKE is priced at $750 shipped on Amazon and that's quite a steal given everything you get with it. It's a solid performing card that comes with all essential ports for VR, has phenomenal cooling, rigid construction with additional heat plates (why the cooling was so good), slim profile (much thinner than the Asus Strix 1080 ti) making it easy to have SLI configuration, and it runs at no louder than a quiet whisper. The only drawback is the lackluster RGB lighting which they may as well not have done at all. Other than that, we put the MSI 1080 TI Duke right up there with all the other big boys.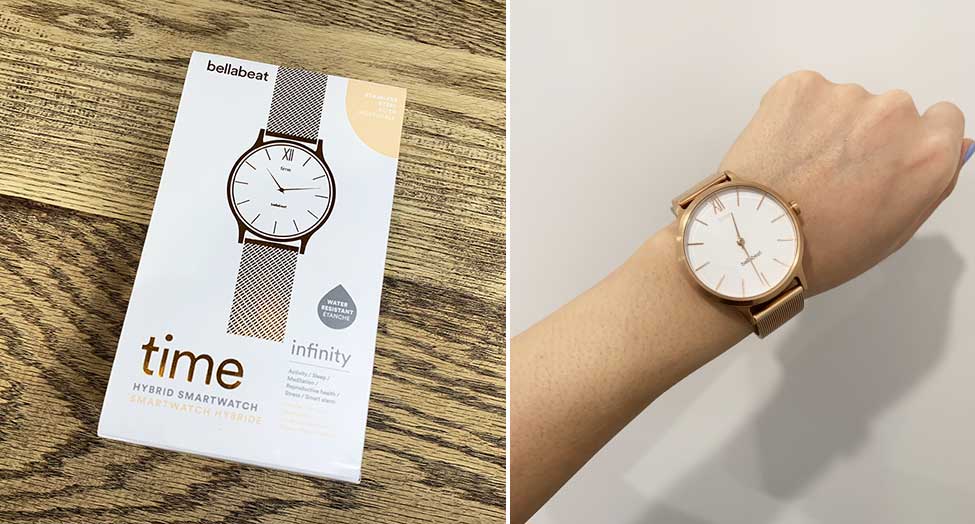 Setting healthy habits is a primary focus for many of us for the New Year. From working out to practicing meditation to drinking more water throughout the day (because we all need to drink more water), many look for accessible tools and resources to help us stay on track and reach our goals. With the surge of wearable devices on the market, how does one choose which to spend our hard earned money on and watch one are simply gimmicks?

The category of wearable technology, more specifically smart devices, has grown drastically in the past five years. The industry shifted to help us better staying connected, on trend, and collect helpful data. Whether it's call/text notifications, heartbeat monitoring or counting your steps to hatch eggs on Pokemon Go, both large brands and new startups are doubling down on wearer's interest to new technology.With a market saturated with heavy hitters, like Apple, Fitbit, and Fossil, and weekly product launches on Kickstarter and Indiegogo, all competing for buyers' attention, it's important to know what kind of features and functionality your lifestyle needs to choose the right product for you. Even for independent brands, expectations are extremely high for product design and technological advances to compete with the Watches, Bands, and Qs of the world. Startups, like Bellabeats, a piece of smart jewelry, and wellness startup, must build an exceptional product, in addition, to carefully target the right demographic and build a community thriving community just to stay in business.Bellabeat aims to improve the lifestyle of their customers: smart women with an inspiring healthy and on-the-go lifestyle. Their products promote healthy living through your wellness tracker, collecting data on activity, meditation, water consumption, sleep patterns, and even where the wearer is in her reproductive cycle, all to determine their stress sensitivity.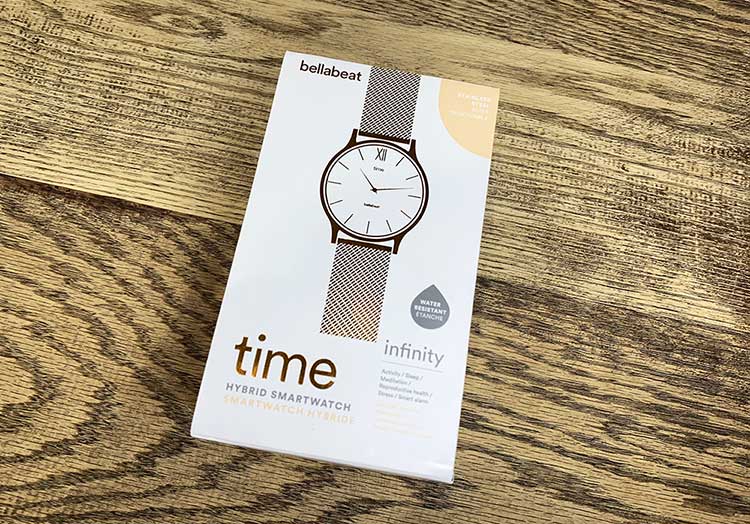 Their latest product release, Time, a smart-wear with a luxury and minimal design, fits into the customer's smart chic lifestyle and compliments their other products, Leaf Urban Tracker, which is shaped like a left, Left Switch, includes a centerpiece of rose quartz or onyx crystal, and a smart water bottle, called Spring. With Time, wearers can track her habits throughout the day, including a number of steps, types of activities, how much water she drank, and even her quality of sleep. In addition to these features, users can use their beautifully designed and colorful app to access guided meditation and track her period.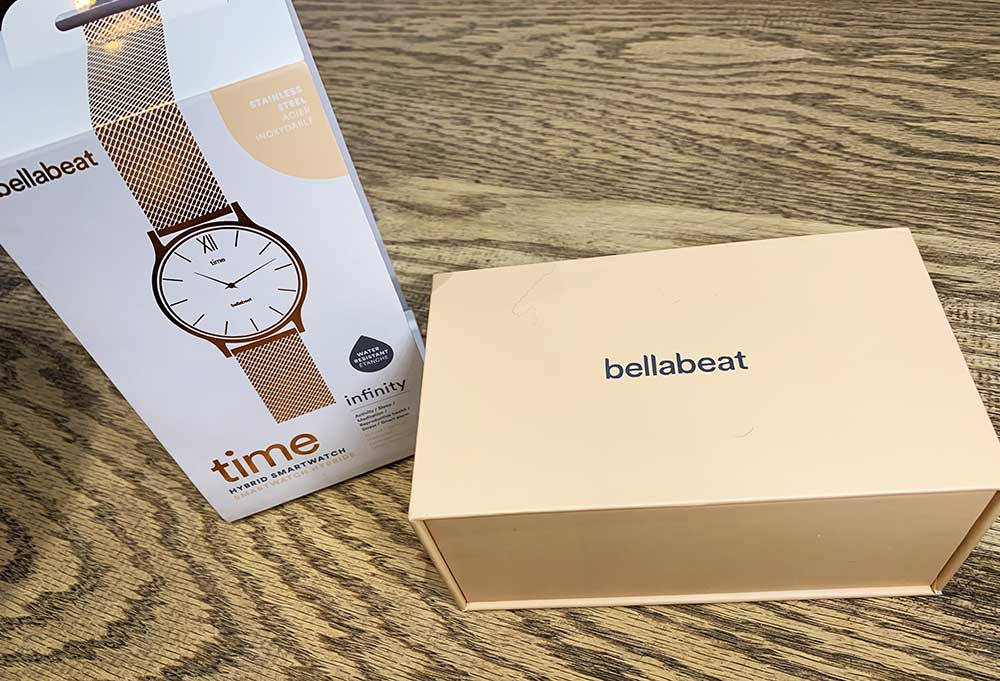 The device is optimal for wearers who are interested in tracking these habits for personal acknowledge as there are inaccuracies to Bellabeats data tracking. When used, in comparison to other tracking apps, such as Apple's Health and Sleep Cycle, Bellabeats falls behind data tracking and usability. Competed to Health, Bellabeats's Time (which is worn on reviewer's wrist throughout the day) collects 100-1,000 steps less, even with phoneless trips to the bathroom and grabbing prints from the printers.Time also calculates time spent laying down while watching late night Youtube videos as sleep hours, while Sleep Cycle can determine when users have fall asleep and catch more late night bathroom breaks than Time (which again, is worn on the wrist and goes with the user to the bathroom compared to staying plug and on the bed). Another downside to Bellabeats Time is the user experience. From difficulties and delays to stepping up the device upon arrival to non-intuitive design and usage, Time does not build confidence in users who believe they're buying convenience for $179 USD.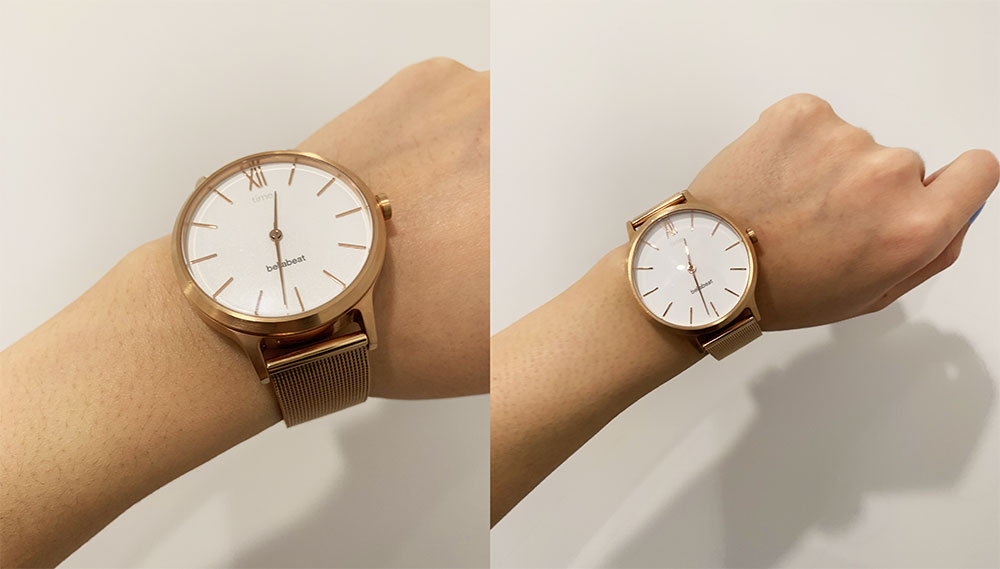 It is undeniable the beauty and luxurious watch design and packaging. What is less luxurious is the delay in usage upon receiving Time. Forwarning, you will need someone else to help insert the watch batteries and may struggle to adjust the wrist size (which is still too big for my tiny wrist). Furthermore, their colorful and minimal app could use more instructions and features to improve wearer's experience with their technology, such as reminder notifications to sync their device (so users do not lose their data if they forget at the end of the day), better data tracking to reduce inaccuracies, and possibly, integration capabilities to sync with other apps, in case users prefer other apps, to improve their data collection.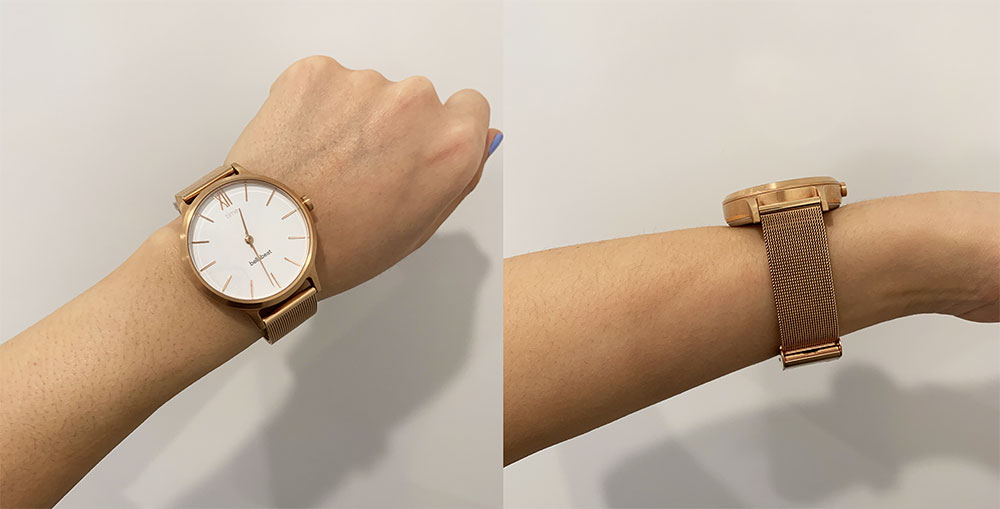 Both with the design and technology, the team at Bellabeats offers both benefits and setbacks when it comes to their products. They have done an amazing job building their social and online community and promotion healthy and smart living. Their goal for supporting healthy habits is highly appreciated and we look forward to seeing where the company grows to (and how they can improve their tech, no shade).
Why Quality Is Better Than Quantity In Design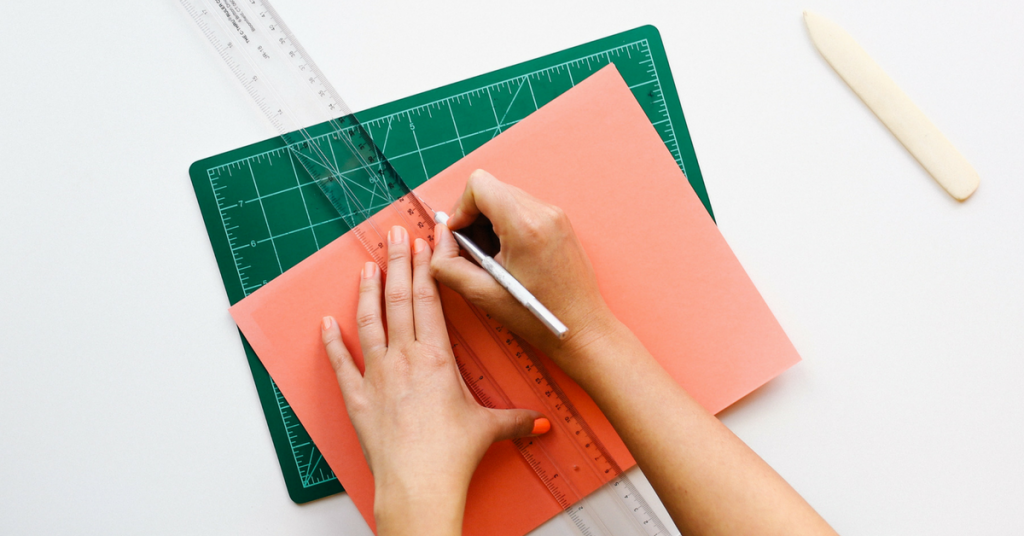 We have all been taught that quality is always better than quantity. This is true even in design. Quality is better than quantity in a web design, because a well designed website is thought out and capable of capturing your target audience. While it is true that there is competition when it comes to web design, there are still many designers and companies that prefer their designs to be tailor-made for their company rather than a 1-size-fits-all type of website. Here are reasons why you should always go for quality rather than quantity.
Quality Means Better Work
Let's stick to the example of quality web design. When you go to the internet and search for products, you usually go through several sites before settling on a page that catches your attention. But, before you decide to stick to that page, you've probably browsed through 3 or 4 websites. You might try asking yourself why you left those pages. Some of the most common answers include: slow loading time, unfriendly web design or uninformative product descriptions. All these reasons point towards sloppy workmanship on the part of the website developer. This could mean that the company is hiring inexperienced talent due to an overload in projects or poor supervising. Either way, this does not bode well for the reputation of your company, because it makes you look sloppy too.Quality takes work. Designers and craftsmen alike need to consider many different factors so that they can make a product attractive to the target market. If your website looks like a cookie cutter website, it makes you look unoriginal and common. It might make customers think you stole website ideas from your rivals, because your website looks like theirs. This could translate to a loss in trust and a drop in reputation for your company.Quality designs, on the other hand, means that thought was given to the design and development of the product. Designers studied what the customers wanted, what they need, and find ways to make the product unique to entice customers to them come back. All of these take time, but they have a better potential of paying off in the future. Designers and craftsmen need to consider everything from materials to the cost of time and materials ensure that the product is of good quality.
Quality Means Getting Noticed
There are over billions of different products available in the internet and in real-life. If you have a product you might want to launch it immediately to get a chunk of the market. Earlier is always better, so that you can reach more customers, right? This might be right, but in order to launch immediately, you might be tempted to go for something cheap with poor craftsmanship to ensure that your products are launched at the shortest possible date.But, there is a price to your hastiness. Cheap and poor quality products are very common. They look like carbon copies of each other and break easily. The only difference in some of them is the price or the color of the product. You don't want to be lumped together with companies like these
Quality Products Mean Better Reputation
In the end, the reputation of your company hangs in the quality of your product. If you want to be a trusted name in your industry, you want a quality product. If you produce quality, people will see your product and company as industry leaders, and there is no price you can pay for this kind of reputation. Yes, it might mean that your product is more expensive than others, but at least you know you are providing good quality products that provide value to your customers.
5 Best Gaming Mouses for Work and Play

Ever wondered if there's such a thing as a gaming mouse that's work good for work? At Owner's Magazine we value our readers and understand that you're probably scrolling through this article on your phone, tablet, or worse on a trackpad. An entrepreneur shouldn't have to separate work and play. We've reviewed several other products for entrepreneurs who seek tech gadgets that doesn't require compromising. And today we've reviewing the best Gaming Mouse for both work and play. We want to give a shoutout to our sponsors and supporters who send us amazing products to review.

5. Logitech G900 Chaos Spectrum
DPI:
12,000
Interface:
Wired/Wireless 2.4GHz
Buttons:
11
Ergonomic:
Ambidextrous
Features:
Customizable RGB Lighting, 30 hour battery life, removable side buttons
Cost:
$79 refurbished from Tanga
Wireless gaming has always been plagued with lag issues, which is why true gamers tend to shy away from bluetooth or wireless mouse. The G900 is here to change that once and for all. Logitech was able to get the G900's polling rate down to 1 millisecond on a 2.4GHz connection. Combine that with accelerated coverage of DPI range, zero smoothing and filtering, the G900 is a serious contender for that precious cargo space in your travel bag. Being wireless means it'll pair with just about any laptop (even mac) and it's ambidextrous design makes it compatible with all type of users.

4. Asus ROG Gladius II
DPI: 
Up to 12,000
Features: 
50g acceleration, 1000Hz USB polling rate, removeable left and right buttons, Omron switches, RGB lighting
Price:
$99 from B&H
Designed to grab attention and also excel in performance. The Asus ROG Gladius 2 comes with swappable buttons, a clickable scroll wheel, and a sensitivity toggle. The RGB lighting covers the mouse from top to bottom and is customizable, so you can pimp it to look like the rest of your gear if that's what your heart desire. Despite the comprehensive list of features and the hefty price tag, it doesn't come with swappable weights. This mouse is a perfect fit for entrepreneurs on the go and seeking a mouse that would allow them to snap a few noobs in between meetings at coffee shops.

3. Corsair Glaive RGB
DPI: 
Up to 16,000
Features: 
Interchangeable thumb grips, three-zone backlighting, Pixart 3367 sensor, Omron switches, DPI status lightsPrice:
$60 from Amazon
Taking a step down from the super high end priced mouse and entering the more affordable range we have the Corsair Glaive RGB.  Corsair is a company known for their PC parts and not known for their gaming peripherals. Entering the gaming scene, Corsair needed to innovate competitive edge, resulting in a mouse built for comfort, with a coating of soft touch paint, and swappable thumb grips.

2. Razer DeathAdder Elite
DPI: 
Up to 16,000
Features: 
True tracking at 450 Inches Per Second, Resolution Accuracy of 99.4%, Mechanical mouse switches (up to 50 million clicks), Razer Chroma lighting, Up to 450 IPS / 50 g acceleration, Razer Synapse software
Price:
$67 from Amazon
Razer is a well known brand in e-sports gaming and especially gaming equipment. It's no surprise that at least one razer mouse would make it on the list. The Razer Deathadder Elite is an affordable and powerful gaming mouse that carries all the essential pro-gaming necessities and nothing extra. You can also change the DPI of the mouse on the fly via buttons beneath the scroll wheel. Although the DeathAdder doesn't have the bells and whistles as some of the other mouse on this list it does come with beautiful RGB lights, changing the DPI on the fly, easy-to-buttons, and grippable scroll wheel makes the DeathAdder a formidable mouse for the price.

1. SteelSeries Sensei 310
DPI: 
Up to 12,000
Features: 
Ambidextrous design, one-to-one tracking up to 3,500 CPI, 50-million click life span
Price:
$60 from Amazon - it's so popular it's out of stock!
And the ultimate mouse for both gaming and work is the SteelSeries Sensei 310.Steel series have always been known for making exceptional gaming products and their latest The SteelSeries Sensei 310 is no exception. Steelseries priced the mouse competitively to mice priced double it's price. It's a simple no-frills design that's not meant to show off your "gamer side" or be an attention magnet on your desk. If there is such a thing as a Mature gamer, Steelseries definitely made this mouse for that specific audience. Although lacking the bells and whistles of other mice on this list, the performance, reliability, and impressive sensitivity makes the SteelSeries Sensei 310 a must-have for both gamers and the average everyday user looking for a solid performing mouse. The mouse is so popular you may have a hard time tracking it down online.
Conclusion
These were the 5 best mouse that we reviewed this half of 2017. No matter which mouse you choose on the list, you'll be satisfy with. Ultimately choosing a mouse is a personal choice and everyone's preferences are different. Some of us want our mouse to be edgy, flasy, and highly customizable. While others want a no-frills plug & play gaming mouse that can also work with their Mac while traveling. Whichever mouse you choose, just make sure you also grab a good mouse pad to go along with it. A mouse is only as good as the surface its on after all.