7 Reasons Why You Need to Get The Dark Base Pro 900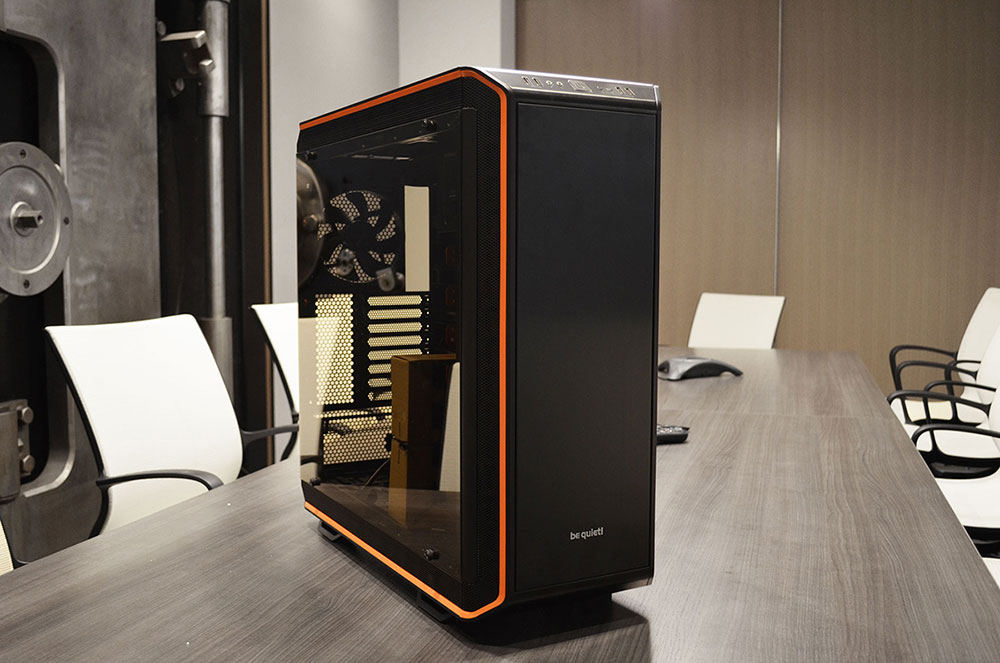 We chose the Dark Base Pro 900 as our case for our ultimate Entrepreneur's Custom Gaming/Work PC. Most entrepreneurs nowadays aren't buying computers anymore due to the high cost of buying a laptop/work station every 2-3 years. Technology is fast moving and entrepreneurs are seeking to build their own Work/Play Rig. When building your own PC, one of the most important components is the Case. A poorly made case can make your space look unsightly, reduce the life and performance of your internal components, and also be loud and annoying to operate. And that's why the Dark Base Pro 900 caught our attention. The company behind the Dark base 900 Pro is
be quiet!
...take a guess what they focus on.
Be quiet!
is a premium brand manufacturer of power supplies and cooling solutions based in Germany. This case is part of complete build that we will be finishing up within the next couple of months. We're building the ultimate Work/Gaming PC for entrepreneurs and startup founders. And after months of research, we'd like to present you the 7 reasons why we chose the Dark Base Pro 900 .
1. Beautiful Design
First and foremost, we chose the case because it has a timeless look. It's not too flashy, too edgy, or too over-the-top with all the curves and lines you'd find in other cases. The beauty is subtle and controlled. Our first impression of the case is one of awe and admiration. We reviewed it in our conference room and our staff constantly peaked in to see what we're reviewing. You can choose between Orange, Silver, or Black trim. We chose the orange trim. It's a full tower case featuring brushed aluminum & ABS casing all around, and 4mm thick tempered glass side panel. Coming in at 14.39kg without parts inside and measuring at 577mm deep, 243mm wide and 585mm tall, it's definitely not a case you can easily move around. But then again it wasn't designed to be portable.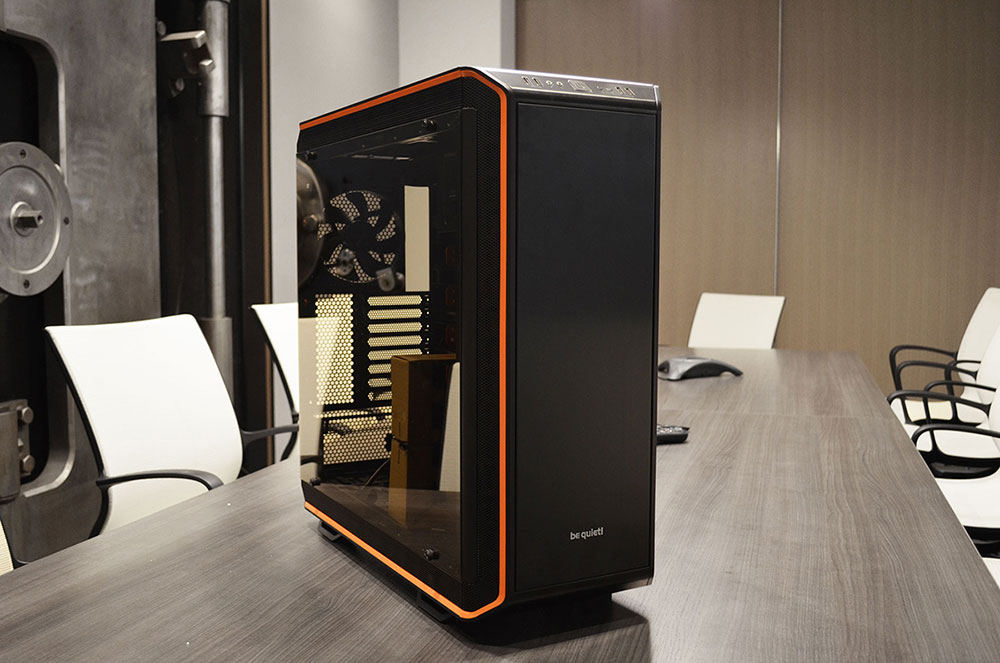 We also appreciated the subtle and tastefully branding placed on the metal side of the case and in front. The orange outline is a solid color and doesn't glow, which we don't mind. The case does come with RGB lighting kit and it's relatively easy to install.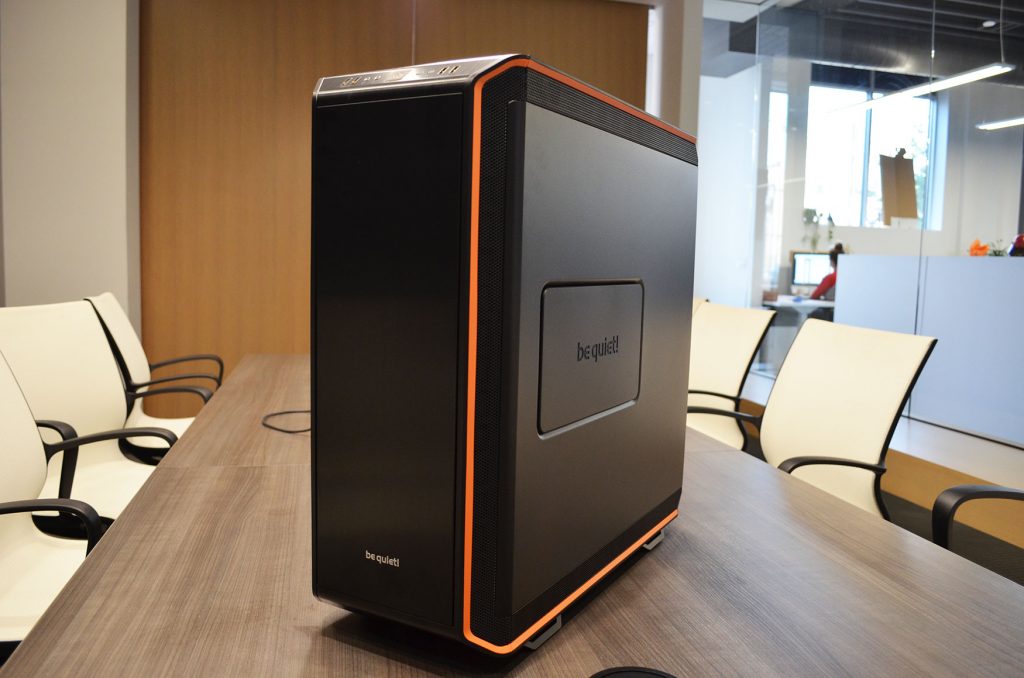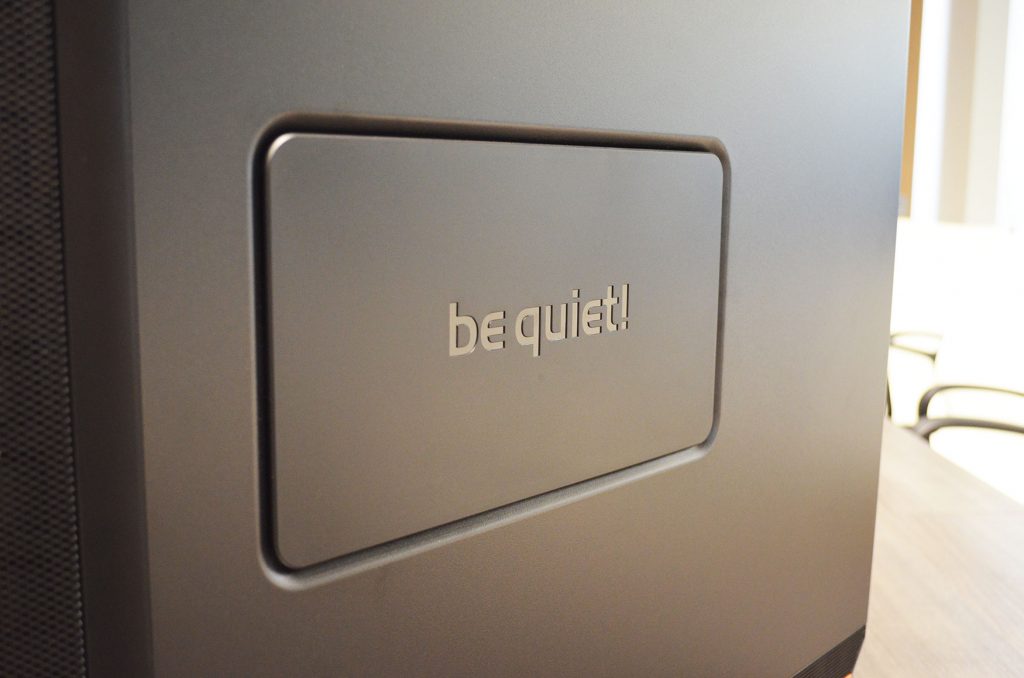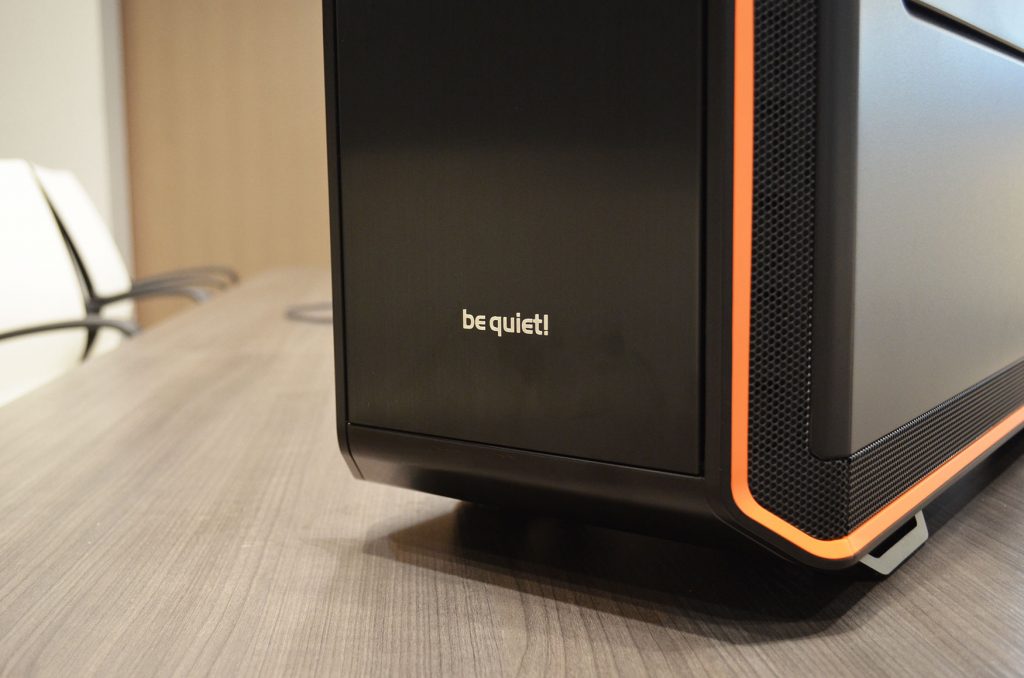 When placed on a desk presents a timeless beauty that doesn't beg to be noticed.
2. Functionality
We needed a case that was going functioned as well as it looks. Below are some attractive features of this case that sold us.
Good ventilation:
 It's a highly breathable design with ventilation mesh surrounding the entire casing on both sides ensuring abundant airflow.
Motherboards Compatibility:
The Dark Base Pro 900 (and even non-pro version) is compatible with a wide range of motherboards. You'll be able to fit XL-ATX, E-ATX, ATX, Mini-ITX, and even Micro-ATX motherboards. We like to keep our options open when it comes to motherboards.
Front Ports:
On top you have the  I/O  button with 2 USB 2.0 ports, 2 USB 3.0 ports, and HD audio jacks. Your Audio and Microphone ports are in front and easily accessible instead of having to plug from the rear. We wish it included a USB-C port, but it's not a deal breaker.
QI Charger:
On the top Panel there's a QI charger for you to place a compatible device there to charge. This is the first time we've ever seen this feature on a case.
Fan controller and RGB LED color switch:
 You can adjust the fan speed directly from the front panel and cycle through multiple color scheme of the RGB lighting. All these can be controlled without turning the computer on and going into some sort of interface.One small aesthetic thing we didn't like was the misalignment of the orange line (pictured below). It's not a turn off, however would've been nice if it was perfectly aligned.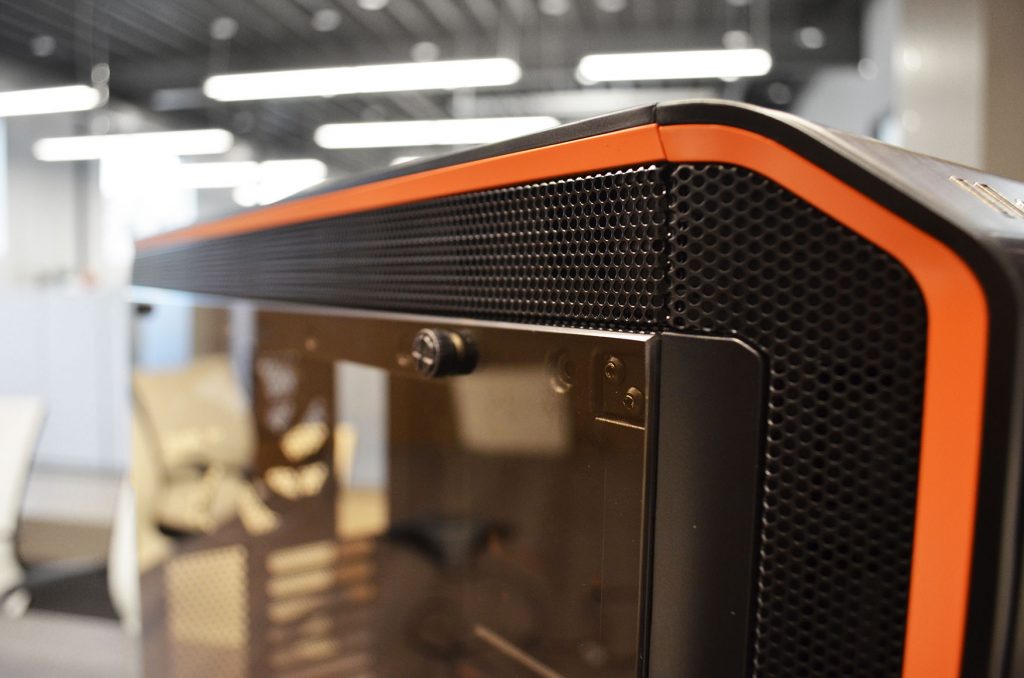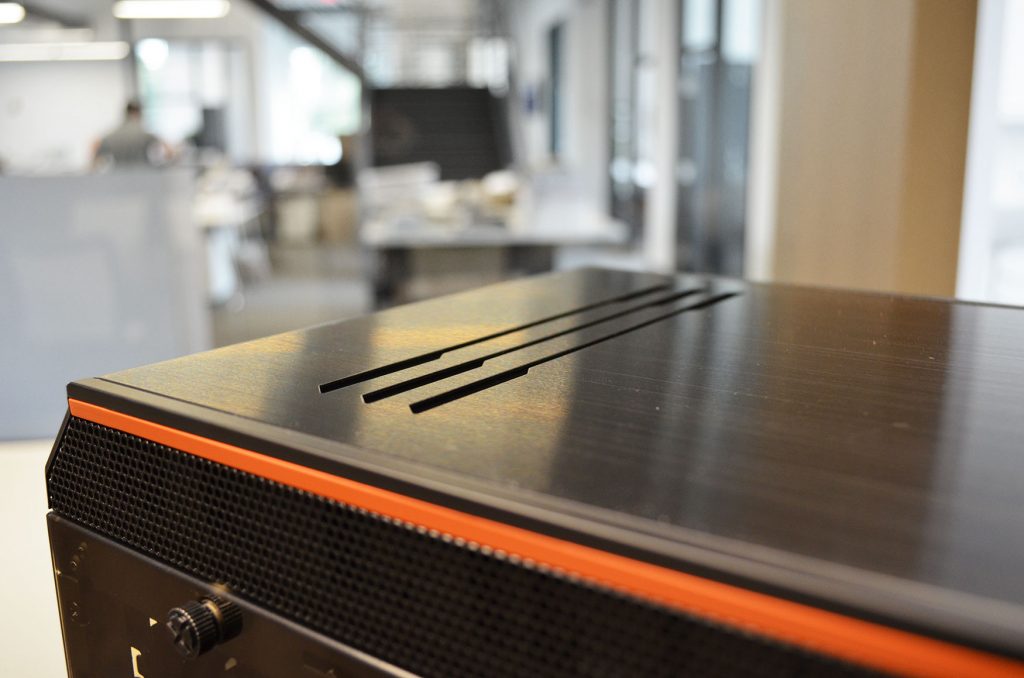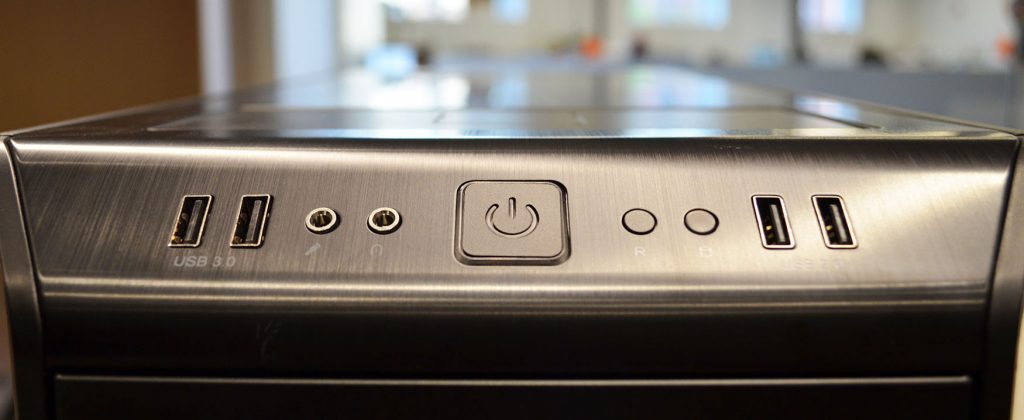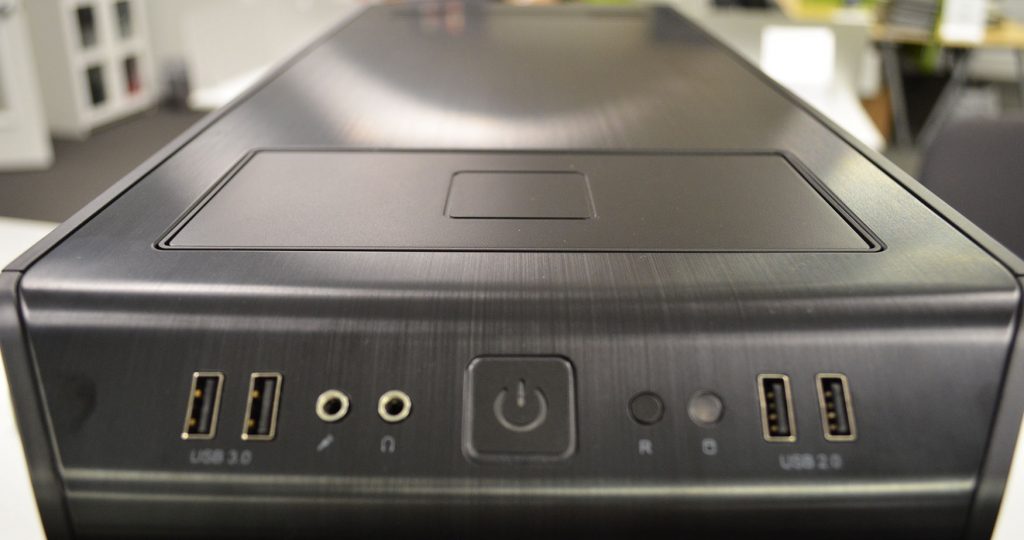 3. Cooling
No high-end machine can function for long if it wasn't built with cooling in mind. The fans alone in this case make it worth the extra money. Instead of having to shell out money for decent fans,
be quiet!
includes 3 SilentWings 3 fans installed out of the box. The fans are 140mm PWM fans with a unique blade design which
be quiet!
claims to improve air circulation. There's a fan in the rear and 2 fans pre-installed on the front panel. You can install an additional fan on the top deck (most likely for CPU cooler) and you can also install a single 120mm fan on the bottom. We also liked how accessible both air filters are on this case. Both can be accessed from the front panel with ease.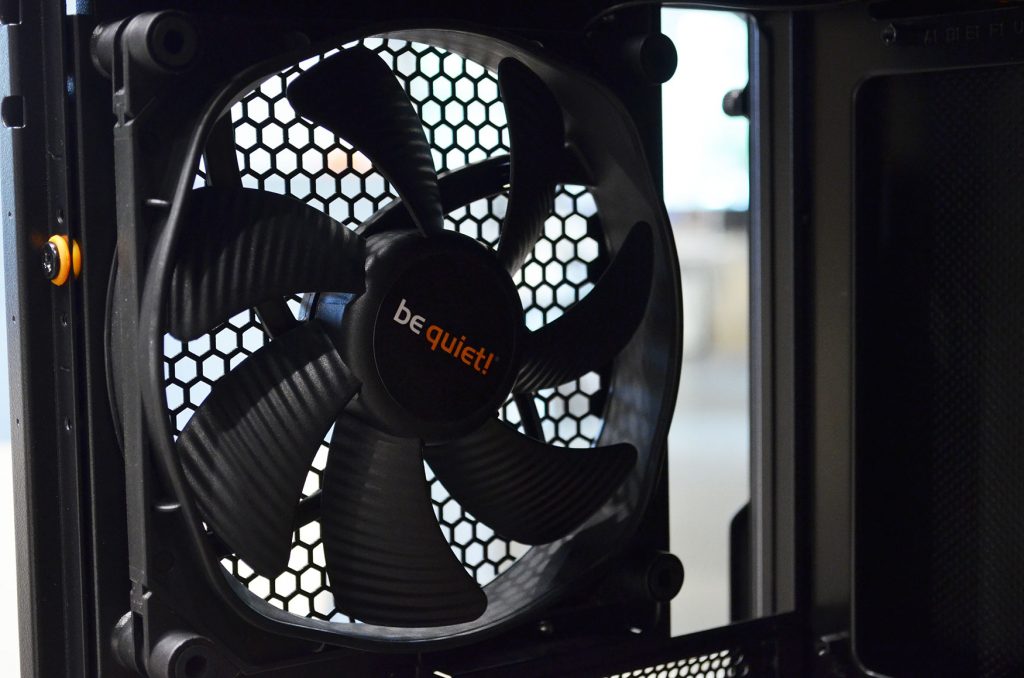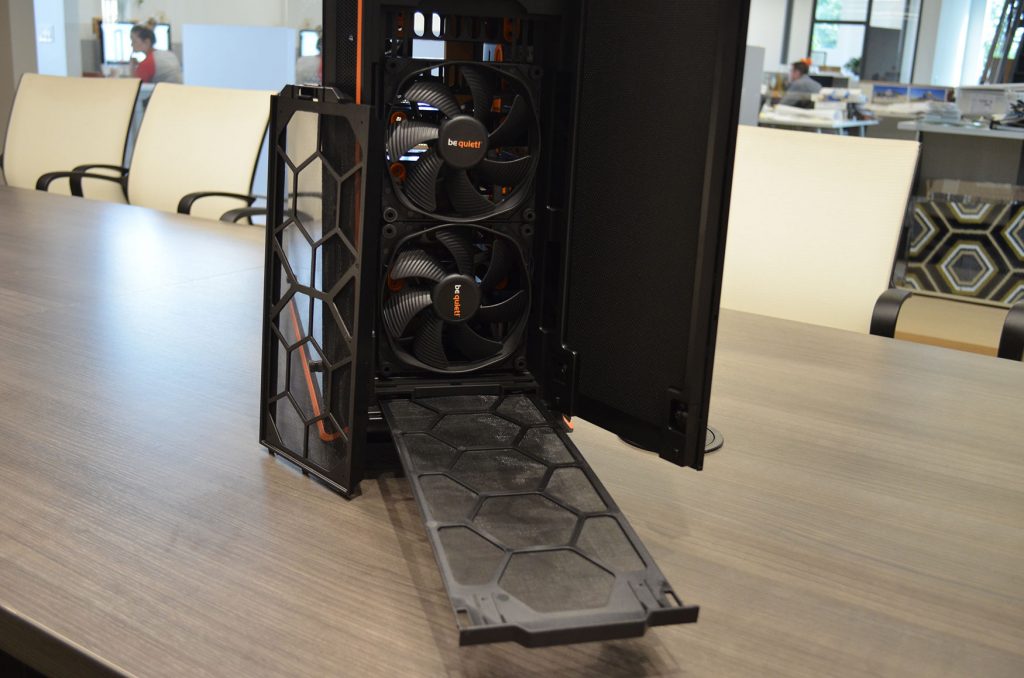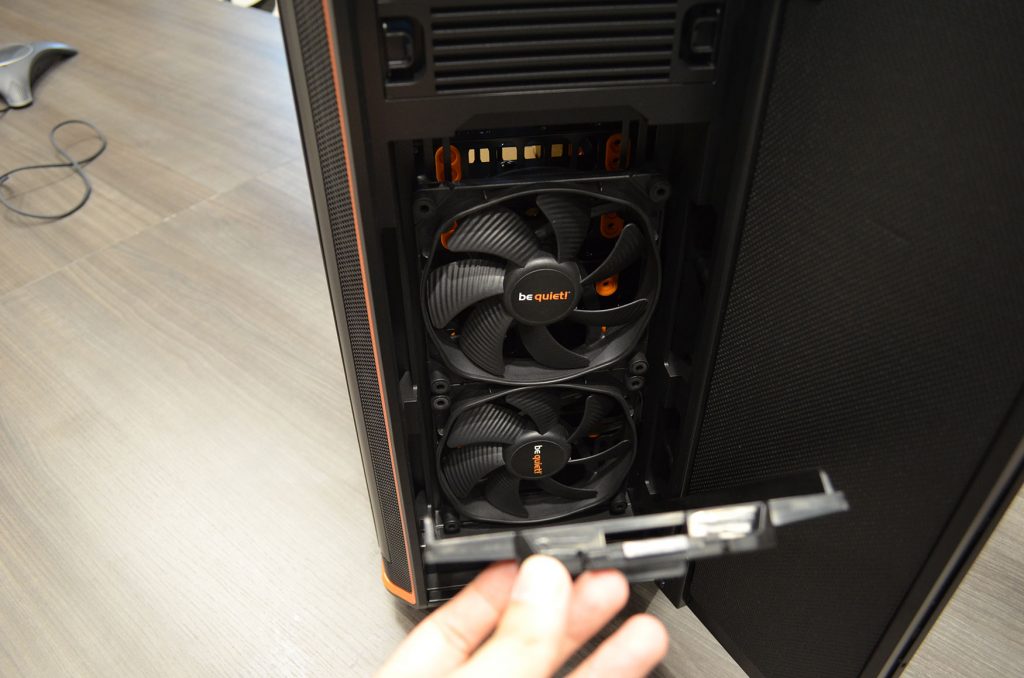 4. Build Quality
As noted above the entire construction is made from brushed aluminum, ABS, steel for internal frame, and 4mm thick tempered glass. The Dark Base Pro 900 Pro's entire case is also lined with a fairly thick (about 4-5mm) high density sound absorbing foam that serves to reduce noise level. The front panel door is held shut by a magnet. Our complaint about this is that the magnet is awfully weak and doesn't hold the door in securely. However the door does open and close properly.When carrying the case around you won't get a wobbly contorted feel of a cheaper case. It's solidly built and stays in shape even when being manhandled a bit. Looking at the 4mm thick tempered glass gives you an idea of the attention to detail that goes into the build. A this point it probably sounds like be quiet! paid us a lot of money to toot their horn, however that is not the case. We really do enjoy reviewing and showcasing the craftsmanship that goes into building this product. The 4mm thick tempered glass is precisely beveled to ensure it doesn't scratch or damage the case or your furniture when disassembling.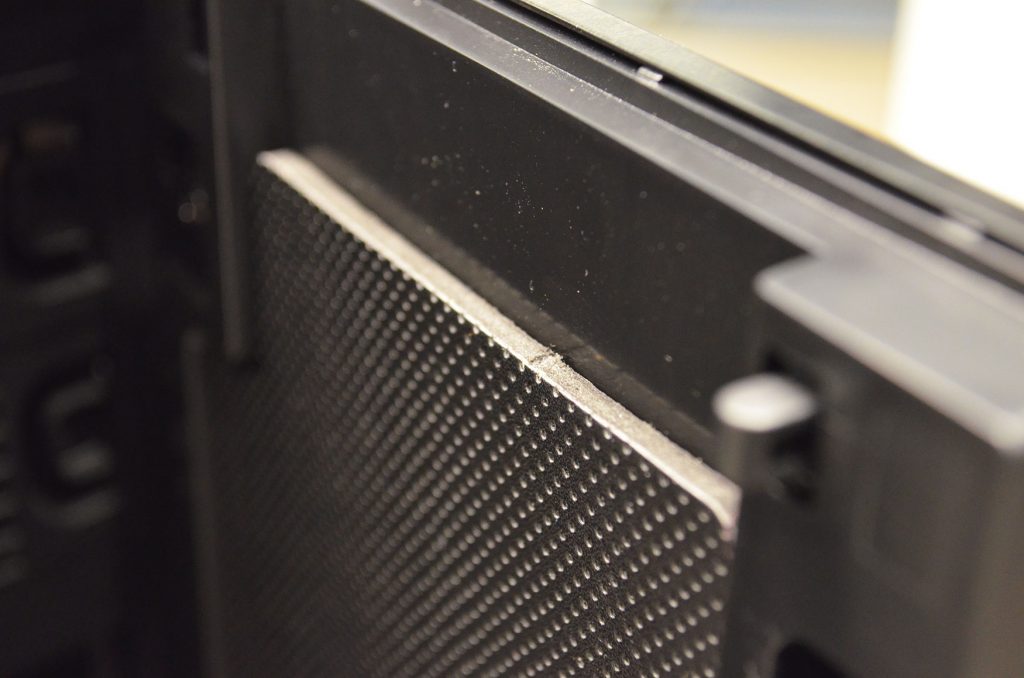 5. Attention to detail
We've reviewed hundreds of products and we can tell when the people who made it actually loves the product or not. And it all shows in the attention to detail that they put into designing and building it. The Dark Base Pro 900 's easily removable thumbscrews for tempered glass panel, the rear, and most of the internal components are a nice touch. This makes adding/removing parts and disassembling a breeze.The glass panel also doesn't just sit on a metal screw. We've seen this in a lot of cases and it hurts our souls each time we remove and put the glass back on, knowing we're scratching the inside ring each time.
Be quiet!
didn't just put a rubber seal on top of the screw, no that's not enough. They have the rubber seal secured in place by a plastic housing which lodges itself snuggly inside the case. From a manufacturing standpoint, they could've easily gotten away with a much cheaper solution. But gladly they didn't.And do you see the orange rubber washer protecting the case from the screw? It's the little things that could've gone unnoticed, but didn't, that truly makes a this case a product of love and care.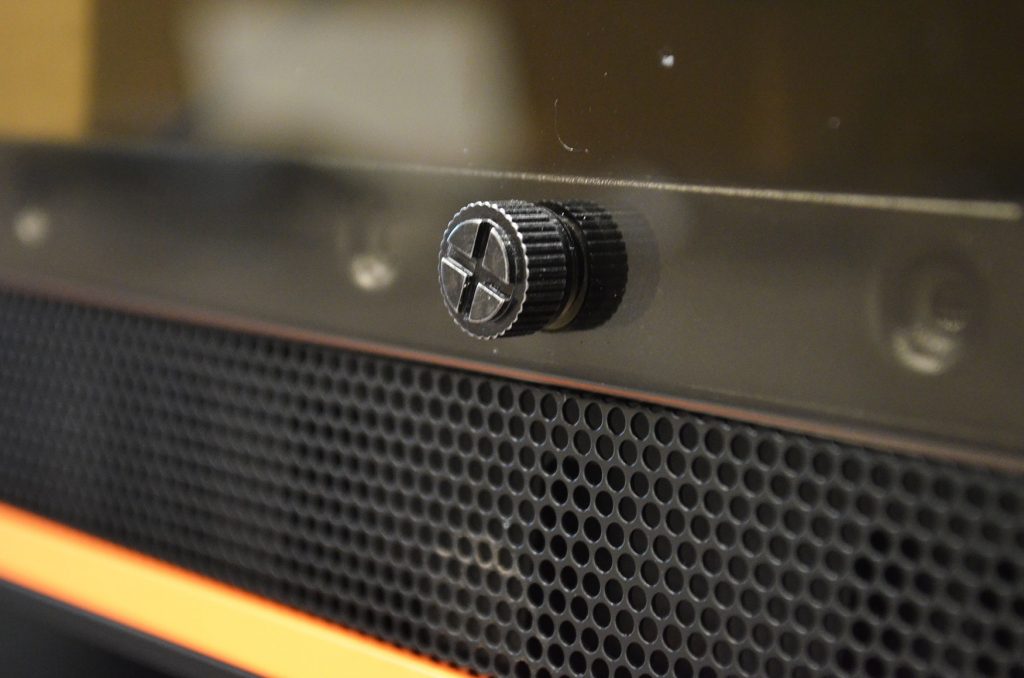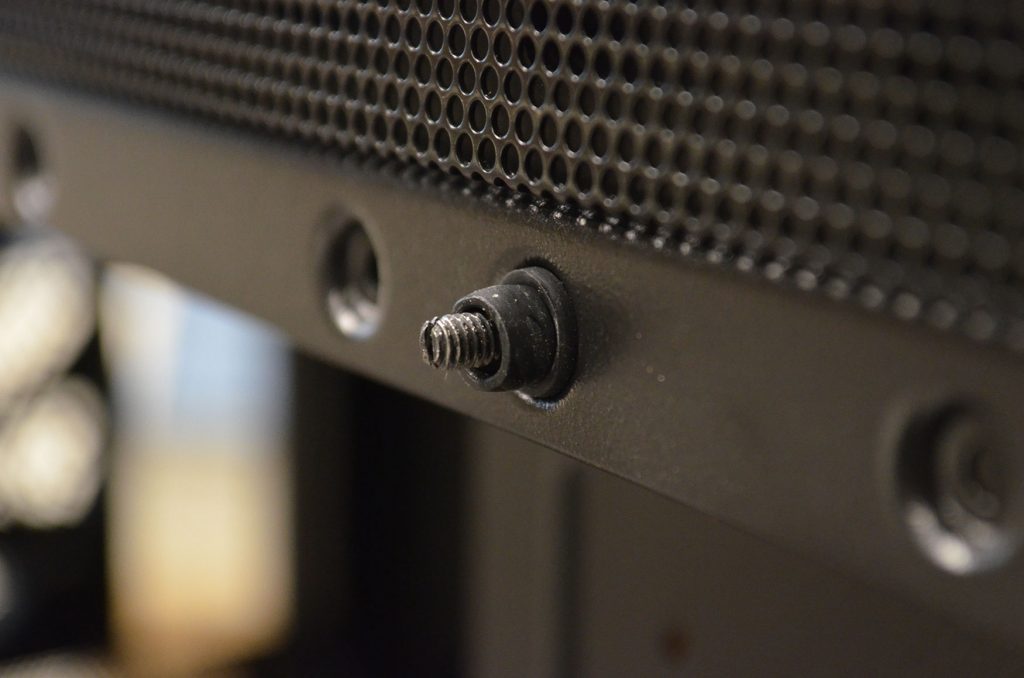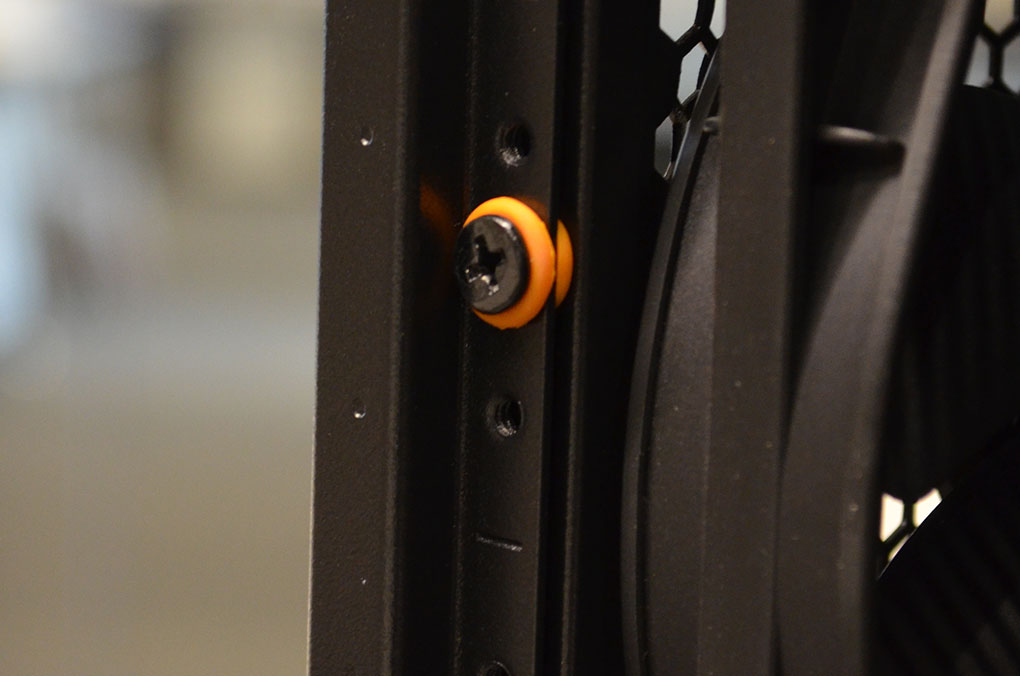 6. Carpet and Wood Friendly
Why is this even a selling point you may ask? It's a small touch thats often overlooked and not appreciated until you see damages on your carpet, desk, or expensive wooden floor. You won't find small pointy feet here. Nor will you find cheap plastic caps that could damage wooden table or floor. The foam inserts are glued tightly into a specifically carved cavity. This makes the feet extra secure when sliding or moving around. And the large dimension feet serves a dual purpose of protecting your flooring and providing enough clearance between the floor and the case.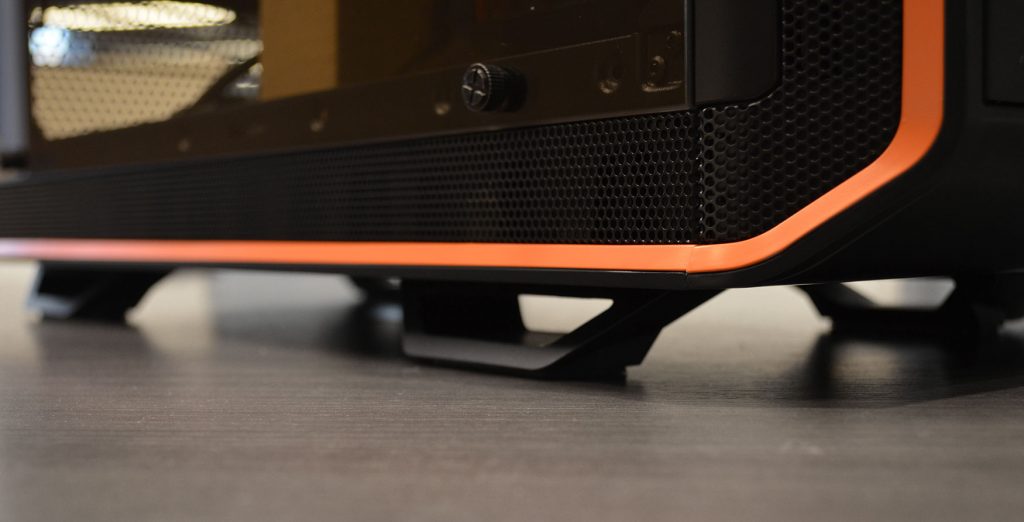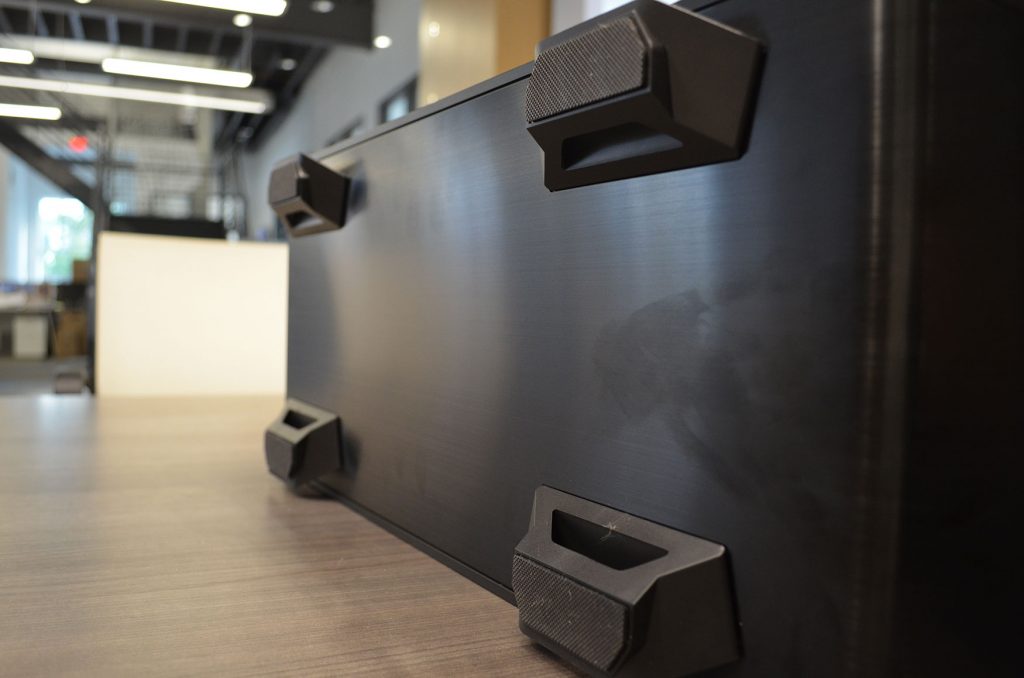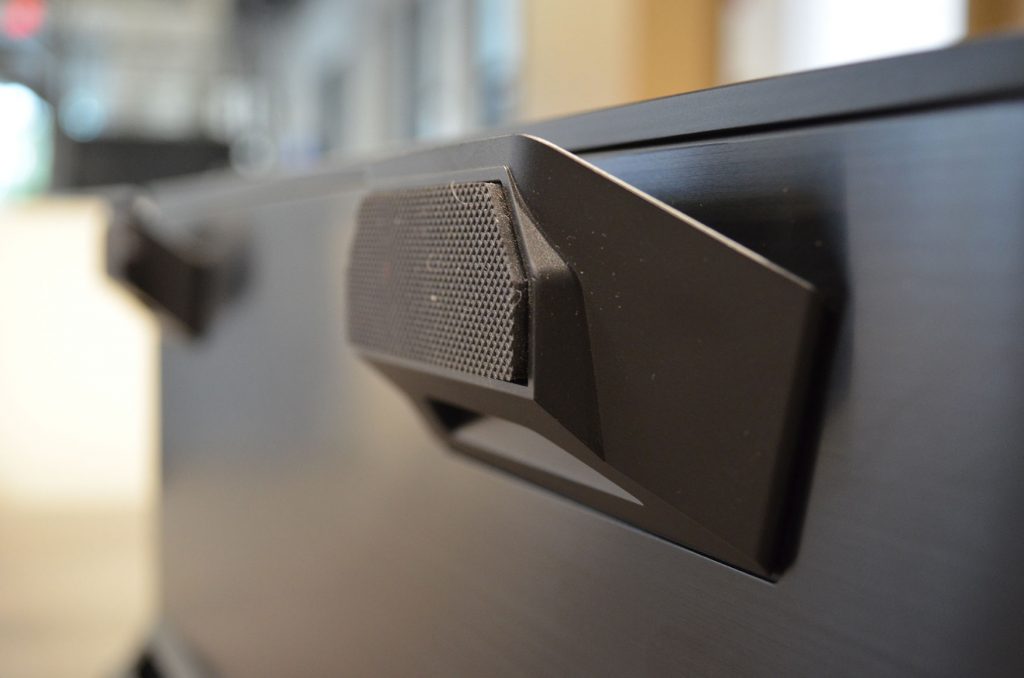 7. Highly modular and customizable
This was one of the best selling features that sold us. The Dark Base Pro 900 was built to be highly configurable to your specifications. You can have the glass panel on either the left or the right. Inside there's two 5.25" drives, seven 3.5" drives. If you're not using 3.5 drives and instead uses 2.5 SSD, you can fit 15 SSD here. Not entirely sure why you'd ever need that much space, but it's there. You can also remove the cages to improve circulation and fit larger 1080 GPU's. The entire case is highly configurable and can be customized for whatever configuration you want to put inside.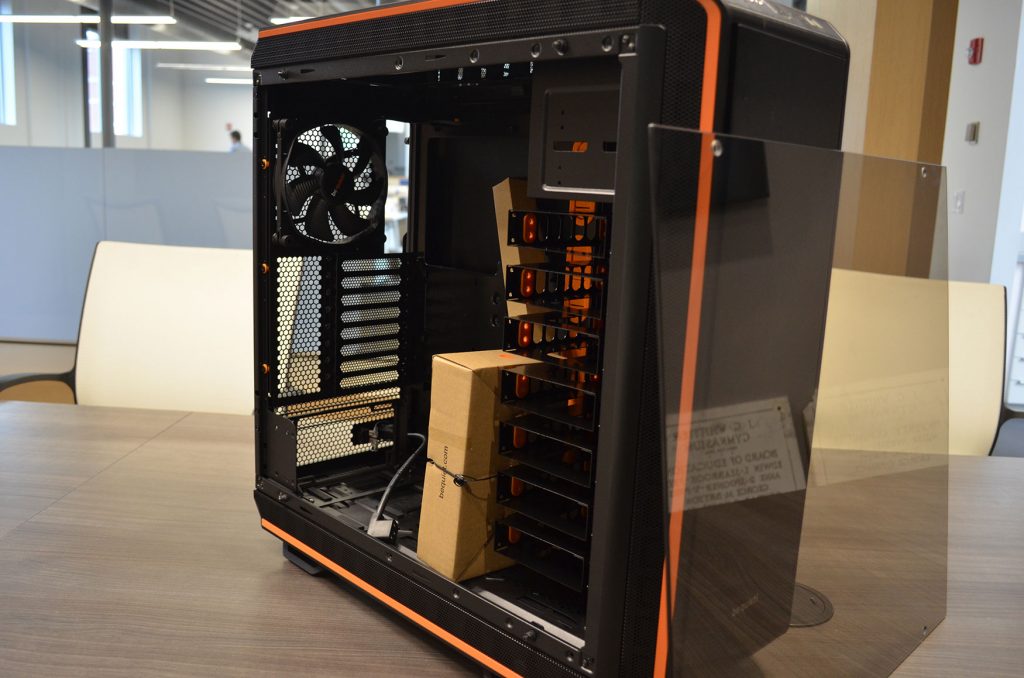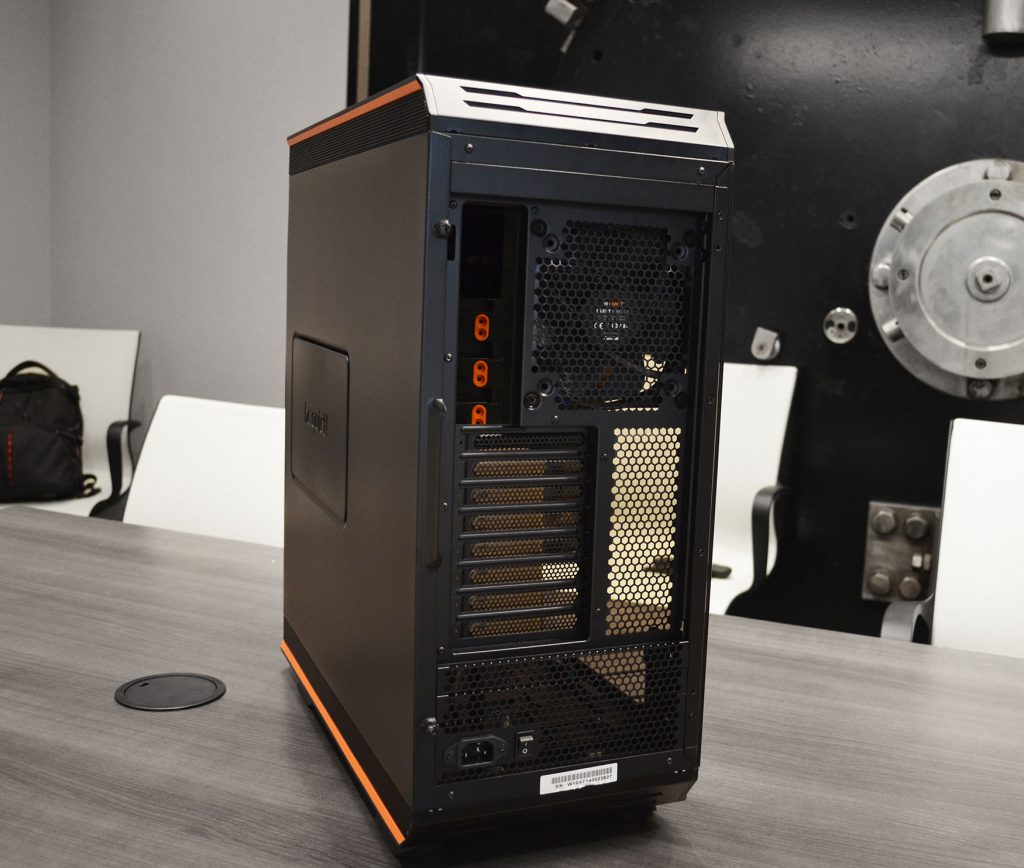 Final Thoughts
The Dark Base Pro 900 Pro isn't just a case. It's a beautiful piece of art, an engineering beauty, and a product made to withstand the test of time. They didn't skimp on any parts to save money. The engineering team at
be quiet!
did quite a lot to the case, but the one thing they didn't do is compromise it's quality. A few pictures can't tell the whole story. Once you start working with the case and installing components, you start to see all the little things they did and all the details they didn't skimp on. We're glad we chose the Dark Base Pro 900 as our case for the build. Please stay tune for our complete build coming soon.
Top 5 GTX 1080TI GPU of 2017
5 Best Gaming Mouse for Work and Play
Interested in buying? Get it for $250 on Amazon.
How Loving What You Do Can Improve Life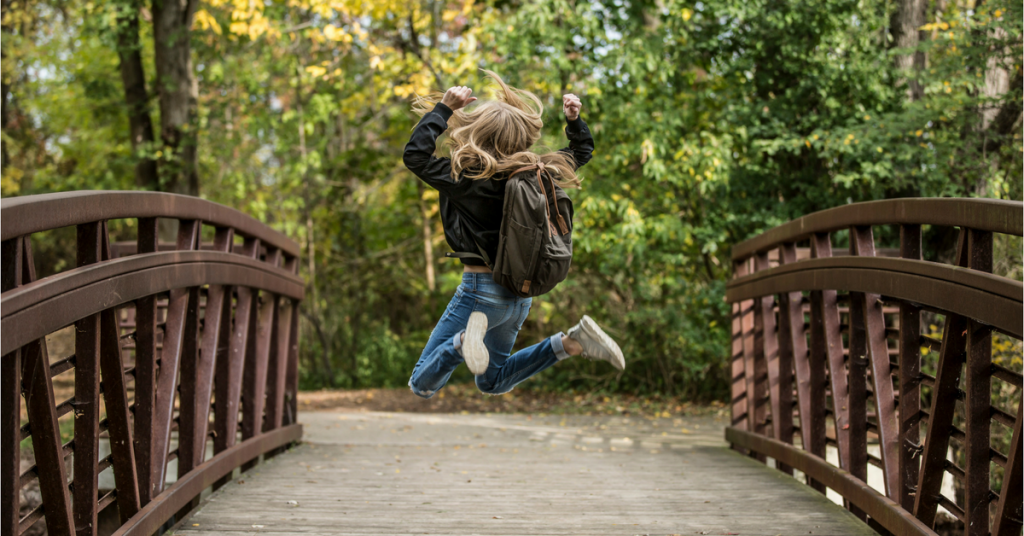 Loving what you do is one of the most important lessons to learn to improve life. If this state is achieved, it increases the productivity of a person to a great extent. Here are some of the tricks which might help you to end up loving what you do.
Show Up
Showing up mainly signifies that you need to stand up, take hold of your life and own it. It starts the very moment you step out of bed and prepare for the day ahead. One of the topmost virtues which must be followed at this time every day is being positive. It is a state of mind that is the most important and must be followed sincerely every day so that you have the best day possible ahead of you to improve life. The way you carry yourself around and the way you project your body language is detrimental to the fact how you are perceived.
Have a positive environment surrounding you
Our immediate surroundings comprises mainly of those people with whom we come in contact on a daily basis. They include our bosses, peers as well as our subordinates. One of the most important things to improve life is your working relationships.
You get pleasure in things you do daily
You always need to find out what drives you and get your creative instincts flowing. Doing things which interests you are one of the best ways to help you achieve mental peace and harmony. You should always aim to progress step by step and steadily try to achieve the goals in life. Whatever your choice may be, it can be saving the entire galaxy, working as a computer software designer, being a race car driver or carrying out the task to manage a multi-million dollar business, you should always do what you love doing to improve life overall.
Set your goals and try to achieve them
You need to set realistic, time bound as well as attainable goals for your personal as well as professional life.  It might be as simple as making a to-do list and striking off those which have been accomplished. You need to set periodic goals by which you can judge yourself and plan for things which need to be achieved. These actions will help you to be honest about your goals throughout your life and most importantly achieve them.
Create a boundary for yourself
You can always give 200 percent in whatever actions you do in your personal as well as professional life, but you need to always set a definite boundary. You need to specifically demarcate your personal as well as your professional life. It enables your body and your mind to get some much-deserved refreshment. You need to learn to switch off your cellphone, spend some quality time with your family, live, laugh ad release all your stresses. This will rejuvenate your senses and make you ready to fight a new war every day.
Why Quality Is Better Than Quantity In Design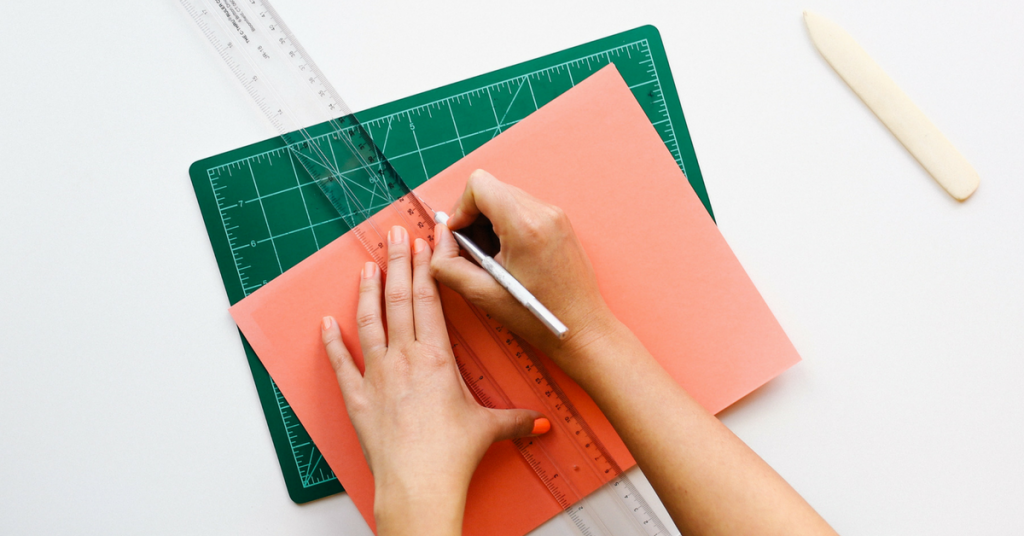 We have all been taught that quality is always better than quantity. This is true even in design. Quality is better than quantity in a web design, because a well designed website is thought out and capable of capturing your target audience. While it is true that there is competition when it comes to web design, there are still many designers and companies that prefer their designs to be tailor-made for their company rather than a 1-size-fits-all type of website. Here are reasons why you should always go for quality rather than quantity.
Quality Means Better Work
Let's stick to the example of quality web design. When you go to the internet and search for products, you usually go through several sites before settling on a page that catches your attention. But, before you decide to stick to that page, you've probably browsed through 3 or 4 websites. You might try asking yourself why you left those pages. Some of the most common answers include: slow loading time, unfriendly web design or uninformative product descriptions. All these reasons point towards sloppy workmanship on the part of the website developer. This could mean that the company is hiring inexperienced talent due to an overload in projects or poor supervising. Either way, this does not bode well for the reputation of your company, because it makes you look sloppy too.Quality takes work. Designers and craftsmen alike need to consider many different factors so that they can make a product attractive to the target market. If your website looks like a cookie cutter website, it makes you look unoriginal and common. It might make customers think you stole website ideas from your rivals, because your website looks like theirs. This could translate to a loss in trust and a drop in reputation for your company.Quality designs, on the other hand, means that thought was given to the design and development of the product. Designers studied what the customers wanted, what they need, and find ways to make the product unique to entice customers to them come back. All of these take time, but they have a better potential of paying off in the future. Designers and craftsmen need to consider everything from materials to the cost of time and materials ensure that the product is of good quality.
Quality Means Getting Noticed
There are over billions of different products available in the internet and in real-life. If you have a product you might want to launch it immediately to get a chunk of the market. Earlier is always better, so that you can reach more customers, right? This might be right, but in order to launch immediately, you might be tempted to go for something cheap with poor craftsmanship to ensure that your products are launched at the shortest possible date.But, there is a price to your hastiness. Cheap and poor quality products are very common. They look like carbon copies of each other and break easily. The only difference in some of them is the price or the color of the product. You don't want to be lumped together with companies like these
Quality Products Mean Better Reputation
In the end, the reputation of your company hangs in the quality of your product. If you want to be a trusted name in your industry, you want a quality product. If you produce quality, people will see your product and company as industry leaders, and there is no price you can pay for this kind of reputation. Yes, it might mean that your product is more expensive than others, but at least you know you are providing good quality products that provide value to your customers.
Turning Stress Into Productivity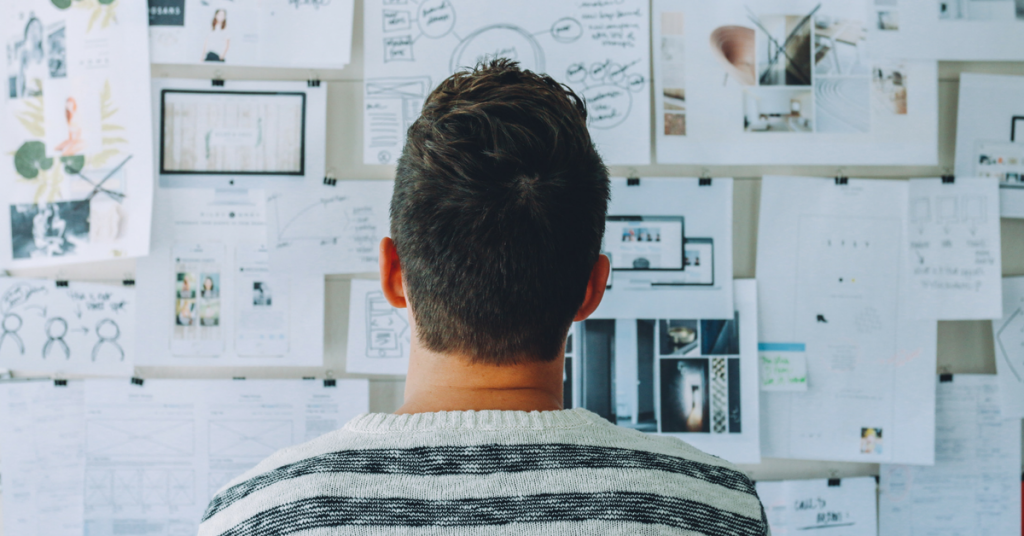 There isn't a person in the planet that can hide from stress. Stress happens whether we like it or not, and it can have a huge impact on your work, relationships, and feelings. Being stressed at work is normal. However, when it begins to impact your productivity or co-workers, stress can become an even bigger problem. The good news is that there are studies that show when stress is managed correctly, it can have a positive impact on productivity and performance. Here are some ways to turn stress into productivity.
Recognize Stress
Stress is unavoidable and worrying about the cause of your stress will do nothing to alleviate it. When a person is stressed, he or she feels anxious. There is tension in the body and the heart is racing. This means that stress is a feeling. Being stressed could be an indication of how you feel towards a project. How much stress you feel is directly co-related to the importance of the job or task. Once a person recognizes that he or she is worrying about a project they can respond to it in a rational way.
Reframe It
Rather than worrying about your project and being stressed about it, don't see it as a threat but a challenge you need to conquer. Once you reset your brain from the negative to the positive, your body responds in a more favorable way. When our brain is stressed, it triggers a flight or fight response. To avoid this, you need to think of stress, not as something negative, but as something challenging you need to overcome. This way your brain will be conditioned to become active rather than paralyzed.
Control
What is the use of stressing over something you cannot control it? Too many people spend too much time feeling bad towards things they cannot change or control. When faced with worry or anxiety, positive psychology expert Shawn Achor suggests the Island Experiment. On a piece of paper, write down all your stresses and draw two circles. In one circle, put all things you can control and on the other things you can't. Ignore the second island and focus on taking action on the things you can control.
Don't Get Overwhelmed
One of the reasons why we get stressed at work is the fear of letting our co-workers down when we make mistakes or miss deadlines. One of the reasons for this is being overwhelmed with tasks. You don't have to go at it by yourself. One of the best ways to handle stress positively and turn it into productivity is by asking help from others. You might have a co-worker that is an expert on the job you have been assigned or an officemate that is already finished with his tasks. Asking for help when you need it will help you stay on track at work while being productive and keeping stress at bay.
Stay Organized
You might not realize it, but you might not be stressing over the right things. If you are unorganized at work or have too many jobs at once, you might be worried because you don't know how to prioritize your assignments. To keep yourself from becoming stressed due to lack of workflow, organize tasks from important to can-wait. This will help you focus on which jobs are the most urgent to the least important. Once you have tackled the important jobs, the smaller jobs can be handled easily and prevent you from becoming stressed while at your desk.

Stress can ruin your life, but only if you allow it to. Since stress is inevitable, the best way to tackle it is to keep a positive attitude and keeping things in perspective. If you continue to tackle things you can control and stay organized you can beat stress so that you remain positive and productive at work.