7 Reasons Why You Need to Get The Dark Base Pro 900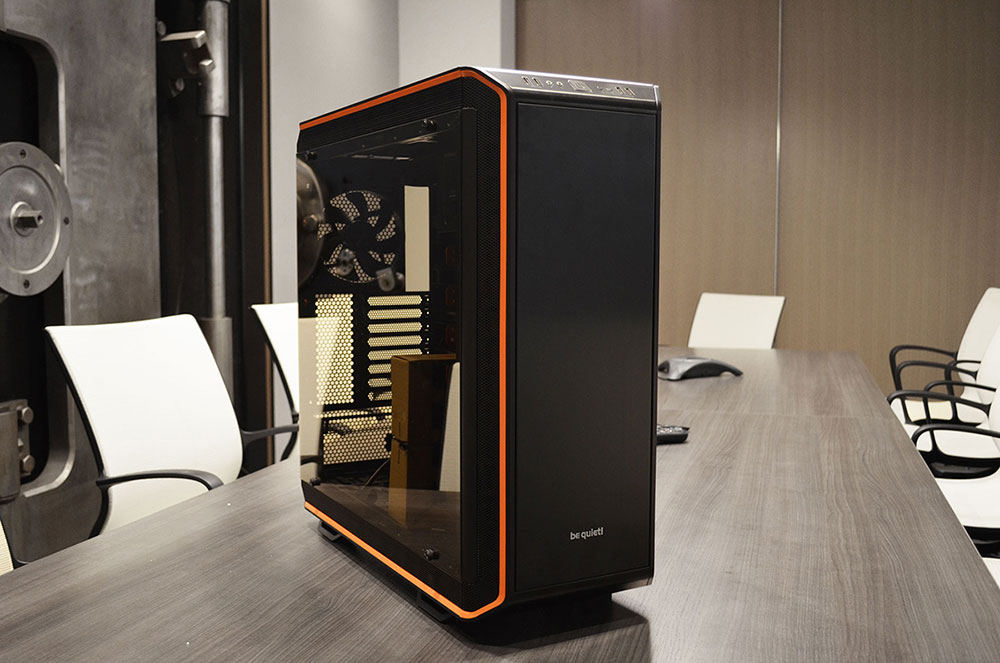 We chose the Dark Base Pro 900 as our case for our ultimate Entrepreneur's Custom Gaming/Work PC. Most entrepreneurs nowadays aren't buying computers anymore due to the high cost of buying a laptop/work station every 2-3 years. Technology is fast moving and entrepreneurs are seeking to build their own Work/Play Rig. When building your own PC, one of the most important components is the Case. A poorly made case can make your space look unsightly, reduce the life and performance of your internal components, and also be loud and annoying to operate. And that's why the Dark Base Pro 900 caught our attention. The company behind the Dark base 900 Pro is be quiet!…take a guess what they focus on. Be quiet! is a premium brand manufacturer of power supplies and cooling solutions based in Germany. This case is part of complete build that we will be finishing up within the next couple of months. We're building the ultimate Work/Gaming PC for entrepreneurs and startup founders. And after months of research, we'd like to present you the 7 reasons why we chose the Dark Base Pro 900 .
1. Beautiful Design
First and foremost, we chose the case because it has a timeless look. It's not too flashy, too edgy, or too over-the-top with all the curves and lines you'd find in other cases. The beauty is subtle and controlled. Our first impression of the case is one of awe and admiration. We reviewed it in our conference room and our staff constantly peaked in to see what we're reviewing. You can choose between Orange, Silver, or Black trim. We chose the orange trim. It's a full tower case featuring brushed aluminum & ABS casing all around, and 4mm thick tempered glass side panel. Coming in at 14.39kg without parts inside and measuring at 577mm deep, 243mm wide and 585mm tall, it's definitely not a case you can easily move around. But then again it wasn't designed to be portable.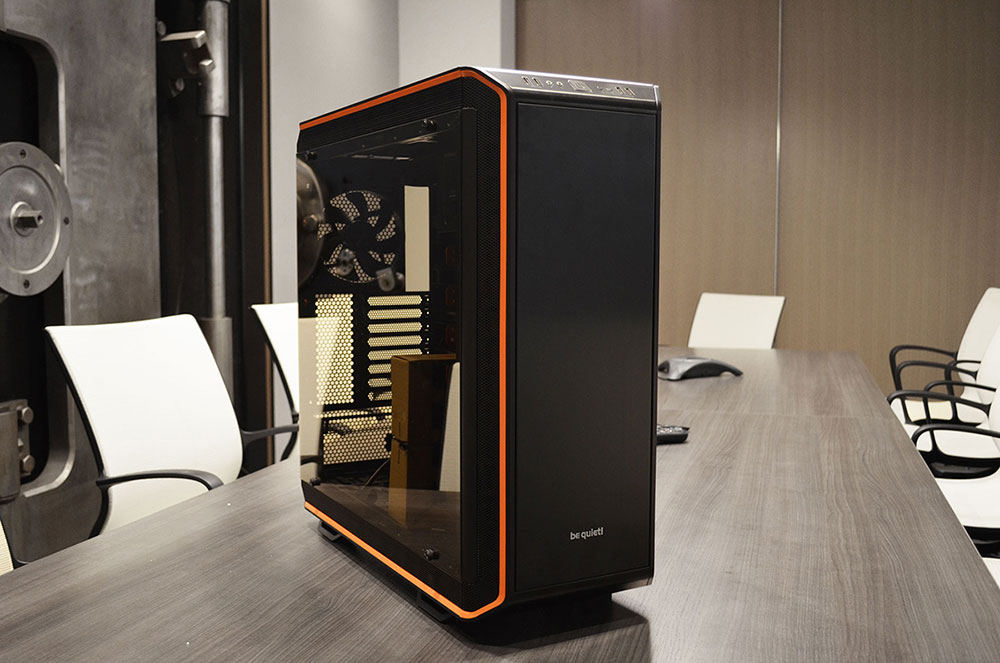 We also appreciated the subtle and tastefully branding placed on the metal side of the case and in front. The orange outline is a solid color and doesn't glow, which we don't mind. The case does come with RGB lighting kit and it's relatively easy to install.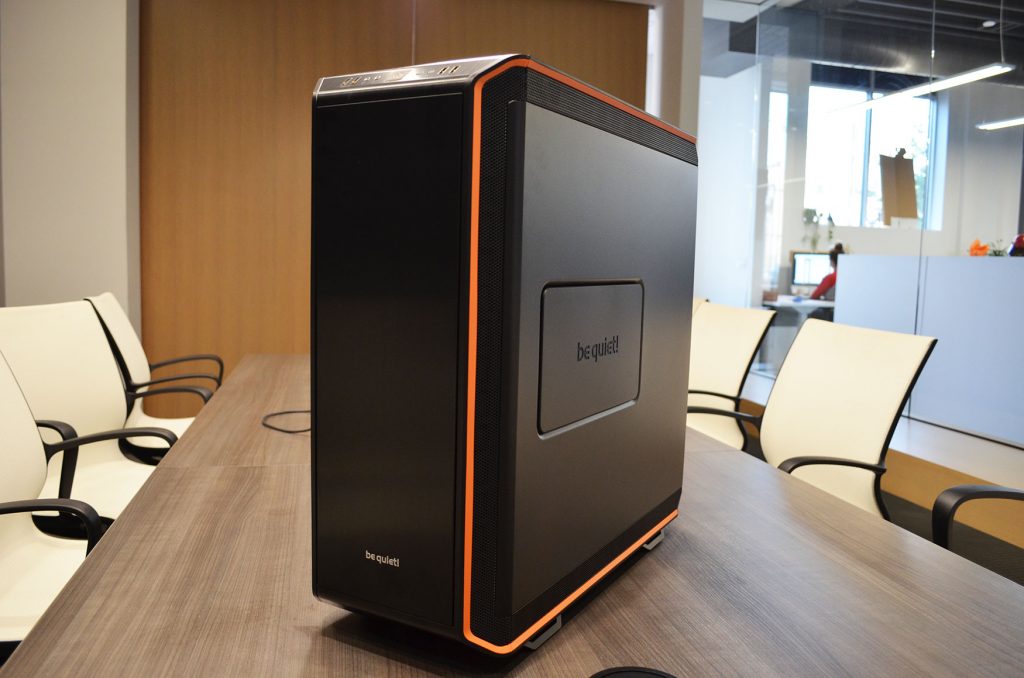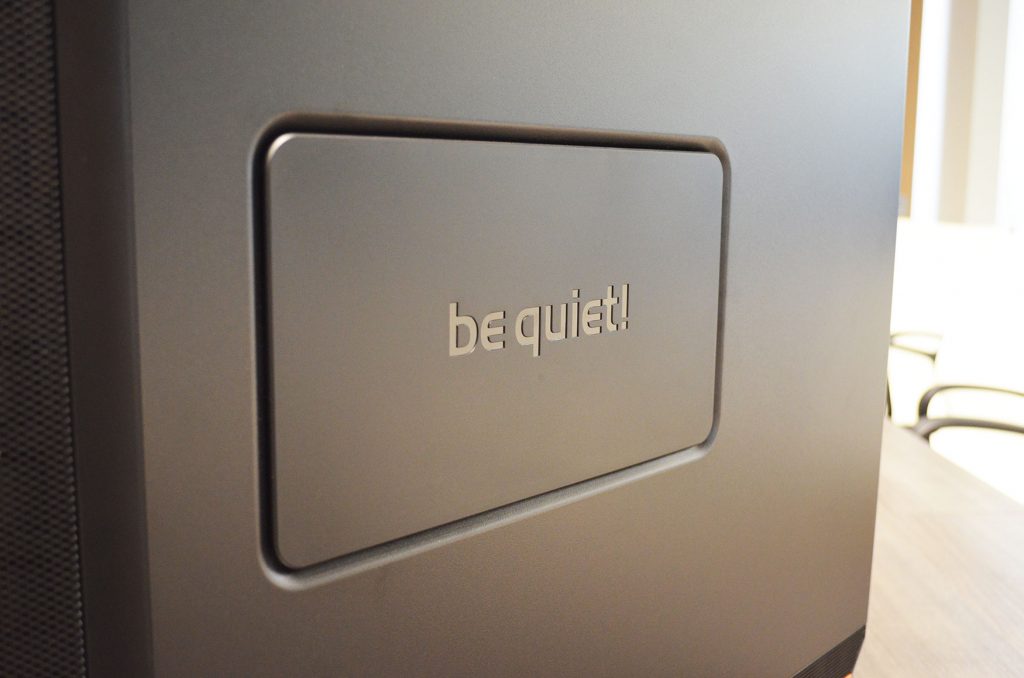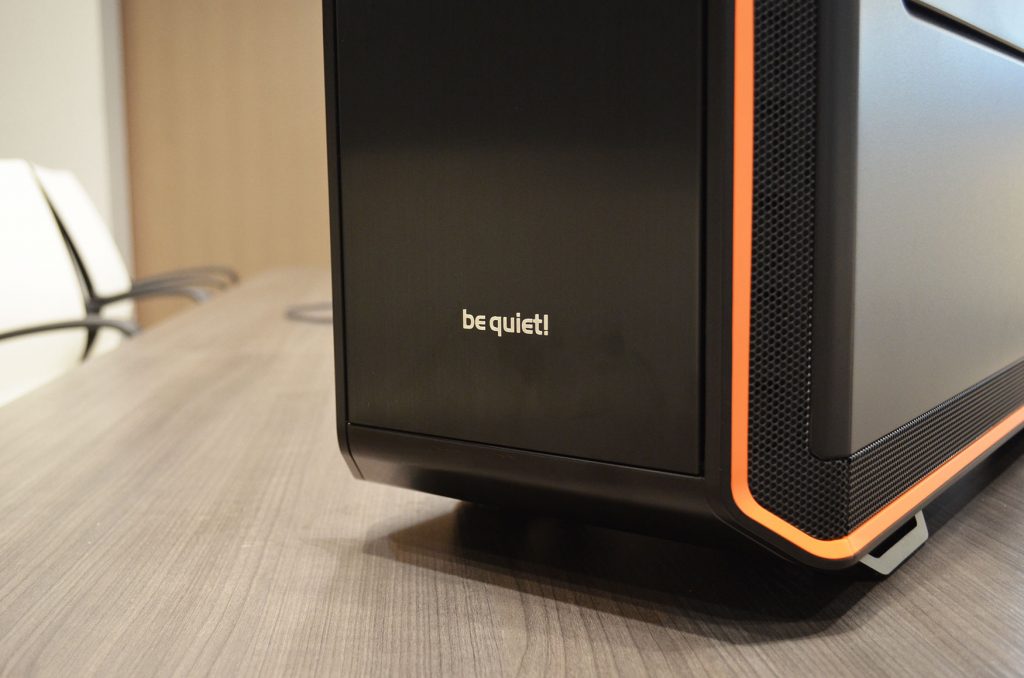 When placed on a desk presents a timeless beauty that doesn't beg to be noticed.
2. Functionality
We needed a case that was going functioned as well as it looks. Below are some attractive features of this case that sold us.
Good ventilation: It's a highly breathable design with ventilation mesh surrounding the entire casing on both sides ensuring abundant airflow.
Motherboards Compatibility: The Dark Base Pro 900 (and even non-pro version) is compatible with a wide range of motherboards. You'll be able to fit XL-ATX, E-ATX, ATX, Mini-ITX, and even Micro-ATX motherboards. We like to keep our options open when it comes to motherboards.
Front Ports: On top you have the  I/O  button with 2 USB 2.0 ports, 2 USB 3.0 ports, and HD audio jacks. Your Audio and Microphone ports are in front and easily accessible instead of having to plug from the rear. We wish it included a USB-C port, but it's not a deal breaker.
QI Charger: On the top Panel there's a QI charger for you to place a compatible device there to charge. This is the first time we've ever seen this feature on a case.
Fan controller and RGB LED color switch: You can adjust the fan speed directly from the front panel and cycle through multiple color scheme of the RGB lighting. All these can be controlled without turning the computer on and going into some sort of interface.
One small aesthetic thing we didn't like was the misalignment of the orange line (pictured below). It's not a turn off, however would've been nice if it was perfectly aligned.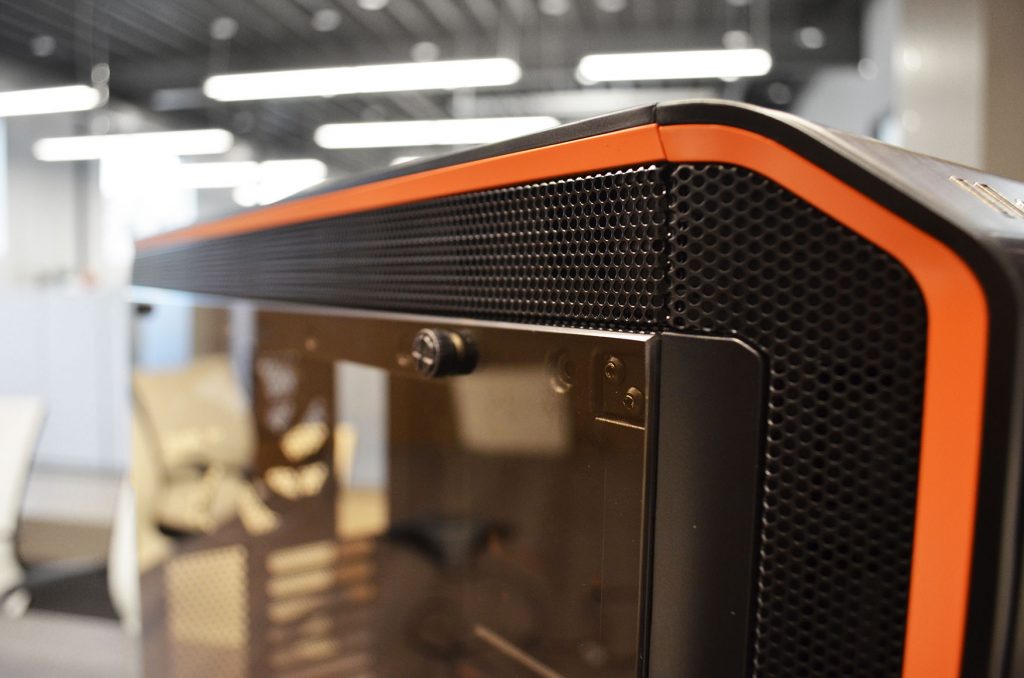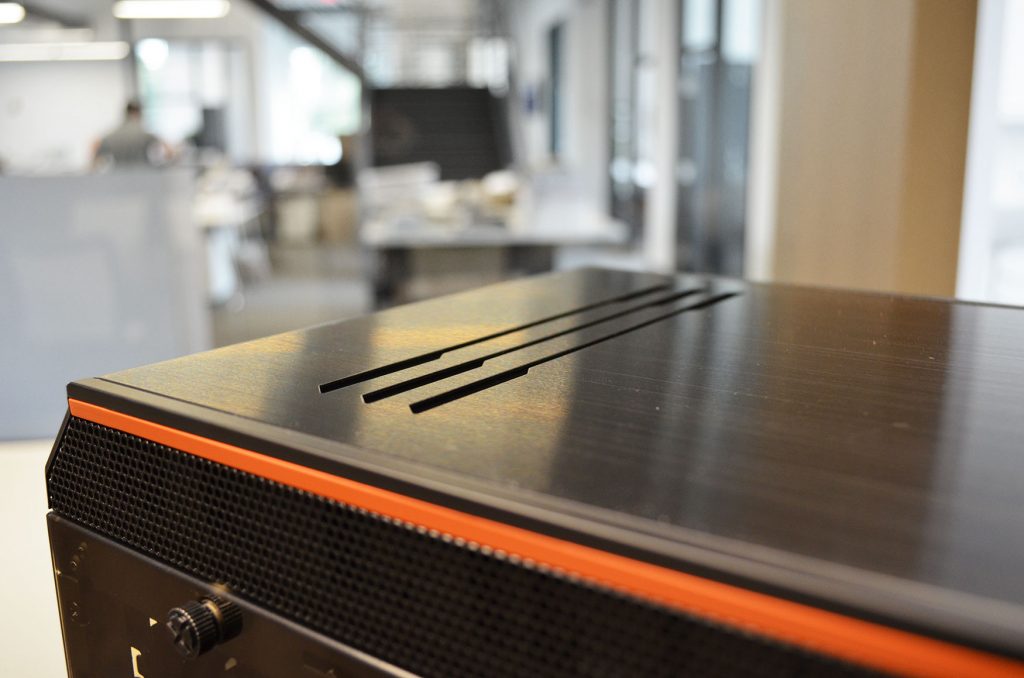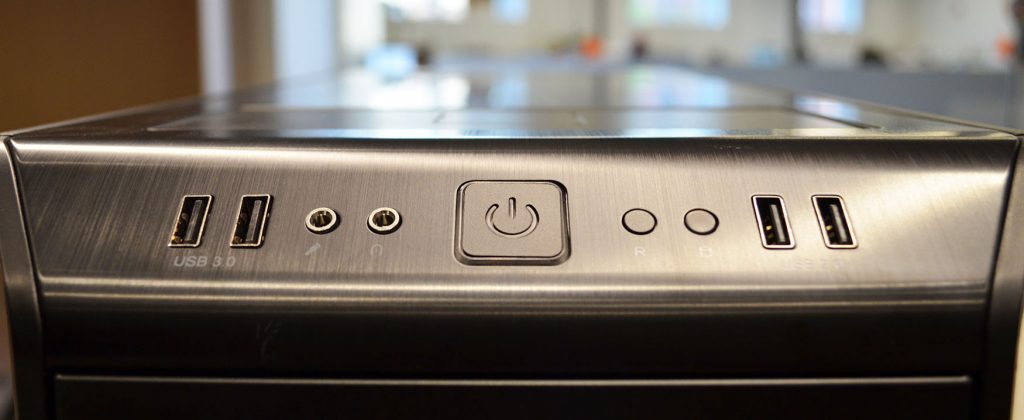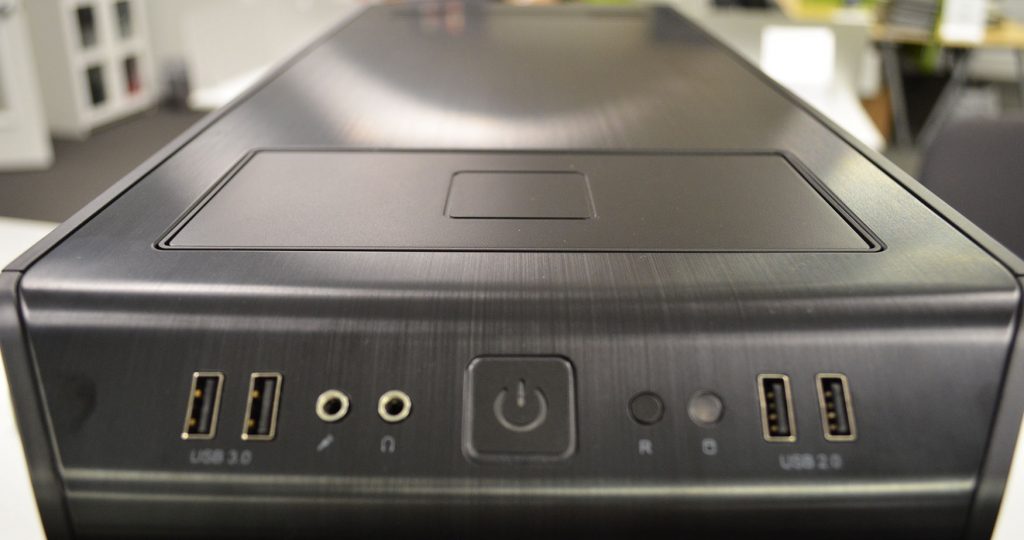 3. Cooling
No high-end machine can function for long if it wasn't built with cooling in mind. The fans alone in this case make it worth the extra money. Instead of having to shell out money for decent fans, be quiet! includes 3 SilentWings 3 fans installed out of the box. The fans are 140mm PWM fans with a unique blade design which be quiet! claims to improve air circulation. There's a fan in the rear and 2 fans pre-installed on the front panel. You can install an additional fan on the top deck (most likely for CPU cooler) and you can also install a single 120mm fan on the bottom. We also liked how accessible both air filters are on this case. Both can be accessed from the front panel with ease.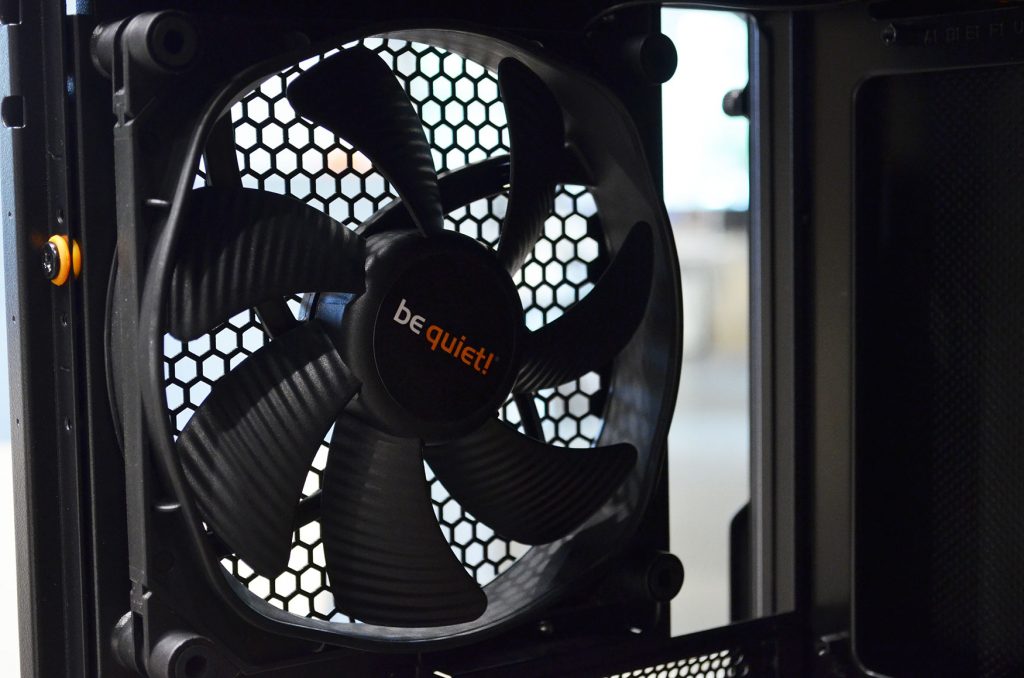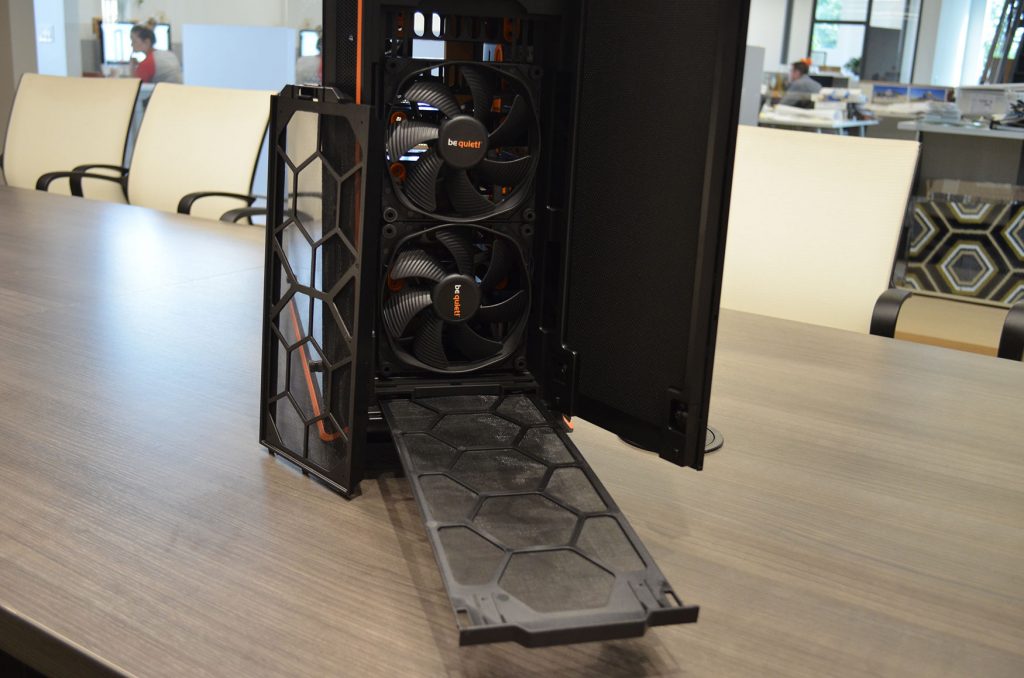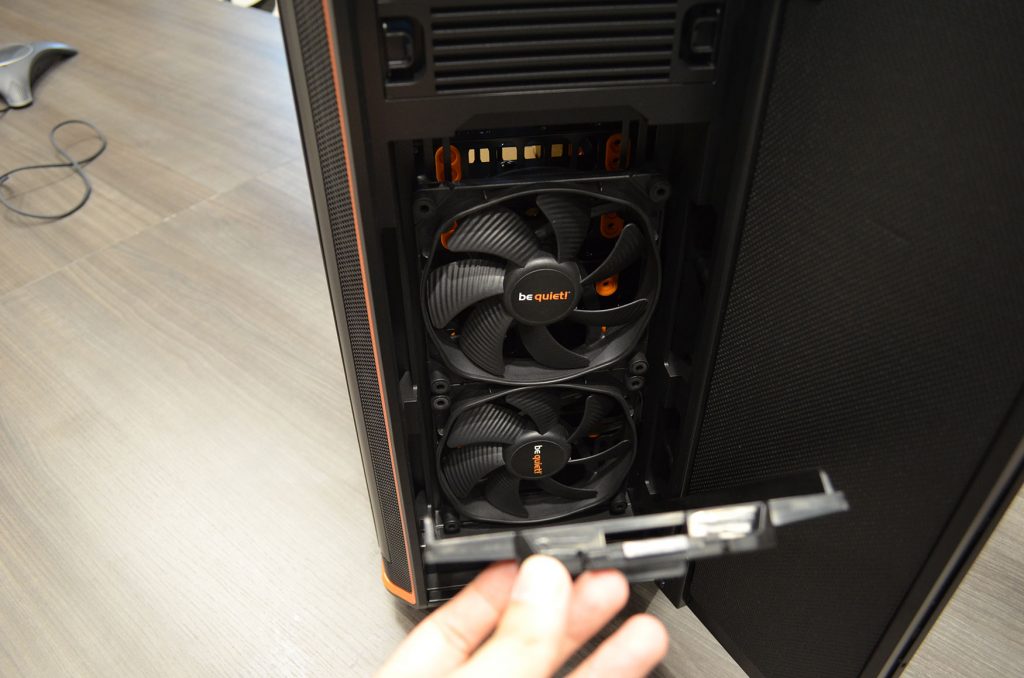 4. Build Quality
As noted above the entire construction is made from brushed aluminum, ABS, steel for internal frame, and 4mm thick tempered glass. The Dark Base Pro 900 Pro's entire case is also lined with a fairly thick (about 4-5mm) high density sound absorbing foam that serves to reduce noise level. The front panel door is held shut by a magnet. Our complaint about this is that the magnet is awfully weak and doesn't hold the door in securely. However the door does open and close properly.
When carrying the case around you won't get a wobbly contorted feel of a cheaper case. It's solidly built and stays in shape even when being manhandled a bit. Looking at the 4mm thick tempered glass gives you an idea of the attention to detail that goes into the build. A this point it probably sounds like be quiet! paid us a lot of money to toot their horn, however that is not the case. We really do enjoy reviewing and showcasing the craftsmanship that goes into building this product. The 4mm thick tempered glass is precisely beveled to ensure it doesn't scratch or damage the case or your furniture when disassembling.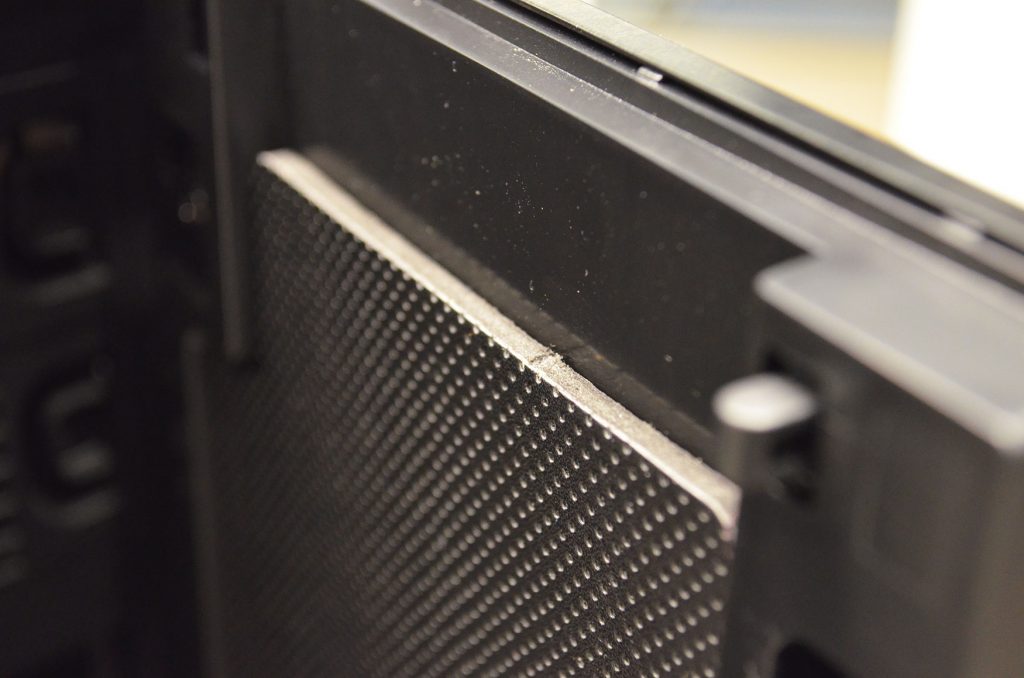 5. Attention to detail
We've reviewed hundreds of products and we can tell when the people who made it actually loves the product or not. And it all shows in the attention to detail that they put into designing and building it. The Dark Base Pro 900 's easily removable thumbscrews for tempered glass panel, the rear, and most of the internal components are a nice touch. This makes adding/removing parts and disassembling a breeze.
The glass panel also doesn't just sit on a metal screw. We've seen this in a lot of cases and it hurts our souls each time we remove and put the glass back on, knowing we're scratching the inside ring each time. Be quiet! didn't just put a rubber seal on top of the screw, no that's not enough. They have the rubber seal secured in place by a plastic housing which lodges itself snuggly inside the case. From a manufacturing standpoint, they could've easily gotten away with a much cheaper solution. But gladly they didn't.
And do you see the orange rubber washer protecting the case from the screw? It's the little things that could've gone unnoticed, but didn't, that truly makes a this case a product of love and care.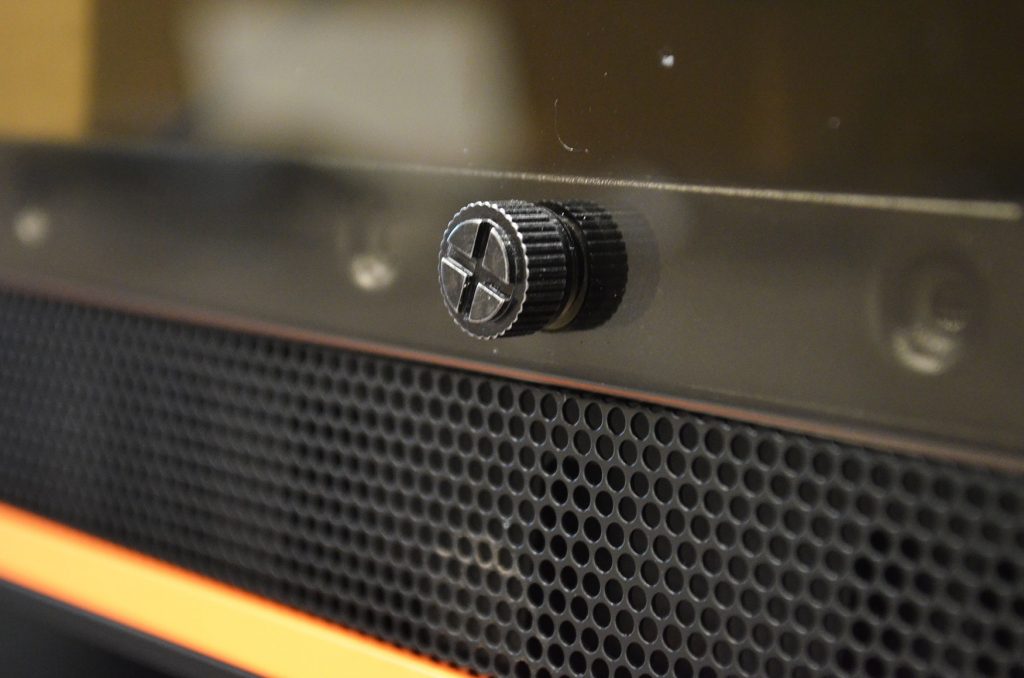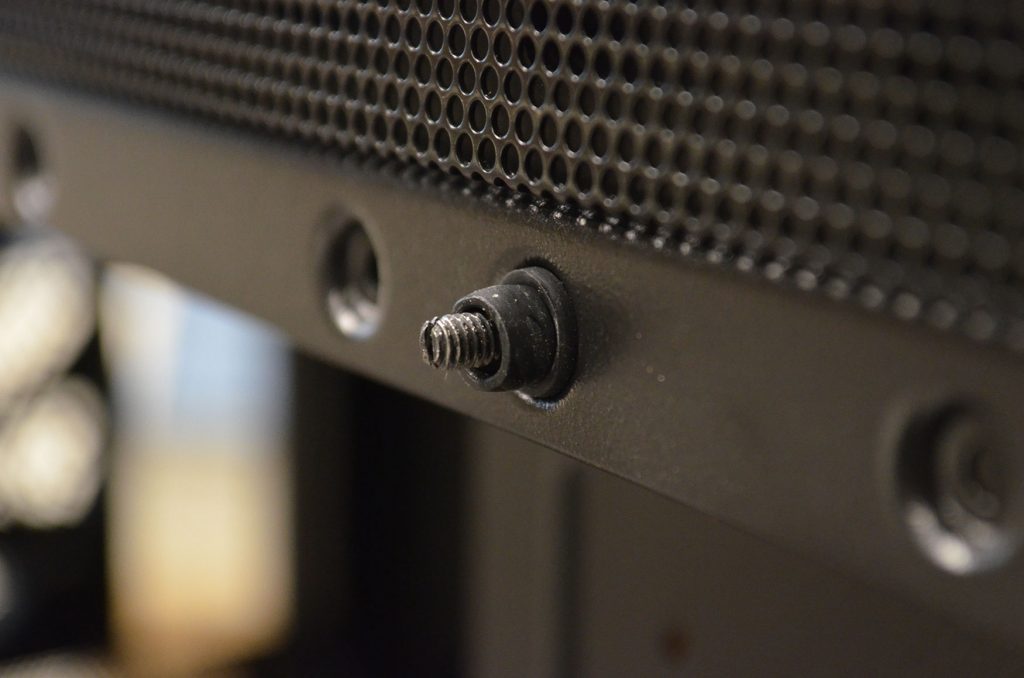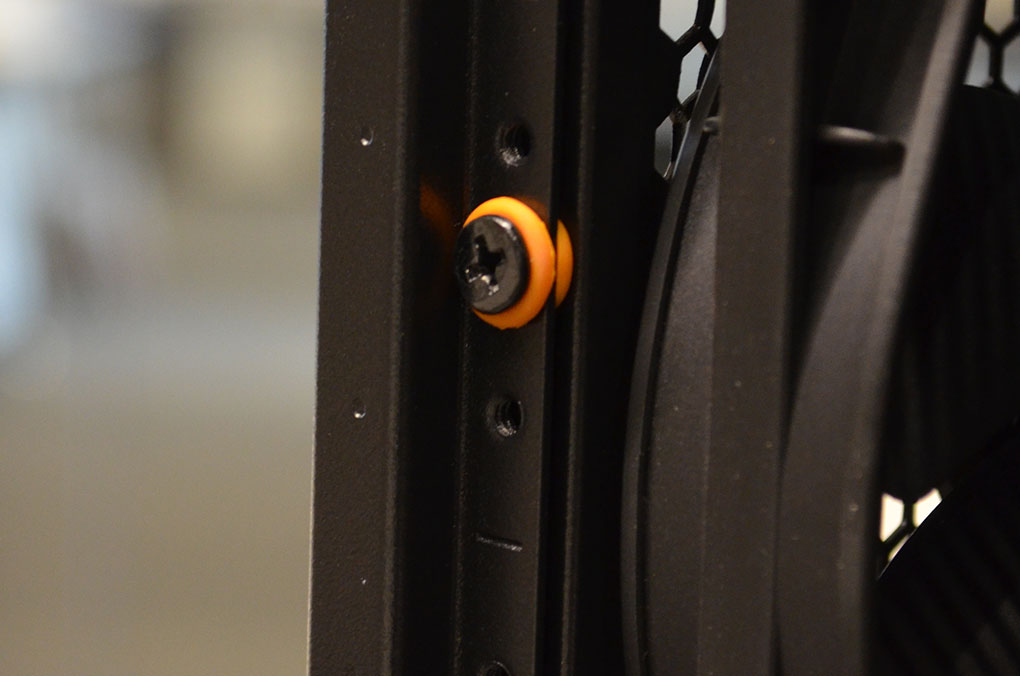 6. Carpet and Wood Friendly
Why is this even a selling point you may ask? It's a small touch thats often overlooked and not appreciated until you see damages on your carpet, desk, or expensive wooden floor. You won't find small pointy feet here. Nor will you find cheap plastic caps that could damage wooden table or floor. The foam inserts are glued tightly into a specifically carved cavity. This makes the feet extra secure when sliding or moving around. And the large dimension feet serves a dual purpose of protecting your flooring and providing enough clearance between the floor and the case.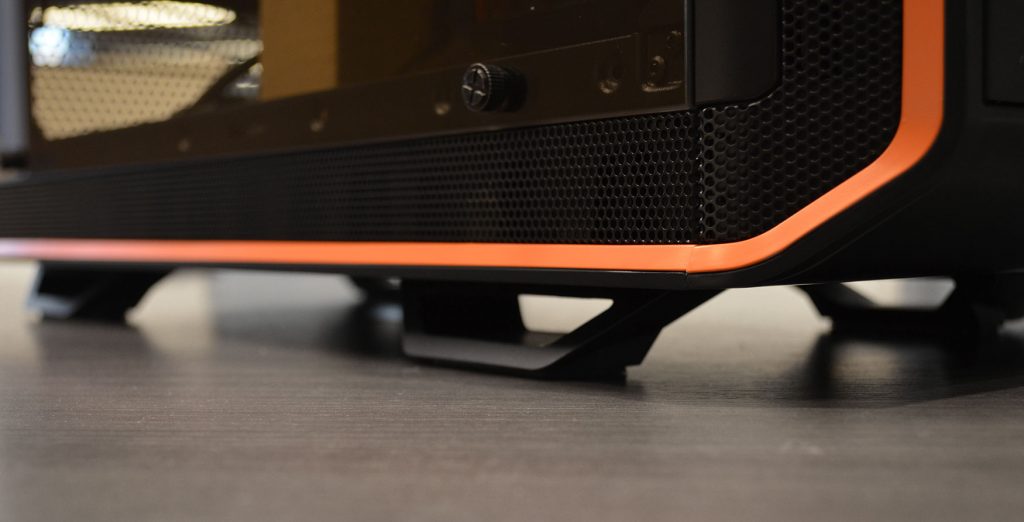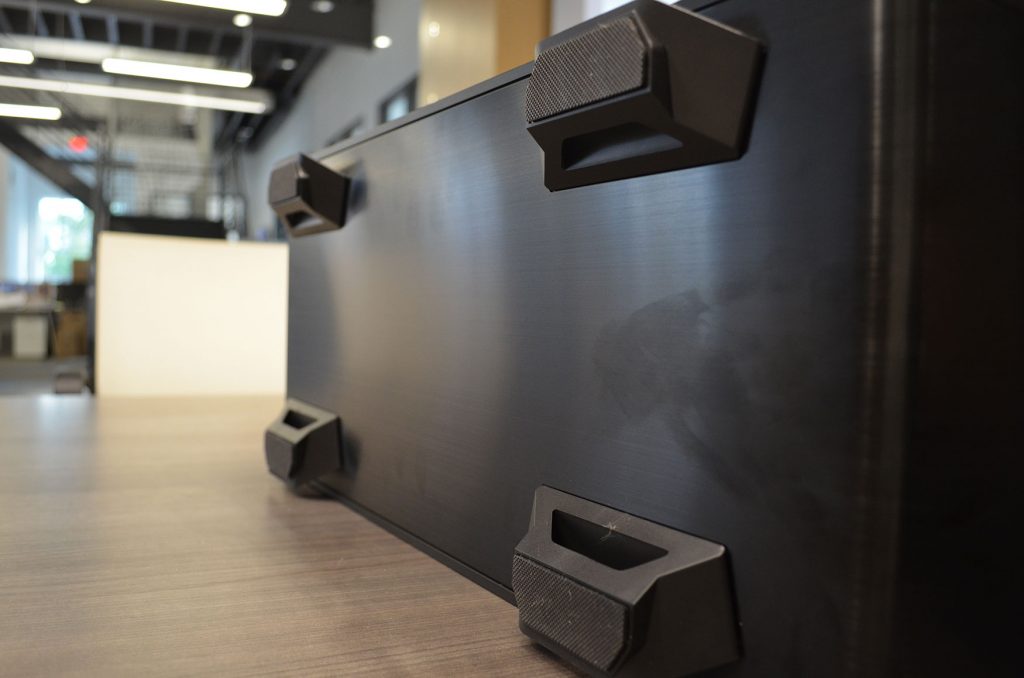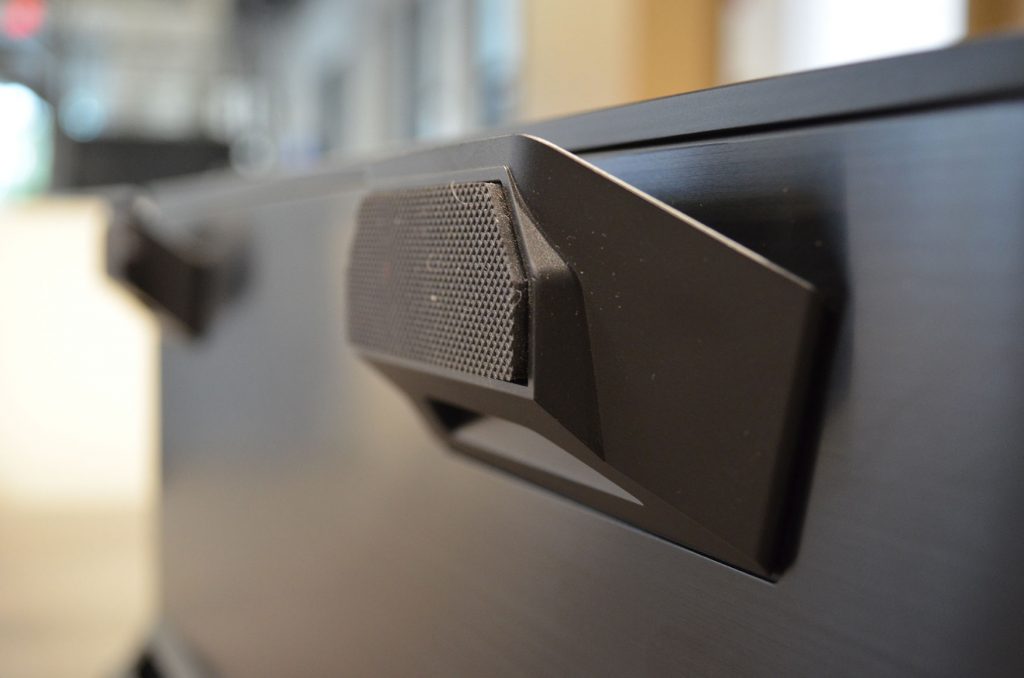 7. Highly modular and customizable
This was one of the best selling features that sold us. The Dark Base Pro 900 was built to be highly configurable to your specifications. You can have the glass panel on either the left or the right. Inside there's two 5.25″ drives, seven 3.5″ drives. If you're not using 3.5 drives and instead uses 2.5 SSD, you can fit 15 SSD here. Not entirely sure why you'd ever need that much space, but it's there. You can also remove the cages to improve circulation and fit larger 1080 GPU's. The entire case is highly configurable and can be customized for whatever configuration you want to put inside.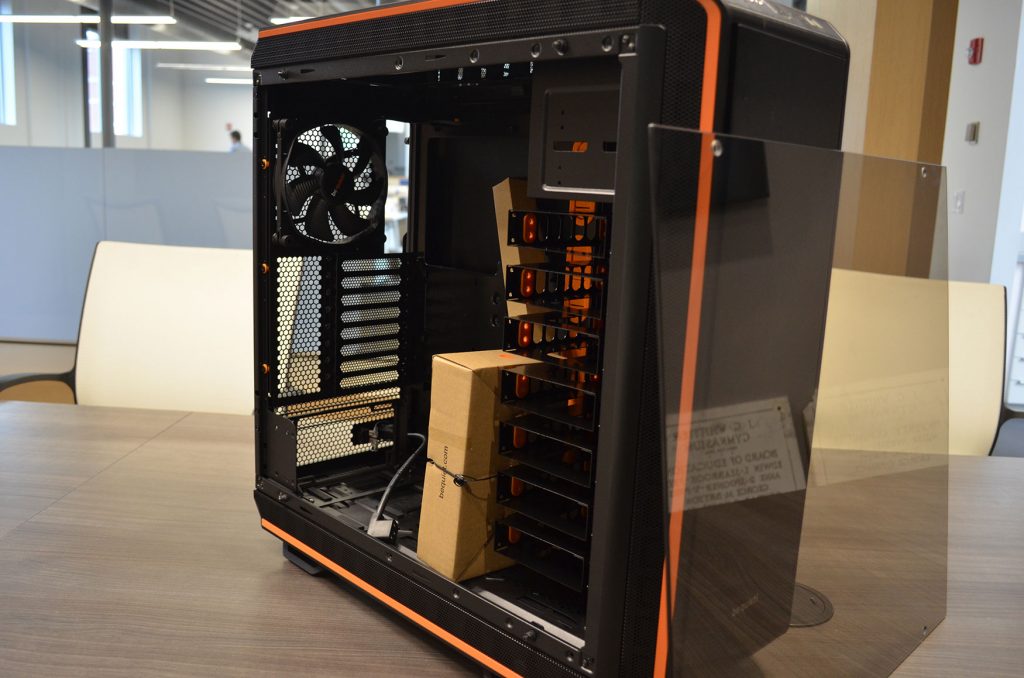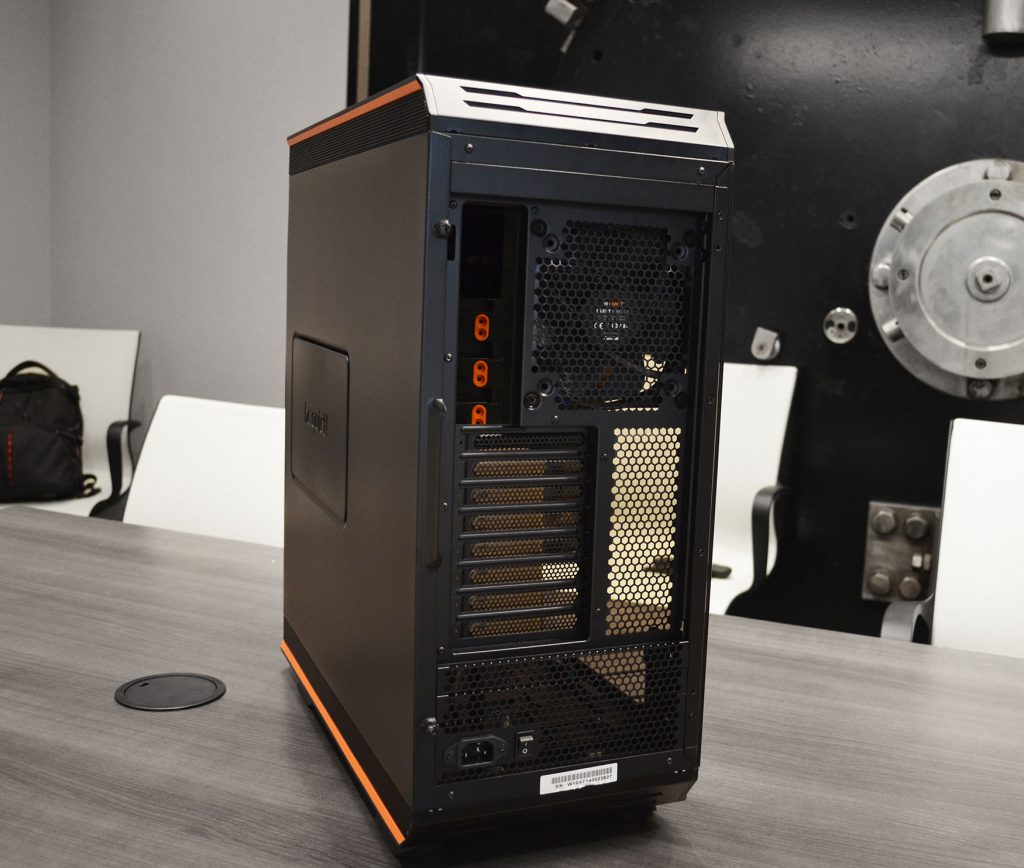 Final Thoughts
The Dark Base Pro 900 Pro isn't just a case. It's a beautiful piece of art, an engineering beauty, and a product made to withstand the test of time. They didn't skimp on any parts to save money. The engineering team at be quiet! did quite a lot to the case, but the one thing they didn't do is compromise it's quality. A few pictures can't tell the whole story. Once you start working with the case and installing components, you start to see all the little things they did and all the details they didn't skimp on. We're glad we chose the Dark Base Pro 900 as our case for the build. Please stay tune for our complete build coming soon.
5 Best Gaming Mouse for Work and Play
Interested in buying? Get it for $250 on Amazon.
Owner's Mag: RadRover Electric Bike Review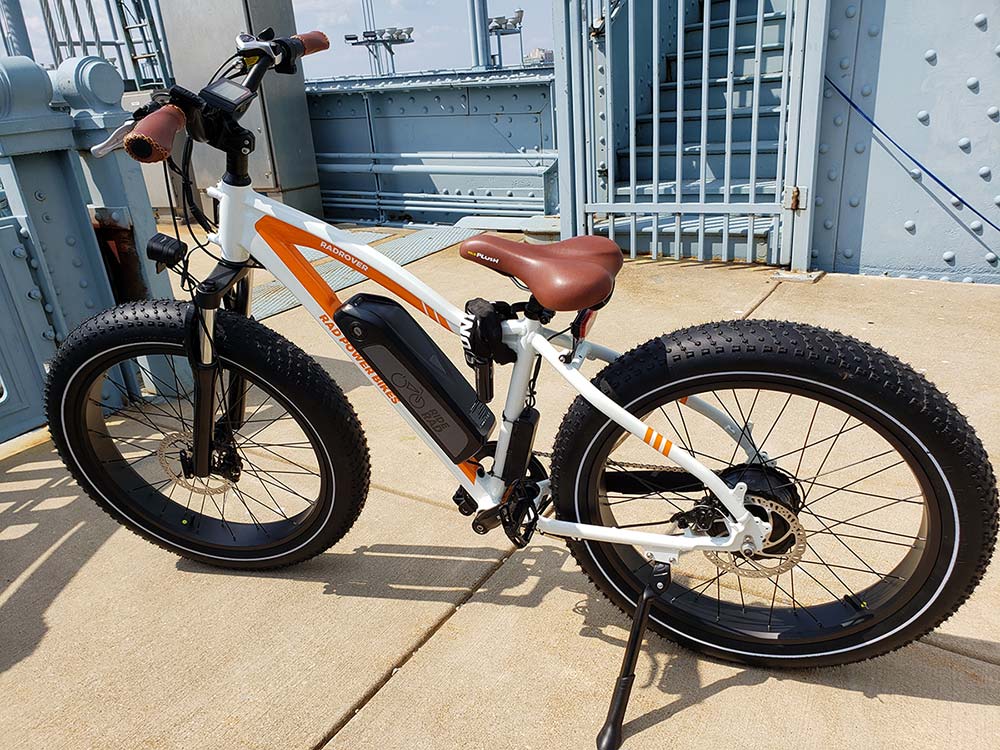 The US has seen a rise in biking trends in the past couple of years. More people use bikes to go to work. It's a way to save up on gas, help the environment, and get some workout done.
For bike enthusiasts in the US, biking means testing their bikes' limits as they enjoy the great outdoors. Electric bikes or fat bikes offer these bikers a chance to use their bikes for every trail and occasion.
One of the electric or fat bikes you can see in the market is the RadRover Electric Bike. Just like any other e-bike or fat bike in the market, it helps you navigate through different terrains and trails. You can also speed up or cruise as you wish. With so many e-bikes in the market, how does the RadRover Electric Bike stand out?
At A Glance: The RadRover Electric Bike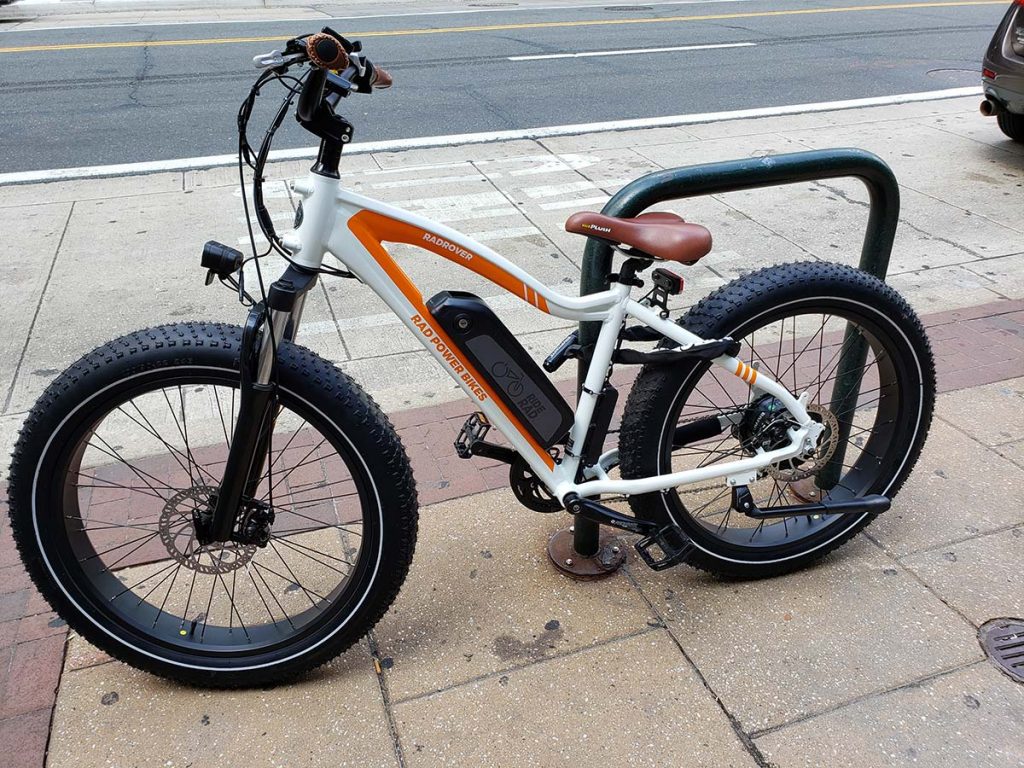 What makes the RadRover different?
The Pedal Assist Systems (PAS) and throttle helps boost bike speed
Safety features for any time of day or terrain
Great for workouts
Power up through charging
The Need for Speed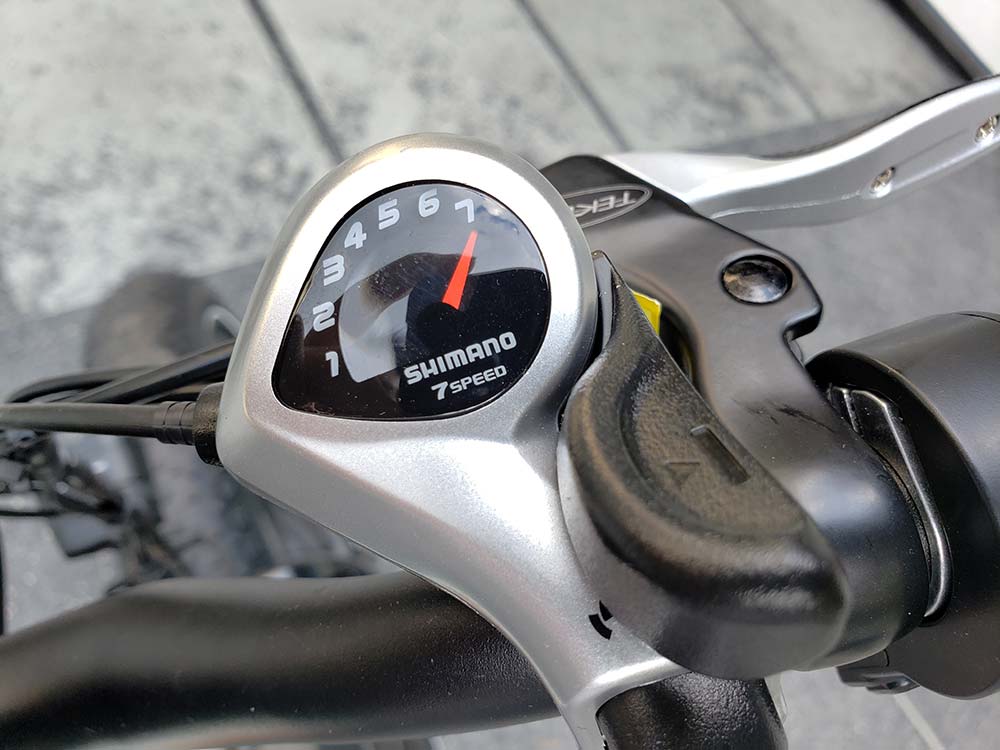 The RadRover Electric Bike has a 750W Bafang Geared Hub Motor. In layman's terms, it gives you all the torque you need to power through that terrain. However, some say the sound of the motor is noticeable at slower speeds. If you speed up (safely, of course, never forget that), the sound fades.
Current e-bike laws in the US indicate that you can ride up to 20mph only. The motor will help you stabilize your speed without incurring any fines or warnings for speeding.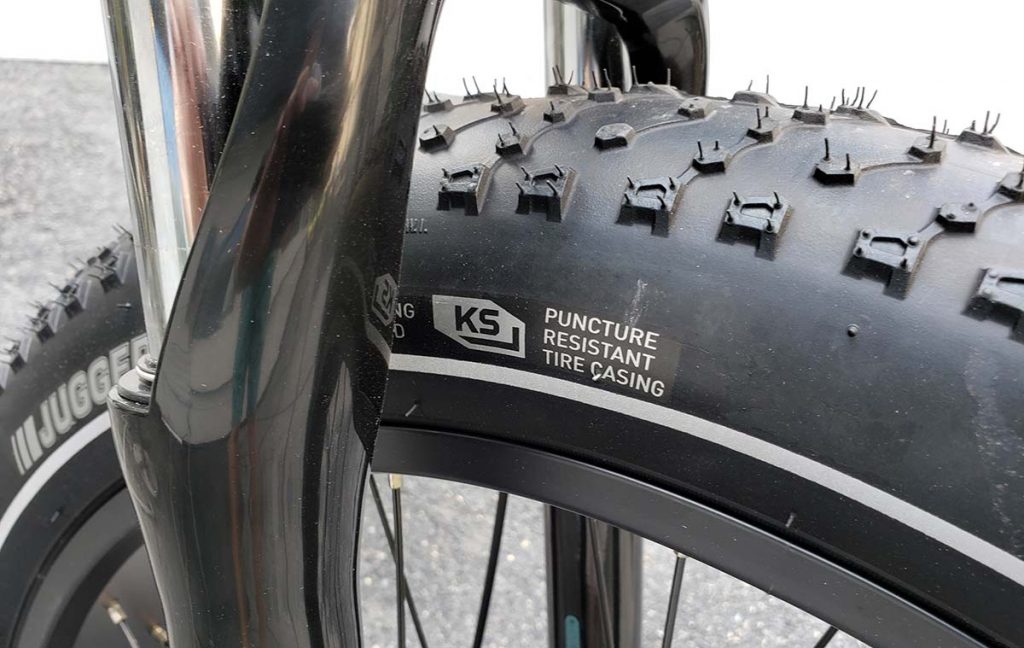 Their Kenda 4" tires are huge and wide but it offers stability and makes it light and easy for you to navigate and shift to any type of trail. Their front RST suspension work helps riders have a smoother ride.
The electric bike's pedals are made out of metal, which makes it sturdy and stable as you cruise or speed up. The PAS can help you speed up without the need for a throttle. It has five different levels.
The higher the PAS, the lighter and faster your ride is. You might want to save some juice for the trip home because it can drain your battery faster. But, if you want to have a quick stroll in the park or want to have a lower body workout, use levels 1 or 2.
If you need to boost your riding speed, you can activate the half twist-grip throttle. You can activate it on-demand. But don't worry if you accidentally pressed on it, since it has a power button for incidents like that.
Safety First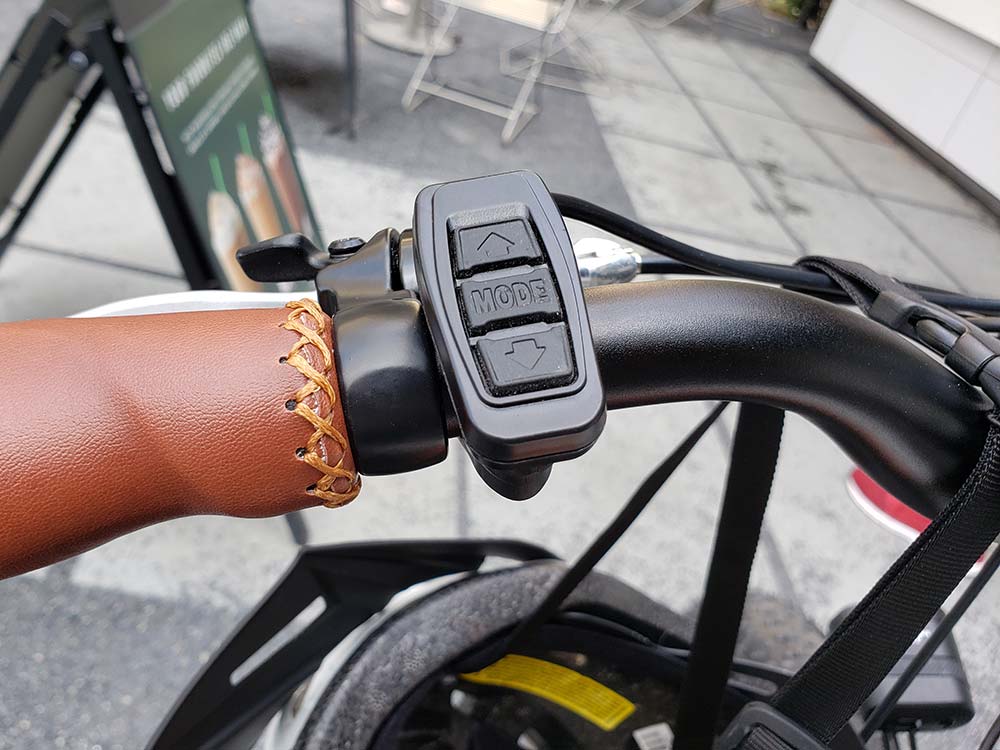 If you're riding at night, orange reflective strips glued on the tubes can help others become aware you're there. Reflective sidewall strips are also attached to the bike spokes.
At night, riders can turn their LCD backlight to check their speeds and battery life. It turns on along with the headlights and brake lights. It has a strobe feature that can alert others.
The RadRover Electric Bike's Kenda puncture-resistant tires will protect the tires from any sharp or pointed objects like glass or thorns. Due to the wideness of the tires, riders can expect a non-slip grip when braking.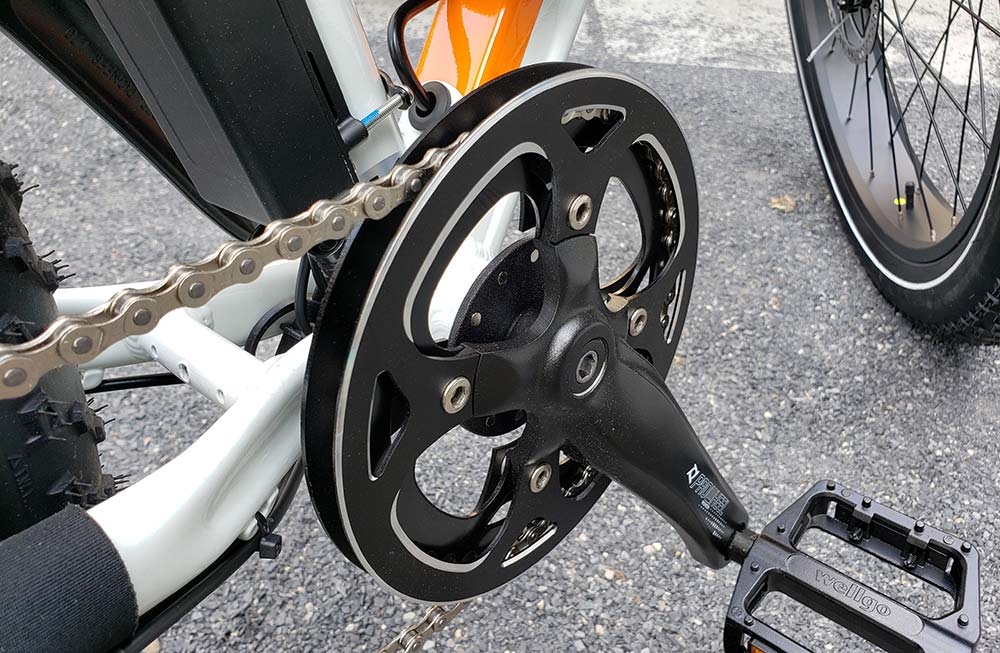 Their brakes are responsive due to the sensors and can help a rider from slowing down to stopping entirely. While their brakes are powerful, you might need some time to adjust.
While you're riding uphill or downhill, you have shifters right next to the throttle. It'll help you take control as you pedal some steep terrains.
Have Fun While Getting Fit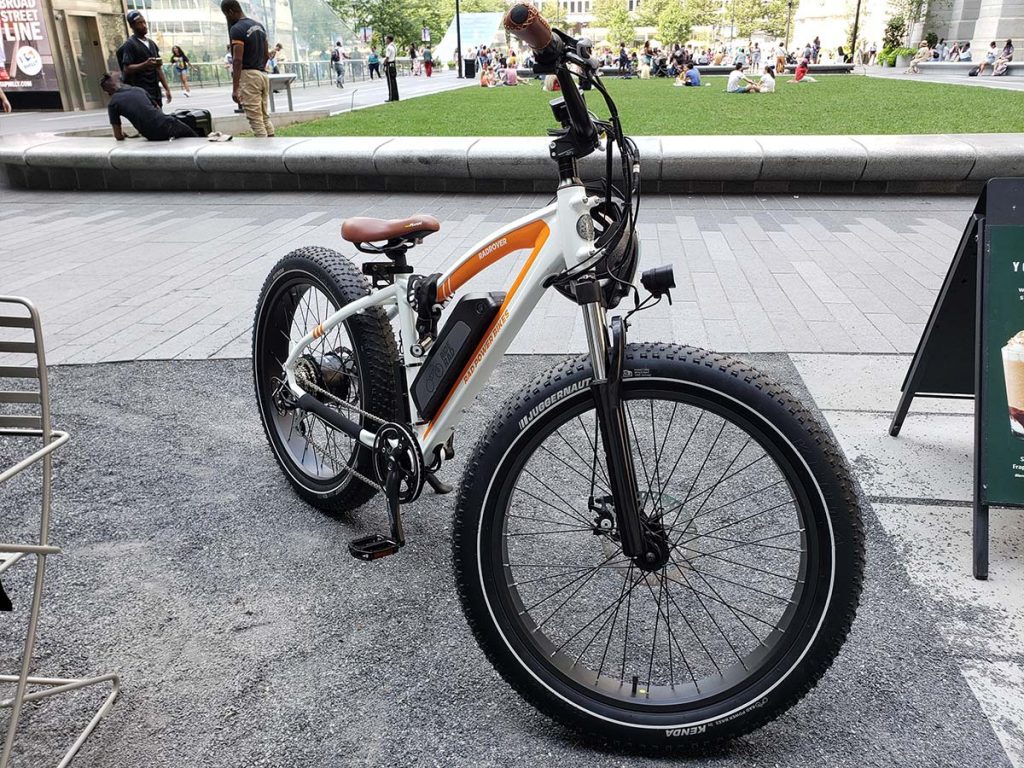 Cycling is a hobby that lets you enjoy the great outdoors and get some exercise out of it as well.
For the young at heart, biking is one of the ways you can improve your health.
Many riders find that biking with RadRover improved their overall health. You don't have to test your limits by going on an all-terrain bike trip. Take it to your nearest grocery store or mall, that would help you save up on gas and give you the exercise you need daily.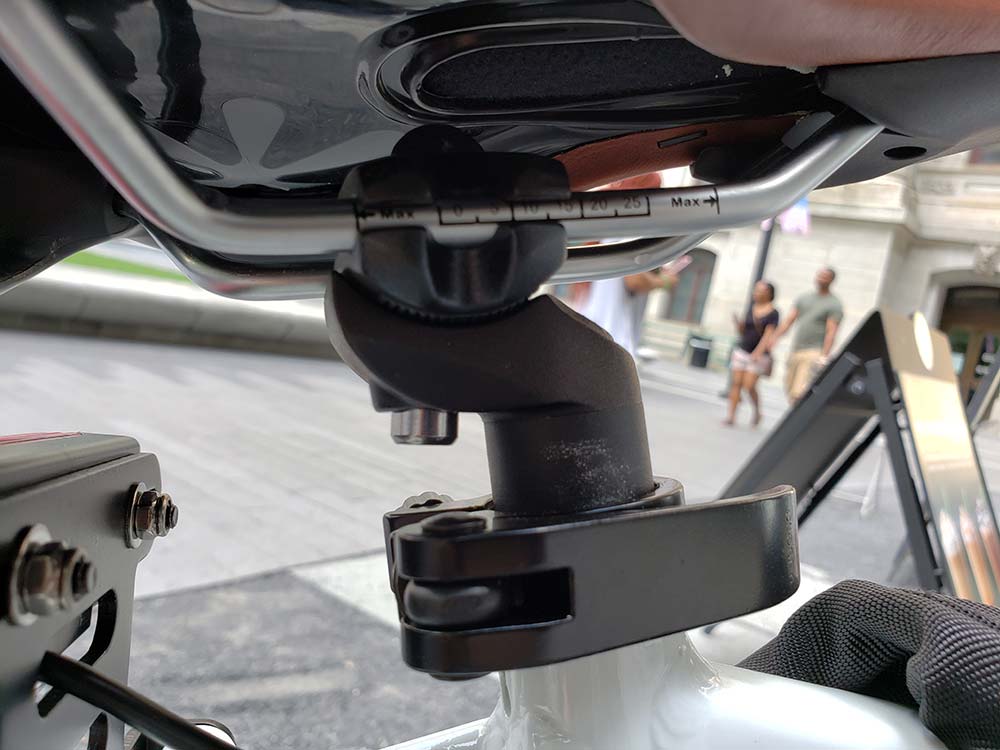 One of the reasons the RadRover improved some of its bikers' health was because of the way they're seated. Instead of leaning forward, you remain upright on your bike. It puts less strain on your back and neck and it helps your posture. If the bike affects your posture, you can adjust the seating the way you want it.
Plus, the seats are comfortable!
You've Got The Power

Going on your next adventure? Charge your bike 5 to 6 hours before you hit the terrain and ride for up to 45 miles on a single trip.
Don't worry if your smartphone runs out of juice, the RadRover Electric Fat Bike can charge it while taking your bike out for a spin.
Pricing
Some electric fat bikes run for $2,000. If that's too steep a price, RadRover's Electric Fat Bike is priced at $1499 with free shipping for the lower 48 states. If the price is too much for you, but you want this bike so bad, you can go for $91/month payments by using Affirm.
If you live in Hawaii, you'll need to cash out $400 for shipping. Sadly, for Alaskans, you need to contact the store directly if you need to buy one.
Conclusion
The RadRover Electric Bike enables riders to have fun (and get some workout done) at any speed. The e-bike also ensures the safety of its riders, which doesn't get in the way of riding. For a mid-range priced e-bike, other e-bikes have got some serious competition.
So, whether you're buying to save up on gasoline costs (and the environment) or an e-bike enthusiast, this bike is for you. It's an all-around bike taking you to places smoothly and safely.
Top 50 Unlimited Graphic Design Companies (+25% Promo)

Looking to hire an in-house graphic designer or trying to scale graphic design offering to grow your business? What used to be an expensive and unpredictable endeavor has been disrupted by a new wave of companies who call themselves "Unlimited graphic design services". These startups are able to offer you the same benefit as a full-time graphic designer but at a fraction of the price.
Which Provider Should You Choose?
We've done the homework and curated a list of Unlimited Graphic Design providers for you and also negotiated special deals on your behalf. You can see them all below and decide which one fits your needs.
---
Unlimited Graphic Design Providers
What Does Unlimited Graphic Design Mean?
Just about every Unlimited Graphic Design provider offers the design service via a monthly subscription. After checkout, you gain access to their workflow. Some connect you to their Trello board, others resort to giving you a special email to send your design requests to, and a few more sophisticated providers have their own online platform/portal.
Once you're connected to their workflow, you can begin submitting as many design requests as you want. Although they all claim "Unlimited", it generally means you can "create" unlimited design requests. It doesn't necessarily mean they'll work on them all at once. Usually, they just work on one design at a time. When one completes, they start the next design.
The usual turnaround time is between 1 – 2 days, and that's just for the first draft. It doesn't mean your whole entire request is done. If you don't like it, you can request as many revisions as you want, and that will take more time. So it can take up to a week to actually get design complete if you have a lot of revisions.
Another thing to keep in mind is content. You need to be able to have everything ready and provide all the content needed in order for their designers to get started.
Are they worth it?
If you have a lot of design needs, they're definitely worth it. Being it's a monthly recurring investment, you'll need to make sure that you have the need for ongoing graphic design service. This graphic design service model is comparable to outsourcing a designer yourself, except much of all the management work is done by the company. The quality of designs and turnaround time also tends to be significantly better when outsourcing a designer yourself.
'Or Die Trying' Webseries Empowering Millennials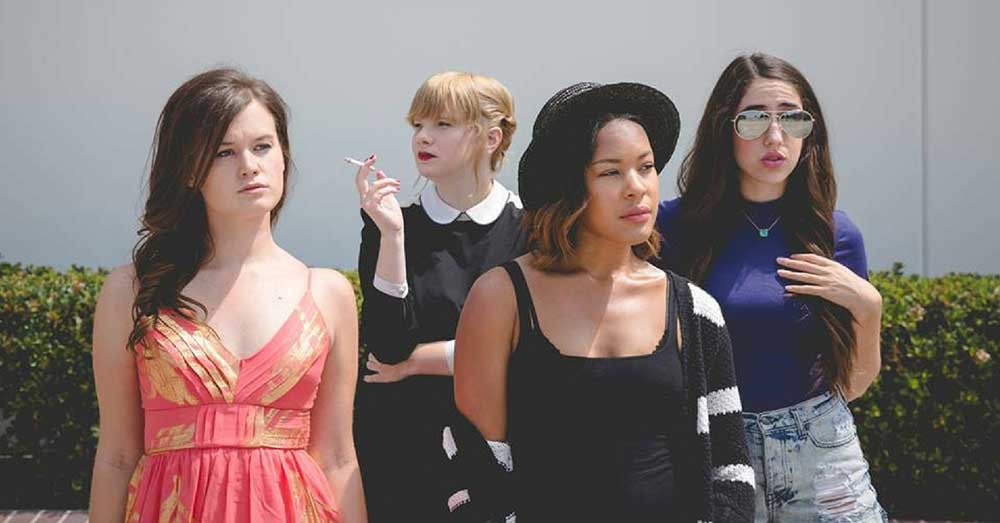 Inspiring millennials across the nation, Or Die Trying is sharing a story about four women living in Hollywood pursuing their dreams in the entertainment industry. In this exclusive interview, they reveal the truth about LA, crowdfunding, and feminism. The passion behind the webseries stem from the lives of the creator Myah Hollis and producer Sarah Hawkins. They are the masterminds behind Or Die Trying, and this is how they're doing it.
What is Or Die Trying about?
MH: Or Die Trying is about four millennial women living and working in Hollywood. When it comes to their careers in the entertainment industry, they know what they want and they have an idea of what it will take to get there, but they struggle with making all of the pieces of their lives mesh seamlessly. While they're strong in one area, they're lacking in another. It's a story about their journeys as they develop as women and try to come to some type of equilibrium, while not compromising who they are in the process.
Tell me about the characters.
MH: Amelia Tinsley is a journalist, struggling with her identity and her sense of purpose, and trying to get herself back on track. Bailey Rosenberg is a comedian who is totally in tune with who she is and what she wants, but is having opposing expectations forced on her by her mother who wants her to live more traditionally. Ellie Hansen is an indie actress who is disinterested in the idea of fame at the expense of art, even though she's constantly being pressured to "sell out." Raegan Thomas is the creator and co-showrunner of a TV show who, although she's doing very well professionally, is dealing with things in her personal life, and she doesn't really have the ability to compartmentalize the two. Each character is trying to achieve a sense of balance between two dueling aspects of their lives.
How did you ladies meet?
SH: Myah and I met a few years ago in Philly where we both lived and worked. We both made the leap to LA within months of each other in 2013, Myah moving here for writing, and I sought to pursue acting. Being friends and fellow film industry ladies, we wanted to create something together that we could call our own, as if you wait for the perfect role or opportunity to come to you, you're never going to find it. We've been work wives ever since!
Why LA?
SH: Los Angeles is like Mecca for artists and those striving to put one's dreams into fruition. Most everyone is here with purpose, and that alone can be incredibly infectious. Who wouldn't want to feed off that type of energy every day?

MH: If you're seriously pursuing a career in TV or film, this is the heart of the industry. It's where you need to be. It also helps that it's sunny all year and there's a ton of sushi.
What is your day to day like?
MH: Every day is hectic in its own way, but not extremely exciting to be honest. It's just a marathon of checking things off of checklists, chugging gallons of caffeine and trying not to sink into the warm comfort of an unproductive Netflix binge.
SH: I'm not sure I can really echo Myah's sentiments enough on the coffee bit. Coffee in an IV and an obscene mountain of emails.
What inspires you?
SH: My fellow women in film. I feel like there is such community within our little network that is just pure of heart and down to earth, so much that at times it can kick your own ego-butt every now and then. This industry can be just absolutely brutal, but when I see like-minded, passionate, badass women who just want to help level each other up, I get incredibly motivated to do the same and progress the conversation further.
MH: I think I'm most inspired by the statistical improbability that I should be successful as a writer in this industry. When I first decided that I would pursue this instead of going down one of the many roads that would lead me to a stable job, I was very aware of the fact this is something that I should fail at. More people fail than succeed, that's just a fact. You know this going in but you do it anyway. The idea of being successful despite those odds is what drives me.

Why a story about women?
MH: There aren't enough stories about women told by women. There's a unique perspective that's missing in Hollywood because women are not telling our own stories, therefore the stories that are being told are not representing us properly. It's a systemic problem that will only change if we make it our responsibility to create more complex, realistic female characters.
Who are some of your role models? Why?
MH: Shonda Rhimes is my main professional role model, for reasons that feel really obvious to me but I'll just go ahead and lay them out. She has knocked down so many barriers and has become the epitome of a woman building her own empire and playing by her own rules. She has beat the odds in every way, and that's really inspiring. My role models in my personal life are my parents and my family and close friends. I'm just surrounded by so many strong, resilient and talented people, it's insane.
SH: Amy Sherman-Palladino for the creation of Gilmore Girls, which is probably some of the best feminist writing on TV and on a personal level, my dad. He has been a huge influence on my career as an actor and as a producer, and is a constant source of inspiration.
What advice can you give to people chasing their dreams in LA?
SH: Find your "person(s)". LA can be extremely lonely and competitive if you let it. Surround yourself with people who push you to be better, to think outside of yourself, to keep the end goals in perspective when the day-to-day gets muddled and messy. That's what I love most about Myah's & I's relationship. She keeps me in check and we push on together.
MH: Don't listen to people, listen to your instincts. Listen to your gut. Succeeding in this city takes stamina. Only you know when you've had enough. Don't stop going after what you want until you're sure you don't want it anymore.
How did crowdfunding through Seed & Spark help you?
SH: Seed&Spark was one of the most challenging and rewarding experiences. Crowdfunding is never easy, but the folks at Seed&Spark vet you and prepare you on a level that is incredibly empowering. Really cool filmmakers came out of the woodwork to support us, not only financially but with loans of goods, services, promotions, etc. Our project became a community through Seed&Spark, and we're excited to continue to build that village through production this October.
How are you trying to make your audience feel?
MH: I don't ever want to tell people what they should feel. I'm kind of a psych nerd, so I can get a little hippie-dippie at times, but I really think that everyone is at a different point in their lives and different things resonate with you depending on what you're experiencing at the time. I just want people to be able to empathize on some level, but whatever feelings our show ignites is fine with me as long as they're engaged.
What is your message to your audience?
MH: You have to trust your instincts, regardless of the backlash that may cause. You also have to be willing to put in the work to become whoever it is you want to be, both professionally and personally. Those are the main things that I want people to walk away with. Other than that, I just hope people take what they need from it and that they're both inspired and entertained.
What sort of person is going to love the show?
SH: We sought to really hone in on our fellow millennial women in film, because they are our community, our niche; the ambitious, driven women who know what they want and are actively doing everything they can to make it happen. I know ODT echoes universal truths far beyond that demographic, that dreams are worth fighting for, and given by the reaction to our trailer, our Seed&Spark Campaign, and other press, I can't wait to see who latches on to it, as both men and women alike have been extremely anxious and excited for us to get it out there.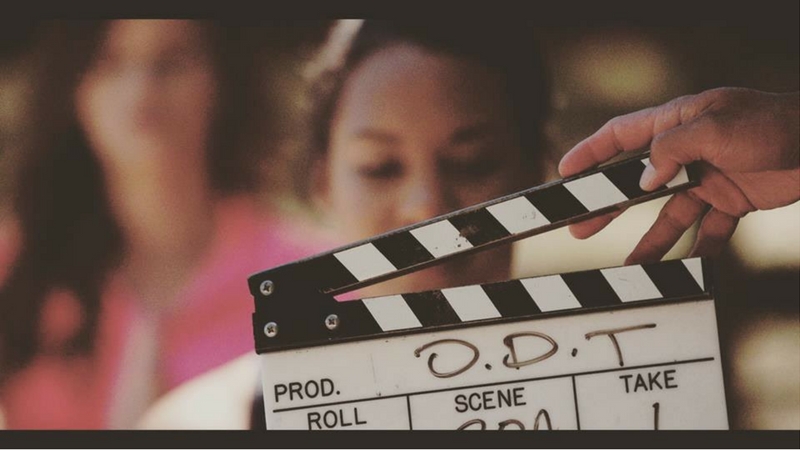 What was the happiest moment?
MH: Finishing the scripts was a huge relief. I tend to pick at them compulsively until they're exactly the way I see it in my head, so when they were officially locked in and ready to go I felt like I could finally breathe.
SH: For me, it's the seeing the community we are beginning to build with Or Die Trying. A distinct moment was at our ODT Networking Party, and looking out into the crowd to see all the amazing people who not only came out to support our series, but came out to connect with fellow filmmakers and level each other up by networking with one another. It was so cool to witness!
How has pursuing Or Die Trying affected your lives?
MH: It's completely dominated the past year and a half of my life. Everything has revolved around this project for so long, that I don't really remember what I was doing with my days before. It's also made me really confident in my abilities as a writer and producer, and very thankful to be surrounded by such talented and creative people every day.
SH: Same! ODT on the brain 24/7.
What struggles are women facing today?
SH: I'm going to chunk this down to women in film because there are some pretty wild problems outside of this industry women have been and are currently fighting against. To put it plainly, there is unequal opportunity for women behind and infront of the camera, unequal pay above and below the line, and very little movement to illuminate the female perspective onscreen.
Would you consider yourselves feminists?
SH: Yes. Men and women are equals, it's time our society reflects it. Feminism shouldn't be a dirty word.
MH: I honestly don't understand how you can not be a feminist. There are negative implications about what feminism is, but it's very simply the belief that women are equal to men in every capacity. I can't believe that's something that we're still debating as a society.
How do you feel about the film industry today?
SH: I think we are in a unique time where collaboration and creation is becoming increasingly more welcome than competition. So much of this industry is cut-throat, but when it comes down to actually bringing a project into fruition on the indie level, I believe most people are in it for the right reasons. Maybe that's naive of me to say, but at the very least, that's been our experience with ODT. Everyone just wants to be apart of something bigger than themselves, and I believe our series speaks to that.
What obstacles have you faced?
SH: The proverbial "no," and learning that it has no real merit on you or what you're capable of achieving.
MH: The great thing about building your own projects and creating your own opportunities is that you don't face many obstacles that you can't overcome. There are always logistics that need to be figured out, but the fact that you're not waiting for someone to tell you what you can or can't do eliminates a lot of that hesitation and stress that can hinder you in this industry.
Who would you like to work with in the future?
MH: Shonda.
SH: Jill Soloway.
Is there anything you want to highlight?
SH: We're headed into production of Or Die Trying this October, but you can stay tuned on our progress at odtseries.com and on social media @ODT_series and at #odtseries