7 Reasons Why You Need to Get The Dark Base Pro 900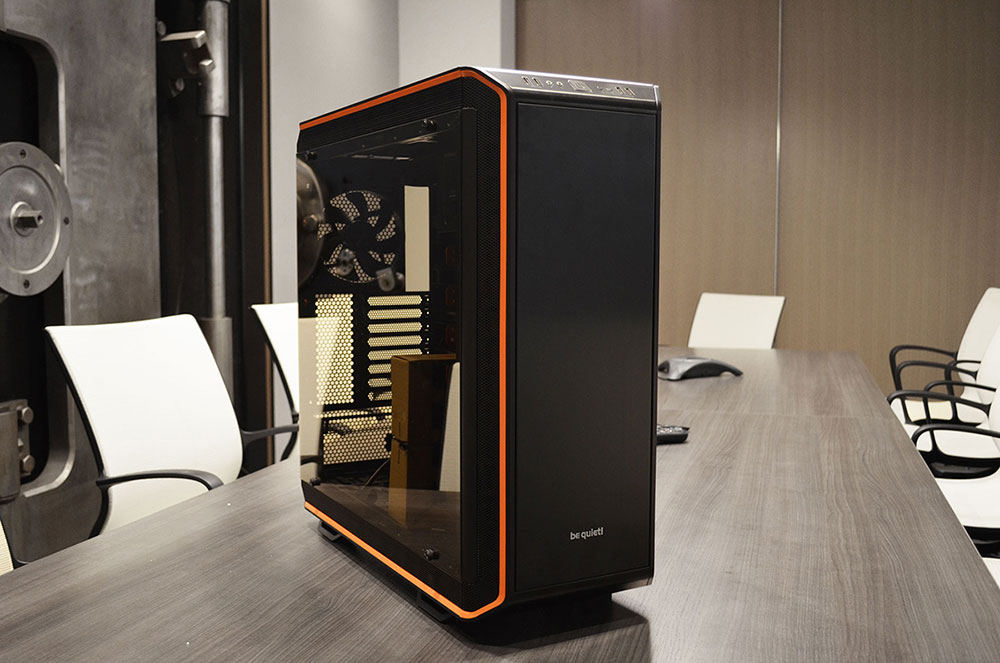 We chose the Dark Base Pro 900 as our case for our ultimate Entrepreneur's Custom Gaming/Work PC. Most entrepreneurs nowadays aren't buying computers anymore due to the high cost of buying a laptop/work station every 2-3 years. Technology is fast moving and entrepreneurs are seeking to build their own Work/Play Rig. When building your own PC, one of the most important components is the Case. A poorly made case can make your space look unsightly, reduce the life and performance of your internal components, and also be loud and annoying to operate. And that's why the Dark Base Pro 900 caught our attention. The company behind the Dark base 900 Pro is
be quiet!
...take a guess what they focus on.
Be quiet!
is a premium brand manufacturer of power supplies and cooling solutions based in Germany. This case is part of complete build that we will be finishing up within the next couple of months. We're building the ultimate Work/Gaming PC for entrepreneurs and startup founders. And after months of research, we'd like to present you the 7 reasons why we chose the Dark Base Pro 900 .
1. Beautiful Design
First and foremost, we chose the case because it has a timeless look. It's not too flashy, too edgy, or too over-the-top with all the curves and lines you'd find in other cases. The beauty is subtle and controlled. Our first impression of the case is one of awe and admiration. We reviewed it in our conference room and our staff constantly peaked in to see what we're reviewing. You can choose between Orange, Silver, or Black trim. We chose the orange trim. It's a full tower case featuring brushed aluminum & ABS casing all around, and 4mm thick tempered glass side panel. Coming in at 14.39kg without parts inside and measuring at 577mm deep, 243mm wide and 585mm tall, it's definitely not a case you can easily move around. But then again it wasn't designed to be portable.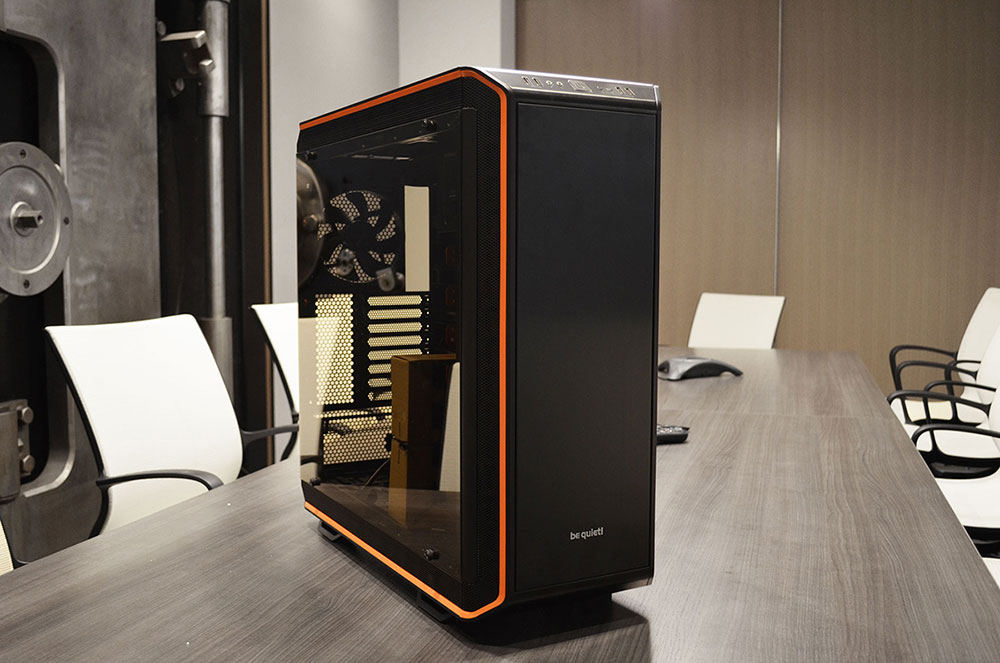 We also appreciated the subtle and tastefully branding placed on the metal side of the case and in front. The orange outline is a solid color and doesn't glow, which we don't mind. The case does come with RGB lighting kit and it's relatively easy to install.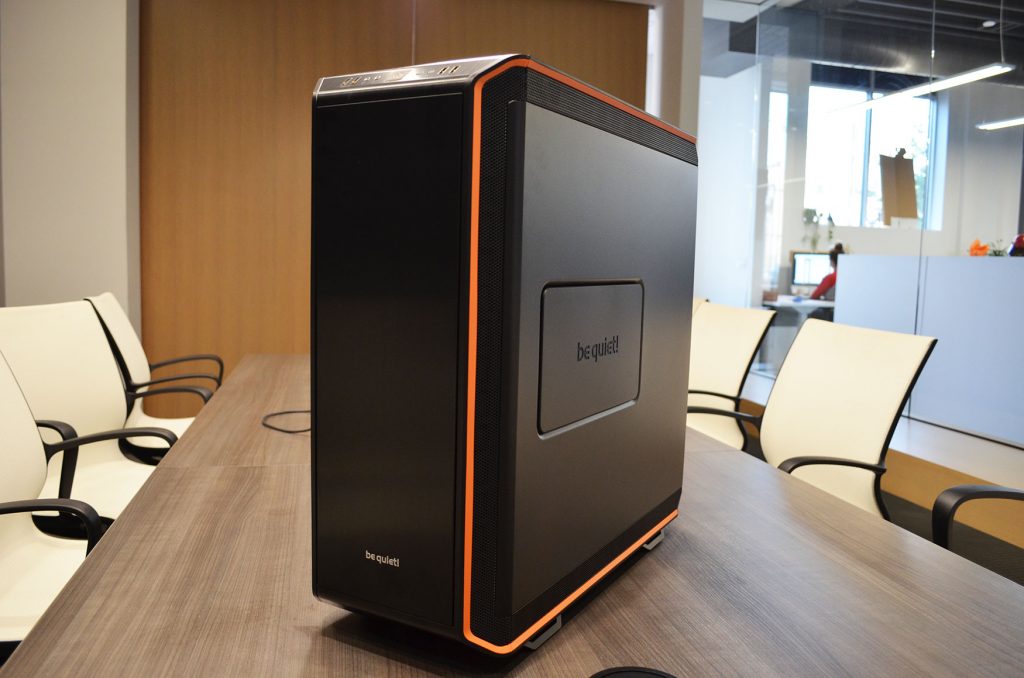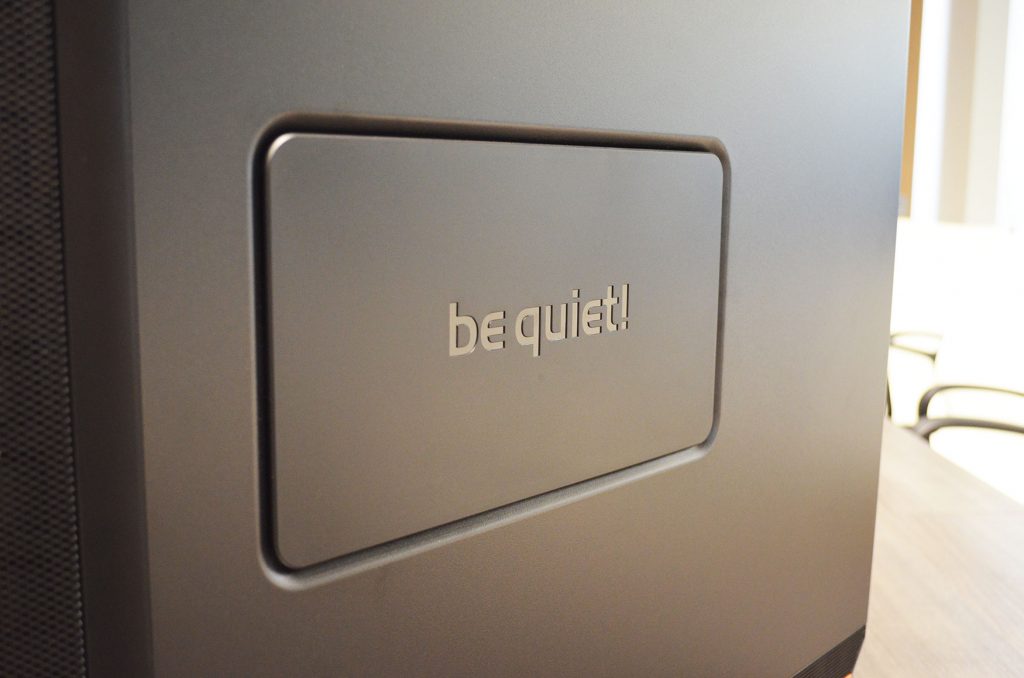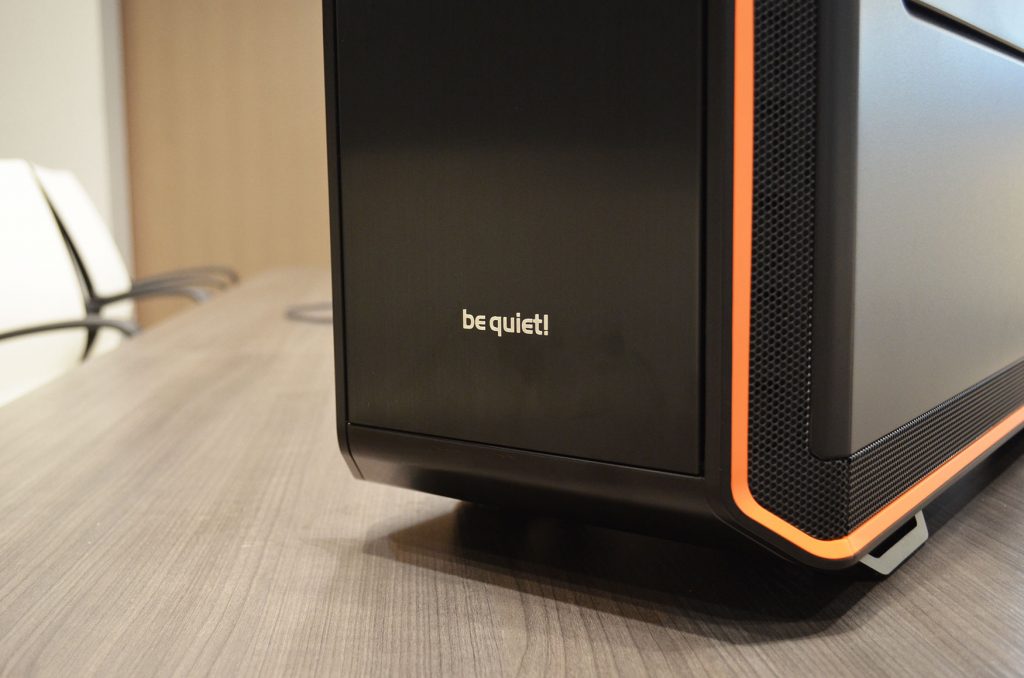 When placed on a desk presents a timeless beauty that doesn't beg to be noticed.
2. Functionality
We needed a case that was going functioned as well as it looks. Below are some attractive features of this case that sold us.
Good ventilation:
 It's a highly breathable design with ventilation mesh surrounding the entire casing on both sides ensuring abundant airflow.
Motherboards Compatibility:
The Dark Base Pro 900 (and even non-pro version) is compatible with a wide range of motherboards. You'll be able to fit XL-ATX, E-ATX, ATX, Mini-ITX, and even Micro-ATX motherboards. We like to keep our options open when it comes to motherboards.
Front Ports:
On top you have the  I/O  button with 2 USB 2.0 ports, 2 USB 3.0 ports, and HD audio jacks. Your Audio and Microphone ports are in front and easily accessible instead of having to plug from the rear. We wish it included a USB-C port, but it's not a deal breaker.
QI Charger:
On the top Panel there's a QI charger for you to place a compatible device there to charge. This is the first time we've ever seen this feature on a case.
Fan controller and RGB LED color switch:
 You can adjust the fan speed directly from the front panel and cycle through multiple color scheme of the RGB lighting. All these can be controlled without turning the computer on and going into some sort of interface.One small aesthetic thing we didn't like was the misalignment of the orange line (pictured below). It's not a turn off, however would've been nice if it was perfectly aligned.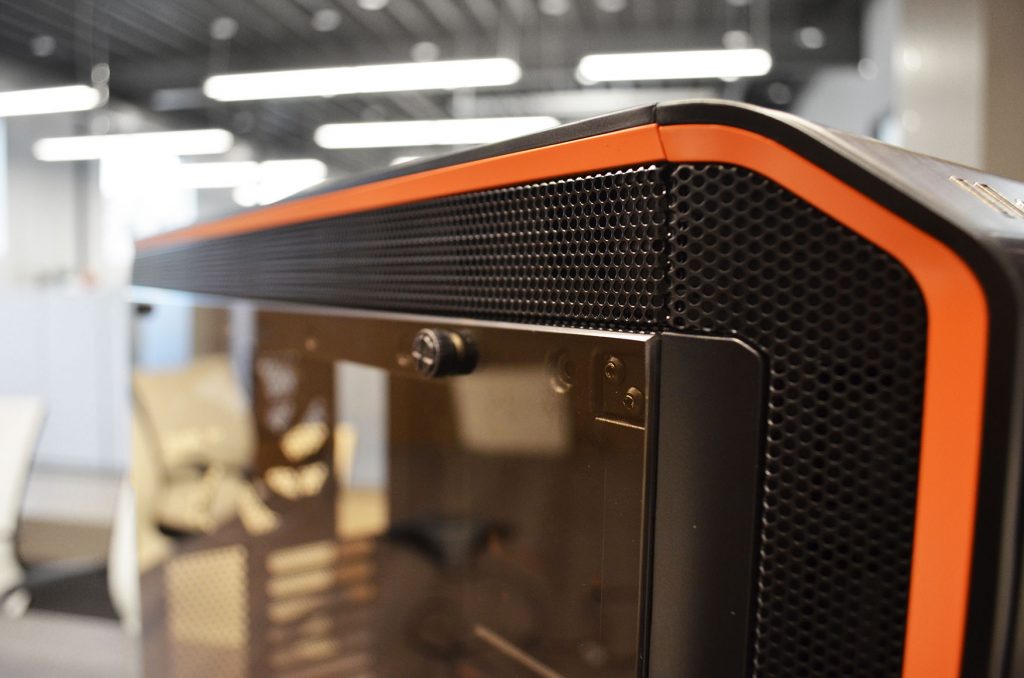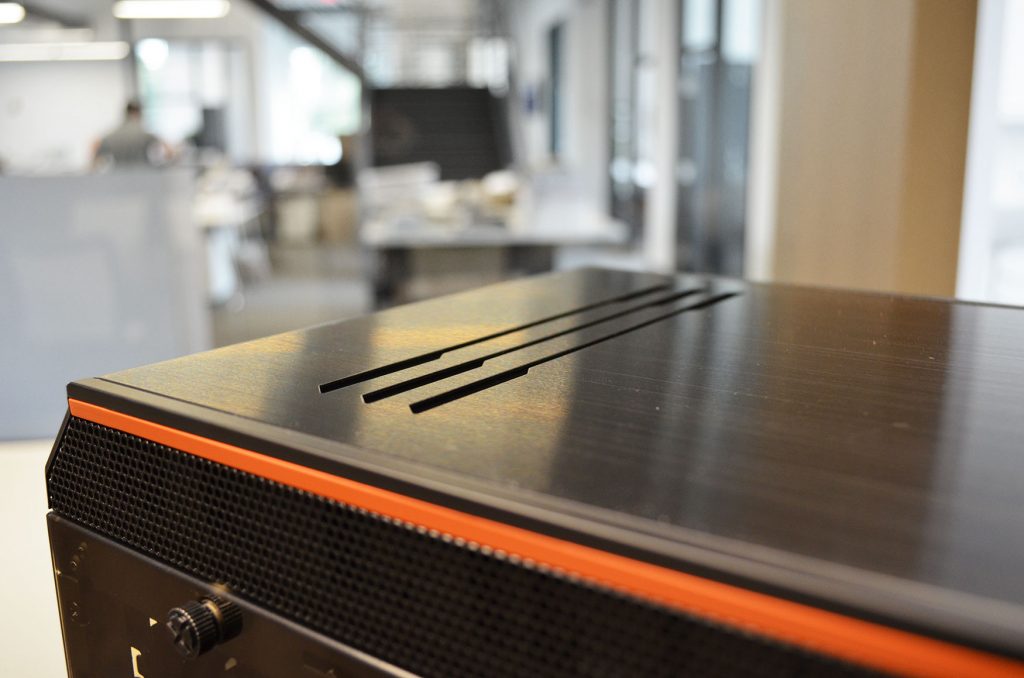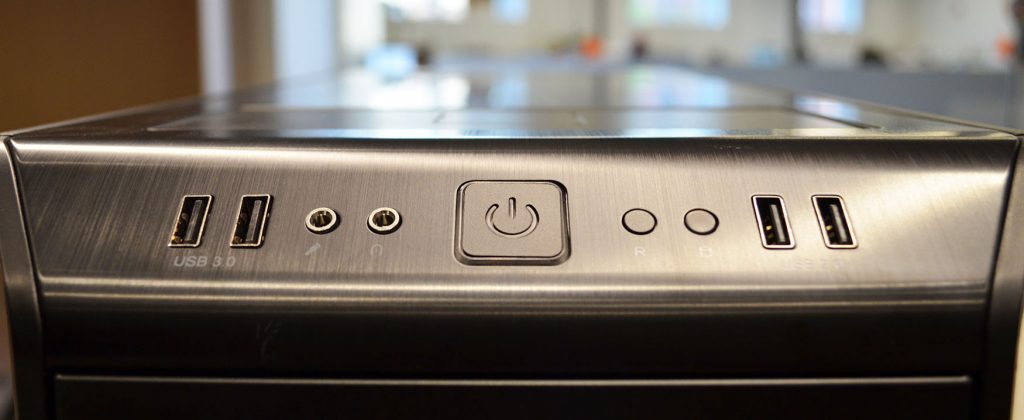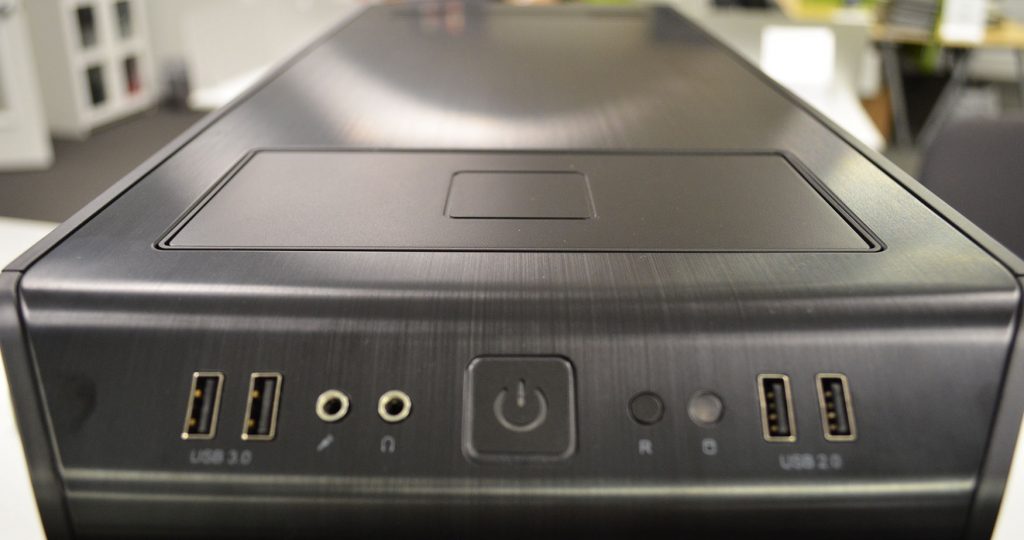 3. Cooling
No high-end machine can function for long if it wasn't built with cooling in mind. The fans alone in this case make it worth the extra money. Instead of having to shell out money for decent fans,
be quiet!
includes 3 SilentWings 3 fans installed out of the box. The fans are 140mm PWM fans with a unique blade design which
be quiet!
claims to improve air circulation. There's a fan in the rear and 2 fans pre-installed on the front panel. You can install an additional fan on the top deck (most likely for CPU cooler) and you can also install a single 120mm fan on the bottom. We also liked how accessible both air filters are on this case. Both can be accessed from the front panel with ease.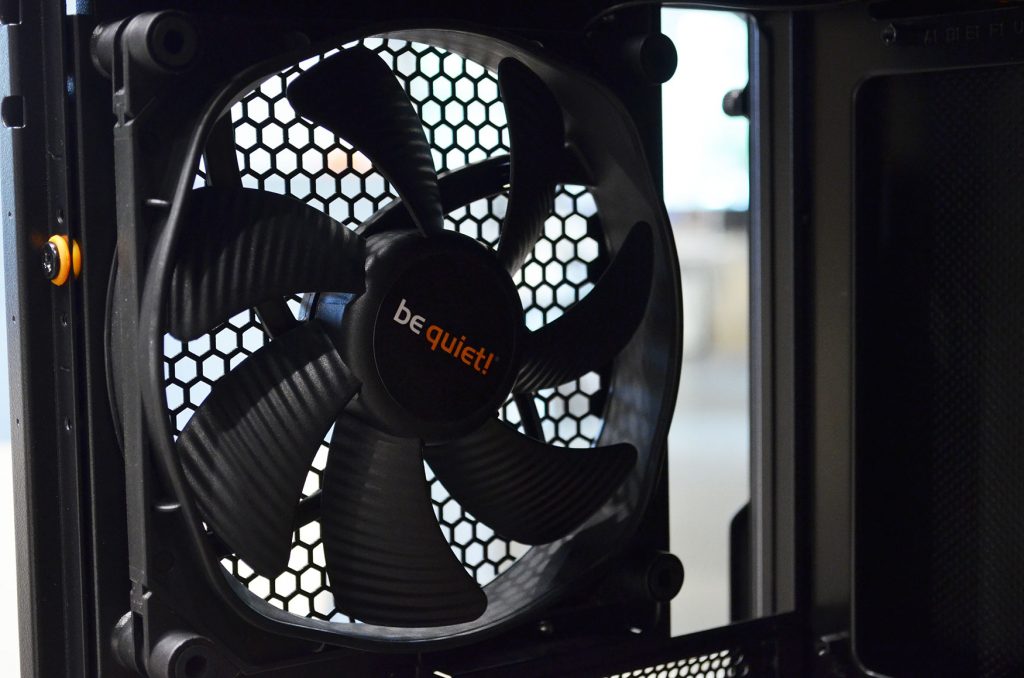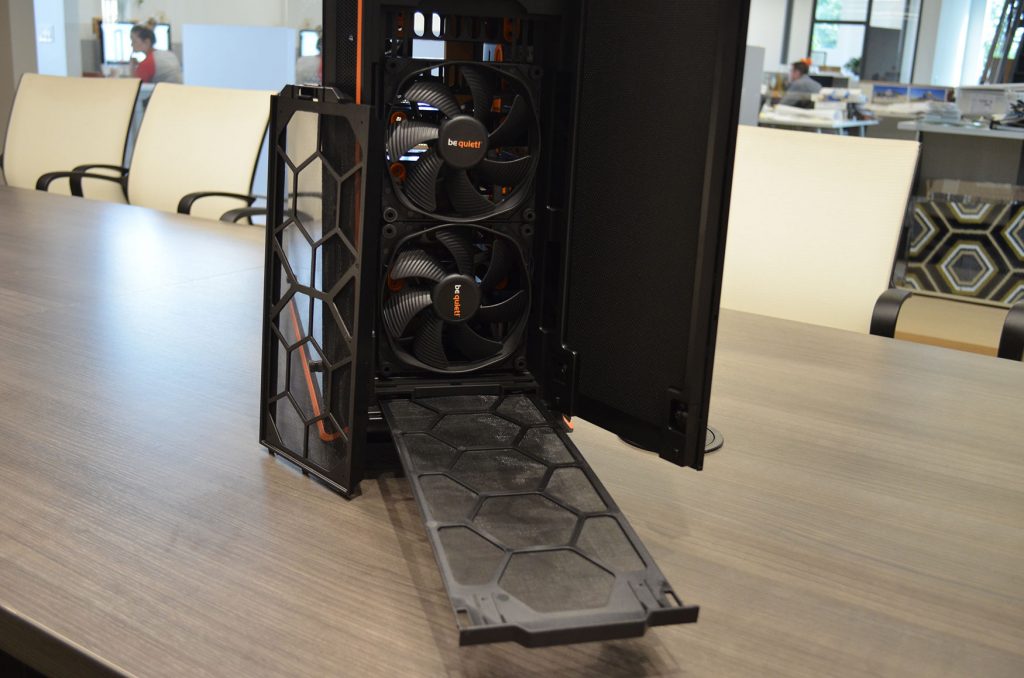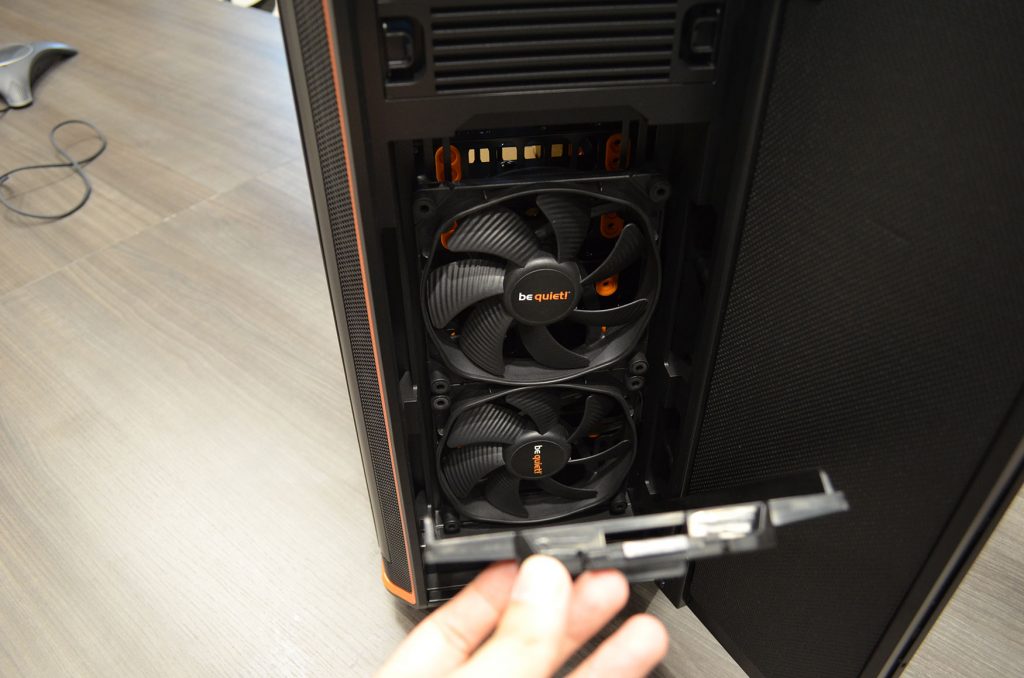 4. Build Quality
As noted above the entire construction is made from brushed aluminum, ABS, steel for internal frame, and 4mm thick tempered glass. The Dark Base Pro 900 Pro's entire case is also lined with a fairly thick (about 4-5mm) high density sound absorbing foam that serves to reduce noise level. The front panel door is held shut by a magnet. Our complaint about this is that the magnet is awfully weak and doesn't hold the door in securely. However the door does open and close properly.When carrying the case around you won't get a wobbly contorted feel of a cheaper case. It's solidly built and stays in shape even when being manhandled a bit. Looking at the 4mm thick tempered glass gives you an idea of the attention to detail that goes into the build. A this point it probably sounds like be quiet! paid us a lot of money to toot their horn, however that is not the case. We really do enjoy reviewing and showcasing the craftsmanship that goes into building this product. The 4mm thick tempered glass is precisely beveled to ensure it doesn't scratch or damage the case or your furniture when disassembling.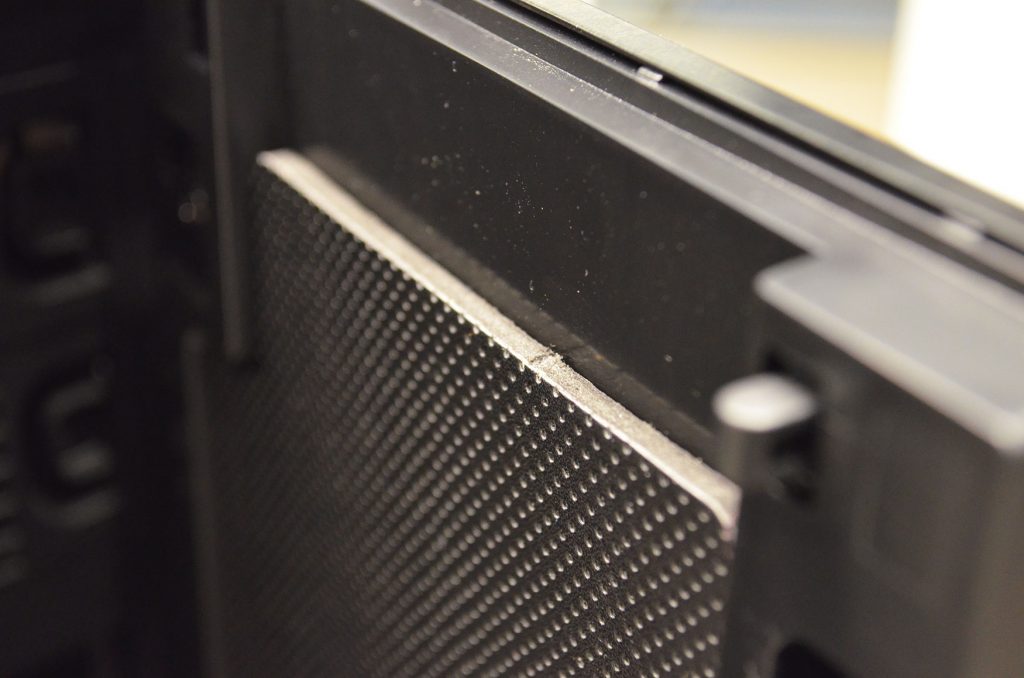 5. Attention to detail
We've reviewed hundreds of products and we can tell when the people who made it actually loves the product or not. And it all shows in the attention to detail that they put into designing and building it. The Dark Base Pro 900 's easily removable thumbscrews for tempered glass panel, the rear, and most of the internal components are a nice touch. This makes adding/removing parts and disassembling a breeze.The glass panel also doesn't just sit on a metal screw. We've seen this in a lot of cases and it hurts our souls each time we remove and put the glass back on, knowing we're scratching the inside ring each time.
Be quiet!
didn't just put a rubber seal on top of the screw, no that's not enough. They have the rubber seal secured in place by a plastic housing which lodges itself snuggly inside the case. From a manufacturing standpoint, they could've easily gotten away with a much cheaper solution. But gladly they didn't.And do you see the orange rubber washer protecting the case from the screw? It's the little things that could've gone unnoticed, but didn't, that truly makes a this case a product of love and care.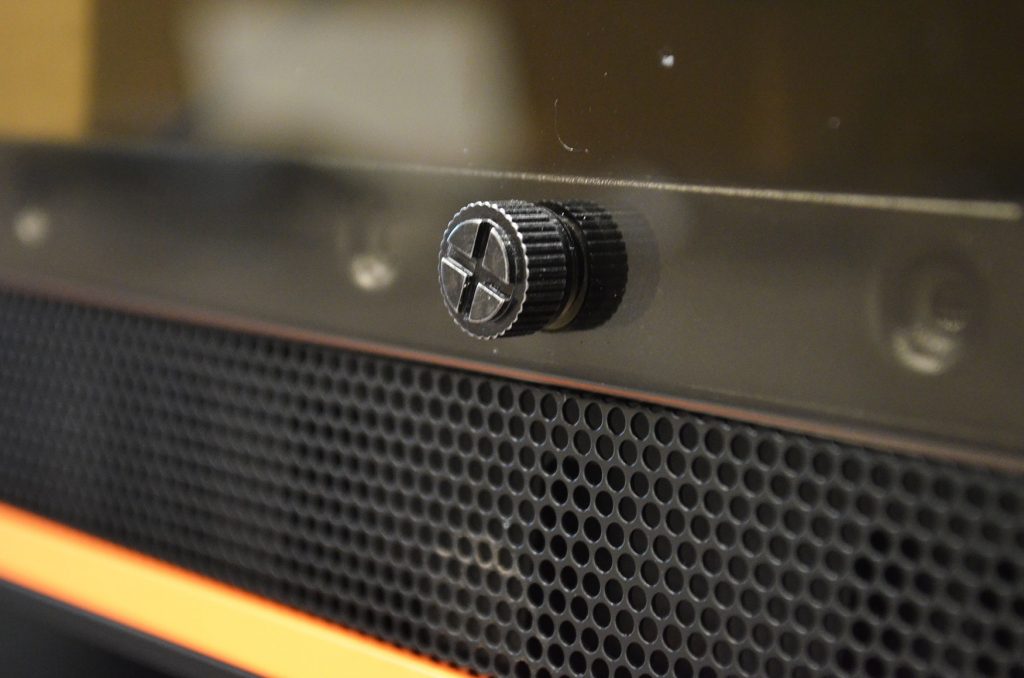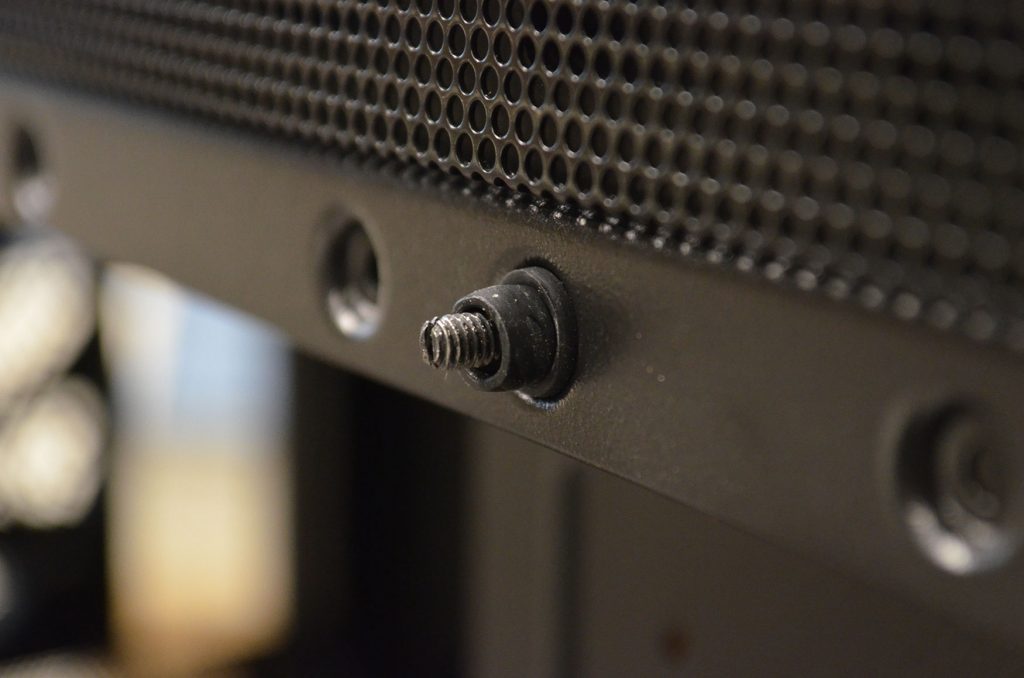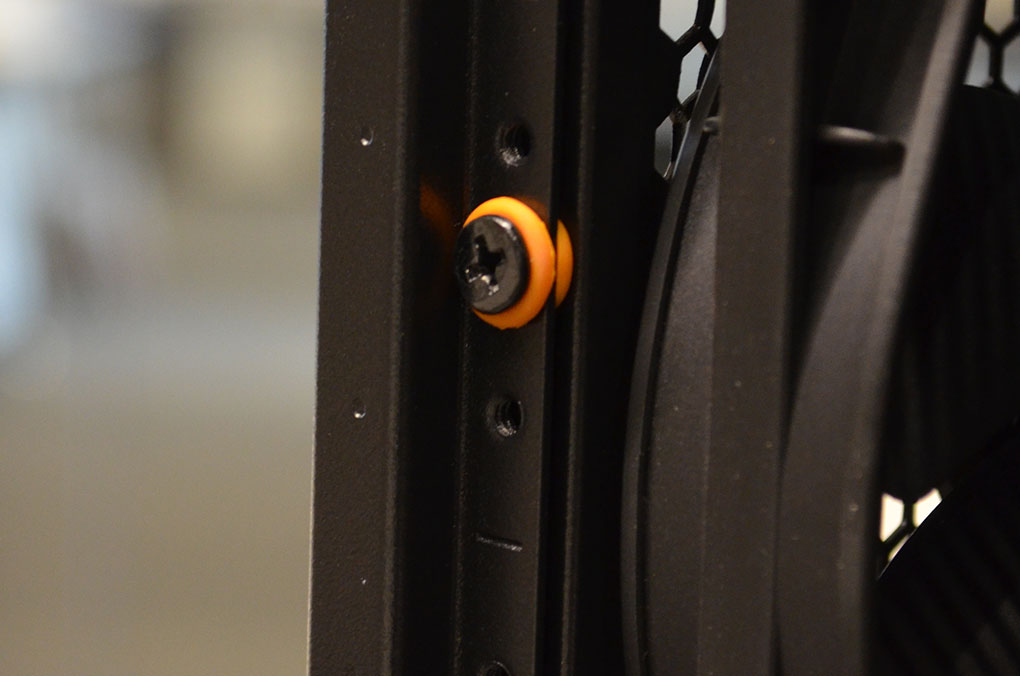 6. Carpet and Wood Friendly
Why is this even a selling point you may ask? It's a small touch thats often overlooked and not appreciated until you see damages on your carpet, desk, or expensive wooden floor. You won't find small pointy feet here. Nor will you find cheap plastic caps that could damage wooden table or floor. The foam inserts are glued tightly into a specifically carved cavity. This makes the feet extra secure when sliding or moving around. And the large dimension feet serves a dual purpose of protecting your flooring and providing enough clearance between the floor and the case.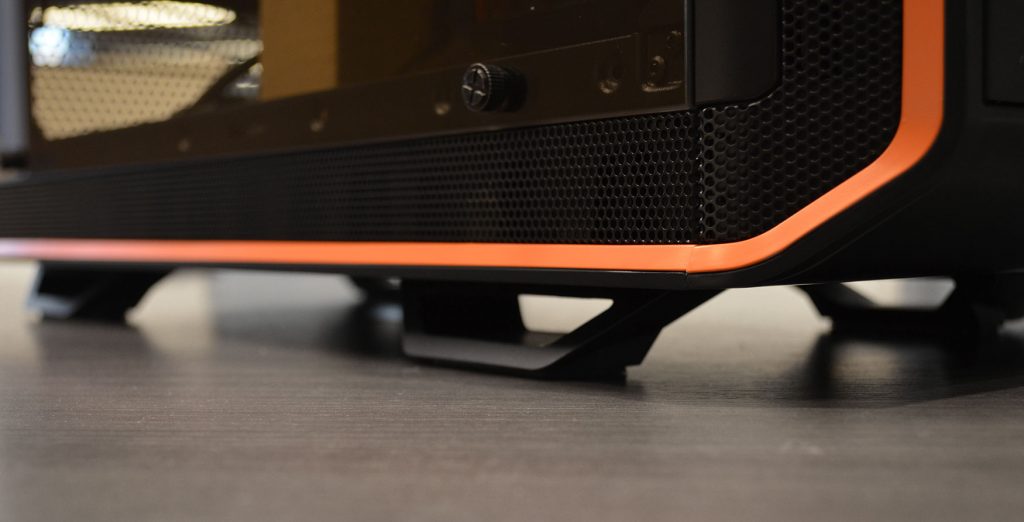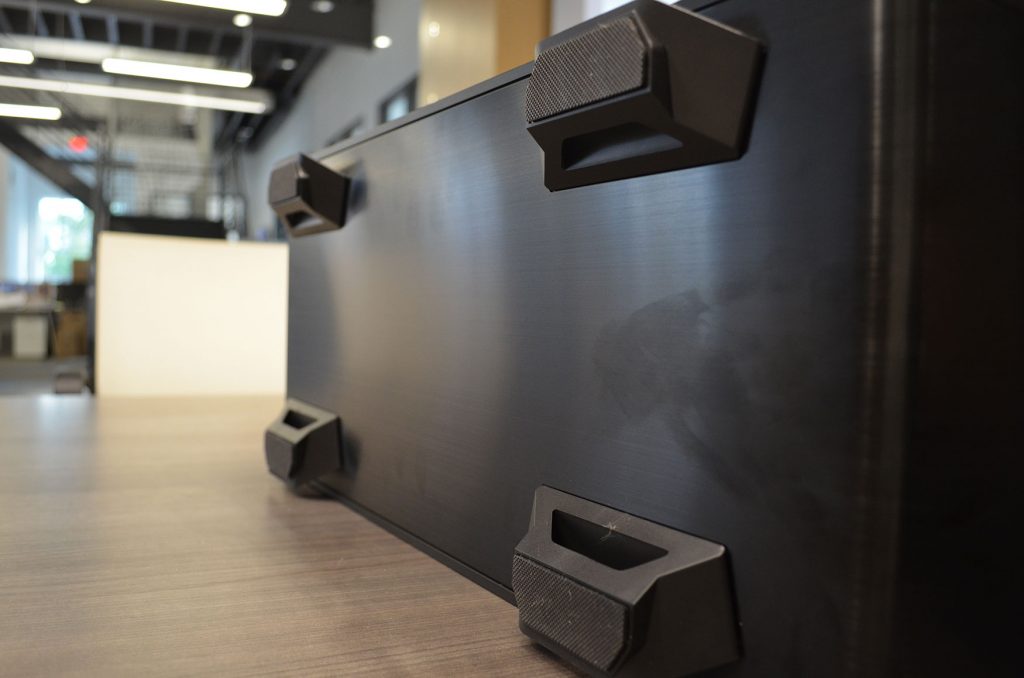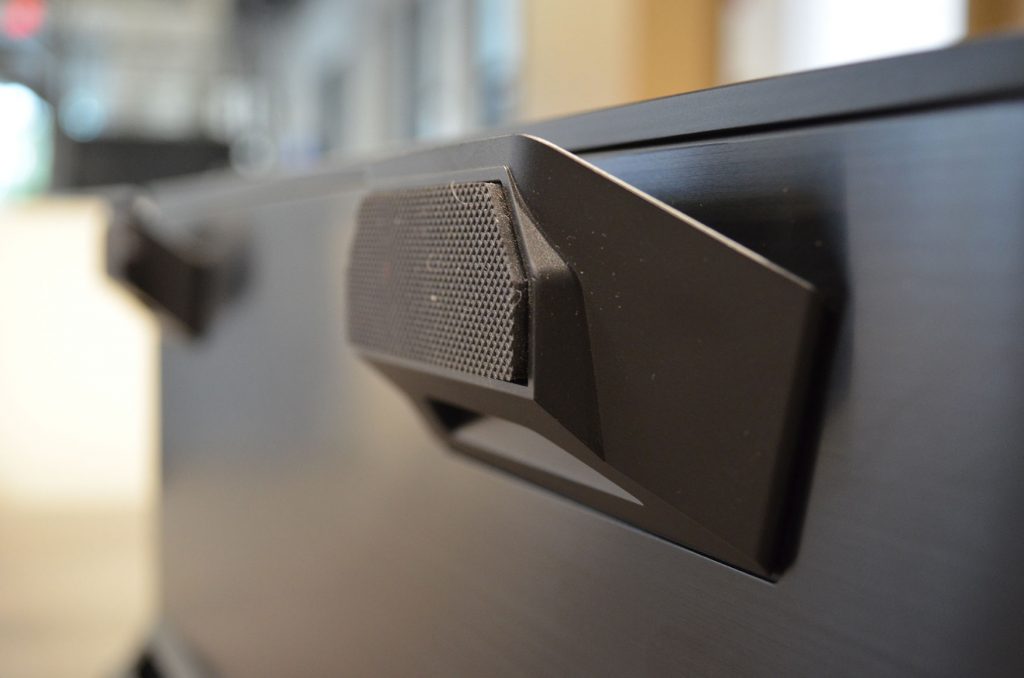 7. Highly modular and customizable
This was one of the best selling features that sold us. The Dark Base Pro 900 was built to be highly configurable to your specifications. You can have the glass panel on either the left or the right. Inside there's two 5.25" drives, seven 3.5" drives. If you're not using 3.5 drives and instead uses 2.5 SSD, you can fit 15 SSD here. Not entirely sure why you'd ever need that much space, but it's there. You can also remove the cages to improve circulation and fit larger 1080 GPU's. The entire case is highly configurable and can be customized for whatever configuration you want to put inside.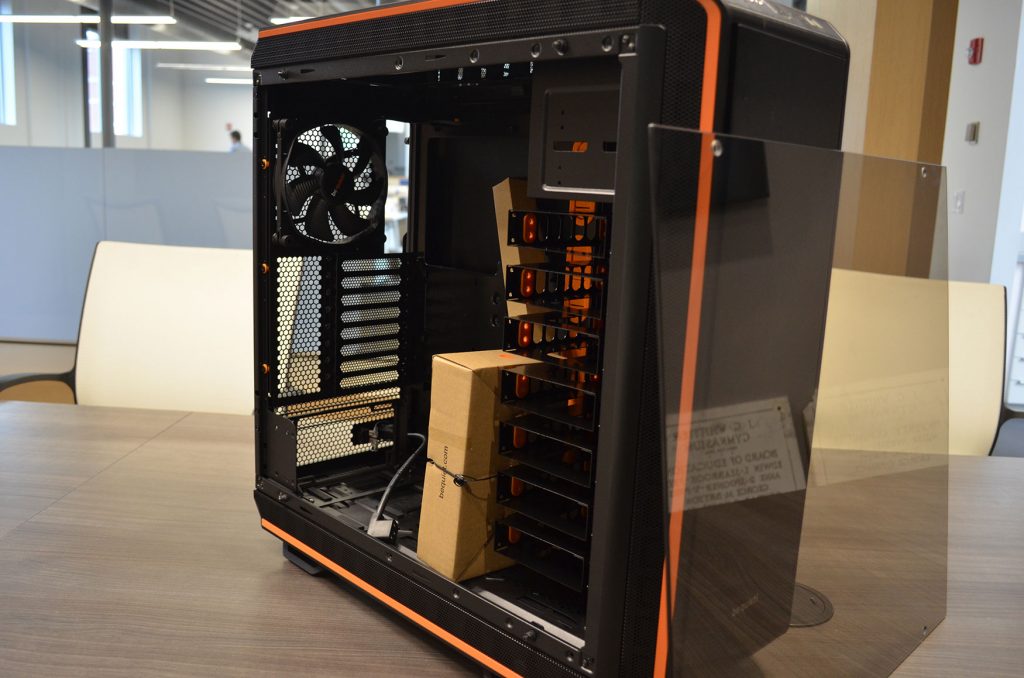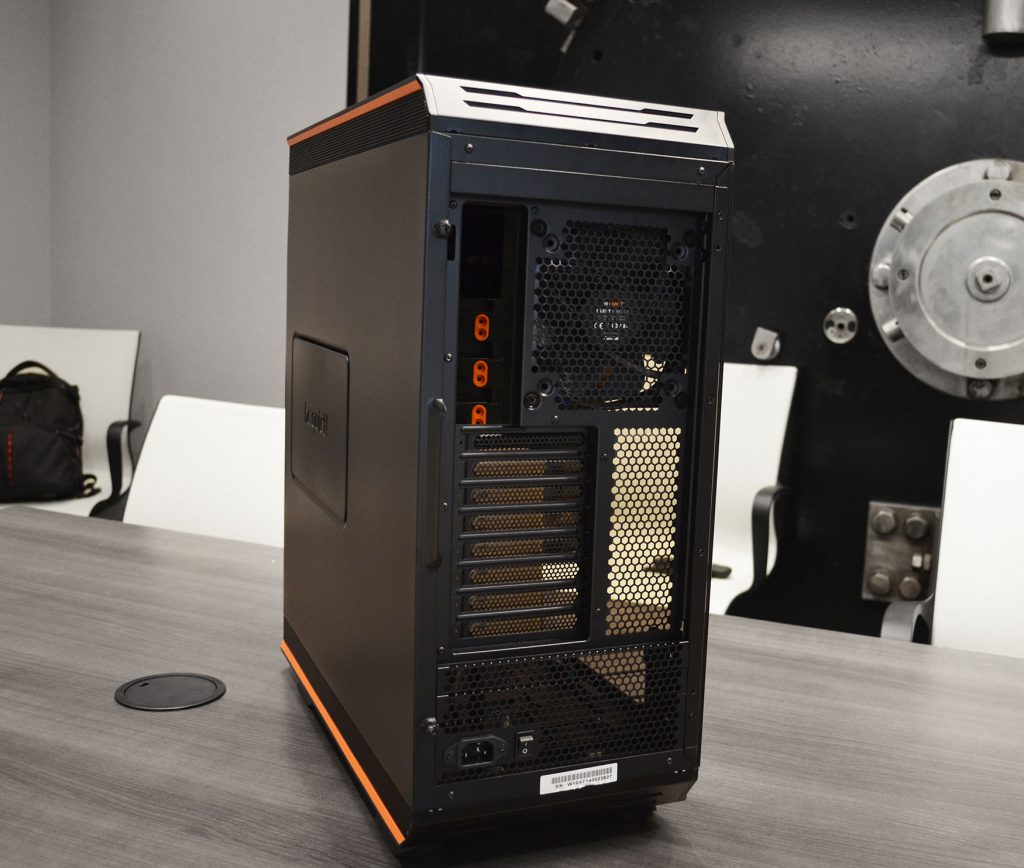 Final Thoughts
The Dark Base Pro 900 Pro isn't just a case. It's a beautiful piece of art, an engineering beauty, and a product made to withstand the test of time. They didn't skimp on any parts to save money. The engineering team at
be quiet!
did quite a lot to the case, but the one thing they didn't do is compromise it's quality. A few pictures can't tell the whole story. Once you start working with the case and installing components, you start to see all the little things they did and all the details they didn't skimp on. We're glad we chose the Dark Base Pro 900 as our case for the build. Please stay tune for our complete build coming soon.
Top 5 GTX 1080TI GPU of 2017
5 Best Gaming Mouse for Work and Play
Interested in buying? Get it for $250 on Amazon.
Stop Paying For Traditional Advertising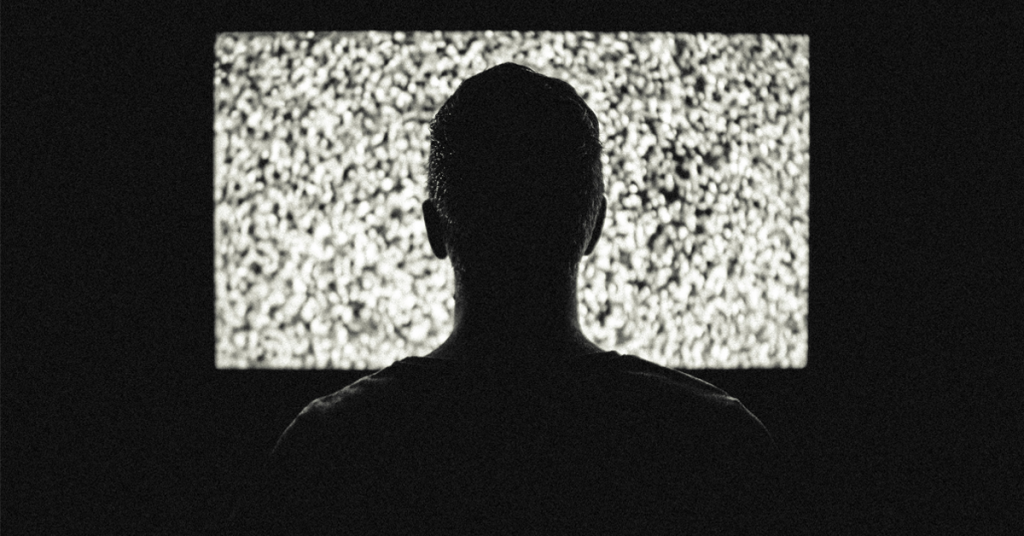 Everyday I come across companies that are spending tons of money on advertising that is yielding them subpar results. This then makes them believe that advertising does not work. What's the problem with their strategy? They are using traditional advertising in places where their consumers' attention is not.

The shift towards digital consumption has significantly grown over the last few years, where most things can now be done on the Internet. Most of our social interactions and the way we consume content is largely taking place through mobile devices as a result of convenience and flexibility. The answer to many of our problems can now be resolved at the touch of a button. Catching up with friends, shopping, binge-watching a TV series, reading the news, or learning a new skill can all be done through mobile device and social apps. Companies that have not innovated themselves to a digital platform are being eliminated by those that have. Of course, not everyone has adopted these mediums as their go-to, some people still rather get their news from a newspaper, or catch up with an old friend at a coffee shop.However, it is evident that our attention is leaving traditional mediums and continues to shift to the new digital space. So my question to you: if we are spending so much of our time in this digital space, why are we still trying to build businesses and sell products in the old traditional world? Why are big corporations spending their large marketing budgets on expensive traditional advertising when they can be spending a fraction of the price to advertise where our attention is? Not only does the digital world have our attention, but it is cheaper to advertise on, you can directly target your audience, and we receive insightful data that cannot be obtained through traditional forms of advertising. I will really be focusing on Facebook Ads because that is where you can currently find good value right now.
ATTENTION
When it comes down to it, marketing and advertising is about communicating a message to your target audience in the most effective and efficient way possible. It's all about finding where your consumers are spending most of their time and figuring out how to position yourself in that space.Billboards are meant to grab the attention of the bored passenger who is staring aimlessly out of the car window and to get glances from the driver. However, this was created when our attention was in the traditional world and before this digital space existed. Today, we have mobile devices that connect us directly to the digital world whenever and wherever. We are no longer bored staring out of car windows, we are on our phones.Even TV commercials have become less effective than they used to be due to the digital world. We have the ability to stream shows and movies online with no commercial breaks, or we can record television programs that we are interested in seeing to watch at a later time. Much like the billboard, TV commercials were designed when this digital space was non-existent and the only way to 'skip' through advertising was by changing the channel. We are no longer consuming television in the traditional scheduled way. Instead of having to pay attention to that commercial we can skip through it (if it's recorded), we can change the channel, or we can turn to our devices to distract us.It has become so easy for individuals to be absorbed by their mobile devices whether at home or on-the-go. While this distracts many from traditional advertising, it opens up a whole other realm that holds strong potential when one's attention is primarily shifted to the digital space. Not only does it allow for a sense of immediate connection, such as real-time conversations on social media during a live award show or sports game, but it is a space that holds opportunity for companies to target users at the right moment.
TARGETING
Digital takes targeting the right audience to an extreme. Unlike traditional methods of print and TV advertising, Facebook, for example, gives companies the upper hand in narrowing down where advertisements will be seen. You have the option to define your audience through key demographics like age and location, or through interests, likes, and/or groups they are part of. With Facebook Ads, you have the ability to showcase your ads to valuable consumers, target those who are interested in your competitors, and even those that work at Company X. This is killer for B2B! If you have a B2B company and know exactly which companies would benefit from your product/service, you have the option to run ads against the employees of that company. There is even the advantage of having creatives positioned differently for Company A and Company B, a strategy that can be worthwhile if done correctly.One trick that I like to do is that if I know I am going into a meeting with said company, I will run ads against them so that they will become aware of our company and what we provide for our clients. By doing this, I am attempting to sell my services before I step into that meeting and I hope they walk into it already knowing they want to work with me.
PRICING
If you are paying for traditional advertising, you are most likely OVERSPENDING. While these forms of advertising are losing consumer attention, the prices do not reflect that. Digital is a great place to advertise because there does not necessarily have to be an excessive amount of overhead costs like with print and billboards that will cost you material and labour.One number that I find absolutely insane and a great way to gauge ad value is through CPM (cost per thousand impressions). To advertise on TV you will find yourself paying approximately $25-$30 CPM, while a good chance of that can be saved with Facebook Ads ($5-$10 CPM).For about one-third of the price, the same audience size can be reached with a more targeted approach. It is important to take advantage of these low costs on Facebook while they last and have your advertising budget used to the best of its potential.
CONVERSIONS + ANALYTICS
Traditional advertising is measured through audience measurement systems and is not as in-depth as digital advertising. Traditional efforts focus on brand awareness with a possible call-to-action, while digital ads have the ability to make better conversions due to convenience. With the click of a button you can send consumers to a product on your website or to sign up for an upcoming event. This allows consumers to remain connected with your company almost instantly.The insights provided by Facebook Ads allows for user interactions towards advertisements to be tracked (based on the specific CTA being measured, e.g. downloads, signups, purchases). While traditional methods provide you with statistics on average viewership of particular content, Facebook Ads only charge you for what you receive. If your ad is viewed 1,000,000 times, you pay for 1,000,000 impressions, whereas on traditional if a magazine on average sells 100,000 magazines, you pay for that even when this issue only sells 39,000 copies. The same goes with analytics retrieved from video ads. Video analytics provide you with concrete and valuable data that can show where your viewers drop off (such as in the first 3 seconds), giving you the opportunity to address the problem at hand. You have the ability to test your ads for relatively cheap and can identify what needs to be fixed. Don't blow your budget on something that may not produce quantifiable results.
SOCIAL MEDIA
Advertising campaigns done through social media connects the audience to a brand's page. You not only get to capture attention from your target audience, but, if done properly, this will turn them into loyal followers. It's harder for traditional methods to directly and easily convert consumers into followers and retain that same audience in the long run. By using digital, advertising to a target audience is more than getting your company's name or product at the surface. The next step relies on the company's responsibility to provide valuable and informational content on their socials to keep their followers interested and establish a meaningful connection.Having a strong social media presence alongside digital ads gives your company a more reputable presence. Customers or potential customers choose to follow you on your socials where it is not forced or expected. Instead, these customers see the value in your brand/company and make the decision to reach out to you (even if that reaching out is a simple like, share, or comment). This kind of engagement is crucial in building sentiment surrounding your brand in the digital world.

Don't get comfortable doing things simply because they worked in the past or because they are considered safe. I want you to be able to recognize overpricing and attention shifts so that you will be able to identify the next best place to advertise and not get stuck in the "old ways". One day, our attention will start to shift away from digital and I'm sure there will still be people paying to advertise there. Always look to the future and play the long game.
Sustainable Marketing Tactics For Startups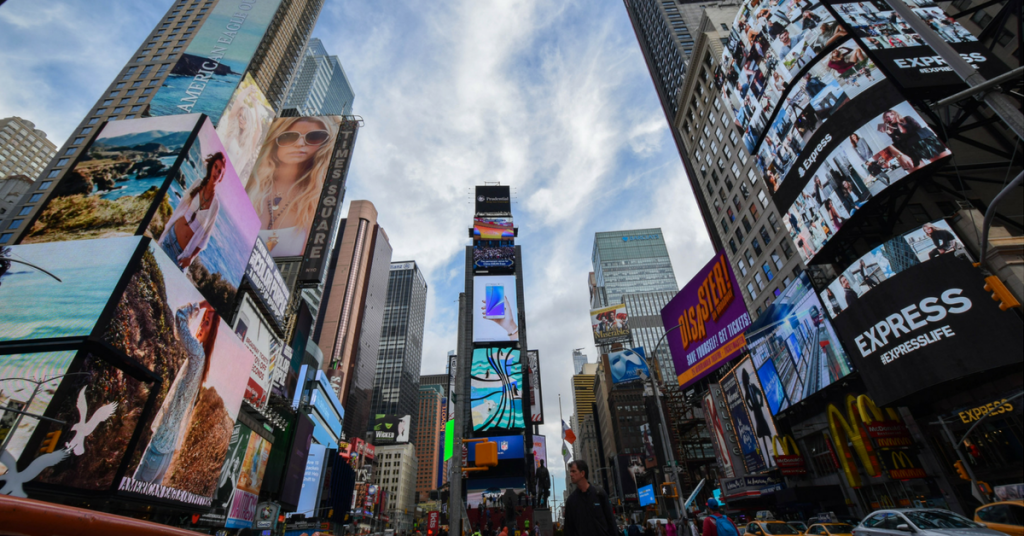 Starting a business is exciting, but also comes with some significant challenges. The success and sustainability of the startup depends on two basic ideas - good product and good marketing. Launching a business is associated with lots of planning, decisions, details and some risks. Determining the target audience and building a strategy to connect with them are vital to the success of a new venture. Sustainable marketing is proving to be a game changer in the present world of business. Sustainable marketing is the concept based on social and environmental sustainability. This kind of marketing strategy tries to meet the demand of the present generation without harming the future. Here are some tips on sustainable marketing tactics for startups.

Identify Your Target GroupUse social media to identify your target audience. You can also research the business strategy of other similar ventures through social media. Read the customers' responses to their products. Have a close look at the keywords and follower profiles of your competitor company. Try to reach them with some definite objectives to impress them. Focus on spreading the news of your venture and products and how these can affect the environment and community in a positive way. Create excitement about its launch to grab the attention of your target audience.Unique Marketing TechniquesAs a startup, you may not have enough resources and may not be able to take big financial leaps to promote your products or services. However, to get noticed, you can adopt a few innovative ways to do so. Promote your company's green technology, social relations, and environmental initiatives. You will get a positive response from the media and consumers build an emotional connect with the organizations that provide some social sustainability.Product and CultureCreate a buzz about the product or service during its pre-launch phase. As the stage is set, people are willing to try it. To hold customer loyalty to your product, you need to build a working relationship with them. Listen to their opinion or feedback about the product. Proactive listening is a powerful online marketing tool and sustainable in the long-run. Participate in the networking events that emphasize on sustainable development. Reach out to people who need the products and let them know how should they use them without harming the ecological balance.Market for the Right ReasonsSet your short term and long term goals for the startup. A good product needs proper marketing to reach maximum sales targets. So, operations and marketing should go hand in hand. As the product is developed, it should be promoted in the proper light. Marketing only for the sake of marketing is not healthy for long-term goals.Convert Your Visitors Into Customers

The startup should be committed towards the future generation. Your company website should promote the sustainable marketing strategies adopted by the firm. It leads to the betterment of the relationship between the company and its customers. As you focus on reducing waste or rejecting child-labor in your firm, the e-visitors feel an emotional connect. The transparency and ethical practice of your startup can gain the confidence of your audience, thus increasing the value of your brand.
Succeed As A Veteran Owned Business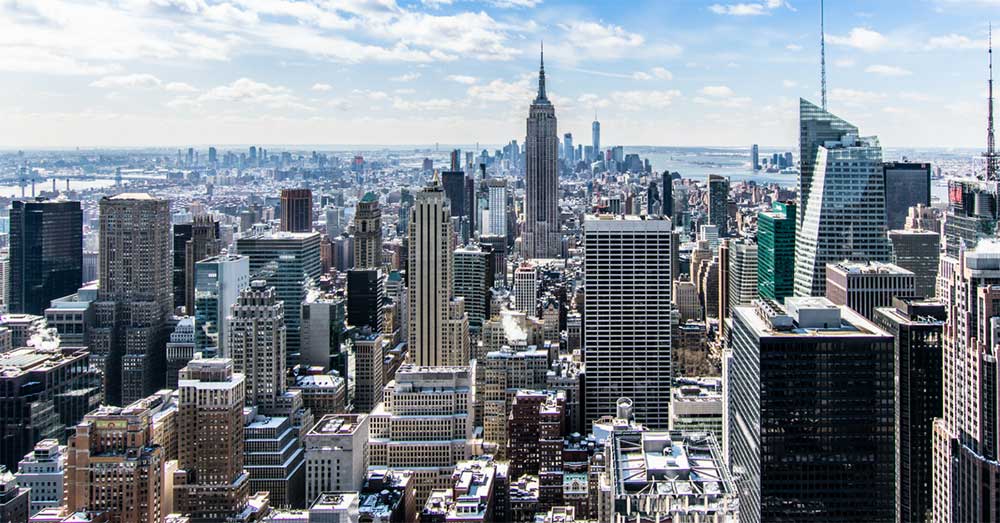 Starting and maintaining a business may be hard work, but can be made easier with the right network. Having the right support and connections may be the thin line between success and failure. If you're a veteran entrepreneur with a business idea, you can receive funding to help bring those ideas to life. We will explain the steps to succeed as a veteran owned business.
Find Out If You Qualify
If you have previously served in the military and/or have an injury-related disability, you may be eligible for government contracting and additional funding. In order to receive this certification, the individual must own at least 51 percent of the company that they are applying for, and manage the day-to-day operations of the business. There is also a procedure that you'll need to follow in order to prove your veteran and/or disabled status. In order to prove veteran status you will need to provide a Department of Defense Form (DD214). If you are applying as a service-disabled veteran, you will need to get a letter from the US Department of Veteran Affairs proving that you are actually disabled. In many cases, if you are not interested in securing government contracts for your veteran owned business, these steps are not necessary.
Register with The VA
Another crucial step in the qualification process is to register through the VA or Veterans Affairs. Registering will not only assist with the strategic marketing of your business but will also add a legitimacy factor in being known as a veteran owned business. People are generally supportive of service men and women and want to support your endeavors, so proudly promoting that you have a veteran owned business will add to growth. The VetBiz Registry, which acts as a business database is the first step in registering with the VA. You will need to have your DD214, letter of disability status, tax forms, bank statements, business license, any partner agreements, and some other additional documents may be requested at the discretion of the VA.
Utilize the SDVOSBC
The Veterans Entrepreneurship and Small Business Development Act was created in 1999. The goal of this act is to generate over $15 billion of contracting dollars for businesses owned by service-disabled veterans. Being that some veterans return from duty with disabilities stemming from conflict, this program sets aside a certain amount of contracts to service them first. As long as you are considered disabled from service no matter your rating, you are eligible to securing a contract. However, if you do have a 100 percent disability rating the government has contingencies in place to allow a spouse or caregiver to run the business in place of the veteran. It's very convenient and an amazing opportunity for vets who have served to be able to get their ideas out no matter their status.
Marketing Your Veteran Owned Business
Veterans are normally praised and promoted for their service in the armed forces, but the magnitude of entrepreneurship in this demographic is overlooked. According to Forbes, there are over 3 million Veteran owned businesses run in the United States, 5.7 million people are employed by Veterans, and Veterans are twice as likely to own a business than non-vets. These statistics show that there is a strong thread between the personalities of veterans and the interest in entrepreneurship. Strength, discipline, and leadership are all valuable traits to possess in business. Registering your business with

BuyVeteran.com

can also be a great resource to use for promotional items. When you register you will receive badges to display throughout your business/store, along with apparel (T-Shirts, Hats), Magnets, and other marketing items. Using the local media in your community, as well as social media, can help with promotion. Using your veteran status to appeal to an audience who already has admiration and respect for you will surely render growth.
Know Everything About Your Industry
If your chosen business field is completely out of your realm of knowledge be sure to research as much as possible before requesting support/investors. You should be an expert on your business idea as well as having a solid business plan ready to execute. Doing research includes finding out who your target audience is, how to price your products/services, who your competitors are, and what laws are in place in that industry. Will you need a license to provide certain services? How does paying taxes change for a business owner as opposed to an employee? These are just a few of the questions that need to be answered before you move forward with the business. Once you have completed all these steps you are ready to take on the world as a Vetrepreneur!

Good luck!