Penji Review: Unlimited Graphic Design Details, Pricing, and Features
Move over Fiverr. Unlimited graphic design services are the newest alternative to hiring a graphic designer. But, these services bring up many questions. For example: How unlimited is unlimited graphic design?
We tried out one of the top services: Penji.
Like many of their counterparts, Penji offers graphic design work on a monthly subscription. We put their promise of fast turnaround, high-quality, and affordability to the test.
You can submit as many design projects as you want via their online portal, and they'll complete your requests one at a time until your queue is complete. This type of service promises to be a great added resource for teams to improve productivity.
Does it sound too good to be true? We thought so too. So, we signed up to see for ourselves.
This article was updated on June, 2021.
Quick Summary
As with any service, there are pros and cons. To help with your graphic design hiring decision, we decided to condense what we found in a bulleted list below. Here's a quick summary of our review of Penji's unlimited graphic design service.
(Still wondering what "unlimited graphic design" is? We explain what it is here.)
Pros
Easy and quick to create design projects
Storage for all my requested designs
VERY fast turnaround on most projects. I expected just 1 draft in 24 hours but instead received 3 drafts. Revisions were sometimes completed the same day I submitted them.
Helpful features such as a revision tool, ability to invite team members, brand profile, and more
Upbeat and direct communication from everyone I interact with
A dedicated and responsive account manager who replies within a few hours
Cons
Can't call or talk to designers
Best if you have design projects ready to submit
Not available as an app
Overall Experience
Penji's "unlimited" design model is a great choice if you have the right expectations going in. The service is affordable for growing businesses and their output is reliable. However, if you're expecting to be on-call or face-to-face with your designer, this type of service is not for you.
Compared to designing yourself, hiring freelancers, or using Fiverr, Penji is a much better service and value by a long shot. Their team of designers lived up to the promise and exceeded my expectations.
Thinking of trying Penji out for yourself? Here's a special Penji promo code for Owner's Mag readers:
Use the Penji promo code "OWNER25" to get 25% off your 1st month.
---
PENJI FULL REVIEW

We created this Penji review by signing up, requesting a design, and examining the results. Here's how it went.
Final Verdict
We get it. You want to know how it went without reading all the mumbo jumbo.
All four projects were completed within two weeks and I was impressed with how they all turned out. If I had paid hourly or per project, these would've easily cost me well above $1200+ to get done, and probably taken weeks.
With Penji, it took just a few days and I paid a fraction of what I would've paid elsewhere. Definitely impressed with both the turnaround, quality, communication, and value this startup has to offer.
But Penji isn't without its flaws. The service definitely isn't for everybody.
Who would benefit:
business owners
marketers
agencies
print on demand sellers
creatives with consistent design needs
If you don't have a consistent need, the bill will start racking up after a couple of months and you won't see the value in the subscription.
However, if you do happen to fit their target demographic, then there's no better alternative out there. The speed and quality of their work easily rival other services I'd ever used. For $399 per month, this is an absolute steal.
What I Did Step by Step
Now, if you want to get into the meat of how it went, keep on reading for every detail of how I got from the sign-up screen to the final project.
Signing Up For Penji
Signing up for Penji was a relatively quick and painless process. All of my questions were answered in less than 5 minutes by customer support via Intercom and another 2 minutes to complete the checkout process.
Communication with Penji's Support Team
How fast and reliable a company's support team is before you are an active customer is a reflection of what's to come. If they're unresponsive now, it will only get worse once I'm a customer. I reached out to Penji's customer support team via their Intercom chat popup and got a response within 30 seconds, which is pretty good. I asked basic questions and the agent seemed knowledgeable.
Communication as a Customer
All communication is done online through Penji's proprietary online portal. That includes revisions, feedback, and answering any questions my designers may have.
Communication with Your Designers
Penji assigned me 1 designer, Billie, and communication with her was easy. If you have used any messaging platforms like Slack, Facebook Messenger, or Discord, you'd be familiar with this form of communication.
Billie was responsive, attentive, and always seemed to have a positive attitude no matter how demanding my requests were. She had many questions about the projects, which I tried my best to answer as a customer. Though the back and forth took longer than I wanted, I realized she was just being thorough to get the design done right, which I appreciate.
Communication with Your Account Managers
They assigned me an Account Manager, Charmaine, who was very quick whenever I needed something. It usually takes just a few hours for me to get a reply via email from her. When I had an issue with one of the projects, she quickly stepped in and helped resolve the situation.
1. Choose the Right Package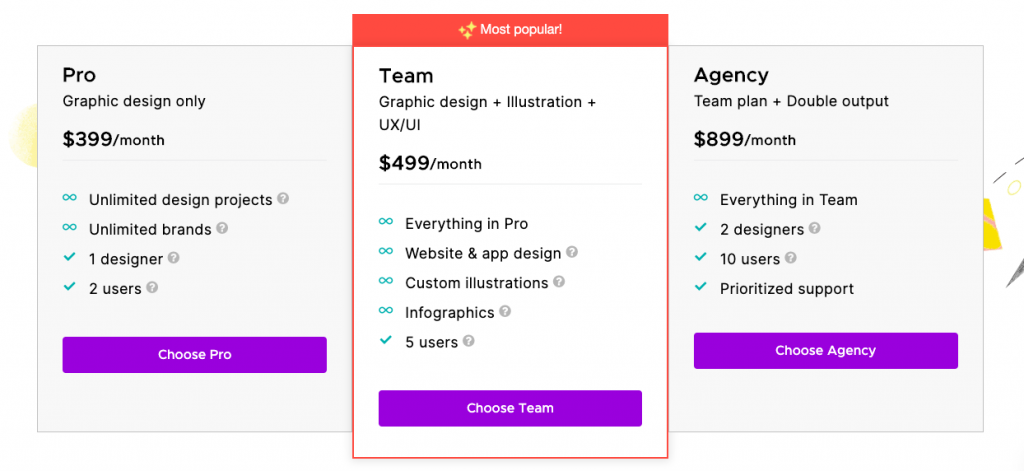 All the packages are laid out with monthly, quarterly, and yearly pricing. Starting at $399 per month for the Pro plan, you'll be able to make unlimited graphic design requests with a 24-48 hour turnaround. As your design needs grow, you'll have the Team and Agency packages to choose from.
2. Checkout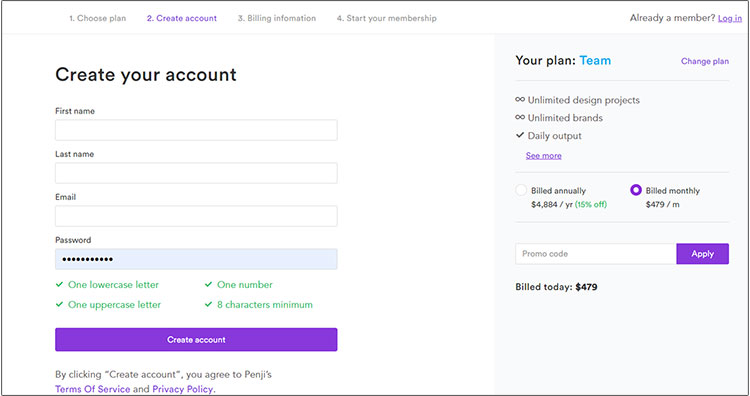 The form is straightforward and easy to fill out. Checking out was a breeze and took about 2 minutes.
---
3. Submit a Design Project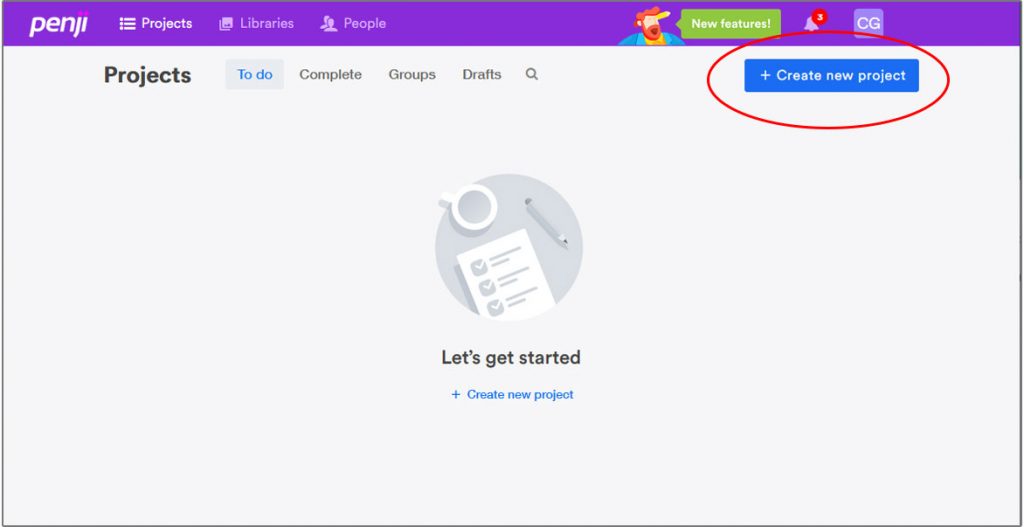 Clicking on the "+ Create new project" button, I'm presented with a visual chart of all the design categories they offer. They offer an extensive selection of options and even the ability to request a custom project.
4. Fill Out the Request Form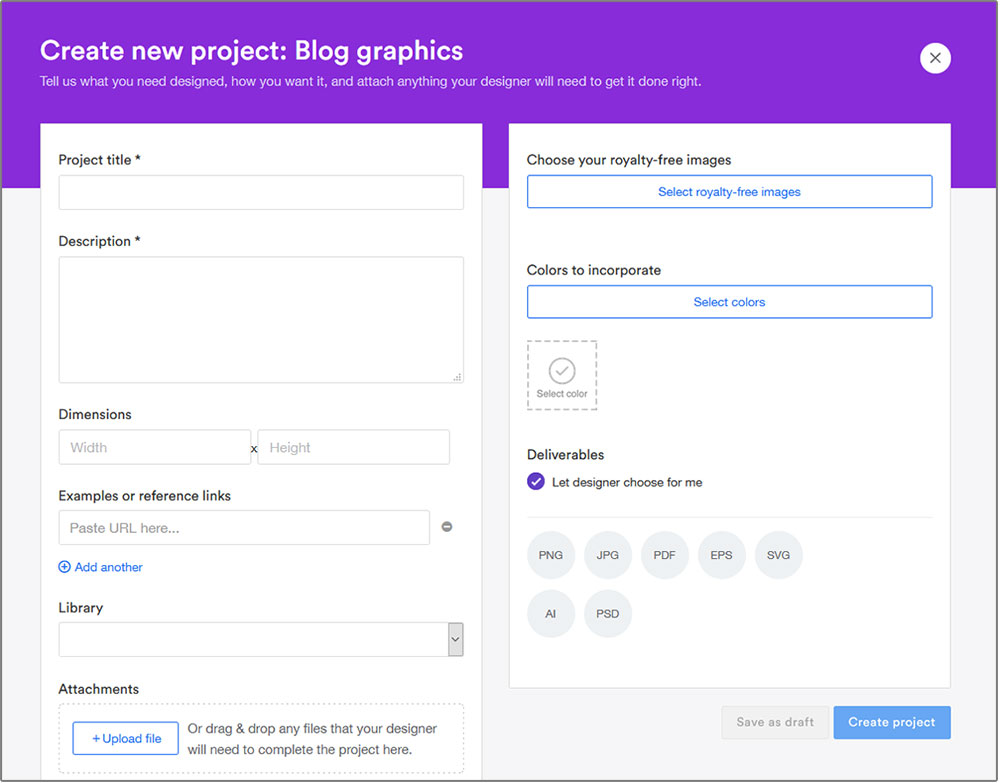 Next, I filled out a short form detailing what I wanted them to design. For those of you who hate long forms, this one from Penji is easy to follow and doesn't ask too many questions. Most of the questions are actually optional so you can be as descriptive or non-descriptive as you like.
My test projects
As a digital publisher, we produce content on a daily basis and always have a need for on-brand graphic design. I created several projects to test how well-rounded Penji is and how they handle both simple and complex requests. A simple banner should be difficult, but can they handle a complex infographic with lots of texts and imagery?
Here are my test projects:
Blog Graphic: Best DSLR Camera Equipment For Beginners
Custom Illustration: Best Vacuum Cleaner Money Can Buy
Facebook Post: Isometric Tech Gadget Graphic
Magazine Print Cover (Owner's Magazine's 2020 May Edition
Despite creating four projects, the entire process was quick and smooth. It only took a few minutes to create them and their internal platform was lightning fast. At this pace, I can see myself submitting multiple projects on their platform with ease.
---
Turnaround Time
I expected at least one draft the next day. What I didn't expect were three drafts ready for review. To give you a comparison, most freelancers and design firms we've hired take several days to submit just one draft.
The designs were surprisingly good considering that it's the first draft AND they had a 24-hour turnaround. After reviewing, I realized how they did it. Every project had a different designer. I wasn't assigned just one designer. It was like having my very own virtual design team.
4. Requesting Revisions
Though the designs were good, I still needed a few revisions. The drafts were turned around usually the same day or by the next day. Their support agent actually told me it will take 24 hours to turn around revisions. The revisions that took 24 hours were typically much more involved.
Overall, revisions were quick. Most came back within a few hours after I submitted them.
My one gripe would be that I prefer to have some sort of real-time chat with my designer or at least have a Zoom call. That's one thing I like about working with my freelancers. Whenever they were online, we could just have a back and forth conversation to get the revisions across. I can't do that with Penji.
Built-in Revision Tool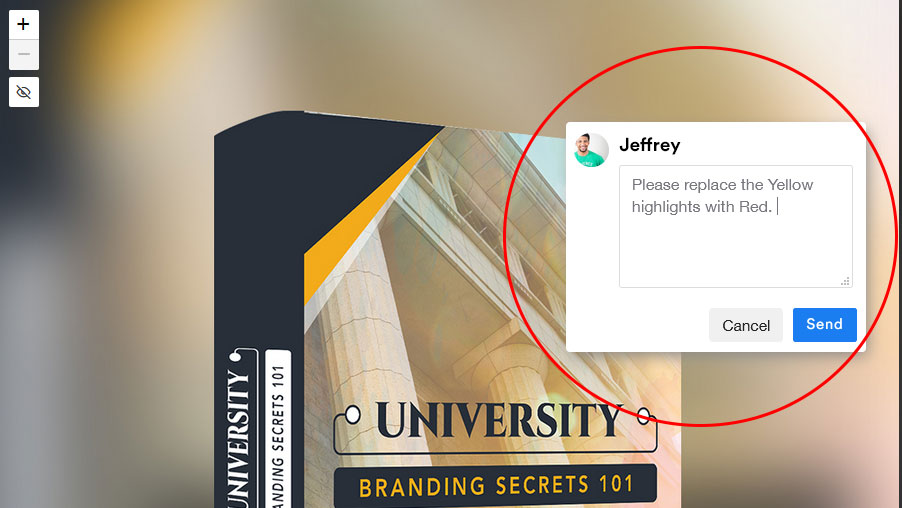 Penji has a built-in revision tool that lets me click anywhere on the design to leave a revision. I found this incredibly useful as it enables me to pin-point what I want to change.
---
The Results
It took about 1 week to go back and forth with revisions and edits for all 4 design projects. At the end of the week, I received the final drafts for all three. Here are the results of the three test projects.
1. Blog Graphic: Best DSLR Camera Equipment For Beginners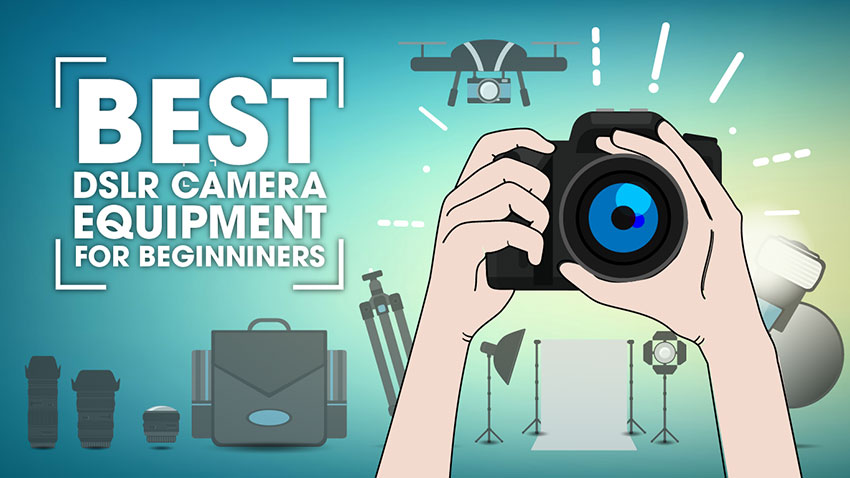 This far exceeded my expectations and will more than do for the blog I'm writing about DSLR camera equipment. I think most designers would probably just stop with 1-2 icons and graphics for this design. My designer decided to add the tripod, three lenses, drone, backpack, and a whole entire stage lighting kit.
I didn't ask for those, but I'm impressed with the quality of the design. No revisions needed. I approved this project on the first try.
2. Custom Illustration: Best Vacuum Cleaner Money Can Buy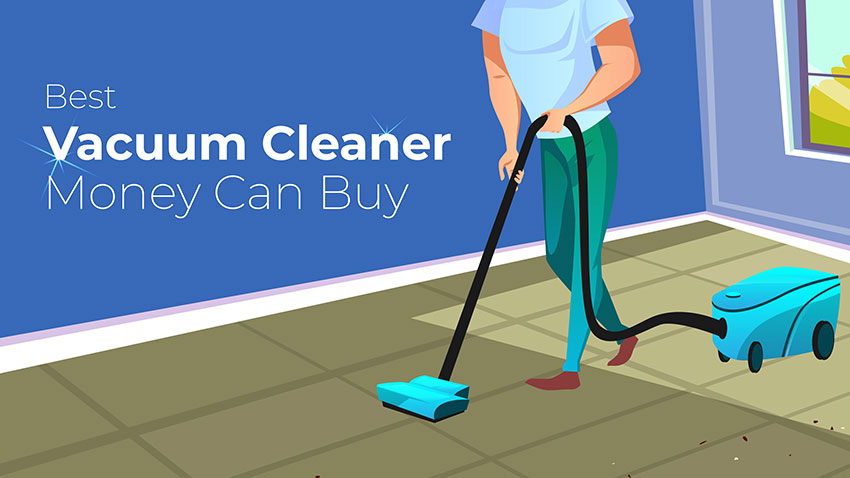 For this project, I asked my designer Kei to do a custom illustration of a man vacuuming his floor. He actually drew it up and sent me a rough sketch first before he started coloring it in. That was an extra layer of care and attention to detail I wasn't expecting. Needless to say, I approved of his drawing and he delivered this draft the next day.
Revision
Everything in this graphic was hand-drawn and then colored digitally. Like the first project, I couldn't think of any revisions except asking him to put the texts "Best Vacuum Cleaner Money Can Buy" on the graphic.
He went the extra mile and designed the text to fit the graphics. See for yourself above. It's details like these that I would have had to harass my freelancer and he would try to nickel and dime me for every revision. Great work Kei!
3. Facebook Post: Isometric Tech Gadget Graphic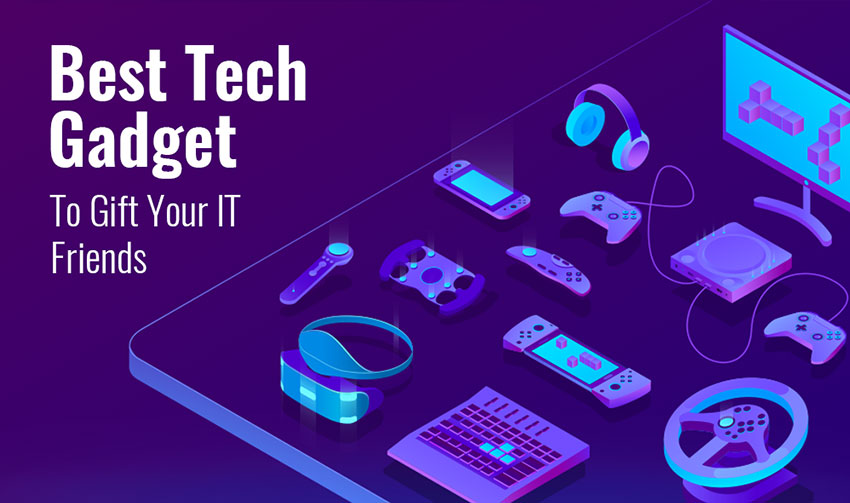 My designer Jave's first draft amazed me because of how much detail he put into this project. I had asked for an isometric graphic with various tech products laid out on an isometric glass plane. I honestly thought my description may have been a bit too vague, but he understood my vision even better than I did.
4. Magazine Print Cover (Owner's Magazine's 2020 May Edition)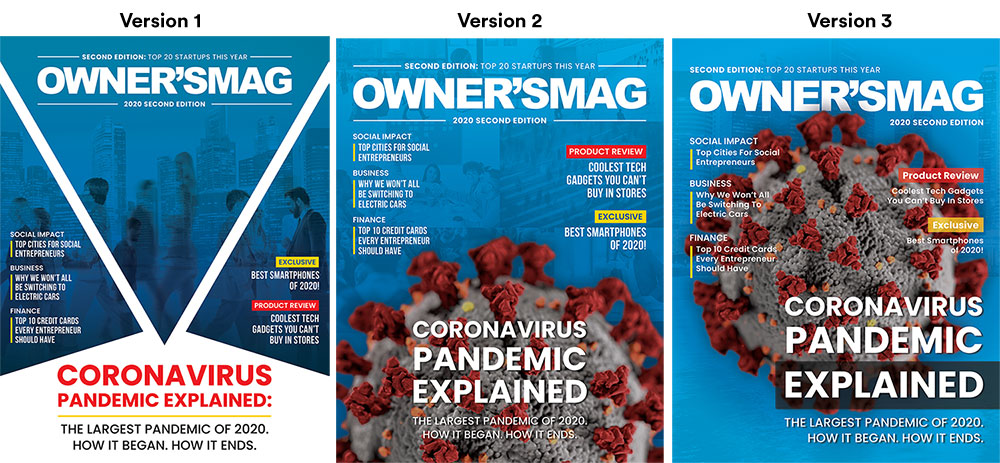 My designer Billie gave me 3 versions of the magazine cover. I don't like version 1 at all. It looks too templated. I personally like version 2 and 3 and left revision notes accordingly. The coronavirus image was entirely her idea and I love it.
Revision
This project took a bit longer than the others because my designer Billie had questions and we had a lot of back and forth. I didn't mind at all since she was asking good questions that I should've included in my design request. Overall, I appreciated the extra time she took to understand me and the project better.
About three days later, I received another draft which blew everything before it out of the water.
---
Reviews From Other Sources
Because you may not take our word for it, here are some of the most recent Penji reviews from other sources:
Jan Kartusek
Jorge Vila
IM Nights
Disclaimer: we receive an affiliate commission when the Penji promo code is used, however, the review is based on our experience.
10 Subscription Based Services Business Owners Need to Try in 2022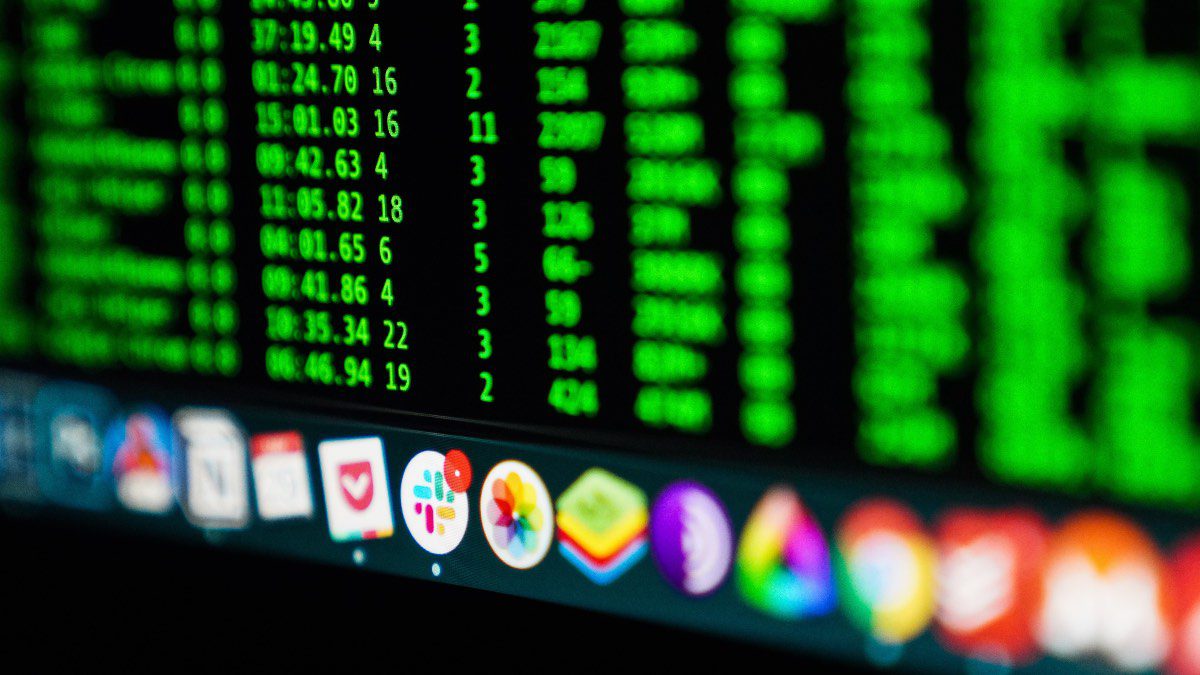 Over the past decade, subscription-based services have taken the business world by storm. Cloud-based infrastructure makes it easier for businesses to start, scale, and succeed. Paying a simple regular fee to use a software or service helps keep all your expenses in order.
Nobody wants to get tangled up in too many subscriptions. And with so many services on the market, it's easy to end up with more than you need. That's why we've assembled 10 great subscription based services for your business needs.
1) Hive – Subscription based project management tool
Project management is one of the areas where cloud-based tools come most in handy. Real-time collaboration is a great way to keep track of everyone's work and ensure that it all gets done.
Hive offers just that. On top of task management and time tracking, they offer a variety of views to help each team member visualize their work the way they see fit, whether it's as a kanban board, Gantt chart, calendar, or table.
There are plenty of great project management tools to choose from, but Hive's versatility puts it over the top. They offer quick integrations, automations, and even a built-in messaging system.
Pricing: Unlike the rest of these services, Hive only has a single paid subscription plan. They offer three options:
Solo – Free of charge, for individual users.
Teams – $12/user/month. Includes shareable forms, an in-app calendar, and Zoom and Slack integrations.
Enterprise – Bespoke plans for enterprise customers. Include flexible add-ons, heightened security, custom analytics, and dedicated support.
2) Omnisend – Subscription based ecommerce marketing service
Marketing solutions aren't exactly hard to come by, but what if your company has specific needs? For ecommerce brands, that's where Omnisend comes in. This SaaS has everything you need to create successful, automated email and SMS marketing campaigns.
Tools like sign-up forms are geared directly towards ecommerce. They offer integration with all the major platforms, including Shopify, WooCommerce, and dozens more. They also have some pretty extensive analytics tools to help you keep track of your campaigns' success.
Pricing: Omnisend comes in three tiers:
Free – $0/mo. Reach up to 250 contacts. 500 emails/mo.
Standard – Starts at $16/mo (pricing based on contact list size). 6,000 emails/mo.
Pro – Starts at $59/mo. Unlimited emails. 3,933+ free SMS credits.
3) Identity Guard – Subscription based data theft protection
Identity theft protection services are often geared towards individuals and families. But while security may start at home, your business' data is just as precious.
If you're looking for data theft protection for your business, look no further than Identity Guard, an AI-driven subscription based service by AURA. They offer robust data breach protection as well as employee protection plans, all backed by IBM's iconic Watson AI.
Pricing: Breach protection comes in two plans:
Value – $36/year per activation code
Total – $120/year per activation code. Includes bank account and credit monitoring.
Employee benefit plans are custom-built.
4) Zoho CRM – Subscription based CRM platform
Zoho offers a staggering range of cloud-based software solutions, including email, customer service, docs, HR, and much more. But their first, foremost, and perhaps best offering is their customer relationship management (CRM) platform.
Zoho has great customer solutions for businesses big and small. You can micro-manage operations with their detailed analytics, or streamline your process with automated workflows. On top of all that, it's totally customizable, so you can create your ideal workspace.
Pricing: Zoho's CRM comes at five tiers:
Free – $0. Includes up to 3 users, essentials like leads, documents, mobile apps.
Standard – $14/user/month. Includes automated workflows and custom dashboards.
Professional – $23/user/month. Includes real-time notifications and inventory management.
Enterprise – $40/user/month. Includes AI, mobile SDK, advanced customization.
Ultimate – $52/user/month. Includes advanced BI and highest possible feature limits.
In addition, you can buy Zoho CRM Plus, which combines 8 other Zoho services, for $57/user/month. Bigin, a pipeline-based CRM for small businesses, starts at $7/user/month.
5) HubSpot CMS Hub – Subscription based content management system
Like Zoho, HubSpot offers a wide range of software solutions for businesses, which they call "hubs." You can buy these hubs individually according to your needs or combine them for discounted bundle pricing.
Their content management system (CMS) is one of their more impressive hubs. It includes handy tools for secure website hosting and building, including a drag-and-drop editor and mobile optimization. On top of building websites, HubSpot makes it easy to scale with multiple plans and performance monitoring.
Pricing: HubSpot CMS Hub comes in four plans:
Free – $0. Allows for 1 blog and up to 25 web pages. Includes analytics, hosting, SEO, drag-and-drop editor.
Starter – Starts at $23/mo. Includes 50 web pages, ad management, URL mappings, payment support, reporting dashboards. Removes HubSpot branding from site.
Professional – Starts at $360/mo. Allows for up to 100 blogs and 10,000 web pages. Includes custom analytics, advanced SEO, dynamic personalization, content staging, video hosting, site tree.
Enterprise – Starts at $1,200/mo. Includes highest limits on all features, custom objects, site performance monitoring, web apps, sandboxes, permissions.
A 14-day free trial is available. Add-ons such as custom SSL and limit increases can be built into your plan.
6) Penji – Subscription based graphic design service
Content management is one thing, but where do you get the content itself? When it comes to graphic design, Penji offers professional-quality designs on a subscription basis.
With Penji's unlimited model, you can get as many designs as you need. Their plans cover everything from logos to social media graphics. They even design websites and apps. With a global team of full-time designers, they deliver quality designs in a matter of days.
Pricing: Penji offers three plans:
Pro – $499/mo. Includes unlimited graphic design, illustrations, logos and branding.
Team – $699/mo. Includes unlimited web designs, app designs, presentations, and animated graphics.
Daytime – $999/mo. Includes USA daytime designers, same-day turnaround, and a dedicated art director.
All plans come with a 30-day money back guarantee.
7) Rippling – Subscription based HR and IT cloud service
This enterprise software solution is one of the best options out there for payroll maintenance, but it's got much more than that. It combines workflow automation with HR and IT tools, helping enterprises streamline their employer-to-employee processes.
If you've been making use of this list, you'll be especially happy to hear about Rippling's app management. You can set up, manage, and disable employee apps in one simple place, ensuring that you're using everything you need and nothing extra.
Pricing: Unfortunately, Rippling doesn't offer transparent pricing on their site. Because they cater to enterprise customers, they offer quotes based on businesses' precise needs. At the very least, their core platform costs $35/mo, with an additional $8/user/mo for payroll services.
8) Moz Pro – Subscription based SEO tool
Moz was founded as SEOmoz in 2004 as a site for some of the world's earliest SEO experts to share their research. Basically, they wrote the book on SEO.
Moz Pro isn't the cheapest option for SEO on the market, but it uses its history of experience to its advantage. They offer robust, eminently useful data to give your business the search engine boost it needs, crawling your site to precisely pinpoint issues.
Pricing: Moz Pro offers four plans:
Standard – Starts at $79/mo. Includes 3 campaigns, 300 keyword rankings, 60 tracked URLs, 100k page crawls per week.
Medium – Starts at $143/mo. Includes 10 campaigns, 1,500 keyword rankings, 200 tracked URLs, 500k page crawls per week.
Large – Starts at $239/mo. Includes 25 campaigns, 3,000 keyword rankings, 500 tracked URLs, 1.25 million page crawls per week.
Premium – Starts at $479/mo. Includes 50 campaigns, 4,500 keyword rankings, 1,000 tracked URLs, 2 million page crawls per week.
9) Tableau – Subscription based business intelligence service
You can have all the fancy subscription based software in the world, but it won't get you anywhere if you're not paying attention to what works. Tableau is a leader in business intelligence (BI) and analytics. They offer a robust array of digestible data to help your business work smarter.
Tableau is trusted by customers ranging from Whole Foods to Pfizer, Nissan to Charles Schwab. Powered by Salesforce, they also offer integrations with SQL, AWS, and dozens of other cloud services.
Pricing: Tableau offers three cloud-based plans for teams:
Viewer – $15/user/mo.
Explorer – $42/user/mo.
Creator – $70/user/mo.
They also offer server-based plans (on-premise or public cloud), a Creator plan for individuals, and embedded analytics.
10) Bit.ai – Subscription based service for workplace collaboration
The final piece of the puzzle that brings your whole business infrastructure together: collaboration. Plenty of cloud-based offerings include collaboration tools, and many businesses use free tools like Slack and Google Docs to power their communication.
Bit.ai combines all these features and more. Think of it like a document editor that's also a content manager. It lets businesses share, create, and keep track of the content they put out, all with robust communication. They also integrate easily with tools like Tableau, OneDrive, Google Suite, Miro, Trello, Facebook, and more.
Pricing: Bit.ai offers three plans:
Free – $0. Allows for up to 5 members, 50 documents, 1GB storage. Includes content library, integrations, collaboration tools.
Pro – $8/member/month. Allows for unlimited members, unlimited documents, 500GB storage. Includes export, bulk import, version history.
Business – $15/member/month. Allows for unlimited storage. Includes trackable documents, priority support, engagement analytics, guest access.
Bit.ai also offers custom plans for enterprise customers.
Thinking of Investing in An Early-Stage VC?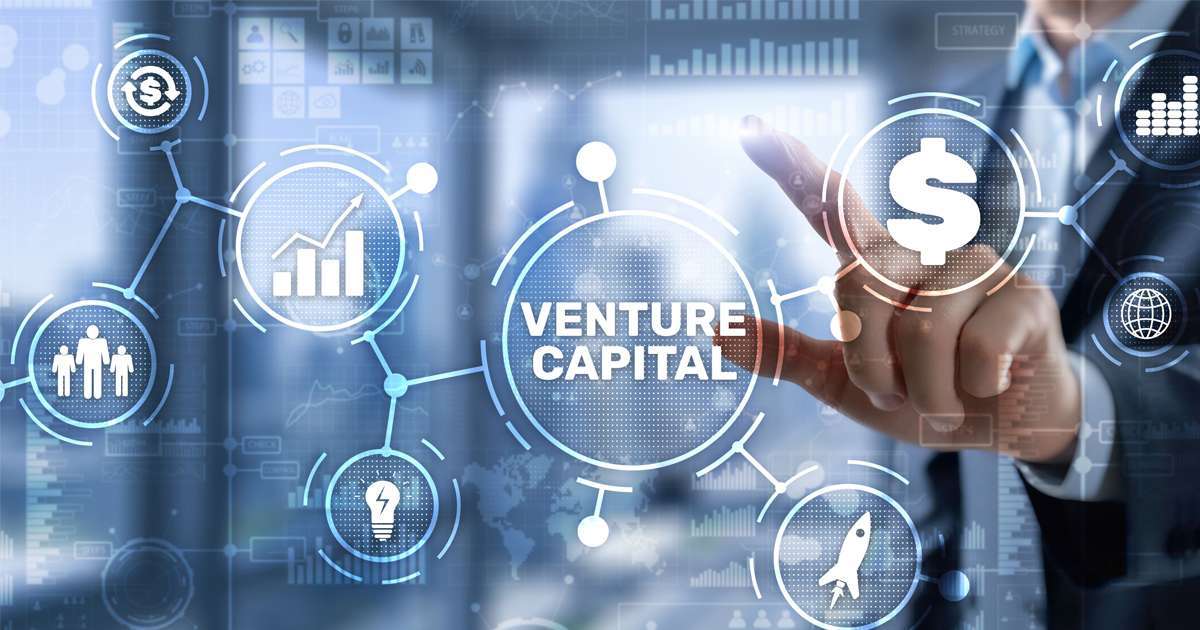 Do you find yourself asking, "should I invest in early-stage VC?" If so, you're not alone. Venture capital has become one of the most popular ways to invest in high-growth startups. It offers high returns and the chance to join the founding team of a company before anyone else. With venture capital, you have not only access to top-notch business management but also an opportunity to build your portfolio.
However, due to its early stage, venture capital investing is not for everyone. Those who are looking for ways to make money fast should consider other options first. Think about it: what do investors require in order to fund a startup? An answer that's likely yes will do it again—at least in this case. The same can be said about the minimum investment required by venture capital firms—it depends on their target sector or geography. This article will help you understand what you need to know before investing in venture capital.
What is venture capital?
Before we tackle the answer to the question, "should I invest in early-stage VC," let's discuss the basics of venture capital.
Simply said, venture capital is the funding of new businesses and expansion. That said, venture capitalists provide funding for startups at an early stage. They see potential in ventures that are often in the "uncertain" stage of their growth and usually lack funds. They provide the necessary capital to help companies realize their full potential. In addition to that, financial and managerial resources may also be offered.
Insider Monkey says the biggest VC companies in the world in 2021 are Google Ventures, Insight Partners, Bessemer Venture Partners, Index Ventures, and Sequoia Capital.
Why do people invest in venture capital?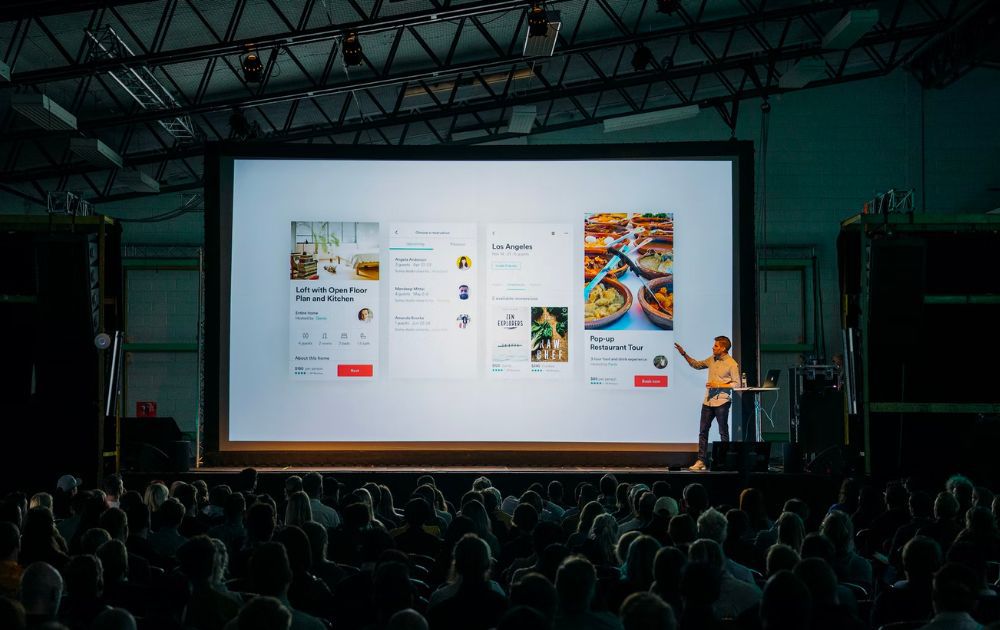 The main reason people invest in venture capital is to gain a high return on their money. Another reason is the chance to build a portfolio of investments. For instance, some investors are interested in the high level of skill involved in the management of a venture capital fund. Some investors, on the other hand, want to be part of launching new products and services.
How does a venture capital firm operate?
VC firms are a unique blend of investment and management. They begin by identifying, researching, and screening a large number of high-potential companies. After evaluating these startups, the VC firm decides which to fund. It then hires management teams to run its companies. As mentioned above, the VC firm provides not just financial support but also expertise and advice. After all, the success of the startup means investment growth.
So, here's the million-dollar question – should I invest in early-stage VC? The answer lies in whether you can stomach the risks. One of those risks is losing your entire investment. For example, a VC firm can fail due to bad investment decisions, poor management, or even bad timing. If you're ready to go through these risks, however, then a VC investment may be for you.
Why should I invest in early-stage VC?
If you're thinking of putting your money in a VC firm, some believe that now is the best time to do it. After all, some VCs have grown to be household names over the last 20 years because of their success. In addition to that, VCs have made a reputation for investing in early-stage SaaS ventures with low startup valuations.
But here's what should be the biggest trigger for you to consider VC investment: global equity prices correction. Due to geopolitical instability, inflation, and many other factors, the economic downturn can be inevitable.
At the same time, many startups today are building products with world-changing potential. And given the high quality of these products, these startups can survive – and even thrive – in recession-like scenarios.
Given these two elements, many startups may be at a "discounted" valuation at the moment, and it would be wise to strike while the iron is hot. After all, VC is one of the most exciting ways to invest in high-growth startups with a potential for high returns.
7 Effective Ways to Improve at Networking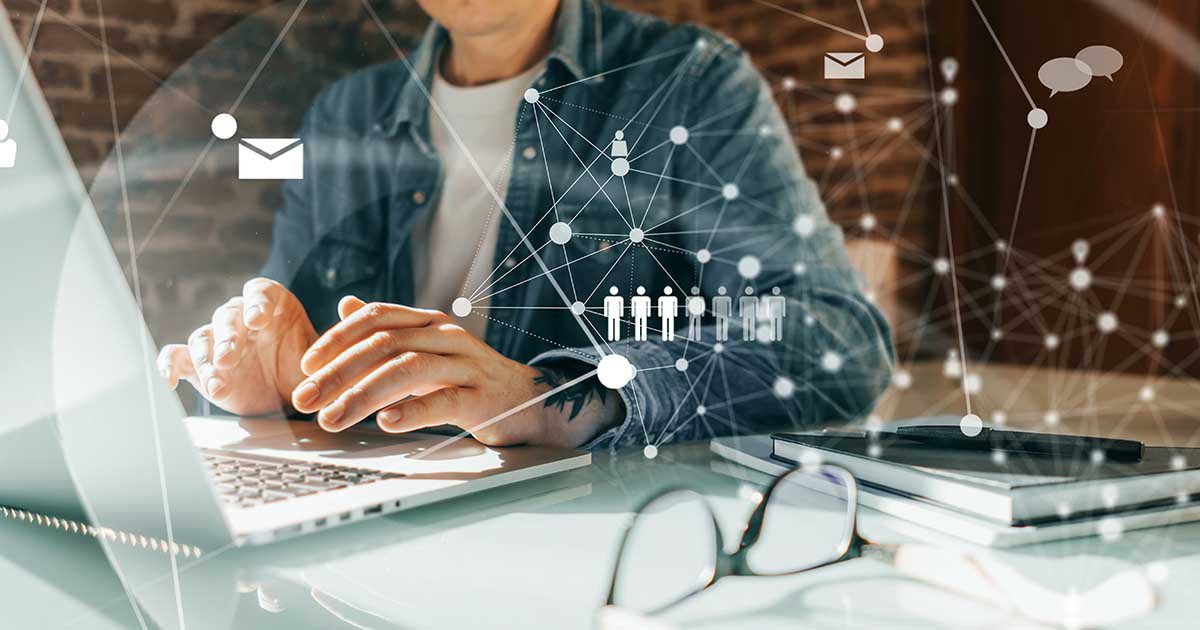 Believe it or not, networking works. Whether you hate meeting people or socializing, if you want to grow your business, you need to do some networking. And when you want networking to work for you, you must be pushy and assertive but politely. Read here to know the ways to improve at networking.
Here are 7 Ways to Improve at Networking
Identify Your Goals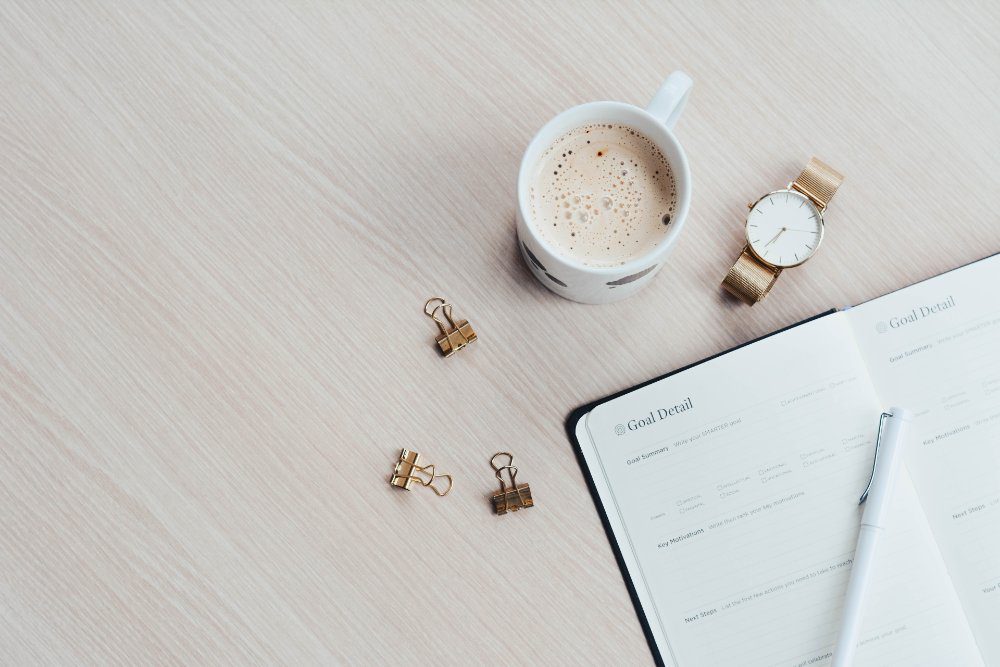 The first thing you need to do is to determine what you want to get out of the task. Ask yourself, what am I looking for? Once you understand your goals and objectives, it's easier to identify which events to go to. This way, you can find which ones are better aligned with your business to get more productive results. This will also assure you that your efforts won't go to waste.
Research the Events
Once you determine your goals and lined up a few events to go to, do a bit of research. Try to get as much data about them as possible. It is also highly recommended that you get to know the people attending these events. If you see a company you're interested in, you should find out more about them before going.
Wear the Appropriate Clothing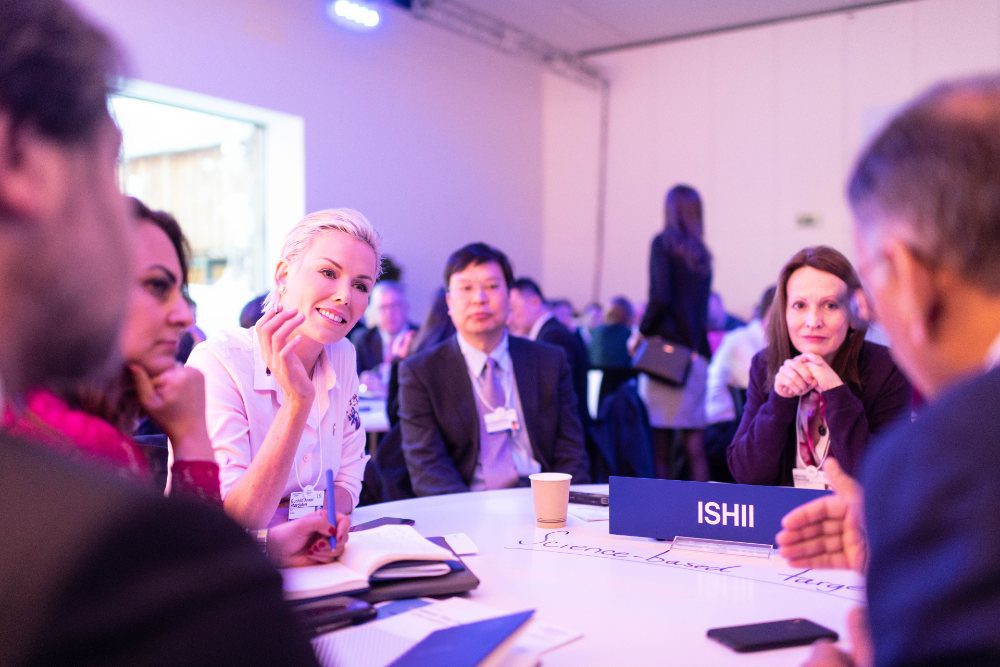 They say, "dress to impress," and this rings true when attending networking events. Choose clothes that will make you feel comfortable while suitably dressed for the occasion. You can wear bright-colored clothes for a casual event and be the ice-breaker. Or add an accessory that can be a conversation starter. This way, socializing becomes more effortless and will get you more people to network with.
Practice Makes Perfect
It pays to rehearse what you'll say to people about your company. You can stand in front of a mirror and practice your pitch so you won't have to forget an important detail. Remember to include your achievements to make them see how your business will help them improve theirs. A little bit of humble brag will go a long way.
Create a Killer Business Card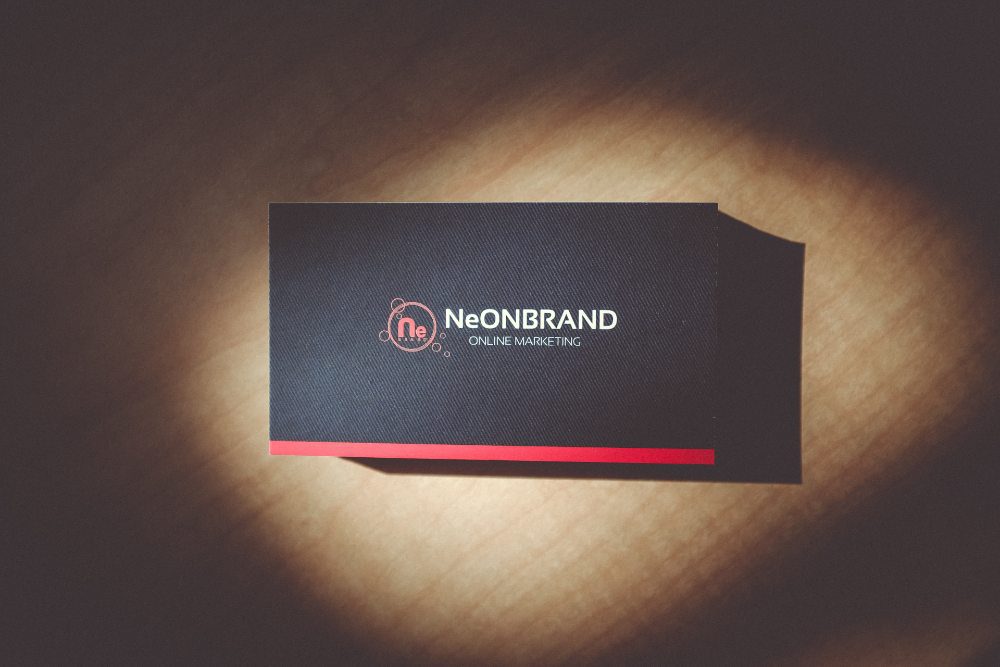 There will be exchanges of business cards at these events, so make sure that yours will stand out. There are many websites you can go to where you can design your own. Ensure that all pertinent data is on it, so people aren't left hanging. In addition, make sure that your design will grab attention and won't have the card end up in the trash bin.
Be Prepared
Make sure to set yourself at ease and relax, especially if it's going to be a long event. Get your socializing skills warmed up by getting a drink, if applicable. This can also set the mood for the event to help you start talking to people. Once you get the conversation going, you should engage in active listening.
As much as you want people to absorb what you're saying, you should do the same. Allot a time for each person you talk to and stick to that time. Then, excuse yourself politely to start conversing with other people. Hand over your business card and move on to the next prospect.
Don't worry about offending people, many networking event attendees understand the transactional nature of them. Give them a promise to follow up and end the conversation.
Follow the Best Practices
After you go to one event, analyze your moves and try to make a pattern of what worked. This can help you avoid mistakes such as wasting your time with one company and other similar situations. Also, think of the best lines that will quickly convey your message. Think of networking as speed dating, so arm yourself with the best pickup lines.