Holiday Songs You Need On Your Playlist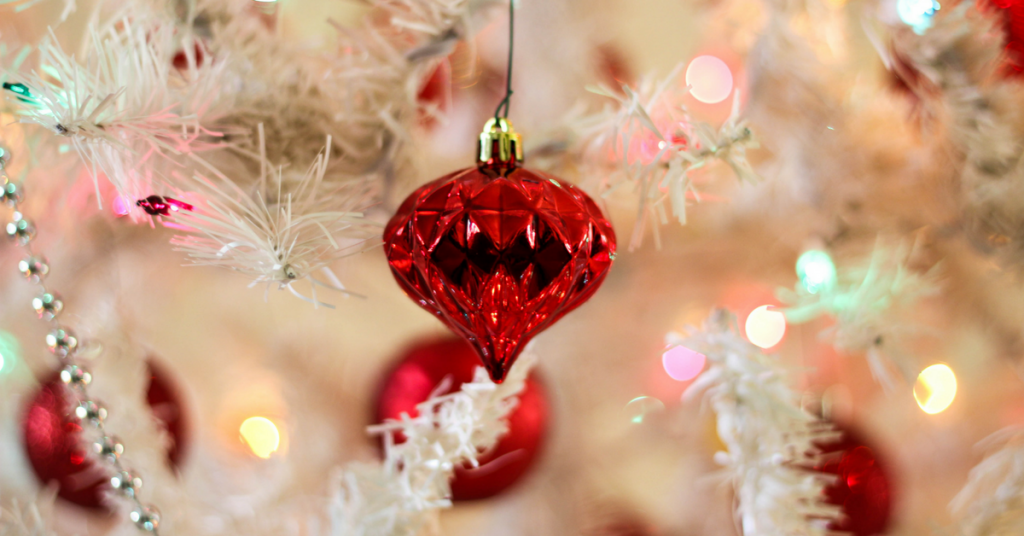 Everyone is prepping for the holidays. You can see it when you stroll down New York's Fifth Avenue and see the wonderfully decorated store windows, you can feel it when you see people shopping frantically and you can smell it thanks to the gingerbread cookies that are very popular during this time of year. Most of all, you can hear it every time you turn on the radio. Christmas songs are a great way to get into the holiday spirit. Here are some of the best Christmas songs you need for this holiday season.
The Classics
The classic Christmas songs do not get old; they only get better with time. Like aged wine, classic Christmas songs appeal to all kinds of people. Who doesn't love the Carpenters' rendition of I'll be Home for Christmas or Bing Crosby's Silver Bells? Many recording artists have tried to make a "hit" during the holidays but usually fail. This is because nostalgia is attached to classic Christmas songs. Many people also develop fond memories from songs they hear when they were young and become attached to it. This is why parents play certain Christmas songs during the holiday and pass the fondness to their children. It can be hard to beat classic songs like O Holy Night and It's Beginning To Look A Lot Like Christmas.
Pop Songs
Pop has been around since the 80's and shows no sign to fading away. Many people like pop songs because the melody and lyrics are simple making them easy to memorize and play. Some of the most popular Christmas pop songs that you need on you playlist include Mariah Carey's All I Want For Christmas Is You, Kelly Clarkson's Underneath the Tree, Justin Bieber's Mistletoe and Madonna's Santa Baby for a bit of holiday joy and cheer.
New Renditions
Sometimes, the best way to make a classic Christmas song seem like new is to re-record it. The old versions weren't bad, it's just fun to hear them being sung by other people. It is also easier for the new generation to get into the Christmas spirit when they hear tunes sung by their idols. Some of the best new renditions to include in your playlist for this season are Ariana Grande's Last Christmas, Mary J. Blige's This Christmas and Sam Smith's Have Yourself A Merry Christmas.
Duets
Christmas isn't Christmas if you don't have somebody to share it with. As they say, the more the merrier, so why not Christmas duets? Not only are they cool additions to your playlist, you can also partner with a co-worker to sing karaoke during your office Christmas party. Here are some cool Christmas duets for your playlist and karaoke idea: Micheal Bublé & Carly Rae Jepsen's Rockn' Around The Christmas Tree, Snoop Dogg & Anna Kendrick's Winter Wonderland, and Zooey Deschanel & Leon Redbone's Baby, It's Cold Outside.
Feel Good
Let's not forget to include feel good songs that are fun not only to listen to but to sing along with. Your Christmas playlist won't be complete without Jingle Bells, I Saw Mommy Kissing Santa Claus, Let it Snow, Silver Bells, Feliz Navidad, and Chestnuts Roasting On an Open Fire.
Hedgehog Umbrella: The Umbrella For All Seasons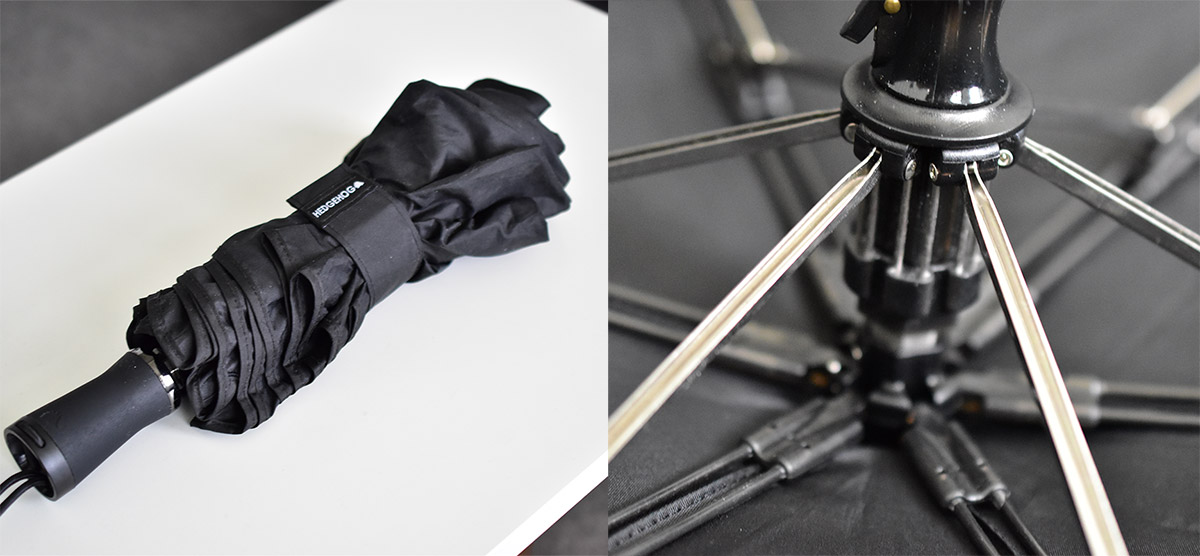 With the stormy season just over the horizon, what better time to invest in a high-quality umbrella other than now?
Introducing the Hedgehog Umbrella; a compact umbrella that is able to withstand strong winds up to 70mph without breaking. Yes, 70 miles per hour winds, that's already a category 1 hurricane.
The structure was inspired by automobile technology. Its WINDFlex system can confidently say that it can withstand anything nature has to offer. It has a carbon fiber construction, a sturdy stainless steel shaft and handles, with polycarbonate joints.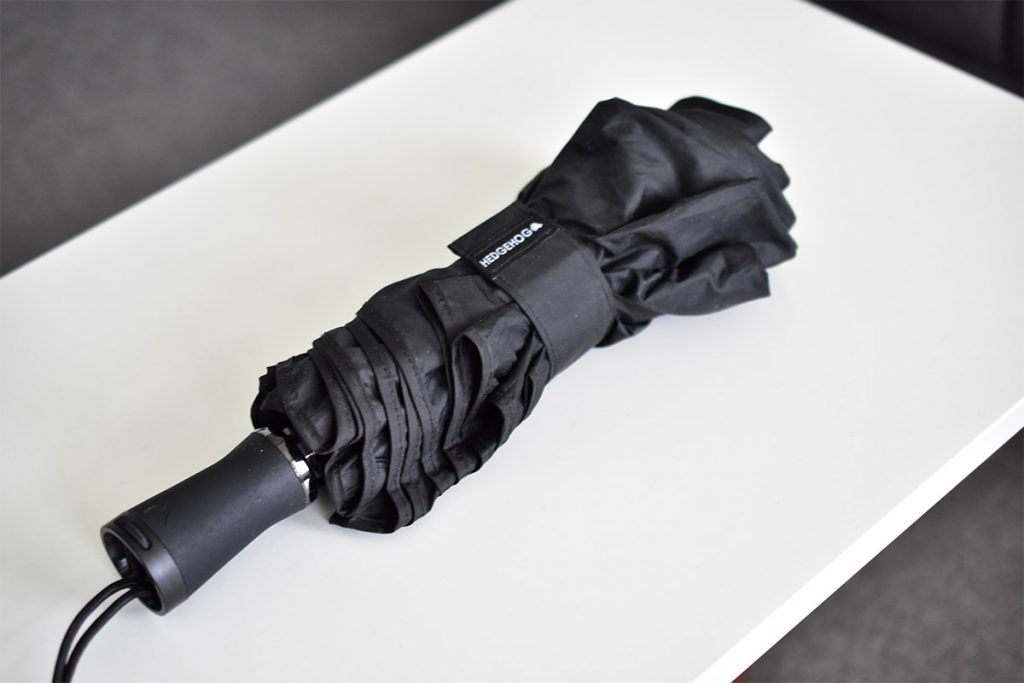 One might ask, why in the world would someone need an umbrella that can hold up or withstand hurricane-level winds? Well, we would say, "Why not?". Umbrellas were designed to either keep us dry during the rain or provide shade when it's sunny. That is often the case. But when faced with strong, chaotic winds – our umbrellas tend to break – making us buy umbrellas over and over again.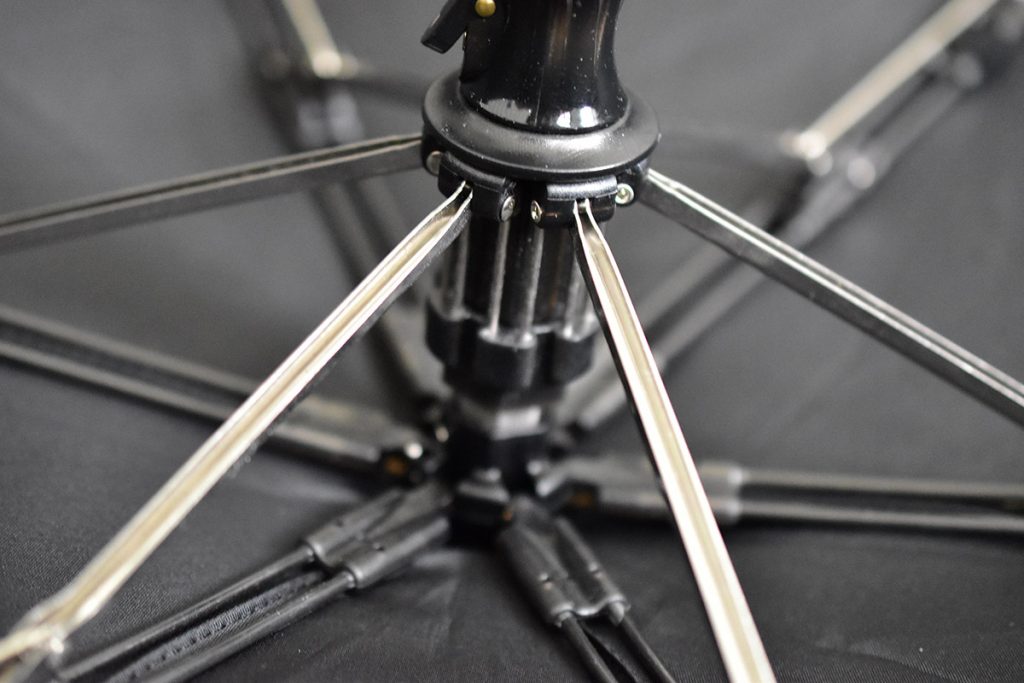 But the hedgehog umbrella provides a solution to a problem we always tend to sometimes overlook. As its company has boldly stated, "the hedgehog umbrella is engineered to be unbreakable, tested to the extreme, and backed by a global lifetime warranty."
To understand this statement, let's have a look at the different aspects of what makes the hedgehog umbrella amazing.
Fashionable and Customizable Canopies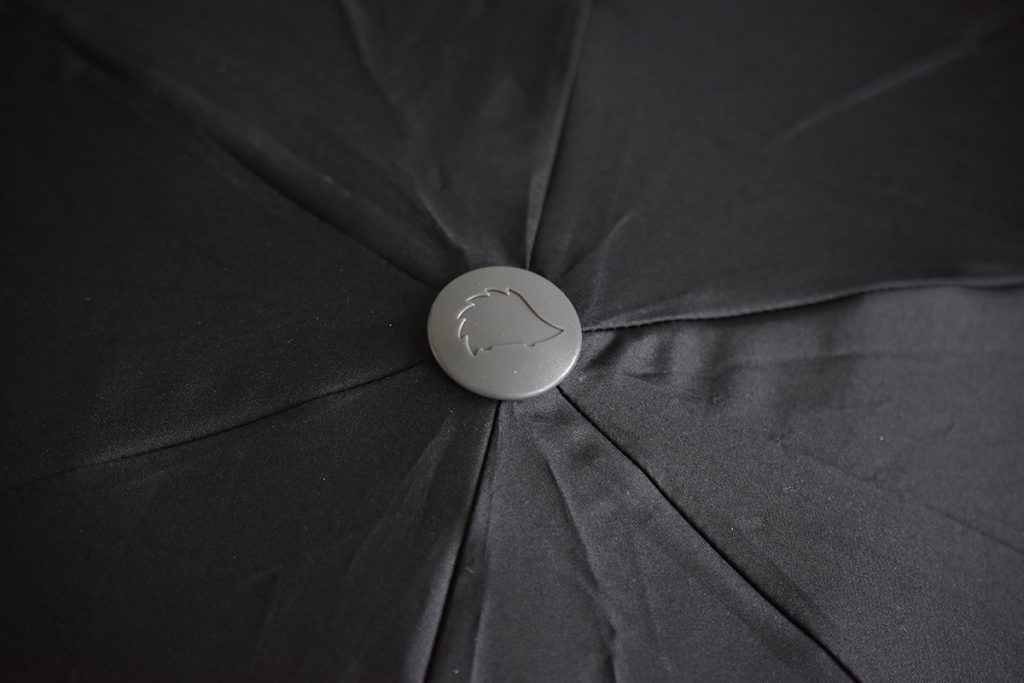 With the hedgehog umbrella, you can choose from a variety of colors. The canopy is comprised of a 210 thread count Pongee fabric that is water repellent – which is thin sturdy. It is also built in a way that you can easily switch out canopies if the need arises.
The hedgehog umbrella will also be releasing an option in the near future to customize your own canopy via uploading an image. Now your dream of having an umbrella with your dog's face on it can come true- or not.
Short and Practical Umbrella Shaft and Handle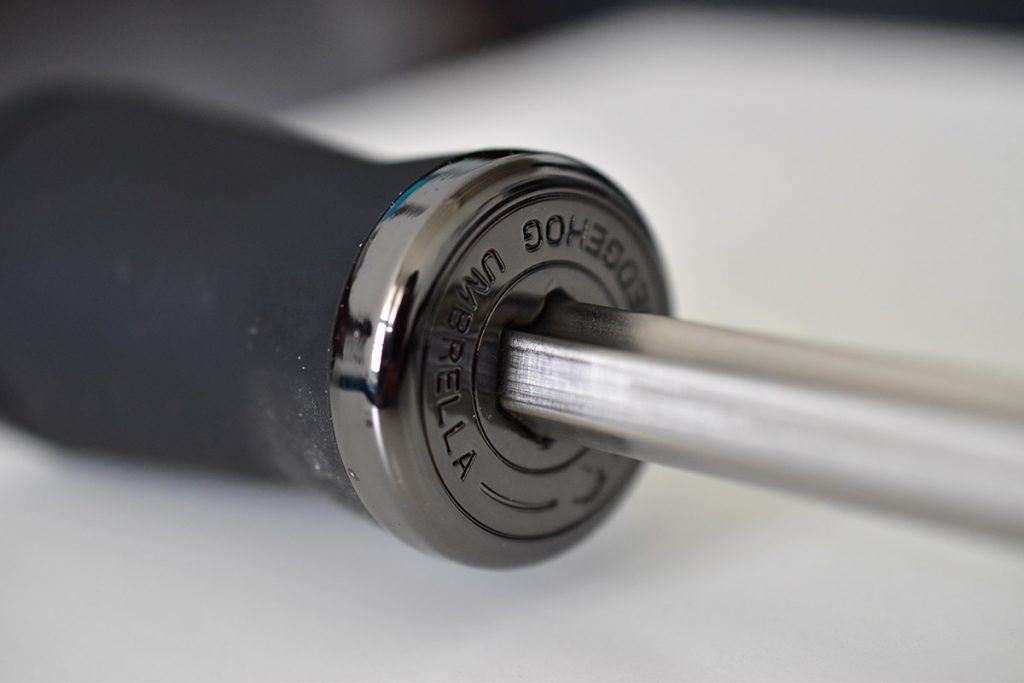 The hedgehog umbrella also comes with the usual umbrella "slip" so you can easily store it all tight and snug like. Once collapsed and ready for storage, the umbrella is only 13 inches long and weighs 1 lb, making it easy and practical to bring along with you anywhere.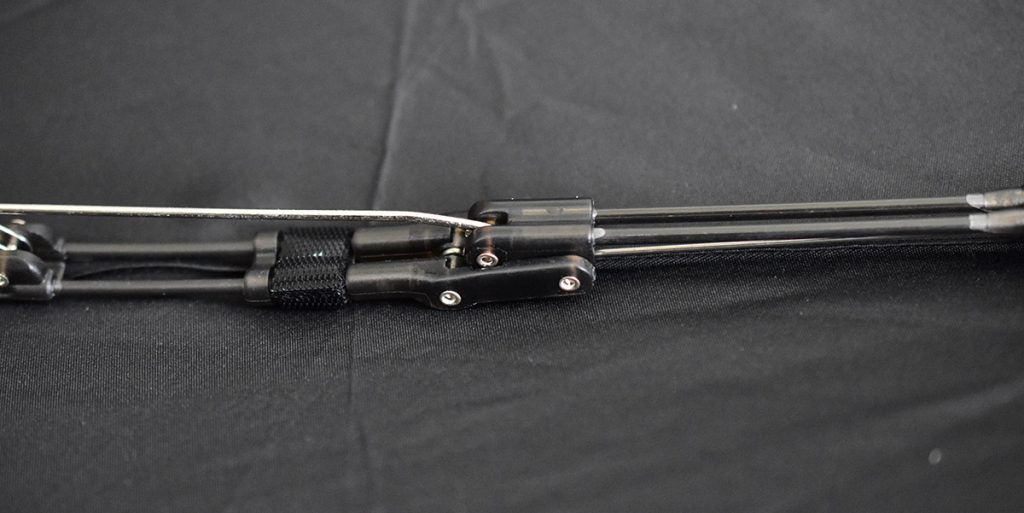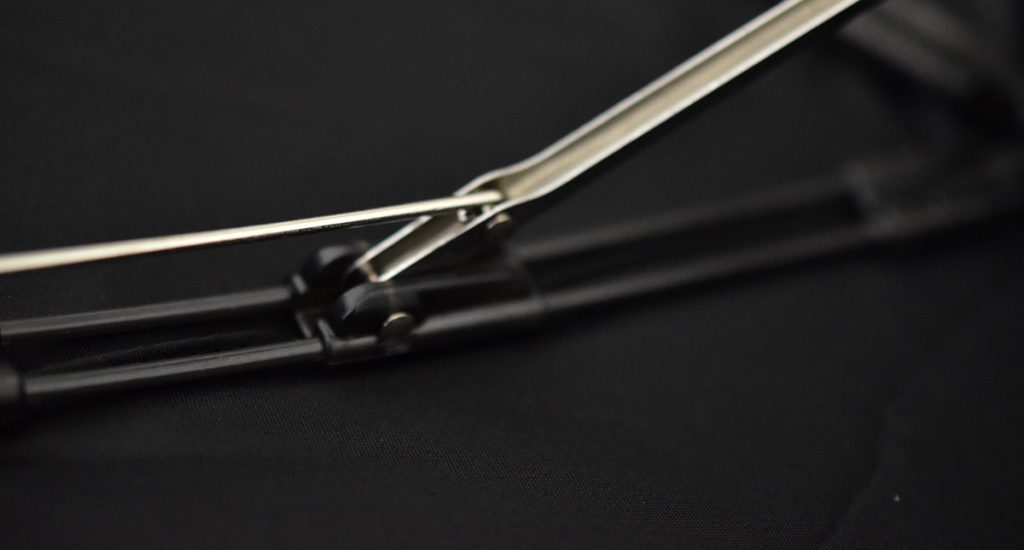 Unfortunately, the hedgehog umbrella does not come with an automatic button for deployment. Though priced at $99, it is a fully manual umbrella. But at the same time, the automatic machinations are what makes umbrellas weak, so though the hedgehog umbrella sacrifices a little bit of luxury, it makes up with emphasizing its bold statement of being "unbreakable".
On that note, to deploy the umbrella, one just needs to hold the handle and use the other hand to push the frame up towards the lock at the top. To close it, one just needs to press the button at the center to unlock the lock mechanism.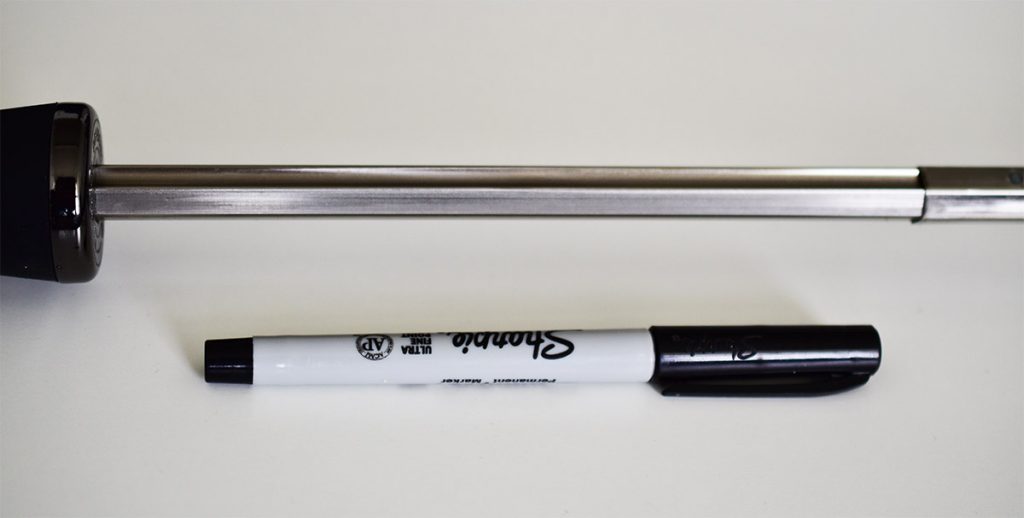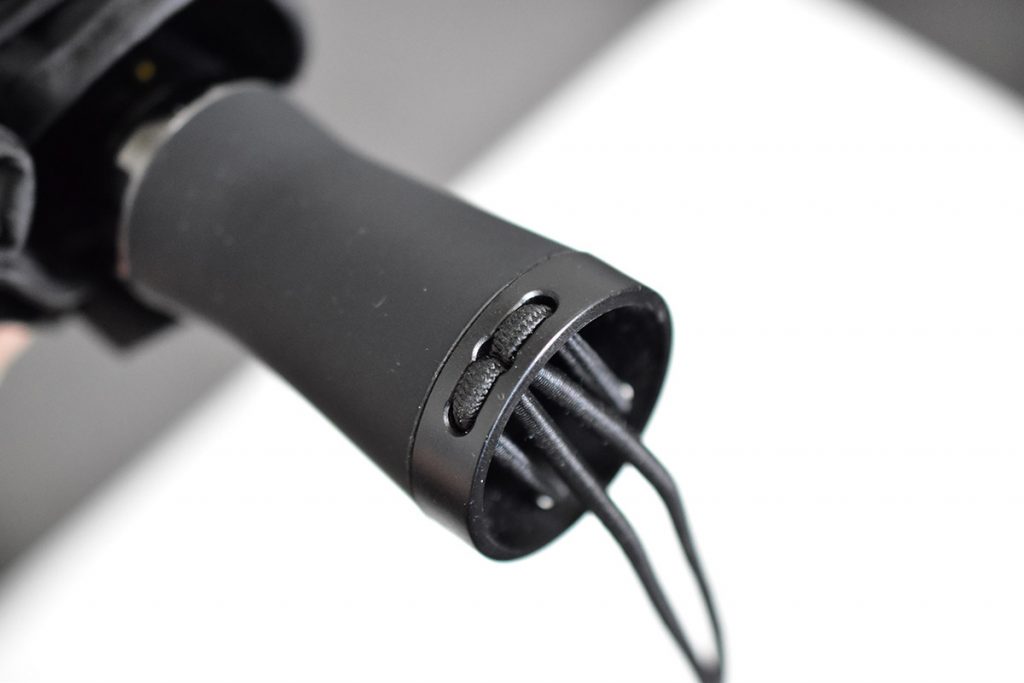 The handle is thick, making it easy to grasp giving out a feeling of sturdiness and dependability. The overall feel of the hedgehog umbrella gives out a sense of comfort. Even though it's made of high-grade materials able to withstand hurricane-level winds- it's petite structure and design can sometimes make you forget.
Width Capacity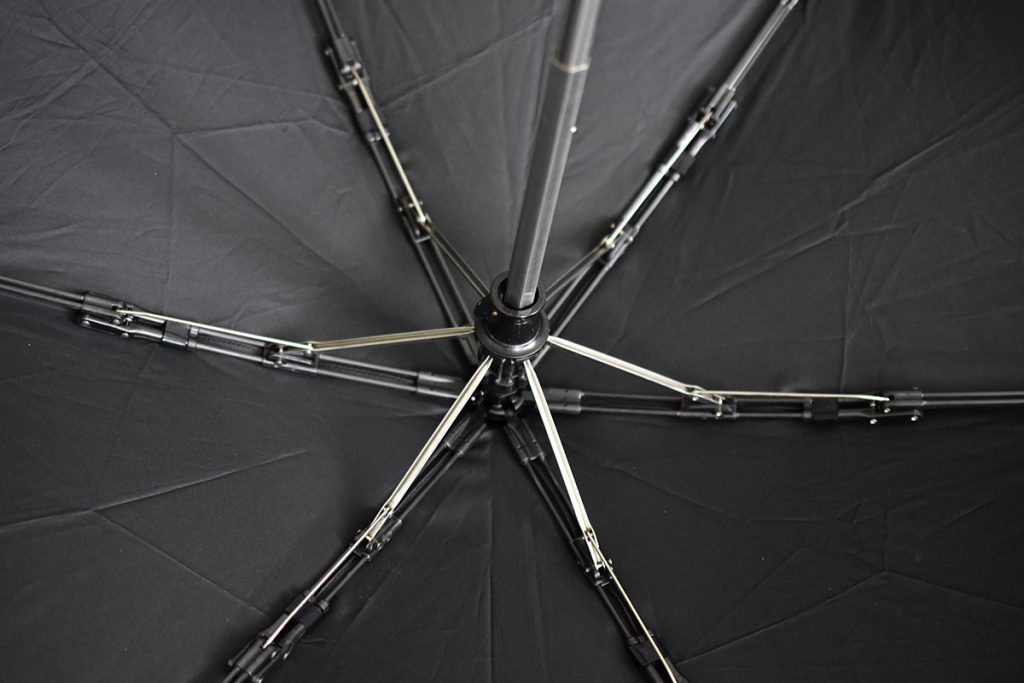 When fully deployed, the hedgehog umbrella can comfortably fit two people within its canopy span. So you don't have to worry if this umbrella can fit you and your significant other because yes, it can.
To summarize, the hedgehog umbrella has the ability to:
Be unaffected by 70MPH winds
Interchange canopy
Design your own canopy (for the fashionista inside all of us)
Provide lifetime warranty
Ensure practicality and be built using high-grade materials
What does that mean? It means that the hedgehog umbrella has successfully solved most problems people have with umbrellas:

it's unbreakable
it's compact and practical
it's eloquently designed, and
it has a lifetime warranty
Wrap Up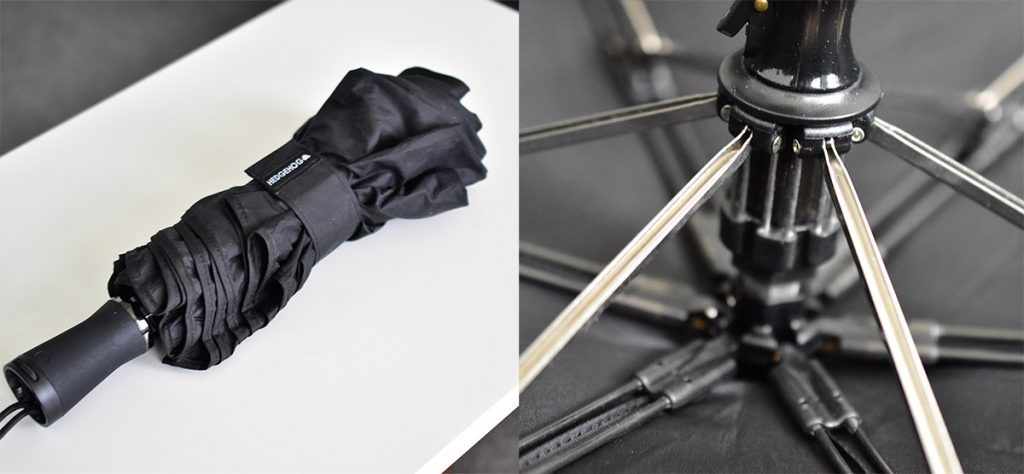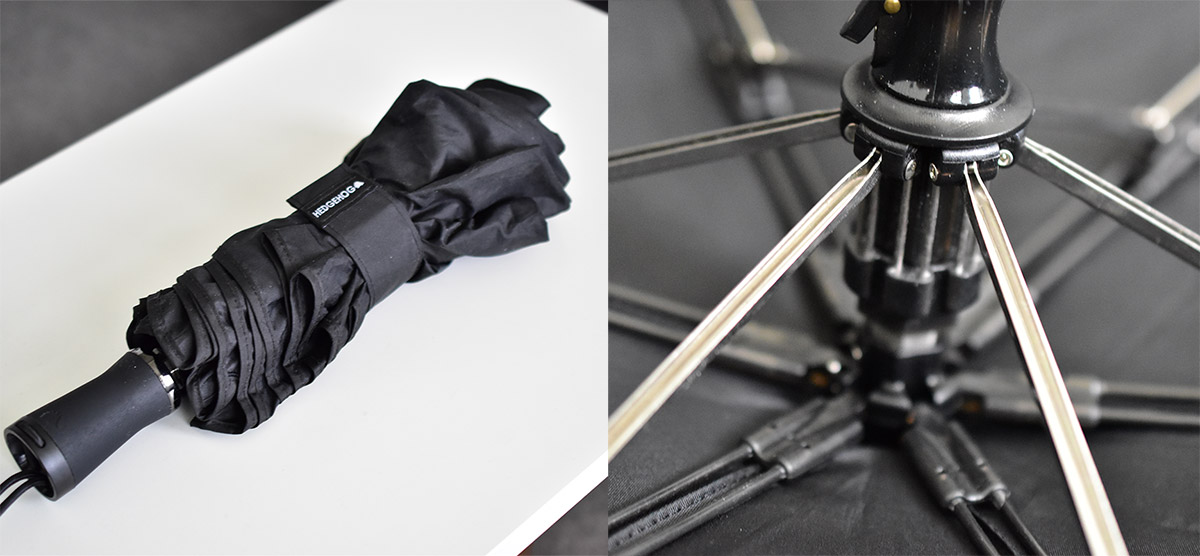 Gone are the days when you have to lower your umbrella or to make sure you're walking downwind just so your umbrella won't break. Gone are the days where you have different separate umbrellas for different occasions; be it windy, rainy, or sunny – the hedgehog umbrella is a star for all seasons.
You will no longer have to think about where to put your big long umbrellas. With the hedgehog umbrella, you can easily store it inside your bag. With the design, you also don't need to worry about putting an eye out. The hedgehog umbrella can be the best friend you never knew you needed. Be it rain or shine, it will be there for you – protecting you.

Though it is indeed a bit pricey at $99, plus it lacks the automatic button for deployment, it is still without a doubt one of the best umbrellas out there. If you live in a windy or rainy area, the hedgehog umbrella is a must-have item for you.
X-TEND: Kabuto Smart Carry-on luggage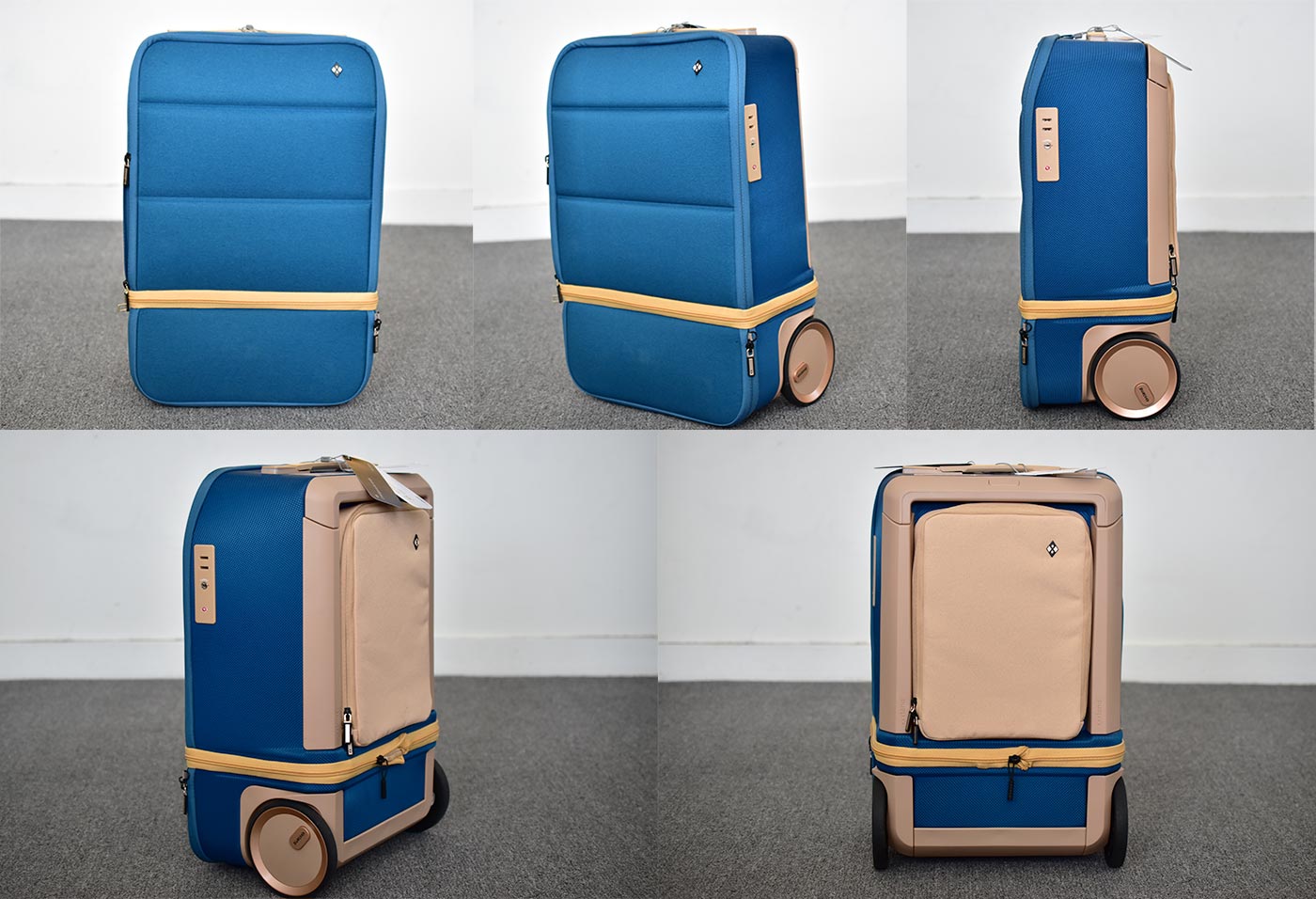 Since the dawn of time, mankind has been driven to explore to mark those uncharted maps of personal experiential wealth. Especially now in this digital age, where scenic places are easily seen from our day-to-day relationship with social media, the urge has never been greater.
Yet today, we see new innovations in making traveling so much easier. From new model airplanes, multi-leveled tours, and thousands of resorts and hotels sprouting from every beach and every island. Yet why, even when technology has changed the travel industry so much, have our suitcases stayed the same? For the longest time we have had to put up with:
Easily broken wheels,
Awkward handles,
Loose zippers,
And the timeless luggage dilemma of having too little or too much space.
Well, fret no more. This product overview is here to open your mind to a luxury you never knew you needed.
Introducing the Kabuto Smart Carry-on luggage! Your travel buddy that covers all your travel needs.  This suitcase ensures efficiency, security, practicality, and is just plain beautiful. But what makes this product different from all the other existing types of luggage you say? Well here are five reasons why:
Not enough space? Now you can avail of a 2-in-1 suitcase!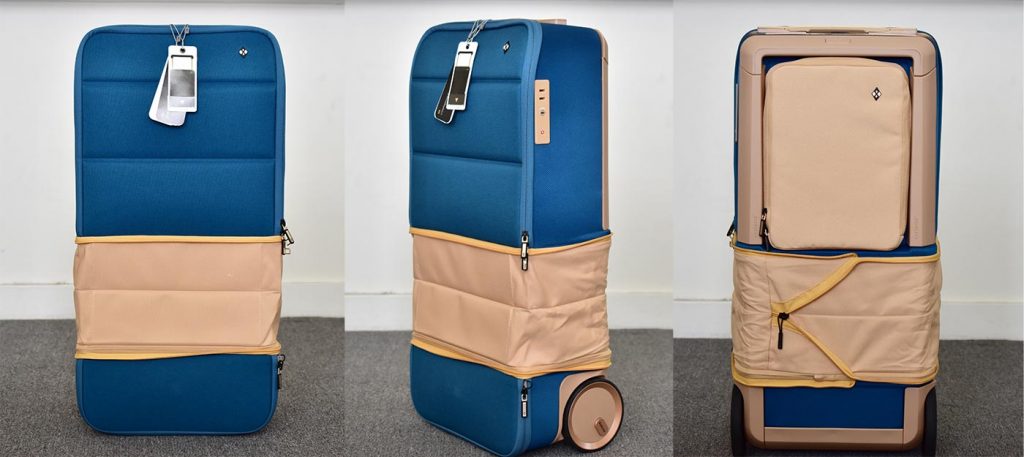 The timeless problem of either packing a small carry-on to the brim or to check in a large suitcase. The Kabuto Smart Carry-on luggage is expandable. Yes, expandable! You no longer have to choose between a small carry on or a large suitcase because this suitcase is both!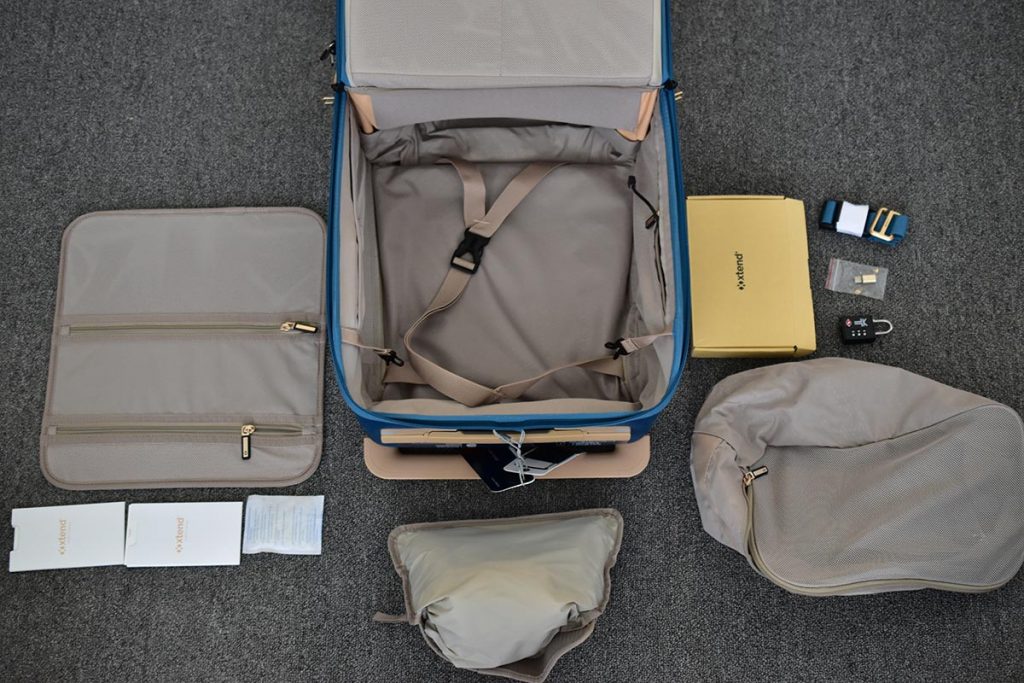 Kabuto boasts their suitcase as the first smart expandable carry-on. Go from a carry-on to a full-size suitcase with ease in just a few seconds! Yes! With XTEND's Kabuto Smart Carry-on luggage, you can now have the best of both worlds.
TSA approved fingerprint lock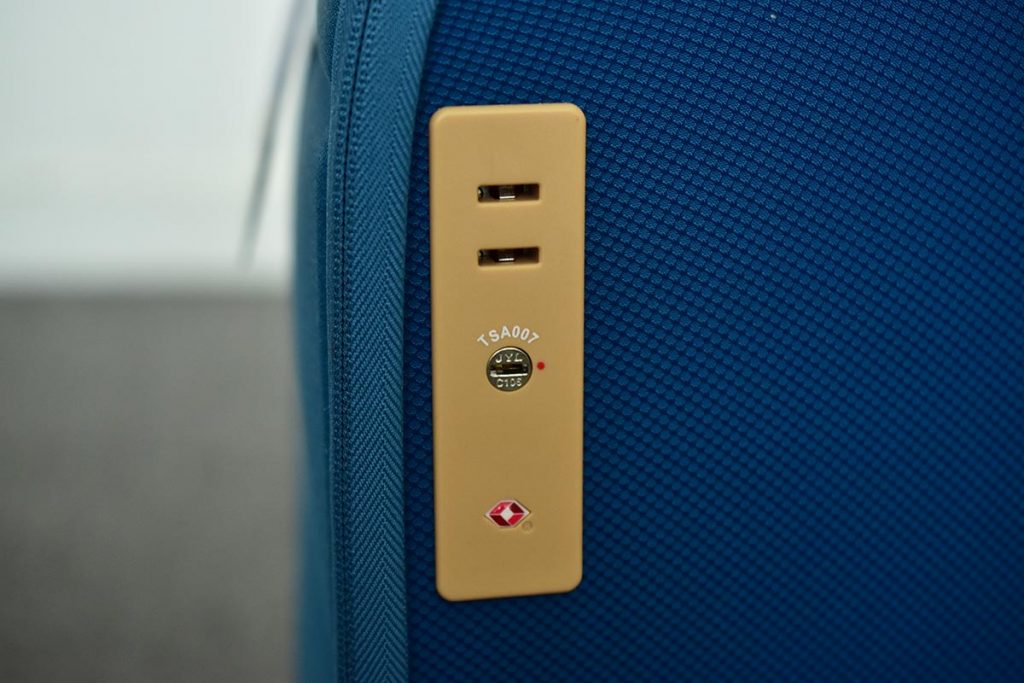 You read that right. Fingerprint locks are coming to the luggage industry. With this, the Kabuto Smart Carry-on luggage protects your luggage from unwanted invaders. Keep your belongings secure with a fingerprint lock.
Not only is it secure, but it is also practical. You will never have to worry about losing a key, or having a padlock broken in. All you need is your finger.
But what if you want to lend the luggage to a friend, or when you're traveling with family? Don't worry! The fingerprint lock can register up to 10 different fingerprints.
Ultra built-in battery for the connected traveler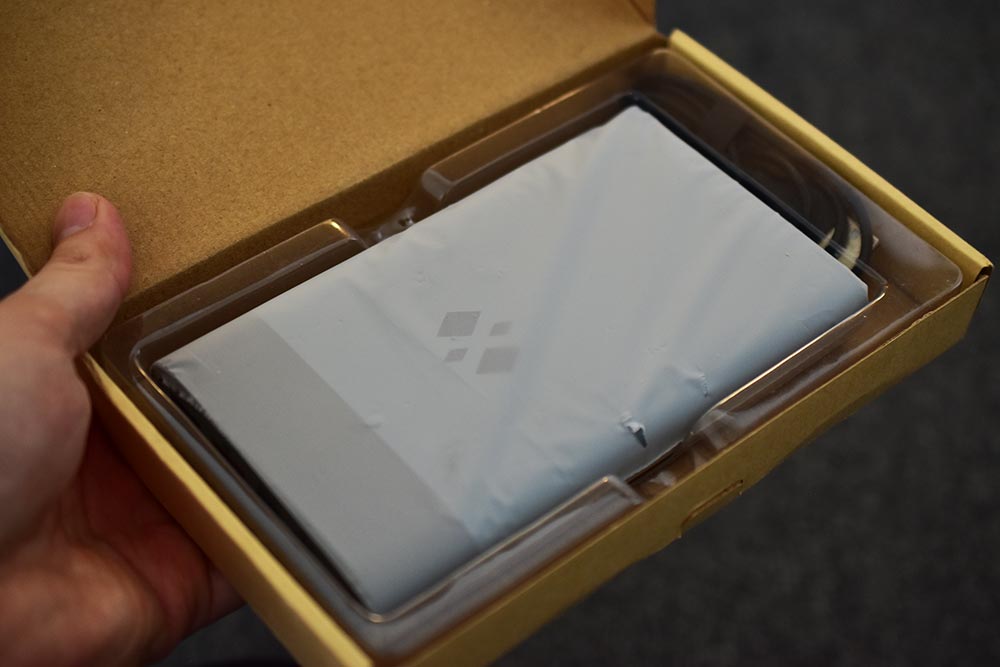 So let's say you're on an inter-connected trip where it requires you to be on the go for multiple and long periods of time, and you just can't reach that power bank at the bottom of your suitcase. Worry no more, the solution is here!
The Kabuto Smart Carry-on luggage has built-in power and a convenient charging pocket that will charge all your devices on-the-go. Yes, ALL devices from a smartphone, laptops, cameras, etc. The battery has 4 sockets:
USB A 2.4 A
USB A 2.4 A
USB C 2.4 A
MICRO-USB
It also has a digital indicator of how much battery percentage is your device charged. It boasts a 20,000mAh battery and can charge your iPhone up to 10 times!
Set the trend, because it's all about the design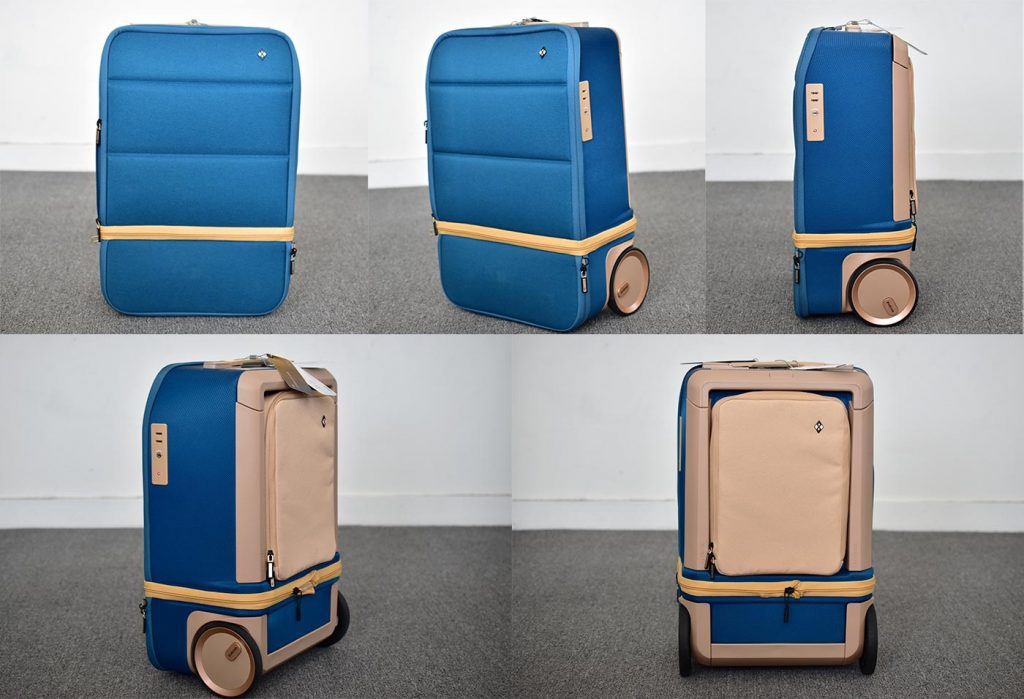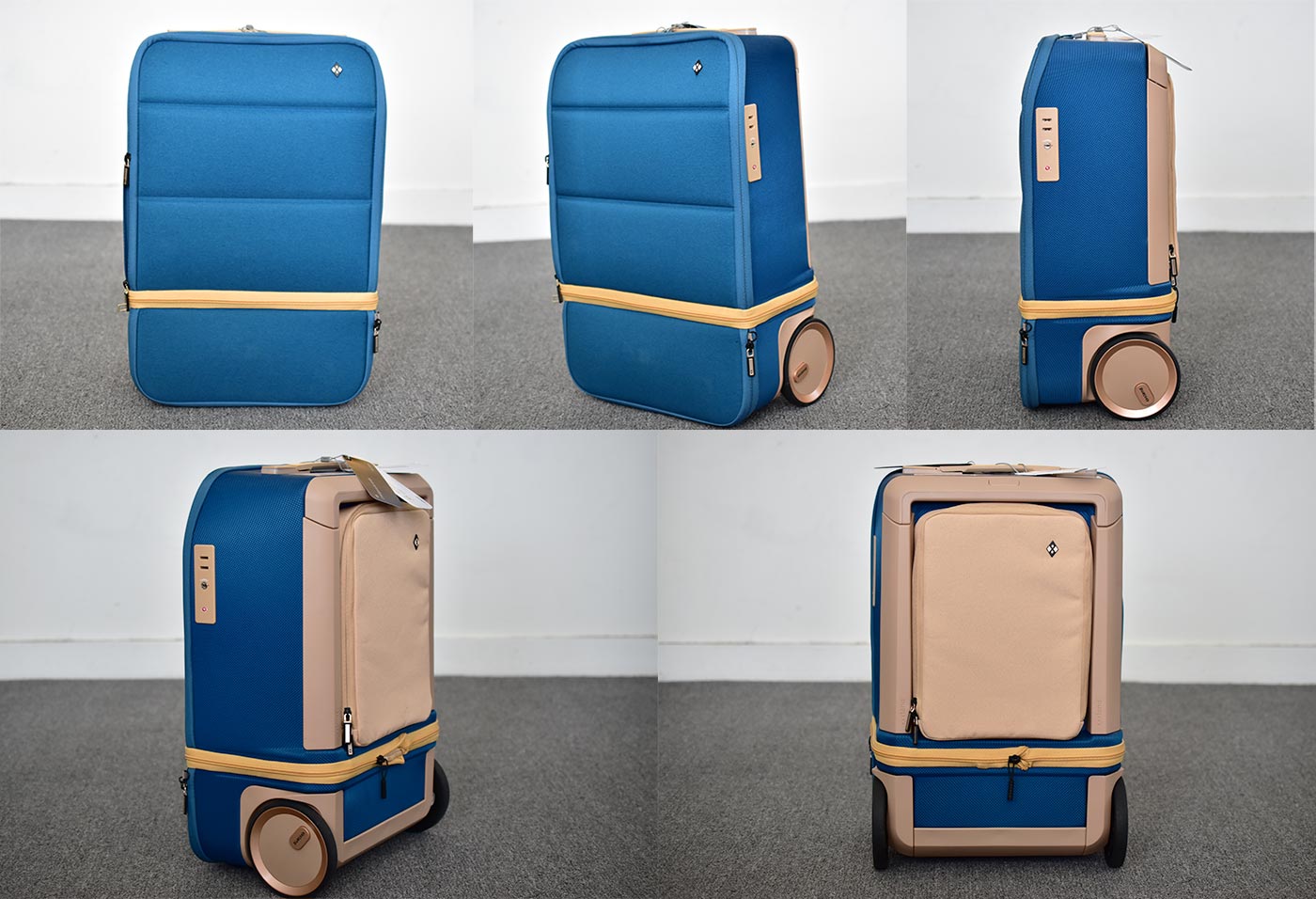 It all started with a dream. A dream to make an ergonomic, practical, elegant, and digital suitcase. The suitcase can provide the following:

Laptop Sleeve – that keeps your valuable electronics protected and handy, allowing space up to a 15" laptop.
Access Pocket – it also has a direct and quick access back pocket that is protected by an armored PE plate (polyethylene plastic) to protect your personal items. It can fit a 13" laptop.
Improved Handle – this suitcase also boasts an extra-wide handle and a super flat interior providing you extra space and at the same time giving you great ergonomic steering comfort.
Extra Compartment – the suitcase also offers an extra compartment at the base for shoes, books, magazines, a jacket, hats, and many more!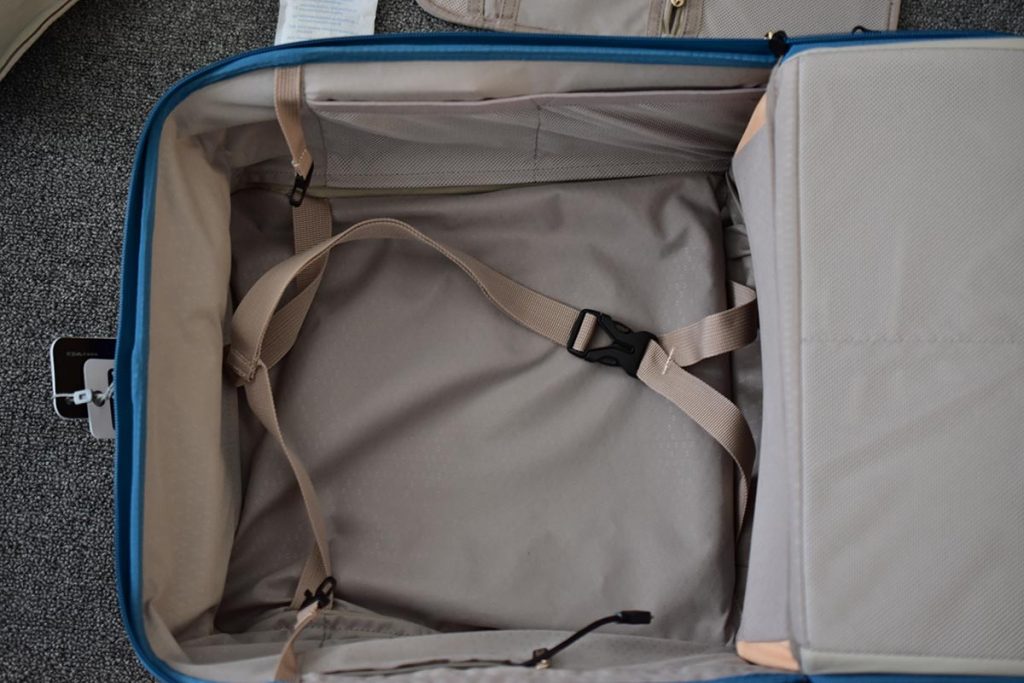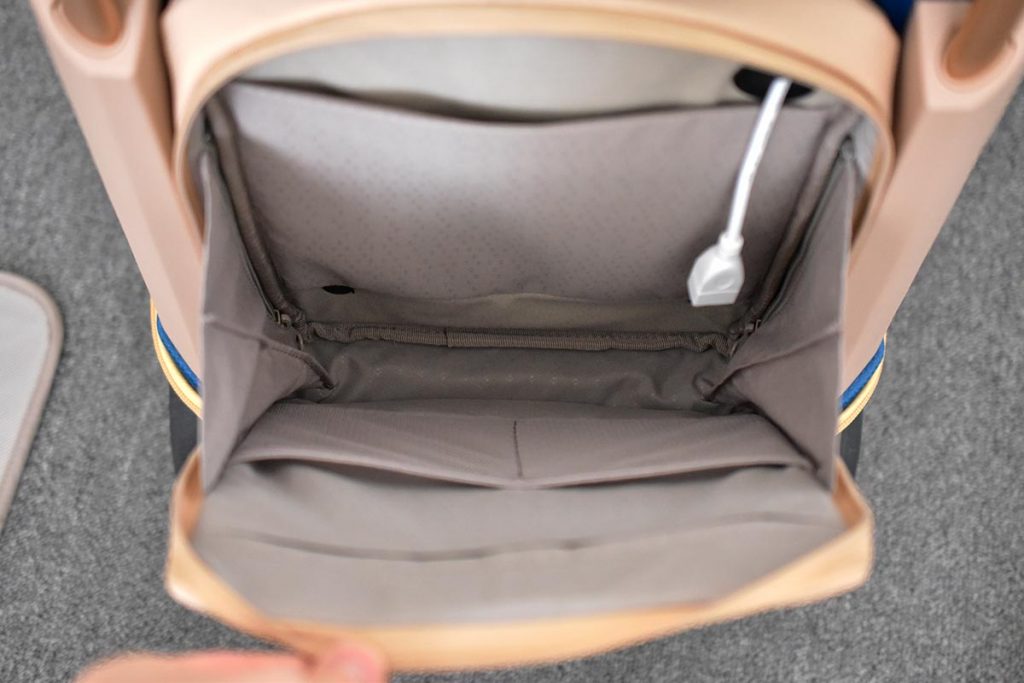 All-terrain wheel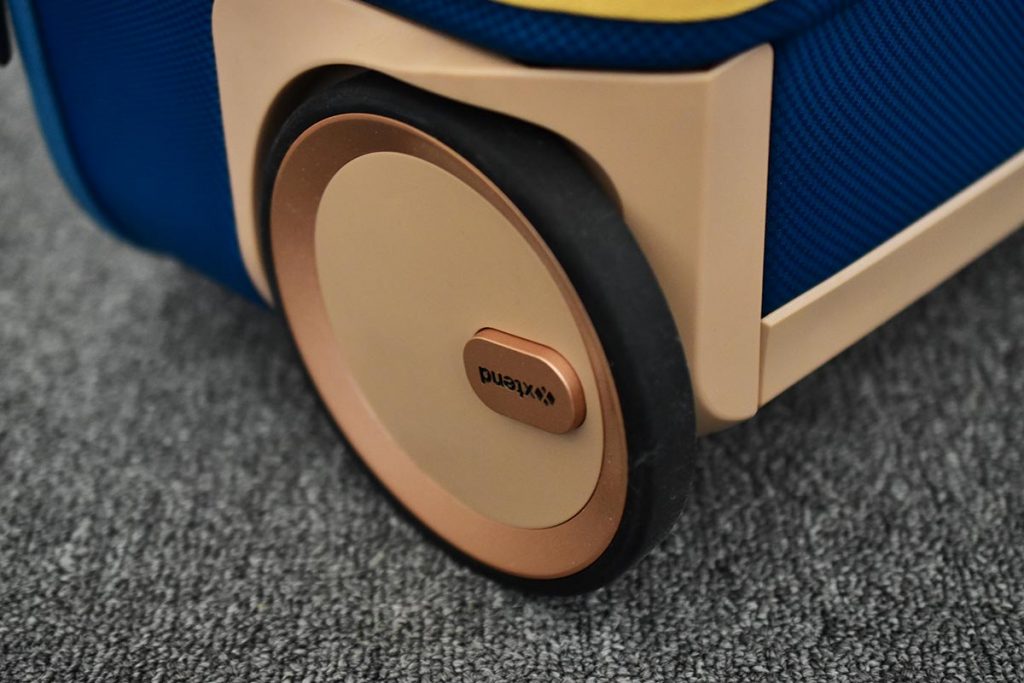 Noisy wheels are but a thing of the past. With large 5 ½-inch wheels, mounted on a double ball-bearing – rubber wheels roll quietly on any terrain. From sidewalks, stairs, and curbs, these wheels will be with you rolling all the way!
The Kabuto Smart Carry-on luggage was designed with style and durability. Now, you can walk comfortably and confidently anywhere!
Conclusion
To sum it all up, the Kabuto Smart Carry-on luggage is not only more advanced than all other suitcases and carry-ons, but it also surpasses them in terms of design and quality!
Your suitcase is a tool used to make traveling easy. Explore the world and live life by making this suitcase your best friend. With the Kabuto Smart Carry-on luggage, you can never go wrong.
So what are you waiting for? As with their slogan; Kabuto – travel that moves you.
Owner's Mag: RadRover Electric Bike Review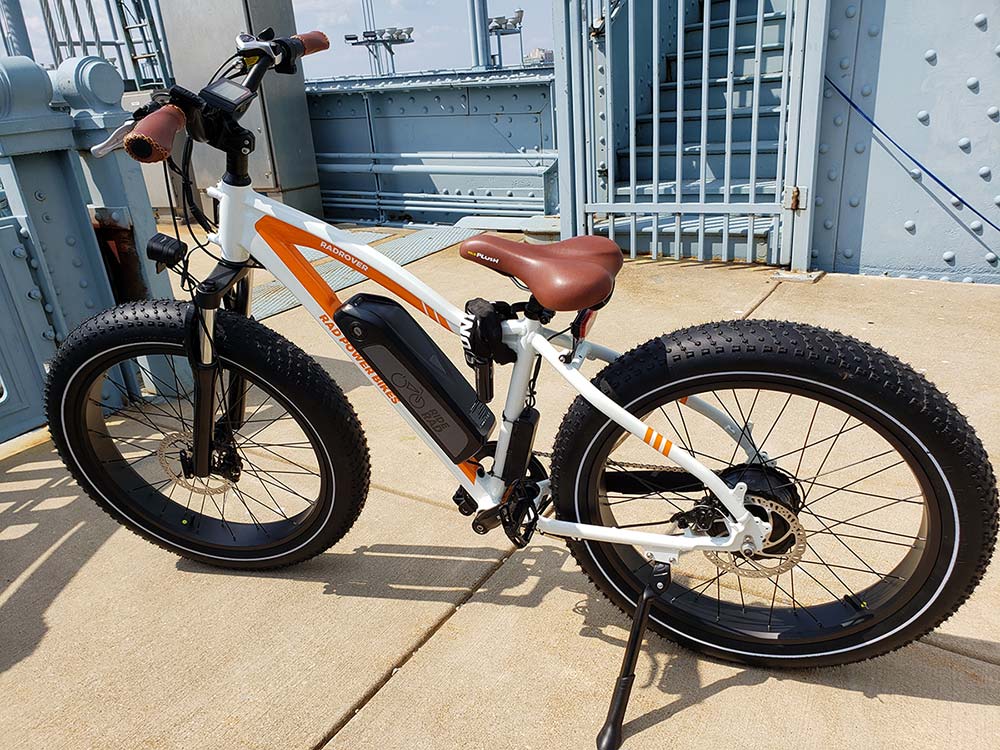 The US has seen a rise in biking trends in the past couple of years. More people use bikes to go to work. It's a way to save up on gas, help the environment, and get some workout done.
For bike enthusiasts in the US, biking means testing their bikes' limits as they enjoy the great outdoors. Electric bikes or fat bikes offer these bikers a chance to use their bikes for every trail and occasion.
One of the electric or fat bikes you can see in the market is the RadRover Electric Bike. Just like any other e-bike or fat bike in the market, it helps you navigate through different terrains and trails. You can also speed up or cruise as you wish. With so many e-bikes in the market, how does the RadRover Electric Bike stand out?
At A Glance: The RadRover Electric Bike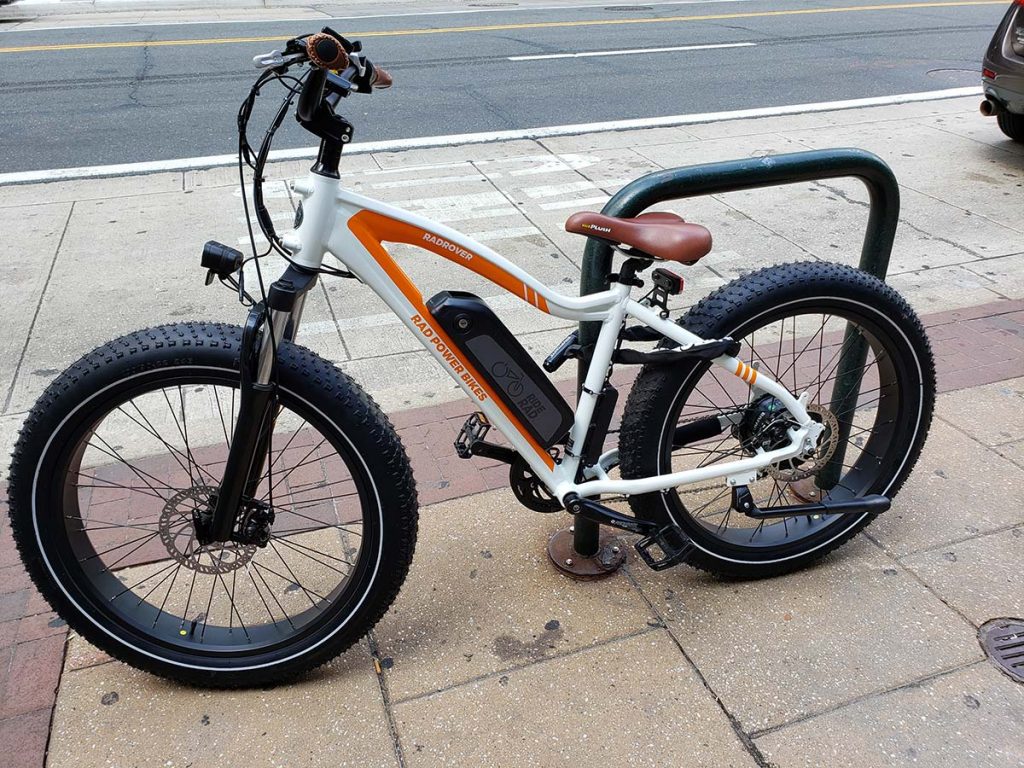 What makes the RadRover different?
The Pedal Assist Systems (PAS) and throttle helps boost bike speed
Safety features for any time of day or terrain
Great for workouts
Power up through charging
The Need for Speed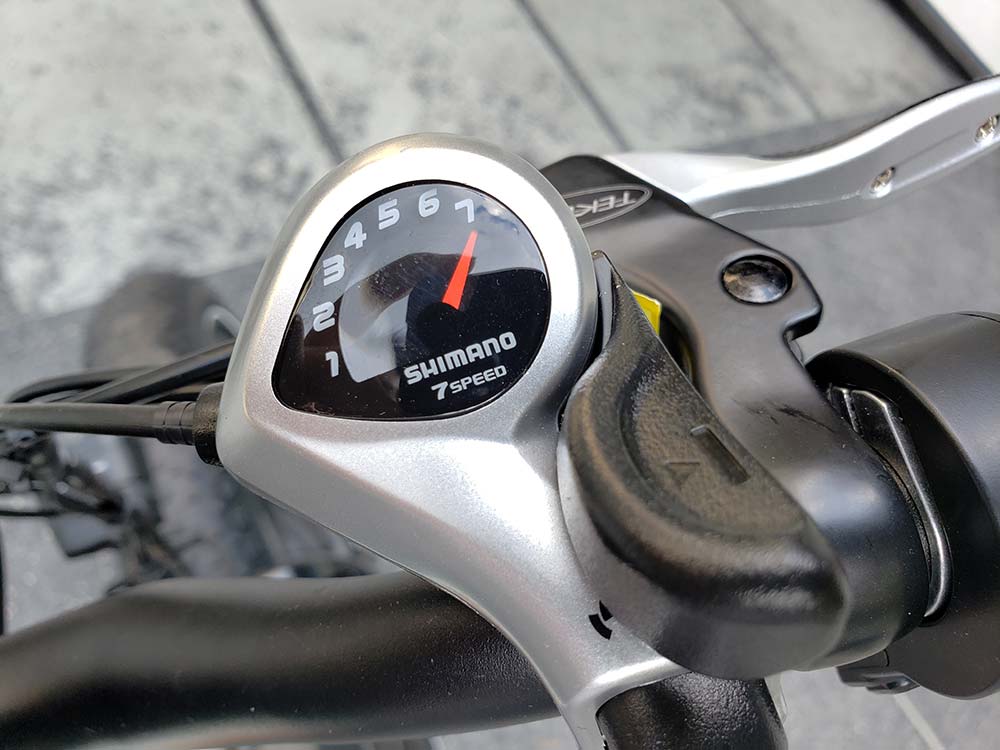 The RadRover Electric Bike has a 750W Bafang Geared Hub Motor. In layman's terms, it gives you all the torque you need to power through that terrain. However, some say the sound of the motor is noticeable at slower speeds. If you speed up (safely, of course, never forget that), the sound fades.
Current e-bike laws in the US indicate that you can ride up to 20mph only. The motor will help you stabilize your speed without incurring any fines or warnings for speeding.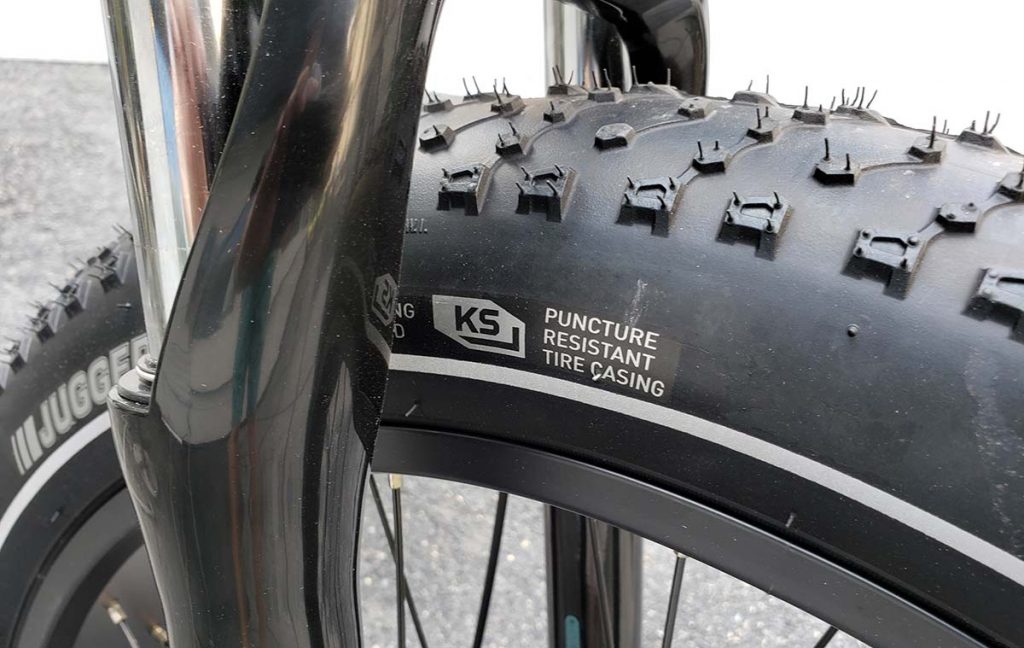 Their Kenda 4" tires are huge and wide but it offers stability and makes it light and easy for you to navigate and shift to any type of trail. Their front RST suspension work helps riders have a smoother ride.
The electric bike's pedals are made out of metal, which makes it sturdy and stable as you cruise or speed up. The PAS can help you speed up without the need for a throttle. It has five different levels.
The higher the PAS, the lighter and faster your ride is. You might want to save some juice for the trip home because it can drain your battery faster. But, if you want to have a quick stroll in the park or want to have a lower body workout, use levels 1 or 2.
If you need to boost your riding speed, you can activate the half twist-grip throttle. You can activate it on-demand. But don't worry if you accidentally pressed on it, since it has a power button for incidents like that.
Safety First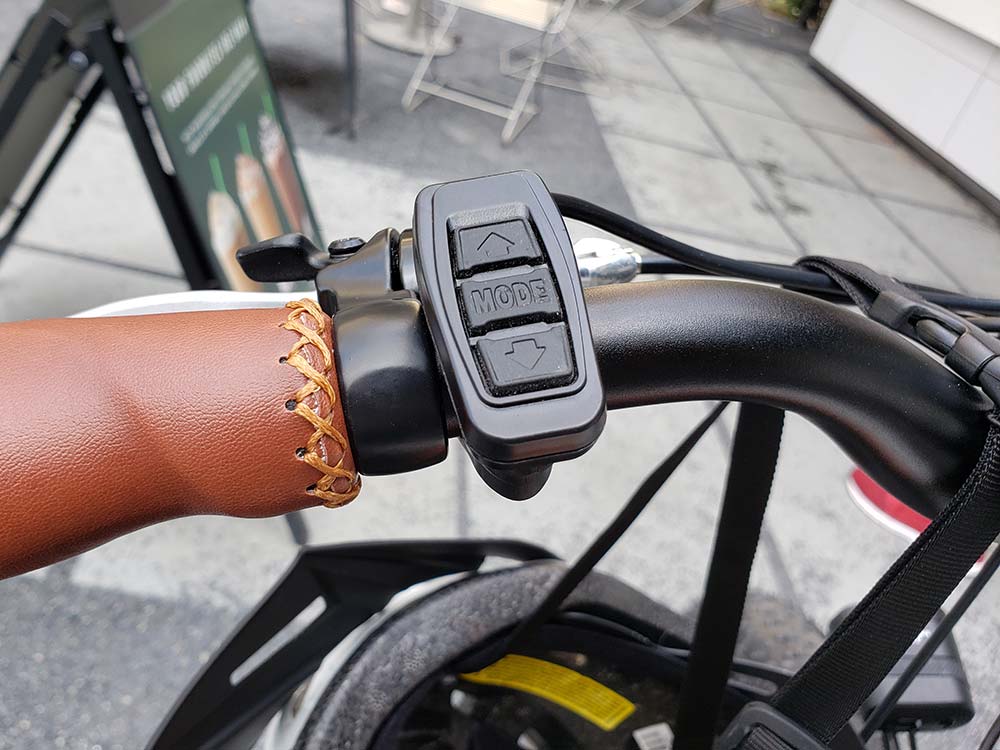 If you're riding at night, orange reflective strips glued on the tubes can help others become aware you're there. Reflective sidewall strips are also attached to the bike spokes.
At night, riders can turn their LCD backlight to check their speeds and battery life. It turns on along with the headlights and brake lights. It has a strobe feature that can alert others.
The RadRover Electric Bike's Kenda puncture-resistant tires will protect the tires from any sharp or pointed objects like glass or thorns. Due to the wideness of the tires, riders can expect a non-slip grip when braking.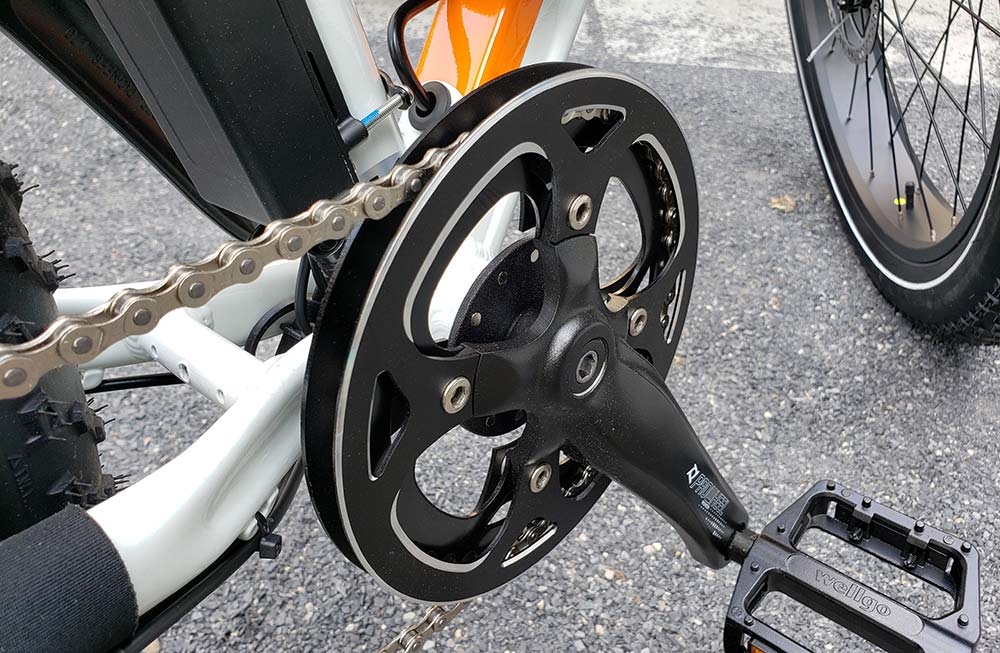 Their brakes are responsive due to the sensors and can help a rider from slowing down to stopping entirely. While their brakes are powerful, you might need some time to adjust.
While you're riding uphill or downhill, you have shifters right next to the throttle. It'll help you take control as you pedal some steep terrains.
Have Fun While Getting Fit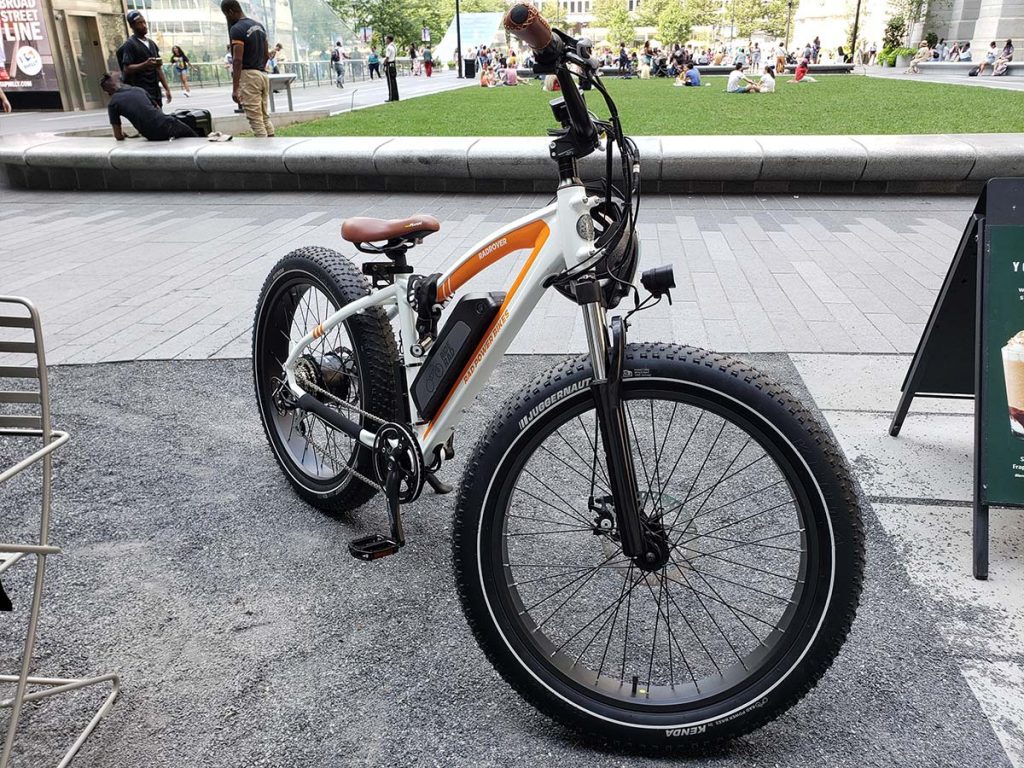 Cycling is a hobby that lets you enjoy the great outdoors and get some exercise out of it as well.
For the young at heart, biking is one of the ways you can improve your health.
Many riders find that biking with RadRover improved their overall health. You don't have to test your limits by going on an all-terrain bike trip. Take it to your nearest grocery store or mall, that would help you save up on gas and give you the exercise you need daily.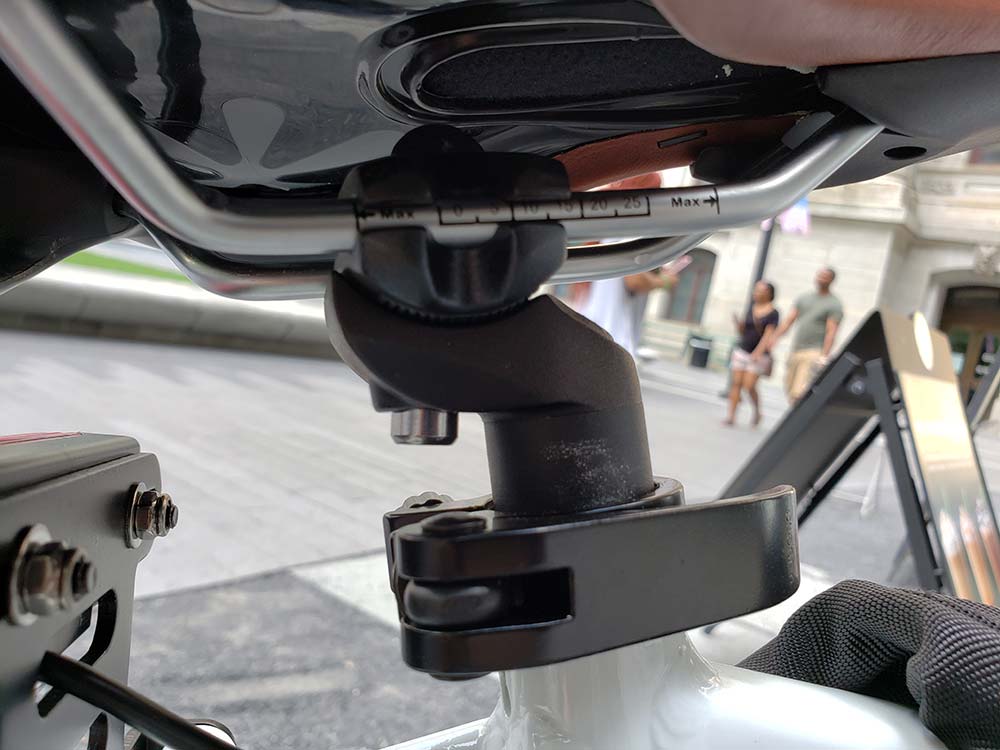 One of the reasons the RadRover improved some of its bikers' health was because of the way they're seated. Instead of leaning forward, you remain upright on your bike. It puts less strain on your back and neck and it helps your posture. If the bike affects your posture, you can adjust the seating the way you want it.
Plus, the seats are comfortable!
You've Got The Power

Going on your next adventure? Charge your bike 5 to 6 hours before you hit the terrain and ride for up to 45 miles on a single trip.
Don't worry if your smartphone runs out of juice, the RadRover Electric Fat Bike can charge it while taking your bike out for a spin.
Pricing
Some electric fat bikes run for $2,000. If that's too steep a price, RadRover's Electric Fat Bike is priced at $1499 with free shipping for the lower 48 states. If the price is too much for you, but you want this bike so bad, you can go for $91/month payments by using Affirm.
If you live in Hawaii, you'll need to cash out $400 for shipping. Sadly, for Alaskans, you need to contact the store directly if you need to buy one.
Conclusion
The RadRover Electric Bike enables riders to have fun (and get some workout done) at any speed. The e-bike also ensures the safety of its riders, which doesn't get in the way of riding. For a mid-range priced e-bike, other e-bikes have got some serious competition.
So, whether you're buying to save up on gasoline costs (and the environment) or an e-bike enthusiast, this bike is for you. It's an all-around bike taking you to places smoothly and safely.