Augmented Reality With Microsoft HoloLens And Project Tango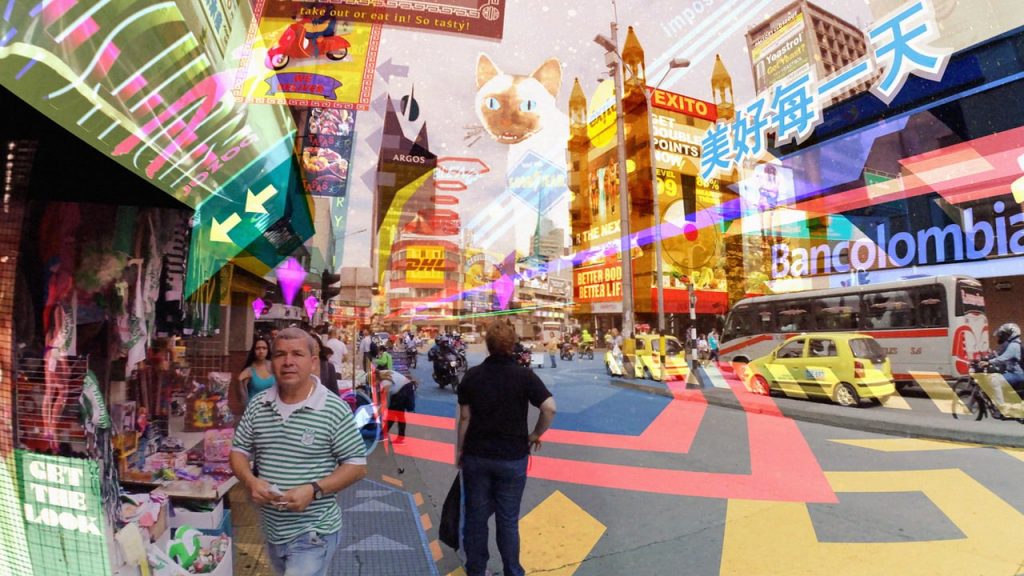 If you've been reading Owner's Magazine lately, you've probably read my article about virtual reality. There I detailed information about the latest VR headsets to make a proper buying decision. However, I intentionally left out augmented reality. Augmented reality, or AR, is different from VR in which VR fully immerses the user inside of another world, AR (also known as mixed reality) superimposes virtual objects onto the real world. Holograms are an example of augmented reality. Popular AR games such as Pokémon Go are also examples of AR where your smartphone camera superimposes the virtual Pokémon on a live video feed making it seem as if the Pokémon were standing in the real world. The technology behind AR is nothing new. Even in today's world of smartphones, many augmented reality apps were released on iPhone and Android devices back in 2008 and 2009. However, with the seemingly popularity of VR, more attention is also being given to AR solutions. Two of the biggest players in this space are Microsoft and Google.
Microsoft HoloLens
One of the more interesting AR devices comes from Microsoft. The HoloLens is a head mounted device that allows the user to view "holograms" through the lenses (hence the term "HoloLens"). The HoloLens features a bevy of sensors such as an accelerometer, gyroscope, magnetometer, four IR sensors for mapping the environment, a depth camera, ambient light sensors, 2.4-megapixel front camera, and microphone array. Along with an Intel CPU, Microsoft developed a custom chip called the "Holographic Processing Unit" or HPU. The HPU processes the sensor data as well as hand gestures and voice recognition. The HoloLens runs full Windows 10 and can run Universal Windows Programs. Regarding the hand gestures, there are two main gestures: bloom and tap. Bloom is simply balling your fist up palm facing up, and opening the fingers up like a flower (hence "bloom"). The bloom gesture activates the shell which allows you to access other programs. This is akin to pressing the Windows key on a PC or the Xbox button on the Xbox One. The second gesture is the tap. You aren't literally tapping the air but it's more like holding your index finger up then touching your thumb. This is used to select objects and windows. Windows can even be dragged around and pinned to walls or tables. Microsoft isn't technically marketing this towards consumers yet. This is primarily for developers to create applications although anyone can buy the development kit for a wallet busting $3000.
Project Tango
Project Tango is the augmented reality platform developed by Google. While the Microsoft HoloLens is an actual headset, Tango goes a more practical route and utilizes a smartphone or tablet form factor for AR. The devices provide the hardware necessities such as various sensors and RGB-IR camera for depth sensing. The Tango software uses the hardware to enable motion tracking and visual recognition of the environment. The IR camera allows Tango to map the environment including distance, sizes, and depth. That information is then stored for future applications to use. This has many practical uses such as navigating through stores, mapping, and visualizing data. For example, you could use Tango to see exactly how a piece of furniture would look in your home before buying it. Google partnered with Lenovo to release the Phab 2 Pro, the first commercially available smartphone with Tango built in. At CES 2017, ASUS announced that it will also be releasing a Tango enabled phone along with Daydream VR.
Which Is The Future? VR vs AR?
There has been some debate over which platform is more viable for the future. Virtual reality completely immerses the user in a new world. These kinds of experiences are better suited to content consumption and entertainment. All three of the major VR platforms (HTC Vive, Oculus Rift, PlayStation VR) all focus on games as their primary use case although some of them do allow you to watch movies in your own personal theater. At Facebook's Oculus Connect event back in October, Mark Zuckerburg unveiled a vision for new ways to use VR for social interactions. He used the Oculus Rift to interact with virtual representations of himself and two other colleagues in a totally virtual space. Imagine being able to debate politics and religion with your friends in real time in a virtual world…actually…that may not go so well. However, being able to interact with another person in virtual reality would dramatically change and revolutionize how we connect with our friends and family. The primary drawback with VR is the total disconnect from the real world. VR often involves putting on a somewhat bulky headset and tuning out the world around you. The advantage of AR is that it allows you to interact with virtual objects while still being cognizant of the real world around you. AR also allows more practical, everyday uses. Imagine having a digital map displayed on your windshield on your car that helps you navigate and alerts you to any hazards or speed limits. Imagine virtually placing a couch in your actual living room before buying the couch. Construction workers and architects could use AR to precisely build structures while seeing a virtual representation of the building. Google's Translate app can already translate text into another language in real time. So which one is the future? I think one of two things will happen. Either AR will eventually become dominant and heavily used in everyday life or there will be a mixture of AR and VR depending on the medium. VR will likely dominate the entertainment space with movies and gaming while AR is what most people will interact with daily. Project Tango will further accelerate the adoption of AR into Android phones. Apple is rumored to working with Carl Zeiss for their own augmented reality solution. History has shown us that once Apple implements a feature, the market generally follows suit. Regardless of what happens, the dream of the Star Trek HoloDeck is slowly coming to fruition.
Interview With The Tangent Agency CEO, Marc Becker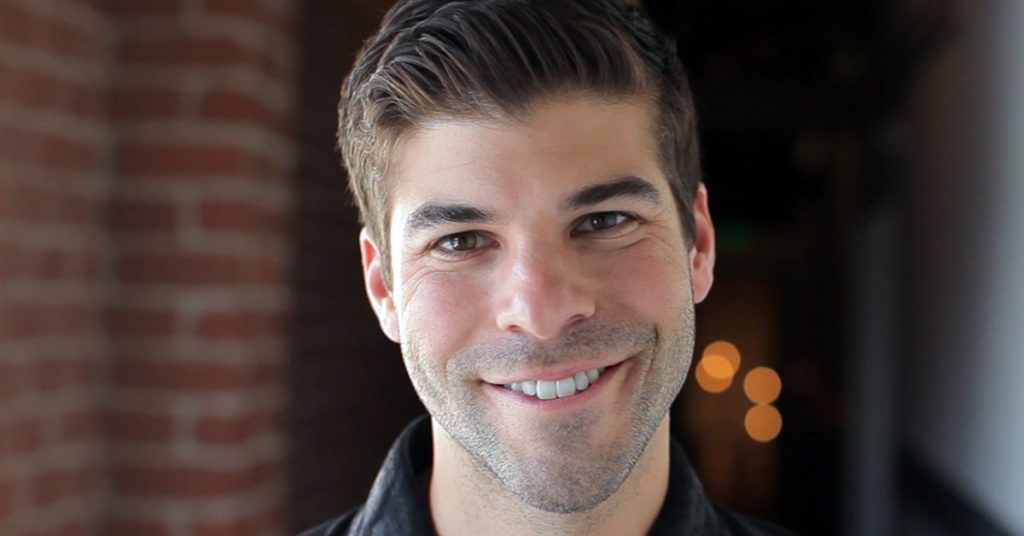 Going by the motto "It's not who you know, it's who knows you," The Tangent Agency has worked on many large projects, including Despicable Me, X-Men, Deadpool, Fifty Shades of Grey, and many more. Leading Tangent Agency is their CEO, Marc Becker. He comes with 7 years of experience as an Executive in the Global Brand Marketing team at Universal Pictures. Working closely with filmmakers, stakeholders, and brands, he helped develop campaigns for films across NBCU/Comcast platforms. Marc joined Tangent after using them as a trusted vendor while at Universal and now oversees business operations working for a creative powerhouse. The Tangent Agency brings big ideas to life by creating innovative content for their partners.
Marc granted us an interview to give us some insight on business and offered advice for those looking to advance their careers. He tells us about their new leadership team and how AR and VR is having a moment.
What is your day like as a CEO?
When you're running a company, you have to a wear a ton of hats. I always joke that I should change my business cards to read "Janitor to CEO" because that's really what I have to be. On a typical day we'll have a team check-in to talk about priorities followed by picking what music or movie we should put on in the background. My music is usually vetoed so our CSO, Daniel, has been on DJ duty for the last couple months. From there, I'm usually joining calls with partners ensuring we're clear on all their objectives and deliverables. In addition to the account management side of things I'll work with the team on brainstorms for ideation and reviewing material before it's sent out to the partners. Another big part of my day is usually working on business development whether it's chatting with partners/collaborators or potential clients who could use our services. I'm also a big proponent of mentorship and sharing my experiences whenever possible, so I NEVER turn down an informational interview – I tend to do them pretty often. It sounds very business school-y, but now that we've hired a couple more members of the team, I'm looking forward to working more ON the business instead of IN the business, which will enable us to scale a little faster.
What makes Tangent Agency different from other agencies?
At Universal, I used to hire nearly every agency under the sun. At Tangent, we are both a creative partner and thought partner, and all our strategy is insight-driven. We work with some of the biggest brands and on the biggest franchises, consistently delivering the quality and the marketing product you'd expect from a major creative agency, but also offer some unique capabilities like Strategic Sales Materials, Franchise Development, and Mythology. Our partners turn to our design team to develop a visual identity for their properties bringing their brands to life. Just as importantly, Tangent leads the way in deciphering data and creating a compelling story to pitch the property, often from scratch. Franchise development, while a critical storytelling and brand development device, is still a largely untapped part of entertainment marketing, and Tangent's team is some of the best in this field. By breaking down the complex nuances of your favorite films and television shows, the process of mythology provides an avenue and a lens into the backstories of the characters and plot points to help our clients develop endlessly engaging story universes. The Tangent creative team has been both on the agency side and the client side and are truly some of the best in the business. I continue to be inspired by them on a daily basis.
What are some of the best projects you've worked on?
We're proud of all our projects and they each present their own unique challenges and opportunities.  We like to say we've worked on everything from My Little Pony to Straight Outta Compton.  I find it exciting to work on independent films and Academy fare projects as well as the big global blockbuster franchises like the X-Men or Jurassic World.  Our resident super-geek and CSO, Daniel Barber, loves all things sci-fi and superheroes so I'm sure he'd say Deadpool 2, Logan, and Speilberg's Ready Player One are a few he'd cite. On a personal level, it's been special to be working on some of the Universal properties such as Despicable Me and Fast & Furious.  We're under NDA so I can't say exactly what we're doing on the projects, but I spent so many years at Universal working internally with the brilliant filmmakers and collaborating with my old team and everyone around NBCU to help manage those brands, it's fun to continue to work on them in this new capacity.
Who are some influencers that you admire?
I've always been a fan of the humble way of life Warren Buffet continues to maintain. Bill Gates has not only built an incredible empire and wealth, but continues to baffle me with his work through the foundation and his charitable contributions. Zuckerberg seems to be following in the footsteps of Gates, and I admire his commitment to making the world a better place. Sheryl Sandberg has become a voice of a generation of women and I appreciate the work she's done to help break the glass ceiling. I know I'm leaving a bunch of people off, but I think you can gather the overall trend – successful people that seek to make a difference in the world.
What advice has helped you the most throughout your career?
I've been extremely fortunate to have mentors champion me throughout my career and sprinkle many insightful gems of advice throughout the years. One piece of advice that has always stuck with me is from my old boss, mentor and friend David O'Connor, who runs Brand Marketing at Universal. He always used to say "don't be afraid to ask questions." Too many people let their egos get in the way of being inquisitive for fear that they will be perceived as unintelligent or ignorant. It's important to be strategic about asking questions and know when it's appropriate and when questions should be taken off-line, but I've found it incredibly valuable to "be real" and honest with the people around me in both my personal and professional life. If I don't know something, I ask and I remember, and then I have the knowledge going forward. If there's something that isn't my strength, for example graphic design, I can leave the work to the experts and allow people around me to shine.
What are some business tips you can give to startups?
Don't be a jack of all trades and a master of none. Know what you're good at and be the best at it. Or don't be the best at it, just make sure you know what your value proposition is. In regards to people looking to launch a startup, I can't tell you how many times entrepreneurs, friends, peers, etc. come to me with a business idea they "can't tell me about." Odds are, the idea isn't an original idea and someone else has thought of it – it's all about execution. You absolutely want to do your homework and discovery, but too many people suffer from analysis paralysis and never pull the trigger. The only way to make things happen is to actually execute. If something isn't working, don't let ego get in the way of being flexible, and don't be afraid to make a pivot.
Another tip is to always consider the end user. These fans are real people who are passionate about whatever brand/product you're selling. In today's world with social media being what it is, everyone can vocalize their opinion and has a pulpit by which to express it. Whether you're marketing a multi-billion dollar blockbuster franchise or selling from a lemonade stand, it's important to consider your customers.
What are some recent company milestones for The Tangent Agency?
We rebranded and restructured the company 18 months ago with a new leadership team: Ben Taylor (CCO), Daniel Barber (CSO), Mat Guillen (Art Director), and myself as CEO. We just completed our first year with the refreshed company and have seen incredible results and continued growth. Another recent milestone is we've expanded our Experiential, AV, and Digital capabilities.
What will make this year better than last year?
We've carved out a great niche for ourselves as one of the industry's best kept secrets, working a lot behind the scenes. This year, we're excited about becoming a bigger player in the experiential world and working on more consumer facing materials. It's only January and we're already having productive conversations with some of the leading content creators and key players in new technologies such as VR and AR. TV and Interactive Gaming are both having big moments, and we are excited about the opportunities for Tangent to collaborate in both areas. We're looking forward to expanding our relationships with existing partners and working with new ones.  
"I'm Fat Let's Party" Guy: Life as a Celebrity Meme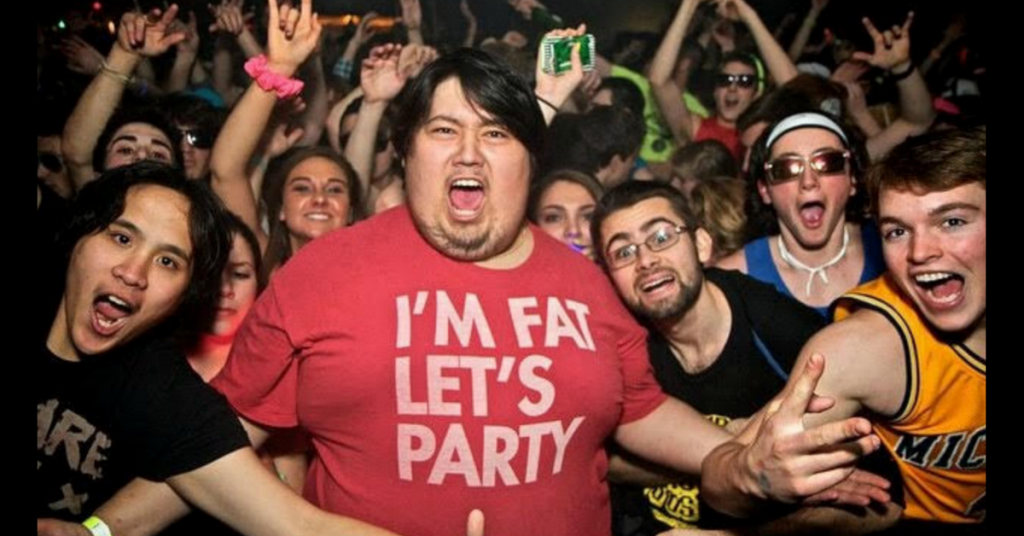 The internet has done a lot to disrupt culture.  Once upon a time, styles, techniques, communities and information were only as transmutable as cable TV and word of mouth.  When compared to the rate of change we see today, the evolution of content has moved from a slow creep to nearing light speed.  Ten years ago the lifetime of any trend in humor could last months, and before that years.  These days, you see a popular meme "break the internet" but one week later a new one is there to take it's place.
Imagine if Charlie Chaplin had risen to fame in this day and age through the vehicle of The Meme.  Would he still be as iconic?  As immortal?
I spoke with Steven Lee… also known as "I'm Fat Let's Party" Guy.  Steven's meme has been sported on the front page of reddit twice and has garnered over 400k in likes and shares on social media within the first hours of being posted.  As it happens, Steven and I actually went to the same schools growing up.  However I am jealous because I cannot say that I grew up to be a world-class meme.  I got the chance to speak with him about Memeology.  Here's what he had to say: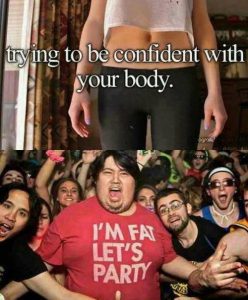 1.  So let's hear about this party…  
The picture was taken in 2011, I was with my friend Dave Leek. We went to Philadelphia at Drexel Factory for a concert. The head Dj was Alesso. When we got there I found out my friend Dj Dubsef was opening so we were allowed in early. When the concert started, since we got in early we got front row, right in the middle. It was crazy we were just having a blast and I saw the photographer "
ATOTHE
" and I just made that pose and everyone went along with it. It was great the high from just being at the concert and all the fun I was having was crazy mainly because I was completely sober. We didn't drink at all it was just the energy that gave me like a high feeling. Definitely an amazing feeling.
2.  Now let's hear about this shirt…
The shirt I got back in 2010 at Comic Con NY. It was at a booth called "Seibei". They were super nice. After I became the meme I sent them an email about it. They thanked me and I told them that I ordered another shirt from them.  They said they were going to throw in some more for me. It was amazing because I ordered two shirt but when the package came they gave me three more shirts two of them were different color versions of the "I'm Fat, Let's Party" shirt. One in black with yellow letters and one in sky blue with yellow letters too. Another note about Seibei is that when I went to Magfest 2015 I got to meet the creator of the shirt there. He was working his friend's booth there and I haven't officially met him before so it was great. Once he saw me he told some customer "I'm sorry but I need to hug this man really quick." He is an amazing man, his name is David by the way. In short, I have three different colors of the shirt.
3.  Who first memed this?  Tell me about the moment you realized it went viral.
So going back to the Photographer "ATOTHE" he posted the original photo on his Facebook page. Then someone who I still don't know posted it to "reddit" and it blew up from there. It's funny I never heard of reddit before that. I saw the post after 14 hours of it being posted and it already had over 400,000  reblogs and likes. It was weird because in the comments some people knew who I was, telling them I lived in NJ and that I went to high school. Some said that I quote "omgz he snapchats me everyday". The worst part of it though was the comments about body confidence saying that I have a mental problem about my body. Then there were other people arguing about it. It was pretty nuts. Also in the comments were people who started to photoshop me into a ton of different memes.  Basically the reason it became a big deal was because it made the front page of reddit and apparently posts only get the front page when it's discussed and reblogged a ton.
4.  How old is this meme now?  How often do you see it reappear? 
It's about 5 or 6 Years old now. It has been reappearing all the time. It's been on the front page of reddit now about 5 times and when it gets posted the meme evolves, which is cool.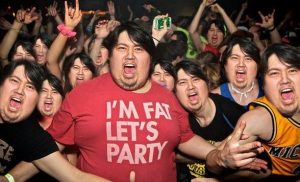 5.  What has been the most surprising side effect of being a "meme guy" so far?
The most surprising part of being "that guy" is that people from all over the world knows the meme and some of them actually know who I am due to mutual friends. The funniest/weirdest time I got recognized was when I was working as a cashier for FiveBelow. These two kids age probably around 12 and 10. They made a comment while I was ringing them up. It was "oh must be a party over here". I was confused at first but then I looked at them and I asked are you referring to the meme. Their faces lit up in excitement when I caught on. What made it weird is that their father was confused and asked what are you guys talking about. My response was that they saw a funny picture of me and he gave me the most confusing look ever. It was funny and weird lolz.
6.  What are your thoughts on meme culture and memes as a vehicle for humor?  What's your favorite meme?  
The meme culture is huge, when it first started it usually was the same pictures with new phrases on them. Now new memes come out every other week. The convention I went to had a huge meme culture following in it. There were people who cosplay a meme that just got popular only a week ago. It's crazy but I also believe sometimes people make memes and take it to a new level. Now memes are videos too. They went from pictures to videos… now that's huge step. But again some of the memes are just too much for me and are part of that I wanna say is stupid humor like doing the stupidest things on purpose.
My favorite meme of all time?  Arthur Fist.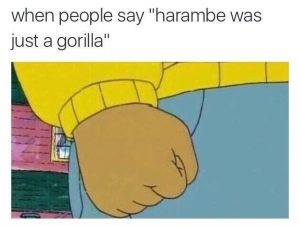 7.  What do you like most about your meme?  What do you like least? 
What I like most about my meme is that I met people who told me that the meme gave them the courage to go out and do things and that made me feel better about themselves. Even though I just was at a party having fun. The thing I like least about it is that some people think that I'm someone who just parties all the time and that makes them think I'm not someone who actually has a head on their shoulders. It sucks but I usually just ignore those guys because everyone has, haters am I right?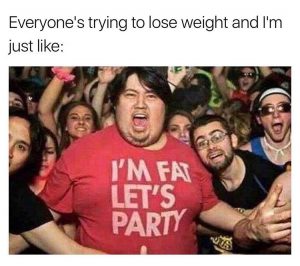 Leading Ladies In Tech: Caitlin Clark Zigmond
Caitlin Clark Zigmond is the Vice President of Product Management at CoreDial. She shares her experience of over 30 years where she has worked with numerous companies under several different capacities. She started out in Hi-Tech as the Director of operations working for a company that built precision hot stages in science and industry, which involved working with one of the first windows based research pieces of equipment. From there, Caitlin decided that she wanted to become an entrepreneur and started her own catering business. Growing up, she cooked at home as both her parents were working, and that influenced her first business. She bought a company with just four employees and grew it to the third largest company in Boulder, Colorado. Caitlin gave up the business to start a family with her partner. Over the next few years, she went from being the first Product Manager for New Global Telecom (NGT), to Product Lead for Hosted PBX, then Advanced Voice at Comcast who acquired Hosted PBX, and finally to CoreDial.
Caitlin spoke about the hurdles she had to face in the workplace and managing a work/life balance. Ruth Bader of the Supreme Court is her female role model because of how she has consistently broken down barriers throughout her career while maintaining a true level of professionalism. Though she's faced immense challenges and a heavy degree of sexism for her role in a previously all-male space, she has a fierce dedication to equality. Caitlin said it reminds her to connect to all those around her, whether it's family or a more professional setting. As Caitlin says, "Be open to new things and stay strong on your life's journey."