What To Consider When Choosing A Power Supply?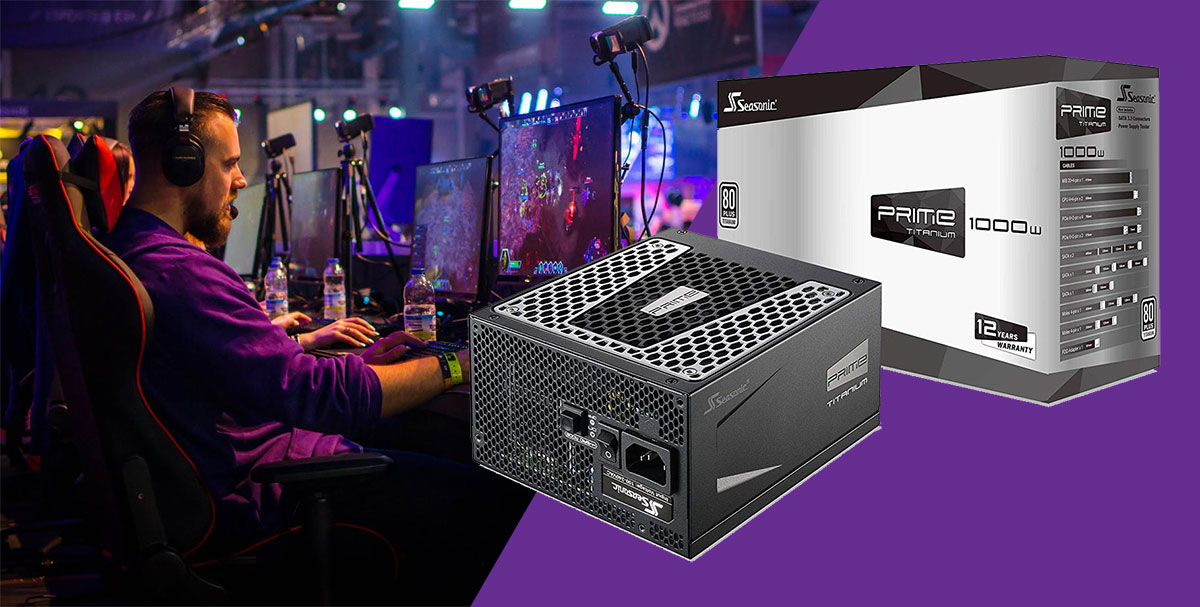 If you're a competitive PC gamer or someone who build a lot of custom PC's, then you've probably already purchased a handful of power supplies (PSU for short). A power supply, as the name implies, powers the entire computer and it's essential that you choose one that can provide the correct amount of energy you need.
If you're building a custom gaming PC, then this article is perfect for you. Custom PC's have much higher demand for power than regular PC's that are predominantly used for work. And that's largely because gaming PC's have parts that require tremendous amount of energy, such as the graphics card. Most higher end graphics card even requires you to plug it directly to the power supply to work properly.
Choosing the correct power supply from the beginning is an important decision you need to make. You need to be able to choose one that's high quality (so it doesn't break or fry all your internal parts), has the correct wattage your rig needs, and is efficient so you're not bleeding on the electric bill each month. With that, you'll need to understand what to look for when choosing a power supply for your gaming rig.
The Size
First thing you'll want to consider is how big of a power supply do you need? This will largely depend on your build, your existing case, and where you want to put it in relation to the other components in your case. In most cases, there's a dedicated place for your power supply. However custom/boutique cases often don't, and if it's a very tight build, then you'll need a small/compact one that can fit into a tight corner.
When choosing the size of the power supply, you need to keep in mind what the form factors are.
ATX: Stands for Advanced Technology Extended, is probably one of the most common form factors you'll find.
Micro-ATX: As the name implies, these are small. And they're mostly used for small cases. If you're using a micro-ATX power supply, chances are this PC is mostly for work or multi-media use and not for hard core gaming. Cases this size aren't usually good for gaming as there are overheat issues, in addition to the lack of power from typically a much smaller power supply.
Do You Need Modular?
You can opt for a power supply that's modular or one that has fixed orientations. As you'd expect, modular means you can plug and play with only cables that are actually needed. You won't have unused cables dangling and wasting space. It's nice benefit to have and can often result in a cleaner more compact custom build. Great for cable management.
The downside to modular PSU is that they tend to cost more. So if you're on a budget, consider going with a PSU with fixed cables. But if you need the flexibility and cable management advantage, go with a modular one.
Power Supply Efficiency – Demystified
You've probably seen the different levels such as Bronze 83% and Platinum 92% and wonder what in the world these means. Today we're going to demystify all of the jargon for you so you can better decide which power efficiency is for you. In a nutshell, the efficiency of the chosen PSU correlates to how much energy it's drawing from the wall, and how effective it is at converting that raw energy into DC (direct current) for your rig to use.
Efficiency formula = DC Power / AC Power
What does the number mean?
You'll often see 80+ or 80 PLUS. This is the level of efficiency of DC / AC. In the vast majority of cases, it must exceed 80% efficiency. You'll rarely see anything below that. And that's where the certification comes from. 80 PLUS means this is over 80% efficient at converting DC/AC.
What does Bronze, Silver, Gold, etc. mean?
In short, the more expensive the metal is, the more efficient (and also expensive) the PSU will also be. Each level of metal also indicates it's efficiency level. There are six levels total.
Base level: No metal attached. This will indicate a PSU between 80% – 82%.
Bronze: The cheapest metal on the list. PSU labeled Bronze indicates efficiency between 83% – 85%
Silver: Efficiency between 85% – 92%
Gold: Efficiency level between 88% – 92%
Platinum: Efficiency level between 92% – 94%
Titanium: Ironically not the most expensive but "toughest" metal. It's rated to be above 95% efficiency. Also most expensive.
How Much Power Is Actually Enough?
It might be tempting to just shell out the cash for a Titanium 95% right off the bat just because it's the biggest and baddest PSU on the planet. And since your rig already cost you quite a bit, what's a few more hundred for a beast power supply? But before you do that, calculate how much energy your rig actually use. There's plenty of online calculators that can help you with that. And if you're building your computer using PCPartPicker, then it'll automatically tell you if your PSU is sufficient to run everything.
Which high-end power supply we recommend?
If money is NOT a concern, we recommend the Seasonic Prime Ultra 1000 Titanium SSR-1000TR (PSU on the cover image). It's practically one of the best PSU we've ever tested and runs silently.
The higher tiered power supply are absolutely worth it if you have a machine that can make them break a sweat or utilize their capabilities. You really need to have the need in order to justify the investment. It's like hiring Usain Bolt to teach track at your local high-school. We're sure he'll be great. But is he really necessary? So for those who are conscious about their budget, we recommend buying what you really need. But make sure you over budget the power consumption in case you upgrade your PC.
On the flip side, if you absolutely must have the best and want to future-proof your build, getting the best of the best is the way to go. Your machine will run quiet, as the more expensive PSU hardly make any noises. And you'll never have to worry about replacing the PSU when upgrading parts. Ultimately the decision rest in your hands.
Arctis Pro + Gamedac Review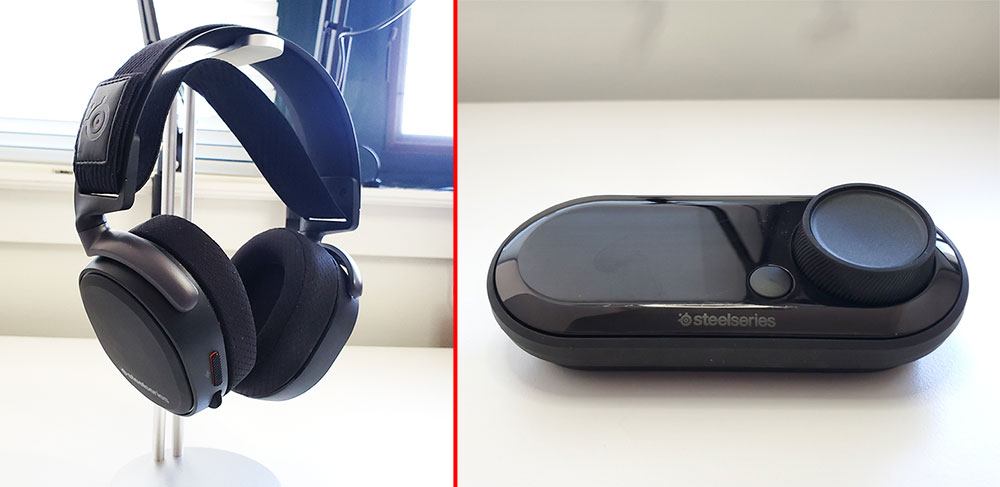 E-sports is taking over the world and have gained even more momentum due to stay-at-home orders. This year, the competitive landscape has heated up with games like Apex Legends, Fortnite, Valorant, and League taking the helm.
If you've ever played competitive FPS, you'll know just how important high fidelity audio is. The ability to hear which direction your enemy is approaching from is often key to winning the battle.
Nowadays, you can settle for a wide array of gaming headphones at just about any budget. However, for those who serious about keeping their KD ratio high and absolutely need every last bit of advantage, Steelseries has the answer for you.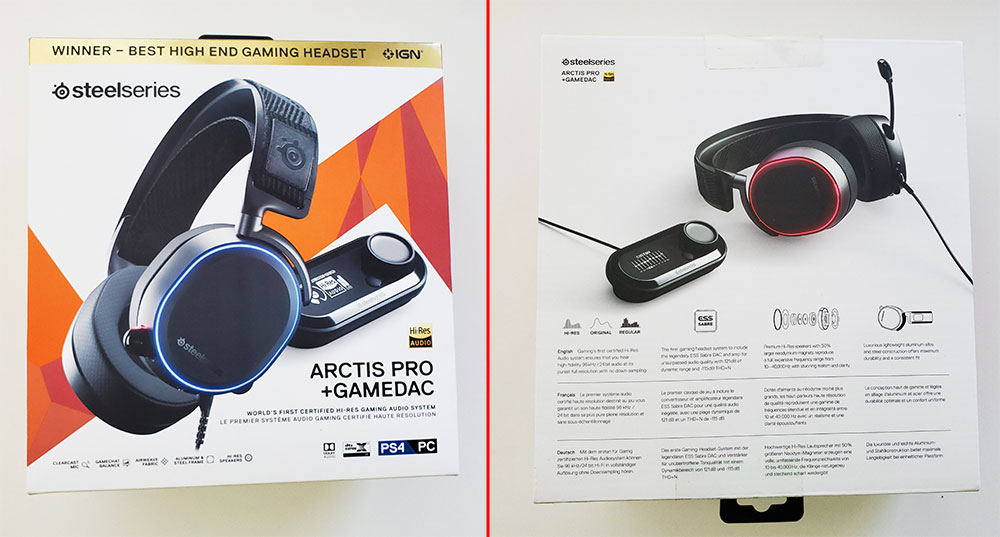 The Arctis Pro with Gamedac is a wired gaming headset that offers high-resolution audio through a digital-to-analog converter. The headset works with PlayStation, Xbox, and PC and comes equipped with all the wires you need to get set up.
The Gamedac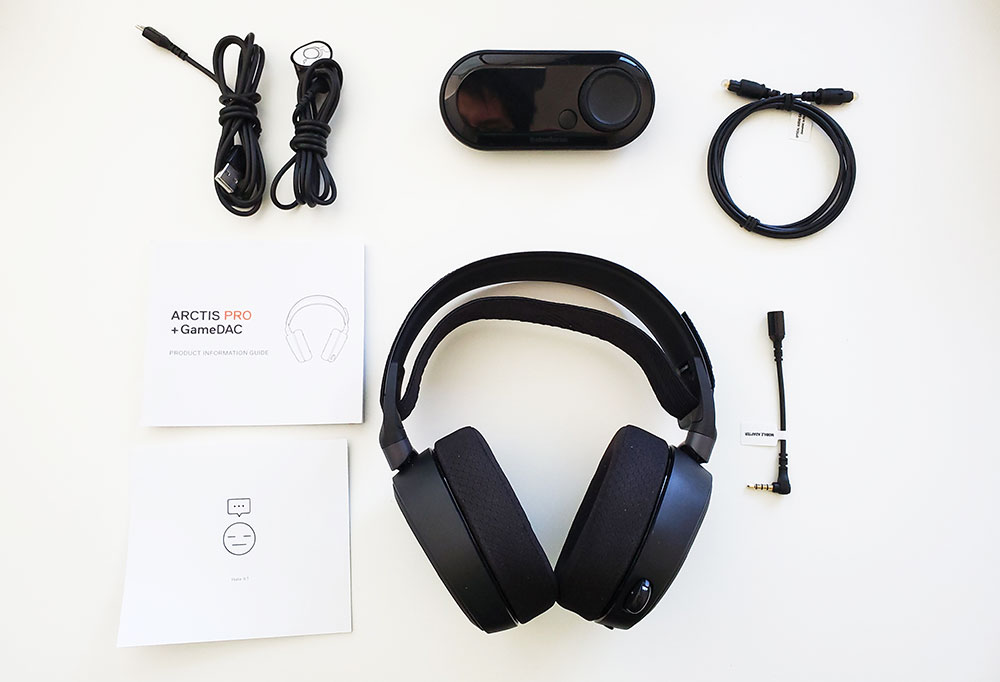 Steelseries have upgraded their Gamedac significantly since the last iteration. Connectivity is seamless and instructions are easy to follow. Unlike traditional headsets where you can just plug directly to your PC to get rolling, the Steelseries Arctis requires an extra step.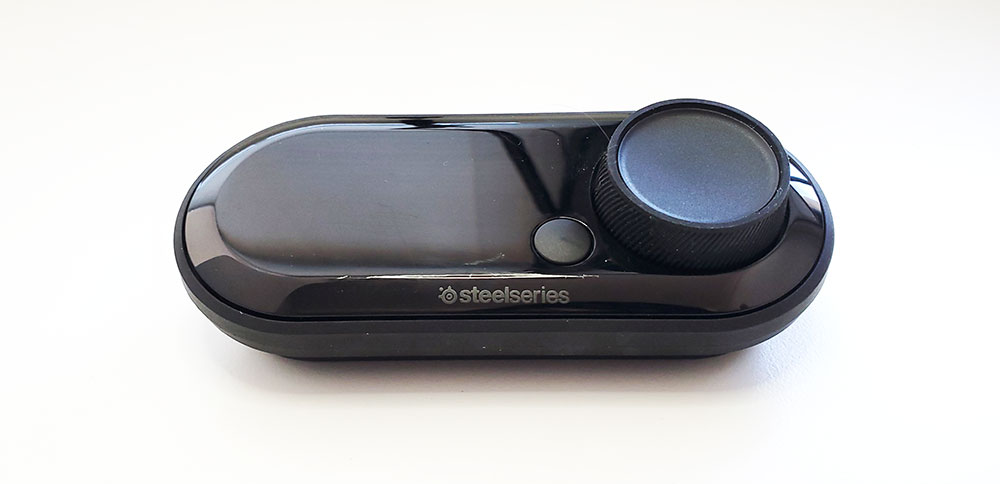 You can't just plug directly via USB. Instead, the headset connects to the Gamedac via an unusual micro USB port, and the Gamedac connects to your PC via USB. Once plugged in, the unit powers up instantly and you're greeted with an intuitive 19-steps tutorial onboard the Gamedac's built-in LCD screen. This is one of the most intuitive and clever tutorial/instructions I'd ever seen on a gaming headset. No confusing manuals, no complicated wired setups, just plug and play.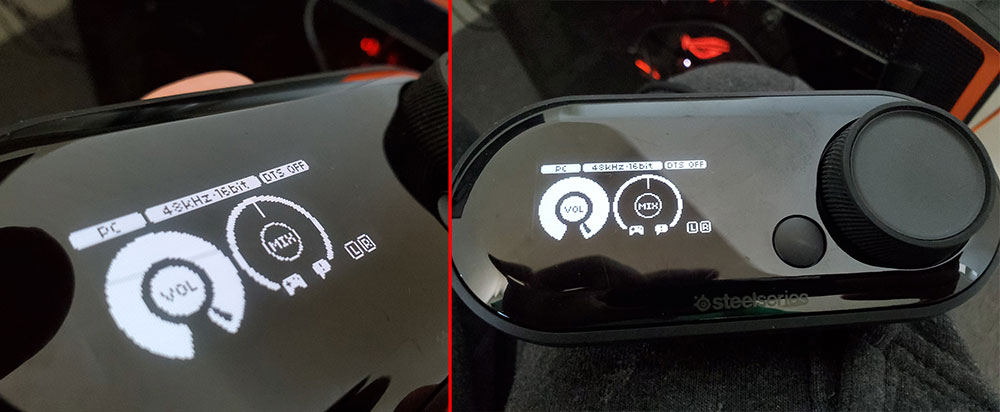 The Gamedac is super simplified with just a dial knob and a back button to control everything from volume, mixer, EQ, to various other display settings. Use the dial to navigate left and right. Press to select. And hold down for menu options. It's so simple, I didn't even crack open the manual.
The headset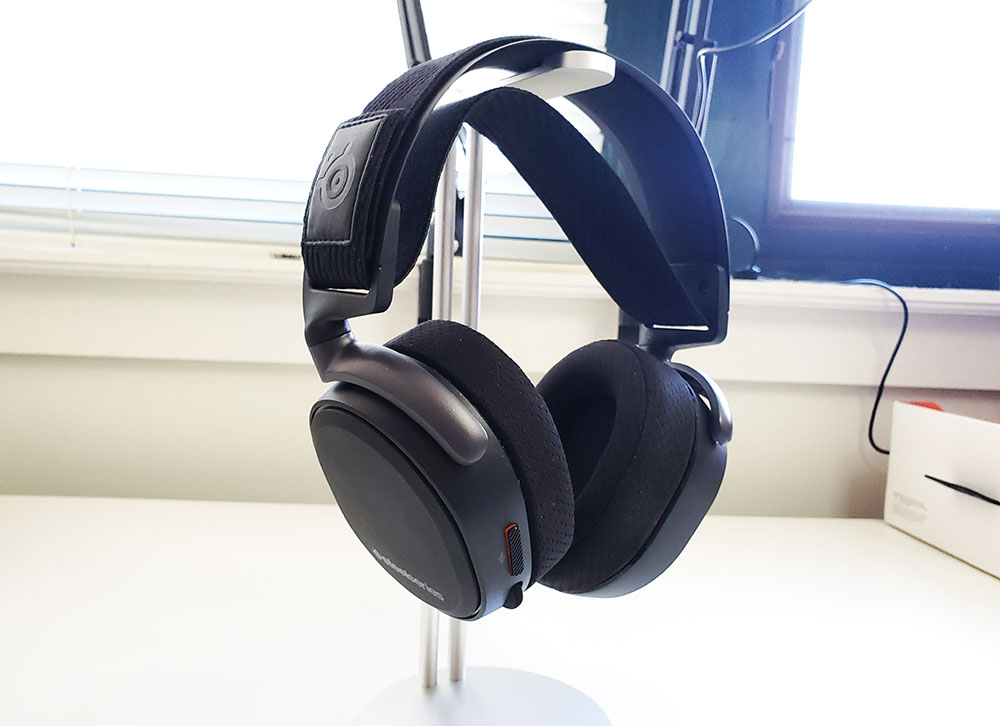 One word I would use to describe Steelseries Arctis – elegant. The design choice here is simplicity, sophistication, yet functional. It's not edgy, angular, or futuristic like most gaming headsets on the market. It's design language reminds me of Sennheiser or Bose.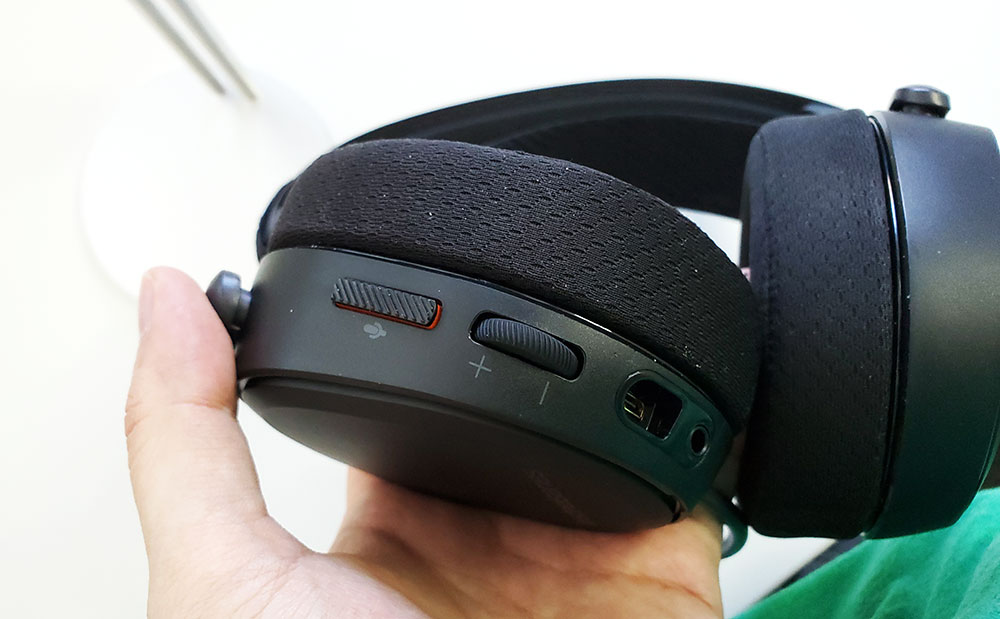 The earcups are spacious and the foam is soft to the touch. The RGB lighting surrounding the earcup is subtle. Unfortunately the RGB simply cycles through the color wheel and the Gamedac doesn't give any lighting options. It's also always on and can't be disabled.
Build quality

Build quality is what you'd expect from a $250 headset. The Gamedac is small and will fit just about anywhere without getting in the way. The headset is sturdy and has a solid feel to it. It's not heavy, but feels dense. Unlike cheaper headsets where you can feel the empty space inside, the Arctis feels like every Milli-cubic of space is put to good use.
Headband adjustment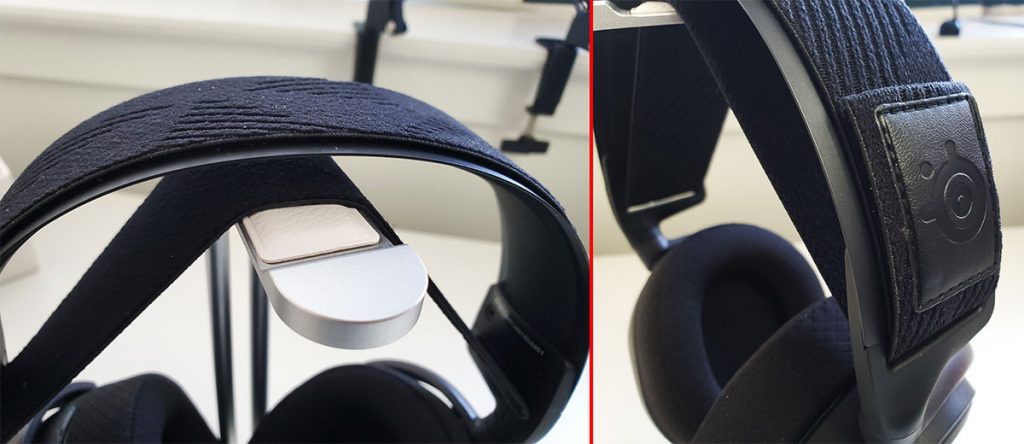 I like Steelseries' unique approach to head adjustment. Instead of the usual telescopic design that lets you adjust the height of each earcup individually, the Arctis' headband is adjusted via a velcro strap. It's hard to describe, but the picture above will give you an idea. The tension of the adjusted band creates the cushion for your head. It's a clever way of providing cranial cushion without a foam padding on the band. The result is a design that's both simple, functional, and comfortable for hours of gaming.
High Resolution Audio Performance
We decided to put the high-resolution certification to the test. Luckily one of the writers in our office happens to play competitive first person shooters. We tested the Steelseries with Call of Duty Warzone and Apex Legends. Both games are first person shooter where the ability to the direction of footsteps and gunshot is pivotal.
The Arctis outperforms just about any other headset on the market today in terms of audio quality. Everything sounds crystal clear. Explosions sounds like explosions. The surround sound easily identified the direction of gunshots and footsteps. The Gamedac's ability to easily adjust between voice audio and game audio on the fly greatly enhanced our gaming experience.
Overall, there's not a doubt in our mind why the Steelseries Arctis is High-resolution audio certified.
Final Verdict
The Steelseries Arctis + Gamedac is a high performance gaming headset for all games, not just the purists. At $250, it's definitely an investment but definitely one that's worthwhile. It's an easy choice to recommend to gamer given the build quality, comfort, high-resolution audio, and crystal clear microphone output. You don't need to play competitive to get your money's worth. The high-res audio can heighten immersion in any single-player games.
Turtle Beach Elite Atlas + Atlas Edge Review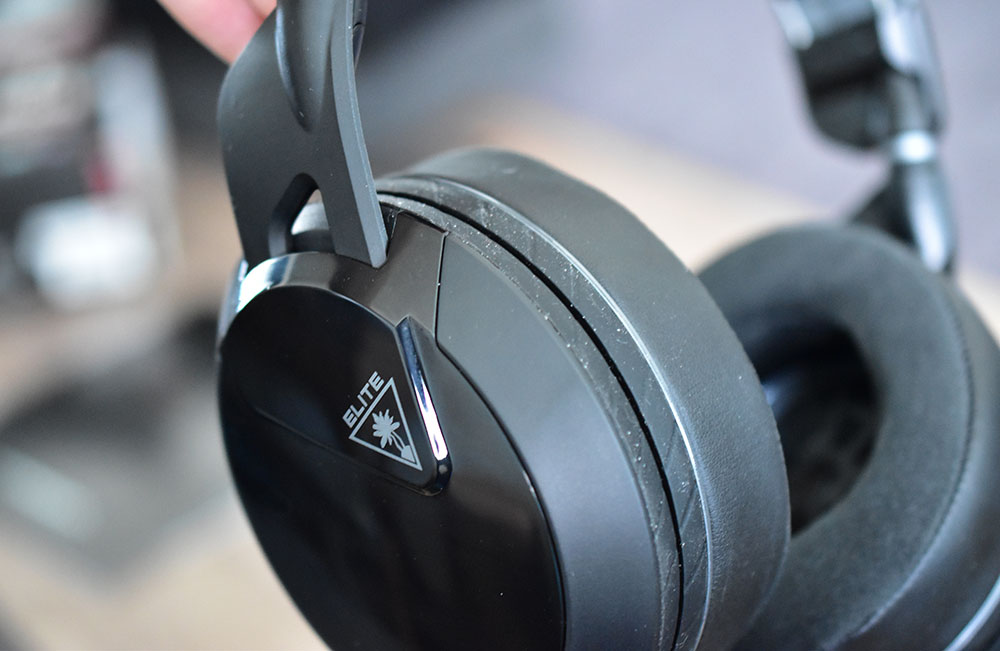 This review's headline sums up everything you need to know. So if you're wondering if the Turtle Beach Elite Atlas and Atlas Edge combo is worth your dough, the answer is yes. If you'd like to know our reasons why, continue reading.
Wireless headsets have taken the world by storm, but unless you're willing to shell out $350+, you'll likely experience latency issues. Wired connection is still the tried and true preference for most gamers, especially those who play competitively. Turtle Beach has been around for a while and they're known for making high quality and reasonably priced gaming headsets.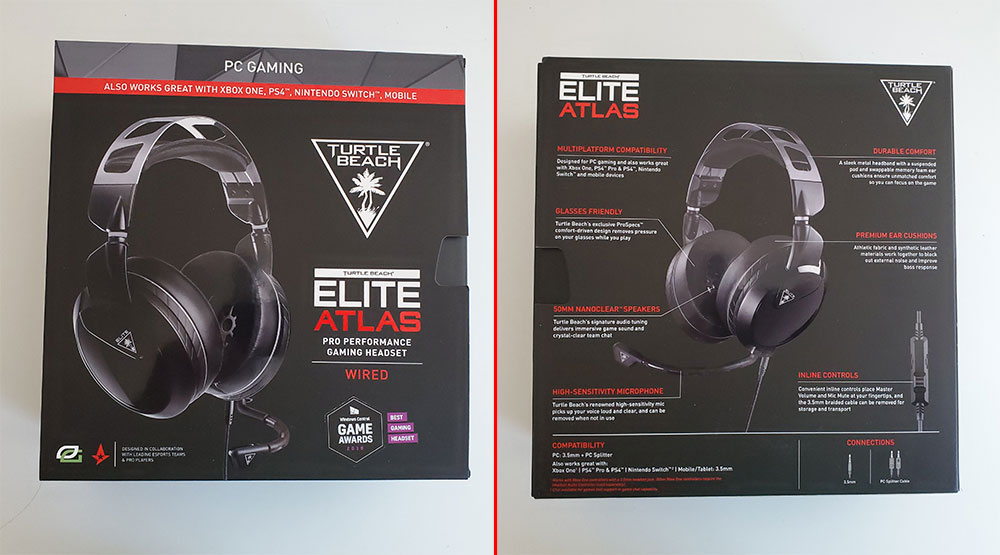 The Elite Atlas has also been around for a while, but it still remains one of the best performing and most regarded headset in the industry, especially in the competitive e-sports scene. And when paired with the Atlas Edge, the performance gets an even higher boost.
What is the Atlas Edge?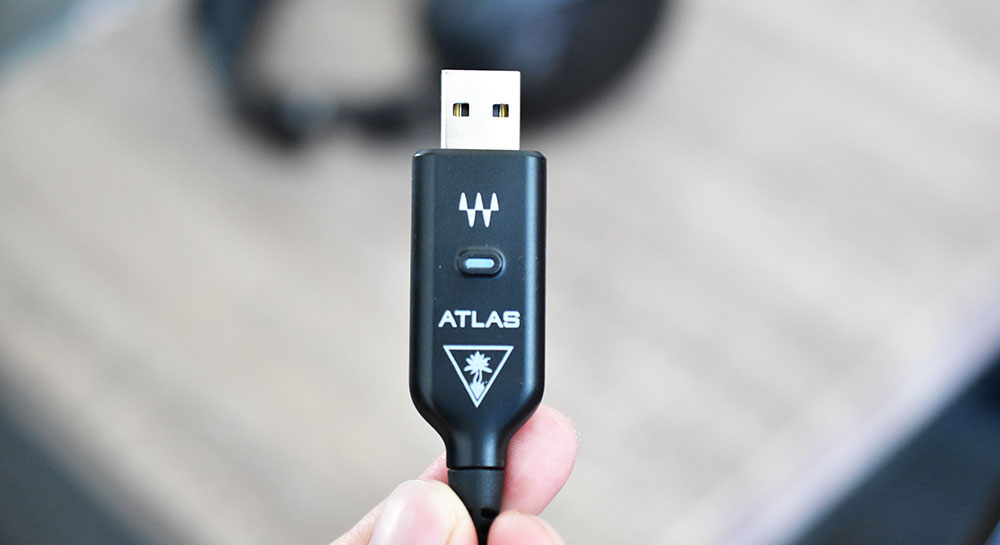 The Atlas Edge is a $30 accessory that converts analog signal to digital and lets you connect your headphone to your PC via a USB port. The Atlas Edge is sold separately but worth every penny and considered a MUST-HAVE if you already have a Turtle Beach headset. Connecting your headset using the Atlas Edge lets you access the Turtle Beach Control Studio software to take advantage of the boatload of options. It's essentially a $30 accessory that upgrades your headset's audio quality and gives you control over your headset's audio output.
Build quality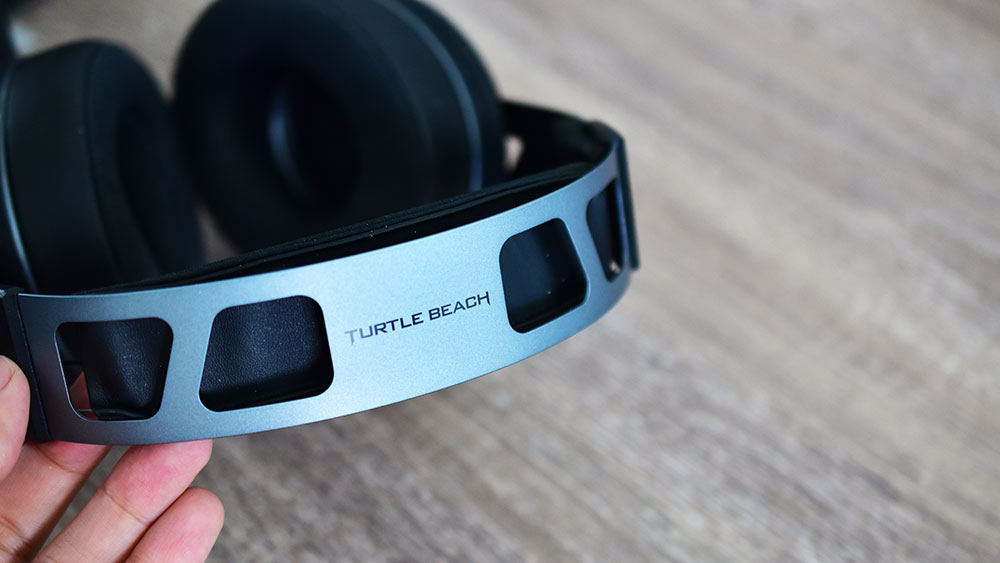 We'll start with the build quality of the Elite Atlas. It's made from mostly plastic with a flexible steel head plate. It's solidly built and easy to adjusts to your size. The twisting joint above the earcups are satisfyingly strong. It takes a bit of effort to twist them and they stay in position. The over-engineering that went into these joins will likely pay off over time as I don't foresee them breaking any time soon.
Overall, everything on and around the Elite Atlas is well made and purposeful.
Design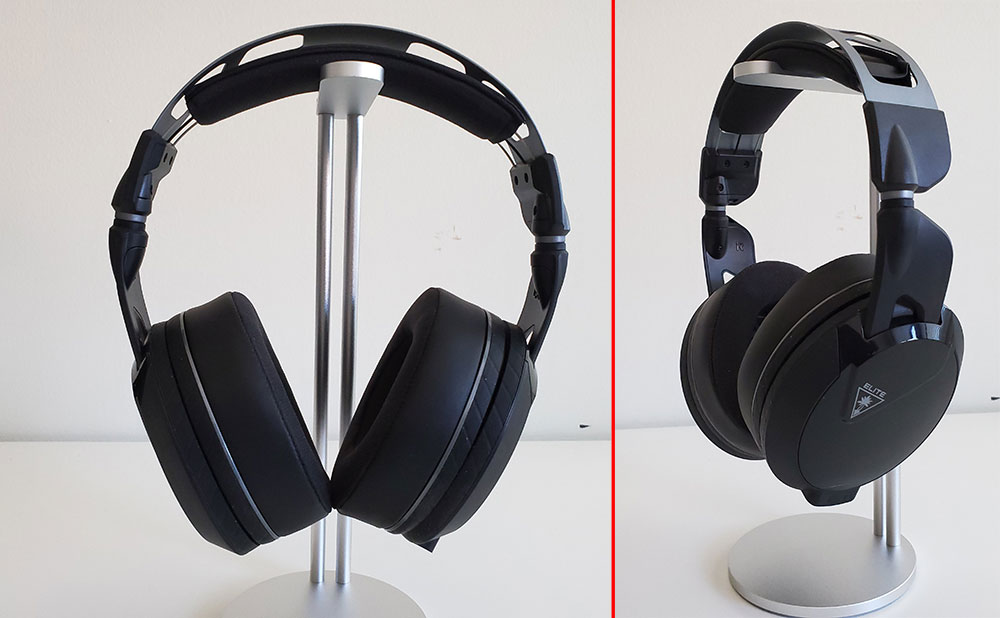 Nowadays, every game equipment manufacturer goes way overboard with their RGB and sharp angles. I prefer a more subtle design language, one that's tasteful, clean, and functional. There's no RGB to be found. The design is simplistic with a few hints here and there that it's a "gaming" headset. Overall, I prefer the aesthetic of the Turtle Beach Elite Atlas over most of Razer's lineup of headphones.
Comfort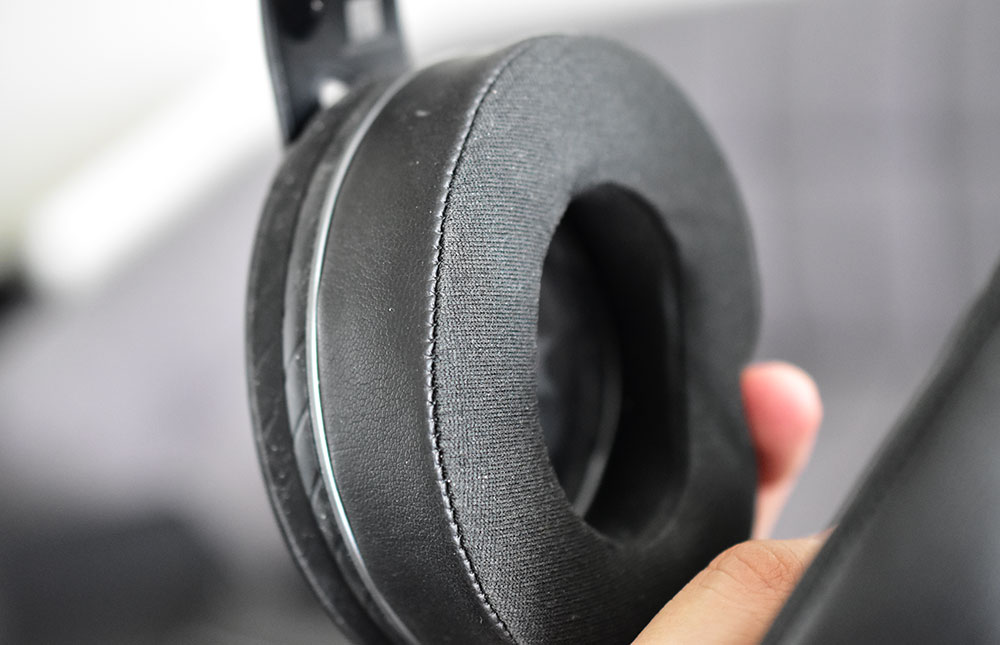 The earcups are enormous, even for a gamine headset. I have a relatively average size head and they fit perfectly. The large cups fully encase your ears and certainly helps make your gaming experience more comfortable.
The oversized cups also have an indirect benefit of keeping your ears cool. Whenever I use the Razer or Steelseries headsets, it feels like my ears are inside an oven after a few hours of gaming. But I didn't seem to have that problem with the Elite Atlas.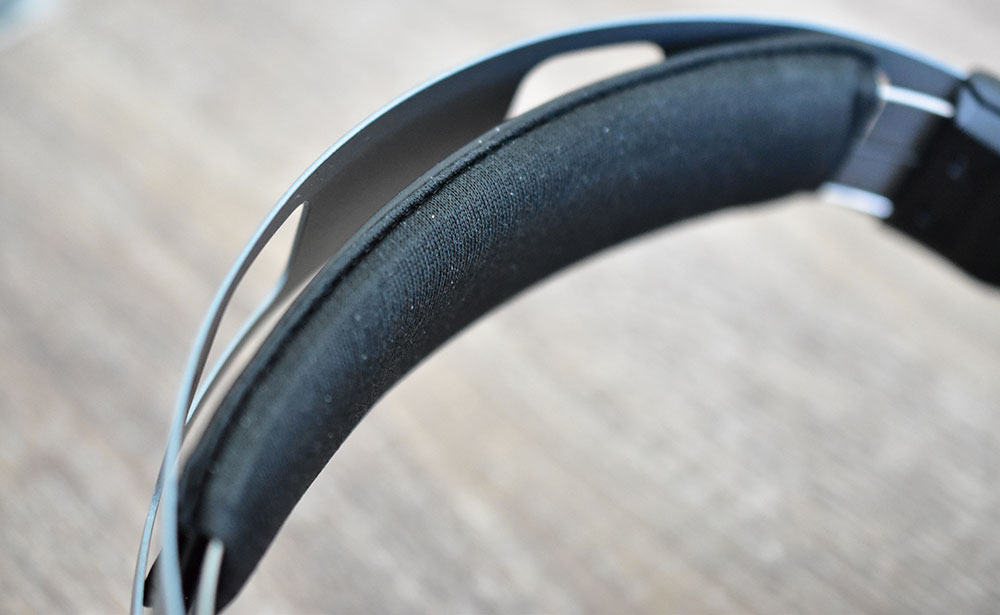 The foam surround the earcups are comfortable but definitely not that soft. They maintain their shape well and helps keep your ears from rubbing against the inside walls. Adjustment is simple and can be made on the fly. Cranial support is a combination of wire tension and a foam pad.
Audio Quality
Here's where the Elite Atlas truly shines. Combined with the Atlas Edge and the right adjustment onboard the Turtle Beach software, you can expect audio fidelity to punch way above its class. The simulated surround-sound gives a real sense of depth to the experience. While playing Apex Legends and Warzone, I can audibly tell exactly which direction gunshots or footsteps are coming from.
Even when there's a lot of layers of sound being played, the Elite Atlas has no trouble outputting precise and accurate sound. The sound of reloading, running, and gunfire is echoed vividly with a level of realism and detail usually found in much more expensive headsets. Yet, the Elite Atlas has no trouble replicating that level of accuracy.
Final Verdict
The Elite Atlas + Atlas Edge is a perfect combination of value and performance. At about $130 total for the set, it's certainly not cheap, but you're getting a lot more than what you're paying. The build quality and timeless aesthetic screams high-class and likely won't be out-dated anytime soon. The audio quality is easily one of the best-in-class, especially if paired with the Atlas Edge.
And most importantly, the sheer value you get with the Elite Atlas + Atlas Edge combo is actually darn near impossible to beat. There's a good reason why a 2018 headset is still able to compete as one of the best performing headset today in 2020. It's because you're essentially getting $300 worth of headset – for $130.
Are Wicked Bunny Gaming Equipment Worth It?

Wicked Bunny is a relatively new company entering the E-sports arena to bring you high quality gaming equipment at an affordable price. Despite the stiff competition from established brands such as Turtlebeach, Razer, and Steelseries, Wicked Bunny sets themselves apart by offering gaming equipment of similar caliber at a slightly discounted price.
Here are some of the latest products from their lineup.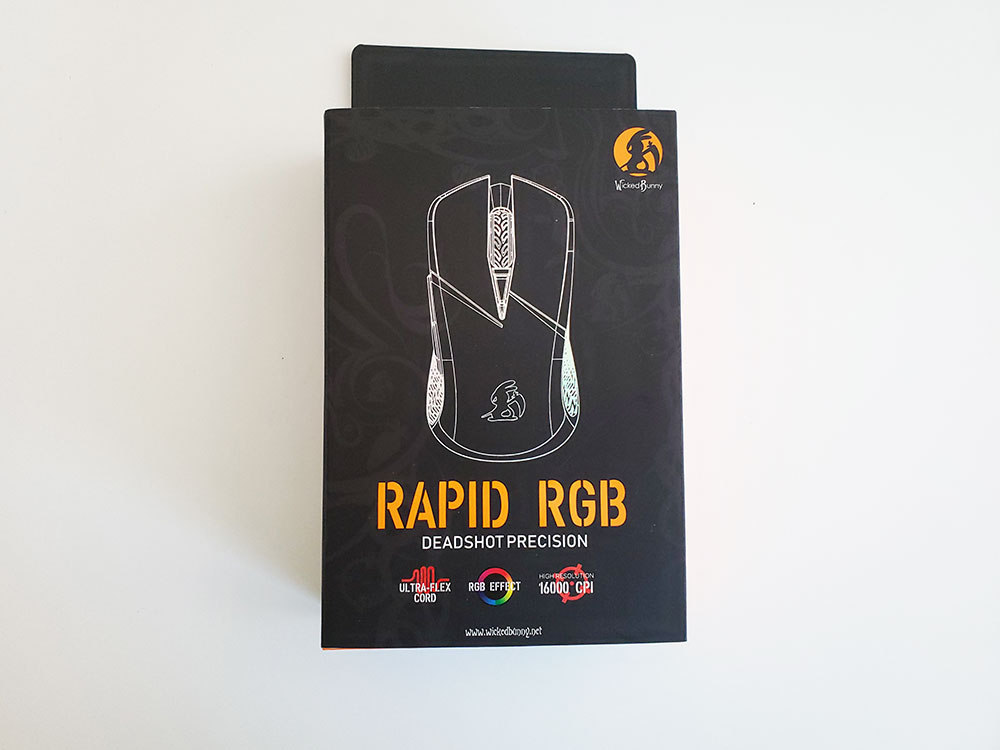 This right-hand only gaming mouse targets FPS gamer. Coming in at a respectable 16000 dpi, the mouse feels responsive and easy to whip around for those quick 180 no-scope trick shots. We tested this while playing Apex Legends, and it improved our accuracy by quite a bit. The lightweight feel of the mouse helps to reduce drag and friction during reactionary movements where you can't afford to miss a shot.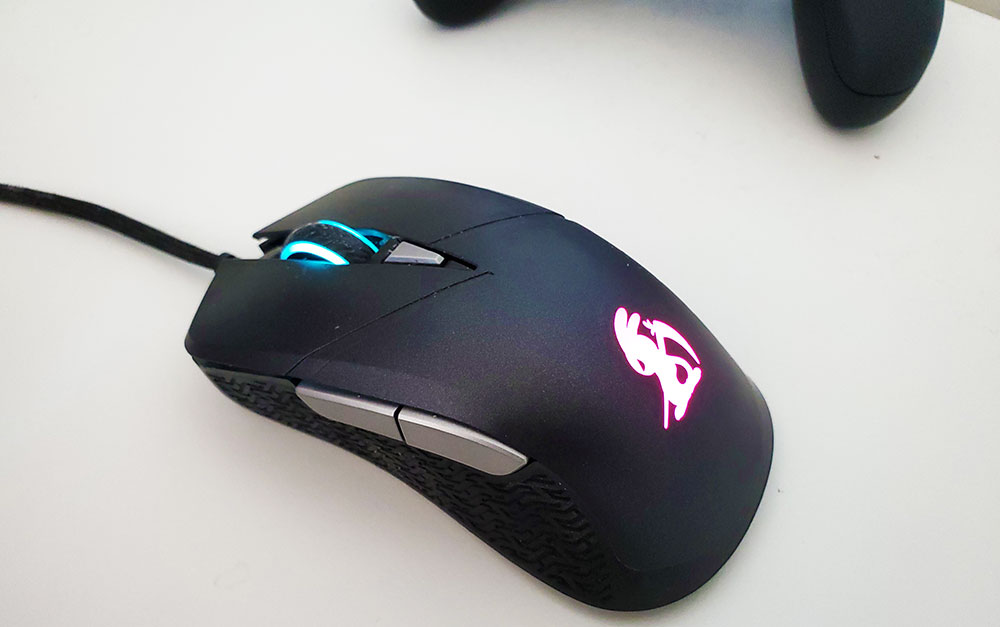 The Germany Cherry ZF Cherry switches are loud and satisfying. They're fairly responsive and able to pick up individual clicks even at 300 actions per minute. This is also useful if you play RTS games such as Starcraft II.
One drawback are the RGB lights. The lights cycle through the color wheel fairly fast and it's noticeable when it's just sitting idle on your desk. I wish there was a PC user interface for me to adjust the colors, or just disable them altogether.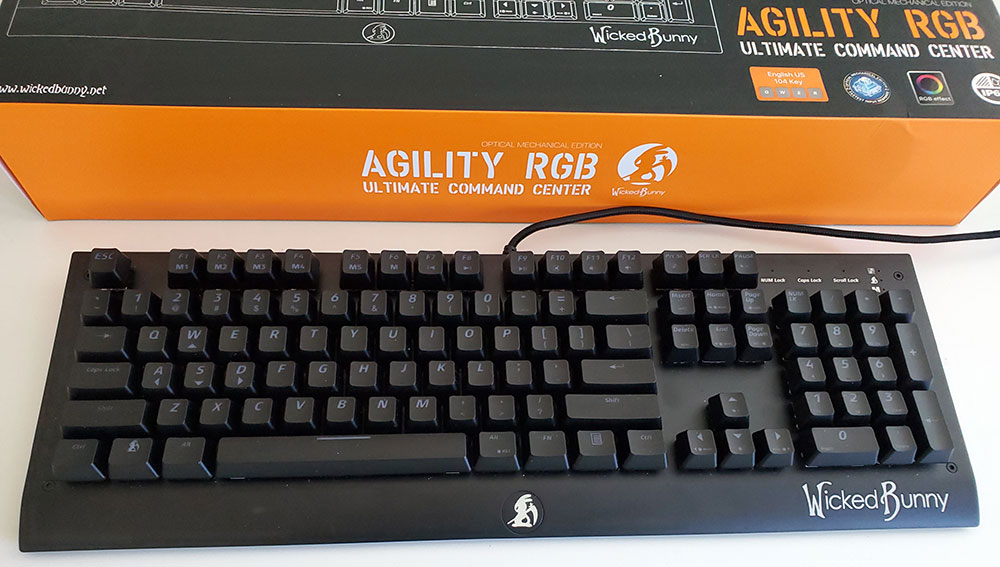 This keyboard rivals some of the best keywords in the industry, especially DasKeyboard. The full aluminum chassis lends a sturdy and reliable feel. It also has a good bit of mass to it and plants firmly onto my desk without the need of any rubber feet or stickers.
Keys are tactile, responsive, and have abundance travel distance. The input seems almost instantaneous. There are several modes you can choose from, each comes with it's own set of features to help enhance work, productivity, or gaming. Gaming is my favorite and most frequently used preset.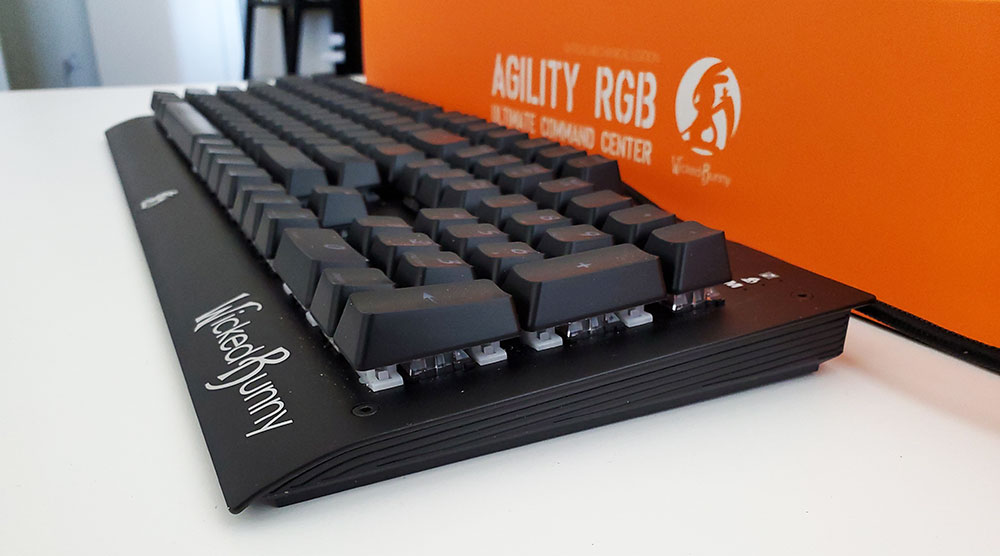 The IP68 water and dust resistant adds to the durability and value to this keyboard. I'm a clumsy gamer and I never buy a gaming keyboard that's not IP68 resistant. Although not recommended from the manufacturer, you can wash this keyboard with soap and water if it gets too dirty.
The RGB lighting is bright on this keyboard. But the colors are vibrant and gorgeous with no fading or inconsistent brightness typically found in cheaper RGB setup. Unlike the mouse, you can adjust the RGB settings directly on the keyboard.
Several hours of real-world testing proved to be satisfactory. My gaming performance on Apex Legends didn't improve, but my level of satisfaction for the keyboard did. It's a quick, tactile, and feature rich keyboard that costs $85, but has the quality and performance of $150+ keyboards.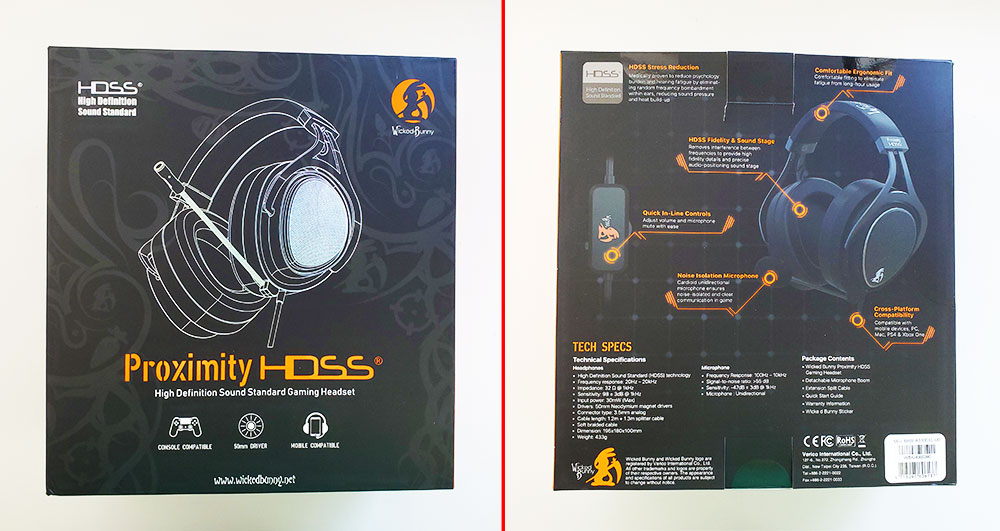 No gaming setup is ever complete without a high quality pair of headphones. The Proximity HDSS headphone is equipped with oversized earcups. The earcups are probably offer noise-cancellation by themselves given how much of your ear they cover.
The headset is made from a combination of plastic and aluminum. The chassis has a good flex to it and will likely hold up to a good beating. It fits nicely and comfortable over my head with easy telescopic adjustments.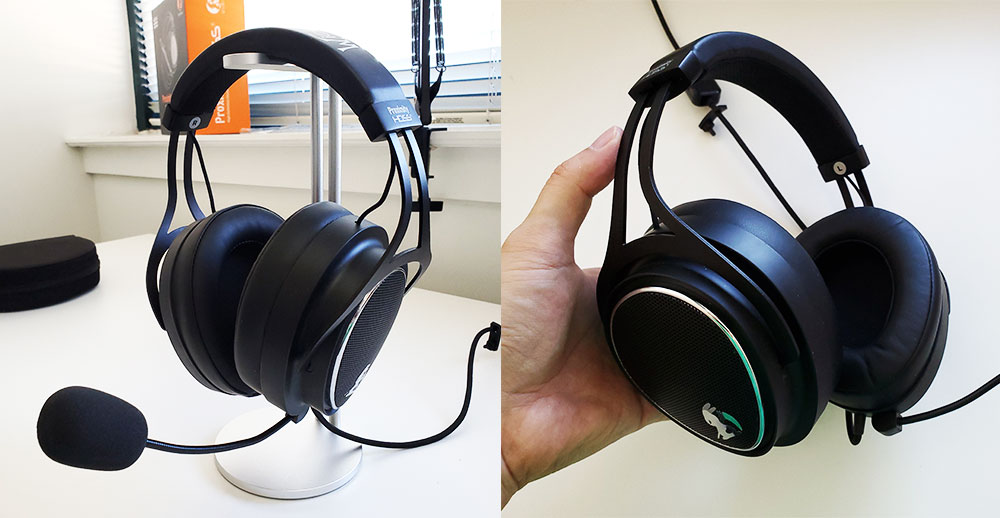 The sound is fantastic. Bass packs a punch and the headset does a great job separating all the different layers of sound. While gaming, you can audible distinguish the sound of footsteps, raindrops, gunfire, and every little bit of details happening around you. It's a great headset to use if you want to be fully submerge in the game world.
The microphone was a drawback for me. Testing on Discord and in-game voice chat yielded mixed results. Microphone audio quality doesn't stack up against their rivals.
Overall, this is a great headset for casual online play, listening to music, and zoom calls. Given the poor microphone performance, I wouldn't use this in a competitive setting.
Final Verdict
The Agility Keyboard is probably the best value given how responsive and good the keys feel. I would easily recommend this keyboard to anyone playing ranked. The Rapid mouse is a solid no-frills gaming mouse that gets the job done. It's a bare-bone product with very few features to speak of. The only reason I'd still recommend it is because it performs extraordinarily well in the few things that it promises.
The Headset is my least recommended product, mainly due to their microphone. It's a solid headset if you're using it for casual gaming, listening to music, and getting on calls. For competitive gaming, look elsewhere.
I can safely recommend Wicked Bunny after having used their products for a few months. After 3 months of use, all 3 products still hold up perfectly without issues. They're good products that deliver on both performance, build quality, and value. They're certainly not the cheapest maker in the space, but they're one of the safest company to bet your dollars on this holiday season.