8 Best Word Processing Software to Use in 2023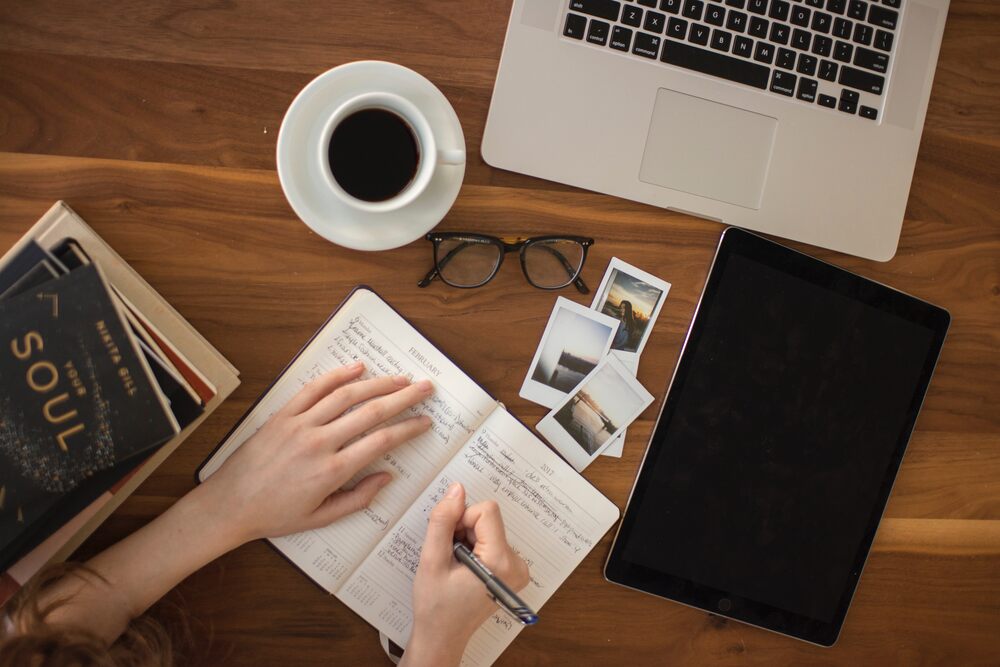 The amount of documents written in an organization comes in large volumes. Managers, marketers, entrepreneurs, and individuals jot down quick notes or write long-form content daily. With the help of word processing software, this mundane and time-consuming task is made easier and faster. Here are free and paid word-processing software tools you can try.
1. Google Docs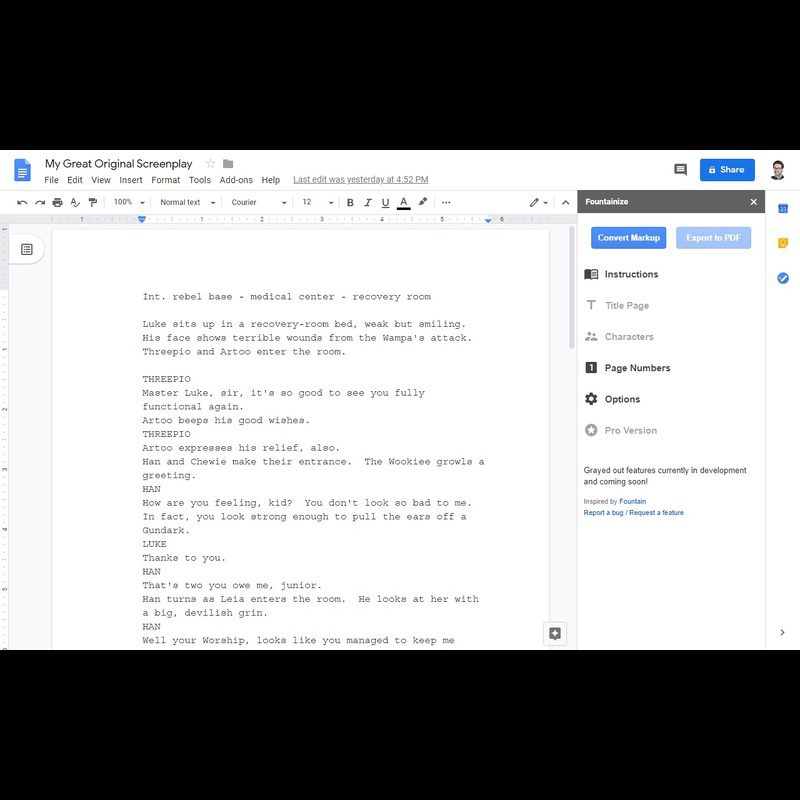 Everyone has undeniably heard of Google Docs. This cloud-based word-processing program is a team's go-to for collaborating on documents. It has a clean interface packed with many helpful features when editing your document. Since it's cloud-based, you can access it anywhere and from any device with a Google Doc app.
Features:
Templates for faster writing
Table of content for easy navigation
Work in offline mode
Personal dictionary
Voice typing to enter text
Bookmarks for quick reference
Version history to monitor changes
E-signature tool
Pricing:
Business Starter $5.40/user/month
Business Standard $10.80/user/month
Business Plus $18/user/month
Enterprise (Contact sales)
Visit website.
2. Microsoft Word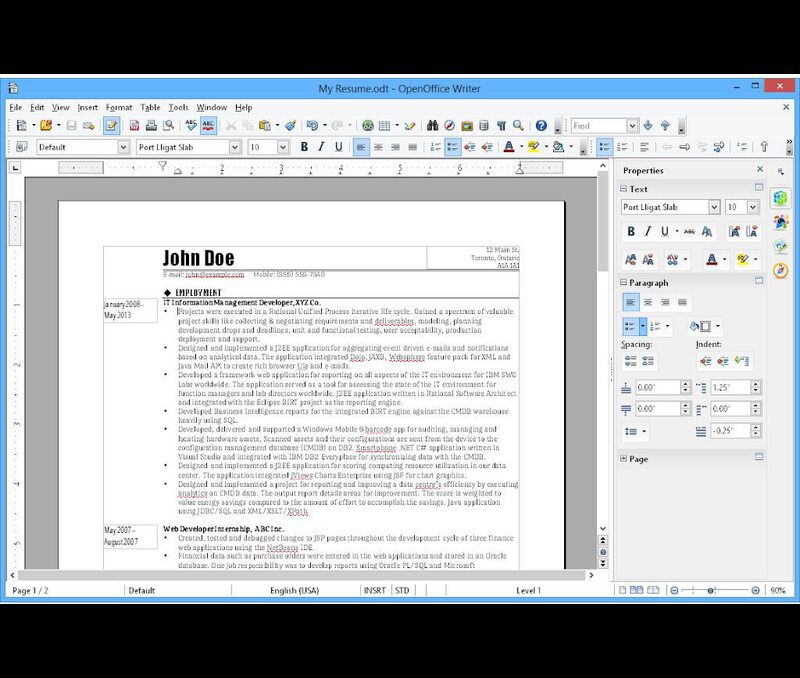 Image Credit: TechRepublic
Microsoft Word was one of the first-ever word-processing platforms before the cloud-based online tools took over. It's a powerful word processor that anyone can use, from jotting down notes and writing meeting minutes to creating blog posts and reports.
Features:
Check grammar, capitalization, spelling, punctuation, and more
Share documents with anyone
Add comments and suggest changes in real-time
Save documents to OneDrive so that anyone can access them from any device
Offers customizable templates and content
Pricing:
Microsoft 365 Apps for Business $8.25/user/month
Microsoft 365 Business Standard $10/user/month
Visit website.
3. Grammarly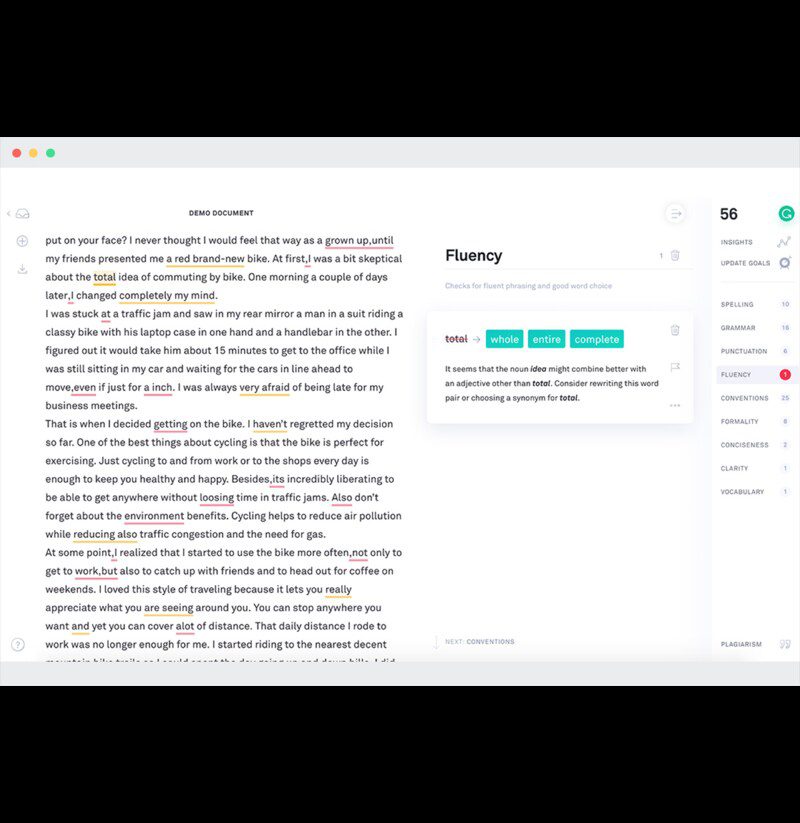 Image Credit: UIT
Writers, editors, entrepreneurs, and marketers have used Grammarly to proofread and edit write-ups. The best thing about this word-processing software is it provides fantastic integrations with many other apps. It can be downloaded as a browser extension to ensure everything is error-free.
Features:
Catch grammatical errors, typos, insufficient punctuation, etc.
Full-sentence rewrites for hard-to-read sentences
Custom style guides to ensure a unified voice within the team
Available in more than 500,000 web, desktop, and mobile applications
Pricing:
Free
Premium $12/month
Business $15/month
Visit website.
4. Scrivener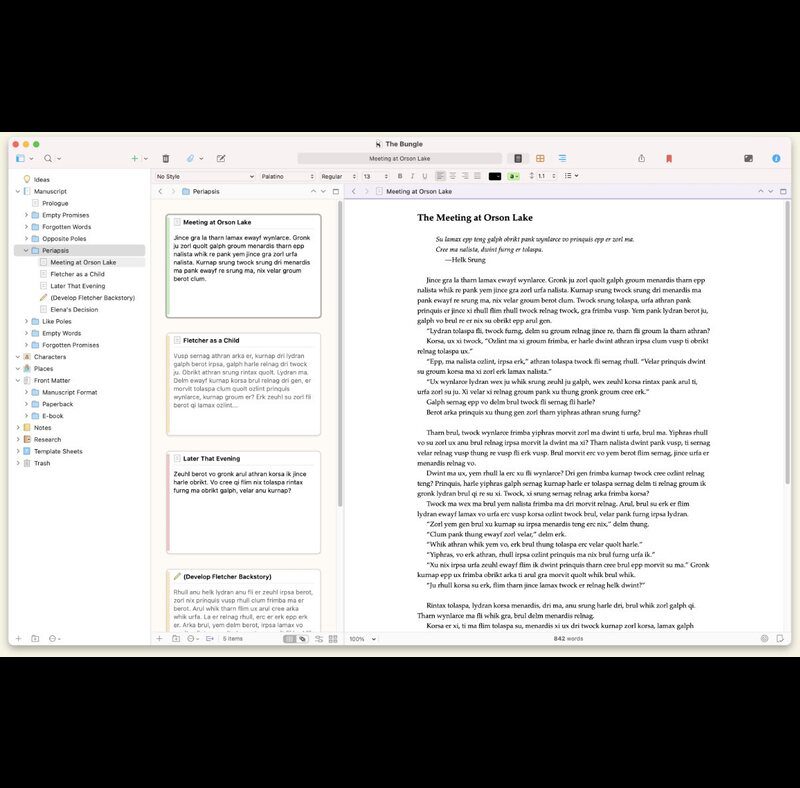 With versatility at its core, Scrivener caters to all kinds of writers. This word-processing program is tailored for long-form writing projects and fits lawyers, novelists, and blog writers. Users love this tool because it helps you compose thoughts and ideas by allowing you to scribble anything that comes up and squeeze it into the right place later.
Features:
Powerful software that lets you gather writing materials and browse various parts
Familiar text editing
Use Styles to indent block quotes and make texts smaller at the same time
Import writing projects from other apps to Scrivener projects
Use the Corkboard to work with synopses you've written
Check the overview of your manuscripts through Outliner
Create templates and icons for new sections
Keep track of progress like word count or writing history
Take a snapshot before revising your docs so you can return to the former version
Pricing:
30-day free trial
Standard License for macOS $59.99
Educational License for macOS $50.99
Visit website.
5. Dropbox Paper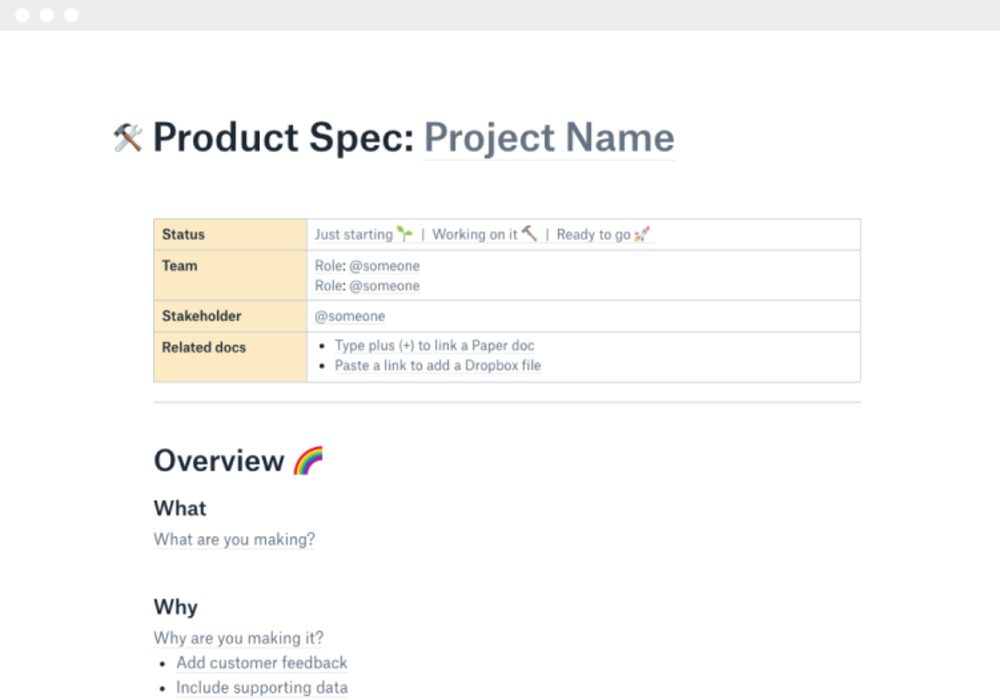 Image Credit: Capterra
Dropbox is one of the leading cloud-based services online, and Dropbox Paper is nothing new in companies worldwide. This is where you can keep everything on the same page by gathering all your meetings, docs, minutes, agenda, and task assignments in one place. This co-editing tool is also free, which makes it an even better alternative for startups!
Features:
Enjoy task management tools that let you add due dates, assign tasks, and mention people
Use annotations and emojis to add comments to any part of an image
Integrates with your meeting calendar so you can easily find the particular document for a meeting
Drop a link from your Pinterest board, YouTube channel, SoundCloud, or Google Map
Capture inspiration on tablets and phones
Transform docs into presentations
Pricing:
Visit website.
6. ProWritingAid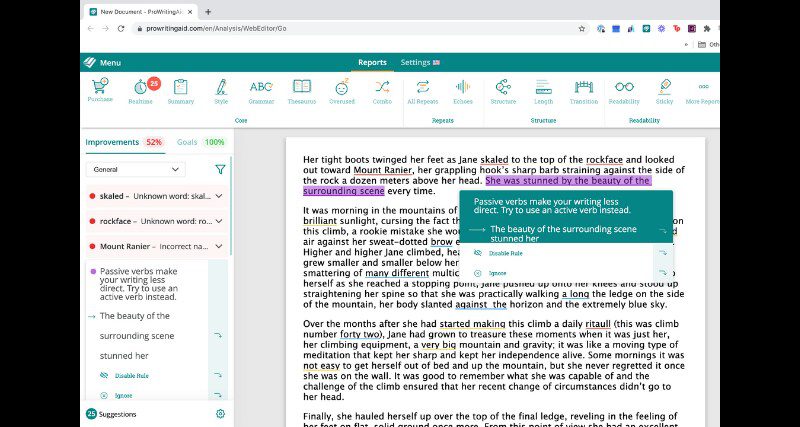 ProWritingAid is a robust word processor that offers unique features you won't find elsewhere. It is built for every writer, and this tool dramatically improves your writing.
Features:
Over thousands of spelling, grammar, and readability improvements
20 in-depth writing reports
Use hand-coded rules to help you with your writing style and strength
Enjoy in-app suggestions, videos, quizzes, and explanations
Find the right words through Word Explorer and contextual Thesaurus
Integrate with other apps, such as Open Office, Google Docs, Scrivener, etc.
Install as browser extensions
Use data visualization for an in-depth understanding of writing projects
Pricing:
Visit website.
7. Evernote Web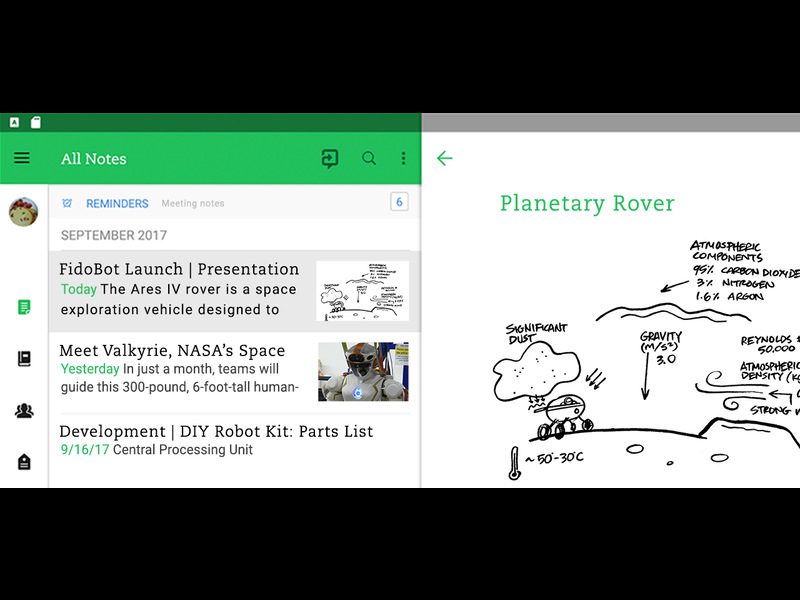 The genius behind Evernote was aware of the growing amount of information online and how the human brain couldn't contain it. And this is why Evernote was born. It is meant to save your quick notes, schedules, and tasks in one place.
Features:
Create a space for your essential ideas and information
Quickly search your notes via keyword tags
Add images, files, and to-do lists to notes
Flexible organization
Annotate and save images, web pages, and PDFs via the Web Clipper feature
App integrations, including Slack, Outlook, Zapier, Google Drive, Gmail, Zapier, etc.
Pricing:
Free
Premium $7.99/month
Premium Professional $9.99/month
Visit website.
8. JotterPad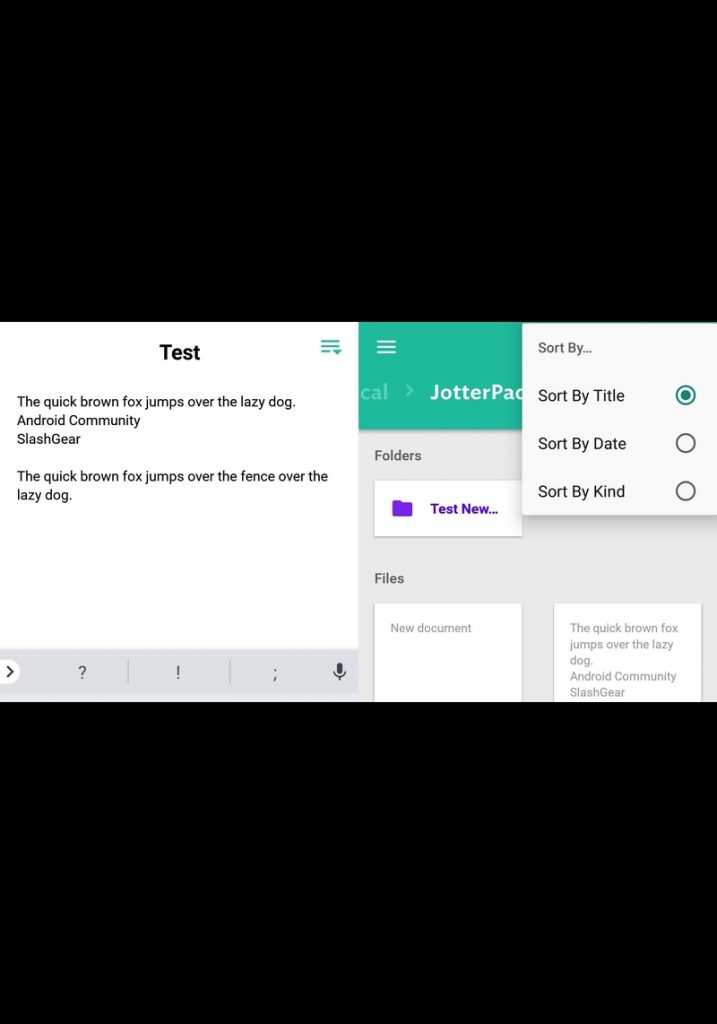 Image Credit: Android Community
Android users can make JotterPad their writing assistant. It lets you format your texts into MLA or APA papers, articles, mindmaps, screenplays, books, presentation slides, and more. This word-processing application is convenient as you can access it from any device, allowing ideas to flow.
Features:
Simple text formatting via Lightweight Markup
Seamless integration with Google Drive, Microsoft OneDrive, Dropbox, etc.
Powerful integrated plugins
Brainstorm and generate content with Wizard A.I.
Embed images to markdown files
Quick Research lets you search words
Export to multiple formats
Create formatted eBooks
Over 100 beautiful-designed templates
Pricing:
Free
Monthly plan costs $6.99
Annual plan costs $29.99
Visit website.
Top 10 Instant Messaging Apps for Businesses (Free and Paid)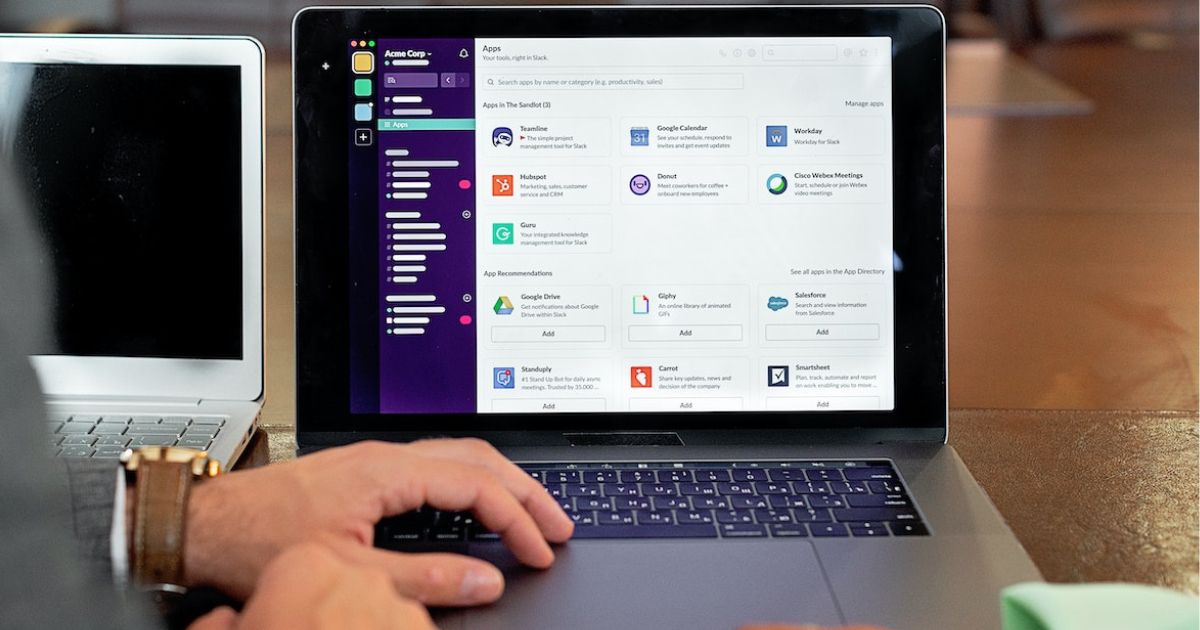 The popularity of instant messaging (IM) has skyrocketed in recent years. A study shows that the number of instant messaging accounts worldwide will reach eight billion in 2022. Team messaging apps help people accomplish their tasks either in person or remotely. But the real question is whether you are maximizing the benefits of instant messaging. Check out the top instant messaging apps for businesses to use for efficient internal and external communications.
1. WhatsApp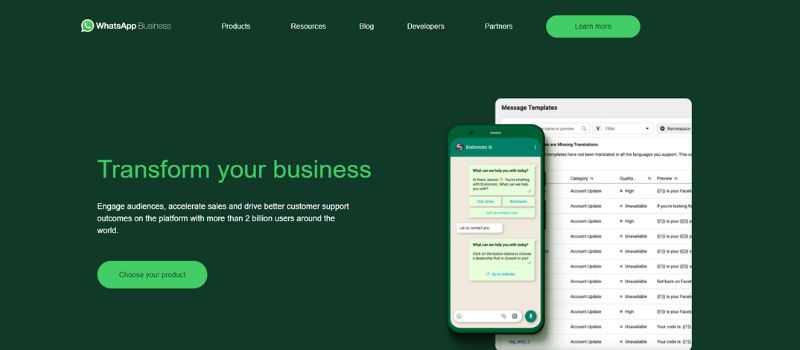 WhatsApp is the most common instant messenger app around. With more than 2 billion users, there's a good chance your customers are using its texting, group chats, file sharing, and voice and video calls features. There's a group chat feature allowing only admins to send instant messages.
WhatsApp has an exclusive business tool to connect small enterprises with their customers. WhatsApp for Business offers a business profile, a greeting message, a quick reply, and an away reply.
2. Facebook Messenger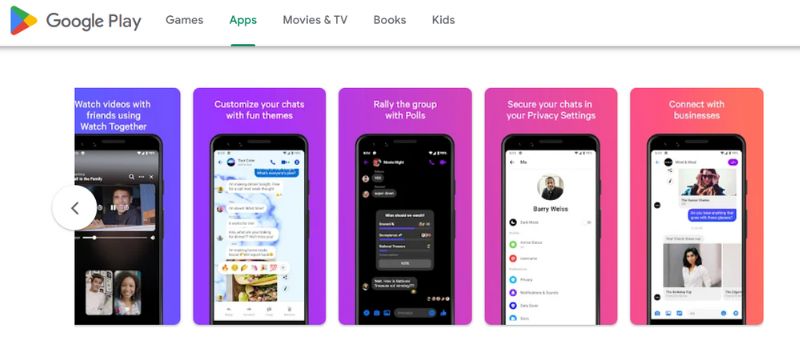 Facebook Messenger is on WhatsApp's heels as a step to boost your business's external communication capabilities. It is available in almost every country except China. Your company's Facebook page comes with a Messenger app that can be reached by customers who don't have Facebook accounts.
3. Skype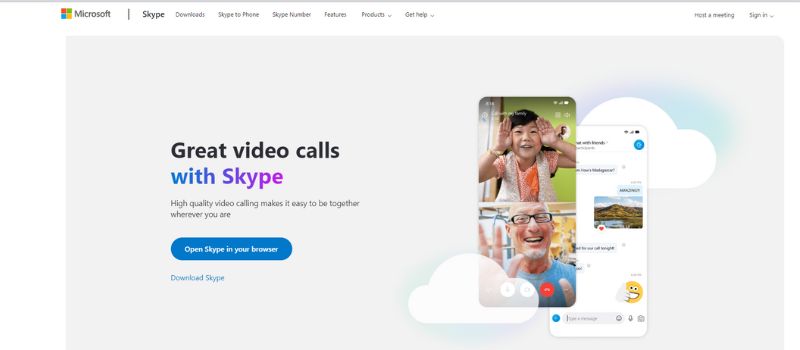 Skype is a famous communication platform that allows users to make voice and video calls, send instant messages, and share files with other Skype users. It has evolved into a comprehensive tool for online communication. Particularly, it's one of the widely-used instant messaging apps for businesses.
Skype provides real-time translation of voice and text conversations between users speaking different languages. Users can also make landline and mobile calls to non-Skype users at a low cost. Overall, Skype offers a variety of features to enhance online communication and collaboration.
4. WeChat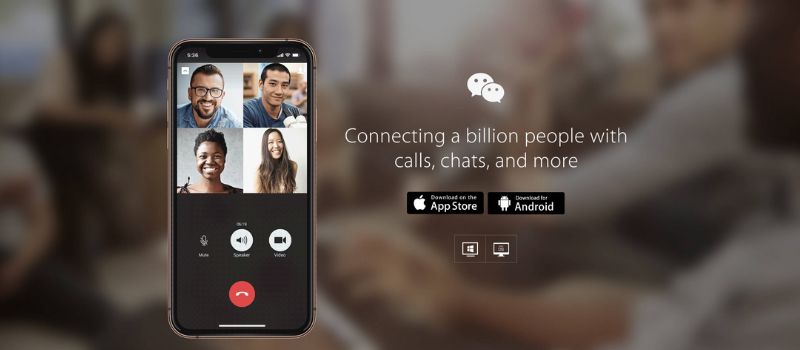 WeChat is a multi-purpose social media app developed by Tencent in China. It is one of China's most popular messaging apps, with over 1 billion monthly active users. On top of instant messaging, this app offers other features for comprehensive communication and lifestyle platforms.
For example, users can make voice and video calls, send text messages, photos, and emoticons, and share their location with others. WeChat also includes a feature called "Moments," which allows users to share their life events and experiences with friends and followers in a social media-style feed.
5. Telegram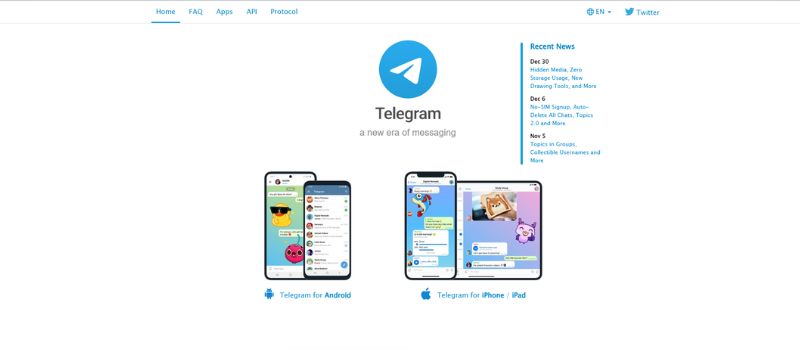 Telegram's user base is lower than other instant messaging services on this list. The messaging app is gaining popularity among businesses because of the features like supergroups, bots, and secret chats. Telegram also allows users to send files up to 1.5 GB, especially in countries with tight restrictions on messaging apps. However, several unique features can boost your lead generation. This instant man, like public channels, groups, and supergroups, allows up to 100,000 users per group.
6. Slack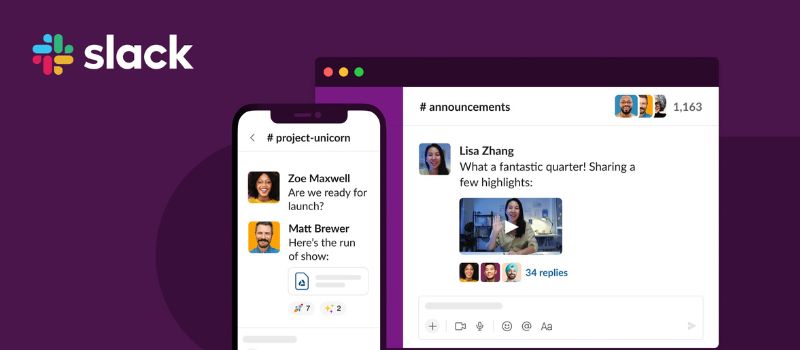 Slack is a team collaboration platform that provides a central hub for communication, organization, and project management. It was founded in 2013 and has become one of the most popular instant messaging apps for businesses.
With Slack, users can send direct messages to individuals or groups and participate in public or private channels for specific topics or projects. The platform integrates with many other tools, like Google Drive and Dropbox. Slack also has a searchable archive of all messages for easy searching and access to information. It is popular among remote teams for being s a comprehensive communication, collaboration, and project management platform.
7. Discord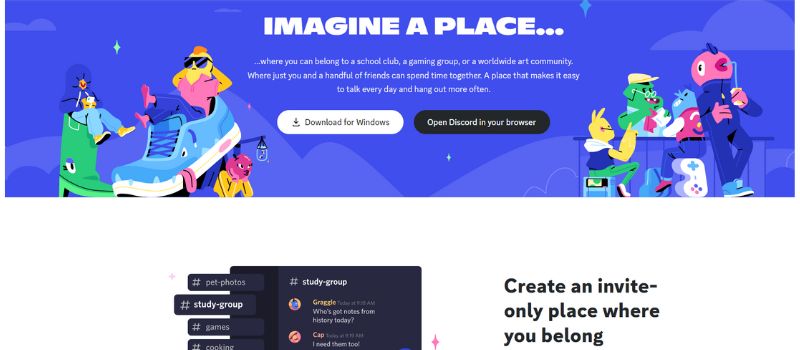 Discord is a communication platform established in 2015 for online communities and gamers. It provides various tools for text, voice, and video communication, as well as file sharing and collaboration.
The platform includes voice and video calling, direct messaging, server-based text channels, and file sharing capabilities. Discord also offers a range of customization options, including creating custom emotes and adding integrations from other tools, such as Trello and Spotify. Discord is a versatile platform for communication and collaboration, making it a popular choice for online communities and gamers.
8. Microsoft Teams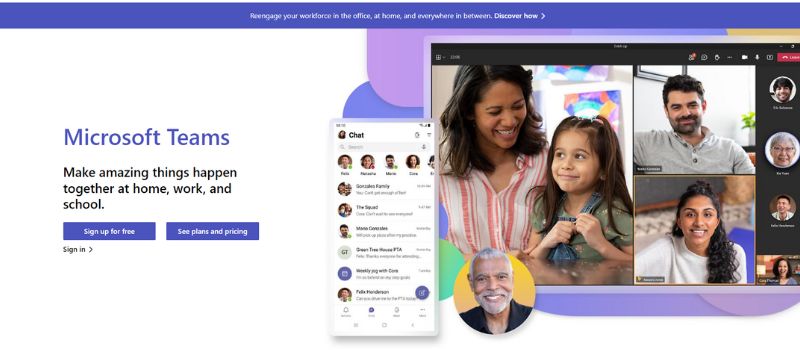 The Microsoft Teams features a few key selling points, one being its in-messaging word-like formatting. You can change font styles and create bulleted lists within each IM. Then there's Teams's deep integration with Office 365. Collaboration within the entire Microsoft Office toolkit without leaving the app makes it great for the corporate environment.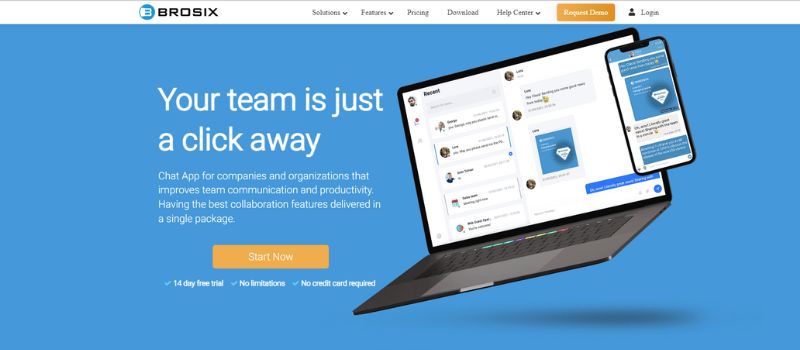 Brosix has been providing an all-in-one business instant messaging app for enterprises of all types and sizes since 2006. It is a versatile business solution with dynamic productivity tools, robust security, and comprehensive administrative control.
Voice and video capabilities, screen sharing, and a native whiteboard solution streamline communication and collaboration. Broadcast messages let you target your message to a handpicked audience.
Unlike other instant messengers for business, Brosix's unlimited-size file transfer never restricts file transfers, neither by size nor volume. Companies looking to boost customer support can quickly deploy the engaging live chat solution.
10. Fleep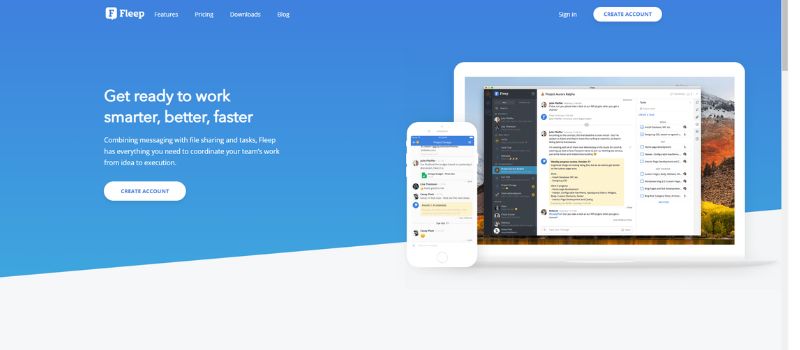 Fleep is an excellent tool for inter-business communication. With Fleep, you can chat with other Fleep users and teams outside your organization. The app delivers the core messaging capabilities you'd expect from an instant messaging app. There's also unlimited messaging history, native task management, and the ability to send emails through the app. The disadvantage, however, is that Fleep doesn't have collaboration tools. Moreover, you don't get native voice and video calling.
Conclusion
The rapid growth of messaging apps as a communication channel for billions, not to mention the enhanced security and productivity of business instant messengers, make IM technology an essential business tool. When choosing the right messaging app for your business, examine your internal and external communication needs.
Top 10 Presentation Software To Use in 2023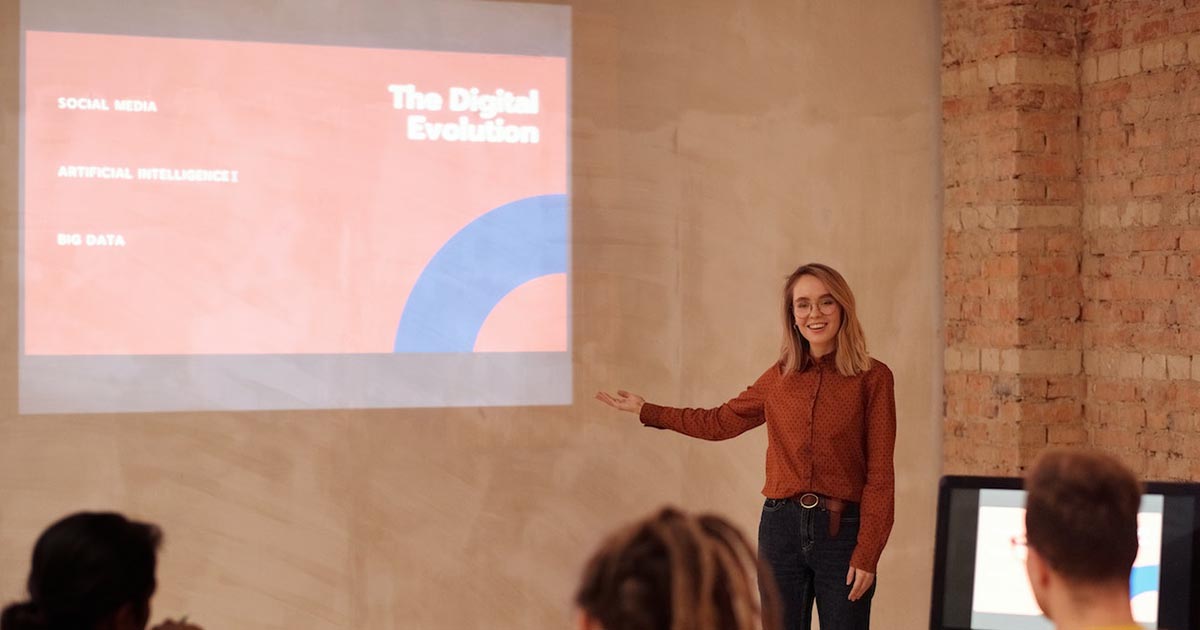 Are you looking to create a stunning presentation that keeps your audience engaged? It would be best if you had excellent presentation software to take your slides to new heights. Let's review the ten best presentation software so you can choose the best for your business.
1. Visme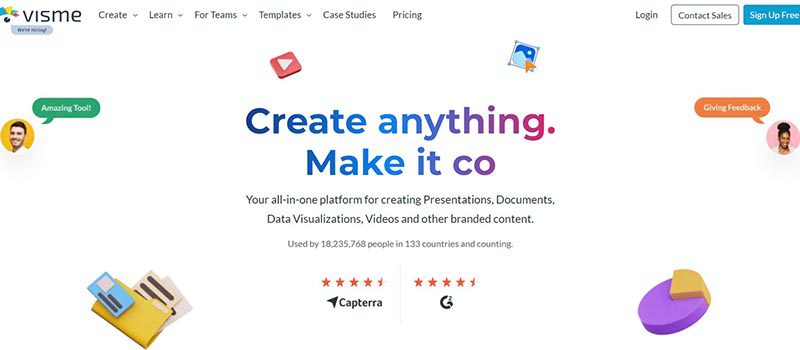 Visme is a cloud-based presentation software that enables users to create visually engaging and interactive presentations, infographics, and other visual content. Its user-friendly drag-and-drop interface makes it easy for users to add text, images, charts, and other elements to their presentations. Likewise, it offers design options like custom color schemes, fonts, and layouts. On top of that are interactive features like videos which can engage audiences and make the presentation more interactive.
Visme also offers collaboration features that allow multiple users to work on a presentation simultaneously. Users can also share it for feedback and review.
Best for: Visme is perfect for small and large businesses, marketers, project managers, content creators, and educators.
Pricing:
Personal: $12.25/month paid annually
Business: $24.75/month paid annually
Enterprise: Custom
2. Prezi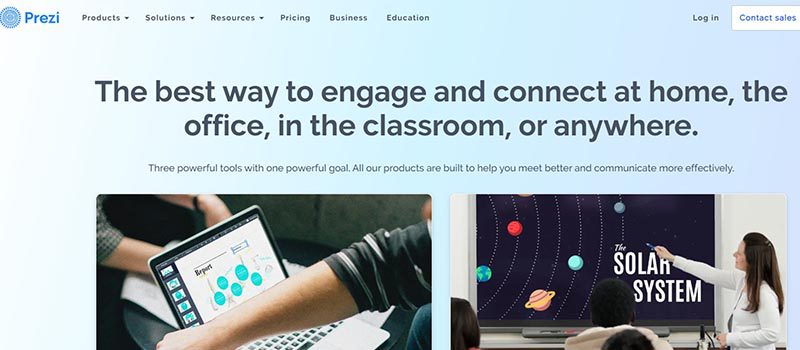 Prezi offers a great alternative to the typical presentation format that goes slide by slide. Prezi's creative idea is to create an animated, non-sequential flow of slides with hidden topics and subtopics until you zoom in. While Prezi's interface can be slightly complicated, it is a good option for people who wants to add a creative touch to their slides.
Best for: Businesses and educators.
Pricing:
Free plan: $0
Plus: $12/month
Premium: $16/month
Teams: Custom, contact sales team to Request pricing information
3. Google Slides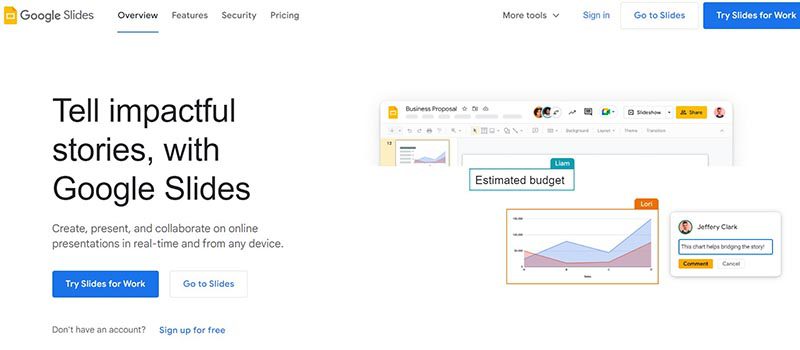 Google Slides is a web-based presentation software part of the Google Suite of productivity tools. Google Slides is a web-based presentation software part of the Google Suite of productivity tools. It enables users to create, edit, and share presentations online, and it is similar in functionality to other presentation software such as Microsoft PowerPoint.
With Google Slides, users can create a new presentation from scratch or use one of the many templates provided by Google. Users can add text, images, charts, and other elements to their presentations using a simple drag-and-drop interface. Google Slides also offers a wide range of design options, including custom color schemes, fonts, and layouts, as well as the ability to add animations, transitions, and other effects to slides.
Best for: Business professionals, educators and students
Pricing:
Free to use for anyone with a Google account.
Plans for business accounts tart at $6/user/month.
4. Keynote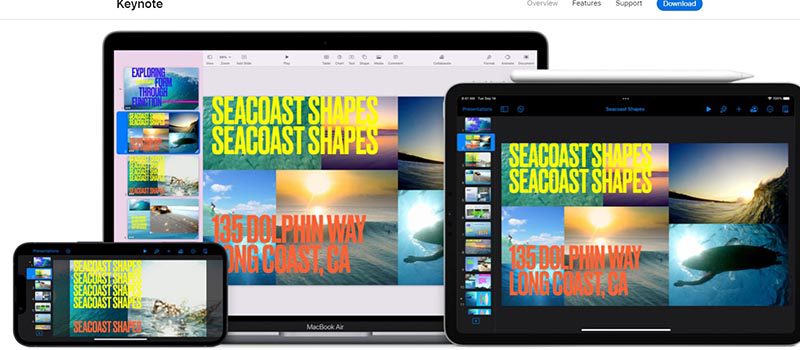 Keynote is an Apple presentation software and one of the original alternatives to Microsoft's PowerPoint. The best thing with Keynote is that it is the most similar to PowerPoint and Google Slides.
Best for: Keynote is good for businesses, educators, and individuals.
Pricing: Free for anyone with Apple ID
5. Microsoft PowerPoint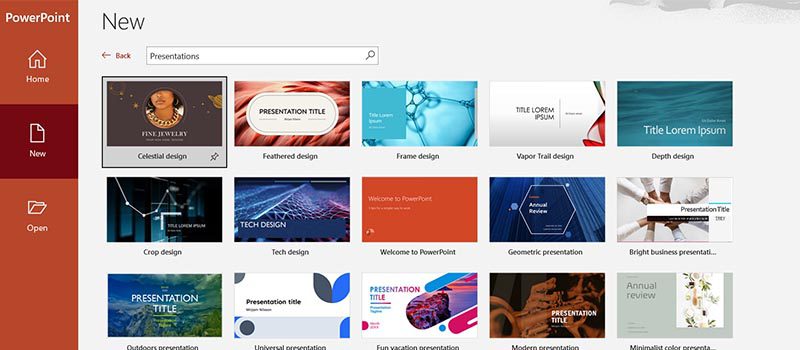 Microsoft PowerPoint is the world's most widely used presentation software. It is similar in functionality to other presentation software such as Apple Keynote and Google Slides.
PowerPoint also offers collaboration capabilities, including sharing presentations for feedback and review. It also allows users to work on presentations with other users simultaneously. Plus, it enables users to export their presentations in PDF, PPTX, and JPG formats.
Best for: Businesses, individuals, students, teachers and individual who use a Windows PC or device.
Pricing:
Free to download on desktop or mobile devices
Business plans start at $6/month
6. Ludus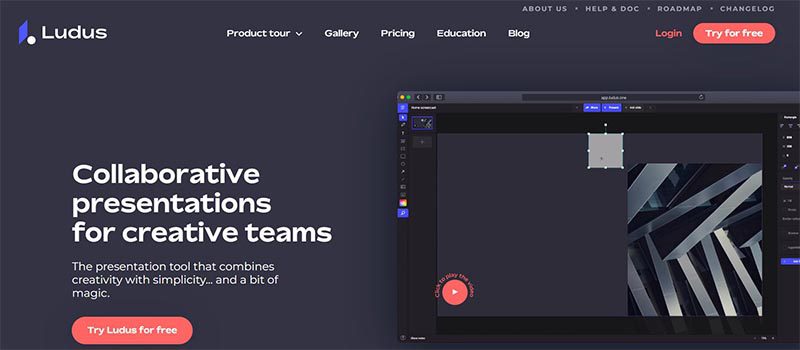 Ludus is one of the coolest presentation tools available online. The main attractions of Ludus are the clean black screen to edit on and the number of integrations that provide importing capabilities for all sorts of content.
Best for: Designers and business owners
Pricing:
Starts at $14.99/month for teams of 1-15 people.
Offers a 30-day free trial
7. Slides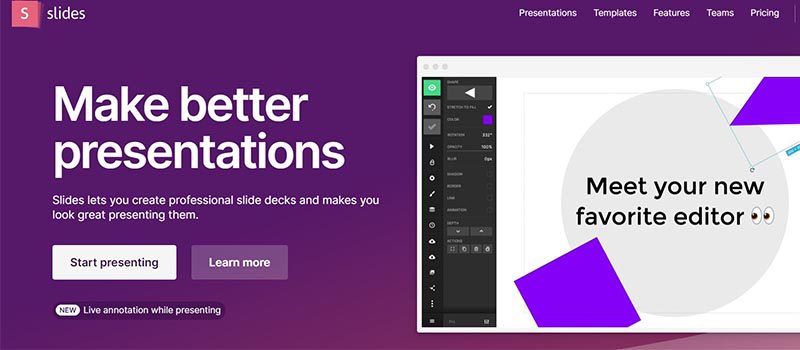 Slides promote itself as "pixel-perfect" presentation software. Its editor includes a built-in grid to help with composition. Slides have a lower cost at the highest price tag, which suits smaller businesses.
Best for: Small business owners, startups, and individuals.
Pricing:
Free plan
Paid plans start at $5/month
8. Slidebean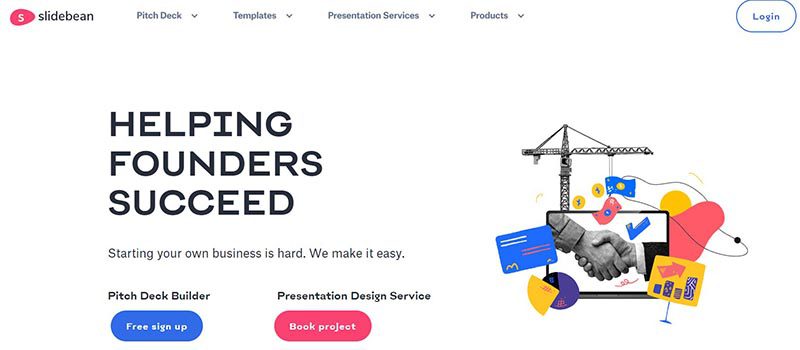 SlideBean is a cloud-based presentation software that enables users to create visually engaging and professional presentations quickly and easily. The software is developed as user-friendly and intuitive, making it easy for users to create high-quality presentations without any design experience.
Best for: Small businesses, startups, and entrepreneurs.
Pricing:
Free plan
Paid plans start at $8/month
9. Beautiful.ai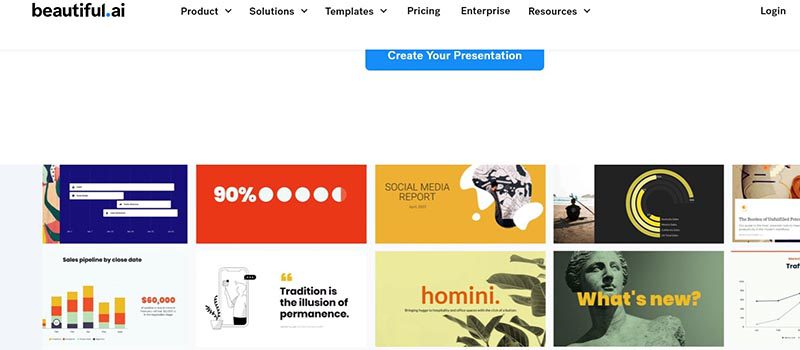 The cloud-based presentation software Beautiful.ai uses artificial intelligence to help users create visually stunning and professional-looking presentations. It has user-friendly and intuitive features, making it easy for users to create high-quality presentations without any design experience.
Best for: Beautiful.ai is a perfect tool for beginners and non-designers.
Pricing:
Pro plan: $12/month, billed annually
Team plan: $40/month, billed annually
Offers a 14-day free trial
10. Zoho Show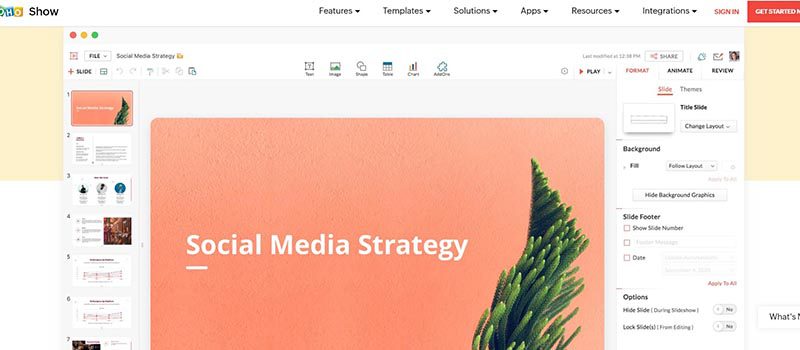 Zoho Show is a web-based presentation software developed by Zoho, a company that provides a suite of productivity and collaboration tools. It is part of the Zoho Office Suite, which also includes tools such as Zoho Writer for word processing, Zoho Sheet for spreadsheets, and Zoho Meeting for online meetings.
With Zoho Show, users can create a new presentation from scratch or use one of the many templates provided. Users can add text, images, charts, and other elements to their presentations using a simple drag-and-drop interface.
Best for: Businesses, entrepreneurs, educators, and students.
Pricing:
Free plan: up to 5 users
Paid plans start from $3/user/month, paid annually
Conclusion
Presentation software is the most common tool used to pitch an idea to investors and present proposals to prospective clients. Likewise, it is utilized by many organizations to introduce new products or services, train staff on new policies, or teach students new or complex concepts. The collection of the best presentation software will help broaden your choices regarding the tools that will improve your productivity.
10 Best Affiliate Tracking Software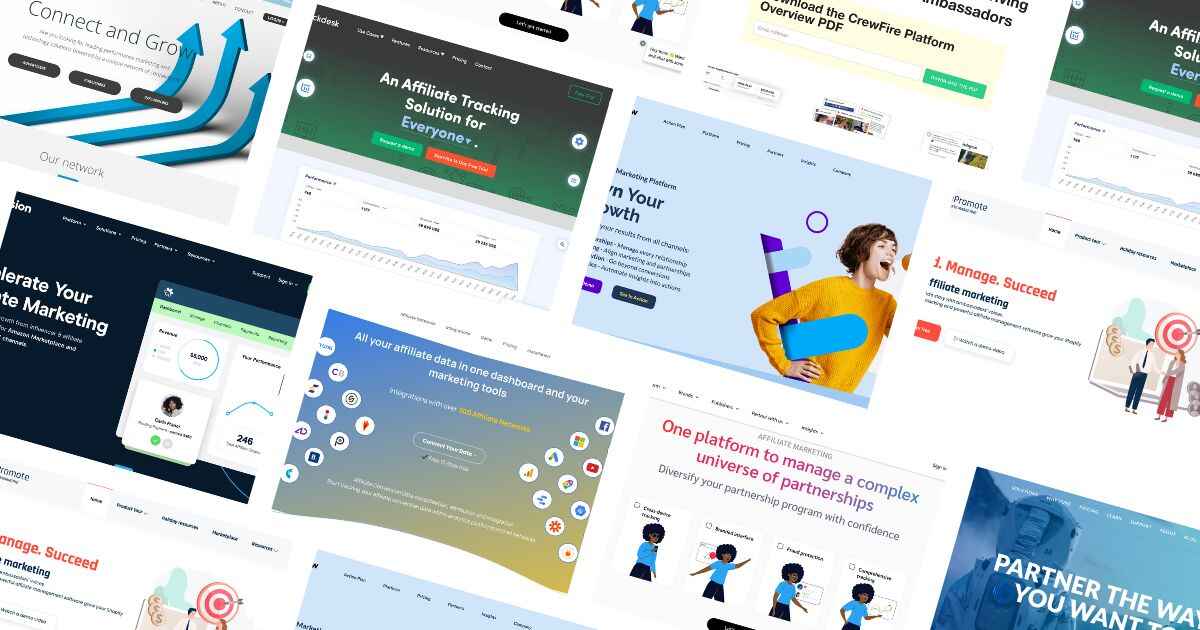 Affiliate tracking software is an essential tool for anyone who is looking to build an online income stream. It enables you to track sales and commissions, calculate payouts, and manage your affiliate program.
With so many available options, finding the best affiliate tracking software for your needs can be overwhelming. To help you make the right decision, we've compiled a list of the top ten best affiliate tracking software. Each of these programs is feature-rich, intuitive, and reliable, so you can be sure you're getting the most out of your affiliate program. Check out this list and take your pick.
1. CrewFire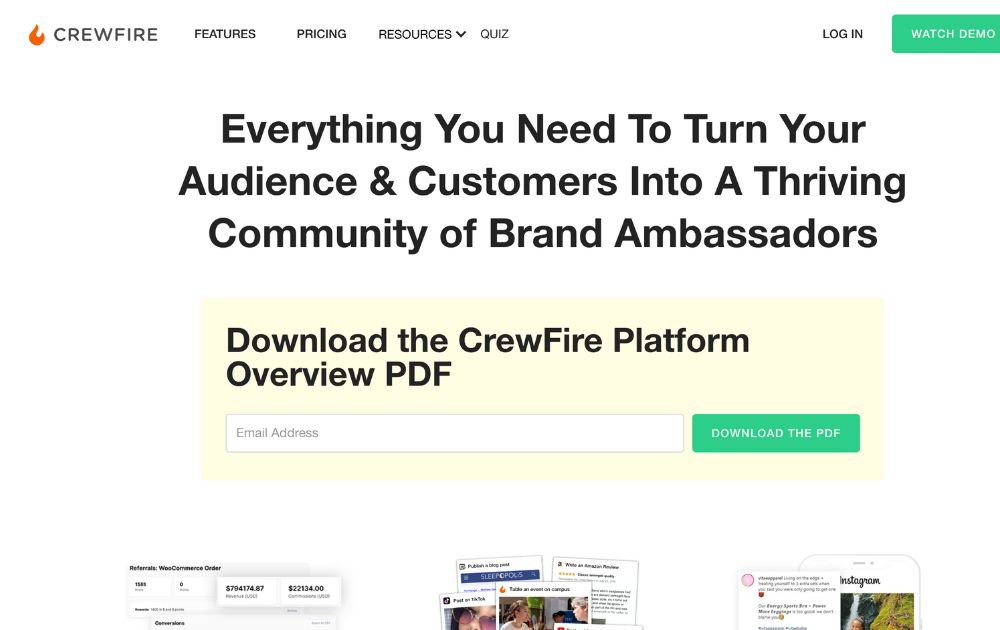 CrewFire is an affiliate software for small business firms and big companies alike. Since the app allows brand ambassadors to get rewarded for every transaction they make, using this software could motivate your content creator partners. In addition to that, this app also lets users track conversions to know who are the best ones bringing in traffic and making sales. 
Features:
Clean, user-friendly interface
Reward system with shop discount, profit split, and more
Direct payments through ACH and PayPal
Pricing:
The cheapest package is $1,000 per month, which allows up to 500 ambassadors and two admins.
2. Refersion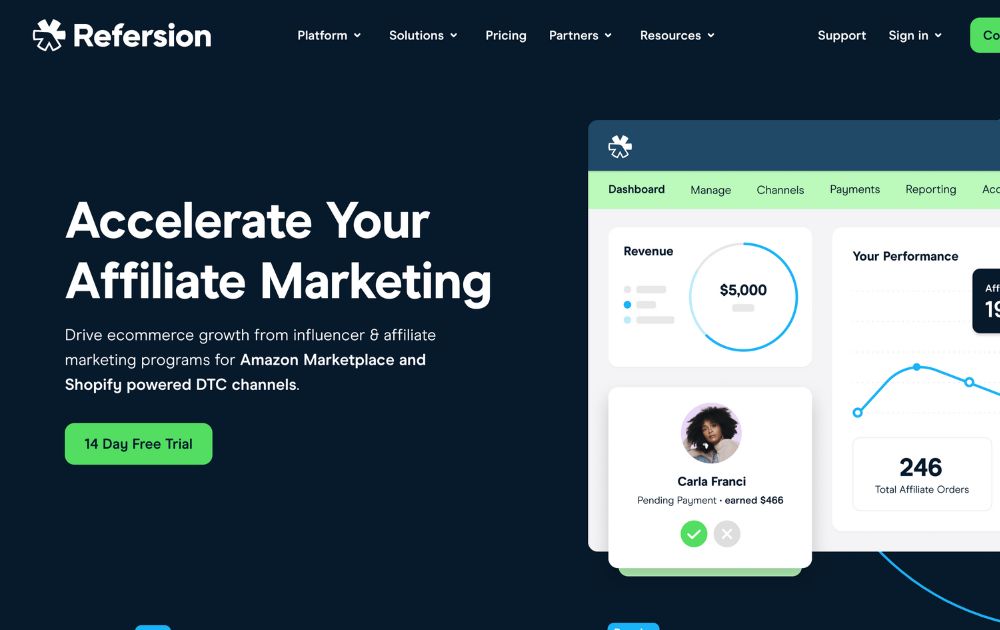 Next on our list of affiliate tracking software options is Refersion. This app allows for promo campaign management and allows the user to set customized commission amounts based on certain products. 
Features:
Mass payment options
Customized commission rates depending on the product
Pricing:
The cheapest plan is $99 per month for up to 50 monthly order conversions.
3. We Can Track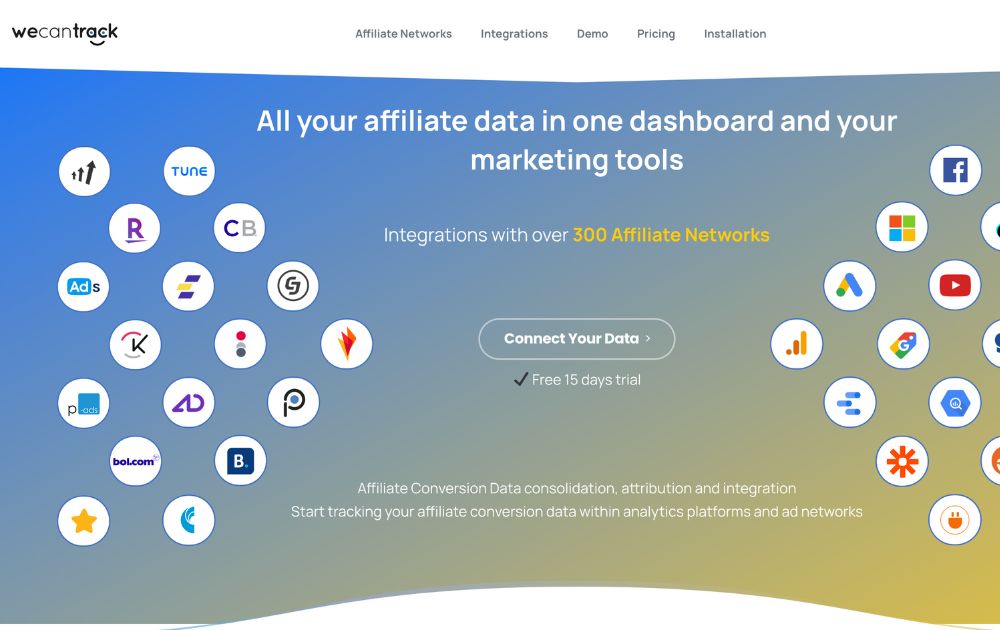 If you're looking for a top affiliate tracking software that offers a free trial, check out We Can Track. What makes this app unique are the actionable insights it provides by integrating various data into one material.
Features:
Integration with Google Ads, Google Analytics, and Facebook Ads
Easy-to-use affiliate dashboard
Pricing:
The cheapest plan is around $61 per month for 20 network accounts and 500 transactions.
4. Impact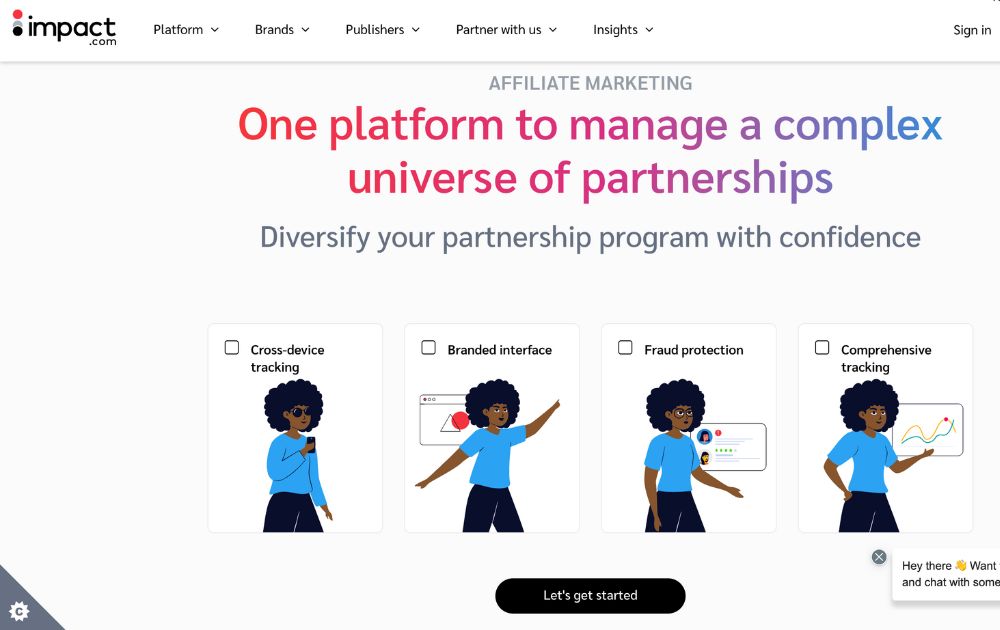 Impact is an affiliate marketing app that describes itself as "one platform to manage a complex universe of partnerships."
Features:
Data visualization and deferred deep linking
Marketplace to connect with and directly recruit media partners
Pricing:
Impact's rates aren't available on their website, but you can contact them to get their pricing details.
5. Peerclick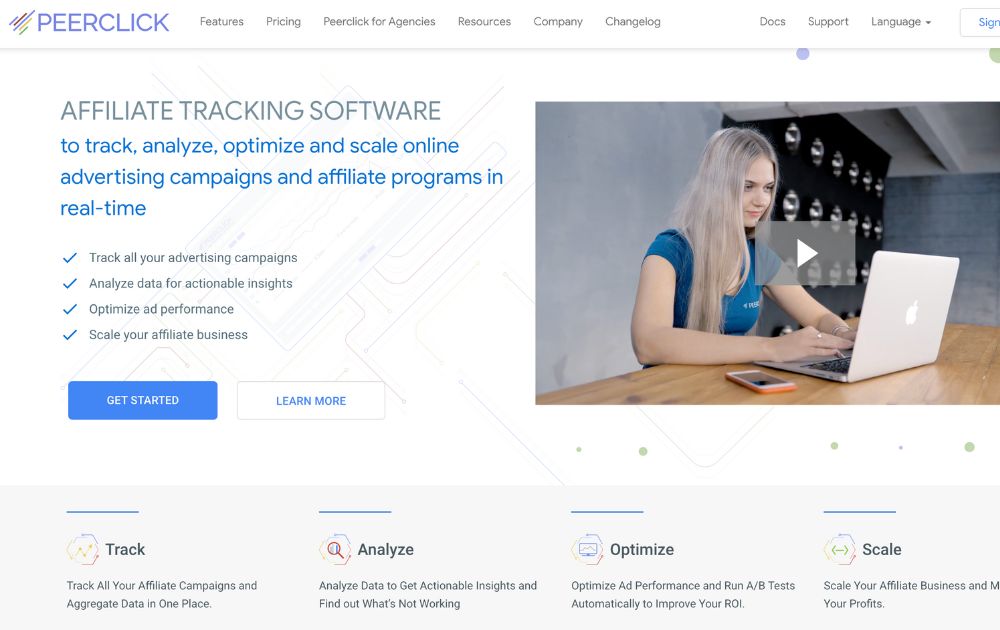 Peerclick is an affiliate tracking software open source version that allows users to track their campaigns. In addition to that, this app aggregates data in one place, offering summarized info for sound decision-making. 
Features:
Data that allows for optimized ads and A/B testing
Affiliate program scaling for maximum profits
Pricing:
The cheapest package is $99 per month.
6. Tune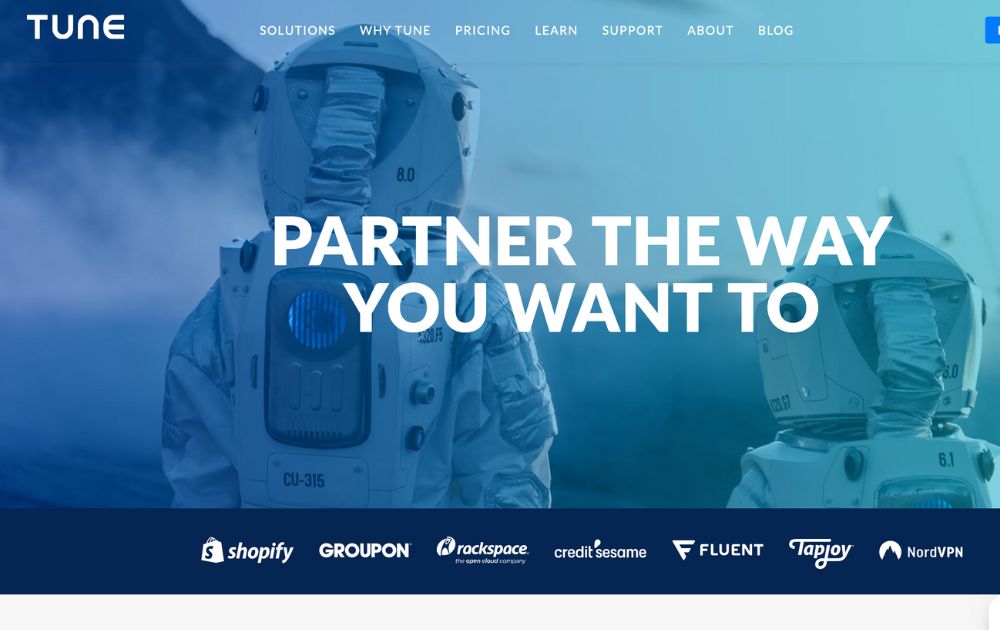 Tune offers affiliate marketing software built for individuals or firms who want to establish their affiliate network. 
Features:
Flexible SaaS platform to manage marketing partnerships
Mobile and web use
Pricing:
The cheapest package is Bootstrap, which costs $599 per month paid annually.
7. UpPromote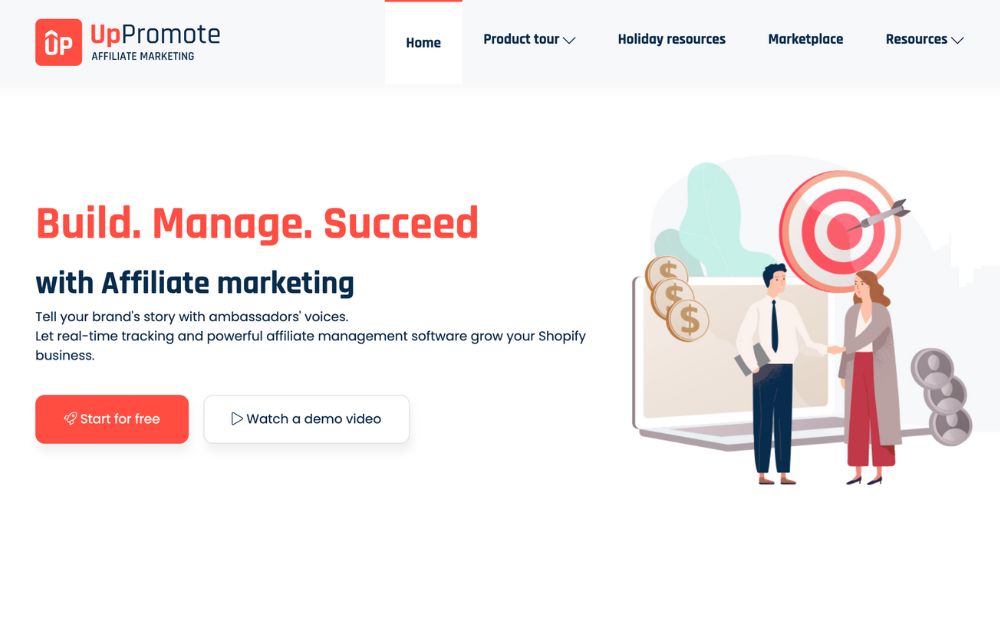 If you're looking for free affiliate tracking software, check out UpPromote. The free plan offers basic features, but you'll need to upgrade to paid packages to get upgraded features like access to an affiliate marketplace and running multiple programs. 
Features:
Customizable affiliate registration form
Tracking by coupons and affiliate links
Pricing:
They have a free plan that includes all the basics for starting an affiliate campaign.
8. Trackdesk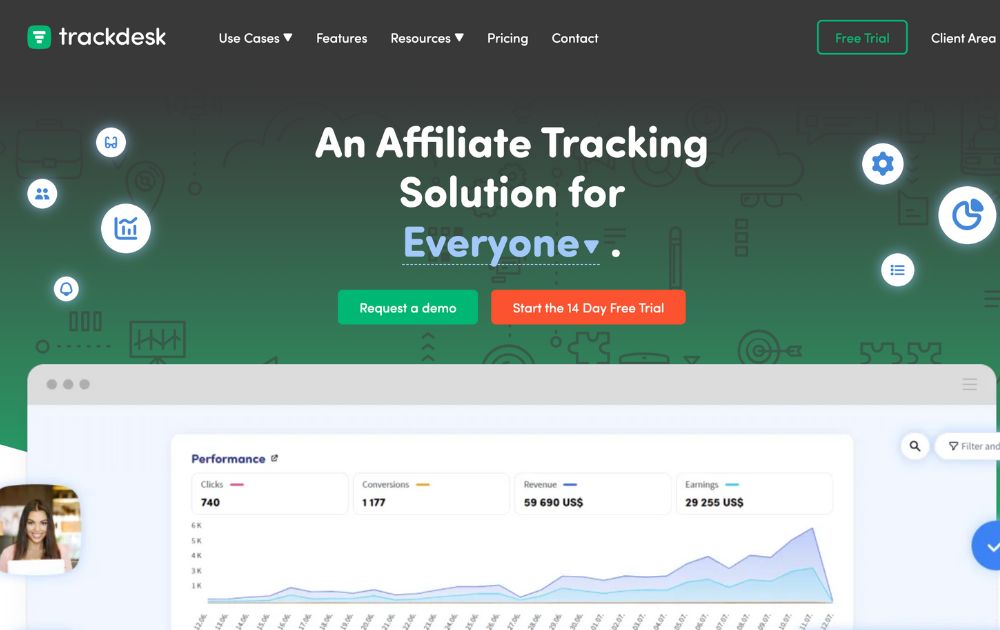 Next on our list of affiliate marketing platforms is Trackdesk. This app features superb UI/UX, making it a favorite software for SaaS, eCommerce, and Startups.
Features:
Automated procedure, including recruitment to sales conversions.
Real-time data on partners' performance and campaign progress
Pricing:
Subscription costs $149 per month with a 14-day free trial.
9. Everflow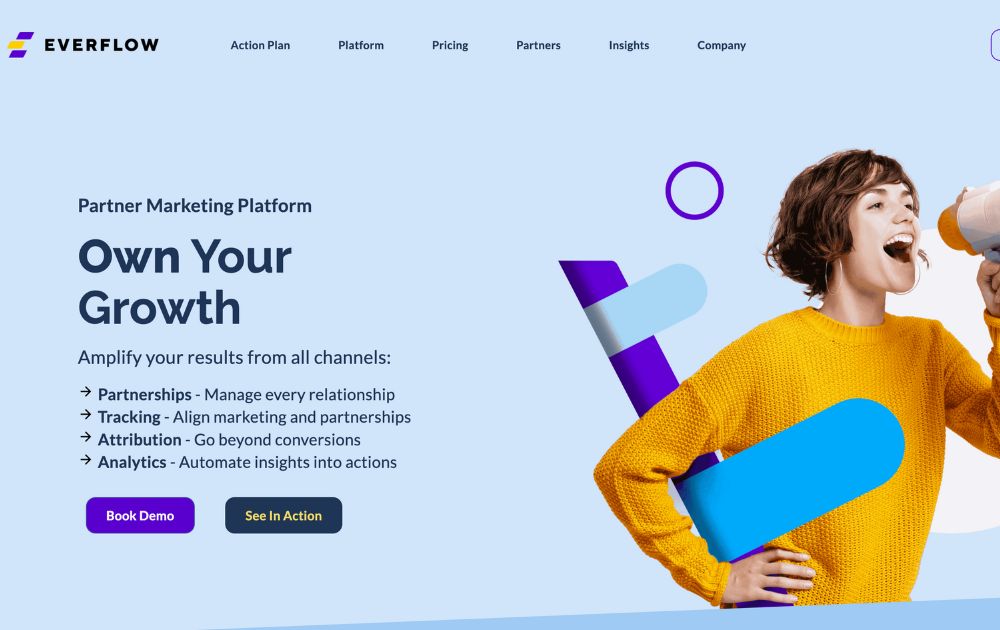 Though Everflow is not a free affiliate marketing software, it allows users to manage its partnerships and track progress all in one platform. The app's features make the investment worth it.
Features:
Consolidated reports on influencers, affiliates, and strategic partnerships
Integrations with Salesforce, Shopify, Facebook, and more
Pricing:
Everflow's Core plan costs $750 per month.
10. Tradedoubler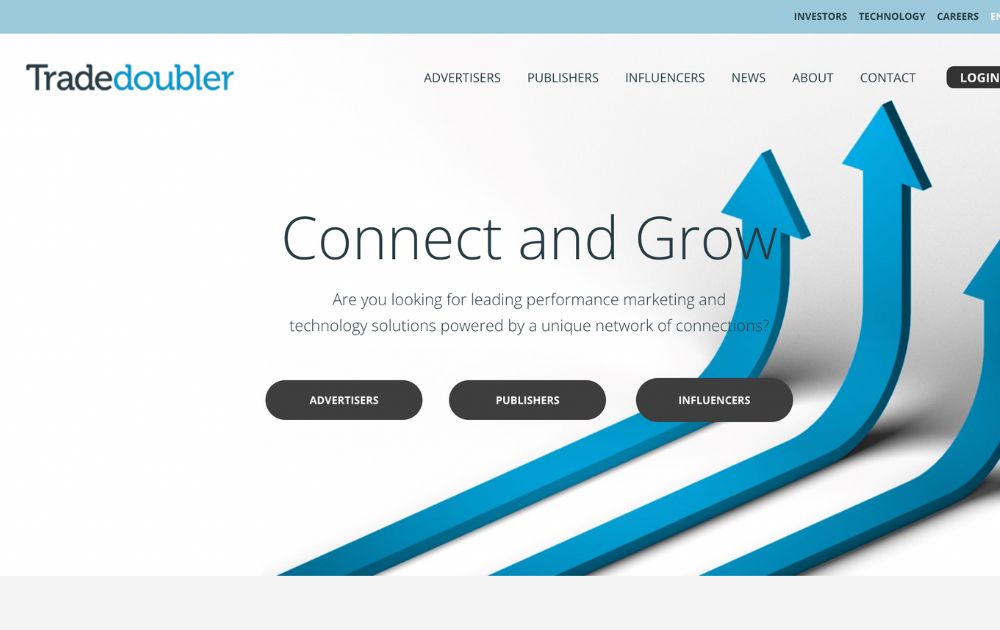 Last but not least on our affiliate software list is Tradedoubler. This app empowers advertisers and publishers alike to grow their business with tailored performance solutions based on specific needs.
Features:
Ability to create and run a user's own affiliate network
Control over each campaign
Pricing:
Tradedoubler's rates aren't available on their website. You'll need to get in touch with them to get their pricing.
FAQs about Affiliate Tracking Software
How do I keep track of my affiliate programs?
You can keep track of your affiliate program by using software that will monitor the conversions made by affiliates' audiences. These apps help content creators monetize and allow marketers to track conversions and commission pay-outs.
What is an affiliate tracking ID?
An affiliate tracking ID is a URL containing the username or ID of the partner. Brands use this to track affiliate performance as well as the traffic that the affiliate partner sends to the brand's site through the program.
How do you track the success of affiliate marketing?
There are various factors to consider to gauge the success of an affiliate program's success. These factors may include the number of clicks, conversion rate, return on ad spend, cost per sale, and more.
How to Pick the Best Affiliate Tracking Software
Dealing with a hundred affiliates would be quite tricky, if not impossible. That said, software made for that purpose will save you time and energy. Most of all, an app will help prevent mistakes such as paying the wrong partner or sending out the wrong amount.
So, how do you pick the right software? The best affiliate tracking software for you will depend on your individual needs and objectives. For example, if you're running a large-scale, multi-channel affiliate program, you'll need a program that can handle the extra volume. You'll also want to consider the following:
Type of program. There are two main types of affiliate tracking software: hosted and non-hosted. Hosted software is cloud-based, which means you don't need to install it on your computer. It's also crucial to note that non-hosted software requires installation and maintenance.
Ease of use. Affiliate tracking software is not one-size-fits-all. Choose a program that is easy to use, so you don't get overwhelmed.
Security. Make sure your affiliate tracking software is secure. Hackers can get access to your program and steal all of your data, including affiliate information and sales figures.
Whether you're just starting out or already have a successful affiliate program, a tracking app is surely one of the tools for entrepreneurs that will fit your needs and help you maximize profits.