The Best Competitive Gaming Chairs of 2019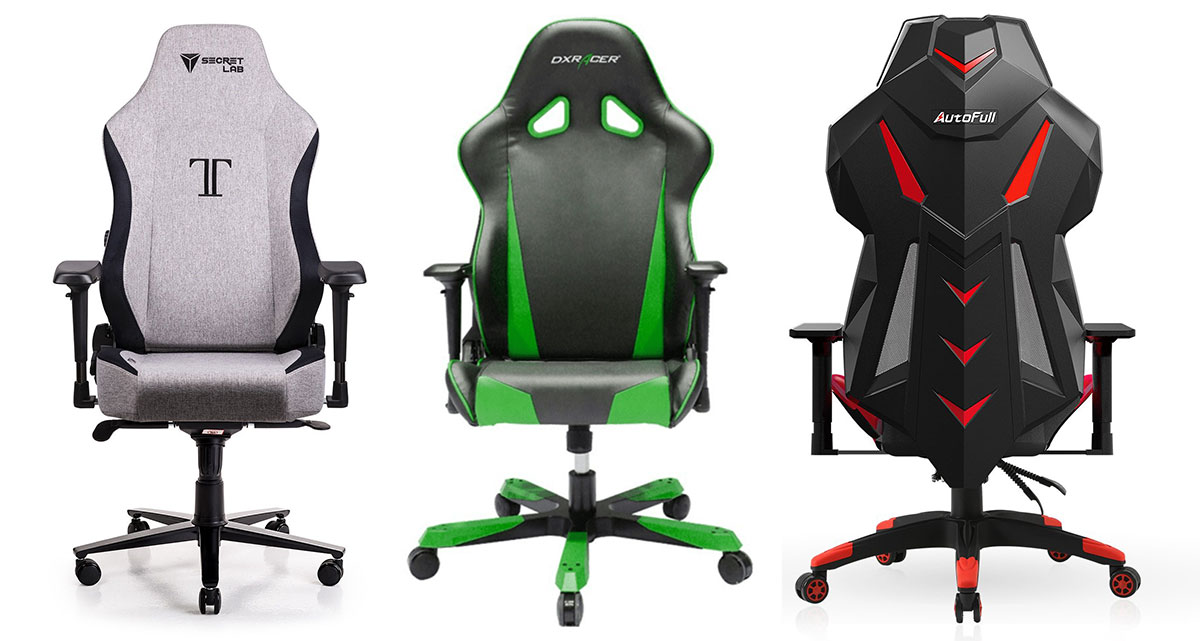 Competitive gaming is still a relatively new phenomenon. And with it comes the development of all sorts of peripherals and gadgets to give players in the competitive space an edge. Gaming used to be much simpler back when I was in grade school. I used to bike over my friend's house after school. My friends and I would finish an episode of Dragon Ball Z, and then head into his basement where he'd  turn on his Nintendo 64 and we'd go four-player split screen death match in Golden Eye. And back then, we didn't need much other than a decent controller. We'd all sit on the floor backs hunched over waiting for scoliosis to kick in as we waste one another.
Those days are long gone, and nowadays competitive gaming has evolved greatly. And along with it, the need for better support equipment, mainly back support. In recently years, there's been a lot of new companies entering the e-sport market, especially the gaming-chair category. Gaming chairs have become an essential gaming equipment that professional players can't go without. If you watch either Fortnite or Apex streamers on Twitch, you'll notice just about everyone sits in a professional gaming chair. And there's a good reason for that. A player with better support equipment will outlast and outperform a player. And that's why nowadays, everyone is investing in a good gaming chair. But not all gaming chairs are created equal. Which chair should you invest in?
Having only been founded in 2014 and launching their line of products in 2015, Secret Lab is a fairly new company. But being the new kid on the black doesn't mean their products aren't among the best in class. We review and test the Secret Lab Titan Series, and so far, it's one of the most comfortable, versatile, adjustable, and well balanced chair we've ever tested.
At $429, it's certainly not among the cheapest or affordable equipment. But there's a reason why we chose the Secret Lab as first on the list. The build quality, features, and premium materials they used for this chair is unrivaled, even by others on the list. Additionally, we like the clean look of Secretlab chairs. They opted for a more elegant and premium look. And looking at it, it really does look like an expensive chair. When we put it to the test, it performed as expected. Even after six hours of non-stop Apex domination, our reviewer felt the Secret Lab Titan Series provided exceptional support and comfort, especially in long sessions.
More petite gamers often have a difficult time finding a chair that fits them just right. Often times they're stuck with a chair that's too large for them, and they have to sit leaning forward because the backrest is too far away. Prolong exposure to sitting in a chair made too large for you can result in discomfort and lack of focus. And that's where the Arozzi Verona Junior shines. As the name implies, the Arozzi Verona Junior is a chair that's made for gamers under 5'2. It's well structured and molds to a smaller frame, giving unequivocal comfort.
DXRacer is an old and respected company that pre-dates a lot of companies on this list. And with that, at least one of their chairs are expected to make the list. The DXRacer Tank's is unique in that it can support a gamer up to 450lbs and it's back support is large enough to accommodate a 6'7 giant. It's a sturdy chair that's made for a specific audience and also comes at a fairly steeper price tag of $600.
Autofull is a great value chair. It's not cheaply made, and it's price certainly doesn't reflect that. But it's also not overly expensive with quirks and features you'll never need. Autofull made a chair that's just perfect for the middle market. Someone who has a little bit of budget, wants to invest, and only invest in a chair that can deliver the essential comfort and features they need. And with that, Autofull absolutely delivers. Being at $200, it's price point is just right. And even at that price point, they still managed to squeeze in features you'll be surprise to find.
Vertagear is popular among Twitch streamers and many Youtubers. It's a highly adjustable and ergonomic gaming chair with all your essential features in addition to the memory foam being on the firm side. The back can actually be adjusted. You can lift it up or down to adjust accordingly to your height, a feature not found on many chairs. Veragear also lets you choose from a wide variety of colors to ensure the chair fits your setup/colorscheme.
Top 10 Shared Hosting Companies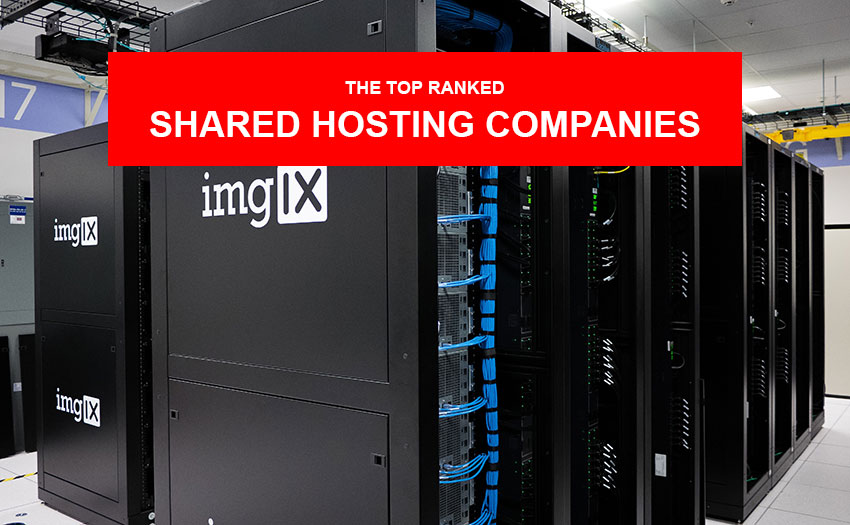 According to Google, if your website takes more than 10 seconds to load, people are 123% inclined to leave your site. That's why you need excellent hosting service to prevent that.
Dedicated hosting services can help ease that pain, but it can break your bank. So, it's best to go for an affordable option so you can save up on the things that matter. That's why you should consider going for a shared hosting service to keep your site running smoothly.
Let's take a look at the top 10 shared hosting companies on the internet.
1. FastComet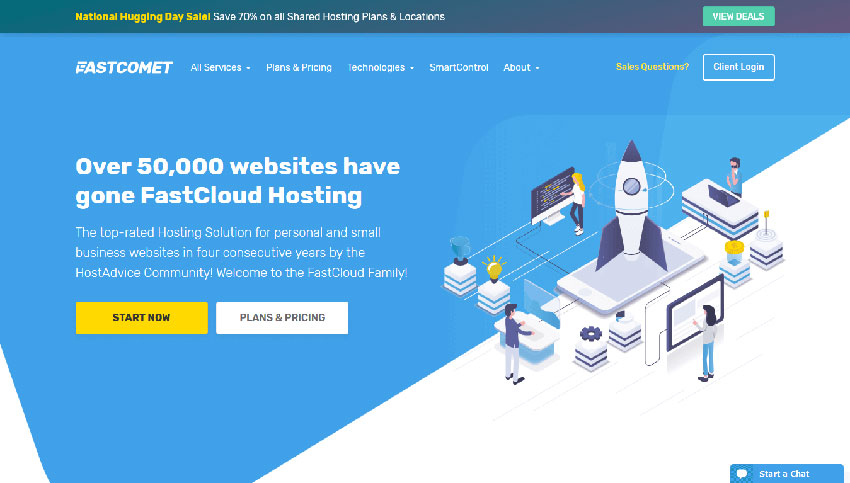 FastComet renamed its shared hosting services to FastCloud plans. Previously, FastComet named it StartSmart, ScaleRight, and SpeedUp.
Features include the following:
cPanel
SSD Space
Free Domain Transfer
Free Website Transfer
Unlimited bandwidth
The regular price for their FastCloud plans starts at $9.95/mo, while the most expensive one, FastCloud Extra, is $19.95/mo. At the time of writing, all plans are 70% off with FastCloud at $2.95, FastCloud Plus at $4.45, and FastCloud Extra at $5.95.
FastComet users may experience faster loading times boasting speeds at 200 milliseconds. Not only that, but users get a 99.99% uptime. So, website visitors don't encounter any site downtime. Plus, according to Website Host Rating, their shared server is secure for all users, which is why it's one of the top 10 shared hosting companies on the net.
According to Blogger Sneed, there's no dedicated IP address for the shared hosting server. While FastComet has better loading times and even performance than its competitors, the FastCloud plan may not load faster than usual. So, it's a much better option to upgrade to the higher plans.
2. ChemiCloud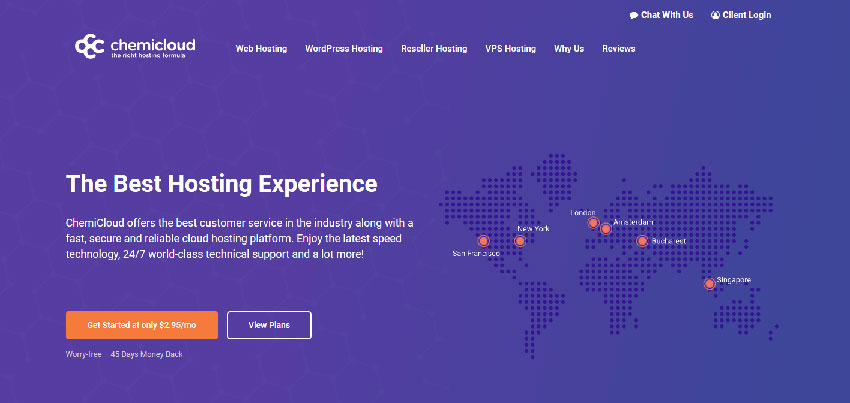 Potential customers of ChemiCloud can choose among three plans on the site. It's on sale at the time of writing, so the most affordable plan is the Web Hosting Starter for 3.95/mo for three years. ChemiCloud priced it originally for $7.90/mo. Their most expensive plan, the Web Hosting Turbo, is for $7.66/mo for three years. It's 10x faster than its two other plans.
Some features of the ChemiCloud plans:
Free Let's Encrypt SSL
Different server locations
Free migrations
For some experts, uptime is one of the many pros of the ChemiCloud hosting service. Rare are downtimes with using ChemiCloud, and there's a 99.98% of uptime most of the time. Another thing is you can migrate your site for free within 24 hours, WP Glossy says.
According to Host Review Now, ChemiCloud can be difficult to navigate since there's no FAQ or guides. Billing may become an issue for many users due to its billing cycles.
3. iPage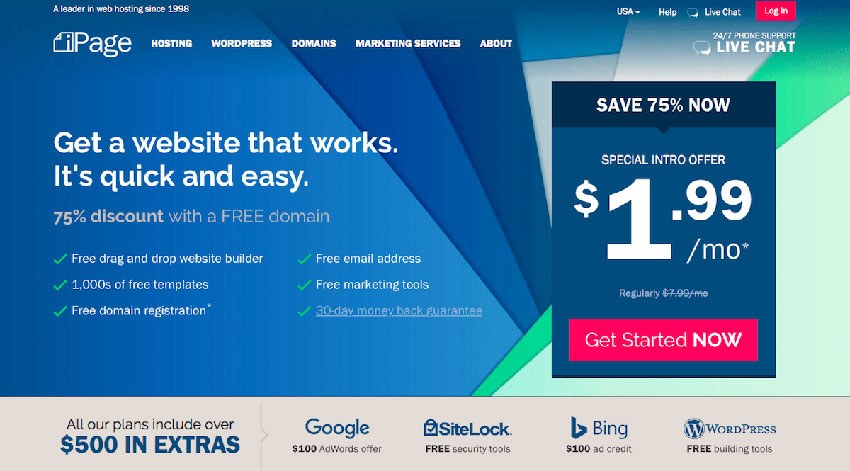 For many users, iPage is one of the top 10 shared hosting companies. The cost for an iPage shared hosting service is $1.99/mo (regularly $7.99/mo) for the first term of service. Users get some of the following features:
Free SSL certificate
Unlimited disk space
Shopping cart integration
One pro of the iPage hosting service is its user-friendly cPanel that even beginners can use easily. It's great for small business owners that need a domain quickly. TechRadar also noted that it has incredible performance even during the testing period.
Even if the starter price is lower than most hosting services, iPage tends to upsell to their customers. Another con for using the iPage shared hosting service is there's no cPanel. Besides, users have mixed reviews over their support. Also, if you'll have to migrate a site, you'll need to pay $150.
4. Hostpapa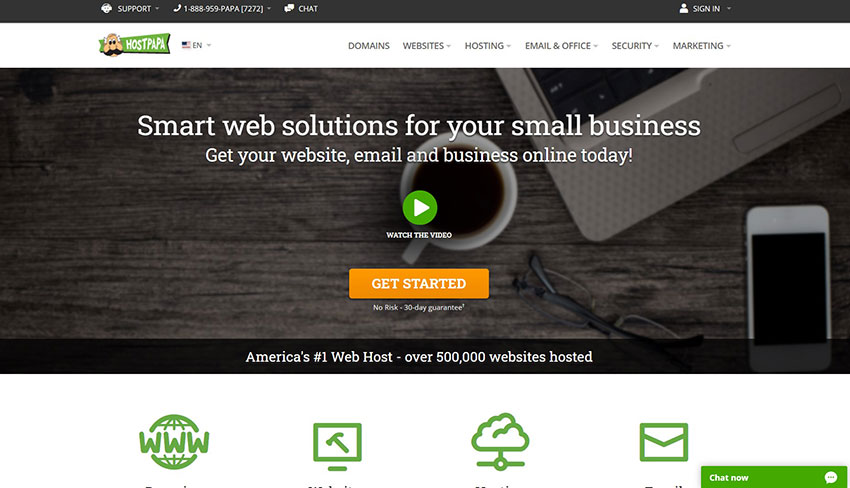 Hostpapa offers three shared hosting plans for potential customers: Starter, Business, and Business Pro. The hosting site recommends that its customers go for a Business plan. Its regular price is $12.99/mo, but they have a deal that is $3.95/mo for three years. The most expensive subscription is $19.99/mo (regular price), and their most affordable is $7.99/mo.
You can get the following features in all plans:
SSD Storage
Unmetered bandwidth
Free domain registration
Choose between a Canada or US server
Hosting Facts says that small businesses can get a bang for their buck on the Starter Plan. They offer essential features even on the plan, so it's good value for money. Another reason why small businesses could go for Hostpapa is because of the performance and speed it gives to their sites.
According to Hosting Facts, additional fees can become a deal-breaker for some potential customers. Service can be a hit or a miss from users who left reviews in TrustPilot and Host Advice.
5. Arvixe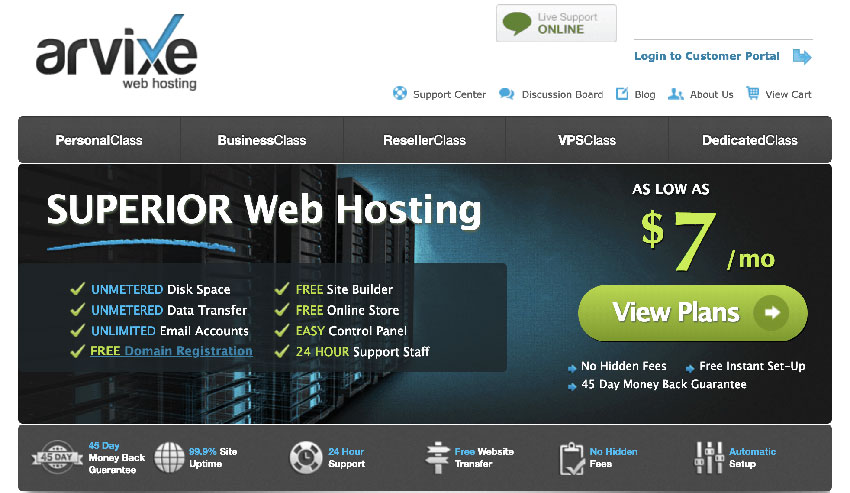 Arvixe has two plans with two categories for its shared hosting service. You can choose between a personal or business plan and a Linux or Windows shared hosting one.
Their most affordable shared hosting service is the PersonalClass Linux shared hosting service that starts at $7.70/mo. You can get a PersonalClass Pro starting at $11.00/mo. You can upgrade to more features for $20/mo.
Some features of the PersonalClass plan are:
Unlimited disk space
Free domain name
Use of cPanel
Arvixe isn't just a website hosting site. You can build a site and get excellent uptime during the testing period, according to PCMag. Plus, you may get a 60-day money-back guarantee if you want to try out Arvixe for a while.
One disadvantage of using Arvixe is that you'll need to buy an SSL certificate for $25.00 a year. You might want to consider other hosting sites if you need support often since many users across different review sites aren't pleased with them.
6. Namecheap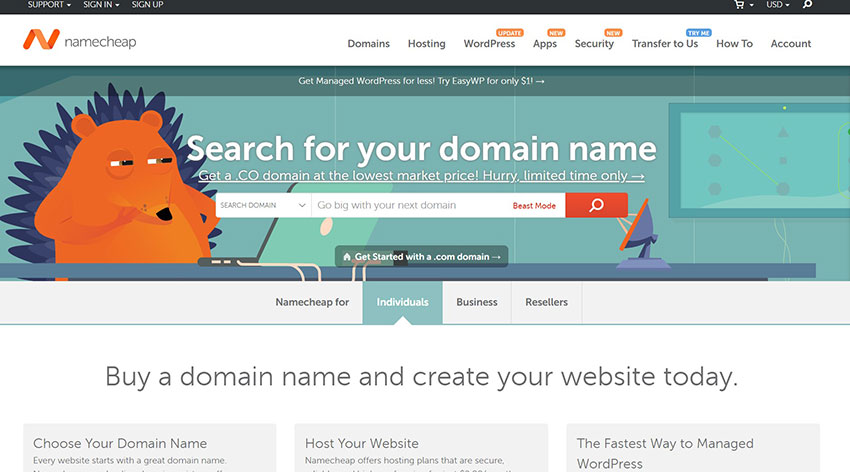 If you want to avail of a Namecheap shared hosting server, you've got three options and two servers to pick from before you purchase a plan. You can opt for a Stellar, Stellar Plus, or Stellar Business plan. Meanwhile, the two data center locations available are US and UK.
Small businesses can get more out of a yearly subscription on a US server since it also includes cloud storage. The price is $52.88 for the 1st year and $104.88 a year ($8.88/mo). They do recommend availing of the Stellar Plus subscription. You'll pay $29.28/yr for the first year, and it renews at $57.88/yr ($4.88/mo).
Some features you get on the Stellar plans are:
50GB SSD
Unlimited websites
Free one domain name
According to WhoIs Hosting This, your account and data are secure on Namecheap because they enable two-factor authentication. The cPanel is also something many find an advantage against its competitors. It's because of the ease of use and design.
Some experts note they face issues over uptime. They found that it has less than 99.99% uptime, which isn't a good thing. Plus, not many are satisfied with the support given by Namecheap.
7. Hostinger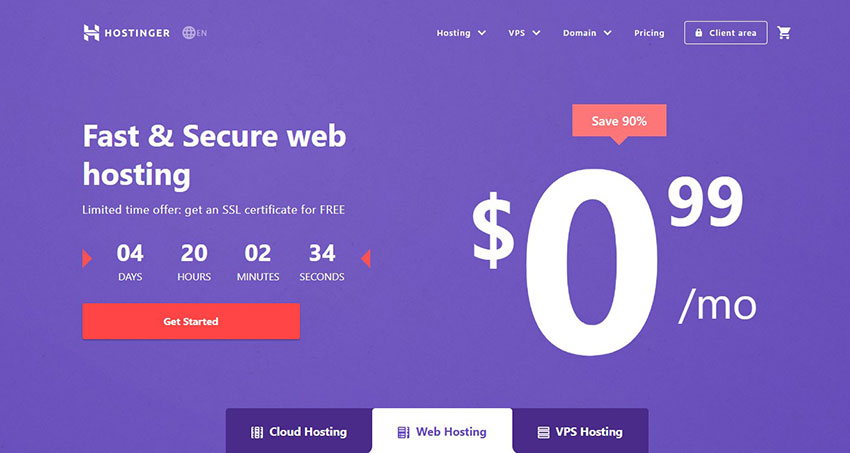 Hostinger recommends that small businesses go for Business Shared Hosting for $3.99/mo for four years. It will renew to its regular rate of $15.99 after that period. Its most affordable plan, the Single Shared Hosting Plan, is at $0.99/mo for four years. The Single Shared Hosting plan is limited, so it's best to opt for a Premium Shared Hosting plan or higher to get more features.
Here are some features you get if you choose a Premium Shared Hosting plan and above:
Free SSL certificate
Free domain
Unlimited bandwidth
Unlimited number of websites
If you want to save money, you'll need to avail of a 1, 2, or 4-year plan.
Experts notice that support is one of its main issues because you can't call their support. Otherwise, many do like that support is responsive online, so that's a plus. That's why users do find that Hostinger is one of the top 10 shared hosting companies.
8. KnownHost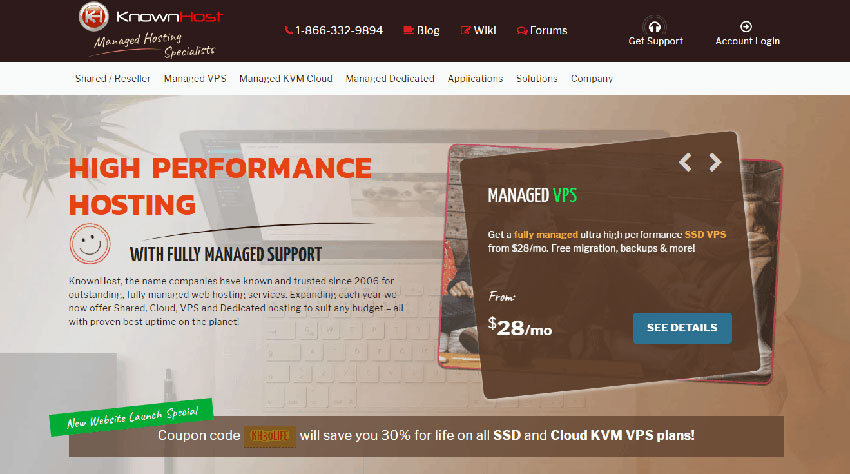 For KnownHost, they present you with three options (prices discounted for three years only):
Basic ($3.47/mo)
Standard ($6.47/mo)
Professional ($9.97/mo)
KnownHost promises unlimited bandwidth for all tiers and free SSL certificates.
Experts and users alike report that uptimes are as advertised. It seems many find satisfaction with support also. One downside about using KnownHost is that it hosts using Linux only. Otherwise, it's an excellent service overall.
9. Hostens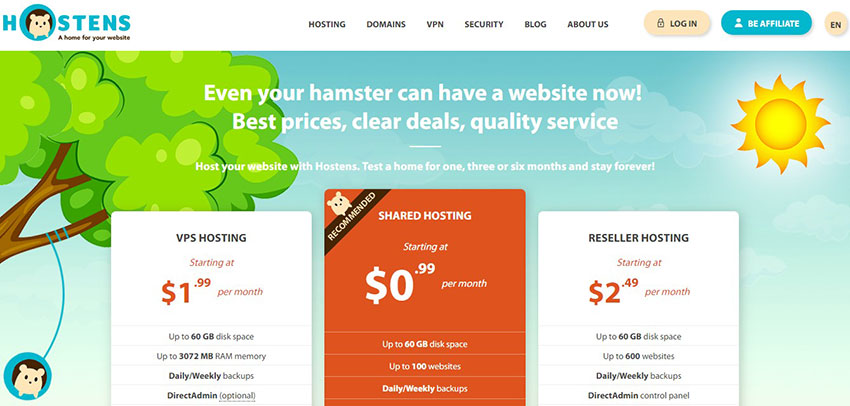 Like most of the shared hosting companies on this list, they also offer a 1, 2, or 3-year subscription. But if you just want to test the waters on Hostens, you're free to opt for a monthly subscription paying their regular price.
Their most affordable plan is the S10 plan for only $0.99/mo for three years. They do suggest you avail of their S20 plan for $1.80/mo for three years. Their most expensive shared hosting plan is $3.60/mo for three years.
Common features of the three plans:
cPanel
Free website builder
Different server locations
Aside from its affordability, Website Planet finds that there's the ease of use and the one-click installer for programs. One main disadvantage of using Hostens, though, is it doesn't offer DDoS, and it could affect your website. Despite such, it's one of the top 10 shared hosting companies on the list.
10. TMDHosting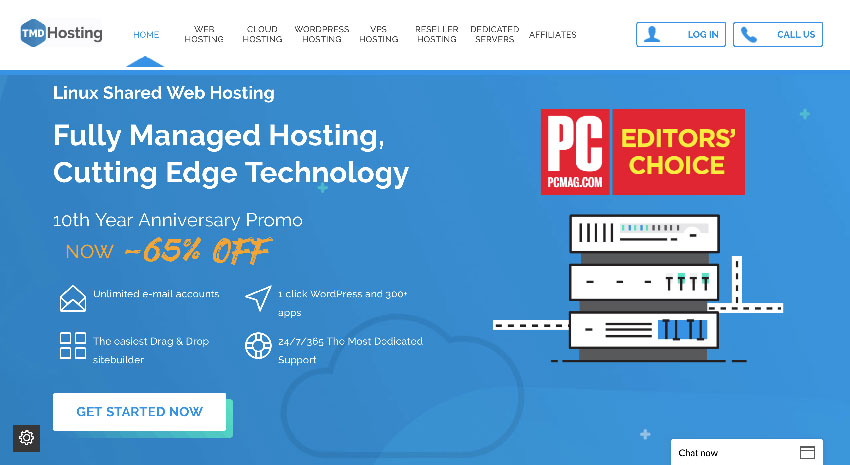 Similar to other hosting companies, you have three plan options that would best suit your small business. Their recommendation is the Business Plan priced $4.95/mo, while the regular price is $7.95/mo.
You can get the following perks when you use TMD Hosting:
Unlimited SSD space
Unlimited bandwidth
Let's Encrypt SSL
Plesk Control Panel
Website Planet finds that free daily backups are helpful. Another point goes to TMDHosting because they have servers in different locations. However, there are frequent complaints about billing from users. Other than that, TMDHosting is one of the top 10 shared hosting services for some users.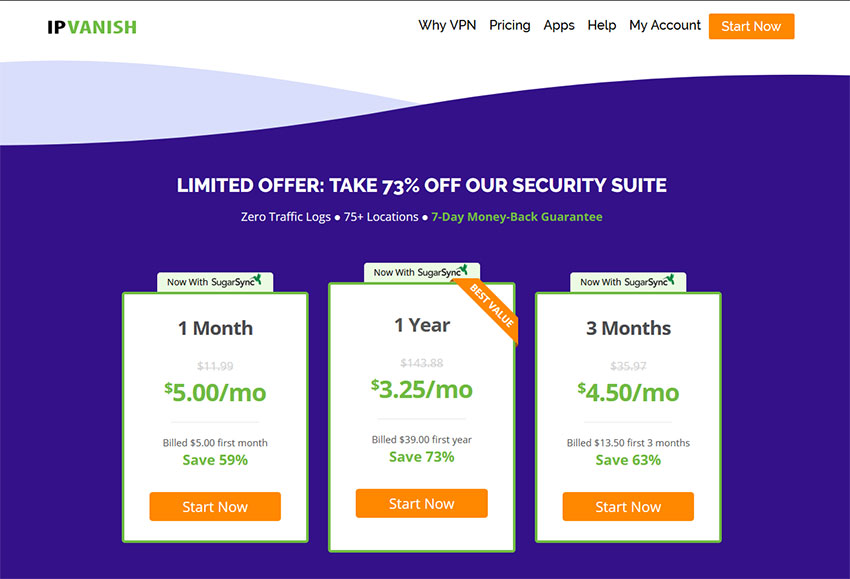 Internet security and privacy must be taken seriously now more than ever. With millions of people using the internet, wide-scale cybercrimes are also likely to happen. This includes fraud, hacking, identity theft, scams, and malware attacks, to name a few. And if you do not have an added protection over your internet usage, you could be the next victim. This is not to scare you but rather to emphasize how these cyber criminals work. They will use every opportunity and it doesn't matter who you are.
This is where a VPN can help you.
What is a VPN?
VPN stands for Virtual Private Network. It's an extra layer of protection that allows users to create a secure connection to a different network over the internet. This means that everything you do over the internet will be encrypted. No one (not even the government) could track your online activities. Additional benefits of a VPN is that you can access websites that are restricted in a particular region.
So the next question is: Who should get a VPN?
Everyone.
Back in the day, big companies are the common clientele of VPN providers. But as we've mentioned, the number of individual internet users surged over the years. It goes without saying that the rate of cybercrimes could go up too.
10 Best VPN for 2020
If you Google 'free VPN' right now, you will be overwhelmed with hundreds of providers to choose from. It is tempting, but we do not encourage free VPNs. Frankly speaking, these do not guarantee a high level of protection. Thus, our list only includes paid VPN providers that have passed our high standards.
1. NordVPN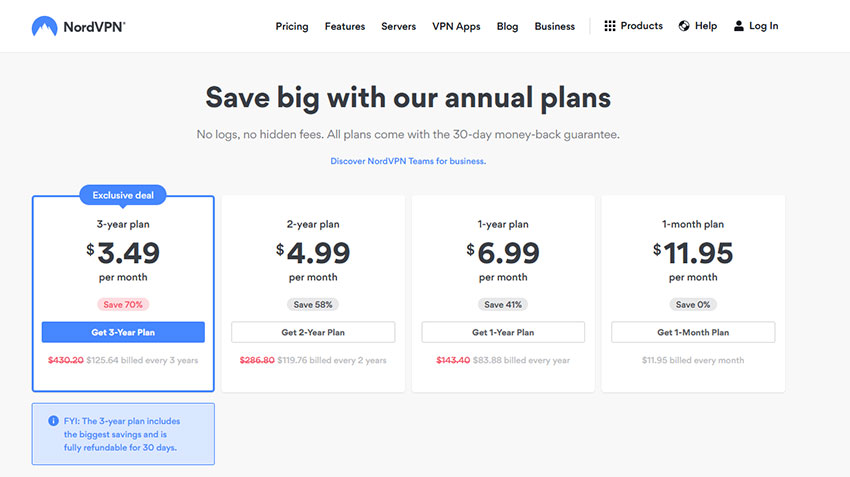 In the last 6 years, NordVPN's team of engineers, designers, and system administrators worked hard to create a tool that will bring them closer to their vision – Having a more open, yet private and secure internet.
With NordVPN, you can safely transact online even on unprotected Wi-Fi. Your online activities won't be tracked as well because basically, it's nobody's business. And since they have more than 5600 servers in 59 countries, you can access your favorite websites, streaming services, and messaging apps anywhere in the world. The best part is, it works on all devices.
We recommend that you take advantage of their 3-year plan where you get to enjoy the VPN services for only $3.49 per month. In our opinion, it's a cheap price given its features.
2. SurfShark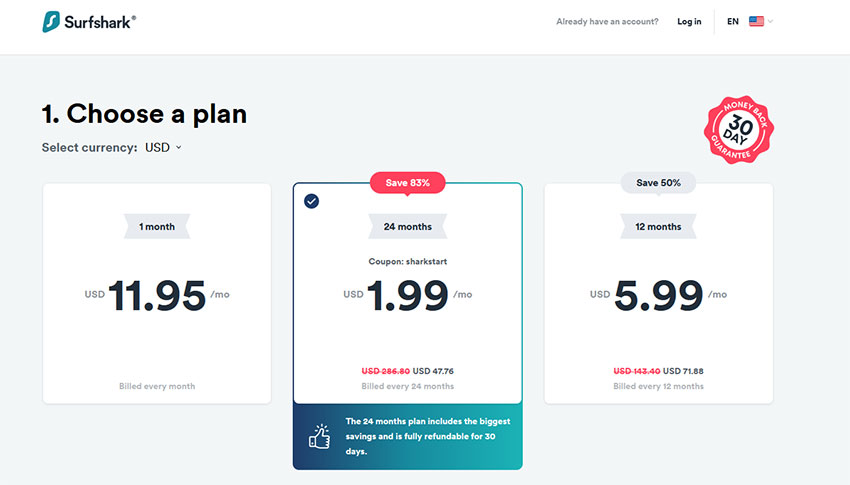 Aren't you interested to see Netflix libraries from other countries? SurfShark has 15 different libraries to choose from. But of course, there is more to love about SurfShark.
With them, just one subscription can cover unlimited gadgets in your home. They also have more than 1700 servers in 64 countries.
Let's not forget their Kill Switch option wherein your connection will be automatically disabled when your VPN drops. Talk about protection all the time.
They have a very affordable package for only $1.99 per month if you get their 24-month plan.
3. PrivateVPN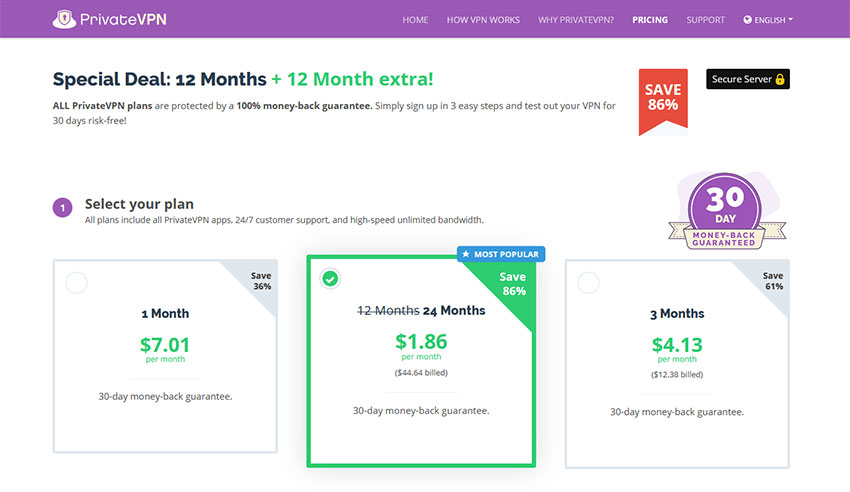 PrivateVPN allows their users to enjoy geo-restricted websites and it will only take you one minute to unleash the internet. With them, expect lightning-fast streaming services and excellent website experience.
The PrivateVPN's team is particular with their customer service. It's one of the things they are proud of. For issues, you can directly talk with their in-house developers and it will be resolved the fastest time possible.
To date, they have 100 servers in 60 different countries. You can get their services for $3.82 per month as long as you choose their 13-month plan.
4. ExpressVPN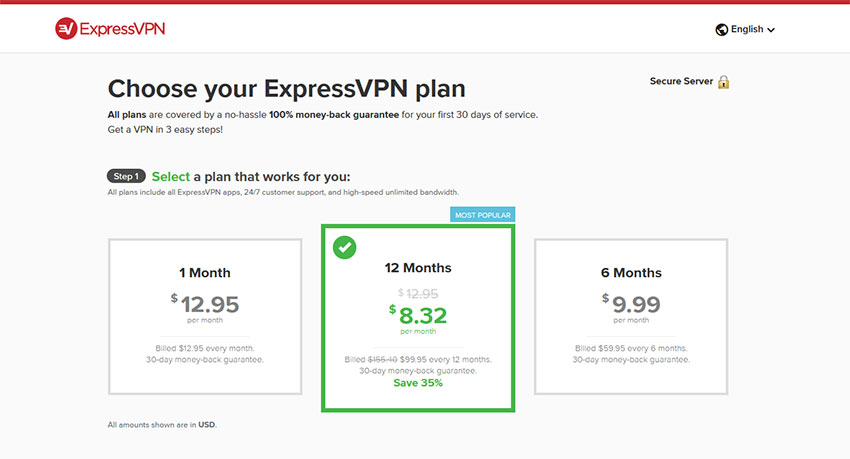 ExpressVPN is almost in every top VPN list. That's not surprising considering the quality of service you can get from the provider. They have a huge global network in 94 countries, and that means you can expect nothing less from them. You can even use the VPN in most devices and gadgets! It's pretty hard to pinpoint what's not to love about it.
What we personally like about ExpressVPN is their split tunneling where you can route some of your app traffic through the VPN while others can be directed to the internet.
Get their 1-year plan for $6.67 per month. This might be a bit steep but considering that ExpressVPN is one of the leading and most trusted providers, the price can be justified.
5. CyberGhost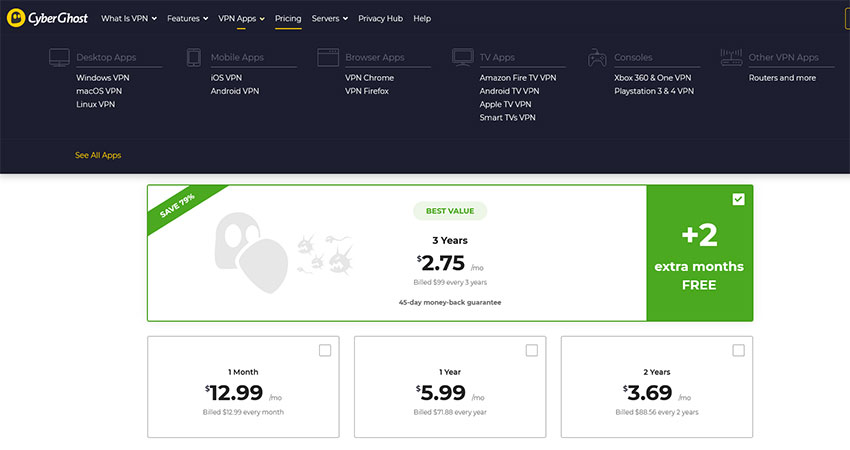 CyberGhost has 15 years of experience under its belt. We recommend this if your online activity involves heavy streaming and torrenting. With one subscription, you can cover and protect up to 7 devices. Their customer support is also available through chat and email.
As of the moment, they have 6400 servers in over 90 countries. In addition, CyberGhost uses 256-bit military-grade encryption which can protect your data all the time. Get their 18-month plan for only $3.15 per month.
6. IPVanish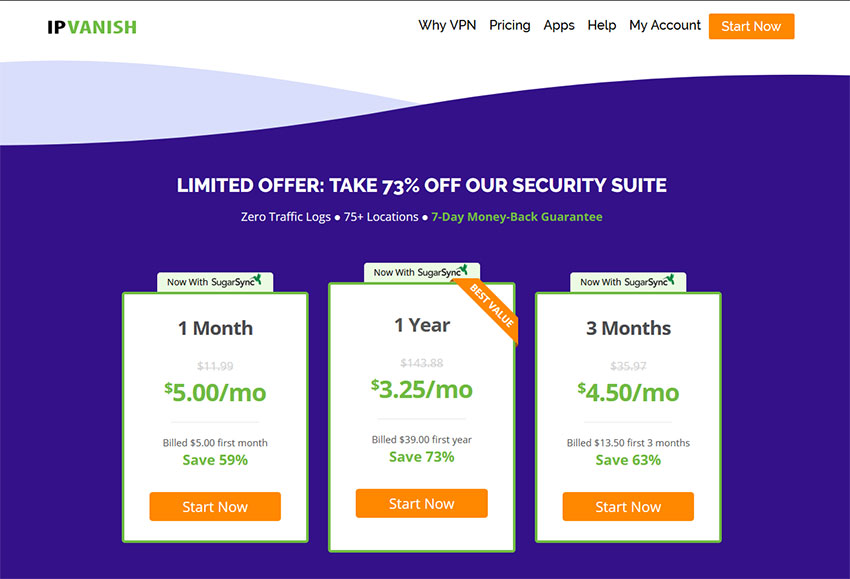 IPVanish provides its users access to over 1400 anonymous servers. You are guaranteed with fast and unrestricted internet access practically from every corner of the globe.
What's good about IPVanish is that all its services are managed internally and there is no middle man. Having said that, your information and data will be kept safe and confidential.
Lastly, they offer SugarSync which provides file management and encrypted data backup for various devices. It also has a wipeout feature in case your device gets stolen. For $3.25 a month, you can get all of these and more from IPVanish.
7. UltraVPN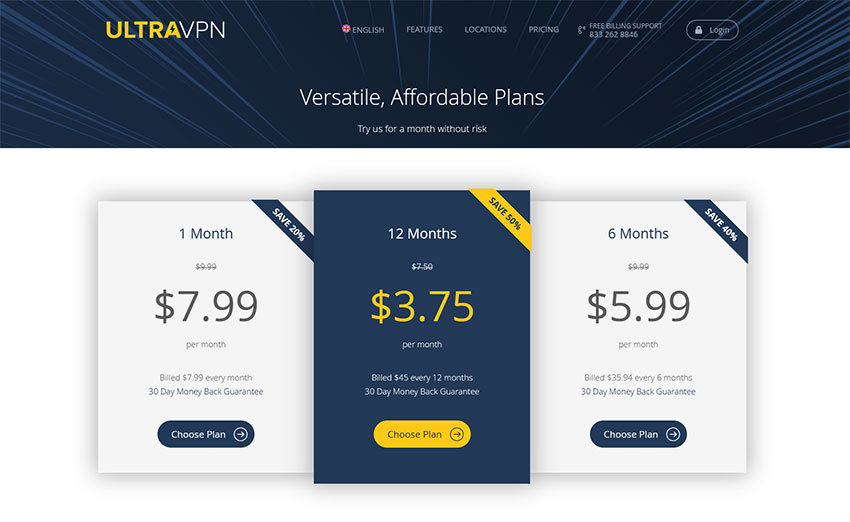 UltraVPN boasts its fast internet connection where you can watch continuous videos without the need to pause. Right now, they have more than 50 server locations across the globe.
UltraVPN gives you the access to unlock social media, watch sporting events that are restricted in your region, or check out videos that are only available in certain countries. UltraVPN can give you that power and limitless internet connection that we all deserve.
You can use the VPN for Windows, Mac, iOS, Android, and even for Fire TV. Get their 1-year plan for only $3.75 per month.
8. ZenMate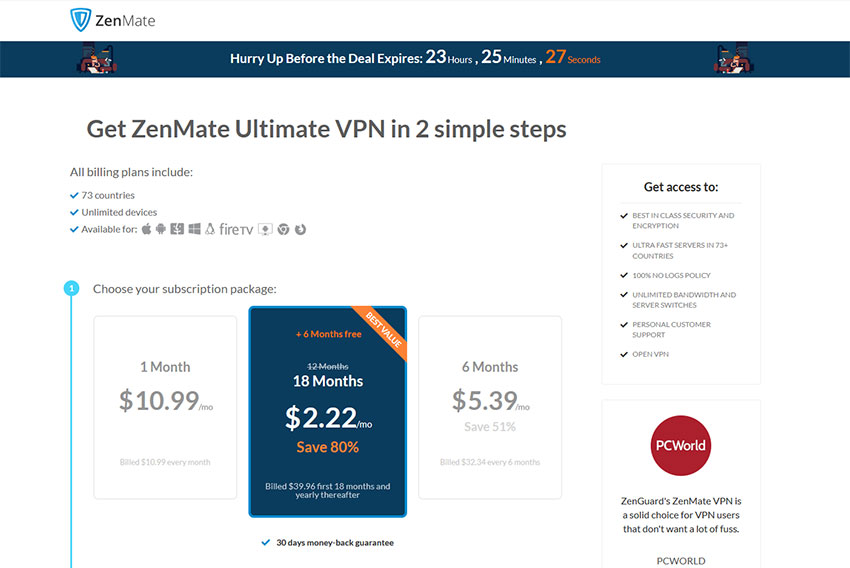 ZenMate is easy to use with its one-click connect feature. But even with its simplicity, it delivers an optimal experience to its users. With a rating of 4.7 out of 5 from more than 360 reviews on Trustpilot, it is beyond satisfactory. Currently, it has 3800 servers in more than 74 countries.
Affordable rates are also waiting for you. Their package starts at $2.22 every month under their 18-month plan.
9. Hotspot Shield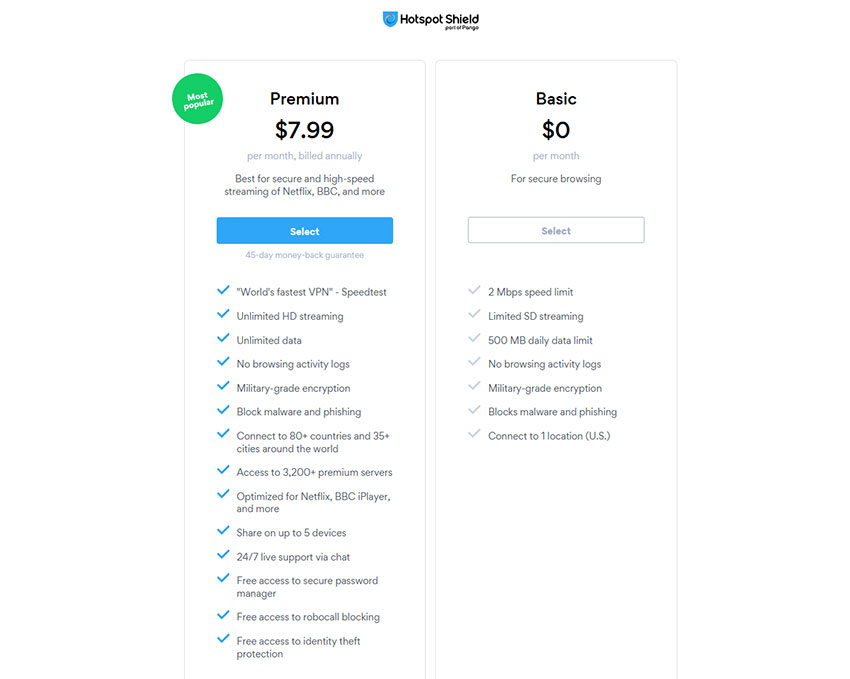 Hotspot Shield is known as the fastest VPN and this has been verified by experts. In fact, the company's outstanding services bagged them a number of recognitions including 'the 2019 Most Innovative Security Company'.
To date, they have more than 740M downloads and the number continues to grow. You can install Hotspot Shield in 5 devices, and it detects more than 3.5M malicious websites. For their 3-year plan, you just need to pay $2.99 every month.  
10. PrivateInternetAccess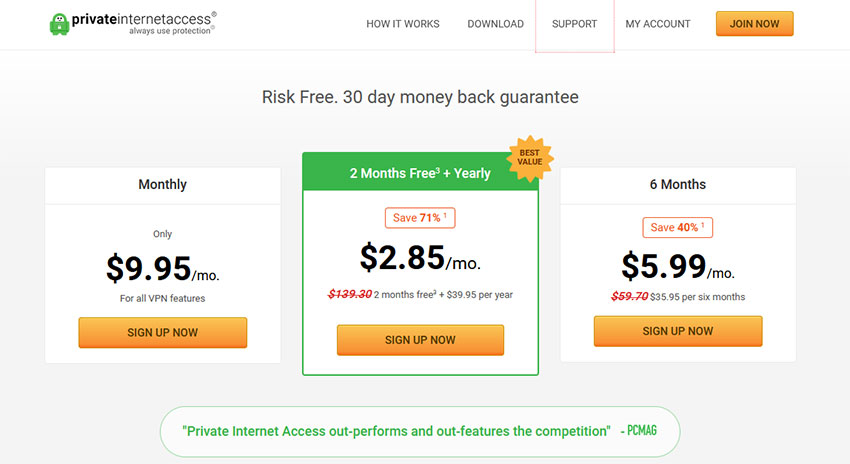 Last in our list is PrivateInternetAccess. It has more than 3300 servers in 45 countries. With their services, you can block unwanted connections – thanks to its advanced firewall and filtering features of the Netfilter Project. Without a doubt, it is one of the best VPN providers today.
Its layer of security includes IP cloaking, encryption, firewall, identity protection, and unblocking websites, to name a few. Choose their yearly subscription and only pay $3.33 per month.
Conclusion
If security and privacy matter to you, we encourage that you get the best VPN right now. Think about it. Most of us pay monthly subscriptions for Netflix, Spotify, and other online services. It seems logical that you pay for protection too. Most VPN providers we've included in the list offer a money-back guarantee. Use that lead time to decide before actually paying for the services. It's definitely a win-win if you ask us.
My Experience With Penji (+25% Promo code) Unlimited Graphic Design Service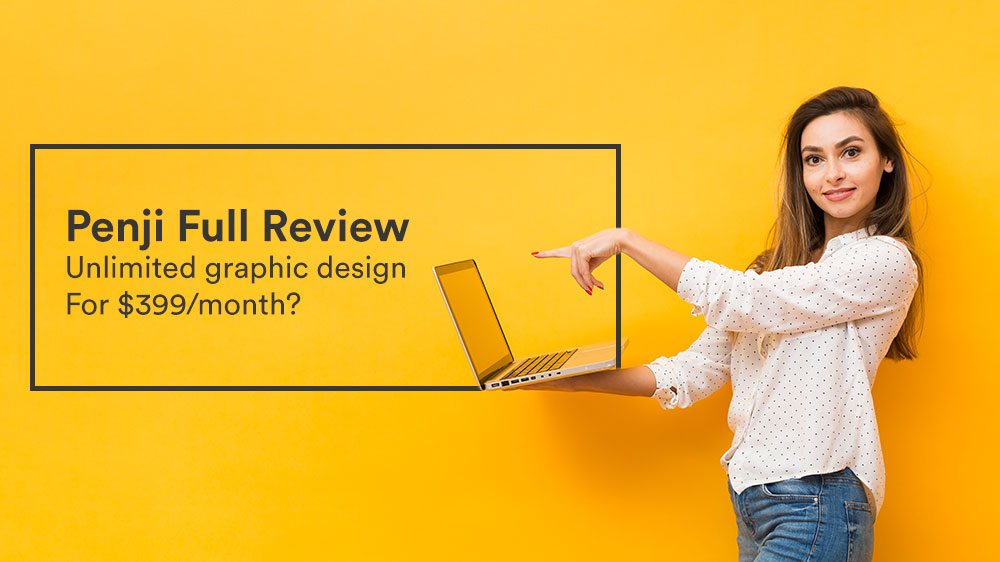 Penji is a startup based in Philadelphia, PA offering a unique graphic design business model. The startup offers unlimited graphic design services for a flat monthly rate. You can submit as many design projects as you want via their online portal, and they'll complete your requests one at a time until your queue is complete.
This type of service promises to be a great added resource for teams to improve productivity. Sounds too good to be true? We thought so too, that's why we decided to sign up and see if the promise is real.
Quick Summary
Don't feel like reading? Here's a quick summary of our review with Penji's unlimited graphic design service.
Pros
Easy and quick to create design projects
VERY fast turnaround on most projects. I expected just 1 draft in 24 hours but instead received 3 drafts. Revisions were sometimes completed the same day I submitted them.
A lot of features such as Revision tool, Invite team members, Brand profile, and more.
Upbeat communication from everyone I interact with.
Dedicated and responsive account manager that replies within a few hours.
Cons
Can't call or talk to designers
Final Verdict
Penji's "unlimited" design model turned out to be an amazingly high-quality service at an affordable price that's backed by a great team. But you need to have the right expectations going in. The experience is entirely online and you won't get any face-time with your designer.
Compared to designing yourself, hiring freelancers, or using Fiverr, Penji is a much better service and value by a long shot. Their team of designers lived up to the promise and exceeded my expectations.
Penji Promo Code
If you want to give them a try, use this Penji promo code "OWNER25" to get 25% off your 1st month. Full disclaimer, we receive a commission when you use the code.
---
PENJI FULL REVIEW

Signing Up For Penji
Signing up for Penji was a relatively quick and painless process. Overall, took about 5 minutes to get all of my questions answered by their customer support via Intercom and another 2 minutes to complete the checkout process.
1. Support Chat
This is something I personally test every company for – how fast and reliable their support is. If they're unresponsive now, it will only get worse once I'm a customer. I hit up Penji's customer support team via their Intercom chat popup and got a response within 30 seconds, which is pretty good. I asked basic questions and the agent seemed knowledgable
2. Choosing a plan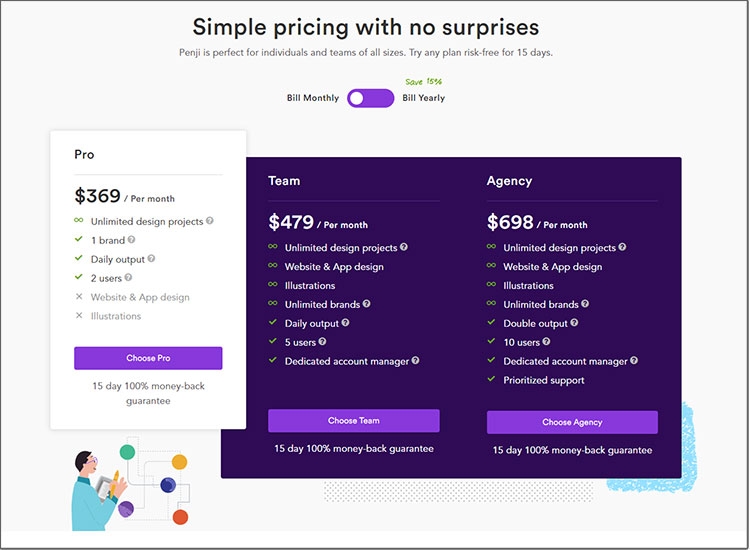 Clear and easy to understand. All the packages are laid out with monthly, quarterly, and yearly pricing. Each of the features also has a little information icon that explains what it is.
3. Checking out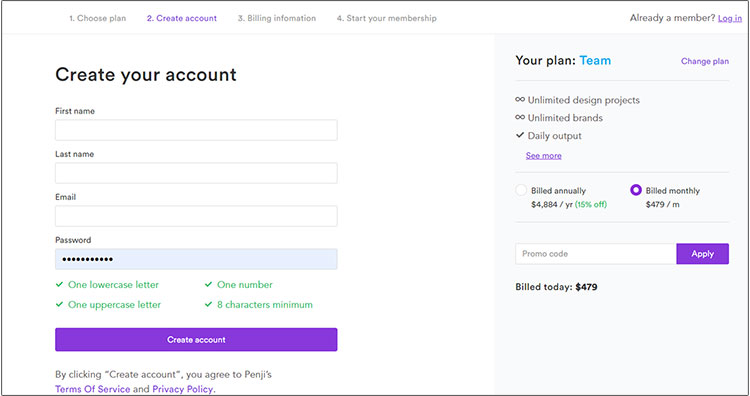 The multi-step process was easy to follow, and what you pay is clearly displayed. Checking out was also a breeze and took about 2 minutes for us.
---
Submitting Design Projects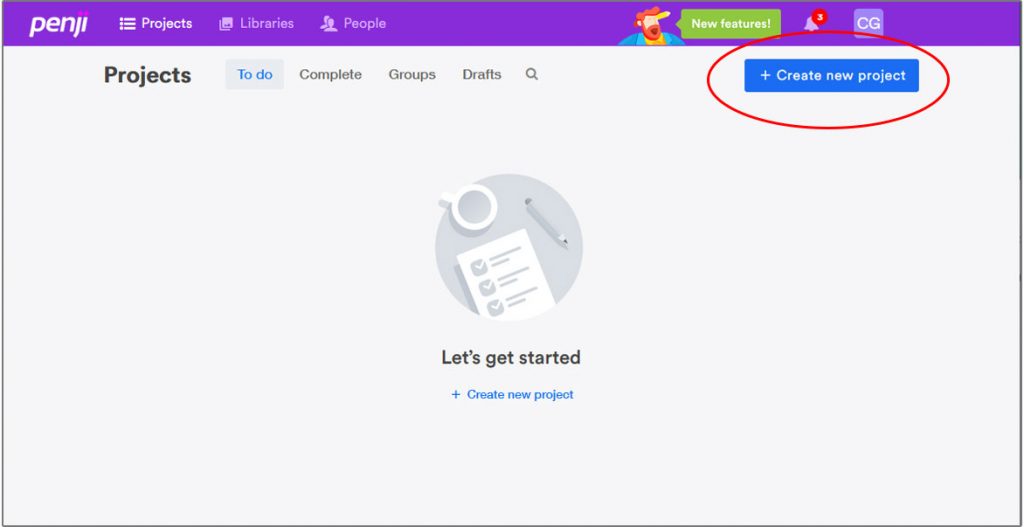 Now it's time to create my first project. Clicking on the "Create new project" button, I'm presented with a visual chart of all the designs they offer. I personally prefer this, because I can see what the designs look like. They offer a lot more categories than I thought and the list is extensive.
Filling out the form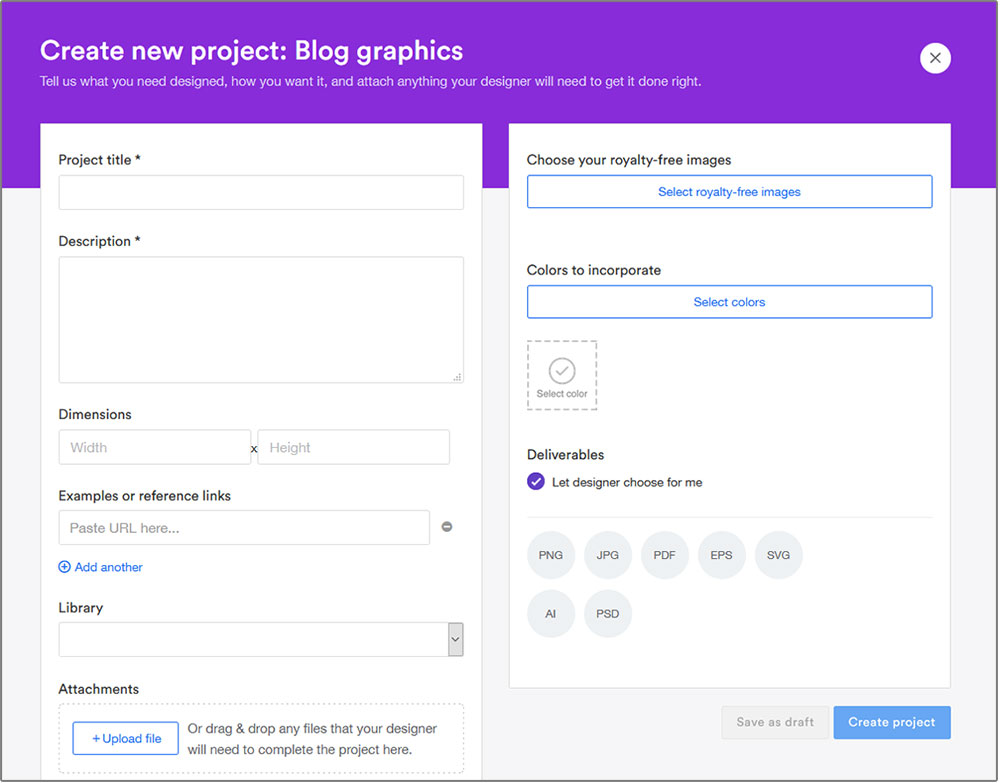 Similar to most other online design services, I have to fill out a form explaining what I want. The form is intuitive, easy to follow, and doesn't ask that many questions. Most of the questions are optional.
My test projects
As a digital publisher, we produce content on a daily basis and always have a need for on-brand graphic design. I created several diverse types of projects to test how well rounded Penji is and how they handle both simple and complex projects. A simple banner should be difficult, but can they handle a complex infographic with lots of texts and imagery? Here are my test projects.
Blog Graphic: Best DSLR Camera Equipment For Beginners
Custom Illustration: Best Vacuum Cleaner Money Can Buy
Facebook Post: Isometric Tech Gadget Graphic
Magazine Print Cover (Owner's Magazine's 2020 May Edition
Despite creating four projects, the entire process was quick and smooth. I didn't feel like I spent too much time creating them and their internal platform was lightning fast. At this pace, I can see myself submitting a ton of projects on their platform with ease.
These four projects range in difficulty and should be enough for me to evaluate Penji's competency. Now that the projects have been created, I'll wait and see if Penji can deliver on the promise of these being turned around within 24 hours.
---
Turnaround Time
I expect at least one draft the next day. What I didn't expect were three projects to have drafts. That's absurdly fast by any standards. Most freelancers and design firms we've hired take at least several days to turn around just one draft.
After reviewing the designs, which were surprisingly good considering it's the first draft AND were turnaround within 24 hours, I realized how they did it. Every project had a different designer. I wasn't assigned just one designer. That explains how they get things done so quickly.
Revision Turnaround Time
Revisions were turned around pretty fast. Their support agent actually told me it will take 24 hours to turn around revisions. I found that its a same-day turnaround most of the time. The revisions that took 24 hours were typically much more involved.
Overall, I never felt like revisions took too long. Most came back within a few hours after I submitted them.
---
Leaving Revisions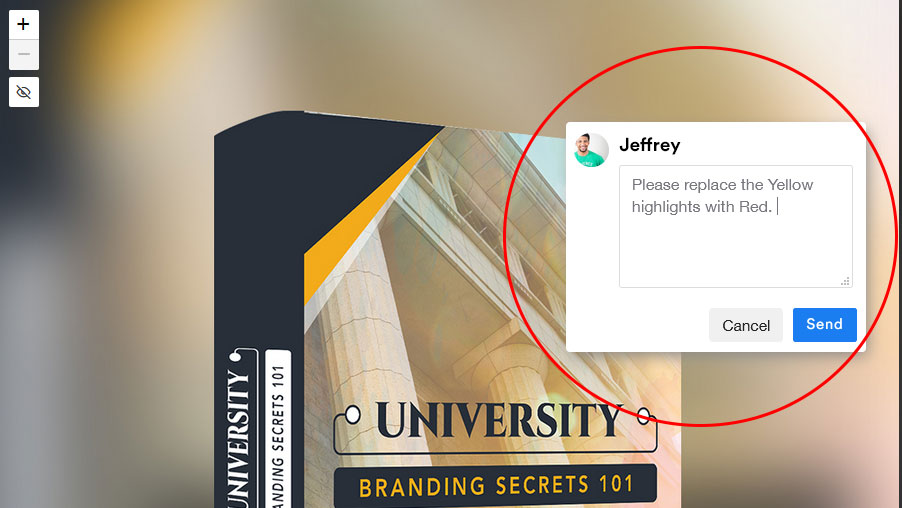 Everything is done online so I can't just call my designer and tell them what I want to change. My one gripe would be that I prefer to have some sort of real-time chat with my designer or at least have a skype call. That's one thing I like working with my freelancers, is that whenever they were online, we could just have a back and forth conversation to get the revisions across. I can't do that with Penji.
Built-in Revision Tool (see image above)
Penji has a built-in revision tool that lets me click anywhere on the design to leave a revision. I found this incredibly useful and enables me to pin-point what I want to change.
---
The Results
It took about 1 week to go back and forth with revisions and edits for all 3 design projects. At the end of the week, I received the final drafts for all three. Here are the results of the three test projects.
1. Blog Graphic: Best DSLR Camera Equipment For Beginners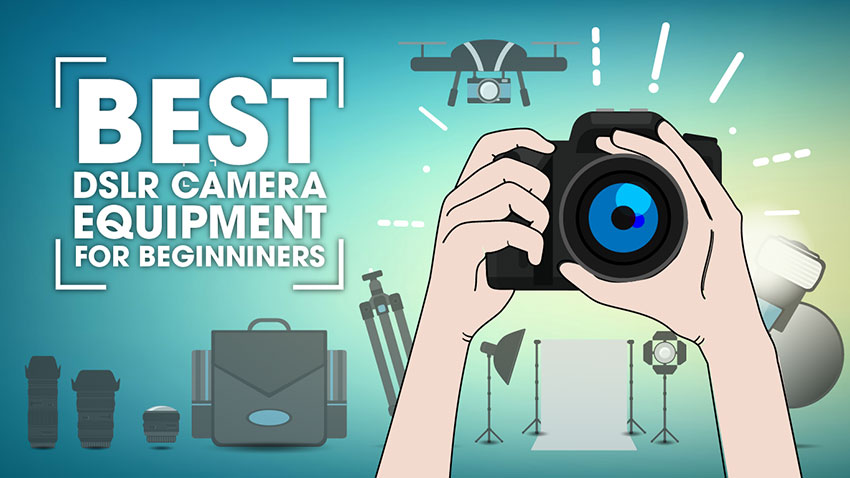 This far exceeded my expectations and will more than do for the blog I'm writing about DSLR camera equipment. I think most designers would probably just stop with 1-2 icons and graphics for this design. My designer decided to add the tripod, three lenses, drone, backpack, and a whole entire stage lighting kit.
I didn't ask for those, but I'm impressed with the quality of the design. No revisions needed. I approved this project 1st try.
2. Custom Illustration: Best Vacuum Cleaner Money Can Buy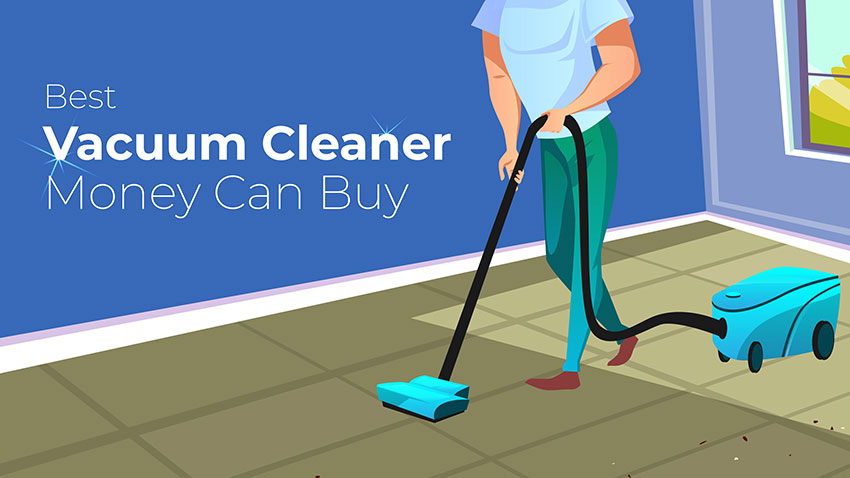 For this project, I asked my designer (Kei) to do a custom illustration of a man vacuuming his floor. He actually drew it up and then send me a rough sketch first before he started coloring it in. That was an extra layer of care and attention to detail I wasn't expecting. Needless to say, I approved of his drawing and then he delivered this draft the next day.
Revisions
Everything in this graphic was hand-drawn and then colored. That's impressive. Like the first project, I couldn't think of any revisions except asking him to put the texts "Best Vacuum Cleaner Money Can Buy" in. Just when I thought Kei couldn't outdo himself…
He went the extra mile and designed the text to fit the graphics. See for yourself above. Details like these I would have had to harass my freelancer and he would try to nickel and dime me for every revision. Great work Kei!
3. Facebook Post: Isometric Tech Gadget Graphic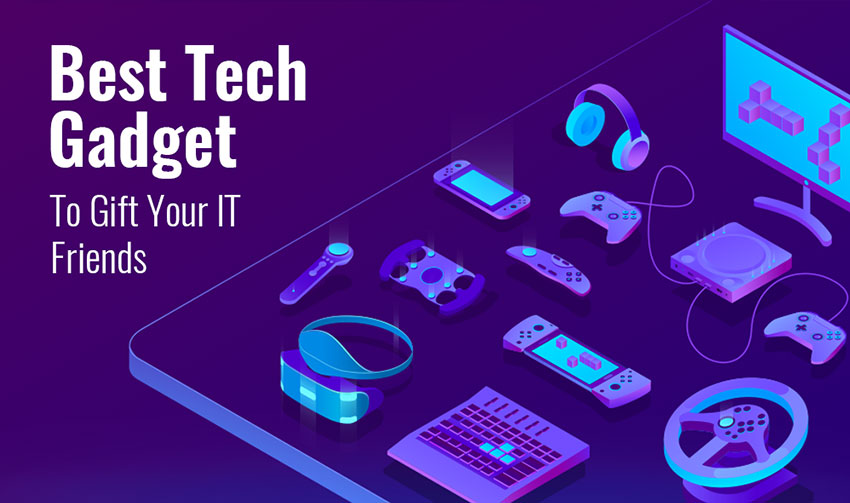 My designer Jave's 1st draft amazed me because of how many icons and details he put into this graphic. I had asked for an isometric graphic with various tech products laid out on an isometric glass plane. I honestly thought my description may have been a bit too vague, but somehow he understood my vision better than me and made it work.
I left one comment for this project, "Wow." and marked it as complete.
4. Magazine Print Cover (Owner's Magazine's 2020 May Edition)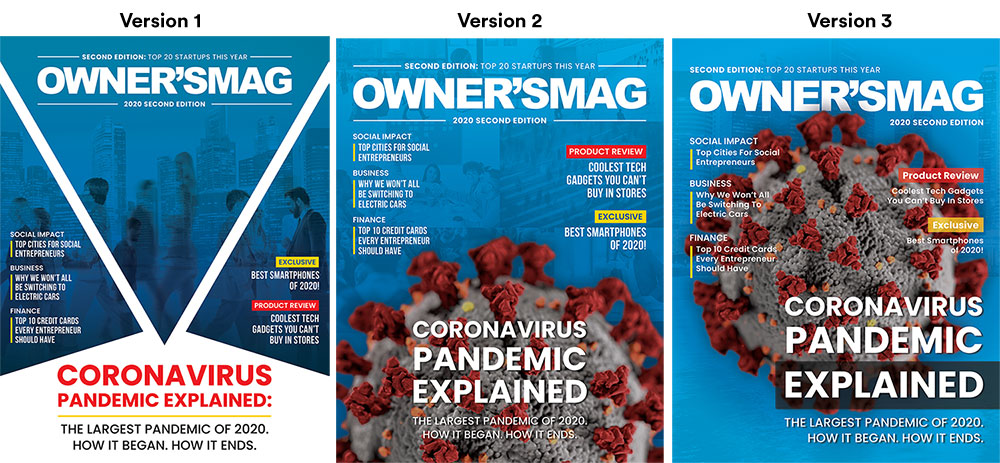 My designer Billie gave me 3 versions of the magazine cover. I don't like Version 1 at all, it seems too templated. I personally like Version 2 and 3 and left revisions accordingly. The Corona Virus image was entirely her idea, and I love it.
Revisions
This project took a bit longer than the others because my designer Billie had a lot of questions and we had a lot of back and forth. I didn't mind at all since she was asking good questions that I should've clarified in the first place. Overall, I appreciated the extra time she took to understand me and the project better.
About three days later I got another draft and this one blew everything before it out of the water.
Communication
All communication is done online through Penji's proprietary online portal. That includes revisions, feedback, and answering any questions my designers may have.
Communication With Designer
I was assigned 1 designer and communication Billie was great. Billie was responsive, attentive, and always seem to have a positive attitude no matter how demand I came off. She had a lot of questions for some of the projects, and the back and forth took longer than I wanted, but I realized she's just being thorough and wants to get the design done right, which I appreciate.
Communication With Account Manager
I was also assigned an account manager who emailed me the first day. Charmaine was very quick whenever I needed something. It usually takes just a few hours for me to get a reply via email from her. When I had an issue with one of the projects, she quickly stepped in and helped resolve the situation.
---
Final Verdict
All four projects were completed within two weeks and I was impressed with how they all turned out. See for yourself below. If I had paid hourly or per project, these would've easily cost me well above $1200+ to get done, and probably taken weeks.
With Penji, it took less than a week and I paid a fraction of what they should've been worth. Definitely impressed with both the turnaround, quality, communication, and value this startup has to offer.
But Penji isn't without its flaws. The service definitely isn't for everybody. Their service is more catered to business owners, marketers, agencies, and creatives with consistent design needs. They'll take all the heavy lifting off of your shoulder. If you don't have a consistent need, the bill will start racking up after a couple of months and you won't see the value in the membership.
However, if you do happen to fit their target demographic, then there's no better replacement out there. The speed and quality of their work easily rivals of not exceed any other services I'd ever used. For $399/month, this is an absolute steal and I can't recommend them enough.