Sustainable Marketing Tactics For Startups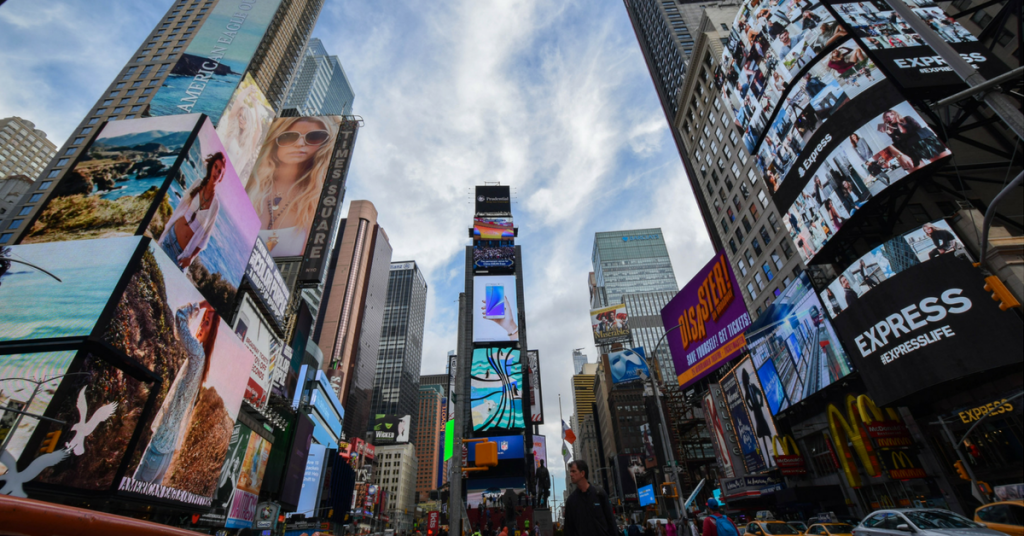 Starting a business is exciting, but also comes with some significant challenges. The success and sustainability of the startup depends on two basic ideas – good product and good marketing. Launching a business is associated with lots of planning, decisions, details and some risks. Determining the target audience and building a strategy to connect with them are vital to the success of a new venture. Sustainable marketing is proving to be a game changer in the present world of business. Sustainable marketing is the concept based on social and environmental sustainability. This kind of marketing strategy tries to meet the demand of the present generation without harming the future. Here are some tips on sustainable marketing tactics for startups.
Identify Your Target Group
Use social media to identify your target audience. You can also research the business strategy of other similar ventures through social media. Read the customers' responses to their products. Have a close look at the keywords and follower profiles of your competitor company. Try to reach them with some definite objectives to impress them. Focus on spreading the news of your venture and products and how these can affect the environment and community in a positive way. Create excitement about its launch to grab the attention of your target audience.
Unique Marketing Techniques
As a startup, you may not have enough resources and may not be able to take big financial leaps to promote your products or services. However, to get noticed, you can adopt a few innovative ways to do so. Promote your company's green technology, social relations, and environmental initiatives. You will get a positive response from the media and consumers build an emotional connect with the organizations that provide some social sustainability.
Product and Culture
Create a buzz about the product or service during its pre-launch phase. As the stage is set, people are willing to try it. To hold customer loyalty to your product, you need to build a working relationship with them. Listen to their opinion or feedback about the product. Proactive listening is a powerful online marketing tool and sustainable in the long-run. Participate in the networking events that emphasize on sustainable development. Reach out to people who need the products and let them know how should they use them without harming the ecological balance.
Market for the Right Reasons
Set your short term and long term goals for the startup. A good product needs proper marketing to reach maximum sales targets. So, operations and marketing should go hand in hand. As the product is developed, it should be promoted in the proper light. Marketing only for the sake of marketing is not healthy for long-term goals.
Convert Your Visitors Into Customers
The startup should be committed towards the future generation. Your company website should promote the sustainable marketing strategies adopted by the firm. It leads to the betterment of the relationship between the company and its customers. As you focus on reducing waste or rejecting child-labor in your firm, the e-visitors feel an emotional connect. The transparency and ethical practice of your startup can gain the confidence of your audience, thus increasing the value of your brand.
8 Easy Habits To Adopt In Your Workplace To Boost Your Health
Working a desk job is not the best for your health. However, many jobs require work on the computer that it feels unavoidable. If you work at a desk in an office, there are things you can do to boost your health physically and mentally. You may not be able to completely ditch your desk, but you can create a more health friendly environment in the office.
Clean your desk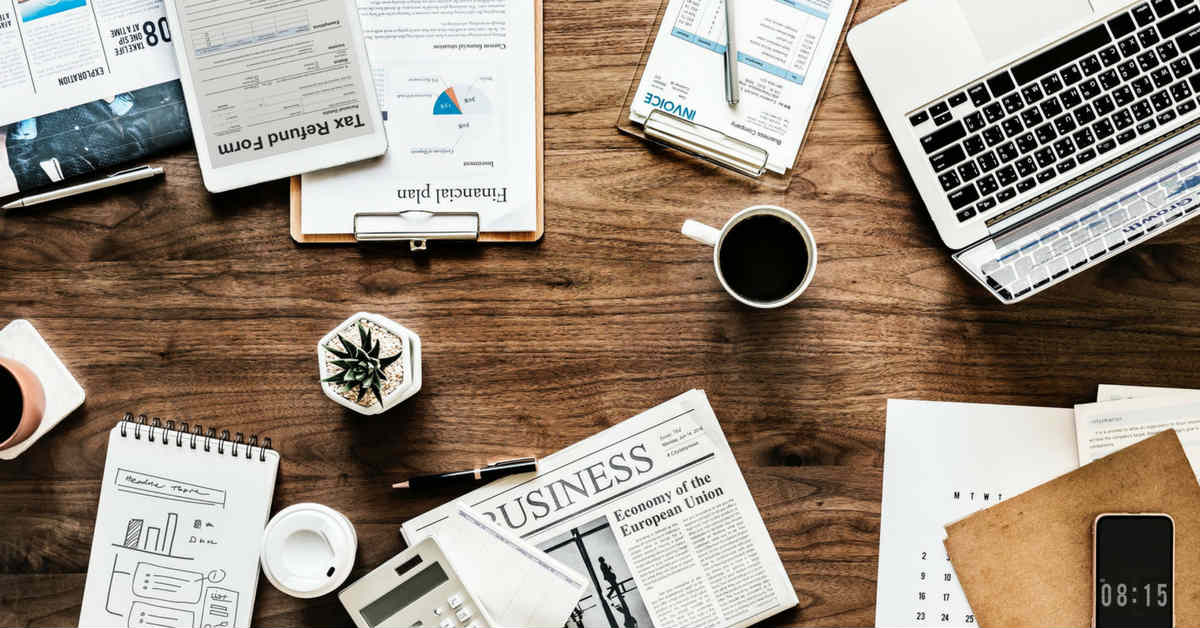 How are you with distractions? Are you someone who is bothered by every little sound or are you someone who would not notice if the filing cabinet was engulfed in flames? Just because you can work in a messy environment, doesn't mean you should. Walking into a neat cubicle or office will help you remain on task and complete your work. Wiping down your keyboard and mouse will help prevent the spread of germs. Keeping your drawers organized will make locating paperwork more automated and will save time and drama. The same can be said about organizing your desktop. Keeping well-labeled documents and files on your desktop helps you navigate your computer quickly. That way, the next time someone emails you one minute after they need something emailed to them, you can drag and drop without a second thought!
Stock up on healthy snacks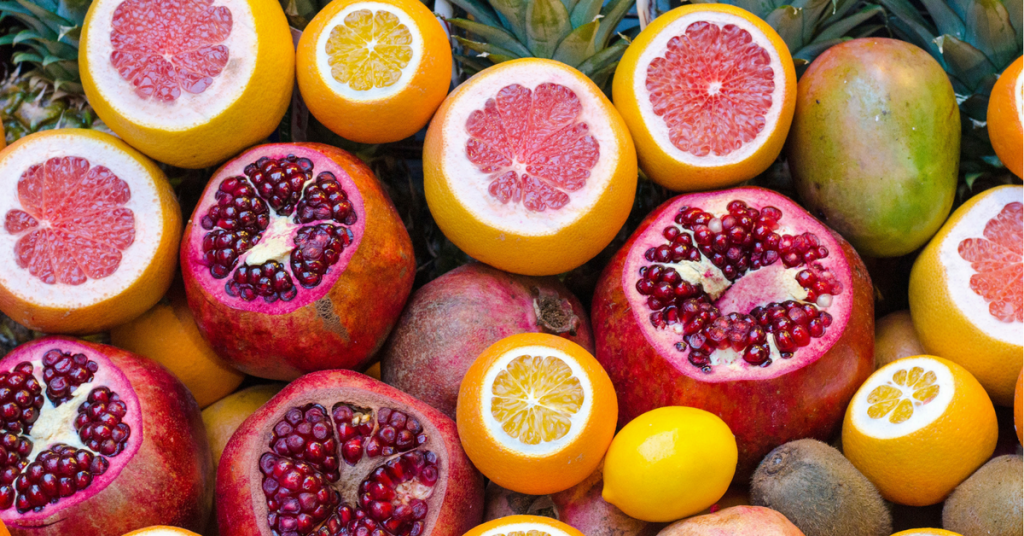 Healthy snacks sometimes feels like an oxymoron in a work setting. The standard snacks in offices are often leftover bags of chips, cookies, and soda from conferences and meetings. When that afternoon energy crash comes your way, you may be inclined to reach for some type of caffeine and a sugary or crunchy snack. To avoid the draw of Doritos in the break room, stock up on your own snacks to boost your health. If you are looking for crunchy, try some hummus and veggies or trail mix. If you looking for a sweet treat, reach for a piece of fruit and pair it with yogurt or nut butter for more satiety. Many healthy snacks can be purchased pre-portioned so you won't be tempted to mindlessly devour a whole jar of peanut butter at your desk.
Bring your reusable water bottle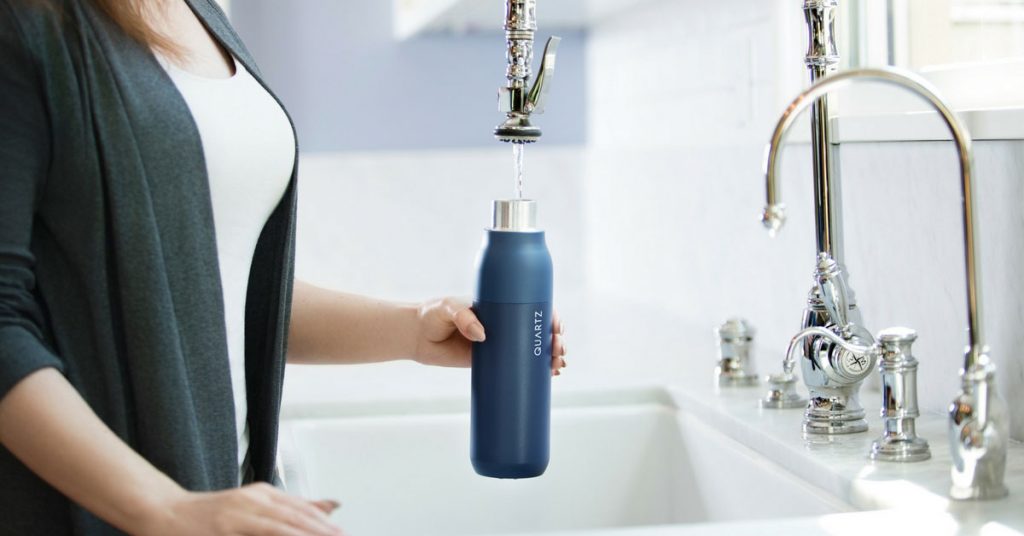 If your workplace has a filtered water dispenser or a classic water cooler, you can use your breaks to walk over and hydrate. By bringing your own water bottle, you can reduce waste and monitor your water intake. If you use a smaller water bottle, it will allow you more opportunities to get up and fill up. If you use a huge bottle, you may be getting your steps in on the way to the restroom. Either way, stay staying hydrated is super important if you want to boost your health.  
Set timers and get up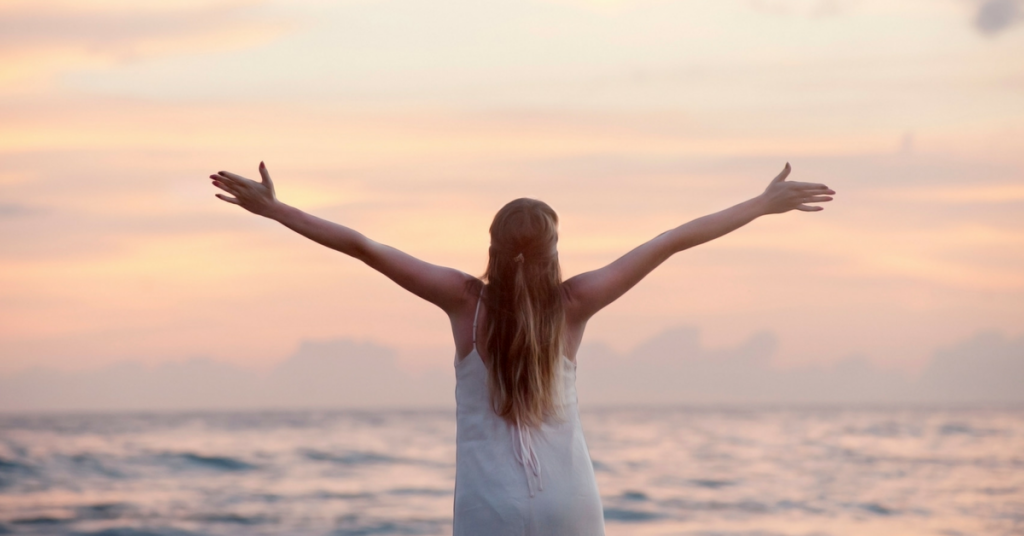 People only have so much mental stamina when it comes to tasks. Setting timers is something that can help motivate you to completely dedicate yourself to a single project. When you know you only have 30 minutes of concentrated effort before you earn a break, it becomes easier to power through. When the timer goes off, give yourself a five minute break to walk around, stretch, or use the restroom. Use the break to tear yourself away from the screen and give your eyes a rest. This habit helps break up the day and drives productivity.
Headphones On Om
Working at a desk could have you feeling super plugged in all the time. This is a fact of the current workplace and it is pretty unavoidable. A lot of people turn to playlists and podcasts to get into their flow state. It is important to be mindful about what you are listening to. There are a ton of apps and podcasts that offer guided meditation and motivational soundtracks. You do not need 8 hours of guided meditation everyday but it is nice to break-up the trap music with some super positive vibes and take time to breathe and be in your body.
Ditch take out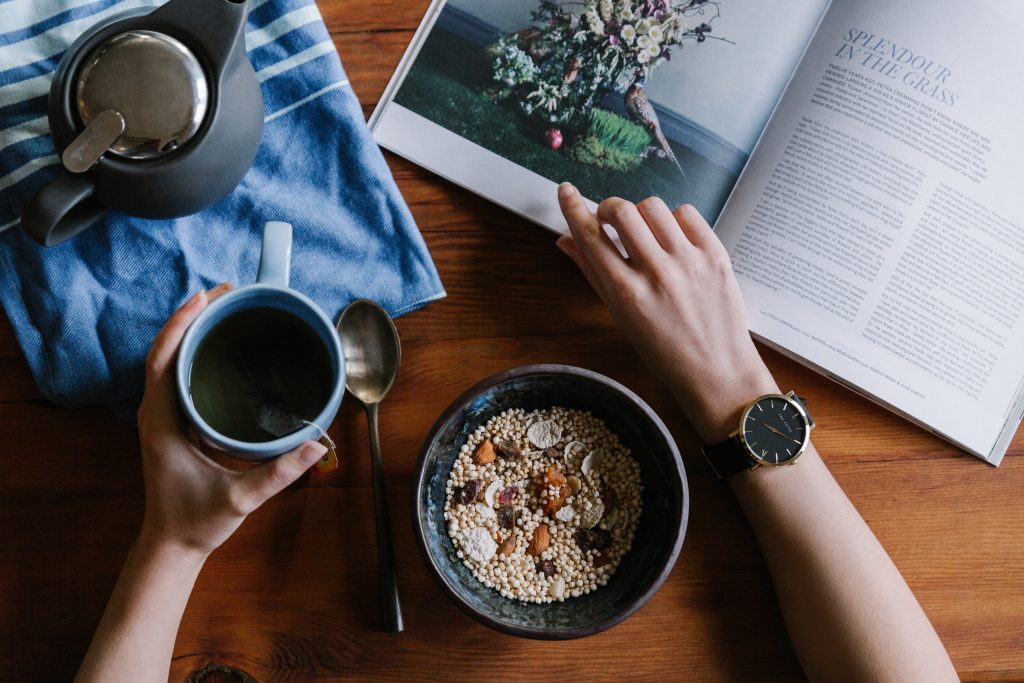 While healthier options at restaurants are on the rise, packing your lunch is still the way to go. This is a habit that starts at home and carries over to the office. By bringing your lunch, you can tell exactly what is in it, control the portions you eat, and save some money. Eating complete meals that include protein and healthy carbs and fat can help your energy levels remain steady throughout the day. If you need more meal prep ideas to boost your health, you can find them here.
Eat somewhere else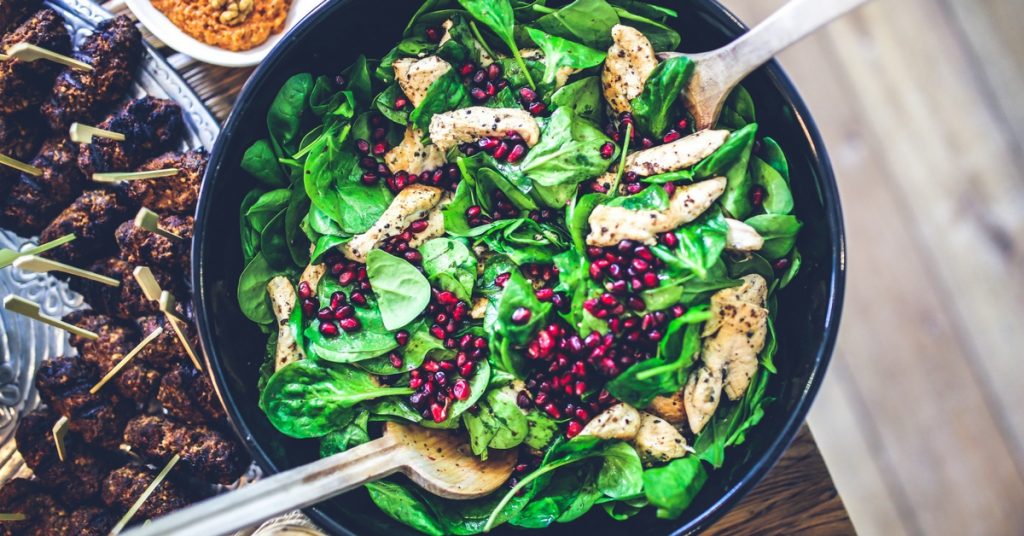 Whether you pack your lunch or pick something up, try to sit somewhere that is not your desk. Aside from the fact that your keyboard and desk is really germy, it is just healthier all around to have a designated eating area. If your work doesn't have a designated eating area, maybe you can duck into an open office or conference room. When the weather is nice you can try to get outside and boost your Vitamin D. Bonus points for inviting your coworkers and having a face-to-face conversation with them instead of messaging them back and forth on G-Chat.
Stand, Sit, Walk?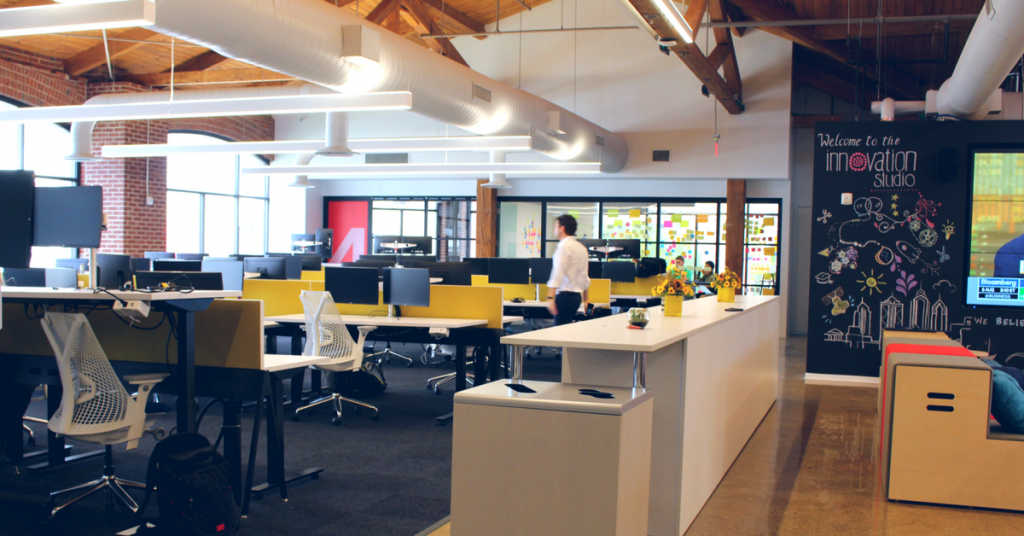 Desks are becoming more versatile these days. You don't have to sit all day anymore! If you work from home, your desk situation may be more mobile, but office workers may not have that flexibility. Many offices are encouraging employees to get desks that adjust between sitting and standing. You may even work somewhere that allows desk treadmills to boost your health. Even if sitting is your only option, there are free online guides and resources on how to adjust your posture to alleviate neck and back pain.
7 Things To Do To Have A Productive Meeting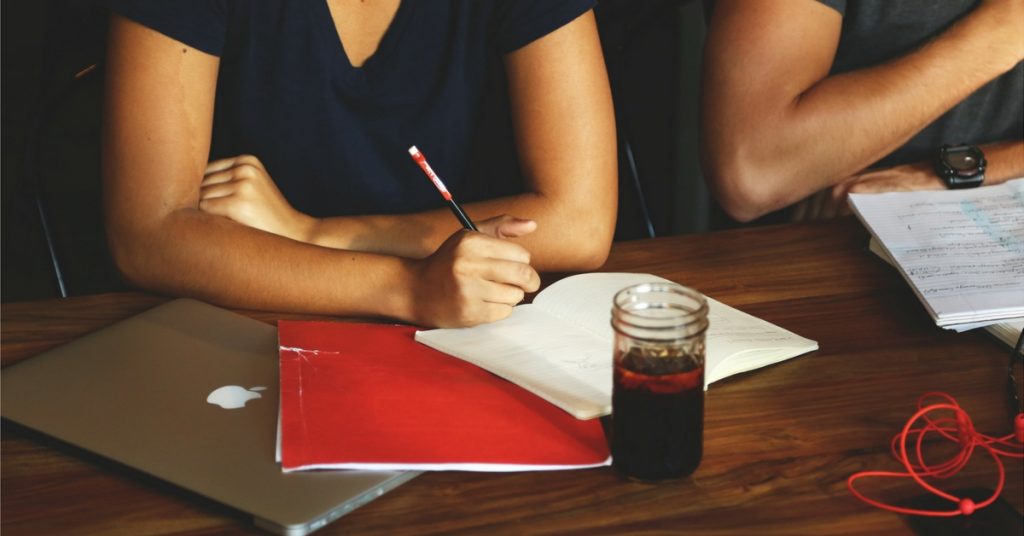 The objective of many meetings is to discuss things that pertain to the business or company. It could be about raising productivity, troubleshooting or just brain storming. Whatever the reason, meetings need to produce positive results so that it can impact business in a good way. With this in mind, here are some things you can do to have a productive meeting.
Start On Time
If the meeting is scheduled for a certain time and most of the people are already there, close the door and start on time. Why should the whole group wait 5 to 10 minutes for stragglers? Waiting for latecomers will only reinforce lateness in the future. If your employees and co-workers know that a meeting always starts on time, they will make sure to be there at the appointed schedule.
State The Objective
Tell the whole group what the purpose of the meeting is. Going to a meeting without an agenda is a waste of time. Stating what you want to achieve can shave as much as 17 minutes off your meeting. State the objective at the start of the meeting to ensure that your meeting is effective. To keep everybody informed beforehand, share the agenda via emails and ask your group to bring important documents to save time from going in and out of the conference room.
Be Exclusive
Try to keep your meetings as exclusive as possible. Inviting many people to the meeting turns participants into spectators. Most of the time; office politics dictates who gets to be there. Get this, Google limits attendees to 10 and Amazon has a 2 Pizza rule where meeting should be limited to the number 2 pizzas can feed. Essentially, what these companies are trying to do is to limit meetings to people that need to be there.
Timed To The Second
Nicole Steinbok's 22 minute meeting idea is brilliant. According to her, a 22-minute meeting prevents inefficiency from attendees. 22-minute meetings are ideal for companies because it keeps everybody conscious and focused from beginning till end. Many people fill their intended time so nothing is wasted. You will find that you will accomplish the same things with a 22-minute and 30-minute meeting.
Ditch The PowerPoint
Ditch the powerpoint presentation as much as possible. Most of the time, the presenter just reads off his or her presentation anyway. A powerpoint presentation is a visual tool, not a crutch. The presenter should know what he or she should be presenting without having to need life support from a visual aid.
Keep Notes and Circulate After
Keeping notes and circulating them after the meeting is one of the best ways to maximize efficiency. This will help keep everybody on track and solve potential misunderstandings. The minutes of the meeting should be circulated within 24 hours so that everybody is clear about deadlines and responsibilities.
Change The Scenery
Being cooped up inside can strain creativity, so if you find that your group is lacking in inspiration, take the meeting outside for a change of pace. Walking can rejuvenate creativity while a nature-setting can help release stress. Aside from this, outside meetings can help with privacy if you have an open office concept.
Top 5 Coworking Spaces in Philadelphia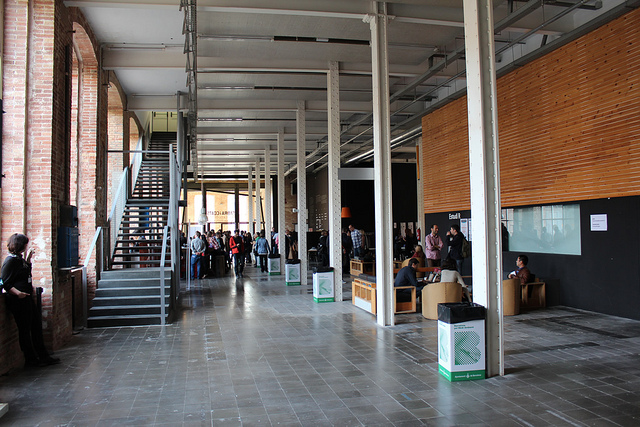 Looking for a great place to build your startup or run your company?  Renting an office can be expensive and eat up a lot of your mental real estate causing unnecessary headaches.  Instead give shared coworking spaces a try.  The idea is simple, coworking space is an open-concept office that everyone shares.  There are private offices, but most of the common areas and resources in the office are shared.  We've gathered a list of the top 5 coworking spaces in Philly for you to check out and grow your business.
WeWork Philly
Benjamin's Desk
Pipeline Spaces
Indy Hall
City Soho