Interview With The Tangent Agency CEO, Marc Becker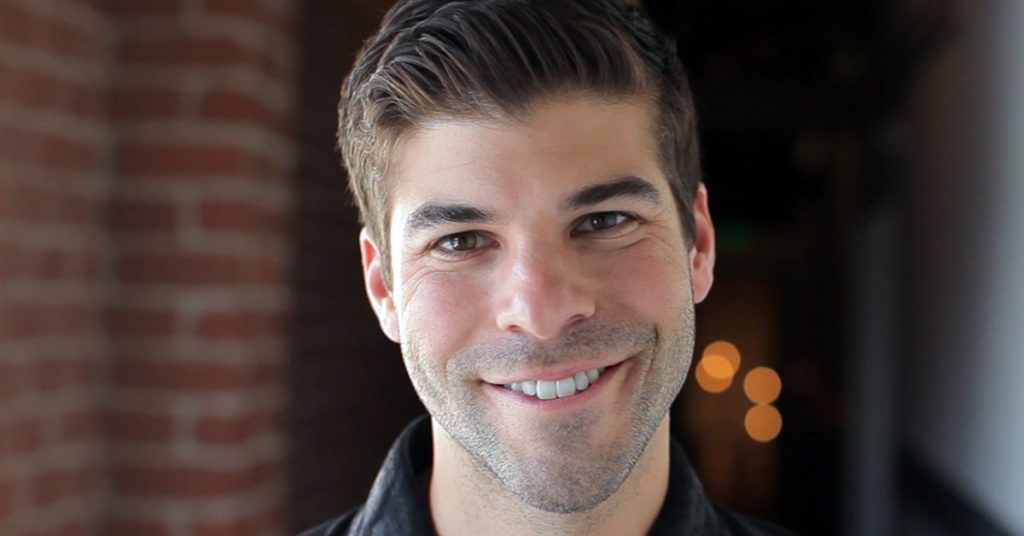 Going by the motto "It's not who you know, it's who knows you," The Tangent Agency has worked on many large projects, including Despicable Me, X-Men, Deadpool, Fifty Shades of Grey, and many more. Leading Tangent Agency is their CEO, Marc Becker. He comes with 7 years of experience as an Executive in the Global Brand Marketing team at Universal Pictures. Working closely with filmmakers, stakeholders, and brands, he helped develop campaigns for films across NBCU/Comcast platforms. Marc joined Tangent after using them as a trusted vendor while at Universal and now oversees business operations working for a creative powerhouse. The Tangent Agency brings big ideas to life by creating innovative content for their partners.
Marc granted us an interview to give us some insight on business and offered advice for those looking to advance their careers. He tells us about their new leadership team and how AR and VR is having a moment.
What is your day like as a CEO?
When you're running a company, you have to a wear a ton of hats. I always joke that I should change my business cards to read "Janitor to CEO" because that's really what I have to be. On a typical day we'll have a team check-in to talk about priorities followed by picking what music or movie we should put on in the background. My music is usually vetoed so our CSO, Daniel, has been on DJ duty for the last couple months. From there, I'm usually joining calls with partners ensuring we're clear on all their objectives and deliverables. In addition to the account management side of things I'll work with the team on brainstorms for ideation and reviewing material before it's sent out to the partners. Another big part of my day is usually working on business development whether it's chatting with partners/collaborators or potential clients who could use our services. I'm also a big proponent of mentorship and sharing my experiences whenever possible, so I NEVER turn down an informational interview – I tend to do them pretty often. It sounds very business school-y, but now that we've hired a couple more members of the team, I'm looking forward to working more ON the business instead of IN the business, which will enable us to scale a little faster.
What makes Tangent Agency different from other agencies?
At Universal, I used to hire nearly every agency under the sun. At Tangent, we are both a creative partner and thought partner, and all our strategy is insight-driven. We work with some of the biggest brands and on the biggest franchises, consistently delivering the quality and the marketing product you'd expect from a major creative agency, but also offer some unique capabilities like Strategic Sales Materials, Franchise Development, and Mythology. Our partners turn to our design team to develop a visual identity for their properties bringing their brands to life. Just as importantly, Tangent leads the way in deciphering data and creating a compelling story to pitch the property, often from scratch. Franchise development, while a critical storytelling and brand development device, is still a largely untapped part of entertainment marketing, and Tangent's team is some of the best in this field. By breaking down the complex nuances of your favorite films and television shows, the process of mythology provides an avenue and a lens into the backstories of the characters and plot points to help our clients develop endlessly engaging story universes. The Tangent creative team has been both on the agency side and the client side and are truly some of the best in the business. I continue to be inspired by them on a daily basis.
What are some of the best projects you've worked on?
We're proud of all our projects and they each present their own unique challenges and opportunities.  We like to say we've worked on everything from My Little Pony to Straight Outta Compton.  I find it exciting to work on independent films and Academy fare projects as well as the big global blockbuster franchises like the X-Men or Jurassic World.  Our resident super-geek and CSO, Daniel Barber, loves all things sci-fi and superheroes so I'm sure he'd say Deadpool 2, Logan, and Speilberg's Ready Player One are a few he'd cite. On a personal level, it's been special to be working on some of the Universal properties such as Despicable Me and Fast & Furious.  We're under NDA so I can't say exactly what we're doing on the projects, but I spent so many years at Universal working internally with the brilliant filmmakers and collaborating with my old team and everyone around NBCU to help manage those brands, it's fun to continue to work on them in this new capacity.
Who are some influencers that you admire?
I've always been a fan of the humble way of life Warren Buffet continues to maintain. Bill Gates has not only built an incredible empire and wealth, but continues to baffle me with his work through the foundation and his charitable contributions. Zuckerberg seems to be following in the footsteps of Gates, and I admire his commitment to making the world a better place. Sheryl Sandberg has become a voice of a generation of women and I appreciate the work she's done to help break the glass ceiling. I know I'm leaving a bunch of people off, but I think you can gather the overall trend – successful people that seek to make a difference in the world.
What advice has helped you the most throughout your career?
I've been extremely fortunate to have mentors champion me throughout my career and sprinkle many insightful gems of advice throughout the years. One piece of advice that has always stuck with me is from my old boss, mentor and friend David O'Connor, who runs Brand Marketing at Universal. He always used to say "don't be afraid to ask questions." Too many people let their egos get in the way of being inquisitive for fear that they will be perceived as unintelligent or ignorant. It's important to be strategic about asking questions and know when it's appropriate and when questions should be taken off-line, but I've found it incredibly valuable to "be real" and honest with the people around me in both my personal and professional life. If I don't know something, I ask and I remember, and then I have the knowledge going forward. If there's something that isn't my strength, for example graphic design, I can leave the work to the experts and allow people around me to shine.
What are some business tips you can give to startups?
Don't be a jack of all trades and a master of none. Know what you're good at and be the best at it. Or don't be the best at it, just make sure you know what your value proposition is. In regards to people looking to launch a startup, I can't tell you how many times entrepreneurs, friends, peers, etc. come to me with a business idea they "can't tell me about." Odds are, the idea isn't an original idea and someone else has thought of it – it's all about execution. You absolutely want to do your homework and discovery, but too many people suffer from analysis paralysis and never pull the trigger. The only way to make things happen is to actually execute. If something isn't working, don't let ego get in the way of being flexible, and don't be afraid to make a pivot.
Another tip is to always consider the end user. These fans are real people who are passionate about whatever brand/product you're selling. In today's world with social media being what it is, everyone can vocalize their opinion and has a pulpit by which to express it. Whether you're marketing a multi-billion dollar blockbuster franchise or selling from a lemonade stand, it's important to consider your customers.
What are some recent company milestones for The Tangent Agency?
We rebranded and restructured the company 18 months ago with a new leadership team: Ben Taylor (CCO), Daniel Barber (CSO), Mat Guillen (Art Director), and myself as CEO. We just completed our first year with the refreshed company and have seen incredible results and continued growth. Another recent milestone is we've expanded our Experiential, AV, and Digital capabilities.
What will make this year better than last year?
We've carved out a great niche for ourselves as one of the industry's best kept secrets, working a lot behind the scenes. This year, we're excited about becoming a bigger player in the experiential world and working on more consumer facing materials. It's only January and we're already having productive conversations with some of the leading content creators and key players in new technologies such as VR and AR. TV and Interactive Gaming are both having big moments, and we are excited about the opportunities for Tangent to collaborate in both areas. We're looking forward to expanding our relationships with existing partners and working with new ones.  
Top 10 Black Friday Deals for Digital Marketers 2020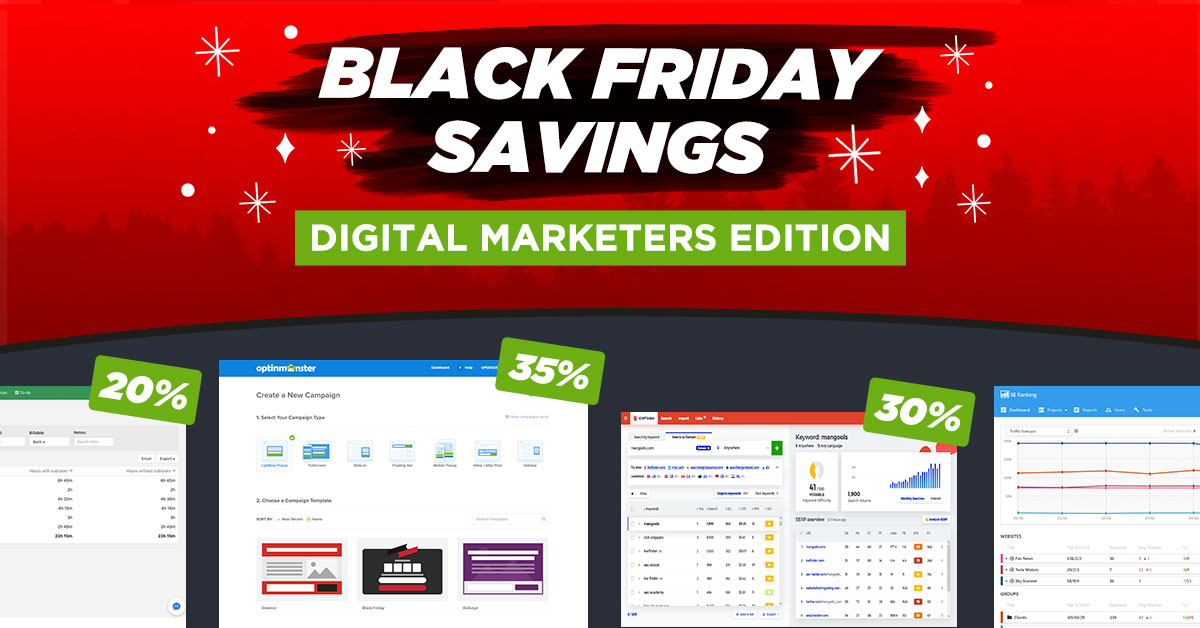 Rejoice, agencies and digital marketers! Black Friday deals aren't just for flatscreen TVs and doorbusters. This year, you can also get ridiculous discounts and offers for software and services to help take your business to the next level. Here are the top 10 hottest Black Friday deals you can take advantage of right now
Penji

We're marketers, not designers. And hiring freelancers is a time-consuming process I don't enjoy. Meet Penji. It's a graphic design service that lets me work with a vetted designer on as many design jobs as I want – for a flat monthly rate of $399/m.
And if that deal isn't already good enough, here's their Black Friday promo code to make it even sweeter.
The deal: 50% off any plan 1st month. Use promo code OMBLK50. Code is limited to the first 100 customers. Valid from now until 11/29/20.
SEMRush

All the SEO tools you'll ever need under one roof. SEMRush's comprehensive toolbox lets you manage your SEO performance, track daily rankings, analyze your competitors, research backlinks, and much more. They're rated one of the most reliable and robust SEO tool on the market right now. Prices are usually more expensive than other software, but they're well worth the investment.
The deal: Get 30% off on the annual SEMrush Competitive Research bundle. Valid between 11/25/20 – 12/15/20. For new users only.
Timecamp

Want a time + activity tracking software your team will actually want to use? Then meet Timecamp. Timecamp has just what you're looking for. The SaaS software allows you to monitor activities and track your team's attendance. In addition to tracking, there are over 100+ integrations to the software you're already using.
The deal: Get 4 Months of TimeCamp for Free! Use this code at checkout: BFDEAL2020. Offer starts 11/23/20 and ends on 12/1/20.
SE Ranking

Marketing agencies and digital marketers are probably already familiar with keyword and competition monitoring software. You've probably already heard of SE Ranking for that matter. SE Ranking is a densely packed SEO tool with features such as competitor monitoring, rank/keyword tracking, keyword research tools and backlink analysis.
It even has auditing tools to show you what you need to fix on your website to rank better. We actually use this ourselves and love it.
The deal: Get 30% off ANY plans. There's also a small chance your membership benefits will double if you're one of 3 lucky winners after their drawing. Use code BLACKFRIDAY2020 at Checkout.
Email List Validation

Email marketing is great…when the emails actually deliver. Solve your email deliverability issue with Email List Validation. The software lets you verify and clean your email database to ensure you're only sending it to working emails.
The deal: Get 25% off all plans. No code needed, just visit link below.
OptinMonster

Remember when everyone keeps saying email is going to go away? Yea…here we are 20 years later. And OptinMonster is proving that email marketing is here to stay. OptinMonster helps you convert and monetize your website's traffic. Get your visitor's attention with event-triggered popups and capture their interests with exit-intent forms.
The deal: Get 60% off all plans.
SocialPilot

This one is for agencies and marketers managing multiple client's social media accounts. Put all of your client's social media accounts on SocialPilot and leave it on Auto-pilot (bad pun I know…) SocialPilot lets you create, manage, schedule, and even finetune all your posts in one place.
The deal: Get 20% off discount on all lifetime plans. No promo codes needed. Just check out link below.
LongTailPro

LongTailPro is for marketers, bloggers, and digital marketing agencies looking for an effective tool to help research and track long-tail keywords. In addition to its robust search feature, you can also track rankings for all your keywords on major search engines.
The deal: Get 30% off all plans with BONUS access to competitor research and SERP analysis tools.
Mangools

Mangools is more than just a keyword research tool. It's actually 5 tools combined into one platform, making it an amazing deal for marketers. You get the Keyword explorer, SERP checker, SiteProfiler, SERP watcher, and Linkminer all for the price of one.
The deal: Get 25% off
For Black Friday, Mangools gives a 25% discount on its SEO tools, including KWFinder, SERP Analysis, Backlink Analysis, and Rank Tracking. The offer data starts on November 29th.
HelpCrunch

HelpCrunch is a marketer's wet dream come true. Create chat automations and popups to guide and convert visitors. Have live chat to provide instant assistance to browsing prospects. Create a knowledge base for your customers to find answers themselves. And the list of feature goes on.
The deal: 20% off any plan
2020 Cyber Week Deals for Businesses and Entrepreneurs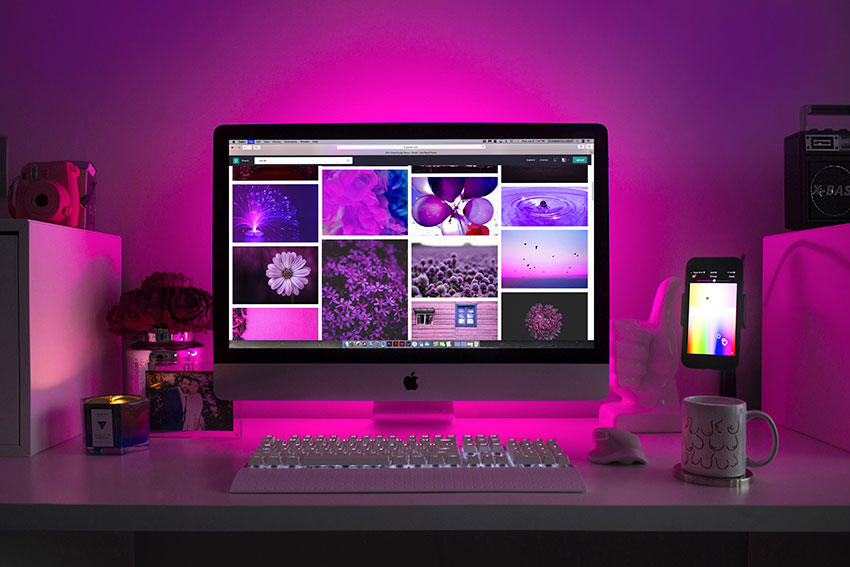 Are you looking for the best deals for Black Friday and Cyber Monday? We understand 2020 has been quite the rollercoaster. So, we compiled a list of Cyber Week deals specifically for growing your business. Here is the ultimate list of marketing, sales, lead gen, and SaaS tools you don't want to miss.
*Bookmark and revisit this page for updated Black Friday and Cyber Monday promotions.
Analytics
Business Development
Design
Email
Finance
Marketing and Social Media
Project Management
Web Development
We Used 99designs For Logos: Here's Our Review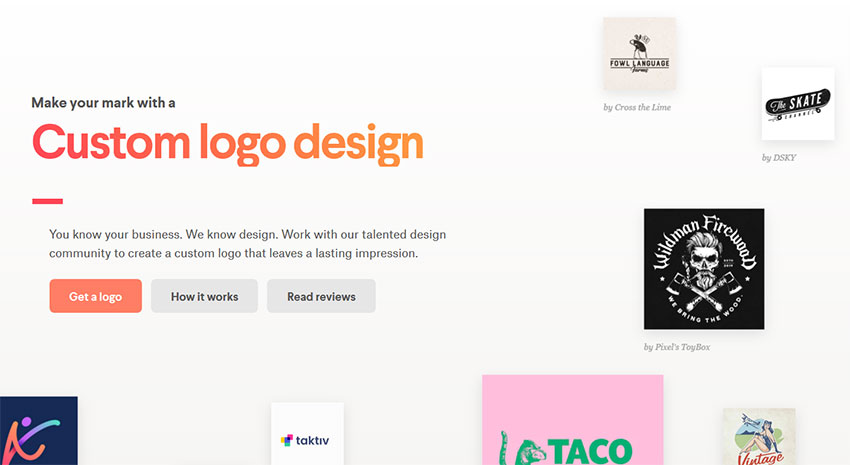 What is it like to use 99designs? We're going to go through the process of creating a design contest from start to finish to show you what the entire experience is like, so you can decide for yourself if 99designs is for you. For this 99designs review, we're going to follow all instructions given and document each step of our journey for you to see below.
For this test project, we're going to submit a contest for Owner's Mag logo to see if 99designs can interpret a better logo for us. Chances of me getting this approved and having the CEO change the logo is practically 0, but this will be a fun project that everyone in our office can contribute feedback to.
1. Creating our design project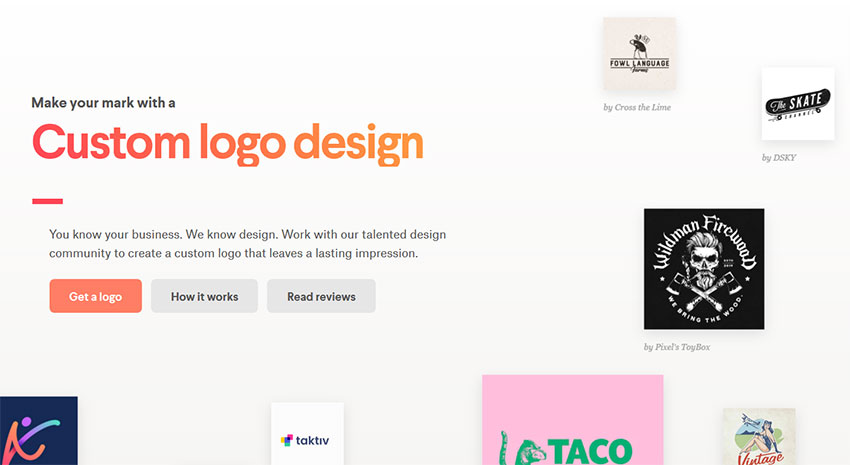 We went ahead and searched "Logo" and went through the process of creating the logo project. When selecting the business category, surprisingly there's nothing related to digital publication, news, or publisher there. We went ahead and chose "Internet" as our category.

2. Choosing a name
Now it's time to name our project. We're going to call this one "Owner's Mag Logo Design". Not sure if I'll ever get the approval to change the logo, but it'll be a fun project that everyone at the office can give inputs on.

3. Types of logo
Logos come in all different shapes, themes, and types. They can be just a word logo, icons, abstract, or something unique with a mascot. Here's where you can tell the 99designers what type of logo you want.

4. Choosing a style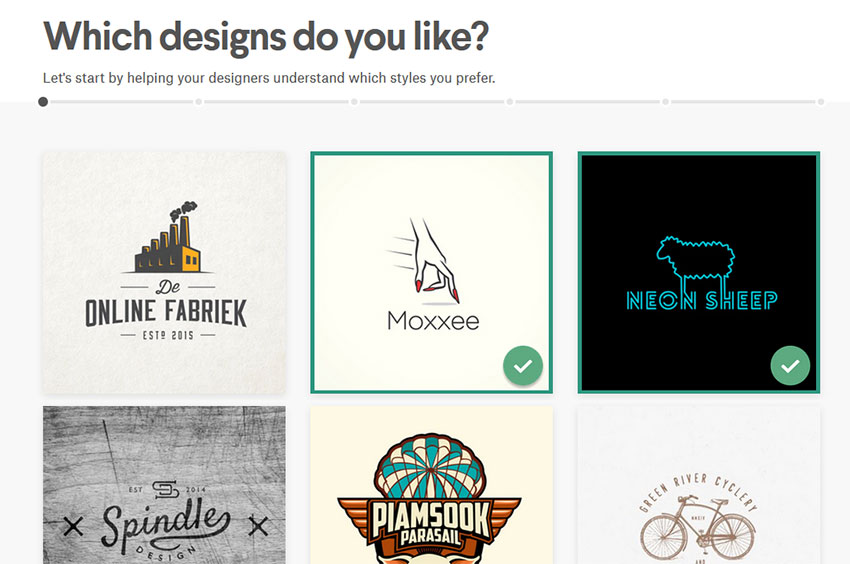 I like this section a lot. Sometimes it's difficult to actually describe what you want. Here, you can browse through a long list of logo designs that cover a wide spectrum of styling. Select the ones that best fit your taste and it'll give the 99designers a better idea of what you want.
I went ahead and chose a few text-focused logo, since Owner's Mag is a text-only logo. The selected examples in the screenshot above aren't the ones I chose.
5. Brand Style Meter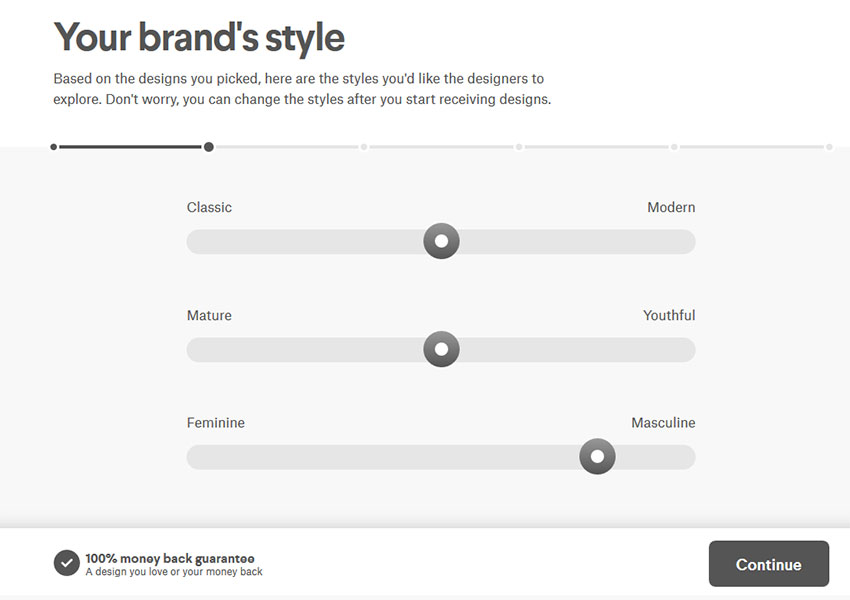 I'll be honest, this section is a bit weird for me. On this page, 99design asked me to explain the style I want using different sliding scales. There's more than the 3 listed in the image above. I personally had a hard time deciding if Owner's mag logo should be "Classic" or "Modern", "Mature" or "Youthful". Femine vs Masculine I can work with. But the other categories aren't intuitive for me.
6. Choosing Colors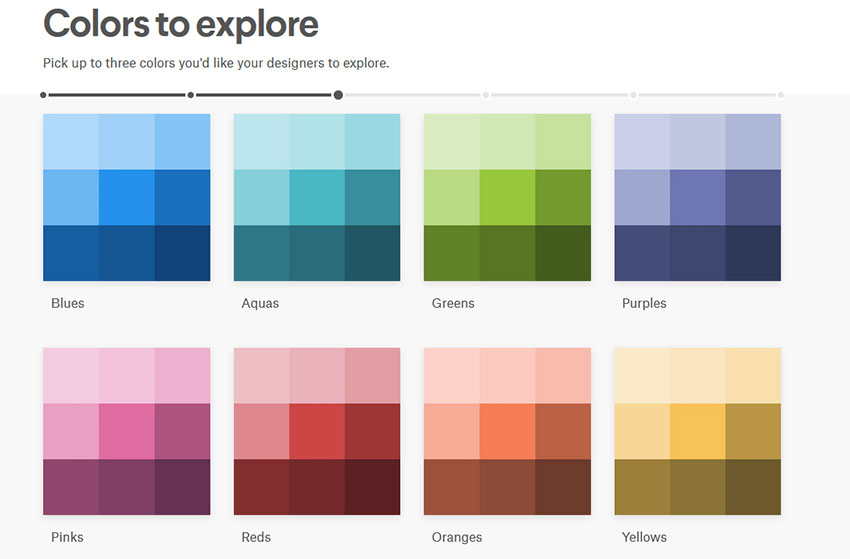 Now it's time to pick our color preferences. I stuck with "Reds".
7. Writing project brief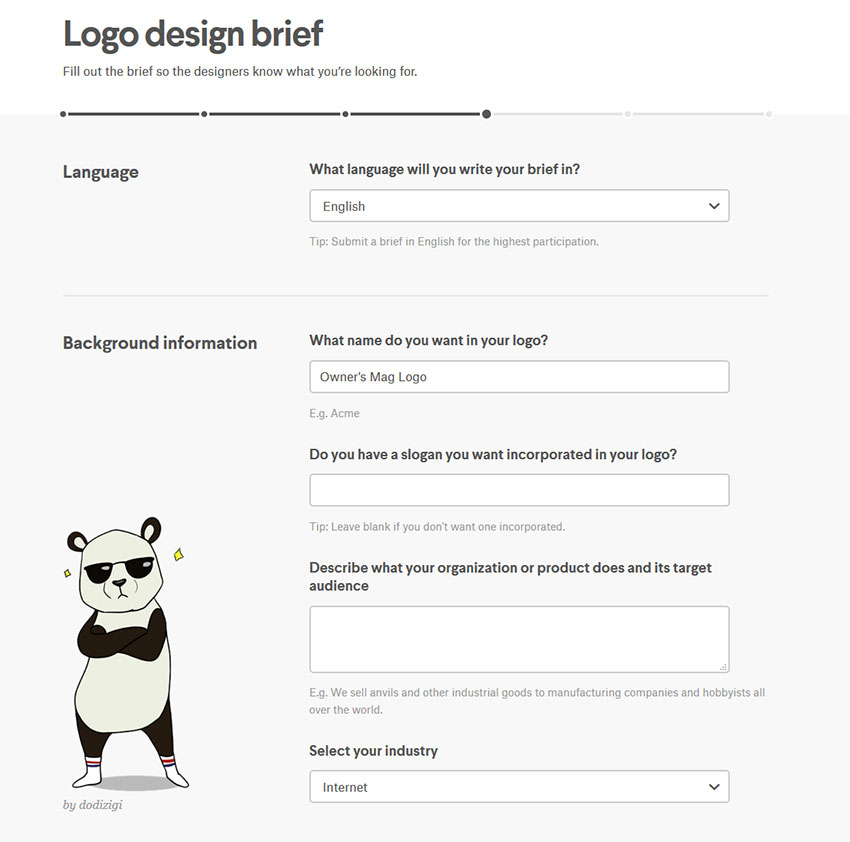 Filling out the project brief didn't take too long. The questions were straight forward and all makes sense. It is odd that the project brief itself is this far down the process.
8. Choose your package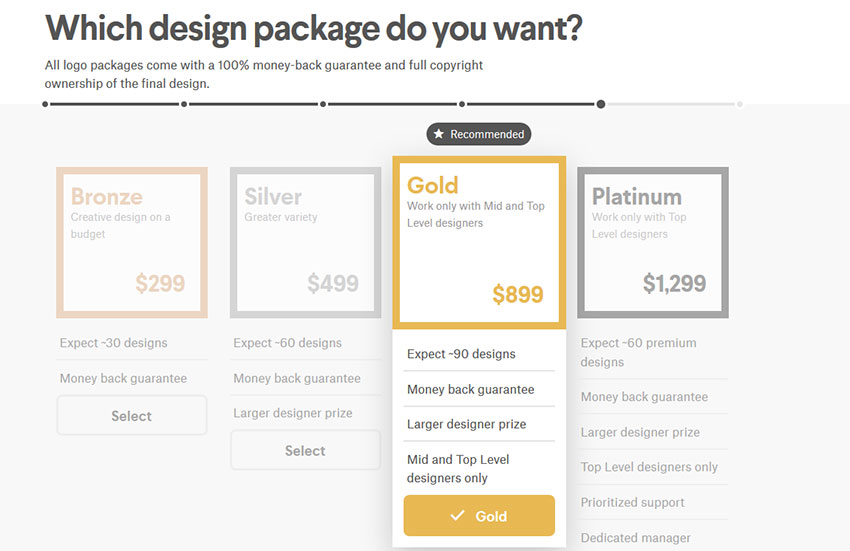 So far, we haven't paid 99designs anything. Now it's time for us to pick a tier for our plan. Although the Logo starts at $299, that's actually for the Bronze tier. The higher tier you go, the more submissions and higher quality the work will be. Or at least that's what 99designs promise.
For this, we chose the Silver $499 plan. We'll be expecting about 60 designs to be submitted with this package.
9. Add-ons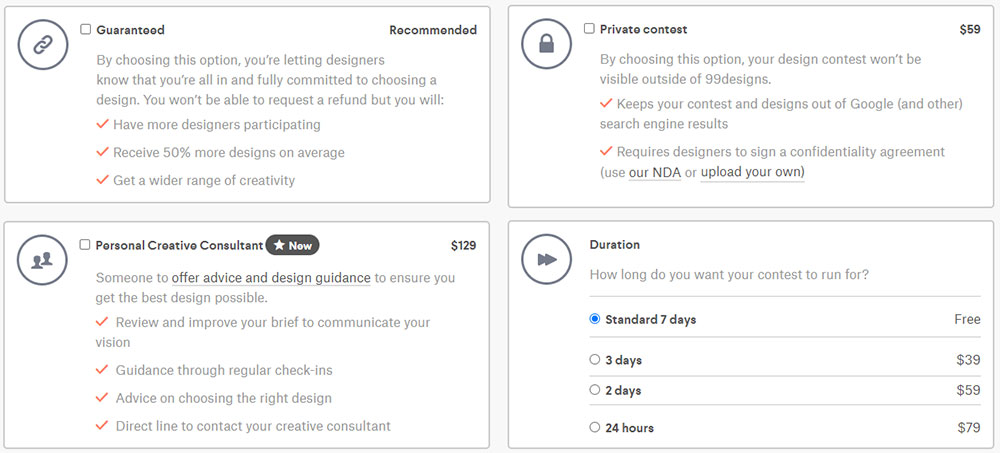 In addition to the $499 we're paying for the Silver tier, 99designs will upsell us for a few things. Some of these I think makes sense, others I felt should be included in the price I'm paying.
Personal Creative Consultant ($129) actually looks like customer support to me. I'm not a designer, of course I will need some help through this process. I felt like this should've already been included in the price instead of being a $129 add-on.
Guaranteed doesn't cost anything. But it will null your money-back guarantee. This ensures the designer WILL get paid if they make it to the final round. Because of 99designs' pay structure, this makes your project much more appealing to designers and more will likely submit drafts if you opt out of their guarantee.
Private ($59), this came as a shocker. I didn't know this would even be public. Why my project is even open to the public in the first place is beyond me. This doesn't feel right. Paying $59 just so 99designs keep my designs private seems like a scare tactic for me to cough up more money. Not a fan.
Duration lets you pay a bit more for faster delivery. For this, I feel the prices are fair and it's typical to pay more for expedited work anyway. You can pay $39 for 3 day instead of 4 day delivery, $59 for 2 days, and $79 for 1 day.
9. Complete! Now we wait…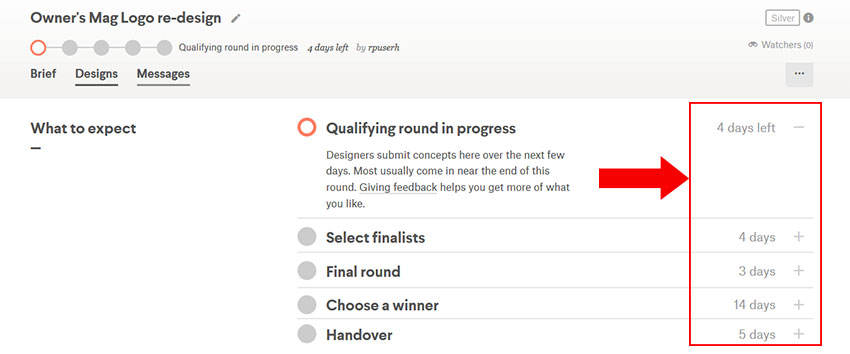 I opted to not purchase any add-ons for this review. Once paid, we're redirected to 99designs' dashboard where we can see the estimated timeline for the project. From today, it'll take about 4 days for all of the designs to be submitted. Each day some designers will submit their work and on the final day, the round will be closed and we have 4 days to pick finalists.
The Designs Are In!
First off, very disappointed that we only received 17 designs instead of the promised 60. I contacted 99designs support about the issue and they claim that they don't guarantee "60", even though their pricing tiers clearly listed "Expect ~60 designs".
Maybe the 17 designs we received are good? I'll let you be the judge of that before we give our verdict.
Here are the 17 designs that 99designers submitted to us after 4 days.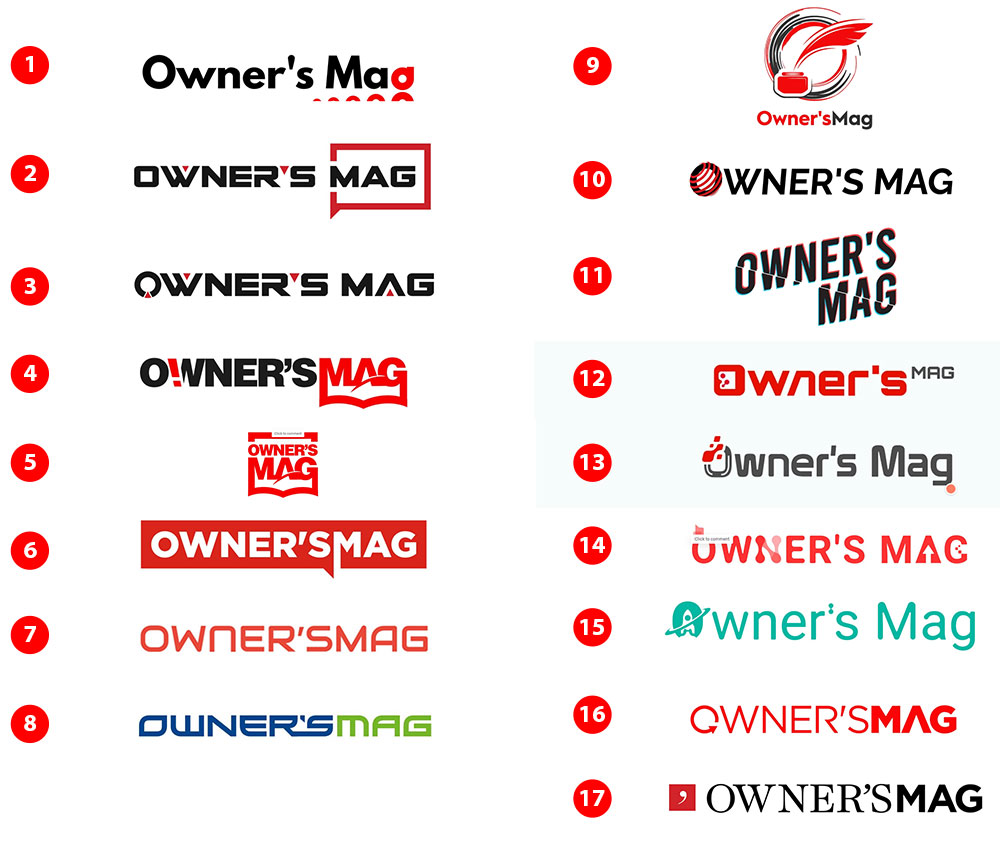 What does our office think?
We passed the designs around our office to get some initial thoughts. Most thought the designs were random and not aligned with any of the directions given. Some look templated. Others look like they just slap a random icon in front of the text and call it a logo.
Overall, none of us were impressed by the results thus far. We eventually picked #6 to give feedback just to move the process along, not because we love the design. We felt let down that only 17 versions were submitted since 99designs promised we'd get around 60 designs to choose from.
We submitted our revisions and now wait for our designer to spin something back to us.
4 days later…
We received new versions of logo #6 within about 3-4 days. Personally I wasn't happy with the new versions, but I shared the new designs with the office. You can probably guess how we all felt about the new drafts. Results…were disappointing and not what we had suggested. At this point, we didn't feel compelled to give any further instructions or move the project to the final round.
We're not happy
We decided not to continue the project given we're not happy with any of the drafts so far. Even revisions were still so far off what we would even accept. I understand graphic design is subjective, and that sometimes you just have a difficult client. I assure you, we're not that difficult and was looking for a very simple logo.
It was hard for us to justify even moving to the final round given the designers barely followed our directions. We specifically asked them to design the logo using our RED, and some of them ignored it completely. We asked them to NOT use any icons and just keep it text-based, yet there were logos with random icons.
Getting a Refund
Our experience could be a unique case and your experience could be much more pleasant. We eventually asked for a refund and was met with another obstacle. You can't get a refund on the website, they request a call to speak to you to "verify" your identity before releasing your refund.
This is an annoying step clearly put in place just to discourage refunds. I oblige and got on a call with a representative. The rep was understanding and didn't try too hard to sell me, which I appreciated. Our refund was promptly processed afterward.
Final Verdict
Our experience with 99designs has been mixed. I like how intuitive the website is and how easy it was to get your logo project started. The biggest let down were the number of submissions we received (17 instead of the promised 60) and the quality of each design. You can judge for yourself. Looking at the logos submitted, I didn't feel like we got even intermediate level designers. These just felt rushed, patched together, and overall unpolished work.
Giving revision was difficult because most of the designs were so far off base. I didn't know where to start, except tell the designer to re-read my project brief and start over.
Overall, it wasn't the best experience for us. We would've gladly paid an agency or a freelancer the same amount and get more dedicated care and attention to produce 2-3 good logos instead of 17 poorly design random logos.