Instagram Censoring Content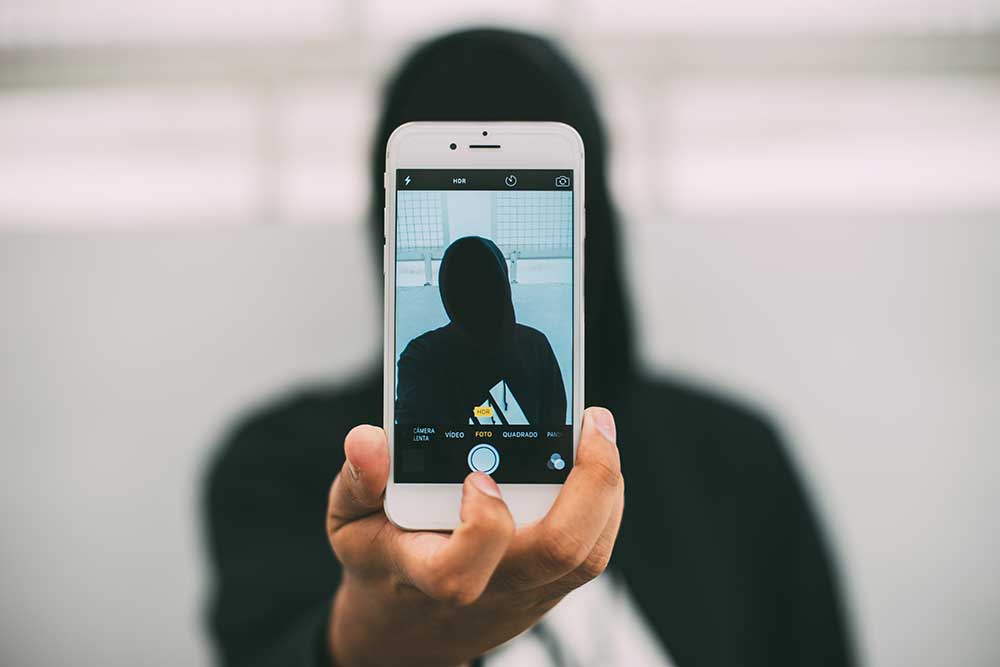 Social media is an interesting networking tool, being able to voice your opinions directly to the person in question. If you have a large following, it is possible that you get negative comments every so often. Instagram launched a new feature that allows you to hide negativity on your feed called "Comment Moderation." The purpose is to keep Instagram a safe place where you can choose what you and your audience are exposed to. Attempts to filter words have been questionable in the past. Creating new words to replace the banned words is common, and this new update will have the same result.

The goal is clear, the creators Kevin Systrom and Mike Krieger want a platform for self expression free from hate and harassment. Instagram's user base has grown into a large and diverse outlet where managing language and content is becoming more challenging. The new tool was created to lessen the negativity for the user, while the person posting will still be able to see the comment, giving them the satisfaction of ranting without causing the damage. The change will not be easily noticeable by the commenter and virtually invisible for the user.Using this feature is simple. Click the gear icon in your profile and you will see a new section called "Comments." You can then choose to hide comments that are deemed inappropriate with an option to plug in words of your own.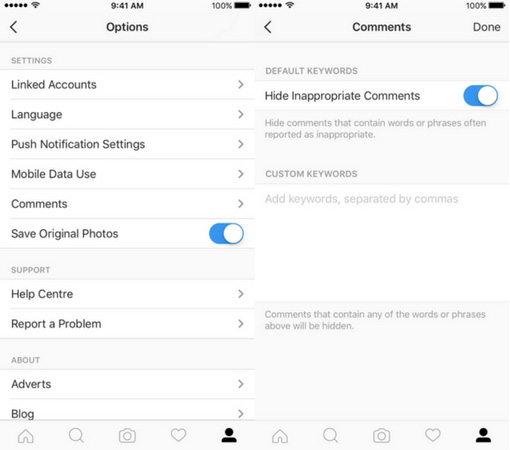 There are no plans to reveal the list of default words that have been censored. This has been done on purpose to discourage the creation of new words to get around the feature. Will this be successful? Probably not. The Internet is infamous for voicing their opinions, especially when told not to. When a filter is put in place to prevent behavior, users will find loopholes and sometimes, the behavior intensifies. In the past, Instagram banned tags related pro-eating disorders such as "thinspiration", but new variations like "thynspiration" are gaining popularity to replace it. The sad truth is the same will happen with the new feature enforced. Now that it is public, it is only a matter of time before Instagram is covered with misspelled criticism.The beauty of "Content Moderation" right now is that it is not on by default. Users have the option to turn it on and test it out for themselves, and if they dislike it, can turn it off. Many communicate as friends, and sometimes use colorful language, which is different from receiving criticism from strangers. The decision to keep it optional will make the transition easier, especially for users with personal accounts.

Advancing towards peace on the Internet is difficult, especially on a creative platform. Instagram is a great place to feature your vision and be an outlet for creativity, but the positives also come with instances of negativity and hatred. Censorship is meant to mitigate the situation, but restrictions might not always work the way it is intended. Free speech is a beautiful thing, and people will try their hardest to keep it.
Q&A with Tobias Peggs: CEO of Square Roots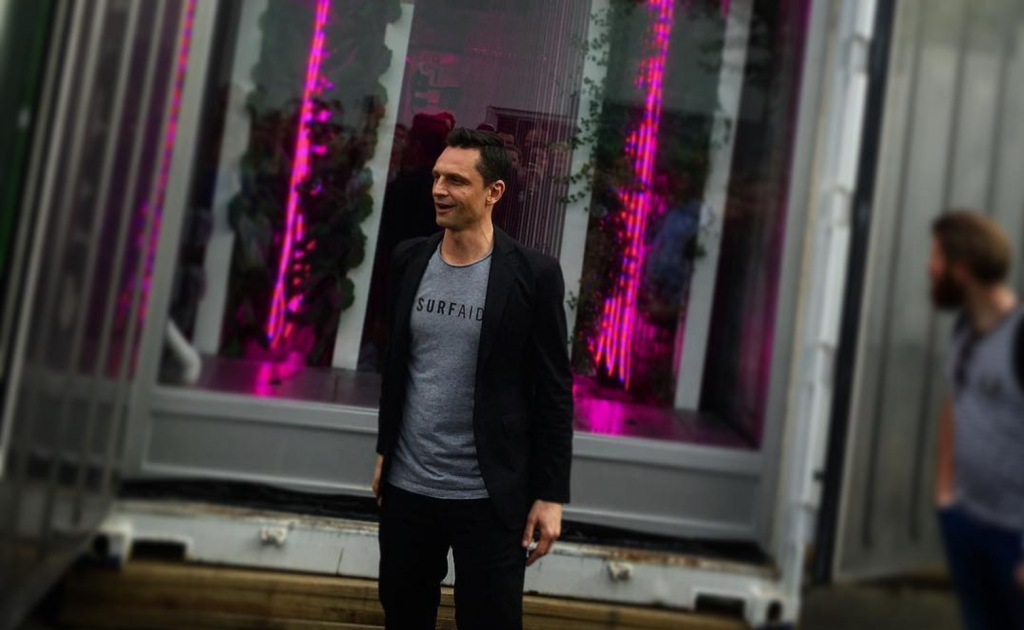 When you think of farming, wide sprawling hills with rows of stalks and veggies comes to mind.  You probably imagine a farmer as a dude with a plow with denim overalls, not necessarily as an entrepreneur.
Square Roots
is a startup that is changing the way we think of farming.  Cofounded by Elon Musk's brother, Kimbal Musk, this company is disrupting the industrial food complex by closing the gap between the food that farmer's grow and the consumers who buy them.In the heart of Brooklyn in a old industrial parking lot sits a bunch of unassuming shipping containers.  The last thing you'd expect them to contain would be two acres worth of growing produce, but alas, that is exactly what's inside of them.Your typical apple travels a huge distance from where it was picked to the grocery store shelf.  In the process it looses the vast majority of it's nutrition.  Square Roots attempts to resolve this inefficiency by providing a place for produce to be grown in an urban setting.  It does this by growing produce in shipping containers hydroponically (a method of growing without soil).  Each shipping container is manned by a farming entrepreneur who is responsible for creating their own business plan, marketing and distribution logistics.  Once the produce is ready for harvest, farmers deliver the fresh goods directly to your office/home, connecting the farmer with the consumer in a more intimate and conscious way.A couple weeks ago I took a tour of the urban farm led by of Square Root's CEO Tobias Peggs.  Here's a look at some of the things I learned along the way:
How much produce can one shipping container yield on average?
One shipping container can produce about 50lbs of leafy greens.
How long does it take a plant to get from seed to harvest?
This varies depending on what type of vegetable is being grown but take for example a head of lettuce: it takes about 2-3 weeks for the plant to go from seed to harvest.
Tell me more about the tech that goes into growing food in shipping containers.
To replace sunlight, we use red and blue LEDs, which are really the only two types of light plants need for photosynthesis.  Each shipping container is modular with a controlled climate.  My background is in artificial intelligence, so every aspect of the conditions in each shipping container is controlled by AI.  Say we had an heirloom seed that grew in southern Italy in the 1800's.  We can look to see what the climate was at that time and replicate it's environment within the container.   This way, instead of literally shipping food from southern Italy, we just ship the data about that environment and use it to grow exotic foods locally.
What control do farmers have over what they grow?
Our farmers are 100% entrepreneurs.  They decide which seeds to use.  They also are responsible for their own branding and marketing and how to distribute their goods.  This is our first cohort of farmers, they don't have to use the Square Roots name, but most choose to.
Is there anything like this currently being attempted?
There's one in particular being attempted in Japan.  A large portion of farmland was rendered unusable after the meltdown in Fukushima.  Because of this Japanese consumers now have stamps on the food which literally says "Proud to be grown indoors".  So people are attempting it, all of them in different methods. I would say we were the most modular.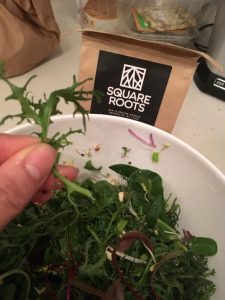 After the tour I got to sample some of the shipping container-grown produce.  The picture above is from a mustard green.  Believe it or not it was really spicy!  I never thought of leafy greens as spicy, but regardless it was bomb as hell in my salad.As populations rapidly grow and change in cities, so must the way we produce and distribute food.  Not only does the current method of industrialized farming diminish the quality of our food, but it also disconnects the farmer from the consumer.  Square Roots presents us with a wildly innovative solution to these issues.  Where does your salad come from?  Mine came from a badass shipping container in Brooklyn.
How to Determine Which Social Network Is Right For Your Business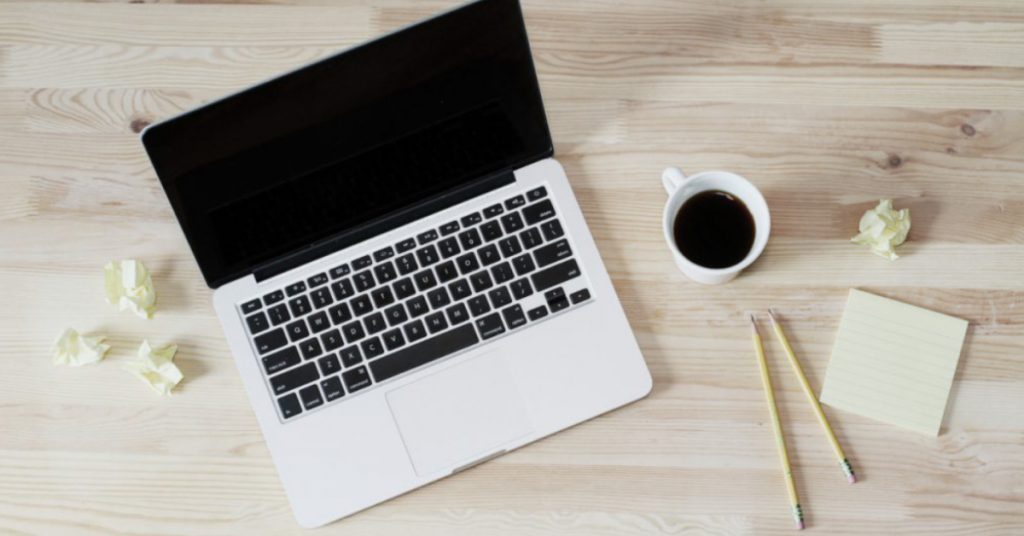 Often times startups hop on every major social network to look "present," but fail to keep up with all of their accounts. Sometimes being present online, but failing to be consistent on your profiles is worse than not having a social account at all. Imagine a customer browsing your website, and they decide to hit the "Facebook" icon to like your page so that they can stay updated on your sales. As they are linked to your company's page- they see posts from 2014. They will start questioning how legit your business is or if your business is still active. You could seriously lose a potential customer! Keeping up to date with a company page is a lot of work, and you can't afford to be on every single social media platform. You need to understand which network (or networks) fits the best for your business, and focus on that.

Let's start with Facebook. Facebook has over 1 billion monthly users worldwide- and 73% of the US adult population, which means that you can basically reach consumers in every industry. It is a great place to start to test your social media campaigns. Facebook is best for building brand awareness, staying familiar with your current customers, and grabbing the attention of potential customers. To have a Facebook profile, you need to stay committed to posting at least once a day, with high quality content (pictures and videos do a lot better than plain text). Although Facebook does work for B2B businesses, it is where the B2C business truly shines. But, regardless of the industry or the size of your demographics, you will most likely be able to bring exposure to your company and establish a true community around your brand. Facebook is the only social media platform you should be on no matter what field you are in.The second most talked about social media network is Twitter. Twitter has 230 million monthly users- and on this platform the users have a higher tendency to follow brands than any other network. Twitter is most popular with young adults ages 18 -29, living in very popular urban areas. Twitter is best for building brand awareness, release breaking news, building relationships with customers and influencers and for handling public complaints (users tend to vent on Twitter). The types of businesses that do best on Twitter are: musicians/influencers, publications, news organizations, marketing companies, and sports related businesses. To have a Twitter profile, you must post a few times a day, and you should be interacting with your industry's community.Instagram is becoming one of the fastest growing networks, and brands are getting so creative with their marketing strategies! Instagram has over 500 million monthly users- most are female, younger than 35, living in urban areas. According to

Forrester Research- Instagram users were 58 times more likely

to engage with brands compared to Facebook and Twitter. Instagram is best building brand awareness, interacting with customers and influencers, staying familiar with existing customers, and grabbing the attention of potential customers. Instagram is usually best for B2C companies, but users are slowly moving from Facebook and Twitter into Instagram so that may change soon for the B2B world. The types of businesses that do best on Instagram are: fashion brands, retailers, Etsy shops, bloggers, home décor brands, active/sports/fitness related. On Instagram, visual storytelling is an art form, so brands need to be willing to post consistent high quality content and able to engage with followers regularly. Another fast growing network is Pinterest. It use to be just for moms looking for recipes, brides looking for wedding décor, and new parents looking for baby advice, but it has evolved into much more. Pinterest has over 110 million monthly users. 73% of users are females between the ages of 18-50. Pinterest is best for driving referral traffic back to your blog, video, or store. Pinterest is best for B2C businesses whose niche is: cooking, arts and crafts, clothing/fashion, baby items, home décor/design, event décor, or gift items. This is a goldmine for creative industries as you can communicate directly to the customer. Since users are constantly "repining," you may receive free marketing from fans that repin your image to their followers. To have a business Pinterest profile, you must be ready to update it every time you post a blog, throw an event, or have a new item in stock. People want easy, digestible content like infographics, quotes, blog title graphics, close ups of décor, outfit ideas, etc. Make sure to title your picture appropriately, write a relevant description that has relevant keywords, and link it back to your website.LinkedIn is the only social network that is specifically for B2B companies. It was designed for educated professionals looking to advance their careers and stay well connected within their industries. LinkedIn has over 106 million monthly users, both male and female ranging in ages 25-64. Most users have a bachelor's degree or higher. LinkedIn is best if business development is a core focus. It is a great tool to build brand awareness, promote career opportunities, and educate potential customers on your products and services. To have a LinkedIn company page, you must be ready to update it a few times a week sharing company updates, content that relates to your industry, and interact with industry related groups. Unlike most social media networks, LinkedIn is the place where everything you communicate should be professional.To determine which social network(s) is right for your business, finish this sentence: "My target audience is on _________." The next step is getting started on the one or two best options. Once you get the hang of it and create a community of followers, you can move on to adding another social media platform to your list. Whatever you choose, just be sure to be consistent in posting high quality content. You NEED to be active on social media if you want to have a successful business.  

The beauty of social media is that it is FREE marketing. It may take a few months of dedication of working on your profile, gaining followers and building your engagement. But if you apply the right tactics, overtime you will see an increase in awareness of your brand and interest in your product or services.
The Best Unlimited Graphic Design Services of 2019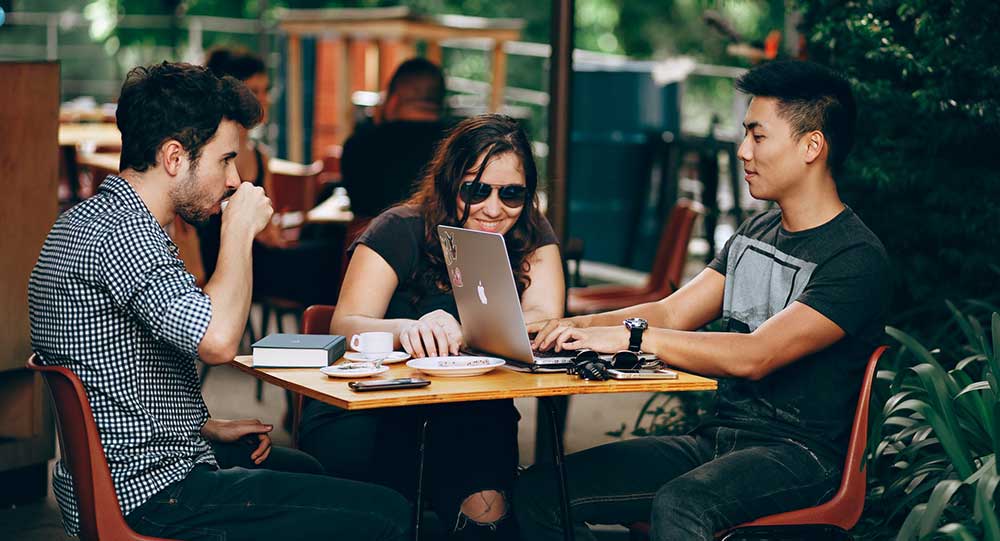 Looking to hire an in-house graphic designer or trying to scale graphic design offering to
grow your business
? What used to be an expensive and unpredictable endeavor has been disrupted by a new wave of companies who call themselves "Unlimited graphic design services". These startups are able to offer you the same benefit of a full-time graphic designer but at a fraction of the price.
What Does Unlimited Graphic Design Mean?
Just about every Unlimited Graphic Design provider offers the design service via a monthly subscription. After checkout, you gain access to their workflow. Some connect you to their Trello board, others resort to giving you a special email to send your design requests to, and a few more sophisticated providers have their own online platform/portal.Once you're connected to their workflow, you can begin submitting as many design requests as you want. Although they all claim "Unlimited", it generally means you can "create" unlimited design requests. It doesn't necessarily mean they'll work on them all at once. Usually, they just work on one design at a time. When one completes, they start the next design. The usual turnaround time is between 1 - 2 days, and that's just for the first draft. It doesn't mean your whole entire request is done. If you don't like it, you can request as many revisions as you want, and that will take more time. So it can take up to a week to actually get design complete if you have a lot of revisions.Another thing to keep in mind is content. You need to be able to have everything ready and
provide all the content
needed in order for their designers to get started.
Are they worth it?
If you have a lot of design needs, they're definitely worth it. Being it's a monthly recurring investment, you'll need to make sure that you have the need for ongoing graphic design service. This graphic design service model is comparable to outsourcing a designer yourself, except much of all the management work is done by the company. The quality of designs and turnaround time also tends to be significantly better when outsourcing a designer yourself.
Which Provider Should You Choose?
We've done the homework and curated a list of Unlimited Graphic Design providers for you and also negotiated special deals on your behalf. You can see them all below and decide which one fits your needs.
---
Unlimited Graphic Design Providers