UP Conference In Camden Welcomed Investors And Startups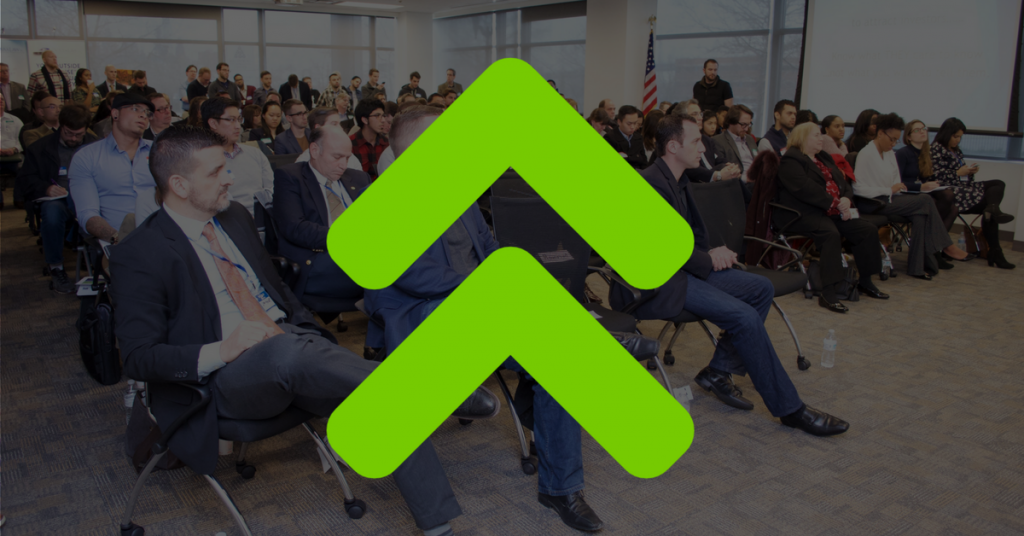 Camden was the place to be this past weekend. Packed with startups, CEO's, and industry leaders, the UP Conference showed a glimpse of the future of Camden, now dubbed City Invincible. Only a few blocks away from the waterfront, with the breathtaking views of Philly's skyline, the UP Conference was in full swing in the Camden Technology Center. The Camden based non-profit, Waterfront Ventures, hosted the event.
Attendees started piling in early in the morning with business cards in hand. Angels, venture capitalists, and startup founders showcased their expertise by sharing stories on how they were able to become influencers in their industry. With opening remarks from Melissa Alam of Femme and Fortune, each speaker was introduced to the stage including Marc Kramer of Angel Venture Fair, Chad Stender of SeventySix Capital, Robert Moore of RJ Metrics, Ted Mann of Slyce, Katrina Naidas of Linked Noodle, and Melissa Schipke of Tassl. Adam Woods of Camden Printworks, one of the sponsors of the event, did a live demonstration of silk screening and gave away t-shirts with the words "City Invincible" to attendees.
The event brought attention to the growth that is happening in Camden. The audience was diverse with a majority being millennials from the Philly and South Jersey areas. New coworking spaces, like Waterfront Lab on Market Street, are popping up throughout the city and quickly filling the slots with startups and small businesses. A happy hour at Cooper River Distillery was provided after the conference, where people were given a chance to unwind and chat with some of the speakers in a relaxed setting.
Reception to UP Conference was highly positive and beneficial for those in attendance.
"We met at least 4 potential investors, a potential corporate partner, a writer who is going to write a story on us, a couple of potential service providers and many other people who are enthusiastic about what we are doing. I will also be meeting with a recent college grad to help mentor them on their career and they will provide me with a sounding board (they worked at a VC firm as an intern)." – David Wagstaff of Alfrea
"It was a wonderful opportunity to learn more about the Waterfront and the growing companies in the area. I certainly met many smart and nice people!" – Karen DeSantis of Karen DeSantis Marketing
Waterfront Ventures is at the forefront of bringing innovation and startups to this city. There are already rumors of a future event happening this Fall with the same goal of providing networking opportunities and presenting a new side to Camden, City Invincible. With the success of UP Conference, the rumored upcoming event will open doors for many who are looking to network and succeed in their aspirations.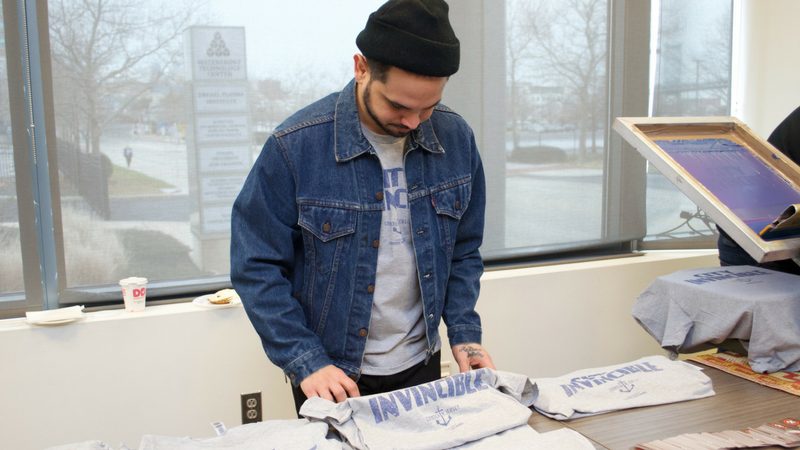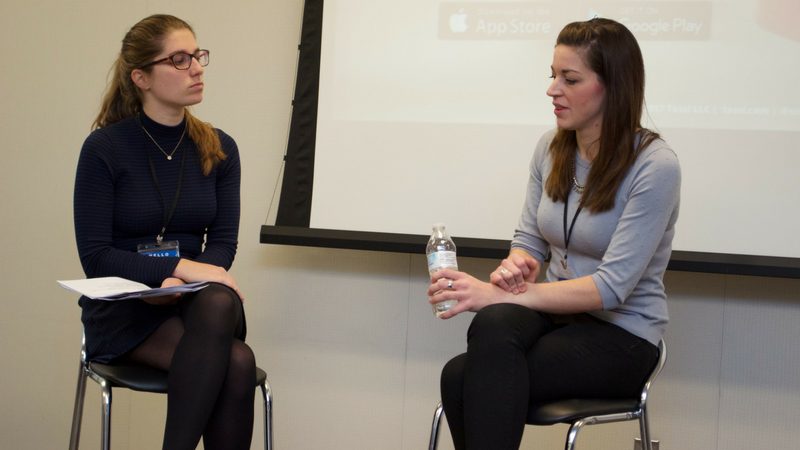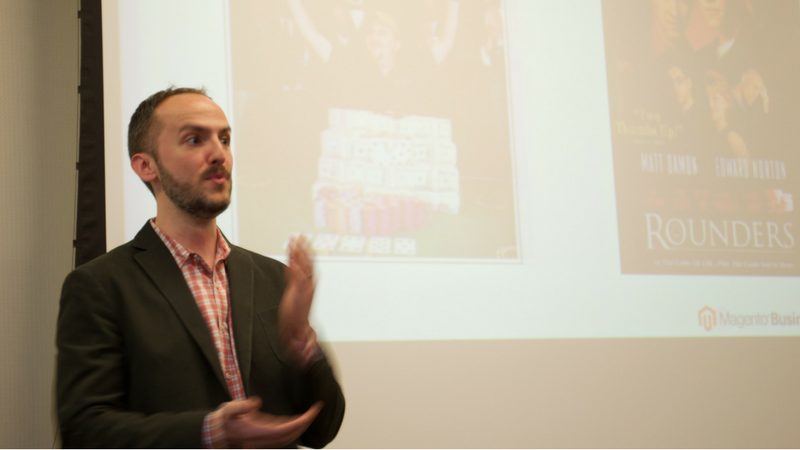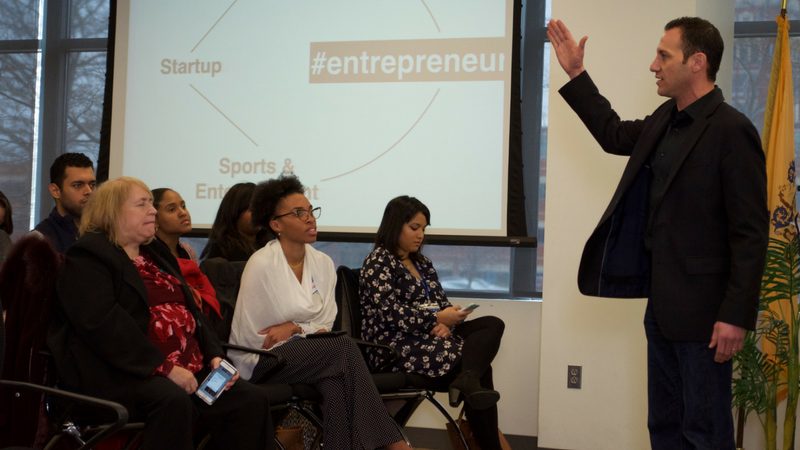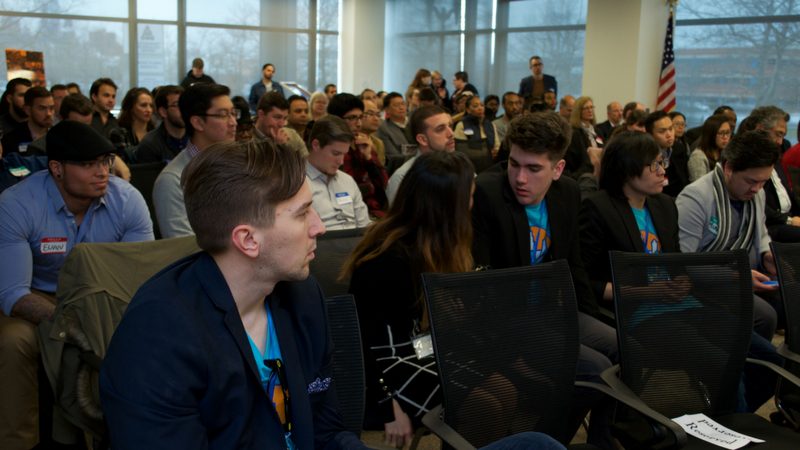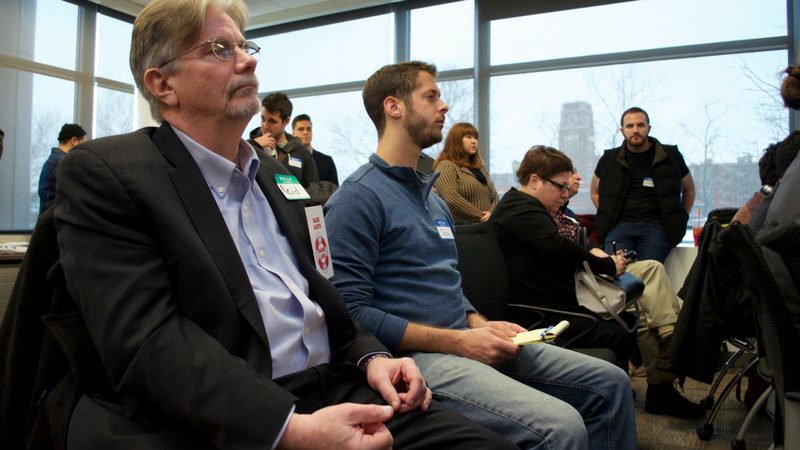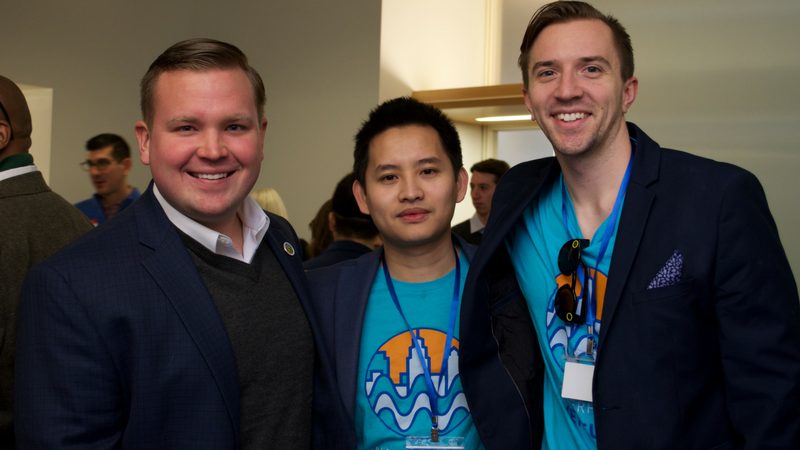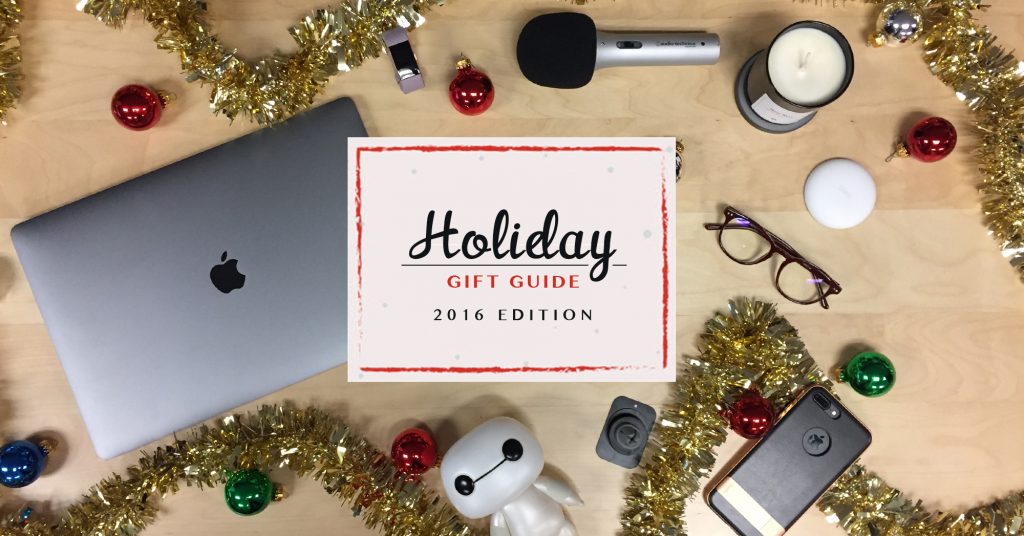 It's the little things that count. Gifts that come from the heart doesn't always have to be huge in size. Check out these stocking stuffers! You might just find something for someone on that list of yours.
1. Notebook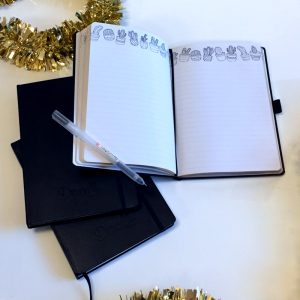 This mashup of notebooks and adult coloring books is designed to inspire creativity, reduce stress, and increase productivity. Made from recycled paper and including 20 unique designs, Droodle Books are great for the environment and your mind.
2. Cards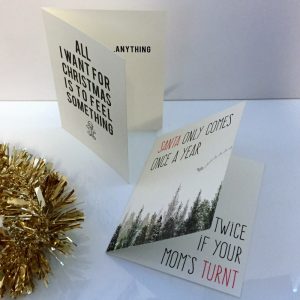 Perfect for the little douche bag in all of us, give the gift of a No Holds Card, a card with a message that will make some giggle and offend others. Recently completing their Kickstarter campaign, they will be producing new cards that will be ready for a stocking near you.
3. Car Phone Mount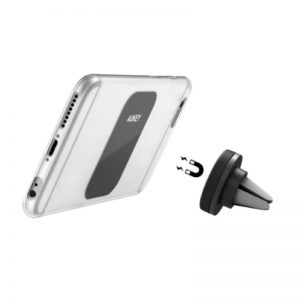 Easily mount your phone for quick access in your car with the Aukey Air Vent Magnetic Phone Mount. You'll never have to fumble around while driving again. The ultra-strong magnet holds your phone securely in place, so you can focus on the important things.
4. Unique Phone Case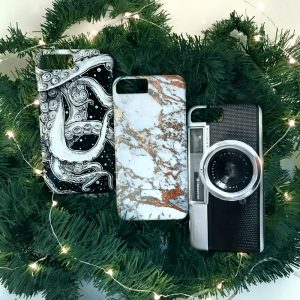 It's the season for giving, so why not give back to an artist when purchasing a really cool phone case? For every Society6 purchase, part of the proceeds goes to the artist. Support independent artists while gifting iPhone cases with unique artwork from around the globe. Two birds with one stone!
5. Mini Adapter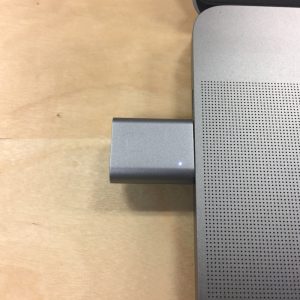 Nonda is one of the best products for your new MacBook Pro Touch Bar (2019). It's extremely light weight and incredibly easy to use. Even though this product is small, it's nearly impossible to lose due to it's importance. Not having a USB can be a drag, but with our experience, Nonda is a must have this holiday season for MacBook Pro Touch Bar users.
6. Earphones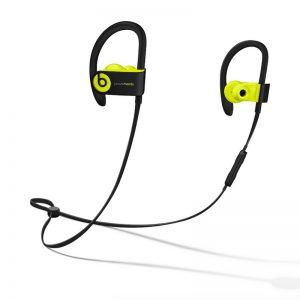 With 12 hours of battery life and wireless design, the Powerbeats³ will be able to provide your fitness fanatic with powerful sound in style. It is sweat and water resistant, so it is as tough as your workouts.
7. Unicorn Light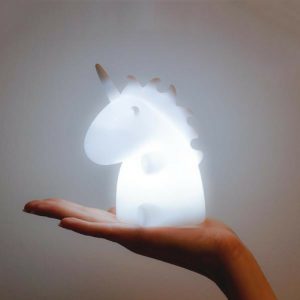 Nighttime just became a bit more magical with this adorable unicorn light by Smoko. Whether you need a nightlight, or am working late, this LED ambient unicorn is the answer.
8. Charging Rug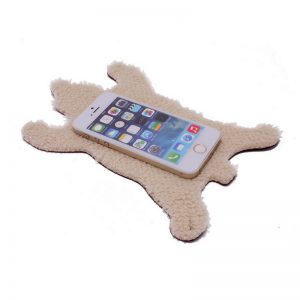 This cozy bear rug charges your phone without the use of wires. Made of plush faux sheepskin, it is designed to not interrupt you with vibrations when you're sleeping.
9. Sriracha Keychain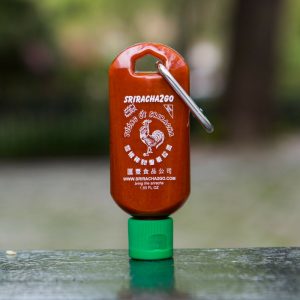 Take your favorite hot sauce everywhere you go with the Sriracha keychain. Clip it onto your keys for easy access, and you'll never have to be without Sriracha again!
10. Water Bottle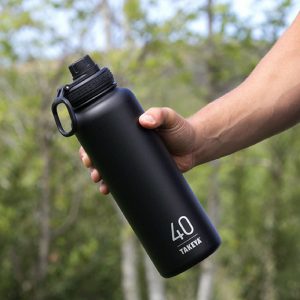 Keep your drink cold all day with the Takeya Thermoflask. Perfect for the fitness enthusiast or that person who is always outdoors, the bottle will not disappoint.

Decorate the home and body with holiday gifts fit for even the pickiest person on your list. Accent pieces like candles can complete a room, while the perfect bag can make a trip much more enjoyable.
1. Echo Dot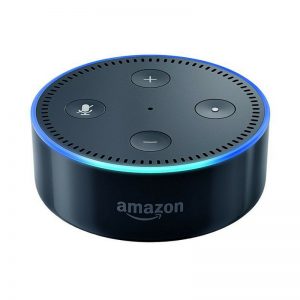 The Echo Dot is an amazing addition to any room in your home. It is a voice controlled device with a built in speaker capable of playing music, setting your alarm, tell you the weather, control your thermostat, and more. With built in skills like requesting an Uber and the ability to play games like Jeopardy, you have endless uses for this smart device.
2. Pomade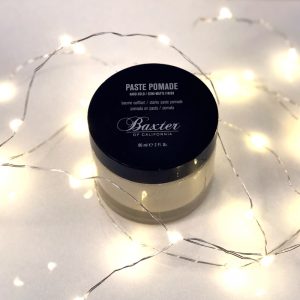 For the man with a pompadour, or that friend that is obsessed with her hair, Baxter of California's Paste Pomade will be an amazing gift. This hair product promises all day definition and thickness with a semi-matte finish. We've got your hair junkie covered.
3. Shoes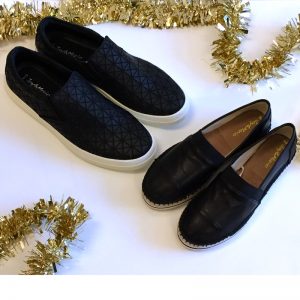 Give the gift of shoes with these His and Hers matching pairs of espadrilles from Joy & Mario. Both comfortable and fashionably versatile, these will be a great gift for you and your significant other without being over the top.
4. Essential Electronics Toolkit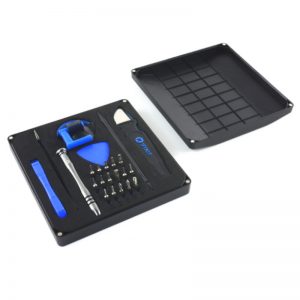 For the crafty one on your list or the one who loves to fix things like electronics and household items, the iFixit Toolkit will be the perfect gift. You can't go wrong, especially with a warranty that guarantees the product should function as long as you own it!
5. Face Masks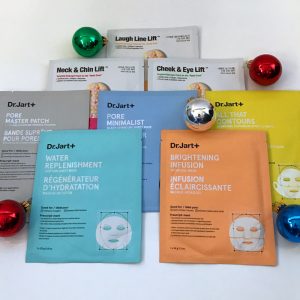 Everyone loves to be pampered, and Dr. Jart+ face masks is the perfect way to gift wellness and relaxation. During these upcoming brutally cold months, our skin takes a beating. Dr. Jart+ face masks are perfect for every skin type, from dry to oily to acne prone skin. They are great stocking stuffers or addition to a gift.  
6. Candles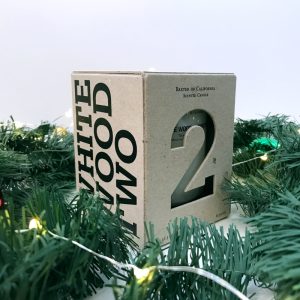 Candles are the perfect gift for anyone on your list, including yourself! Whether you want to give something special to the party planner or spice up your home, Baxter of California's White Wood 2 will give your space a wonderful woodsy scent. This candle is a true crowd pleaser.
7. Messenger Bag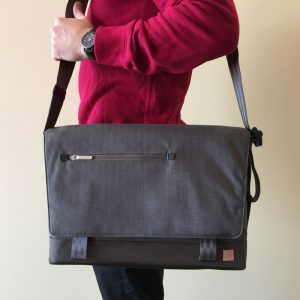 Your favorite traveler will love Moshi messenger bags because of the versatility and storage capabilities. Made with innovative materials and a modern design, they perfect for a business meeting or just strolling through town. 
8. Onesie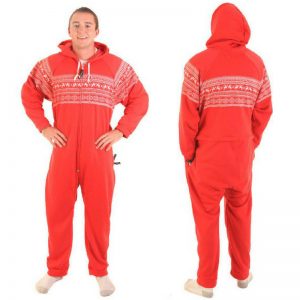 Stay warm during these chilly months in a onesie! Always fun to wear and easy to please. Comfort is key, and you can't go wrong with the festive print on this onesie by Forever Lazy. This fits both men and women, so everyone can enjoy!
9. Kitchenware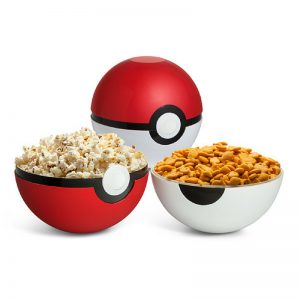 Have you ever thought about what it would be like to eat out of a Pokéball? Well, now you can! Fulfill nostalgic dreams by gifting something that will warm hearts and fill stomachs. Putting the two halves together, it is about the size of a volleyball. That's plenty of room for tasty snacks.
10. Wallet Phone Case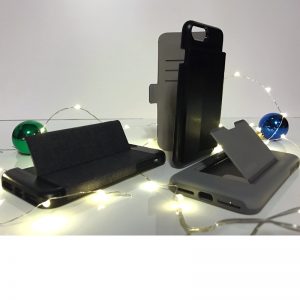 For the person in your life that loses everything, they would love these wallet phone cases by Incipio. They are the perfect solution for protecting your device and storing cards. Incipio wallet phone cases are made for convenience, so you can leave your wallet at home.

Discover tech gifts that will get you in the season of giving. You might even find some cool gadgets to fill that space under the tree. Whether they enjoy gaming or an Apple fanboy, this guide will spark your imagination to give something that will make everyone happy.
1. Glasses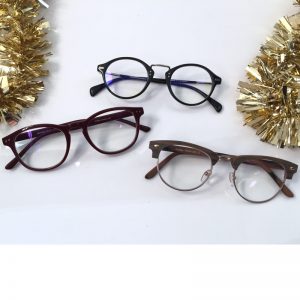 For the techies in your life, you know their eyes are constantly glued to the computer screen. Whether it is for fashion or function, EyeBuyDirect provides affordable quality eyeglasses with its new Eyezen digital protection lenses. It features a unique blue light filtering technology to shield eyes from the negative effects from digital screens. With frames beginning at just $6, it can't be beat!
2. Drone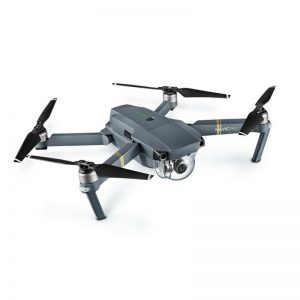 Everyone wants one, and now is the perfect opportunity to gift something extra special like the Mavic drone. If they are ready to go outside and pilot one of these amazing devices, prepare yourself for breathtaking views.
3. USB-C Charge Cables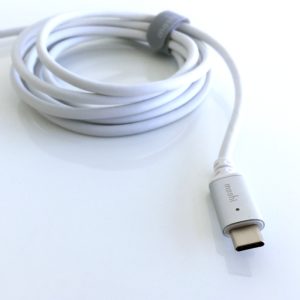 For the Mac and Google Pixel lovers, USB-C charge cables are an ideal gift. Charge and power any device equipped with a USB-C port with the Moshi USB-C Charge Cable.
4. Phone Cases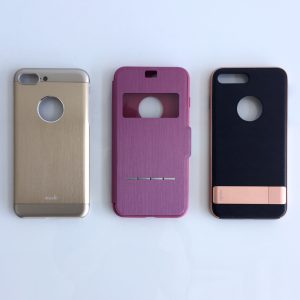 Protect your loved one's phone this year in style. Made with scratch resistant and shock absorbing materials, Moshi phone cases provides smart functionality and military grade protection. Their iPhone will look sophisticated and sleek while staying practical for everyday use.
5. Portable Battery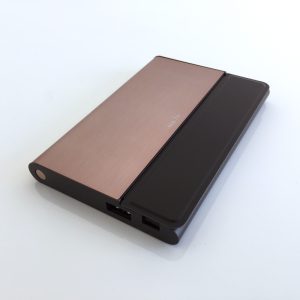 We all have that one friend who's phone battery is always low. The Moshi portable battery is the perfect stocking stuffer. Whether they are constantly checking their Instagram or still playing Pokémon Go (lol), they'll love the convenience of an extra charge right from their pocket. The Moshi IonBank 5k gives up to two full charges and can charge two devices simultaneously.
6. Saent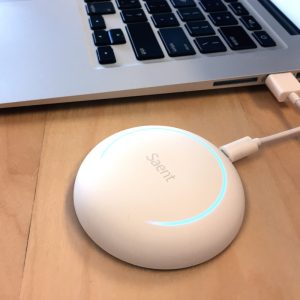 Can you imagine your workday without distractions? With the saent.com, it's possible. Saent blocks apps and websites that distract you for instant focus.
7. Candle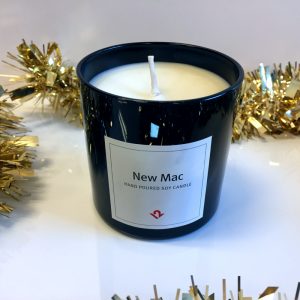 For the Apple fanboys out there, having all their electronics may not be enough. This candle is perfect for the one that has everything. With notes of mint, peach, basil, lavender, mandarin and sage, your nose will be transported to your local Apple store with the New Mac scented candle by Twelve South.
8. MacBook Stand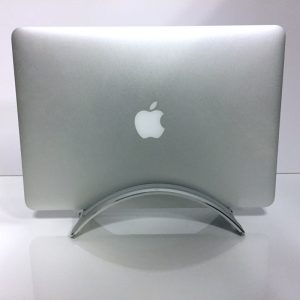 Slide your MacBook into the Twelve South BookArc for the ultimate desktop setup. Connect it to an external display, add a full-size keyboard and mouse, and you'll have a comfortable desktop setup without losing desk space.
9. Laptop Bag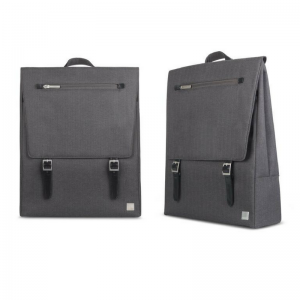 Perfect for travel, the Helios backpack by Moshi features sleek design with function in mind. Made with water-repellent coating and fully padded compartments, your laptop and electronics will stay safe wherever you go. The Helios backpack can hold a 15" laptop as well as slots for your notebooks, phone, and whatever else you may need on your travels.
10. Fitbit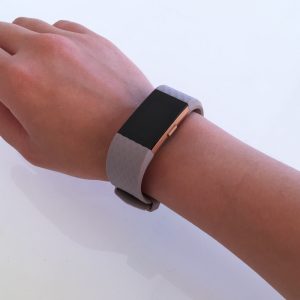 Help your friends prepare for their New Year's fitness resolution with a Fitbit. The Fitbit Charge 2 is better than ever with the abilities to track your heart rate, steps, alerts from your phone, breathing levels, and much more.
Katsucon: The People Behind The Masks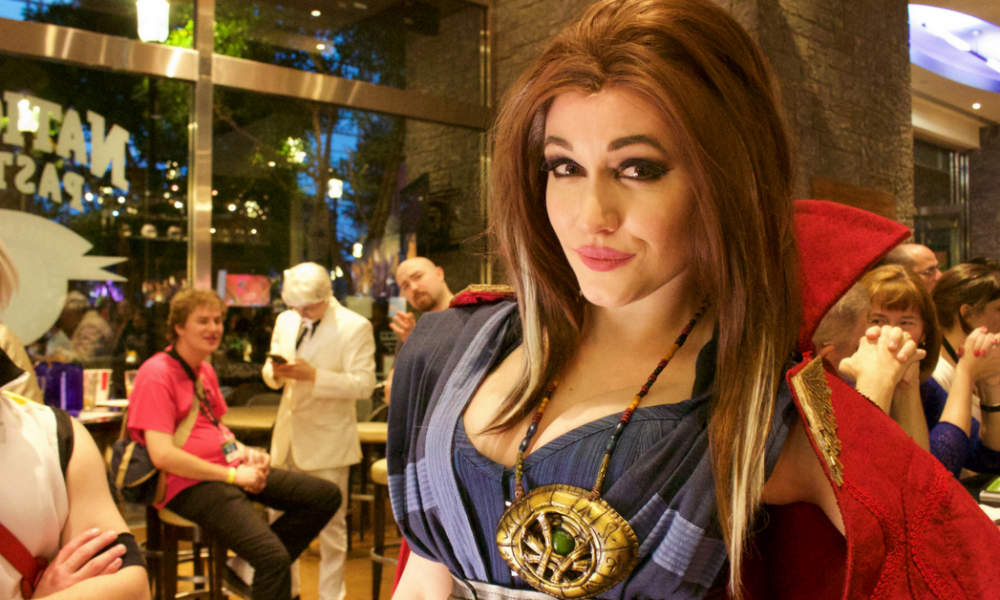 The comic, anime, and video game community is growing at an extraordinary pace, with fans going to conventions across the country. Katsucon is one of those conventions, and takes place every year at The Gaylord Hotel at the National Harbor in Maryland. They bring in thousands of fans and the number of attendees grows every year. The question is – who are these people? This fandom has brought together people from all parts of the world with various backgrounds into one place, creating an amazingly diverse community. The rest of the country may be buzzing about politics, environmental change, etc, but at Katsucon, the focus is on what's going on within those walls – the fandom.
Going to one of these conventions can open up your eyes to the inclusiveness of the culture without social and occupational barriers. The attendees are especially friendly, sharing news about their favorite fandom with people who would have been complete strangers otherwise. The excitement and openness is unparalleled. Because of this, businesses like Filthy Casual has been able to tap into the audience and further promote the love for the culture through niche apparel, accessories, art, and various other products.
What makes a convention like Katsucon so special is the community. People come for the panels and guests like the CEO of Rogue Studio, Lee Malone and Voice Actress Cherami Leigh, but they stay for the friendships that they make throughout the 4 day event. As for the crowd, there were people of all ages, ethnicities, backgrounds, and careers. Katsucon was flooded with cosplayers. They dressed up in costumes as their favorite characters from comics, anime, and video games, often beautifully handmade. We explored who the people were behind the masks. What we found was extraordinary. Their occupations vary from business executives to college students and most travel by car, bus, plane, or whatever it takes just to attend.
Burger King
Audio Engineer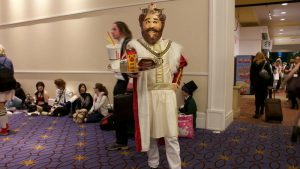 "I got into cosplay from my sister actually. She had been going to Katsucon for a long time and it always sounded like fun. My first Katsucon was 5 years ago I think and I love it every year!"
Mokujin, Tekken
Store Manager at Game Stop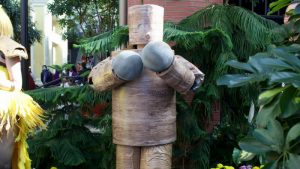 Tristana, League of Legends
Aspiring Prop Maker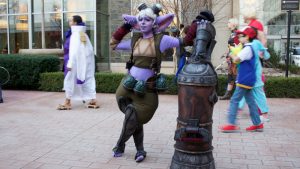 "My dream is to be a prop maker and cosplay is helping me achieve that dream. 🙂 I started cosplaying in 2010 when I realized it was a thing to dress up as your favorite characters and go to conventions where others do the same, since I always loved dressing up as a child. Though I didn't realize how much I loved making props until the last year or so! Being able to make something physical from scratch is truly an amazing feeling."
Elsa, Frozen
Teacher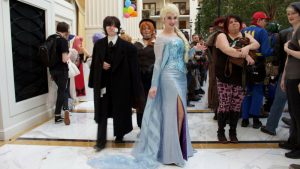 "I got into cosplay because I like sewing. I went to my first convention in 2013, and was so excited to see all the costumes around. I put together a casual TARDIS cosplay for my next con, and things have just escalated from there."
Crown Prince Arthas, Heroes Of The Storm
Analytical Manager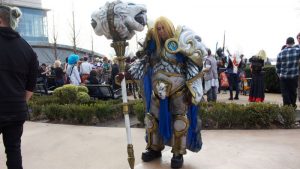 Ms. Frizzle, The Magic School Bus
Graphic Designer For Rowman and Littlefield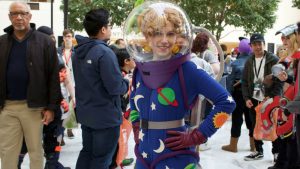 "I've always loved dressing up, Halloween, renaissance festivals etc. I chose to do the Frizz at Otakon 2010 and the response was overwhelmingly positive. And so I did another costume…and another. I love the community and to be totally honest I love the attention too. It's a fun hobby and I feel accomplished and proud when I complete a project."
Dr. Strange
Business Development Executive at NNDATA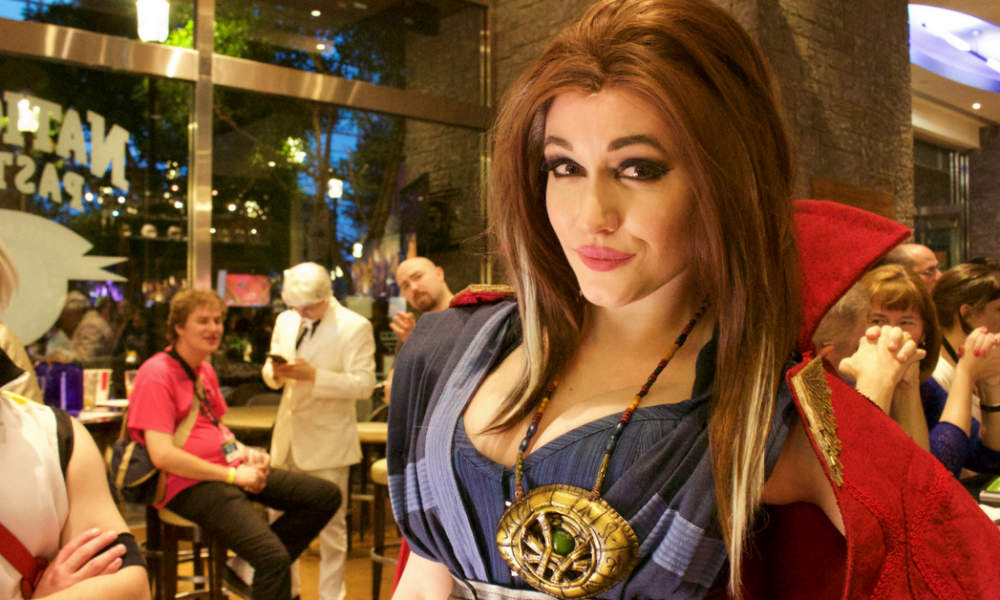 "I've always been a nerd, but it took me until a friend from my welding class suggested AwesomeCon would be a great outing for our nerd friends and we decided to go as a zombie bridal party using the dress from my first wedding. We showed up on Easter Sunday as church was letting out across the street – shouting Happy Resurrection Day – and I realized I would never have more fun than being a giant nerd in public. My Instagram has a picture of the dress!"
Reinhardt, Overwatch
Design Drafter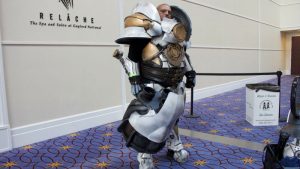 Cinderella
Student and Cashier at a supermarket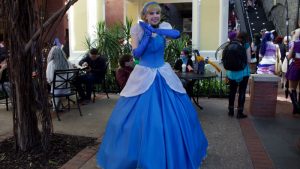 "Cosplay for me started when I saw a group of lolitas at a fancy castle I used to live near, I saw them and thought to myself that I wanted to look like that too. And after research I found out about cosplay"
Final Fantasy XV Nissin Cup Noodle
Student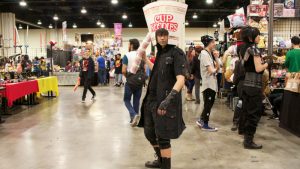 Guts, Bersek
Insurance Agent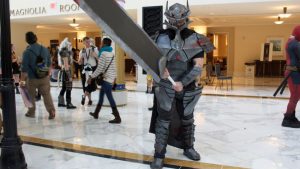 "I got into cosplay because I've always been a do it yourself kind of guy. I wanted to be a Saiyan so I made Saiyan armor and people really liked it, so I felt confident to try making a lot of other things too
More from Katsucon
Interview with a Street Artist: Joe Mangrum, the Sand Painter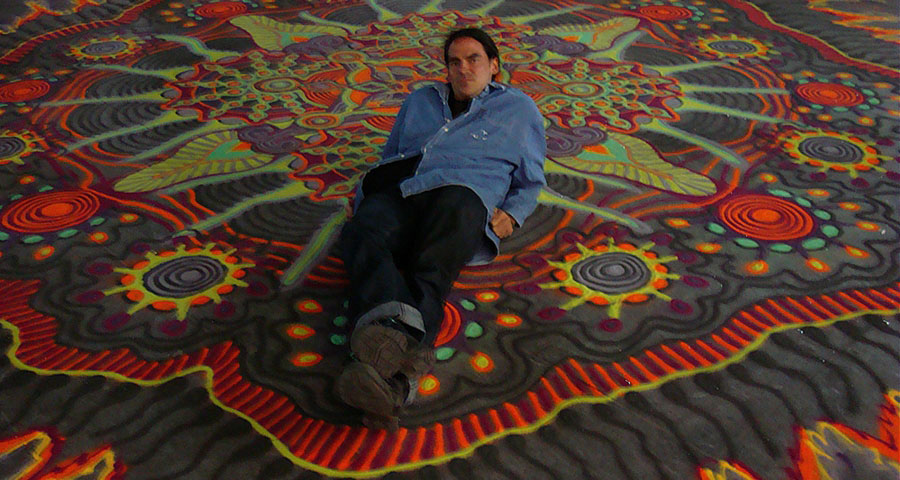 While walking through any given park in New York, what type of creative would you expect to encounter?  There are all the predictable performers such as guitarists, perhaps a living statue, and of course the young break dancers bouncing around the halls of subway cars or gathering crowds in the park before jumping over some poor tourist's kid.  No one would be surprised to see these type of performers in any given city in America. What about someone who pours sand on the ground? No… not a sandcastle.  What if you walked down the street and saw something like this: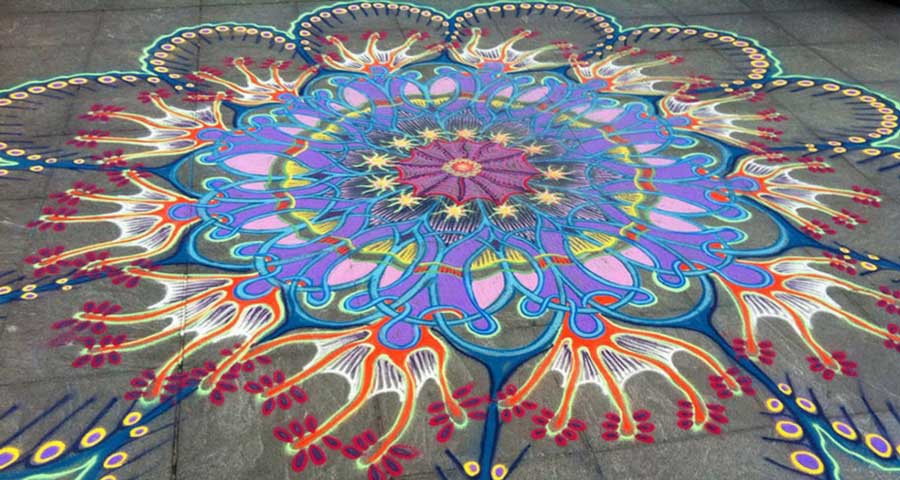 This insane and psychedelic pattern is what I saw one day walking through Washington Square Park while looking for the world's largest Corgi Meetup (that's a story for another day).  Above the geometrically complex shape growing on the ground, I saw a man hunched over his hands dusty with grains of many colors, adding more orbiting patterns to the piece. His name was Joe Mangrum. Joe makes some badass pieces of temporary art, fragile patterns that most often take the form of intricate mandalas.  Here's what he had to say about his experiences as a street artist:
1.  When we met you mentioned you've been doing this for 6 years now.  What were you doing before and at what moment did you decide you would do this full time?
I've been making art pretty much all my life and found my signature style about 1994, art has never really been a choice but a necessity and I worked various gigs in between art projects up until 2009 after I had moved to New York, determined to make it work.  It was then I started colored sand paintings in public and that gave me the bread and butter token making art on a daily basis without taking outside work.  Full time has always been the goal, and now its just managing bigger projects within that framework.
2.  Which do you like better and why: creating art in a studio or creating art in public spaces like Washington Square Park?
I like both for very different reasons. The public space allows for an interaction in real time with people who are not necessarily the type that go to art galleries, they have spontaneous reactions that are real insightful in ways, they inform me and feed me with lively discussion, on the flip-side there are plenty of people that are just walking on their phone and not paying attention that can be destructive to such a delicate work.  The studio offers the freedom of time.I can spend as long asI want on a single piece of work…  you just can't go that deep and make changes with the limited time set by the sun wind and weather in the public space. Its gotta be swept away when I leave for the day.
3.  While working in public spaces, what was your best/most surprising experience?
I have had some people get emotional over the years but one time went furthering a person came up and said that I had saved their life?  Upon further inquiry they said they were suicidal and for six months had come out to see my work before working up the courage to speak to me, it gave them hope, and it hit me in a profound way, that my work over so many years may have that sort of impact on so many unknown people, its a little scary and at the same time humbling.
I can't say any one instance is the worst, but being in public a lot you are vulnerable to whatever comes your way on any given day.  People can be rude and entitled or just plain oblivious, the cumulation can get you down at times.  Occasionally there is a mental unstable person you have to deal with and I just do my best to use non-violent communication to defuse and deescalate any potentially crazy situation, its sad, but it makes me feel good that I've honed these skills enough handle some potentially violent people over the years who just don't have their world in the place they want it.
5.  How much would you say you earn from tips on average while working in public? 
Its really irrelevant,  I survive in NYC.
6.  Tell me about a time when your work was destroyed
 Its usually by a strong wind as the rain is much more predictable, the worst is when you are working on a very hot day its relatively calm but no-one is out as its just too hot… then as the people emerge out of the air conditioning in the early evening, a huge wind will sometimes gust up and destroy the work, leaving little opportunity to make the daily bread. 

7.  Tell me why you feel compelled to create
I create because it teaches me something new about myself about the world on a daily basis…   there is a lot of knowledge to be gained by my process still.