Quartz Bottle: The Water Bottle That Cleans Itself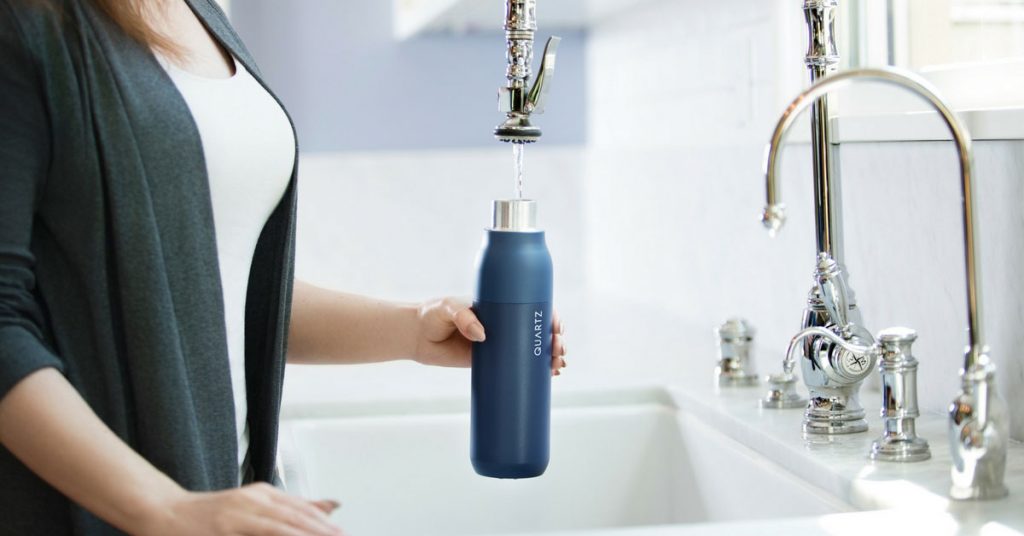 Maybe you've finally started getting serious about cutting down on soda and coffee and drinking more water. You may have taken some swigs from a reusable container and wrinkled your nose in distaste afterward. That's because cleaning water bottles can be challenging — and it's hard to do it as thoroughly as necessary. Who has time for cleaning tablets and specially designed brushes, anyway? The inconvenient necessity of keeping your water bottle clean is one of the main concepts behind the Quartz Bottle. How does it work and why should you put one on your must-buy list as soon as possible? Keep reading to find out.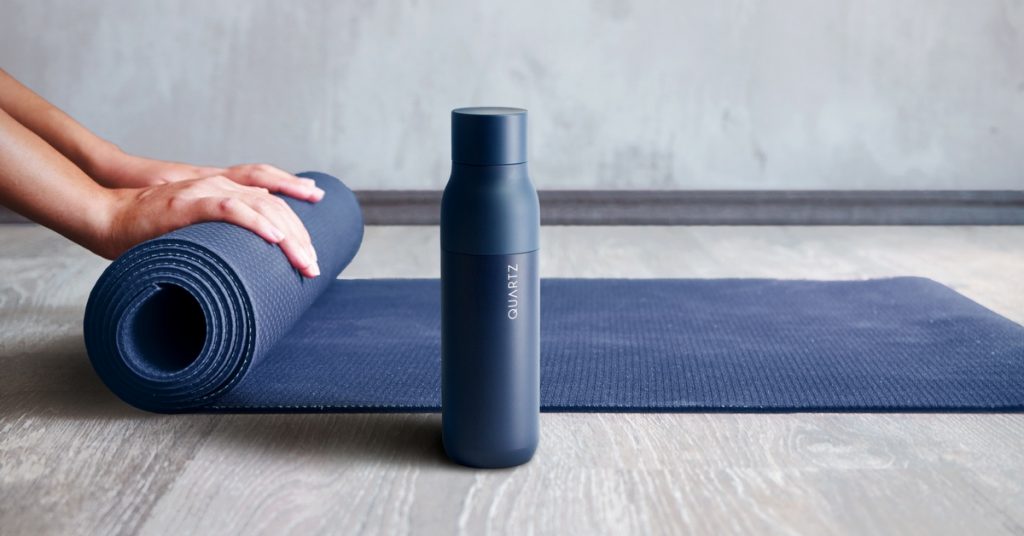 A Light Inside the Cap Cleans the Water for You
Sometimes, the most helpful components of an innovative product aren't the largest or most visible ones. The Quartz water bottle has a patented UV-C light inside the cap. You might not immediately notice it due to the product's sleek design, but it's arguably one of the hardest-working parts of the container.The light is a purifier that

neutralizes up to 99.9999 percent of germs in only a minute

. You can also choose between manual purification and a cleansing process that happens automatically every four hours. That latter option is especially helpful on days when you're trying to balance a schedule of yoga practice, taking your toddler to daycare, meeting your business partner over coffee and more — all while knowing you can't spare a thought for keeping your water clean.
The Co-Founder Has a Long-Term, All-Encompassing Mindset
While reading about the Quartz Bottle, you'll find that many of the selling points focus on making your life easier. By using the product, you'll enjoy constant access to water that tastes great and never have to deal with downsides like smelly bottles or cumbersome cleaning techniques again.However, Justin Wang, a co-founder of the company that manufacturers the Quartz, had an Earth-minded view when engineering the item, too. While writing a post about the bottle, he pointed out that

people collectively dump one million plastic containers into landfills each minute

.Also, if you like to consciously buy things that have large impacts by promoting the greater good, the Quartz is for you. The creators decided that 1 percent of every purchase gets donated to Charity:Water. The organization works to provide people around the world with improved access to safe hydration.
Design Scrutiny During Development
In another interview, Wang confessed having a very relatable problem. He successfully cut down on using disposable water bottles

but still found himself reaching for one

when another type of purified water wasn't available or the reusable bottle he had been using became too gross to use.Wang spoke to friends and found their experiences echoed his own. The Quartz water bottle was born when Wang decided to tackle the issues that made him use disposable containers despite better intentions.However, he and the rest of the design team understood it was necessary to poll people in the target market. Only then would they find out about the factors that could turn them into Quartz devotees versus individuals who try the bottle once and decide they don't like it. Some could fail to even get that far by coming to the conclusion there's no need to switch to another water storage product because the ones they own are good enough.First, Wang toted a 3-D-printed prototype of the Quartz for weeks and gradually tweaked it. While pretending to drink from it to mimic an actual user experience, he got weird looks but knew the process was necessary.Next, members of the design team talked to hundreds of people and asked them about characteristics they'd identified that could cause problems. The potential issues ranged from a too-wide opening on the top of the bottle to a cap that might not twist easily enough. After taking these issues into account, the designers had a product they felt met user needs and made them feel proud.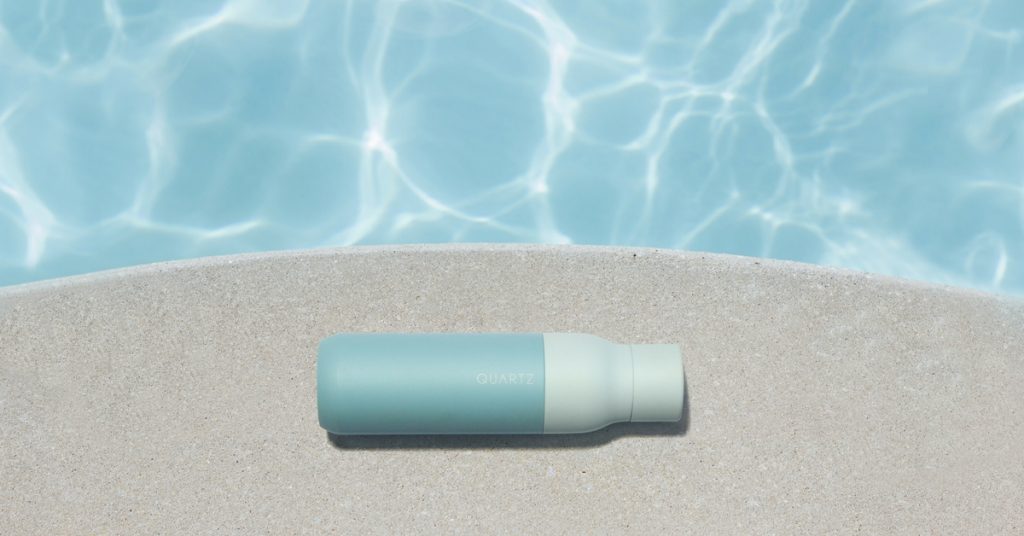 A Kickstarter Success Story Based on User Needs
If the story behind the Quartz Bottle fascinates you, you're not alone. One of the most impressive milestones in the product's history is how

it quickly achieved funding through Kickstarter

. In only a day, it earned 600 percent of the total amount necessary to bring the project to life.Most of the Kickstarter content speaks to the clearly defined needs users have. It mentions the double-insulated construction of each bottle that keeps water cold for 24 hours or maintains its warmth for half that amount. Kickstarter page viewers also got details about how their decision to buy a Quartz bottle could save them up to $1,000 per year that they'd ordinarily spend on bottled water.Then, what about people who felt uncertain about whether they'd remember to charge their Quartz bottles to make them keep working? Since each charge lasts up to two months, they only have to make reminders for themselves six times a year. Quartz bottles are compatible with USB outlets, too, so it's easy to power up the bottle while you're embarked on a road trip or otherwise away from home.Speaking of taking your Quartz bottle on the go, maybe you're a backcountry hiker or someone who otherwise needs to exercise special precautions before consuming water. If so, no worries! The Quartz has an adventure mode that increases the purification power for your peace of mind.All these features and others were part of the Kickstarter pitch, so it's not hard to see why the project gained momentum so quickly. Not surprisingly, then, many customers (12,758 backers, to be exact!) turned their desires into pledges.
How to Purchase a Quartz Bottle
You might think such a high-tech water bottle would be a substantial investment. However, you can

get yours for only $79 by pre-ordering it on Indiegogo

(Another site that helped the product secure more backers).Choose from several pleasing colors to pick one that suits your personality or intended use. Pre-ordering requires being patient until June 2018 to get your Quartz Bottle, but you know what they say about good things coming to people who wait.Regardless of your current opinions about conventional water bottles, Quartz might manage to change them. Justin Wang and his fellow designers worked hard to create a product that readily eliminated consumer annoyances.This dedication paid off with successful crowdfunding attempts — plus a significant amount of positive press from news outlets and early reviewers.

In several months, you might realize the Quartz Bottle makes you feel genuinely excited about drinking water and not polluting the planet while you're at it.
Foot Cardigan Taking Socks One Step Further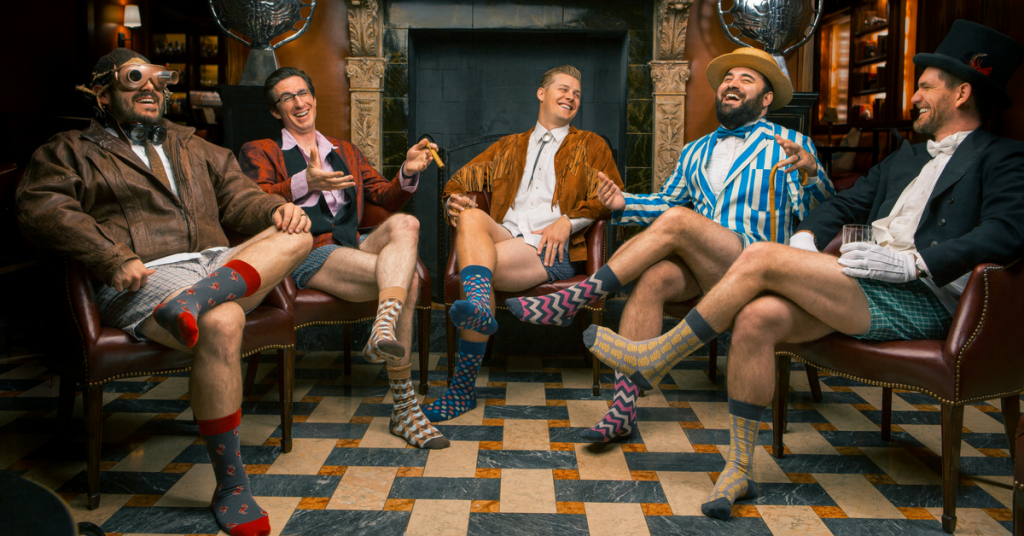 Seeing packages in the mail is probably one of the most underrated and exciting things that happen to us in our digital world. You may know them as the guys on Shark Tank that ripped off their pants.

Foot Cardigan

is a sock subscription that sends you random socks once a month. From holiday themed to socks covered in sushi, be sure to be surprised every time. Their fun, colorful

Instagram

feed is a small taste of what you will receive. We interviewed the founder of Foot Cardigan, Bryan Deluca, about how the company got to where they are today.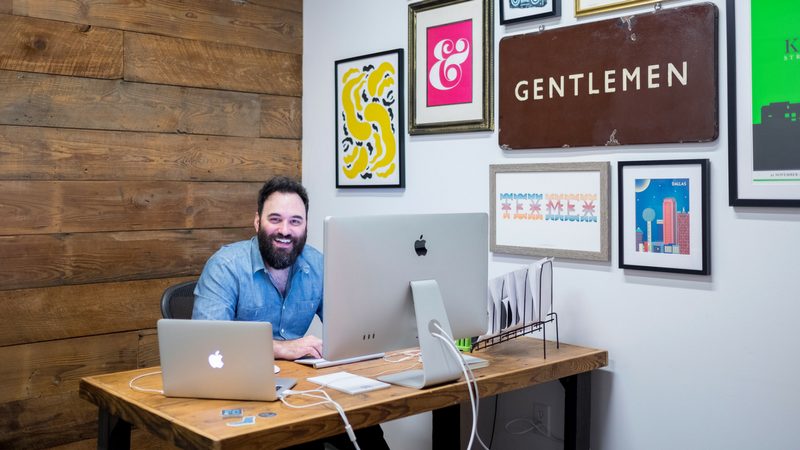 How did Foot Cardigan get started?
We fell in love with the subscription model after seeing that viral Dollar Shave Club video in 2012. Socks are a commodity so we knew we had a shot at having some success within the space if we came at it from a different angle, you know, like a subscription. Et voila!
Why socks?
The 'fun, crazy, fashion' sock trend was just getting going, so we kind of were at the right place at the right time. I had a little experience in sourcing so I was able to find our first factories and get that going. But I really loved the idea of taking this historically boring product, like a sock, and making buying/receiving it fun.
What makes your socks different from competitors?
Over the last four years, I think we've created our niche within the larger sock industry. Of course I think our product is as good or better than other brands out there, so when you're competing, you have to make sure there's just a quality standard there, or people won't buy your stuff. But beyond that, we've really separated ourselves with our design aesthetic. The words 'whimsical' and 'fun' are probably the most circulated within our design team. But really, it goes beyond the socks. It's the brand. The tone. It's unique to our industry.
Describe your subscription service.
Most people don't think about buying socks until they have to. They've got holes in their current ones, so now they've got to go to the store to buy new ones. It can be a hassle. But with Foot Cardigan, we give you something you need (socks), and we give you an experience you wouldn't expect for such an historically mundane product. You get a random pair of fun socks in your mailbox every month. You don't know what you're getting until you open the package. That's one of our customers' favorite things about us. We make the decision for them, and they get the surprise in their mailbox. No one gets fun mail anymore. And we're proof that people still crave it.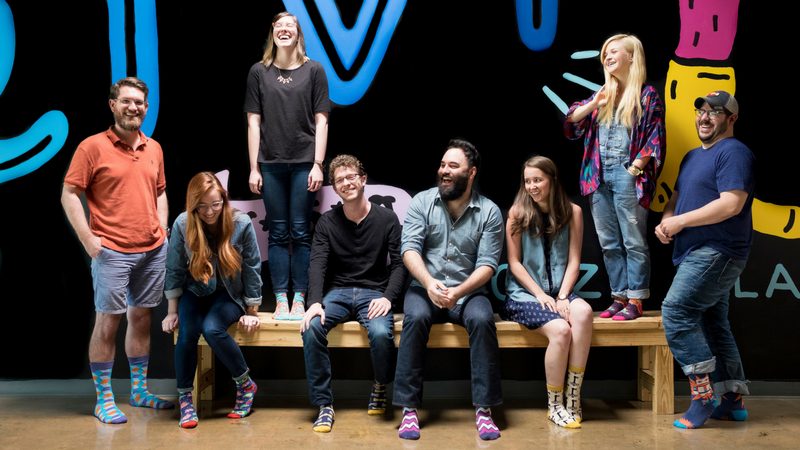 Tell me about your team.
It's really a privilege to work with them every day. They work really hard and are really smart. About half our team is operations and customer service and the other half is marketing/web. It's a good blend of creative people. When I say creative, I don't mean just the designers. We need every position to be creative, with how we respond to customers and how we ship out socks.
Describe your company culture.
It's pretty much exactly what you'd expect from us. Meaning, if you've been to our site or received our socks and you walked into our office, it would make complete sense to you. A lot of laughing. A lot of energy. Whimsical decor. Every person on our team is empowered to do their jobs. And they're encouraged if they make mistakes, because when we make mistakes, we learn and get better. We love taking risks. Sometimes they work and sometimes they don't. We give our team the freedom to think about how to do things better, without the fear of judgement. That matters.
How has being on Shark Tank and HSN affected your business?
The've both been really great. Both are experiences that you never expect to happen, but when they do, you're kind of like 'WHAT?!?! Did that just happen?' But yeah, our business greatly benefited from both experiences.
Do you plan on expanding your product line?
I'm so excited about this. Over the last four years, we've launched four products. In the next 12 months, we have plans to launch almost double that.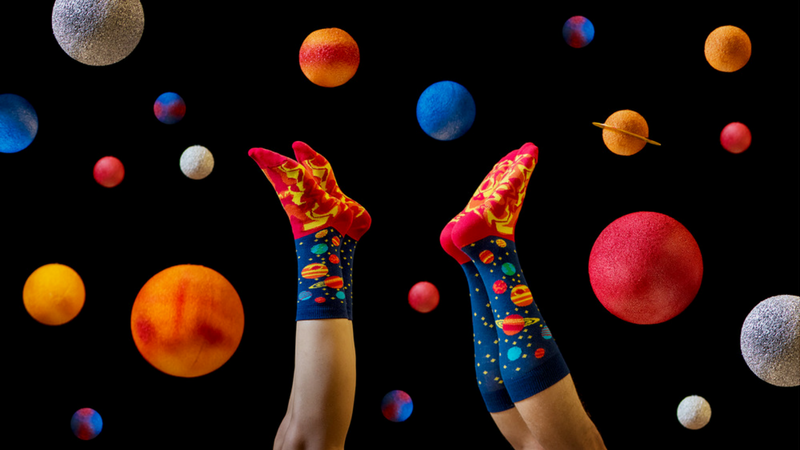 What inspires you?
My family. They are my rock. My three-year old doesn't care that I was on Shark Tank and she doesn't care if I had a challenging day at work. She just wants daddy to cuddle her and play Candy Land. That's really refreshing for me. I thrive off seeing my friends succeed. I have a lot of friends in different industries that are so damn good at what they do. When they have victories, we celebrate, and when they fail, we cry. Being around people who challenge themselves to be the best they can at what they do. That gets me every time.
What is the biggest lesson you've learned so far?
To soak in every single moment of this ride. I find moments every single day to be thankful. I often find myself saying 'I can't believe I GET to do this every day.' Because I'm not guaranteed this will last forever. So I'm going to enjoy it while I can. Tomorrow, the world could decide that socks are terrible inventions and we're going barefoot, and we'd be done. Unless we made socks that looked like people were barefoot....I'll be right back....
What are some obstacles you've come across?
Growth. While it's really exciting to be growing, it's also really challenging. 2/3 of our team have been here less than a year. We've had to create things like an organizational structure, training, etc. Navigating inventory management with our model can be tough, but we're getting there. Oh, and things like at the beginning when we had to figure out how to tell people to buy something that they didn't know was a thing. That was strange.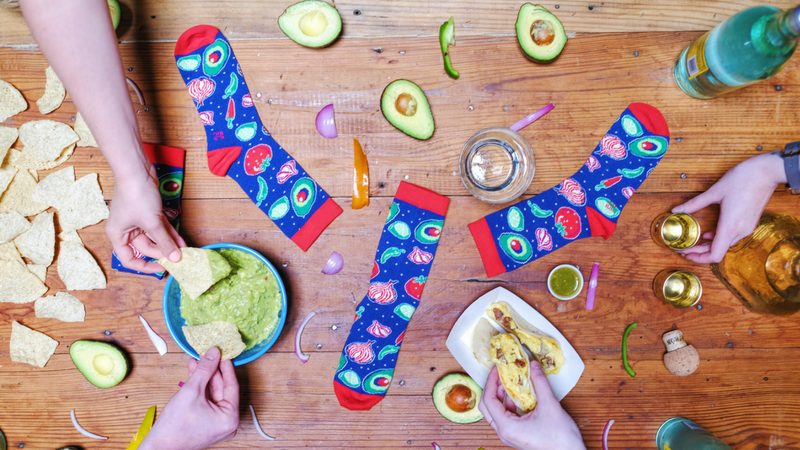 What was the proudest moment for Foot Cardigan?
It had to be the first customer who bought a subscription that none of the co-founders knew. We went ballistic over the fact that someone who wasn't obligated as a friend or family member bought a subscription because they just loved the product. I'll never forget that.
What is some advice you can give to someone building their own startup?
Get over that fear of failure. I see that the most from people. They work on their thing for a couple years and it never sees the light of day. No one will ever care about your thing as much as you do. We had the idea and launched in 2.5 months. It wasn't the best first site, but it sold sock subscriptions. We tweaked it from there. So yeah, just get your thing out into the world. Don't waste time and money building something people don't want. The sooner you push it out there, the sooner you'll know if it's going to work or not. That's invaluable.
Video Is Changing Businesses, Education, And Careers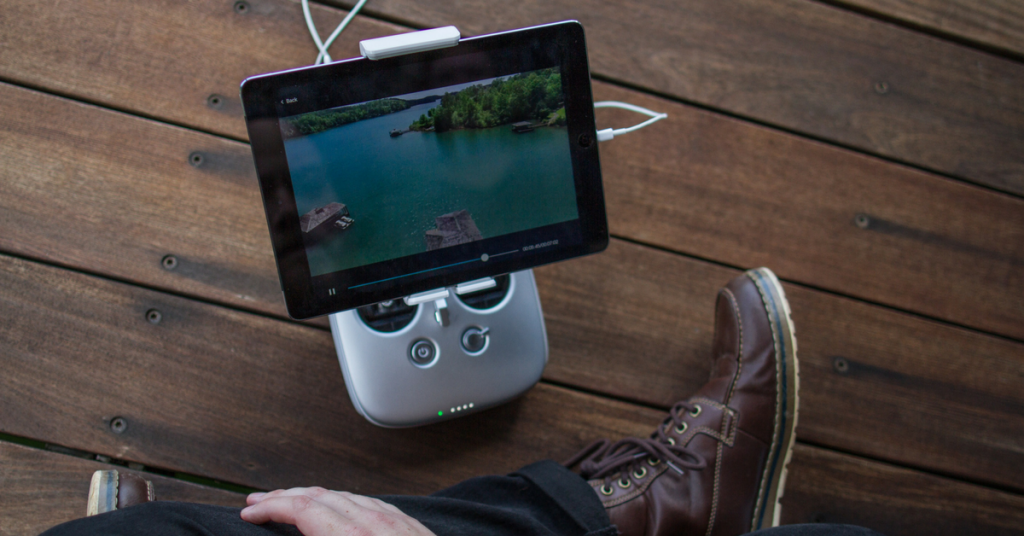 Video seems to have existed for a long time, decades even. Why then, is it causing such consequential changes now? The 21st century has so far proven itself to be the fastest-paced time in human history. This change has prompted conventional industries and organizations to shed their old practices and embrace the digital current. A key aspect of this sweeping current is the refinement and accessibility of video, and its overwhelming presence online.

The "viral video" is a key component in the Internet space, and has amassed so much esteem and regard, that it has allowed average individuals to cross over and be showcased in mainstream media. Viral videos usually make an appearance on the main broadcasting channels or on shows like

The Ellen DeGeneres Show

. The power and scope of video is not limited to viral pieces alone. Entertainment and humor from short clips online, videos have extended to impact every aspect of the physical world from business, current affairs, and education. A single, powerful device has found decades' worth of practices and assumptions to uproot and revolutionize. A prime example is the mannequin challenge, were people freeze in action for about one min. It all started as a college challenge, filmed on a smartphone and shared on Facebook.
Businesses
Businesses have undoubtedly experienced the most positive change with the dominance of video. Videos are now widely used to market products and services that businesses may have to offer. This form of marketing has proven to be more concentrated and effective, and each video is a result of high-end production value and laser-like focus on a target audience's consumption and response patterns.With the popularity of social networking platforms and the sheer amounts of site traffic, businesses have taken to video to trace online patterns and usage to target advertisements accordingly. This makes for marketing campaigns to be far more lucrative in that they reach the intended audience at optimal times. Video production and video marketing services are encouraging businesses in all fields to use video to attract customers and to reach a new level of engagement.A teenager scrolling through Facebook with a particular bias towards beauty will have makeup advertisements come across as an endorsed video of a particular brand. Likewise, if any user's online preferences and behavior lean towards software and technology, they are more likely to find a few marketing videos related to the subject during their usual scrolling.Video is increasingly used in presentations and orientations, to better accustom fresher recruits with business models and practices. A short 5- minute video outlining the core philosophy of a business has a better chance at engaging investors. The online fundraising website, Kickstarter, requires pitchers to publish a video alongside their business model which details their entire product at length. This specific video alone has the power to make or break potential investment deals, and startups often allow a lot of time and attention to go into making this short video exceptional.Video calling and conference calls are slowly becoming somewhat of a norm. Businesses have found video to be an ever-helpful alternative. Not only are calls easy to arrange and connect, but they can be carried out on short notice and dramatically reduce the costs that usually go into long-winded business trips.Video is also increasingly used by businesses in training initiatives and programs. This practice stems from the vast amounts of scientific evidence available that proves how learning and retention is linked with visual and sound aid.
Education
Statistics, numbers, and information are better processed via visuals. 40% of the brain's nerve fibers are connected to the retina, which makes the brain's ability to process visuals much more efficient than computing text. This is the reason why video is assuming a more dominant position in modern education and teaching processes.According to the Visual Teaching Alliance, visuals are processed up to 60,000 times faster than plain text. This has greatly impacted the way teachers approach their jobs, and has allowed a number of companies to invest in the market of providing educational material that supports visual-aid.Providing visual aid does not only translate into a positive increase in scores, averages, and performance values; the key here is retention and comprehension, and how researchers have discovered that visuals and video improve learning by 400%. Schools and colleges are now reinforcing video in curriculums and courses, to make teaching programs more efficient. The end result is a more competent, able, and lucrative job force, that is able to approach various areas of business with fresh perspectives and ideas. Video is quite literally aiding the development of a smarter, more skilled workforce for future generations. This has vastly changed career dynamics and competitiveness, as well as opened up new careers and professions.The reach and influence of video is only expected to expand in the coming years. Educational institutions all across the world have begun to replace conventional paper-bound textbooks with iPads containing downloadable texts that feature a number of videos. For subjects such as History and Science where greater retention is required these videos prove themselves to be extremely efficient.
Careers
People can now form functioning careers out of video. The second-most popular website globally, YouTube, is a video sharing network that features a considerably substantial amount of online content creators and entrepreneurs.These "YouTubers" have managed to gather millions of devoted followers, and content creation has become nothing short of a highly successful career for many of them. These individuals earn a considerate amount yearly by simply creating engaging and thought provoking content with paid endorsements and advertisements. Majority of these online personas go on to star in movies and series, become best-selling authors, and go on world tours. Video has opened platforms that seemed impossible before.There are a number of Internet celebrities that started off with uploading shaky footage, and have now catapulted into mainstream media platforms. Comedian Bo Burnham began his career 10 years ago in his room, where he recorded himself singing his own pieces. Today, the 27 year old has two specials on Netflix, and has been able to tour and perform stand-up comedy on live television shows.Leading online sites such as

BuzzFeed and NowThis

offer 30-second videos to viewers that cover a range of topics. Anything between politics, current affairs, style, and technology trends are covered via short, informative videos. These have become nothing short of the evening news bulletin for much of the online crowd today.

As this year comes to a close, one can only help but marvel at the revolutionary leaps and bounds video has taken recently. What began as an innocent medium to share engaging content and media, has now transformed into something of a business essential, a corporate tool, and a socio-political rallying-point. Though video is still overwhelmingly used for various purposes, a sizable chunk of leading businesses and social institutions have discovered that video may be an excellent tool to engage, market, relay, and educate.
The Importance Of Controlling Risk In Your Business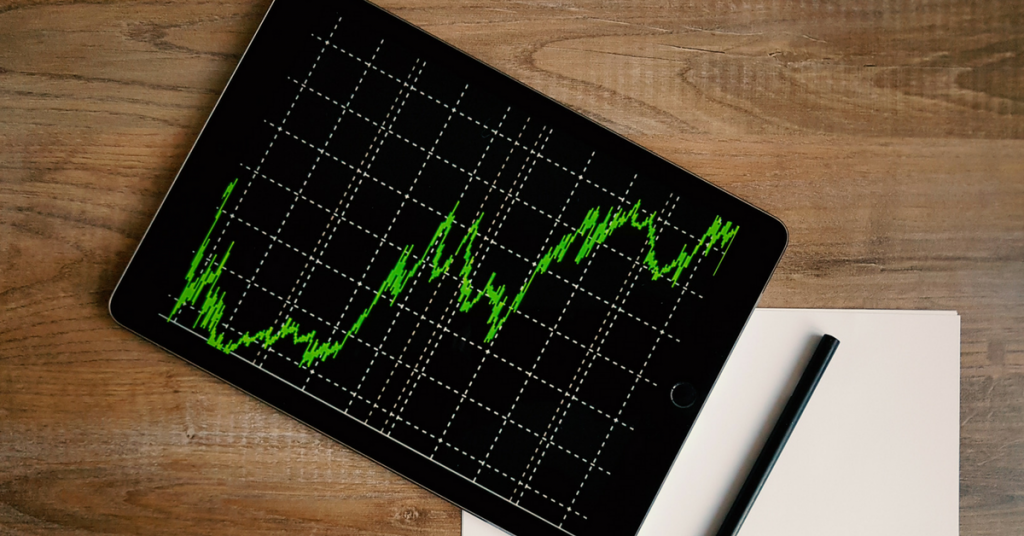 Risk is a part of life! Any enterprise, big or small, can face some unforeseen incidents and incur a significant loss. The risk can result from both inside or outside, natural disasters, accidents, human error and faulty production. Managing or controlling the risks is one of the most important aspects of running a business. If the business is owned by a sole proprietor, he has to face an additional personal risk of liability and financial crisis. The risk management techniques include risk reduction, risk transfer, and risk avoidance.

The risk management process involves proper planning. Here are some guidelines to control risk in your business venture.
You need to identify methodically the probable risks surrounding your business.

Review the probability of occurrence of the events.

If you can sense any problem early, deal with them without any delay.

Chalk out a plan to respond to the unforeseen events.

You need to use your resources effectively to address the risks.
The importance of liability trends
One of the most important aspects of risk control is tracking the trends in liability insurance coverage. It can help you to get more coverage options for your business. You should always buy a good liability insurance policy for your enterprise. There is some additional coverage too like inland marine insurance which provides coverage for job site insurance and builder's risk insurance which is specifically for construction site coverage.
Risk evaluation and consequences
Evaluate all the pros and cons and the risk involved in the business. Avoid doing something that has less benefits, but severe consequences if the action fails. If you want to take up the challenge, do it intelligently, divide your liability with your partners, and try to reduce the risk component.
Importance of quality assurance program
To avoid any unprecedented risks in business, implement a quality assurance program. Review the feedback from the customers. Regular product quality testing can give time for correction and reduce the chances of product failures.
Maintain accurate records
Implement a system that can check the overall performance of the company. Keep a track of how the finances of the business are being utilized. You should regularly compare the economic condition of your business with that of the market. It can help you get an idea of controlling financial risks.
Managing financial risks
Reduce the financial risks by managing the accounts of the business regularly. Minimize outstanding balances and identify the poor credit risks. Implement a credit and payment standard. Also, specify which credit score and payment methods are acceptable. Evaluate customer payments and if the customers do not follow your plans, implement advanced payment options. Keep your outstanding loans, and financial needs to the minimum. Plan business expansion in such a way that you do not have to take a huge debt. Try to finance the growth internally.
Recovery planning
Your business needs proper coverage for thefts, scams and other crimes. Chalk out a disaster recovery plan to save your funds. Get adequate insurance for data security, employees, and equipment.

Remember, it's always better to plan in advance and nullify risks.