Benefits Of Having Dogs At The Office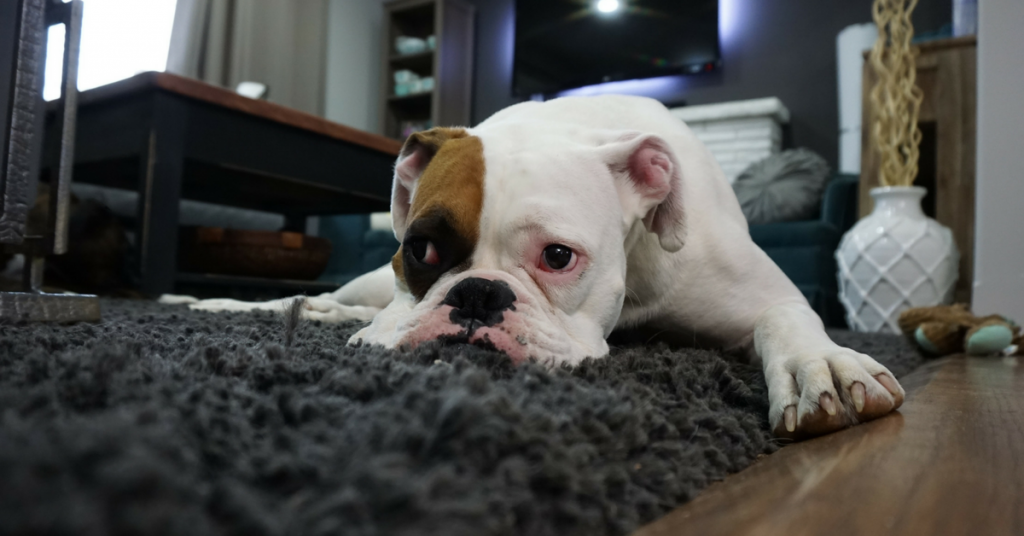 Taking along your furry friend to your workplace is not a distant dream anymore. Many offices are becoming pet-friendly. This is not an amusing fact, but a well-researched one. A dog can give you a bit of relief when you are completely tied-up with your work. If the pet is well-trained and perfectly healthy, you can take your dog in your office. If your co-workers are open to the idea of keeping a pet in the office, and the building authorities permit pets, then no one can hold you back. Here are the benefits of having dogs in your workplace:
Relieves stress
An active dog is an instant mood-booster. You feel relieved when you see the lively eyes of your pet. If you play with your dog for a few minutes, you get back the strength to work with high-efficiency. Anyone can have a rough day at the office. If a cute-looking Labrador or St. Bernard is there, you can overcome negativity almost instantly.
Helps in team-rapport
Dogs can act as a bonding factor for the team in the workplace. In some offices, people do not get along very easily. A dog can immediately change the environment. It melts the ice and everyone starts sharing their thoughts about keeping a pet. A friendly dog can bring everyone together. A pet can be a great topic as a conversation-starter. Even a new employee can settle down quickly in the new environment when a gentle-looking dog is there.
Reduce absentees
If pet-owners can come to work along with their pets, it becomes a huge relief for them. They can concentrate better on their work and perform well. Pets can feel lonely and bored and often fall sick when they are left alone at home. Workers may find different excuses to skip work to be with their pets. If they can bring their pets, they work peacefully and do not take frequent leaves.
Encourages healthy living
In most offices, employees are stuck for hours on their laptops. Sitting constantly for hours and looking at the screen can have adverse effects on the health of the workforce. If there is an office dog, the employees can take the dog for a walk. They can also share the responsibility of taking care of the dog. It will encourage them to stay active and happy in the workplace.
Dogs make the place more human
A dog or cat can completely change the plastic environment of the workplaces. People become so engrossed in their work, that they slowly ignore their human feelings for each other. Frequent dog petting or cuddling can help people come out of their robot-like situations in the office.
Pets stimulate creativity
Pets can provide natural pauses in workflow. The small breaks allow the human brain to relax and think outside-the-box. Pets allow you to relieve stress and think creatively. The more time you spend with your canine friend, the more relaxed you feel. A calm and fresh mind always bring the best idea in the workplace.
To increase the productivity and happiness of your employees, dogs can play an important role. You can arrange some training for the office people if they want a furry friend in the office premises.
Bit.ai Review for Business [2023]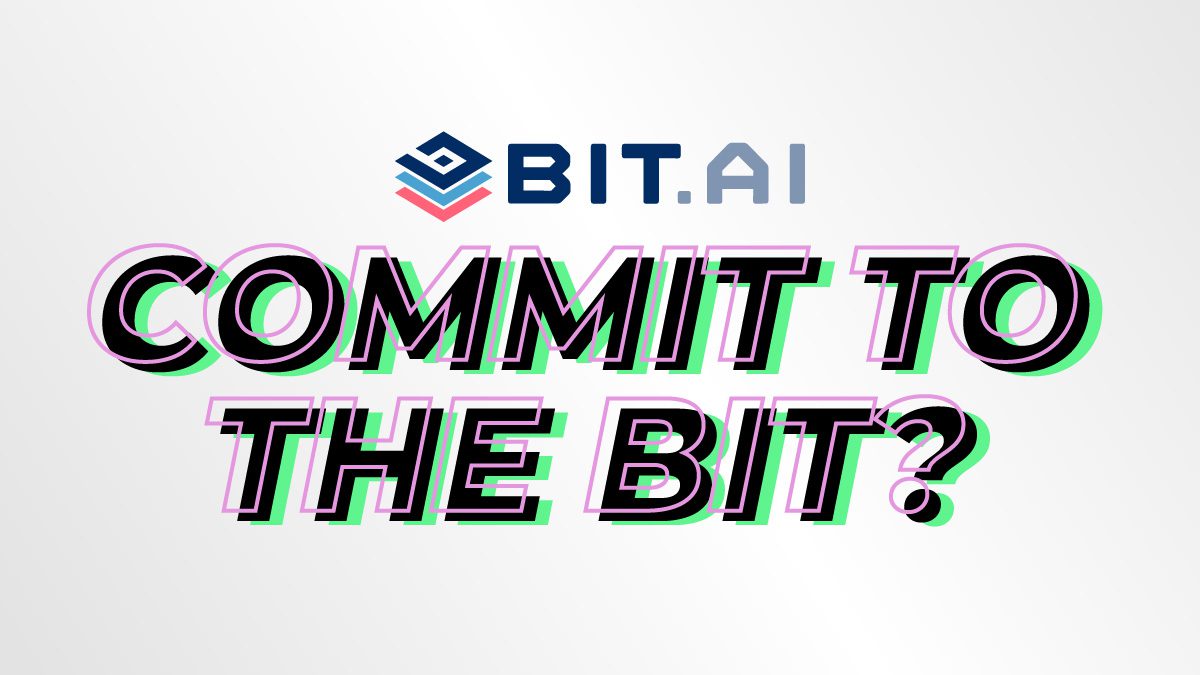 When you're collaborating on documents with other writers or co-workers, how do you keep everyone on the same page?
Truth be told, for most of you, the answer is probably Google Docs. It's quick, efficient, and easy to share. But what if there was a better way?
Bit.ai professes to be "the world's most powerful workplace and document collaboration platform." In this Bit.ai review, we'll put that claim to the test.
Bit.ai Review: What is Bit.ai?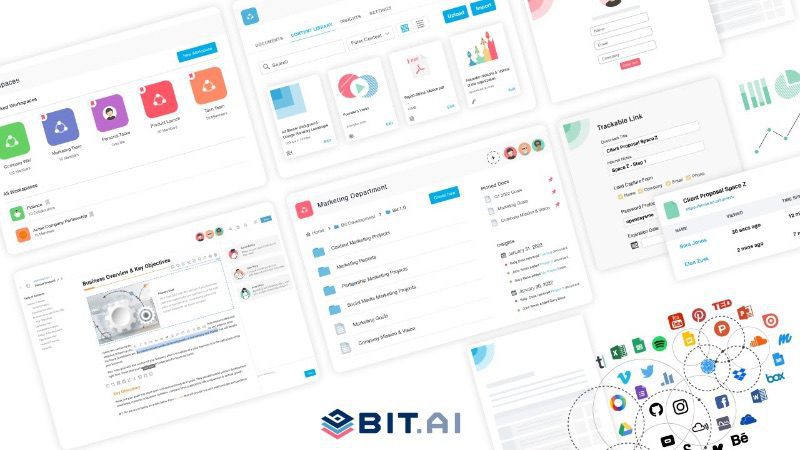 Co-founded by Raj and Saje Sandhu, Bit.ai has been offering document collaboration to companies like Canon and Harvard University since 2007. The company employs a global team with headquarters in San Francisco.
What does Bit.ai offer?
Bit offers a lot of custom features depending on your business' workflow. Some of their offerings include:
Collaborative document editor
Content library
Cloud integration
100+ file types
Automated formatting, themes, templates
End-to-end document sharing
Branded documents
Customizable workspaces
We'll explore some of the key features in the next section.
How much does Bit.ai cost?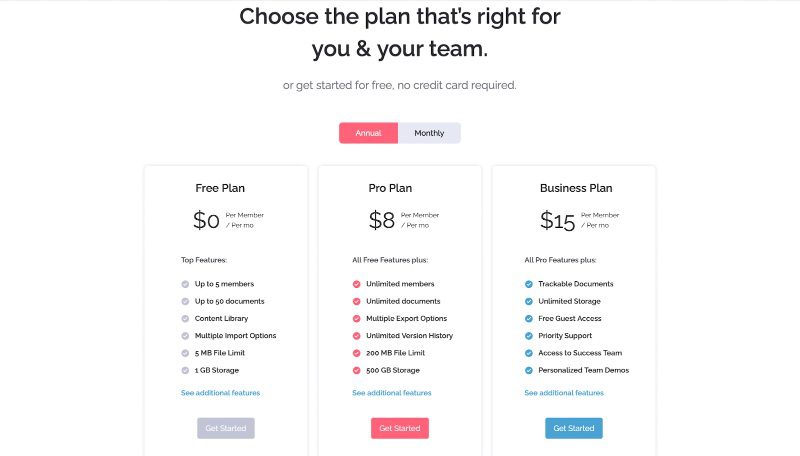 Individual users and small teams can use Bit.ai for free. Here's a breakdown of their three pricing plans:
Free plan: $0/mo. Up to 5 members, 50 documents, 5MB file limit, 1GB storage.
Pro plan: $12/mo or $96/yr. Unlimited members and documents, 200MB file limit, 500GB storage.
Business plan: $20/mo or $180/yr. Unlimited storage, document tracking tools, dedicated support, free guest access.
They also offer bespoke plans for enterprise customers, as well as discounted pricing for education, startups, nonprofits, and businesses involved in the COVID-19 response.
Bit.ai Review: How to sign up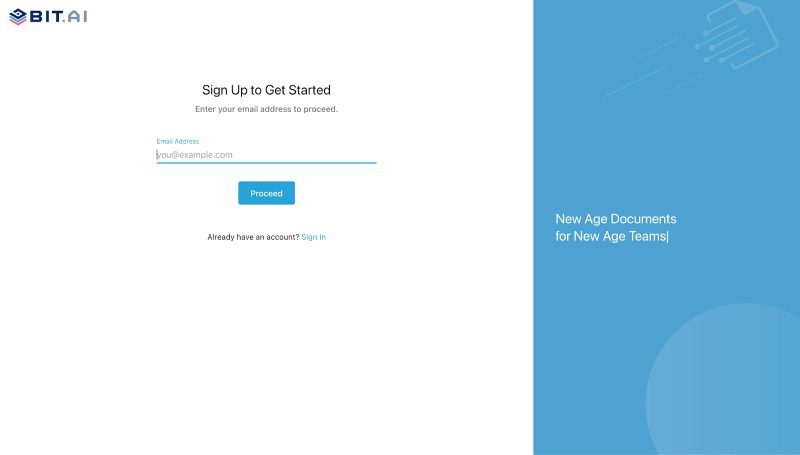 Getting started with Bit.ai is as simple as inputting your email and receiving a six-digit verification code.
After that, you're asked to fill out information like your name, your job title, and your department at your company, as well as create a password. Right off the bat, Bit puts businesses first, setting itself apart from Google Docs before you even log in.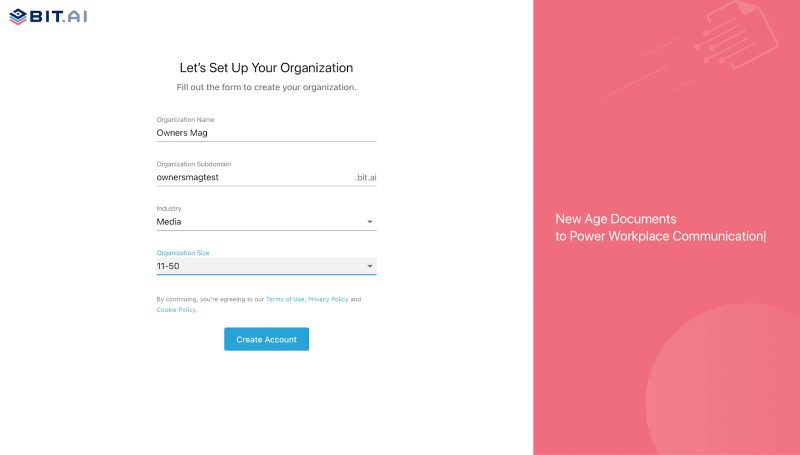 But it doesn't stop there. When you sign up, you create a profile for your whole company, getting a custom subdomain for your team to access your library.
And there you have it! Once you're logged in, you have the option to see a tutorial. If you want to upgrade to a paid plan, use the handy "Upgrade" button in the lower left corner of your dashboard.
Bit.ai Review: Features
The Bit.ai web app includes tabs for your dashboard, a list of all your workspaces, and a link tracking tab for Business and Enterprise users.
The Bit.ai dashboard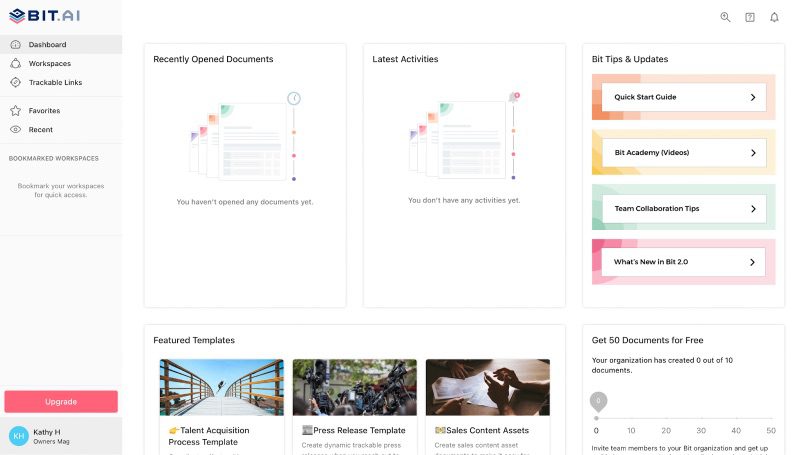 Your Bit.ai homepage allows you to view recent activity, featured templates, tutorials and updates, as well as see how close you are to your document limit if you're a free user.
With this limit, Bit.ai offers almost all of their features to free users. I prefer this model for free versions rather than arbitrarily limiting features.
You can open documents directly from the dashboard, but only using a featured template or a recently-opened one. To create something from scratch, you'll have to head over to Workspaces.
The Workspaces tab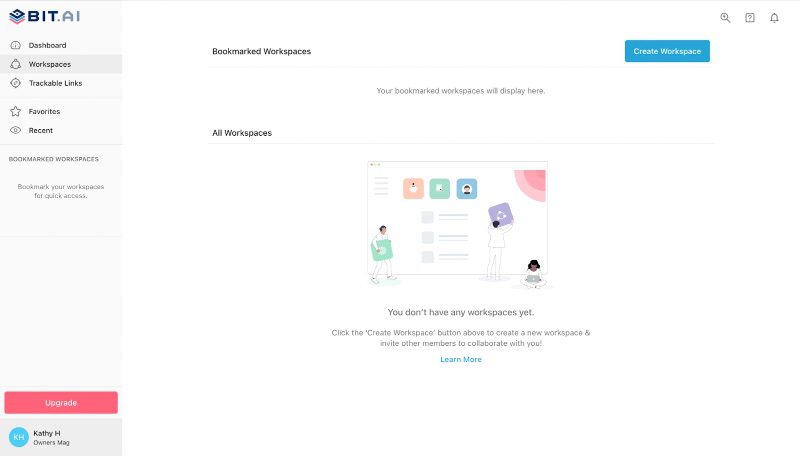 First thing's first: create a workspace. Workspaces are where your documents are created, saved, and shared. Once you've made one, you can create a new document, either by using a template, importing an existing document, or starting from scratch.
Creating a document with Bit.ai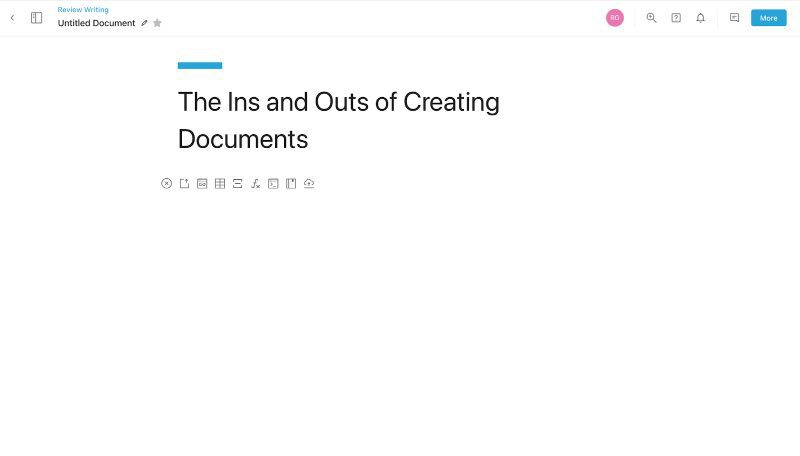 When you create a new document in Bit.ai, you're taken to a bare-bones writing editor similar to Notion. I always find it hard to start writing when you don't have anything visual to guide you, but once you get the hang of it, it's fairly intuitive.
I think the reason for this no-frills approach is to make it easier to take meeting notes and write down quick thoughts about a project. For more in-depth functions, however, you can highlight your text after you've written it to change the formatting. There's also a + icon next to your cursor that lets you add links, embeds, files, code blocks, and more.
One neat feature of this text editor is the ability to link directly to other documents and content in your Bit.ai library. It makes it much easier to cross-reference documents than it is in Google Docs, Word, Notes, etc., another great benefit for businesses.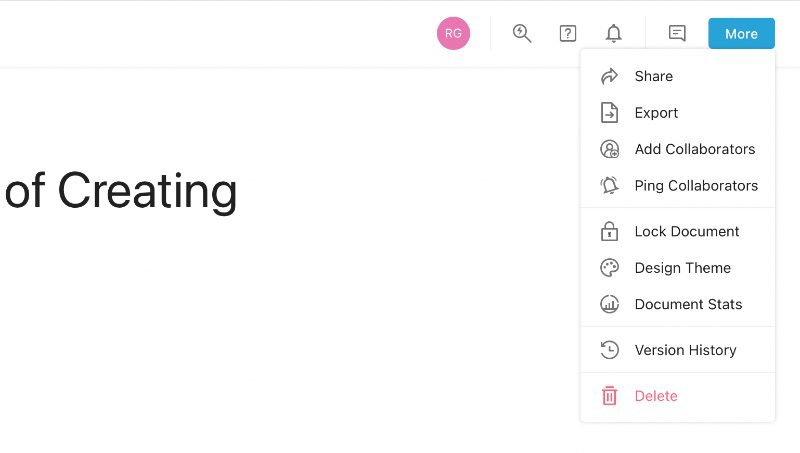 There's no need to save your documents in Bit.ai—that happens automatically. When you're done, however, you can share it with collaborators and others, lock it to prevent further edits, change its associated colors, view stats and version history. Note: exporting is only available for paid users.
Bit.ai writing templates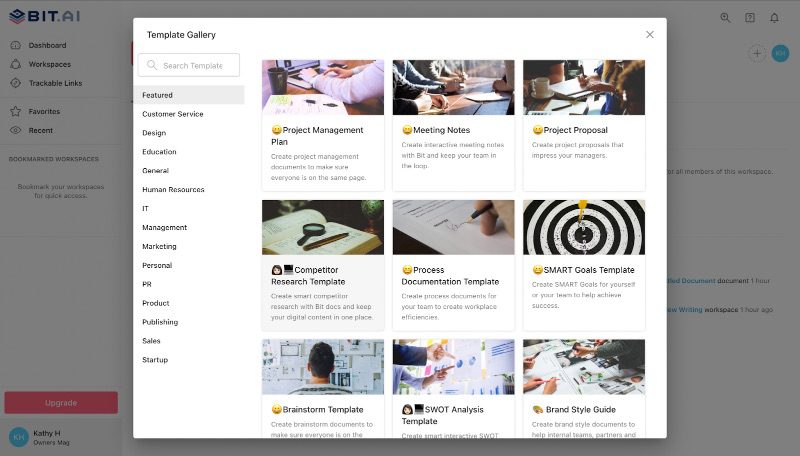 Bit offers a huge range of templates, with themes geared towards managers, marketers, designers, educators, and much more. Some of these are designed to function as static documents, such as thesis papers. Others can be hubs for entire business processes, like the video production template.
After trying out a few of these templates, they're great at showing off all of Bit.ai's functionality, but they're useful even if you don't use Bit for everything. They offer great templates for outlining your processes, making it easier to set a roadmap and including things you might not have thought of.
Importing documents into Bit.ai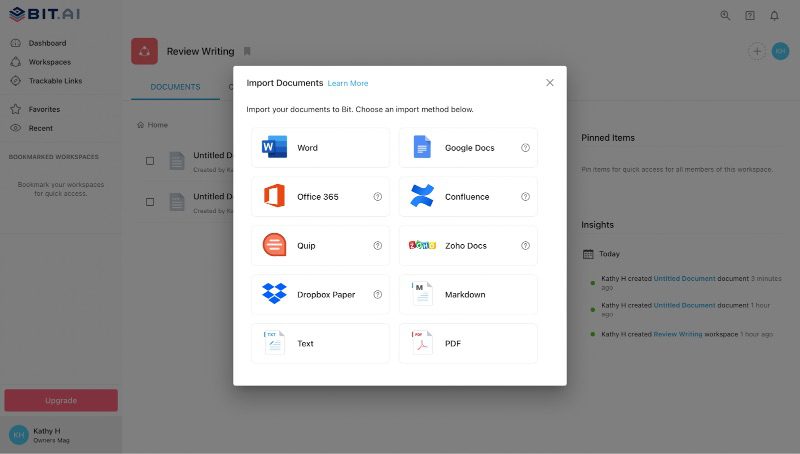 While Bit.ai professes to support a massive range of file types, their import menu is a little peculiar. You can choose to import from "Word" (which just allows you to import .docx files from your computer), from a number of cloud-based sources, or Markdown, .txt, and .pdf files.
The strange thing is, you can't click on "Word" and then upload a .txt file, nor can you click on "PDF" and upload a Word doc. I have no idea why it's formatted like this, but it made my upload attempts very confusing.
Not to mention, formatting isn't included when you upload, and the first two uncommon file types I tried (Pages and Final Draft) were both incompatible.
Bit.ai Review: Final thoughts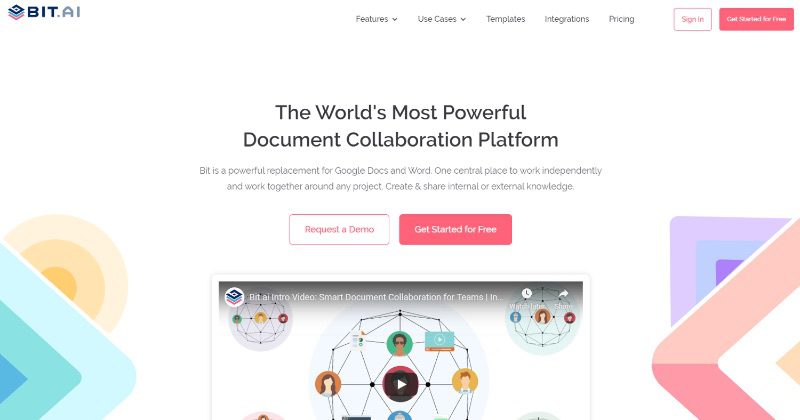 So, how does Bit.ai live up to its thesis statement? Is it really "the world's most powerful document collaboration platform?"
Eh, I don't know about powerful. It's mighty useful, and certainly more business-oriented than any of its major competitors. But it's actually a little lacking as a writing tool. You can't choose a font, there's no toolbar, and there's limited formatting options.
There are some good resources here for content management. The templates are stellar, and it has some of the easiest tools for cross-referencing other documents that I've ever seen. However, I've definitely seen tools that make it easier to organize documents and upload from your device.
Final grade: 6/10 😐
Loom Review: The Future of Video Sharing?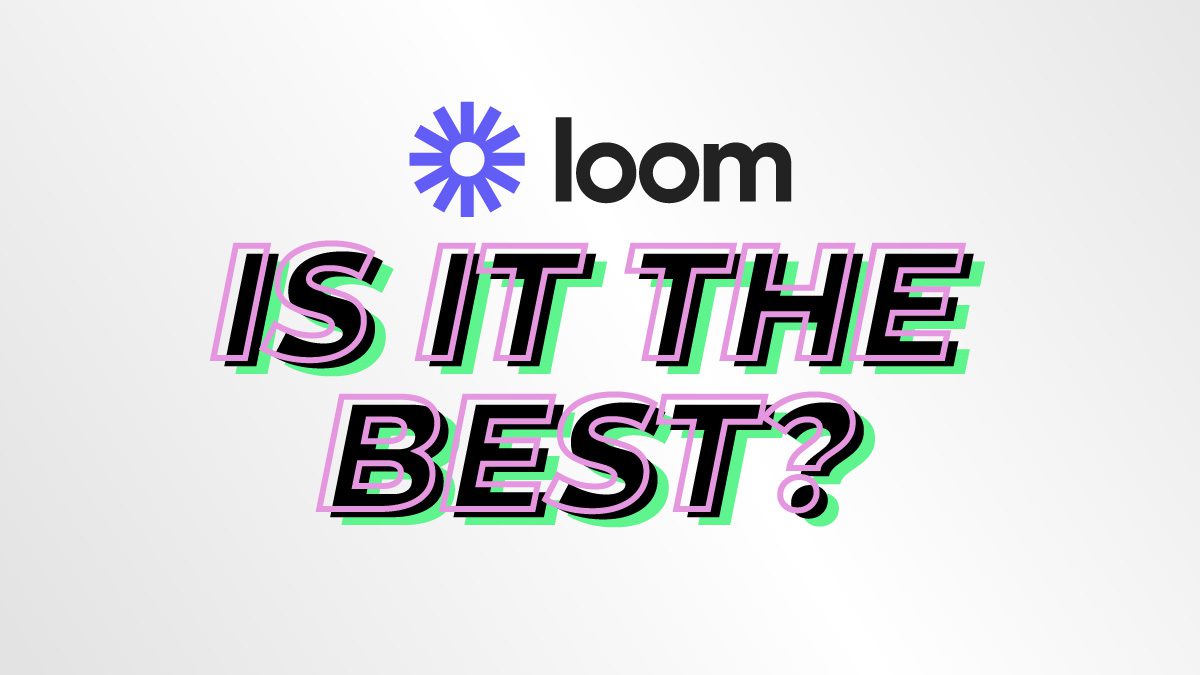 Let's say you're working with a design service.
You're working on a whole new vision for your company, and you need to articulate that vision to your designers. Sometimes, a simple text chat isn't enough to convey what you have in mind. That's where Loom comes in.
Loom allows users to quickly create videos with screen and face recordings. These make it easy to create tutorials, onboarding videos, and to share new information with your team.
How does this new spin on video sharing shape up? Here's our Loom review.
What is Loom?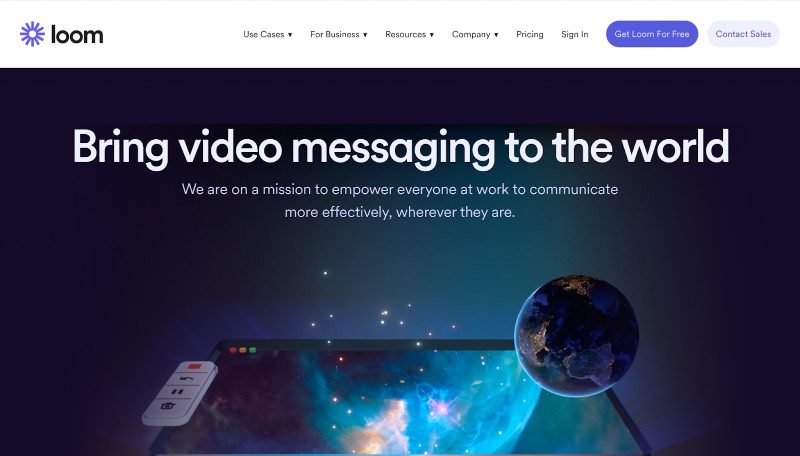 Founded in 2015, Loom has become a massive force in the business world for its convenient video tools. It now boasts over 14 million users, including high-profile companies like Netflix, Volvo, Apple, and Ticketmaster.
Some of the use cases for Loom include:
Coordinating with teams
Onboarding
Education
Design
Sales
Engineering
Customer support
Marketing
Loom pricing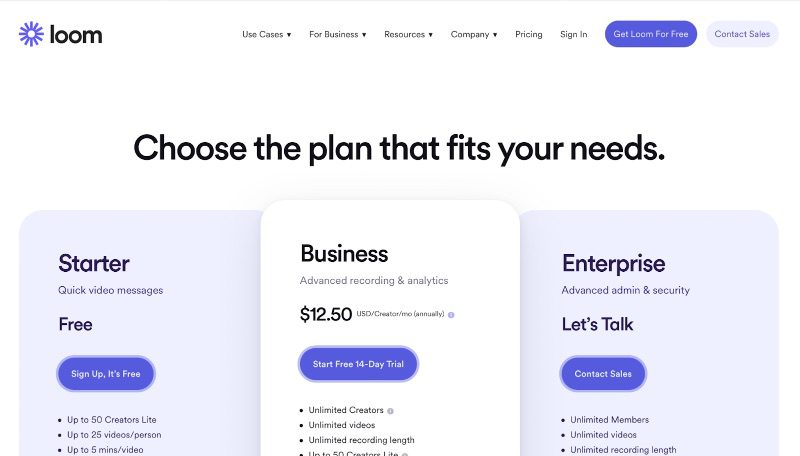 You can get started with Loom for free—which is probably a big part of the reason they can boast so many users. It's one of the easiest ways to create quick videos with editing and transcribing tools included.
Loom offers three pricing plans:
Starter – $0/mo. Up to 25 videos per person for up to 50 people. Videos can be up to 5 minutes long. Editing and transcribing tools included.
Business – $150/yr or $15/mo. Unlimited creators, videos, and length. Includes custom branding, engagement insights, embedded links, password protection, video uploads
Enterprise – Contact sales for pricing. Includes advanced security, admin controls, dedicated support, and Salesforce integration.
Teachers can also apply for Loom for Education. This free tool includes unlimited videos of up to 45 minutes, plus interactive elements, password protection, viewer insights, and more.
How to get started with Loom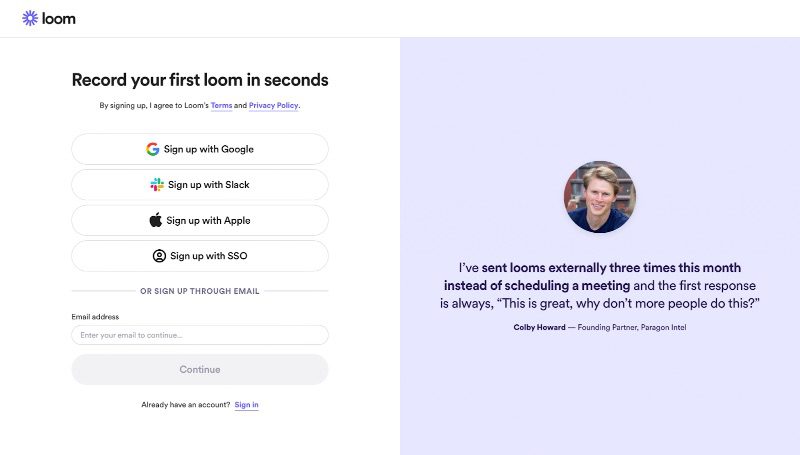 You can sign up with Loom for free using Google, Slack, or Apple accounts. You can also simply sign up with an email and password, or use SSO (single sign-on) if your employer has an account.
Once you create your Loom account, you'll get the chance to see the terms of service and privacy policies, which I always appreciate.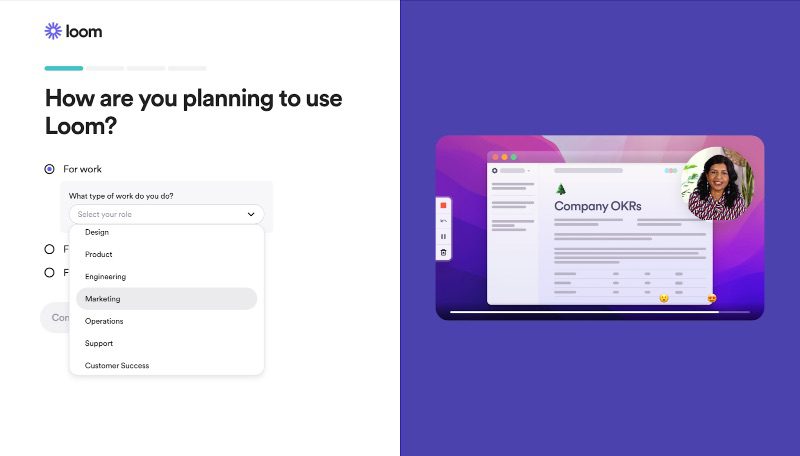 You'll be guided through a few short screens when you sign up. First, you're asked whether you'll be using Loom for work, education, or personal projects. Next, you'll get the opportunity to name your workspace and invite friends and colleagues to join it.
Loom review: features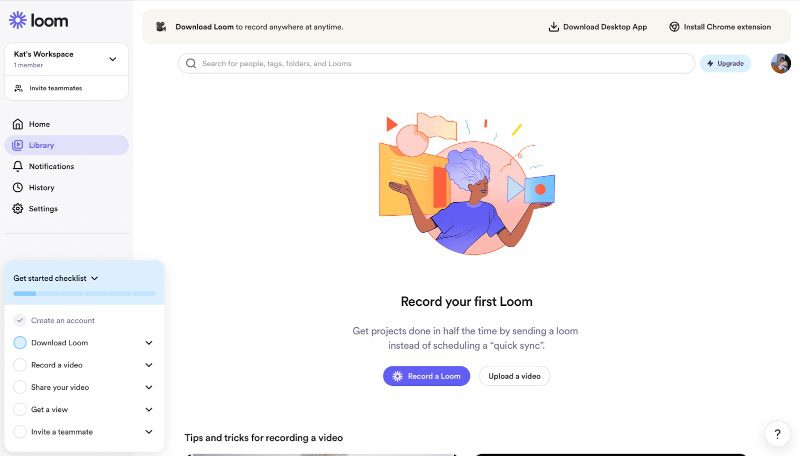 To actually make something with Loom, you'll have to install it on your computer, either as an app or a Chrome extension. This is an extra step, but for me, it was another indication of their commitment to privacy. I don't know about you, but when a website wants to use my mic and camera, I instantly freak out.
The Loom app appears as a simple overlay on your screen, with a face cam in the lower left corner and a recording timer on the upper left. A small window allows you to change settings for your recording, including:
Toggle screen recording and camera
Full screen, window, or custom size
Camera and microphone options
Recording quality
Recording canvas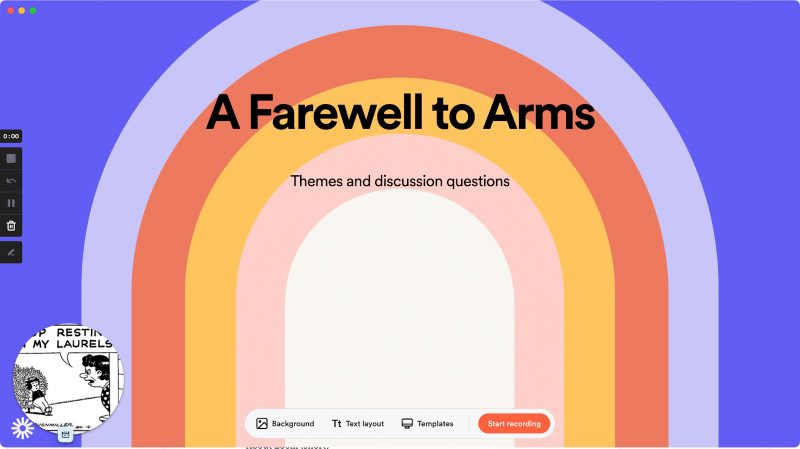 This neat feature allows you to create and customize presentation slides for your video. It seems like a useful tool for tutorials and classroom presentations (although you might get more customization options from simply creating a PowerPoint).
Speaker notes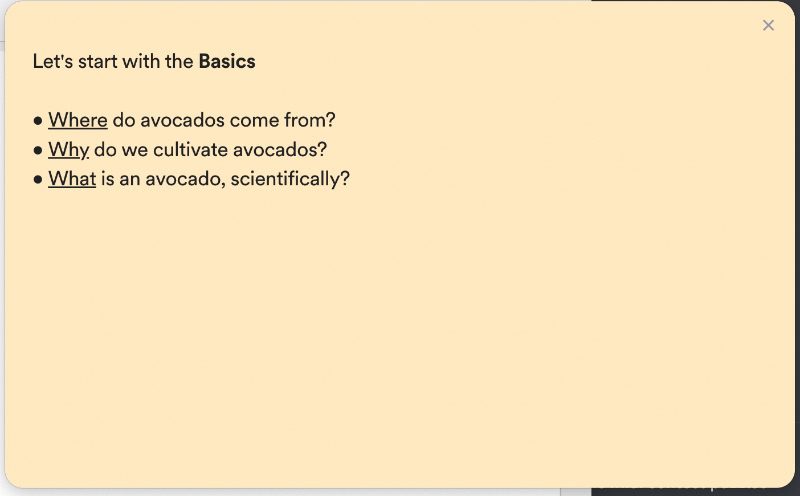 This simple notepad sticks on your screen, helping you stay prepared for long-form and in-depth presentations. Conveniently, the notes won't appear in your video, and you can move around or resize the window as you see fit.
It's really convenient to have your notes on-screen without obstructing your video, but the feature isn't quite perfect. You can make your text bold, italicized, underlined, or struck through, but that's about it.
The other issue is with the app itself. This might just be a me problem, but it seems to shut down unexpectedly when you perform certain actions like opening a menu or taking a screenshot. The notes, however, stay in their place, even when the app is closed.
Camera effects and drawing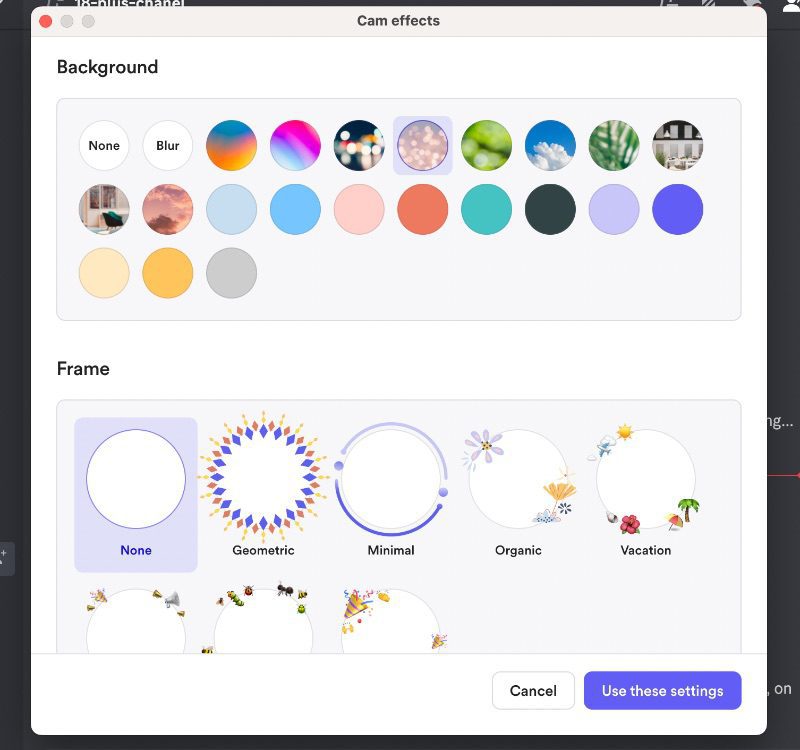 Once you start recording, you can quickly add backgrounds and frames to your video window for a personalized experience.
There's also a drawing tool you can use while you record to highlight information on your screen. I found this tool fun, but I wish you could toggle how long the drawings last on screen (as of now, it's only about 5 seconds).
Recording and sharing with Loom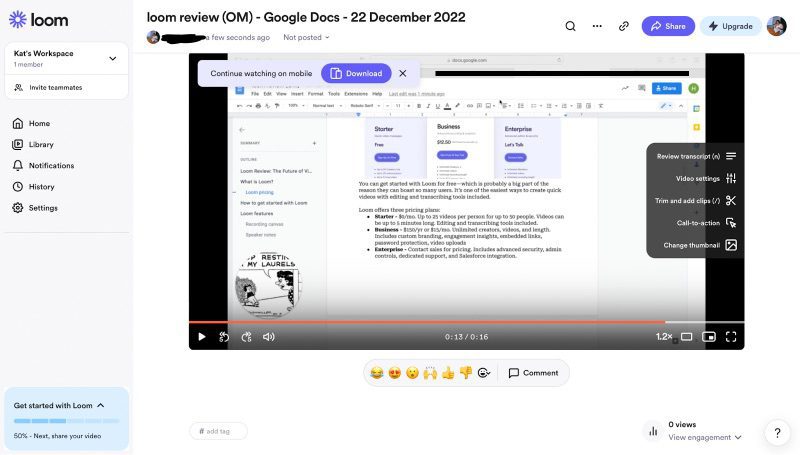 Naturally, the recording quality on Loom is only as good as your mic and camera setup. Still, I was quite impressed with the speed and quality of the recording. The instant I stopped my 2.5-minute recording, the video was up on Loom, with a URL ready to be shared and an automated transcript you can edit.
It's really convenient to have the link ready to go right away. You can add tags, a thumbnail, and a call to action to your video, plus change settings and edit the transcript.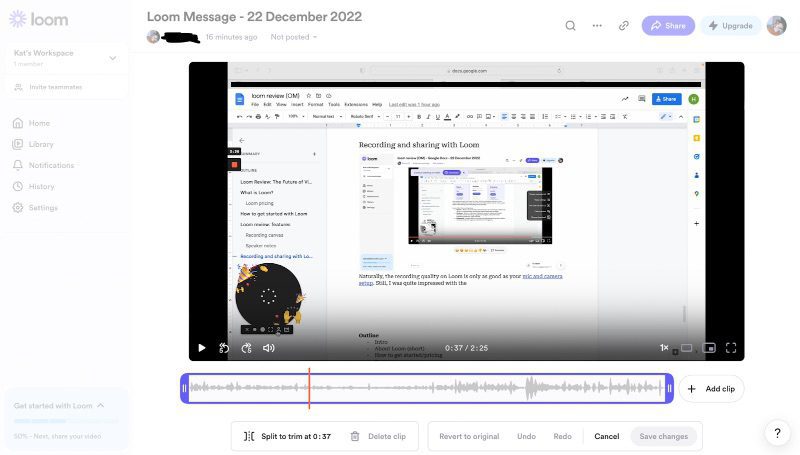 There's also a surprisingly solid video editing tool, letting you cut out clips and splice in other Loom recordings.
You can share your video right away using the Loom link, or quickly download it as an mp4 and modify it however you like.
Loom review: Is it the best?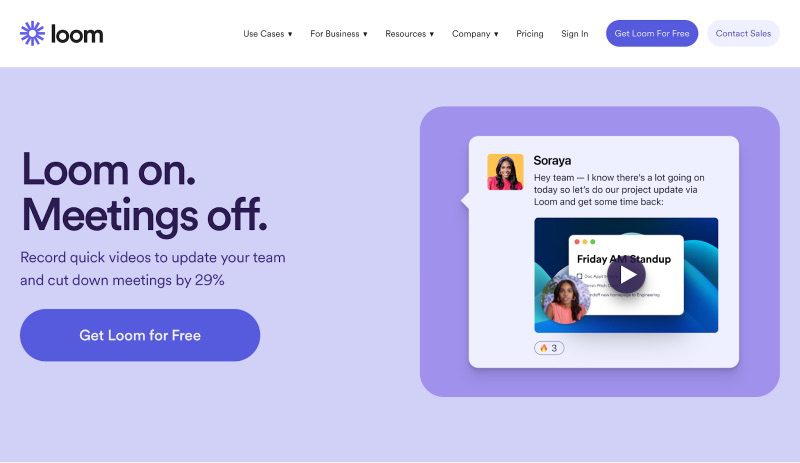 Loom isn't the only option out there for sharing screen and camera recordings. For instance, if your team already uses Slack, you can create screen sharing video clips directly from there and not have to worry about another service.
Still, there's a reason so many big names are using Loom. It offers videos that instantly upload with real-time transcription and easy sharing. It's an absolute game changer for onboarding, education, and reducing the need for unnecessary meetings.
Which version of Loom should you use?
For most users, the free version of Loom should be plenty. The Business version is most useful for large-scale teams that want to incorporate Loom into their everyday workflow. For instance, a company may use Loom to have every manager present a monthly progress report.
Where can Loom improve?
My one major gripe with Loom is the desktop app. It's got great UI and some cool features, but it seems glitchy, closes randomly, and can be hard to navigate. The Chrome extension is similarly annoying at times.
Final Loom review: 9/10 🥳
Hypage Review: Is It Better than Linktree?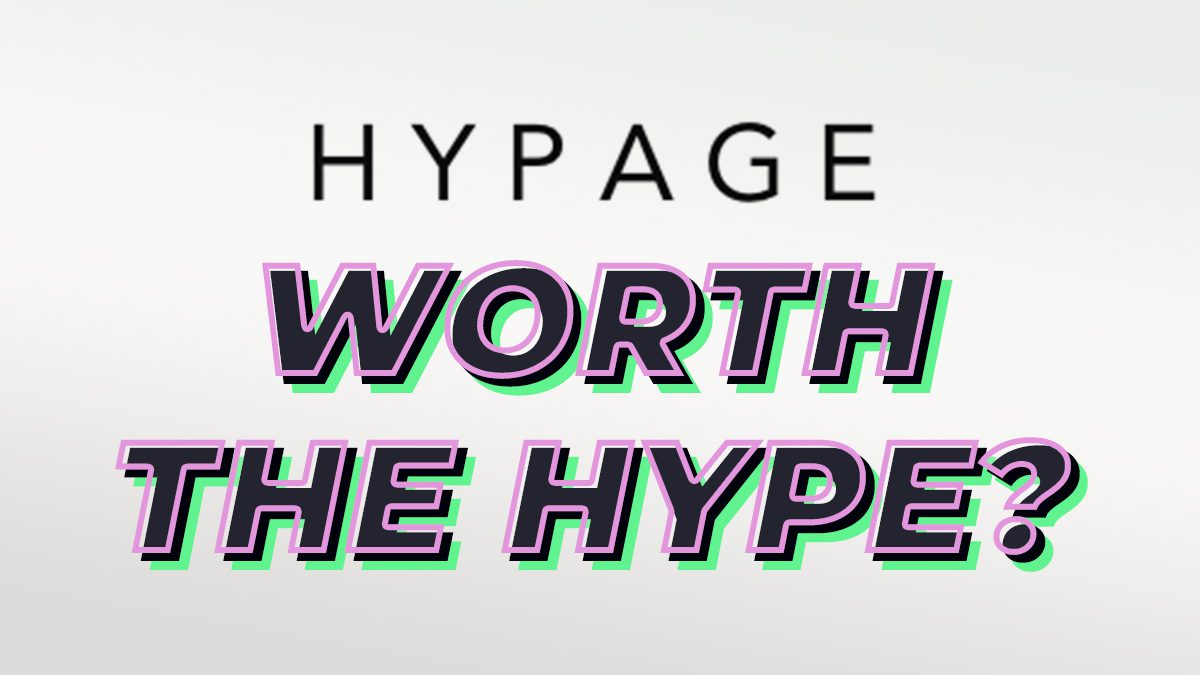 "Link in bio."
The phrase is so ubiquitous, it's almost lost its meaning. If you have a public-facing social media presence, you've had to think about what link you'll put in your bio.
Hypage offers a new solution. Like Linktree, it lets you put your socials, your work, and all your other important links in one place. But it also lets you sell merch, subscriptions, and other digital products.
Is this the next big thing for content creators and entrepreneurs? Here's our Hypage review.
What's Hypage?
Hypage is a product by Hyax, a broader platform for selling digital products. Hyax itself is part of Rgrowth, a product incubator that also created the giveaway tool Vyper.
But chances are, you don't care about all that. What can Hypage do for you?
First of all, chill. Second of all, Hypage claims it can cover your bases from all of the following services in one:
Linktree—Compile all your links in one place
Gumroad—Sell digital content to your fans
Patreon—Create your own membership
Ko-fi—Accept instant donations
Substack—Curate an email list
On top of everything else, Hypage takes zero transaction fees. They're a subscription-based service, so you pay a simple monthly fee and get to keep whatever you earn from your content.
Hypage pricing
Anyone can sign up for Hypage for free, but like I said, they make their money off of subscriptions. That means, as the old saying goes, you gotta spend money to make money.
Hypage offers three payment plans:
Free – An unlimited free tier that lets you create a fully custom bio link with a hy.page URL.
Pro – $19/mo. Allows you to sell products, accept donations, take fan requests, removes Hypage branding.
Enterprise – $39/mo. Allows you to sell subscriptions and memberships.
How to sign up for Hypage
You can either sign up for Hypage with a free account, or try a free trial of a Pro plan. Either way, your first step is creating a username, email and password.
Once you sign up, you'll be asked what industry you're in. The options include ecommerce, SaaS, music, digital marketing, and a few others. For the purpose of this review, I chose blogging.
Projects
On the next screen, you're asked to create a project; on the Pro plan, you can have up to three. Think of each project as a different brand, each with its own URL. Each project also has its own dashboard.
The Hypage dashboard
The homepage of your dashboard includes a summary of your page's activity: new people, orders, and revenue. Beyond that, there are sections dedicated to Hypage's main functions:
Your link page
Products
Membership
As well as sections to keep track of orders, users, and settings.
Setting up your link page
Before you get into page design, you're invited to add as many links as you'd like. With custom icons and unique link settings, you can really add and customize any link you can imagine. You even have the option to embed code, including video.
Next, you're taken to the design tab, where you can fully customize your text, colors, and backgrounds. The layout is stagnant, but in my opinion, it looks more stylish and functional than the default layout for Linktree.
Keep in mind, on a free plan, your page will include Hypage branding. Pro users can eliminate that branding, but you'll still have to use either a hy.page or links.page URL.
Another unique feature is uploading a custom thumbnail to appear on social media. For sellers, you can also add your own custom terms of service and privacy policy, and choose whether or not to require customers to check them.
Selling products and memberships
Hypage offers a great deal of free rein for selling products and services. It's a bit of a cheat, but you could really use this as an ecommerce tool. At the very least, ecommerce companies can easily use this platform to showcase their latest and most popular products.
You can create a description, add images, set an inventory, add digital files and links for deliverables, and choose from a range of pricing options. They seem to emphasize Stripe integration, but you can also set up through PayPal.
Memberships are where the industry you picked when you signed up comes into play. Since I signed up as a blogger, it orients my membership page as a blog.
The customization options are similar to those of your link page. It's not nearly as in-depth as a web design tool like WordPress, but it's fairly in line with other subscription blogging platforms like Medium, Substack, and Patreon.
The layout is slightly different for users in other industries. Still, you basically create separate outlines for the homepage and for each individual post. You can also choose whether each post is paywalled or free.
Final Hypage review: Is it the future?
Let's return to the question of Hypage vs. Linktree.
Linktree's Pro plan costs $9/mo, less than half of Hypage's. For that price, they offer extensive analytics, design options, martech, and yes, monetization tools. You can accept payments and sell ecommerce products directly through Linktree.
Still, Hypage certainly offers a few things that Linktree doesn't. Most notably, it allows you to create a Patreon-style subscription page embedded in your bio link. The analytics aren't all that impressive, but this feature certainly sets them apart.
You also have to consider the basic product. As a free, bare-bones bio link service, is Hypage better than Linktree? Honestly, yeah. It's just well designed, with a great array of custom options.
No, Hypage is not the only place to create a bio link and sell digital products on one site. With its high prices, it's not likely to shake the table, even though it lets you keep your revenue. Unless you have a huge audience, the cut you take from Substack or Patreon is probably a better deal.
For marketing, however, it's always great to cut out excess and try to keep everything in one place. In that regard, and as a more stylish option for simple, free bio links, Hypage does have something to offer.
Final grade: 6/10 🤷