Stan Lee Of Marvel Comics: His Legacy
Best known as the creator of the popular franchises Spider-Man, Daredevil, Doctor Strange, and more, Stan Lee headlines at Awesome Con at the Walter E. Washington Convention Center in Washington D.C. There are rumors that this will be one of the last cons that he will be attending, making it one of most exciting moments for attendees. At 94 years old, Stan Lee is an icon for comic book fans, uniting everyone with the power of his imagination.
The crowd eagerly waits for Stan Lee to make his way to the convention center. On Sunday June 18th, Father's Day, Stan Lee graced the stage to a packed room filled with hundreds of fans wearing Marvel t-shirts and dressed in their favorite characters from comics, movies, and video games. As he walks onto the stage, the crowd erupts in applause and cheers. To some, he played a role as a father figure, guiding children and young adults to do good and essentially make the world a better place. During the panel, Stan Lee answers questions from fans about his career and Marvel. Attendees lined up to the mic to ask a few questions that we might have all been wondering.
If you've seen any Marvel movie, you may notice Stan Lee making an appearance from being a hot dog vendor in "X-Men" in 2000, to a wedding crasher in "Fantastic Four: Rise of the Silver Surfer" in 2007, and even an animated cameo in 2014's "Big Hero 6." When asked what his favorite cameo was, he responded, "My favorite was the one…um…Thor." He chuckles, "And my favorite, I don't know if you've figured it out yet, was TWO SCENES!" The audience was loving it.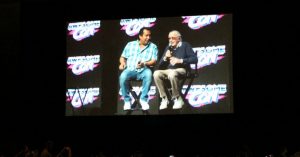 Stan Lee mentions how comics use to receive very little respect and now are some the most sought out books. The public's perception has changed a great deal over the years. At the panel, he spoke highly of his late partner Jack Kirby, who he calls "King Kirby." Together they created the Fantastic Four, a team of characters including Mr. Fantastic, the Invisible Woman, the Thing, and the Human Torch. Stan Lee comments on the creation of each character, "What it is when you write something is you make the characters as interesting as you can." He has a great appreciation for The Incredible Hulk and describes him as a lovable monster, but was not sure if Marvel fans and readers would like him as much as he does. Judging by the success of the franchise, he did not have to worry as much as he did. He also spoke highly of the teen geek superhero, "The one character I was very, very sure about was Spider-Man." Over the years, Stan Lee was able to create an entire universe filled with powerful characters and superheroes that impacted the lives of several generations.
The ultimate goal for Stan Lee was to create a world where everyone feels included and having fun. You can tell that is an important aspect in his work when he says, "I want to teach people that we're all the same." It is no surprise that Stan Lee will be receiving this year's Disney Legends Award on Friday July 14th alongside Oprah Winfrey, Jack Kirby, and Mark Hamill. The award goes out to those who have contributed to Disney's legacy. He will also be the Grand Marshal with Mark Hamill the first day alongside Disney characters and a live band.
Stan Lee has taught us many lessons, including, "With great power comes great responsibility." We have the power to promote change and do our best to make society a better place. His characters always appeared flawed in their everyday life but still tried to make the world better for those around them. Especially when it comes to X-Men, Stan Lee has taught us that we are not all that different. Though they had superpowers, they used it for others and not for personal gain. He imagined the Marvel Universe for us, but the stories will influence more generations to come.
Katsucon: The People Behind The Masks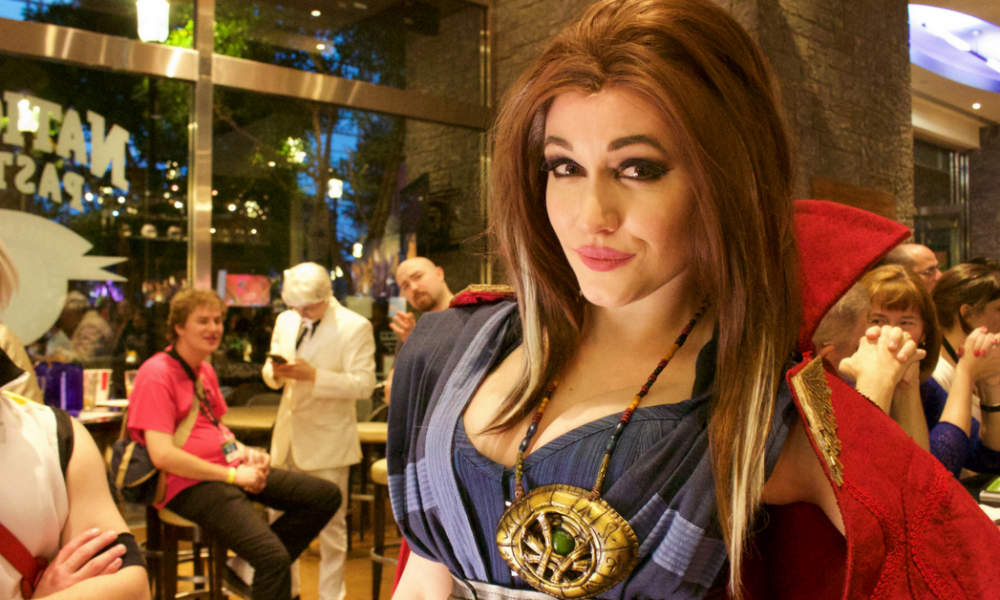 The comic, anime, and video game community is growing at an extraordinary pace, with fans going to conventions across the country. Katsucon is one of those conventions, and takes place every year at The Gaylord Hotel at the National Harbor in Maryland. They bring in thousands of fans and the number of attendees grows every year. The question is – who are these people? This fandom has brought together people from all parts of the world with various backgrounds into one place, creating an amazingly diverse community. The rest of the country may be buzzing about politics, environmental change, etc, but at Katsucon, the focus is on what's going on within those walls – the fandom.
Going to one of these conventions can open up your eyes to the inclusiveness of the culture without social and occupational barriers. The attendees are especially friendly, sharing news about their favorite fandom with people who would have been complete strangers otherwise. The excitement and openness is unparalleled. Because of this, businesses like Filthy Casual has been able to tap into the audience and further promote the love for the culture through niche apparel, accessories, art, and various other products.
What makes a convention like Katsucon so special is the community. People come for the panels and guests like the CEO of Rogue Studio, Lee Malone and Voice Actress Cherami Leigh, but they stay for the friendships that they make throughout the 4 day event. As for the crowd, there were people of all ages, ethnicities, backgrounds, and careers. Katsucon was flooded with cosplayers. They dressed up in costumes as their favorite characters from comics, anime, and video games, often beautifully handmade. We explored who the people were behind the masks. What we found was extraordinary. Their occupations vary from business executives to college students and most travel by car, bus, plane, or whatever it takes just to attend.
Burger King
Audio Engineer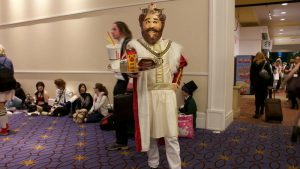 "I got into cosplay from my sister actually. She had been going to Katsucon for a long time and it always sounded like fun. My first Katsucon was 5 years ago I think and I love it every year!"
Mokujin, Tekken
Store Manager at Game Stop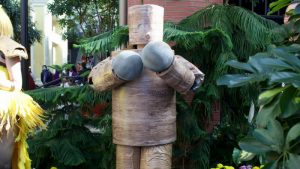 Tristana, League of Legends
Aspiring Prop Maker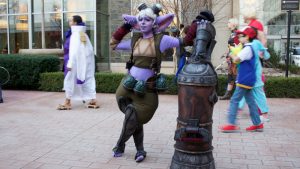 "My dream is to be a prop maker and cosplay is helping me achieve that dream. 🙂 I started cosplaying in 2010 when I realized it was a thing to dress up as your favorite characters and go to conventions where others do the same, since I always loved dressing up as a child. Though I didn't realize how much I loved making props until the last year or so! Being able to make something physical from scratch is truly an amazing feeling."
Elsa, Frozen
Teacher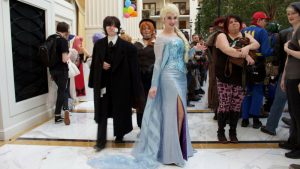 "I got into cosplay because I like sewing. I went to my first convention in 2013, and was so excited to see all the costumes around. I put together a casual TARDIS cosplay for my next con, and things have just escalated from there."
Crown Prince Arthas, Heroes Of The Storm
Analytical Manager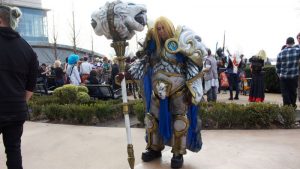 Ms. Frizzle, The Magic School Bus
Graphic Designer For Rowman and Littlefield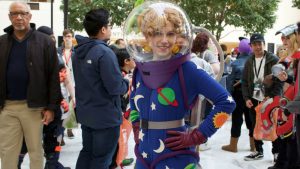 "I've always loved dressing up, Halloween, renaissance festivals etc. I chose to do the Frizz at Otakon 2010 and the response was overwhelmingly positive. And so I did another costume…and another. I love the community and to be totally honest I love the attention too. It's a fun hobby and I feel accomplished and proud when I complete a project."
Dr. Strange
Business Development Executive at NNDATA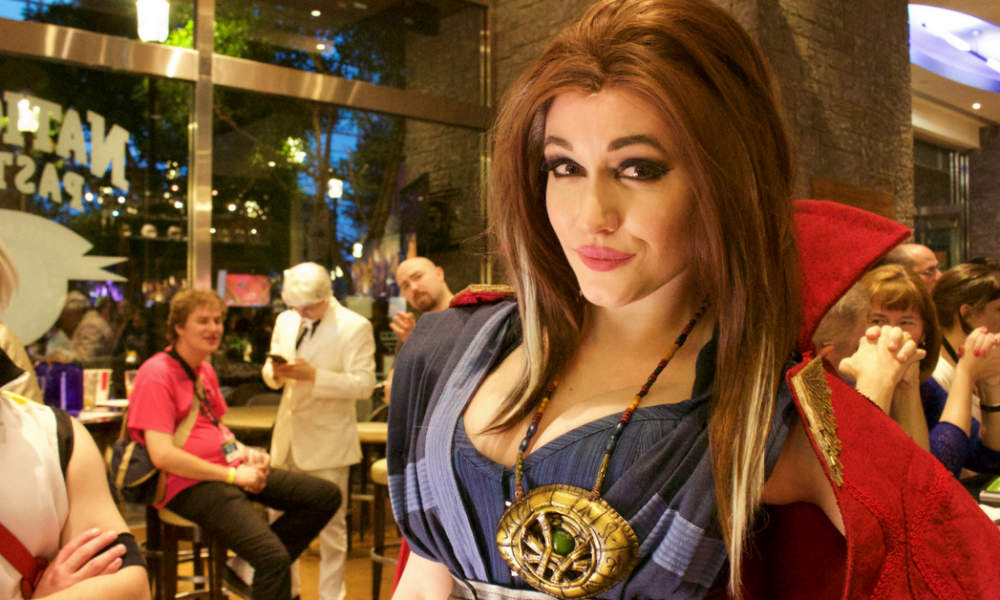 "I've always been a nerd, but it took me until a friend from my welding class suggested AwesomeCon would be a great outing for our nerd friends and we decided to go as a zombie bridal party using the dress from my first wedding. We showed up on Easter Sunday as church was letting out across the street – shouting Happy Resurrection Day – and I realized I would never have more fun than being a giant nerd in public. My Instagram has a picture of the dress!"
Reinhardt, Overwatch
Design Drafter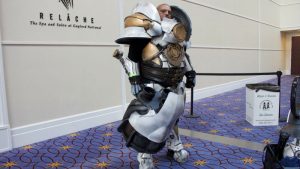 Cinderella
Student and Cashier at a supermarket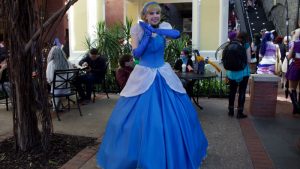 "Cosplay for me started when I saw a group of lolitas at a fancy castle I used to live near, I saw them and thought to myself that I wanted to look like that too. And after research I found out about cosplay"
Final Fantasy XV Nissin Cup Noodle
Student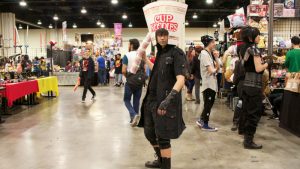 Guts, Bersek
Insurance Agent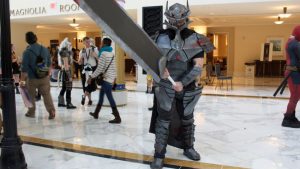 "I got into cosplay because I've always been a do it yourself kind of guy. I wanted to be a Saiyan so I made Saiyan armor and people really liked it, so I felt confident to try making a lot of other things too
More from Katsucon
Interview with a Street Artist: Joe Mangrum, the Sand Painter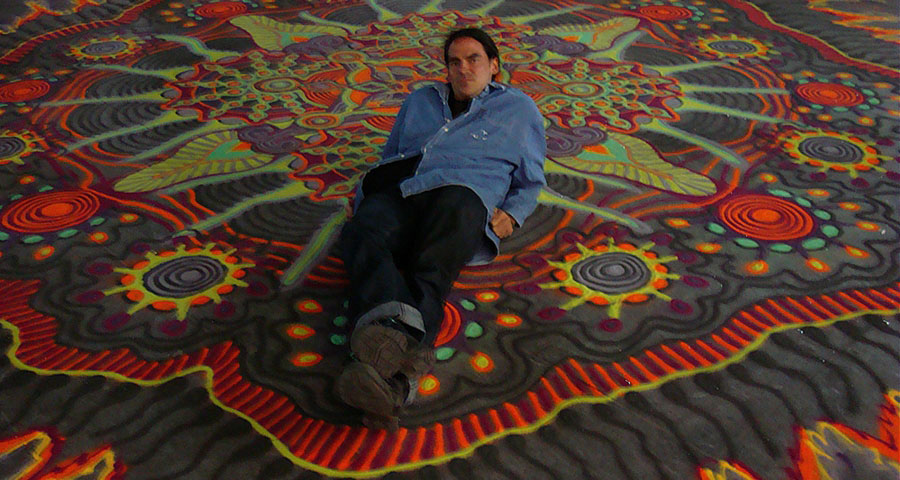 While walking through any given park in New York, what type of creative would you expect to encounter?  There are all the predictable performers such as guitarists, perhaps a living statue, and of course the young break dancers bouncing around the halls of subway cars or gathering crowds in the park before jumping over some poor tourist's kid.  No one would be surprised to see these type of performers in any given city in America. What about someone who pours sand on the ground? No… not a sandcastle.  What if you walked down the street and saw something like this: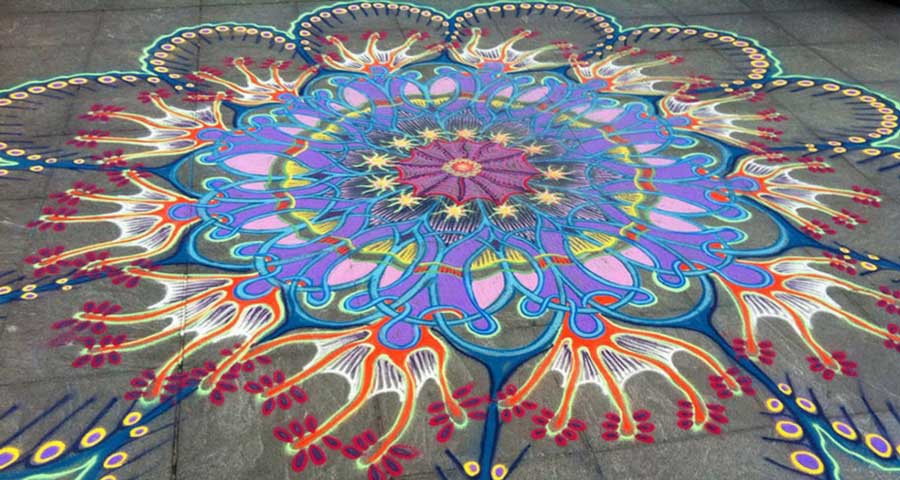 This insane and psychedelic pattern is what I saw one day walking through Washington Square Park while looking for the world's largest Corgi Meetup (that's a story for another day).  Above the geometrically complex shape growing on the ground, I saw a man hunched over his hands dusty with grains of many colors, adding more orbiting patterns to the piece. His name was Joe Mangrum. Joe makes some badass pieces of temporary art, fragile patterns that most often take the form of intricate mandalas.  Here's what he had to say about his experiences as a street artist:
1.  When we met you mentioned you've been doing this for 6 years now.  What were you doing before and at what moment did you decide you would do this full time?
I've been making art pretty much all my life and found my signature style about 1994, art has never really been a choice but a necessity and I worked various gigs in between art projects up until 2009 after I had moved to New York, determined to make it work.  It was then I started colored sand paintings in public and that gave me the bread and butter token making art on a daily basis without taking outside work.  Full time has always been the goal, and now its just managing bigger projects within that framework.
2.  Which do you like better and why: creating art in a studio or creating art in public spaces like Washington Square Park?
I like both for very different reasons. The public space allows for an interaction in real time with people who are not necessarily the type that go to art galleries, they have spontaneous reactions that are real insightful in ways, they inform me and feed me with lively discussion, on the flip-side there are plenty of people that are just walking on their phone and not paying attention that can be destructive to such a delicate work.  The studio offers the freedom of time.I can spend as long asI want on a single piece of work…  you just can't go that deep and make changes with the limited time set by the sun wind and weather in the public space. Its gotta be swept away when I leave for the day.
3.  While working in public spaces, what was your best/most surprising experience?
I have had some people get emotional over the years but one time went furthering a person came up and said that I had saved their life?  Upon further inquiry they said they were suicidal and for six months had come out to see my work before working up the courage to speak to me, it gave them hope, and it hit me in a profound way, that my work over so many years may have that sort of impact on so many unknown people, its a little scary and at the same time humbling.
I can't say any one instance is the worst, but being in public a lot you are vulnerable to whatever comes your way on any given day.  People can be rude and entitled or just plain oblivious, the cumulation can get you down at times.  Occasionally there is a mental unstable person you have to deal with and I just do my best to use non-violent communication to defuse and deescalate any potentially crazy situation, its sad, but it makes me feel good that I've honed these skills enough handle some potentially violent people over the years who just don't have their world in the place they want it.
5.  How much would you say you earn from tips on average while working in public? 
Its really irrelevant,  I survive in NYC.
6.  Tell me about a time when your work was destroyed
 Its usually by a strong wind as the rain is much more predictable, the worst is when you are working on a very hot day its relatively calm but no-one is out as its just too hot… then as the people emerge out of the air conditioning in the early evening, a huge wind will sometimes gust up and destroy the work, leaving little opportunity to make the daily bread. 

7.  Tell me why you feel compelled to create
I create because it teaches me something new about myself about the world on a daily basis…   there is a lot of knowledge to be gained by my process still.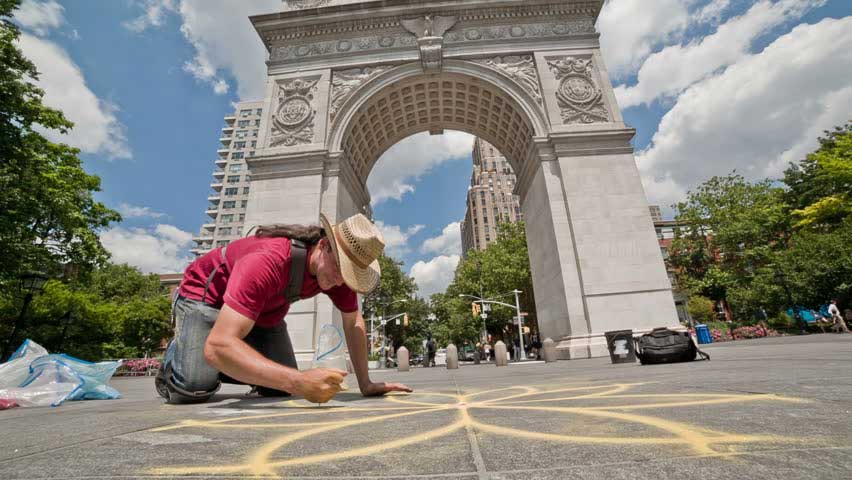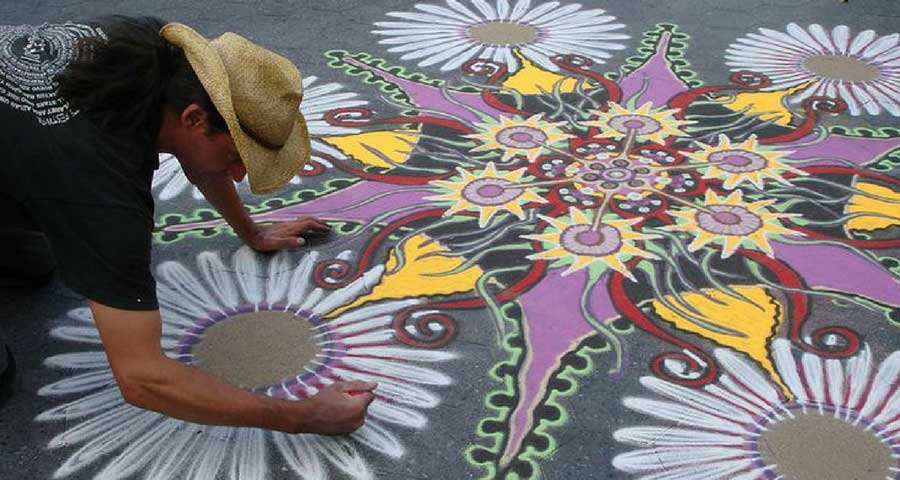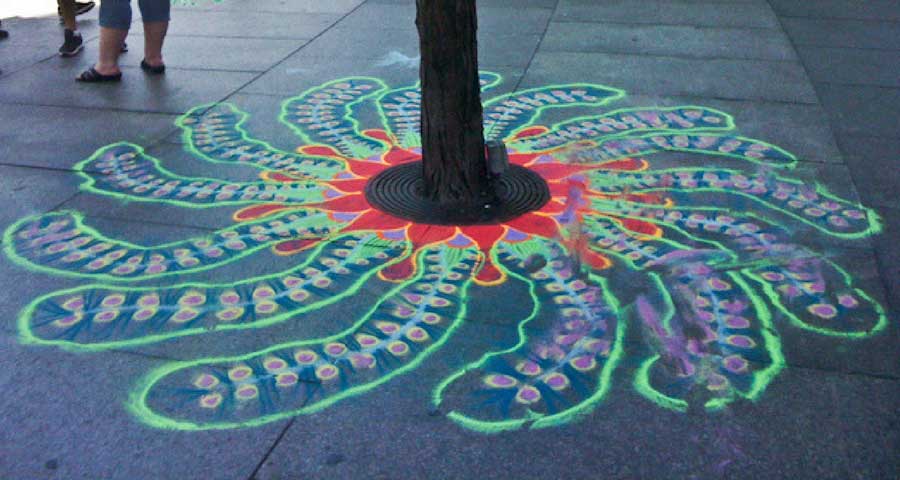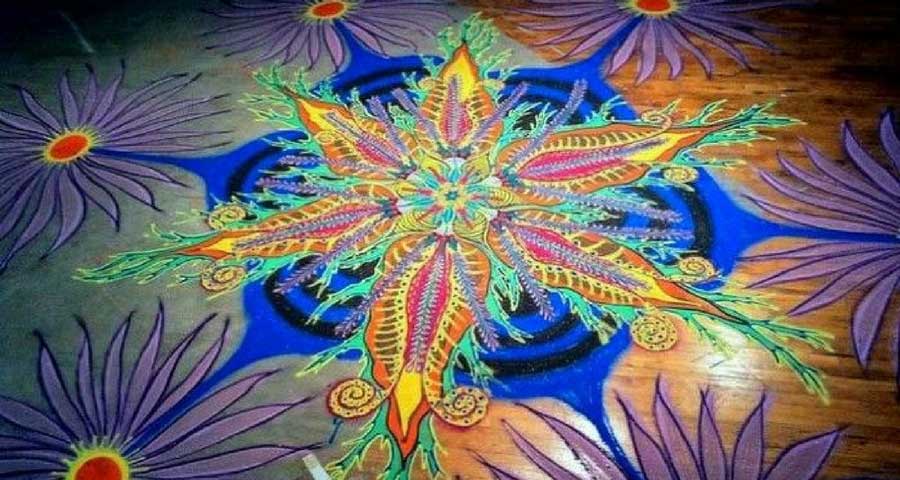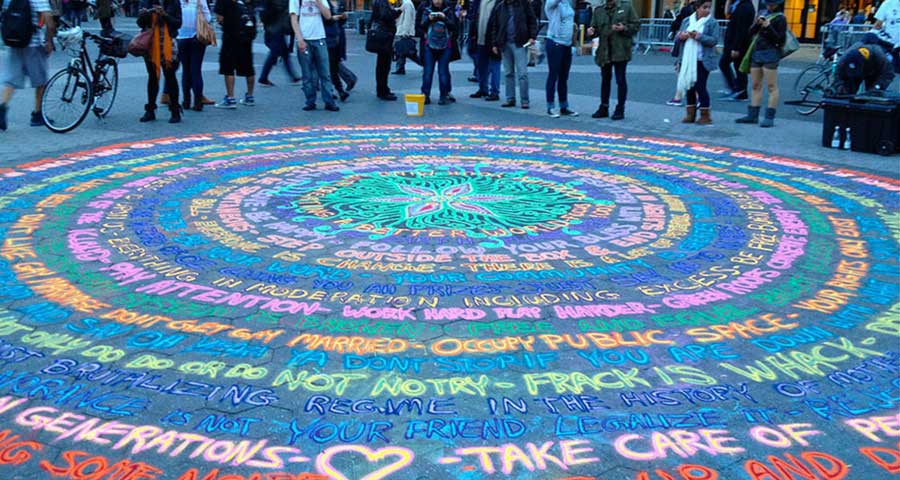 10 Things You Need For A Successful Launch Party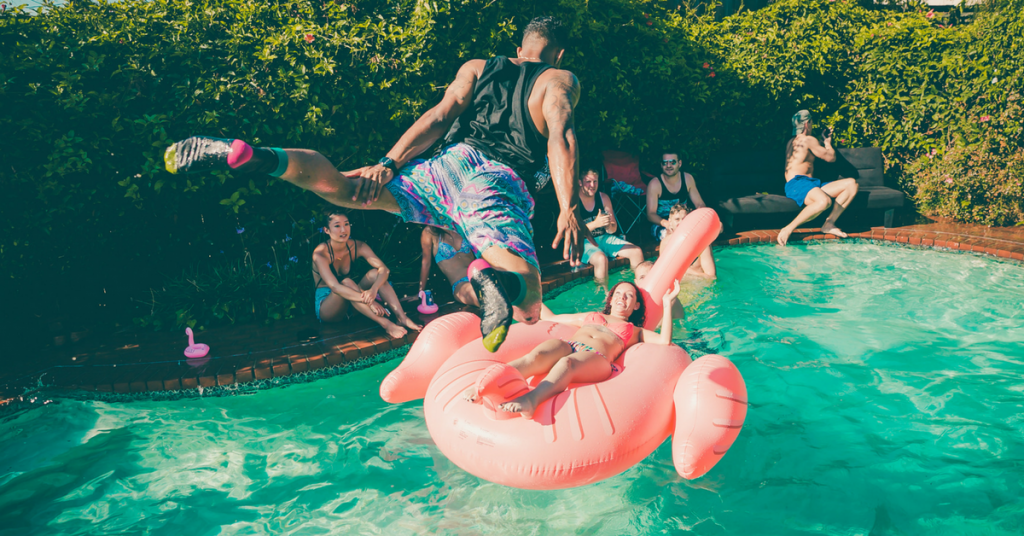 A product or company launch party can be very exciting. However, it also takes meticulous thinking and planning. This type of event has to be memorable to your guests so that it makes an impact. Here are 10 elements to include in your checklist for your next product or company launch.
1. Theme
Themes give party cohesion. Weave your party theme to the décor, music, food, beverage and menu. But don't just choose any theme at random. Your theme should coincide with your product or company's message or brand. The staff should also know about the message you want to convey.
2. Upbeat Music
A party without music is not a party. Give your product or company launch energy with some upbeat music. But don't make things too loud. Your music should be just loud enough to give guests positive energy without hindering communication.
3. Guest List
When you're making your guest list for the launch, make sure to invite the right people. Make sure that your message reaches the right audience so that they will be able to spread the good word about your product or company. Consider gender balance and invite the right amount of people that will fit in your venue. Invite the following people to your launch to ensure a continued buzz after your event ends.
Media personnel like bloggers, journalists and other press can help spread word regarding your product or company. Industry experts will add weight to your event and their presence will help influence guests. Companies and other partners that support you should also be invited. They can be seen while helping promote your brand which is a win-win situation for both parties. Prospective clients will have a first row access to your new products or service which is always good news to your target market. Potential investors are a good idea because there might be a time you might need additional funding. But even if you don't launch parties are great venues to make connections.
4. Social Media
Social media platforms like Facebook and Twitter can be very powerful in product launches. Create a great sounding hashtag to make it easier for guests to promote you on social media. You can also set up a small photobooth to make it easier for guests to upload pictures on social media.
5. Full Service Catering
Food is a big part of the launch party so make sure to make it classy by ordering full service catering. This type of service will allow you to focus on the launch without having to worry about coordinating the food, entertainment, décor and beverages. You can spice it up by ordering specialty drinks that matches your brand's image and compliments the image of your company. Make sure to have alcoholic and non alcoholic beverages served.
The food should also match your brand and the event's atmosphere. If your product has cultural roots, make sure to highlight this when you think about the food and drinks.
6. Live Demos
Make your guests fall in love with your product by conducting live demos. Not only will this interest your guests but educate them too. Allow attendees to sample your product if possible.
7. Giveaways
Advertising giveaways, souvenirs, games and raffles are great ideas to make your launch party memorable even after the event has ended. Not only are they exciting, they will also entice guests to come to your launch.
8. Emotion
Make sure that you share something about your company that can evoke emotion in your guests. A company story that is laced with emotion will make your brand more relatable and will give guests a chance to "bond" with you.
9. Loot Bags
No launch party is complete without a loot bag for guests to take home. You can give away product samples, themed cupcakes and other goodies attendees can take home to make your launch extra memorable. Don't forget to include leaflets with product and buying information so that guests can act upon their emotions.
10. Unforgettable Experience
By making sure that you have everything ready for your product or company launch, you are making sure that attendees have an unforgettable experience. Make sure to end the night in a spectacular way to make sure that guests will continue to buzz about your event.