Is Nintendo Switch The Console For You?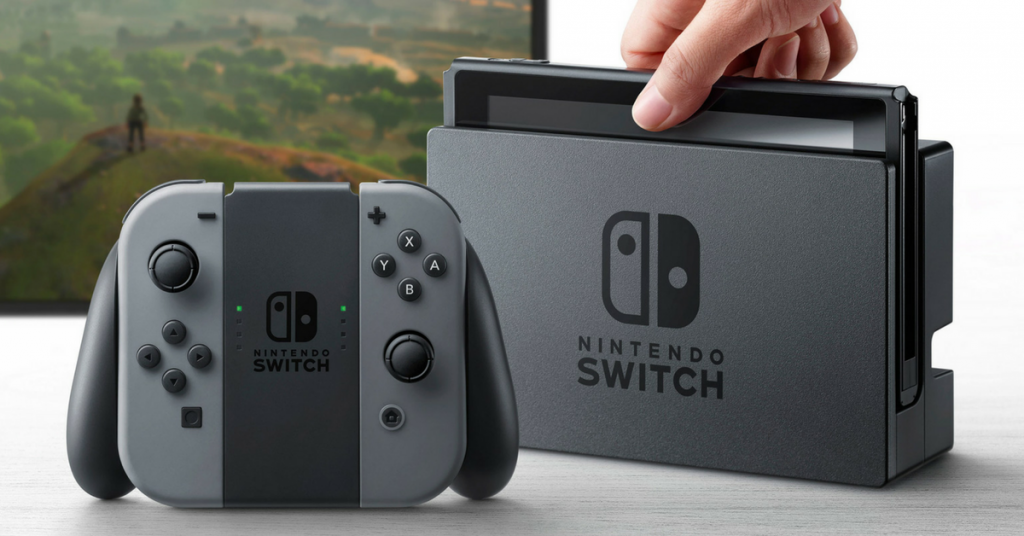 Last year, rumors swirled around Nintendo's new console, codenamed NX, to replace the

ailing

Wii U. On October 2016, Nintendo officially unveiled the NX to the world, now named the

Switch

. The company showed off a slick

video

that showed how the Switch could transform from a home console connected to a TV, to a handheld console to be played on the go. It's a logical evolution from the Wii U's tablet controller that could stream games from the Wii U console to the controller. Earlier this month, Nintendo held a

presentation

that detailed more features that the Switch would have as well as a definitive launch date and price. The Nintendo Switch will be launching on March 3rd for $299. Nintendo looks to revolutionize how and where we play our games. With that said, here are three things you need to know about the Nintendo Switch
JoyCon Controllers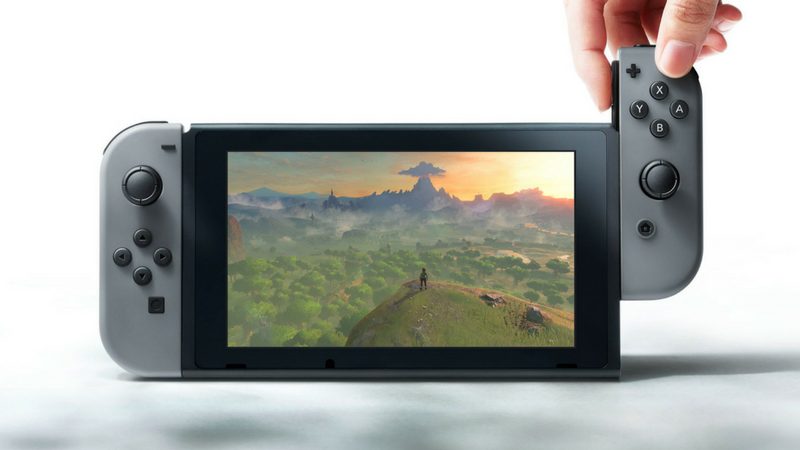 The JoyCon controllers are the key to the Switch's versatility. The two small controllers slide onto either side of the Switch console, turning it into a mobile gaming console. The JoyCon can also slide out and be used independently as separate controllers, useful for split screen multiplayer games like Mario Kart. While playing single player games, the JoyCon can either be used in each hand similar to the original Wiimote and Nunchuk or they can slide into a separate JoyCon Grip for a more traditional gaming experience. If that wasn't enough, Nintendo revealed during their January 12th press conference that the controllers are also motion controllers with gyroscopes and accelerometers. Nintendo showed off different games such as ARMS and 1-2 Switch, which make use of the motion controls for gameplay. The left JoyCon has a share button that allows you to share screenshots and videos. The right JoyCon has an NFC sensor for Amiibo figurines. Finally, both JoyCon have what Nintendo calls "HD Rumble" which just a marketing term to describe enhanced rumble features to detect more subtle and realistic vibrations. For those hardcore gamers out there who prefer the feel of a regular controller, Nintendo will also be selling a Pro controller for the Switch.
Switch Console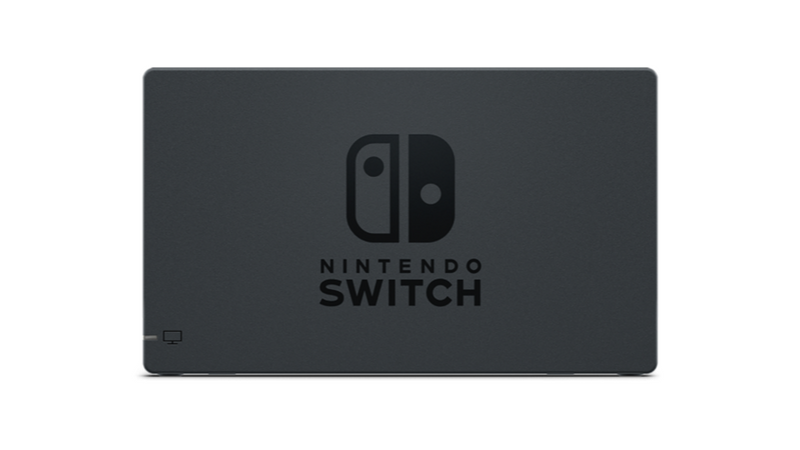 The main console itself is a tablet with a 6.2-inch capacitive touchscreen with a 720p resolution. It can connect to the Dock which enables gameplay on an TV and keeps the Switch charged. Speaking of charging, one welcome feature is the inclusion of a USB Type C connector. This allows other devices such as a battery pack to be connected…which is good because the battery life varies wildly depending on the game. Nintendo says battery life is anywhere from 2 ½ hours to 6 hours. Graphic intensive games like Splatoon or Legend of Zelda: Breath of the Wild are likely to tax the battery heavily while lighter titles like NES/SNES games will last a bit longer. Spec-wise, little is still known about the Switch as Nintendo has been reticent to release any detailed information. The only confirmed hardware spec is the custom NVIDIA graphics processor. Most

analysts

believe it is the NVIDIA X1 Tegra chip using the Maxwell architecture instead of the latest Pascal architecture. This would mean that the Switch is more powerful than the Wii U but not nearly as powerful as the PS4 and Xbox One. On the positive side, the Switch can connect to other Switch consoles to engage in local multiplayer sessions (now you can trash talk in person instead of online!).
What About The Games?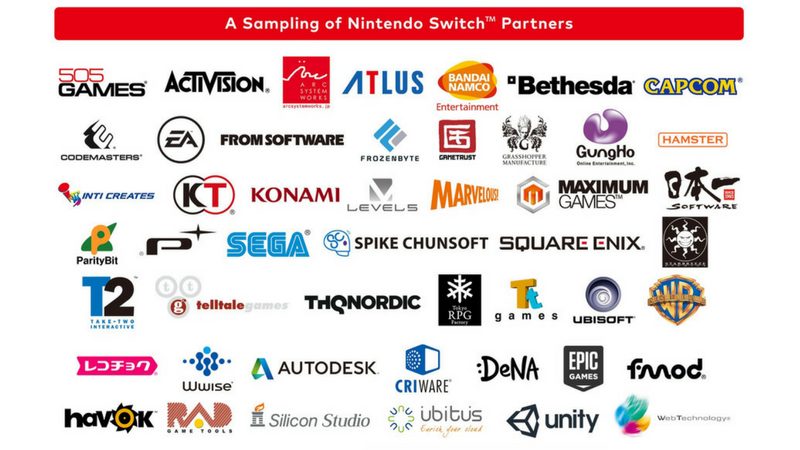 Back in October, Nintendo announced a bevy of third party developers that would be creating games for the Switch. Unfortunately, the day one launch games doesn't contain as many system selling games as one might expect. The games releasing on March 3rd are:
The Legend of Zelda: Breath of the Wild

1-2 Switch

Just Dance 2017

Skylanders Imaginators

Super Bomberman R
As you can see, the major first party game on launch day is The Legend of Zelda. Fortunately, more hard hitting games will come out this year such as:
Mario Kart 8 Deluxe

ARMS

Splatoon 2

Super Mario Odyssey

Minecraft

Sonic Mania

Steep

Elder Scrolls V: Skyrim

I Am Setsuna

LEGO City Undercover

NBA 2K18

Binding of Isaac: Afterbirth
Nintendo also plans to release their online service to enable multiplayer online play. It will be a system like Xbox Live and PlayStation Plus where players can subscribe to the online service for a monthly or yearly price. Like Xbox Live and PlayStation Plus, Nintendo will allow subscribers to download a free NES or SNES game per month…with a HUGE caveat. While Xbox and PlayStation allow subscribers to keep their downloaded games, Nintendo will only allow subscribers to keep the downloaded game for the month it is available. Afterwards, the subscriber loses access to the game unless it is bought. The Switch is likely Nintendo's last ditch effort to win back gamers after the failed Wii U. Business moves such as not allowing players to keep their free NES/SNES games may come back to haunt Nintendo as a potentially anti-consumer policy. Regardless, the Switch is an innovative and exciting entry into the gaming market. Time will tell if Nintendo is able to woo gamers (and third party developers) back to its platform. It will also be interesting to see how Nintendo will juggle the Switch with its other handheld offering, the 3DS. Nintendo is betting on mobility and based on their massive sales of the 3DS, it looks like they might just be onto something.
The Best Expandable MicroSD For Samsung Galaxy Phones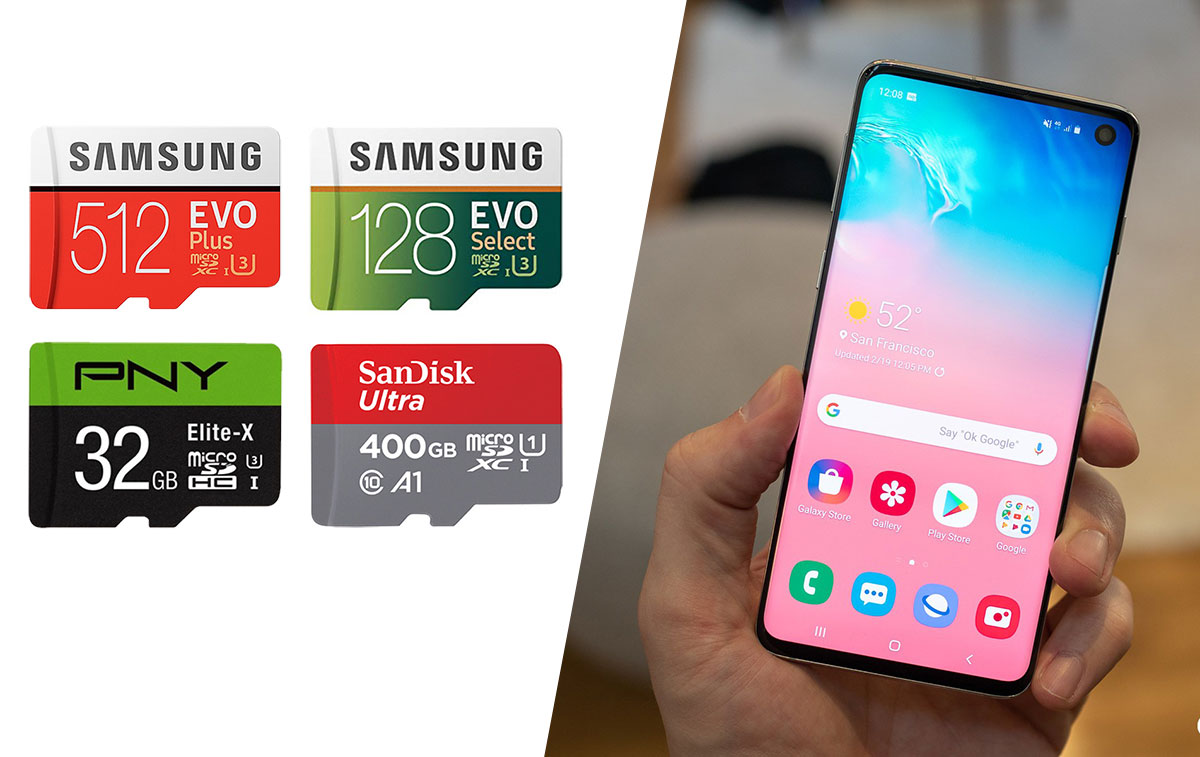 One of the benefits of owning an android (specifically a Samsung) is that you can expand storage by inserting a microSD card. You can insert anywhere from a 32GB MicroSD card all the way up to 1TB, depending on your budget and your need for storage. But finding the right one can be difficult as there are so many variables involved. And most people don't know even know what SDHC/SDXC or A1/A2 are. Choosing a MicroSD can be a
confusing endeavor unless you understand the jargon
and know exactly what you want. Luckily for you, we decided to do the homework to bring you a comprehensive list of all the best available options for MicroSD card on the market today.
No surprise here. Choosing a
Samsung MicroSD
card for a Samsung phone does sound like a logical thing to do. While it's not the best on the market, it's guaranteed to work well with their phones and does come with pretty acceptable performance stats while being relatively inexpensive. The Samsung Evo Plus gives you the storage option of anything from 32GB all the way to 512GB. With 100MB/s of reading speed and 90MB/s of writing speed speed, it's a good and safe choice.
BUY IT HERE
Sandisk's very own
Extreme Plus MicroSD
is a versatile and sturdy card that's great for all purpose. From recording 4K videos, dashcams, to using it for your phone, this little microSD can do it all. It claims to read up to 95MB/s and write up to 90MB/s, making it reliably fast. It's also made to survive and protect your data even under the most extreme conditions, hence the name. It claims to be temperature proof (we don't know how much it cna handle), waterproof, shockproof, and xray proof.
BUY IT HERE
The Samsung Evo Select is great MicroSD card if you're looking for something that delivers both fast read and write speed and also affordable. It offers 100MB/s for reading and 90MB/s for writing, which is pretty fast. It also comes with an adapter for standard SD slots if you want to connect to your computer to extract media. The Samsung Evo is also equipped to handle 4K videos and can withstand a good beating.

BUY IT HERE

The Lexar Professional 1000x is one of the fastest MicroSD available now. With transfer speeds up to 150MB/s, it can easily handle 1080P to 3K videos, and even 3D format. Keep in mind though that it's only lightning fast at reading. Despite boasting 150MB/s reading speed (great for data transfer to PC), it's writing speed is only about 45MB/s. It's a great microSD used by professionals to increase the efficiency of their workflow and for those who simply need ridiculously fast transfer speeds.

BUY IT HERE
For those who are on a tight budget and just needs something with decent storage speed, decent performance, reliable, and affordable - look no further. The Silicon Power Elite can cover all your basic needs for less than $20. It's not the fastest MicroSd card around, but it has all the essential features, security, and flexible enough to be used in a wide variety of devices. Surprisingly, it's considerably sturdy and also temperature resistant, waterproof, shockproof, and X-ray proof similar to it's higher-end competitors. In terms of value, the Silicon Power Elite is a tough one to beat.
BUY IT HERE
The Sandisk Ultra is a great choice if you plan to buy a microSD card for a smartphone or tablet given it's A1 rating. Read speed clocks in at 100MB/s, making it a joy to run most of your regular day to day multi-media. However writing speed doesn't support anything behind 1080P HD, so you won't be able to enjoy 4K content. However, it's a great microSD that comes with all the bells and whistles you'd expect, at a fantastic price, and from a reputable company.
BUY IT HERE
 The PNY Elite is another reputable brand to join the list. The Elite boasts up to 100MB/s of transfer speed and A1 rated, making it a great choice for phones and tablets. It can handle 4K videos. It also comes standard with the 4-proof technology making it extremely reliable and can handle a good amount of abuse.
BUY IT HERE
How To Choose The Right MicroSD For Your SmartPhone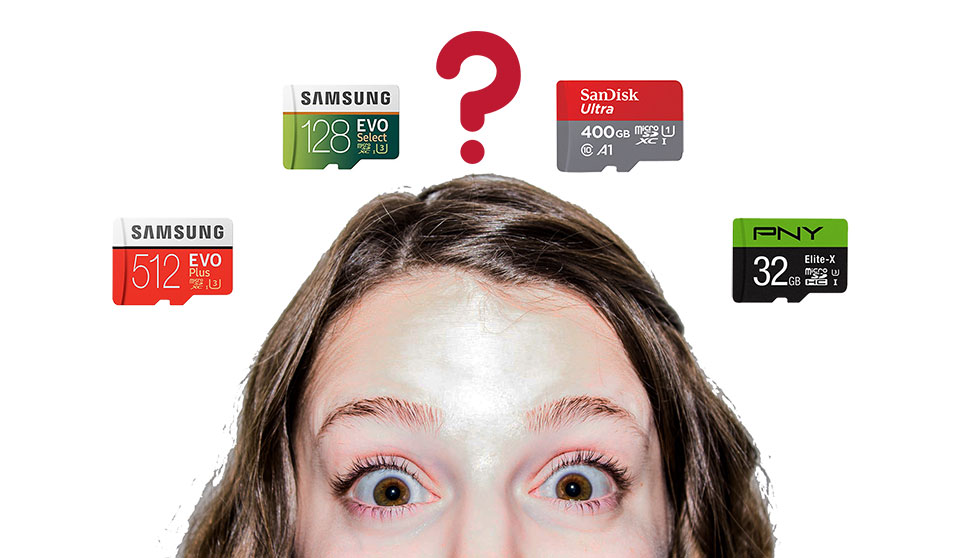 What does "SDHX", "Rated A2", "100MB/s", "Class 10", and "V30" even mean?! Choosing the right MicroSD to extend the storage capacity of your smartphone can be complicated especially if you don't know what all the industry jargon means. There's a lot of variables to consider in addition to the storage capacity (32GB or 512GB) and price point. Most of the listings on Ebay, Amazon, and even Bestbuy simply just list things out like "SDHX", "Rated A2", "100MB/s", "Class 10", and "V30" as if you're suppose to know what they mean. We decided to make a quick tutorial to give you, the educated consumer, a crash course in what these terminologies all mean, so that you can make a better decision on which microSD is right for you.
SDHC vs SDXC
SDHC is short for Secure Digital High Capacity. Meanwhile SDXC is short for Secure Digital Extended Capacity. There's no real discernible differences between them except that SDHC usually caps off at about 32GB. Meanwhile SDXC can go up to 1TB. SDXC tends to be a bit more expensive the higher the capacity. In terms of image/video quality, they are identicle. A
Read/Write Speed
The Read and Write speed designates the relative performance of the card. Generally, if it has a fast Read speed, your media will load faster and it will be quicker for you to accessing them. If your Write speed is fast, then recording or transfering files to the card will be seamless. A good performing microSD card will have an average Read speed of about 95 - 100MB/s and a Write speed between 80 - 90MB/s.  The higher these numbers, the better.
Class and UHS ratings
Each microSD will have a "Class" rating attached to it. The Class rating just means the minimum transfer speed it allows for. UHS is short for Ultra High Speed, and cards classified as UHS will usually have higher minimum transfer speeds. V Classes are relatively new and more widely available today. You'll mostly need to worry about V classes if you plan to record a lot of HD/1080/4K videos and want fast transfer speeds. Below is a quick chart to give you an idea of the different classes and what their minimum transfer speeds are.Also, don't be confused by the minimum speed. This isn't the same as their read/write speed.
| Class | Minimum Speed |
| --- | --- |
| 2 | 2 MB/s |
| 4 | 4 MB/s |
| 6 | 6 MB/s |
| 8 | 8 MB/s |
| 10 | 10 MB/s |
| UHS 1 | 10 MB/s |
| UHS 3 | 30 MB/s |
| V6 | 6 MB/s |
| V10 | 10 MB/s |
| V30 | 30 MB/s |
| V60 | 60 MB/s |
| V90 | 90 MB/s |
Application Performance Class
This is a feature specific for smart phones and tablets and something you should pay close attention to. For those who plan to save applications onto their microSD cards, the Application Performance Class (either A1 or A2) determines the random random read input-output access per second, IOPS for short. A1 typically has a read IOPS of 1500 and write IOPS of 500. Meanwhile A2 has a read IOPS of 4000 and write IOPS of 2000, making it A2 significantly better at running apps. You'll notice a performance boost when using apps saved to your microSD if it has either A1 or A2.In short, if a microSD is rated either A1 or A2, it's going to be great for smartphones and tablets. And if it's rated A2, it's REALLY good.
Video Quality
Make sure to check to see if the card offers 4K or not. If it doesn't, chances are you won't be able to record/save in 4K. Most modern smartphones will have 4K video recording as an option, so if you're using the microSD for a smartphone, this may be an important criteria.
Durability And Protection
MicroSD cards are built fairly enough nowadays. Most offer the standard protection such as being temperature proof, shockproof, waterproof, dust-proof, and x-ray proof. Be sure to check to see if the one you're planning to buy has the protection you need. The level of protection can be important if you're using the microSD in an outdoor security camera or if your device will be subjected to harsh conditions.
Price
And of course you want to make sure the microSD card you're choosing fits within your budget. Their price can range drastically depending on the brand, capacity, and features. We've compiled a
list of the best microSD cards here
.And there you have it, everything you need to know in order to make an educated decision on which microSD card to purchase for your newest Android smartphone. We've also curated a
list of best microSD cards for Samsung galaxy phones here
, so if you have the latest Samsung, be sure to check out this article first before committing.
Adventure Assist Travel Journal Is A Must Have For Trips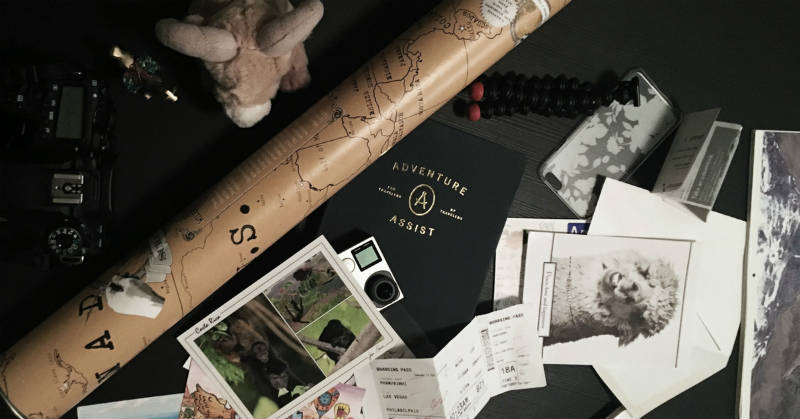 A twist to the classic notebook, Adventure Assist is a modern travel journal perfect for the before and afters of your trip. Mapping out your trip and keeping memories the old school way. Jot down the most important details of the trip as you are planning so you are ready once the time comes. Create a list of things to remember or missions to complete. Be ready for the accomplished feeling you get when you physically cross these things off your list. Keep quotes of silly things that happened along the way. Relive doodles of the funny dog you saw or the breathtaking view from the end of your hike.

The notebook was created by two adventure seekers, Jake Pritchard and April Onebane. Both studied abroad and have a passion for traveling with a purpose. Their mission is to " better connect travelers to their destinations by inspiring authentic and purposeful travel experiences through streamlining planning and organization." With that mission in mind, the Adventure Assist notebook was created. A heavy duty notebook with strong covers and thick sheets made to withstand the suitcases, backpacks and adventures it will be a part of.Broken down into seven section, the notebook helps travelers organize and keep track of the basic necessities when traveling. The sections starts with "packing" and moves onto "to-do", "transportation", "accommodations", "calendar", "contacts" and "journal" with journal being the largest section. Each section is divided as an easily identifiable tab to quickly navigate to the section.
Packing
The first tab in Adventure Assist, Packing, tells you to "list adventure gear, regional specific clothing, travel documents and entertainment essentials for your journey." With four pages to list what you are packing, you definitely won't miss a thing or over pack. A couple of things we would recommend: S-hooks, ziplock bags, mini-tripod.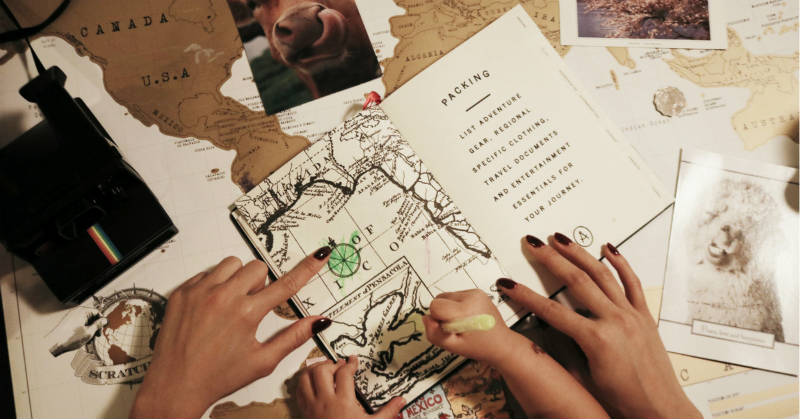 To-Do
Next, To-Do, is 10 pages, each page broken down into two sections. Each section is broken down into boxes: destination, attractions, activities, food and drinks. What are some things you want to do, see and eat at the destination? You will have an endless list of things you want to do on your next adventure but writing down the top 10 will help you keep track of the most important. Keep a smaller list for a higher chance of accomplishment while pulling from your bigger list when you run out. Nothing digital will ever replace the satisfying feeling of physically crossing something off of your Do-To list.
Transportation and Accomodations
Where are you staying each night? When time do you have to get there, get out and who do contact if you have a question. Necessary, if not the most important, information of every trip. Now that you know where you are staying, how are you getting there? Getting around in big cities is easy if the language is one you speak and the technology available is similar back home. The difficult but somewhat exciting times when you are visiting somewhere completely different than what you are used to, transportation will not be so easy. You may need to catch a ferry, jitney...donkey?! Keep track of what time departure and arrival is and any additional notes like how many stops until your destination.
Calendar and Contacts
The calendar section provides blank monthly calendar views for you to see your month at a glance. There is a column for notes where you could draw a map key, like emojis, and add the keys to your calendar. Contacts - great for noting who the people from each destination to call in case of emergencies. We have so many contacts in our phones we don't remember. When a panic situation happens, you have the information you need. In a more likely situation, you lose your phone or it runs out of battery. Now you have the contact information and can borrow someone's phone.
Journal
This is where you log your memories and experiences. The reason you are traveling in the first place. Write, draw, sketch, whatever you want in this section. Anything that will bring back the best memories from your journey when you discover this notebook on your shelf when you are 80. Instax or Polaroid would be perfect for this section. The two envelopes on each end of the notebook are great for storing tickets, airport stamp tickets, napkins with doodles on them or anything else relatively flat.We will have our digital photos, videos, social media accounts to look back at. But the feeling from something handwritten or hand drawn is much more powerful and memory provoking than anything digital. Adventure Assist is personal and once you start writing, you won't want to stop.