Is Nintendo Switch The Console For You?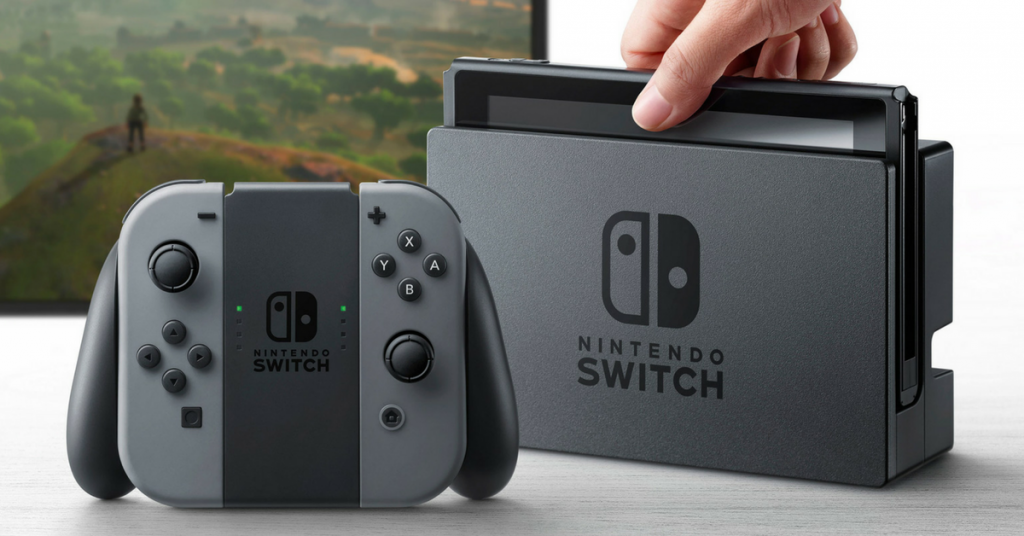 Last year, rumors swirled around Nintendo's new console, codenamed NX, to replace the ailing Wii U. On October 2016, Nintendo officially unveiled the NX to the world, now named the Switch. The company showed off a slick video that showed how the Switch could transform from a home console connected to a TV, to a handheld console to be played on the go. It's a logical evolution from the Wii U's tablet controller that could stream games from the Wii U console to the controller. Earlier this month, Nintendo held a presentation that detailed more features that the Switch would have as well as a definitive launch date and price. The Nintendo Switch will be launching on March 3rd for $299. Nintendo looks to revolutionize how and where we play our games. With that said, here are three things you need to know about the Nintendo Switch
JoyCon Controllers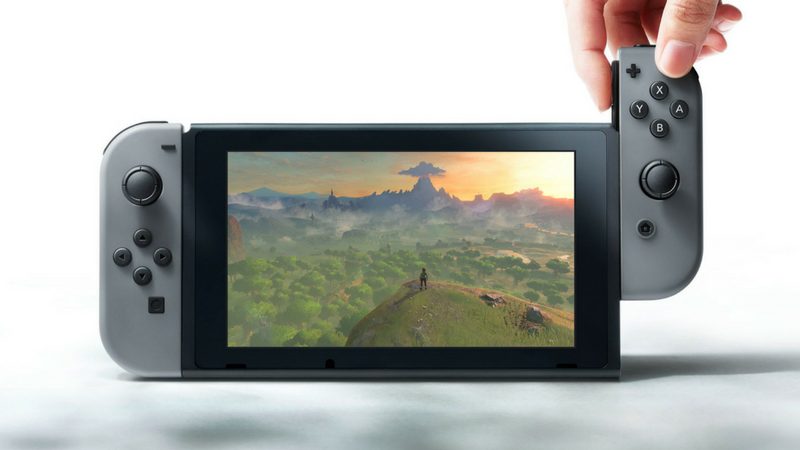 The JoyCon controllers are the key to the Switch's versatility. The two small controllers slide onto either side of the Switch console, turning it into a mobile gaming console. The JoyCon can also slide out and be used independently as separate controllers, useful for split screen multiplayer games like Mario Kart. While playing single player games, the JoyCon can either be used in each hand similar to the original Wiimote and Nunchuk or they can slide into a separate JoyCon Grip for a more traditional gaming experience. If that wasn't enough, Nintendo revealed during their January 12th press conference that the controllers are also motion controllers with gyroscopes and accelerometers. Nintendo showed off different games such as ARMS and 1-2 Switch, which make use of the motion controls for gameplay. The left JoyCon has a share button that allows you to share screenshots and videos. The right JoyCon has an NFC sensor for Amiibo figurines. Finally, both JoyCon have what Nintendo calls "HD Rumble" which just a marketing term to describe enhanced rumble features to detect more subtle and realistic vibrations. For those hardcore gamers out there who prefer the feel of a regular controller, Nintendo will also be selling a Pro controller for the Switch.
Switch Console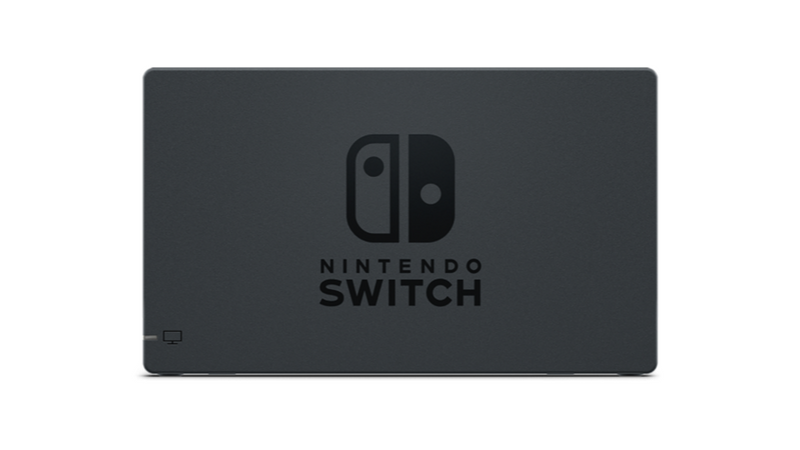 The main console itself is a tablet with a 6.2-inch capacitive touchscreen with a 720p resolution. It can connect to the Dock which enables gameplay on an TV and keeps the Switch charged. Speaking of charging, one welcome feature is the inclusion of a USB Type C connector. This allows other devices such as a battery pack to be connected…which is good because the battery life varies wildly depending on the game. Nintendo says battery life is anywhere from 2 ½ hours to 6 hours. Graphic intensive games like Splatoon or Legend of Zelda: Breath of the Wild are likely to tax the battery heavily while lighter titles like NES/SNES games will last a bit longer. Spec-wise, little is still known about the Switch as Nintendo has been reticent to release any detailed information. The only confirmed hardware spec is the custom NVIDIA graphics processor. Most analysts believe it is the NVIDIA X1 Tegra chip using the Maxwell architecture instead of the latest Pascal architecture. This would mean that the Switch is more powerful than the Wii U but not nearly as powerful as the PS4 and Xbox One. On the positive side, the Switch can connect to other Switch consoles to engage in local multiplayer sessions (now you can trash talk in person instead of online!).
What About The Games?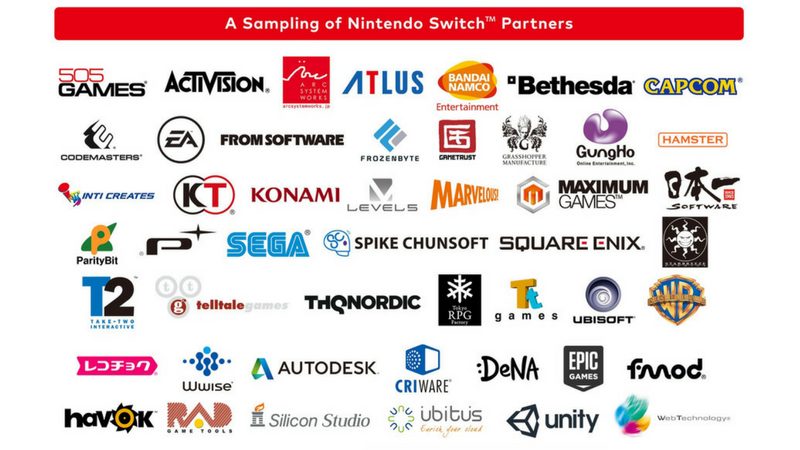 Back in October, Nintendo announced a bevy of third party developers that would be creating games for the Switch. Unfortunately, the day one launch games doesn't contain as many system selling games as one might expect. The games releasing on March 3rd are:
The Legend of Zelda: Breath of the Wild

1-2 Switch

Just Dance 2017

Skylanders Imaginators

Super Bomberman R
As you can see, the major first party game on launch day is The Legend of Zelda. Fortunately, more hard hitting games will come out this year such as:
Mario Kart 8 Deluxe

ARMS

Splatoon 2

Super Mario Odyssey

Minecraft

Sonic Mania

Steep

Elder Scrolls V: Skyrim

I Am Setsuna

LEGO City Undercover

NBA 2K18

Binding of Isaac: Afterbirth
Nintendo also plans to release their online service to enable multiplayer online play. It will be a system like Xbox Live and PlayStation Plus where players can subscribe to the online service for a monthly or yearly price. Like Xbox Live and PlayStation Plus, Nintendo will allow subscribers to download a free NES or SNES game per month…with a HUGE caveat. While Xbox and PlayStation allow subscribers to keep their downloaded games, Nintendo will only allow subscribers to keep the downloaded game for the month it is available. Afterwards, the subscriber loses access to the game unless it is bought. The Switch is likely Nintendo's last ditch effort to win back gamers after the failed Wii U. Business moves such as not allowing players to keep their free NES/SNES games may come back to haunt Nintendo as a potentially anti-consumer policy. Regardless, the Switch is an innovative and exciting entry into the gaming market. Time will tell if Nintendo is able to woo gamers (and third party developers) back to its platform. It will also be interesting to see how Nintendo will juggle the Switch with its other handheld offering, the 3DS. Nintendo is betting on mobility and based on their massive sales of the 3DS, it looks like they might just be onto something.
The Burst Sonic Toothbrush Review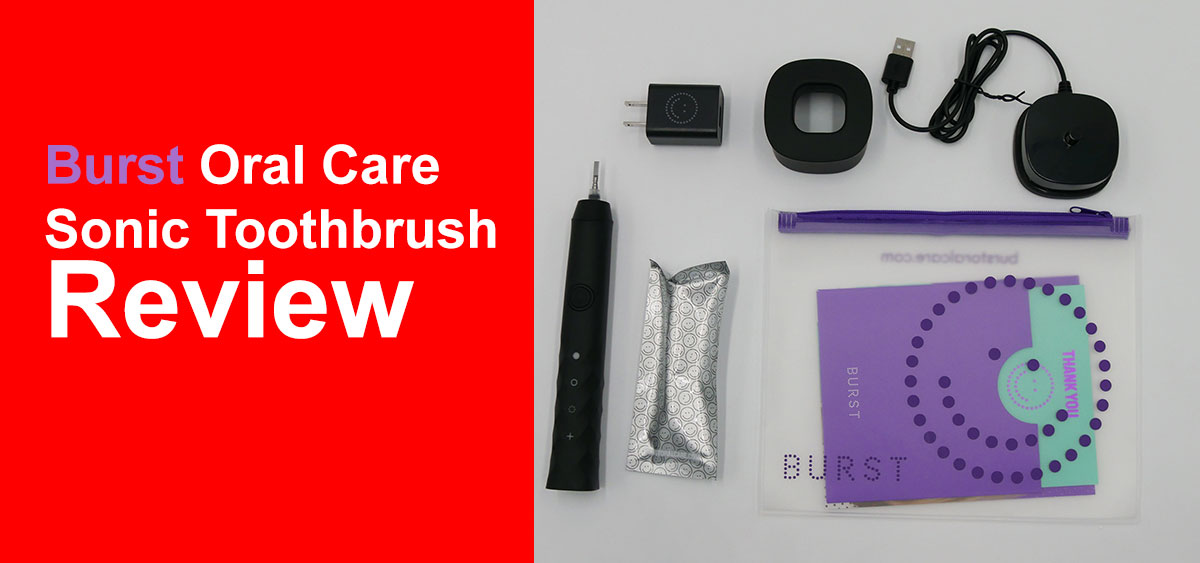 Subscriptions nowadays come in different forms. Music, television, shipping, and even toothbrushes. Toothbrush companies follow the trend not only to have loyal customers but promote dental hygiene. And it's all because of sonic toothbrushes. Sonic toothbrushes offer a cleaner outcome compared to regular toothbrushes. The vibrations help stimulate the salivary glands that clean teeth more effectively.

Burst is one of these toothbrush companies gaining buzz. It became popular because of the corn test video demonstrated by a well-known dentist Dr. Constantine and celebrity endorser, Chrissy Teigen. Since its rise to fame, Burst toothbrush has received over 20,000 reviews from its customers and more than 20,000 dental professionals support their sonic toothbrush. To tell you the truth, I'm impressed.
But is it worth the hype?
The Burst Sonic Toothbrush: A Background

Let's take a look at the features the Burst Sonic Toothbrush has to offer:
Its colors and packaging features
Longevity and portability
Binchotan-charcoal infused soft bristles
Three brush modes up to 33,000 strokes
Quarterly brush head delivery, smart timer for mouth quadrants, four burst bands
Burst, The Basics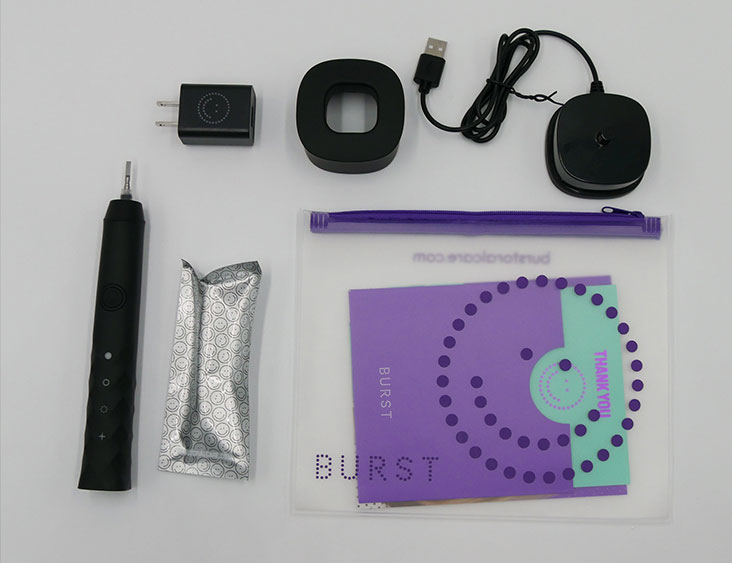 The Burst Toothbrush originally has two colors: black and white. But, those who love Rose Gold are in luck because Burst also offers that color. The Brush Sonic toothbrush looks sleek and modern compared to its competitors. Those who are minimalists would love the design. The toothbrush itself feels smooth and easy to grip because of the diamond-like ridges. The toothbrush is lightweight, so it's a bonus. The toothbrush head is also small so it does get into the tiny spaces you miss by using a regular toothbrush.
The packaging for the black and white versions include one charcoal-infused toothbrush head, the Burst Sonic Toothbrush, a USB charger, wall socket, and the stand. The rose gold version also has those parts, but it comes with a travel case. The warranty for the toothbrush lasts for two years, but with a subscription, it can become a lifetime warranty. For those who are environmentally conscious can use this toothbrush since the founders say their product is cruelty-free and vegan-friendly.
Many users notice the two smiley faces on the Burst toothbrush. One's located at the back of the toothbrush head (which also acts as a tongue scraper, neat!) and the other is on the power button. Even the wall socket has a smiley face.
It seems Burst wants to be part of your journey to a healthier (and maybe even whiter) smile.
Bring it Everywhere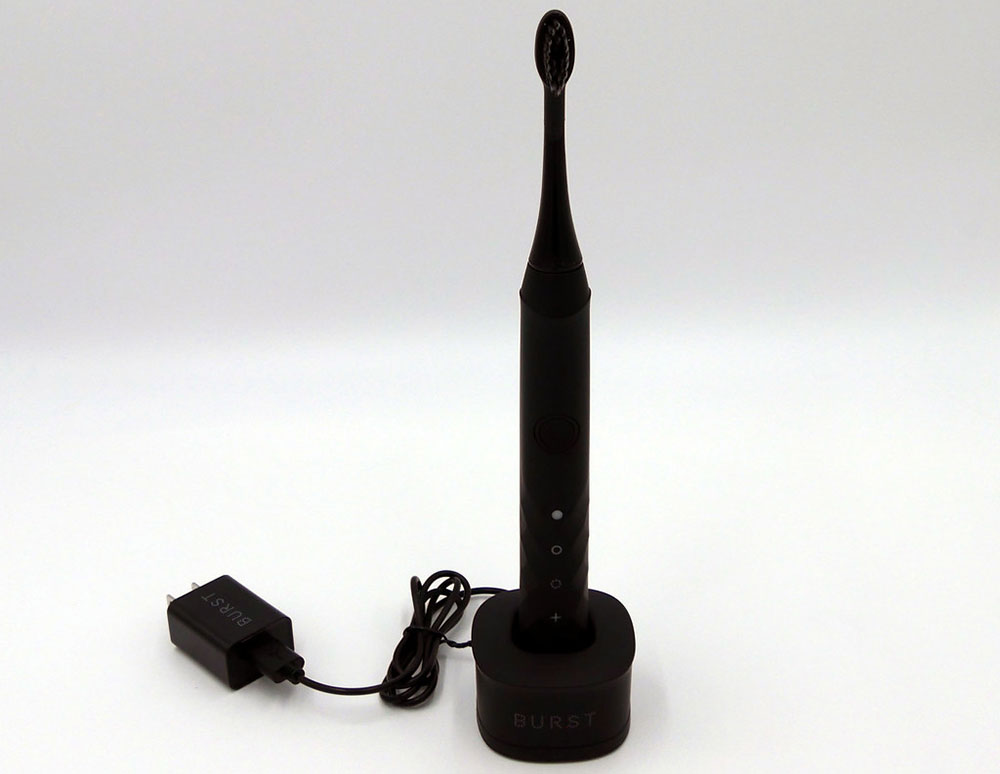 It's also portable and you can take it anywhere you travel! You don't have to buy an extra toothbrush when you're not at home. Since it's lightweight, you can carry the whole package anywhere.
Its battery life for one use runs around four weeks. It's all because of the 700mAh Lithium-ion battery installed on the brush itself. So you don't have to worry about charging it all the time, unlike other brands. And if you're traveling, you can leave home without the charger (that is, if it's fully charged, of course).
Travelling is made easy for the Rose Gold edition brushes since they have a travel case prepared on their package. For those with the standard edition brushes, they can purchase their travel case for $12.99.
Charcoal for Your Chompers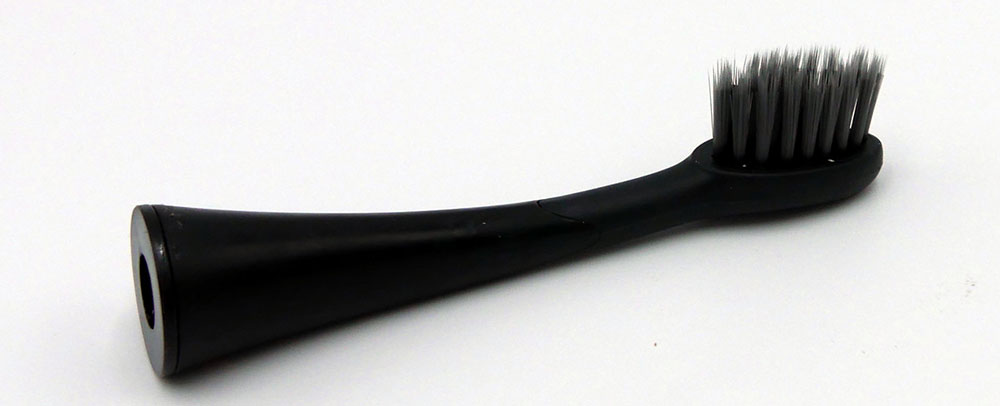 The Binchotan charcoal-infused bristles are made from PBT nylon, which is soft and gentle on the teeth and gums. Not many people are fans of soft bristles, so not everyone may get to appreciate and enjoy brushing with Burst. But it still brings overall comfort to the user. Also, the charcoal bristles are effective in whitening the user's teeth after a few brushes. Users can enhance their whitening experience by complementing their toothbrush with the Burst Wonderfully Whitening Toothpaste.
Switch Up for Comfort

The minimally designed icons for Whitening, Sensitive, and Massage modes and the battery doesn't disrupt the overall look of the toothbrush. You've got something to choose for any mood or occasion. The icons may confuse you in the beginning, but people get used to them when using it for a long time.
This sonic toothbrush boasts 33,000 vibrations per minute, which is available on its Whitening Mode. According to Burst, this much vibration can help with plaque removal. Meanwhile, the sensitive mode has only 31,000 vibrations, which isn't noticeable. But it still gets the job done.
According to users, the vibrations feel good after use. However, some users report tickling. Nevertheless, the strokes aren't painful and it feels that the toothbrush is massaging the mouth (even without the use of massage mode).
Worry-Free Brushing

Since Burst is on a subscription model, those who would continue to use it would get a new brush head for $6 every 90 days. You don't have to think about changing your brush head, because Burst will send it when you need it.
The Burst toothbrush is a family-friendly product. As mentioned earlier, the Burst sonic toothbrush feels soft on the teeth and gums, it's good for kids and those with oral health issues. Since kids can use the brush as well, when a family owns one for each person, they can purchase a Burst Band to differentiate their brushes from other members.
Burst also has a built-in two-minute smart timer, which is recommended when brushing. The smart timer reminds its brushers to move to another quadrant of your mouth when you've brushed one part for 30 seconds. You'll know when you need to move if the brush starts to create a pulsing sensation.
Pricing
In terms of pricing, it's pricey compared to its competitors. The black and white starter packs cost $69.99, while the Rose Gold edition is at $99.99. Why skimp on quality when Burst has impressive features?
Burst offers free shipping so it's a win for its customers. However, it may take time to receive your product, but the wait is worth it as many do say.
Conclusion
The Burst Sonic Toothbrush is one of the many toothbrush subscription models in the market. Many dental professionals and fans back the product for its effectiveness and comfort. Even if the toothbrush is slightly pricier than its competitors it's a product worth using and delivers effective results to bring you a healthy white grin.
Moose Knuckles Stirling Parka Review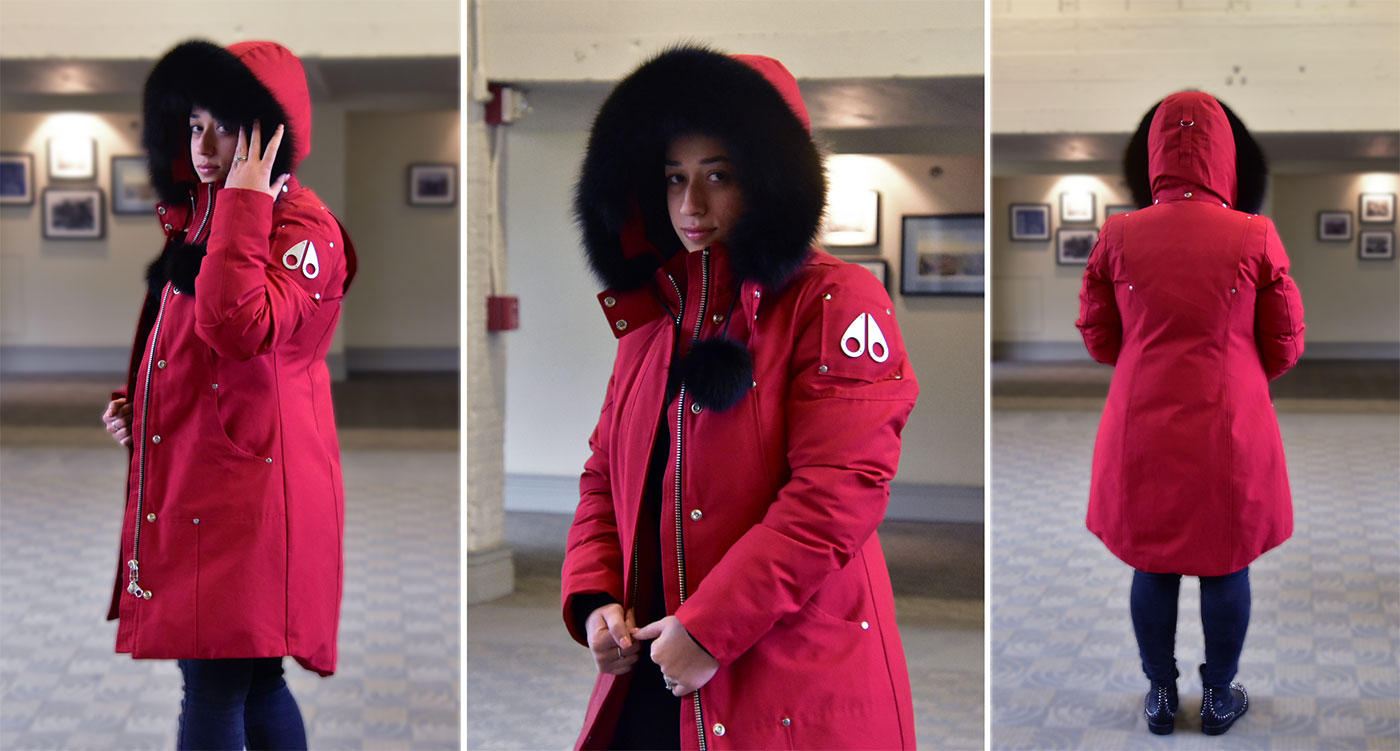 The popular Canadian outerwear brand Moose Knuckles is continuing to expand its name across the nation and into America. Moose Knuckles is a relatively new brand founded in 2009 by Will Poho and Mark Peros. Most of its manufacturing is done in Winnipeg. The brand is dominating the winter fashion scene through bomber jackets and parkas. Moose Knuckles are created from quality materials and are sweatshop free. The company also uses Canadian-origin gray duck down and farmed fox fur from Finland in order to ensure the materials are able to combat Canada's harsh winters. Here is the Moose Knuckles Stirling Parka review:
How It Looks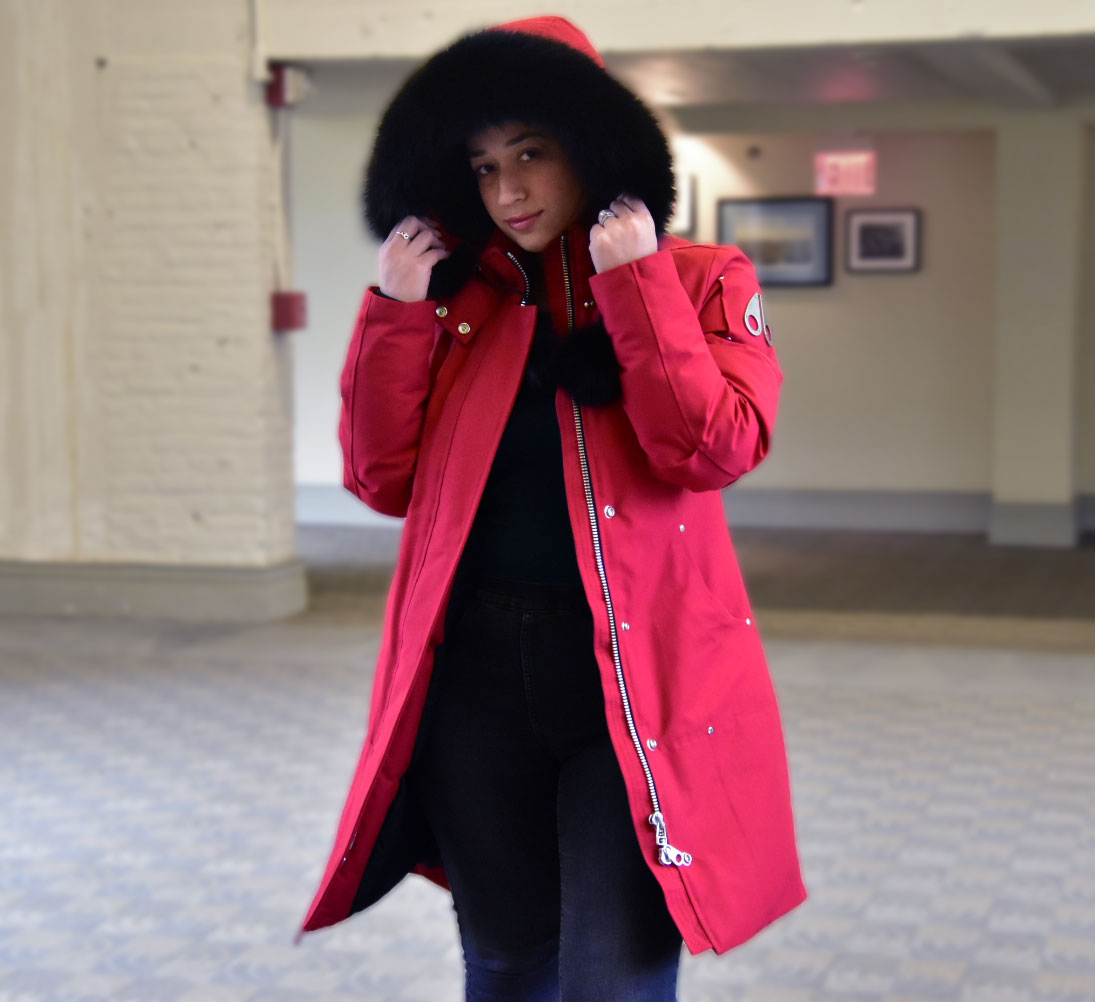 "Wearing a Moose Knuckles Stirling is like driving a red Ferrari. You will be noticed." 
The Stirling comes in at least 9 different shades of color. We reviewed the red model with black fur trim. Photos on the website convinced me the garment will provide a cinched waist, however I didn't feel restricted. The fur trim and goose down insulation allows you to be all bundled up and warm. Noticeably, the jacket has a Moose Knuckles signature metal detail on the upper arm of the garment. The signature catches the eyes in an instant, due to its unique look and new brand.
The pom-poms add a nice touch to the parka, adding a more feminine touch to the style. The double stitched durable canvas, luxurious fur, YKK zippers, and soft interior lining came together wonderfully upon putting it on for the first time. It was heavier than I thought, but the fitting was perfect. It was comfortable to wear and provided a more urban and versatile look. I took the Stirling out on a 9 degree day to see how it holds up. Wearing just a t-shirt inside, I never once felt the cold. Walking the streets of Philadelphia where every other person is wearing a Canada Goose or Montcler, I stood out like a sore thumb as people are trying to figure out what brand I'm wearing. A couple of girls even stopped and asked me what brand it is and where I purchased it. Wearing a Moose Knuckles Stirling is like driving a red Ferrari. You will be noticed.
Specialty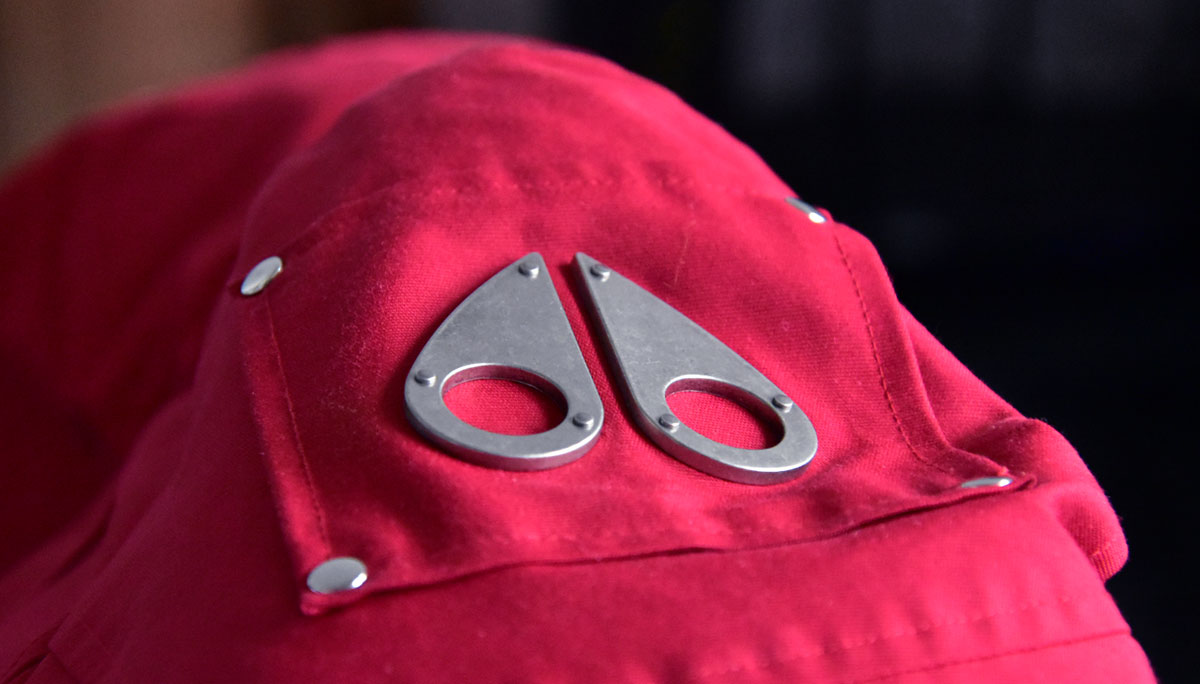 Moose Knuckles is ranked as the top parka brand for having the highest thermal insulation value. The Moose Knuckles parka came out with the result of a thermal insulation value of 2.11 clo. Thermal Insulation is the measure of resistance to dry heat transfer from a heated thermal manikin to a more cool environment. Thermal insulation is used to prevent excessive heat loss, which is the entire framework of an effective jacket. Moose Knuckles provide an amazing dependability on warmth and comfort due to their thermal insulation value. And wearing the Stirling for an entire day in single-digit weather, I can confidently say their research paid off.
Features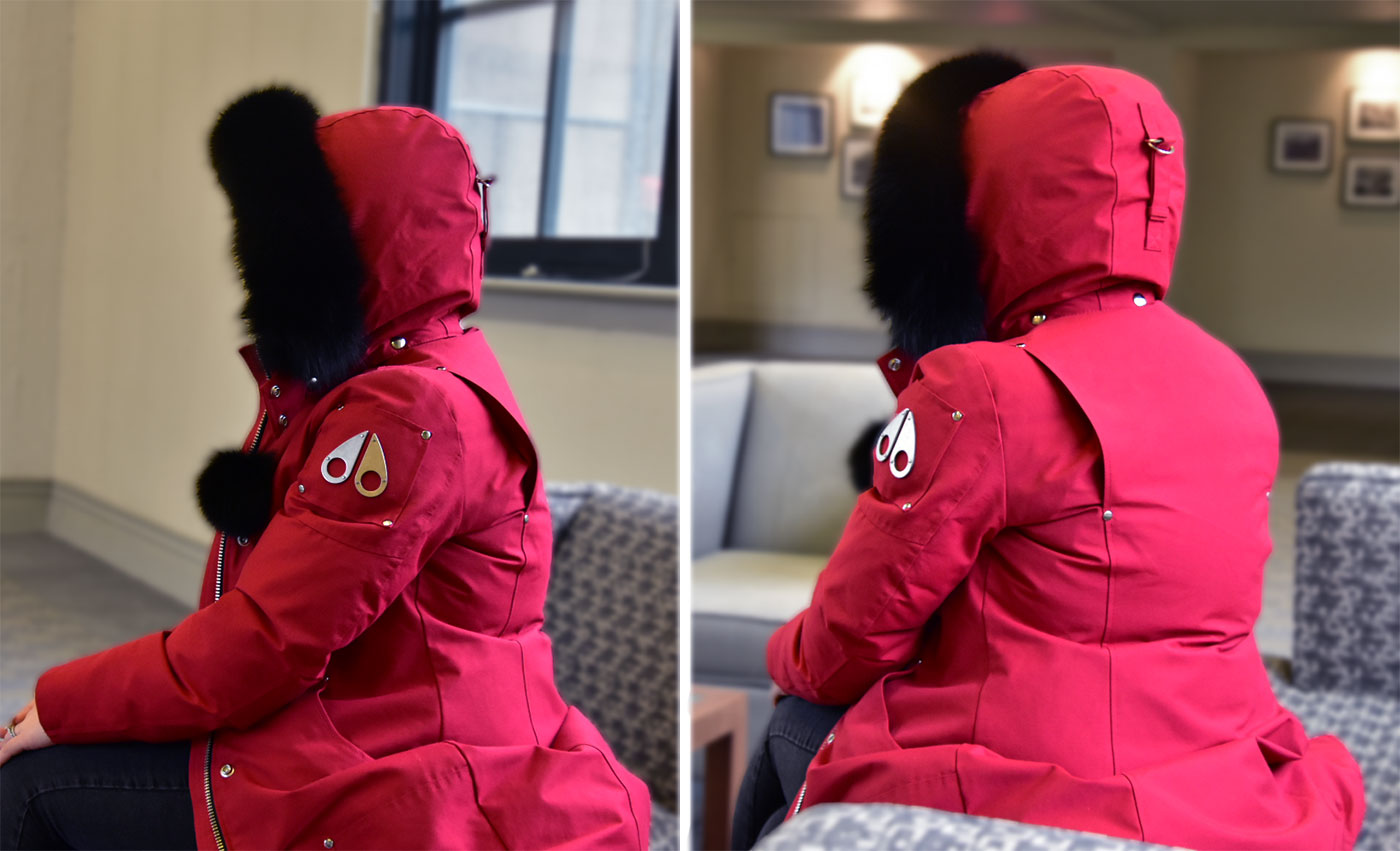 In addition to looking fabulous and keeping you warm the Stirling also comes equipped with features to appreciate. Most of which you'll have to see in person or experience first hand to appreciate.
Form fitting
This matters a lot to women and young girls. The Stirling looks great and even though it's fitting, it doesn't feel restricting.
Spacious hood
The fur lined hood is cavernous but fits comfortable thanks to adjustable straps on the back.
Quality fox trim fur
Moose Knuckles didn't cheap out on the fur. You will get plenty of high quality fur with the Stirling. Some parka offers low-grade synthetic fur purely for aesthetics. The fur on the Stirling is genuine, feels incredibly soft to the touch, and doesn't shed like many other brands.
Durable & Water resistant
The canvas material combined with double stitching are durable and made to last. It's also water resistant!
Quality zipper
The front zipper is heavy gauge YKK zippers and won't break on you anytime soon.
Plenty of pockets
Girls will understand the excitement of having pockets in just about anything. Four pockets on the outside and two on the inside of the jacket.
The Verdict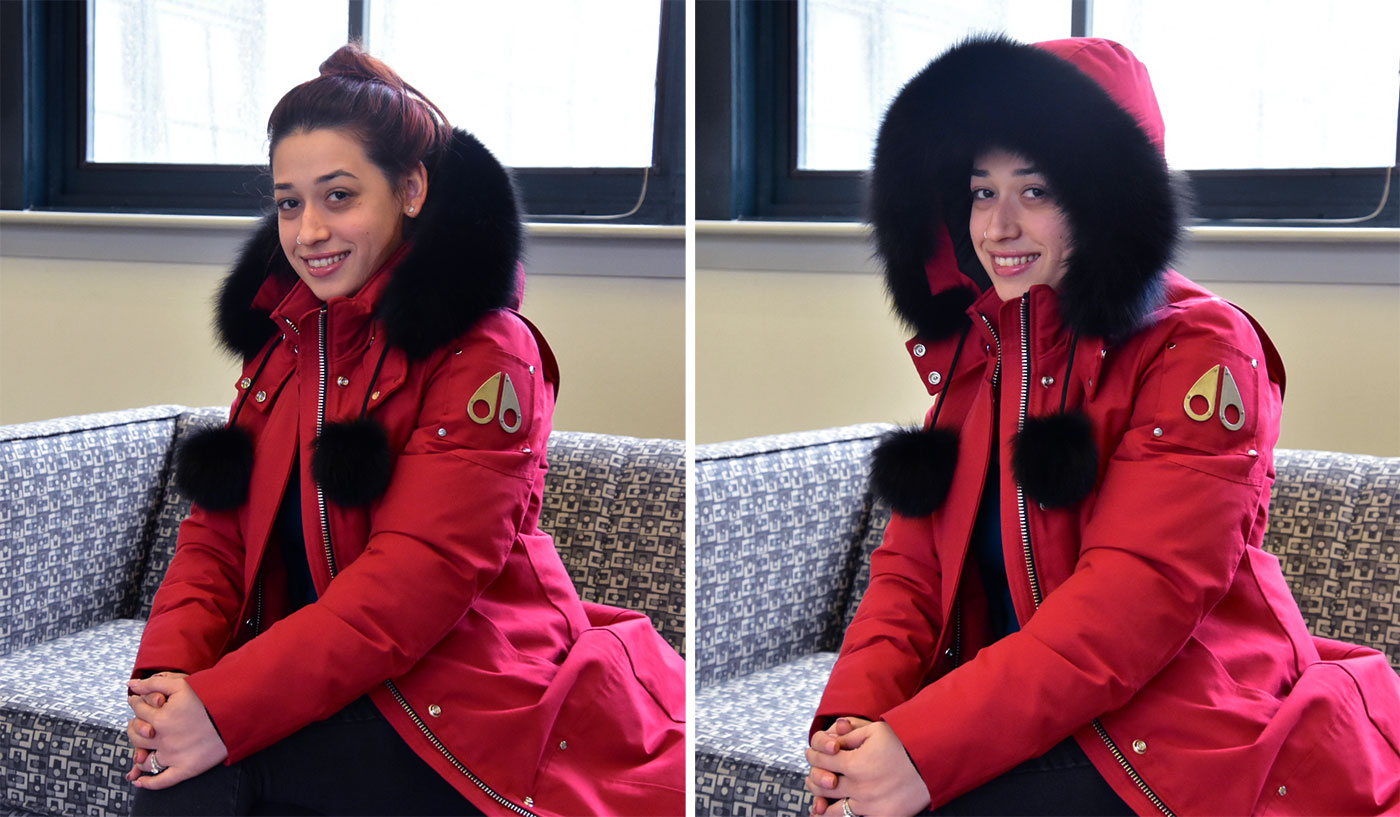 Many brands fail to understand what quality means in a jacket. Winters in Canada are harsh, it's windy, cold, and downright undesirable. Comfort and style is a rare combination when you're trying to make a parka that can withstand Canada winters. The Moose Knuckles Stirling parka is able to give you the swag look and still keep you toasty warm. Despite having plenty to love, we managed to find a few flaws.
Pros
You look unquestionably rich
Fashionable
Attention to detail styling
Plenty of pockets
Warm. Sourced from Canadian-origin gray duck
Quality fox fur from Finland
Durable construction that will last
Value doesn't depreciate as much
Cons
Heavy when compared to similar parkas
Canvas material despite being durable, can feel rigid
Outside breast pockets are too small
If you're looking for something discreet and low-key, look elsewhere. Moose Knuckles never intended the Stirling to be subtle. Make no mistake, you will stand out. For those living in harsh, cold conditions, investing in a reliable winter outer garment is a must. We highly recommend the Moose Knuckles Stirling because it's incredibly well made, warm without the bulk, fashionable, and will likely be the last winter coat you'll ever buy.
At $950, it's certainly not cheap but you get more than what you pay for. Despite being the new kid on the block, Moose Knuckles' unique line of products rival Canada Goose and Montcler in terms of quality, value, and appeal. The next time you're out shopping for a winter coat, put Moose Knuckles near the top of your list.
Adventure Assist Travel Journal Is A Must Have For Trips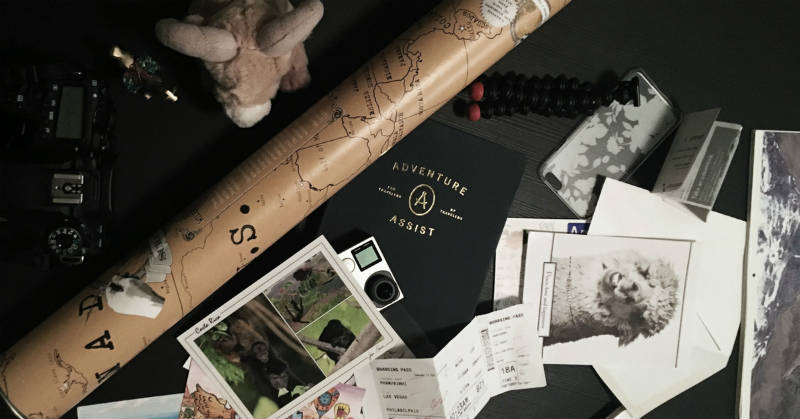 A twist to the classic notebook, Adventure Assist is a modern travel journal perfect for the before and afters of your trip. Mapping out your trip and keeping memories the old school way. Jot down the most important details of the trip as you are planning so you are ready once the time comes. Create a list of things to remember or missions to complete. Be ready for the accomplished feeling you get when you physically cross these things off your list. Keep quotes of silly things that happened along the way. Relive doodles of the funny dog you saw or the breathtaking view from the end of your hike.
The notebook was created by two adventure seekers, Jake Pritchard and April Onebane. Both studied abroad and have a passion for traveling with a purpose. Their mission is to " better connect travelers to their destinations by inspiring authentic and purposeful travel experiences through streamlining planning and organization." With that mission in mind, the Adventure Assist notebook was created. A heavy duty notebook with strong covers and thick sheets made to withstand the suitcases, backpacks and adventures it will be a part of.
Broken down into seven section, the notebook helps travelers organize and keep track of the basic necessities when traveling. The sections starts with "packing" and moves onto "to-do", "transportation", "accommodations", "calendar", "contacts" and "journal" with journal being the largest section. Each section is divided as an easily identifiable tab to quickly navigate to the section.
Packing
The first tab in Adventure Assist, Packing, tells you to "list adventure gear, regional specific clothing, travel documents and entertainment essentials for your journey." With four pages to list what you are packing, you definitely won't miss a thing or over pack. A couple of things we would recommend: S-hooks, ziplock bags, mini-tripod.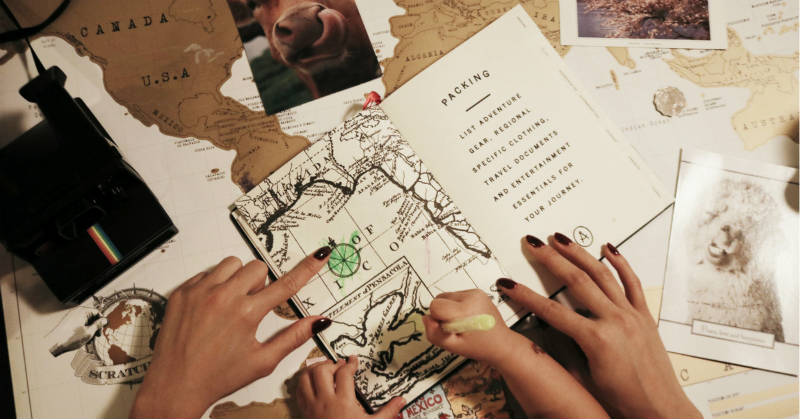 To-Do
Next, To-Do, is 10 pages, each page broken down into two sections. Each section is broken down into boxes: destination, attractions, activities, food and drinks. What are some things you want to do, see and eat at the destination? You will have an endless list of things you want to do on your next adventure but writing down the top 10 will help you keep track of the most important. Keep a smaller list for a higher chance of accomplishment while pulling from your bigger list when you run out. Nothing digital will ever replace the satisfying feeling of physically crossing something off of your Do-To list.
Transportation and Accomodations
Where are you staying each night? When time do you have to get there, get out and who do contact if you have a question. Necessary, if not the most important, information of every trip. Now that you know where you are staying, how are you getting there? Getting around in big cities is easy if the language is one you speak and the technology available is similar back home. The difficult but somewhat exciting times when you are visiting somewhere completely different than what you are used to, transportation will not be so easy. You may need to catch a ferry, jitney…donkey?! Keep track of what time departure and arrival is and any additional notes like how many stops until your destination.
Calendar and Contacts
The calendar section provides blank monthly calendar views for you to see your month at a glance. There is a column for notes where you could draw a map key, like emojis, and add the keys to your calendar. Contacts – great for noting who the people from each destination to call in case of emergencies. We have so many contacts in our phones we don't remember. When a panic situation happens, you have the information you need. In a more likely situation, you lose your phone or it runs out of battery. Now you have the contact information and can borrow someone's phone.
Journal
This is where you log your memories and experiences. The reason you are traveling in the first place. Write, draw, sketch, whatever you want in this section. Anything that will bring back the best memories from your journey when you discover this notebook on your shelf when you are 80. Instax or Polaroid would be perfect for this section. The two envelopes on each end of the notebook are great for storing tickets, airport stamp tickets, napkins with doodles on them or anything else relatively flat.
We will have our digital photos, videos, social media accounts to look back at. But the feeling from something handwritten or hand drawn is much more powerful and memory provoking than anything digital. Adventure Assist is personal and once you start writing, you won't want to stop.