Moose Knuckles Stirling Parka Review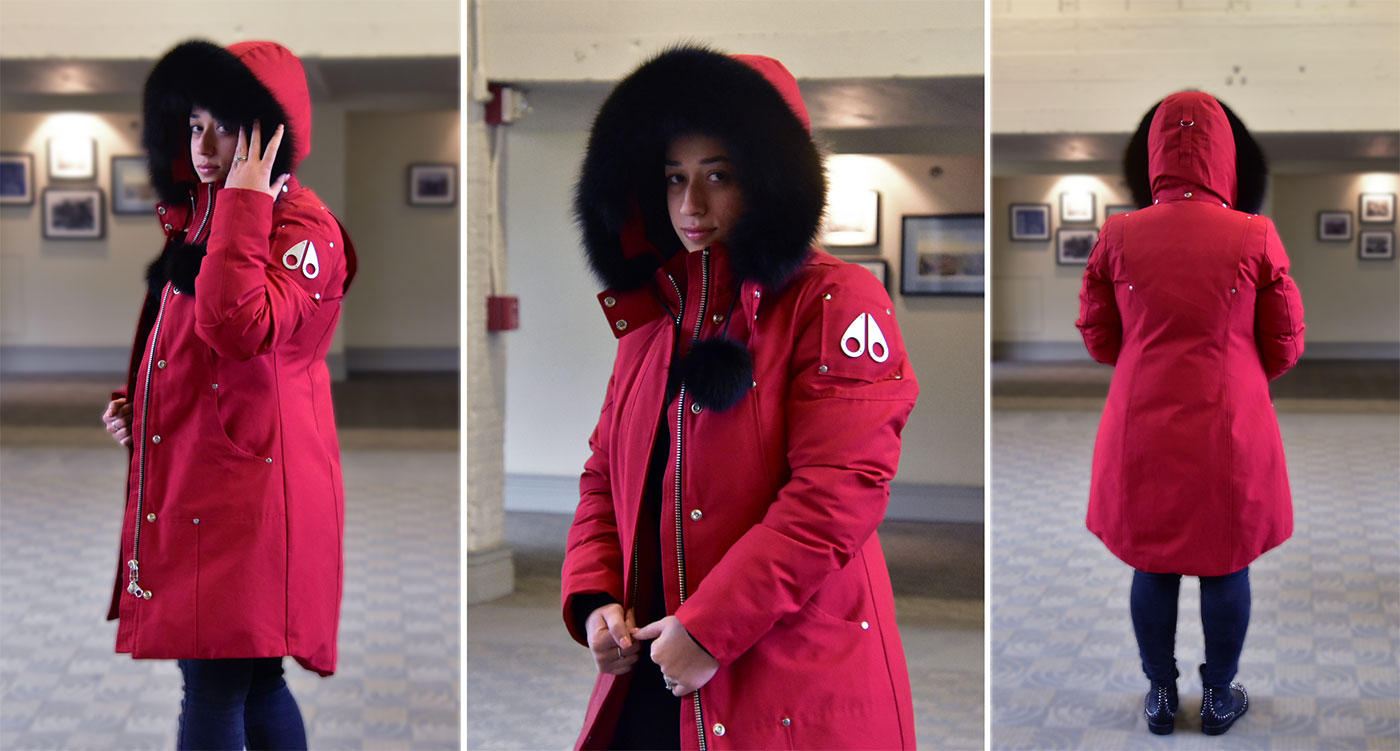 The popular Canadian outerwear brand Moose Knuckles is continuing to expand its name across the nation and into America. Moose Knuckles is a relatively new brand founded in 2009 by Will Poho and Mark Peros. Most of its manufacturing is done in Winnipeg. The brand is dominating the winter fashion scene through bomber jackets and parkas. Moose Knuckles are created from quality materials and are sweatshop free. The company also uses Canadian-origin gray duck down and farmed fox fur from Finland in order to ensure the materials are able to combat Canada's harsh winters. Here is the Moose Knuckles Stirling Parka review:
How It Looks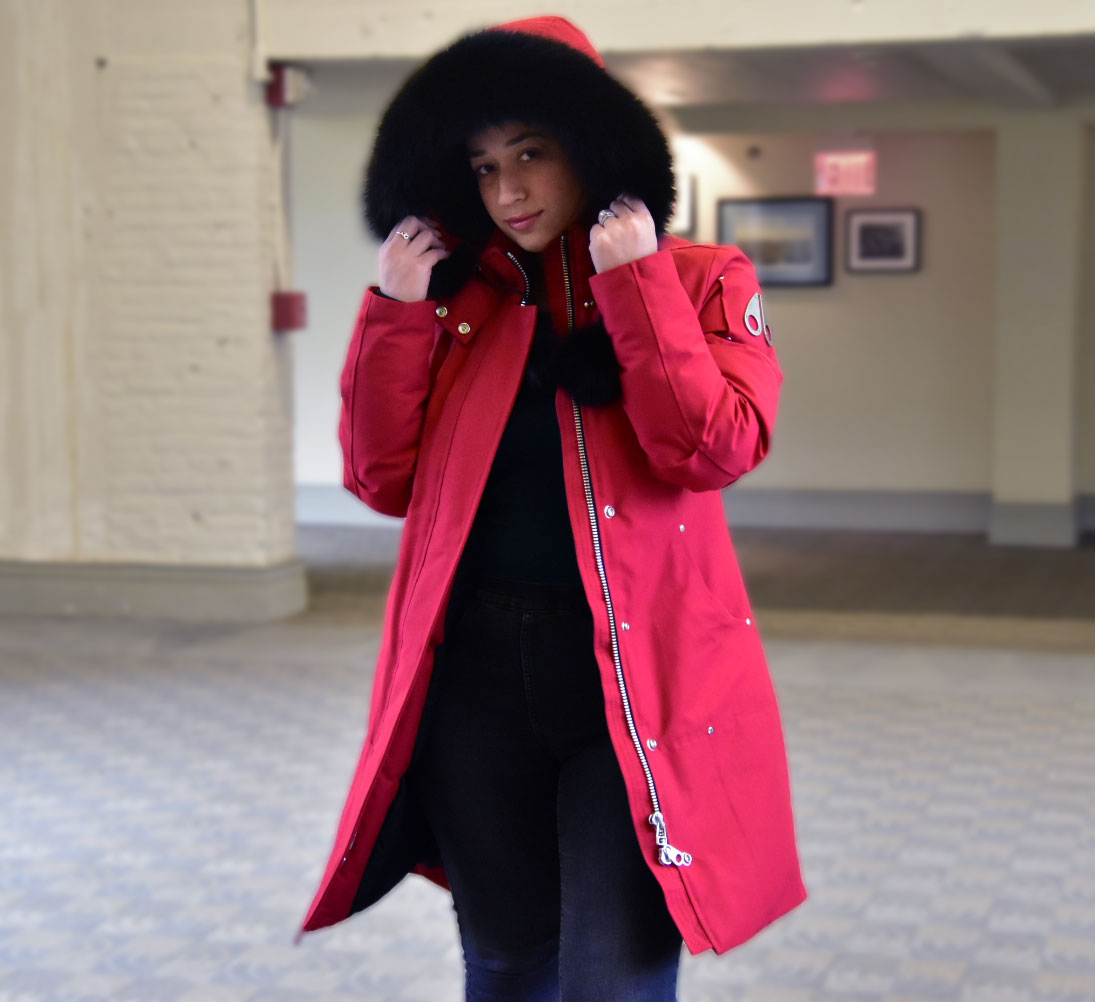 "Wearing a Moose Knuckles Stirling is like driving a red Ferrari. You will be noticed."  
The Stirling comes in at least 9 different shades of color. We reviewed the red model with black fur trim. Photos on the website convinced me the garment will provide a cinched waist, however I didn't feel restricted. The fur trim and goose down insulation allows you to be all bundled up and warm. Noticeably, the jacket has a Moose Knuckles signature metal detail on the upper arm of the garment. The signature catches the eyes in an instant, due to its unique look and new brand.
The pom-poms add a nice touch to the parka, adding a more feminine touch to the style. The double stitched durable canvas, luxurious fur, YKK zippers, and soft interior lining came together wonderfully upon putting it on for the first time. It was heavier than I thought, but the fitting was perfect. It was comfortable to wear and provided a more urban and versatile look. I took the Stirling out on a 9 degree day to see how it holds up. Wearing just a t-shirt inside, I never once felt the cold. Walking the streets of Philadelphia where every other person is wearing a Canada Goose or Montcler, I stood out like a sore thumb as people are trying to figure out what brand I'm wearing. A couple of girls even stopped and asked me what brand it is and where I purchased it. Wearing a Moose Knuckles Stirling is like driving a red Ferrari. You will be noticed.  
Specialty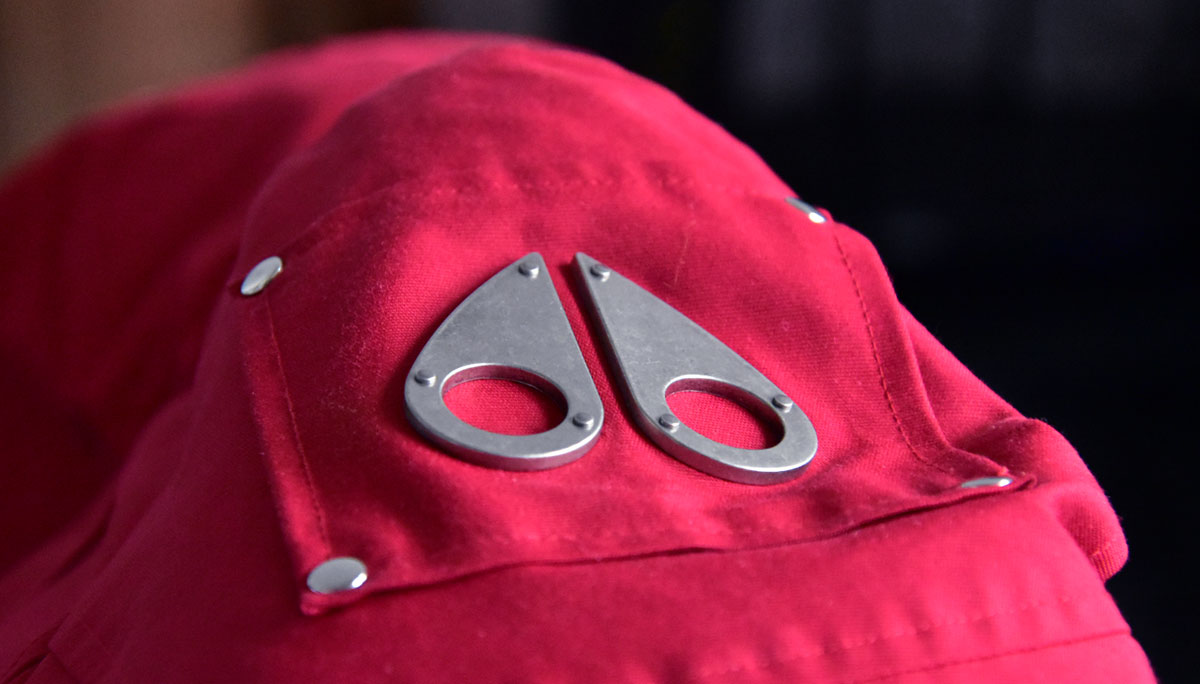 Moose Knuckles is ranked as the top parka brand for having the highest thermal insulation value. The Moose Knuckles parka came out with the result of a thermal insulation value of 2.11 clo. Thermal Insulation is the measure of resistance to dry heat transfer from a heated thermal manikin to a more cool environment. Thermal insulation is used to prevent excessive heat loss, which is the entire framework of an effective jacket. Moose Knuckles provide an amazing dependability on warmth and comfort due to their thermal insulation value. And wearing the Stirling for an entire day in single-digit weather, I can confidently say their research paid off. 
Features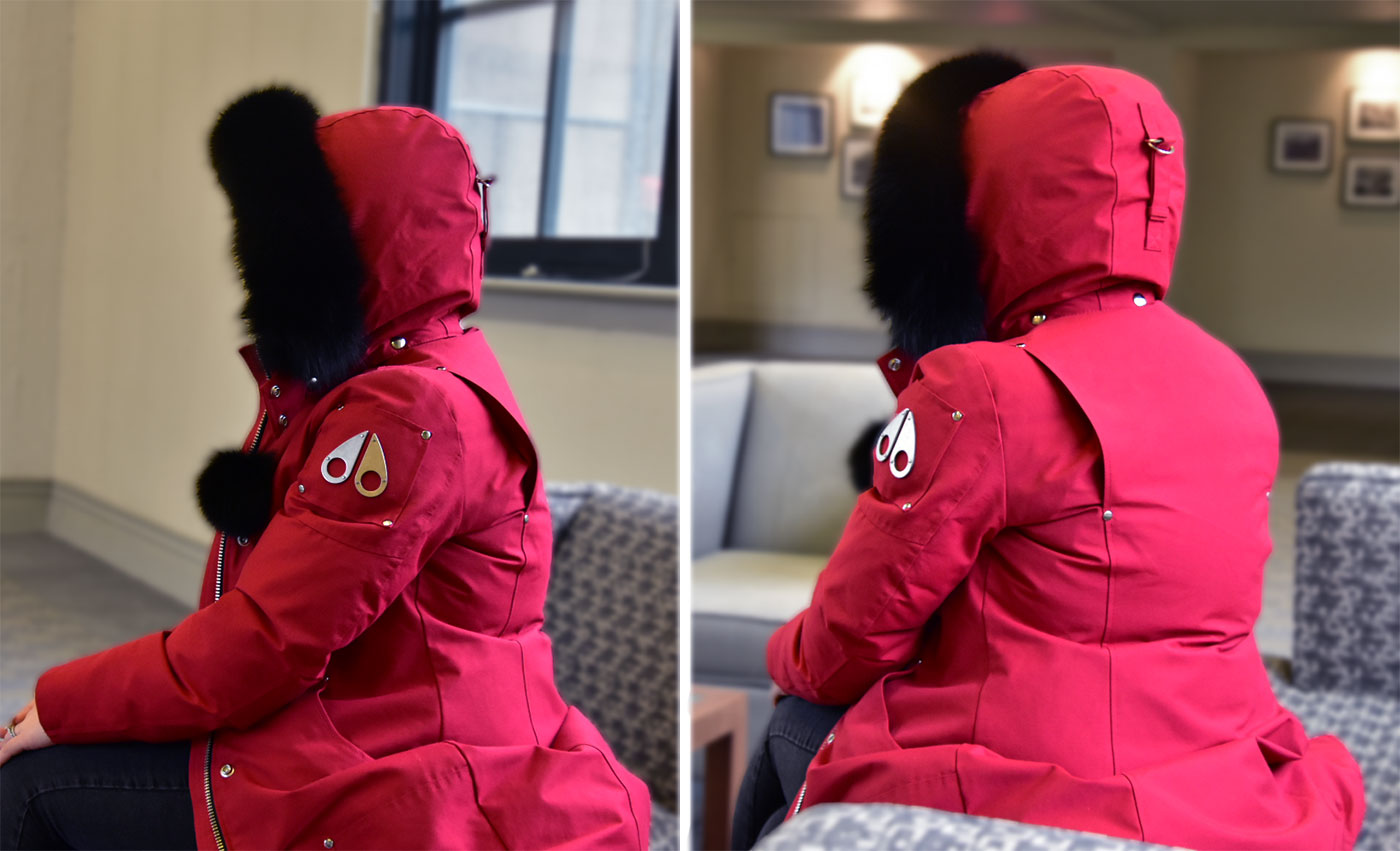 In addition to looking fabulous and keeping you warm the Stirling also comes equipped with features to appreciate. Most of which you'll have to see in person or experience first hand to appreciate. 
Form fitting
This matters a lot to women and young girls. The Stirling looks great and even though it's fitting, it doesn't feel restricting. 
Spacious hood
The fur lined hood is cavernous but fits comfortable thanks to adjustable straps on the back. 
Quality fox trim fur
Moose Knuckles didn't cheap out on the fur. You will get plenty of high quality fur with the Stirling. Some parka offers low-grade synthetic fur purely for aesthetics. The fur on the Stirling is genuine, feels incredibly soft to the touch, and doesn't shed like many other brands. 
Durable & Water resistant
The canvas material combined with double stitching are durable and made to last. It's also water resistant!
Quality zipper
The front zipper is heavy gauge YKK zippers and won't break on you anytime soon. 
Plenty of pockets
Girls will understand the excitement of having pockets in just about anything. Four pockets on the outside and two on the inside of the jacket. 
The Verdict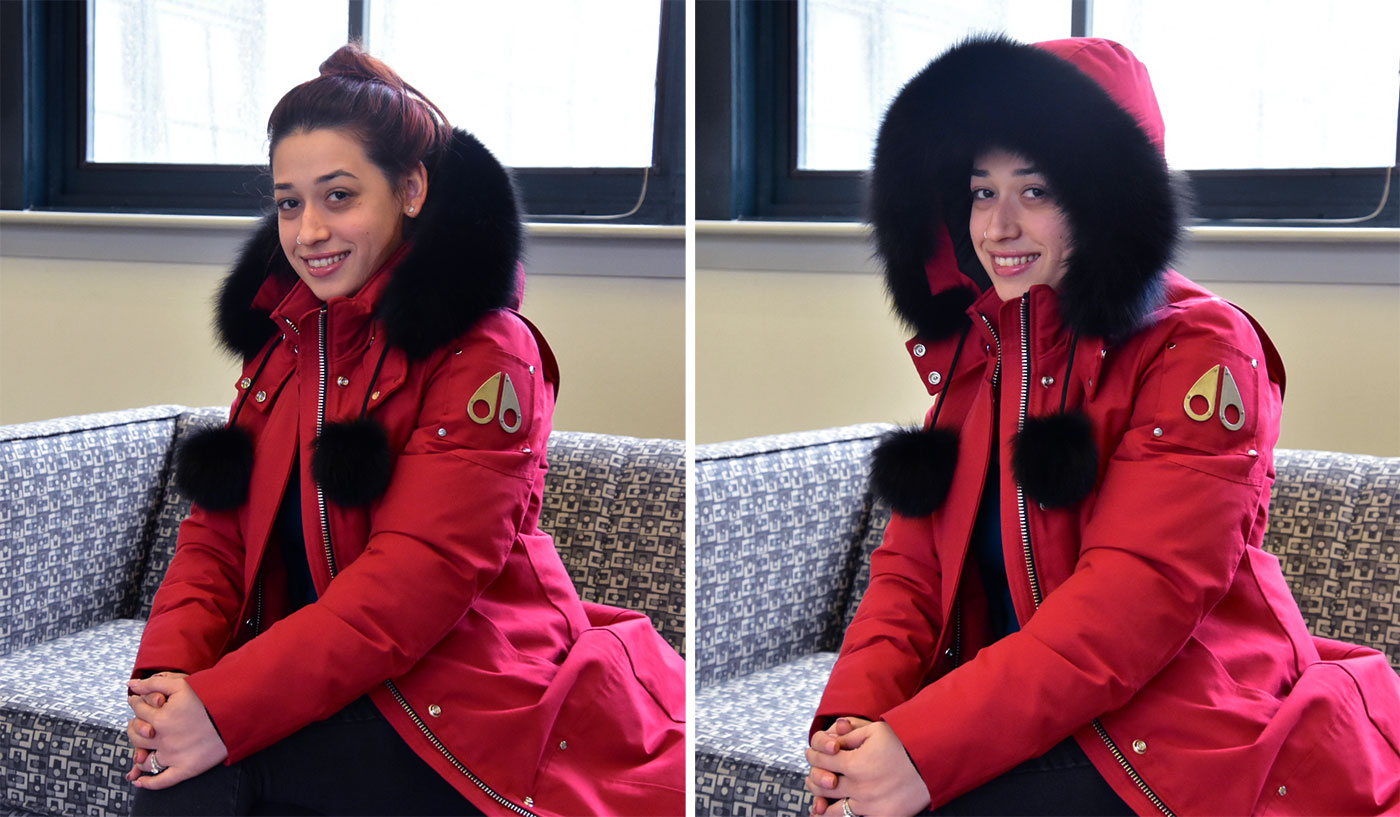 Many brands fail to understand what quality means in a jacket. Winters in Canada are harsh, it's windy, cold, and downright undesirable. Comfort and style is a rare combination when you're trying to make a parka that can withstand Canada winters. The Moose Knuckles Stirling parka is able to give you the swag look and still keep you toasty warm. Despite having plenty to love, we managed to find a few flaws. 
Pros
You look unquestionably rich
Fashionable
Attention to detail styling
Plenty of pockets
Warm. Sourced from Canadian-origin gray duck
Quality fox fur from Finland
Durable construction that will last
Value doesn't depreciate as much
Cons
Heavy when compared to similar parkas
Canvas material despite being durable, can feel rigid
Outside breast pockets are too small
If you're looking for something discreet and low-key, look elsewhere. Moose Knuckles never intended the Stirling to be subtle. Make no mistake, you will stand out. For those living in harsh, cold conditions, investing in a reliable winter outer garment is a must. We highly recommend the Moose Knuckles Stirling because it's incredibly well made, warm without the bulk, fashionable, and will likely be the last winter coat you'll ever buy.
At $950, it's certainly not cheap but you get more than what you pay for. Despite being the new kid on the block, Moose Knuckles' unique line of products rival Canada Goose and Montcler in terms of quality, value, and appeal. The next time you're out shopping for a winter coat, put Moose Knuckles near the top of your list. 
New Jersey Loosens Up on Magic Mushrooms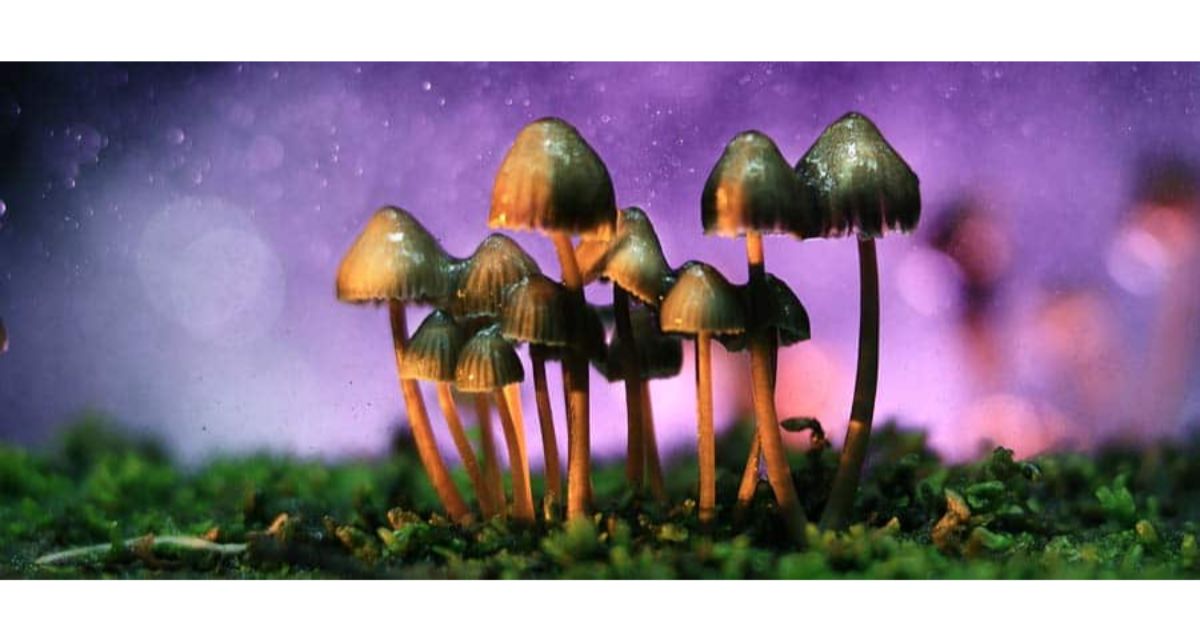 New Jersey becomes the recent state to declassify possession of magic mushrooms. Lawmakers added the provision to lessen penalties for psilocybin, the active chemical, to a marijuana bill in November at the last minute. The provision was removed from the bill but would be voted on separately later. New Jersey Governor Phil Murphy signed the bill in early February, reducing the classification of the drug.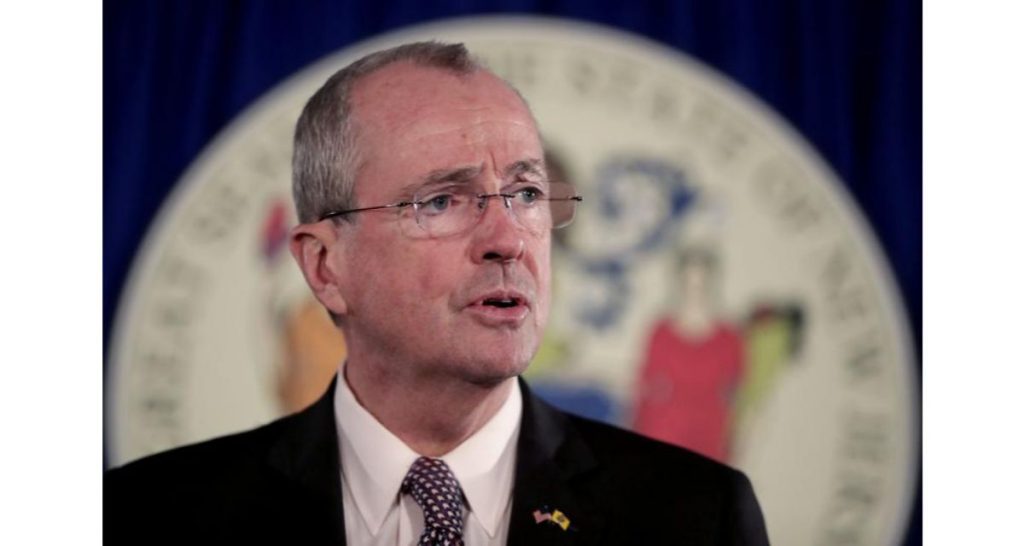 Magic mushrooms have been illegal on the federal level since 1970. The Controlled Substance Act lists magic mushrooms as a Schedule 1 narcotic. This is the most criminal category of drugs due to their high potential for abuse. Psilocybin lists along with heroin, cocaine, and methamphetamine.
The bill declassifies possession of up to an ounce of mushrooms from a third-degree crime to a disorderly persons offense. It reduced penalties from up to 6 years in prison to a maximum fine of $1,000 or six months in prison. This is not to be confused with decriminalization. Decriminalization removes the potential for jail time.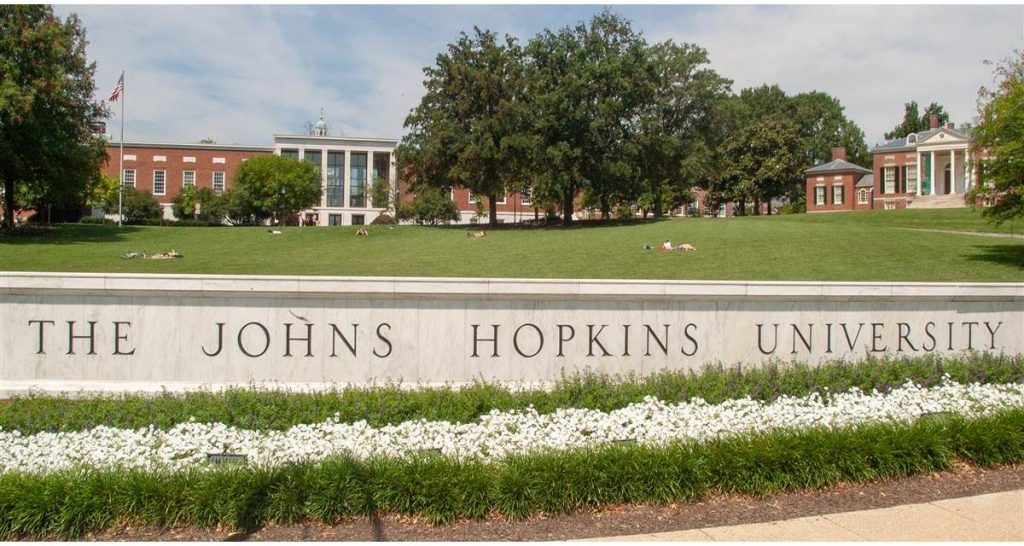 Advocates cite studies that claim that psilocybin may have helpful applications for cancer and HIV patients. It can also treat depression. Researchers at Johns Hopkins University posted findings from synthetic psilocybin trials. The trials show that 71% of their patients experienced a clinically significant response to the treatment. 54% of the patients recorded a total remission. Doctors also cite that there is no risk of overdose or addiction.
"What is different about psilocybin, compared to other mood-altering drugs or pharmaceuticals, is the enduring meaning and belief changes that can occur. People feel 'reorganized' in a way they don't with other drugs," says Roland Griffiths, a Neuropharmacologist at Johns Hopkins
New Jersey lawmakers first saw legislation for psilocybin only months ago and quickly passed a bill. The same cannot be said for marijuana. The state has been grappling with the issue since 2014. The State Senate moved to legalize recreational marijuana use for adults, but Governor Murphy has yet to sign the bill. Disagreements over the penalties of people under 21 put off the signing.
Of the crawling nature of the issue, Gov. Murphy says, "This hasn't been an easy fight, nor has it happened as quickly as I would have liked, but we are in a better place, a smarter place, and a more just place than ever before."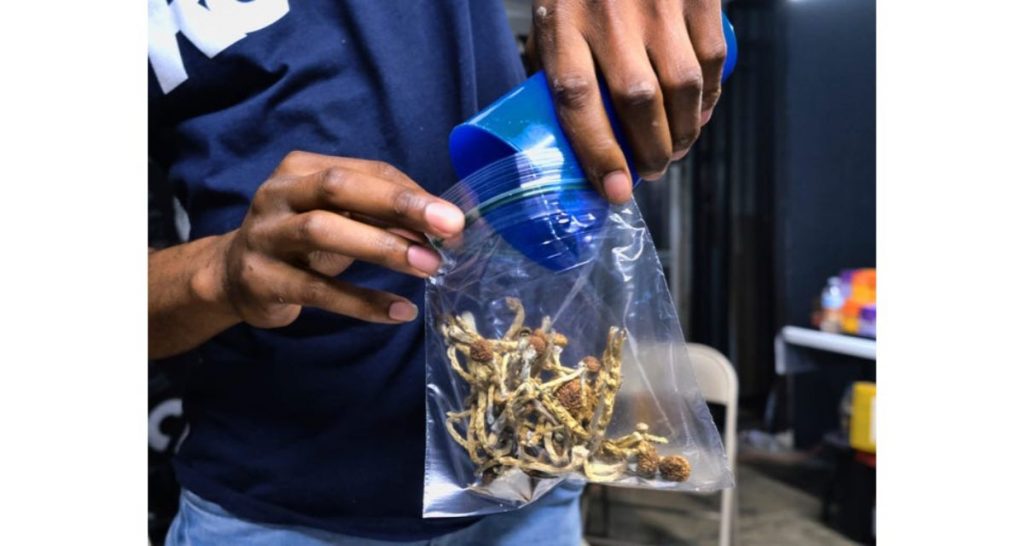 New Jersey is only the latest state to put forth legislation for psilocybin. Colorado was the first to loosen restrictions back in 2019. Oregon passed legislation in 2020, as well as some major cities such as Washington D.C. and Somerville, Massachusetts.
Best Unlimited Graphic Design Companies Of 2021 (+25% Promo)

Looking for an alternative to a freelance graphic designer or trying to scale your business using your existing team? A new wave of companies who call themselves "Unlimited Graphic Design Services" are disrupting the creative industry, providing a solution to what is usually an expensive and unpredictable task. Here's what their offerings have in common:
Monthly subscription model
24-48 hour turnaround time
Work with their vetted team of designers
Unlimited design requests
Cancel anytime
Which Provider Should You Choose?
We've done the homework and curated a list of Unlimited Graphic Design providers for you and also negotiated special deals on your behalf. You can see them all below and decide which one fits your needs.
---
Unlimited Graphic Design Providers
What Does Unlimited Graphic Design Mean?
These unlimited graphic design services have a monthly subscription business model. That means you can sign up and cancel whenever you like. What sets them apart from your typical freelancer, agency, or in-house designer is you gain access to a workflow that is designed to be quick and to the point.
You'll communicate with their team through Trello, email, or an online platform. The option given is dependent on the company you choose. For example, only a small selection of services provide a custom built online platform for their customers.
Once you're connected to their workflow, you can begin submitting as many design requests as you want. Although they all claim "unlimited", it generally means you can "create" unlimited design requests. It doesn't necessarily mean they'll work on them all at once. Usually, they just work on one design at a time. When one completes, they start the next design.
The usual turnaround time is between 1 – 2 days, and that's just for the first draft. It doesn't mean your entire request is complete. If you don't like it, you can request as many revisions as you want, and that will take more time. So it can take up to a week to actually get the design complete if you have a lot of revisions.
Another thing to keep in mind is content. You need to be able to have everything ready and provide all the content needed in order for their designers to get started.
Are they worth it?
If you have a lot of design needs, they're definitely worth it. Being it's a monthly recurring investment, you'll need to make sure that you have the need for an ongoing graphic design service. This graphic design service model is comparable to outsourcing a designer yourself, except much of all the management work is done by the company. The quality of designs and turnaround time also tends to be significantly better when outsourcing a designer yourself.
Review: The Truth About 99Designs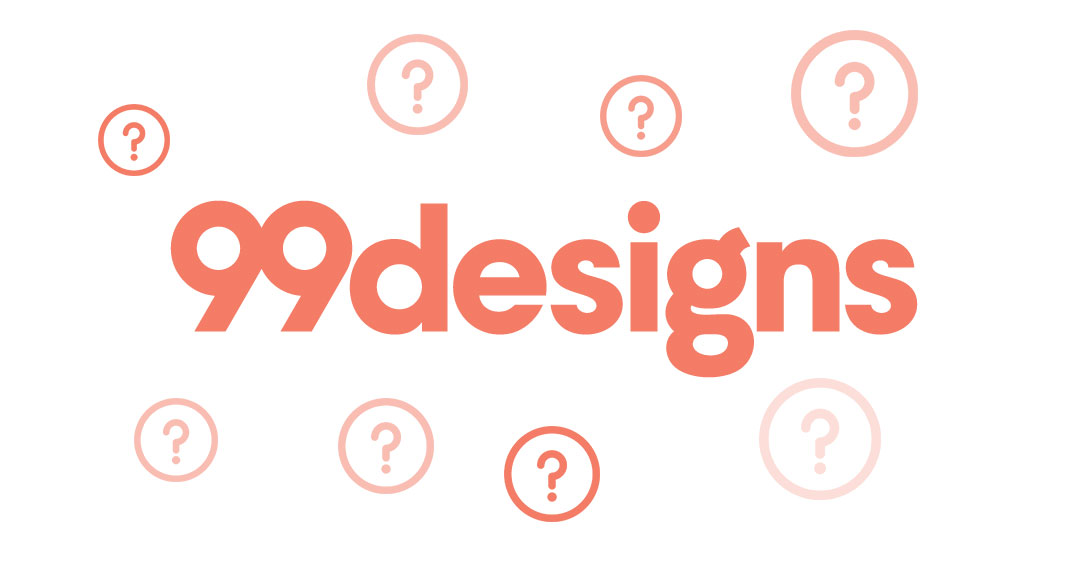 Getting graphic design work done can often be a challenge. Where do you even start? Hiring a full-time graphic designer is expensive and risky. Hiring a freelancer online can take a bit of time. And often times, your designer works in a completely different timezone, making collaboration near impossible.
That's where 99Designs come in. The company offers a talent-sourcing platform where you can create a design contest and have designers from all over the world submit their entry. You pay 1 flat fee for the contest and guaranteed many drafts. Sounds too good to be true? Let's find out!
99designs Review

In order to review 99designs accurately, we prepared several projects to submit on the platform. These projects are things that we actually have a need for and may use if the design results returned are good enough.
We'll go through the entire process that 99designs laid out and follow all rules and instructions given to us. Upon receiving the design work, we'll pass it around internally to 10 people in our office and simply give a yay or nay. Whatever the results are, will be the numerical grade given. Let's begin!
What 99designs can do?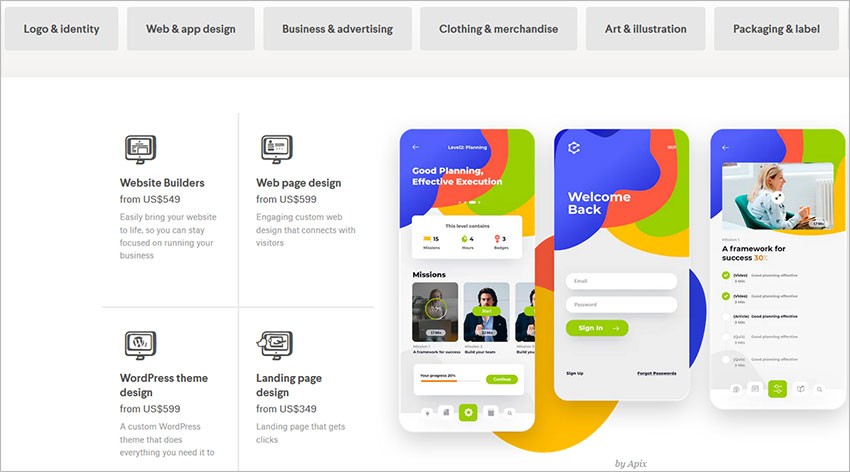 In short, just about anything but they're limited to just graphic design. In our quick 99designs analysis, they offer the following design services:
Logo & identity
Web & app design
Business & advertising
Clothing/Merch
Illustrations
Packaging
Books & magazines
And more…(the remaining categories are a bit obscured or too niche to list)
It's a fairly extensive list and seems like if you're a new startup or business, they'll cover most of your initial design needs.
What 99designs CANNOT do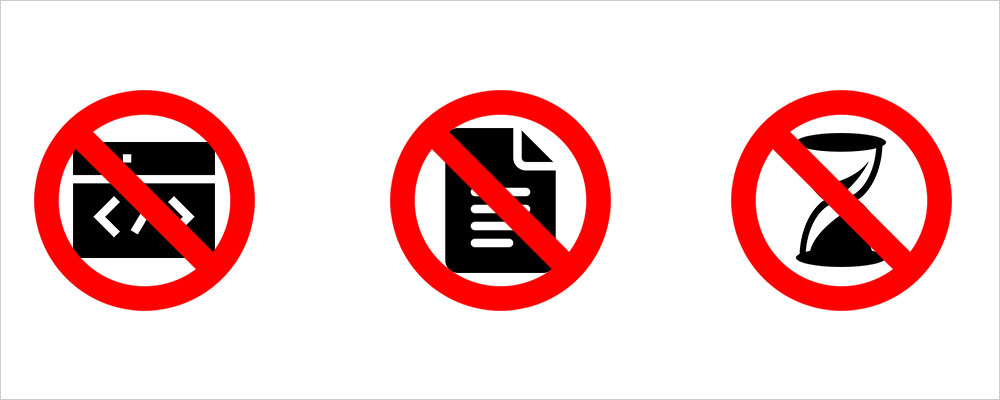 As the name implied, 99designs only offers graphic design. They can design a website or app for you, but you will need an independent development team to code it. 99designs also currently don't offer content support, which isn't that unusual. Whatever you want designed, you'll need to provide all of the content before hand.
And that also means you need to do all the proofreading as well. Whatever you submit to be designed, will be designed. The designers usually won't comment or question your grammar mistakes. So be sure to double and triple check all your content before submitting it to be designed.
Another thing to note, 99designs cannot deliver on time. The delivery runs on a rather flexible schedule that can take up to 2 weeks or longer. So if you need something done fast, 99designs may not be the best solution, even with the expedited delivery add-on purchase.
99designs' ACTUAL pricing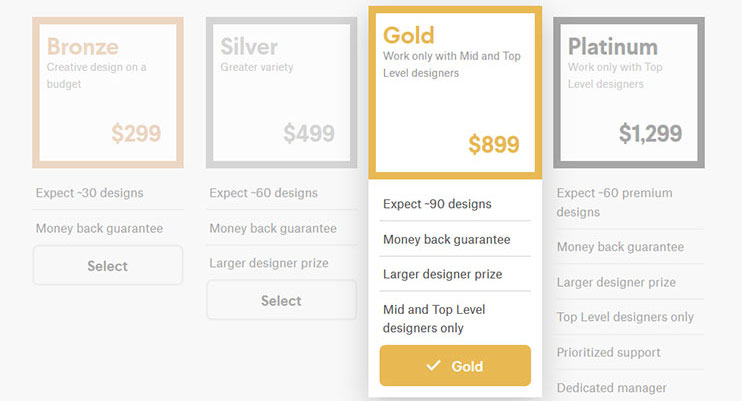 When we audit 99designs' pricing structure, we found a few of their categories to be confusing. Categories such as Logos, Web & app design, and Business Advertising can be misleading or vague. For example, when choosing a logo design, you might think you have to buy one of their packages that starts at $349. But with a bit of patience and knowing where to navigate, you can actually just buy a single logo design without any add-ons.
To avoid confusion, I'm going to break down a few of the categories below just so you know exactly how things are priced.
4 Different Tiers
After you fill out the first page of the project brief, 99designs will ask you to pick a tier. The lowest tier will give you the fewest number of design submissions and will usually be assigned to junior artists. Meanwhile the more expensive tiers get more design submissions and often given to more experienced designers.
The price breakdown below assumes you're going with the lower price tiers, since that's what most people tend to choose.
Logo & identity prices
Logo alone: $299
Packages: 5 packages offered between $349 – $599
Web design, Website Re-design, and WordPress Theme design prices
The $599 promotional price is NOT for an entire website design or re-design. This is just for ONE page. If you want multiple pages to be designed, 99designs will charge you PER PAGE. The more pages you want designed, the most it will cost. However, you'll get a steeper discount per page if you request multiple pages at once.
As of now, 99designs only offer up to 5 pages designed initially. If you need more than 5 pages designed, you'll likely need to hire a designer from 99designs afterward to continue working on the project.
1 page = $599.
2 pages = $749.
3 pages = $899.
4 pages = $1049
5 pages = $1199
Landing page design prices
Landing pages are charged at a flat rate of $349 since it's just 1 page. There are no options for multiple pages. If you want additional pages to be designed afterward, you'll have to create another $349 landing page contest, and that's not cost-effective. If you have a landing page with multiple pages, you'll have to cough $599 for the web design package.
App design prices
For the advertised price of $599, you are NOT getting an entire app designed. You're paying PER page of the app to be designed. The more pages you want done, the more it'll cost. But it's the initial page design that will cost the most. The more pages you need done, the cheaper it is per page to be designed.
1 screen = $599
2 screens = $699
3 screens = $799
4 screens = $899
5 screens = $999
Business & advertising
The prices for Business & advertising are all over the place and might not make any sense. For example, why does it cost $299 for an Album cover design…when it costs only $199 for a Podcast cover? They're both square dimension graphics with basically the same requirements. If you need an Album cover design, you can just request a "Podcast cover" to save money.
Anyway, here's a breakdown of what you can get at each different price points.
Starting at $149: Billboard, Tradeshow banner, Banner,
Starting at $199: Postcard, Flyer, Leaflet, Direct Mail, Poster, Podcast cover, Signage, Menu, Website header, Resume, Word Template, Tradeshow Booth, Other business advertising
Starting at $299: Album cover, Brochure, Booklet, Pamphlet, Email, Email newsletter, Powerpoint template,
Starting at $349: Car/truck/van wrap
Starting at $599: Infographic
Extra Add-ons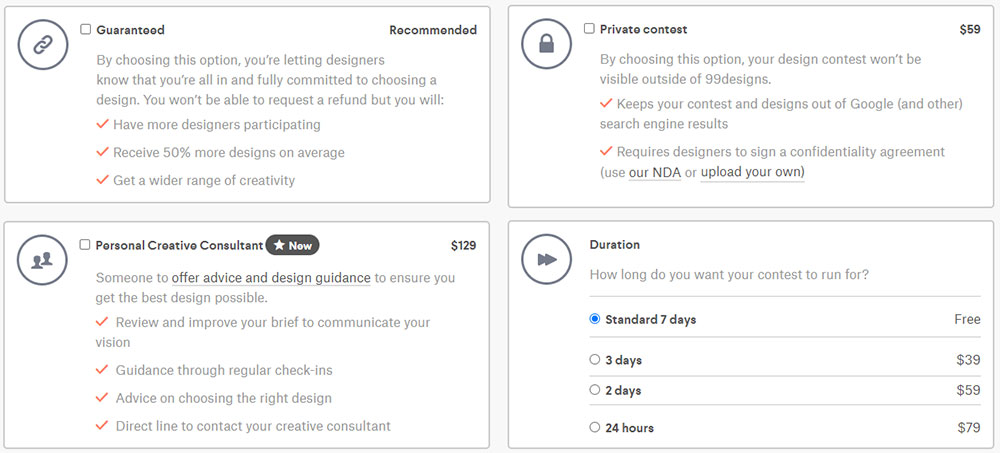 In addition to the base cost of the project, you can pay for additional add-ons.
Dedicated support: For a price of $129 extra, you can have access to dedicated customer support should you run into any problems.
Guaranteed: This doesn't cost anything, but it basically negates your 100% money-back guarantee with 99designs. The reason they offer this is because how designers are paid. Often times, they're paid pennies for participating in your design contest. Out of possible 20 – 30 design submissions, they will only get paid a reasonable fee IF you choose their design.
If you request a refund, no one gets paid. Therefore, if you choose this option, designers have more confidence that there's a stronger chance you'll commit.
Here's what 99designs promises if you choose to negate your guarantee.
Have more designers participating
Receive 50% more designs on average
Get a wider range of creativity
Private contest: This $59 add-on gives you the assurance that your design/intellectual property won't be leaked onto Google or used by designer. Designer will sign an NDA to ensure they protect your privacy. You can even use your own NDA.
Duration: Typical turnaround for 1st draft is 4 days. Need the design in a hurry? Pay a small fee for expedited delivery.
99designs pricing review
Overall, the prices can fluctuate quite a bit depending on which tier you select and how many add-ons you buy. I wouldn't say 99designs prices are cheap, because they're fairly expensive for just 1 design. They are cheaper than hiring an in-house designer or a design agency, but there are definitely much cheaper options. The one benefit of 99designs' model is that you get a lot of drafts for that price, so you have much more to choose from during each round of revisions.
How long it REALLY takes to get your designs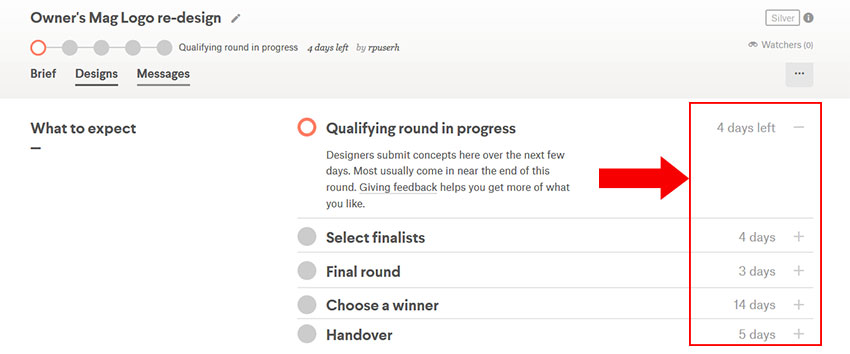 There's 5 rounds total that you need to go through before you can get your design files. Each round can take anywhere from 1-2 days up to 14 days to complete. Most of that does depend on you. If you give feedback quickly, you'll get your design files much faster. Here's a breakdown of the 5 rounds.
Round 1: Qualifying round (4-5 days)
In this round, 99design sends your project out to all qualified designers in their talent pool. Designers can choose to accept or ignore your contest. Once enough designers have accepted your contest and submitted their design work, you move onto Round 2.
Round 2: Select finalists (4 days)
It's probably 4-5 days now since you started the contest and your designs are finally in. You'll have a lot of designs to choose from. Now you have 4 days to review the designs and select up to 6 designs that you like. Any designs you don't select will be rejected. Designs you select gets to move onto the next round.
During this round, there's a 99designs review feature that lets you share the submissions with others via a shareable link. You have 4 days to select your finalists! Once chosen, the contest will be moved to the 3rd round.
Round 3: Final round (3 days)
In this round, you'll need to leave revisions for the selected finalists. Your finalists will work on as much revisions as you give them in this round. If you don't like something, you can request more revisions and they'll keep submitting. Keep in mind you only have 3 days for this round.
Round 4: Choose a winner
Contest is now officially over and a winner must be selected. In this round, you can create and send a poll to everyone you want feedback from to see which design is the best. You can only select 1 winner.
Round 5: Handover (5 days?!)
Your designer now has up to 5 days to hand over all of the design files and any copyright materials to you. Yes, you read that right. 5 days.
So…how long does it really take?
Let's assume that you're super responsive and you complete YOUR part the same day 99designs notify you…
Round 1: 4 days for all initial designs to come in
Round 2: 1 day to select finalists (because you're responsive)
Round 3: 3 days for final round of revisions
Round 4: 1 day to pick a winner (because you want the files fast!)
Round 5: 1-5 days to get files
So you're looking at between 10 – 14 days to complete a single design project. If you're a new startup or business that doesn't have strict deadlines to meet, this delivery window is perfectly fine. If you're more established and looking for someone to help you meet an aggressive marketing schedule, 99designs may not work for you.
How to get QUALITY designs from 99designs?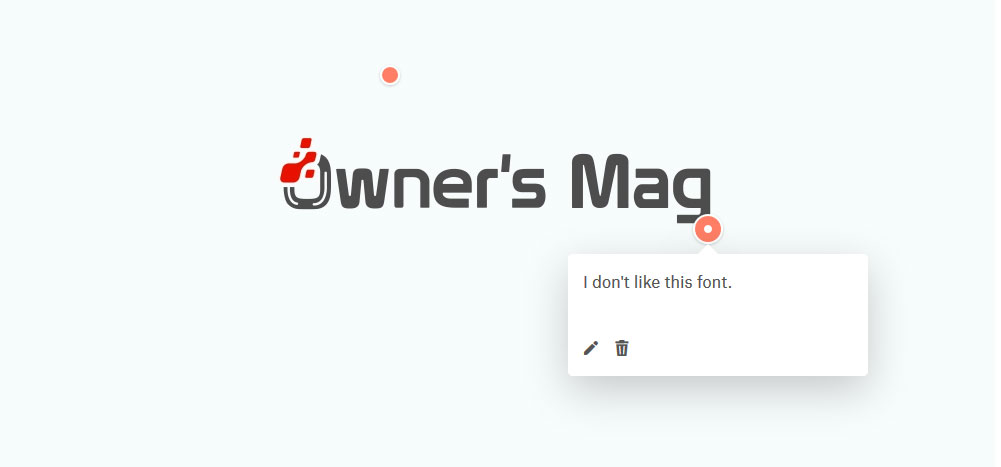 If you're coming to 99designs with a limited budget for graphic design, then chances are your results will vary. From my experience, the lower tier designers often just use templated graphics from Freepik or Envato.
If you want high quality designs from 99designs, here's what you'll need to do.
Sign up for higher tier: Choose Gold or Platinum plans. They're significantly more expensive, but that's what you need to get experienced designer's attention.
Fill EVERYTHING out: When creating your project brief, do not skip any steps. Fill out as much information as you can and spend time creating a solid brief.
Give additional examples: The last field on most form will ask "Is there anything else you would like to communicate to the designers?". Use this opportunity to give more information. Also include even more examples of what you like and don't like. This helps the designer narrow down your preferences.
Pros & Cons of 99designs
We'll start with the PROS
Affordable compared to hiring an inhouse designer
No hiring or managing of designers. They do all of that for you.
Lots of designs to choose from for each round
One platform can cover most of your design needs
Easy to use platform
Clear indicator of how far along your design is
Offers a 100% money back guarantee
Now for the CONS
Who is 99designs really for?
99designs is best suited for startups, small businesses, entrepreneurs, and anyone just starting out. The prices are affordable and you get a lot of selections. Having 20+ drafts submitted to you is a great benefit, especially if you're starting out and have no idea exactly how you want to brand yourself.
For larger businesses, marketing teams, and agencies, 99designs may not be the best fit given how expensive the bill will eventually be if you need 10+ designs per month. The 10 – 14 day delivery window can also be a major setback if you're trying to meet deadlines.
Can get expensive if you have consistent design needs
10 – 14 day delivery
Design quality is mediocre unless you're willing to pay a premium
No real way to interact with designer except through feedback
Customer support is a paid add-on