Moose Knuckles Stirling Parka Review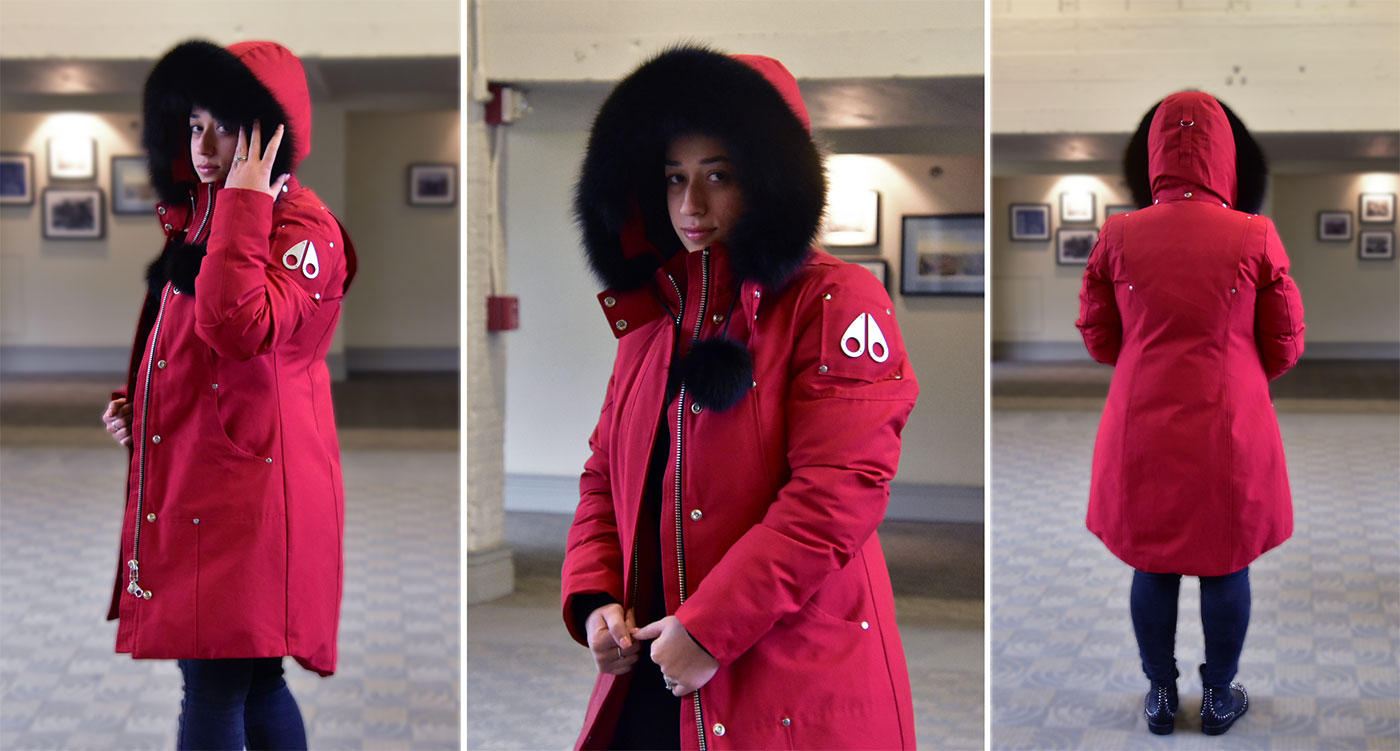 The popular Canadian outerwear brand Moose Knuckles is continuing to expand its name across the nation and into America. Moose Knuckles is a relatively new brand founded in 2009 by Will Poho and Mark Peros. Most of its manufacturing is done in Winnipeg. The brand is dominating the winter fashion scene through bomber jackets and parkas. Moose Knuckles are created from quality materials and are sweatshop free. The company also uses Canadian-origin gray duck down and farmed fox fur from Finland in order to ensure the materials are able to combat Canada's harsh winters. Here is the Moose Knuckles Stirling Parka review:
How It Looks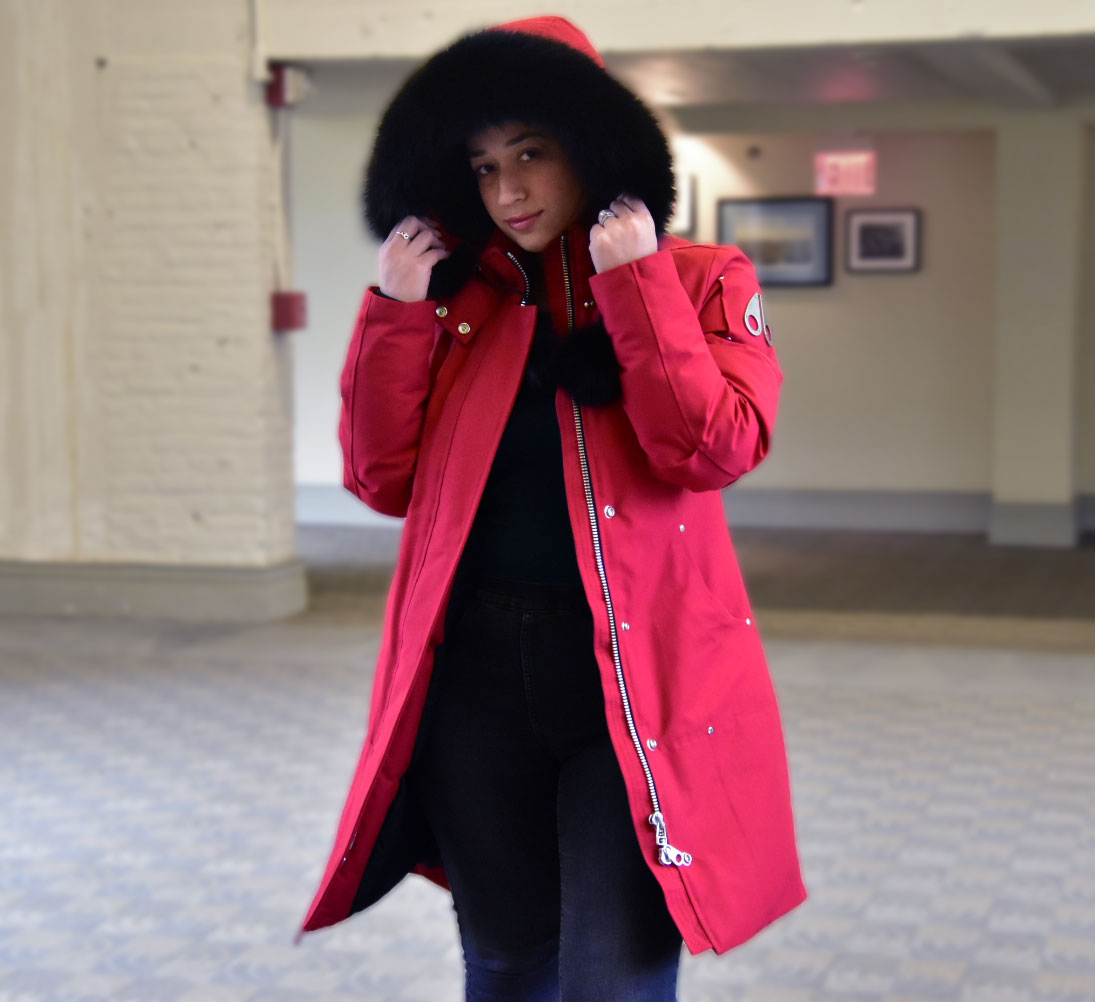 "Wearing a Moose Knuckles Stirling is like driving a red Ferrari. You will be noticed."
The Stirling comes in at least 9 different shades of color. We reviewed the red model with black fur trim. Photos on the website convinced me the garment will provide a cinched waist, however I didn't feel restricted. The fur trim and goose down insulation allows you to be all bundled up and warm. Noticeably, the jacket has a Moose Knuckles signature metal detail on the upper arm of the garment. The signature catches the eyes in an instant, due to its unique look and new brand.
The pom-poms add a nice touch to the parka, adding a more feminine touch to the style. The double stitched durable canvas, luxurious fur, YKK zippers, and soft interior lining came together wonderfully upon putting it on for the first time. It was heavier than I thought, but the fitting was perfect. It was comfortable to wear and provided a more urban and versatile look. I took the Stirling out on a 9 degree day to see how it holds up. Wearing just a t-shirt inside, I never once felt the cold. Walking the streets of Philadelphia where every other person is wearing a Canada Goose or Montcler, I stood out like a sore thumb as people are trying to figure out what brand I'm wearing. A couple of girls even stopped and asked me what brand it is and where I purchased it. Wearing a Moose Knuckles Stirling is like driving a red Ferrari. You will be noticed.
Specialty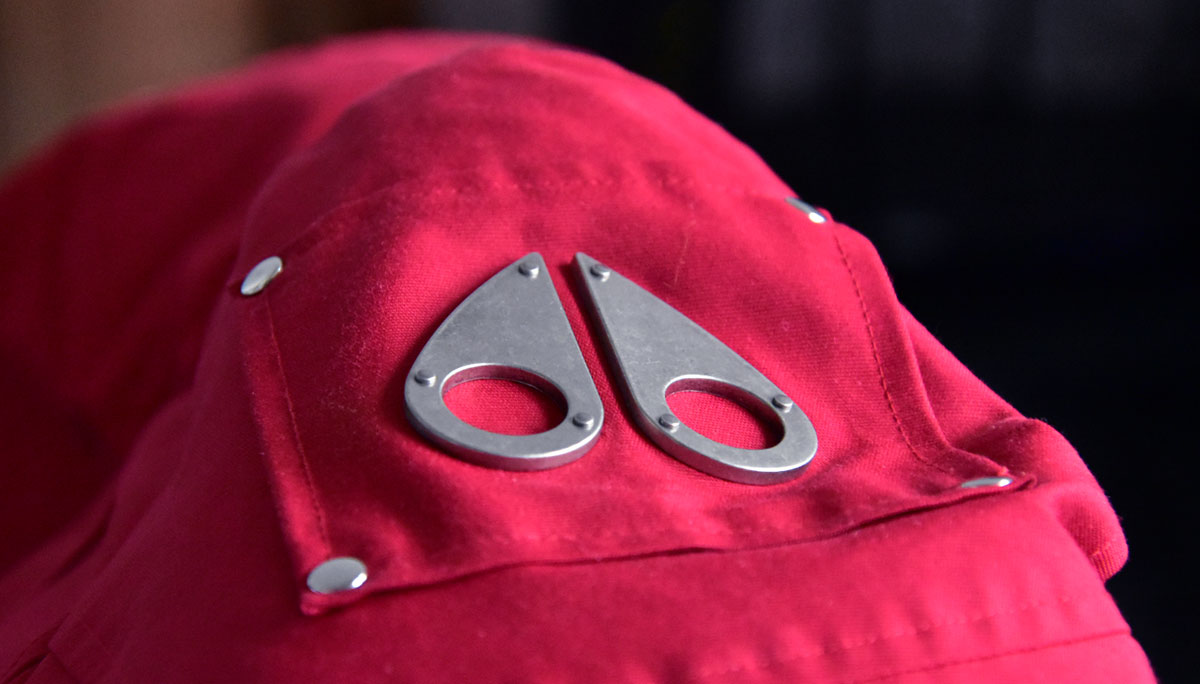 Moose Knuckles is ranked as the top parka brand for having the highest thermal insulation value. The Moose Knuckles parka came out with the result of a thermal insulation value of 2.11 clo. Thermal Insulation is the measure of resistance to dry heat transfer from a heated thermal manikin to a more cool environment. Thermal insulation is used to prevent excessive heat loss, which is the entire framework of an effective jacket. Moose Knuckles provide an amazing dependability on warmth and comfort due to their thermal insulation value. And wearing the Stirling for an entire day in single-digit weather, I can confidently say their research paid off.
Features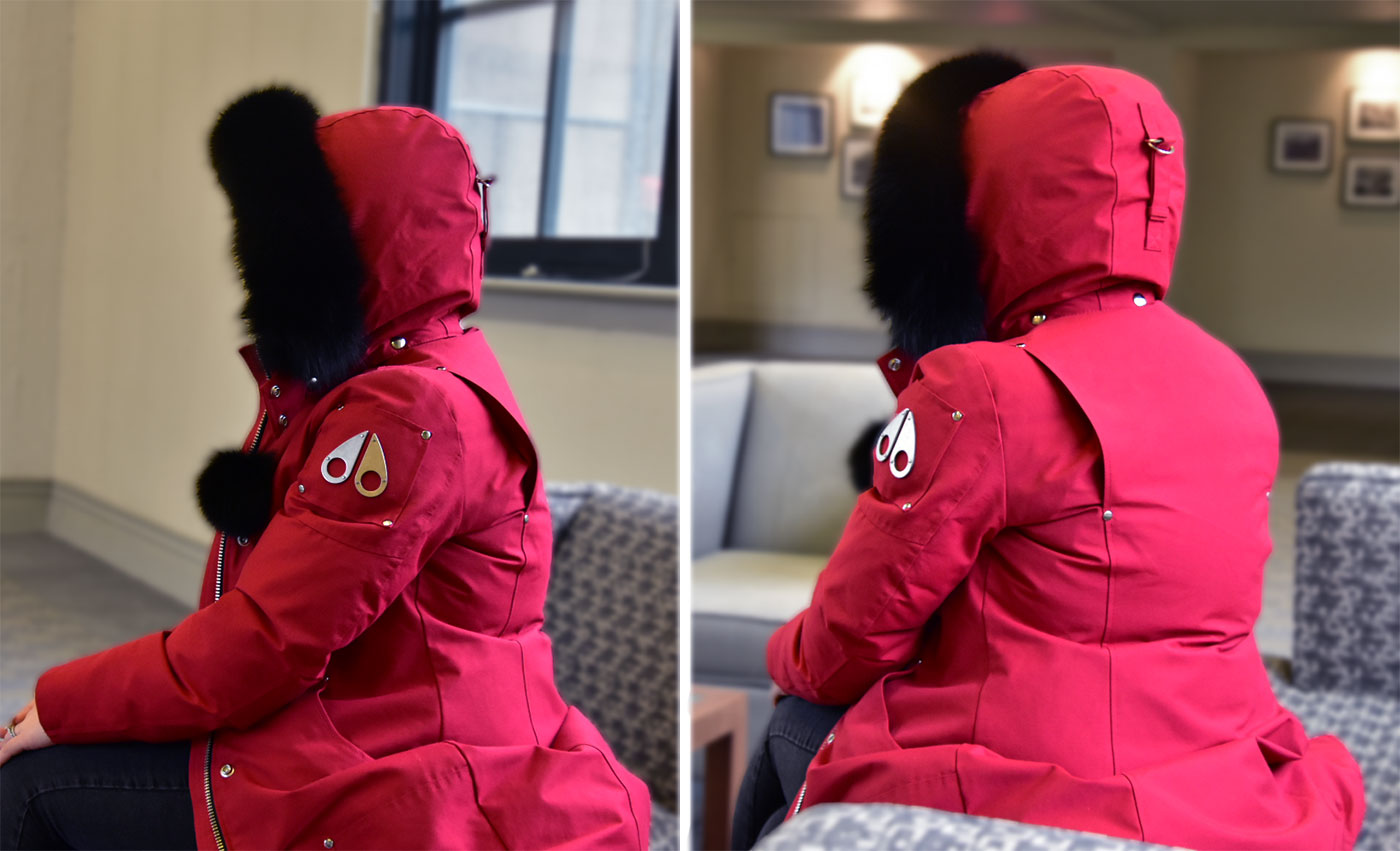 In addition to looking fabulous and keeping you warm the Stirling also comes equipped with features to appreciate. Most of which you'll have to see in person or experience first hand to appreciate.
Form fitting
This matters a lot to women and young girls. The Stirling looks great and even though it's fitting, it doesn't feel restricting.
Spacious hood
The fur lined hood is cavernous but fits comfortable thanks to adjustable straps on the back.
Quality fox trim fur
Moose Knuckles didn't cheap out on the fur. You will get plenty of high quality fur with the Stirling. Some parka offers low-grade synthetic fur purely for aesthetics. The fur on the Stirling is genuine, feels incredibly soft to the touch, and doesn't shed like many other brands.
Durable & Water resistant
The canvas material combined with double stitching are durable and made to last. It's also water resistant!
Quality zipper
The front zipper is heavy gauge YKK zippers and won't break on you anytime soon.
Plenty of pockets
Girls will understand the excitement of having pockets in just about anything. Four pockets on the outside and two on the inside of the jacket.
The Verdict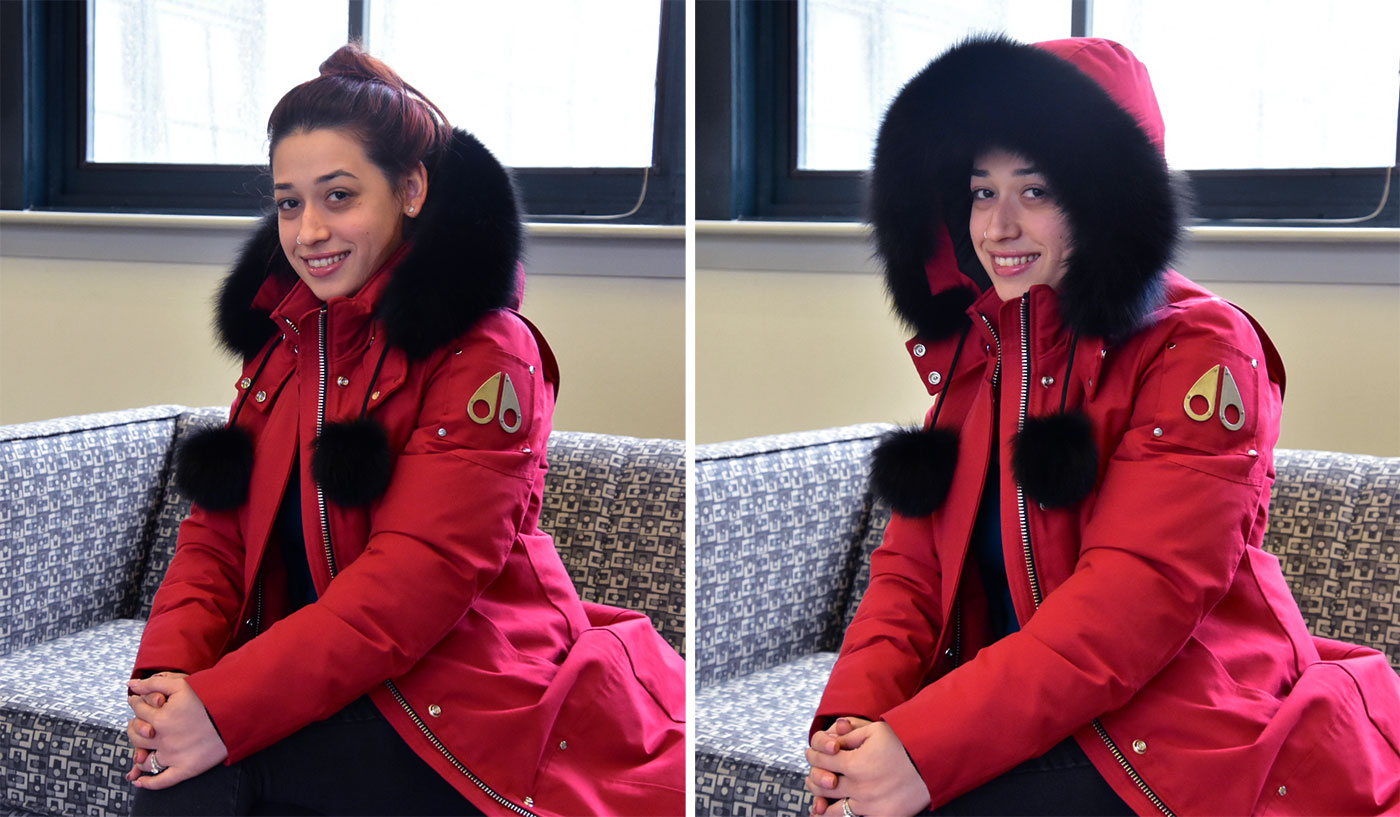 Many brands fail to understand what quality means in a jacket. Winters in Canada are harsh, it's windy, cold, and downright undesirable. Comfort and style is a rare combination when you're trying to make a parka that can withstand Canada winters. The Moose Knuckles Stirling parka is able to give you the swag look and still keep you toasty warm. Despite having plenty to love, we managed to find a few flaws.
Pros
You look unquestionably rich
Fashionable
Attention to detail styling
Plenty of pockets
Warm. Sourced from Canadian-origin gray duck
Quality fox fur from Finland
Durable construction that will last
Value doesn't depreciate as much
Cons
Heavy when compared to similar parkas
Canvas material despite being durable, can feel rigid
Outside breast pockets are too small
If you're looking for something discreet and low-key, look elsewhere. Moose Knuckles never intended the Stirling to be subtle. Make no mistake, you will stand out. For those living in harsh, cold conditions, investing in a reliable winter outer garment is a must. We highly recommend the Moose Knuckles Stirling because it's incredibly well made, warm without the bulk, fashionable, and will likely be the last winter coat you'll ever buy.
At $950, it's certainly not cheap but you get more than what you pay for. Despite being the new kid on the block, Moose Knuckles' unique line of products rival Canada Goose and Montcler in terms of quality, value, and appeal. The next time you're out shopping for a winter coat, put Moose Knuckles near the top of your list.
Elon Musk's Boring Company's proposed Fort Lauderdale transit loop receives mixed reactions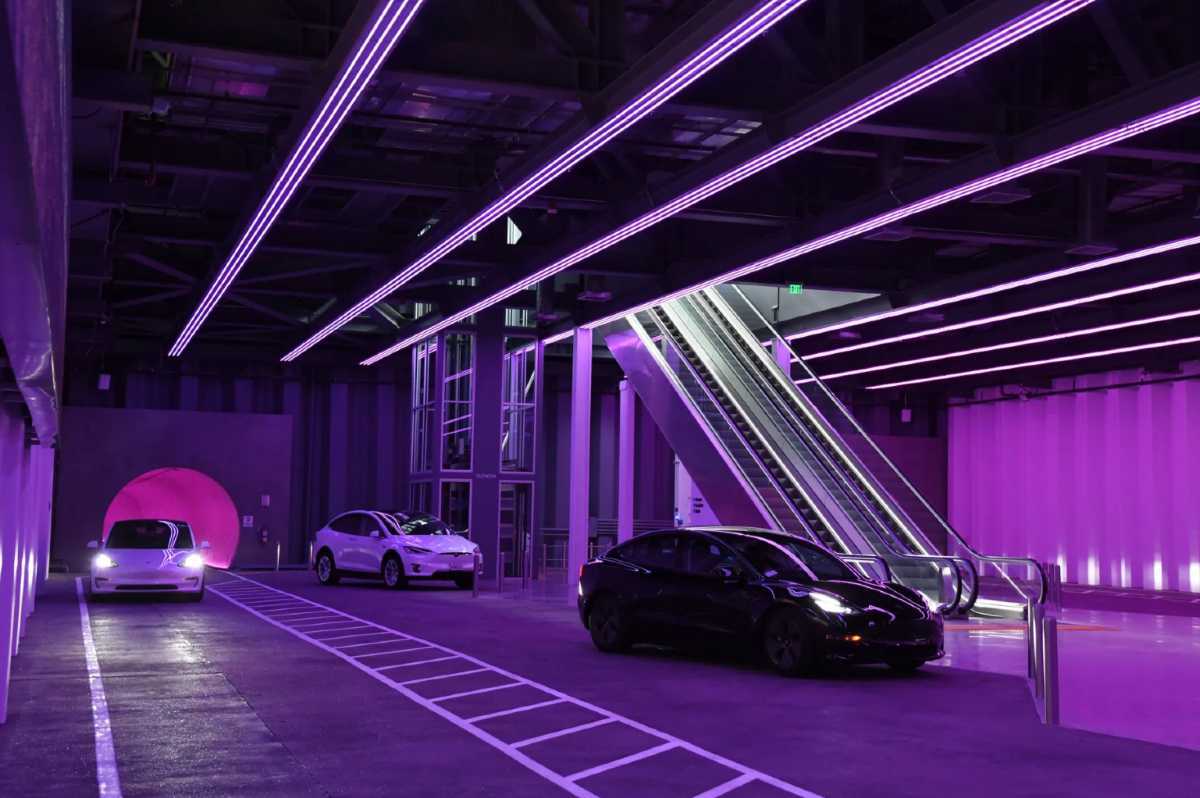 Elon Musk is the one guy you can turn to for the craziest ideas. But is his proposed transit loop in Fort Lauderdale really happening?
Boring Company, the brainchild of Elon Musk, provides low-cost transportation, fast-to-dig, freight, and utility tunnels. To date, the company has only dug three tunnels, one of which is the Los Angeles test tunnel. The other two are the underground 0.8-mile Las Vegas Convention Center tunnels. 
Now, Boring Company is looking into building another transit loop connecting Fort Lauderdale's downtown to its beach. Passengers will be brought from point A to B in standard Teslas. Although Fort Lauderdale Mayor Dean Trantalis said it's an "innovative and unprecedented" way of alleviating street-level traffic, many people are still skeptical about Musk's proposed transit loop.

It appears that this transit loop project called the "Las Ollas Loop" is just one out of the many proposed tunnels by Musk. The Boring Company had announced projects such as the Chicago loop system and the DC-to-Baltimore tunnel. However, both have seemingly been cancelled, with the latter eliminated from the company's website. 
This makes everyone wonder: Is the proposed transit loop hot air?
Transit loop drew flak
Although the Boring Company and Fort Lauderdale are in the works of materializing the said plan, engineers, experts, and people concerned are still dubious of the tunnel due to Florida rising sea levels. In addition, many people fear that due to the city's location, the "Loop" might cause flood risks.
Climate change might have a huge impact on the fulfillment of the transit loop. Some say if it indeed pushes through, then engineers would have to find a way to use technology and features that fight the impact of climate change. This would have to involve extensive investigation from an engineering and structural perspective.
Another concern is Florida's limestones, which make it hard to optimize tunnelling machines due to the natural holes. Moreover, the city dons many underground aquifers, which experts claim need to be protected as well. However, the Boring Company is open to studying the geological aspect on which path to dig that leads to the beach. It can avoid risks and drastic environmental impact.
But one of the valid concerns from transportation planners is why Fort Lauderdale would settle for standard Teslas? With that, they'll need to drive hundreds of passengers from downtown to the beach when a bus or train can accommodate more. 
Mayor Dean Transalis stays positive
Fort Lauderdale Mayor Dean Transalis is nothing but excited about Musk's proposed transit loop. Aside from solving traffic in the most congested streets in the city, this project will also relieve parking stress at Fort Lauderdale's beaches.
The city of Fort Lauderdale is now seeing an expected $30-million budget for this transit loop. This is despite the Boring Company's promise of faster construction times and lower costs. However, this promise received criticism from tunnel industry experts and engineers. They say the company doesn't have new technology for building tunnels. 
Talks from Fort Lauderdale Vice Mayor and Governor are now looking into opening the transit loop by the end of 2022.
Regardless of the skepticism from transportation and tunnel experts, the Boring Company remains optimistic about the project. They said a ride in standard Teslas that brings people from downtown Fort Lauderdale to the beach would cost each person $5 to $8. This is in comparison to a similar route with Uber, which will cost $10 per person. 
But Mayor Dean Transalis hasn't yet closed the deal on the Boring Company's proposal. Instead, he offered other tunnel-digging companies to submit better and more innovative tunnelling methods within 45 days.
Bird and Scootaround Team Up to Offer On-Demand e-Scooters in NYC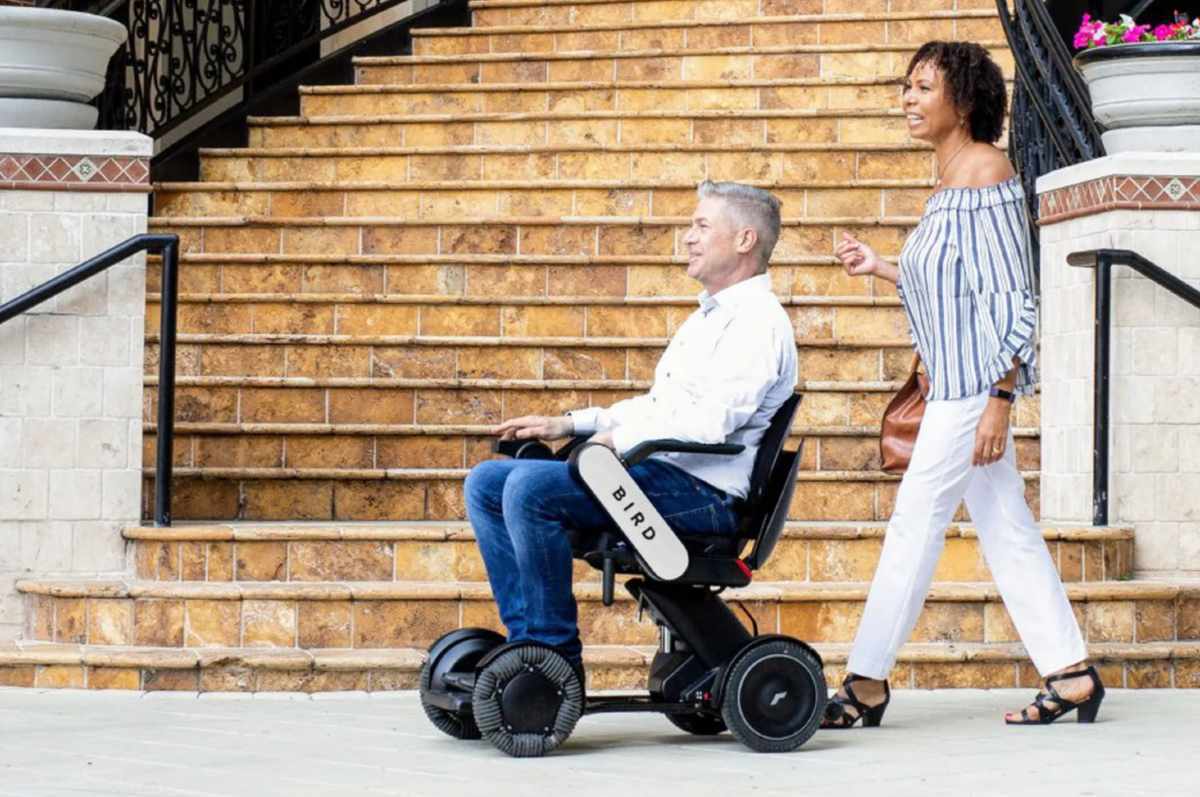 A gap in the electric wheelchair market was seen by vehicle company Scootaround over 22 years ago. While vacationing in Hawaii, the founder's family expressed their disappointment about the lack of mobility scooters for rent. This is how the big transportation solutions company Scootaround came to be. Now, scooter company Bird has seen the same opportunity, hence, partnering with the 20-year old transportation service Scootaround. 
Bird and Scootaround team up to offer on-demand electric wheelchair rental services to New York City this summer. Bird is on a mission to make vacationing, travelling, or going around NYC comfortable even for people with disabilities. 
Ban on e-scooters lifted
Electric scooters weren't always welcomed in NYC. Before November 2020, NYC civilians posed a concern about reckless two-wheeled or four-wheeled drivers. There was a surge of electric scooters in the streets of New York, and people have stated that they're a "nuisance." 
This concern prompted NYC lawmakers to ban the use of electric scooters. However, during the start of the pandemic, people realized how convenient e-scooters were for essential workers. This, again, prompted lawmakers to lift the ban on using throttle-controlled e-bikes and e-scooters altogether.
Of course, this comes with a few rules on riders. Only riders aged 16 up will be allowed to run on e-scooters and e-bikes. Moreover, riders below 18 must wear a helmet while on their electric scooters. Finally, some throttle-controlled bikes will require riders to wear helmets for safety as well.
Gov. Cuomo had approved a tentative budget legalizing any electric mobility device, including e-bikes and e-scooters. This was a year after he had vetoed a similar legalization bill passed in 2019. Thus, a decade of back-and-forth is now coming into place as the e-bike, or e-scooter budget is now approved. 
NYC is now one of the cities that allows electric scooters, along with Atlanta, Washington, and San Francisco.
Bird's pilot program
NYC will now be seeing more of Bird's electric scooters this summer. Bird has chosen the perfect trusted company for transportation services, Scootaround, for its pilot program built for sustainability.
Bird promises a better and more convenient way of moving around NYC for people with mobility issues. Both companies are now making mobility service transportations accessible by tapping a few buttons on the Bird mobile application.
Bird first announced Bird Zero in 2018, an electric scooter designed for ride sharing with longer battery life. Not long after, Bird created the Bird Platform to provide individual operators to use the platform for advertising their own shared, branded e-scooters. Bird reached over 10 million rides that year.
Now that two of the most reliable scooter companies have teamed up to provide better transportation services, people with mobility issues can now select, reserve, and pay for their chosen electric scooter, including the WHILL Model C. A design with a more excellent aesthetic, reliable wheel structure, and prompt joystick feature.
How to reserve
Bird boasts a user-friendly interface to conveniently reserve and pay for an electric scooter. Riders can go to the bottom button on the Bird app. Then, select among three available vehicle types.
They would have to input the rent duration, which is from one to 14 days, and preferred pick-up and drop-off locations.
Furthermore, riders will receive an in-person demo on using, storing, and charging the electric scooter. In addition to that, a toll-free number is also provided for any questions or concerns about the rental process or vehicle.
With the campaign rolling out in the summer, people with mobility issues will now be more confident in roaming around NYC. No more concerns about e-scooter rentals as Bird lets everyone travel comfortably, with a minimal carbon footprint.
Xbox Launches New Games and A Mini-Fridge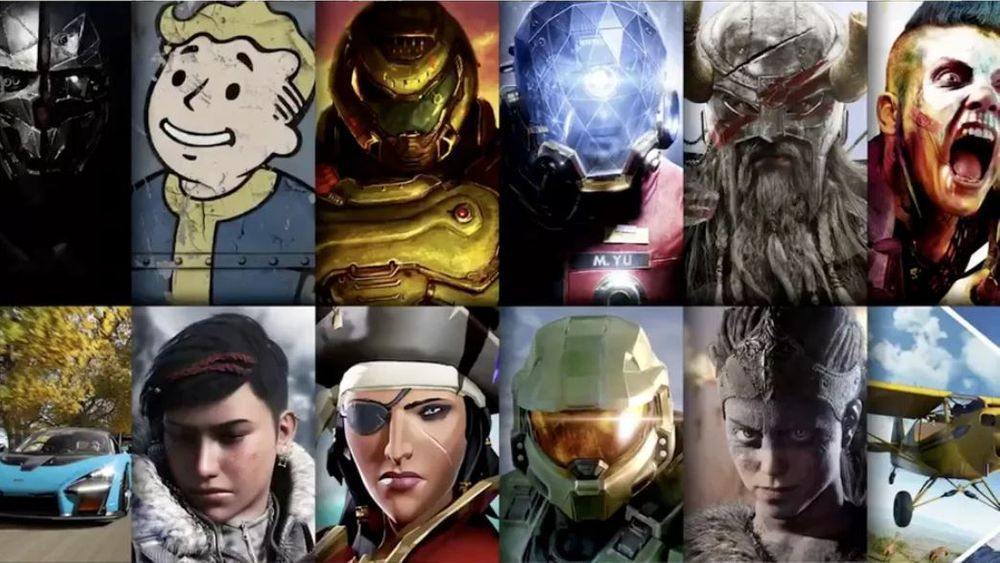 If you're an Xbox fan, then you're probably excited about the upcoming titles the gaming giant has recently announced. And what about the mini-fridge that it's introducing to users? But we'll get to that later.
Microsoft and Sony released three gaming consoles last year – Xbox Series S, Xbox Series X, and PlayStation. And this year, fans can't wait to get a load of new games. Not one to disappoint fans, Microsoft launched 30 never-before-played versions, including Halo Infinite.
If you want to try most of the new games, you'll be glad to know that 27 of them will be available for subscribers of Xbox Games Pass. But you already know that if you tuned in to the recent Electronic Entertainment Expo (E3) held remotely on a livestream.

Leaked Trailer
Even before the event, some fans were already talking about Starfield – an all-new space RPG made by Bethesda. The Washington Post leaked the trailer accidentally, and gamers aren't complaining.
Starfield was made by the game studio that Microsoft acquired for $7.5 billion, along with ZeniMax Media. For fans waiting for the game, you'll have to wait for a little longer – more than a year, to be exact. Starfield is due to be released on November 11, 2022.
According to Bethesda Game Studios, Starfield is a game they've always dreamed of playing. However, they had to wait until the hardware and tech were available. That said, they're certainly happy that innovations have made it possible to come up with such a product today. And they're surely hoping to earn fat revenues from the innovation.
Games to Watch Out For
Aside from Starfield, fans are also intrigued about Forza Horizon 5. After all, many are expecting it to take full advantage of the newest Xbox consoles' next-generation tech.
As mentioned, most of the games discussed will be available in the Xbox Games Pass service. For those not familiar, the monthly fee is $15 in exchange for access to the games. Added to that, subscribers can also access Xbox game streaming service, allowing them to stream games online. Think of it as a service somehow akin to Netflix.
Meanwhile, Halo players will be happy to get their hands on Halo Infinite. The newest version will launch this fall, so fans will surely be looking forward to pumpkin spice season.
Forza Horizon 5, on the other hand, is another title to check out. Set in Mexico, the version uses real-world videos and photos of Mexican places. Stalker 2 is also part of the roster of new Xbox games. This is based in Chernobyl with zombie elements. So, perhaps, you may expect radioactive zombies? The game is due for release on April 28, 2022.
If you're a Jack Sparrow fan, you might want to check out Sea of Thieves: A Pirate's Life. This online pirate game is launching a free update and with new characters to boot. With a storyline based on The Pirates of the Caribbean franchise, you can never go wrong.
For fans craving villain-focused games, Far Cry 6 is another one to watch out for. It's due October 7, so only a few more months before gamers see the rollout of this new title.
Xbox Mini-Fridge
Now, let's talk about the Xbox mini-fridge. It may have started as a meme, but the company turned it into reality. In fact, makers are planning to launch it later this year. Netflix and chill? Maybe Xbox and chill will be just as popular soon.
Microsoft already said the mini-fridge would be "the world's most powerful mini-fridge." The product will launch on holidays 2021.