Big Announcements From The Microsoft Surface Event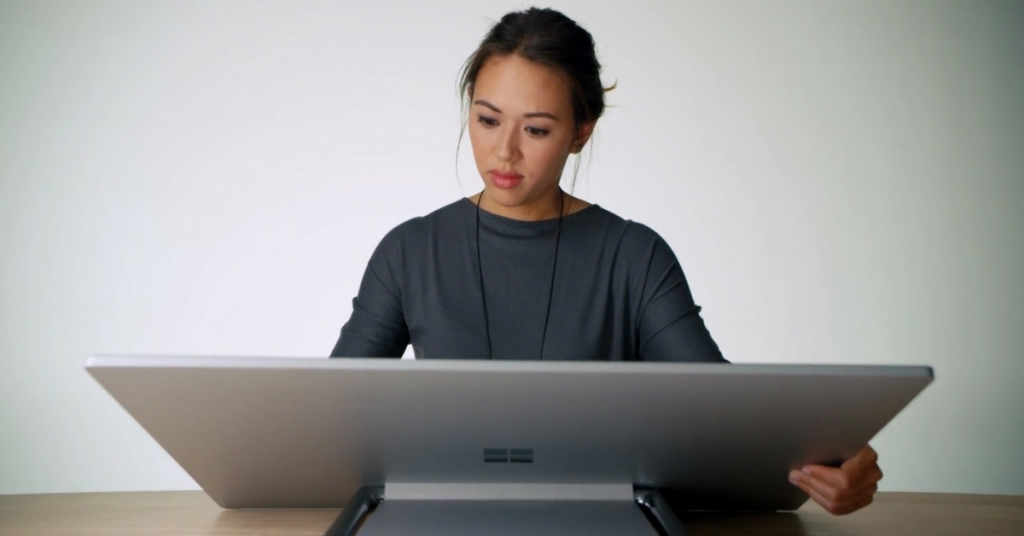 In a year that has seen PC sales declining (although somewhat better in the United States), Microsoft has been leading the charge to reinvigorate excitement in the Windows PC once again. Microsoft continued that charge with a renewed focus on creativity by unveiling several new enhancements to Windows 10 as well as total reinvention of how we use desktop computers with a brand-new Surface computer.
Windows Creator's Update
Microsoft announced that the "Windows Creator's Update" will be released in the Summer of 2017. This release is aimed at creative types and brings several new ways to create and interact with content including 3-D, VR, and augmented reality.
The Future is 3-D and VR
Microsoft showed off a brand new version of the ubiquitous Paint app (yes, THAT Paint app) that allows users to turn their 2-D creations into 3-D images. It even allows users to import photos and turn parts of the photo into 3-D images. In fact, a smartphone can even be used to do a "3-D scan" of an object with the camera (the demo used the HP Elite x3 to scan an actual sand castle model). Microsoft also integrated Minecraft into the experience and allowing users to export their Minecraft creations to Paint 3-D and even allowing 3-D printing directly from the Paint 3-D app. 3-D creations also extends into Powerpoint in which a presenter showed off placing 3-D images into a Powerpoint presentation.
Continuing in the vein of 3-D, Microsoft announced that several PC hardware makers will be making $299 VR devices for Windows 10. These VR devices will utilize inside-out tracking which essentially eliminates the need for an external camera or lasers for tracking. Interestingly, there was no mention of Oculus, whom Microsoft previously collaborated with to bundle the Xbox One controller with the Oculus Rift. Windows chief Terry Myerson even bemoaned how VR platforms such as the Rift and the HTC Vive need expensive computers and dangling cords.
Of course, no Microsoft virtual reality demo would be complete without the HoloLens, Microsoft's augmented reality platform. Microsoft showed several demos of using HoloLens to interact with 3-D objects created using Paint 3-D (including the aforementioned sandcastle).
Xbox Live
Earlier this year, Microsoft launched Arena, an e-sports platform that lets players compete in tournaments. Whereas in the beginning, tournaments were created by developers and e-sports leagues, Microsoft is now allowing players to create their own tournaments to compete in with Microsoft's Jenn McCoy stating, "We want to give gamers the ability to create their own tournaments and challenges".
The other big announcement for Xbox Live deals with interactive live streaming. Microsoft acquired game streaming service Beam back in August of this year. Now, Microsoft is leveraging Beam's live streaming platform to allow gamers to live stream their games without having to download a separate program. Other players will be able to interact with the player during the live stream, including clicking on buttons that audibly tell the player in a hilarious voice what to do. Obviously, this faces competition from heavy hitters like Twitch but Microsoft's goal here is to simply live streaming and make it less intimidating for people who are new to live streaming their games.

Surface gets more powerful and creative
The highlight of the event was clearly the Surface announcements. The first announcement was the addition of a more powerful Surface Book, dubbed the Surface Book i7. Surface chief Panos Panay, who by the way is one of the most passionate and entertaining presenters I've seen, explained that most of the feedback they received about the Surface Book was that users wanted more power and longer battery life. To accommodate that, the Surface team revamped the cooling system with an additional fan. Spec-wise, it sports an Intel 6th-gen i7 processor (Skylake), an NVIDIA GTX 965M graphics card, up to 16GB of RAM, and up to 1TB SSD. Microsoft calls it "the most powerful device in its class". Microsoft even compared the new Surface Book directly to a 13 inch MacBook Pro saying it "has twice the power of a MacBook Pro 13". Oddly enough, there is a glaring omission of any USB Type C ports which is disappointing given the high end nature of the Surface Book. Save up those pennies though because the new Surface Book i7 starts at $2,399 while a fully loaded model tops out at $3299. Microsoft is clearly aiming for the MacBook Pro crowd. While the Surface Book i7 will release on November 11th, you can preorder the Surface Book now.
The second announcement was a brand new all-in-one PC called the Surface Studio. The newest entry in the Surface lineup competes squarely with Apple's iMac. The Surface Studio is dominated by a beautiful 28" PixelSense touch screen display with a 4500 x 3000 resolution and connects to a square metal base via two chrome arms. Microsoft says the display is the thinnest LCD display ever. The base holds either an Intel i5 or i7 processor and is paired to a NVIDIA GTX 965 or 980M. It's interesting that Microsoft didn't opt to put NVIDIA's new 10-series graphics cards which are more powerful and power efficient. Being a Surface, you're able to use a Surface Pen to draw/write on the screen. To help facilitate that, the screen folds down nearly flat to allow a more natural position to use the Surface Pen. Likewise in Surface fashion, the screen has a 3:2 aspect ratio. The Surface Studio will be released in December but preorders are available now starting at $2,999 and topping off at an eye-watering $4,199.
Alongside the Surface Studio, Microsoft also unveiled a brand new accessory called the Surface Dial. The Dial is sort of like a round puck like device that can be placed on the screen to allow artist-centric functionality. For example, placing the Surface Dial on the screen while a paint app is open activates a sort of paint palette that allows you to switch colors by twisting the dial. Keeping the Dial on the table, you can twist the dial to quickly scroll through items on the screen. It can also be used to navigate and pan around. Other apps can take advantage of the Surface Dial such as volume scrolling or zooming in on pictures.
Apple is expected to unveil all new MacBook Pros at an event on October 27th. With Microsoft gunning directly for the MacBook Pro users with a more powerful Surface Book and the all new Surface Studio All-In-One PC, all eyes will be on Apple to see if they can respond with an equal amount of innovation.
Supercharge Your Online Business With Offline Meetups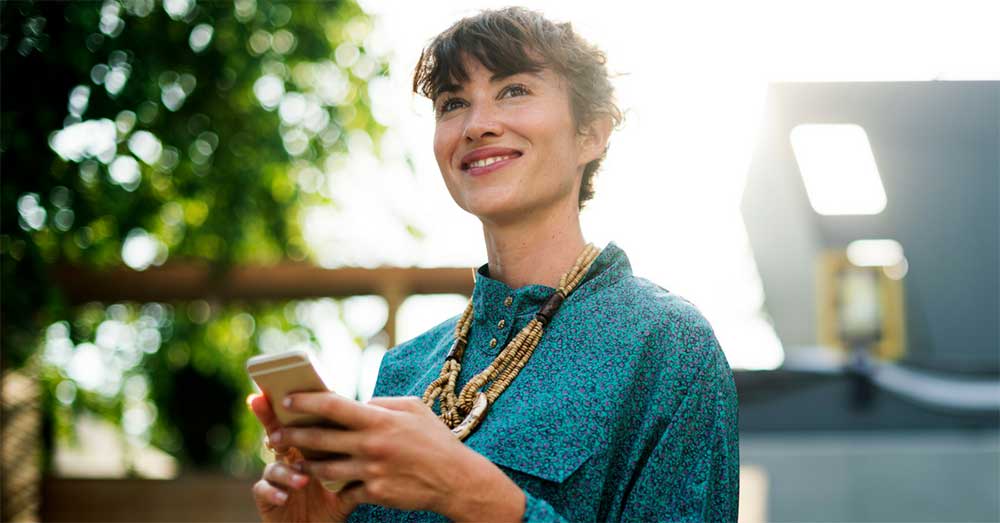 Online entrepreneurs forget about the importance of connecting with other people locally. These types of relationships are still one of the best ways to get the word out about your online business to supercharge your opportunities to the sky. Although online businesses run 100% in the digital world and can operate from anywhere in the world, building face to face relationships is still one the best techniques for business development and to get the word out about your brand. Although online businesses need many factors in place for them to succeed, offline meetups has been one of my secret weapons through my journey. Small live events can turn any business around, especially when you're starting out! Whether you have a B2C or a B2B, meeting people in an offline atmosphere will get you much farther than cold calling or cold emailing.
In 2015 I used local meetup events to turn my side-business doing web design and SEO services into a team making 6 figures in the first 12 months. I also used these same tactics to turn my side-business selling matcha green tea into a 6 figure brand with a physical location inside a mall. Now, keep in mind I don't live in Silicon Valley or any sophisticated city, but this applies to really anywhere in the world where there's more businesses around you!
As crazy as this story sounds (it was in fact a crazy ride), local offline meetups play a big role on many success stories out there. These types of events allow you to connect not only with potential clients, but also with local media celebrities or can open the door to connect with somebody else that can give your online business a huge boost.
Go out and meet people
Although social media makes it easy to meet new people, it takes a long time to build trust with somebody you met online. It's much more effective to connect off-line on small live gatherings than it is to spam or stalk somebody online.
Most offline meetups are between 50-100 people sharing a meal or a cup of coffee. Not only are they useful, but they are so much fun! Is not necessary to introduce yourself to every single attendee; you only need to connect with key people on that event.
For example, introducing yourself to a few attendees will give you a generic idea of what type of people are standing around you. Most times, when you share more about your story and your online business, people will guide you in the right direction on who you should be talking to. You never know who you might run into on the next meetup event. It's common to run into local PR and media people that are looking for stories like yours which could get you featured on a local magazine or TV show. It's also easy to run into that one person who can help you get into the next retail store or simply connect you with one of the biggest players in town that might need your services too.
Find local meetups in your area
As you know, thanks to all the majestic tools we have on the internet, we're only a few clicks away from finding what we need. The best tools to find a local meetup gather is meetup.com, or you can also look them up on Facebook Groups or LinkedIn Groups. Start by looking for groups that are in your niche. If you're into fitness, it's very easy to find fitness gatherings or classes that you can attend. On the other side, if you're looking to connect with other entrepreneurs, type in "business" or "entrepreneurs" + your city and I promise you will find at least 1 group close enough to you to attend this week. After you have found that perfect meetup gather that you want to attend, these are some of the tips and tricks you need to know to get the most out of your first (and every other) meetup events.
Find more about the organizer of the offline meetups and reach out to them. Organizers are passionate about meeting people, so they will be thrilled to hear from you!

Shoot the organizers a message in a non-salesy way and offer value to them by offering some of your tips or knowledge on an upcoming event. Ask them if there's anything you can do to help them solve any of their problems.

Assist the next meetup event they have without making it a sales tactic. Make sure you introduce yourself to the organizers in person as well. Ask the organizers if they know anybody in the room that you should be talking to about your online business. They will be happy to introduce you to the next contact that can open a new door for you.

The key to this technique is to focus on building strong relationships and to create opportunities, without selling anything! The moment you start selling your products, people will start stepping away from you. Focus on building strong relationships by offering value to everyone you meet and when the moment is right, you will be able to pitch to them if they're ready for it.
Most online entrepreneurs are afraid to go to offline meetups and meet people and for that reason they're missing out on huge opportunities. For this same reason, you need to go out and meet as many people as you can.
Anime Conventions: Why You Should Go Even If You're Not A Fan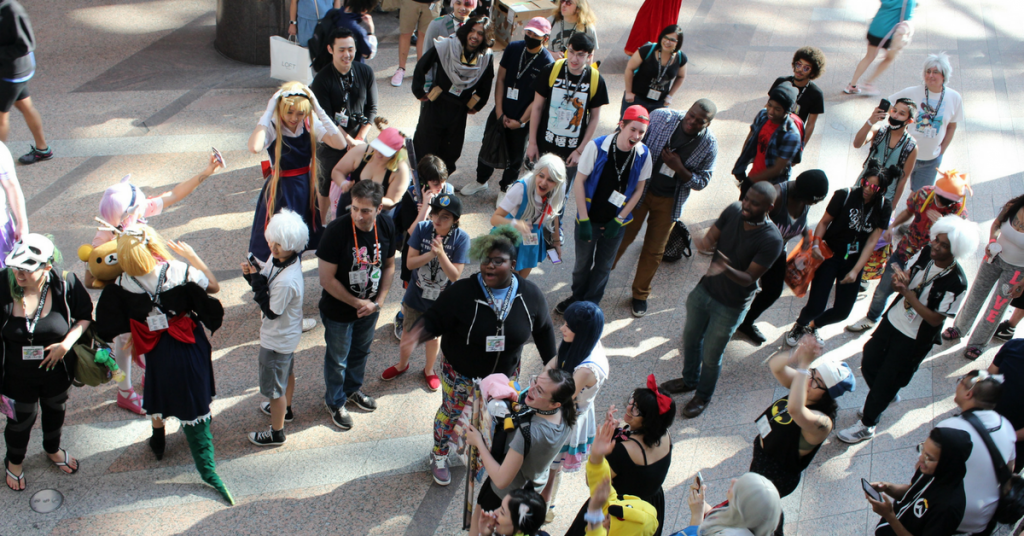 Japanese animation has become something of an anomaly. The content of anime has become so diverse that a show exists for any interest; if you are into cars, watch Initial D. Want to be a better chef? Food Wars breaks cooking down into a science. Love exercising? Goku turning Super Saiyan for the first time will motivate you to hit the gym. Anime is full of knowledge, history, humor, and wit, yet can be poetic, melancholic, mysterious, and, at times, ridiculous. It is a wonderfully unique style of art that, since its inception in 1951 (Astroboy, by Osamu Tezuka), has grown to unprecedented levels of success. But more noteworthy than Japanese animation itself are anime conventions, most notably the attendants.
Anime Conventions began in 1975 in Tokyo with an event called Comiket. The attendance then was around 700 people. Anime NEXT, held in the Atlantic City convention center, had an attendance rate of over 19,000 people. So, what makes these conventions, events that are focused solely on the niche genre of Japanese animation so wildly popular?
Seeing the cosplay alone is worth it
Cosplaying is synonymous with anime conventions. Yes, it is easy to put together a ragtag costume (it's also very funny), or to buy one from a Halloween masquerade store, but many of these attendants pour thousands of dollars and hundreds of hours creating their own costumes. They use 3D Print technology for armor, or paper mache techniques, stencils, steel forging and welding, LED lighting, anything. The creativity and innovation is incredible. You'll catch celestials with ten foot wingspans, enormous robotic suits, eyes glowing, bodies whirring with mechanical, moving parts. This community pours everything they have into an outfit that allows them to be the character they love the most. In essence, they are allowing themselves to be themselves through their characters. It is amazing and art in motion.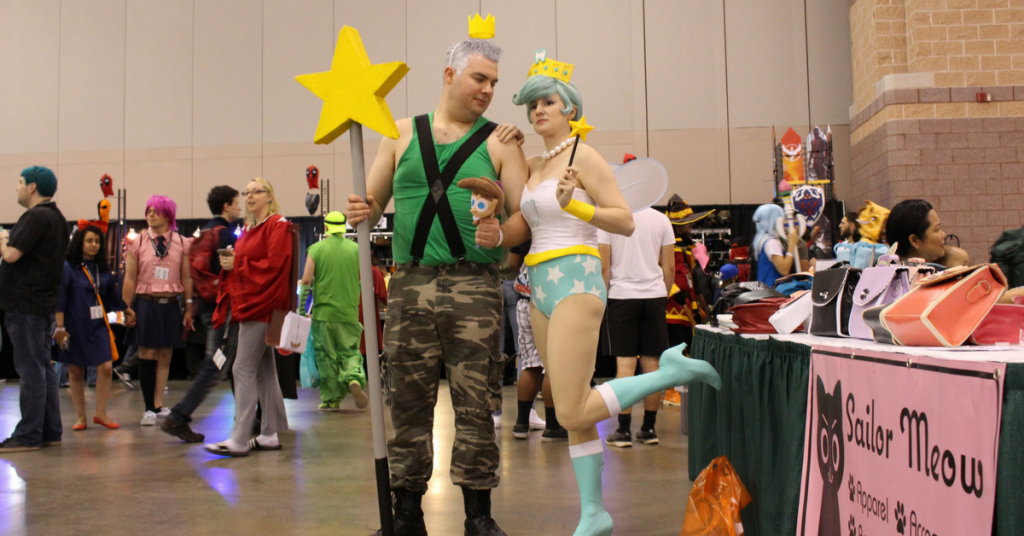 The cultural diversity
I remember being at Anime NEXT. I had just received my press pass and was wandering the halls upstairs when I heard music from below. A group of cosplayers had plugged in a big subwoofer and blaring from it was Prince Royce's cover of "Stand By Me", a popular Latin cover of the original Ben E. King classic, but in the style of Bachata. I hurried downstairs and caught dozens of people being asked and courted to dance and, suddenly, it became a party. Strangers became friends. Everyone was laughing and were taken by the moment. You will see people from all parts of society. One of the greatest feelings about partaking in a convention is that the reality of all we are is forgotten. Everyone is accepted and it is diversity in its finest hour.
The Activities. Play a Game, Have a Drink, High Five Left Shark.
Aside from the panels that lets you talk to famous voice actors and Japanese musicians, the free game room boasting hundreds of hit games such as Super Smash Brothers, Street Fighter, Marvel Vs. Capcom, and Dance Dance Revolution, the marketplace that hosts hundreds of merchandise vendors, artists, and rare collectibles, you are free to do just about anything. Tired of walking? Sit literally anywhere you like and rest. Walk outside and watch a photoshoot take place, catch characters from different Animes stand off against each other. Head to the many bars for a drink. At night, go to the raves in the ballrooms. Go to the nightclubs. The options are practically endless, and apply to every anime convention in the country.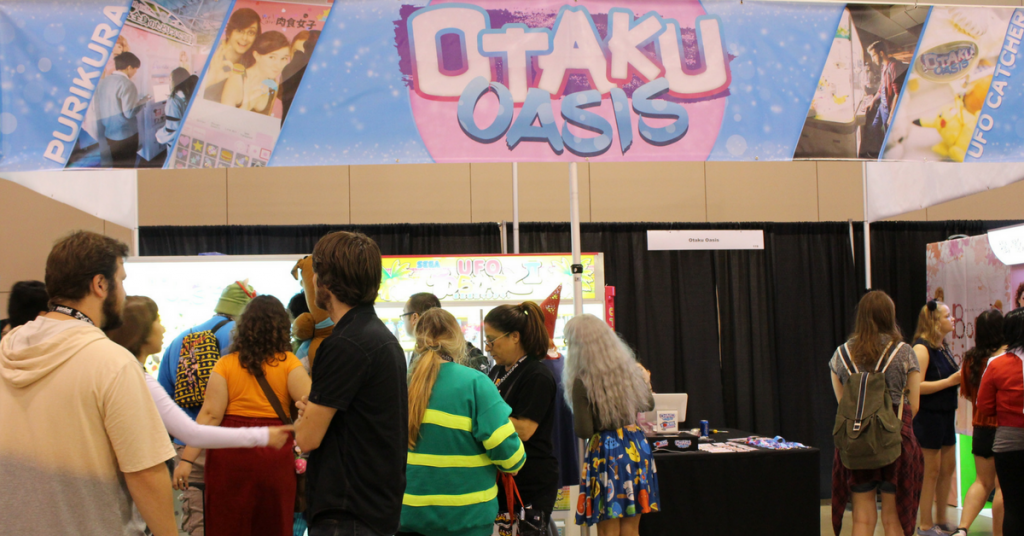 Nowadays, it's about more than just anime.
It started off as a gathering of people with similar interests, like all conventions do, but over the last decade, anime conventions have become an event that encompasses all pop culture. Yes, you'll see your Ouran Highschool students, your Edwards and Alphonses, Narutos, and Attack on Titan cosplayers; you'll also see Spidermen. You'll catch Harley Quinns strutting down the halls, Batmen, Hogwarts students, Deadpools, Transformers, and Ninja Turtles. Anime conventions have become a haven for all fans of any medium.
Stan Lee Of Marvel Comics: His Legacy
Best known as the creator of the popular franchises Spider-Man, Daredevil, Doctor Strange, and more, Stan Lee headlines at Awesome Con at the Walter E. Washington Convention Center in Washington D.C. There are rumors that this will be one of the last cons that he will be attending, making it one of most exciting moments for attendees. At 94 years old, Stan Lee is an icon for comic book fans, uniting everyone with the power of his imagination.
The crowd eagerly waits for Stan Lee to make his way to the convention center. On Sunday June 18th, Father's Day, Stan Lee graced the stage to a packed room filled with hundreds of fans wearing Marvel t-shirts and dressed in their favorite characters from comics, movies, and video games. As he walks onto the stage, the crowd erupts in applause and cheers. To some, he played a role as a father figure, guiding children and young adults to do good and essentially make the world a better place. During the panel, Stan Lee answers questions from fans about his career and Marvel. Attendees lined up to the mic to ask a few questions that we might have all been wondering.
If you've seen any Marvel movie, you may notice Stan Lee making an appearance from being a hot dog vendor in "X-Men" in 2000, to a wedding crasher in "Fantastic Four: Rise of the Silver Surfer" in 2007, and even an animated cameo in 2014's "Big Hero 6." When asked what his favorite cameo was, he responded, "My favorite was the one…um…Thor." He chuckles, "And my favorite, I don't know if you've figured it out yet, was TWO SCENES!" The audience was loving it.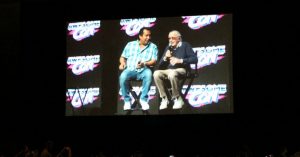 Stan Lee mentions how comics use to receive very little respect and now are some the most sought out books. The public's perception has changed a great deal over the years. At the panel, he spoke highly of his late partner Jack Kirby, who he calls "King Kirby." Together they created the Fantastic Four, a team of characters including Mr. Fantastic, the Invisible Woman, the Thing, and the Human Torch. Stan Lee comments on the creation of each character, "What it is when you write something is you make the characters as interesting as you can." He has a great appreciation for The Incredible Hulk and describes him as a lovable monster, but was not sure if Marvel fans and readers would like him as much as he does. Judging by the success of the franchise, he did not have to worry as much as he did. He also spoke highly of the teen geek superhero, "The one character I was very, very sure about was Spider-Man." Over the years, Stan Lee was able to create an entire universe filled with powerful characters and superheroes that impacted the lives of several generations.
The ultimate goal for Stan Lee was to create a world where everyone feels included and having fun. You can tell that is an important aspect in his work when he says, "I want to teach people that we're all the same." It is no surprise that Stan Lee will be receiving this year's Disney Legends Award on Friday July 14th alongside Oprah Winfrey, Jack Kirby, and Mark Hamill. The award goes out to those who have contributed to Disney's legacy. He will also be the Grand Marshal with Mark Hamill the first day alongside Disney characters and a live band.
Stan Lee has taught us many lessons, including, "With great power comes great responsibility." We have the power to promote change and do our best to make society a better place. His characters always appeared flawed in their everyday life but still tried to make the world better for those around them. Especially when it comes to X-Men, Stan Lee has taught us that we are not all that different. Though they had superpowers, they used it for others and not for personal gain. He imagined the Marvel Universe for us, but the stories will influence more generations to come.