LocalStove Satisfies Your Cravings For Homemade Food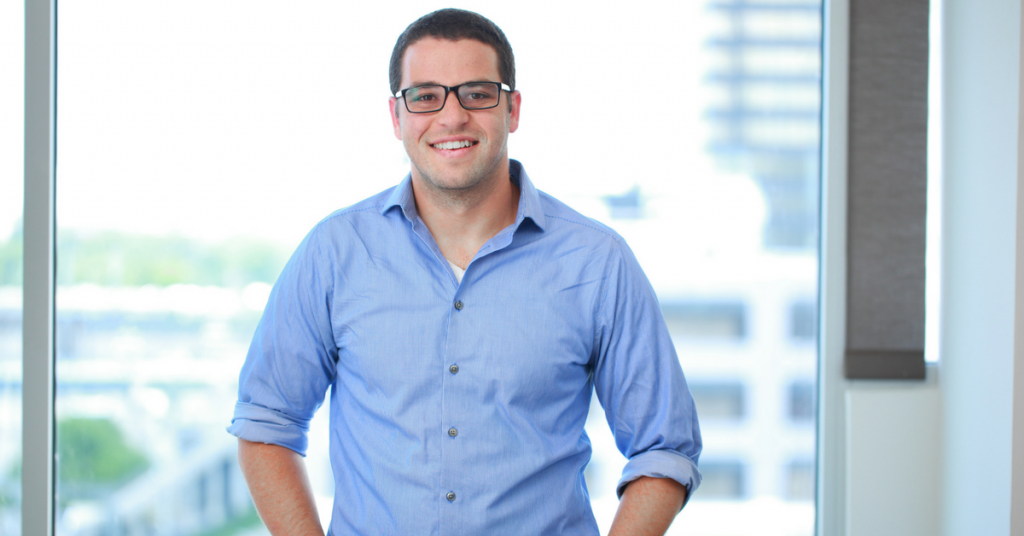 Steve and Greg believe that everyone deserves homemade meals, but realize that with our busy lives, homemade meals are not always possible. As a result, they cofounded an online platform called LocalStove that connects the best home cooks in your neighborhood to you. On their website you can select which dishes you want from a variety of home cooks, and the food will be made and delivered to your event. We had the opportunity to interview them and learn more about their entrepreneurial journey and startup.

What inspired you to become entrepreneurs in the food industry?

Steven Finn: Food has been an obsession of mine for as long as I can remember. I started developing my own skirt steak marinade at age five, had a few years where my primary source of media was the food network, and have traveled as far as Australia and back in search of the best food out there. Wherever I go, I want to eat like a local. I spent several years as a software engineer for Bloomberg, and was ready to go out on my own and build something that I had a burning passion for. I decided I wanted to found a startup before we had the idea for LocalStove, and was exploring a variety of ideas. When it came down to actually doing something, working with incredibly talented local chefs who make authentic food from all over the world made so much sense!

Greg Dubin: I learned about the power of food to bring people together at a really young age. While growing up, my grandfather owned a restaurant in a small town in Wisconsin. It was the type of place where almost all the customers were regulars and everyone there knew everybody else's name. People were drawn in by amazing comfort food (like deep fried balls of cheese as big as your fist!), but would stay for hours because they were made to feel like family. Spending a lot of time at the restaurant from as long as I can remember left a deep impression on me about the emotions that food can bring out in people and drove me to find away to impart this gift on to others, like my grandfather did. Yet, this exposure also taught me how tough owning a restaurant is. Between the brutal hours, high risk and thin margins, I realized it wasn't the right business for me. LocalStove came about as a result of the realization that we can still create amazing culinary experiences, without a brick and mortar establishment. So, I sought to abstract away the worst parts of the restaurant business and harness tech to enable talented, passionate cooks to share their creations with the world.


What was your biggest challenge when founding LocalStove?

Steven Finn: Our biggest challenge was in deciding to take the plunge to pivot our business model. Our original model was to have our chefs offer individual meals through our website with us providing marketing, payment processing, and delivery logistics, and more. While this business was growing, it was difficult to spread the word. Then, we fell into office catering, mostly by accident. We originally viewed it as a marketing activity to sell individual meals, but corporate clients kept calling us back. We discovered that there was a real gap in the market serving small to mid size offices, where groups of around 10-75 people are too large to order effectively from restaurants and too small to get good menus for good prices from traditional caterers. These groups were regularly ending up with pizza and sub platters. This is the perfect size group for one experienced cook with no help and low overhead to cook for, and it allows us to sell much better food to offices for prices comparable to (or better than) existing options. On top of that, our cooks are making a lot more money per hour of labor than they would on virtually any other "gig economy" platform. As catering became a larger and larger portion of our revenue, we noticed that the catering model actually solved a lot of the problems we were having in individual meals. Having office catering become our primary business model was a tough call to make, but one that has worked out and allowed us to build the beginnings of a sustainable and scalable business.
Greg Dubin: The biggest challenge was probably emotional or mental in nature. Mainly, just taking the plunge into pursuing our endeavor full-time. Doing so at the end of business school was particularly challenging. Right when the majority of our friends were accepting high-paying jobs in lucrative industries, we were committing to having no income for the foreseeable future with absolutely no guarantee of success. The fact that all of us were married and either had kids or kids on the way certainly made the consequences of failure feel more daunting.


How was your experience like having 2 other cofounders?

Steven Finn: Having cofounders is great. I've worked on a startup alone before, and it's hard to keep moving! Having cofounders gets everything done faster, provides a source of instant feedback on your work, and allows for rapid iteration. We are lucky to have complimentary skill sets. At this point, we know almost without talking about it who should take responsibility for something that needs to get done because we each know our cofounder's strengths and weaknesses as well as we know our own.
Greg Dubin: I believe there is a study that correlated three cofounders with the highest chances of success for a startup. I completely understand why. First, launching a startup requires so
much work every day, across literally dozens of areas of expertise. I truly cannot
comprehend how sole founders can do it alone. Second, I cannot overstate the
importance of having a diversity of opinions and perspectives when formulating strategies and finding solutions to problems. Moreover, having three cofounders instead of two helps break through impasses where only two equal founders may be at a stalemate.

(Side note: Our third cofounder Henrique left the company a few months after launching to take a full time job. He left on good terms and retained a tiny bit of equity, but isn't involve in any day-to- day operations of the business)

Why did you focus your business around home cooked meals?

Steven Finn: We believe that the best food in the world is locked behind the front doors of our neighbors. It doesn't necessarily take years of culinary training to make food that resonates deeply with people. To us, home style cooking is Grandma's recipes. It's something you've made 1,000 times, but you still love to make it. It's cooked with feeling, passion, and editorial control. We find that we're more likely to get this type of food from a local, independent cook who works for his or herself than we are from a professionally trained line cook who spends their days pumping out somebody else's recipes in a restaurant setting. We don't tell our cooks what to make or what to charge. They give us menus of what they're best at, they set their prices, and we match them with offices whose budget and dietary preferences are a good fit. On a personal note, some of our food is some of the best food I've ever had, and I'd eat at Per Se for my wedding anniversary or drive to South Dakota for a rack of ribs (Bob's Broasted Ribs in Sioux Falls!).
Greg Dubin: I've always loved to travel and quickly came to appreciate what an immense impact food has on culture. When visiting other countries, I truly believe there is no better way learn and understand about another culture than through its cuisine. A single dish can represent the mosaic of hundreds of years of history; a cross-section of the country's plants, animals and ecology; and the long-held, rich traditions of the people. However, you don't have to get on a plane to have these experiences. Philadelphia represents a rich tapestry of cultures, be them ethnic, religious, or simply socially-based. All these cultures have unique, exciting and authentic foods, which until now had been locked inside people's own kitchens. The best cooks aren't the ones on line pumping whatever they are told to cook for minimum wage. They are the ones who truly live and breathe their cuisine, because it is a part of who they are. LocalStove's mission is about unlocking the kitchen door and enabling these amazing cooks to share not only their food with the world, but their passion, history and story as well.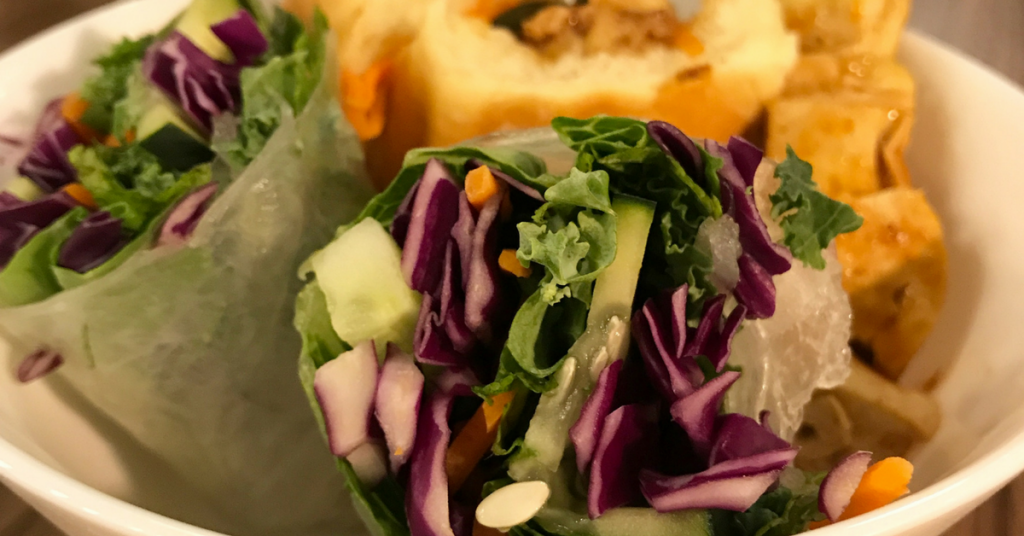 How do you choose and evaluate new cooks
?

Steven Finn: Most of our best cooks have come to us. The value proposition of LocalStove for them is very strong. We bring them new customers who otherwise would never have found them, we handle payments, we provide them with a web presence, we deal with delivery logistics. We like to say that our cooks only have to worry about the cooking, and that they should let us worry about the details of running a food business. Evaluating cooks for LocalStove is the best part of our job. We meet with the cooks, learn their stories, and eat their food. Our cooks are great people to work with, but it's their food blows me away almost every time.

Greg Dubin: Finding new cooks is actually one of the easiest parts of LocalStove. We developed a comprehensive marketing plan to attract new cooks, but haven't had the need to implement it yet. Whenever we explain to anyone what LocalStove is about, the most common response we get is, "I know the perfect cook for you." Pretty much everybody knows the "best cook in the world," who makes incredible food but has no desire to actually open their own restaurant. As far as evaluation, the cooks have to go through our screening process before being allowed to post food on the platform. Part of this involves us trying the food first, which is definitely one of the best perks of the job. We also usually to have friends and loyal customers sample the food as well and give us their honest opinions. Ultimately though, it is really the user ratings that will determine how successful a cook will be on LocalStove. The best cooks rise to the top pretty quickly and can command higher prices for their meals. Cooks who aren't incredible fall to the bottom pretty quickly and don't get orders. Furthermore, if their rating falls below a certain threshold we remove them from the platform.

What are some memorable company milestones, and what developments do you project for this year?

Steven Finn: Getting our first "subscription" customer for LocalStove was amazing. Having somebody tell us that they loved our food so much that they wanted to have it again every week was something I'll never forget. Passing $100,000 in sales was great as well, and we can't wait to add a digit and get to $1,000,000 and beyond!
Greg Dubin: One of our cooks is a culinary student who was also working a part time job to help put herself through school. She recently told us that she was able to quit this job that she hated, because LocalStove was giving her enough income to support herself. This was a powerful reminder of why we do what we do.


What is one character trait that defines you and why?

Steven Finn: I love to learn new things, and I always have. I like to understand how things work. I have three Penn degrees in totally different subjects (Operations, Entrepreneurship, and Computer Science), and am always reading about something new. Entrepreneurship is the best way to learn rapidly that I've found yet.
Greg Dubin: Believing that there is always a solution to any problem. This means never admitting "it's impossible" when faced with a challenge. Instead of asking "can we," I only ask, "how can we?"

What are your tips for aspiring entrepreneurs?

Steven Finn: Don't pursue a great idea that you aren't passionate about. If you wouldn't be a user of your product, it doesn't matter how great the idea or opportunity is, you are not the person to execute on it. Make sure if you get into something that it's a field that you're willing to spend the next 5+ years in and be eager to learn everything about it. Also, I can't stress the idea of putting something out into the world quickly enough. We started selling food less than three weeks after we initially had the idea for LocalStove, and we've learned so much because of the pace. I've worked at a startup where we spent way too long in a room, figuring out every little detail of our product to make it perfect before launching, and we failed before we'd even finished the product. Startup guru Steve Blank says that "No business plan survives first contact with customers." He's right. The only way to move quickly enough toward real product market fit in an industry like ours is to put something out in the world, double down on what works, and quickly abandon what doesn't.

Greg Dubin: Focus all your energy on finding product-market fit and don't be afraid to pivot. Don't spending all your time and resources developing what you think is a perfect product before you know if enough people are actually going to buy it. Instead, get your MVP out there as quickly as possible and see how it resonates with various audiences. If the product-market fit is right, they will accept an imperfect product because they innately see the value of what you are trying to do. Once you've identified the right customer base, engage and listen to them. They will be your most valuable resources for perfecting your product and driving your company's direction.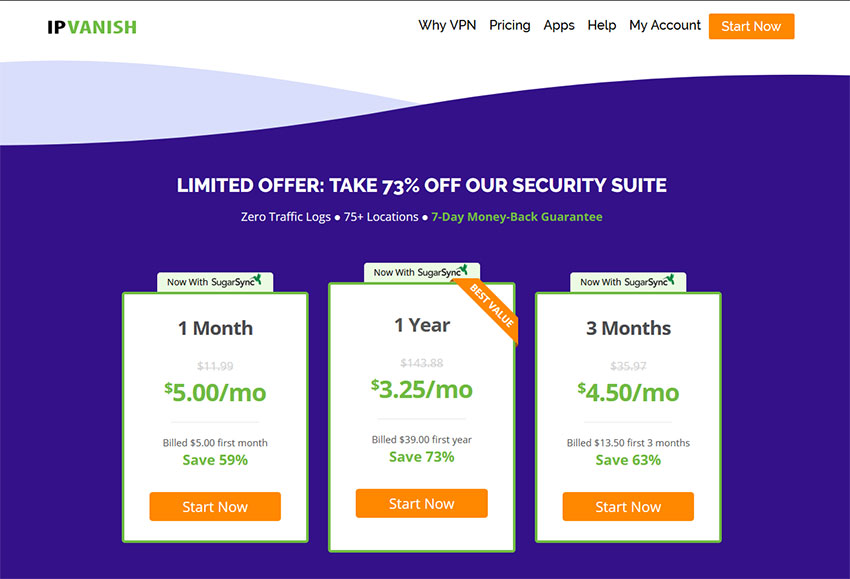 Internet security and privacy must be taken seriously now more than ever. With millions of people using the internet, wide-scale cybercrimes are also likely to happen. This includes fraud, hacking, identity theft, scams, and malware attacks, to name a few. And if you do not have an added protection over your internet usage, you could be the next victim. This is not to scare you but rather to emphasize how these cyber criminals work. They will use every opportunity and it doesn't matter who you are.
This is where a VPN can help you.
What is a VPN?
VPN stands for Virtual Private Network. It's an extra layer of protection that allows users to create a secure connection to a different network over the internet. This means that everything you do over the internet will be encrypted. No one (not even the government) could track your online activities. Additional benefits of a VPN is that you can access websites that are restricted in a particular region.
So the next question is: Who should get a VPN?
Everyone.
Back in the day, big companies are the common clientele of VPN providers. But as we've mentioned, the number of individual internet users surged over the years. It goes without saying that the rate of cybercrimes could go up too.
10 Best VPN for 2020
If you Google 'free VPN' right now, you will be overwhelmed with hundreds of providers to choose from. It is tempting, but we do not encourage free VPNs. Frankly speaking, these do not guarantee a high level of protection. Thus, our list only includes paid VPN providers that have passed our high standards.
1. NordVPN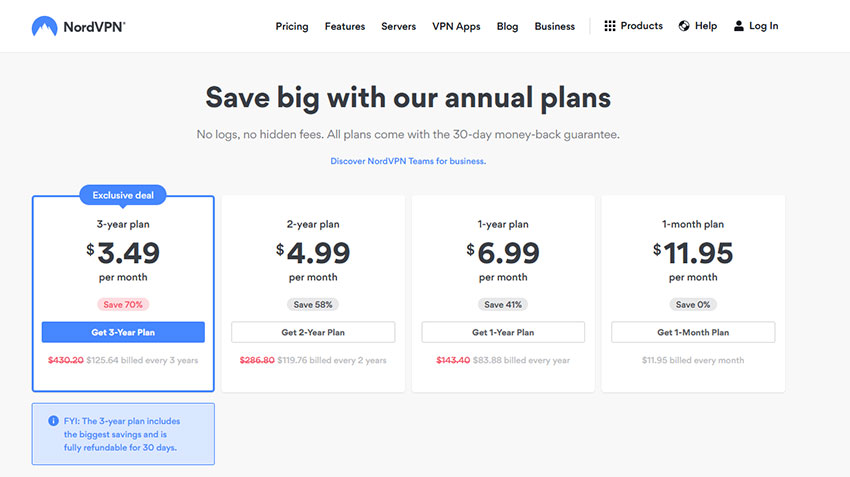 In the last 6 years, NordVPN's team of engineers, designers, and system administrators worked hard to create a tool that will bring them closer to their vision – Having a more open, yet private and secure internet.
With NordVPN, you can safely transact online even on unprotected Wi-Fi. Your online activities won't be tracked as well because basically, it's nobody's business. And since they have more than 5600 servers in 59 countries, you can access your favorite websites, streaming services, and messaging apps anywhere in the world. The best part is, it works on all devices.
We recommend that you take advantage of their 3-year plan where you get to enjoy the VPN services for only $3.49 per month. In our opinion, it's a cheap price given its features.
2. SurfShark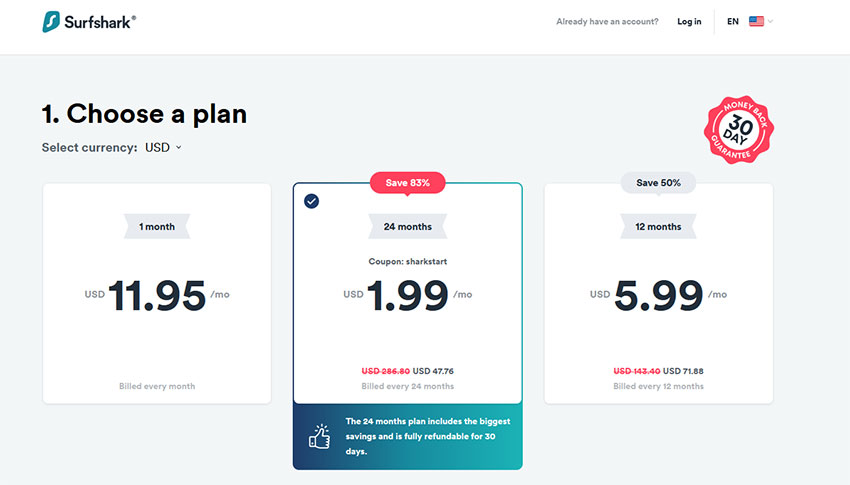 Aren't you interested to see Netflix libraries from other countries? SurfShark has 15 different libraries to choose from. But of course, there is more to love about SurfShark.
With them, just one subscription can cover unlimited gadgets in your home. They also have more than 1700 servers in 64 countries.
Let's not forget their Kill Switch option wherein your connection will be automatically disabled when your VPN drops. Talk about protection all the time.
They have a very affordable package for only $1.99 per month if you get their 24-month plan.
3. PrivateVPN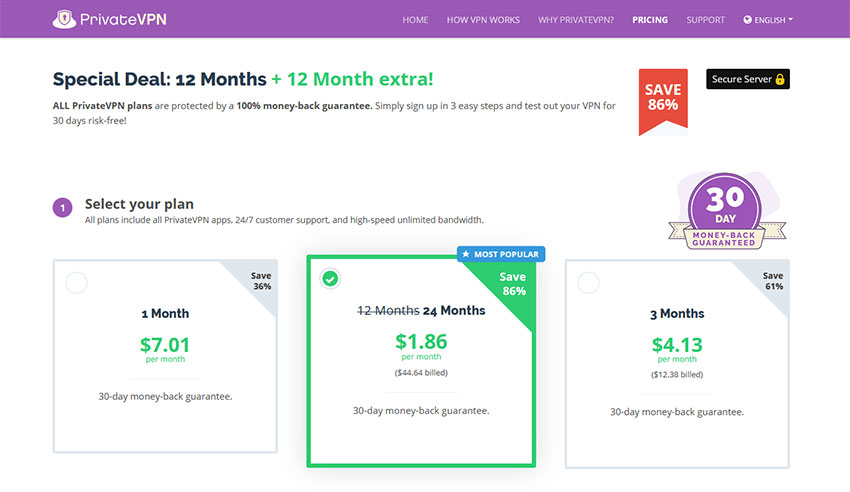 PrivateVPN allows their users to enjoy geo-restricted websites and it will only take you one minute to unleash the internet. With them, expect lightning-fast streaming services and excellent website experience.
The PrivateVPN's team is particular with their customer service. It's one of the things they are proud of. For issues, you can directly talk with their in-house developers and it will be resolved the fastest time possible.
To date, they have 100 servers in 60 different countries. You can get their services for $3.82 per month as long as you choose their 13-month plan.
4. ExpressVPN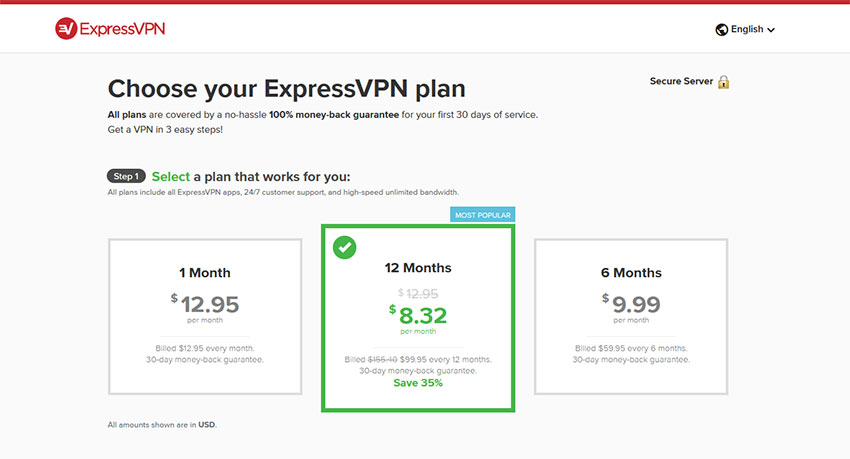 ExpressVPN is almost in every top VPN list. That's not surprising considering the quality of service you can get from the provider. They have a huge global network in 94 countries, and that means you can expect nothing less from them. You can even use the VPN in most devices and gadgets! It's pretty hard to pinpoint what's not to love about it.
What we personally like about ExpressVPN is their split tunneling where you can route some of your app traffic through the VPN while others can be directed to the internet.
Get their 1-year plan for $6.67 per month. This might be a bit steep but considering that ExpressVPN is one of the leading and most trusted providers, the price can be justified.
5. CyberGhost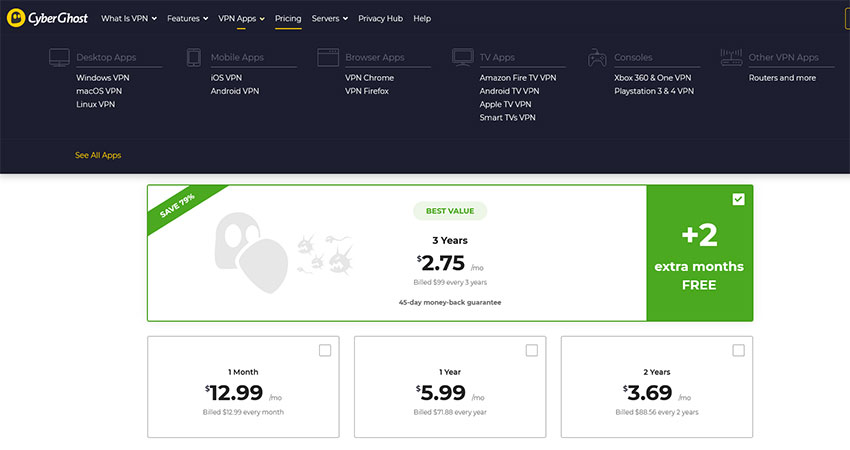 CyberGhost has 15 years of experience under its belt. We recommend this if your online activity involves heavy streaming and torrenting. With one subscription, you can cover and protect up to 7 devices. Their customer support is also available through chat and email.
As of the moment, they have 6400 servers in over 90 countries. In addition, CyberGhost uses 256-bit military-grade encryption which can protect your data all the time. Get their 18-month plan for only $3.15 per month.
6. IPVanish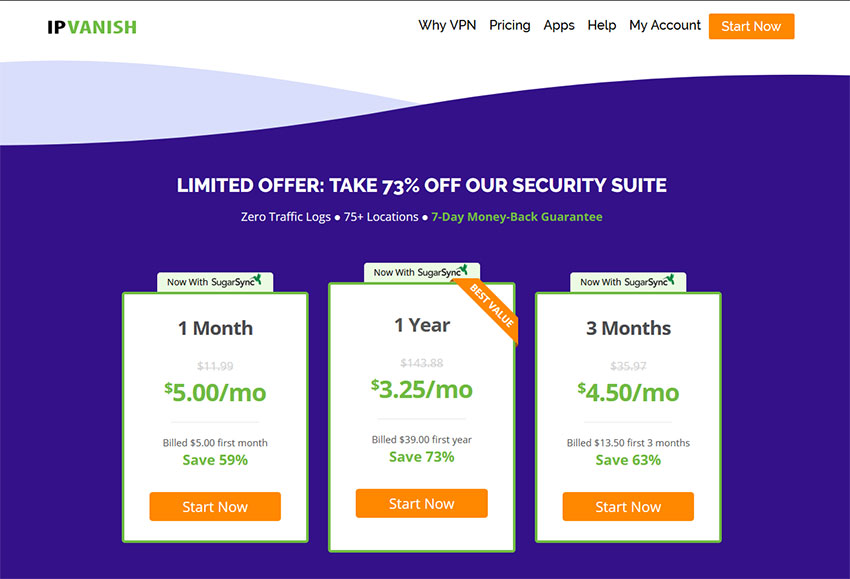 IPVanish provides its users access to over 1400 anonymous servers. You are guaranteed with fast and unrestricted internet access practically from every corner of the globe.
What's good about IPVanish is that all its services are managed internally and there is no middle man. Having said that, your information and data will be kept safe and confidential.
Lastly, they offer SugarSync which provides file management and encrypted data backup for various devices. It also has a wipeout feature in case your device gets stolen. For $3.25 a month, you can get all of these and more from IPVanish.
7. UltraVPN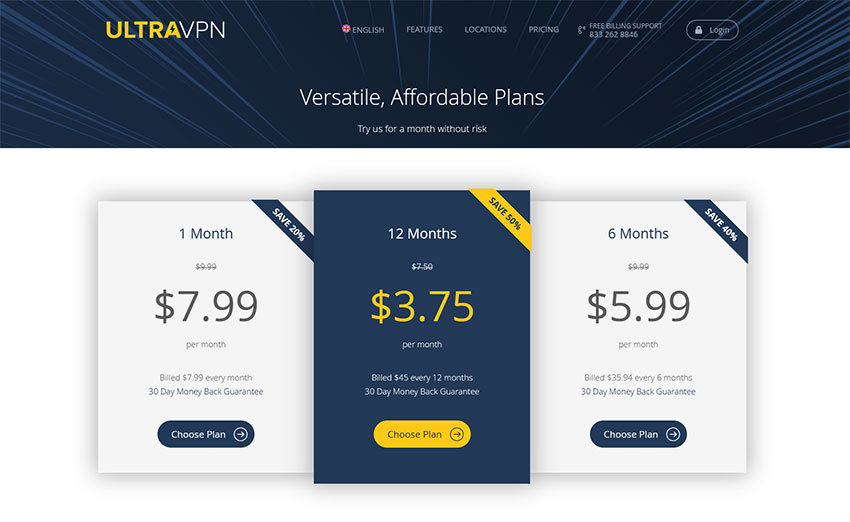 UltraVPN boasts its fast internet connection where you can watch continuous videos without the need to pause. Right now, they have more than 50 server locations across the globe.
UltraVPN gives you the access to unlock social media, watch sporting events that are restricted in your region, or check out videos that are only available in certain countries. UltraVPN can give you that power and limitless internet connection that we all deserve.
You can use the VPN for Windows, Mac, iOS, Android, and even for Fire TV. Get their 1-year plan for only $3.75 per month.
8. ZenMate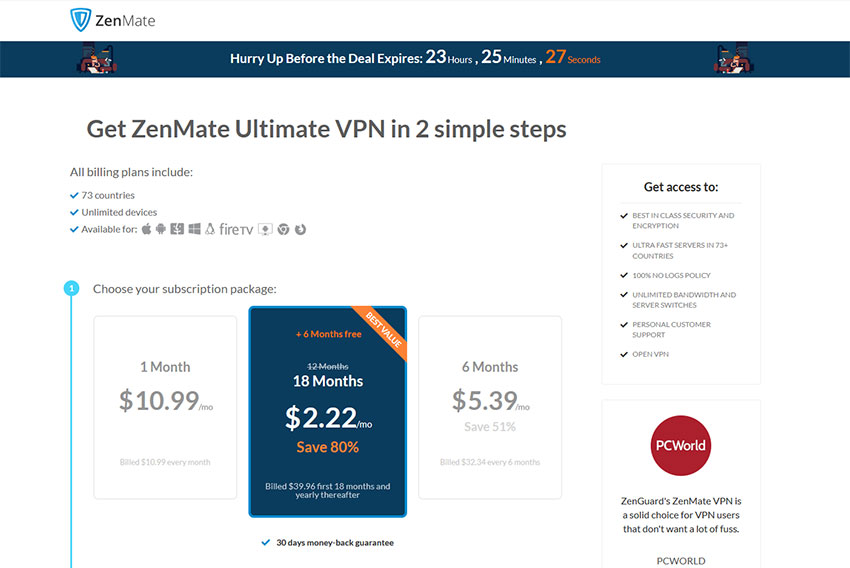 ZenMate is easy to use with its one-click connect feature. But even with its simplicity, it delivers an optimal experience to its users. With a rating of 4.7 out of 5 from more than 360 reviews on Trustpilot, it is beyond satisfactory. Currently, it has 3800 servers in more than 74 countries.
Affordable rates are also waiting for you. Their package starts at $2.22 every month under their 18-month plan.
9. Hotspot Shield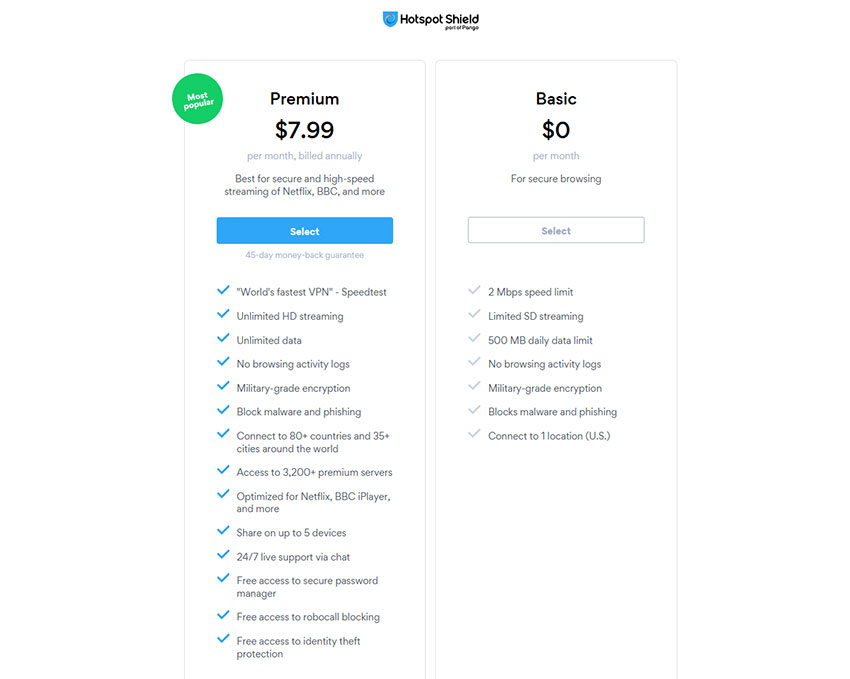 Hotspot Shield is known as the fastest VPN and this has been verified by experts. In fact, the company's outstanding services bagged them a number of recognitions including 'the 2019 Most Innovative Security Company'.
To date, they have more than 740M downloads and the number continues to grow. You can install Hotspot Shield in 5 devices, and it detects more than 3.5M malicious websites. For their 3-year plan, you just need to pay $2.99 every month.  
10. PrivateInternetAccess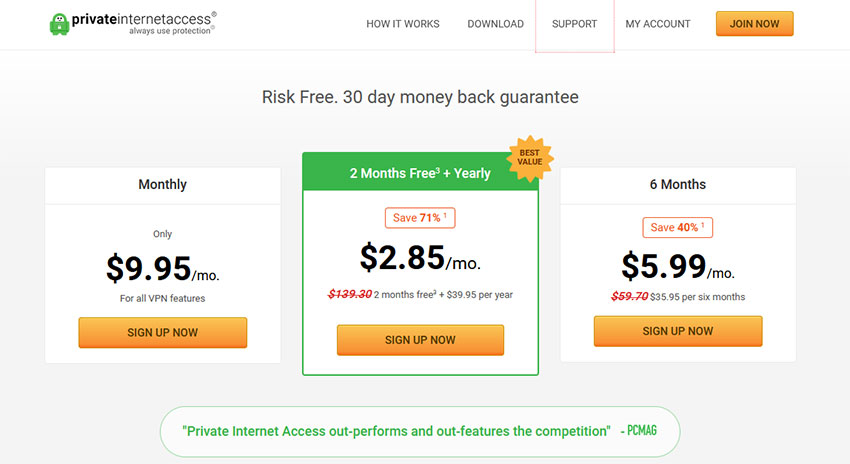 Last in our list is PrivateInternetAccess. It has more than 3300 servers in 45 countries. With their services, you can block unwanted connections – thanks to its advanced firewall and filtering features of the Netfilter Project. Without a doubt, it is one of the best VPN providers today.
Its layer of security includes IP cloaking, encryption, firewall, identity protection, and unblocking websites, to name a few. Choose their yearly subscription and only pay $3.33 per month.
Conclusion
If security and privacy matter to you, we encourage that you get the best VPN right now. Think about it. Most of us pay monthly subscriptions for Netflix, Spotify, and other online services. It seems logical that you pay for protection too. Most VPN providers we've included in the list offer a money-back guarantee. Use that lead time to decide before actually paying for the services. It's definitely a win-win if you ask us.
Top 10 VPS Hosting Companies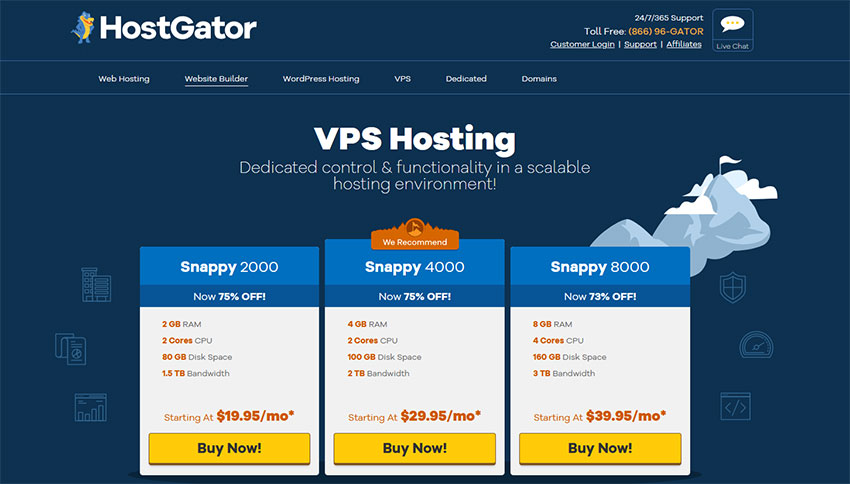 Looking for the best VPS is what probably got you here, read on to get to know ten of the top hosting companies this 2020. Finding the lovely blend of reliability and affordability can be a daunting task, so we scoured around to give you the rundown and help you make an informed decision.
What is VPS Hosting?
Publishing a website online means having to upload your files to a web server. Typically, you purchase this service from a hosting provider. This is what is known as web hosting. Think of this as cyber real estate. Shared hosting means renting a portion of the space, and dedicated hosting is where you have space all to yourself. This is what makes VPS (Virtual Private Server) special.
Shared hosting is perfect for simple websites, but as your website's needs grow, this type of hosting won't be enough. A dedicated server would be ideal but can be expensive. Then comes VPS that's almost the same as shared, but faster and cheaper than a dedicated one. You still share a server with other websites, but with less population, which is what makes it better and inexpensive.
The bigger question now is, what VPS hosting do I go for? With the multitude of choices out there, we made choosing simpler for you. Here are the top 10 VPS hosting companies we think are the best and the brightest:
1. InMotion Hosting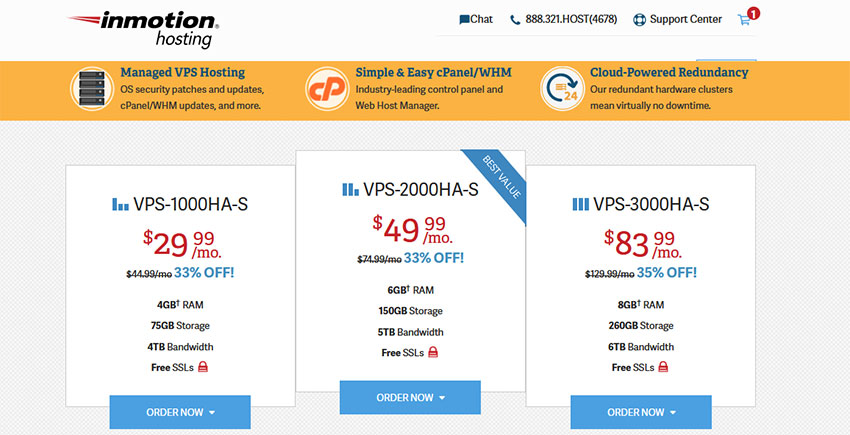 One of the strongest and most deserving of the top spot on this list, InMotion Hosting has smart features at a fair price. A few of these are its 75GB SSD storage, 4TB bandwidth, 4GB RAM, and free SSLs, among many others. They also provide shared and dedicated hosting as well as web design and tools to help with site maintenance.
They provide three hosting plans with a price range from $29.99 to $83.99 per month. These come with a 90-day money-back guarantee and chat support that's available 24/7.
2. Hostinger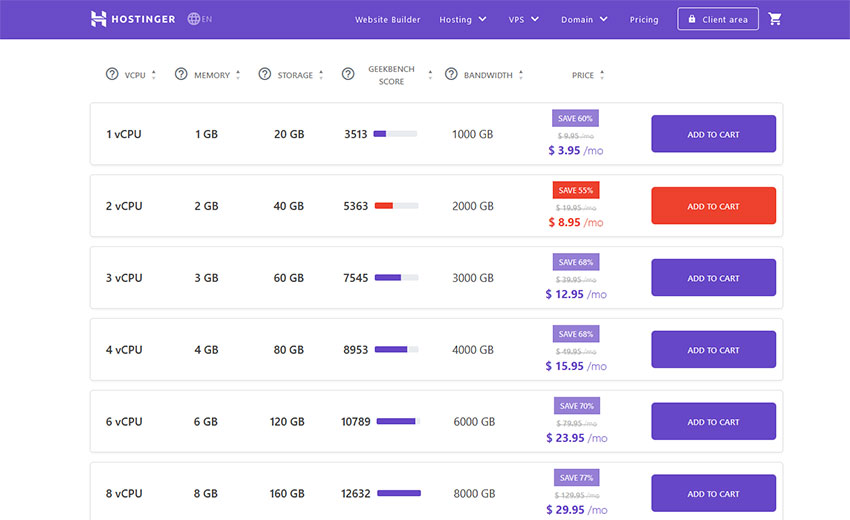 Boasting of a VPS hosting service that mimics a dedicated server, Hostinger offers one of the most affordable in its class. Starting at $3.95 a month for its basic plan of 1G bandwidth to $29.95 with 8GB bandwidth. Each plan is broken down by storage, memory, vCPU, and others.
All of their plans include IPv6 support, a dedicated IP, 100 Mb/s Network aside from the usual Ubuntu, CentOS, and Suse hosting services. Along with their fully refundable plans that allow you to try them, they also have 24/7 customer support.
3. HostGator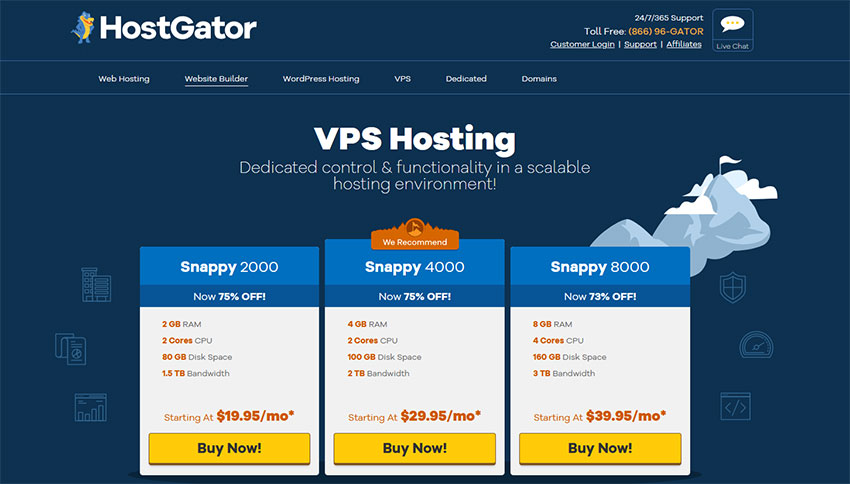 A VPS hosting that has one of the best uptimes and feature-packed plans, HostGator is also one of the most popular and reliable. It provides flexible hosting solutions that include full root access, one-click upgrade system, development tools, and offsite backup.
Prices start at $29.95 for the basic plan, which comes with 2GB RAM to $49.95 with 8GB of RAM per month. You'll get all the services of a typical hosting service, but you can also avail of their SEO services, PPC advertising as well as web design services.
4. Bluehost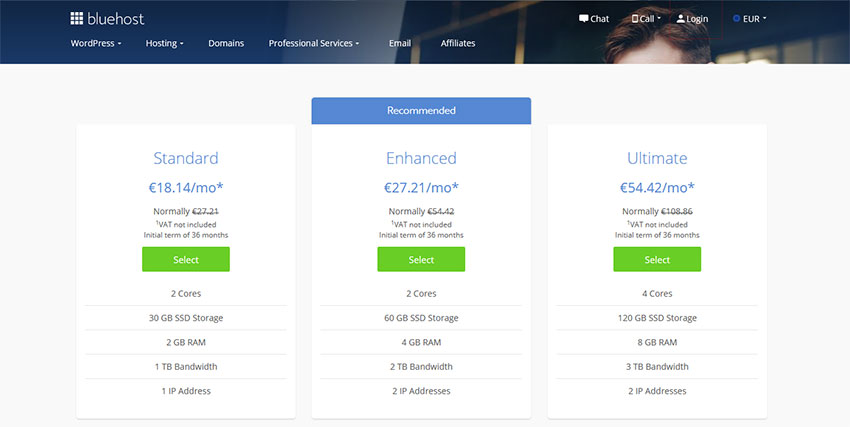 If you're looking for a VPS hosting company that gives out free domain permanently, Bluehost is for you. It lets you add more space to your account any time with their multi-server management services. Their main selling points are their 8GB of RAM and 4 CPU cores, plus their unlimited email accounts.
Their Standard plan costs $19.99 with 1TB bandwidth and 30GB of SSD storage while their Ultimate plan will get you 3TB bandwidth and 120GB of SSD storage.
5. Hostwinds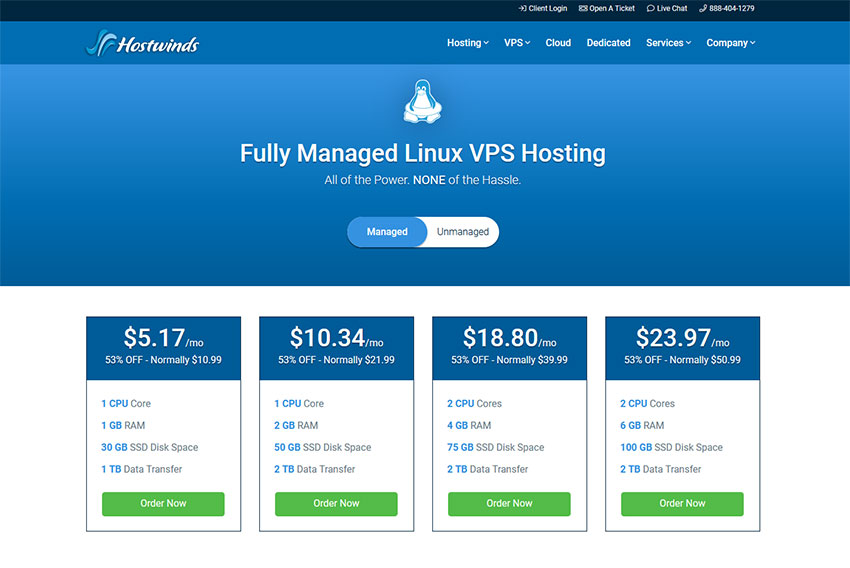 Offering unlimited email accounts, domains, and monthly data transfers, Hostwinds truly deserves this spot on the top 10 VPS hosting companies. They have several VPS hosting plans from Fully Managed Windows to Unmanaged Linux VPS, all aimed to provide specialized services.
Their Managed Windows basic plan starts at $7.99 with 1GB of RAM and 30GB of SSD disk space. The premium plan goes for $26.79 per month, which comes with 6GB of RAM and 100GB of space.
6. A2 Hosting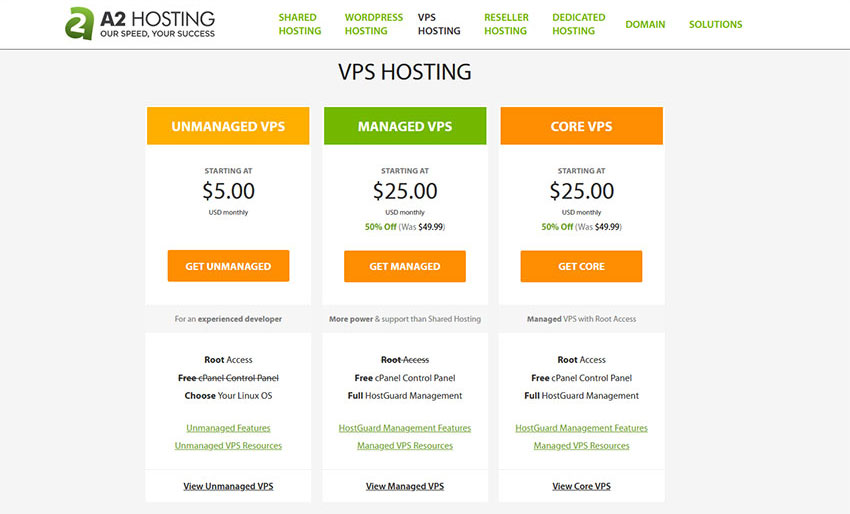 For newbies in the VPS hosting scene, A2 Hosting provides intuitive service and the best speed for your website. It also has features that even the experienced will appreciate, such as their Railgun Optimizer and preconfigured server caching. They are one of the few that take speed seriously, with an average load time of 99.99% at 424 ms.
Their plans' prices range from $25 for their Power+ plan that includes 4GB of RAM, 75GB storage space, and 2TB transfer rate. The Pinnacle+ plan is at $50 per month of 8GB RAM, 150GB space, and 4TB of data transfer.
7. iPage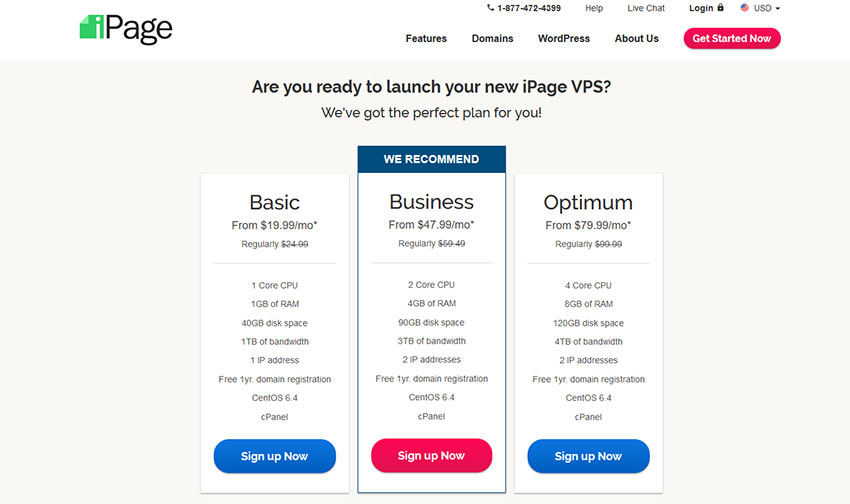 Probably the least expensive on this list, or anywhere else on the web, iPage offers great value for your money. Their unlimited disk space, scalable bandwidth, free site backups, and superb customer service are just but a few wonderful features. With an above-average uptime of 99.96% over 24 months and an average of 746ms page loading time, this is pretty fast for something so cheap.
Their one and only plan will cost you $1.99 a month, so what's not to like?
8. Liquid Web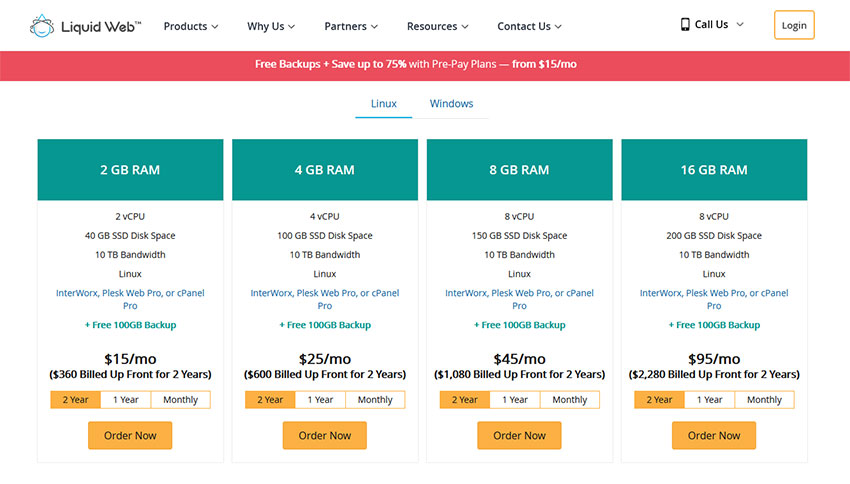 From hardware management to proactive service monitoring, Liquid Web will do almost all of the work for you. Boasting the best customer service around which they named "Most Helpful Humans in Hosting®," they are a solid choice. With 99.999% uptime, they will assure you of top quality service at $15 to $95 a month.
Although one of the costlier choices, they match it with services that are unparalleled in the industry.
9. GoDaddy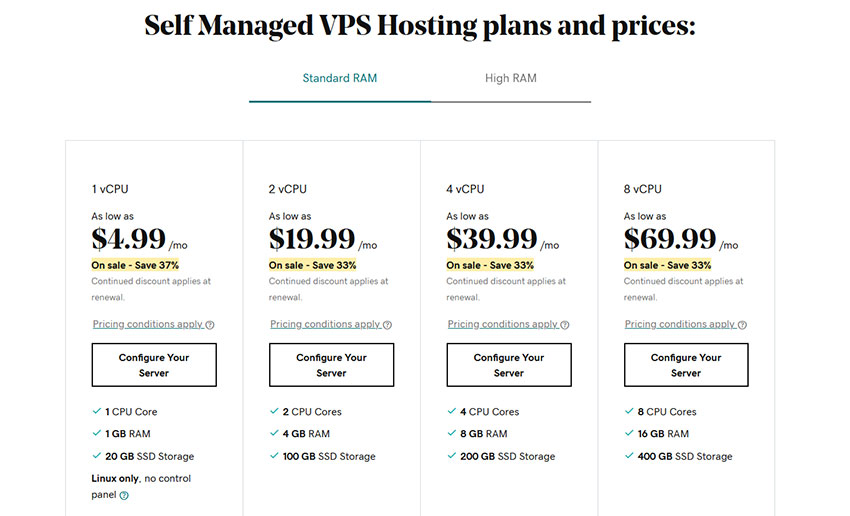 With unmetered bandwidth, stable and fast hosting (99.97% uptime, and 554ms average), GoDaddy is also one of the most well-known choices. This hosting provider allows you to integrate with 125 popular web applications. Just one click installs WordPress, Joomla, Drupal, and more.
The Economy plan is worth $7.99 per month with 100GB of storage space, while the Ultimate plan is at $16.99 per month and the Maximum plan at $24.99, which includes twice the memory load speed and free SSLs.
10. DreamHost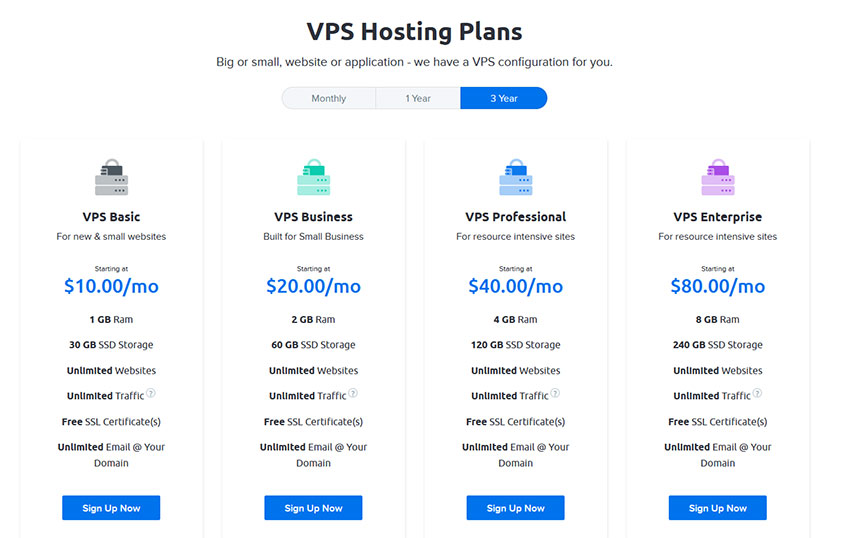 One of the oldest in this list, DreamHost, hosts more than 1.5 million sites, proof that it's also one of the best. Its above-average uptime of 99.94% and page load speeds of 648ms is practically still the same as the day they started, some 25 years ago. They have a few unlimited features, which include cloud hosting services and data transfers.
The price starts at $10 for their Basic plan, which gives you 1GB of RAM and 30GB of SSD storage. The most expensive plan, the Enterprise costs $80 a month with 8GB of RAM and 240GB of storage space.

Top 10 Shared Hosting Companies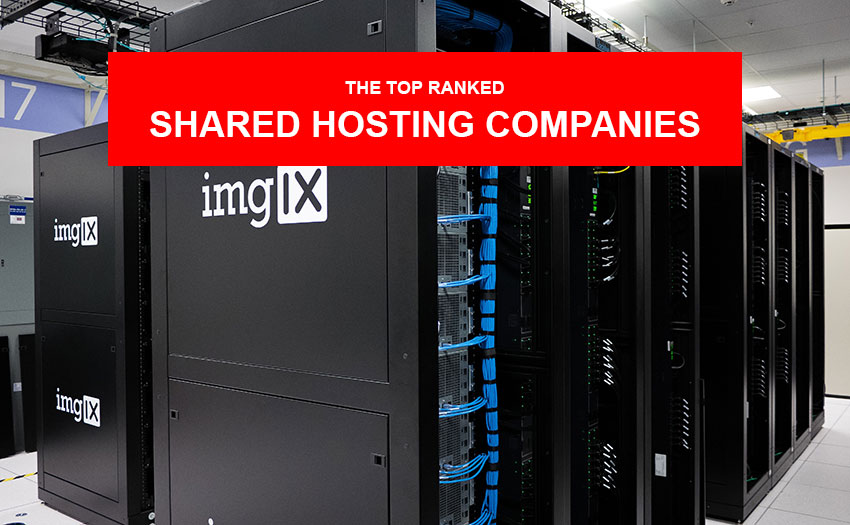 According to Google, if your website takes more than 10 seconds to load, people are 123% inclined to leave your site. That's why you need excellent hosting service to prevent that.
Dedicated hosting services can help ease that pain, but it can break your bank. So, it's best to go for an affordable option so you can save up on the things that matter. That's why you should consider going for a shared hosting service to keep your site running smoothly.
Let's take a look at the top 10 shared hosting companies on the internet.
1. FastComet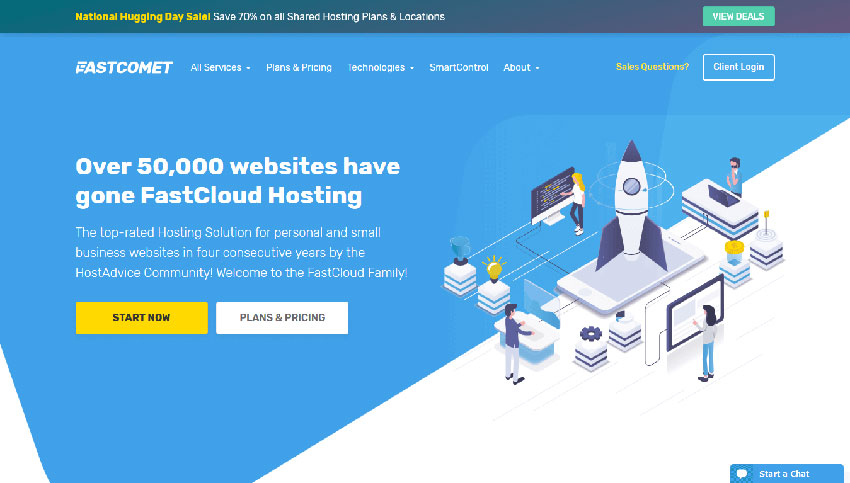 FastComet renamed its shared hosting services to FastCloud plans. Previously, FastComet named it StartSmart, ScaleRight, and SpeedUp.
Features include the following:
cPanel
SSD Space
Free Domain Transfer
Free Website Transfer
Unlimited bandwidth
The regular price for their FastCloud plans starts at $9.95/mo, while the most expensive one, FastCloud Extra, is $19.95/mo. At the time of writing, all plans are 70% off with FastCloud at $2.95, FastCloud Plus at $4.45, and FastCloud Extra at $5.95.
FastComet users may experience faster loading times boasting speeds at 200 milliseconds. Not only that, but users get a 99.99% uptime. So, website visitors don't encounter any site downtime. Plus, according to Website Host Rating, their shared server is secure for all users, which is why it's one of the top 10 shared hosting companies on the net.
According to Blogger Sneed, there's no dedicated IP address for the shared hosting server. While FastComet has better loading times and even performance than its competitors, the FastCloud plan may not load faster than usual. So, it's a much better option to upgrade to the higher plans.
2. ChemiCloud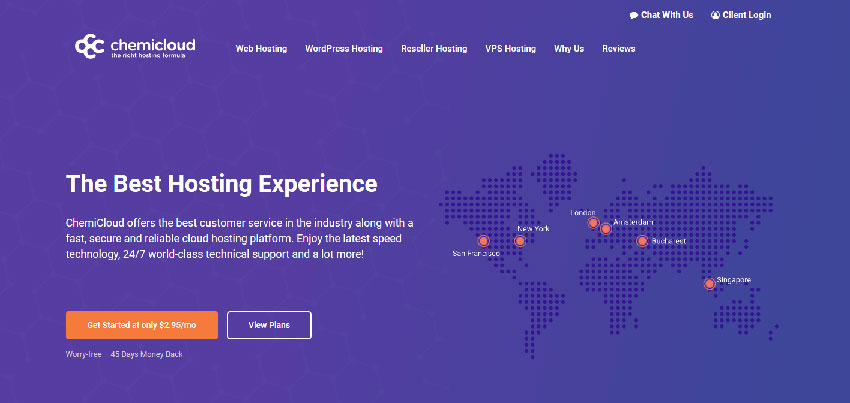 Potential customers of ChemiCloud can choose among three plans on the site. It's on sale at the time of writing, so the most affordable plan is the Web Hosting Starter for 3.95/mo for three years. ChemiCloud priced it originally for $7.90/mo. Their most expensive plan, the Web Hosting Turbo, is for $7.66/mo for three years. It's 10x faster than its two other plans.
Some features of the ChemiCloud plans:
Free Let's Encrypt SSL
Different server locations
Free migrations
For some experts, uptime is one of the many pros of the ChemiCloud hosting service. Rare are downtimes with using ChemiCloud, and there's a 99.98% of uptime most of the time. Another thing is you can migrate your site for free within 24 hours, WP Glossy says.
According to Host Review Now, ChemiCloud can be difficult to navigate since there's no FAQ or guides. Billing may become an issue for many users due to its billing cycles.
3. iPage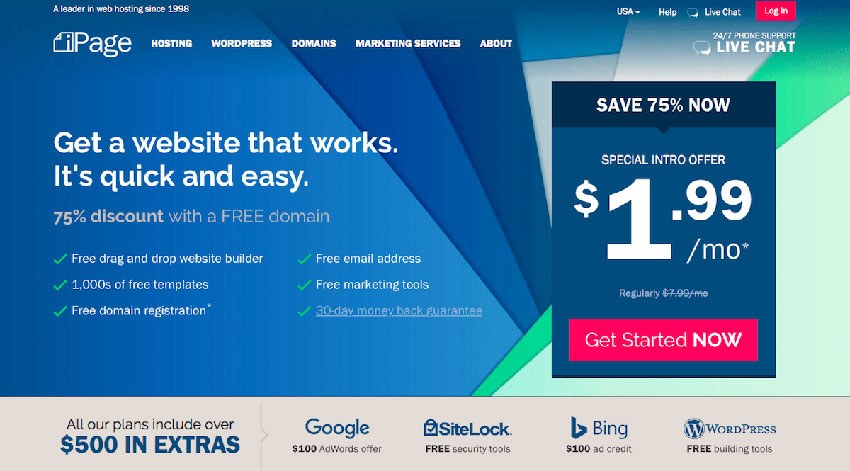 For many users, iPage is one of the top 10 shared hosting companies. The cost for an iPage shared hosting service is $1.99/mo (regularly $7.99/mo) for the first term of service. Users get some of the following features:
Free SSL certificate
Unlimited disk space
Shopping cart integration
One pro of the iPage hosting service is its user-friendly cPanel that even beginners can use easily. It's great for small business owners that need a domain quickly. TechRadar also noted that it has incredible performance even during the testing period.
Even if the starter price is lower than most hosting services, iPage tends to upsell to their customers. Another con for using the iPage shared hosting service is there's no cPanel. Besides, users have mixed reviews over their support. Also, if you'll have to migrate a site, you'll need to pay $150.
4. Hostpapa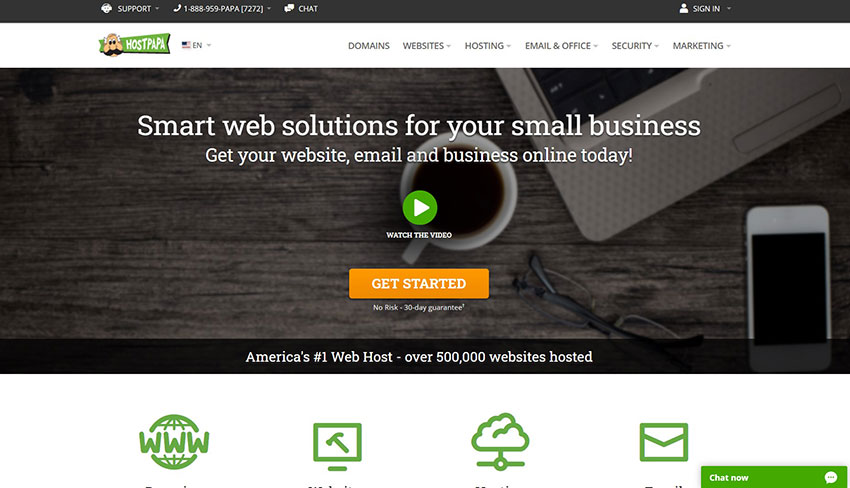 Hostpapa offers three shared hosting plans for potential customers: Starter, Business, and Business Pro. The hosting site recommends that its customers go for a Business plan. Its regular price is $12.99/mo, but they have a deal that is $3.95/mo for three years. The most expensive subscription is $19.99/mo (regular price), and their most affordable is $7.99/mo.
You can get the following features in all plans:
SSD Storage
Unmetered bandwidth
Free domain registration
Choose between a Canada or US server
Hosting Facts says that small businesses can get a bang for their buck on the Starter Plan. They offer essential features even on the plan, so it's good value for money. Another reason why small businesses could go for Hostpapa is because of the performance and speed it gives to their sites.
According to Hosting Facts, additional fees can become a deal-breaker for some potential customers. Service can be a hit or a miss from users who left reviews in TrustPilot and Host Advice.
5. Arvixe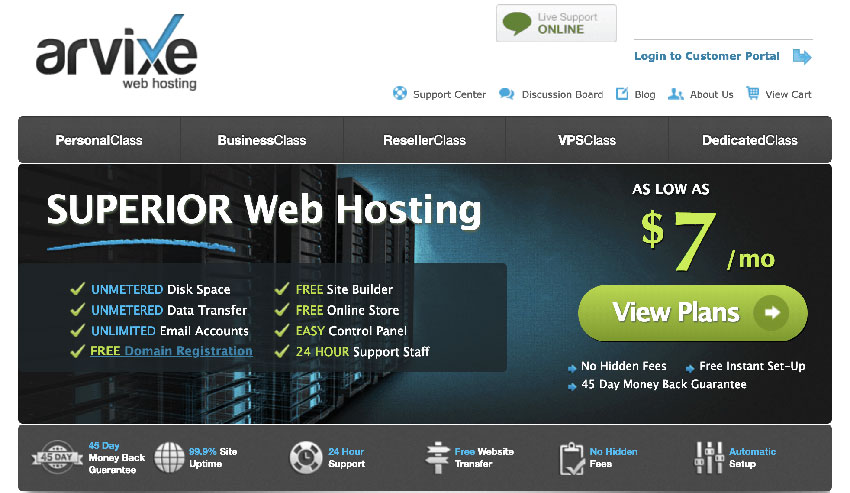 Arvixe has two plans with two categories for its shared hosting service. You can choose between a personal or business plan and a Linux or Windows shared hosting one.
Their most affordable shared hosting service is the PersonalClass Linux shared hosting service that starts at $7.70/mo. You can get a PersonalClass Pro starting at $11.00/mo. You can upgrade to more features for $20/mo.
Some features of the PersonalClass plan are:
Unlimited disk space
Free domain name
Use of cPanel
Arvixe isn't just a website hosting site. You can build a site and get excellent uptime during the testing period, according to PCMag. Plus, you may get a 60-day money-back guarantee if you want to try out Arvixe for a while.
One disadvantage of using Arvixe is that you'll need to buy an SSL certificate for $25.00 a year. You might want to consider other hosting sites if you need support often since many users across different review sites aren't pleased with them.
6. Namecheap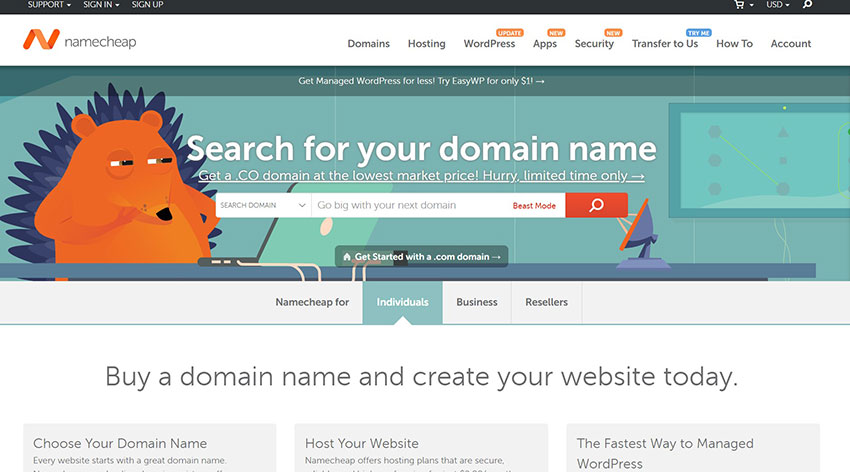 If you want to avail of a Namecheap shared hosting server, you've got three options and two servers to pick from before you purchase a plan. You can opt for a Stellar, Stellar Plus, or Stellar Business plan. Meanwhile, the two data center locations available are US and UK.
Small businesses can get more out of a yearly subscription on a US server since it also includes cloud storage. The price is $52.88 for the 1st year and $104.88 a year ($8.88/mo). They do recommend availing of the Stellar Plus subscription. You'll pay $29.28/yr for the first year, and it renews at $57.88/yr ($4.88/mo).
Some features you get on the Stellar plans are:
50GB SSD
Unlimited websites
Free one domain name
According to WhoIs Hosting This, your account and data are secure on Namecheap because they enable two-factor authentication. The cPanel is also something many find an advantage against its competitors. It's because of the ease of use and design.
Some experts note they face issues over uptime. They found that it has less than 99.99% uptime, which isn't a good thing. Plus, not many are satisfied with the support given by Namecheap.
7. Hostinger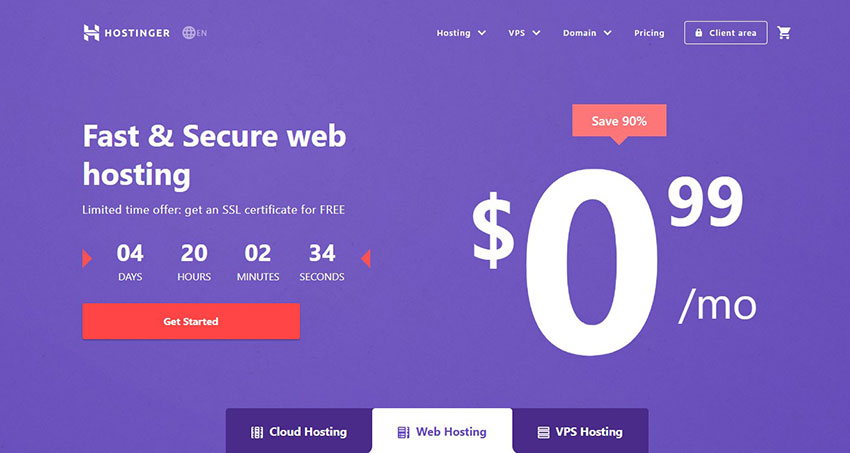 Hostinger recommends that small businesses go for Business Shared Hosting for $3.99/mo for four years. It will renew to its regular rate of $15.99 after that period. Its most affordable plan, the Single Shared Hosting Plan, is at $0.99/mo for four years. The Single Shared Hosting plan is limited, so it's best to opt for a Premium Shared Hosting plan or higher to get more features.
Here are some features you get if you choose a Premium Shared Hosting plan and above:
Free SSL certificate
Free domain
Unlimited bandwidth
Unlimited number of websites
If you want to save money, you'll need to avail of a 1, 2, or 4-year plan.
Experts notice that support is one of its main issues because you can't call their support. Otherwise, many do like that support is responsive online, so that's a plus. That's why users do find that Hostinger is one of the top 10 shared hosting companies.
8. KnownHost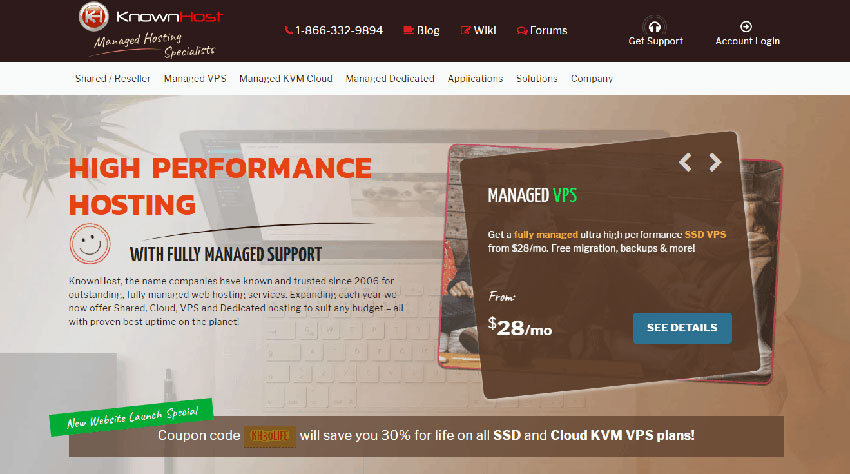 For KnownHost, they present you with three options (prices discounted for three years only):
Basic ($3.47/mo)
Standard ($6.47/mo)
Professional ($9.97/mo)
KnownHost promises unlimited bandwidth for all tiers and free SSL certificates.
Experts and users alike report that uptimes are as advertised. It seems many find satisfaction with support also. One downside about using KnownHost is that it hosts using Linux only. Otherwise, it's an excellent service overall.
9. Hostens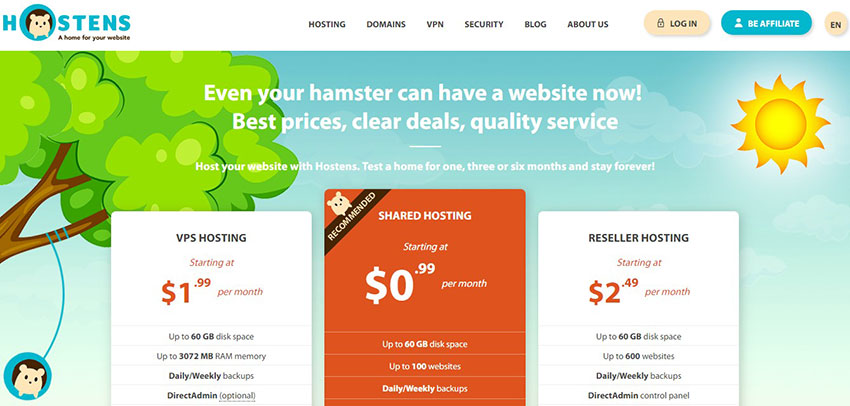 Like most of the shared hosting companies on this list, they also offer a 1, 2, or 3-year subscription. But if you just want to test the waters on Hostens, you're free to opt for a monthly subscription paying their regular price.
Their most affordable plan is the S10 plan for only $0.99/mo for three years. They do suggest you avail of their S20 plan for $1.80/mo for three years. Their most expensive shared hosting plan is $3.60/mo for three years.
Common features of the three plans:
cPanel
Free website builder
Different server locations
Aside from its affordability, Website Planet finds that there's the ease of use and the one-click installer for programs. One main disadvantage of using Hostens, though, is it doesn't offer DDoS, and it could affect your website. Despite such, it's one of the top 10 shared hosting companies on the list.
10. TMDHosting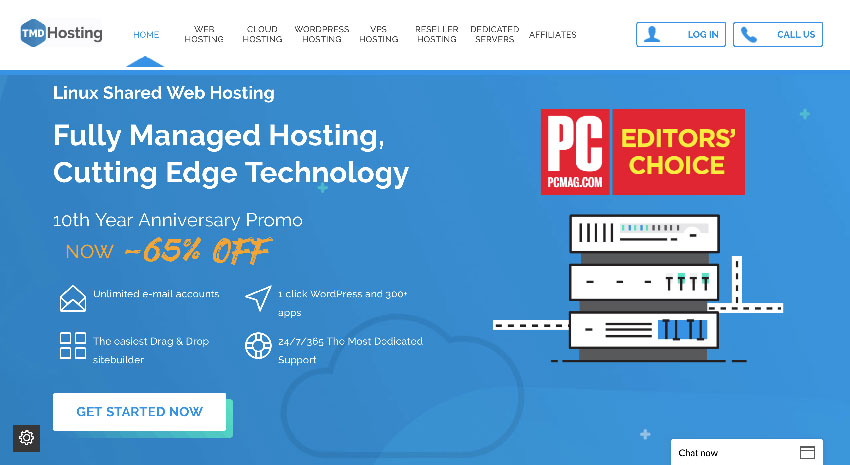 Similar to other hosting companies, you have three plan options that would best suit your small business. Their recommendation is the Business Plan priced $4.95/mo, while the regular price is $7.95/mo.
You can get the following perks when you use TMD Hosting:
Unlimited SSD space
Unlimited bandwidth
Let's Encrypt SSL
Plesk Control Panel
Website Planet finds that free daily backups are helpful. Another point goes to TMDHosting because they have servers in different locations. However, there are frequent complaints about billing from users. Other than that, TMDHosting is one of the top 10 shared hosting services for some users.