Josh Hoffman CEO of Game Plan
Special thanks to
Josh Hoffman
for coming onto our 0-100 Series show. Josh Hoffman is the CEO of an up and coming startup in Philly call
Game Plan
.
Game Plan
aims to solve the issue of booking at a restaurant for a large group. Game Plan lets you and your entire group plan out an entire evening or event together and making sure you don't forget that one poor vegan friend (everyone forgets that one vegan friend...).  The App is currently only available in Philadelphia and will be expanding soon. You can
download the App for iOS here.
Below is a text transcript of the video interview in case you're at work watching this and can't afford your boss finding out.
What made you took the leap into entrepreneurship?
Josh Hoffman
: I always say it was the start of sophomore year of college when I think you just kind of become your own person. I kind of identified the quickest way to be successful was being an entrepreneur and starting your own company and not doing the whole step-up-to-that-point. I would say the other thing is also just...learning to completely trust yourself as opposed to trusting others. Whether personal stories or not personal stories. You learn about people losing their jobs or whatever the reason is. Or just not liking your boss or whatever.  And there's one way around that and that's being your own boss.
What were the biggest initial hurdles when building your business and how did you overcome them?
Josh Hoffman:
The first thing I thought of is definitely finding a co-founder or finding a team that is internally motivated. I would say it's finding the right team. In hindsight I wish I had started coding and I spent so many years looking for a coder and if I actually spent time learning how to code that would've moved the product forward. I'd say that was the biggest difficulty. It's getting people to join on your dream.
What do you look for in a business partner?
Josh Hoffman:
The number one thing I definitely look for in a co-founder is just diversity in thought so they don't think like me. Which causes argument...usually.
What is the biggest mistake you've made as an entrepreneur?
Josh Hoffman:
The biggest mistake I think we've gone through is not pushing the product out fast enough, at any capacity, or at any rate. The second we pushed the product out and we did this launch thing...it took us 2 weeks to realize we didn't have enough tangible value in the product.
What do you do to recharge when you're feeling drained?
Josh Hoffman:
When I'm drained? (Josh laughs hysterically) Well it's not illegal anymore in most states.  (Continues laughing) Music. Honestly just closing your eyes and appreciating where you are. Inside you can be hurting a lot and I understand that's like...that's very hard. My grandparents were in the holocaust and they were at my age living under floorboards. And they didn't have a Bar Mitzvah because they were literally hiding from Nazis. Putting perspectives in your situation and realizing although it can be very bad...and it probably is. There are a lot of situations that are worse.
What advice would you give fellow entrepreneurs just starting out?
Josh Hoffman:
Surround yourself with positive people. Network like no other. When you're younger almost everyone will say yes to giving you advice, getting coffee, or whatever. So take it every time, every single time. It's crazy for you to get this really important person right in front of you and you have the ability and correct time to get their number or email. And do something with them and follow up. But maybe that's just my sales training that got me to do that but not enough people do that.Special thanks to Josh Hoffman from Game Plan for being featured on 0-100 series. To see what he's up to visit
http://getgameplan.com
.
"I'm Fat Let's Party" Guy: Life as a Celebrity Meme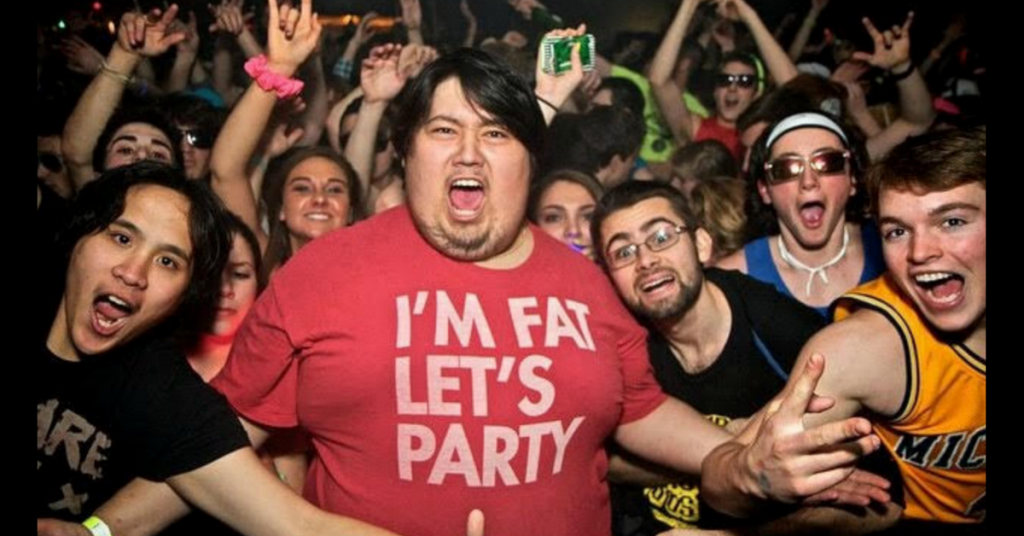 The internet has done a lot to disrupt culture.  Once upon a time, styles, techniques, communities and information were only as transmutable as cable TV and word of mouth.  When compared to the rate of change we see today, the evolution of content has moved from a slow creep to nearing light speed.  Ten years ago the lifetime of any trend in humor could last months, and before that years.  These days, you see a popular meme "break the internet" but one week later a new one is there to take it's place.Imagine if Charlie Chaplin had risen to fame in this day and age through the vehicle of The Meme.  Would he still be as iconic?  As immortal?I spoke with Steven Lee... also known as "I'm Fat Let's Party" Guy.  Steven's meme has been sported on the front page of reddit twice and has garnered over 400k in likes and shares on social media within the first hours of being posted.  As it happens, Steven and I actually went to the same schools growing up.  However I am jealous because I cannot say that I grew up to be a world-class meme.  I got the chance to speak with him about Memeology.  Here's what he had to say: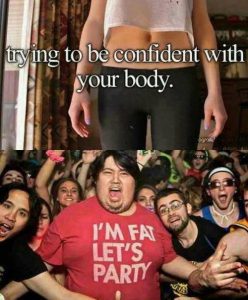 1.  So let's hear about this party... 
The picture was taken in 2011, I was with my friend Dave Leek. We went to Philadelphia at Drexel Factory for a concert. The head Dj was Alesso. When we got there I found out my friend Dj Dubsef was opening so we were allowed in early. When the concert started, since we got in early we got front row, right in the middle. It was crazy we were just having a blast and I saw the photographer "
ATOTHE
" and I just made that pose and everyone went along with it. It was great the high from just being at the concert and all the fun I was having was crazy mainly because I was completely sober. We didn't drink at all it was just the energy that gave me like a high feeling. Definitely an amazing feeling.
2.  Now let's hear about this shirt...
The shirt I got back in 2010 at Comic Con NY. It was at a booth called
"Seibei".
They were super nice. After I became the meme I sent them an email about it. They thanked me and I told them that I ordered another shirt from them.  They said they were going to throw in some more for me. It was amazing because I ordered two shirt but when the package came they gave me three more shirts two of them were different color versions of the "I'm Fat, Let's Party" shirt. One in black with yellow letters and one in sky blue with yellow letters too. Another note about Seibei is that when I went to Magfest 2015 I got to meet the creator of the shirt there. He was working his friend's booth there and I haven't officially met him before so it was great. Once he saw me he told some customer "I'm sorry but I need to hug this man really quick." He is an amazing man, his name is David by the way. In short, I have three different colors of the shirt.
3.  Who first memed this?  Tell me about the moment you realized it went viral.
So going back to the Photographer "ATOTHE" he posted the original photo on his Facebook page. Then someone who I still don't know posted it to "reddit" and it blew up from there. It's funny I never heard of reddit before that. I saw the post after 14 hours of it being posted and it already had over 400,000  reblogs and likes. It was weird because in the comments some people knew who I was, telling them I lived in NJ and that I went to high school. Some said that I quote "omgz he snapchats me everyday". The worst part of it though was the comments about body confidence saying that I have a mental problem about my body. Then there were other people arguing about it. It was pretty nuts. Also in the comments were people who started to photoshop me into a ton of different memes.  Basically the reason it became a big deal was because it made the front page of reddit and apparently posts only get the front page when it's discussed and reblogged a ton.
4.  How old is this meme now?  How often do you see it reappear? 
It's about 5 or 6 Years old now. It has been reappearing all the time. It's been on the front page of reddit now about 5 times and when it gets posted the meme evolves, which is cool.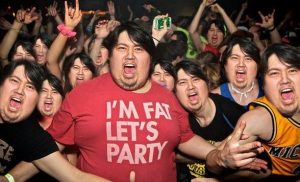 5.  What has been the most surprising side effect of being a "meme guy" so far?
The most surprising part of being "that guy" is that people from all over the world knows the meme and some of them actually know who I am due to mutual friends. The funniest/weirdest time I got recognized was when I was working as a cashier for FiveBelow. These two kids age probably around 12 and 10. They made a comment while I was ringing them up. It was "oh must be a party over here". I was confused at first but then I looked at them and I asked are you referring to the meme. Their faces lit up in excitement when I caught on. What made it weird is that their father was confused and asked what are you guys talking about. My response was that they saw a funny picture of me and he gave me the most confusing look ever. It was funny and weird lolz.
6.  What are your thoughts on meme culture and memes as a vehicle for humor?  What's your favorite meme? 
The meme culture is huge, when it first started it usually was the same pictures with new phrases on them. Now new memes come out every other week. The convention I went to had a huge meme culture following in it. There were people who cosplay a meme that just got popular only a week ago. It's crazy but I also believe sometimes people make memes and take it to a new level. Now memes are videos too. They went from pictures to videos... now that's huge step. But again some of the memes are just too much for me and are part of that I wanna say is stupid humor like doing the stupidest things on purpose.
My favorite meme of all time?  Arthur Fist.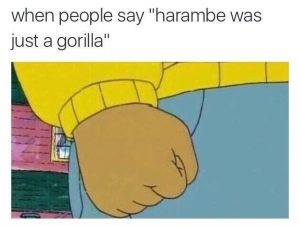 7.  What do you like most about your meme?  What do you like least? 
What I like most about my meme is that I met people who told me that the meme gave them the courage to go out and do things and that made me feel better about themselves. Even though I just was at a party having fun. The thing I like least about it is that some people think that I'm someone who just parties all the time and that makes them think I'm not someone who actually has a head on their shoulders. It sucks but I usually just ignore those guys because everyone has, haters am I right?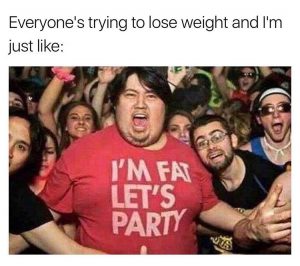 Interview: This NASCAR Driver Started His Own Multi Million Dollar Business Success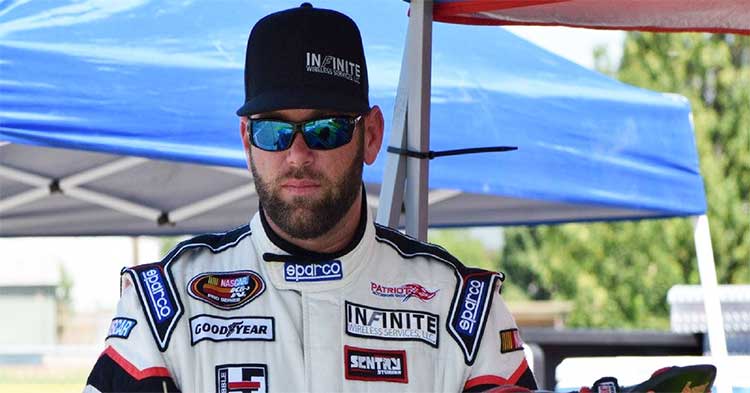 A man influenced by business success, Salvatore Iovino
races toward his goals
, whether it is in business or motorsports. Like a true entrepreneur, Salvatore began his journey at the age of 18, climbing cellular towers across the country. Since then, he started his own business, Integrated Tower Services LLC, and has turned it into a multi million dollar company. No matter the business success or obstacles in his path,
one thing stays constant
. He will always be racing. See how he is able to juggle it all in this exclusive interview.
Tell me about your business success.
Integrated Tower Services LLC is a telecommunications company that provides full turn key solutions for carriers such as Verizon Wireless, AT&T, T-Mobile etc. To give you a better idea of full turn key services. We are the guys that are climbing towers and installing Antennas, Fiber and even building the tower from the ground up. With thousands and thousands of towers across the United States and even the world in what is claimed a very small industry, it's only estimated with roughly 15,000 tower climbers across the US. That makes for a very busy fast paced customer serving industry. We are indirectly responsible for cell phone service areas and rural areas. Basically, without companies like Integrated Tower Services none of would have cell phones. It's a high demanding, risky career as safety is always our #1 priority. Since, telecommunication companies are the backbone to our cell phone service, that means we are on call 24/7 seven days a week. This includes holidays and disaster relief.
Success. I always want to be successful at everything I do. Sometimes, I'm not always as successful as I wish, but that just means you have to work harder. When I see my teammates, friends, colleagues being successful, that is an inspiration for me. Giving back, encouraging others and inspiration all work together hand in hand. Helping a friend reach their goals by encouraging them, is inspirational for me. Being supportive to friends and family is inspirational. Helping colleagues through advice and hard work is inspirational to me because it shows working together or working alone but at the same time helping others is rewarding for many people other than just myself, and that is inspirational.
How do you stay motivated?
Motivation is one thing I think I have truly blessed with the man upstairs. My motivation is a passion. When I set out to do something, I dive deep into it. I can never do anything partial, maybe that is a little OCD, I don't know. But, whether it's racing or my business, when I set forth a goal, I work very hard to reach that goal, even if there are setbacks along the way. Sometimes I will envision a big picture goal. For example, One day I want to race in the Sprint Cup Series. That is a big goal that will take time, no doubt. But if you make goals within the big picture goal, then you are being successful along the way to your overall original goal. That will leave you with encouragement and inspiration along the way. So make several goals, not just one and will you are successful that will motivate you and if you aren't a business success as you had wished then motivate yourself to another stepping stone goal. Just don't give up.
What is your day to day like?
My day to day is usually pretty busy. I travel just about every week for racing. Whether it's NASCAR, Drag Racing, or Dirt Track Racing, there is racing all the time. So I am always on the go. With this, I still carry the responsibility of my business. Luckily, I am blessed with technology in my time era, so that enables me to work and communicate while always being on the go. I only average about
5 hours a sleep a night
. I'm not so blessed in the sleeping aspect of life, my schedule doesn't allow for it and hasn't for a long time, so I believe I just have became accustomed to it. But, I never start my day without coffee, it's a must. From there my obligations will include Emails, Social Media, Photoshoots, Interviews, Videos, Meetings, Speaking Engagements, Charity Work, Kids and Family.
What is some advice you can give to aspiring business owner who wants to be a business success?
Be prepared for setbacks, be prepared for struggles, be prepared for stress. You must dedicate yourself full-time to what you want to accomplish, make a big picture goal, and make stepping stone goals for along the way. It won't be easy. I've found it more difficult to be a business owner as my company grew. The more your company will grow, the more responsibility you will have, the more money it will take. You have to make risk, without risk, there is no reward. To become a business success, you must dedicate yourself to your customers, you must build on your goals. Keep setting goals, goal after goal. You have to be passionate about what you want to do. You have to love what you are doing. That passion will feed your motivation, your motivation will accomplish your goals, your business success will keep you motivated. You will then become an inspiration to others. Let everything feed on each other. Don't be afraid to ask for help along the way.
What are some obstacles you've overcome?
Too many to count or keep track of. You will or already have obstacles in your way on a daily basis. Become a bulldozer and push through it. Sometimes, you have to learn the hard way, I always did and still do. I haven't always been successful. I still don't consider myself successful, because I am still working towards my big picture goals. But, along my journey in life, I've been put in rough situations. My family wasn't wealth. I spent my late childhood putting myself in situations I wish I never have. Can't say I grew up on the streets, but where I grew up, it was very easy to become accustomed to a negative life style. For anyone, that is obstacle. Growing up as a teenager in Los Angeles can be rough. I've made plenty of mistakes along the way, but learning from your mistakes... I'll stop right there for a second. I want to emphasize something. You have to, it's a complete must, you must have the ability to learn from your own mistakes. Your mistakes are obstacles. You are going to make mistakes along the way without a question. I didn't finish high school, I kind of consider that an obstacle, a mistake for sure. But, years later, I worked towards and eventually received my GED. I think my best answer to your question is learn from your mistakes, they are obstacles.
What was your proudest moment?
Becoming a husband and a father.
How has NASCAR affected your life?
I don't believe it has affected my life in any way. I believe it has embraced it. It has given me a new passion.
What was your journey like in motorsports?
I have been very fortunate to have been blessed with setting and still holding several different records in a few of the different types of racing I am currently doing. It has been an awesome learning experience along the way for all types of racing. I wouldn't change any of it. Whether I am winning or losing, it has been very rewarding to me. It's been fun. I have had a ton of support. Support that has motivated me, motivation that fueled my passion to be successful in racing. It won't happen overnight, but believe, I am working on winning a championship sooner than later.
Where do you see yourself in 5 years?
Racing in the Sprint Cup Series hopefully!
Is there anything exciting happening in the near future?
Lots of racing and I recently just finished building a mini studio at my house. Soon, my website will have live feed access to all my races and I am working on building a youtube channel show called "Juggling Racelife with Family Life"
Memobottle Raises Over $30,000 On Kickstarter In Under 10 Hours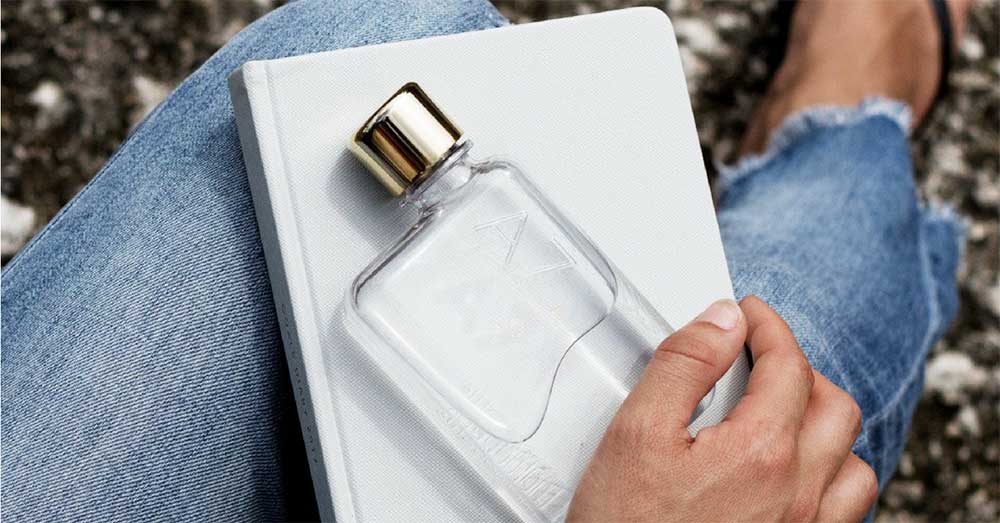 Jesse Leeworthy and Jonathan Byrt, the entrepreneurs behind Memobottle, designed a reusable plastic water bottle with a mission to decrease the use of disposable plastic water bottles and create a more sustainable society. Growing up in Melbourne, Australia they often saw heaps of disposable water bottles littering the beach. They decided to create a beautiful and reusable alternative to these disposable bottles. Their creations feature stylish design and durable construction to make them a solid accessory for everyday use.
The Memobottle features a flat, flask-like design that fits in pockets, bags, and purses. The bottles are made of durable Tritan plastic, are BPA free, and dishwasher friendly. They are suitable for hot or cold liquids, and are freezer safe. Coming in three different sizes, Memobottle is a convenient and sustainable alternative to plastic water bottles. Their

Kickstarter

campaign's success enabled them to sell the bottles in two new sizes. The slim Memobottle is a tall, elegant addition to a bag or purse. It holds 15 fluid ounces of water. The A7 Memobottle is the most compact. It holds 6 ounces of water and is perfect for kids and people on the go. Their existing

A5 bottle

holds 25 fl oz and retails for $36.Memobottle also has fun accessories like desk stands, lids, wrist straps and cases. Desk stands come in two dimensions and are copper plated. Lids come in matte black, copper, and stainless steel. Wrist straps and cases are made of leather.Their

Kickstarter

campaign is donating 1% of the money to a charity called

water.org

that seeks to increase access to clean drinking water in parts of the developing world. 1 in 9 people do not  have access to clean drinking water, and in developing countries without access to safe water and sanitation, women and girls spend an average of 6 hours a day collecting water. They are unable to attend school and stay trapped in a cycle of poverty. Water.org provides small loans to these families to enable them to access water easily and break the cycle of poverty.The mission, philosophy, and high quality products have made the Memobottle Kickstarter a resounding success with it raising over $45,000 of its initial $30,000 goal in just a few hours.