Josh Hoffman CEO of Game Plan
Special thanks to Josh Hoffman for coming onto our 0-100 Series show. Josh Hoffman is the CEO of an up and coming startup in Philly call Game Plan. Game Plan aims to solve the issue of booking at a restaurant for a large group. Game Plan lets you and your entire group plan out an entire evening or event together and making sure you don't forget that one poor vegan friend (everyone forgets that one vegan friend…).  The App is currently only available in Philadelphia and will be expanding soon. You can download the App for iOS here.
Below is a text transcript of the video interview in case you're at work watching this and can't afford your boss finding out.
What made you took the leap into entrepreneurship?
Josh Hoffman: I always say it was the start of sophomore year of college when I think you just kind of become your own person. I kind of identified the quickest way to be successful was being an entrepreneur and starting your own company and not doing the whole step-up-to-that-point. I would say the other thing is also just…learning to completely trust yourself as opposed to trusting others. Whether personal stories or not personal stories. You learn about people losing their jobs or whatever the reason is. Or just not liking your boss or whatever.  And there's one way around that and that's being your own boss.
What were the biggest initial hurdles when building your business and how did you overcome them?
Josh Hoffman: The first thing I thought of is definitely finding a co-founder or finding a team that is internally motivated. I would say it's finding the right team. In hindsight I wish I had started coding and I spent so many years looking for a coder and if I actually spent time learning how to code that would've moved the product forward. I'd say that was the biggest difficulty. It's getting people to join on your dream.
What do you look for in a business partner?
Josh Hoffman: The number one thing I definitely look for in a co-founder is just diversity in thought so they don't think like me. Which causes argument…usually.
What is the biggest mistake you've made as an entrepreneur?
Josh Hoffman: The biggest mistake I think we've gone through is not pushing the product out fast enough, at any capacity, or at any rate. The second we pushed the product out and we did this launch thing…it took us 2 weeks to realize we didn't have enough tangible value in the product.
What do you do to recharge when you're feeling drained?
Josh Hoffman: When I'm drained? (Josh laughs hysterically) Well it's not illegal anymore in most states.  (Continues laughing) Music. Honestly just closing your eyes and appreciating where you are. Inside you can be hurting a lot and I understand that's like…that's very hard. My grandparents were in the holocaust and they were at my age living under floorboards. And they didn't have a Bar Mitzvah because they were literally hiding from Nazis. Putting perspectives in your situation and realizing although it can be very bad…and it probably is. There are a lot of situations that are worse.
What advice would you give fellow entrepreneurs just starting out?
Josh Hoffman: Surround yourself with positive people. Network like no other. When you're younger almost everyone will say yes to giving you advice, getting coffee, or whatever. So take it every time, every single time. It's crazy for you to get this really important person right in front of you and you have the ability and correct time to get their number or email. And do something with them and follow up. But maybe that's just my sales training that got me to do that but not enough people do that.
Special thanks to Josh Hoffman from Game Plan for being featured on 0-100 series. To see what he's up to visit http://getgameplan.com.
Design Pickle Vs Penji: Which Is The Best Unlimited Graphic Design Service? (w/Promo codes)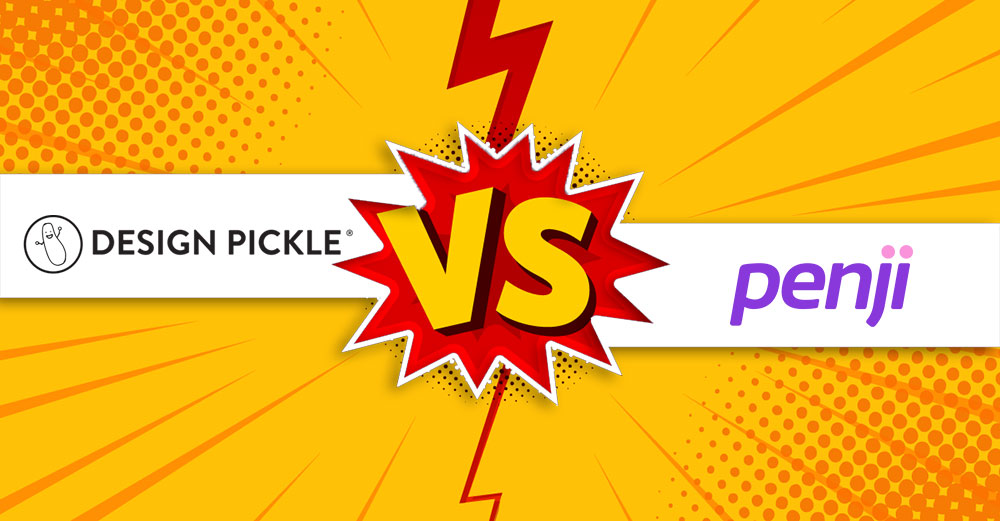 Two names dominate the unlimited graphic design space – Penji and Design Pickle. Design Pickle vs Penji, which is the better service for you? We signed up for both companies and see who offers a better service, so you don't have to.
Unlimited graphic design companies are a new breed of services that are gaining popularity in the last few years (see the complete list of unlimited graphic design companies). Their promise is simple, you pay a flat monthly rate and get unlimited design projects for the month.
No hiring, no HR, no interviews, and absolutely no managing on your part. Just submit the designs, and the company will find the best designer for you and take care of the rest. Sounds too good to be true? We did an in-depth review of Penji and Design Pickle (coming soon) to see if the promise is real, and the promise holds up.
Today, we'll see which of these two unlimited graphic design service providers offer the best value for your money. For our comparison review, we're going to be comparing these two companies based on the following criteria: Speed, Quality, Communications, Ease of use, and Value.
DESIGN PICKLE VS PENJI – QUICK SUMMARY
This is a rather long and extensive review. So if you don't want to go through everything, here's a quick 2-minute summary of everything.
We signed up for both Penji and Design Pickle's $399 plan to see which company provided a better service and experience.
Pricing differences: Penji's pricing included more design types. Design Pickle didn't include Logos, complex infographics, and presentations.
Custom Illustrations: Included with Penji's Team ($499) and Agency ($899) plan. Design Pickle charges $499 add-on on top of your existing plan.
Design quality test: Both companies received the same four projects with the same exact wording, attachments, etc.
Design Pickle won "Versus" blog Featured Image
Penji won Facebook Cover Image For Digital Pub, Print Magazine Cover Re-Design, and Content Infographic Re-Design.
Creativity & details: Penji's designs were more creative and got the small details
Customer support: Design Pickle had more responsive support and online knowledgebase. Penji's account manager was more responsive and proactive emailed us.
Turnaround: Both companies delivered 2-3 drafts within 24 hours. Revisions were also speedy. Design Pickle took 12 – 24 hours for revisions, while Penji usually turnaround revisions the same day.
Platform & Integrations: Both had intuitive and easy to use platforms. Design Pickle had more integrations. Penji's slack integration was difficult to use and requires dev help.
Final verdict
Design Pickle vs Penji, the winner is Penji in several categories. Design Pickle did win in a few categories. However, Penji won in the major categories that mattered. Penji's design quality, attention to detail, and creativeness tends to be superior.
Penji offers better value as covering more design categories. Penjis' team also was more responsive and felt like working with people instead of processes and canned responses.
Design Pickle was excellent in terms of their processes and operations. However, that shows in the design output and communication. Everything felt more mechanical, robotic, and templated.
Penji promo code

If you want to give them a try, use this Penji promo code "OMDVP25" to get 25% off your 1st month. Full disclaimer, we receive a commission when you use the code.
Design Pickle's promo code
---
DESIGN PICKLE VS PENJI FULL REVIEW
Although both companies offer the same services, their pricing model is very different. Design Pickle separates their plans into Pro and Standard. Standard starts at $399/month and you'll be working with a Philippine designer for next-day turnaround.
Meanwhile, the $995 lets you work with the designer via Slack for real-time communication and same-day delivery. You also get advanced infographics, animated GIFS, and Powerpoint designs for the Pro plan.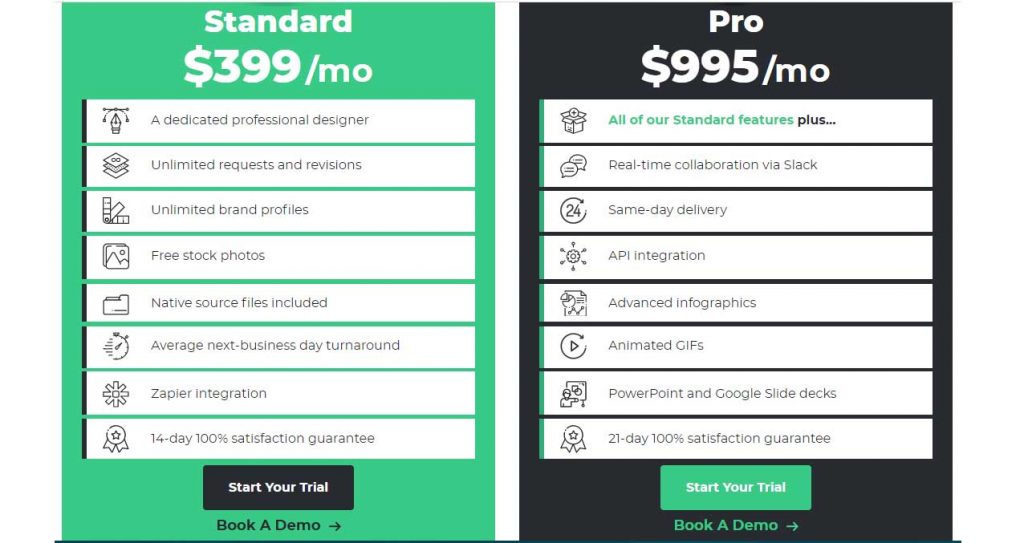 Penji's pricing, on the other hand, has three tiers. Penji's low plan is ironically called its "Pro" plan. At $399/mo it costs the same as Design Pickle's Standard plan and appears to offer the same level of design service. Design Pickle offers Zapier integrations. Although Penji doesn't offer Zapier integrations, they have an Invite feature that lets you add more than one user to the account. I personally find that very useful.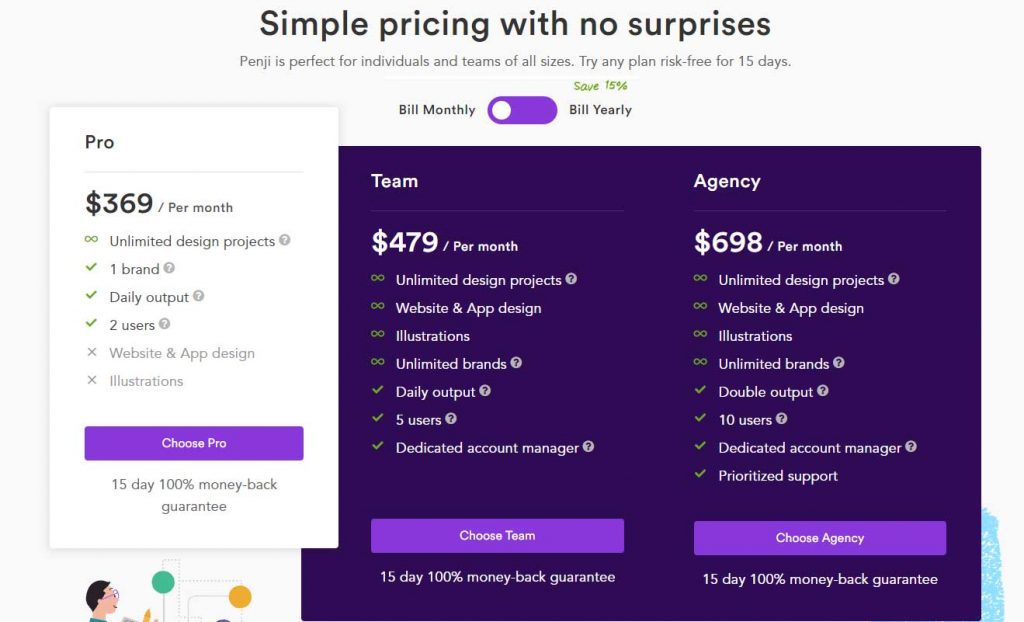 For this review, we chose to sign up for the $399 Standard plan from Design Pickle vs $399 Pro plan from Penji. Here's a chart to compare the two plans side by side.
DESIGN PICKLE VS PENJI $399 PLAN COMPARISON
The pricing page alone doesn't tell the whole story. We want to know exactly what each plan offers and what you get in terms of design offerings for $399/month. After digging around their websites and asking their support chat, we uncovered more details each plan has to offer. Here's a chart we made to showcase all of the hidden features and important benefits included with the $399 plan from each company.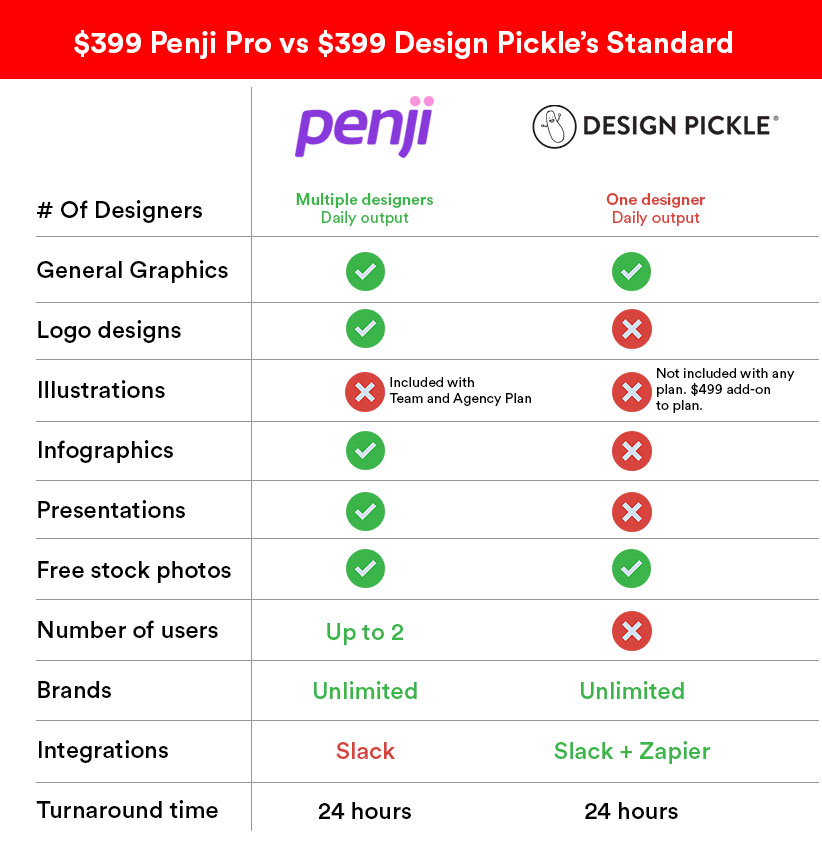 There's a number of differences between the two Company's offerings for their base $399 plans that you need to be aware of.
# Of Designers
This is how many designers you'll be working with essentially. Design Pickle's pricing plans indicate that you'll be assigned to 1 designer and be working with just that designer. Meanwhile, Penji doesn't assign you to any designer until you actually create a project. When you create a project, they will assign you to the best available designer for that type of project.
Penji's support team told me they utilize this method of assigning to make sure we only work with designers who are actually good at the type of design we're requesting. I'll have to give a point to Penji for this one.
Logo Designs
Design Pickle explicitly stated that they only offer Logo design for their Pro plan ($995/m). It's not explicitly stated on Penji's pricing page, but their customer support confirmed logo design is included for all plans.
Illustrations
Neither company offers custom illustrations as a part of their $399 plan. However how they incorporate it is uniquely different. Penji packaged Custom Illustration in their Team ($499) and Agency ($899) plans.
Design Pickle doesn't include Custom Illustration in their Pro plan ($995). To get Custom Illustrations, you will need to pay an extra $499 add-on every month that you need an illustrator.
Design Pickle vs Penji: Here's what it will cost you to get custom illustrations with each company.
Penji: Team plan $499 / month (includes Custom Illustrations)
Design Pickle: Pro plan $399 + $499 Custom Illustration add-on = $898 / month
It costs quite a bit more to get custom illustration with Design Pickle. If you rarely need custom illustrations, this won't be an issue. But if custom illustration is a big part of your design needs, you might need to look closely at this.
1. REGISTRATION AND ONBOARDING
Design Pickle vs Penji's registration process was both smooth and efficient. I didn't feel either one asked too many questions or was complicated. Penji allows you to sign up for any plan you want right away. Meanwhile, Design Pickle only lets you sign up for the Standard plan. To register for the Pro ($995) plan, you need to schedule a demo
Design Pickle versus Penji's Onboarding
After I signed up for their services, both led me straight into their online portal right away. I was able to create my first project almost immediately. I didn't actually get a "Welcome" email with Design Pickle, which was strange, I figured they'd send me something. I did get a handful of emails, one of which was a brilliantly created video that showed me how to write a better project description. The video was quite long, but it was polished, well written, and hilarious. I love that about their company.
Penji was very conservative with their onboarding. I received an official "Welcome to Penji" email with essential information, which was nice. Then the next day I received an email from someone named Charmaine from their company. It wasn't a templated or auto-responder email, it was my account manager emailing asking how I was doing. I liked that.
2. CREATING DESIGN PROJECTS
Now for the real question – who provides better quality designs? All the features, bells, and whistles are pointless if the company can't turnaround quality designs for you.
We created three test projects and posted them to Penji and Design Pickle. To make sure everything was fair, all projects have the exact same description and attachments. We even went as far as giving them the same exact feedback on each of the drafts.
Here are the test projects:
Facebook Cover Image For Digital Pub
Print Magazine Cover Re-Design
Content Infographic Re-Design
"Versus" blog Featured Image
As a digital publication, we work with design agencies and freelancers to get our design work done. These projects are taken directly from our queue. We chose these projects specifically because they all require different skills to complete and will give us an idea of how versatile each company is.
3. TURNAROUND TIME
We submitted the four projects to both Penji and Design Pickle respectively. Both the drafts and revisions were quick by both companies.
Design Pickle
We received drafts for 2 out of 4 projects back the next day. This was very fast, much faster than any of the freelancers we've hired. One of the projects didn't receive submissions because my designer had a question that needed a response, which was understandable.
Upon submitting revisions, I started to see delays. Even when I submitted simple revisions, it seems to always take 24 hours no matter how small or big the revisions were.
Penji
We received drafts for 3 out of the 4 projects back from Penji within 24 hours. Just as fast as Design Pickle. My designer also asked a question about one of the projects, but she skipped that one and worked on the 4th project instead of waiting for my response.
Revisions were usually done the same day. And I noticed that if my designer isn't online, my account manager would assign another designer to quickly jump in and make the revisions.
Turnaround Winner…Penji
Design Pickle vs Penji in terms of turnaround time, Penji is the faster company. Both companies were fantastically speedy with delivery and I can't say I was disappointed with either company. However, Penji was able to deliver fast revisions, especially simple ones much quicker. And that's important because waiting 24 hours for a fix on a small grammatical error is frustrating.
4. DESIGN QUALITY
Now for the ultimate reveal. Design Pickle vs Penji, which company produced better quality design? See for yourself.
"Versus" blog Featured Image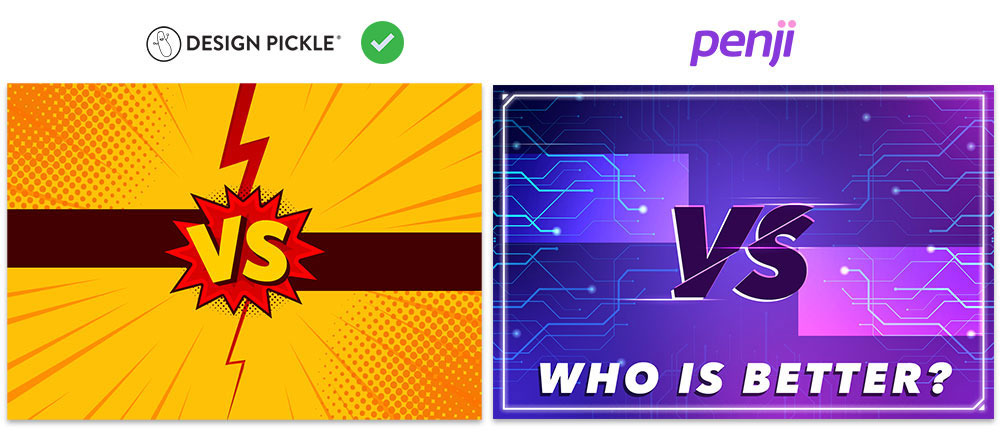 View DP's design | View Penji's Design
This was a fairly simple blog graphic request. We write a lot of comparison articles and wanted a featured image that we can use as a template and swap out names of products or companies we're comparing.
Design Pickle: My designer was Arvin. It took us several revisions to get to the final product, and overall it's very close to what I had envisioned. 8/10
Penji: My designer was Kenny. It also took several revisions, however, I can't say I was pleased with the final product. It felt like Kenny was just following literal instructions and nothing more after the 2nd revisions. I give this project 5/10.
---
Facebook Cover Image For Digital Pub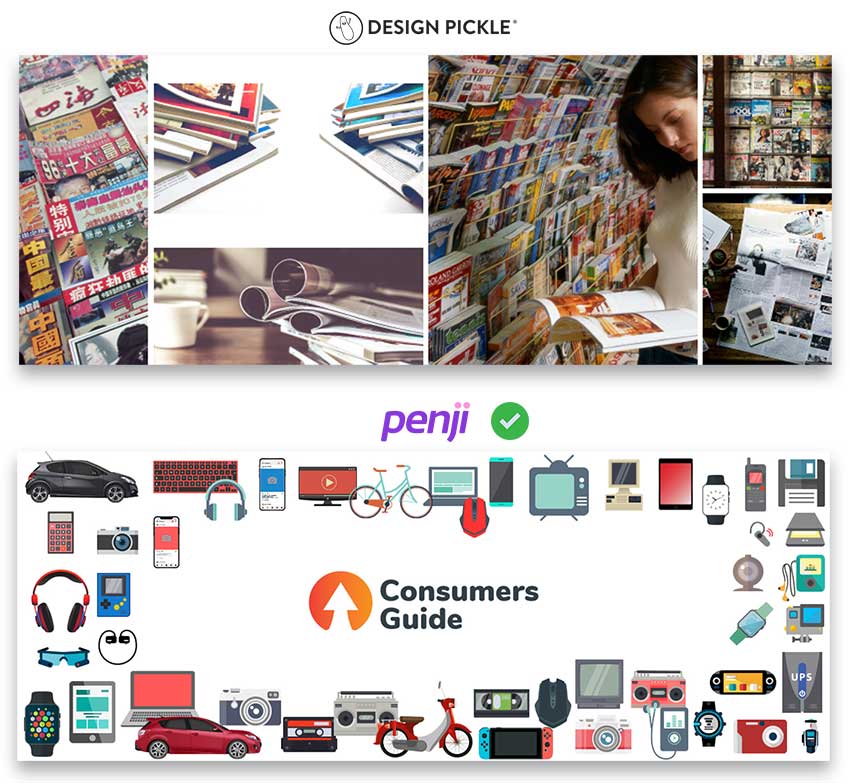 View DP's design | View Penji's Design
One of our publishing partner Consumer's Guide needed a new Facebook cover photo. This was a fairly simple design request, with the exception that you have to check out the website and understand what the company does in order to create a banner. I gave special instructions such as …use the Logo in the design and showcase what the publication does on the cover image.
Design Pickle: Given I was impressed with Arvin on the 1st project, I was thoroughly disappointed with this one. I don't think the designer ever went to the website to review the publication at all. Just a glance would've helped. This looks like 6 random images from Pexel or Unsplash stitched together. 3/10
Penji: Rowell (a different designer) was assigned to this project, and it seemed like he took the time to review the website before designing. I didn't even know, but apparently there was a new logo on the website that I wasn't aware of. Rowell took the time to ask for the new logo. The end result was beautiful and our friends over at Consumer's Guide loved it. 9/10
---
Print Magazine Cover Re-Design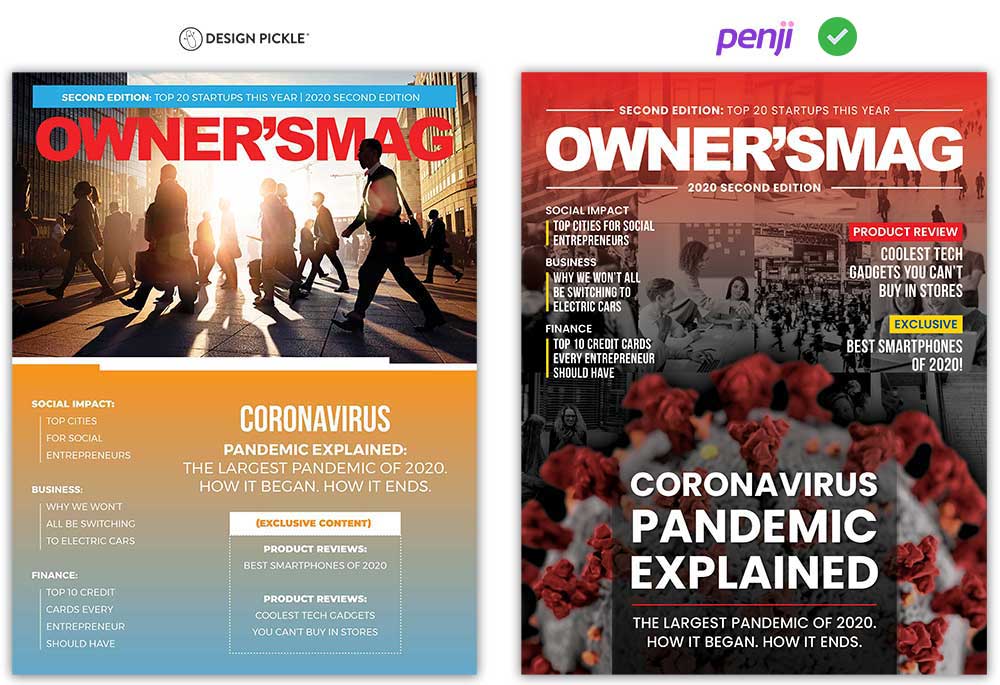 View DP's design | View Penji's Design
By far one of the most important projects for us. We're both a digital and a print publication and this spring we're releasing another edition of Owner's Mag. The designers are tasked to design the actual cover for Owner's Mag second edition print magazine. All instructions, copy, and even past designs were given. The cover needed to look professional, refined, and most importantly highlight the Coronavirus Pandemic. I also asked for this to design in Photoshop.
Design Pickle: I was assigned to Alyssa randomly, and wasn't sure why. The first draft was atrociously bad and she gave me Adobe Illustrator files instead of Photoshop like I had requested. Arvin (my main designer) was quickly re-assigned to fix the design. Several drafts later, it's just nowhere near the level of polish and professionalism that we needed. I gave instructions to "Highlight the Coronavirus" section. My designer proceeded to make the texts CORONAVIRUS texts bigger. Quality rating: 3/10.
Penji: Billie was assigned to this project. The first several drafts were simply amazing. It was clear to me that Billie has designed plenty of magazine covers before as she knew where to place things and how to organize content blocks on a cover. It took a few revisions to be perfect, but I was happy from the beginning.
What I was most impressed with was how she clever highlighted the "Coronavirus" section. I was speechless at the final product. I showed the design to my editor and they couldn't believe it didn't come from one of the design agencies we hired. Of all the designs we submitted, the quality and level of creativity in this design far exceeded our expectations. And this is the design we will likely be going with for our print edition. Quality rating: 10/10
---
Content Infographic Re-Design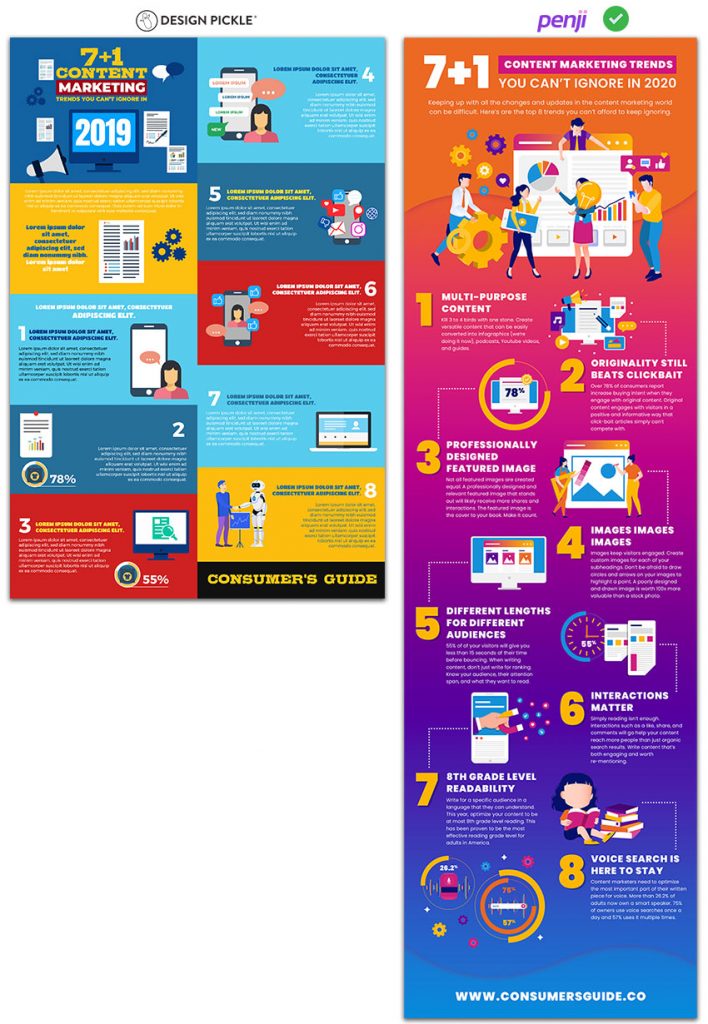 View DP's design | View Penji's Design
Infographics are some of the most challenging and difficult designs to get right. We've hired a lot of people to design infographics for us, and it's hard to find someone good who understands how to design infographics. Infographics need to be entertaining to look at. And they also need to present statistics and numbers in a creative and meaningful way that's easy to read and digest. We weren't sure how either Design Pickle or Penji would fare in this. If anything, we expected both companies to do poorly.
Design Pickle: Arvin did follow instructions, however, there was no creativity in the design. It's just left and right blocks of texts and icons. The icons were all of the different stylings, clearly from different designers on Freepik or another free resource site. And there's just no creativity in this design. It looks boring, bland, and the numbers are just displayed. It's hard looking at this design and imagining a lot of thought went into it.
I have to be fair and say that it's not a bad design, but it's not an infographic. Not even close. And this isn't something we can use to publish for our audience. Design quality: 4/10
Penji: I was assigned another designer from the beginning, but requested for Billie given how impressive her Magazine cover design was. The result – absolutely breath-taking. The gradient is beautiful and easy to look at. Each item from 1 – 8 was organized and flow gracefully down the page.
Each icon makes sense with its content block. And the way the 55%, and 78% statistic was intelligent and meaningful. All of the content seems like they fit and flow together. This infographic design is on the same level of professionalism and detail that we're used to from working with design agencies in our city. Design quality: 10/10
5. ATTENTION TO DETAILS

Both designers from Penji and Design Pickle were fantastic individuals to work with and we don't have complaints with either Arvin or Billie. However, designers from Penji seem to pay more close attention to the details of the designs. In several designs, if you inspect closely, you can see how much attention Penji designers put into all the little details.
There was a lot of little errors from Design Pickle's submission. The woman in the pink shirt icon is duplicated in two of the graphics. The 78% graphic didn't make any sense and you can't see the tiny icons inside of the icon.
The other thing that bothered us was the use of colors. The design on the left had poor color choices for the background colors. The light-blue is used twice, and they connect and bleed into each other (1 and 7). Penji's design on the right had colors that complement one another and just overall looks more professional.
6. CREATIVITY

Creativity is a difficult thing to measure and ask for. It's easy to tell your designer to "be creative" with the design, but it's almost impossible to pinpoint. Creativity is one of those things where you just have to trust that your designer has.
My experience working with Design Pickle vs working with Penji was polarizing. Despite giving the same instructions and feedback word for word, the outcome was completely different. Design Pickle's designers were great at following detailed instructions and almost too good to the point where they didn't put in their own creativity.

For the Magazine cover design, I gave the following instructions
Have stock images of people moving and working in the background to show movement
Make Product Review and Exclusive sections stand out
The major headline is "Coronavirus Pandemic Explained". Make this the most prominent element on the page
As you can see from the image above, the two designers both had a different creative vision for how to make the Coronavirus section stand out. To us, Penji's vision was more creative and impactful.
ONLINE PLATFORM
Both Design Pickle and Penji have their own dedicated platform, which is both a good and a bad thing. We personally prefer if their designer just joins our platform and works with our team on Asana or Trello. But we understand their business model can't allow for that kind of personalization.
Both platforms were super easy to use and I have very little complaints. They're not complex platforms and are both seamless enough that you won't need any complicated tutorials or share-screen walk-through to get the hang of.
I didn't like how Design Pickle's platform constantly tries to sell me their CEO's content. The platform tries too hard to get me to click on links to his podcasts, webinars, etc. and I was more annoyed than appreciative.
Penji's platform is cleaner, less bulky, and didn't try to sell me anything. And that, I appreciated. I get that Design Pickle wants to get more clicks and signups for their CEO's webinars, but there are better ways to do that.
INTEGRATIONS
One of the things I love about Design Pickle is its abundance of integrations thanks to Zapier. Although I haven't used it myself, my co-workers swear by it and have used Zapier integrations with other software. I don't know how their Slack integration works because we signed up for the Standard plan, but I have a feeling it's not actually an integration, but more so someone joining our slack team and working with us. And that's a great thing.
Penji didn't have Zapier integration, instead, they have Slack Integration API. It was a bit complicated and required our developer to actually setup with our Slack. Definitely not user-friendly or intuitive. This point goes to Design Pickle.
COMMUNICATIONS
Communication is VERY important in graphic design. Both companies did an exceptional job communicating within all of the design projects. Despite not being able to meet or talk to any of the designers and having everything be done online, communication always felt responsive and tight with both companies.
The one thing I like about Penji was that my account manager was very active in communicating with me. I believe I also had an account manager for Design Pickle, but I can't even remember their name since they rarely contacted me except when I wanted to cancel.
My account manager, Charmaine, emailed me right after I signed up and personally contacted me when she saw that I wasn't happy with some of the revisions. That's an extra layer of care that Penji gave that was missing from Design Pickle. And to me, it made a huge difference in my overall satisfaction.
CUSTOMER SUPPORT
Design Pickle vs Penji's customer support. Both companies provided top-notch customer support and both were very responsive to my needs.
Design Pickle shined in two major areas when it comes to their support. They use Intercom for live chat and during most day-time hours someone was available to answer me. They also have a knowledge base where you can look up commonly asked questions, although I'm not sure how useful this would be since this is a service and not a complex SaaS software. Regardless, it was a nice thing to have just in case.
Penji's customer support was also excellent as my account manager was a real person who constantly checks on my projects and contacts me proactively whenever there was an issue. I really liked the human element that Penji always seems to provide. The downside is that there's no live chat. And whenever I needed help, the chat interface of Penji just sends an email out to my account manager.
Overall, both companies were great. Design Pickle responds faster and has more online help resources. Penji, on the other hand, has a very active account manager who proactively emails me.
OUR FINAL VERDICT
Choosing a winner is difficult as both companies are great in their own respective ways. Both have been around for several years, however, I believe Design Pickle has been around longer. Both provide a great experience and I can't say I'm upset or disappointed with either service. But there are many areas where one outshines the other.
Design quality – Penji
Of the four projects, Design Pickle won 1/4. Penji won the remaining 3/4. The clear winner in terms of design quality goes to Penji. From our experience, the design quality, creativity, and attention to detail were better with Penji than with Design Pickle.
Turnaround time – Tie
Design Pickle vs Penji in turnaround is a complete tie. Both were exceptionally fast with their initial drafts and also revisions. Design Pickle lagged a bit and usually took 12 – 24 hours to complete revisions, but my designer turned around more drafts than Penji.
Penji even though turned over fewer initial drafts, the designs were higher quality and revisions were usually the same day. Both providers were incredibly fast by any standards, therefore we call this one a tie.
Attention to detail – Penji
Penji outright wins in this category. In just about every design submission we received, our designer from Penji seems to pay closer attention to the little details than their counterpart at Design Pickle.
Creativity – Penji
Design Pickle vs Penji's creative output is actually a close one. Arvin from Design Pickle was great at the Versus blog graphics. It was so creative that we're using it for this specific review. However, Arvin and the other designers assigned to me seemed to stumble at more complex projects such as the infographic and Magazine cover.
Penji designers tend to ask me more questions and submit more drafts for me to choose from. You can see from the designs above, submissions from Penji generally appear more refined, creative, and artistic.
Overall, Penji wins at the creative output.
The winner…
Design Pickle vs Penji – the winner has been decided. It's Penji. Both companies are exceptional, however, we chose Penji for the following reasons:
Penji offered more value for the same price
Better quality design, attention to detail, and creativity
Felt like I was working with real people more than processes and automation
This certainly doesn't mean that Design Pickle doesn't have good designers. We acknowledge that luck could play a role. Perhaps Arvin from Design Pickle wasn't the best pick for us. And perhaps we got paired with the best designer on Penji. Who knows. But factoring in multiple criteria and testing various types of design projects, we concluded that Penji gave us a better experience and proved to be a better value.
Otakon Welcomes Writers Roland Kelts And Frederik L. Schodt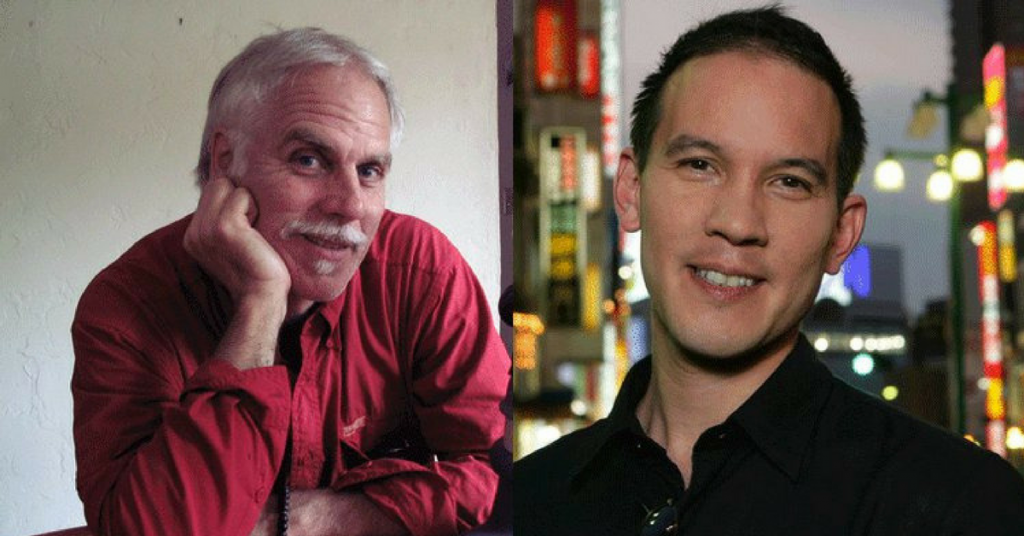 Roland Kelts, author of Japanamerica: How Japanese pop culture has invaded us, and writer, translator, and conference interpreter, Frederik L. Schodt have both joined as guests for Otakon 2017. Fans of the writers were thrilled for their appearance at the convention, as they share their most popular and influential works. Frederik writes exclusively on pop culture, technology, and history, while Roland is currently a 2017 Nieman Fellow in Journalism at Harvard University, where he is currently working on a new book. Both Frederik and Roland are devoted writers, with similarities in expressing Japanese culture in their writings.
While living in Tokyo and New York City, Roland writes for a variety of well-known publications that includes, "The New Yorker, Time," "The New York Times," "Harper's Magazine," "The Christian Science Monitor," "Newsweek Japan," "The Los Angeles Times," "The Yomiuri" and "The Japan Times," and is an authority on modern Japanese culture and media. His writings are spread throughout, though his recognition is from Japanese fans especially. Likewise, he is a frequent commentator on CNN, NPR, NHK, and the BBC. With additional lectures for TED Talks in Tokyo and The World Economic Forum in Tianjin, Roland is looking for various opportunities to share his work, in order to spread awareness to the Japanese culture.
Otakon is an annual celebration of Japanese and East Asian popular culture, with the title of holding in one of the largest gatherings of fans in the United States. In the celebration of anime, manga, video games, and especially music from the Far East, Otakon attracts like-minded fans. Created from devoted fans for fans, the staff is directed by an all-volunteer, unpaid staff. The conventions are solely for the purpose of celebrating and sharing Japanese and East Asian cultures.
Frederik is best known for his many works on manga that includes, "Manga! Manga! The World of Japanese Comics" (1983), "Dreamland Japan: Writings on Modern Manga" (1996), and "The Astro Boy Essays: Osamu Tezuka, Mighty Atom, and the Manga/Anime Revolution" (2007). He has won numerous awards for his talent in the past as a result. In 2009 especially, the emperor of Japan awarded him the Order of the Rising Sun, Gold Rays with Rosette, for his success in introducing Japanese popular culture to North America. His most influential work gave recognition to both him and to what Japan has to offer.
As of recently in 2013, his book, "Professor Risley and the Imperial Japanese Troupe: How an American Acrobat Introduced Circus to Japan—And Japan to the West," won the Circus Historical Society's Stuart Thayer Prize. Doing so, for the last three years, he has served on the executive committee of the Japan International Manga Award. Additionally, he is an active translator and has worked on much well-known manga series, as well as novels including Yoshiyuki Tomino's "Mobile Suit Gundam" trilogy.
Frederik has been involved in spreading Japanese culture and will continue as he attends Otakon 2017. The convention holds determined fans who wish to express their culture with other similar people. In Otakon 2017, writers Roland Kelts and Frederik L. Schodt are invited to continue the tradition. All while cementing their writings and work to Japanese culture, the awareness can now be shared in North America.
Otakon will be continuing their gatherings next year on August 10-12 at the Walter E. Washington Convention Center, Washington D.C.
Kemetria Lilly Founder of Lilly's Kloset: 5 Tips for Aspiring Entrepreneurs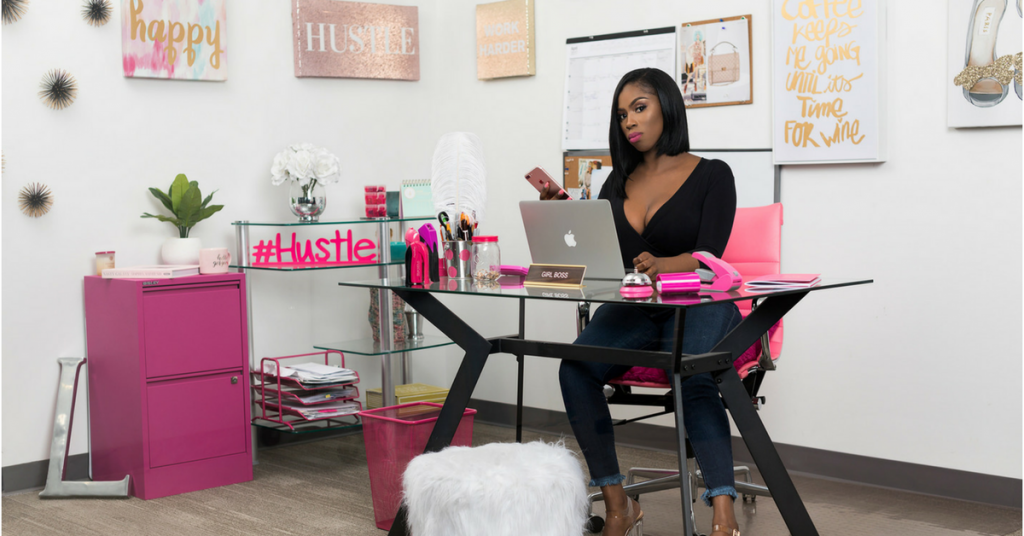 Every girl, including myself, wants to look beautiful and radiant, but to feel confident is another plus. Then there's Lilly's Kloset, the online women's boutique with offers in everything a woman needs in her closet. Founded by Kemetria Lilly, Lilly's Kloset has everything from sunglasses to shoes. There is a unique offer on looks from head to toe.
The brand started off as an accessory boutique, but just by listening to their customer's wants, they added other categories to the site, with shoes being their main revenue. Just by that, the brand gave more access and opportunities to customers to be apart of the brand, with the responsibility to make decisions on what Lilly's Kloset carry and restock.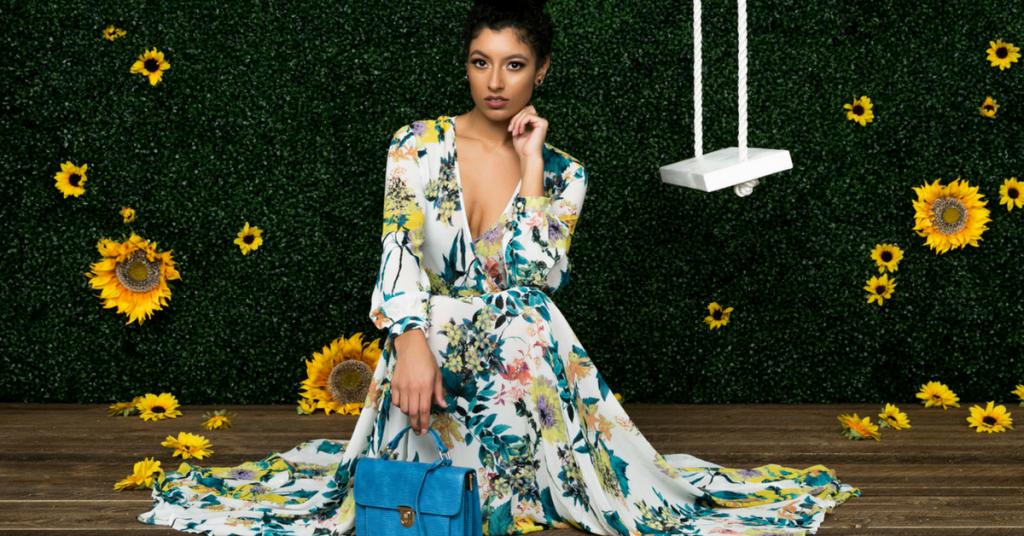 Fashion is the most effective way to communicate women-empowerment, in influencing young girls to the recognition of their true potential. In the process, to reflect their internal beauty into physical shape is something that Lilly's Kloset carries out respectfully. This brand screams women-empowerment. Initially, Kemetria Lilly aimed to work in the fashion industry.
After getting rejected though, she still committed to her passion for styling and putting beautiful things together. As she builds herself a career that allows her to create, she also intended to use her brand to make women feel good through fashion. The outfits are for women from ages 18-24, or as Kemetria Lilly calls it, "The Lilly's Kloset girl is a college student that has a party to go to, the working mom that has brunch with her friends on Sunday, or the bride that needs shoes for her whole wedding party."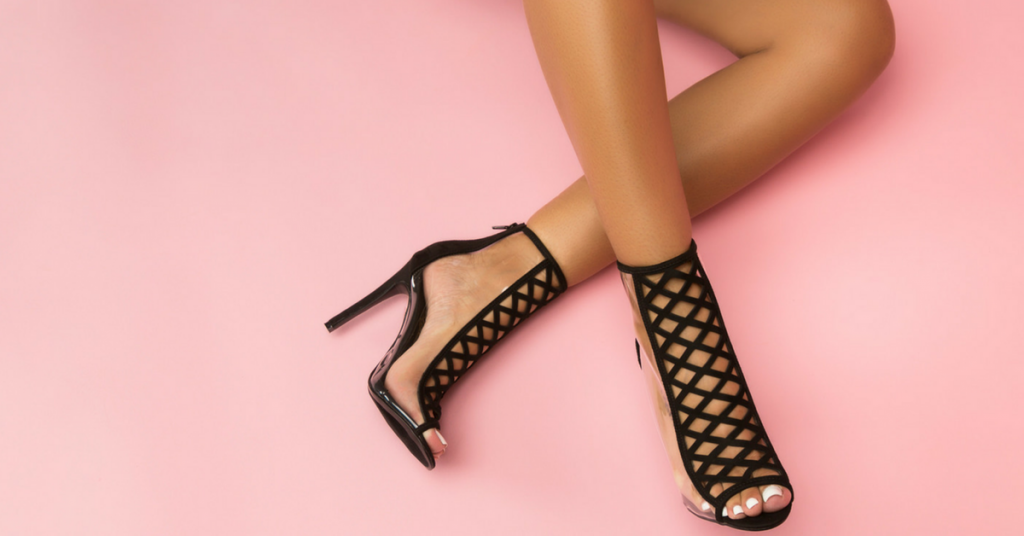 To further advance her company, Kemetria Lilly plans to improve the overall customer experience, even stepping in to interact with her customers more. The benefits of doing this will loosen the gap between their ongoing challenge in figuring out what their consumers want. Fashion trends are constantly changing, so from observing their general customers, the brand is able to produce products that can fit into their lifestyle.
For each piece of apparel, Kemetria Lilly already thought of a layout of how the outfit could be implemented. With this success, the company plans on improving with a movement towards adding product lines, larger size selection, and more exclusive collections. Leaving their only competition being last year's sale to beat, they conclude how this is not just a brand for fashion, but also a voice for women.
As an entrepreneur herself, Kemetria Lilly started her business from the ground up. She continues to share her knowledge by giving 5 tips for aspiring entrepreneurs.
1.) Be Unique
You will never stand out by following the crowd. To get people's attention to what you're doing, you have to give them something to remember. Generate ideas that will meet up to your standards, that way, you have a project to be proud of.
2.) Stay Consistent
This goes for everything you do. Stick to the things that you are familiar with, you'll polish your skills to become an expert. Also, you will have a motive. This is the guideline for Lilly's Kloset,
"We stick to the same fonts and colors, our voice is also the same through our marketing material".
3.) Be Transparent
People like to connect with people, not brands. Therefore, showing who the owner is or what it's like behind the scenes in building your brand allows you to be relatable. To keep your customers, you have to create a sense of the relationship between them and the brand. Something to look forward to.
4.) Be Patient
When it feels like everyone else is thriving in their career but you aren't, it will make it easy to think things won't work out. Due to that, it'll seem like the easiest thing to do is to give up, but that is not the case. It's important to know that social media is only the highlight reel of our lives and hard times will not be shown.
5.) Never Stop Learning
It's so important to educate yourself as an entrepreneur and to always be aware of what's going on in your industry. To keep yourself up to the task, be prepared to continue your education. With every situation, whether it's a failure or win, there is always a lesson lurking behind that can help you improve your task.