Josh Hoffman CEO of Game Plan
Special thanks to
Josh Hoffman
for coming onto our 0-100 Series show. Josh Hoffman is the CEO of an up and coming startup in Philly call
Game Plan
.
Game Plan
aims to solve the issue of booking at a restaurant for a large group. Game Plan lets you and your entire group plan out an entire evening or event together and making sure you don't forget that one poor vegan friend (everyone forgets that one vegan friend...).  The App is currently only available in Philadelphia and will be expanding soon. You can
download the App for iOS here.
Below is a text transcript of the video interview in case you're at work watching this and can't afford your boss finding out.
What made you took the leap into entrepreneurship?
Josh Hoffman
: I always say it was the start of sophomore year of college when I think you just kind of become your own person. I kind of identified the quickest way to be successful was being an entrepreneur and starting your own company and not doing the whole step-up-to-that-point. I would say the other thing is also just...learning to completely trust yourself as opposed to trusting others. Whether personal stories or not personal stories. You learn about people losing their jobs or whatever the reason is. Or just not liking your boss or whatever.  And there's one way around that and that's being your own boss.
What were the biggest initial hurdles when building your business and how did you overcome them?
Josh Hoffman:
The first thing I thought of is definitely finding a co-founder or finding a team that is internally motivated. I would say it's finding the right team. In hindsight I wish I had started coding and I spent so many years looking for a coder and if I actually spent time learning how to code that would've moved the product forward. I'd say that was the biggest difficulty. It's getting people to join on your dream.
What do you look for in a business partner?
Josh Hoffman:
The number one thing I definitely look for in a co-founder is just diversity in thought so they don't think like me. Which causes argument...usually.
What is the biggest mistake you've made as an entrepreneur?
Josh Hoffman:
The biggest mistake I think we've gone through is not pushing the product out fast enough, at any capacity, or at any rate. The second we pushed the product out and we did this launch thing...it took us 2 weeks to realize we didn't have enough tangible value in the product.
What do you do to recharge when you're feeling drained?
Josh Hoffman:
When I'm drained? (Josh laughs hysterically) Well it's not illegal anymore in most states.  (Continues laughing) Music. Honestly just closing your eyes and appreciating where you are. Inside you can be hurting a lot and I understand that's like...that's very hard. My grandparents were in the holocaust and they were at my age living under floorboards. And they didn't have a Bar Mitzvah because they were literally hiding from Nazis. Putting perspectives in your situation and realizing although it can be very bad...and it probably is. There are a lot of situations that are worse.
What advice would you give fellow entrepreneurs just starting out?
Josh Hoffman:
Surround yourself with positive people. Network like no other. When you're younger almost everyone will say yes to giving you advice, getting coffee, or whatever. So take it every time, every single time. It's crazy for you to get this really important person right in front of you and you have the ability and correct time to get their number or email. And do something with them and follow up. But maybe that's just my sales training that got me to do that but not enough people do that.Special thanks to Josh Hoffman from Game Plan for being featured on 0-100 series. To see what he's up to visit
http://getgameplan.com
.
Q&A with Tobias Peggs: CEO of Square Roots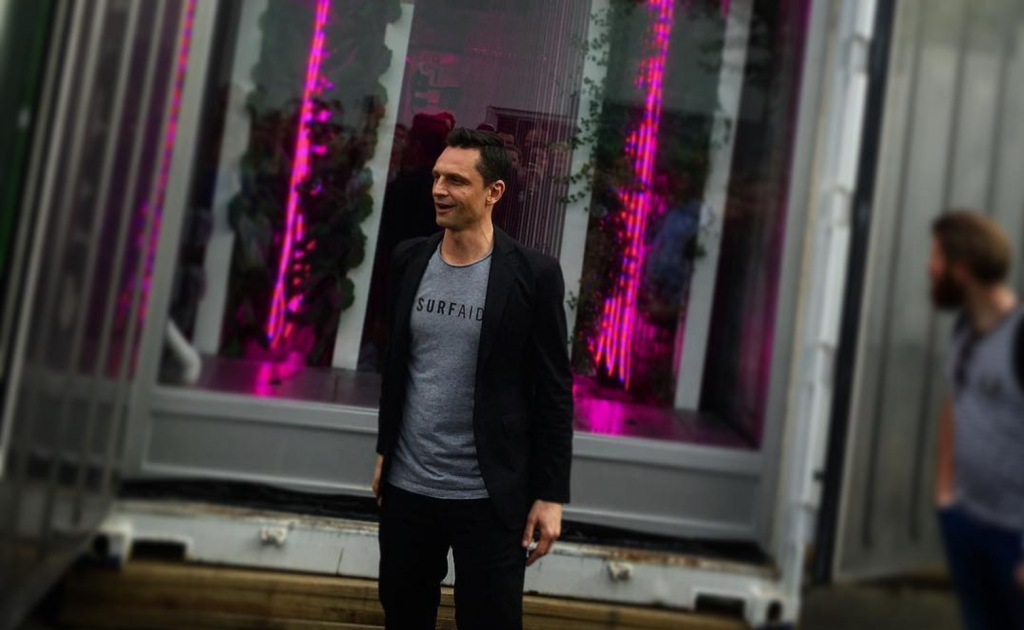 When you think of farming, wide sprawling hills with rows of stalks and veggies comes to mind.  You probably imagine a farmer as a dude with a plow with denim overalls, not necessarily as an entrepreneur.
Square Roots
is a startup that is changing the way we think of farming.  Cofounded by Elon Musk's brother, Kimbal Musk, this company is disrupting the industrial food complex by closing the gap between the food that farmer's grow and the consumers who buy them.In the heart of Brooklyn in a old industrial parking lot sits a bunch of unassuming shipping containers.  The last thing you'd expect them to contain would be two acres worth of growing produce, but alas, that is exactly what's inside of them.Your typical apple travels a huge distance from where it was picked to the grocery store shelf.  In the process it looses the vast majority of it's nutrition.  Square Roots attempts to resolve this inefficiency by providing a place for produce to be grown in an urban setting.  It does this by growing produce in shipping containers hydroponically (a method of growing without soil).  Each shipping container is manned by a farming entrepreneur who is responsible for creating their own business plan, marketing and distribution logistics.  Once the produce is ready for harvest, farmers deliver the fresh goods directly to your office/home, connecting the farmer with the consumer in a more intimate and conscious way.A couple weeks ago I took a tour of the urban farm led by of Square Root's CEO Tobias Peggs.  Here's a look at some of the things I learned along the way:
How much produce can one shipping container yield on average?
One shipping container can produce about 50lbs of leafy greens.
How long does it take a plant to get from seed to harvest?
This varies depending on what type of vegetable is being grown but take for example a head of lettuce: it takes about 2-3 weeks for the plant to go from seed to harvest.
Tell me more about the tech that goes into growing food in shipping containers.
To replace sunlight, we use red and blue LEDs, which are really the only two types of light plants need for photosynthesis.  Each shipping container is modular with a controlled climate.  My background is in artificial intelligence, so every aspect of the conditions in each shipping container is controlled by AI.  Say we had an heirloom seed that grew in southern Italy in the 1800's.  We can look to see what the climate was at that time and replicate it's environment within the container.   This way, instead of literally shipping food from southern Italy, we just ship the data about that environment and use it to grow exotic foods locally.
What control do farmers have over what they grow?
Our farmers are 100% entrepreneurs.  They decide which seeds to use.  They also are responsible for their own branding and marketing and how to distribute their goods.  This is our first cohort of farmers, they don't have to use the Square Roots name, but most choose to.
Is there anything like this currently being attempted?
There's one in particular being attempted in Japan.  A large portion of farmland was rendered unusable after the meltdown in Fukushima.  Because of this Japanese consumers now have stamps on the food which literally says "Proud to be grown indoors".  So people are attempting it, all of them in different methods. I would say we were the most modular.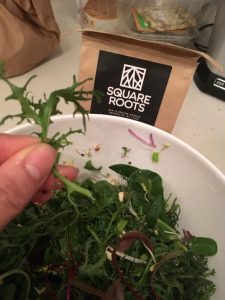 After the tour I got to sample some of the shipping container-grown produce.  The picture above is from a mustard green.  Believe it or not it was really spicy!  I never thought of leafy greens as spicy, but regardless it was bomb as hell in my salad.As populations rapidly grow and change in cities, so must the way we produce and distribute food.  Not only does the current method of industrialized farming diminish the quality of our food, but it also disconnects the farmer from the consumer.  Square Roots presents us with a wildly innovative solution to these issues.  Where does your salad come from?  Mine came from a badass shipping container in Brooklyn.
Costume Designer Janelle Nicole Carothers Interview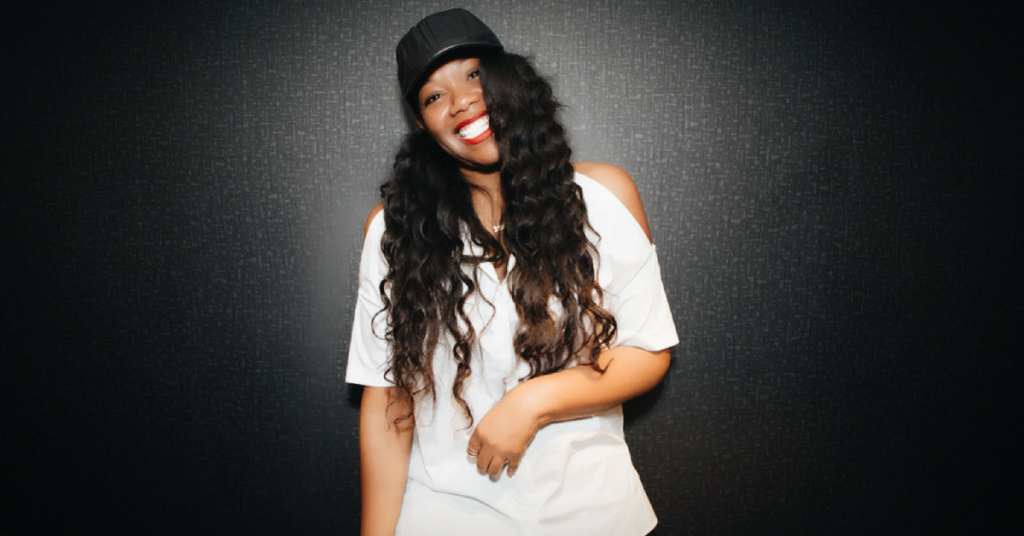 Inside The World Of Costume Designer Janelle Carothers
Being the costume designer for some of the most beautiful women and biggest names in entertainment sounds like a dream job, and Janelle Carothers does just that. Dressing big names like Cassie, Ne-Yo, and Chris Brown, she is no stranger to getting up close and personal with celebrities. Janelle's role in film greatly impacts the characters wearing her clothes. She looks into the finest details to create the perfect look, whether it's for print, live performances, or commercials.

It comes to no surprise that she was born fashion savvy. Her personal style is self-described as "tomboy-chic," with pieces that we can find in our very own closets. "So my day-to-day fashion consist of layers to pop on and off as I go in and out of meetings, in and out of malls, on and off sets, in and out of fittings. My fashion staples are, leather jacket, white T, great fitting jeans, boyfriend blazer, long scarf, big shades, shirt dress - I can get a million looks out of those 7 items. My personal go to brands are Celine, Madewell, Rick Owens, Adidas, Acne, Alexander Wang and of course I love piling on my SLATE accessories. I love to be comfortable and look effortless." Versatility is key when it comes to picking out pieces for herself.An outfit tells a story about the person wearing it, and Janelle keeps that in mind each time she is on set. By studying the characters, she figures out their personality, their occupation, and so on, so she can style them accordingly. "It's more about How can I help the actor and the director tell this character's story without saying a word. Does she make a lot of money? Is she happy? Is she insecure? What does she do for a living? All those things have a "look". What is that look? That look may or may not be "fashion". But, my job is to keep you entertained. Executing the vision of the powers that be into making you believe this character is who they say they are." Her passion stems from the ability to tell a story through clothes, not just for fashion's sake alone.Though her livelihood is her dream, it did not come without obstacles along the way. "The challenging part was all the different catch 22's. Get a job to get experience, no one will hire you until you have experience. Get into the union. Can't get in the union unless you find a union job. Can't get on a union job because you're not in the union. It's almost like it's designed to make you quit, but you can't. But, every obstacle you overcome bears a new obstacle. This is life. I look back and see how far I've come, I look ahead and see that there's still so much more to do." Janelle has faced what many millennials are also facing today. Finding a career proves to be difficult, no matter the industry.As an entrepreneur, she has worked tirelessly to get to where she is today, each day to improve the next, setting up her future with each move. Creativity and entrepreneurship comes hand in hand, especially in the costume design industry. "This is something that you have to choose over again, almost everyday. So many things are going to come along (bigger, better, prettier, EASIER), don't jump ship, stay the course. Know that all days on this journey are not created equal. You got to take good with the bad. Keep going. Don't give up." She began her career assistant a stylist for Chris Brown before he was a big name. When he blew up, she followed him on tour for three years. Her perseverance paid off, time and time again, as she has elevated her portfolio with television, music videos, working with Director John Singleton, and much more.One of her most popular projects was working on the movie

The Perfect Match

, starring Paula Patton, Terrence J, and Cassie Ventura. Watching the film, you can tell that each piece was meticulously thought out and chosen according to the personalities of each character. "Great and talented crew. I'm grateful the director, Bille Woodruff, entrusted me with his vision. And, I mean Cassie, Lauren London, and Dascha Polanco are too gorgeous and you can't make them look bad even if you tried. So all in all, when projects like that come around you just say yes one thousand times."While there is no such thing as a typical day for Janelle Carothers, she stays humble and expresses her gratitude for being able to work in the competitive and demanding industry that is costume design and styling. She stays grounded by her son, who motivates her to continue chasing her goals. " Knowing that God chose me to take of him. Knowing that I'm his sole emotional, physical and financial support. Knowing that God allows me the opportunity to feed us and provide us a great life by doing something that I love so much. That alone is worth its weight in gold. The least I can do to show God my ENTER all gratitude, is to stay motivated and keep going." She has many more surprises in store, and whether we realize it or not, we'll be seeing her work everywhere we go.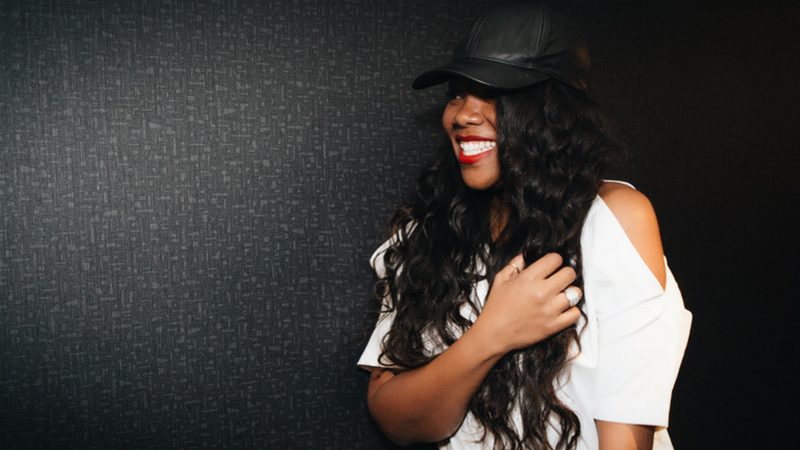 Leading Ladies In Tech: Alisha Miranda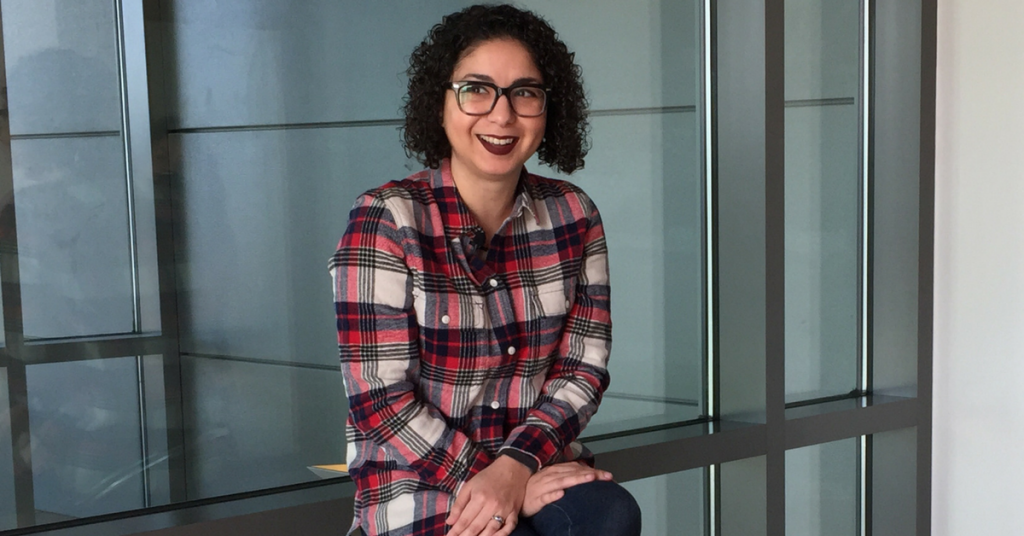 Alisha Miranda is a digital media strategist who helps CEOs, small business owners, media and technology brands develop their marketing and revenue opportunities. You can find ​her cited on HuffPo Business, Bit.ly, Bio.com, All Digitocracy, Fast Company, Time Out New York, AMEX OPEN Forum, PR Week and Mashable - to name a few. When not working on media campaigns, she writes food and travel stories that inspire young people to see the world.

In the past years, she has managed her own digital consultancy, alishainthebiz, which oversaw content, marketing and community engagement campaigns for start-ups in food, travel, and lifestyle. This led to partnerships with Social Media Week, Skillshare and many others which led her to being hired as a contractor for select projects by Thrillist, 2U, Astrsk PR, Digital Undivided among others. She has also written for a strong list of companies as a contributing writer, such as Time Out New York, New York Times, and New York Observer.Alisha Miranda spent about a decade in New York gaining experience in the digital space. She later moved to Philadelphia and started #RadGirlsInTech with Leah R. Kauffman, Director of Marketing and Communications at Red Spark. Their goal is to empower women working in the Philadelphia tech industry as well as help those looking for guidance in fields like coding, marketing, programming, content creation, and more. They have been able to connect technologists with digital creatives through their meetups throughout the city.In this interview, Alisha Miranda ties in all the four C's of Casual, Chic, Candid and Confident. She leads us through the various decisions she has made in her career and her passions in life, while talking about where she sees herself in the coming years. She ties that up with some great insight and advice for the millennials, start-ups and small businesses. Alisha manages to strike the magical balance of being both strong and endearing.