Best Equipment To Add To Your Home Gym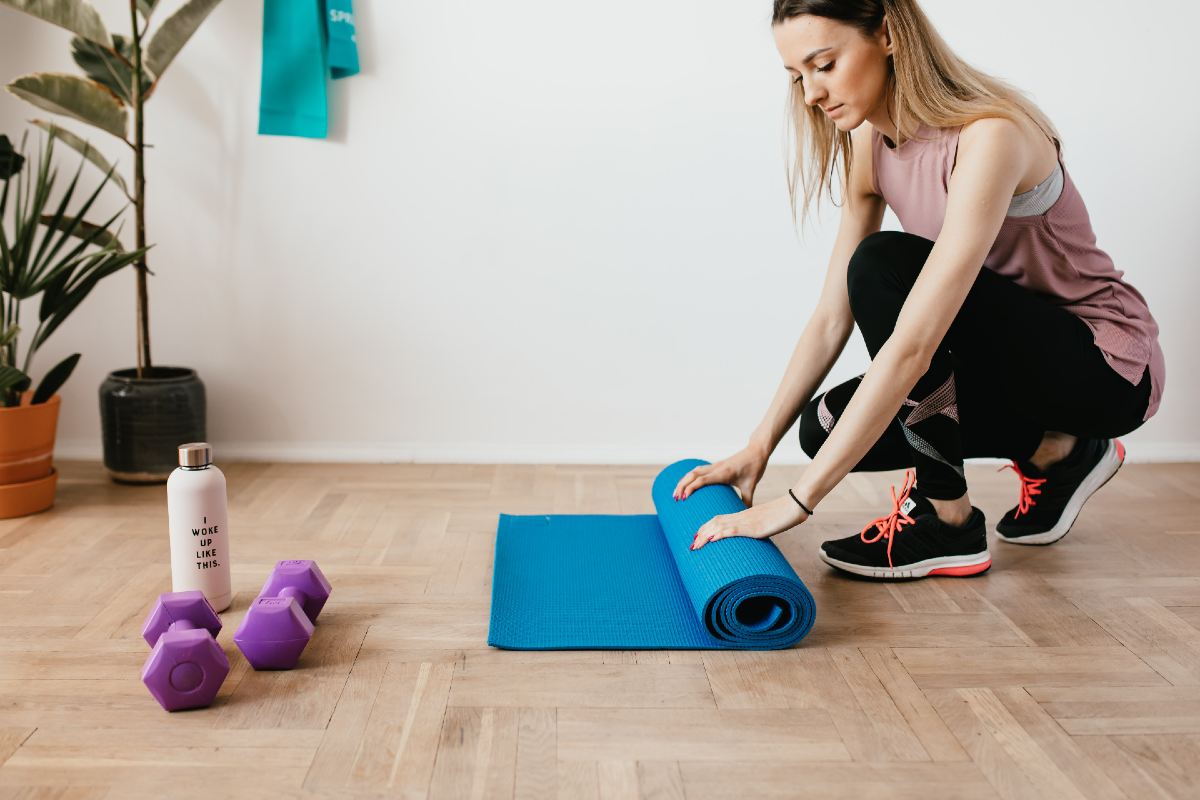 Due to the pandemic, many regular gym-goers and fitness buffs have had to settle for a home gym set-up. To maintain physique and not lose exercise progress, they'll need the best equipment at home. In this article, know the 15 best home gym equipment for any workout and fitness level.
For those who have yet to start their fitness journey, all the equipment included here is beginner-friendly too!
1. BWSS Adjustable Dumbbell Core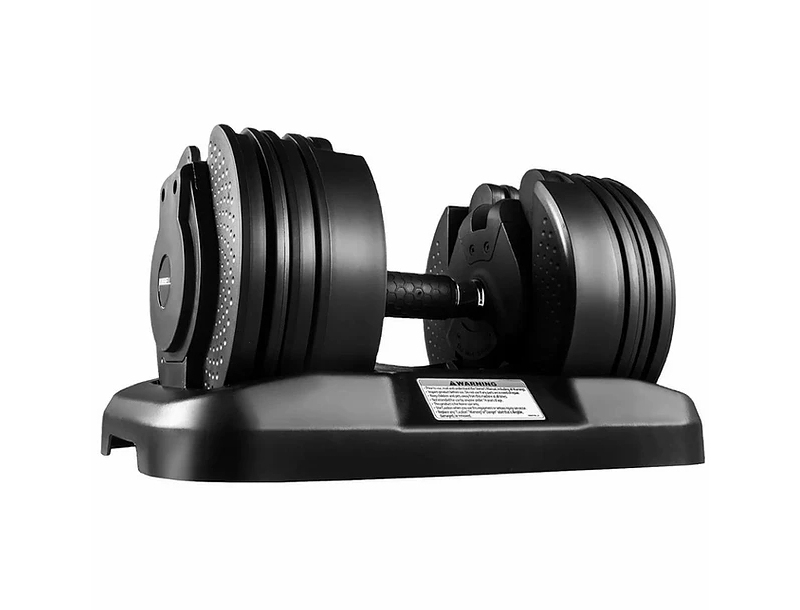 Dumbbells are a great way to strengthen your upper body and tone your muscles. But as you move up a weight, you'll need a new set of dumbbells. It can become expensive if you buy individual dumbbell weights.
You can save money by purchasing something like the BWSS Adjustable Dumbbell Core. Basically, by using this dumbbell, you can simply adjust the weight without needing iron plates or free weights. It's why many consider this one of the best home gym equipment.
The weights range from 5 lbs to 45 lbs.
Price: $399
2. Power Block Pro 50 Series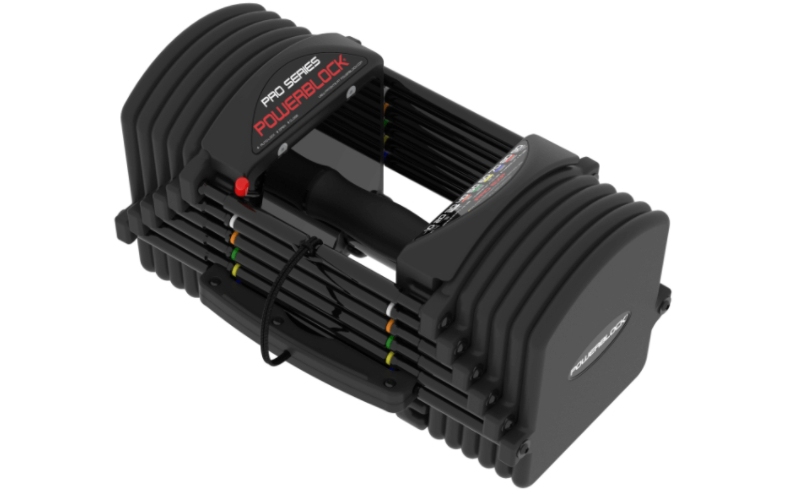 Here's another dumbbell you can use at home. Like the BWSS one, the Power Block Pro 50 Series is adjustable. It also has an auto-lock function keeping the weights in place. This one has more increments than the BWSS as you can do some curls or lifts up to 90 lbs.
Price: Starts at $439
3. Yoga Zeal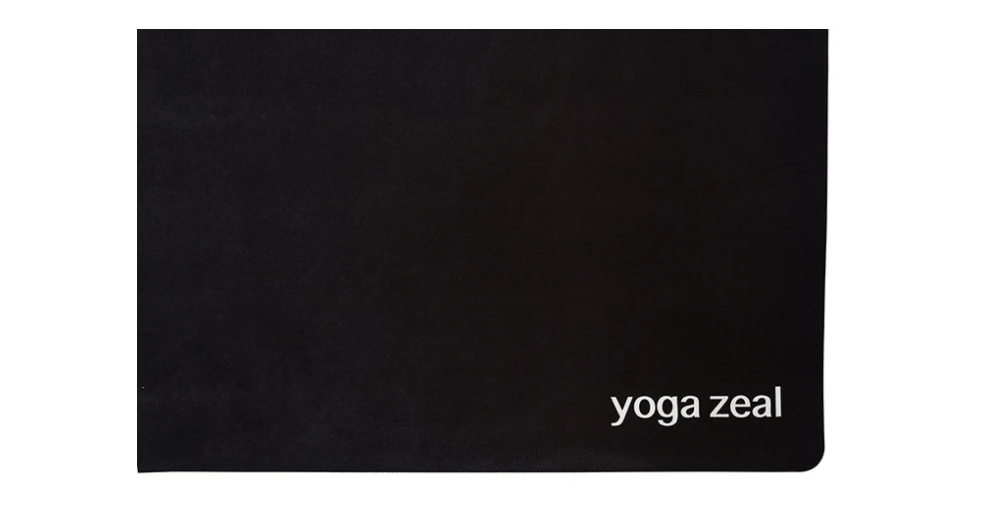 Even if you don't do yoga, a yoga mat is necessary for most workouts. But you need a non-slip yoga mat whenever you're doing push-ups or lunges. And any of the Yoga Zeal mats would do just the trick. Whether you're doing hot yoga or an intense workout, you'll have much more grip on the mat even when you're sweating.
Aside from that, it uses eco-friendly and biodegradable materials too! To care for it, you can either hand wash it or use a washing machine.
Price: $79 to $145
4. TRX All-in-One Suspension Training Fitness System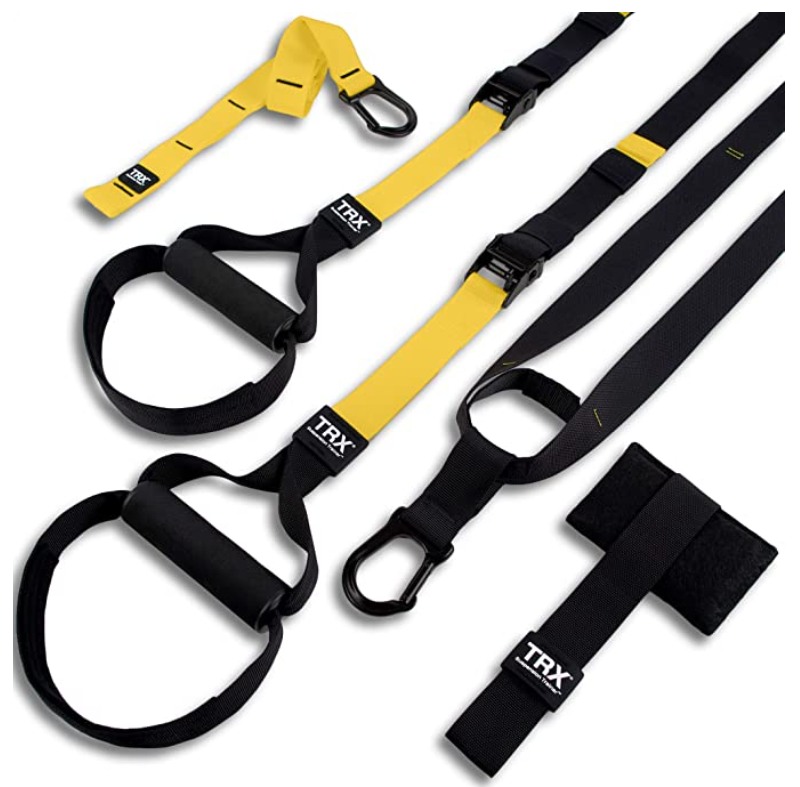 The TRX All-in-One Suspension is ideal for any workout. Anyone can use this equipment, from beginners to fitness buffs. It improves movement and strength. Plus, it can tone your lower and upper body and core. You can even do some resistance training using these.
Many consider this one of the best home gym equipment because of its portability. As for safety usage, they have locks that will ensure you won't slip while you do any workouts.
Price: $169.95
5. Fit Simplify Resistance Bands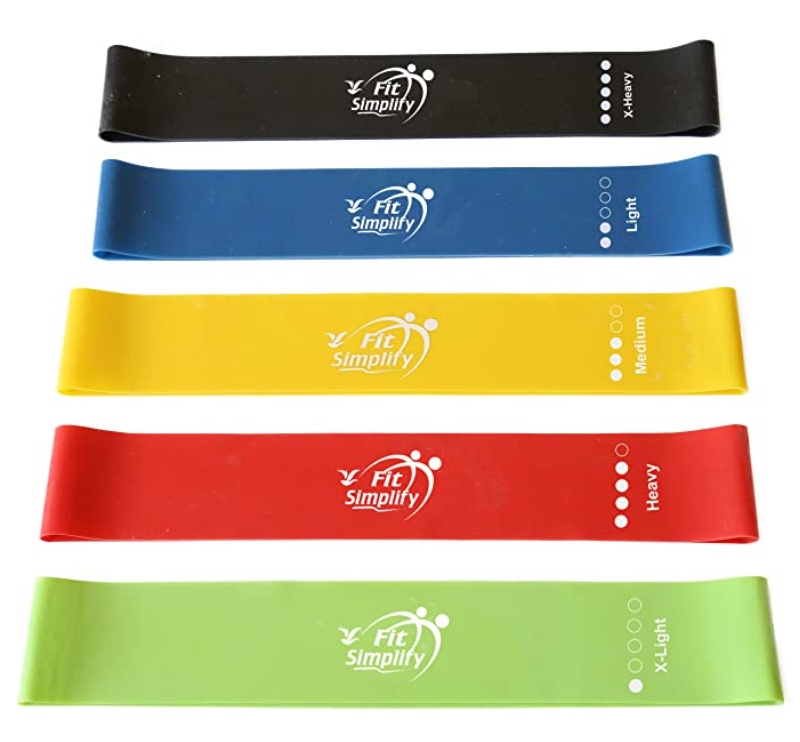 Many reviewers rave over the Fit Simplify Resistance Bands. Not only is it inexpensive, but it is also sweat, snap, and stretch resistant. So, you can expect to have this for a long time. It's also lightweight, so you can workout anywhere. Plus, it's also comfortable on the skin.
A set on Amazon comes with five resistance bands ranging from extra light to extra heavy. The set comes in handy as you work towards better control and strength as well.
Price: $7.95 to $10.95
6. Crossrope Get Fit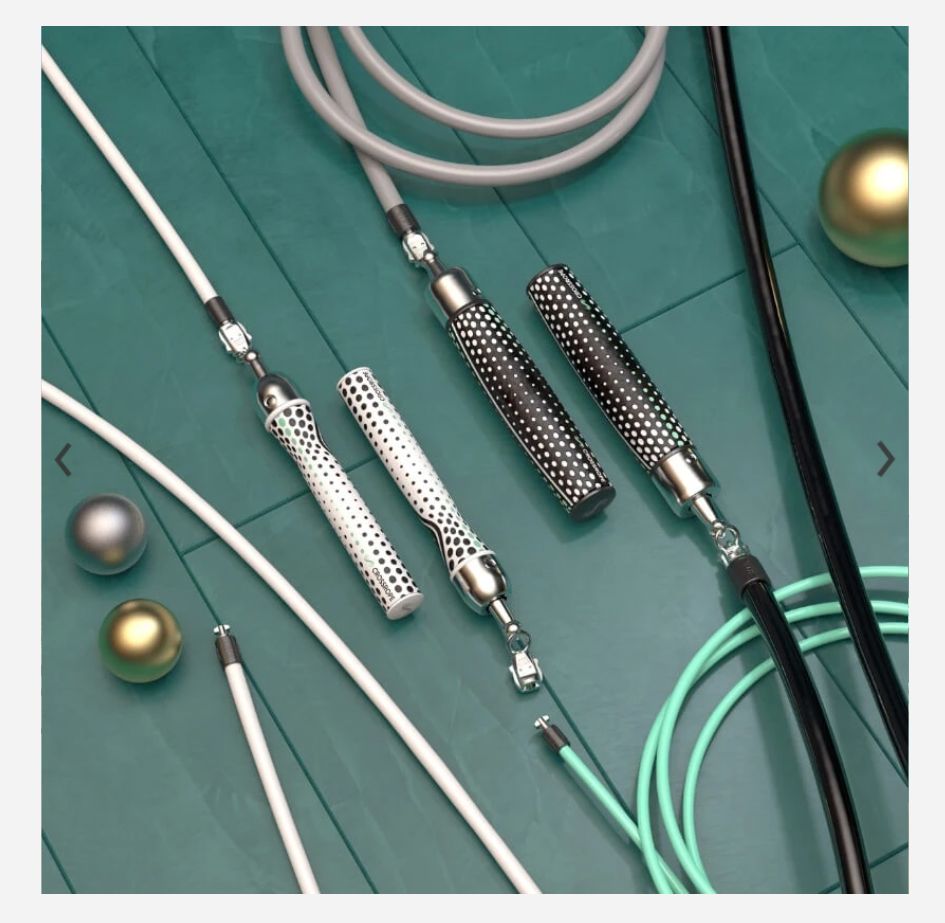 What makes Crossrope Get Fit different from others is it has a clip system. This means you can switch between different weighted ropes. And unlike the fabric ones, you won't have to worry about tangles with the Crossrope Get Fit set. It's all because of the steel cable. That's why many consider this as one of the best home gym equipment pieces to own.
You can buy your Get Fit set on the official website. Make sure to choose the right length for your height, which you can do before adding it to your cart.
Price: $238
7. Theraband Exercise and Stability Ball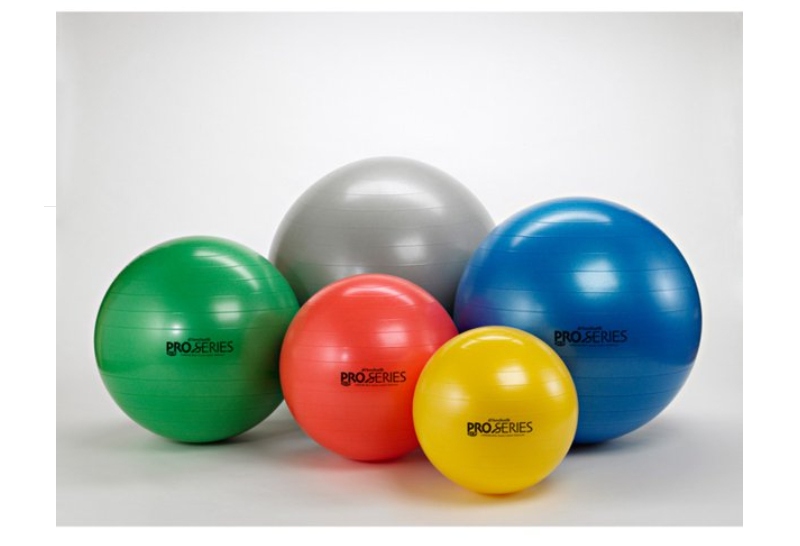 An exercise and stability ball is useful in core workouts. Plus, it improves your posture and mobility. As such, many love using the Theraband Exercise and Stability Ball. It does the job and won't deflate quickly as compared to its competitors. You will need a pump once this gets delivered to your home.
Also, the exercise ball can double as your office chair at home. It engages your core while you work. At least if you can't spare a few minutes to workout, the ball can give you the exercise you need for the day.
Price: $29.95
8. AmazonBasics Medicine Ball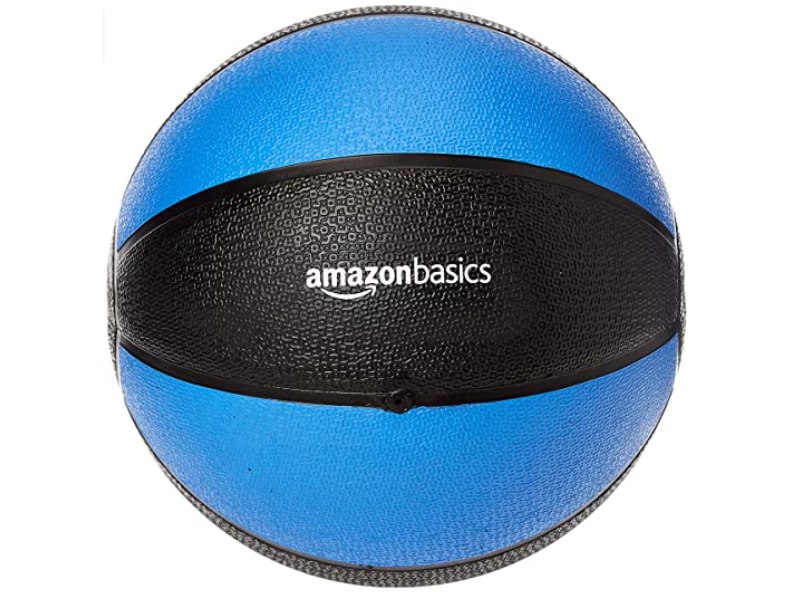 Medicine balls are another option to improve your posture. And the AmazonBasics Medicine Ball is helping achieve that goal. You can grip it easily and bounce it anywhere. Plus, it's durable too.
It comes in different weights from 4 lbs to 20 lbs. You have to buy each weighted med ball separately from Amazon.
Price: $22.99 to $46.99
9. Trigger Point Grid Original Foam Roller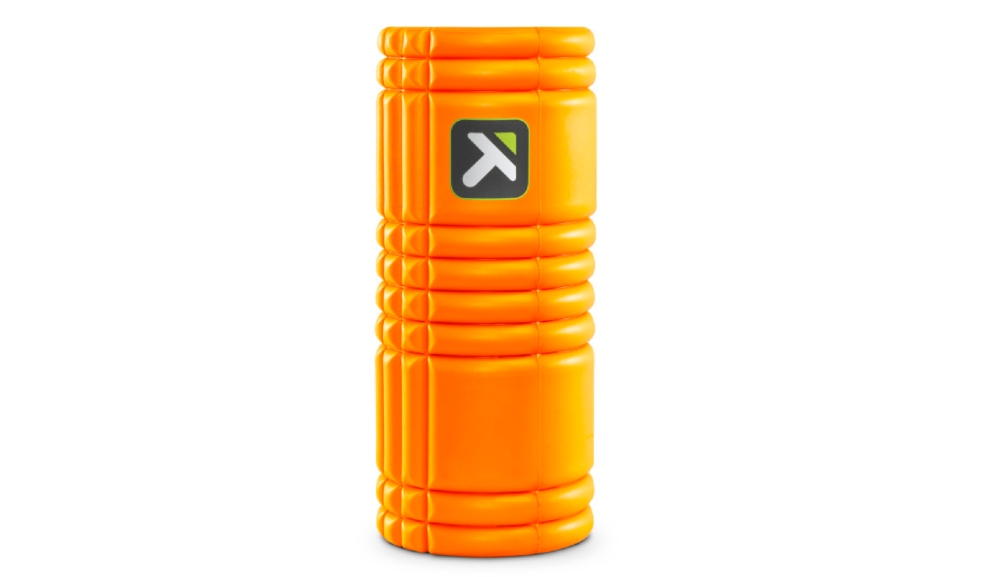 Many swear by foam rollers because of its versatility. It can aid your core workout or help in recovering when you're sore. It can even aid in circulation. 
The Trigger Point Grid Foam Roller has become the best companion for many fitness buffs. It's durable and acts as a massager.
Price: $34.99
10. JaxJox KettlebellConnect 2.0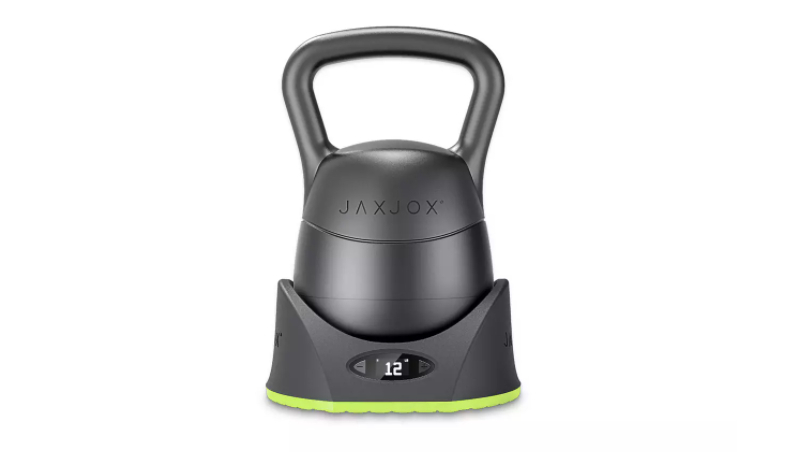 Kettlebells are another alternative to dumbbells. And for the advanced gym regulars, kettlebells have become part of their workout routines. One of the best kettlebells they can use is the JaxJox Kettlebell Connect 2.0.
There's no need to buy different kettlebell weights because it's adjustable. Plus, it's also digital, so you don't have to lock it manually. Switch between 6 lb increments, it will do the job for you.
To get more out of this, download the JaxJox app too. It tracks metrics like movements, heart rate, and fitness level. Even if it's a hefty price for a kettlebell, many still consider this as one of the best home gym equipment they have.
Price: $229
11. Perfect Fitness Multi-Gym Doorway Pull Up Bar and Portable Gym System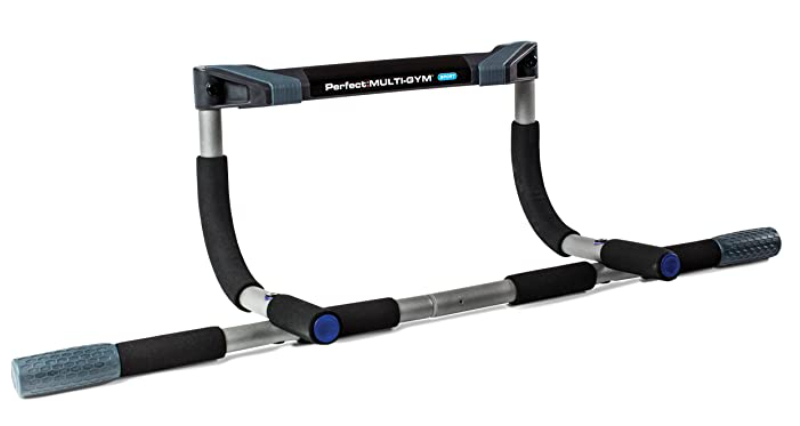 Pull-ups are great for upper body strength. And you can set one up at home by installing it on the doorframe. And one great example that many love using is the one from Perfect Fitness. It comes in three different sizes, depending on the space of your doorway.
It's also versatile, so you can use this one on the floor too. Challenge yourself by using this when doing sit-ups and push-ups.
Price: $24.78 to $44.99 (depending on which pull up bar you're getting)
12. Bowflex SelectTech 5.1S Stowable Bench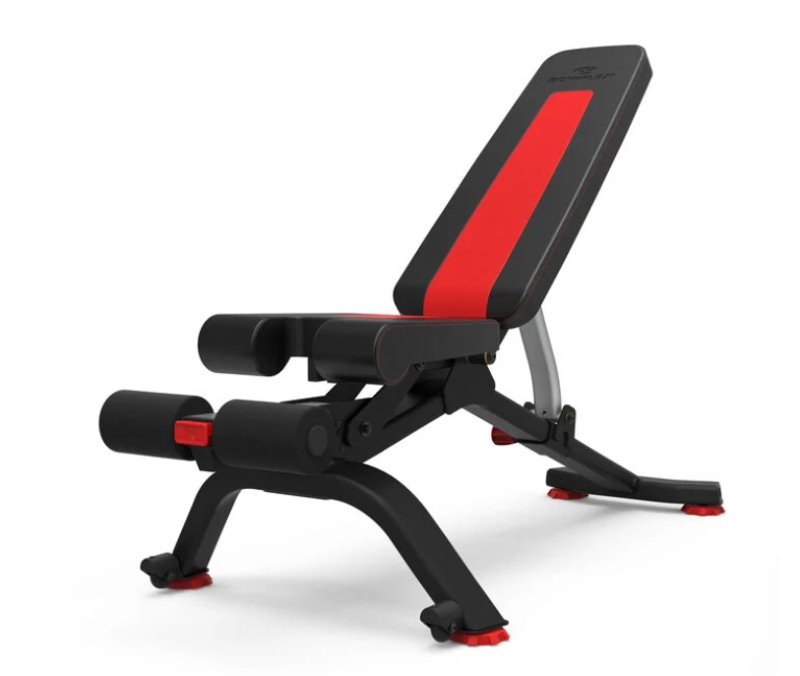 For those who practice weight training, a bench is a necessary piece of equipment. The Bowflex 5.1S Stowable Bench is one of the best. This one's ideal for small apartments. You can stow it away when you're not using it, saving you 50% of space.
It has six different variations in terms of angles, ranging from 30 degrees to flat and a -20 degree-decline. The seats are also comfortable and can hold up to 272 kg of weight.
Price: $329
13. Sunny Health & Fitness SF-E902 Air Walk Trainer Elliptical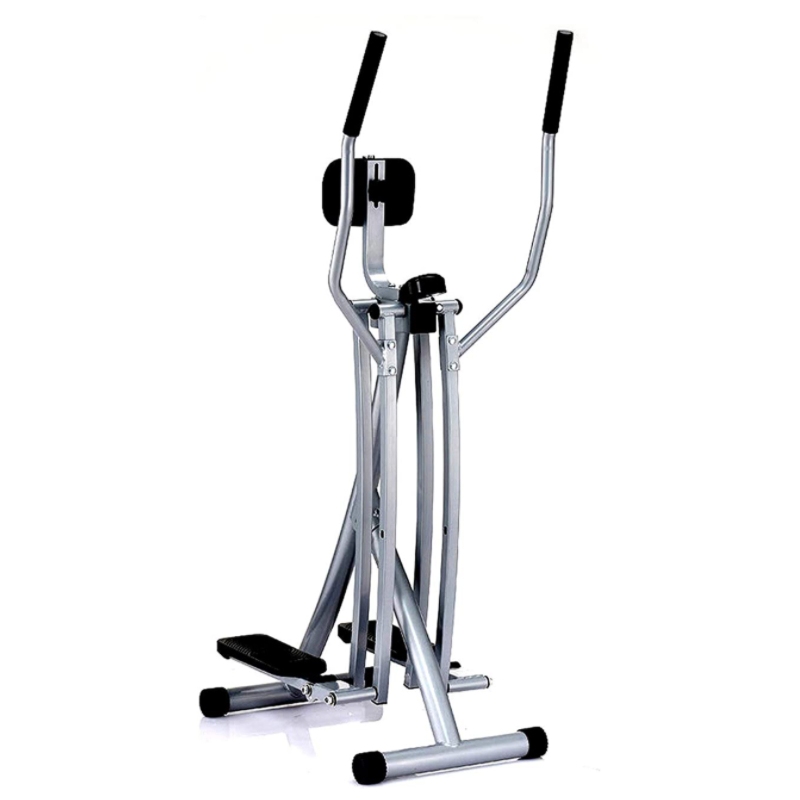 Here's another space saver gym machine you can have at home. The Sunny Health & Fitness elliptical is a piece of must-have equipment for all fitness levels. It's great for a whole body workout.
You won't have difficulty with the grip, thanks to the non-slip pedals. Plus, you can track your distance and time because of the LCD monitor. It also has an abdominal pad for support.
Price: $104.24
14. NordicTrack T 6.5 S Treadmill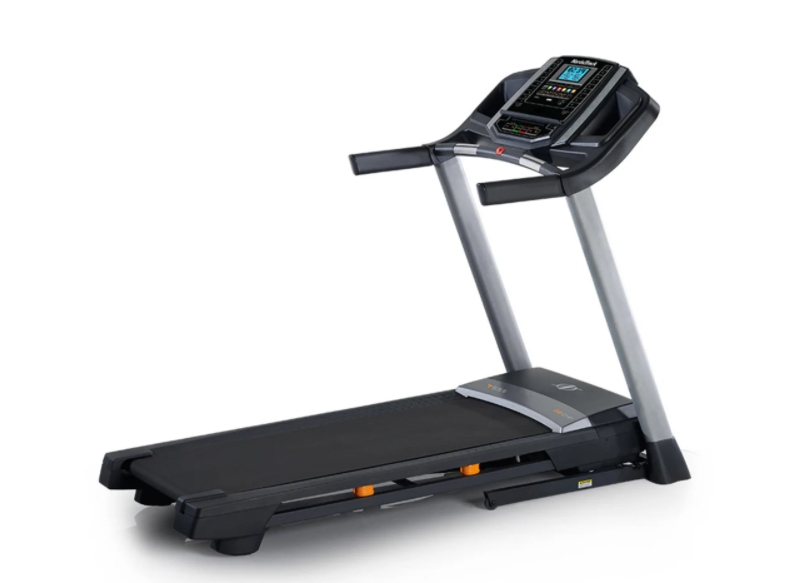 A treadmill is another must-have home gym equipment. And if you're also looking for one that's foldable and compact, go for the NordicTrack T 6.5 S Treadmill. Once you buy this treadmill, you have one-month free access to iFit. It's a personalized training membership.
Love to run with music? Connect it by using the auxiliary port and blast your favorite tunes as you run. Plus, you have access to more than 16,000 workouts and monitor your stats every time you step on that treadmill.
Price: $599
15. Peloton Bike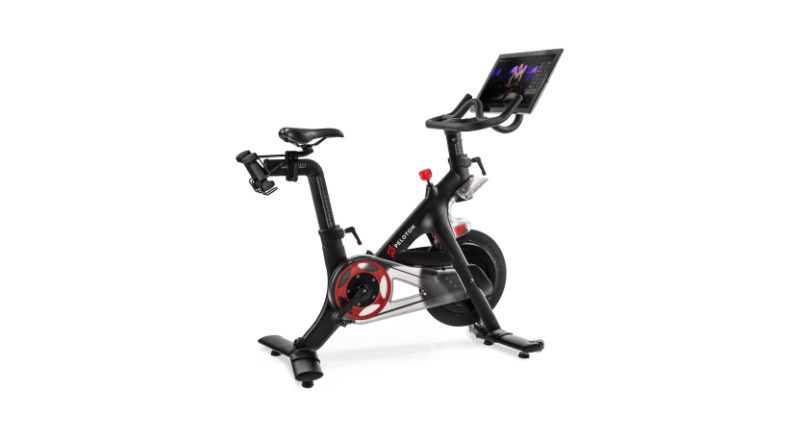 The Peloton bike has skyrocketed in popularity because of the infamous Peloton woman. However, it hasn't stopped potential customers from buying one.
This bike is perfect for your cardio training. You can watch the best instructors in the comfort of your home. Plus, you can have access to all workout videos and features by signing up for a membership. It's one of the best home gym equipment because of its inclusions and value for money.
The bike doesn't take too much space as well, so if you live in a small apartment, you can definitely have this at home.
Price: Starting from $1895
Most Watched TikTok Recipes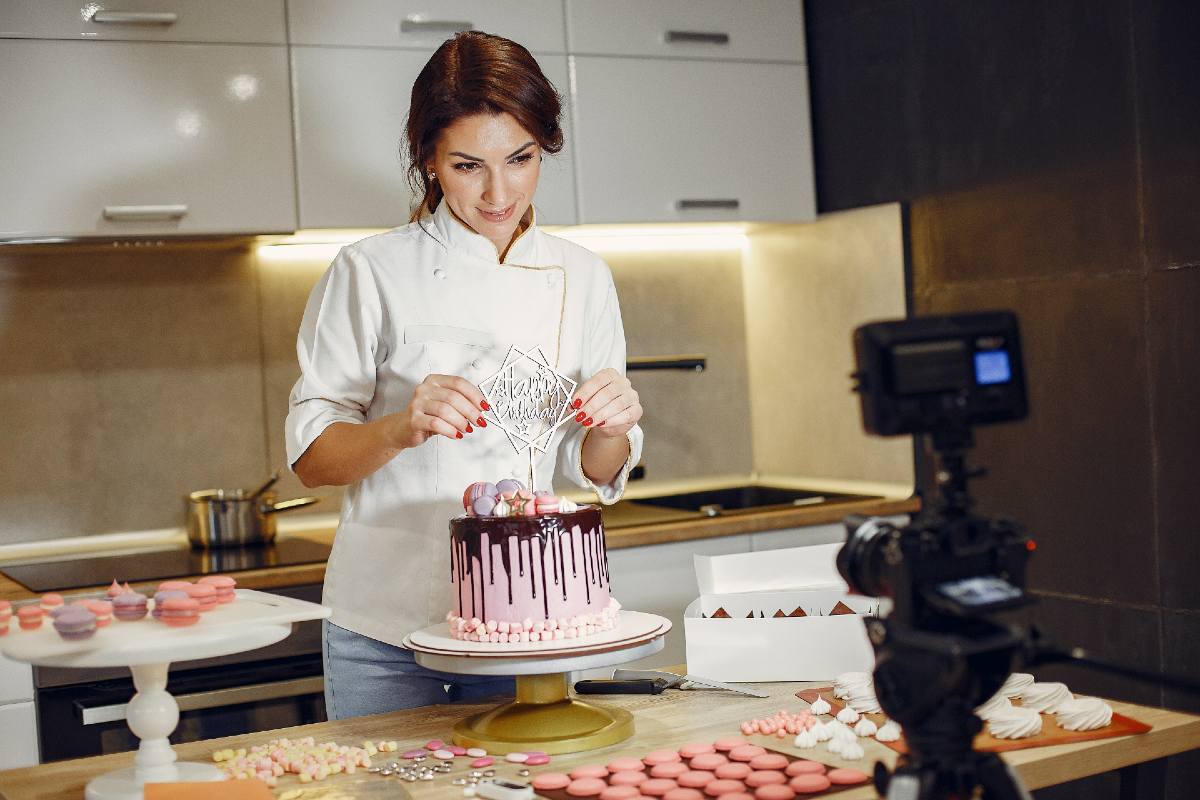 TikTok is not only the home for viral dances but also recipes! So if you're not on TikTok but still want to learn some easy-to-cook recipes, then you're on the right page. Here's a list of most-watched TikTok recipes that look good enough to eat.
#1 "Man Meal" Baked Overstuffed Chicken
This "man meal" dish Ali Grace Morsell cooked for her husband has garnered more than 6.1M views on TikTok recipes. This dish is served as an after gym meal for Ali's husband hence the name. It's a recipe that can be prepped and cooked for less than an hour.
Ingredients:
Chicken breasts
Diced green chiles
Worcestershire sauce
All-purpose seasoning
Cream cheese
Salt
Parsley on top
Mashed potatoes on the side
#2 Chocolate Mochi
This home-made mochi with chocolate filling by My Asian Mum-in-Law reached over 11.2M views on TikTok. If this is your first time encountering the word "mochi," it's a rice cake made with glutinous rice. However, some of you might know mochi as ice cream. In Japan, this sticky rice treat has various variations that match the country's seasonal specialties.
Ingredients:
Glutinous rice flour
Chocolate balls
#3 Mini Pizza
If you're looking for a fun and quick treat to make, this 5-minute mini pizza recipe is perfect for you.
Ingredients:
Biscuit
Pizza Sauce
Cheese
Pepperoni
Egg
#4 Baked Mac and Cheese
This baked mac and cheese by Mariam are one of the best mac and cheese dishes for thanksgiving. It's a creamy and savory dish that's well-deserving of more than 14.3 M views. Besides, this is one of the most trending dishes on the TikTok recipes' feed.
Ingredients:
Heavy cream
Cream cheese
Penne Pasta
Onion
Butter (1 stick)
2 tbsp flour
Garlic
Cheese
Onion powder
Garlic powder
Black Pepper
Salt
Turmeric
#5 Disneyland Grilled Sandwich
If you're a fan of a cheesy grilled sandwich and Disneyland, then you should try lifewithmarq's TikTok. This recipe generated more than 6.6M views on the platform. So if you don't mind eating more than 120 calories in one dish, give this recipe a go. As a fan of all cheese dishes, I'll give this one a try.
Ingredients:
Artisano bread
Mayonnaise
Cheddar cheese slice
Cream cheese
Heavy cream
Garlic
Shredded cheddar cheese
#6 Firecracker Shrimp
If you're a fan of seafood and all things spicy, this recipe by Kwokspots is worth the try! This hot recipe earned more than 6.4M.
Ingredients:
Shrimp
1 cup flour
½ cup cornmeal
2 tbsp garlic salt
1tbsp paprika
Egg
Buttermilk
Seasoning flour
Panko
Fire Sauce:
1 cup mayonnaise
3 tbsp sriracha
2 tbsp sweet chili sauce
1 tbsp onion powder
Ground pepper
1/2 lemon, juiced
2 tbsp chili flakes
#7 Potato Gnocchi
If you're feeling a bit extra today and cook something new, potato gnocchi is a great dish to try. This heartwarming recipe featuring the TikTok user's mom received more than 9.5M views.
1 kg boiled potatoes
Salt
300g flour
Cheese
#8 Homemade Reese's Cup
Last but not least, on our TikTok recipes lists, create your version of Reese's cup at home from Italian Foodaholics. This recipe by the TikTok user received more than 6.3M views on TikTok. With only three recipes, you can make your chocolatey dessert.
150g chocolate
2tbsp Icing sugar
Peanut butter
For other lifestyle-related articles, read more here at Owner's Mag!
3D Printed House: The Future of Architecture and Construction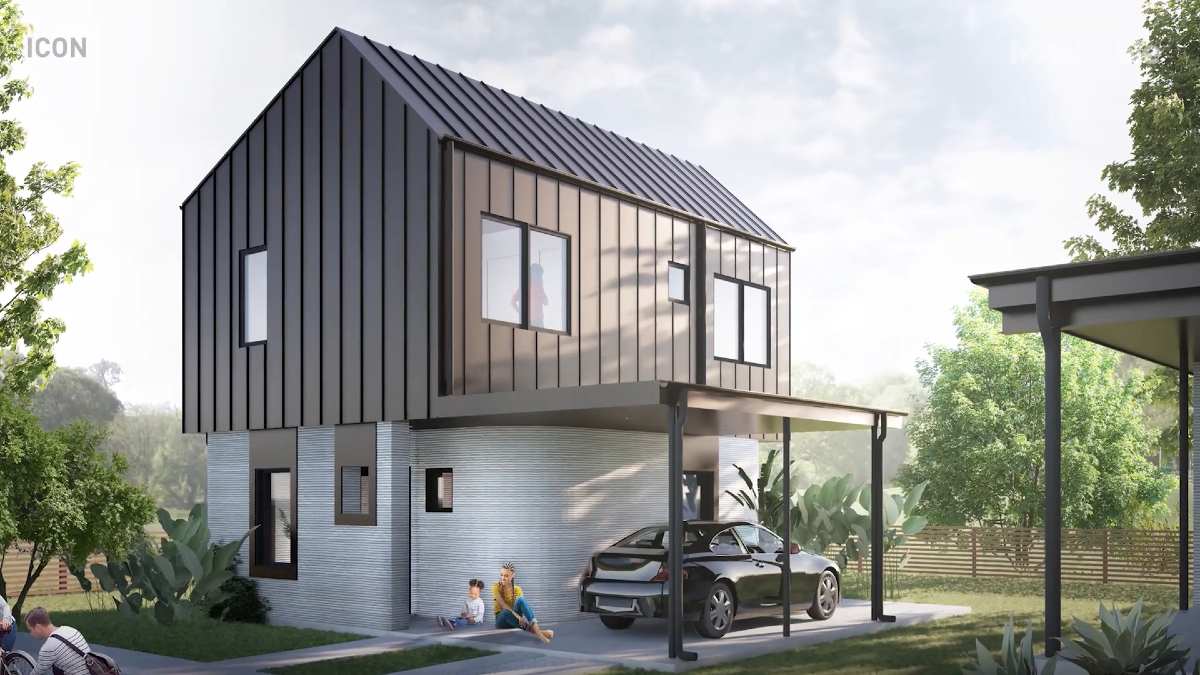 As our technologies evolve, 3D printing technology has advanced over the past few decades. Thanks to this, designers created many models, products, and prototypes at a fast pace. Alright, you've probably heard all the latest 3D printing creations. Now, we're on another milestone as 3D printed houses are on the rise to "mainstream."
The Future of Construction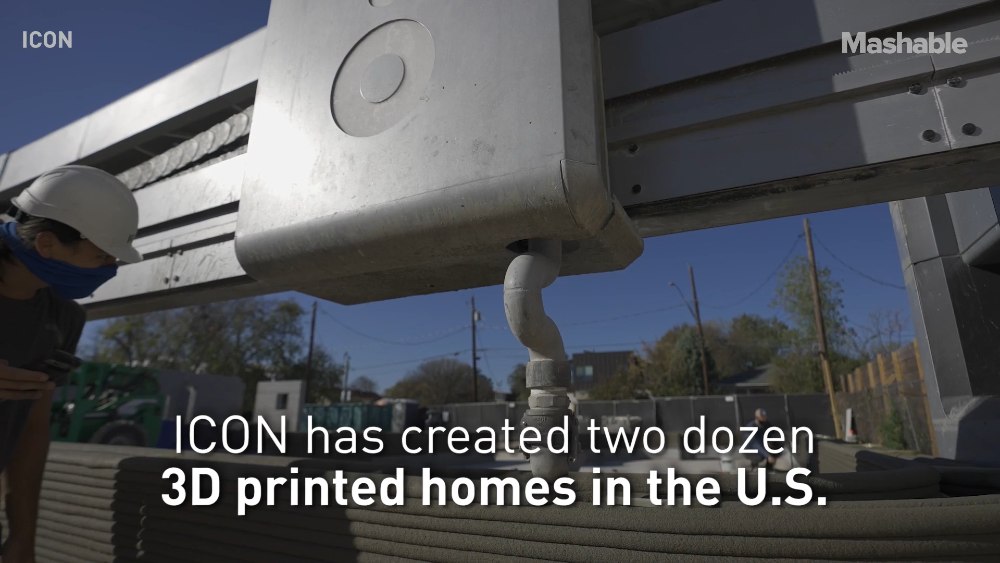 On average, the overall process of building a house takes at least 6.5 to 9 months. However, 3Strands and ICON collaborated on a home building project that will shake the world of construction. Let's see if this is a good or bad thing for the construction industry. 
3Strands is a creative real estate developer that aims to build "better" homes to improve people's lifestyle. On the other hand, ICON develops advanced technologies for construction. Now, putting these two together created a miracle for the construction industry.
This 3D printing project commenced because of the following problems:
Lack of supply
Sustainability
Resiliency
Affordability
Design options
Extreme lack of housing
If you have any experience buying a pre-selling condo or house and lot, the downside involves the construction length. But what if 3Strands and ICON managed to create a dozen homes with at least 5 to 7 days length of construction time. However, in this case, let's use the term "printing time."
By the time the whole world catches up with this type of construction, it will benefit our environment. 3D printed houses lead to less:
Wastage of natural resources
Carbon footprint
Time consumed
On the other hand, this convenient construction method will harm skilled workers such as but not limited to the following:
Carpenters
Masons
Painters
Laborers
Etc.
If ever the world adapted to this new construction technology, there will be a massive workforce cutback. On the downside of advanced technology, a lot of workers will lose their livelihood.
3D House Features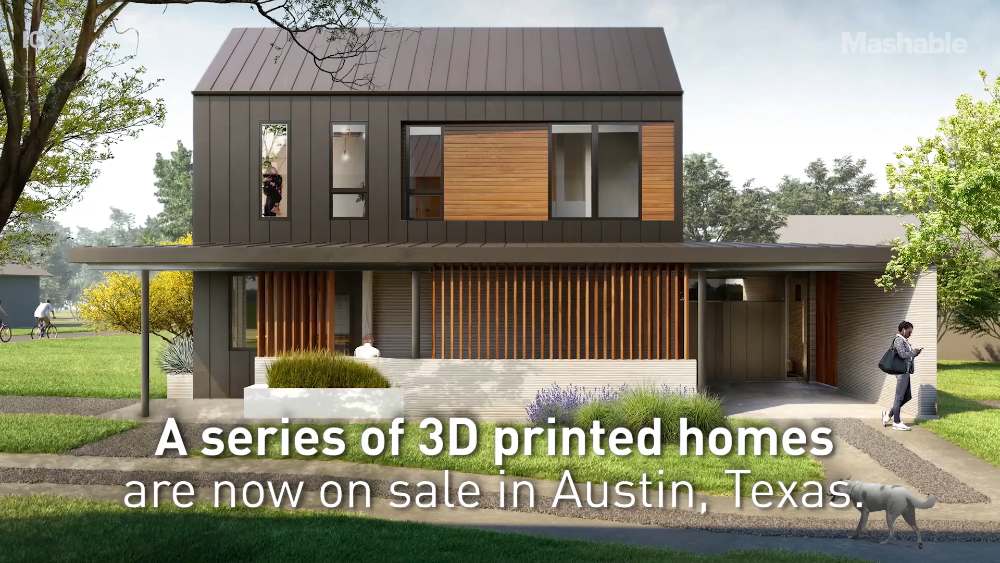 As the first-ever 3D printed house for sale in America, each house costs $400,000 each. These 3D houses are now for sale in Austin, Texas. In the Austin series, four homes are currently on the market listings. Each house has 1,000 to 2,000 square feet of lot space in total.
The design of the 3D printed houses has a clean futuristic look. On the other hand, the designer's use of textures and colors holds a satisfying balance to the eyes. It's a modern house that's worth the price.
Design Features:
Two to four bedrooms
Covered front porches
Extensive front yards
Covered parking
Open concept floor plan
Bespoke Interior Design
Vaulted master bedrooms
Large North-facing windows
High-performance HVAC
Secluded office/bedrooms
Minimalist architectural aesthetic
The first floor of the houses for sale is 3D printed using ICON's advanced materials and technology. It's designed to be:
Safer
Able to withstand floor, fire, and wind.
Sustainable
Resilient
Conclusion
In the end, this 3D-printed house is the future of construction and architecture. This project is an excellent achievement for the 3D printing industry, from creating miniature models to livable dwellings. Again, this is a fantastic milestone for our ever-evolving technology. Let's take this as another step closer to a more sustainable and environment-friendly future. 
For other cool products or creations, check out other articles here at Owner's Mag!
Best Apps for the Zen Master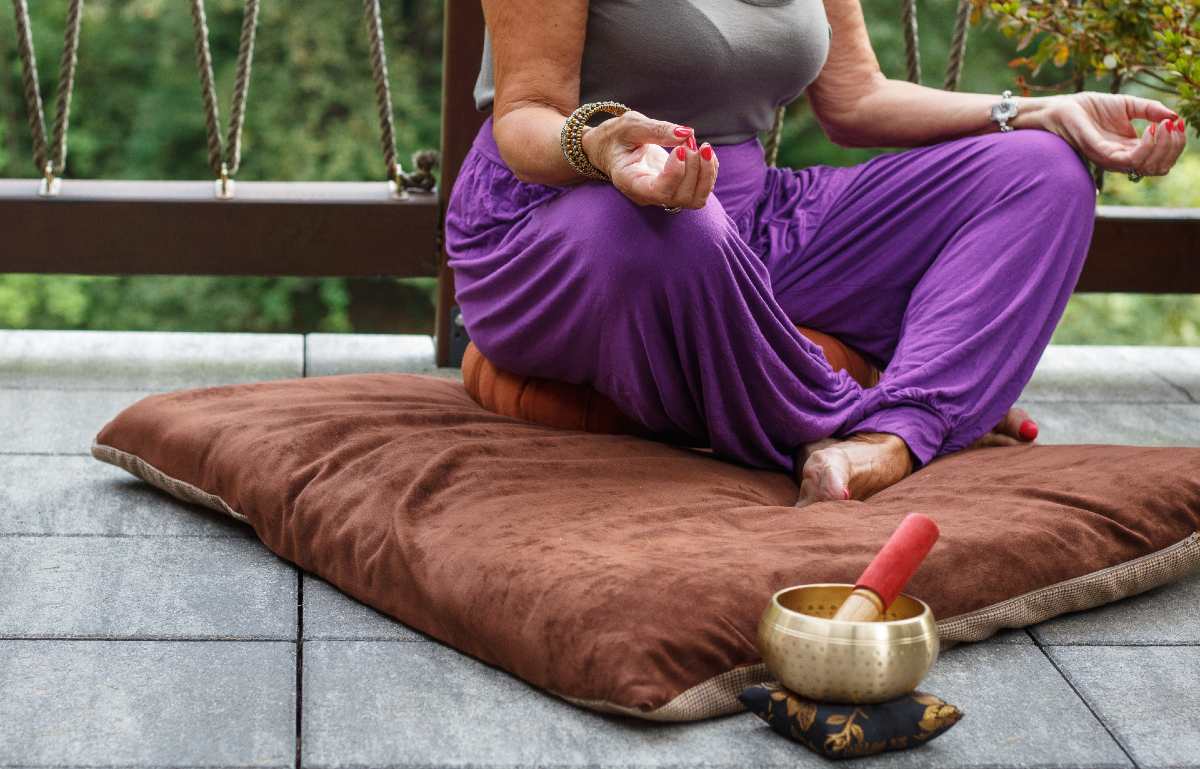 Are you a zen master who's on a venture in finding the best calming applications to use? Look no further, you're on the right article. Here's a list of apps that help people meditate, sleep, and relax.
MyLife Meditation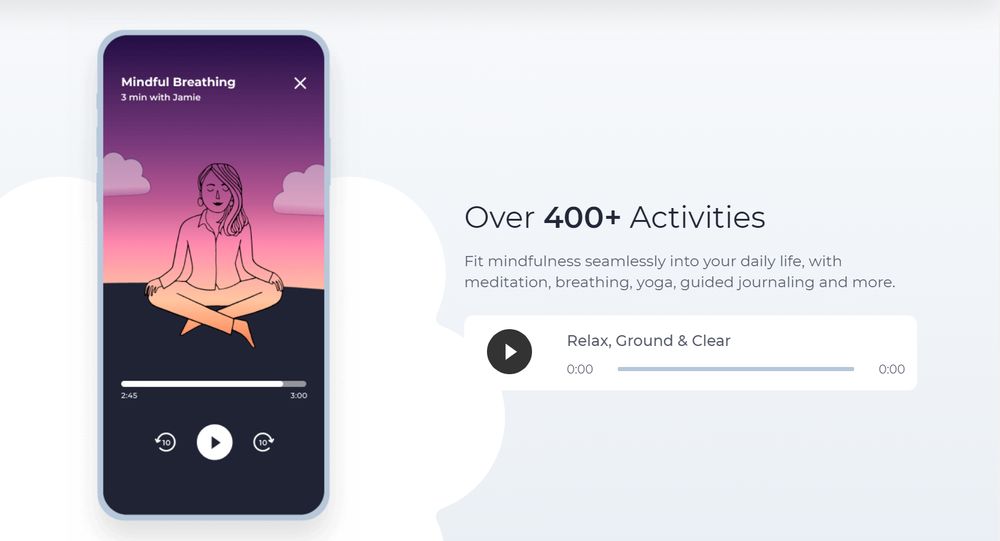 MyLife Meditation is one of the best apps of 2019 chosen for a healthy lifestyle. It's a meditation and mindfulness application catered to your emotions. Furthermore, based on your emotions, the app suggests short guided meditations by experts. 
Features:
Mindful meditation
Track your mental health
Anxiety Relief
Breathing exercises
Sleep meditation
iPhone Rating: 5-stars
Android Rating: 4.5-stars
Pricing Plan:
Free plan with limited features
MyLife Subscription at $9.99/month.
Calm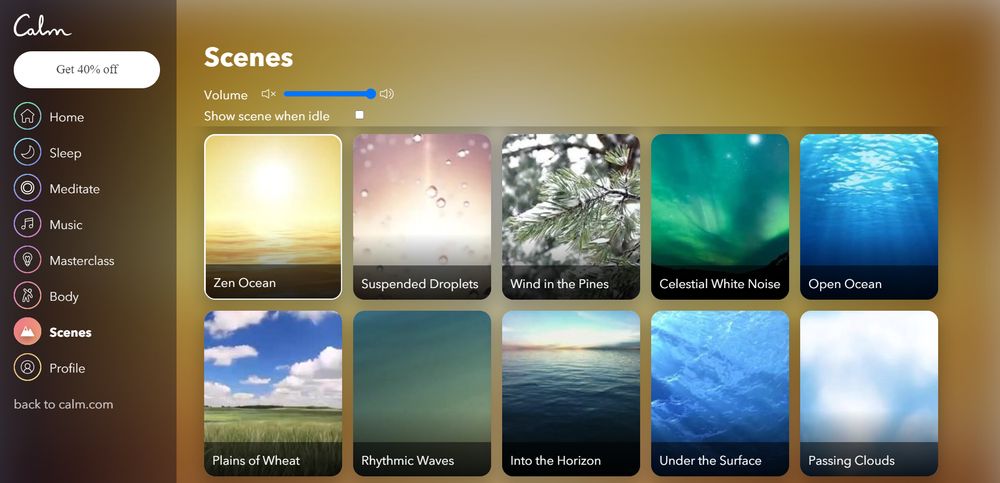 Calm is an award-winning app on both Google Play and Apple Store. What's more, the platform is coined as "the world's happiest" app. Aside from the adult zen master, it also has content targeted for kids in their "Calm Kids" section. 
Features:
Soundscapes
Nature scenes
Meditation music and guide
Bedtime stories
Master guides
Stretching and calming exercises
Walking meditation
Daily calm featuring new reflection each day.
iPhone Rating: 5-stars
Android Rating: 4.5-stars
Pricing Plan:
Free plan with limited features
Calm Premium at $14.99/month.
The Mindfulness App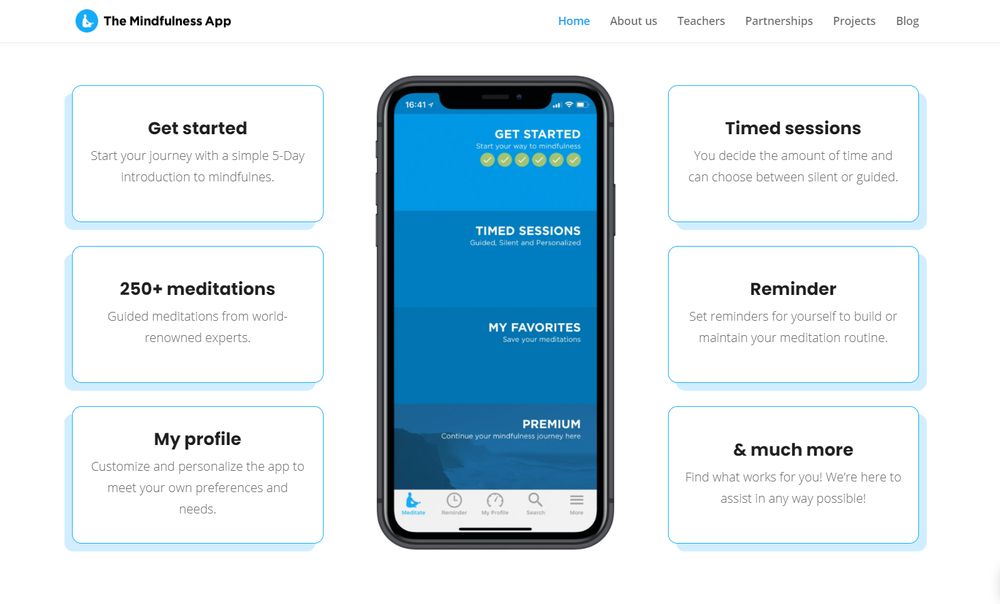 The Mindfulness App offers a 5-day guided introduction to mindfulness that helps beginners get started. Besides that, it provides 3-30 minutes timed guided or silent meditations suited for someone who works on a tight schedule. 
Features:
Brain training
Personalized "timed session"
Setting reminders
Premium offers specialized meditations, courses, and challenges guided by professionals.
iPhone Rating: 5-stars
Android Rating: 4.5-stars
Pricing Plan:
Free plan with limited features
Premium at $9.99/month
buddhify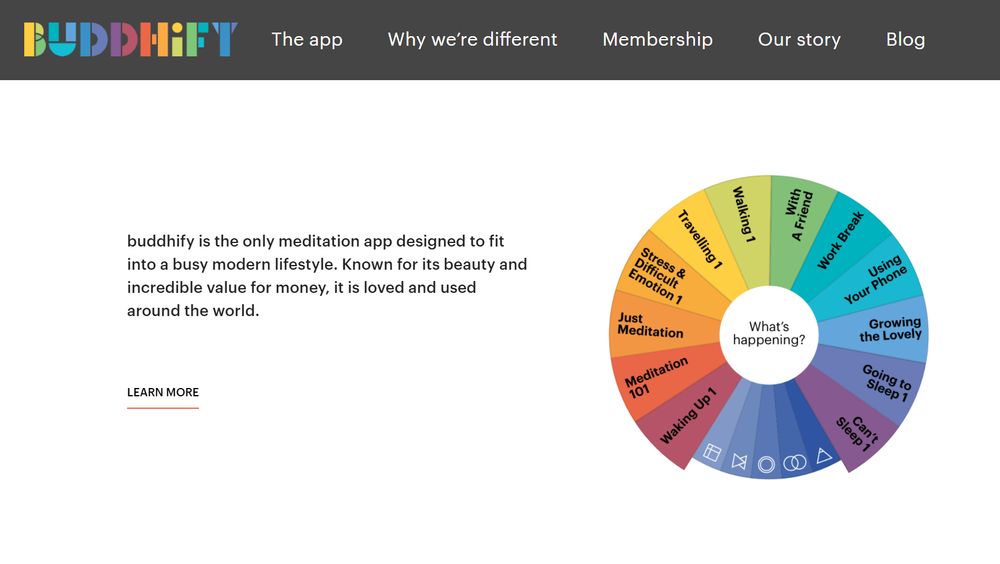 buddhify offers 200+ meditation sessions. It teaches the users how to reduce anxiety and stress, promote sleep and help manage difficult emotions. Not to mention, the sessions buddhify provide ranges from 3-40 minutes. Moreover, according to promotions, it's considered the only meditation app that's designed to fit into an individual's busy lifestyle. 
Features:
Meditation on-the-go
Custom user-experience
Learn and deepen understanding of mindfulness
Kids Section
80+ guided meditations.
iPhone Rating: 5-stars
Android Rating: 4-stars
Pricing Plan:
Apple Store at $4.99
Google Play at $2.99
No monthly subscription fee.
Headspace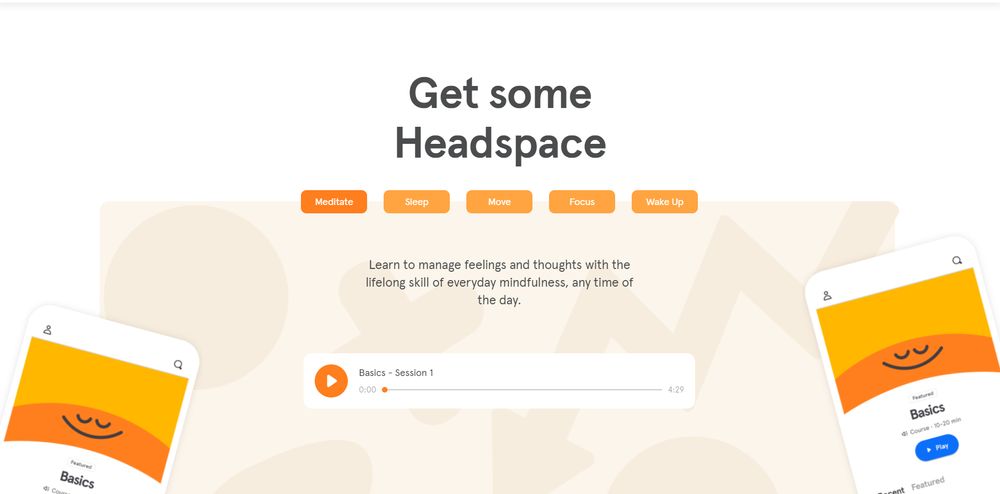 Headspace is a meditation app that's visually appealing with its cheerful animations and easy to navigate. The application offers a 10-day basics course for beginners. It's designed to educate the user about the essentials of meditation in a matter of days. 
Features:
Themed meditation
SOS section
Mindfulness workouts
Sleep section
Offers an organization or work plan
iPhone Rating: 5-stars
Android Rating: 3.5-stars
Pricing Plan:
First 7 days free trial
$12.99/month
Sattva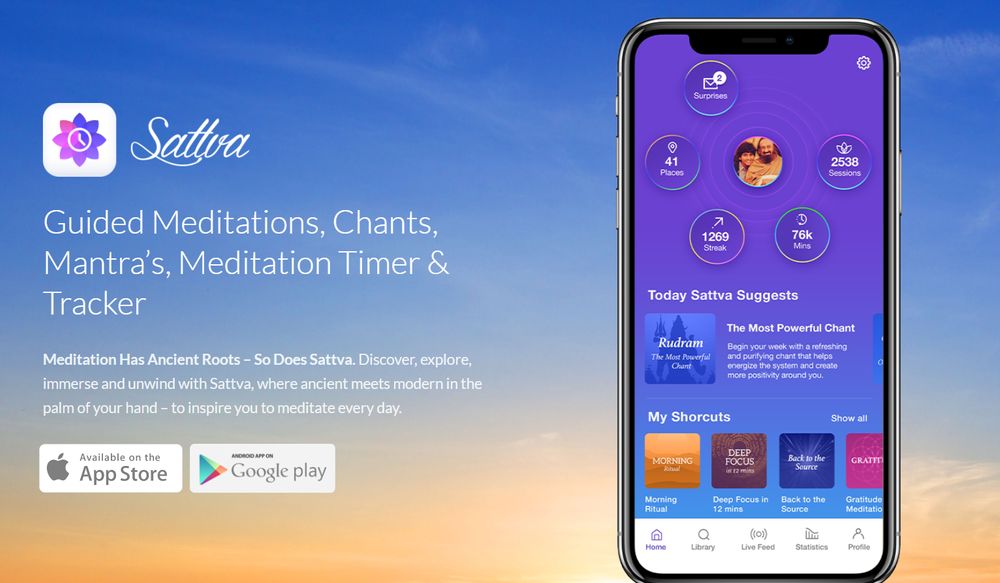 Sattva is an app with a guided meditation that draws from Vedic principles. To explain briefly, Vedic principles are ways considered to lead a peaceful life filled with happiness and prosperity. It's a suggested way of life taught by wise Rishis. Aside from that, the app also includes mantras delivered by Sanskrit scholars. 
Features:
Guided meditations, chants, mantras, music
Collections and playlist
Meditation community
Personalization
Mudras
iPhone Rating: 5-stars
Android Rating: 3.7-stars
Pricing Plan:
Free with limited features
Lifetime payment subscription at $399.99
On a Final Note
Thanks to our ever-evolving technology and awareness of mindfulness, there are many apps available for the zen master. However, even if such apps are made for the mind and relaxation, it's not a direct medical cure for mental instability. Consulting professionals and seeking comfort from friends are still the best remedies.