Power Block Review: Are They Worth It?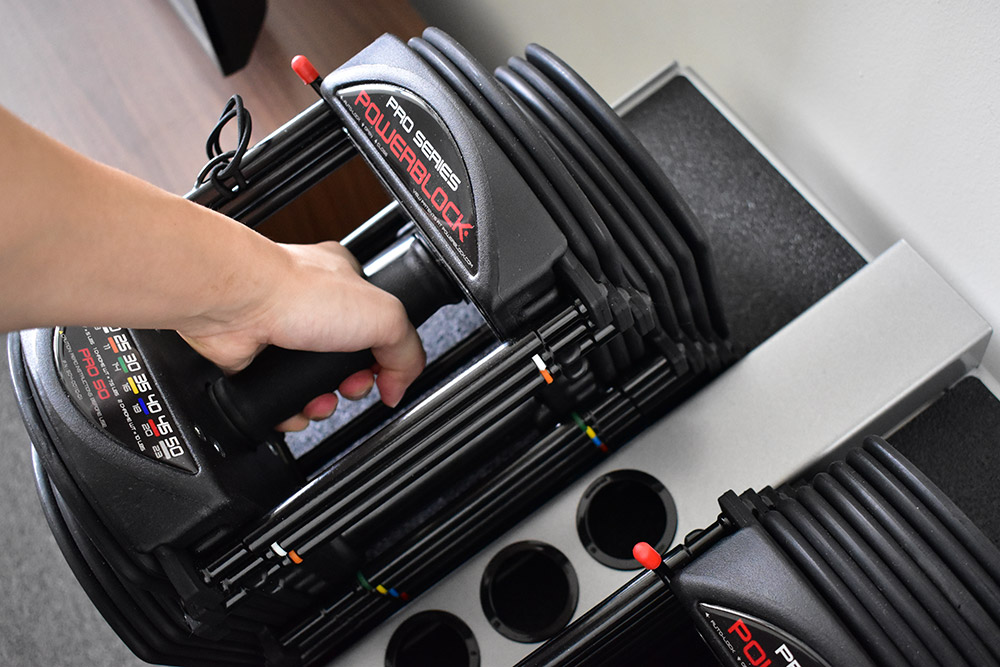 Since the pandemic started, working out at home has become all the rage. Workout equipment, especially dumbbells, has been flying off the shelves and hard to track down. One of those companies that have been having a fantastic year is Power Block. Power Block specializes in professional-grade dumbbells. Their dumbbells are both adjustable and expandable, making them highly versatile and sought after on the market today.
The Pro Series is adjustable from 5 to 50 lbs and comes in a unique form factor, unlike traditional dumbbells.
About the company
Aaron Tilton founded Power Block in 1993 in Owatonna, MN. He took a leap of faith and purchased the building and equipment needed to fulfill his dream of creating the world's best dumbbells. Today, Power Block created one of the most unique-looking and straightforward dumbbells. Dumbbell adjustments have always been clunky and prone to damages if dropped. The engineers at Power Block solved this problem by creating a U-shaped pin adjustment mechanism. The result is a simplified dumbbell with few moving parts, making it indestructible since there's nothing to break.
The Features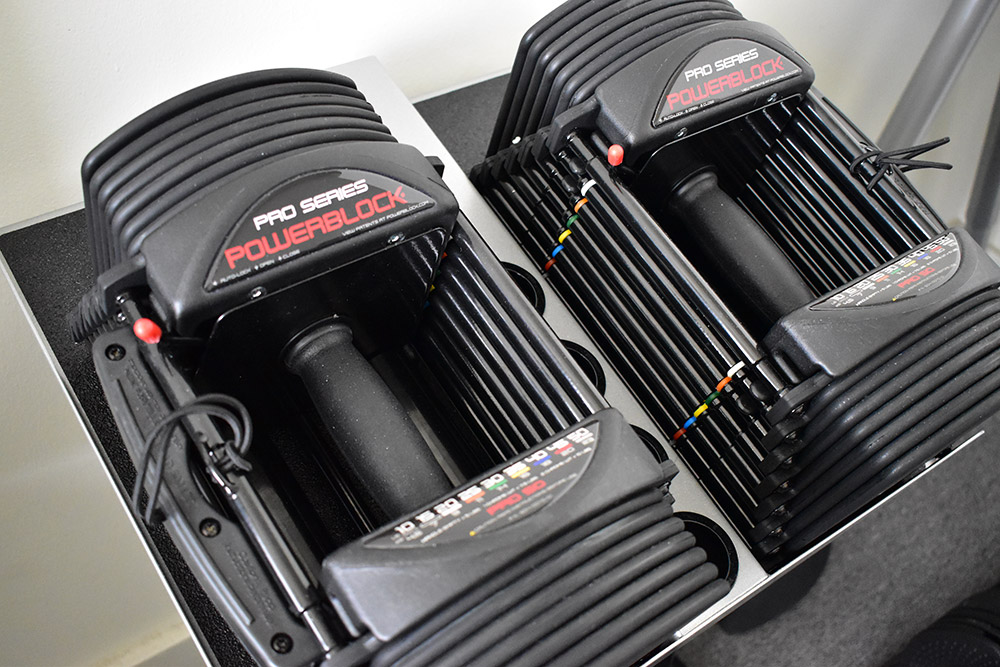 The Power block Pro Series is made from a series of solidly constructed weight drawers stacked on top of one another. Each drawer is color-coded to let you know the weight.
The weights are from 10lbs to 50lbs in increments of 5 lbs. However, there's a nifty little feature that lets you make micro 2.5-5lb adjustments by removing a steel bar inside the handle.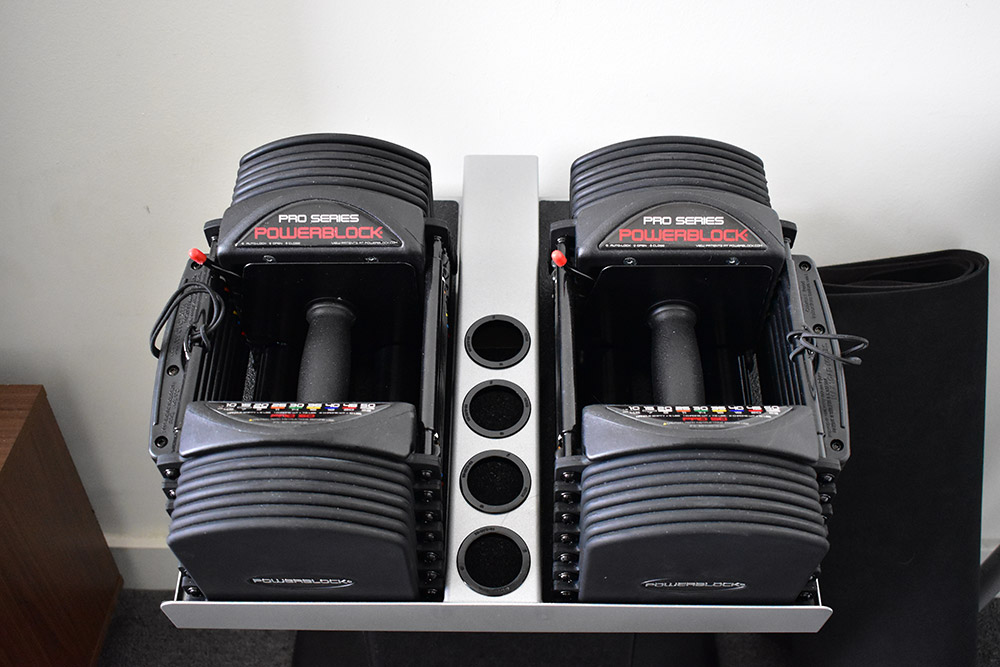 The dumbbells have a matte powder coating that's soft to the touch but seems pretty durable. Overall, the Power Block Pro Series dumbbells are a well-engineered piece of equipment that's durable and simple to use. I like that there are no gears, levers, or complicated turning mechanisms to adjust the weights.
How to adjust the Power Block Pro Series
Usually, adjustable dumbbells have a twist and lock mechanism on the handle. The challenge with that is you have to perfectly align the discs every time you put them back, which can be a hassle after a serious arm workout.
The Power Block's drawer design doesn't require any precision to put back. Adding and removing weights can be done by sliding the U-shaped pin into the correct slot. It's a no-frills, no-complex design that gets the job done.
Pros & Cons of Power Block Pro Series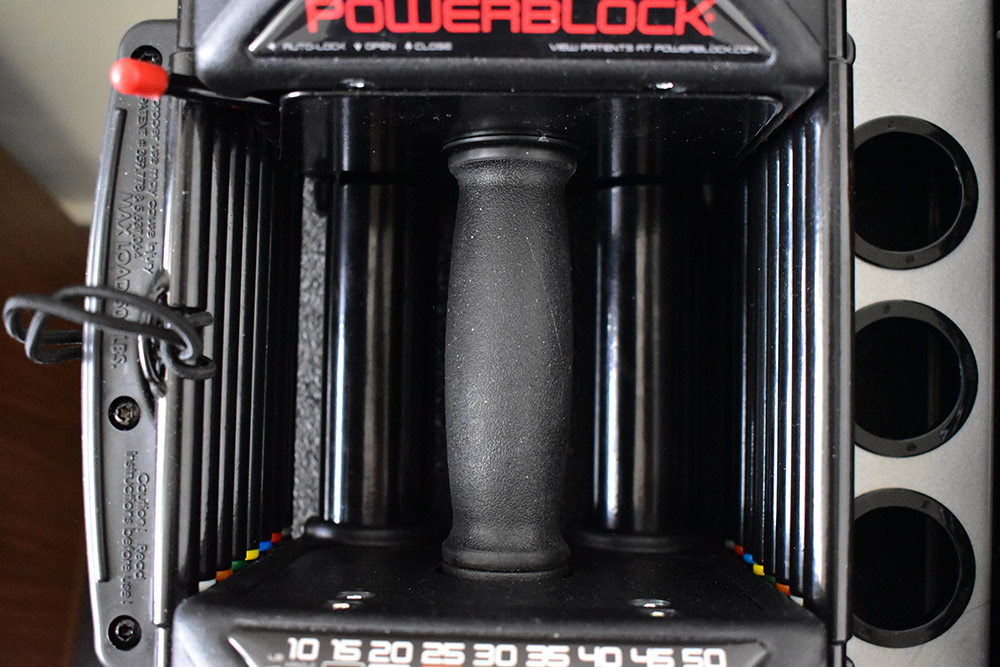 After using the Pro series for most of my home workout routine, I noticed a few awesome things you can do with it and one major issue with the design.
Pros:
Easy to take out and put back
Solid construction. I'm not afraid to drop the weights (not that you should)
It doesn't roll. The box design keeps it in place when laying them on the floor.
Comfortable grip.
Micro adjustments. The ability to remove one or both of the 2.5lbs mini weights on each dumbbell is genius!
Multiple grips. You use it like a kettlebell by gripping the bottom bars instead of the actual handle. Not sure if this was intended.
Cons:
Limited range of motion. You're putting your hand inside a metal box. This limited my range of motion, and there were a couple of exercises I had to use a regular dumbbell.
Overall, there are far more Pros and Cons. However, the limited range of motion is a big one for me. I couldn't fully relax my wrist without the rails pressing against my forearm when doing concentrated curls. There were a few other exercises where the cage-like design limited my wrist's movement.
Is the Power Block Pro Series Expandable?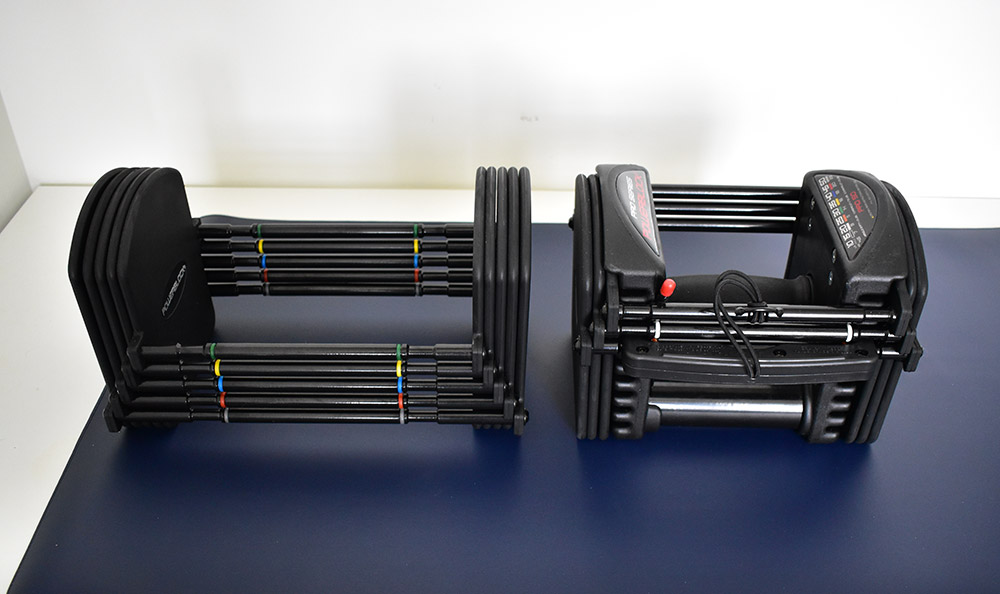 Yes, they're expandable up to 70 and 90lbs per dumbbell. For $169, you can buy the Pro EXP Stage 2 Kit to expand the weight capacity from 50 to 70 for each dumbbell. The Pro EXP Stage 3 Kit allows you to expand further from 70 to 90lbs.
However, to upgrade to 90lbs, you'll need to buy both the Pro EXP Stage 2 AND 3 kits. Your total will be $338 to upgrade your dumbbells set to 90lbs per dumbbell.
Also, keep in mind there's a non-expandable version. So if you plan on expanding later, make sure you get the expandable version.
Is the column stand worth it?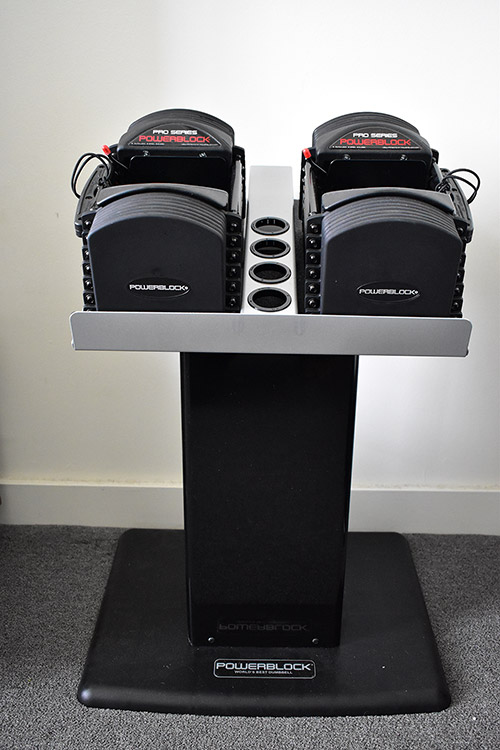 At $129 – $139, they're certainly not the cheapest accessory. However, the column stand makes reaching your weights much more accessible and looks good enough to put inside a gym. I recommend picking the column stand if your budget allows for them. Just like the Power Block dumbbells, these are well made and can withstand abuse. They also happen to look great.
Final Verdict
The Power Block Pro Series is a piece of professional-grade equipment that lives up to its name. They're extraordinarily well-engineered, and the drawer designs with the U-shape pin are a game-changer. Gone are the days where I have to align the discs when putting my dumbbells back perfectly. The micro 2.5 – 5lbs adjustments are also helpful in increasing the intensity by just a hair. Depending on your daily exercise routine, the limited range of wrist movement may or may not be an issue.
Overall, I highly recommend the Power Block Pro Series. They're usually out of stock and often marked up quite a bit online. But if you do manage to get your hands on them, they're well worth the investment.
Review: On The Count Of Three
A past-due calling card for actor-director Jerrod Carmichael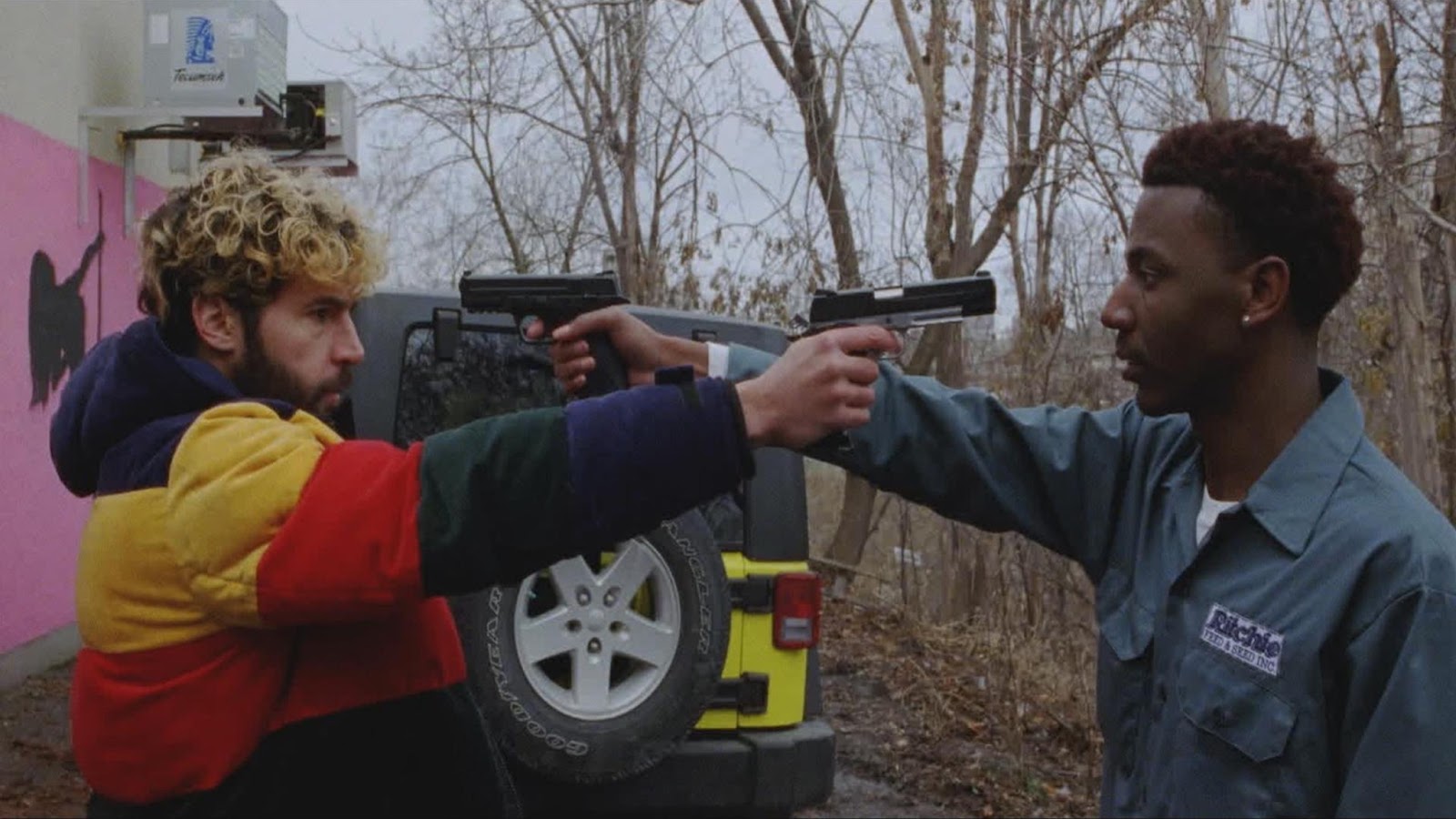 WARNING: This review, and this film, contain discussions of suicide.
On the Count of Three's premise—two childhood friends who make a suicide pact and spend their last day on Earth together—is certainly fresh. So what feels stale about it?
It's not that we've seen too many comedies about suicide before. It does, I suppose, bear some resemblance to other race-against-the-clock (Good Time) or apocalyptic (Seeking a Friend for the End of the World) comedies. Maybe it doesn't commit to darkness as much as these comedies; there's certainly a humanist core deep down here.
But I think we all sort of know why this movie can't fully work in 2022: it's a movie Jerrod Carmichael made in 2020. The director and star has seen a long-overdue rise to stardom in these past months after a series of false starts. He'd already had a breakout role in a hit comedy, a sitcom starring vehicle, a special directed by Spike Lee, and a recurring feature on 2019's biggest album.
Last month, the stars finally aligned. He came out as gay, dropped a smash-hit comedy special, and hosted SNL all in the span of a week. It's no surprise that Annapurna Pictures quickly moved to release On the Count of Three, which they picked up at Sundance in January 2021.
Here's the rub: On the Count of Three lacks the self-assuredness of Carmichael's recent rise. It doesn't feel like the film, or the version of this film, that he would've made today. His performance as both actor and director is good, but held to a certain restriction.
Carmichael plays Val, a down-on-his-luck laborer who ventures to commit suicide with the help of his recently-hospitalized friend Kevin (Christopher Abbott).
While there's a certain comical bleakness to Val's life—he essentially shovels dirt for a living—there's an interesting idea of suicidal ideation here. Val's thoughts of killing himself don't come from stagnation or trauma, but from dissatisfaction with achievement. He makes his first attempt right after getting a promotion, and we later learn that he had planned to propose to his now-pregnant partner, Natasha (Tiffany Haddish).
As director, Carmichael wisely avoids eating up the film and splits lead duties with Abbott. If anything, Abbott gets the real star showcase here, again proving his dynamic magnetism after a series of weirdo indie turns like Vox Lux, Possessor, and Black Bear.
Still, there's a classic comedic duo chemistry here. Carmichael is the rock around which Abbott orbits. The setup also gives them plenty of opportunities to subvert that dynamic. When Val's confrontation with his father (J.B. Smoove) gets heated, Kevin has to be the one to pull him back. But, when they come to blows, Kevin's the one with the tire iron.
Black comedy is always a tricky balancing act. Penn and Teller Get Killed is notorious for going all-in on nihilism and failing to connect. I think this film mostly succeeds, but its uncertainty with its own dark philosophy is, again, reflective of a more self-conscious point in Carmichael's career.
In Kevin's first scene, he delivers a monologue about how doctors have been trying to fix him since he was eight years old, and if his life was worth saving, they'd have done it by now. Much of the film follows Kevin's quest to kill a childhood doctor who molested him (played by Henry Winkler). Ultimately, it's Val who pulls the trigger, but only after he decides to choose life. His decision to choose life only comes after a guilt trip from Natasha, who lays out how he'll still be guilty in death if he abdicates his responsibility as a father.
All of which is to say, this is in many ways a philosophically bleak movie. But at the same time, the humanism of the direction kind of betrays that philosophy. There are a lot of monsters around the central players here, but the cashiers, receptionists, and other random side characters they meet along the way are given a stark innocence.
I'm not sure how I feel about any of this. Is it too bleak? Not bleak enough? Or just not made with enough confidence to come out strongly in either direction? Whatever the case, I think this movie hums along perfectly fine. Until the last minute.
For the most part, On the Count of Three is very insular. We're never not following Val and Kevin, and it takes place over the course of a day that they spend almost completely alone.
The final shot, which I won't give away, finally pulls us out. We recognize that Val's story is one of a million stories, all different, all wrestling with life and death, and all ending in the same rotten place. It's certainly the most striking ending I've seen this year, and it made me think twice about the film overall.
When I'm reflecting on this year, I don't think On the Count of Three will end up one of my favorites. Seeing how far Carmichael has come, this film's steady, dry lob isn't the catapult that Annapurna hoped it would be. Still, it's a perfectly solid film. It's absolutely worth seeing for its final shot alone. B
On the Count of Three is now playing at Landmark's Ritz Five and available on digital.
Review: Doctor Strange in the Multiverse of Madness
Sam Raimi saves Marvel from itself.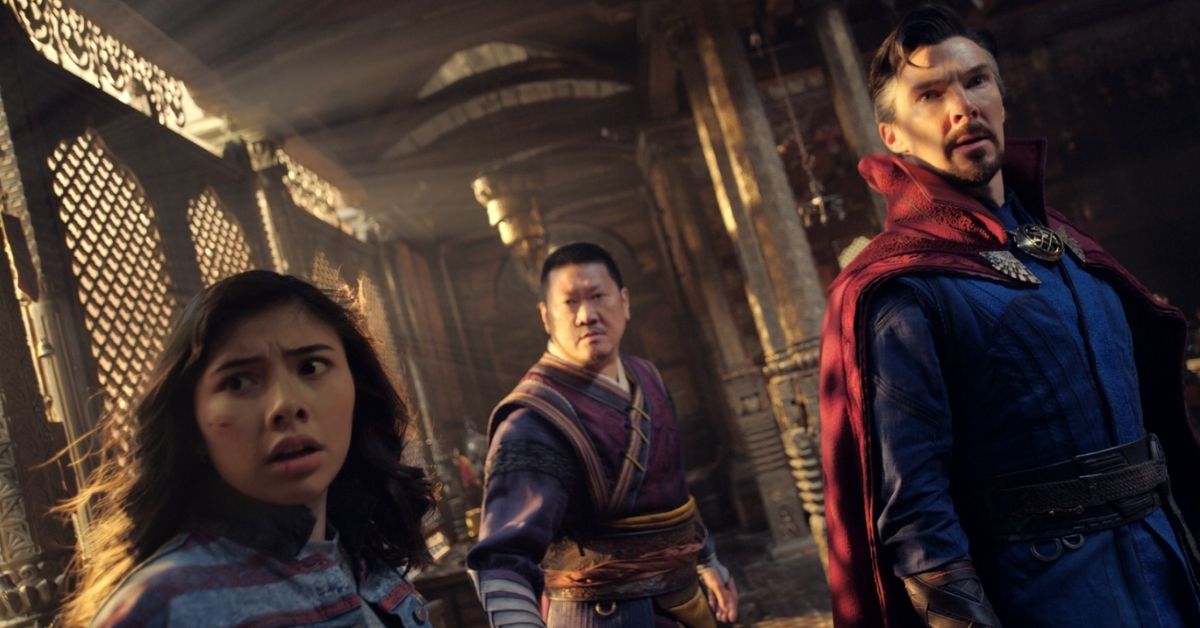 Let me just start this review by saying: this multiverse isn't that mad.
It's impossible not to compare Doctor Strange in the Multiverse of Madness to the other big multiverse hit of the year, Everything Everywhere All at Once. The latter film breezes into totally different character histories, filmmaking styles, and finger… materials? Compare that to Multiverse of Madness, where the only alternate world we spend substantial time in is one where green means "stop."
None of this is to say that the 28th entry in the Marvel Cinematic Universe is without madness. It just comes from director Sam Raimi. His giddy eye manages to breathe new life into a franchise that's functionally remade Iron Man no less than a dozen times.
Frankly, it's to the film's credit that the multiverse takes a backseat. The idea of infinite parallel universes may be inspiring for real-world philosophy, but as a narrative technique, it quickly loses steam. Instead, Multiverse of Madness is powered by the real juice behind Doctor Strange: dreams, ghouls, and oddball mysticism.
These macabre elements lend it a certain fairy tale quality. It feels more like a Wachowski-style bout of sci-fi whimsy than another perfunctory chapter in Disney's medieval-marriage version of filmmaking. That's probably why I found it much easier to connect to than any recent Marvel outing.
It's interesting how well the film seems to stand on its own, given that it asks its audience to do more homework than any other MCU film to date. It assumes you have a knowledge of Marvel's TV shows, recent property acquisitions, and obscure comics lore. Still, with its striking visuals, bold takes on characters, and complete embrace of mysticism, there are times where it seems to transcend Marvel entirely.
The secret ingredient here should be obvious. Raimi, who hasn't made a film since 2013's Oz the Great and Powerful, is stronger as a hired gun than many MCU directors at their best. It feels like it's taken 28 movies for Marvel to realize you have to turn the camera on. It's got zany zooms and frantic motion, but at its core, this is the first Marvel movie whose shots feel carefully planned out. There's a vision here; not a perfect one, but one just strong enough to overpower Disney's corporate interests.
There were moments in this movie that had me wanting to leap out of my seat in the theater. More surprisingly, they seemed to get more and more frequent as the film progressed. Even some of Marvel's best—Black Panther, Thor: Ragnarok, Guardians of the Galaxy—have suffered from a dull third act. Multiverse of Madness only builds, dumping its dull moments in the first third before ramping up to nonstop thrills once the villain is revealed.
While this first act is weak, it still has its charms. Raimi relishes the chance to place Strange (Benedict Cumberbatch) and Wanda Maximoff (Elizabeth Olsen) in real-life circumstances. It's why fans have taken note of the film's performances. Marvel often takes its A-list casts for granted, but Raimi revels in the chance to direct them.
Cumberbatch and Olsen handily deliver two of the MCU's best performances. Newcomer Xochitl Gomez also leaves an impression, although she's definitely a supporting player. The big Illuminati cameos you've been promised won't exactly have you jumping for joy, but like the multiverse itself, they're used with a clever economy. Even brief cameos get a chance to shine here, especially Bruce Campbell and Michael Stuhlbarg (who does 30 seconds of wig work and walks away with the "with" credit).
While fans of the MCU's formula may find this a jarring departure, most of the film's issues come from its Marvelisms. Like Eternals before it, the infusion of a distinctive vision makes Marvel's shtick more glaring. The "universe-building" elements, such as the Illuminati's introduction and pointed references to Thanos and Spider-Man, are the ones that break the movie's spell.
On a similar note, the too-cool one-liners are especially poor here. As quippy as MCU movies are, there's not a single memorable verbal gag in here, and there's a few that are actively distracting. No Way Home's one-liners are no less cringeworthy, but Raimi's singular vision is what makes this movie work, and these moments of glaring studio intervention compromise it.
The lack of pith isn't to say that this movie has no levity. In fact, it finds more moments for emotional connection than any other MCU film, both within and without action. Raimi employs a technique so often forgotten in today's blockbusters: action as a gag. PG-13 as it may be, Multiverse of Madness makes hilarious use of horror and gore. Putting delicious kills front and center, it walks away with a distinctive sense of humor in spite of its paint-by-numbers dialogue.
My opinion on this film will likely be completely different in six months. Maybe it's doomed to a fate like Shang-Chi, beloved in an instant and forgotten just as quickly. But whether it's the Raimi stan in me or not, this brought back the sense of wonder in me that the MCU's assembly line beat out of me a decade ago.
Maybe the fact that Multiverse of Madness came out this late in the series already precludes it from being seen as a highlight. But right now, I don't find myself wondering if it's the best in the MCU. I'm wondering if it's the best in the MCU by a country mile. A-
Doctor Strange in the Multiverse of Madness is now in theaters.
Plaze Review: Philly's Fastest Growing DIY Networking App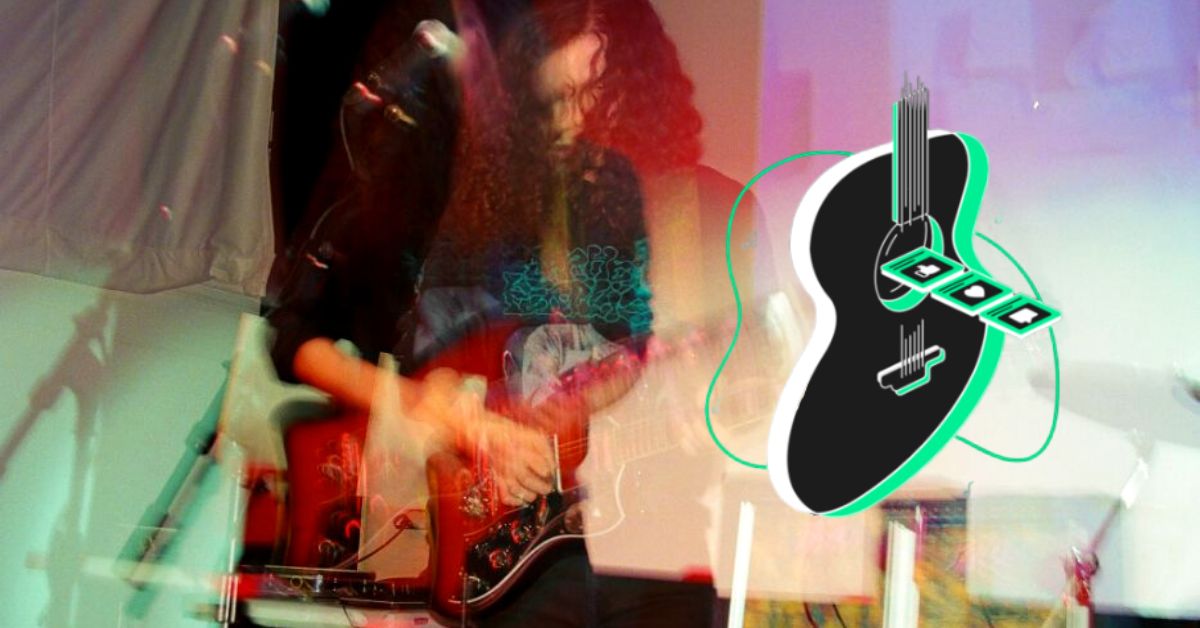 I've been involved with do-it-yourself music in the Greater Philadelphia area for over a decade now. Throughout this time, I have occupied every potential role: showgoer, performer, promoter, you name it.
The groups I've ended up with typically share a similar genesis.
Here's a picture: you're sitting in a half-empty living room. Below you, a crowded basement pulses with tame tropes and half-hearted expressions. Some loudmouth nursing a 40oz foolishly exchanges charm for pretension and out from a groggy, smoke-induced stupor, an assertion springs: "Jawbreaker is the definitive Bay-Area rock band of the 90s. Miss me with that Green Day sh*t."
Leaping (or staggering) to your feet, you fumble for rejoinders. It's then that you find yourself thrust into a spirited dialogue with an equally impassioned stranger.
One thing leads to another. Chatting and chain-smoking, you trade visions, earnestly planning a potential project only to wake up the next morning without energy or interest in maintaining contact. After all, they smoked menthols— and your inner pre-teen still weeps to Green Day. You don't need that kind of energy in your life.
The story repeats itself ad nauseam and there's no light at either end of the tunnel.
Enter: Plaze. Philadelphia's hottest DIY networking app. Aiming to revamp the way musicians discover one another, Plaze offers a digital alternative to the oft-excruciating process of starting a band.
What is Plaze?
Before I dig in, let me provide some background about Plaze. Like most innovations, Plaze was inspired by a problem. As stated in the first sentence of the Our Story portion on their website: "Plaze started with a problem."
Call it journalistic intuition.
Co-founder Jamie Mallia, a drummer, recounts his story. It's a common one, and we all have our own version. An exciting new musical partnership abruptly halted upon the realization that the person you have agreed to jam with is, shall we say, grossly incompetent.
Naturally, the unevenness of their skillset led to an awkward, short-lived alliance. That's when the big idea hit: an app that facilitates discovery among creatives. One that promotes networking and collaboration while helping weed out the mismatches.
Plaze looks to one-up other avenues of creative networking like Facebook and Reddit. It does so by tailoring the experience to the expressed needs of its users. It is, however, currently a Philadelphia-centric app.
A New Way of Networking
For the sake of transparency, I must share my initial skepticism. And I'll be the first to admit that this is likely the result of my reverence for the punk ethos. But honestly, that's a stuffy holdover.
And punk, in its truest and most essential form, is about moving forward. Embracing change, even (and especially) when it threatens tradition. The fruits of punk that have prevailed throughout history have been those that, in threatening tradition, offers a constructive, democratic alternative. And so, with that renewed understanding in mind, I'm downloading Plaze.
Nowadays, there's an app to help you with everything from grocery delivery services to keeping your mental health in check. So, really, why shouldn't there be an app for meeting other local creatives?
Mind you, this article will encapsulate one person's attempt at using the app.
My experience doesn't speak for the whole of us. Everyone who uses this app, with their own style, expectations, intentions, and skill sets will undoubtedly yield a unique experience. With any hope, anyway.
In a sense, you can consider this less of a review and more of an account. The semantic difference is that, in this case, I won't submit an official judgment.
How's the User Interface?
Upon downloading Plaze, you'll find that the interface is simple and intuitive. For those of us experienced with any of those countless dating apps, it's downright familiar. This isn't a dating app though, so there's some hope for you yet. Just think of all the time you'll save not having to worry about a punchy new pick-up line.
Features
All of the features are offered in a palatable four-tab menu. The tabs are as follows:
Profile
My Scene
Map
Explore
Profile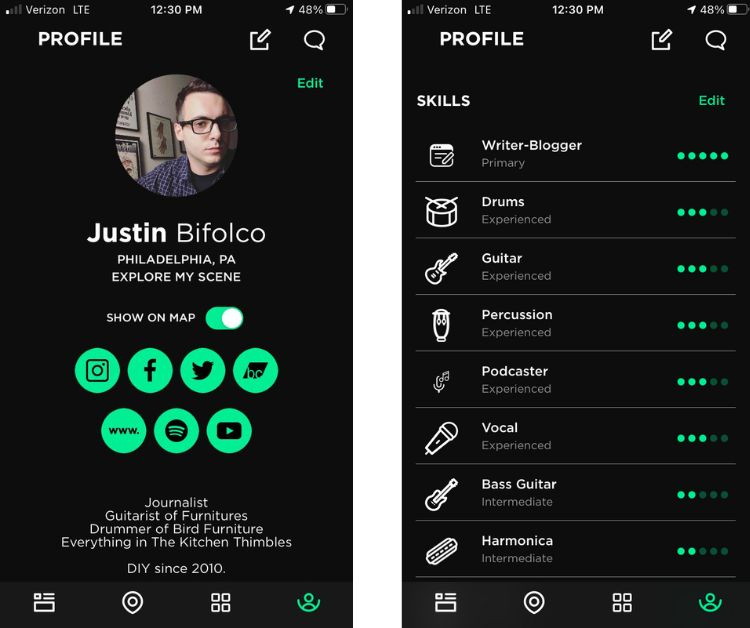 You're going to want to add a picture or two. Really flesh out your profile here. Honestly, this function alone is pretty dope. Consider it a central hub for all of your artist profile pages. Now you can have your Bandcamp, Spotify, Facebook, Instagram, Youtube, and personal website all in one place. Artists are not terribly well-known for being, well, unlazy— so this certainly helps the discovery process along!
The profile section is also where you'll outline your skillset. Shameless promotion here, but I need to show photos to properly explain.
This also provides me the opportunity to show off this sleek, seamlessly navigable interface. Despite being a millennial, my handling of most new technology is more in line with that of a 100-year-old man. But believe you me, sonny: this app is absolutely easy to handle. Golly!
You can write up a quick blurb about yourself and add all of your skills. This includes both on-stage and off-stage skills; which means audio engineers, promoters, teachers, and photographers all have a place in Plaze.
Whatever your niche, Plaze has thought of ways to plug it into the scene. Speaking of the scene, let's hop to the next tab.
My Scene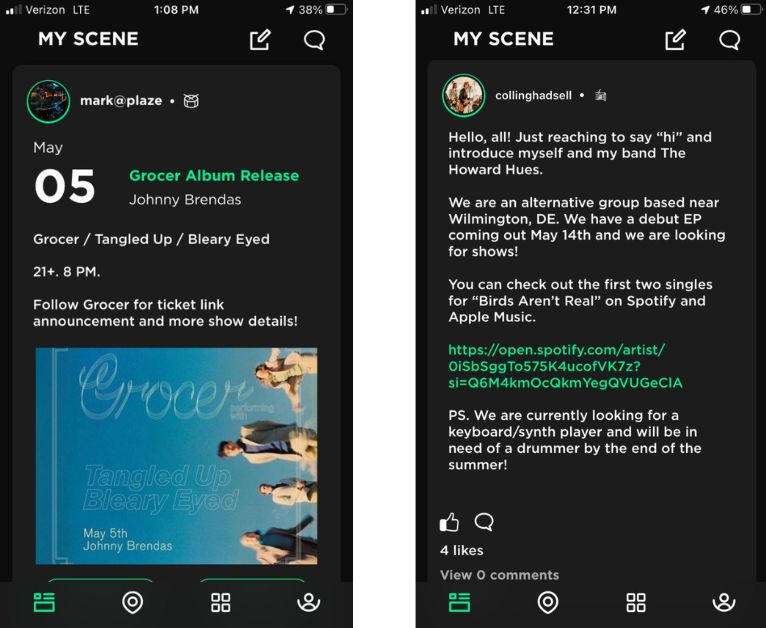 This function puts you in the same room as what's happening in your area. At all times. The page is split up into two subsections, both of which are very simply laid out: Show Posters and Community. These sections borrow a lot of the convenient aspects of Facebook or Reddit.
Show Posters, as its name suggests, is purely a feed for flyers. It's like an infinite scroll of calendar events for upcoming shows. You can interact with these the same way you would Facebook events, including RSVPs, comments, and likes.
Community is a collection of threads, not unlike Reddit, where people can post about any number of things. Want to promote an upcoming album release? Need a new drummer? Maybe you're a promoter in search of an opening act. Whatever your need, this section allows you the freedom to express it.
Anyone can make a show flyer or community post!
Map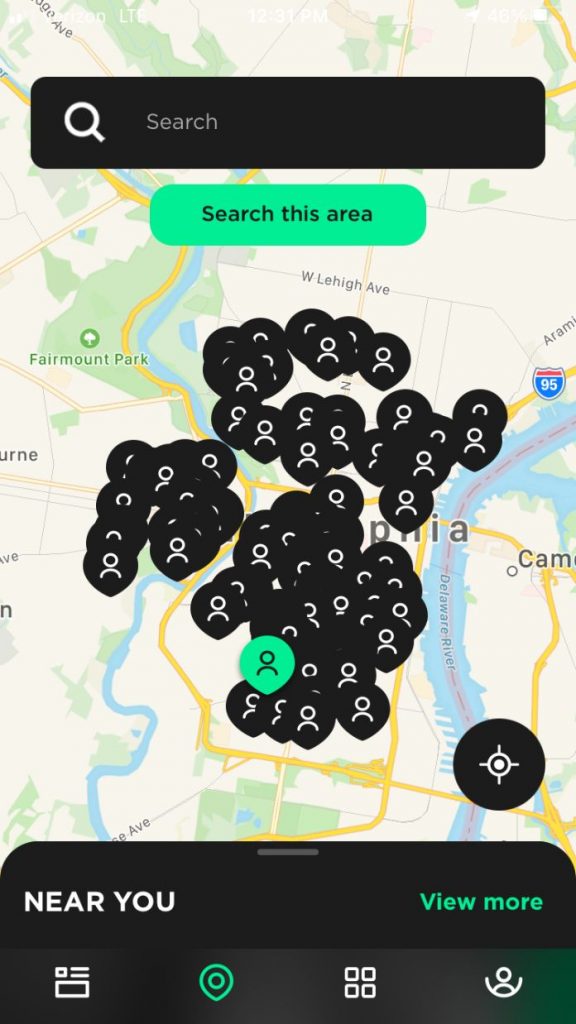 The map function essentially contextualizes people's profiles in a geographic layout. This is a cool feature, but its benefits are limited to showing exactly where each individual profile is. It's a helpful tool, nonetheless.
Explore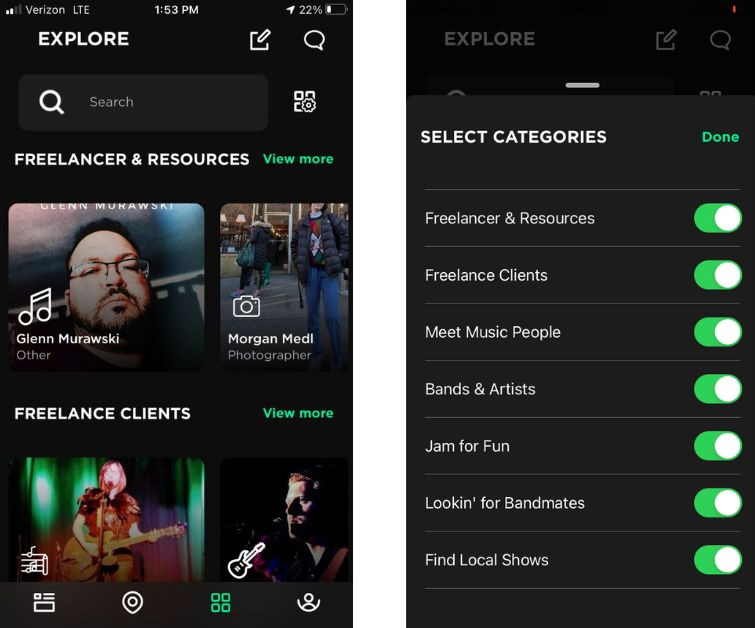 This page contains the meat and potatoes of the app. It provides full access to all other profiles on Plaze. A search bar at the top of the page offers a speedy look-up for specific people. Or you can scroll along casually, thumbing through profiles of Plaze users. (Plazers? Plazeers?)
To make it even more convenient, it splits up profiles into different categories based on each user's expressed intent. Here are some of the subsections: Freelance Clients, Lookin' For Bandmates, Jam For Fun, Find Local Shows, and Near You. It's as simple as sending a message. From there, you're free to discuss as you please! You can even curate your own feed, narrowing it down to your specific need.
Closing Thoughts: Is Plaze worth it?

Plaze offers an entirely free platform for exploring your scene. You stand to lose nothing, and the gains are immeasurable. it's not limited to musicians, either. Plaze is perfect for artist-designers, audio engineers, promoters, podcasters, videographers, and journalists. Every creative personality is capable of offering (and monetizing) their skills with this app.
The most inspiring part of Plaze is the way it injects a burst of democracy into an experience historically fraught with crossed arms, naysayers, and gatekeepers. Gone are the days of not being able to find the right band members. And never again will you be burdened with the task of having to cold message a show promoter on Instagram, only to be left on read time and time again.
I can speak from experience regarding the difficulties of finding something as seemingly common as a good photographer. You end up just asking a friend with a camera and, oftentimes, you're underwhelmed with the final product. With Plaze, freelancers are provided a large pool of potential clients and vice versa.
Just like every punk-rocker has a conversion story— a discovery of new, challenging, artistic integrity in the face of an otherwise bland, corporate landscape— so too may every DIY soul be converted into a Plaze-user (Plazite? Plazian? I hate this bit) and reimagine the possibilities of local art.
Even if they don't f*ck with Green Day.