10 Best Free Tax Software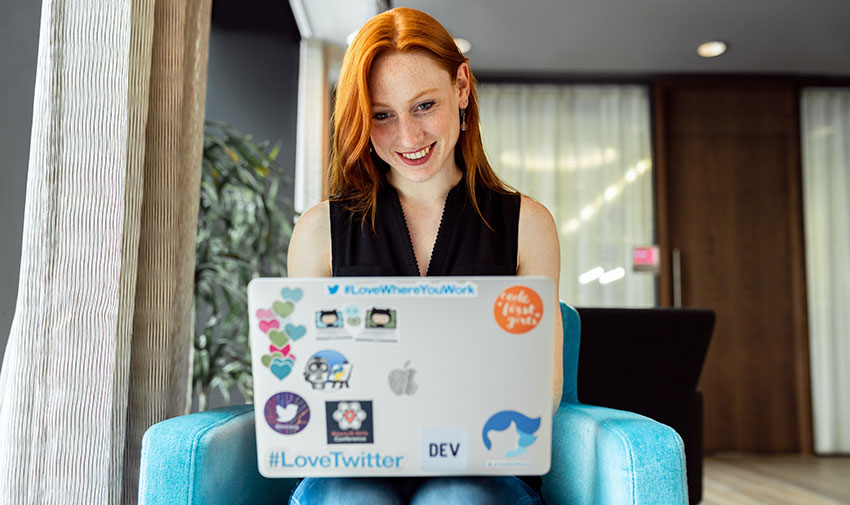 Are you looking for free tax software? Here are the 10 best ones online. We based our list on the ease of use, the features available, and the support you can get from their company.
Tax filing season is coming and we all need to think about how we are going to organize and file taxes, and of course, get the maximum refunds. Some people would hire professionals to do this specific task for them. However, if you want to save on cost, then you can also do it on your own.
Here are the most sought-after free tax software to use nowadays.
1. TurboTax Free Edition
TurboTax Free Edition is known as the most user-friendly among all the tax software available today. This software has been helping millions of people every year. That's not surprising because navigating through it is extremely simple.
If you have a gross income lower than $34,000, go ahead and use TurboTax. But if your gross income is more than that, then you will have to pay extra. There's even live chat support just in case you need further information or help. And lastly, your first state return can be filed for free.
2. IRS Direct Free File
You can have the full database of forms and schedules in PDF if you use IRS Direct Free. When you are using this platform, your information will be automatically saved. That means you don't necessarily have to complete everything in one run or session. Even if you have a gross income of more than $69,000, you can still use the free file system.
3. H&R Block At Home Free Edition
It's almost impossible not to know H&R Block considering the number of storefront outlets they have in the US. You can file for free if your gross income is not more than $69,000. This is actually a lot more than what TurboTax Free Edition allows. What we love about this software is that you can easily import last year's tax info even from other tax tools. No wonder people call it the best tax software.
4. TaxSlayer Simply Free Edition
Are you looking for another easy-to-use free tax software? If yes, then take a look at TaxSlayer Simply Free. It's ideal for simple tax returns so you better take advantage of that. But generally, TaxSlayer has the most affordable paid products.

So whether you want to enjoy the free version, or you want to upgrade a bit, this is one of the best choices. Another edge of TaxSlayer is that there is no residency or citizenship requirement to use their free file feature. Your first state return is also for free.
5. eztaxReturn
One of the best free tax software you can use for filing is eztaxReturn. Like most software in the list, you need to meet certain requirements to be eligible for simple returns. For this one, you must have a gross income of not more than $100,000.

Please note that those who have student loans are not qualified to file the taxes for free. The same goes if you have dependents. But just in case you need further help, their support is for free.
6. Credit Karma
Credit Karma is free for both state and federal returns. You can expect the max refund guarantee as well. In addition, we commend the website's interface because it is mobile-friendly. But take note that this company is smaller than its competitors. Having said that, the expert support might come as a challenge.
7. TaxACT Free Edition
What are the requirements in order for you to use this free tax filing service? One, you either need to be younger than 56, qualify for the Earned Income Tax Credit, or have a gross income of not more than $59,000. For active military, your gross income must not be more than $69,000. The platform is also easy to understand so you won't have much of a problem.
8. Online Taxes by OLT
You can file your federal taxes for free using this software. The case is different though for filing state returns where you need to pay additional fees for certain features. The free file service is available for everyone regardless of your age and state. We've also noticed a great improvement in their interface.
9. FreeTaxUSA Free Edition
This is not as popular as the companies we've listed above. But FreeTaxUSA is a great choice if you want to file your tax. Their amazing platform can support various forms and schedules too. You can also take advantage of the prior year return storage and importing features. Expect 100% accuracy if you use this software.
10. TaxHawk Free Edition
Do not be surprised if the features are quite similar to FreeTaxUSA. It's because TaxHawk is their partner site. They are also an IRS-approved e-file provider so you can ensure that your data is secured.
Conclusion
Please note that these free tax software can accommodate simple tax returns. More often than not, you need to pay for additional services. Nevertheless, if you want to avoid professional fees for simple tax returns, then we recommend that you take advantage of these products. Make sure that you read the terms and clauses to avoid unexpected charges.
10 Best Portable Power Stations For The Apocalypse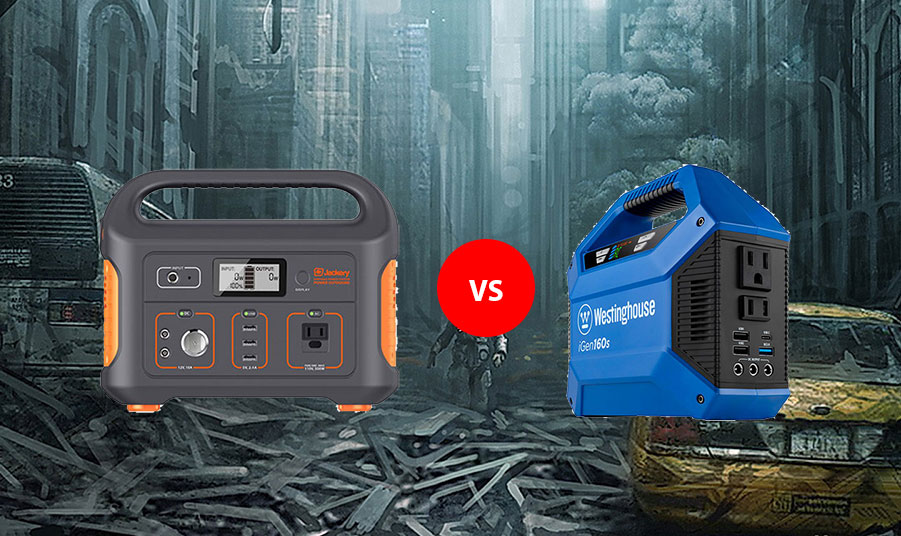 It's the end of the world and you're packing your bags and preparing for the long journey ahead of you. Which portable battery pack would you take with you?
Without a doubt, a portable power station will be your best friend during the early days of the apocalypse. You have to keep moving and you need a pack that can power your laptops, phones, and portable electronics for days at a time. A reliable power station is an essential you won't survive long without.
Think about it, how can you post your apocalyptic #OOTD on IG? You won't be able to share how 'bored' you are on Facebook. Or worse, you can't watch your favorite Netflix series. It can drive you nuts. So don't let that happen by having a backup supply of power.
Kidding aside, with all the uncertainties the world is facing, getting the best portable power station isn't such a bad idea.
What are Portable Power Stations?
Most of us are familiar with the traditional generator that runs on gas. It can supply power to different electronic devices such as television, refrigerators, and air conditioners. And then, of course, we have compact power banks. We commonly use it to ensure that our phones are charged almost all the time. Now, when it comes to portable power stations, it sits somewhere in the middle.
Portable power stations are rechargeable battery-powered generators. It's a power supply more conservative than a monstrous gas-powered generator. but is extra powerful than a hand-held power bank.
It's a great backup in case of unexpected power interruptions or if you just want to camp outdoors (but not go too primitive). Portable power stations are also ideal if you work from home because you certainly can't just delay projects and reports.
The truth is, there are a lot of portable power stations to choose from. But if you are not familiar with the technology, it could be a challenge to pick the right one for your needs. And this is where we can help you.
10 Best Portable Power Stations 2020
Our team consists of in-born warriors and 'worriers'. So we searched for the best portable power stations just in case a huge asteroid hits the planet, cuts the power line, and deliverables pile up!
1. Jackery Explorer 500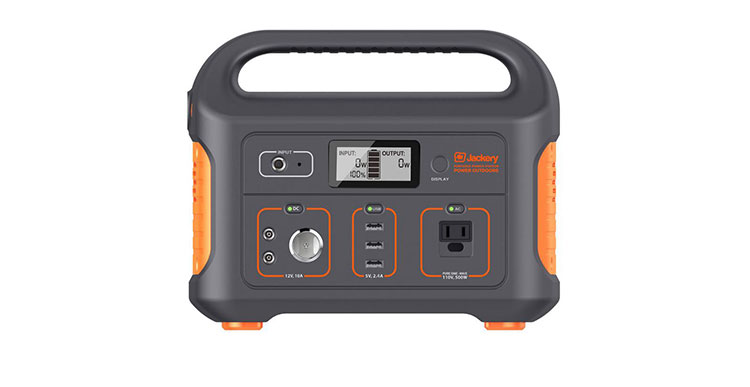 Jackery's Explorer 500, a 518Wh lithium portable power station, is one of the best on the market today. What we love about this power station is its rugged, functional, and simplistic design. It has an easy-carry handle, which is a simple feature that has a maximum impact. That means you can easily transport it, just like how people used to carry their boombox in the 80s.
It also boasts multiple output ports for different devices and small appliances. You can charge your phone, laptops, and even power a small fridge. Plus, the digital display helps in identifying the status of your power station.
You can charge this in different ways. Either you use AC outlets, DC carport, and optional solar panels. The solar panels can be purchased separately. Though we highly recommend it if you wish to go off-grid. The Jackery Explorer 500 is available for $499.
2. ChargeTech 54K Dual AC Battery Pack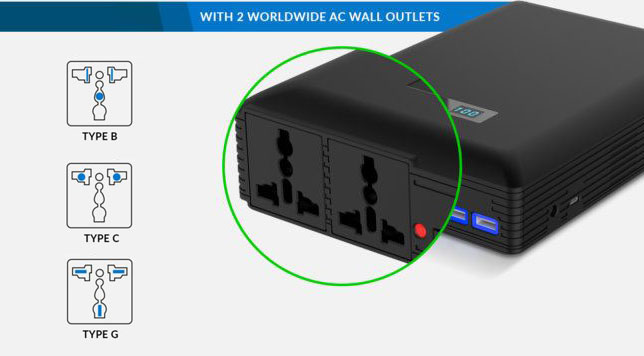 The Jackery is great, but it's heavy. What if you're looking for something a bit…lighter? Then look no further. Chargetech has just the device for you – the 54K Dual AC Battery Pack. Despite its size, this battery pack comes equipped with TWO AC outlets so you can keep your laptop powered. It also comes with USB and USB-C ports to replenish your smartphones, speakers, and anything under 250 watts.
Depending on your needs, you can either choose their PRO model for daily use and road trips, or the TRAVEL model for long haul flights and international trips.
This relatively tiny power station allows 30+ smartphone recharges or 5+ laptop recharges. It can even power up television for 3+ hours, and 7+ hours for your fridge. If you want, you can get accessories such as a wireless charger.
For $279, it's a steal considering you get 54,000 mAH and dual AC outlets.
3. Sungzu SKA1000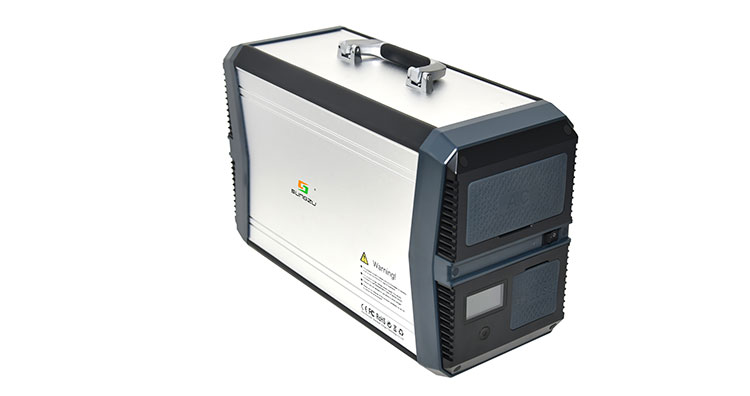 Included in our list is Sungzu SKA1000. Like most portable power stations in this list, it can power up small appliances such as your coffee machine or your light bulbs. This makes it ideal even for outdoor activities like camping.
Got stuck in the middle of the forest? You don't have to worry. Just charge your power station using solar panels and you can use your gadgets once again.
One of the best features of Sungzu SKA1000 is that it has multiple protection. You don't have to worry about short-circuiting, overheating, overcharging, or over-discharging. That alone makes it more family-friendly.
The power station is at $799. It might look costly at face value but with its features and safety measures, we have to say it's worth it.
4. GoalZero Yeti 1000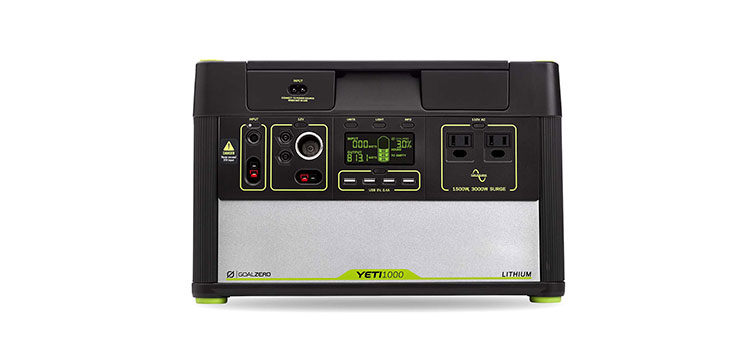 We've seen a lot of amazing reviews about the GoalZero Yeti 1000 and we were a bit skeptical. It just sounded too good to be true. We wanted to prove these people wrong. But we were surprised that GoalZero Yeti 1000 is indeed one of the best power stations in 2020.
It can charge and power a wide range of devices which makes it a crowd favorite. However, this isn't as portable as we would want it to be. But for home use where you just need to transfer it from one room to another, it is the perfect buy.
If you are looking for a power station that is easy to use yet can house the maximum power, get GoalZero Yeti 1000 for $1,400.
5. Westinghouse iGen160s Portable Power Station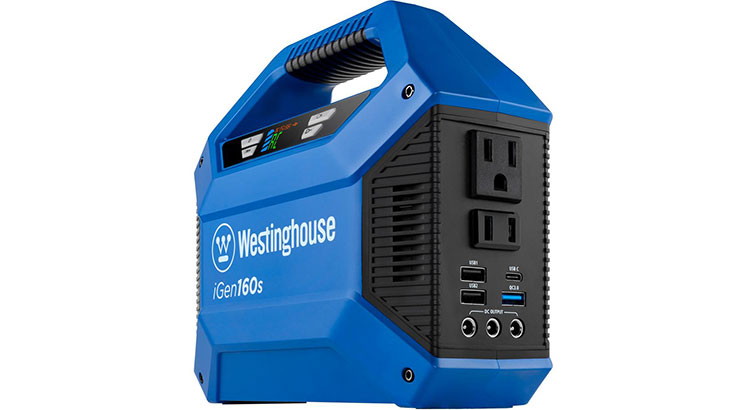 The compact yet rugged design of this power station has won a significant percentage of the market. In fact, this model is almost always unavailable due to high demand. That alone speaks a lot about the capacity.
Westinghouse's portable power station is what you need for your sensitive electronics. So if you want to power up your GoPros or your smartphone, this is your best bet. And since it has a built-in flashlight, it's one of the highly recommended power stations by travelers and campers. It's also budget-friendly too for only $139.99.
6. MAXOAK Bluetti EB150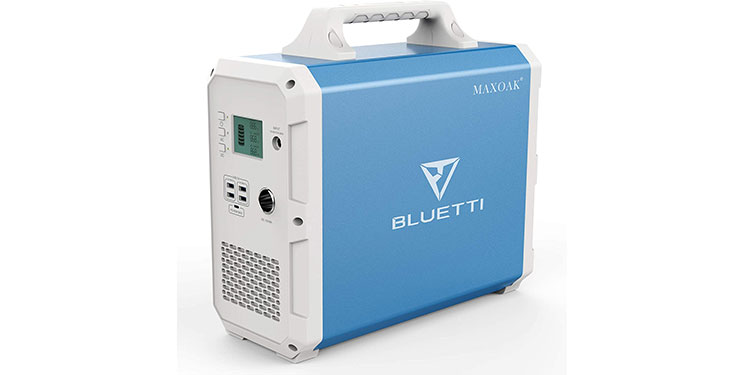 The Bluetti EB150 is easily one of the most powerful units on this list. It can power just about anything with its massive 1500wh lithium-ion battery. At 38lbs, it's not light. But it's not heavy if you consider how much power you're getting. You get 4 USB ports, 1 USB-C port, and 2 A/C outlet on the rear. From cellphones, laptops, TVs, hairdryers, to microwaves, the Bluetti EB150 will keep everything powered through the night.
This backup power generator power station can be fully charged in 10 hours by using a wall outlet. You can also charge it with solar panels. But unlike their competitors, the EB150comes with an MPPT controller instead of the cheaper PWM alternative.
If you're looking for something for a portable "power generator", the EB150 offers the most bang for your bucks. At $1299 it's actually an incredible deal considering many of its competitors charge $1600 – $2000 for the same power.
7. SUAOKI Ares G1000 Power Station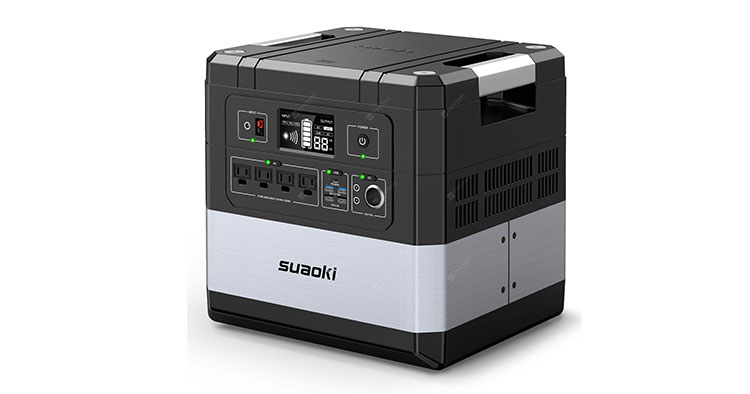 This power station is completely immune to power outages. It's so powerful that it can power 4 laptops at the same time. Having said that, you better get one not just for your home, but for your small office as well. We need to hustle and no apocalypse should stop us from delivering to our clients.
With SUAOKI Ares G1000, you can use your electric fan for 16 hours, your sweeping robot for 13 hours, your coffee maker for 7 hours, and your CPAP for 3 nights. If that's not good enough for you, we don't know what is. But for a hefty price of $1,639.51, make sure that you have an extreme need for power backup.
8. NEXPOW Portable Power Station YP-150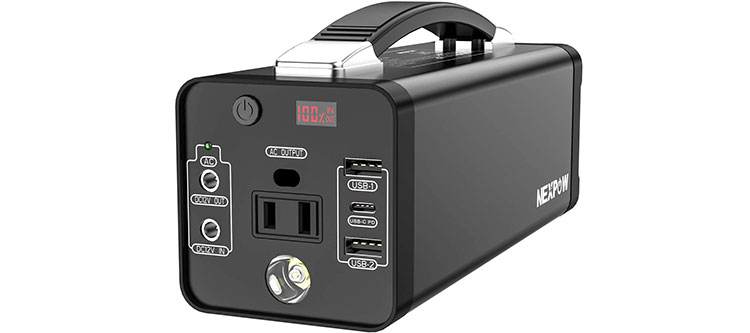 You might want to consider NEXPOW's portable power station if you are particular about the weight. This is extremely lightweight yet holds a decent power for its size of 48000 mAh.
Wondering if you can charge your MacBook pro? With NEXPOW, you don't even need an adapter. Just plug it in and use your laptop to your heart's content.
This amazing portable power station can be yours for only $125. It might be one of the cheapest power stations on the list, but it's one of those gadgets that took us by surprise.
9. nrgGo 400 Portable Power Station

First off, the design is either you love it or you hate it. For others, the exterior looks ugly. But we guess it's a personal preference so we can't say the same. And besides, we are after the core functions and not the aesthetics. In that case, nrgGO 400 did not disappoint.
This portable power station uses battery cells made by a globally-trusted company. Safety definitely gets a big check for that alone. You can power an LCD monitor for at least 4 hours! And that's good enough given its size. But you have to be careful when storing this power station as the power buttons can be accidentally turned on or off in just one light press.
This will not cost you to burn your savings. Get yours right now for only $449.99
10. EcoFlow River 370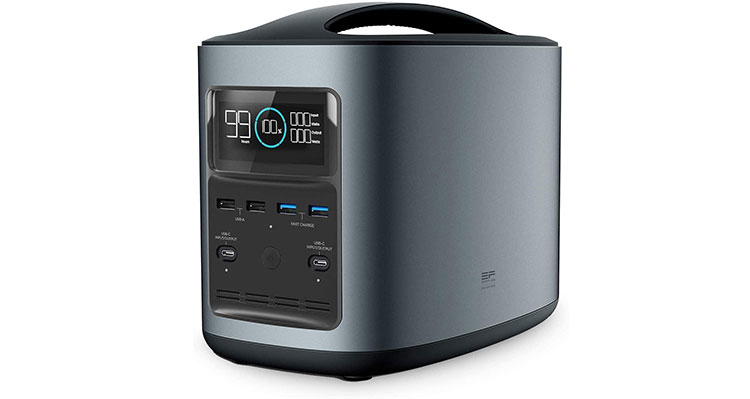 EcoFlow River 370 has 9 outlets, but that's not the main reason to be impressed. What makes this amazing is that you can use these outlets and charge 9 devices all at the same time.
You better get your hands on this, not just for camping or for leisure activities, but even for more harrowing events like a hurricane. And for only $549, it's a mortal sin not to buy one right now.
Wrap Up
As crazy as it may sound, you have to be prepared for the worst. Aside from stacking canned goods, dried food, and toilet paper, the best portable power station should be included in your 'doomsday prepper's checklist'. After all, who wants to live in the dark?

Moto 360: Owner's Mag Review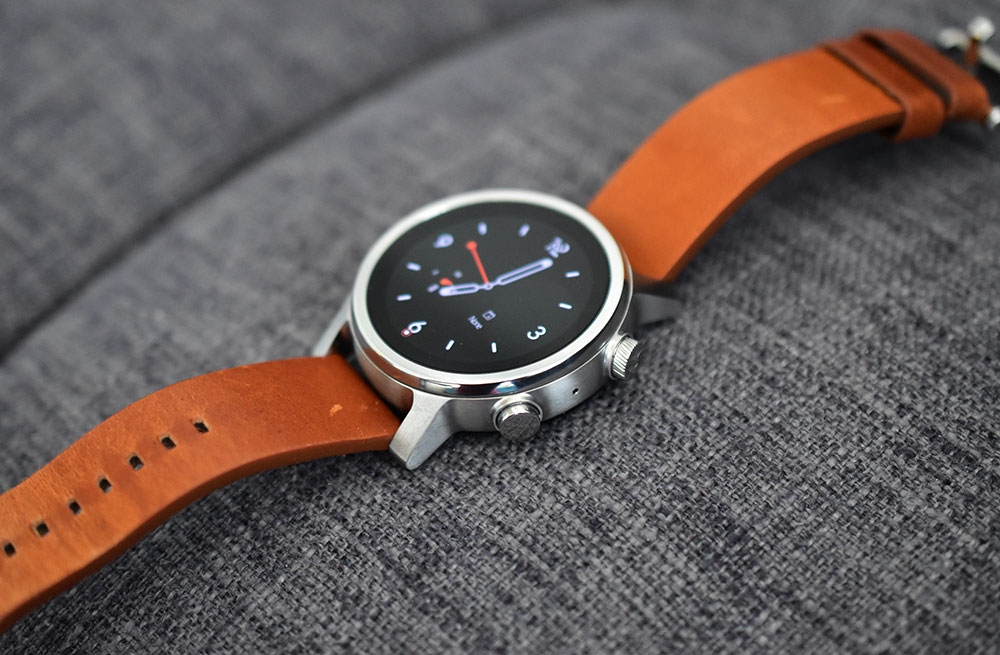 The Moto 360 is the 3rd watch to debut in series of Android smartwatches by the company. Motorola has made significant improvements to the watch's design, battery life, and sensors. Standing at $299, it's quite expensive compared to other Android smartwatches. However, unlike other products on the market that justifies the price on the spec sheet, the Moto 360's true value comes from its more refined, polished, design that actually looks and feels like a $299 smartwatch.
Stainless Steel Design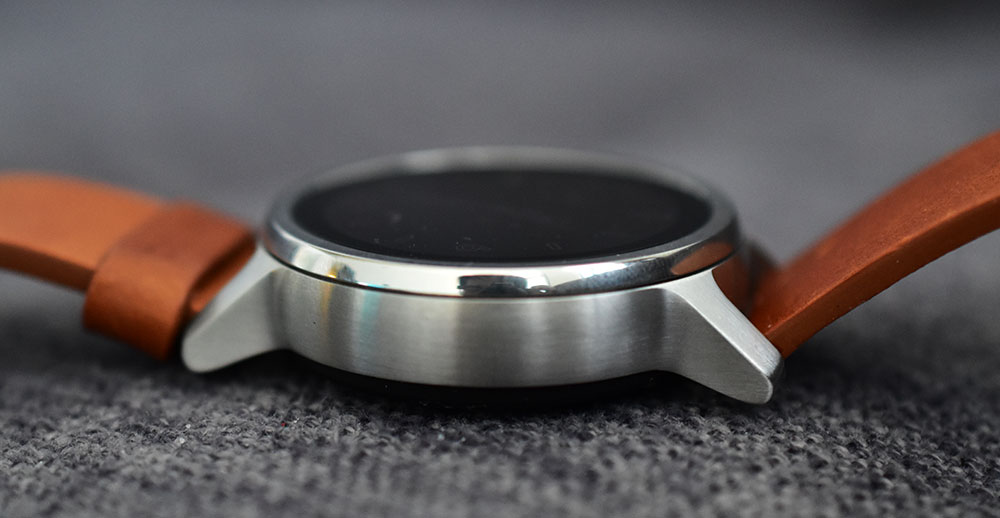 The one major thing that sets the Moto 360 apart from any other smartwatch on the market today is its design. Even if firmware stops updating, you might still wear your Moto 360 years later because it actually looks like a watch. The stainless steel design looks classy and timeless. Sized at 42.8mm wide with a thickness of 11.68mm, this is a beefy watch. However, it still looks good even on thinner wrists.
You get a few color selections to choose from. The watch comes in steel grey, rose gold, or phantom black. The outside has a layer of PVD/DLC coating to give it a bit more scratch-resistant.
First Impression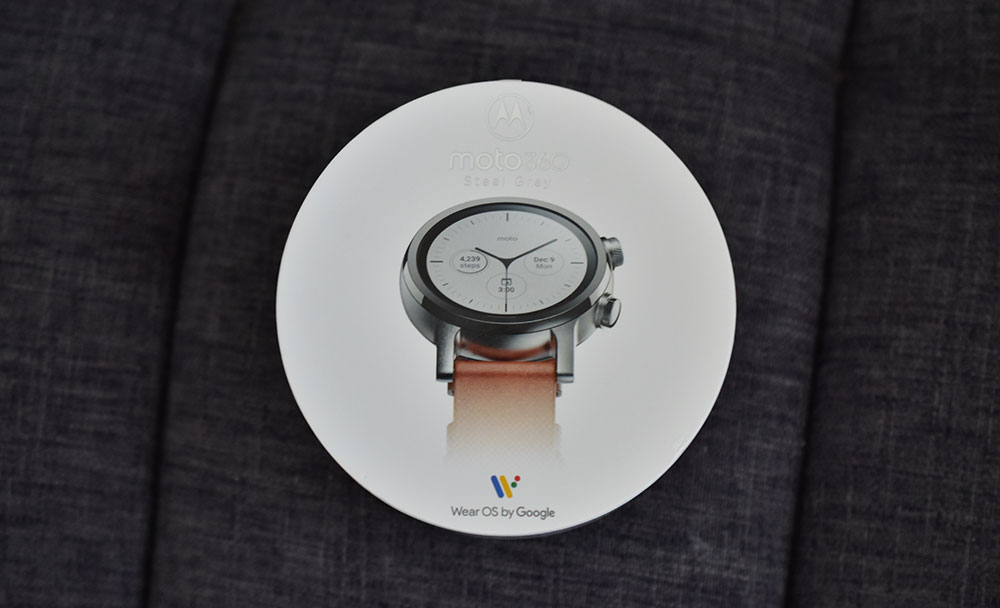 The first impression is important for a watch. And the Moto 360 looks striking at first. The always-on watch dial display mimics the look and feels of a luxury watch while perfectly disguising that it's a smartwatch. This is a major bonus for those who want the functionality of a smartwatch, but don't want to be labeled as a techie for wearing one.
When given the choice, the timeless elegance of a mechanical watch will always outlast smartwatches. And Motorola made a smart decision to engineer this watch to be visually more comparable to Omega than to Samsung.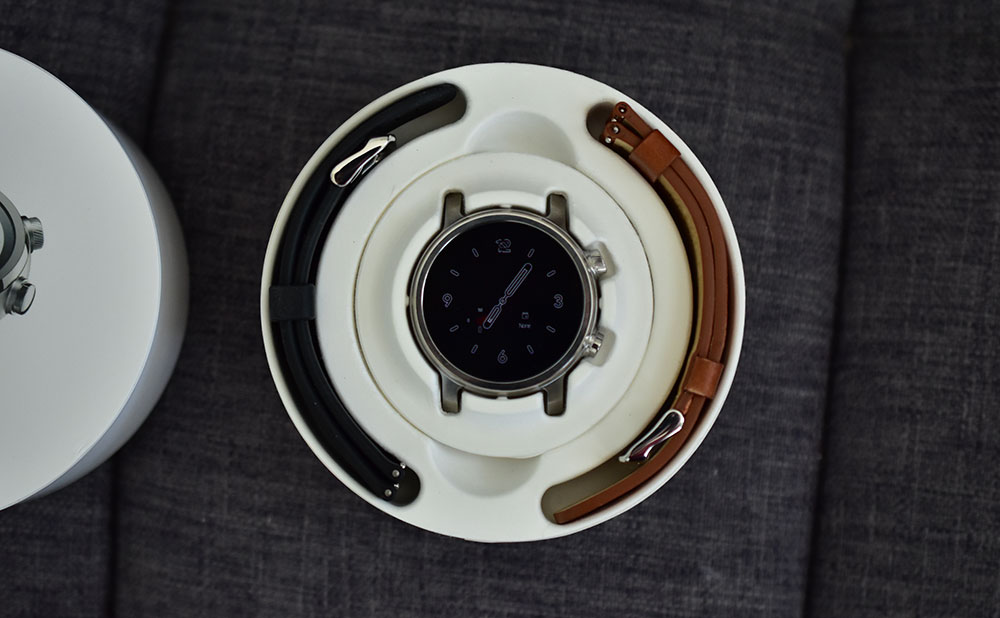 One extra thing to note. This watch comes with both a brown leather strap and a black rubber strap. This is a nice touch, saving you the time to buy extra straps for different occasions or outfits.
Performance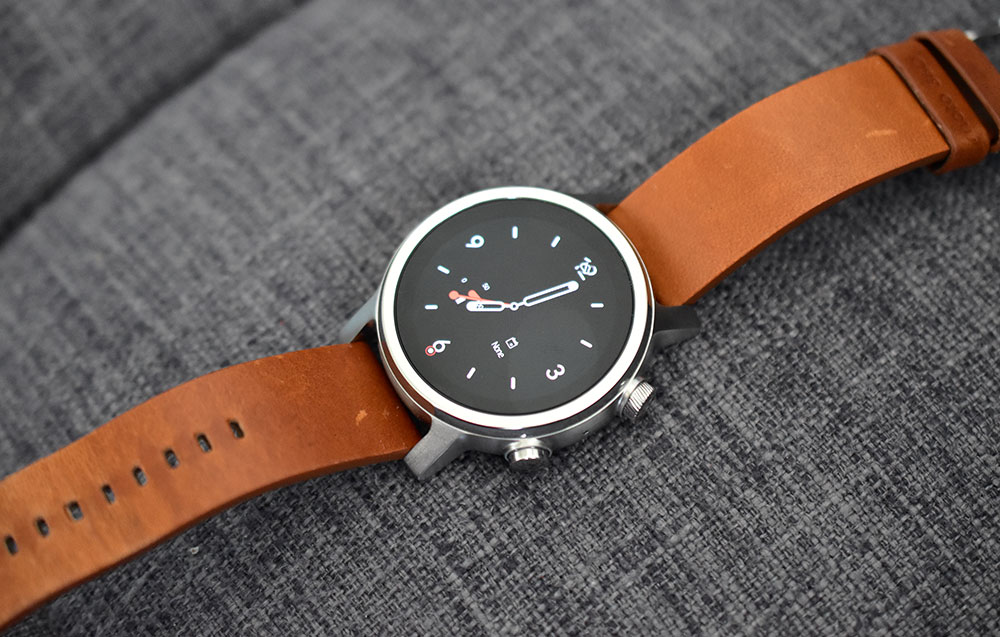 Looks aren't everything. This is a "smart" watch after all. Powered by a Snapdragon 3100 chip, 1GB of Ram, 8GB of internal storage, and running on Watch OS, the watch is responsive and lightning fast. It feels and navigates like a Samsung Watch Active, which is a good thing.
Swipe gestures work as you'd expect just like any other smartwatches on the market. Swipe up for your notifications. Swipe left for your quick apps. And swiping down gives you the status display. Everything on the software front works exactly as you'd expect from a Watch OS experience.
And I'm glad they didn't try to do anything gimmicky or add their own "flavor" to the user native user experience. I've seen other smartwatch makers attempt to do this to be "unique" the result is often a confusing interface that doesn't add value to the overall purchase.
The Screen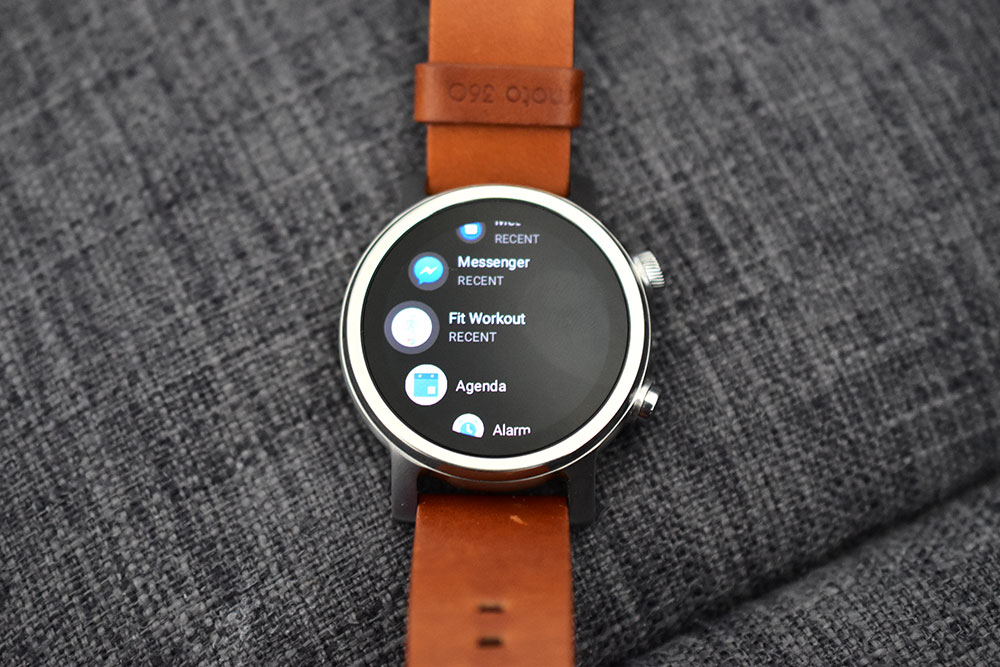 Coming in at 1.2″, the 390×390 AMOLED display is bright with saturated colors. It's not as pixel-dense or vibrant as its other competitors, but it gets the job done. The black border around the screen is thick and noticeable. Had they taken advantage of this real-estate and made the face even larger, that would've added significantly to its appeal. I'm sure there must be some sort of technical challenge preventing that.
Fitness & Tracking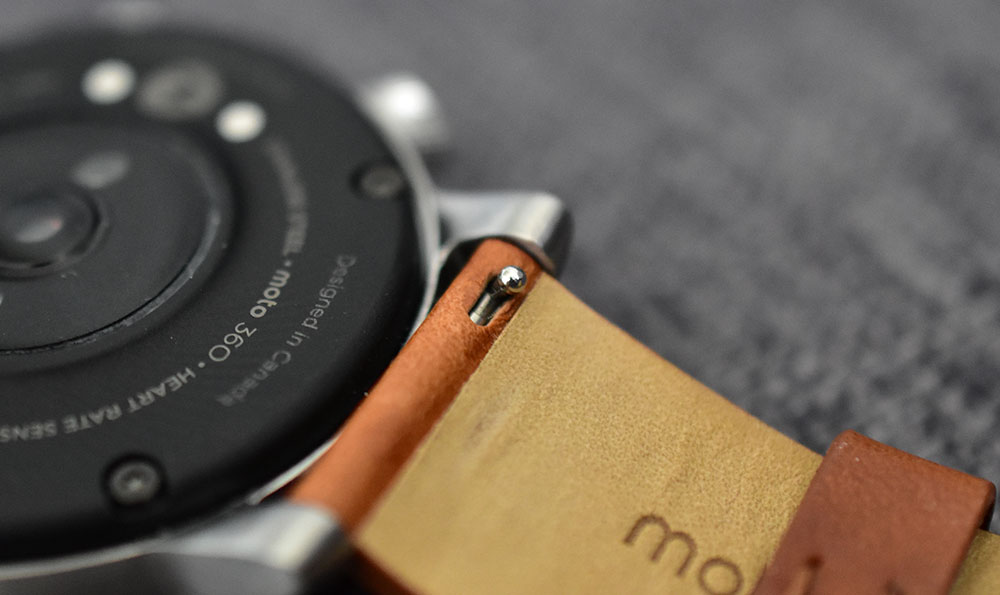 The Moto 360 comes with all the basic steps tracking and heart-rate monitor you'd expect. You won't find advanced sensors here, and that's okay for me. Because the company didn't pitch this as an advanced athlete-performance inspired device.
The sensors are accurate and gave a consistent reading on my workout performance. While it's not replacing my phone, the GPS on the Moto 360 was surprisingly accurate and proved more reliable than I'd thought. There were times where I didn't want to bring my phone with me along for a jog and depended on the watch for guidance – it didn't disappoint.
Battery & Charging
The 355mAh battery performed well under regular daily usage. It was able to last about 10 hours worth of use managing to still have about 30 – 35% juice left before needing to recharge at the end of my workday. Now when I attempt to use it as a regular watch (turned off al notifications and enabled only the clock dial) the battery lasts much longer.
One major gripe I have with this watch is the charging station. Everything about the watch was well designed, engineered, and thought out…except the charging bay. It's ugly, doesn't stay in place, and it's hard to find a place for it on any desk. It just seemed like this was an afterthought. I was also disappointed it didn't have wireless charging. That would've solved this problem completely and I could've just stowed the charger away.
This also made charging at the office or on-the-go impossible since carrying that bulky charger around was out of the question.
One thing I do love about this watch is when the battery dies, it still manages to save a little bit of juice to keep the watch dial on. So even when the battery is empty, you can still use it to tell time. It's impressive how long the "always-on" watch dial actually stays on. I don't think I've seen it powered off during the entire week of testing.
The buttons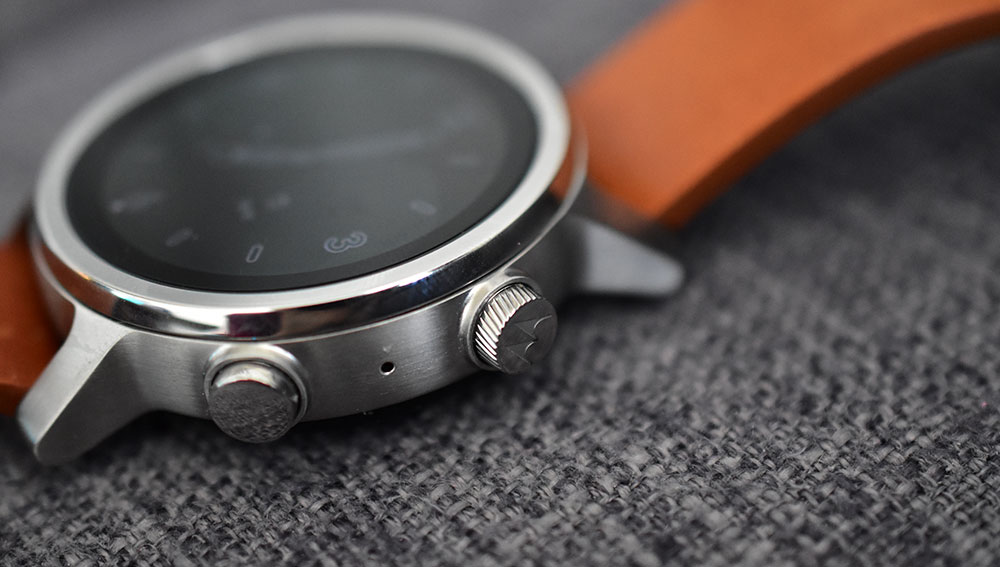 This is a level of detail that often gets overlooked – the buttons. Most of the design emphasis on smartwatches are on the display, the bezel, and often very little thought goes into the buttons. The engineers who worked on Moto 360 3rd generation thought otherwise. The tactile feel of clicking and the smooth dialing on these buttons are some of the best I'd ever experience on a smartwatch. It's expected of a mechanical watch to have well-tuned buttons, but not for a smartwatch, which added to my surprise.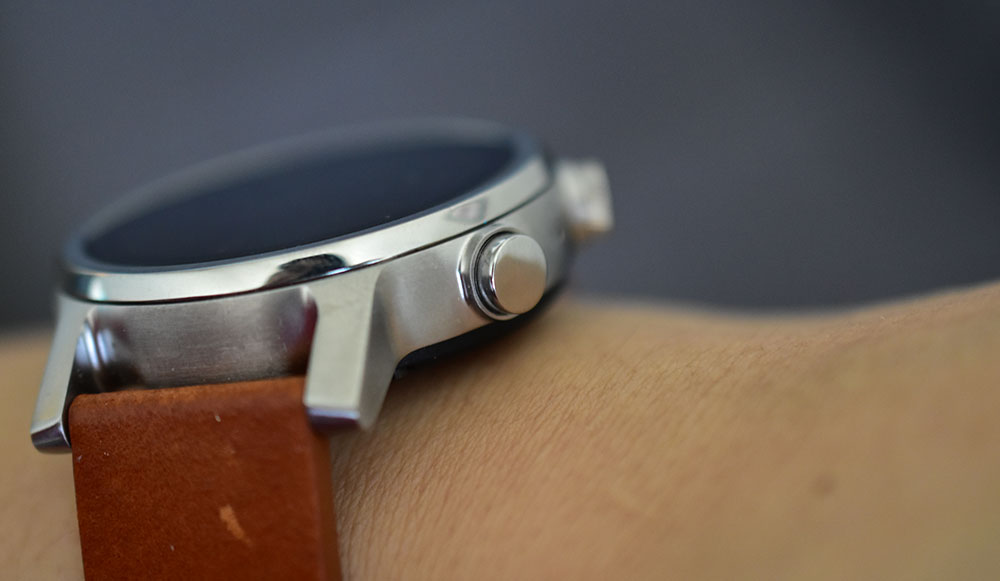 Everything about them screams luxury. The buttons have just the right amount of spring and travel to provide feedback when pressed. And the dialing feels smooth yet accurate. I was able to navigate through apps and settings easily without over-scrolling too often.
Final Verdict
Overall, the Moto 360 is a great value at $299. It's everything you'd want out of a smartwatch and a little more. The design is tasteful but not over-the-top. It's versatile and acceptable in just about any occasion. I can wear this on a jog or with a suit. That kind of flexibility is hard to find, especially in the vastly growing competitive smartwatch market.
Extrema Ratio Dobermann IV African Review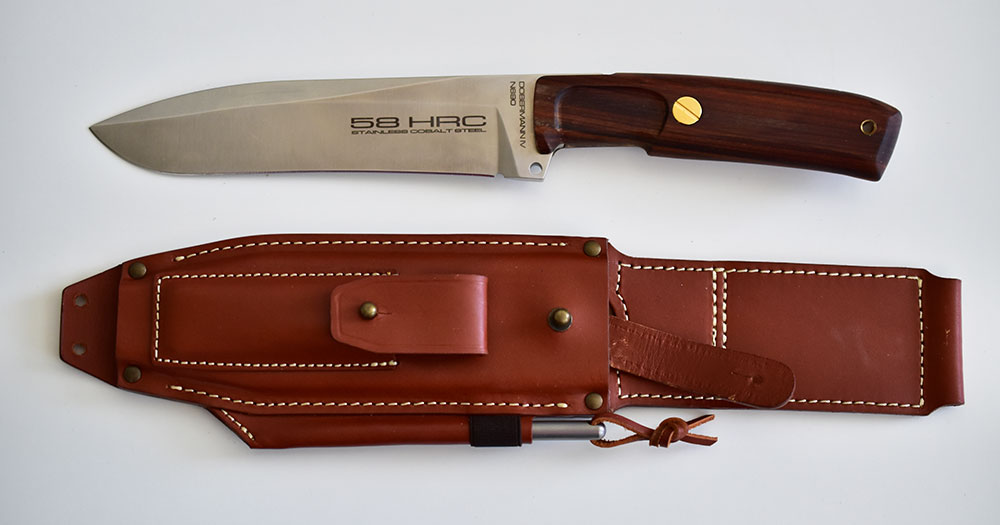 Those who have been in the wilderness know that the only thing you can depend on is your instincts and your knife. Anything that requires battery can and likely will fail. Even live ammunition can fail in a damp environment. Time and time again, your knife will be the one equipment you turn to. It's the most essential gear for survival as its versatility serves both offensive and survival purposes.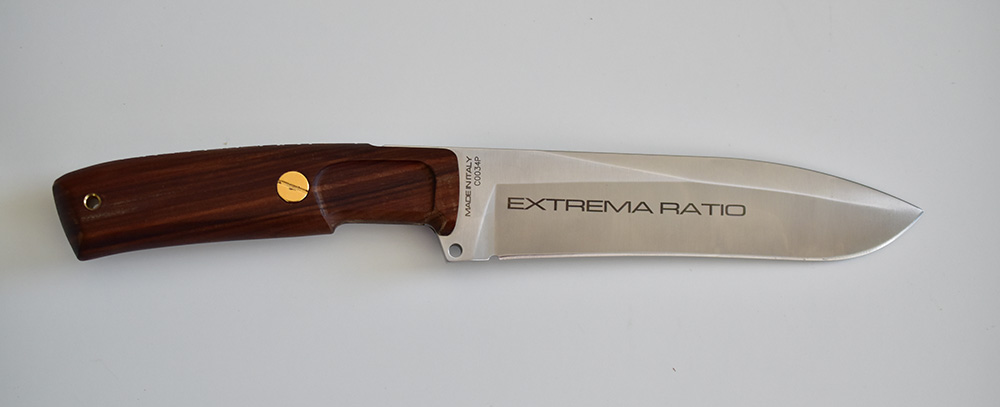 Extrema Ratio is known for making high-quality blades. Their website offers a wide selection of blades, however, the one that stands out most is the Dobermann IV Africa. The Dobermann IV Africa is a 7.3″ hunting made from Bohler N690 steel that promises to be your best friend on your next hunting trip – for $690 USD. In this review, we're going to take a closer look at all the features of this blade and determine if it's worth the price tag.
What's in the package?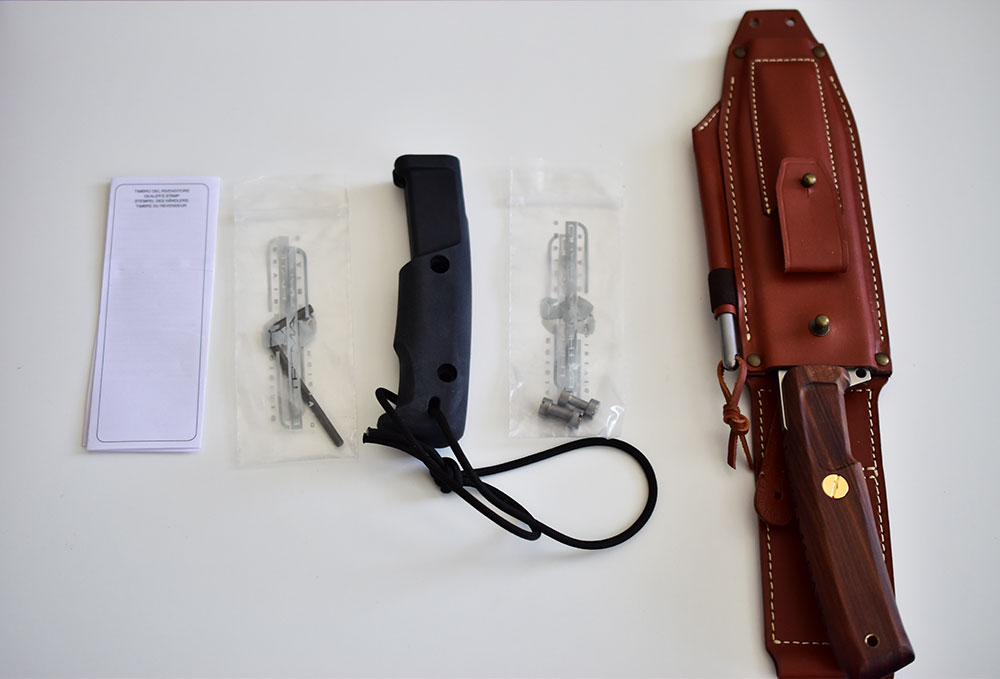 If you purchase the Dobermann directly from Extrema Ratio's website, you'll get a lot of extra accessories including a portable blade sharpener, a marlin spike, and an extra handle made from Forprene.
Extrema Ratio, being an Italian company, is generous with leather laces. Just about every single holes on the sheath came with a foot of laces. There's easily 10 feet of laces included in the package. It's a bit overkill, however, appreciated since the laces can be used for tying things down. The pictures above and below don't show you how much laces are included. We had to trim most of it for photos.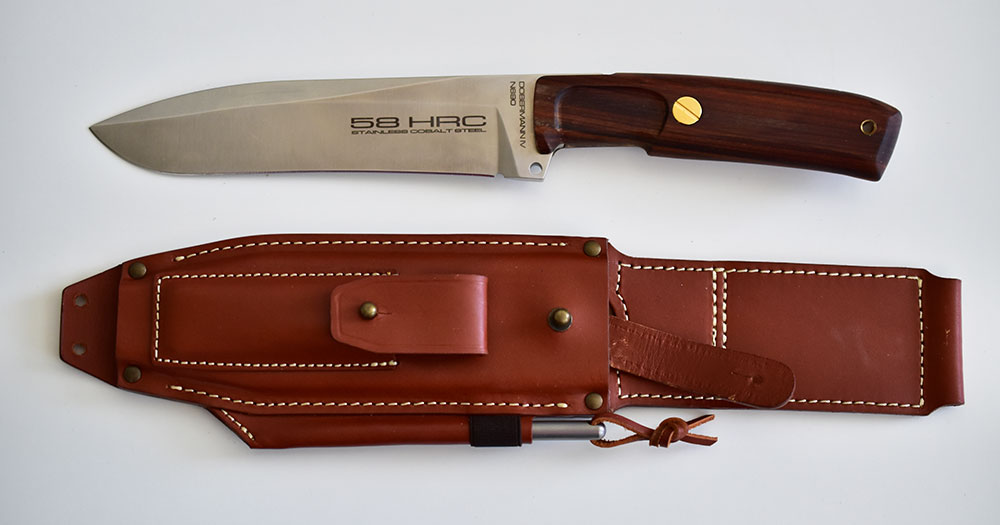 The leather sheath is made from high-quality Italian leather (as you'd expect). There's a stiffness to the leather that gives it extra durability and makes it resistant to scratches. The sheath has a hard plastic interior that houses the blade to ensure the blade doesn't damage the sheath over repeated use. All the stitches you see are real.
Marlin Spike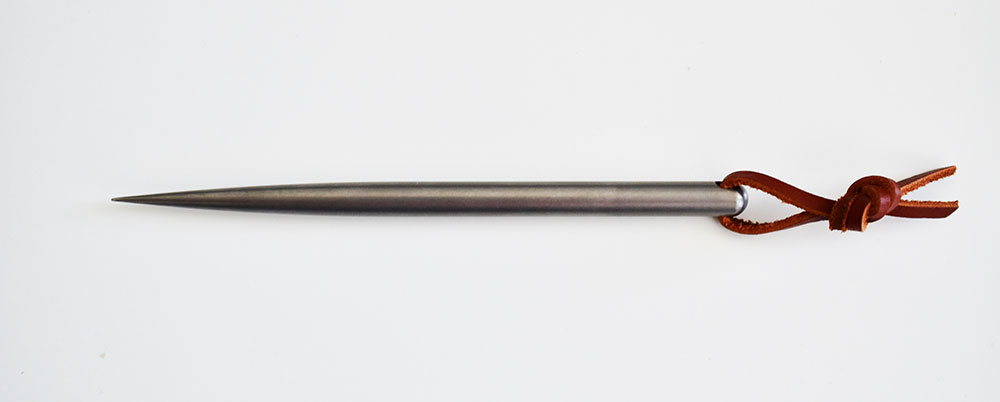 The Dobermann IV Africa comes with a marlinspike already in the package. The leather sheath has a special side pocket for the spike that holds it in place via an elastic belt. The spike seems to be made from the same N690 steel (not confirmed). It's heavy, solidly constructed, and pointy.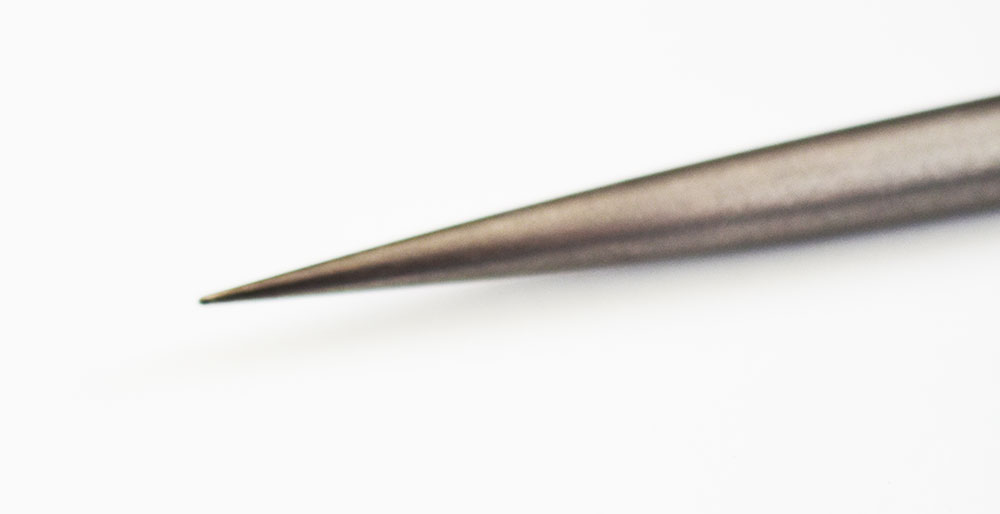 Given how pointy this spike is, experienced hunters can use this for more than tying and untying knots.
Blade Sharpener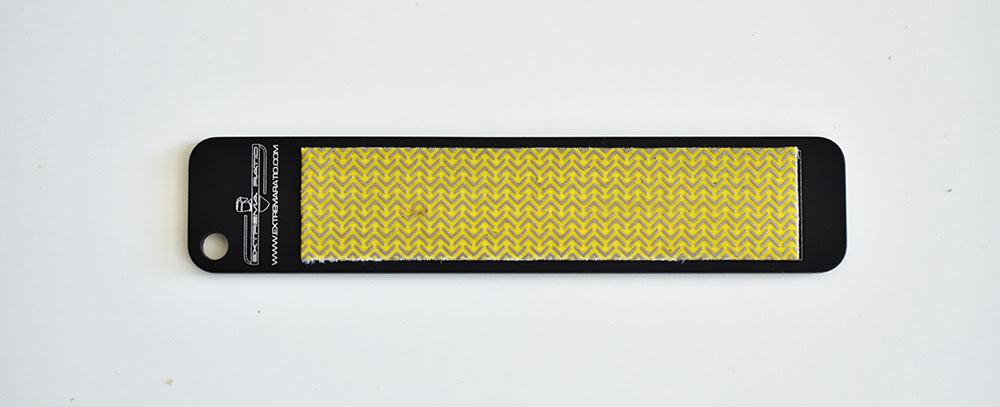 Also included in the package is a custom-made blade sharpener. Just like the marlinspike, there's a special pocket on the sheath for this accessory. It's a bit difficult to access and you may need to remove the blade in order to get it out. That's not a major issue since you're not going to be sharpening the blade that frequently given its HRC 58 hardness.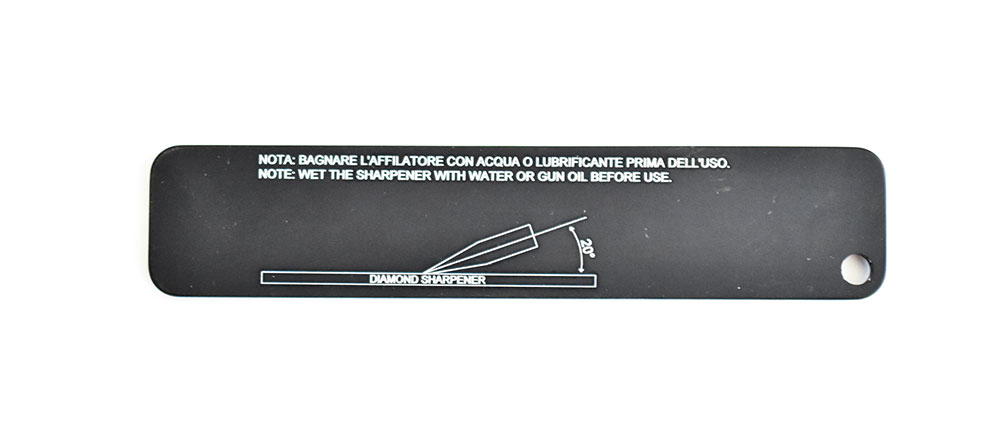 The back of the sharpener has laser-engraved instructions showing you how to sharpen your knife. It also has a carved out hole in case you want to carry this on a keychain or on your backpack.
Santos Rosewood Handle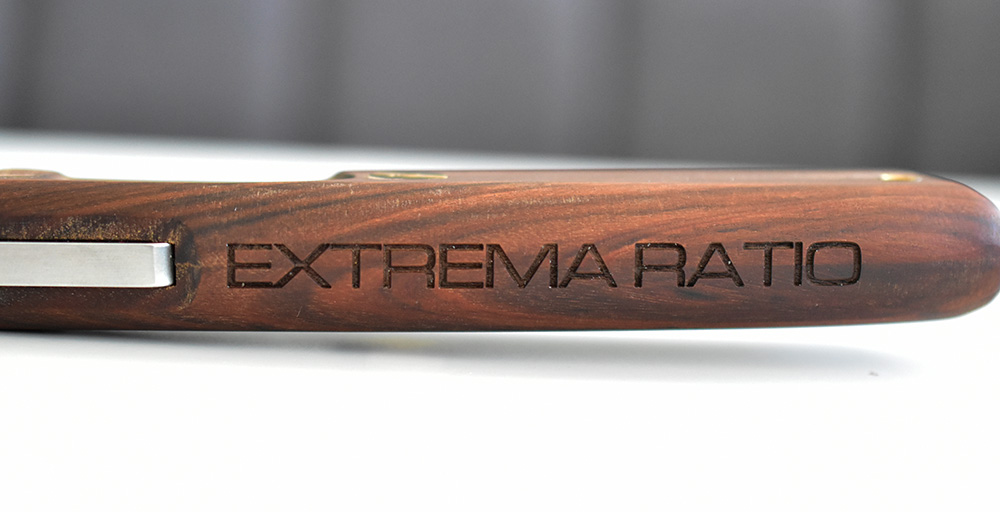 The Dobermann IV actually has two versions. The regular tactical version comes with the Forprene handle and black steel blade. The Africa version comes with Santos Rosewood handle, leather sheath, accessories, and a satin blade finish. Both versions are made from the same N690 steel.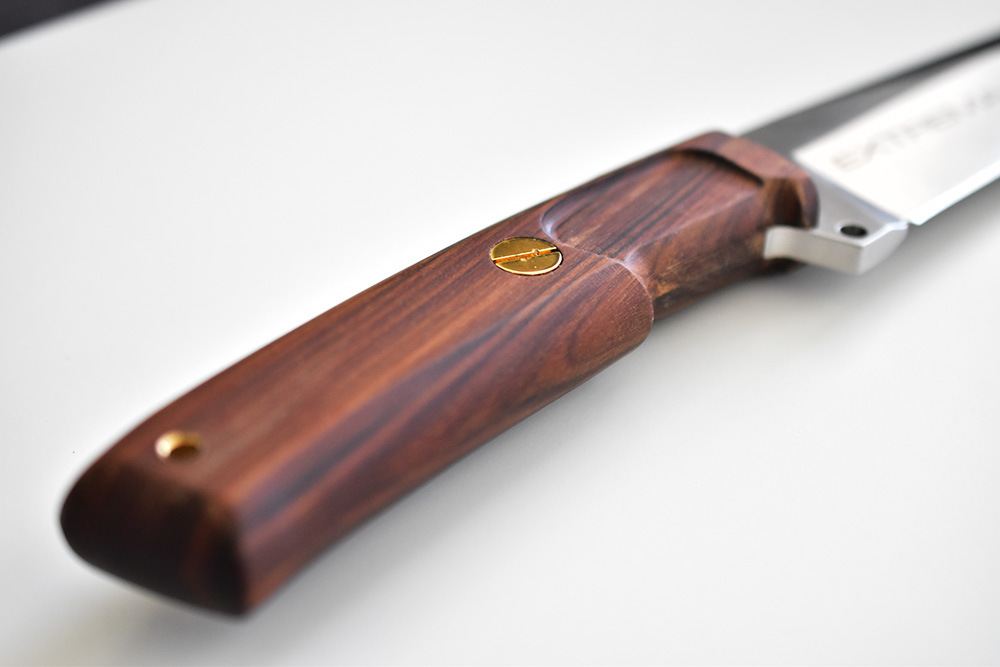 There's an "Extrema Ratio" branding carved onto the spine of the handle, just in case you forgot who made your knife. The handle has the signature finger grip indentation that's proprietary to Extreme Ratio knives. It's a great design and feels good in your hand. The indentation for your index and middle finger adds both grip and control, making the blade easier to handle.
Rosewood vs Forprene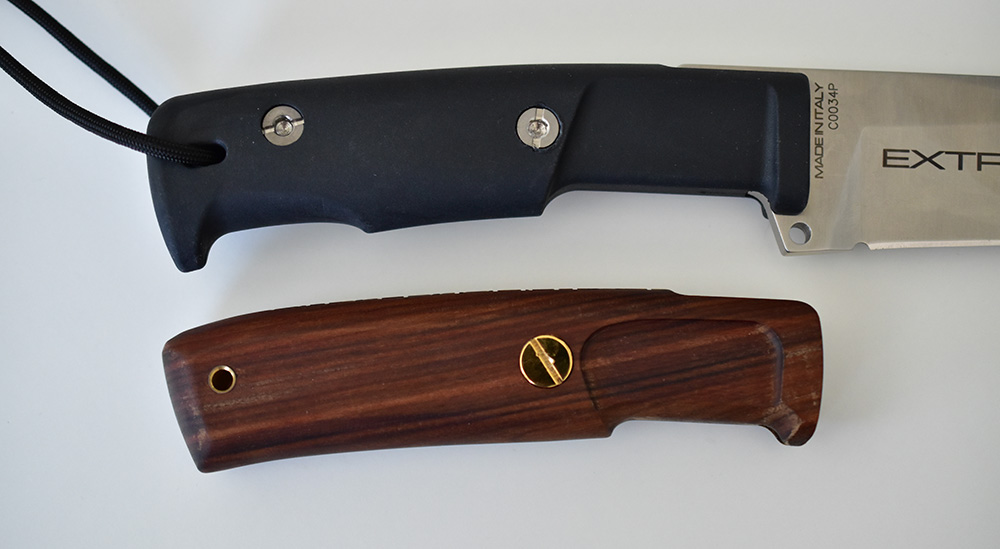 There's something very interesting to note about the two handles. On the surface, it might look like the Santos Rosewood is just a wooden version of the original Forprene handle, but take a closer look. Take a look at the picture above and you'll notice how different they look from each other. The Forprene has a different butt that seems to hand an indentation for pinky grip, meanwhile, the rosewood doesn't.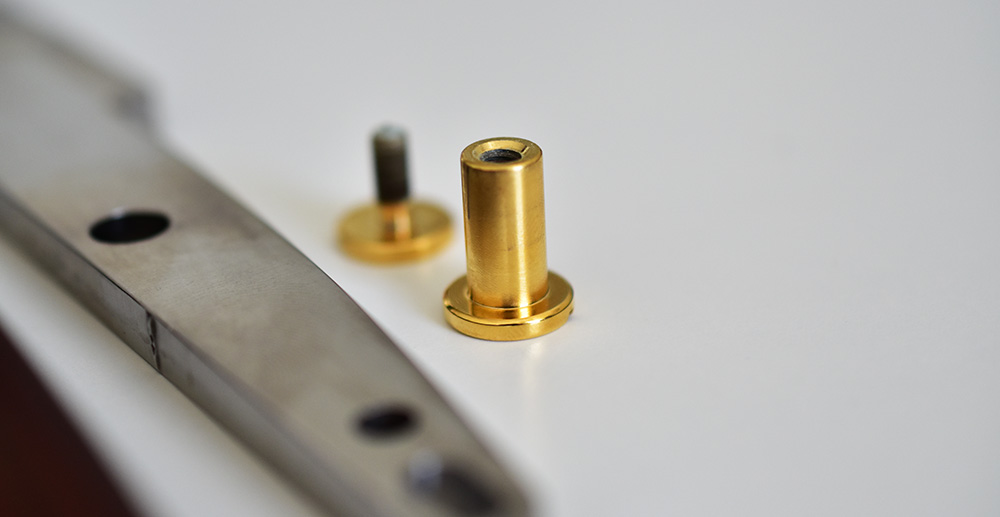 Extrema Ratio gives you two sets of screws to be used for each handle. The Rosewood handle uses just one set of gold screws. Meanwhile, the Forprene handle comes with two sets of stainless steel screws.
The dual screws on the Forprene handle actually feel more secure. Even if you wanted to use two screws on the Rosewood handle, you actually can't, because the holes aren't there. I'm not sure why the engineers at Extrema Ratio opted for a single-screw system on the wooden handle.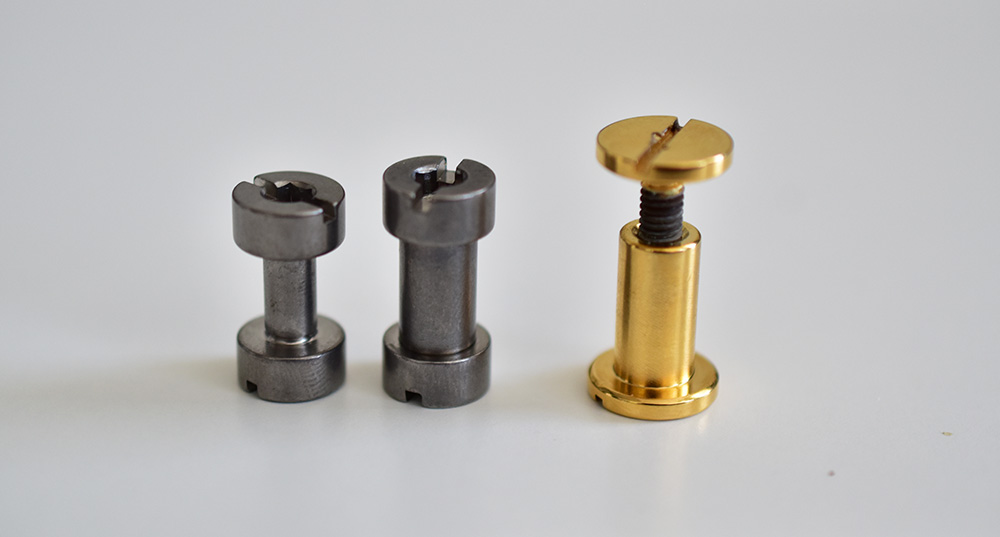 The screws are actually different in their construction. The Golden screws for the Rosewood handle feel like they're made from aluminum. They're lighter than the stainless steel screws used for the Forprene handles. The two stainless steel screws' head is fitted for both a flathead screwdriver AND an Allen wrench. The golden screw can only be used with a flathead screwdriver, which is a slight inconvenience.
Although the golden screw looks gorgeous, I like the construction and flexibility of the stainless steel screws more.
3/4 Tang

It's also worth noting that the blade isn't a full-tang. It's about a 3/4 tang. The handle is plenty snug and once clamped down, it feels just as tight and balanced as a full-tang blade.
Both handles are one piece giving it extra snug. Assembling and unassembling the handle can be difficult while you're outside since the handle holds the blade in place VERY securely.
The Blade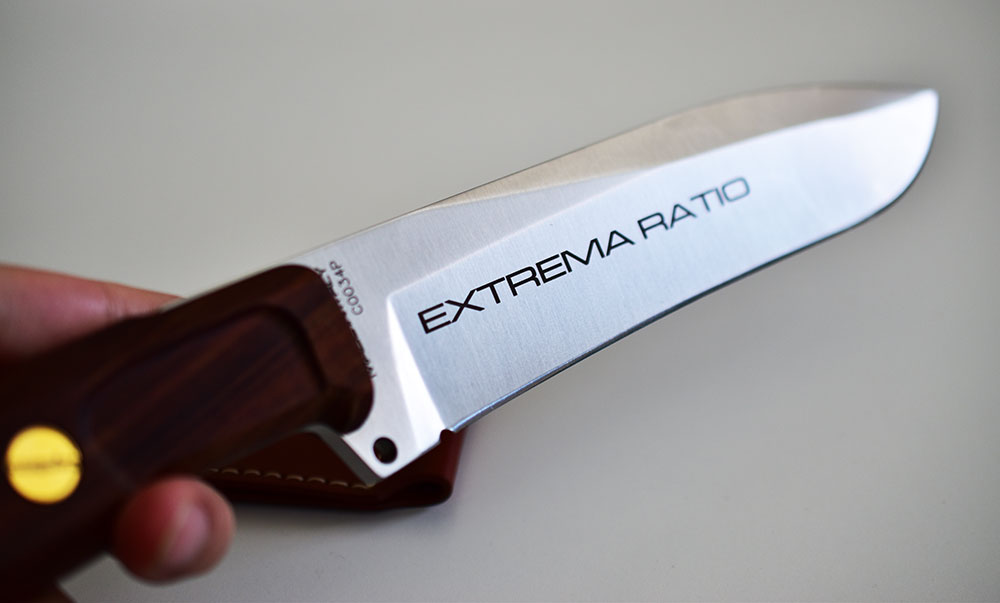 The knife is 13.3 inches long with a blade length of 7.3 inches. Without the sheath, the knife weighs 368.5 grams, which is a good balance. It's light enough to carry around on your belt. Yet it is heavy enough for chopping. The blade is made from N690 Bohler Stainless Steel.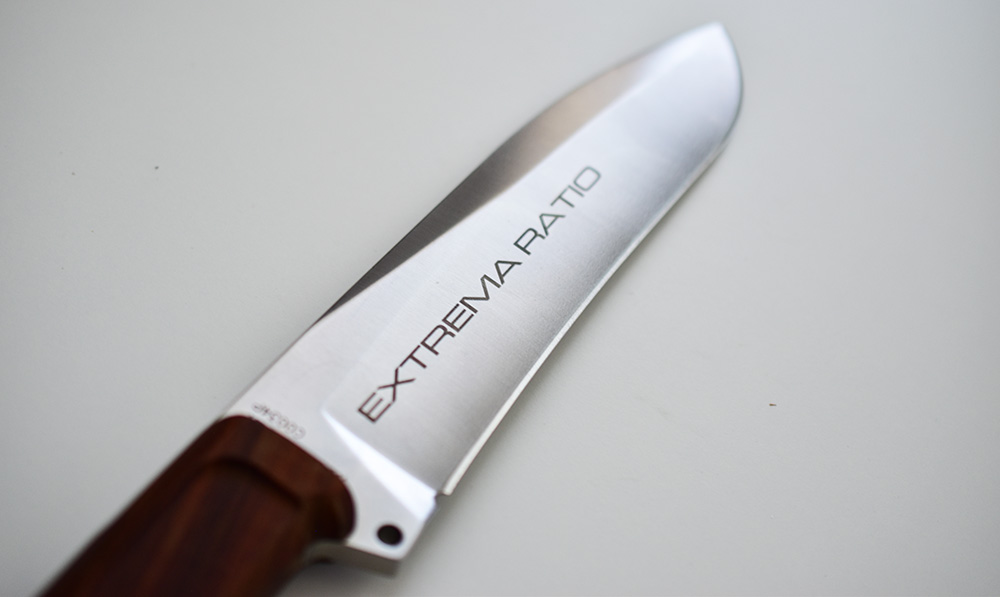 N690 Bohler steel is the perfect marriage between performance and edge retention. The N690 steel is also infused with Cobalt, giving the blade an extra edge, making it even sharper. The fusion of cobalt alloy also gives the blade extraordinarily high edge-retention. The edge also tends to be more even making it easy to resharpen and maintain.
The N690 Bohler steel is also known for its ability to resist corrosion from humidity, moisture, and salt. This makes the blade reliable under any climate or conditions.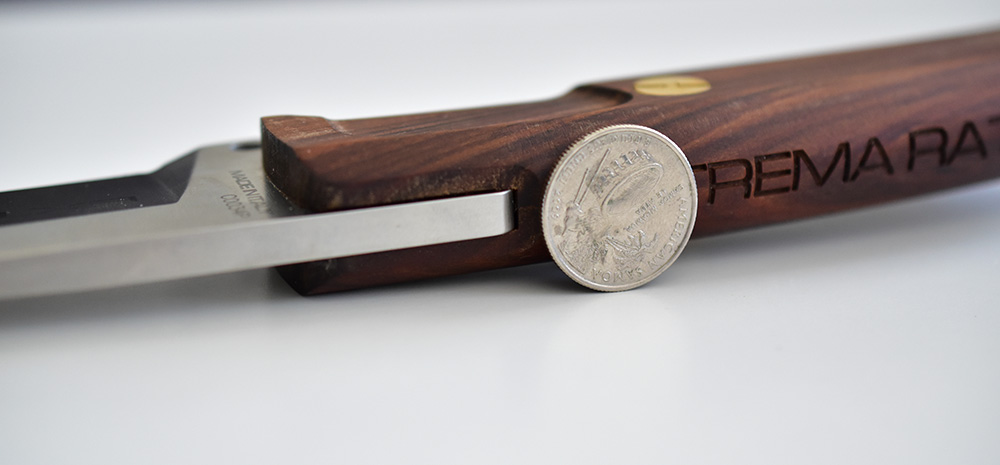 The blade is .25 inches thick, making it one of the thickest blades on the market. The extra thickness gives the blade rigidity and strength to handle anything you can throw at it. The picture above shows the blade with an American quarter next to it for scale. Despite having a thicker profile, the cutting edge is still razor-sharp.
HRC 58 Hardness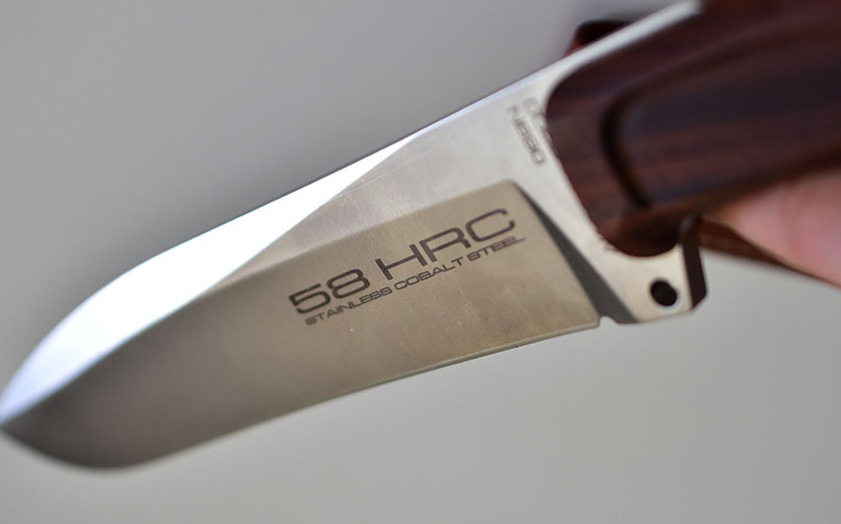 One perplexing question is why Extrema Ratio engraved "58 HRC" on the blade itself. For those who don't know, HRC stands for Hardness Rockwell C. It's a measurement of how hard the metal is. HRC 58 is hard, but certainly not the hardest metal in existence. For $600+, you would expect the metal to the of the highest grade.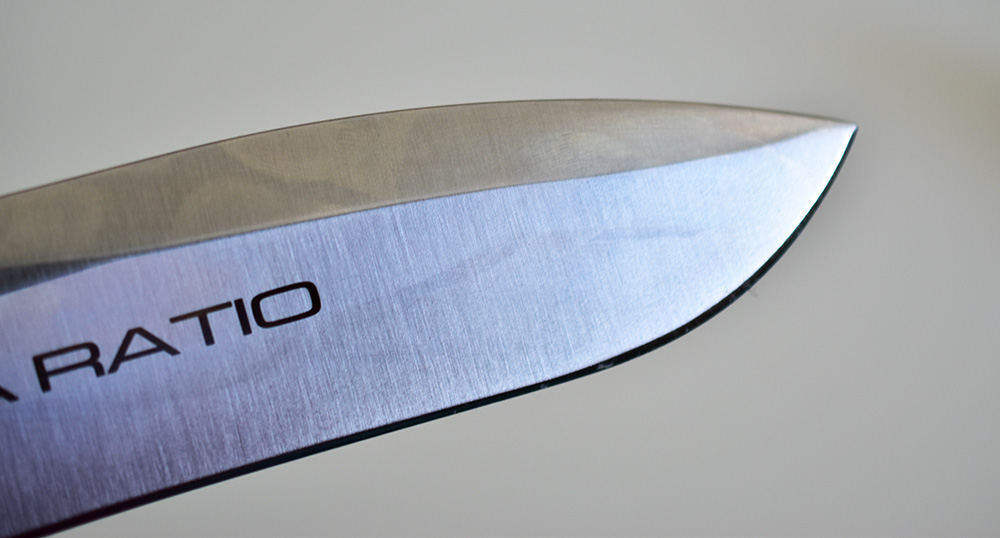 After researching this a bit further, it makes perfect sense why they chose this metal. The harder the metal and higher the HRC rating, the more difficult it is to sharpen. The Dobermann is meant to be a hunting knife and comes with its own sharpener. HRC 58 gives the blade all the strength it needs and also makes it easier to work with, sharpen, and maintain on the go.
Final Verdict
This knife will quickly replace every other knife you have and soon will be the only knife you carry around on hunting or camping trips. The N690 Bohler steel blade is sharp, sturdy, and wields a balanced mass that makes it easy to handle. It's a heavy knife that can be tamed by the generously long handle. At 13.3 inches long with a 7.3-inch blade, there's nothing this knife can't handle.
Although the Dobermann is made for hunting, it's just as good for close-quarter combat, chopping, skinning, and slicing. This knife will quickly become your go-to knife for just about everything. And the superior Italian craftsmanship will guarantee this will be passed down from generation to generation.
At $690, it's not a cheap knife. But it's well worth the price given its quality and useful it is. If you're a hunter or someone who spends a lot of time in the wild, the Extrema Ratio Dobermann IV Africa is well worth the investment.