Top 5 Cities To Move To For Millennials On A Budget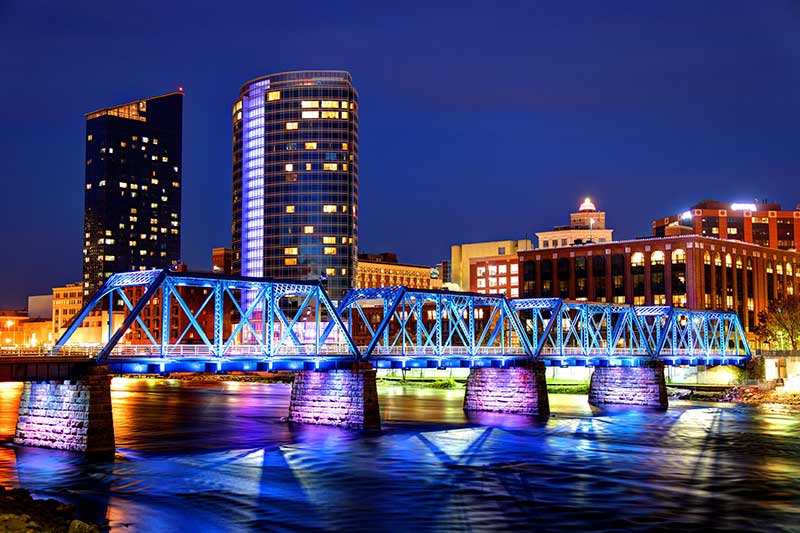 At some point in our lives, we've envisioned living comfortably in LA, NY, or other big cities in the US. It's all thanks to what we view in movies or TV shows. Sadly, due to rising costs and unforeseen economic circumstances, we may no longer attain our dreams to become a big shot in a big city.
However, hope's not all lost for millennials. There are still areas in the US where you can make a decent living without breaking the bank. In this article, we discuss the top 5 best cities for millennials to live while on a budget.
1. Raleigh, NC

Average cost of living:
Food: $388.12
Rent: $1,214.35
Utilities: $127.21
Internet: $55.79
Raleigh has become one of the best cities for Millennials because of the growing number of tech companies setting up camp in the city. Sure, there's Silicon Valley and Seattle, but East Coast millennials won't have to travel far to achieve their dreams of working with a tech company.
If you plan on working in the Research Triangle Park, you won't have problems with the commute. Bus fares are cheap, and some buses have Wifi installed.
It's not all work in Raleigh, though. Raleigh residents will have a lot to explore in their city because of their museums, parks, and attraction. Among the cities in the list, Raleigh hosts music shows almost every day in different venues. Music lovers will enjoy their time living here to discover various artists.
Besides that, Raleigh has a booming nightlife thanks to its bars. You've got choices between hidden or underground bars, so that you can visit a different one after work or on the weekends.
2. Columbus, OH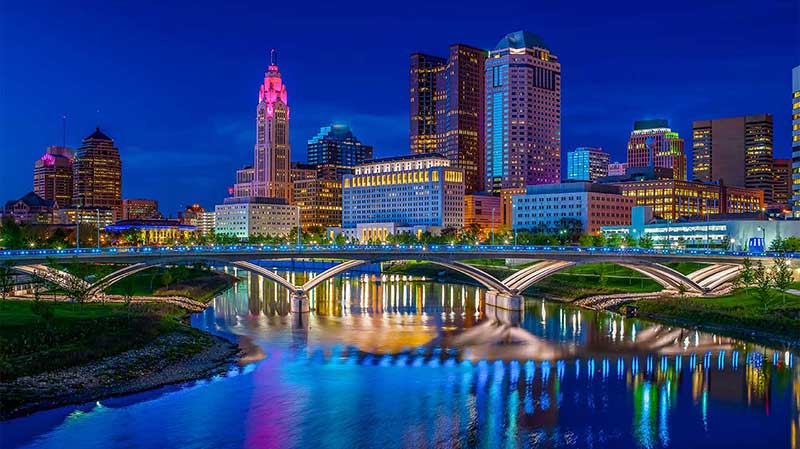 Average cost of living:
Food: $302.97
Rent: $1060.74
Utilities: $170.83
Internet: $57.40
Just like Raleigh, Columbus, Ohio, also has a thriving tech hub. In connection to that, Columbus is making developments in becoming a Smart City. Since their win in the 2015 Smart City Challenge, they're making commitments to transform the city through technology. Who knows, when you move there, you might get to see a glimpse of the future.
As for the commute, you might have to take the bus or bike around the city. You can even ride an open-air golf car for free in Downtown Columbus.
People have also started to take an interest in Columbus because of its culture and breweries. One of their most popular attractions is the German Village. So, if you're craving German food or want to learn more about German culture, that's the place you want to be.
As for the breweries, Columbus has the famous Brewery District, where you can try out their most popular brews. Plus, it's right beside the German Village, so you have more booze choices.
Also, Columbus is dubbed as America's test market. People in Columbus get the first taste of the hamburgers and wear the newest designs. So, if you want to become a trendsetter, pack your bags to Columbus and take snaps for the 'gram!
3. Grand Rapids, MI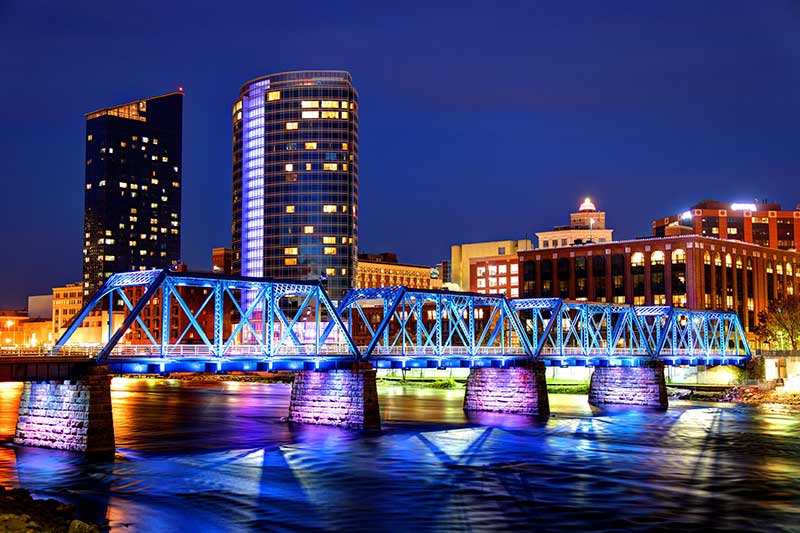 Average cost of living:
The Right Place finds the city is the number two destination for millennials to live. Aside from its affordability, its overall atmosphere is what attracts people to visit and live there.
If you plan to or want to work for the healthcare or manufacturing industry, you can thrive in the Grand Rapids, since those have prospered in the city. However, you'll still find work for any industry since there's a high demand for employees there. According to Area Vibes, there's a 6% unemployment rate in the city, so you still have a high chance of getting employed anywhere. That's why it's one of the best cities for Millennials.
Cycling is a much more affordable alternative to driving a car in Grand Rapids. You can take a bus, though, but the stations are limited.
Grand Rapids is almost an hour's drive to the beaches in the state if you want to live in an affordable city and go to a beach. However, much as you would like to go to the beach in your swimwear, you might have to prepare winter jackets because the weather is unpredictable. You can still enjoy some activities like visiting breweries and cafes to warm you during winter or become your hangout place with friends.
4. Austin, TX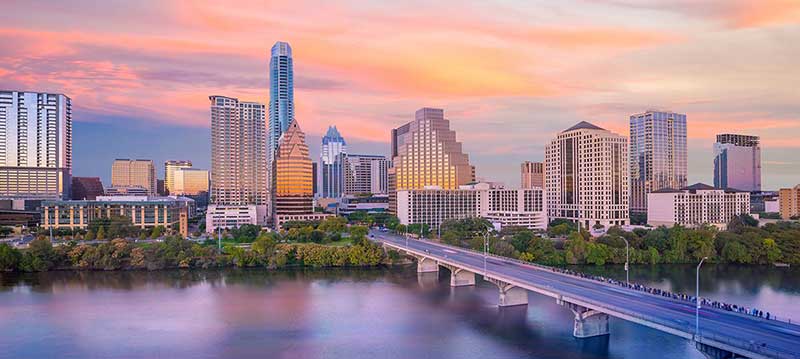 Average cost of living:
Food: $320.04
Rent: $1,660.45
Utilities: $154.52
Internet: $59.83
As compared to other cities on the list, Austin may have a higher cost of living. Still, Austin appeals to millennials because of their booming economy and sustainability measures.
In terms of commute, you may face challenges with traffic. You may use the bus instead or ride a bike to divert from the traffic.
If you're saving up for something, but want to skip out on doing something extravagant, there are free events like live performances and music fests.
The one thing any Austin resident shouldn't miss out is to try food trucks in the park too. It's something you can splurge on once in a while. Plus, Austin is the home to the South by Southwest (SXSW) festival happening every March. Here, you can discover new artists or catch their faves. These should serve as a reason why Austin is one of the best cities for Millennials to move to and build up their career.
5. Boise, ID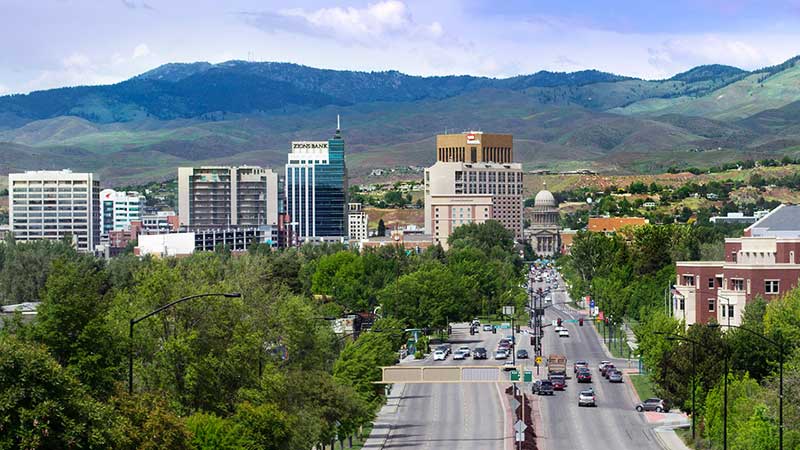 Average cost of living:
Boise has emerged as one of the leading cities to live in because of its affordability. Even California and Washington millennials move to the city for a lower cost of living. One thing that may stop you from relocating is limited public transportation.
However, Boise is also making developments in becoming a greener city like bike rentals and geothermal energy. So, this is perfect for the environmentally conscious millennials. That's why it's beginning to set itself up as one of the best cities for millennials.
In terms of work prospects in Boise, you can work for any industry, but you can consider becoming an entrepreneur. It's gaining attention as one of the fastest-growing cities to launch a startup.
Residents of Boise rave about the Boise River Greenbelt, where one can enjoy biking and scenic views. If you're an outdoorsy person, you'll enjoy hiking and skiing as well. If you're into art and theater, you're in luck because you can visit museums during the weekend and watch a production by the Boise theater companies.
12 Best Manufacturing Software for Businesses in 2022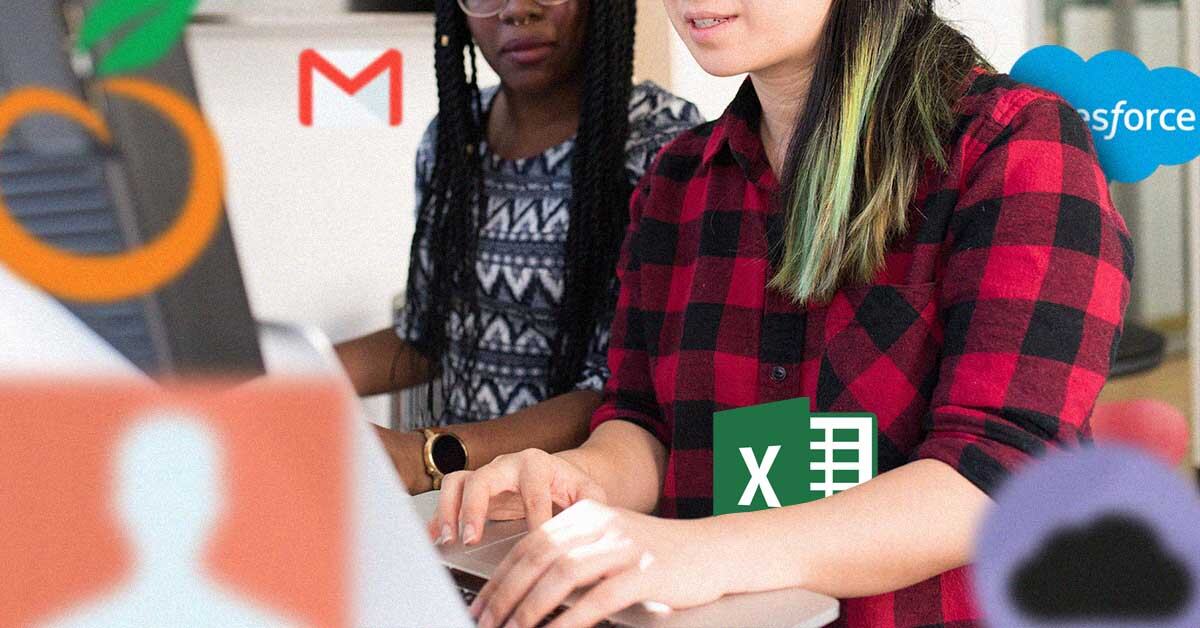 Small or mid-sized companies in the manufacturing sector acknowledge that manufacturing software helps them keep up with orders and production jobs. This software allows business owners to come up with accurate bills of materials as well as inventory management.
There is plenty of manufacturing software available in the market today. To help you find the right tool, we've compiled the best manufacturing software solutions rated well by real software users. We've listed twelve products that stood out among thousands of applications in manufacturing that deliver excellent value.
1. Odoo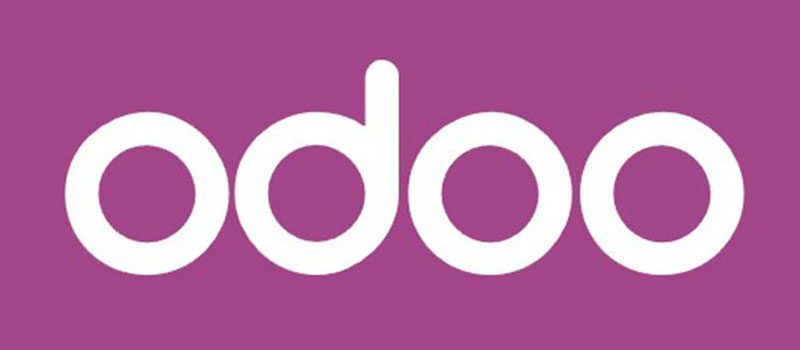 Odoo is an open-source business management tool that offers various applications to streamline every company's needs or processes. Its features include enterprise resource planning (ERP), customer relationship management (CRM), point of sale (POS) system, accounting, manufacturing, email marketing, and invoicing.
2. Genius ERP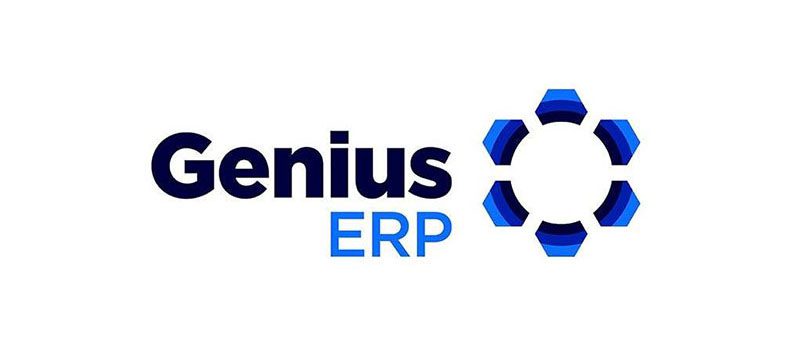 Genius ERP is a manufacturing ERP software made for custom manufacturers. It assists manufacturers in reducing costs, increasing productivity, and improving business performance. Genius ERP's key features are accounting, scheduling, product engineering, production planning, and job costing.
3. JobBOSS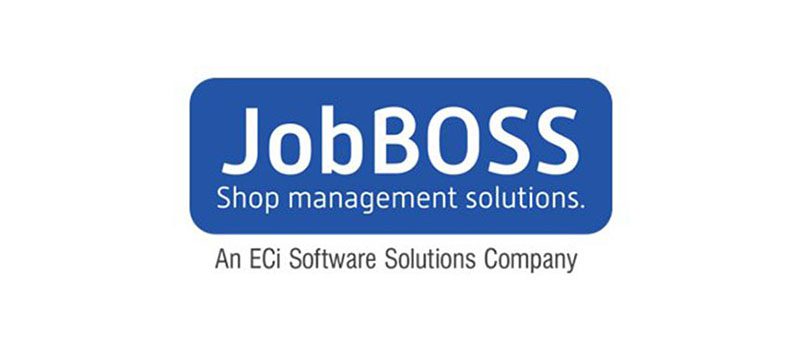 JobBOSS is a job shop management software for manufacturers and job shop owners. The answer can assist with quote processing, order processing, shop floor control, inventory control, shipping, estimates, and data visualization.
4. Epicor Kinetic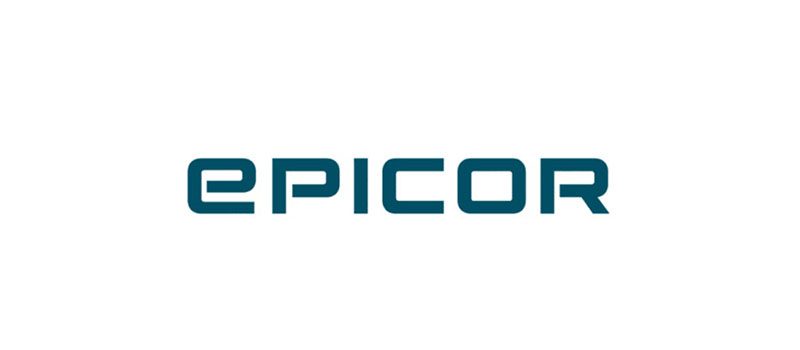 Epicor Kinetic is an ERP solution that helps manufacturing plans and manages its resources. The software has all the features you need to scale, compete, and attract top talent to your organization. These include CRM, advanced planning and scheduling, supply chain management, product lifecycle management, and a quality management system.
5. NetSuite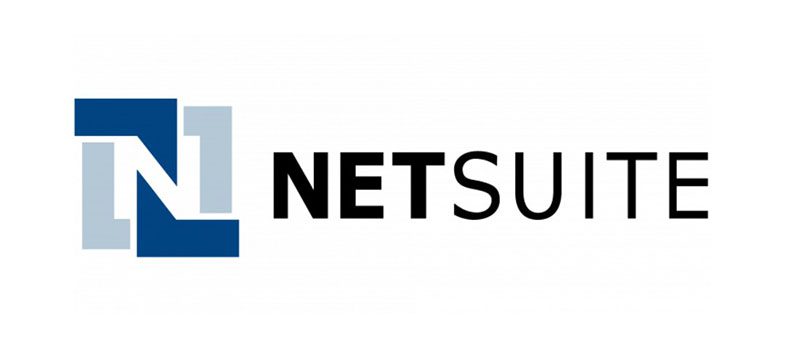 NetSuite is a business management solution that integrates various applications such as ERP, accounting, CRM, HCM, omnichannel commerce, reporting, and analytics. The solution offers real-time operational and financial performance insights while automating core processes.
6. DEAR Systems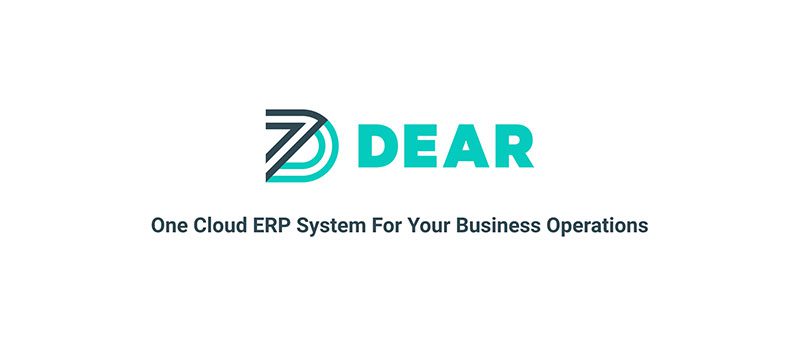 DEAR Systems is an ERP software specifically created for small and medium businesses. The comprehensive solution has modules dedicated to manufacturing, purchasing, sales, inventory management, accounting, POS, and warehouse management.
7. Fishbowl Inventory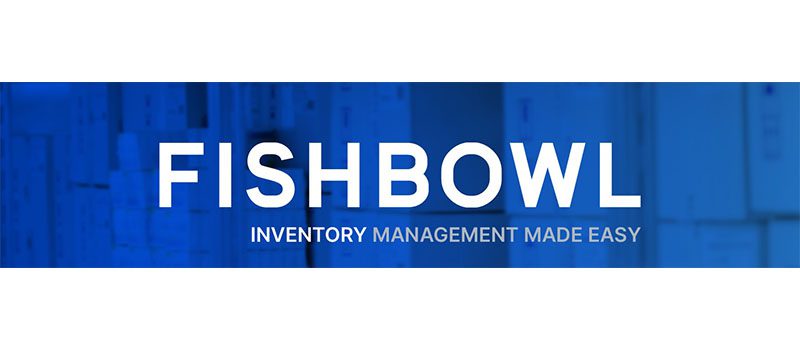 Fishbowl is a popular manufacturing and warehouse inventory management solution for small and medium enterprises. The software enables the user to generate work orders and track inventory. Likewise, it integrates with accounting software to scale your business.
8. Katana Manufacturing ERP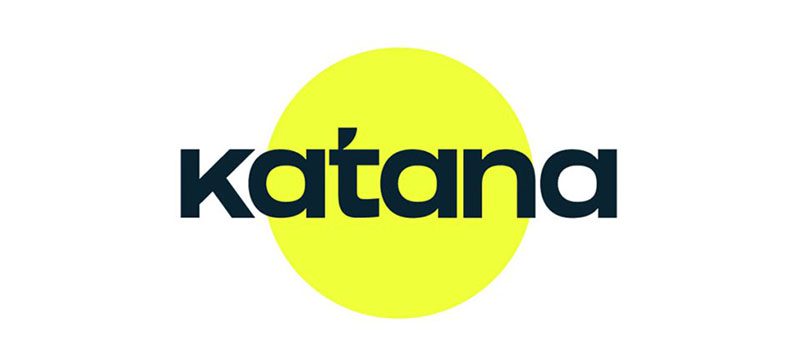 Katana Manufacturing ERP lets you gain clear visibility over inventory sales and order management. The solution also controls the total shop floor while tracking manufacturing costs based on product operations.
9. MRPEasy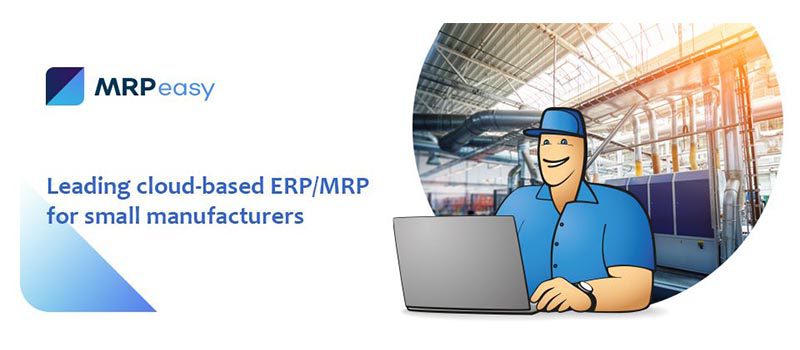 MRPeasy is a manufacturing software for small companies that integrates various modules in one solution, including procurement, supply chain management, and CRM. It also streamlines the purchasing process while managing every purchase order and organizing purchase cycles.
10. Prodsmart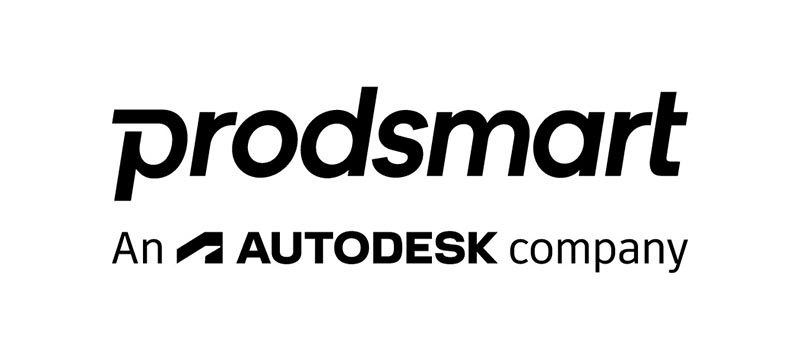 California-based Prodsmart is a manufacturing execution solution for portable and mobile devices. The floor supervisors and machine operators can use the software directly from their workstations rather than stepping away from the floor.
11. Sage 100cloud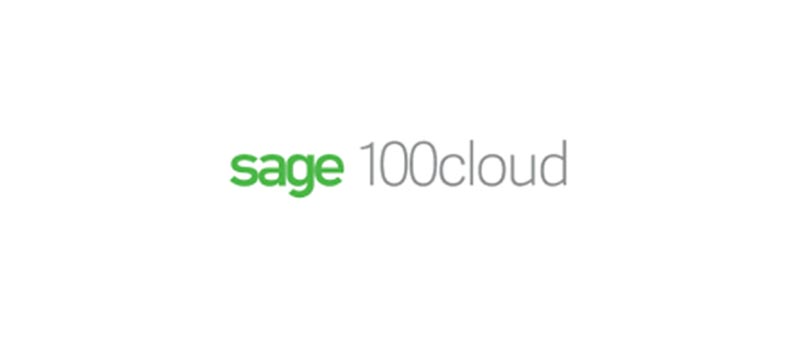 Sage 100cloud is an ERP solution for discrete manufacturers, wholesale distributors, and professional service processes. It streamlines the manufacturing business to provide greater visibility into every item's status and optimized inventory.
12. Statii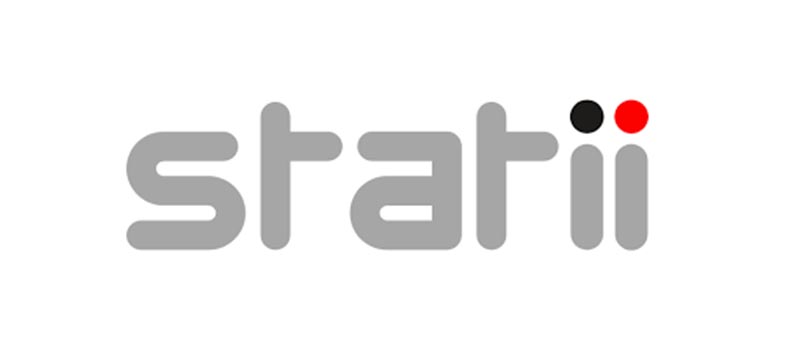 Statii is an ERP and MRP software created for small manufacturing firms. The solution helps create work orders, scheduling, inventory, purchase orders, invoicing, contact management, and reporting.
Conclusion
Adopting technologically advanced manufacturing software can give your business all the functionalities the tool offers to ensure maximum productivity. These solutions allow you to efficiently handle shop floor management, scheduling, time tracking, and accounting. Finding a platform that's easy to use can be a great way to start your software-buying process.
The 8 Best Enterprise Accounting Software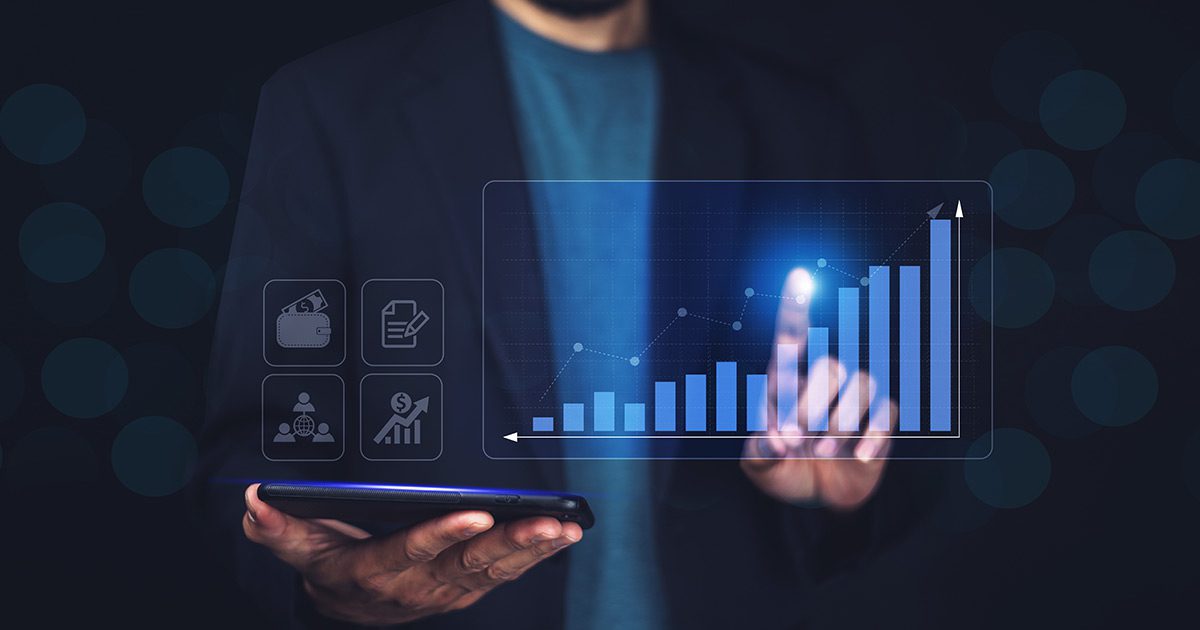 For large companies that handle vast amounts of financial records, enterprise accounting software is a necessity. If you're looking to get one, below are 8 of the best we found:
1. Oracle NetSuite ERP

A leading name in the business software industry, Oracle NetSuite ERP (enterprise resource planning) is a powerful choice. It takes care of everything accounting, from tax to cash management concerns, and many more in between. This accounting software integrates seamlessly with NetSuite's other features to provide enterprise-sized businesses with a full-service suite.
Oracle helps you manage inventories, track finances, host e-commerce shops, and maintain your CRM (customer relationship management) systems.
2. Sage Intacct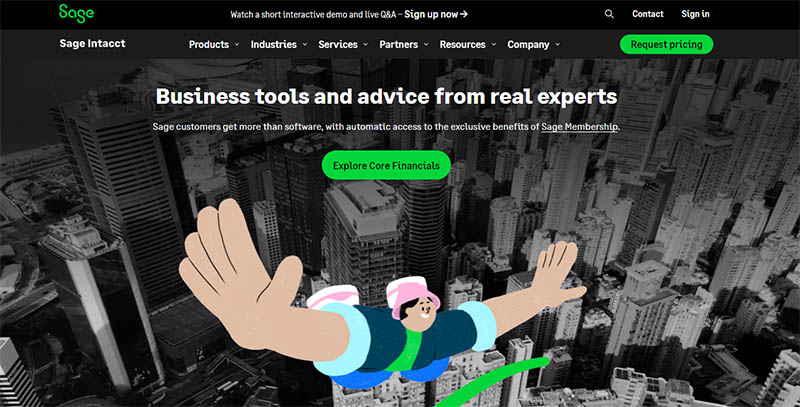 Cloud-based platform Sage Intacct is another solid choice for enterprise accounting software. It provides the usual essential accounting tools such as general ledger, accounts receivable and payable, cash and tax management, among many others. Its users love the additional features Sage Intacct has to offer.
Its advanced accounting tools include dynamic allocations, project-based accounting, and AI-powered timesheets, to name a few. Its intelligent general ledger tool is AI-powered which is efficient and saves you time and money.
3. QuickBooks Enterprise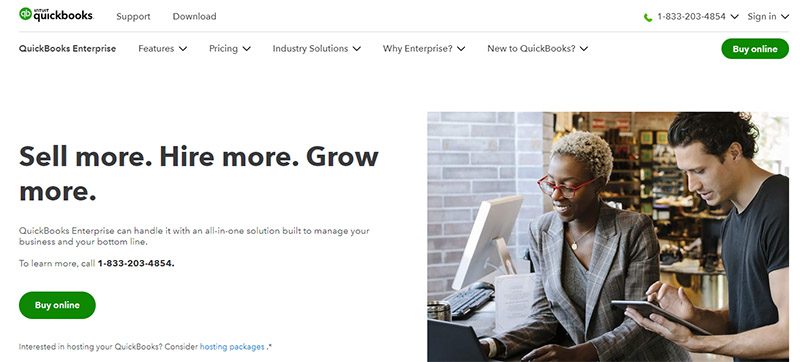 A popular enterprise accounting software, QuickBooks Enterprise has industry-specific solutions any entrepreneur will appreciate. It has built-in automation tools that include payroll, collection of customer payments, task management, recurring invoices, and many more.
It has robust reporting tools and more than 200 customizable reports for better financial visibility. QuickBooks Enterprise has built-in budgeting and forecasting tools and advanced inventory and order management capabilities.
4. Xero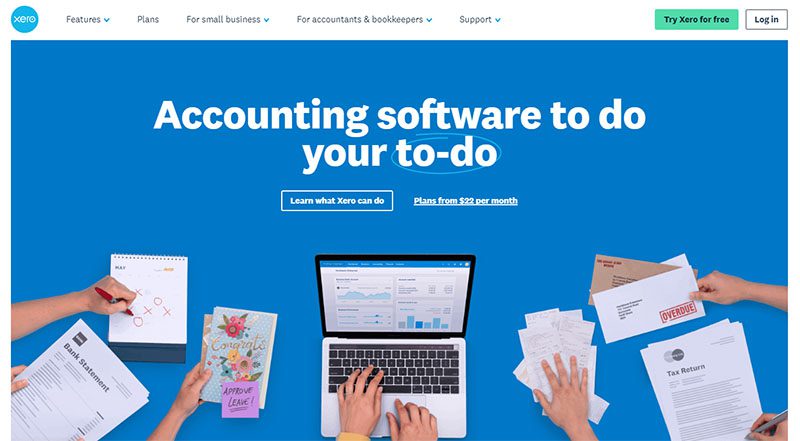 Initially created for small businesses, Xero has the power and capabilities to handle enterprise accounting companies as well. It features tools to make accounting quick and easy, including cost capturing, invoicing, bank reconciliation, and payment processing. 
With its Xero Workpapers feature, enterprise owners use the platform to automate compliance processes. Users of Xero enjoy its robust analytics and reporting capabilities that give them valuable information about client cash flows.
5. Acumatica Cloud ERP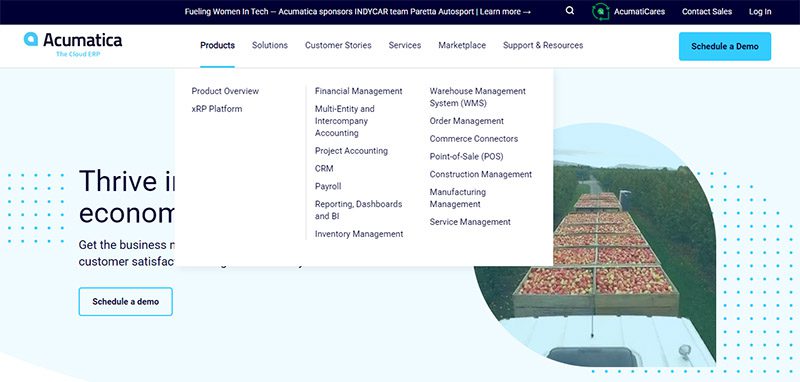 For enterprises with multiple entities, Acumatica Cloud ERP is a highly recommended accounting software. Its users love how it can centralize their enterprise's financial data and processes across different locations. It is capable of handling project-based accounting, managing billing, and budgeting, aside from its basic accounting capabilities.
You can customize workflows for accounting automation and many financial management processes. In addition to its multi-entity accounting, Acumatica helps with currency, tax, and payroll management.
6. FinancialForce

If your enterprise deals with customers the world over, FinancialForce is the accounting software for you. Aside from the core tools for accounting, it also has global-grade solutions such as multi-currency and multi-language capabilities. It is built on the popular CRM platform Salesforce, so you'll know you're in good hands.
FinancialForce uses SalesForce's Einstein, giving you insightful and intelligent financial data. It
also has built-in compliance reports and financial statement template features.
7. SAP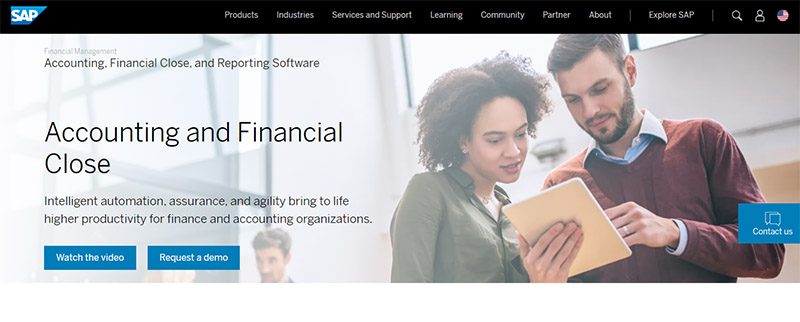 Providing enterprises with complete financial management, SAP is an industry leader in ERPs. Its SAP Billing and Revenue Innovation Management allows businesses to automate their billing and invoicing processes. Alongside its basic accounting tools, this software helps you with concerns about governance, risk, and compliance (GRC).
It has been proven excellent in simplifying financial closing through its automated workflows. It also provides support for subscription and usage-based billing and accounts receivable.
8. Microsoft Dynamics 365 Finance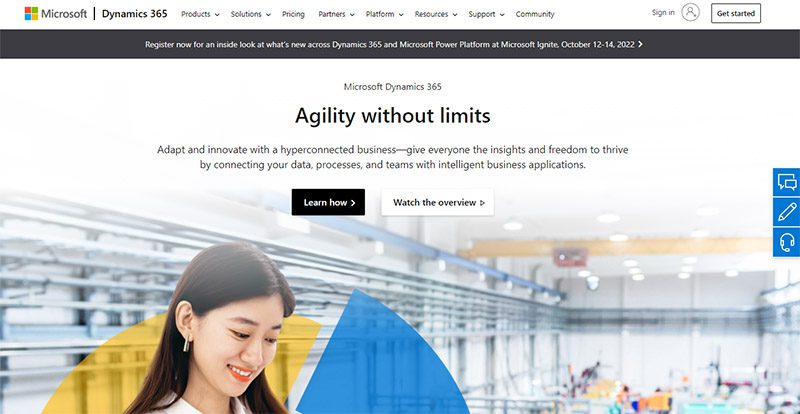 Sporting a trusted name in the tech industry, Microsoft Dynamics 365 Finance is an excellent choice for an accounting software. It offers automated vendor invoice processing, financial reporting capabilities, built-in tax calculation tools for tax compliance, and many more.
It seamlessly integrates with other Microsoft platforms, including Dynamics 365 Sales and Dynamics 365 Commerce. It is a powerful tool that helps you monitor many financial operations.
The Best POS Systems for Small Businesses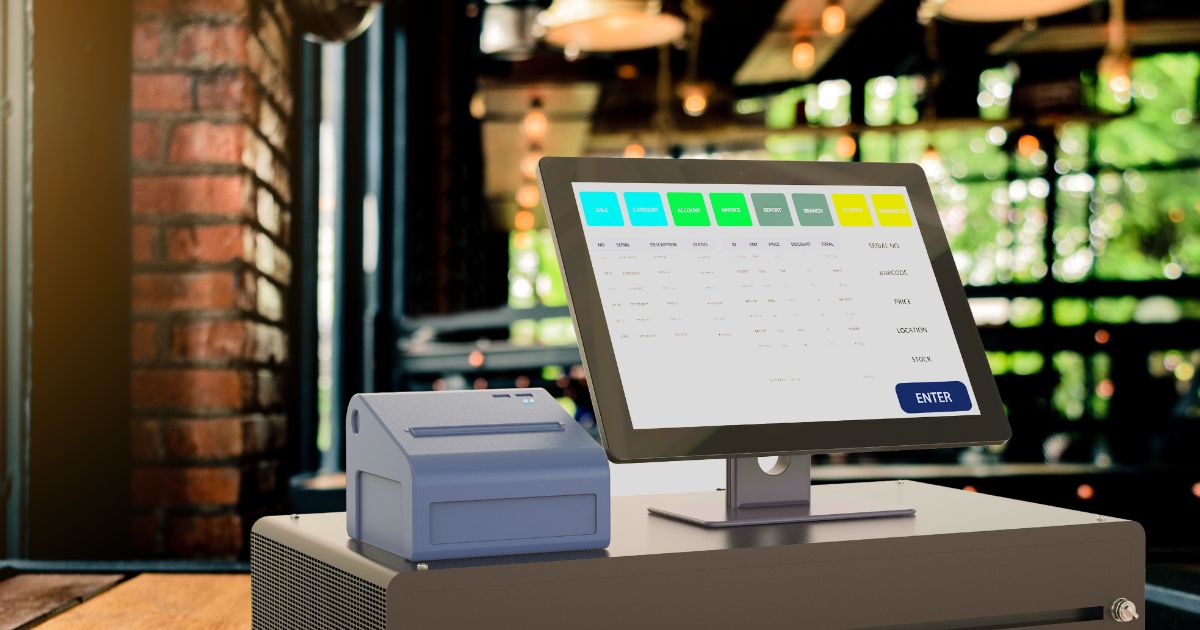 There are many hurdles to running a small business. More often than not, you are working with meager resources and even more limited staffing. Because of this, you need an efficient set of tools to help you manage everyday operations.
And one of the most critical suites to any retail business is a point of sale (POS) system. This tool allows business owners to cater to various payment options, whether online or in-person. Another great thing about POS systems is that they come with practical business features, depending on your industry.
Here are the ten best POS system for small businesses today:
1. Clover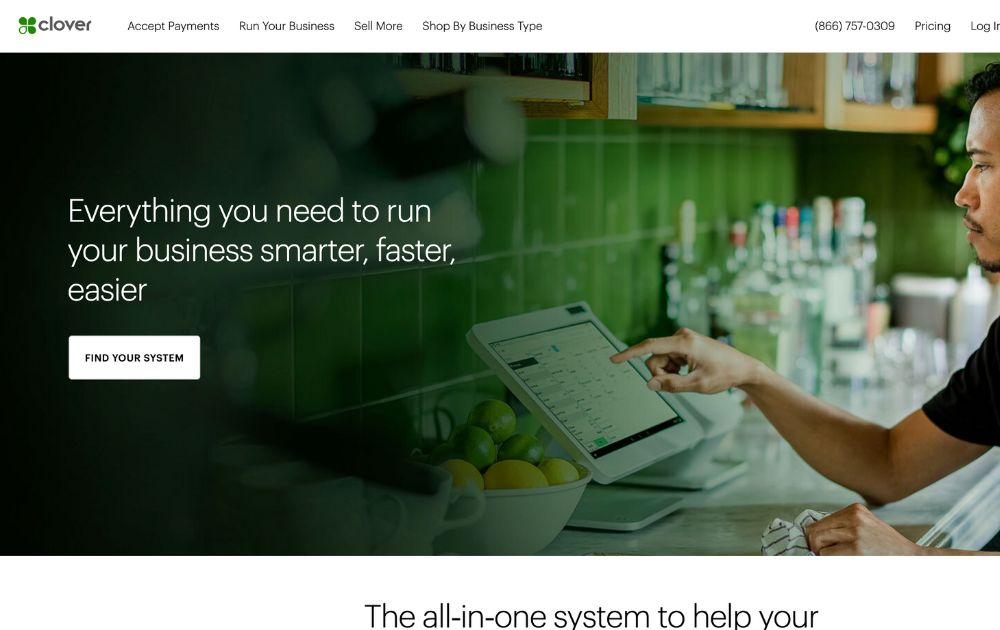 If you need a POS system for your small business right now, Clover can get it done for you. It has essential credit card processing tools and more. Users can link Clover with third-party apps for other functions like managing payroll. Clover Go, which works on Android and iOS tablets, is the best option for small business owners.
The suite's virtual terminal allows owners to accept payments via a smart device. But the most appealing feature of Clover is its ease of use. Their terminals come pre-configured, so onboarding is mostly a smooth process.
2. Square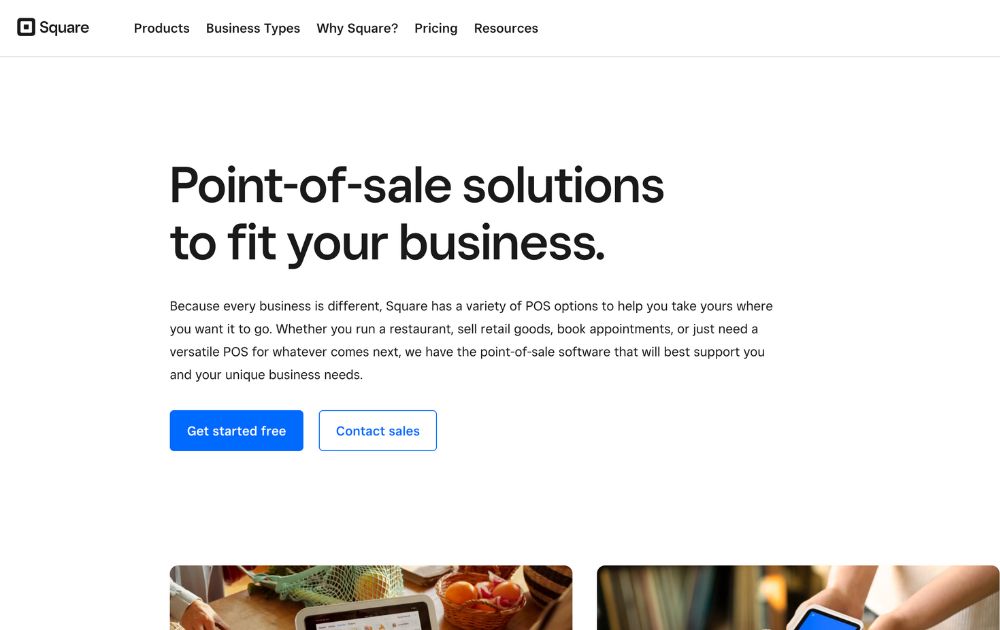 Square has good overall features, making it a top option for general retailers. Users can get barcode printing tools, sales reports, and stock management. Apart from that, though, it also has specific features and tools designed for individual contractors and restaurants.
Another plus is that Square accounts come with a built-in e-commerce store. Finally, POS users can expect speedy payments and buy now, pay later charges via Afterpay.
3. Chase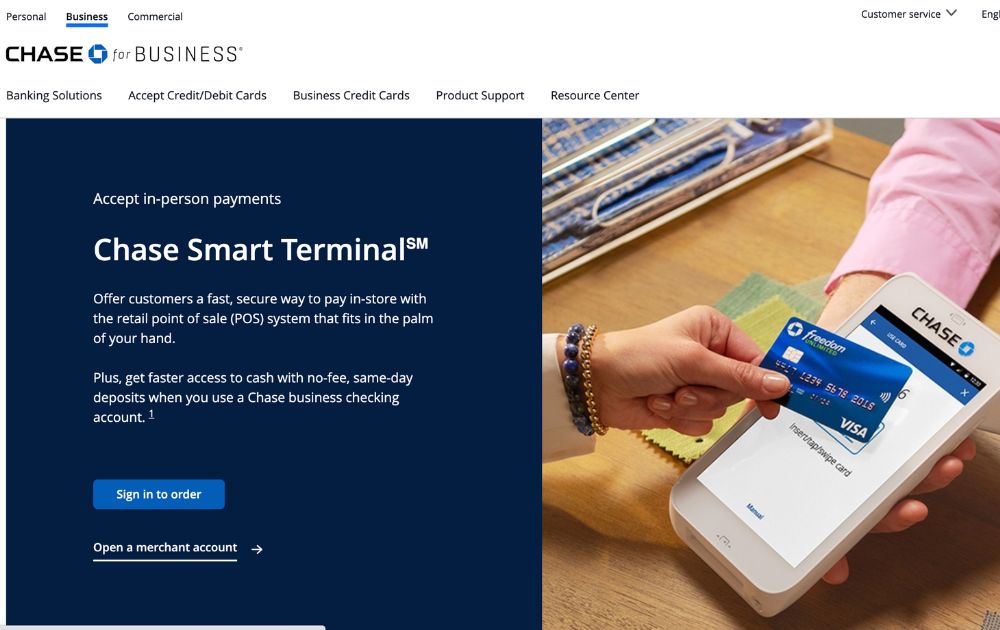 On the other hand, Chase has various hardware and virtual solutions that accept payments from multiple platforms. Users can expect to get physical tablets and standalone terminals for brick-and-mortar shops. And users can even make contactless payments and wireless credit card payment processing with the Chase Smart Terminal.
Aside from that, Chase also has e-commerce integrations for online stores. Because of these features, Chase is ideal for e-commerce shops and general retailers.
4. Shopify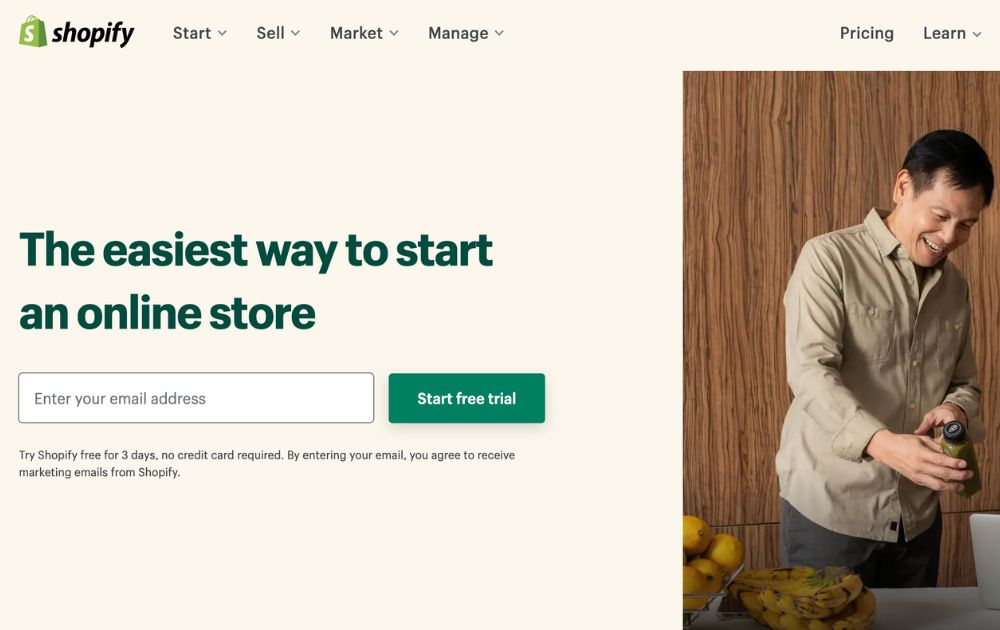 Shopify is the best mobile POS system for small businesses because it makes it easier for owners to start and complete payments in the same place. It's also the best POS system for retailers that are on multiple channels. It has easy to use interface that online businesses can easily use. 
Plus, it has advanced tools that help with inventory and customer relations. Finally, Shopify lets users integrate with Apple and Facebook for better customer support.
5. Toast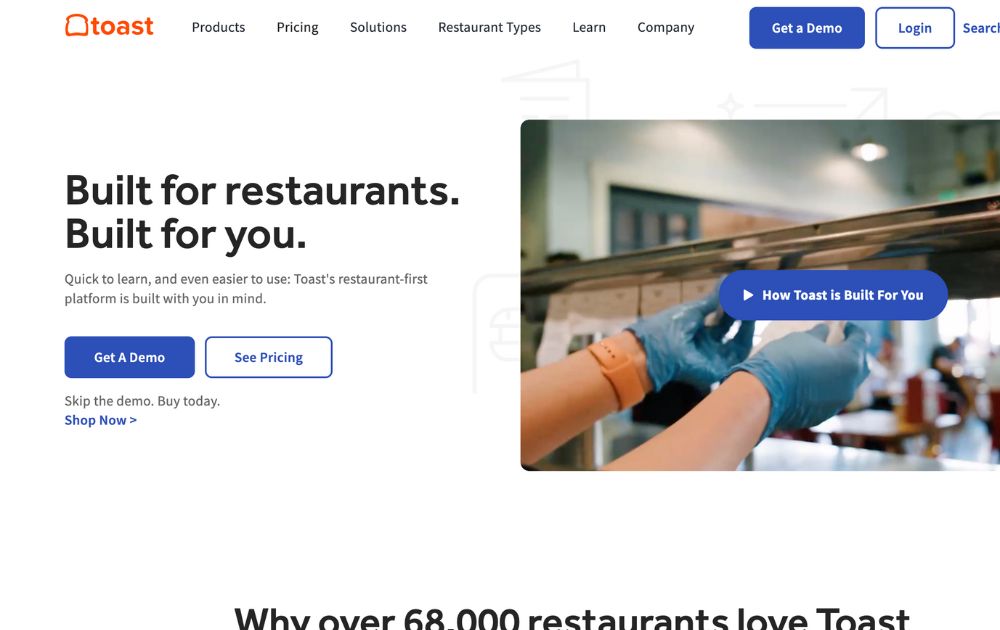 Toast offers POS systems for small businesses free of charge. Apart from this, they also have a good starter POS promo that's ideal for businesses just starting out. Otherwise, they have pay-as-you-go and standard plans that lock users in for two years. 
The system is great for restaurants because of its many valuable features. These include QR code payments, delivery tools, a table check splitting tool, and more. Toast also has a staff and inventory management tool.
6. Lightspeed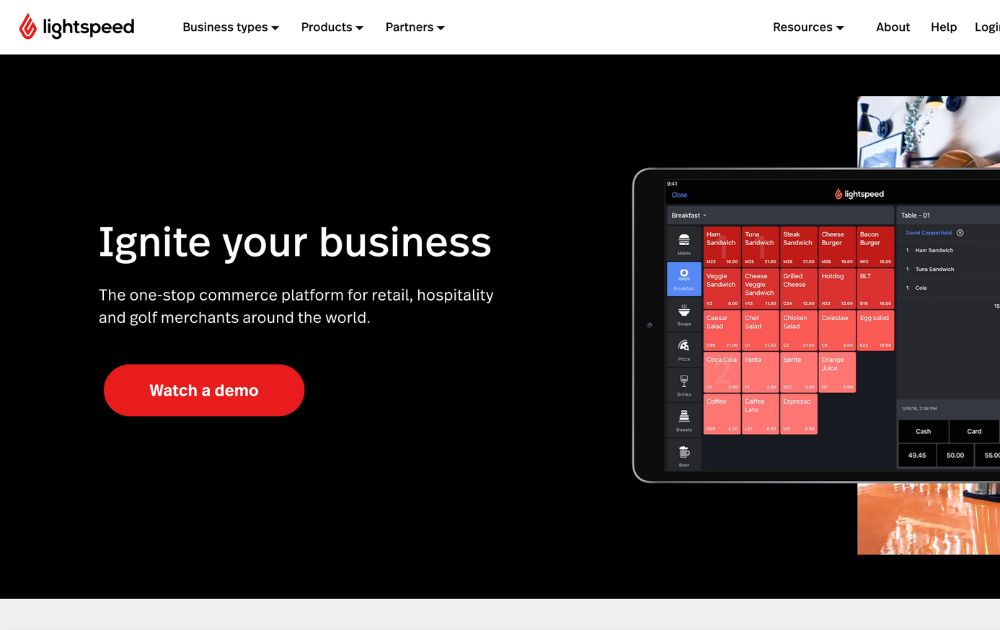 On the other hand, companies that need superb inventory tools can try Lightspeed. It has a matrix system to manage your stock and create smooth data visualization. Here, you can draw up matrixes of product variants to see which items need restocking.
Lightspeed works even when it's offline. This POS system for small businesses is best if you are in the food and beverage industry, as well as physical retailers and restaurants.
7. Revel Systems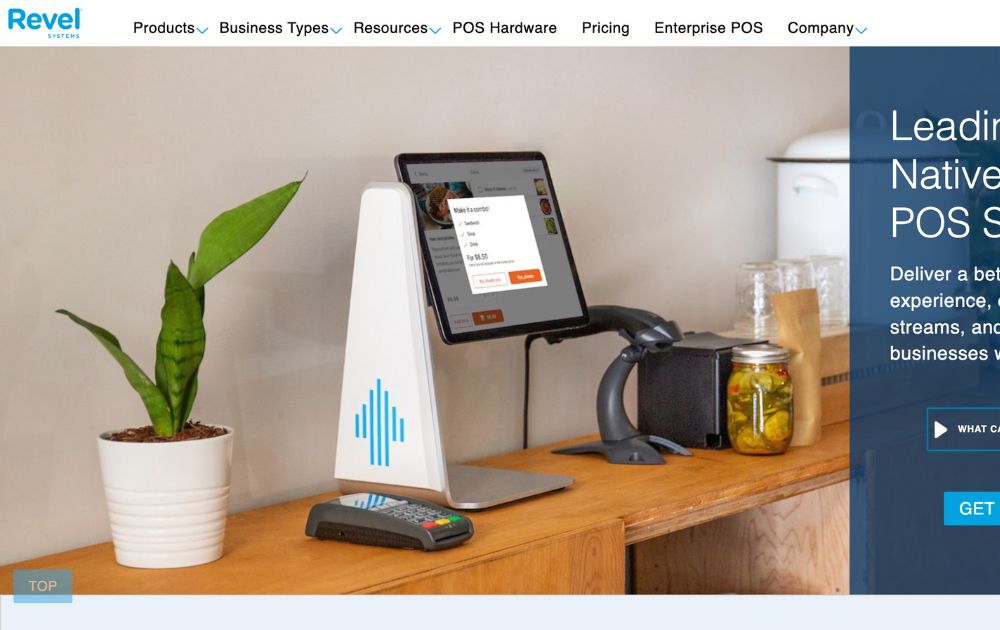 The best POS system for retail shops and restaurant is Revel Systems. Whether a general store or a busy retailer, you can count on Revel Systems' hardware tools to finish payments.
Revel has iPad-based terminals that track stocks, orders, and deliveries for groceries and restaurants. In fact, its restaurant features include tracking tips, building menus, and managing tables. Meanwhile, its grocery tools include discount, loyalty, and gift card tools.
8. ITRetail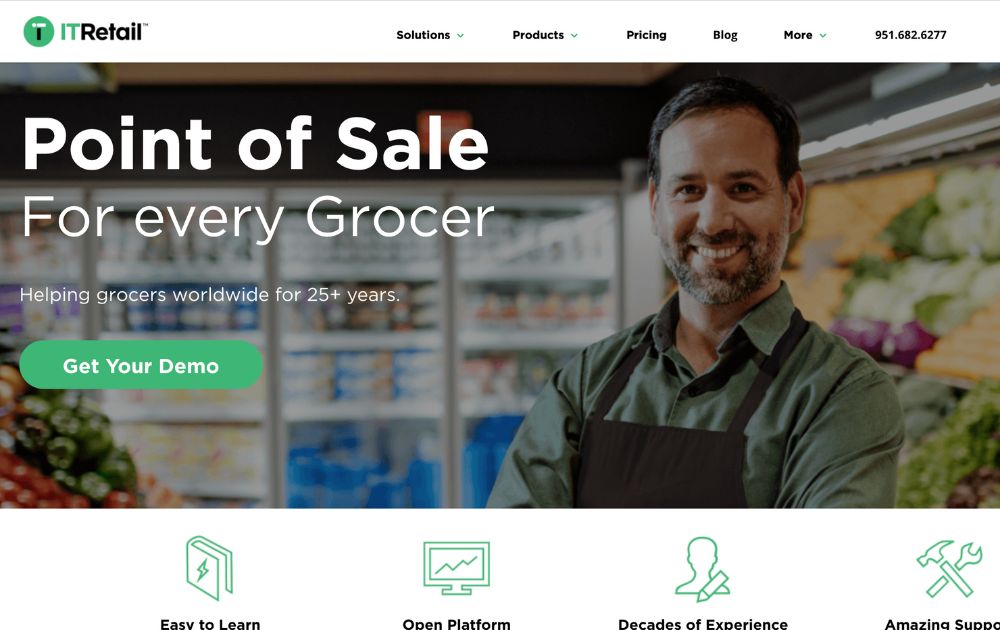 On the other hand, ITRetail is a POS system for small business that's best for groceries and small markets. For one, it has strong and flexible checkout options. Customers can pay via debit, credit card, gift cards, or e-wallet. It also has a host of options should people need to self-checkout. 
Apart from that, you can manage your stock via their mobile app. Users can customize CRM tools to monitor and track loyalty and rewards programs.
9. KORONA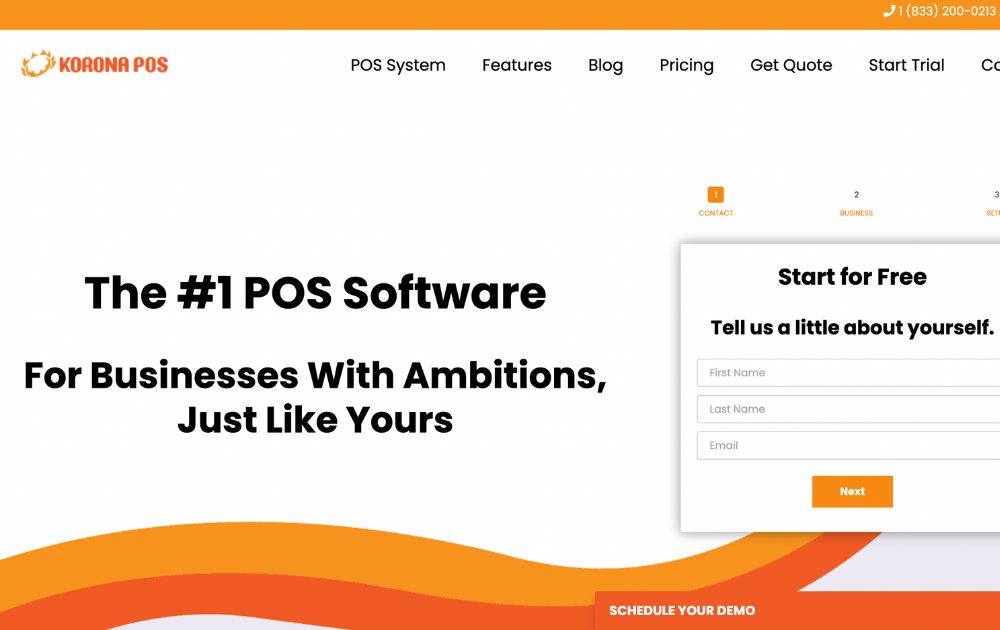 KORONA is a POS suite that is best for high-risk enterprises. This refers to liquor, vape, and even cannabis stores. However, KORONA can also support brick-and-mortar shops and ticketed venues. Most online reviews deem KORONA one of the most flexible POS because it links with major payment processors. 
Aside from that, it's also a top choice because of its stock tracking tools. It even has a ticketing function, making it a great event option.
Tips for picking a POS system
When you think about the qualities of a great POS system, it can seem like an unnecessary expense. However, a POS system can be a game-changer for a small business. Here are a few tips on picking a system to make sure that it will be a worthy investment.
Hardware and Software Compatibility
The first thing to look for when picking a POS system is whether it will be compatible with your hardware and software. Check if your POS system supports your computer operating system (like Windows or Mac). You also want to check if it works with your network and your printer or scanners. You don't want to invest in a product that can't work with your current systems. Keep in mind that POS systems come in various levels of functionality, so you can find one compatible with your existing technology.
Ease of Use
Another important thing to consider when picking a POS system for your small business is its easy use. The less time you spend on training your staff, the better. You want to find a POS system with an intuitive interface, making it easy for everyone from your office manager to your cashier. 
Security
Another important thing to consider when picking a POS system is its security features. You want a system that is protected against fraud and theft.
Budget
Lastly, don't forget about the budget when picking a POS system. You don't have to overspend to get a great product. A good rule of thumb is to look for a system in the middle of the price range for your industry.