Top 10 Android Phones Under $500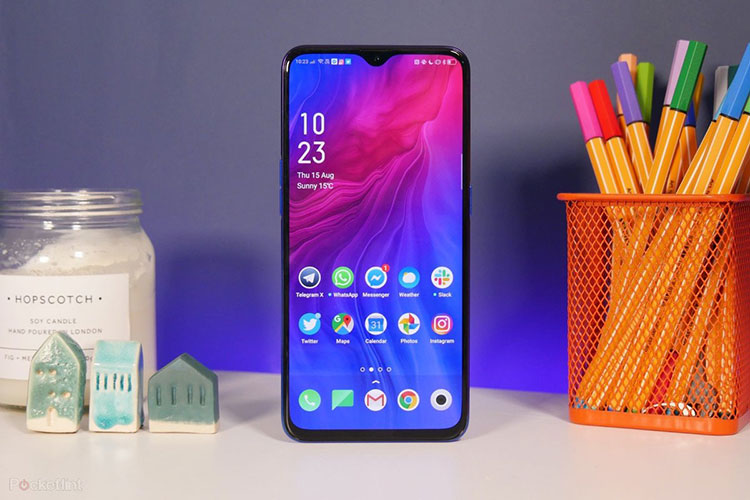 If you are scouting for quality Android phones under 500, look no further.
We all know that smartphones are almost a necessity nowadays. But some models are just too expensive to obtain. And that is why we are here to help you.
Here are the best Android phones under 500. Our list was based on overall performance, display, features, and price.
1. Oppo Reno Z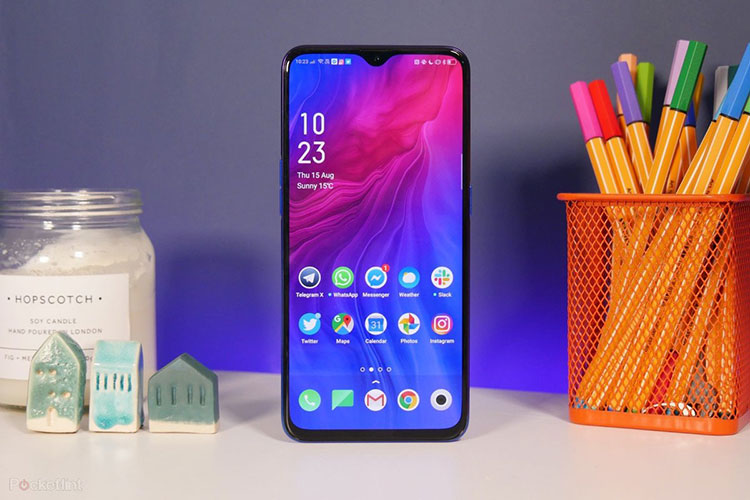 A quality smartphone doesn't have to be expensive. And that's what Oppo Reno Z shows us all. One of the best things we love about this Oppo model is its sleek and stylish design. You will also enjoy the gadget's AMOLED display.
Now, if you are a fan of bigger devices, this should do you good. However, if your hands are quite small, it could be a challenge to use. While it isn't readily available in the US, you can get yours from other regions.
Price: $499
2. Sony Xperia 10 Plus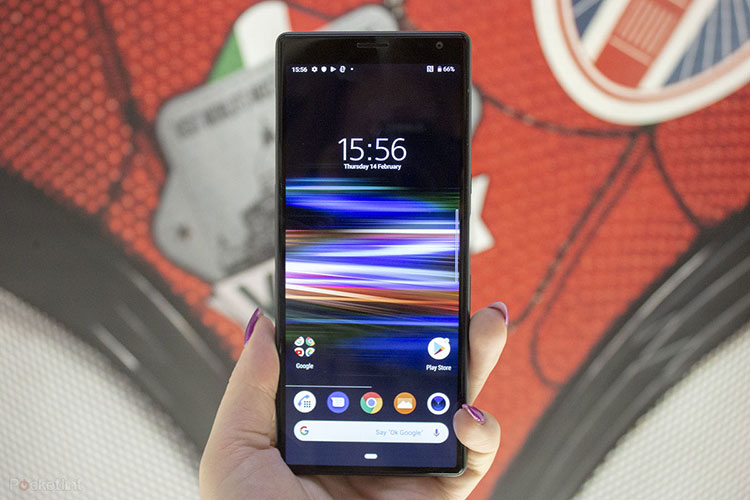 With Sony Xperia 10 Plus, you can enjoy watching videos for hours because of its decent-sized screen. There are different colors to choose from. They have black, silver, gold, and navy. As for its fingerprint sensor, left-handed users might find it a bit hard to use.
Price:$345
3. Google Pixel 3A XL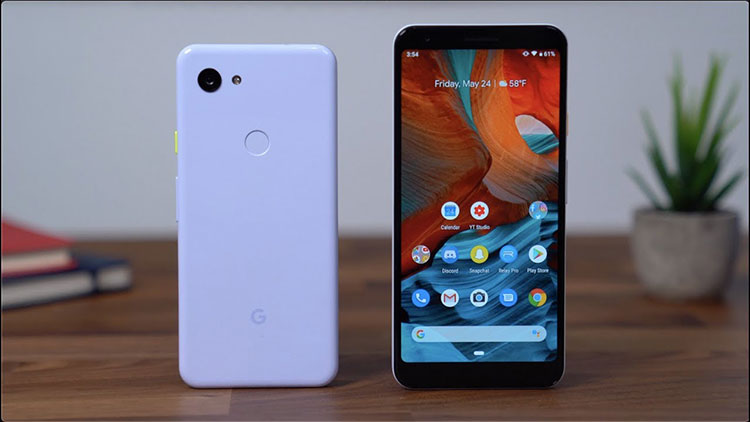 Google Pixel 3A XL has an amazing camera so you can enjoy immortalizing memories. It also has good battery life. Couple that with a great display, and you have the perfect device for watching videos. The performance is one of the best in its tier. We have to say, the software build is also commendable. For its price, we honestly think that you get more. It is indeed worthy of your investment.
Price: $479
4. Nokia 7.2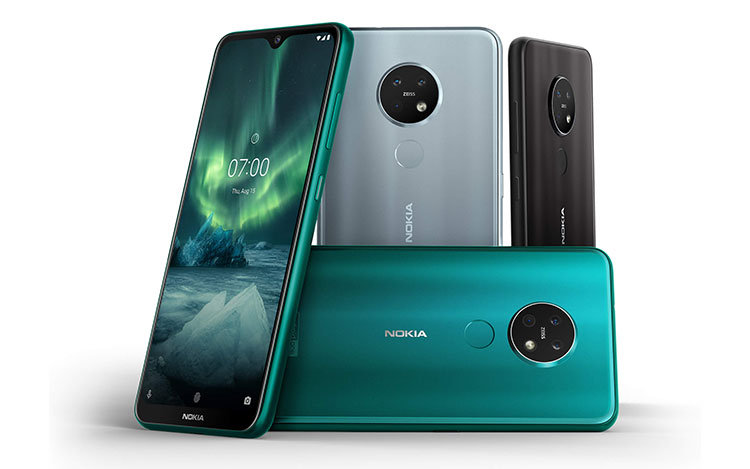 Here's another smartphone that boasts strong performance. Nokia 7.2 is one of the best devices in its category. You will be pleased with its design and the camera is fairly decent as well. The display is not the best, but it isn't too bad either.
Price: $371
5. Samsung Galaxy S9
Even if this model was released last year, we can still say that it's an outstanding smartphone. It has great hardware, impeccable performance, and a quality camera that can take decent photos and videos.
You might want to get yours in coral blue. Other choices are lilac purple, titanium gray, and midnight black. The battery is phenomenal as well. This is ideal if you are traveling for long hours and you forgot your charger or portable power banks. And lastly, the speaker gives a clear sound which is perfect if you are streaming videos.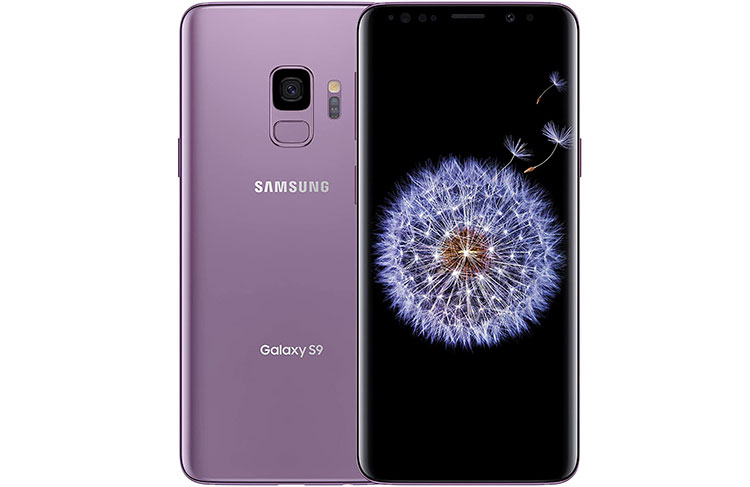 Price: $399.77
6. Xiaomi Mi 9T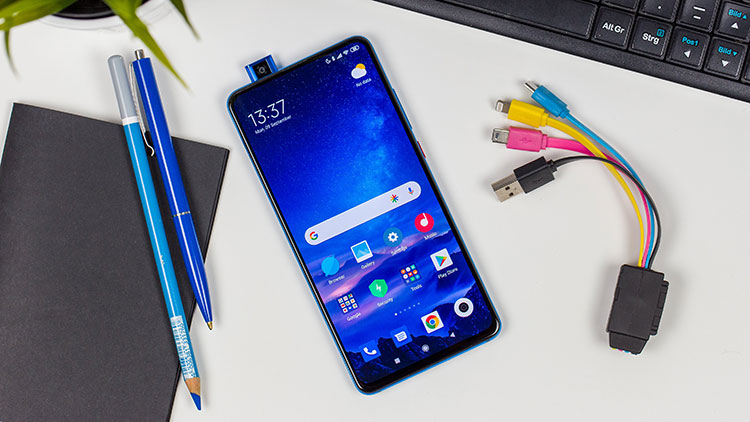 Xiaomi Mi 9T has a 6.39-inch full display and uses an outstanding screen technology. You will enjoy vivid colors when you look at the photos and watch videos. The fingerprint sensor works seamlessly as well.
One downside though is that the screen tends to be slippery. You better get a separate silicone case if you are to choose this. The pop-up selfie camera is interesting and the mechanism is said to be good for 300,000 cycles.
Price: $245
7. OnePlus 7T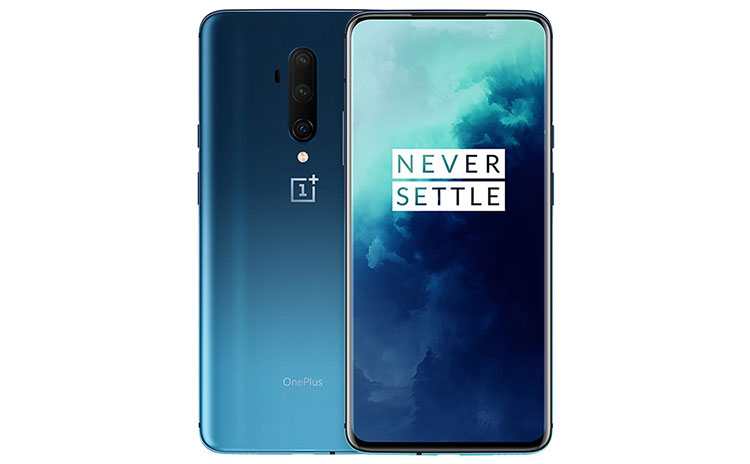 We've heard a lot of raves about OnePlus 7T and that's why we were so excited to test it out for ourselves. Indeed, this smartphone has quality software, top-notch performance, good build, and a fast-charging feature. There's one thing that we didn't like about it though. The camera bump isn't too appealing and can be distracting. But overall, it's a great buy.
Price: $499
8. Huawei P30 Lite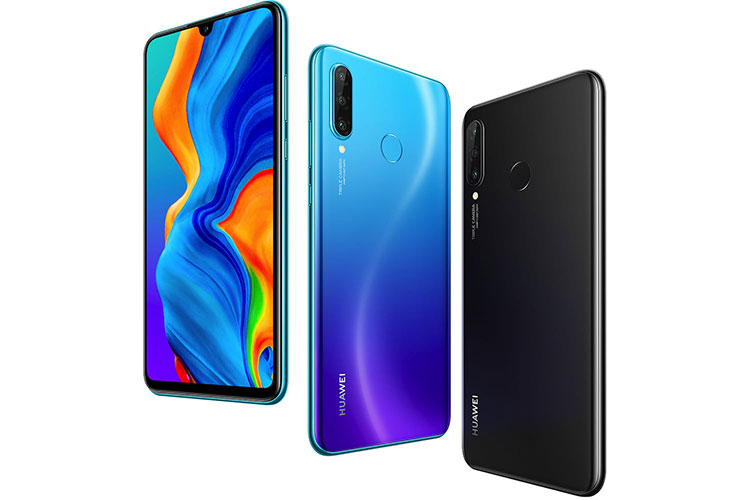 Huawei P30 Lite looks fancy which is why you won't think that it's a smartphone below $500. The design is also eye-candy. While the display is not top quality, it's not mediocre too. You can still enjoy videos with ease using this model from Huawei.
And if you want amazing photos that you can post online or even possibly print, this phone will surely deliver. It honestly deserves a spot in our list of Top 10 Android Phones Under 500.
Price: $250
9. Moto G8 Plus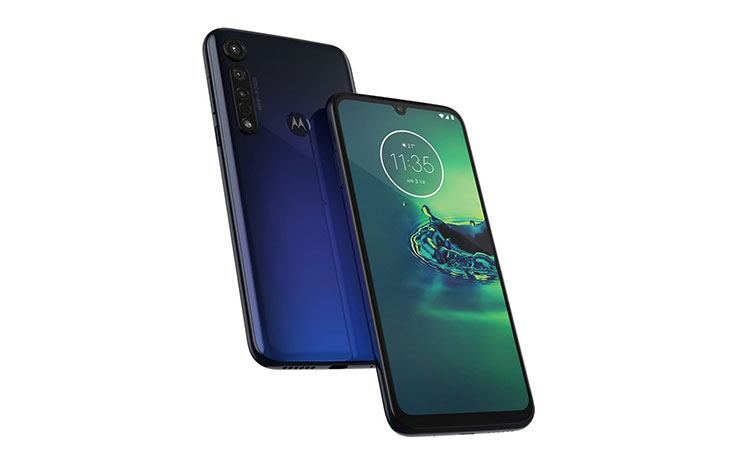 Motorola has been creating quality budget-friendly smartphones and we expect nothing less from Moto G8 Plus. First of all, it has a decent battery life that can last for longer hours. They also made the model more user-friendly so that's another reason to get your hands on this unit. Although, this is not the best smartphone if you love to take photos.
Price: $205
10. Samsung Galaxy A50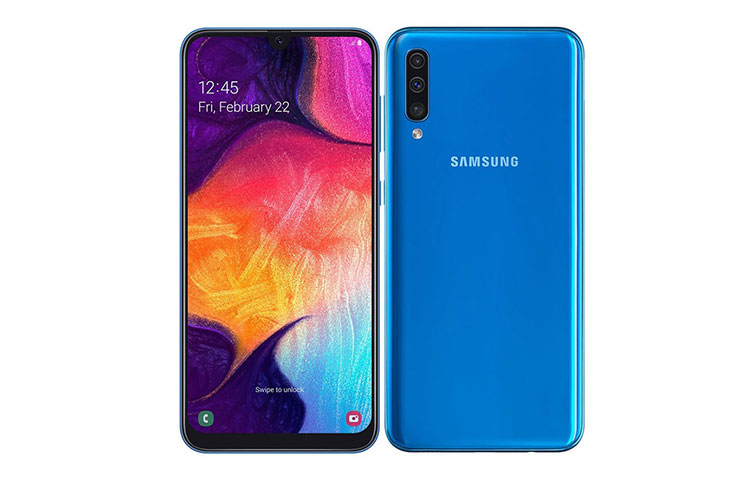 And the last one from our top Android phones under 500 is from Samsung. The best things about the smartphone are the camera, battery, and its in-screen fingerprint feature. The build is strong and the design is pretty straightforward. Some areas of improvement could be on the speakers. But for the price, we should expect minor shortcomings.
Price: $349
Conclusion
Affordable phones do not mean that you have to compromise the quality. That has been proven with our Top 10 Android Phones Under 500 list. But personally, our team recommends OnePlus 7T. It is one of the high-tiered models on the list, but you get to enjoy more than what you have paid for.
Kate McKinnon roasted Marjorie Taylor Greene, SNL Cold Open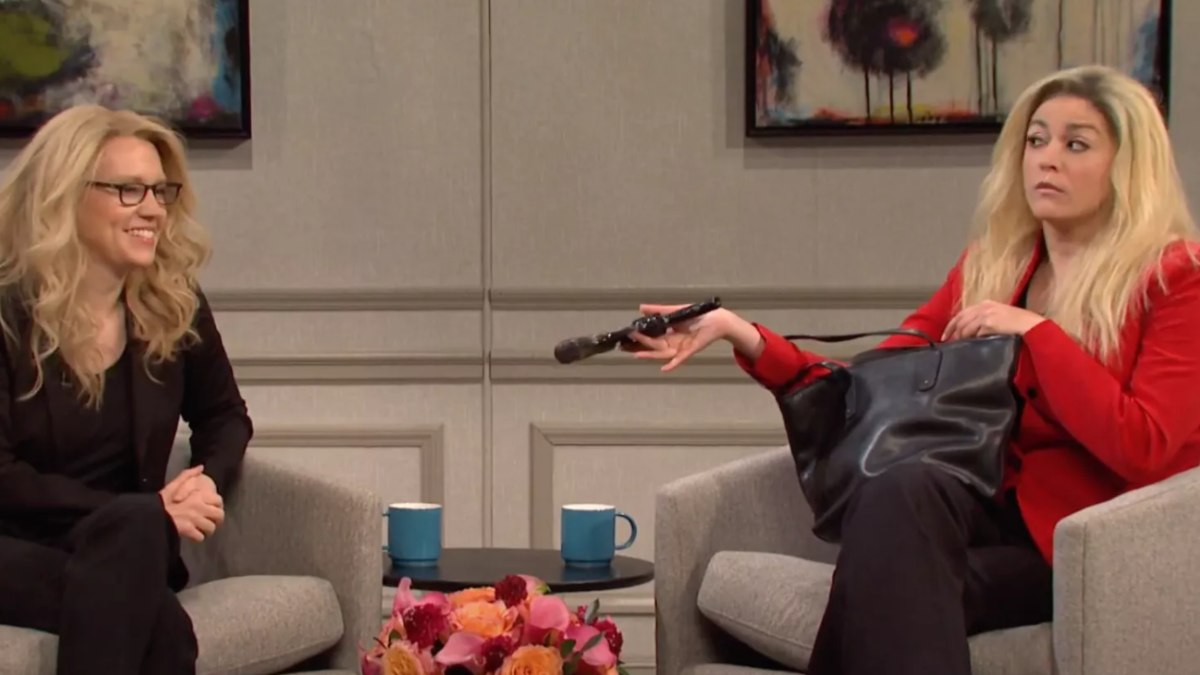 The first episode of Saturday Night Live this 2021 started with a question, 'What Still Works in America?' The show was hosted by Kate McKinnon, where she discussed which areas of American society are still working.
Kate McKinnon says that since America already has a new president, some things should work. But then she asked further, 'do they?'.
The first topic was the government. And right off the bat, McKinnon remarked that she already has doubts.
The host then brought out the controversial Republican congresswoman from Georgia, Marjorie Taylor Greene. She was the show's first target of the year.
If you must know, Greene is currently bombarded with criticisms after it was revealed that she liked and engaged in conspiracy theories in the past. She even called for violence against Democrats. 
Kate McKinnon Interviews Cecily Strong's Marjorie Taylor Greene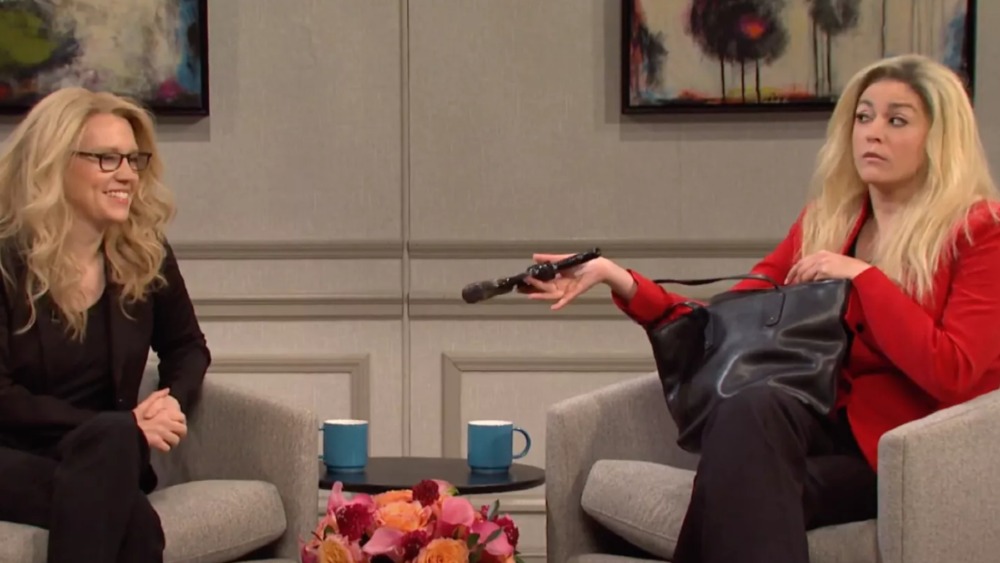 Cecily Strong portrayed Greene and went beside Kate McKinnon, where she handed her a gun right away – as if she was offering a gum.
Kate McKinnon started to ask Strong's Greene the theories which she believed in and was actively promoting. The character asked how much time she got, followed by saying that she thinks the Parkland shooting was a hoax and that the teachers were all actors and the kids were dolls.
In that particular incident though, we must remember that 17 persons were killed.
She also added that 9/11 was a hoax, sarcastically asking if anyone saw if it happened.
It doesn't stop there. Strong's Greene said that she told her supporters to physically murder Nancy Pelosi – a lady she works with.
And as if it wasn't enough, she added that there's another new conspiracy theory. The character played by Strong said that the Jewish space lasers caused the California wildfires.
The host, just to make sure, asked if the congresswoman believes the theories, in which the character responded with an 'Uh-huh.'
With a face hard to paint, McKinnon said that people could easily Google the congresswoman and see that she is a real US representative. Her tone shows apparent disbelief at what she was hearing.
Strong's Greene agreed that, yes, people could easily search for her online. But being a congresswoman might not be the first thing that will show up on Google. And we understand why.
During the conversation, Kate McKinnon asked what her colleagues did when they found out all the things that Greene said in the past.
Strong's Greene shared that she was promoted to the education committee.
It ended with Kate McKinnon saying that the government doesn't work, and she regrets not taking the gun. 
The Stock Market and the Super Bowl
Kate McKinnon proceeded to talk about the stock market and invited a 'major shareholder of Gamestop,' which she quickly figured out to know nothing about stocks. That means, this aspect no longer works too.
And then, she moved on to social media and vaccine rollout. For the vaccine rollout, she interviewed 'O.J Simpson' asking if he got vaccinated even before the teachers and those with health conditions. 'Guilty as charged – about the vaccine' was Simpson's response. This made McKinnon conclude that neither social media nor vaccine rollout works.
And finally, with a bit of hope, Kate McKinnon welcomed Tampa Bay Buccaneers quarterback Tom Brady. Brady was played by John Krasinski.
Kate McKinnon shared that this is Brady's 10th Super Bowl, and he kept on winning. From being in the worst franchise and taking them to the championship, McKinnon told him that he might be the only thing that works in America. She then added that everyone must be rooting for him.
Krasinski's character responded with, 'Almost no one.'
The host enthusiastically said that she will still be rooting for him because the country can still rely on the quarterback. She followed it by saying that he's not like he's a weird Trump guy or anything.
But the quarterback immediately said his thanks and left.
Kate McKinnon then turned to the camera and shared that she is slowly losing her mind. She reminded everyone to stay strong (or weak – because being weak is a great option too) before saying the show's signature farewell message, Live from New York, it's Saturday Night.
The entire skit was nothing short of hilarious and just tells us that things are still pretty bad in the US.
Which John Wick Theory Will Become The Real Ending to the Franchise?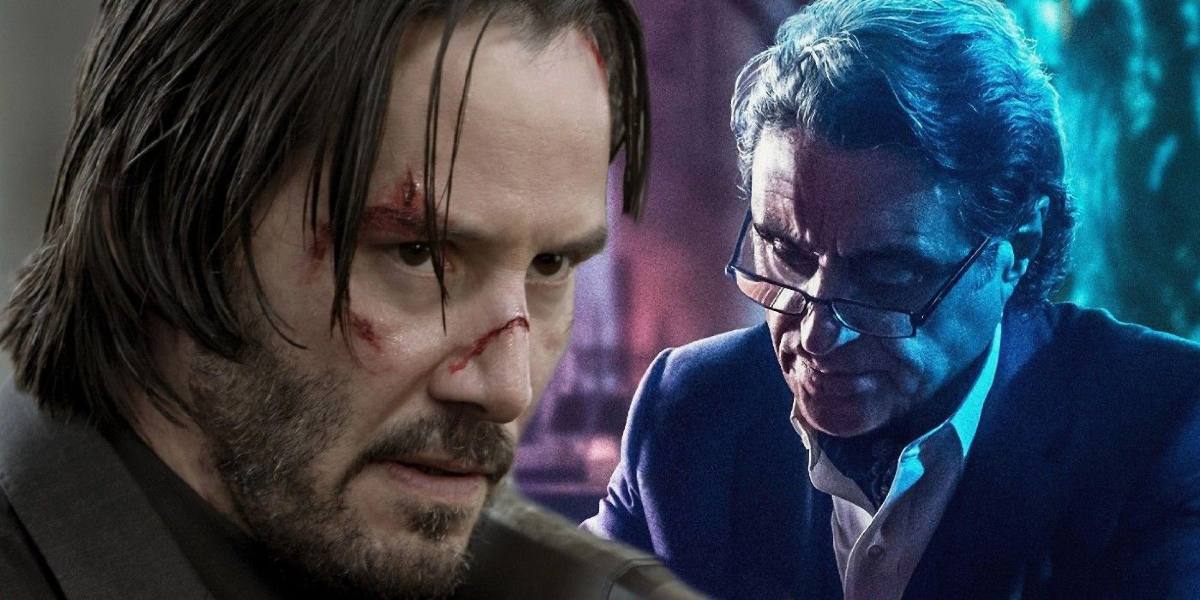 In 2014, avid action movie viewers got introduced to a new Keanu Reeves movie, John Wick. The first movie gives viewers a taste of the action sequences that will come in the next two films. The 2nd chapter, John Wick 2, explores the concept of the High Table and builds the world that the characters are part of. And in 2019, the latest, John Wick 3: Parabellum, we see an immediate continuation of John Wick's actions and consequences. It doesn't end there. It was also announced that two more sequels are coming: John Wick 4 and John Wick 5, with the fourth getting a 2022 release. But with John Wick (Keanu Reeves) still in the middle of his revenge plot against the High Table, how can the franchise end? Read more about each John Wick theory that fans have explored.
Warning: Potential spoilers ahead.
John Wick Theory 1: He Destroys the System and Finds a New Purpose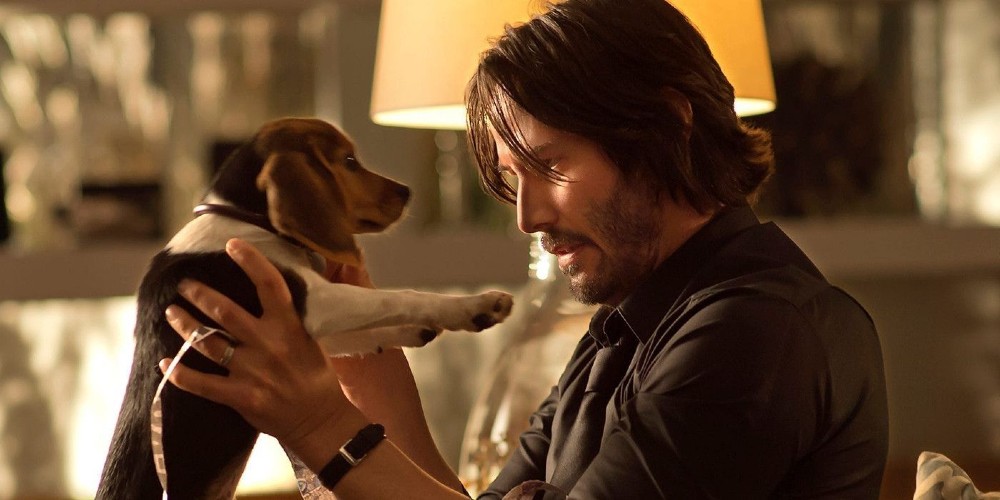 John Wick 3: Parabellum ends with John Wick falling off a building, suddenly disappearing from the street, and appearing bloody in front of the Bowery King (Laurence Fishburne). And with both characters having lost in different ways, it seems likely they'll have a team up to get revenge in the upcoming movie. With the treatment they both received from the High Table, they have no choice but to go against the system that has made them suffer.
This John Wick theory is a likely but predictable ending to the John Wick franchise. After all, Wick has had to endure endless beatings and shootings after coming out of "retirement." The Baba Yaga might even defeat the 12-seater High Table and end up with John Wick living peacefully. He could even adopt an orphan and help that orphan find a purpose alongside him and his unnamed dog. It will become a "happy ending" for Wick and those bound to the system.
Theory 2: He IS the New High Table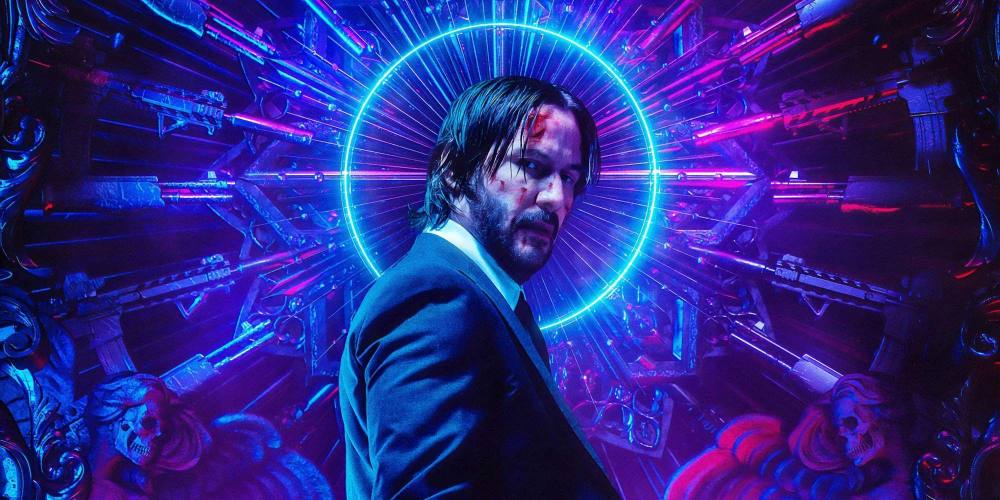 It seems that John Wick is impossible to kill, and his alliance with the Bowery King may further increase his strength. But once they defeat the High Table, what would happen next? This John Wick theory explores the idea that the protagonist will become the NEW High Table. The dreaded Baba Yaga may become the new High Table leader and have a new assassin following.
Once he and the Bowery King exterminates the High Table, John Wick could take the leadership role and create new standards. He might even allow assassins to leave a peaceful, everyday life and settle down. However, this theory may become unfortunate for John Wick. For someone who wants freedom from the High Table, taking the leadership position may become a fate worse than death for him.
Theory 3: He Knows He Can't Leave a Peaceful Life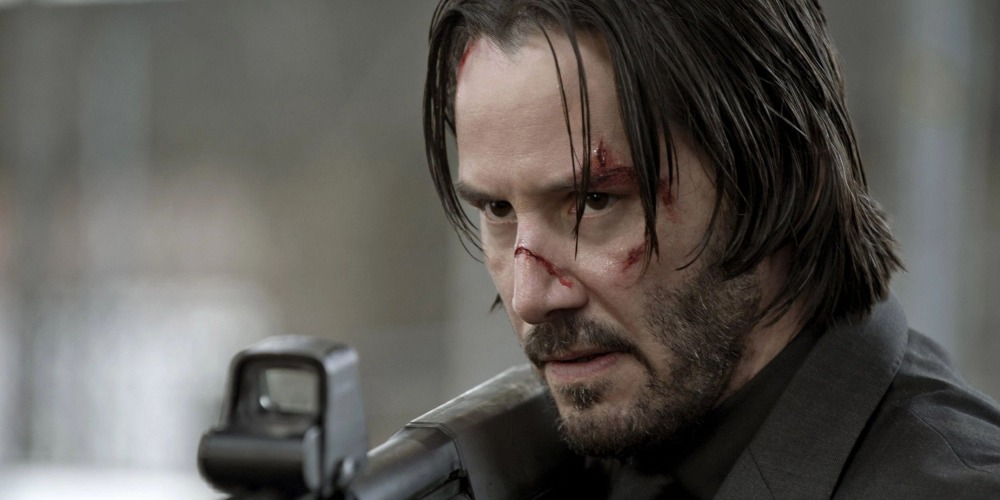 This John Wick theory explores the Kubler-Ross model– the five stages of grief. To refresh your memory, it's:
Denial (John Wick doesn't want his idyllic life to end)
Anger (John Wick goes on a rampage)
Bargaining (John Wick "bargains" with The Elder)
Depression
Acceptance
If the model were to follow the release of each John Wick movie, John Wick 4 might tackle depression. And with John Wick 5 announced, the protagonist may accept that he would no longer have a peaceful life.
In this case, John Wick will have to understand that he'll no longer go back to a life where he can live "normally" as he did with his late wife, Helen. Eventually, John Wick may realize that he might only achieve peace when he dies. And as an experienced assassin, John Wick knows that death would be his way out.
Theory 4: He Dies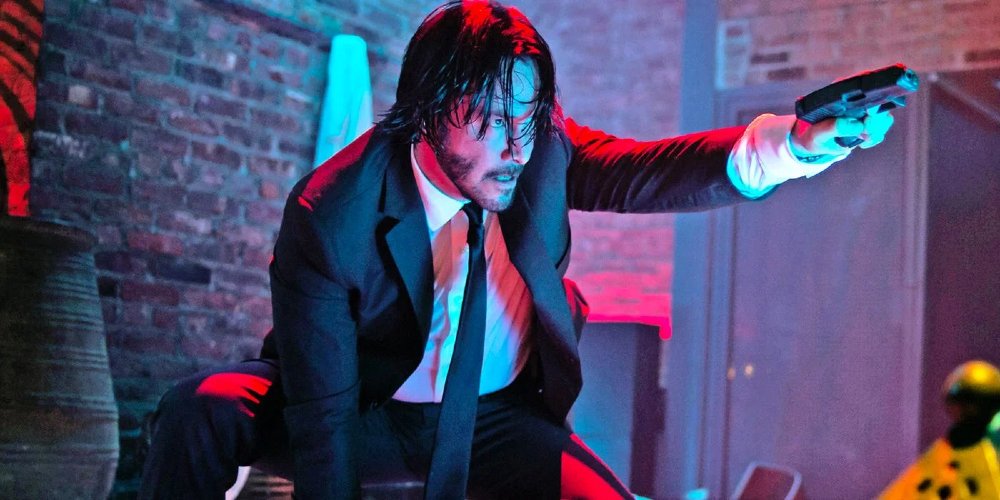 If peace seems impossible for John Wick, there's only one way for him to be "free" from the chains of the High Table: Death. He knows that dying is a better option than following the rules of the High Table blindly. Plus, having gone against crime families, it's likely that viewers will see John Wick at the end of his journey.
Once the High Table is gone, Winston (Ian McShane), the head of the New York Continental, may assume his position as head of the High Table. He would eventually create a fairer system for other assassins. Plus, he might even pay tribute to Wick once the Baba Yaga rests in peace. It's easier said than done to say that John Wick will die. Since the first movie, he's been fighting enemies, and it looks like he's nowhere near done.
Theory 5: A Longtime Ally is the REAL Villain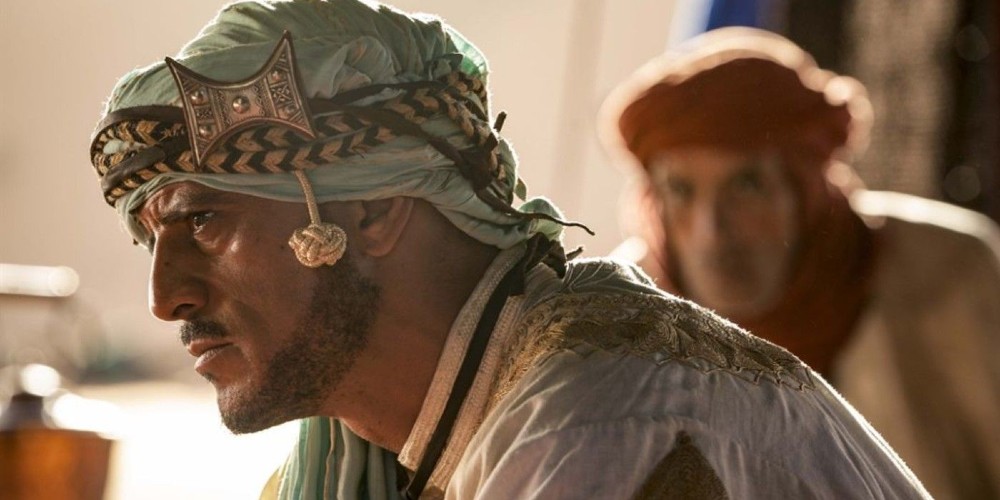 John Wick 3: Parabellum introduces its viewers to the antagonist of the franchise, the head of the High Table: The Elder. But, for someone who would be the antagonist, it doesn't seem too surprising. The Elder's past remains a mystery, especially his ascent to power and why people are quick to follow him. It may seem, however, the real villain set-up would be Winston, the possible actual leader of the High Table.
As manager of the New York Continental, Winston isn't one to falter. During the Continental siege, he was hiding inside his vault with John Wick's unnamed dog. He even helped supply John Wick and concierge Charon, weapons to wipe out the High Table's fighters. However, by the end of the movie, we saw him shooting John Wick off the Continental, seemingly killing the title character. And this ploy may only be the beginning of Winston's schemes, setting him up to become the likely villain in the upcoming movies.
For other interesting stories, check out more articles here in Owner's Mag.
5 Smart Gadgets Your Dog is Begging You to Get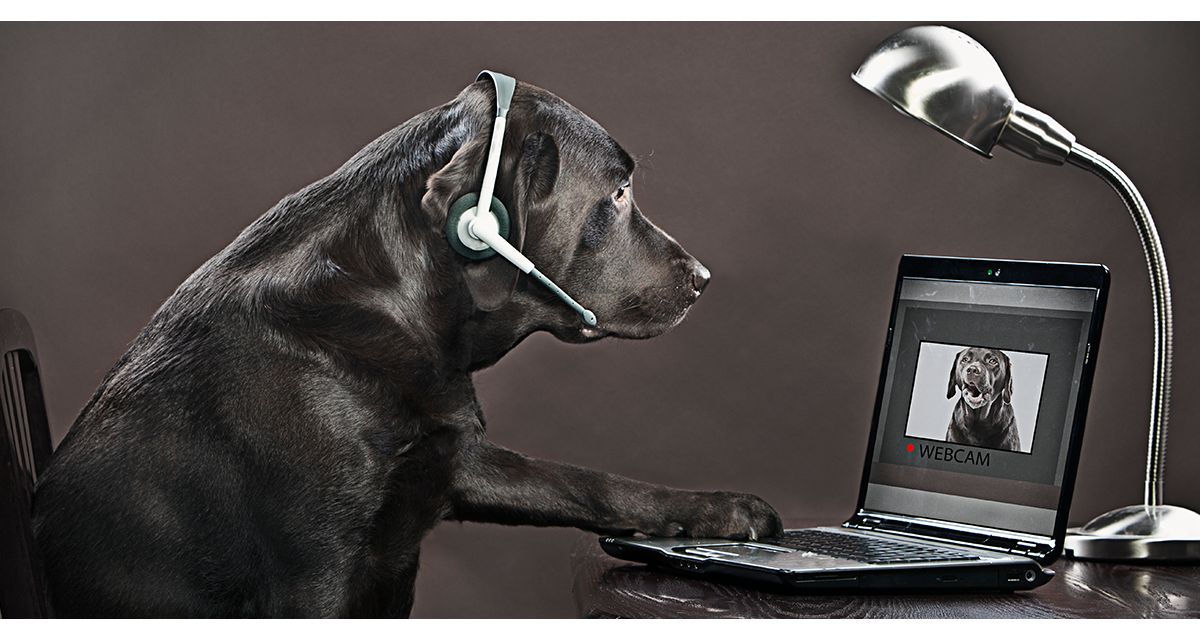 Dogs have been man's best friend for thousands of years. They lived with us in caves and castles. They have guarded our homes, hunted with us, and shared warmth on cold nights. The world around us has evolved drastically, while the relationship between dogs and dog owners has changed only slightly. Perhaps humans and dogs don't rely on each other for survival the way we did in the wilderness before, but at this point in history – dogs are more a part of our family than ever before. And as people have benefited from the tremendous advancements in smart technology, it only makes sense that our canine brothers do too. Here are some of the best smart tech for dogs and their humans.
Findster Duo+ – $104.99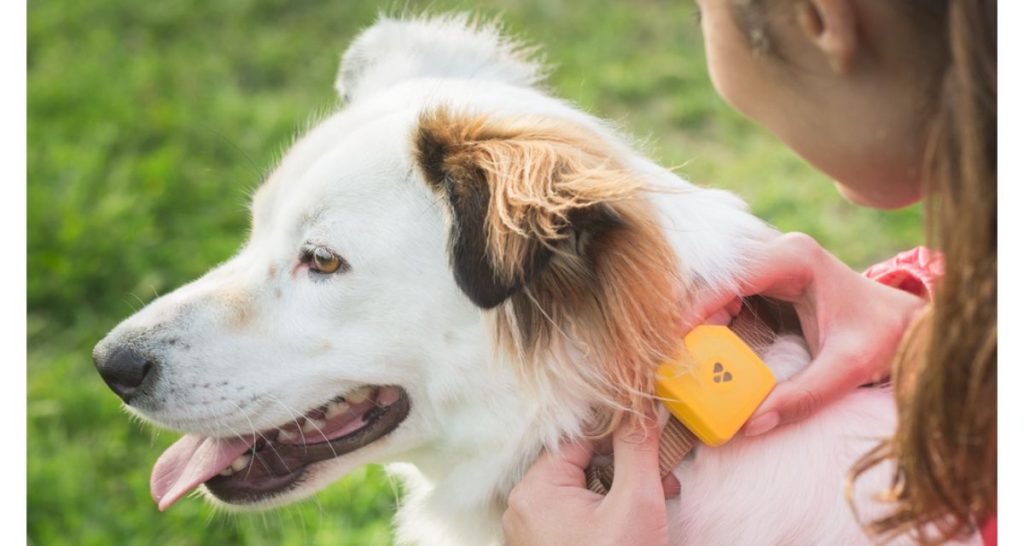 Anyone who has ever had a dog growing up has a horror story to share about when their dog got out and ran off. Dogs catch the scent of a squirrel, and they take off without looking back. Findster Duo saves dog owners the anxiety of losing their dog with its GPS tracking technology.  The tiny module can be placed on your dog's collar and can track its location in real-time. While other similar products require a monthly subscription, Findster Duo does not. You can set perimeters that trigger an alarm should your dog stray outside. You can track multiple dogs at once and monitor your dog's daily activity.
Buy here on their website.
Furbo Full HD WIFI Dog Treat Dispenser and Camera – $169.99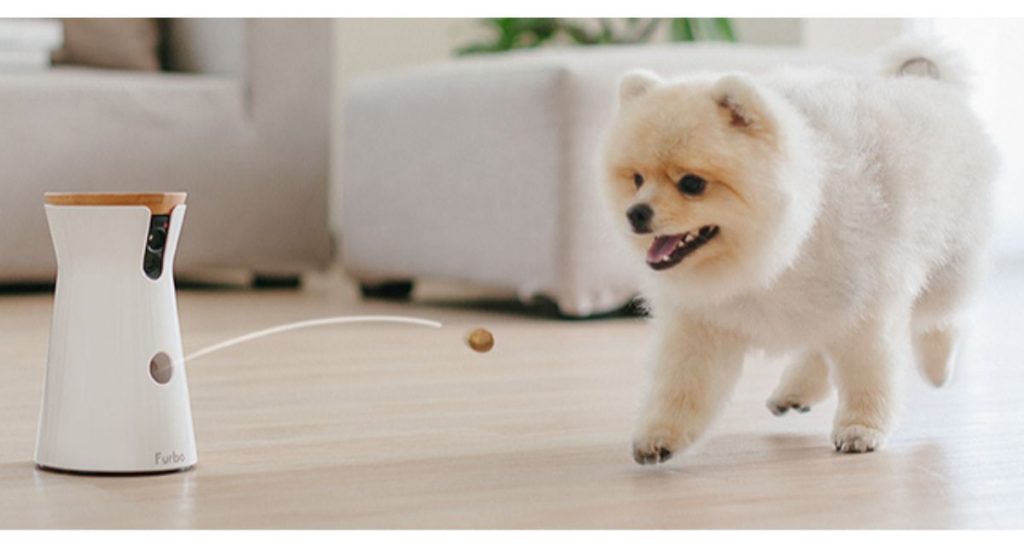 Sure, it would be great to bring your dog with you everywhere you went. Unfortunately, being a pet owner means that sometimes you have to leave your dog at home. With Furbo, dog owners can stay in contact with their dogs and interact with them throughout the day. Furbo combines a 160˚ wide-angle HD camera with a treat dispenser. The camera has two-way audio so you can speak to your dog and hear when they bark or fuss. With the smartphone app, you can dispense treats to calm them down or just check-in. The camera has night vision too, so dog owners can look after their buddy at night.
Buy here on Chewy.
iFetch Mini Automatic Ball Launcher Dog Toy – $115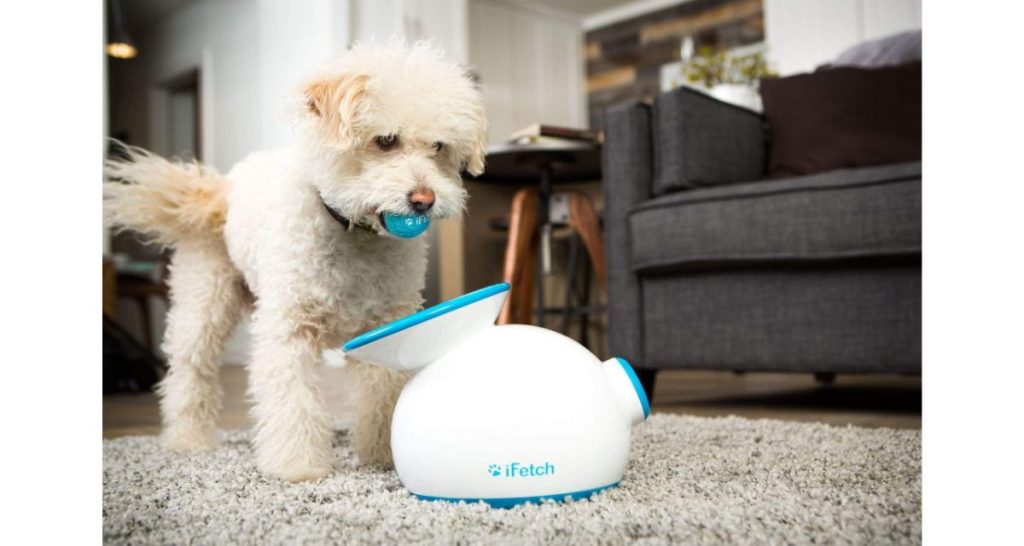 Dog owners might love playing with their dog, but the dog certainly loves it more. The iFetch Automatic Ball Launcher will keep a dog entertained long after their owner' arm gets tired. It comes with three mini tennis balls that the dog will learn to feed into the launcher. With three different settings, owners can choose how far the ball will go. Dog owners rejoice!
Buy here on Chewy.
Petnet Smartfeeder – $130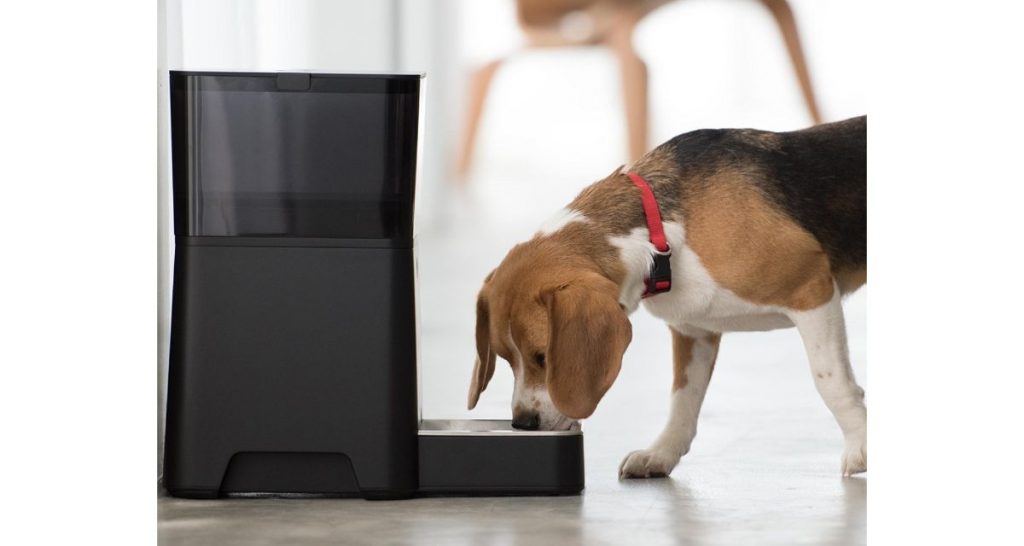 Dogs can be fussy about their meals, and it can be difficult to stick to a healthy feeding regiment. Enter Petnet. This smart device can feed A dog automatically while its owner is on the go. They can schedule feedings, set reminders to feed and refill Petnet or set automated feeding times. The Petnet offers suggestions for portion size based on a dog's size and age. You can link the device to your Amazon Alexa or Google Home device and feed your dog without even leaving the couch.
Buy here on their website.
BONUS – BARKBOX
Okay, okay it's not exactly a gadget. But while a Barkbox subscription isn't exactly smart technology, it is a brilliant service to have if you love your dog. Barkbox is one of those subscription gift services where you can schedule a monthly box to arrive at your door full of dog toys and treats. You can customize your Barkbox based on the number of dogs and their size. After a couple of months, the dogs will recognize the box when you bring it inside and be excited to open their mail with you. While some subscription boxes have an array of things that you may or may not use, everything in your Barkbox will be put to use.
Buy here on their website.