Top 10 Dedicated Hosting Companies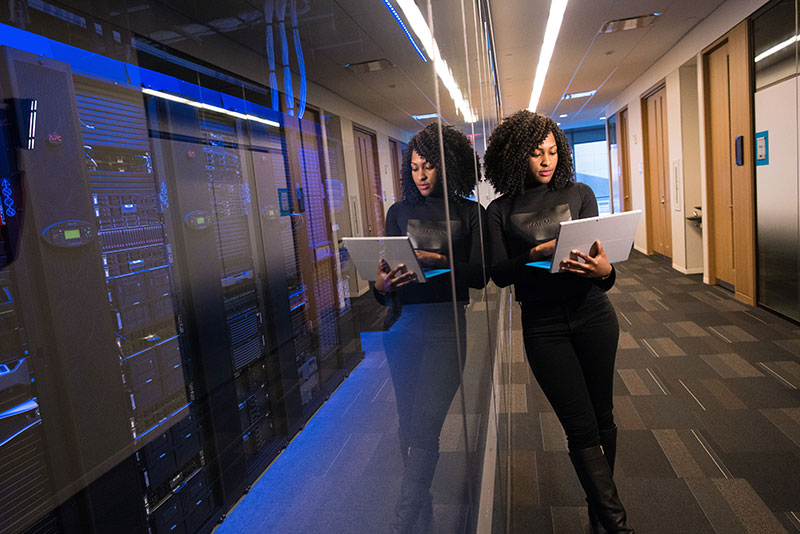 By January 2020, 1.74 billion websites are live on the internet. Imagine how many servers are running just to keep these websites up. As the number of websites grows, hosting sites adjust to the demand. Luckily, small businesses or entrepreneurs have different options in deciding hosting companies for their websites.
We've narrowed down the Top 10 Dedicated Hosting Companies on the internet based on their price, value, and customer support.
1. HostGator

One of the most popular hosting companies is HostGator. It's been in the hosting game since the early '00s and is one of the top choices by many small businesses, developers, and big brands. That makes them one of the Top 10 dedicated hosting companies on this list.
The HostGator dedicated server hosting starts at $119/mo for the Value Server with a four core and eight-thread CPU. The most expensive plan is $149, where you can get a 1TB SSD (Solid State Drive) and have a higher CPU capacity.
It offers the following features for its users:
Unlimited bandwidth
Customization between SSD and HDD (Hard Disk Drive)
cPanel and WHM (Web Host Manager)
DDOS protection
Three dedicated IPv4 IPs
Users can choose to have a managed or semi-managed solution as well.
Blog Beginner says that HostGator's dedicated server is best for those in the gaming business. Those with higher traffic can also benefit from the dedicated hosting server.
One of the cons of using HostGator is that there's only one location for the server, which may cause a slowed down response time when someone isn't accessing it from the US. HostGator receives mixed reviews about their support in general due to slow responses.
2. DreamHost

You can get a DreamHost Standard Server for $149/mo and 4GB ram as part of this plan. Pricing ranges from $149 to $379/mo.
Aside from that, you can get the following:
1TB HDD
100% uptime
Root access
DDOS protection
Unique IPv4 & IPv6 addresses
DreamHost only has a Linux OS, which developers may favor more. Even so, Is It WP says that DreamHost makes it easy for users to navigate and manage its built-in cPanel.
Website Builder Expert seems to lean towards HostGator or Bluehost for dedicated servers because the two websites provide more features than DreamHost.
3. A2 Hosting

For A2 Hosting, you have four options for Dedicated Server Hosting to choose from:
Unmanaged
Discount SSD
Managed Flex
Core Flex
An unmanaged server starts at $99.59, while their popular option, the Discount SSD Server starts at $129.30/mo.
Many users praise A2 Hosting for their service, but there have been reports of sudden account suspensions from those who have used the service.
4. Hostwinds

You can customize your Hostwinds dedicated hosting server based on your preferences. Their plans start at $75.00, and you can modify the following in your plan:
Server Drives
RAM
RAID
Operating System
Outbound Bandwidth
IP Addresses
That's a plus for developers because it allows for more flexibility. However, Blog Beginner finds that the dedicated server plans lack features.
5. Liquid Web

You have ten server options starting from $119/mo for a two-year plan on Liquid Web. You can also decide where you can choose the hosting server (For the US, it's in Michigan, Arizona, while in the EU, it's only in the Netherlands). Their most expensive hosting plan is $549.00.
Liquid Web recommends using the Intel Xeon 1230 server for high traffic and multiple websites. Customers can get the following features:
32 GB ram
Two 240 GB SSD
5 TB bandwidth
They've received mixed reviews from users saying they had issues contacting support and had downtime as well. However, most of the reviews from Host Advice suggests that A2 is a reliable and responsive host with great customer support.
6. GoDaddy

Aside from being a website builder, GoDaddy has been a hosting service since 1997. 
If you want to save up on a dedicated hosting service, the Economy plan is their most affordable for small businesses. Moving up from there, their dedicated server plan starts at $129.99/mo. For those with demanding hosting needs, Godaddy's $419.99/mo plan comes with a 256 GB ram and two 1 TB SSD. 
Other features included in the dedicated hosting server:
Bare metal server
RAID1
cPanel/WHM or Linux CentOS control panel
Hosting Advice says that GoDaddy is easy to use for beginners due to the speed and performance of their servers. They also have one of the best customer support in the industry.
7. GreenGeeks

Among the other dedicated hosting sites on this list, GreenGeeks prides itself as one of the eco-friendly options for hosting. They recommend going for a Standard Server that's $269/mo. Included in the plan are :
4GB memory,
2x 500 GB SATA Hard Drive
10,000 GB transfer
Their most expensive server plan (Pro Server) is at $439.
Customer service gets the most praise from their Dedicated Server users. Others that use GreenGeeks raved that they offer great value for what you're paying. However, similar to Liquid Web, server locations are limited. Web Hosting Secret Revealed mentioned there was a set-up fee that some hosting sites don't have.
8. InMotion

You have only two options for InMotion. The Bare Metal Dedicated Server starts at $75.69/mo, making it one of the most affordable options on this list. However, InMotion suggests that it's for administrators and developers. For small business owners, you can purchase the Managed Dedicated Server for $115.69/mo.
InMotion recommends the Advanced plan priced at $176.59/mo. For those with more to spare, you can opt for the CC-2000 server priced at $529.49/mo.
Benefits of Inmotion's Dedicated plans:
Data transfer
Free IPs
Choice of data transfer (not available for the Essential Plan)
Support earns much praise from Inmotion users who left reviews in Host Advice. According to one customer, downtime is rare and that many software applications are available for the price. However, users find that InMotion features are lacking and that there's no Windows support.
9. Ionos

Ionos has eight plan offerings for its users. The recommended plan for customers for the SSD plan is the XL-32 SSD priced at $110/mo for three months. Meanwhile, for the HDD plan, they recommend the XL-32 SSD priced at $90/mo for three months as well.
For those plans, you'll get:
Unlimited traffic
Free domain
RAID 1
If you're opting for a cheaper plan, you can go for their A8i SSD or A8i HDD, the SSD is at $45/mo for six months, while the HDD is at $40/mo for six months. Reviewers and users alike like the pricing, and it's good value. That's why it's one of the top 10 dedicated hosting companies.
According to Tech Radar, even during testing, the server response is also performing well. However, they noted that it's configurations aren't up to par with other hosting companies. Some customers find that its interface isn't user-friendly too.
10. AccuWeb Hosting

AccuWeb Hosting has different offerings depending on the type of server you need and your region. The abundance of configurations is perfect for anyone looking to customize their hosting needs.
Accuweb offers the following options:
Classic
Advanced
Infrastructure
Storage
High-Availability
Game
For the US servers, the most affordable is the USA-Vint Hill plan, which starts at $90/mo. They do a breakdown of prices once you click on the order now button and see that the plan is priced at $150/mo. The price range for the classic USA servers is $105/mo to $150/mo, depending on your configuration.
Their most expensive plan for the USA servers is the Storage-74 server priced at $1120/mo.
According to PCMag, for their $360 plan, you can get 250 email accounts and have a Linux OS. Since there's also different pricing, many find that the hosting website is affordable. However, some customers noted that tech support could do a better job.

Best Home Workout Equipment You Need To Have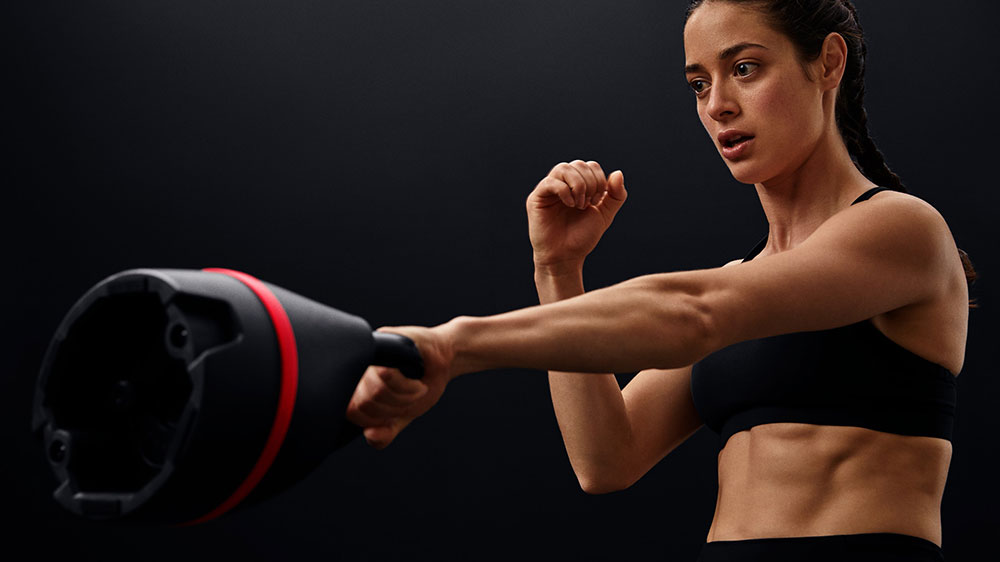 Are you searching for the best home workout equipment? We have a diverse list that's perfect for serious health buffs and for those who want to start an active lifestyle at home.
As of this writing, most people are still under shelter-in-place measures. And while it is tempting to just slack and spend the entire day on the couch, overdoing it can take a toll on your health. That is why you need to get up and workout.
Now, for some people, watching workout videos on YouTube is enough to keep them moving. But for others, they need home workout equipment to be inspired.
Best home workout equipment 2020
As we've said, we looked for different home workout equipment to give you an idea of how much each will cost you. Perhaps you want to splurge on an expensive trainer, or maybe you just want smaller equipment to test the waters first. So without further ado, here are the best home workout equipment for 2020.
1. NordicTrack X22i Incline Trainer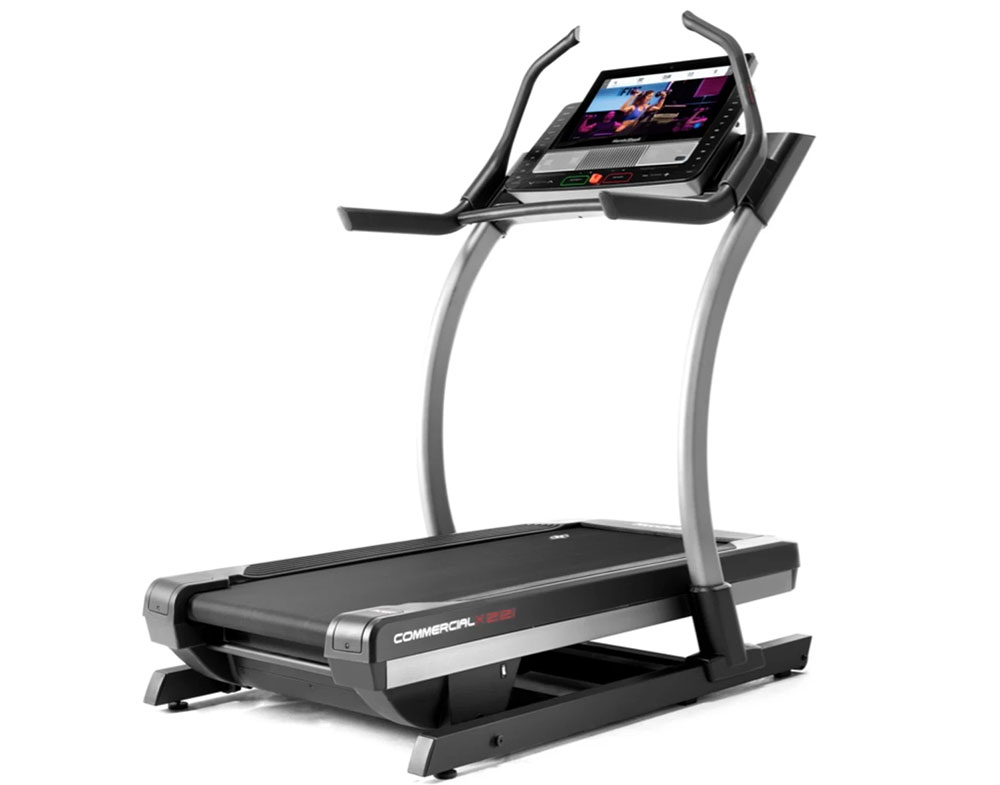 If you want to invest in home workout equipment, then you should consider getting Nordictrack X22i Incline Trainer.
NordicTrack's Incline trainer can support elite-level training. That means we shouldn't question its durability as it is made for intense workouts. But what made us fall in love with this is the wide touchscreen display. You can even connect it to Google street view and run or walk as if you are outdoors. The best part is that the incline will automatically adjust depending on the actual street.
Get yours for $2,500. This might seem a bit costly, but it's definitely worth it.
2. Ultimate Sandbag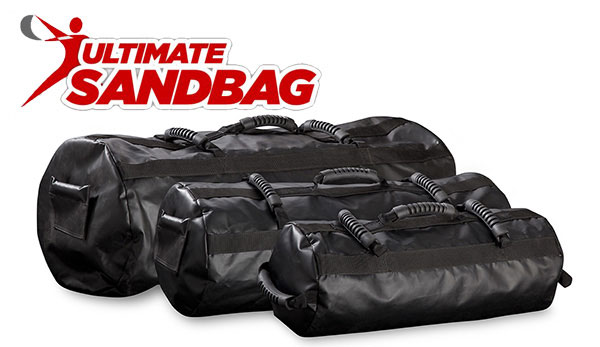 The Ultimate Sandbag was developed by Josh Henkin, a strength coach and sports performance leader. This workout equipment is ideal if you want to build your core, burn fats, and improve flexibility. By far, it is the most durable sandbag in the market. Thus, you don't have to worry about tears and scratches. Plus, it is waterproof (or sweatproof). 
Instead of doing your usual lunges and squats, how about adding a few pounds to make it more challenging? Be careful though. This isn't for the weak!
You can get your sandbag for $105, sand not included.
3.  Concept2 Model D Indoor Rowing Machine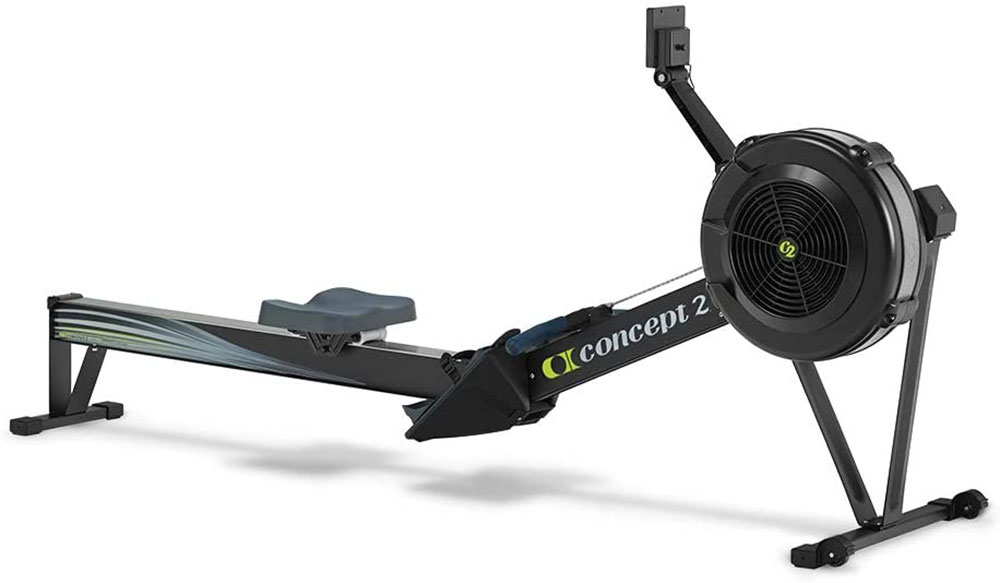 Some people are intimidated to use indoor rowing machines because it seems hard to assemble. The case is different from Concept2 Model D Indoor Rowing Machine. In fact, you can build the entire thing in less than 30 minutes. It also has ergonomic handles that support the natural rowing position.
In addition, there are games and workout programs that you can follow – making it stand out from the competition. And if you want to transfer your workout data, wireless connectivity is available. Just make sure that you maintain the equipment by regular oiling.
Have your own indoor rowing machine for $900.
4. MVN Resistance Bands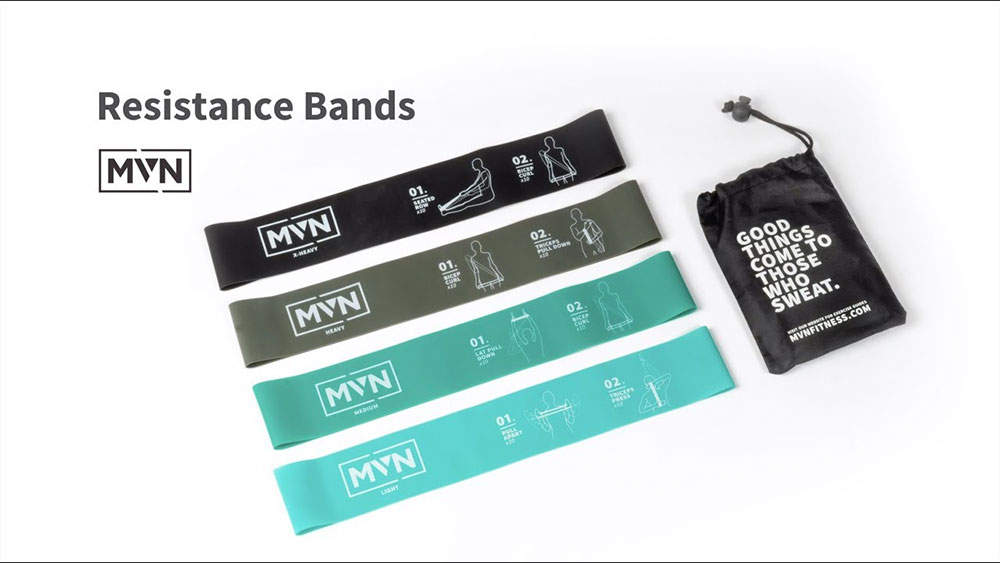 We love everything about MVN Resistance Bands. This is perfect if you want to stay active yet working on a strict budget. Plus, it's gentle on the body's hair and skin. This is a good feature as we've tried a bunch of resistance bands, and we ended up getting hurt.
But the best part of these bands is the actual exercises printed directly onto it. It's a simple feature that creates a lot of difference. One downside though is that other people think that the bands are too tight. But if you want to level up your workout routine, then it's all good.
Bring home your guided booty loops for only $14.99.
5. PowerBlock Adjustable Dumbbell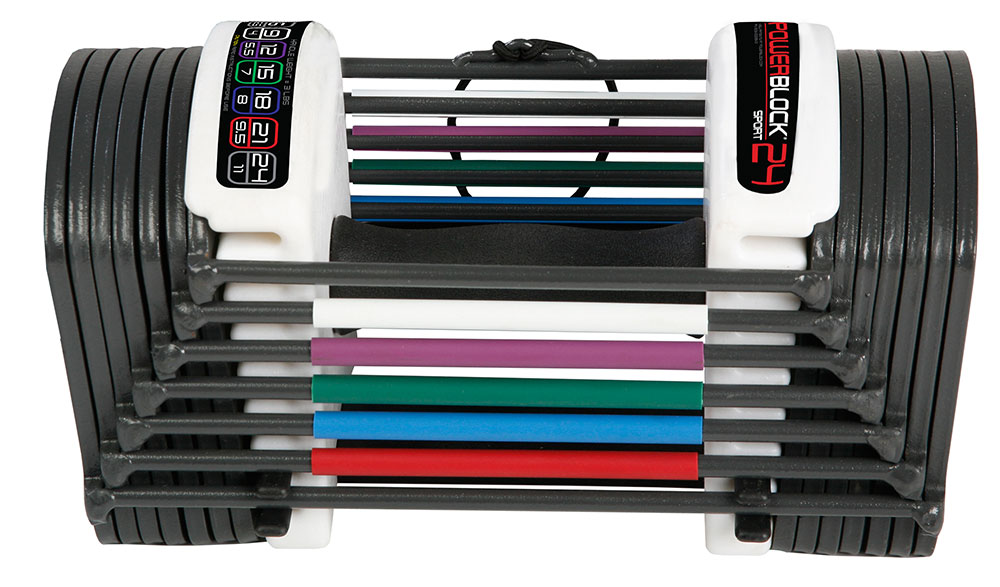 Adjustable dumbbells are perfect for people living in small spaces. As for the PowerBlock Adjustable Dumbell,  it has a strong build and you can adjust it from 5 to 90 pounds. The 5-year warranty is also a relief. It looks tough and scary but you'd be surprised that these are easy to use. Although it might take some time to be comfortable with it. 
For beginners, we recommend getting the Sports Series for $159.
6. Bowflex SelecTech Adjustable Kettlebell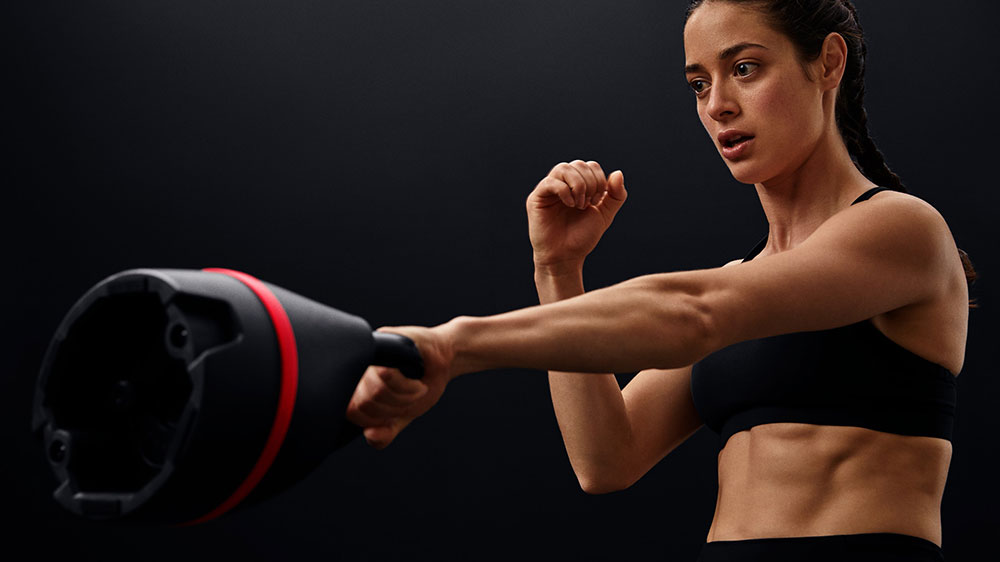 If you are not a fan of dumbbells, then kettlebell might be a better solution. And yet again, get something that can easily fit into your homes. That's the reason why Bowflex SelecTech Adjustable Kettlebell gets into our list.
The company is well-known for providing quality workout equipment, and you can expect nothing less from this kettlebell. It also has an ergonomic handle, perfect for amateurs and pros. 
The easy-to-use dial can adjust the weight from eight to 40 pounds in a snap! A two-year warranty is provided just in case it gets faulty overtime.
Enjoy your brand new kettlebell for $149.99.
7. Fitness Factor Adjustable Jump Rope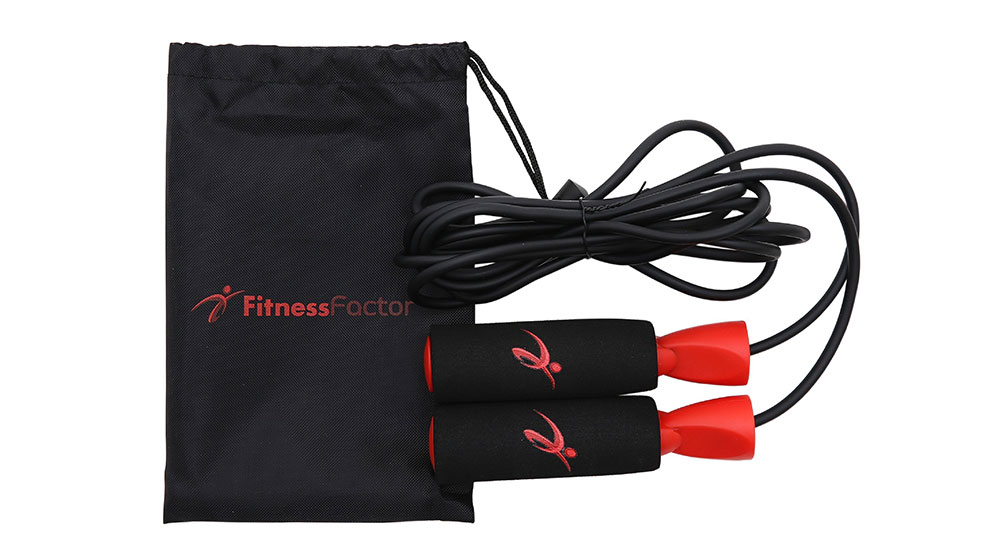 Are you looking for the best home workout equipment for cardio? If yes, then how about getting the Fitness Factor Adjustable Jump Rope? It's extremely light and you can carry it anywhere! The good thing about this jump rope is that it has ball bearings in its handles. These bearings allow the rope to spin freely and it avoids tangles – making you skip faster and safer.
Your height wouldn't matter because the rope is easy to adjust as well. A lifetime guarantee is also available for its owners.
The Fitness Factor Adjustable Jump Rope can be yours for only $19.95.
8. Lululemon Reversible Lightweight Travel Yoga Mat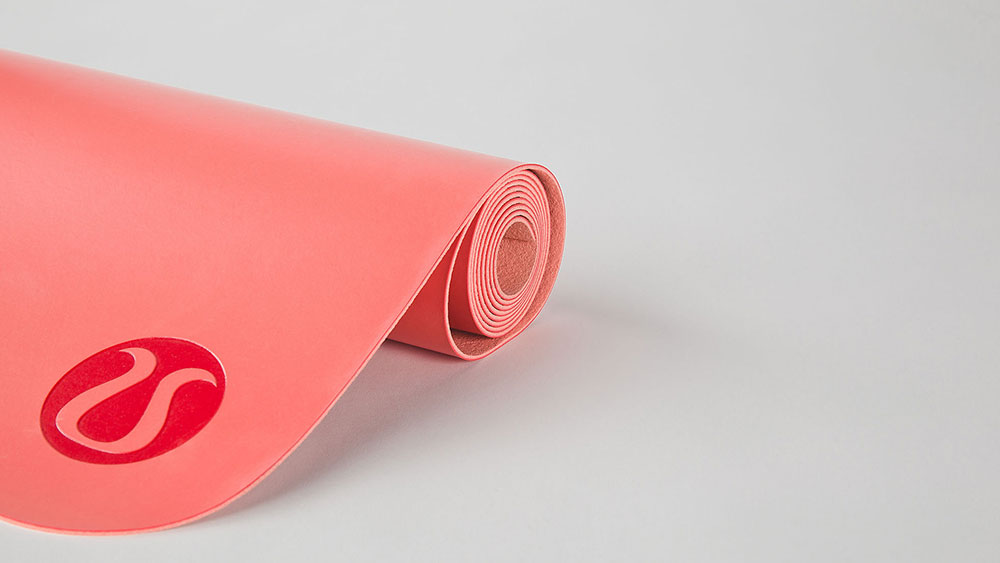 While this is specially made for traveling, it also works for home use as well. It is only 1.5mm thick and weighs just over two pounds. The strong rubber smell might turn you off at first. But don't worry because it will fade over time. Cleaning is also a breeze which is a huge factor for lazy people like us.
This yoga mat is available for $48. If you compare it with other yoga mats bearing the same features, this is one of the most affordable.
9. BOSU Balance Trainer Ball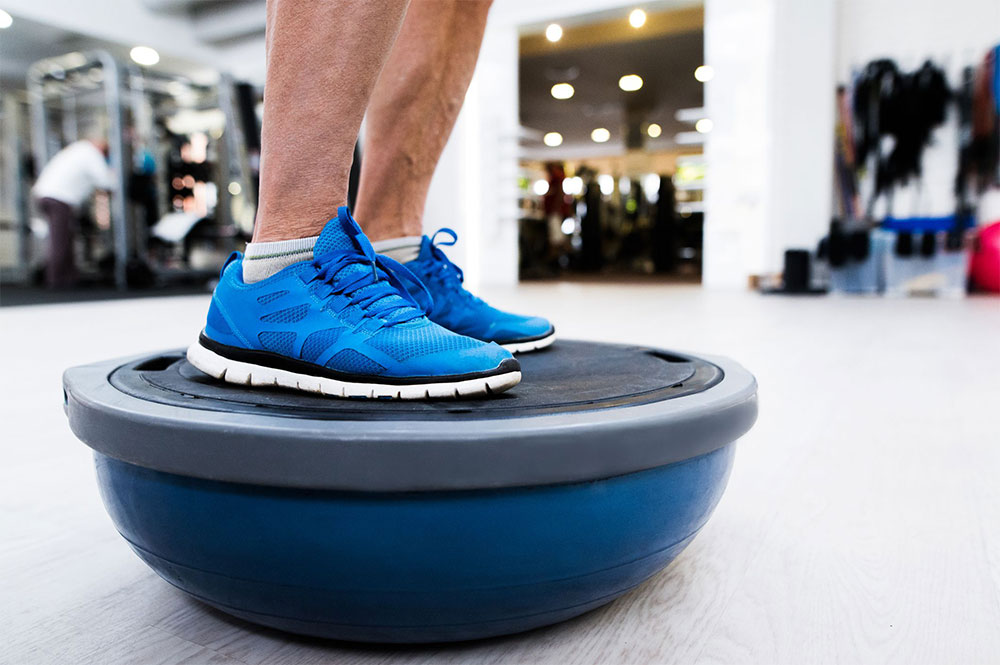 BOSU Balance Trainer Ball is basically for everyone as it can carry up to 300 lbs. The quality is superior to most trainer balls we used before. You can also download their workout guides so you can fully maximize the equipment. It's not surprising that it has been one of the most popular trainer balls for the last two decades.
If you want to start being active yet working on a tight budget, you can get the BOSU Balance Trainer Ball for only $109.98.
10. Prosource Fit Ankle Wrist Weights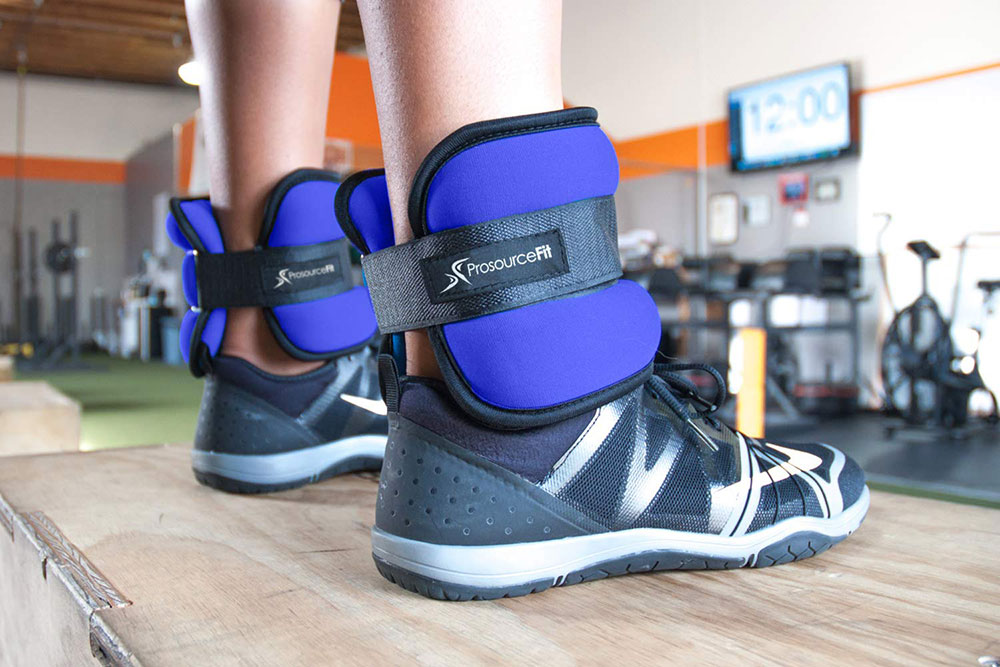 What we adore most about the ProSource Fit Ankle Wrist Weights is that it fits comfortably and you can easily adjust the straps. The design, in our opinion, is well thought out.
There are actually six colors available so you can match it with your daily outfit. The weights range from one to five pounds, depending on your capacity.
Improve your lifestyle by getting ankle and wrist weights for $9.99.
Conclusion
It doesn't matter what your budget is. There will always be a good home workout equipment for you. If you are just starting out, go with the most cost-efficient and simplest device. And once you get the hang of it, then you can invest for the more advanced equipment. What's important is that you take care of yourself by continuously being active. 
Top 10 Most Website Builders That Doesn't Suck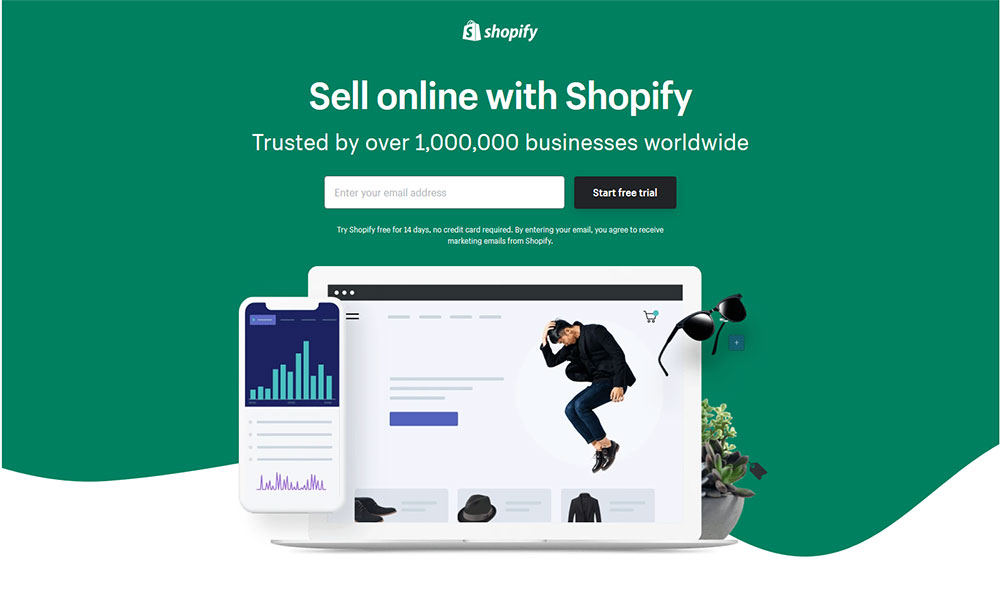 Create your own pages with the best website builders. There are hundreds to choose from but we've already selected the top 10 for you.
Years ago, only professionals that know how to use codes can create an effective website. It's a daunting skill that most of us would rather outsource. But as always, technology found a way to make website building easier for an average internet user. You don't have to learn codes (although it's still useful in some cases). And you can create your website in just a few minutes! All thanks to website builders.
Best Website Builders 2020
Before creating this list, we asked our team of website developers and designers to assess each website builder. Likewise, non-website builders from our group were also tasked to create simple pages. This approach allowed us to gauge each website builder based on its features and ease-of-use.
1. Webflow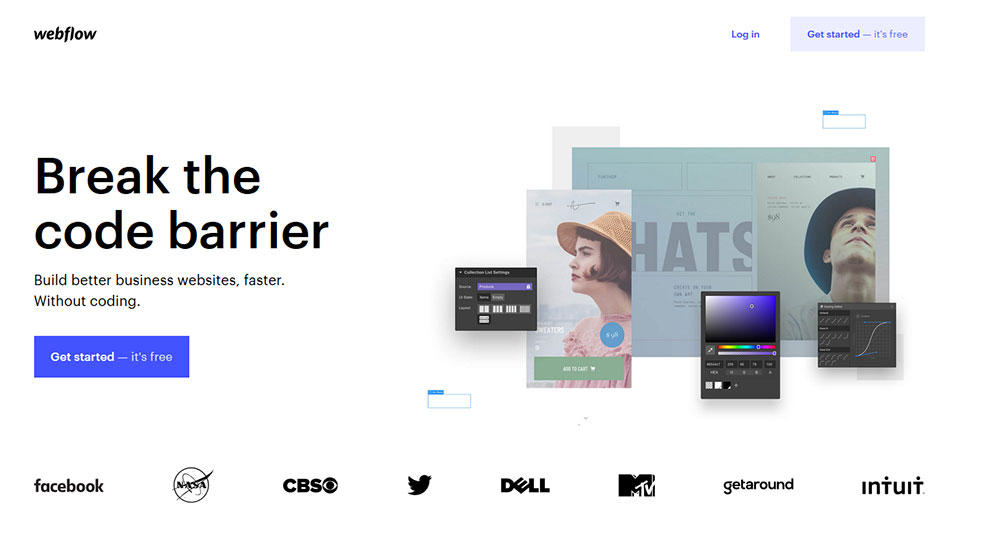 Webflow is a website builder that's perfect for both amateurs and professionals. It allows you to create websites without using codes, yet you can still customize it depending on your needs. You will also find their templates useful so you don't have to start your web design from scratch.
When we tested it out, our group didn't have problems onboarding the platform. The instructions are straightforward and you can build right then and there. But just in case you need some help, their tutorial is tailored-fit for first-timers.
Webflow has this 'Box Model'. It's a process where you think of your elements as boxes. Generally, you have your image boxes, text boxes, and button boxes which you can overlay to get that web design you want.
If there is one improvement that we are looking forward to, that would be their personal support. Yes, tutorials are available, but of course, there are questions that are best answered by an actual support team. Webflow's pricing starts at $35 per month.
2. Carrd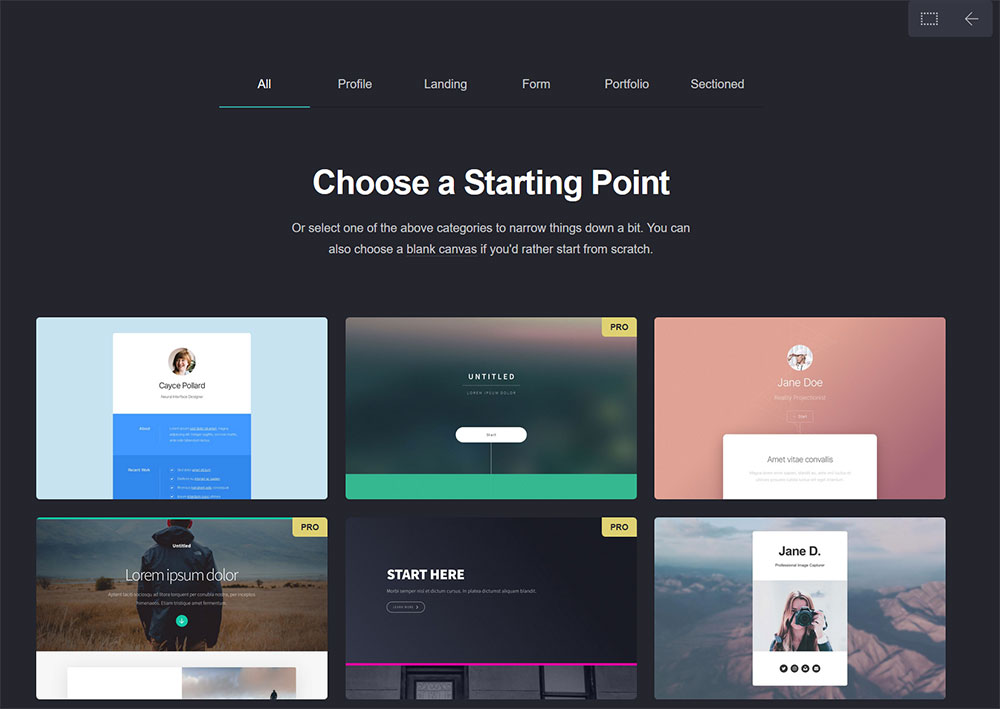 Carrd might be an underdog in the world of website builders, but it sure does a great job. Aside from being user-friendly, the web pages you create from it will load fast. That's a huge point for them. As for the templates, these are nothing short of amazing. Just some tweaks and you're all set to go.
We also timed our test, from signing in until we created a live page. Surprisingly, it took us less than an hour.
However, this might not sit well for pros and for e-commerce content. Nevertheless, for a price of $19 per year for their Pro Lite package, this has got to be the cheapest in the market today. Yes, the cost is per year and it isn't a typo.
3. Wix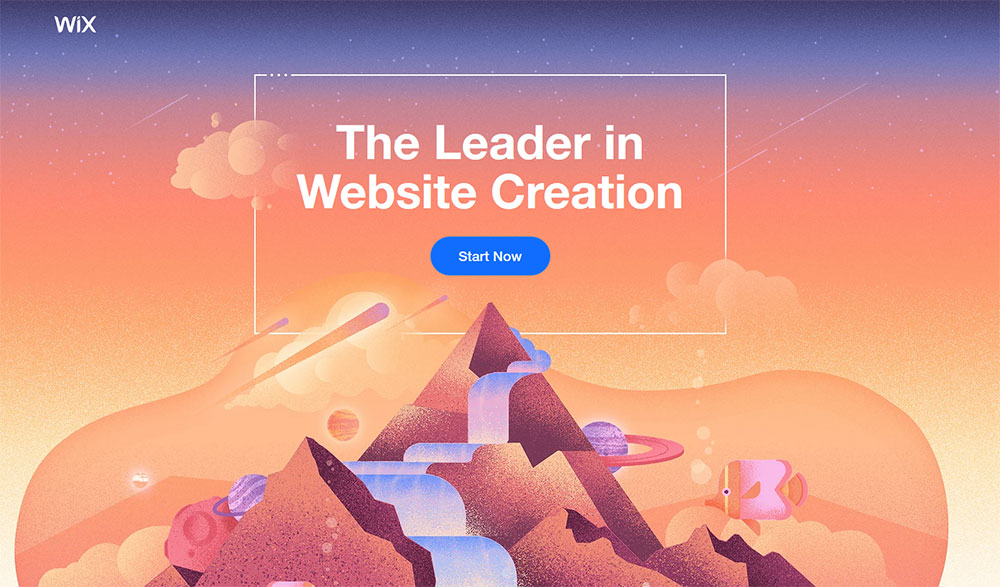 Wix is probably one of the most popular website builders in the list – thanks to their aggressive marketing. But is Wix worth the rave?
It actually is. To date, there are more than 180M users around the globe and that's a testimony that Wix works. It's easy to use, yet customizable. In fact, your professional web designers will enjoy it too.
Wix design options are commendable as well. They have a huge library where you can find awesome templates that can instantly give your website that professional look.
Lastly, they have a reliable support team that can answer your concerns, the soonest possible time. Wix has several plans to choose from and starts at $24.50 per month.
4. Squarespace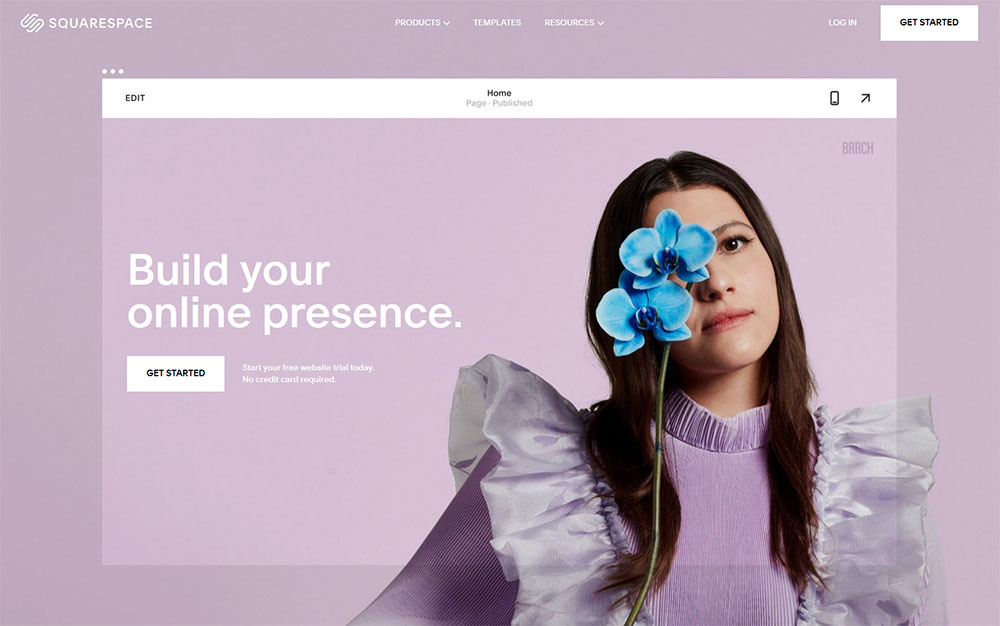 Included in our best website builders list is Squarespace. This is the right platform if your priority is the visual appearance. Their templates are carefully designed. The main challenge is actually choosing one (because everything seems to be perfect).
If this is your first time to design a website, Squarespace will not intimidate you. Just drag and drop elements, and you are all set. It doesn't matter if you are building a website for your online store, a non-profit organization, travel, or photography blog. This website builder will surely have something for you.
There is no blank canvas though. But that's not enough for us to dislike it. You can start with their Personal plan for only $12 per month.
5. Duda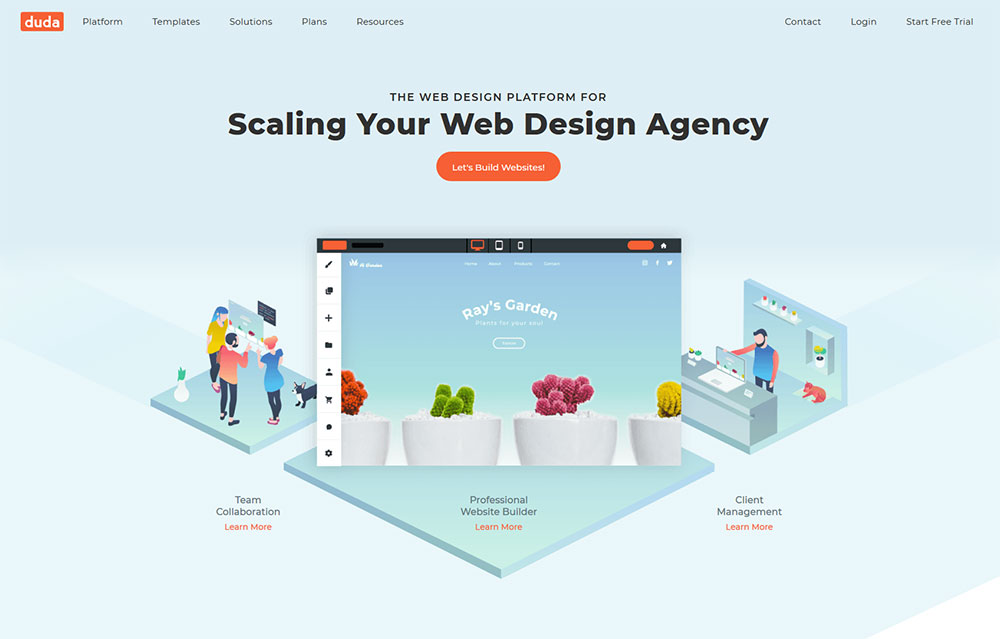 Duda has everything you need for a good website builder plus more. Apart from being user-friendly and having cool templates, it also has a feature where you and your team can easily collaborate. The platform allows you to leave comments on the design and this makes the entire process faster.
One of the downsides of choosing Duda is that their plans are quite costly. Getting their least expensive package for $14 per month is too restricted in our opinion.
6. GoDaddy

Another website builder that has taken the world by storm is GoDaddy. We've already used this platform a couple of years ago, and we have to say that there were a lot of improvements. The designs are now modern, and there are SEO and marketing features that are obviously essential for your website's success.
Quite frankly, most website builders will promise you the same thing – that you can build a website right away. The same is also true with GoDaddy. But what sets it apart is its customer service. They have 24/7 support through phone, email, and ticketing systems. So basically, it doesn't matter where you are. If ever you have trouble with your website, just reach out to them and get answers fast. However, if you are looking for a website builder that allows more creative and design freedom, this might not be the best choice.
You can get a package for $10 a month.
7. Ucraft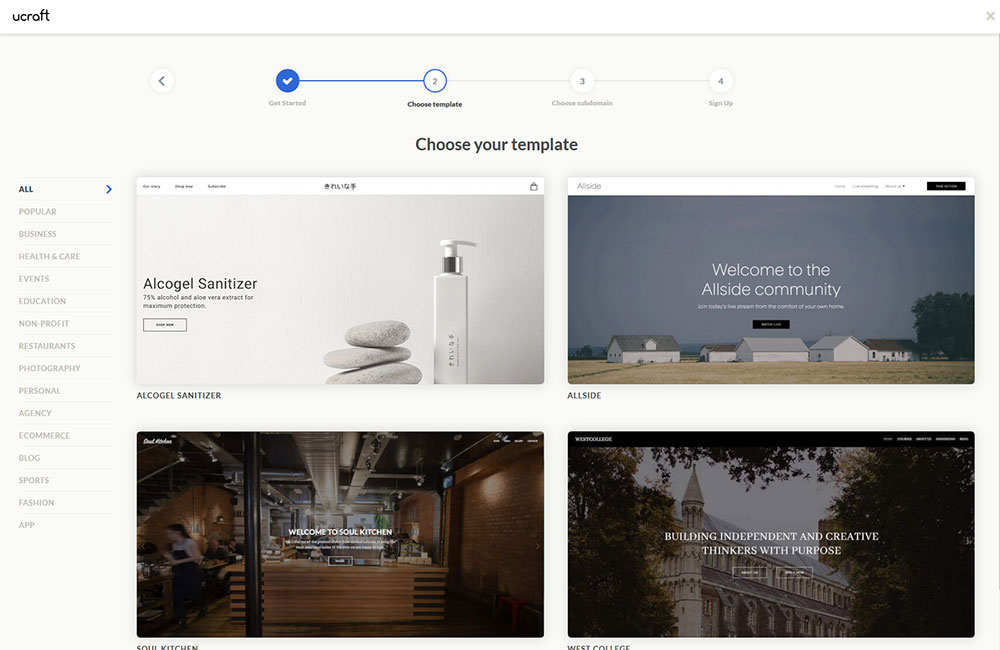 Ucraft isn't one of the biggest players in the market, but it still deserves to be on our list of the best website builders. You can create your blog, business website, or e-commerce page from this platform. As for the ease-of-use, we have to say that it can be a bit challenging as you cannot move the 'ready-made blocks' around your template. It's as if there is a pre-determined space allotted for these.
What we enjoyed though is the free logo maker. This is ideal for a startup company that has yet to create their brand identity. Their Pro package is $10 per month.
8. Shopify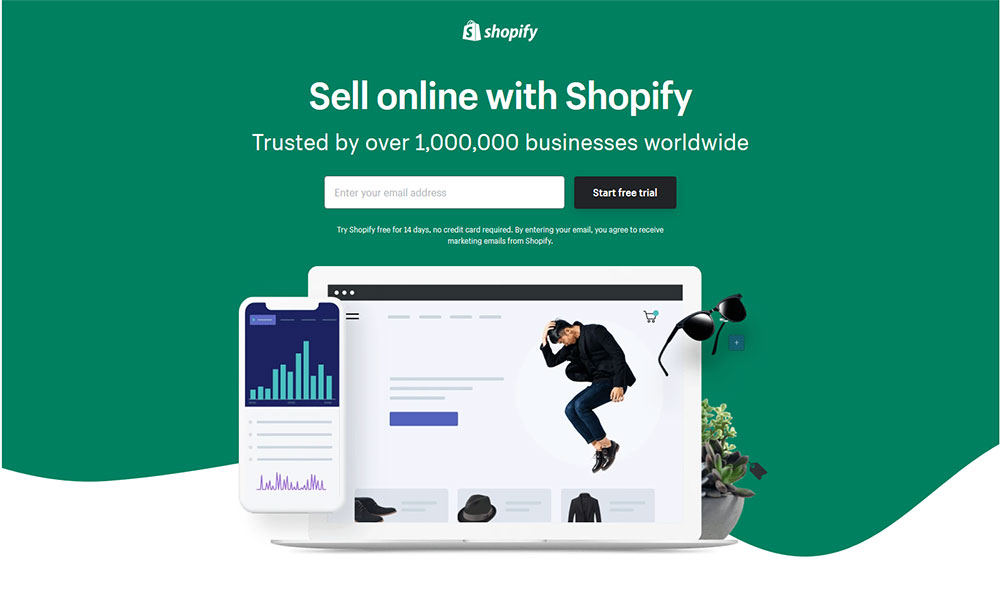 If you are building an online store, then we could not recommend anything better than Shopify. And right now, it powers more than 800,000 businesses around the world. They have an amazing inventory, tracking, and shipping tools.
This is ideal even if you don't have an idea about e-commerce design. Everything you need is here. They even have their own payment gateway. The interface is simple and clear so you can start building your online empire whenever you want to.
The Basic Shopify Plan is $29 per month. But as you grow your business, we encourage you to get their higher tiered packages.
9. Weebly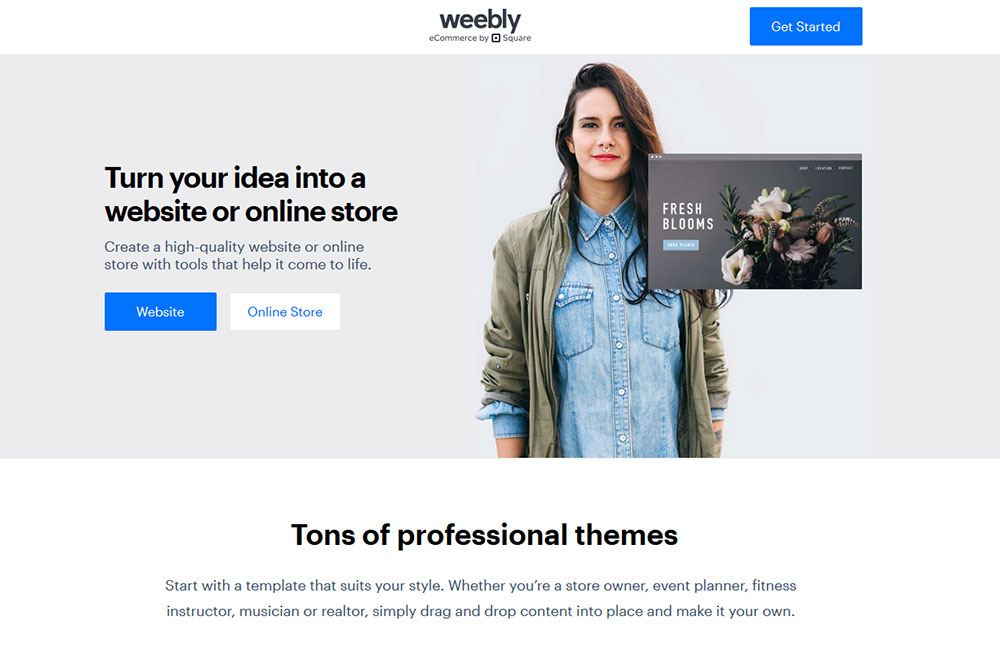 We cannot really say that Weebly is the best website builder. In fact, back in the days, you will find reviews mocking their templates for being below average. They took it to the core and made changes. And we are happy to say, it's all good now. If they continue making improvements, we will not be surprised if it will get a bigger portion of the market soon.
As of the moment, we can recommend it for small businesses only. You can add advanced site tools if you want. It's versatile enough not just for beginners but also for pros in web designing. 
Their Professional package starts at $12 if you subscribe for one year.
10. Webnode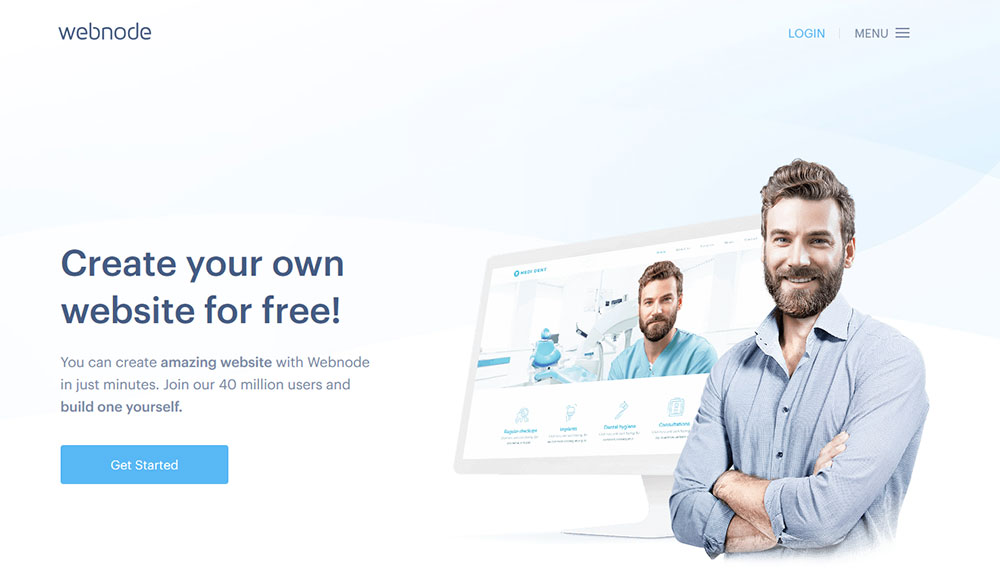 Lastly, we have Webnode, a website builder that supports more than 20 languages. This means you can create a multilingual website. That's precisely the reason they now have more than 40M registered users. And let's not forget, it is also great for SEO.
Just recently, they made improvements to their editor and shopping cart features. Nothing's wrong with the old ones. But seeing that they are proactive in making changes, that's already a good sign on how they will handle future requirements. As of the moment, this is not the ideal choice for e-commerce websites.
If you want a professional and bilingual website, you can choose their Standard package for only $11.95 per month.
Conclusion
Having a website now brings added value to your business and organization. There's no reason for you not to have one given the best website builders out there. A quick reminder though. Don't forget to look at the package's inclusions. The cheapest one might be too restricted and it would be more practical to get the higher plans. So take your time in understanding the features and then start building your website.
10 Design Pickle Alternatives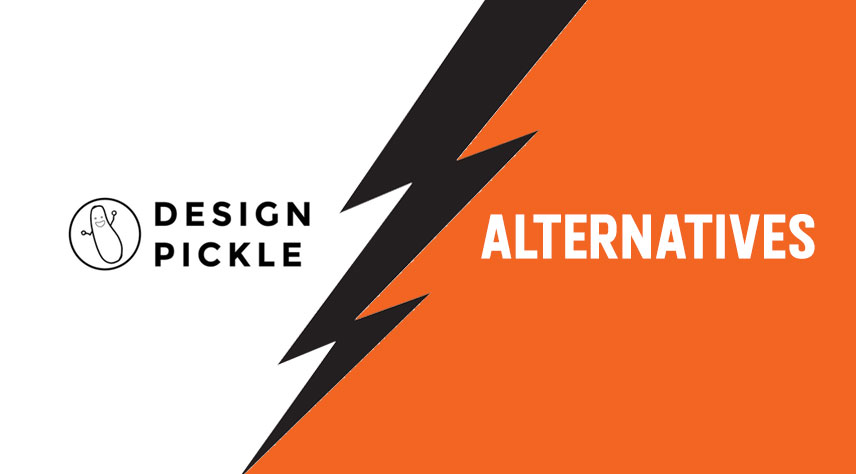 Looking for a Design Pickle alternative to try out? Unlimited graphic design subscription services have become a popular choice in recent years. The model is simple, you pay a flat monthly rate every month and get access to unlimited graphic design help. It's a great option for companies that have consistent design needs, but don't have the budget to pay for an in-house designer or the time to manage freelancers.
That being said, we went ahead and ranked some of the top unlimited graphic design companies in the industry. You can see the full list here.
If you're looking for a design pickle alternative, we put together a complete list of the top 15 companies to put your money on.
1. Penji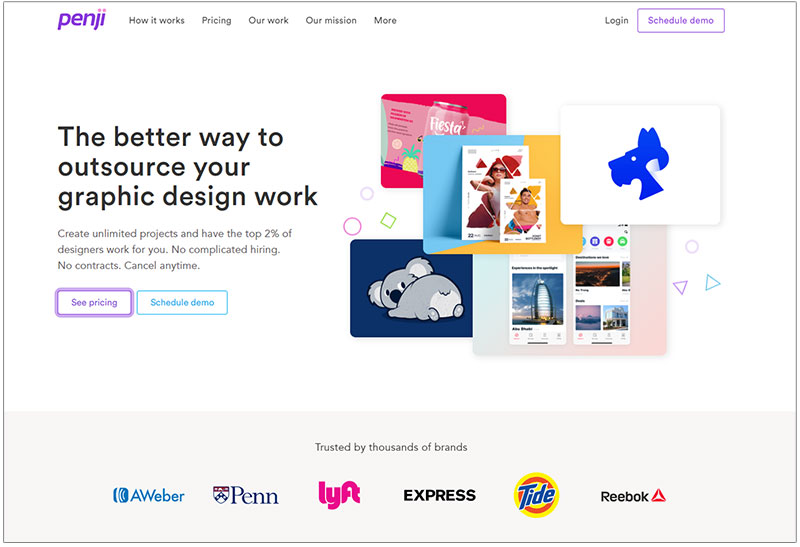 The first company on the list probably won't surprise most people. Penji is one of the biggest unlimited graphic design providers in the industry and has consistently received positive praise from the community. For a Design Pickle alternative, Penji offers a lot more for less. We signed up for both companies and did a complete breakdown and comparison of Design Pickle vs Penji. Check out the article to see how they both stack against each other.
Why we recommend: Great customer support. Highly skilled designers. Offers logo designs, illustrations, and UX/UI.
Price: $369 – $899/m
2. Design Doctor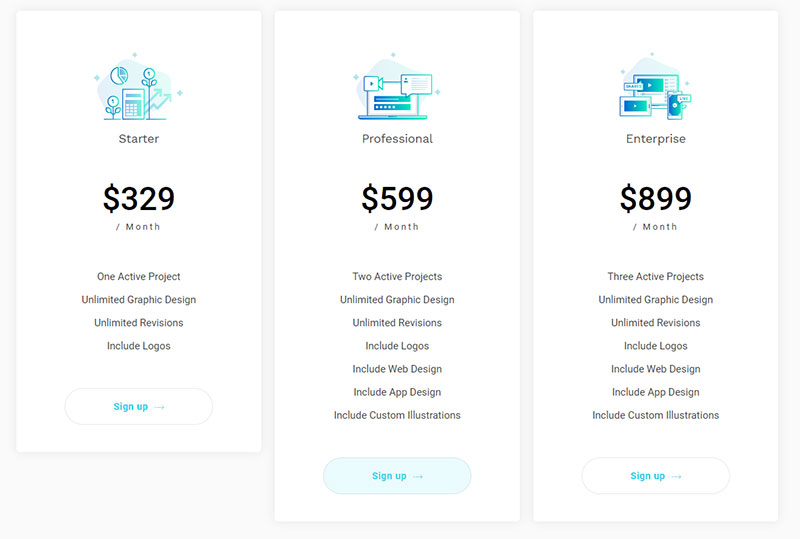 Another Design Pickle alternative that's been making waves is Design Doctor. The company offers the same perks and benefits as both Design Pickle and Penji, except it tends to have more competitive pricing.
Why we recommend: Competitive pricing. Skilled designers. The company offers a wide variety of design choices.
Price: $349 – $699/m
3. Lead Pixels
Leadpixel is a high-end competitor to Design Pickle. Their plans start higher than just about everyone on this list, however, they offer significantly better service given that their main workforce seems to be from the USA and Canada.
Why we recommend: Top level designers, however at a premium price.
Price: $1499 – $4999/m
4. Kapa99

Kapa99 is another Design Pickle alternative making the list largely due to their ability to consistently produce quality designs. One drawback of Kapa99 is that they're one of the few companies on this list that uses Trello in order to manage projects. If you're familiar with Trello, Asana, Jira, and other similar online project management software, then you'll be fine. If not, they may not be the best fit for you.
5. Manypixels

Manypixels is a newcomer in the unlimited graphic design space and also offers a similar service to Design Pickle at a comparable price. One interesting benefit is that the company can also design 2-3 second gif images. This can be useful if the animated gif is something you frequently need for your social media campaign.
6. Kimp

One of the more interestingly branded Design Pickle alternatives on the list is Kimp. Their mascot is a monkey. Kimp offers unlimited graphic design, however, their team model is interesting. They claim to offer a project manager and 3 designers to work with you. However, similar to Kapa99, Kimp also utilizes Trello for managing projects, which also means they share the same complexity if you're not familiar with the platform.
7. Dark Roast

Dark Roast is also a new name in the unlimited graphic design space from Canada. The company charges significantly more than most other companies on the list except for Lead Pixel. At $949 per month, it's an expensive subscription. Their portfolio looks great and Dark Roast features their own proprietary platform for you to submit and manage projects. One possible downside is where the designers are from. We couldn't find much information on this, however, at a premium price, it would be ideal if their staff are from either the USA or Canada.
8. Delesign

Delesign have been around since 2017 according to their website. The graphic design provider offers some of the best value for $399/m. For the same price as many others on the list, Delesign also offers 2D animation videos. We're not sure of the quality, length, or requirements, but this is still a great bonus to have. Unlike their competitors on this list, Delesign doesn't offer a higher-tier for their graphic design offering. Their highest tier is the $399 that includes graphic design AND 2D videos.
9. Limitless Design

Quite possibly the cheapest one on the list, but with one caveat. Limitless Design's base price is just $179/m, but you only get 4 graphic design requests per month instead of unlimited. This may be a great value if that's all you usually need anyway. Their truly unlimited design plan costs $299, which is the cheapest on the list.
10. Tucan Go

Founders of unlimited graphic design companies tend to favor bizarre names. We've seen Kimp, Unicorn, and now a Tucan. Whatever the reason is, the company touts its environmental impact and offers a wide selection of services in addition to graphic design.
Tucan Go also offers marketing, web development, photography & video, and even hosting. They are NOT all a part of one plan by the way. Each service has its own pricing structure and treated as independent memberships. So you'll need multiple subscriptions if you want more than just their unlimited graphic design offering.