Scooterboard Founder Rose Wang Reached Kickstarter Funding In Less Than 48 Hours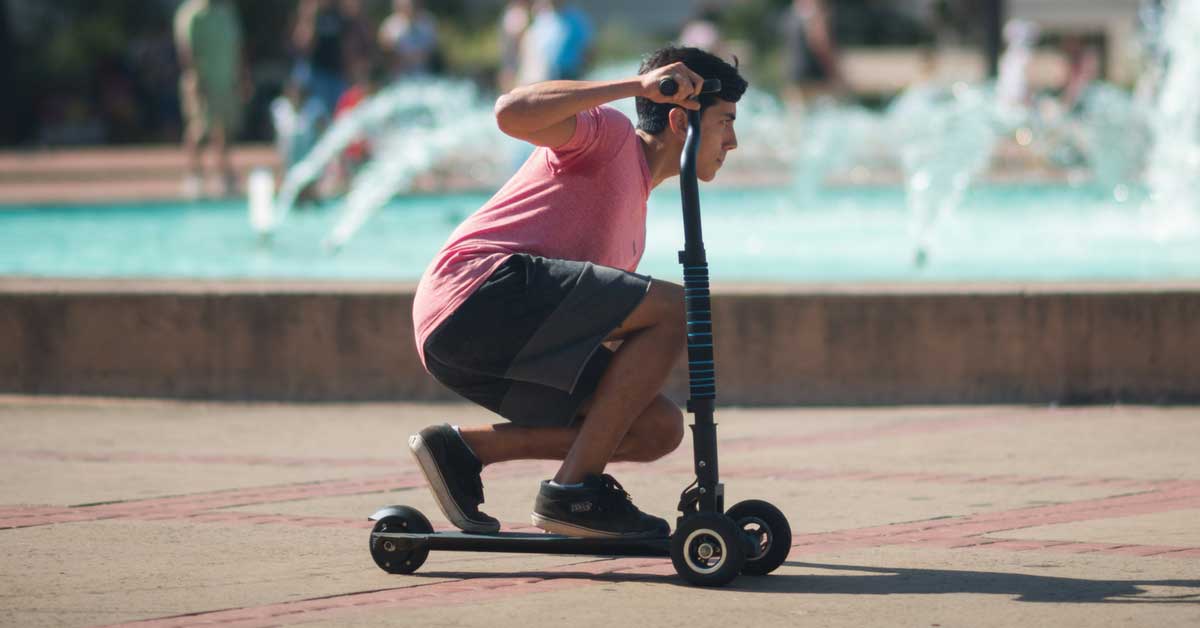 Rose Wang is the Founder and CEO of Scooterboard by InMotion, an electric vehicle that fuses the electric scooter with a skateboard. Her team in San Diego includes Dr. David Hall, PhD - Engineer and Jeffery Will - Experience Manager, and an international team in China. Rose Wang looked to Kickstarter for funding and reached their $25,000 goal in less than 48 hours. What's great about this particular campaign is that the Scooterboard ships 45 days after the Kickstarter ends. Because of the work that Rose Wang and her team already put into Scooterboard, there will be no wait time for development and testing.

Rose Wang designed the Scooterboard so that just about anyone can ride it. The Scooterboard has a three wheeled base and a handle, ensuring maximum control when cruising. While riding, the feeling is similar to snowboarding because of the axle at the base, allowing for smooth turns and a unique riding experience. Rose Wang loves the Scooterboard so much, she uses it daily. Her entrepreneurial journey has been an interesting one. From selling handmade paper dolls in daycare to creating an e-commerce store for Asian cosmetics, Rose Wang has dipped her toes in a little bit of everything. We had the opportunity to interview Rose Wang, as she revealed her roots as an entrepreneur and the process of how she developed Scooterboard.
Rose Wang, what is your background?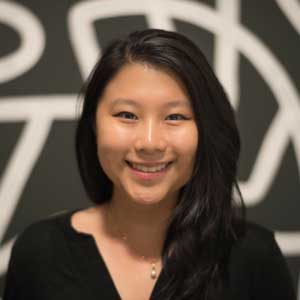 I'm an immigrant from China. I moved to the US when I was in the 3rd grade. Growing up, I had all sorts of aspirations in different fields, be it in law or engineering or art, but one trait that persisted has been my entrepreneurial spirit.When I first arrived in the US, my parents were pretty poor, and the area we lived in was underdeveloped. While I was in daycare, I loved to draw, and some of my peers loved my drawings. I came up with an idea to sell my drawings: I'd draw and color in my figures, cut them out and glue it on a popsicle stick, and sell it for 50 cents. My daycare loved it - my figures became their Barbies and Bratz, without the high price tag.As a high schooler, I became interested in Asian cosmetics because American cosmetics were not targeting my skin tone and features. I remember people on cosmetics forums complaining about the shipping fee from buying abroad, so I decided to start my own online shop where I would buy the cosmetics in bulk and distribute it to the western Hemisphere (I had customers in the U.S., Canada, and Australia), saving my customers the costly shipping fees.While I was in college at Dartmouth, I took a plant biology class because I went to a liberal arts college and I had to take a course in each discipline. What I took away from that class was the amazing ability of plants to alter our human makeup, for good and for bad. Namely, I learned about the astragalus root, which increases telomerase activity and prevents aging. Telomeres protect our DNA from mutation, and over time, they naturally become shorter, which causes DNA to be vulnerable to mutation and in turn leads to the downside of aging. After learning about this plant, I started a new venture with astragalus extracts in order to bring this cheap and sustainable anti-aging substance to the masses.After graduating with an Economics degree, I proceeded into the "real world" as a technology consultant, where I learned to maintain client relationships and lead a team of over 20 people within my first year. After that year, I switched over to become a software engineer, and I learned about quality control methods and development lifecycle. Overall, I have a background in many things, and they have all prepared me to start and grow my current business with Scooterboard.
Can you describe your team?
My international team is hard-working and ambitious. Our engineers have nearly 10 years of experience in the industry, having made other electric rideables that others depend on for daily commute. As a team, we want to create new products unlike anything else in the market, and we're agile enough to improve ourselves upon feedback. Criticism doesn't bring us down - it fuels us to be better. We all share the vision of creating a business model that is built upon our community, and we hope that, through crowdfunding to launch our brand, we will establish a community that is willing to give us the feedback and engagement we need to move our company and products forward.
Who are some influencers that tried it out and what did they think?
Shonduras was our first influencer to try it out and he absolutely loved it. He told me his 2-year-old loves riding it with him and that it's his new favorite!Ben Schmanke of AuthenTech also loved the experience as well. He told us the cutting and carving is effortless and feels like skateboard/snowboarding, which is awesome because that's the experience we were trying to design!We've also gotten feedback from Sean Hollister of CNET and Sean O'Kane of The Verge, and they were pretty positively surprised by the quality and experience. (O'Kane hasn't published his review yet though so hopefully that'll be posted this upcoming week)So far everyone who has tried it has loved it, and because it's a unique experience that's brand new to the market, it's really something you need to try yourself to believe it.
What was the process of creating the Scooterboard like?
The process of creating the Scooterboard was quite tedious, as we were creating a new, high-quality one-of-a-kind rideable. We started out with developing the components, such as the battery, the control module, the deck, the handle. We knew we wanted to create a light deck with the battery underneath, so we made sure to test each component thoroughly to make sure it would do what we need it to do. For example, we placed a huge block on top of the deck and dropped it from a height to make sure that the deck would hold its shape and protect the battery. To test the handle, we placed a weight at the top, and placed it in a horizontal vibration system to make sure the handle wouldn't bend, even with 24 hours of endless back-and-forth movement.Once we've made sure the components would be reliable, we start to assemble. After we assembled the rideable, we start a phase we call Angel testing, which consists of testing all the basic functionalities. And this is actually where we stopped with the first iteration because it did not encapsulate the experience we wanted. After much debate and consideration, we decided to scrap that first iteration and start over, rethinking the design and functionalities we wanted to provide to our users.After creating our latest iteration, we took it through component and Angel testing again, and once it passed Angel testing, we put it through Devil testing, where we tested for edge cases (trying different weights, inclines, temperatures) and even tried to break it (such as jumping off a vertical stage). Once we passed Devil testing, we sent it out for user testing. This is where we had real riders to try it out and give us feedback so we can learn how they will use the product and what they look for out of the experience, and we used their feedback to go back to the drawing board to brainstorm solutions. Once we come up with the solution, we go through the entire test cycle all over again. Testing throughout the process is extremely important for us because as we make changes, we need to continuously make sure the new component can be safely integrated with the rest of the product.We anticipate more feedback as this product is released to the public, and we hope to use the market feedback from our community to continue improving the Scooterboard.
What inspired you to create Scooterboard?
The inspiration came from us challenging ourselves to the create something that solved the problems untackled in the current market. When electric skateboards came out in 2012, there was a disruption in the transportation industry. People who had relied on cars before could now use personal transportation to get around. However, the people that were able to access this new mode of transportation were few - even experienced skateboarders may have trouble feeling safe commuting around with an electric skateboard. That's when our team took it upon ourselves to create a rideable that would cater to a greater audience.I think most people can agree in that skateboarding is cool, but not everyone has the time or risk-taking capacity to learn it, let alone an electric skateboard going at 20mph, at the mercy of a Bluetooth connection. And perhaps current e-board companies are okay with that, because they can charge an exclusive group of people an exorbitant amount for a motorized skateboard. For us, it became a mission: to disrupt the industry by creating an unique and accessible vehicle that is easy to learn and more affordable. With Scooterboard, we want to make the e-board culture more inclusive so that more people can participate in the electric vehicle movement. We want to challenge the e-board industry to innovate with inclusion in mind so it's not just a cliché. E-boarding is a fun and awesome experience that's good for the environment - why wouldn't we want get more people involved?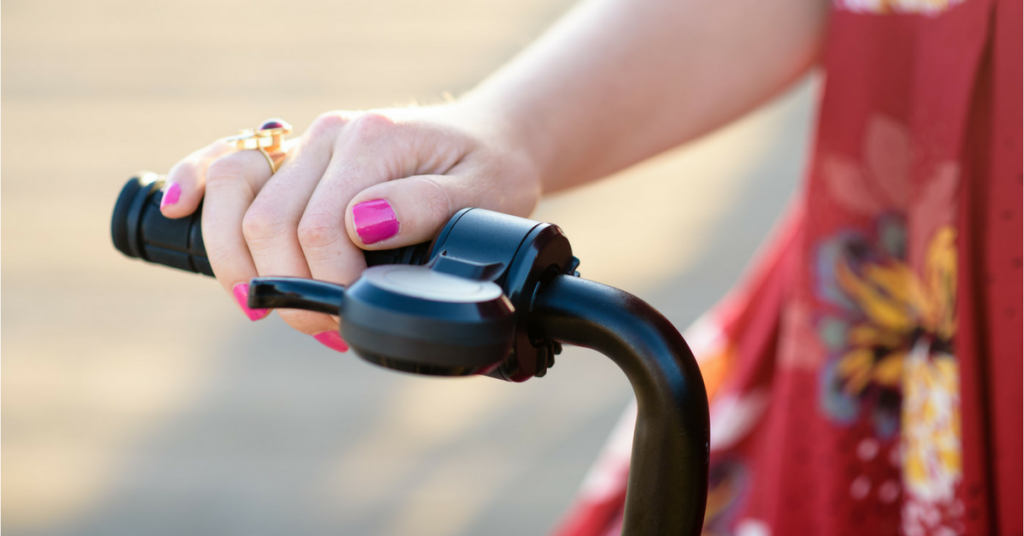 What were some characteristics you were looking for during the initial development?
During the initial development, we focused on creating a transporter vehicle that felt safe and modern, in line with the trend of other electric vehicles at the time but giving a new spin. What we came up with was a futuristic vehicle that relied on the pushing and pulling of the handle to accelerate and slow. It looked very cool, but the experience was not exciting. So we scrapped it and started anew, focusing on the skateboarding experience. We wanted to capture the carving of a skateboard, where the rider leans his or her body to guide the direction, so we came up with the pivoting front truck. We wanted to make sure the rider can maintain stability and balance, so we created the handlebar with a curve to ensure the hand holding onto the handle would be centered. We created the control module to allow the user to single-handedly control the acceleration, braking, and direction of the Scooterboard.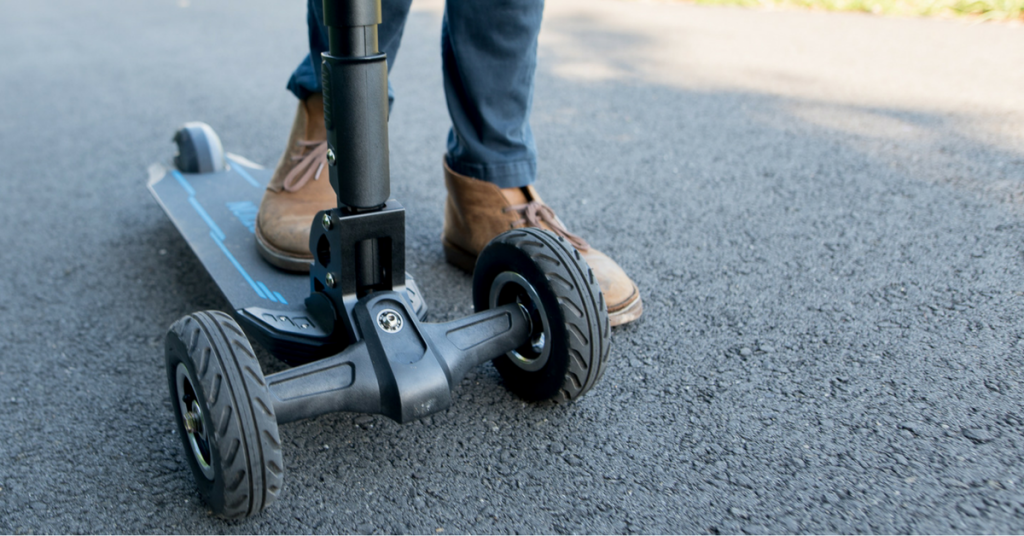 What makes a Scooterboard different from other motorized skateboards and scooters?
Scooterboard is a brand new category, as it is unlike any other rideables out there. There is no skateboard with a handle and there is no scooter that rides like Scooterboard. Scooterboard breaks down the boundaries between a skateboard and a scooter, hence the name Scooterboard.
Do you use the Scooterboard in your everyday life?
Yes I do. I don't have one right now because we only have 10 prototypes total and we need to send them out to others for review and feedback, but once we get them back, I will go back to using it everyday.
Who do you think the Scooterboard customer is?
Because Scooterboard is aiming at breaking down barriers to a culture that had been mostly exclusive (in experience and in price), we hope that answer is: everyone! But of course, if we must be more targeted, I'd say it's for students, young professionals, and people who want to have fun without risking their safety. It's a virtuous cycle: As you ride the Scooterboard, you experience immediate improvements, which increases your confidence in yourself, which then reinforces your skills as you start to be more bold and take more risks in riding it.
When can we expect the official launch?
We will officially launch our website right after our crowdfunding campaign ends! Photos and video provided by Rose Wang and Scooterboard by InMotion.
Foot Cardigan Taking Socks One Step Further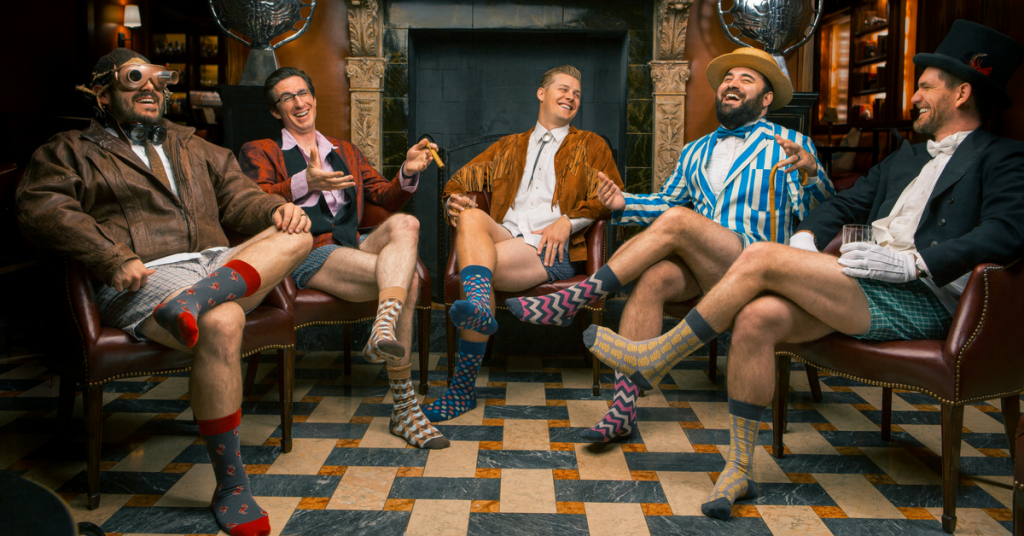 Seeing packages in the mail is probably one of the most underrated and exciting things that happen to us in our digital world. You may know them as the guys on Shark Tank that ripped off their pants.

Foot Cardigan

is a sock subscription that sends you random socks once a month. From holiday themed to socks covered in sushi, be sure to be surprised every time. Their fun, colorful

Instagram

feed is a small taste of what you will receive. We interviewed the founder of Foot Cardigan, Bryan Deluca, about how the company got to where they are today.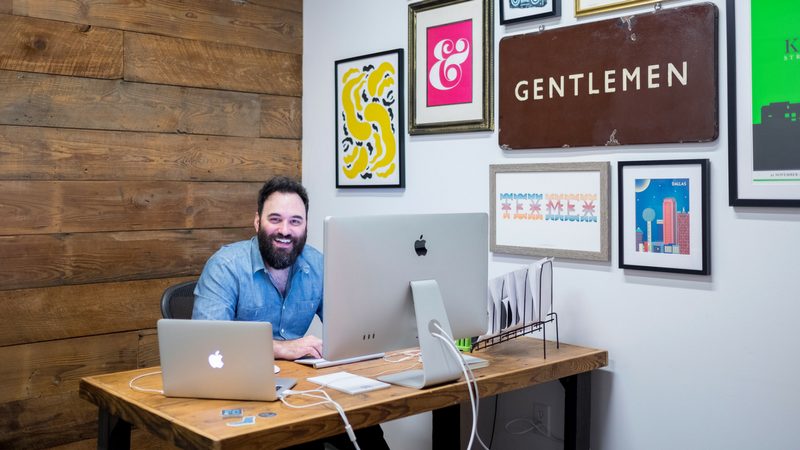 How did Foot Cardigan get started?
We fell in love with the subscription model after seeing that viral Dollar Shave Club video in 2012. Socks are a commodity so we knew we had a shot at having some success within the space if we came at it from a different angle, you know, like a subscription. Et voila!
Why socks?
The 'fun, crazy, fashion' sock trend was just getting going, so we kind of were at the right place at the right time. I had a little experience in sourcing so I was able to find our first factories and get that going. But I really loved the idea of taking this historically boring product, like a sock, and making buying/receiving it fun.
What makes your socks different from competitors?
Over the last four years, I think we've created our niche within the larger sock industry. Of course I think our product is as good or better than other brands out there, so when you're competing, you have to make sure there's just a quality standard there, or people won't buy your stuff. But beyond that, we've really separated ourselves with our design aesthetic. The words 'whimsical' and 'fun' are probably the most circulated within our design team. But really, it goes beyond the socks. It's the brand. The tone. It's unique to our industry.
Describe your subscription service.
Most people don't think about buying socks until they have to. They've got holes in their current ones, so now they've got to go to the store to buy new ones. It can be a hassle. But with Foot Cardigan, we give you something you need (socks), and we give you an experience you wouldn't expect for such an historically mundane product. You get a random pair of fun socks in your mailbox every month. You don't know what you're getting until you open the package. That's one of our customers' favorite things about us. We make the decision for them, and they get the surprise in their mailbox. No one gets fun mail anymore. And we're proof that people still crave it.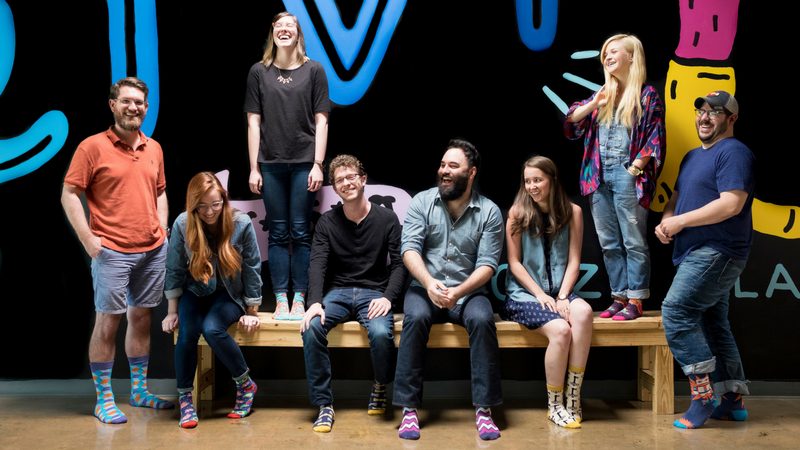 Tell me about your team.
It's really a privilege to work with them every day. They work really hard and are really smart. About half our team is operations and customer service and the other half is marketing/web. It's a good blend of creative people. When I say creative, I don't mean just the designers. We need every position to be creative, with how we respond to customers and how we ship out socks.
Describe your company culture.
It's pretty much exactly what you'd expect from us. Meaning, if you've been to our site or received our socks and you walked into our office, it would make complete sense to you. A lot of laughing. A lot of energy. Whimsical decor. Every person on our team is empowered to do their jobs. And they're encouraged if they make mistakes, because when we make mistakes, we learn and get better. We love taking risks. Sometimes they work and sometimes they don't. We give our team the freedom to think about how to do things better, without the fear of judgement. That matters.
How has being on Shark Tank and HSN affected your business?
The've both been really great. Both are experiences that you never expect to happen, but when they do, you're kind of like 'WHAT?!?! Did that just happen?' But yeah, our business greatly benefited from both experiences.
Do you plan on expanding your product line?
I'm so excited about this. Over the last four years, we've launched four products. In the next 12 months, we have plans to launch almost double that.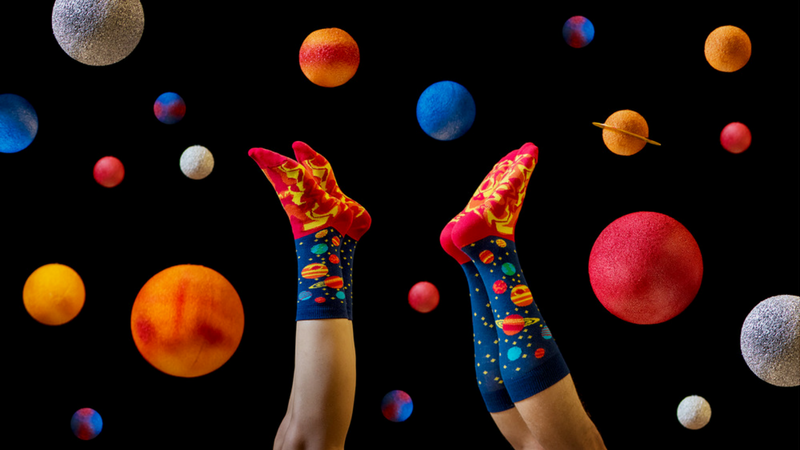 What inspires you?
My family. They are my rock. My three-year old doesn't care that I was on Shark Tank and she doesn't care if I had a challenging day at work. She just wants daddy to cuddle her and play Candy Land. That's really refreshing for me. I thrive off seeing my friends succeed. I have a lot of friends in different industries that are so damn good at what they do. When they have victories, we celebrate, and when they fail, we cry. Being around people who challenge themselves to be the best they can at what they do. That gets me every time.
What is the biggest lesson you've learned so far?
To soak in every single moment of this ride. I find moments every single day to be thankful. I often find myself saying 'I can't believe I GET to do this every day.' Because I'm not guaranteed this will last forever. So I'm going to enjoy it while I can. Tomorrow, the world could decide that socks are terrible inventions and we're going barefoot, and we'd be done. Unless we made socks that looked like people were barefoot....I'll be right back....
What are some obstacles you've come across?
Growth. While it's really exciting to be growing, it's also really challenging. 2/3 of our team have been here less than a year. We've had to create things like an organizational structure, training, etc. Navigating inventory management with our model can be tough, but we're getting there. Oh, and things like at the beginning when we had to figure out how to tell people to buy something that they didn't know was a thing. That was strange.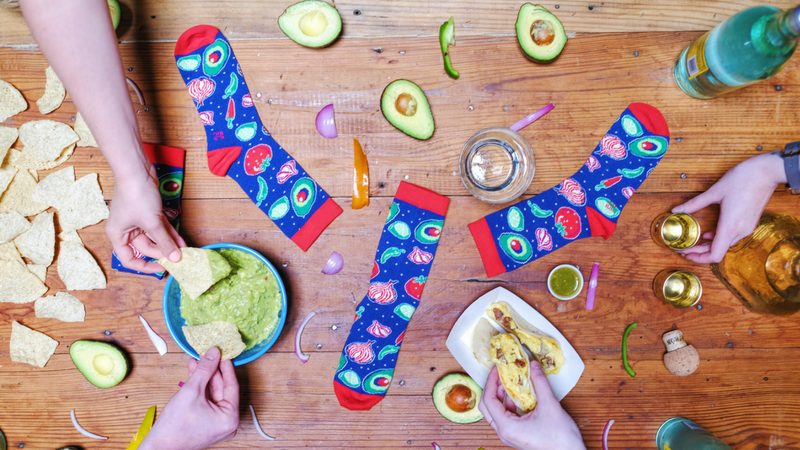 What was the proudest moment for Foot Cardigan?
It had to be the first customer who bought a subscription that none of the co-founders knew. We went ballistic over the fact that someone who wasn't obligated as a friend or family member bought a subscription because they just loved the product. I'll never forget that.
What is some advice you can give to someone building their own startup?
Get over that fear of failure. I see that the most from people. They work on their thing for a couple years and it never sees the light of day. No one will ever care about your thing as much as you do. We had the idea and launched in 2.5 months. It wasn't the best first site, but it sold sock subscriptions. We tweaked it from there. So yeah, just get your thing out into the world. Don't waste time and money building something people don't want. The sooner you push it out there, the sooner you'll know if it's going to work or not. That's invaluable.
Interview With Interior Designer Taylor Spellman, Host Of "Yours, Mine Or Ours"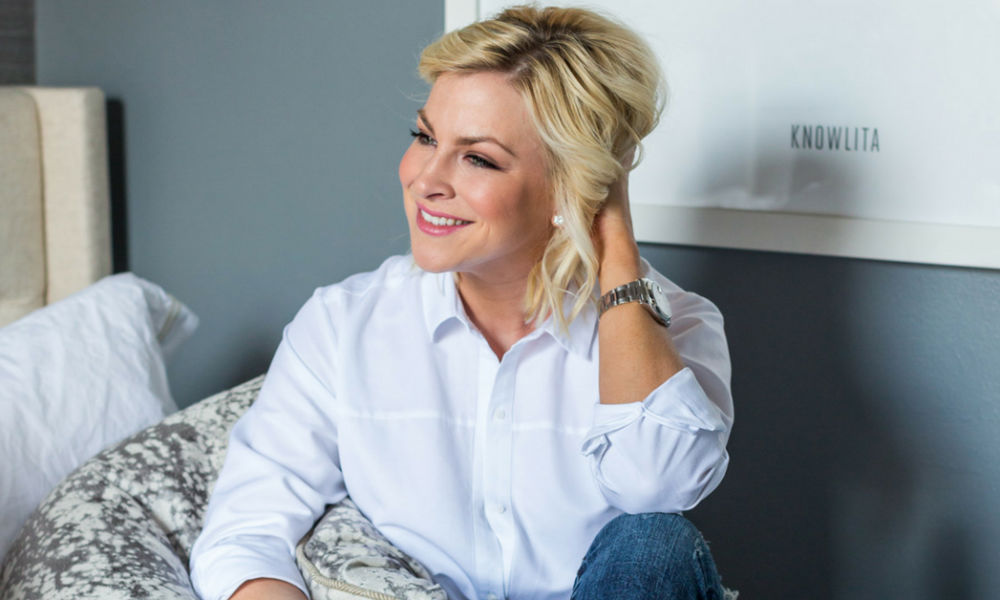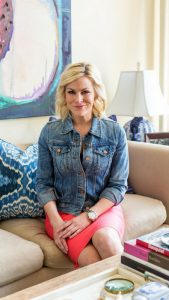 Transforming from dancer to interior designer, Taylor Spellman is as creative as they come. Taylor is a recognized interior designer and staging expert in New York with a portfolio of multi-million dollar clientele, including Ryan Serhant of BRAVO's "Million Dollar Listing." Her unique style of mixing high end with treasures from Goodwill has earned her a position as host of BRAVO series "Yours, Mine Or Ours" alongside real estate agent Reza Farahan. Her firm TSNY handles 30 million dollar's worth  of real estate daily. Because of this, Taylor Spellman manages the best team possible including Vice President, Lana Ataman, and Lead Designer, Jacqueline Leung.

Taylor Spellman works with finesse. Her sense of humor and bright personality shines through in her work and as a host for "Yours, Mine Or Ours." She takes care of her clients by personally taking the time to learn about their lifestyle and how interior design can elevate their lives. During the design process, she gets deep into the nitty gritty, overseeing each stage until completion. Her Instagram and Twitter is flooded with pictures of her projects and bits of advice for aspiring interior designers. Taylor Spellman talks to Owner's Mag about TSNY, design strategy, and being the host of "Million Dollar Listing".
How did you build a business around interior design?
I built a business around interior design by capitalizing on a niche in the market. When I started, no one was doing interior design just for bachelors. I felt strongly that it was strongly due to the fact that there wasn't a service being offered versus there being a need for it. I became known as doing interior design for men, and that gave me a competitive edge and people found out about me quicker, and ultimately word of mouth lead to more clients and a full blown firm.
What are some key factors you think about when designing a room?
How does this person really live?

How do you maximize the functionality of the space?

How do I bring my client's personality into the space to make it reflect who they are and make them feel very much at home?
When do you consider a room "done"?
Accessorizing. People often lay the groundwork but then stop after they have their coffee table, rug, and couch… but a layer of décor delivers the personal touch that make the home feel like you.
What is your average day to day like?
I would love to tell you that I get up and do yoga and relax, but in reality I hop up, get the biggest coffee possible and get going. It is a beautiful and hectic madness. I like to spend the majority of my day on-site with my clients and projects. Sometimes I'll be in a client's living room painting custom artwork, sometimes I'll be running around coordinating contractors and electricians to make sure everything is on point. I am extremely detail oriented so every single piece of the puzzle matters to me.
How has hosting a hit TV show influenced your lifestyle?
It's been interesting because I've been very hard at work for the past ten years, hustling, and trying to make a name for myself. And this show has definitely shifted things over the hill. Needless to say, I don't know that I'll ever get over getting recognized. That is something that will always be crazy to me.
What do you look for in a team?
First and foremost I think about work ethic. Is this person willing to work really hard and put in the hours, and be dedicated? Second I think about one's ability to think outside the box. Interior design and staging change by the second, and there's really no formula, so I need my team to be able to really think on their feet. And that's easier said than done.
What was the biggest challenge since starting your business?
My number one challenge has definitely been to 'stay the course'. There are so many things that come up that really make you truly believe you're on the wrong path, but if you have enough conviction, dedication and talent, then you just need to remember to stay on track and you will find success.
What is your favorite moment of 2016?
Watching the first episode of 'Yours, Mine or Ours' air. It was a very full circle moment for me, getting to see the fruit of my work come alive in a completely different format.
What are some tips you can give to aspiring interior designers?
Figure out what your unique selling point is. Is it your style, your personality? Is it your ability to make clients feel comfortable enough to use their own aesthetic in the place? Figure out what makes YOU unique and run like hell with it. Never stop.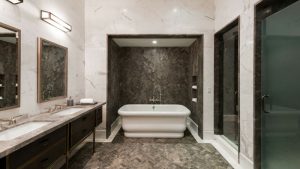 Move Over Detox Teas, Wise Ape Tea Is Here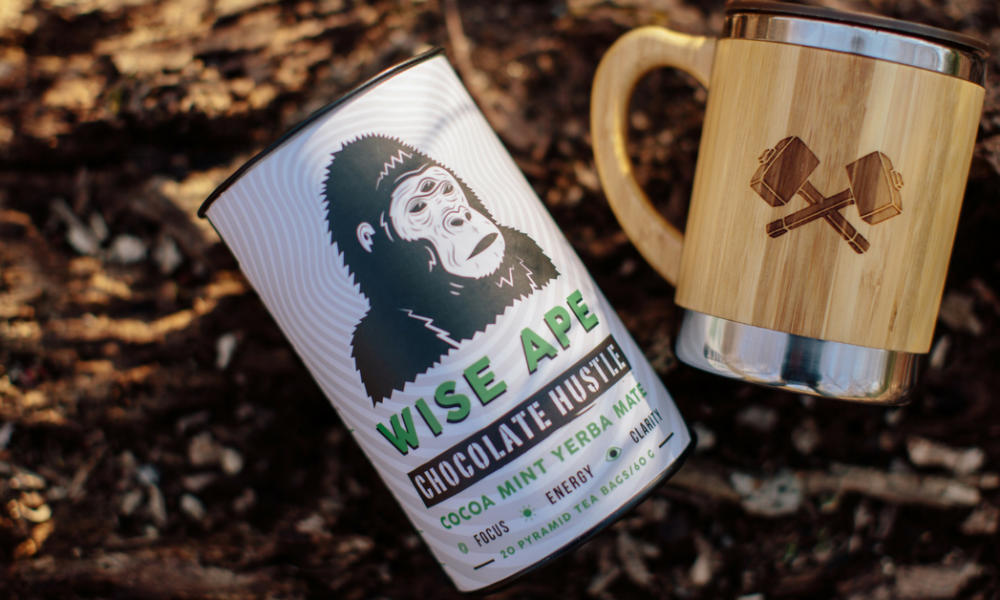 Tea is taking over Instagram. There's no escaping beautifully photographed Instagram influencers promoting their "detox" teas, promising a smaller waistline in just days. These teas use an ingredient called senna, which is a laxative that will dehydrate your body if used everyday. Though there is no hard proof that this is effective, however The Australian Medical Association says, "It causes electrolyte and fluid loss, as well as the loss of other nutrients needed by the heart and brain to function."  That doesn't sound healthy.

If you are looking for a healthy tea, Wise Ape Tea is perfect for you. Unlike those "detox" teas, Wise Ape Tea is made from a combination of specialty tea leaves with specialty herbs to create performance tea blends. Designed for your mind and body, the ingredients are 100% organic and natural. Instead of promoting a detox, Wise Ape Tea focuses on your well-being and a healthy lifestyle. We interviewed the founder, Joe Scola, who tells us about their mission and why their tea is unique.Use discount code "OWNERSMAG" for 10% off your entire order!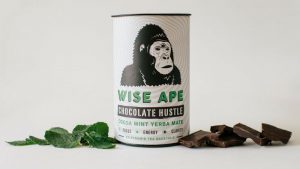 How did you get into tea?
I was previously the founder of a video-tech startup when my father was suddenly diagnosed with terminal brain cancer (GBM). I began researching herbs and alternative medicines which eventually led me to the health benefits of tea. My love and consumption of tea grew as I cared for my father over the last 14 months of his life. The universe had ultimately presented my new path and I had recognized that.
Can you describe your process of conception to production?
All of our blends start in-house. We design all natural performance tea blends by blending specialized herbs into our teas. I'll usually have a concept in mind or the type of effect we're looking for, and it always begins with tons of research. I'll typically isolate the all of the ingredients or herbs we might use in a blend and then taste them individually to get a sense of taste. From there we'll begin making custom in-house blends, tasting and testing until we get it close. Next, we work with our vendor to tweak that formula, going through dozens of iterations until we get it right.
What is your team like?
We've got a kick-ass team of bloggers who help research and create all of the amazing science-based blog content we publish in the "knowledge" section of our website. We have a biochemistry PhD in Philadelphia we work with to help vet all of our formulations from a scientific approach. In addition, we also have a consulting partner based in Seattle. And last but certainly not least, The Baboon is our rockstar designer who's truly helped to bring this vision to life from the early stages. He's a multi-talented creative who always shows up with a banana.I'd be remiss not to mention that we've recently partnered with the National Brain Tumor Society, who we've been working closely with for our first blend, Chocolate Hustle. They've got an incredible team of do-gooders over there as well.
What makes Wise Ape Tea different from others?
Each performance tea is designed with ingredients to serve a unique purpose. Beyond that I would say it's our mission and our brand. We're a lifestyle tea brand speaking to a younger demographic of tea drinkers. We're funky, unconventional, and have an altruistic movement at our core.
Who is the ideal Wise Ape Tea drinker?
People of all walks of life and ages have enjoyed our tea. If I had to narrow it down, I'd say we are a tea brand for the new generation of tea drinkers. Not necessarily your tea traditionalists, but anyone who's intrigued by unconventional blends that are healthy and flavorful.Our first blend, Chocolate Hustle, was designed around 3 adaptogenic herbs to promote focus. So we've had an awesome response from entrepreneurs, biohackers, and even students.
Who are your biggest inspirations?
Without a doubt my father is the biggest inspiration for Wise Ape... and in life for that matter. My mother too. She was an art teacher and I hold her fully responsible for the majority of my creative and sometimes crazy ideas.As for business, I'm a big fan of Richard Branson, Tim Ferris, Gary Vaynerchuk, Aubrey Marcus, and Joe Rogan. I'm actually a huge Rogan fanboy.
What are your favorite variations of drinking tea?
For our Chocolate Hustle tea I love blending in healthy fats like grass-fed butter and coconut oil. Similar to bulletproof coffee, but we call it SIlverback tea.I also enjoy some of the traditional teas and steeping them in a cast iron teapot. I find the ritual of doing so can often be meditative.
Now that you've launched, what's next?
We need to grow. That means reaching new customers and continuing to provide value for our current customers. We've got some pretty epic new tea blends on the way that we're excited to share with the world.
What's a piece of advice you can give to those thinking about starting their own business?
Have an honest conversation with yourself about why you want to start the business and make sure it's something you're ready to commit to. Identify your personal strengths and weaknesses as early as possible. This will help you figure out what you can handle on your own and what you'll need help with. Delegate your weakest areas when possible.