Q&A with Tobias Peggs: CEO of Square Roots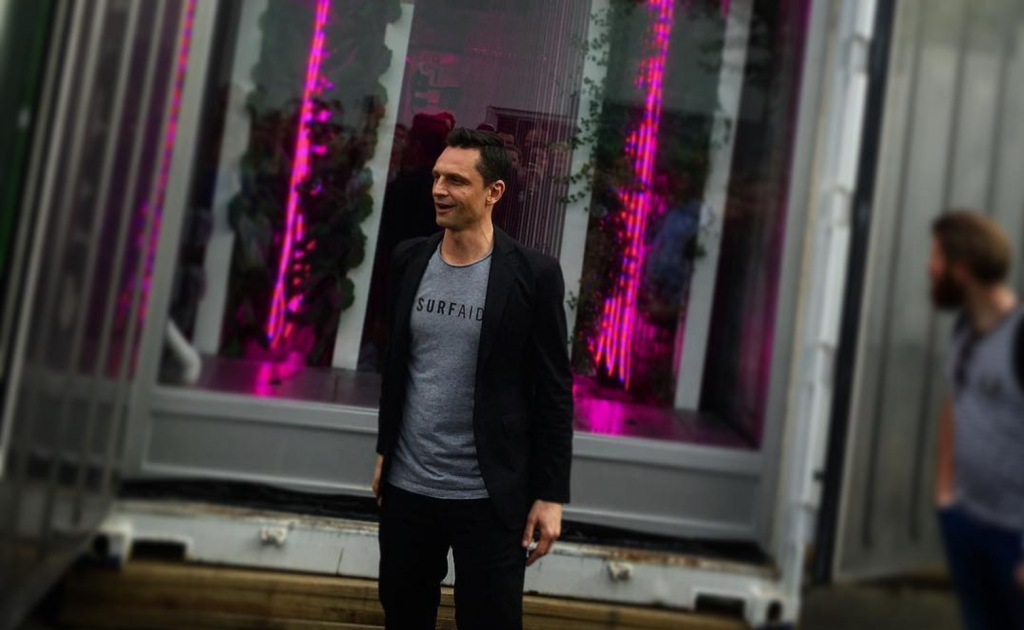 When you think of farming, wide sprawling hills with rows of stalks and veggies comes to mind.  You probably imagine a farmer as a dude with a plow with denim overalls, not necessarily as an entrepreneur.  Square Roots is a startup that is changing the way we think of farming.  Cofounded by Elon Musk's brother, Kimbal Musk, this company is disrupting the industrial food complex by closing the gap between the food that farmer's grow and the consumers who buy them.
In the heart of Brooklyn in a old industrial parking lot sits a bunch of unassuming shipping containers.  The last thing you'd expect them to contain would be two acres worth of growing produce, but alas, that is exactly what's inside of them.
Your typical apple travels a huge distance from where it was picked to the grocery store shelf.  In the process it looses the vast majority of it's nutrition.  Square Roots attempts to resolve this inefficiency by providing a place for produce to be grown in an urban setting.  It does this by growing produce in shipping containers hydroponically (a method of growing without soil).  Each shipping container is manned by a farming entrepreneur who is responsible for creating their own business plan, marketing and distribution logistics.  Once the produce is ready for harvest, farmers deliver the fresh goods directly to your office/home, connecting the farmer with the consumer in a more intimate and conscious way.
A couple weeks ago I took a tour of the urban farm led by of Square Root's CEO Tobias Peggs.  Here's a look at some of the things I learned along the way:
How much produce can one shipping container yield on average?
One shipping container can produce about 50lbs of leafy greens.
How long does it take a plant to get from seed to harvest?
This varies depending on what type of vegetable is being grown but take for example a head of lettuce: it takes about 2-3 weeks for the plant to go from seed to harvest.
Tell me more about the tech that goes into growing food in shipping containers.
To replace sunlight, we use red and blue LEDs, which are really the only two types of light plants need for photosynthesis.  Each shipping container is modular with a controlled climate.  My background is in artificial intelligence, so every aspect of the conditions in each shipping container is controlled by AI.  Say we had an heirloom seed that grew in southern Italy in the 1800's.  We can look to see what the climate was at that time and replicate it's environment within the container.   This way, instead of literally shipping food from southern Italy, we just ship the data about that environment and use it to grow exotic foods locally.
What control do farmers have over what they grow?
Our farmers are 100% entrepreneurs.  They decide which seeds to use.  They also are responsible for their own branding and marketing and how to distribute their goods.  This is our first cohort of farmers, they don't have to use the Square Roots name, but most choose to.
Is there anything like this currently being attempted?
There's one in particular being attempted in Japan.  A large portion of farmland was rendered unusable after the meltdown in Fukushima.  Because of this Japanese consumers now have stamps on the food which literally says "Proud to be grown indoors".  So people are attempting it, all of them in different methods. I would say we were the most modular.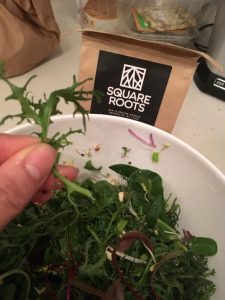 After the tour I got to sample some of the shipping container-grown produce.  The picture above is from a mustard green.  Believe it or not it was really spicy!  I never thought of leafy greens as spicy, but regardless it was bomb as hell in my salad.
As populations rapidly grow and change in cities, so must the way we produce and distribute food.  Not only does the current method of industrialized farming diminish the quality of our food, but it also disconnects the farmer from the consumer.  Square Roots presents us with a wildly innovative solution to these issues.  Where does your salad come from?  Mine came from a badass shipping container in Brooklyn.
Salesforce Predicts Shoppers Moving To Mobile Shopping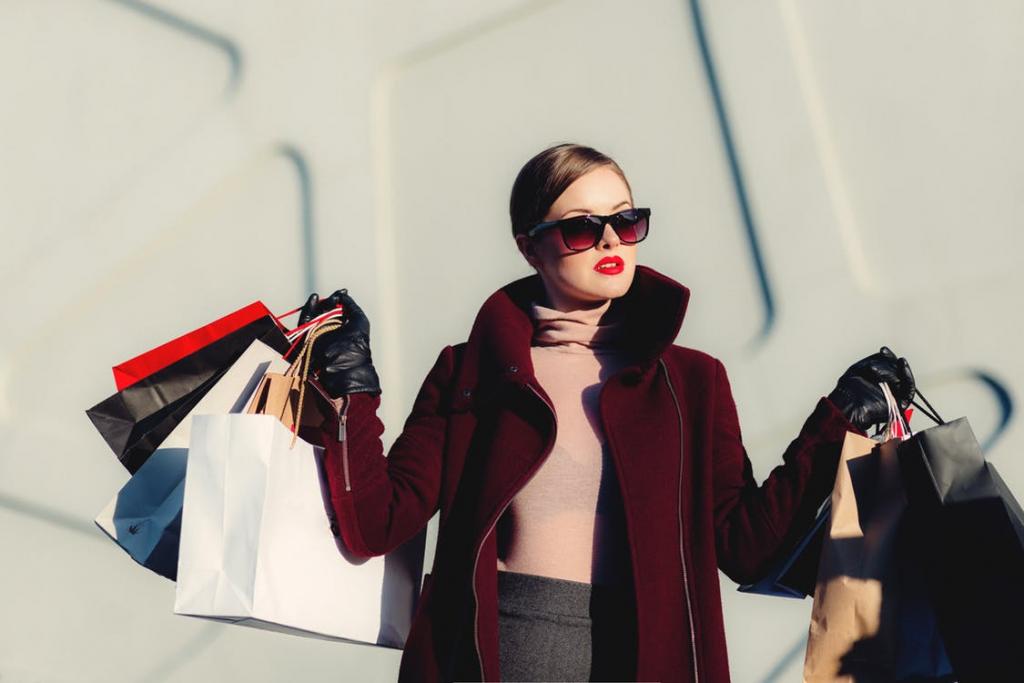 Analytics have confirmed the presence of shoppers to be on their own mobile smartphones. Jeff Barnett, CEO of Salesforce Commerce Cloud, shares his team's vision on what's to come for commerce in 2017. Shoppers are spotted to be taking their shopping online, strictly on mobile devices. Reports of a rate of 47% of orders from smartphones on U.S. sites grew in a span of a year alone, with costs of $2.08 worth of average spending on across U.S. E-commerce sites. In total, 4% of total traffic growth are summit to U.S. digital commerce sites. The data is looking at an uprise on mobile shopping, but in a downgrade on traditional brick and mortar retail. 
Discussion on stores making the ultimate decision on either changing their platform or to simply die off are being requested by retailers demanding flexibility in stores. The statics for mobile shopping means a decrease in retail profits. Customers have their attention on their mobile devices, neglecting traditional shopping. This forces retailers to upgrade and expand their business to newer areas.
Traditional brick and mortar retailers should shift themselves to mobile in order for their business to stay afloat. Selling online will keep the business staying competitive and consumer needs met. A majority of customers are already online, all retailers need to do is meet with them there. Distribution is made to be an easier process, with the supply being from one location. Already predicting the end of ATMs, shoppers are beginning to ditch cash with cards. With cards, customers are able to get more purchases to be conducted with extreme convenience. This is a win for both parties.
About 15% of U.S. malls will be disposed or will be converted into non-rental spaces within the next 10 years. Within 15 to 20 years, Howard Davidowitz, a retail consultant expects a near estimate of half of America's shopping malls to fail. More and more retailers are moving their business online to secure their awareness.
"Three trends are upon us, AI, mobile, and chat, put them together, add water and shake, and what do you get, a long abated killer app for mobile commerce". Rama Ramakrishnan, the Chief Data Scientist says. 2017 will be the year when AI chatbots for commas will soar and shift into mainstream across all stages of the shopping experience. "This time next year, we'll look back and wonder how we ever shopped without them".
With the promise in accelerated delivery, the mobile shopping experience is only improving. Prediction that our own voices will be the next user interface for shopping in 2017. Through services like Amazon Alexa, Google Home, and Siri, consumers can do more than web searches, but can also purchase products and services online as well. Customer centricity is becoming everyone's main task on the use of mobile shopping. Without predicting what consumers want, through online history and searches customers can get exactly what they want in their own time of need.
The new shopping method seems to be in favor of the consumers, with new features created to cater shoppers. The evolution of shopping has changed drastically due to technology advancements, their efficiency has allowed many opportunities to open. Although the benefits are in reach for most, traditional retailers much adapt well in order to catch up with the competition. Once the adjustment is complete, finding customers and companies will be much easier.
Getting Recognition Builds Productivity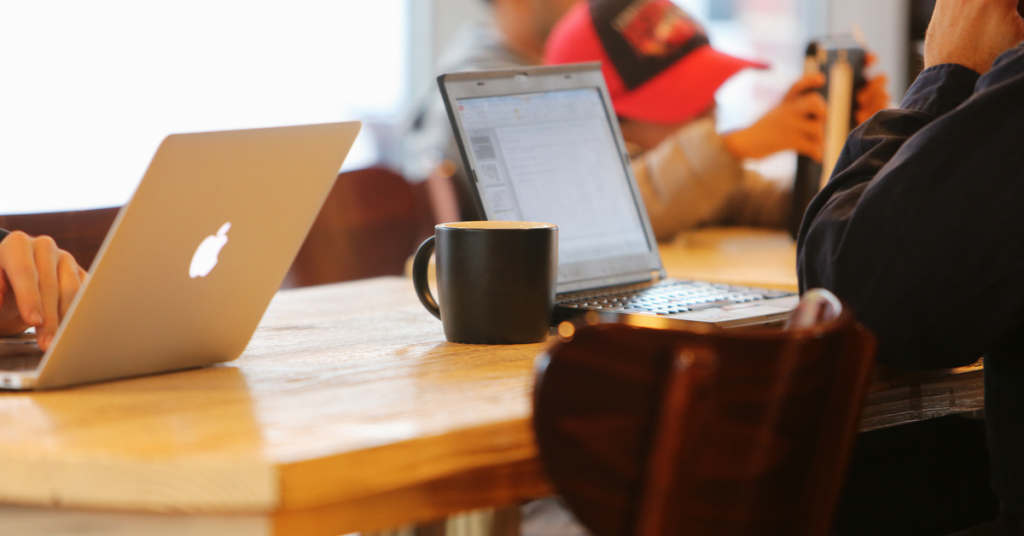 Getting recognition is one of the top motivators and drivers among employees in the workplace. According to studies, 78% of employees work harder if they are better recognized. More recognition for a job well done translates to better productivity and happy employees. This sounds very simple, but is actually a bit more complicated to implement. This is because employees today don't want just compensation as a form of getting recognition. They also want a close-knit office culture, volunteer opportunities, praises, rewards and genuine recognition for their efforts. Here's how to do it:
Reward the Right Things
Rewarding employees for every achievement is counterproductive. Instead of singing their praises for everything they do well, reward the right things such as:
Actions that align with the company's strategies and goals. Recognize behavior that aligns with the company's overall mission. If you don't have a mission statement, now is the time to define it.

Big wins and small wins should also be celebrated. Big projects usually have higher risks and setbacks. To keep your team from being frustrated, celebrate the small ones as well.

Being a team player is essential to the survival of your organization. As such this behavior is important because employees who work well together do not let their egos into the organization. Employees like this know how to put the team in front of their own personal interests.
Understand Why It Matters
According to a study by BambooHR, 82% of employees feel that they do not get recognition for their work and are considering leaving the company. Recognition seems like a small thing and not understanding why it is needed could hurt an organization's profitability. Think about it, a few simple words of encouragement or gratitude can save your company thousands of dollars in recruitment and training new talent. Recognition helps revenue. When an employee gets the recognition they deserve they are happy and happy employees are more productive. Companies who recognize their employees have 2.5 times more revenue compared to companies that do not reward their employees. This means that high engagement translates to a third higher profitability.
Culture of Recognition
Create a culture of recognition within your organization. For example, you can ring a bell and call everybody's attention whenever somebody does a good job. This way everybody knows whenever the bell is rung that something amazing has happened. This action also recognizes the achievement of an employee. Soon your office will associate bell rings for getting recognition and will aspire to have the bell rung in their honor.
Tailor Fit Your Recognition
Teams within organizations can have their own culture. For example, this team loves bowling or comic books. Aside from the usual phrases and accolades typically bestowed on them, go a bit further by tailoring recognition for their internal culture like going on a celebratory bowling game after a job well done or treating them to a couple of comic books. These small actions do not only show recognition but it shows that you respect the individuality of your members as a team.
Link Recognition with Performance
The key is to promote good behavior through recognition. In the long run, the goal is to achieve better attitude and improved performance. Therefore managers should know how to tie recognition, company objectives and individual performance. Connecting behavior with specific behavior helps to drive better performance. For example, your goal as a company is to implement zero accidents in the workplace. Be sure to reward employees for avoiding accidents or coming up with a new system to improve safety. To truly drive behavior and reinforce performance, recognition from superiors should be more than just a few nice words. Superiors, management, team leaders and even the CEO should connect saying thank you (gratitude) with behavior (the purpose). Influencing behavior can boost performance and productivity while boosting morale.
How To Connect With Employees As A CEO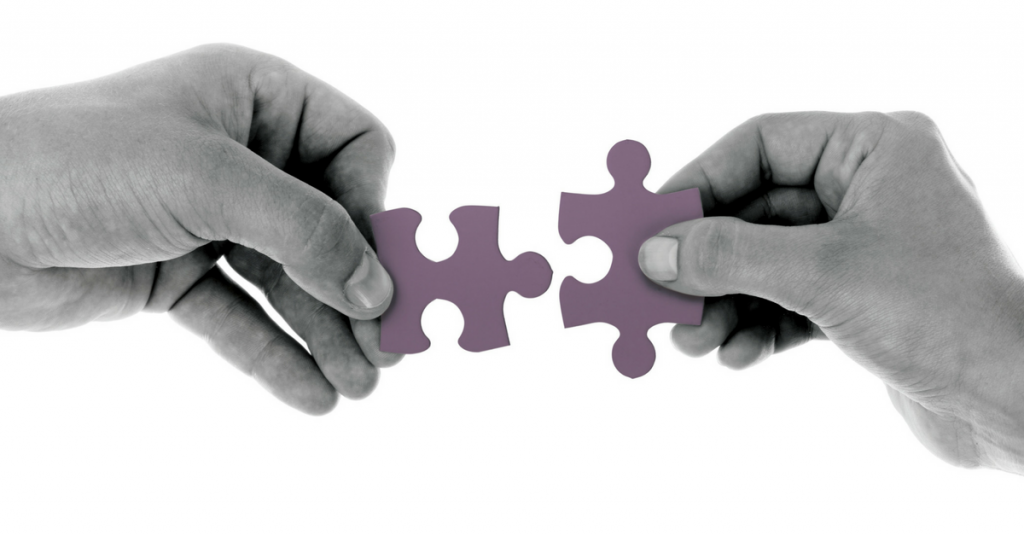 Thirty years ago, a CEO's focus was on customers and profit. Nowadays we know that CEOs have a bigger impact. A good CEO knows that a company is more than just their customers and profits. A good connection with employees is also important to keep productivity and motivation up. CEOs need to connect with employees on a regular basis not only to inspire but also to know what is going on at the company's most basic level. Here are ways a CEO can connect with his employees.
Social Media
Many CEOs use social media to reach out to their clients and customers in an effort to humanize their company. Why not use the same social media to connect with employees too? Sending a congratulatory tweet to a team or following an employee on Facebook can be very flattering to employees.
To some of them, the boss is on the top floor only accessible to a select few VIPs. Being called to the CEOs office is very rare except maybe if they did something wrong. Social media brings everybody closer together because they are used by all kinds of people. Connect with employees on social media to make yourself more reachable, friendly and more human.
Take Mark Zuckerberg for example. Facebook's CEO is very accessible to all people on his social media. He shares pictures of his kids and daily activities of their family life. This makes Mr. Zuckerberg seem more relatable, not only to employees but to many people as well.
Family Day
Family day is not only a great way for families to get together on company time (and expense), it is also a good time for the boss to connect with employees. Being called by your boss by your first name can be very gratifying for employees because the CEO remembers you. This simple act of remembering first names can be very inspiring and motivating to employees.
Employees also like to see their boss in casual clothing. To them it makes them look friendly and approachable. You can be surprised how many more employees approach their CEOs when they are seen wearing casual clothing. The friendly setting of family day is also a good way for CEOs and their employees to bond and get to know each other outside the workplace.
One-on-One
Having a one-on-one with the CEO can be very intimidating. What does he want with you anyway?
This is not necessarily true. A good way to get to know employees and make them feel important is to schedule a short one on one. It does not necessarily have to be about work. It can be about getting to know each other or catching up. This has to do with people wanting to feel that they are important. A CEO's day is full of meeting with important people and spending time with ordinary employees will make them feel special. It is an easy motivational tool that does not cost anything but time
Open Door Policy
An open door policy makes CEOs more accessible to ordinary employees. They understand that a CEO's time is important but an open door policy also makes them feel welcome. This is one of the reasons why many CEOs prefer to have meetings in a conference room rather than their private offices. This is to ensure that ordinary employees can walk in and talk to them if needed.
The door does not have to be literally open. Just make sure they understand that they can drop in anytime or arrange for an appointment to talk with you.
Share Meetings With Employees
Employees like to know what's going on in the company. It makes them feel involved and valuable. One of the best ways to make them feel that their contribution is important is to record your meetings and share it with them. Sharing is a good idea because it's a communication vehicle, it shows employees how decisions are made and it encourages precise thinking, communication that reduces politicking.
Leadership style differs from one CEO to the next. CEOs wear different hats all the time. The key is to remember that employees are the lifeblood of a company and finding ways to keep them motivated is one of the duties of a good CEO.