Philly Startup PiperWai Solves Your Sweat Problems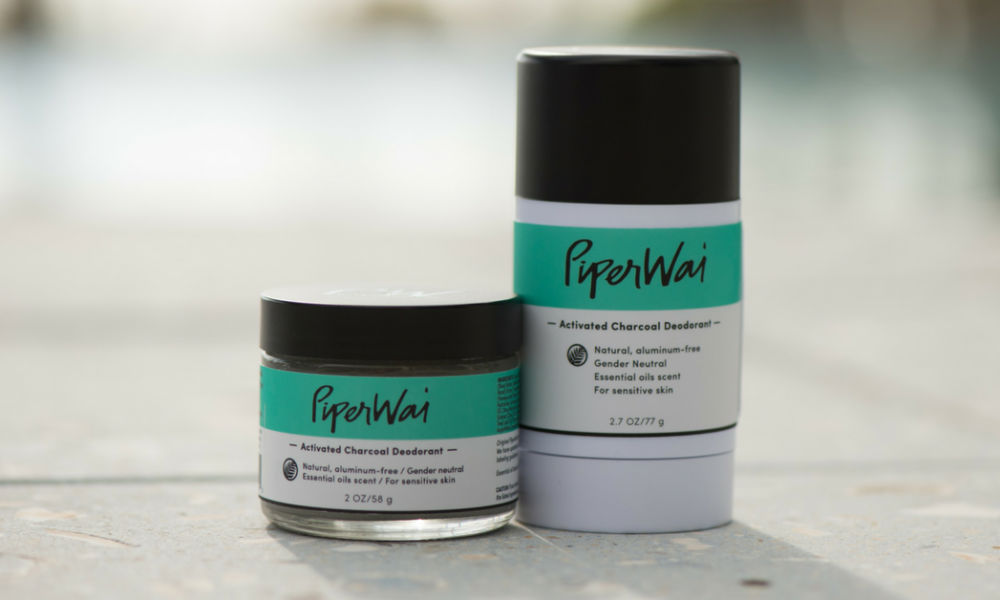 Bosque Founder Deborah Choi Leaves No Opportunity Untaken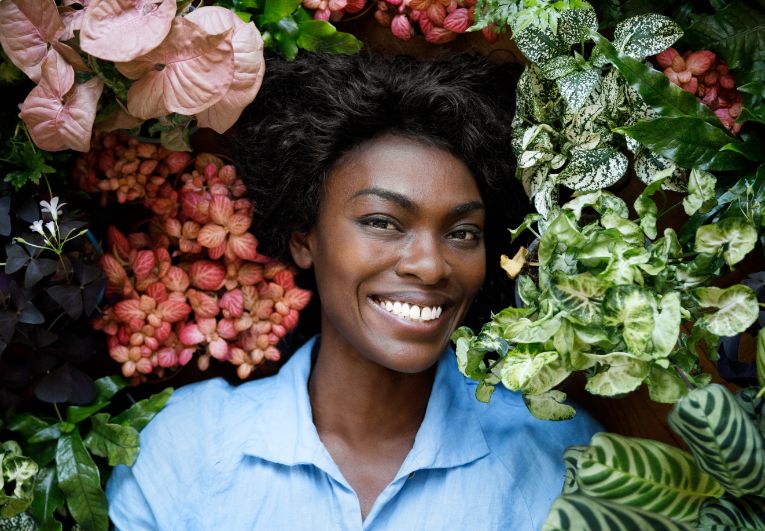 "Wait a second… I can't be the only one with this issue."
Deborah Choi, the founder of Bosque, brought plants into her home with the purpose of brightening the space. 
"I lived in these big cities: Chicago, New York, now Berlin. I didn't have access to nature. So, I wanted to bring it inside.
"What could go wrong?"
The Definition of Insanity
The feeling of bringing a happy philodendron into your house only to watch it slowly die is discouraging. You ask yourself what you did wrong. Did I water it too little? Too much? Did it need sunlight? Am I supposed to feed it?
So, you bring in another philodendron. This time you know you're going to do better. You bought different soil, another kind of pot, you did some Googling. You got this. Right?
Nope. It's dead. You killed it. Again.
It can feel like a curse, no? 
"I went through these cycles of buying plants, buying soil, buying pots, and doing it all wrong. With the results that my plants would die and I would repeat that process over and over. Which is the definition of insanity, right?
"That started this rabbit hole. What's going on in this industry? What are the customer problems? 
I saw the opportunity and built Horticure around that." 
Choi founded Horticure, and on-demand plant-care company at the end of 2018. The plant of your choice, and everything you need to take proper care of it, is provided via mail. If you have any kind of question or concern, there is flexible virtual access to vetted horticulturists.
"Even pre-COVID we were doing these video chat consultations."
Horticure is now merging with Bosque, a direct-to-consumer plant-care company. 
"The conversation about joining forces and seeing what that would be like came together very organically. There were a lot of conversations, testing, figuring out. We decided that the future was brighter, stronger, and greener together." 
Deborah Choi is a natural entrepreneur with a great sense of trends. But it didn't start that way. 
The Safe, Traditional Path
Born in Nigeria, her family moved to Ohio for greater access to education and opportunities. Like any child who wants to make their family proud and secure, Choi sought a traditional path. A good university, a good graduate program, stable income, "the American dream," it was all part of the plan.
After graduating from the University of Chicago, Choi relocated to New York City. She quickly found friends. 
"We were going to thrift stores and flea markets for fun, finding cool things. This was the early 2000s, everyone was kind of talking about the internet. We thought, 'let's build a website and see what happens if we put stuff online."
And that's where it all began.
Choi describes her career as taking an opportunity presented and running with it. This has led her on a series of ventures including a media company. If she was interested, curious, and excited about it, Choi pursued it.
This characteristic drive has led Choi from selling cool New York thrift store items to a growing Berlin-based plant-care company called Bosque. If you're struggling to connect the dots, you're not alone. This entrepreneurial journey Choi embarked on in the early 2000s has twisted and turned in ways that have ultimately shaped Choi into the success she is today. 
She now chooses to take that success and pay it forward. Enter Founderland.
A Community for Women Founders of Color
"What we're doing is accelerating the business success of women of color founders here in Europe and the UK."
By fostering a community of women founders of color and connecting them with the right people, Choi and company hope to create a fresher, more diverse generation of entrepreneurs. We know the obstacles women of color face in just about every industry. Taking the effort to provide a community the tools it needs to thrive is one of the more innovative efforts in the last few decades.
"When we think of entrepreneurship, we see the highlights, the showreels, the major funding rounds. And it can seem intimidating. 
"One of the reasons why I and my co-founders built this community is because there was a lack of one. 
"Building a community is truly a lot of work, but let's take the first step."
You can learn more about Deborah Choi, her journey, her ventures, and her mission on Spotify's The Black Founders Podcast. Founderland is fundraising and actively seeking women of color founders to aid in their journey. She currently lives in Berlin where she is expanding Bosque from Berlin to all of Germany. 
Her houseplants are much happier now.
Kevin Carbone, Founder of Sauce Bae: The "Hottest" Entrepreneur on the Rise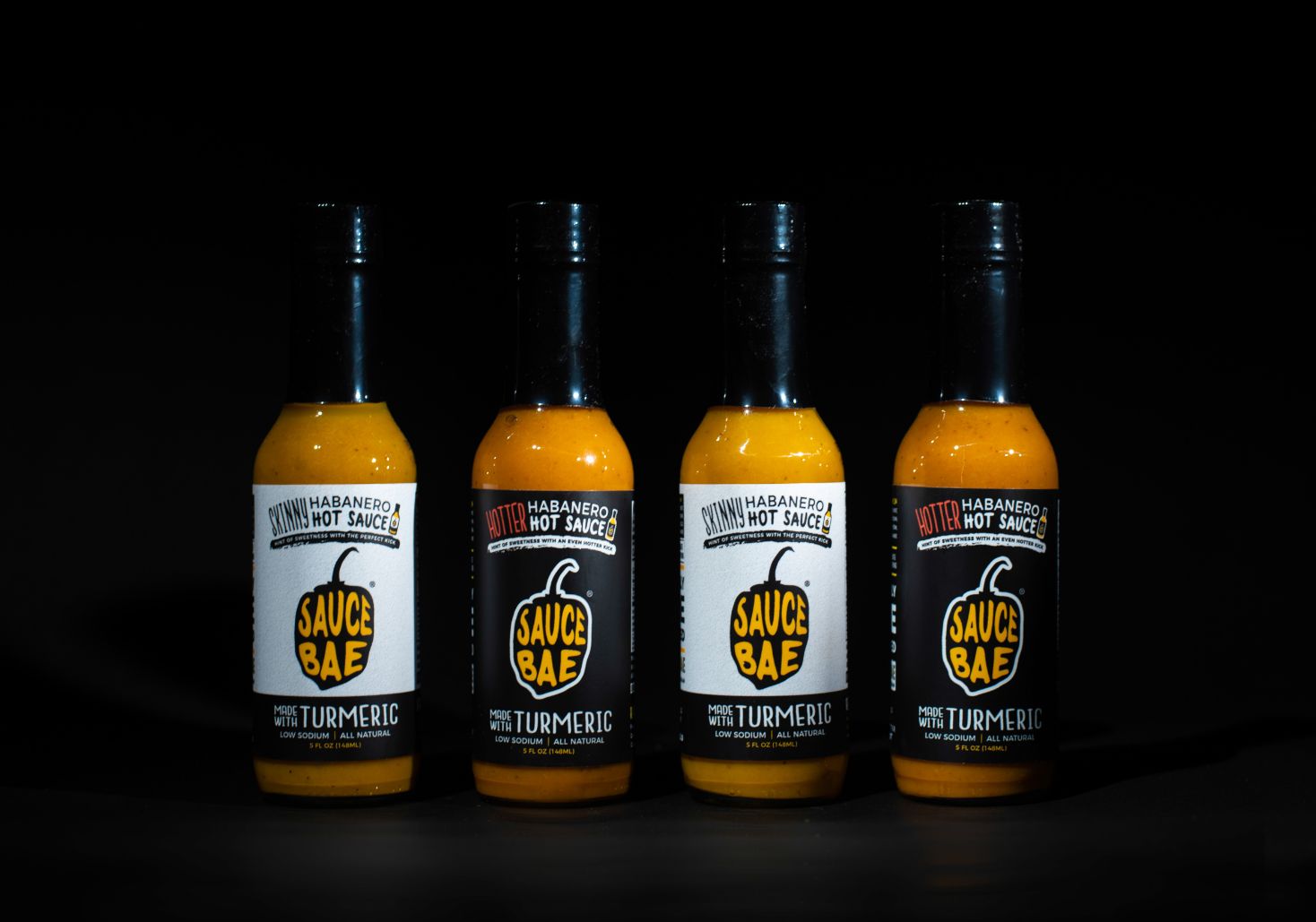 Most people diagnosed with an auto-immune disease make adjustments to their lifestyle to stay healthy. For entrepreneur Kevin Carbone, there was Sauce Bae.
At the age of 21, Carbone was diagnosed with ulcerative colitis: a chronic, inflammatory bowel disease that causes painful inflammation in the intestines. When the prescribed medicines made Carbone too sick to leave his room, he started searching for all-natural foods. As he searched, he discovered an unfortunate truth about the health food industry.
"I eventually came to the conclusion that the so-called 'health foods,' like flavored oatmeal, would destroy me." 
What is often labeled as "all-natural" in the grocery store can actually be loaded with processed foods that only technically qualify as "natural." 
The Journey to Turmeric
Most people recognize turmeric as "the yellow stuff." Turmeric is a member of the ginger family and is native to Southeast Asia. It can be used to treat a variety of conditions including digestive issues like ulcerative colitis. Carbone noticed something on his health journey and specifically with turmeric: an opportunity. 
"I noticed there weren't really any products that incorporated turmeric."
In 2016, Carbone created an LLC and the ideas began to flow. Eventually, he settled on hot sauce. He scanned the shelves and all the major brands: Frank's, Chilula, Crystal, Sriracha. Not one bottle on the shelf contained turmeric. Carbone knew he had something special. Something unique. A niche. 
"How do you differentiate yourself in a market with thousands of other brands, hobbyists, people making small batches. For me, it's turmeric, it's all-natural and clean, and it's low sodium." 
So, Sauce Bae was born: A turmeric, pineapple, habanero hot sauce with low-sodium and all-natural, clean ingredients. Carbone's turmeric-based hot sauce certainly stands out from the crowd. But to succeed in business, it takes a whole lot more than a good product.
Some Persistence, and A Little Bit of Luck
"There's a misconception that if you make something good that people will line up. No, far from the truth. You have to go out and gain everything. You have to go out store-to-store, hat-in-hand." 
A ton of persistence, with a little bit of luck, is what led Carbone's sauce to land on the hit YouTube series Hot Ones. A fan of Carbone's sauce encouraged him to send Sauce Bae to Heatonist, a popular hot sauce store and the main seller for Hot Ones. 
"I actually didn't think I would be considered. But this is a moment where you should shoot for the moon. I sent it and they got back to me and said they were interested." 
Next thing you know, millions of eyes are watching celebrities try Sauce Bae. Celebrities like Kristen Bell and Trevor Noah have tried Carbone's sauce with rave reviews. In just five years, Sauce Bae had gone from an idea and an LLC to a celebrity-endorsed hot sauce on a hit YouTube series. 
"I had already laid the groundwork. I knew the branding was perfect by doing events and going to stores. They liked the turmeric. It's different. No one was doing that. That was the biggest thing: you need to differentiate yourself. You need to have a good product. As long as you do that with persistence you can grow."
Money, Money, Money
To create a business and a brand, it takes everything you have. It takes time, energy, heart and soul, and, most importantly, finance.
"Don't be afraid to spend money. You have to and a lot of times it's very scary. Whether it's advertising, inventory, maybe it's software that helps you prove something. You have to spend money where it makes sense." 
It's remarkable what you can accomplish with a strong vision and drive. You, as an entrepreneur, have to believe in your whole heart that your product is the product.
"I knew in my heart that I'm going to get there. That's why I've been able to push through ups and downs. There definitely are a lot of ups and downs. Good news followed by terrible news and you're the only person you have to figure it out. Come up with a solution, there's no one else, there's just you.
"I went into this not as a hobbyist, but I'm going to be on the shelf next to Sriracha one day. I looked at the shelf and said, '[Sauce Bae] could be there.'
"I had registered the LLC in 2016 and knew what I wanted to do which was incorporate turmeric with something that was better for you. I saw an opening in the hot sauce market. That, to me, made the most sense."
What's Next for Sauce Bae and Kevin Carbone?
Sauce Bae isn't the end for Kevin Carbone. An entrepreneur from a young age, the health-conscious hot sauce creator has the entire health foods industry on his radar. 
"My real goal is to start going into different categories. I want to go into something that's yogurt-based. Or maybe even a hummus sauce. I have an idea for ice cream."
Perhaps in a few years time, you'll see Cold Bae, Health Bae, or Bae Foods in your grocery store. Carbone doesn't want to just fill the gap in the health foods market. He wants to affect the industry and push it to a more honest area. 
"I think transparency and trust is kind of missing [from the health food industry]. You'll see a lot of highly processed foods have their buzzwords on the front saying, "all-natural low this low that." The only real solution is to have more genuine brands going into the market to make an honest, very clean product. At least as clean as it can be."
Carbone specifically wants his products to taste homemade. As we have gradually tried to turn away from processed foods, the larger industry has fallen into "greenwashing."
Carbone isn't just trying to make something delicious, he's offering a product consumers are literally hungry for: real food.
"I found that my body and a lot of other people's bodies work very efficiently if they just eat real food."
Radical idea, right?
The Hottest Thing In Business
Right now, Kevin Carbone and Sauce Bae are perhaps the hottest things in business right now. Pun intended. A natural-born entrepreneur, Carbone has a knack for predicting changes in the market. His meteoric rise in just five years reflects that.
With a product like Sauce Bae already impressing local grocery stores and celebrities, it's no wonder Carbone has been featured on Forbes 1000. 
We haven't heard the last of Kevin Carbone and Sauce Bae. Of all the entrepreneurs out there, Carbone is certainly the hottest.
Red Brick Distillery: Urban Craft Whiskey Done the Hard Way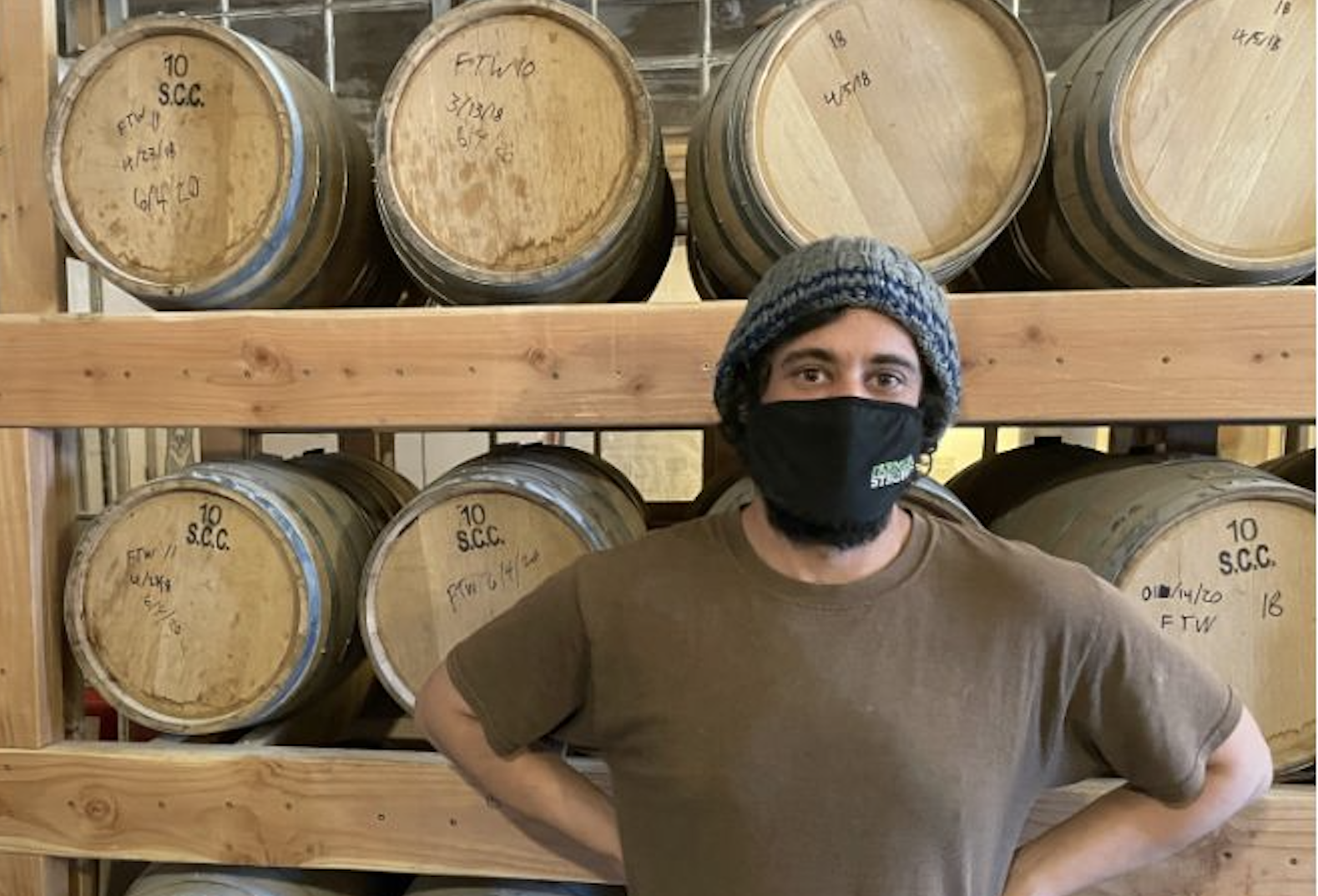 There is something really romantic about the world of wine and spirits. For thousands of years, fathers have toasted their sons, warriors celebrated victories, dear friends console one another – all with a drink. People drink to relax, drink to connect with someone, and drink for courage.
The whiskey distiller has a noble profession. He combines art with meticulous hard work, and it's all in the name of creating a beverage worthy of life's greatest moments.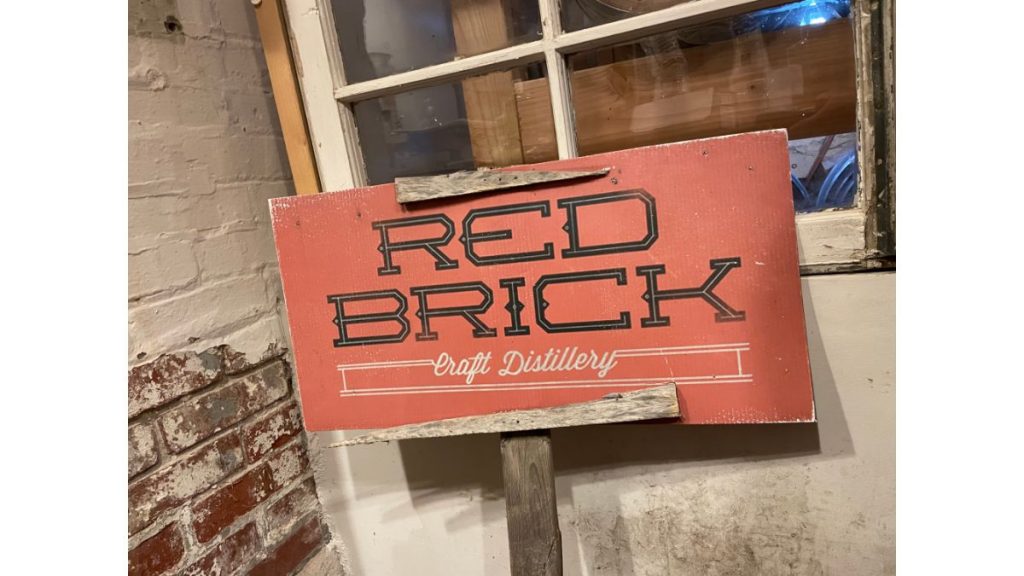 Brian Forrest founded Red Brick Distillery in 2015. Shortly after, making whiskey and rum was the only thing he did. Red Brick is award-winning yet small. He works out of a warehouse in North Philadelphia, and according to him, he makes some of the best whiskey in the world. I tried it, and I have to say, it's hard to argue with him.
Did you know: For a spirit to legally be called whiskey in the United States, it must be distilled from fermented grains at less than 95% alcohol per volume and bottled at no less than 45%.
How did Red Brick Distillery get started?
Red Brick grew out of my hobby. I was that guy at parties that would bring along whiskey for people to try out. Not just whiskey – I made rum and gin, which were a lot quicker to make. Whiskey was a challenge. I was making one barrel at a time. Along the way, friends were really supportive and encouraging, and I just decided to go for it. I made my share of mistakes in the beginning.
What were you doing before making whiskey?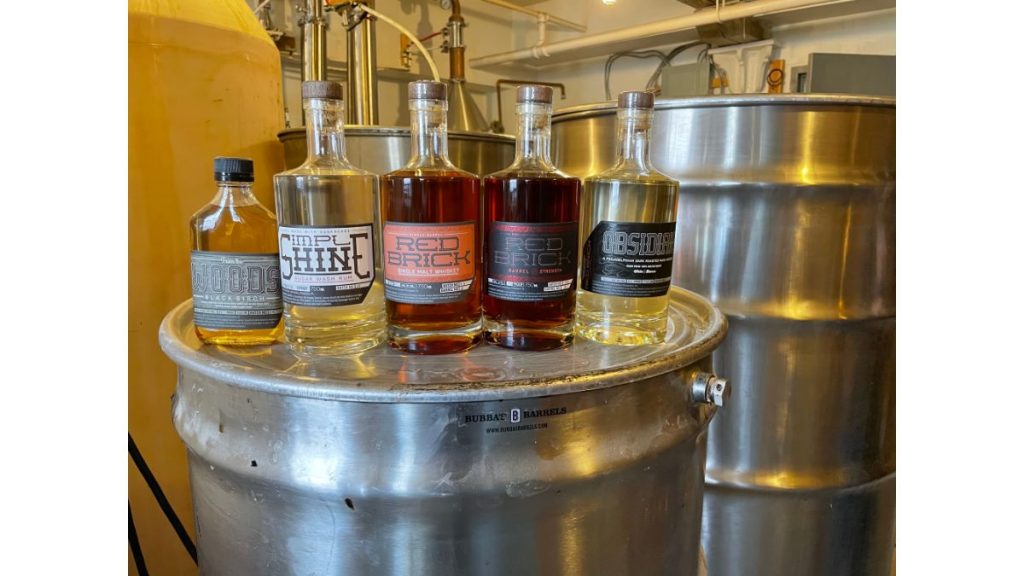 I used to be a remodeler. I built kitchens and bathrooms. Construction has been my career for my entire adult life. I have an art background too, so I know how to weld. I've always been hands-on. I've always been confident that if I don't know how to do something, I'll figure it out along the way. I built my first still. You can buy them online now, but you could only find plans for one when I was getting started. By two or three attempts, I had a solid piece of equipment that I could rely on.
What did you make the still out of? Copper?
Copper and stainless steel. The draw to copper is that it's really safe and amazing conductor. It's a lot better than stainless in that sense. I try to use copper where I can, but I don't really see much of a difference.
The Process for Making Whiskey: Yeast is added to grain and water and over time it converts sugar into alcohol. This is called the fermentation process. Afterward, the mash is placed in a still where the alcohol is separated from the water by heating the mash above 173° F, the temperature at which alcohol evaporates but less than 212° F, the temperature at which water evaporates. This is called the distillation process.
What's cooking at Red Brick Distillery today?
Right now, I'm making rum. We're running the still on the first time through. We're collecting whatever comes off. I made an initial cut right in the beginning. I typically take a gallon off the top of the first run. It's like the super heads. It eliminates all the dangerous stuff right out of the gate. We'll do the same thing on the second run.
Were you affected by COVID?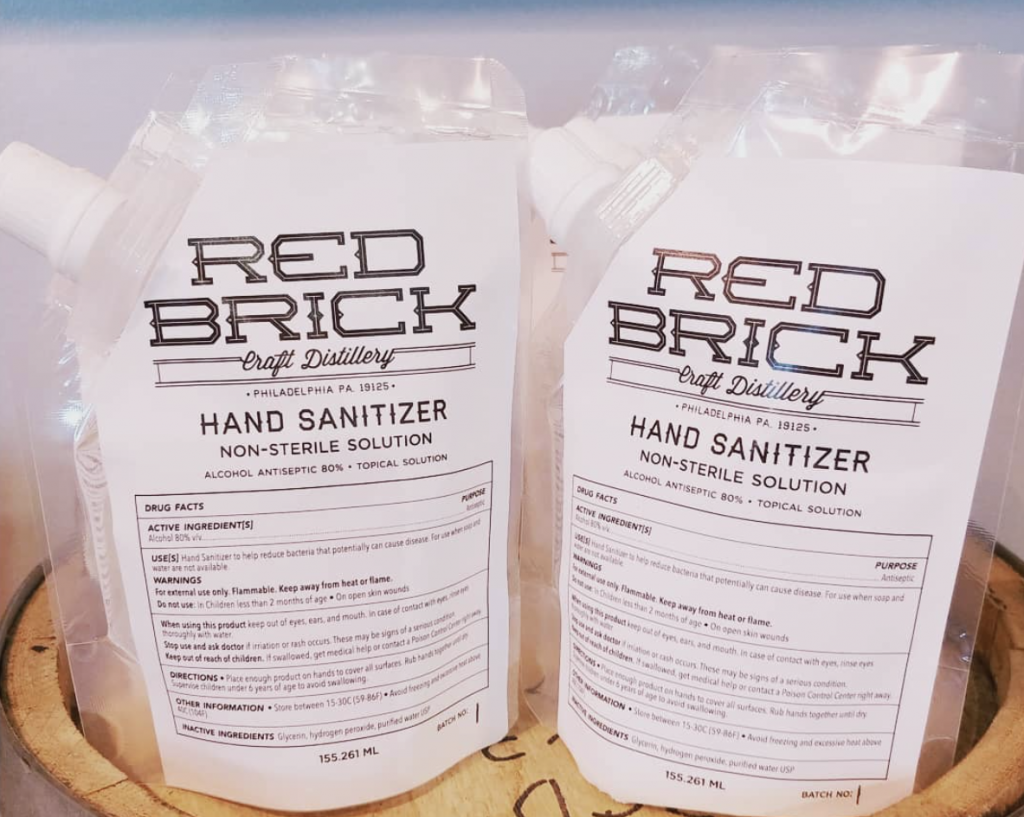 COVID time was a really wild time for distillers. All of a sudden, hand sanitizer was 10x more valuable than spirits. Everyone needed it. It was good for us; it came at a time when we needed it. And it was fun. A lot of my friends came to help. One of my friends came by to buy a bottle of whiskey because he was upset that he got laid off, and he ended up working for me for about three months.
Are bars and restaurants big buyers?
Red Brick is high-end whiskey. We do well in farmer's markets. It's that bottle you take home for your bar at home. That's our brand. Bars aren't really our big thing. It's time-consuming and not the biggest return.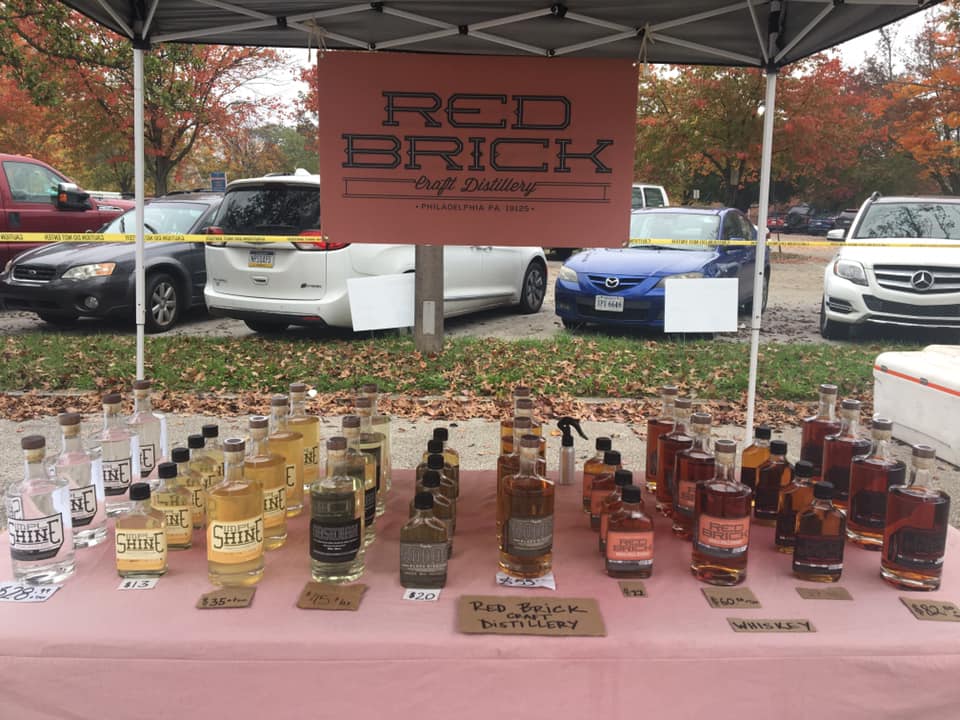 Were there any challenges you weren't expecting in growing Red Brick Distillery?
I can't say that it was unexpected, but the biggest challenges are making the whiskey from scratch and focusing on local grains. It's extremely rare, especially for my size. Many smaller companies and even not so smaller companies purchase whiskey from other companies and re-bottle it. Sometimes they'll sit on it for a while so they can say they aged it. Then they just bring the proof down and bottle it. I think those guys capitalize on the image of the small craft guys, like Red Brick Distillery, without actually doing it all. It's tough to compete with their margins, but doing it the right way is important to us.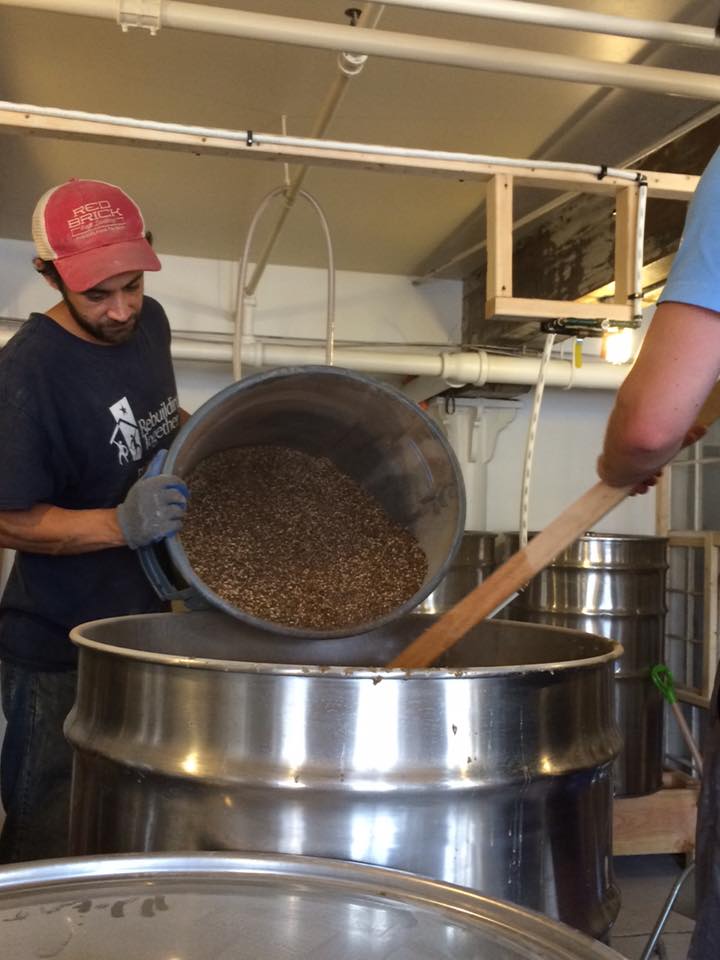 Talk to me about your flagship products.
Our flagship is an American Single Malt. 100% malted barley; 90% grown in Pennsylvania. We sell two different varieties: 80 proof and cask strength. The 80 proof is vanilla and sweet caramel on the nose and malty center and finishes like chocolate-covered citrus. You pick up a little more cinnamon and cherry notes with our cask strength. The flavor really whacks you, and the finish is long-lasting. A good exercise to really get the flavor profile of a whiskey is to add water as you taste. The flavor starts to break apart, and it's easier to identify them.
Did you know: Many distillers use virgin barrels to age their whiskey. This is a requirement for bourbon and some other types of whiskey. This is an expensive practice. Luckily, used whiskey barrels are valuable to breweries, wineries, and makers of other spirits who want to use the barrels to give their drink some extra flavor.
From the Woods is our oldest recipe at Red Brick Distillery. It utilizes the second use of the barrel. After we use a barrel for whiskey, we fill it with the From the Woods. It's a whiskey made from birch beer that we make from scratch. We literally go out into the woods. My dad and my uncle go out with a tractor and a woodchipper. We use wildflower honey, demerara sugar, and black birch bark. We make a pretty sugary birch beer, and then we steep it like tea. Then we ferment the whole thing – wood chips and everything. It gets super dry, and then it goes into our whiskey barrel and sits for two years. It's probably our most popular product. It won a gold medal on a national level from the American Distillers Association.
That's got to feel good.
At the market, we give out samples to people walking by in Rittenhouse Square, and they'd say 'oh, that's pretty good,' with no intention of buying it. Then they'd walk away still tasting it, and they would get four or five booths away, and they'd come back. It's a common interaction.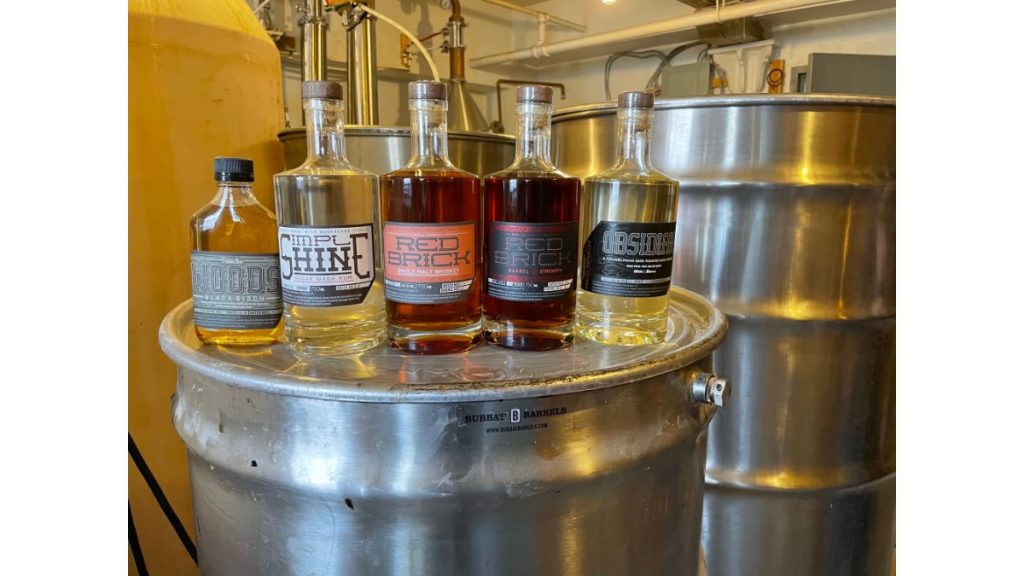 That's what gets me going. I'm not the right person to ask about pure business stuff. I'm an artist. What really gets me excited is when people are enjoying it and knowing that I make a great product. I would put my whiskey up against any other in the world. That's what I do it for.
What came first: your entreprenurial spirit or Red Brick Distillery?
Definitely my entrepreneurial spirit, no question about it. It's a strong drive to be self-employed. If it weren't for Red Brick Distillery, I would definitely be doing something else for myself. Working for yourself is a lot of hard work, and it scares some people. But for me, there's just no other way.
Check out more founders and CEOs in our Interview Series.