iRoad X10 4K UHD Dashcam Review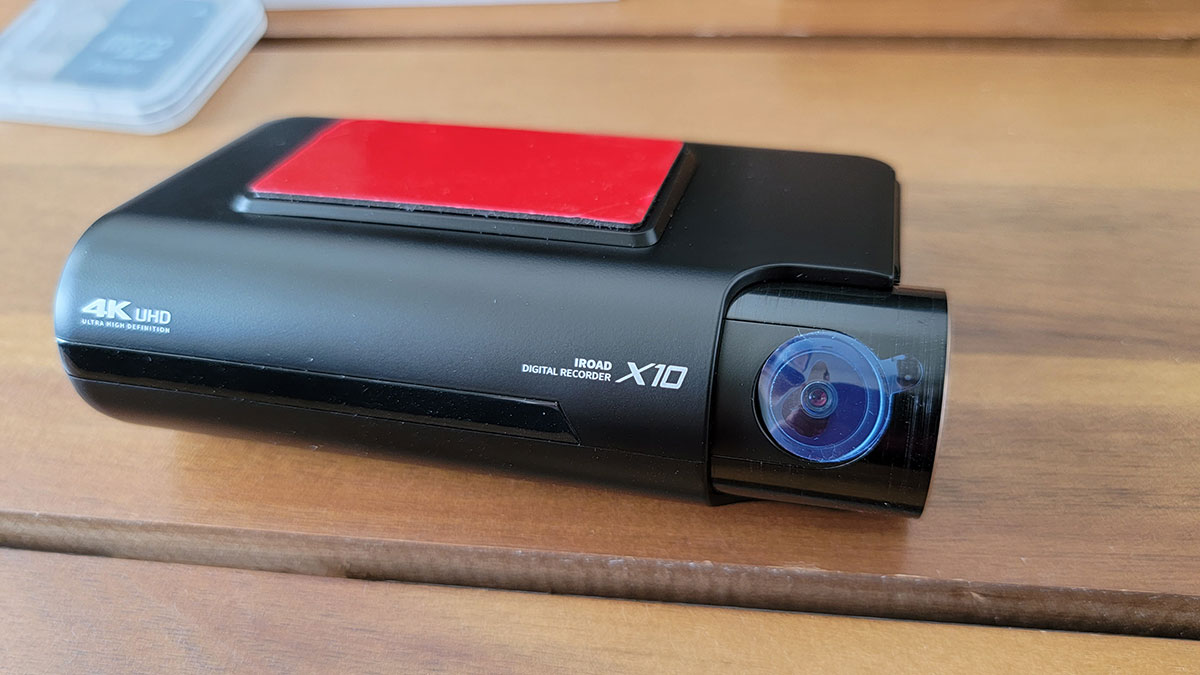 The iRoad X10 is a high-end Korean-made dash-cam that's made a name for itself globally. In parts of the world where temperatures are extreme, car owners struggle to find a suitable dash-cam that can withstand the heat and still perform reliably. iRoad's latest addition, the X10, is the successor of the X9, which preciously garnered much success. Does the X10 deliver on all of its promises and more? And is it worth the $400+ price point given its competition Blackvue and Thinkware have similar offerings? 
What's In The Box?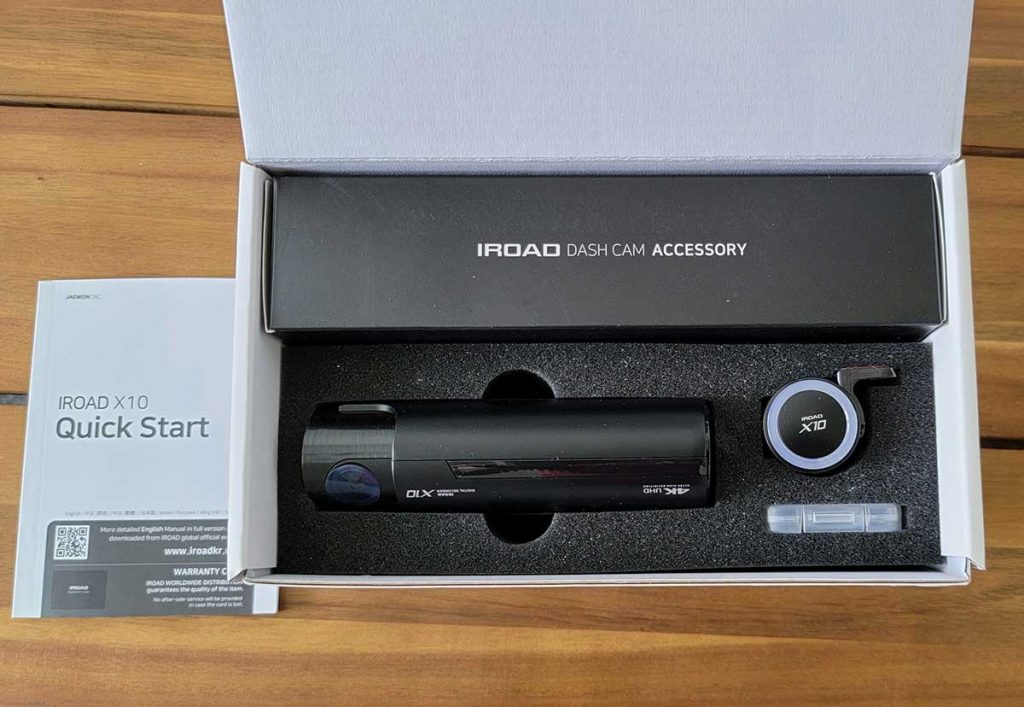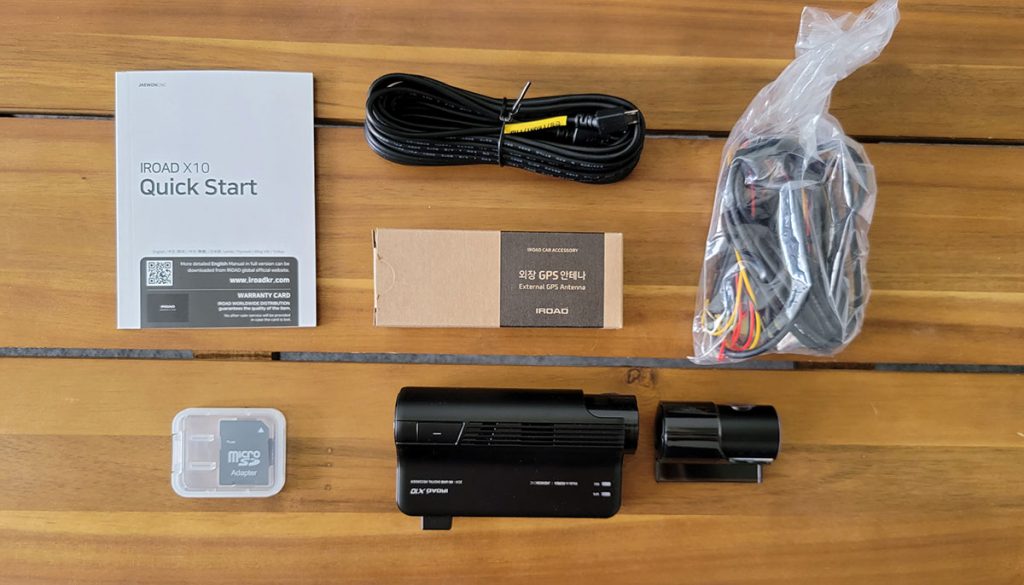 First, let's take a look at what's inside the box. iRoad packaged the X10 in eco-friendly and consciously compact packaging, which is greatly appreciated. Inside the box, there's the front camera, rear camera, various cables, instruction manual, and a 32GB MicroSD card. The OBD sensor is an accessory that can be purchased separately and does not come with the iRoad X10 by default. However, it's well worth the investment, given the onboard telemetry data it provides.
The Design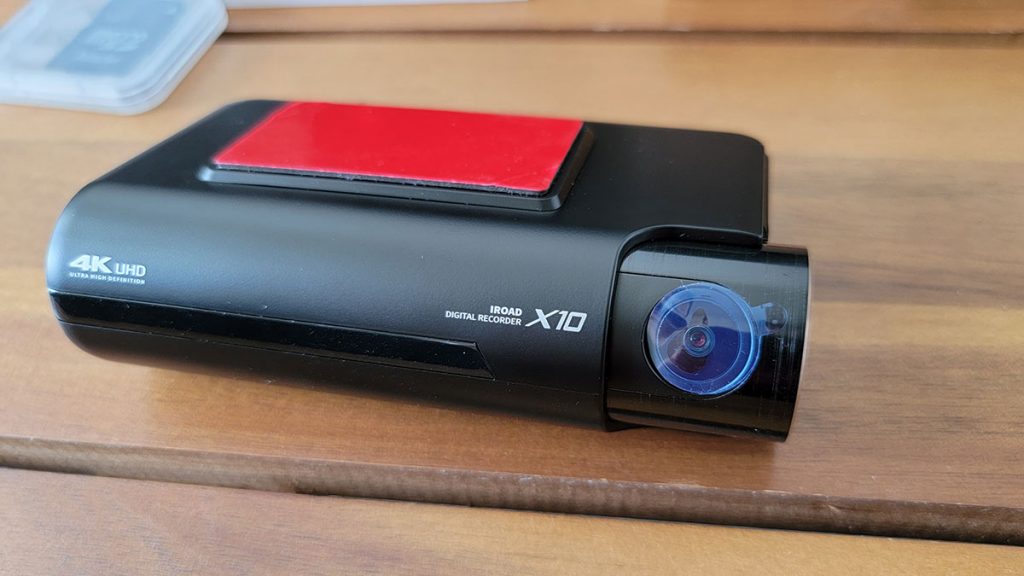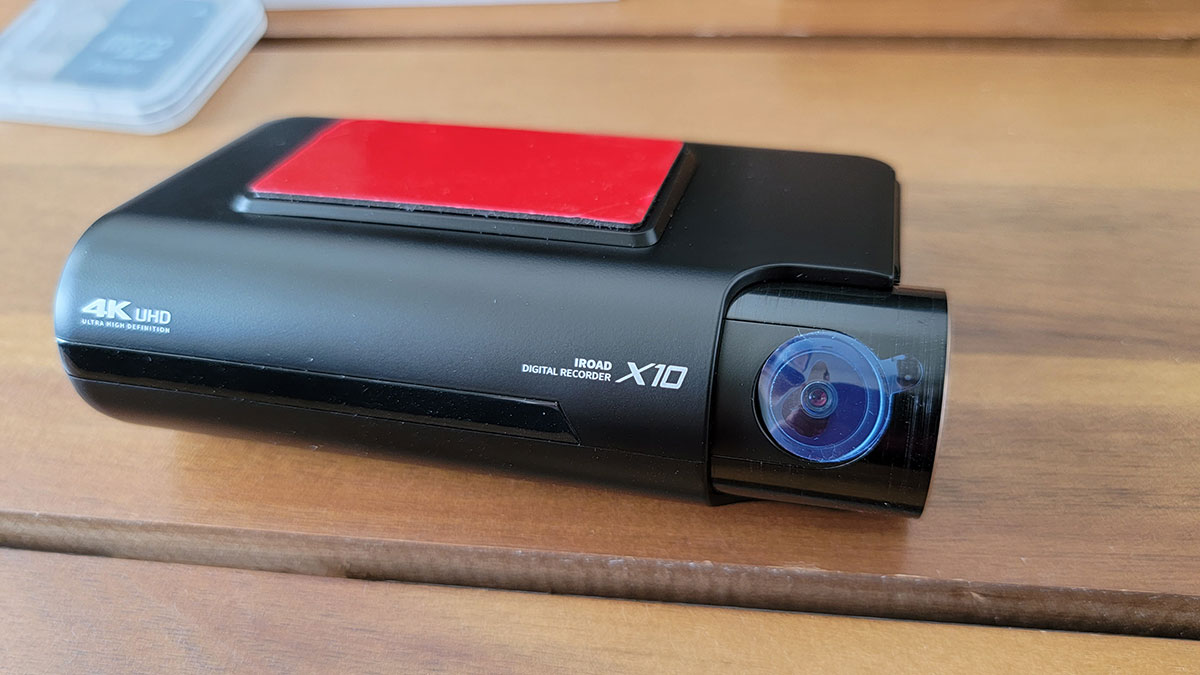 The X10 has a simple tried and true design that's been tested and proven on the road. There's no onboard LCD screen. Almost everything can be accessed via the iOS and Android app to download and connect with the unit. Side buttons and ports are easily accessible. The 3M sticker pad is generously large, making installation simple.
Build quality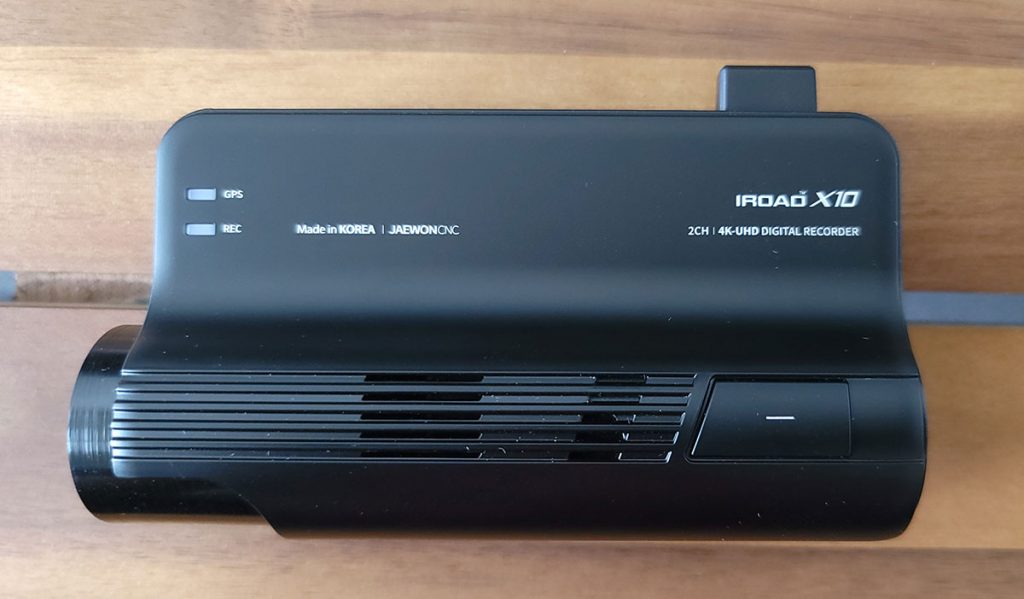 When picking up the X10 for the first time, you'll notice that it's ridiculously light, as if it's hollow inside. It's much lighter than its Blackvue counterpart, which also sports a similar design. Being lighter doesn't mean it lacks in any department.
Build quality feels solid. It's made from somewhat sturdy ABS plastic and doesn't look or feel cheap. I'm a fan of the dual-tone piano black and matte finish.
Ports & Cables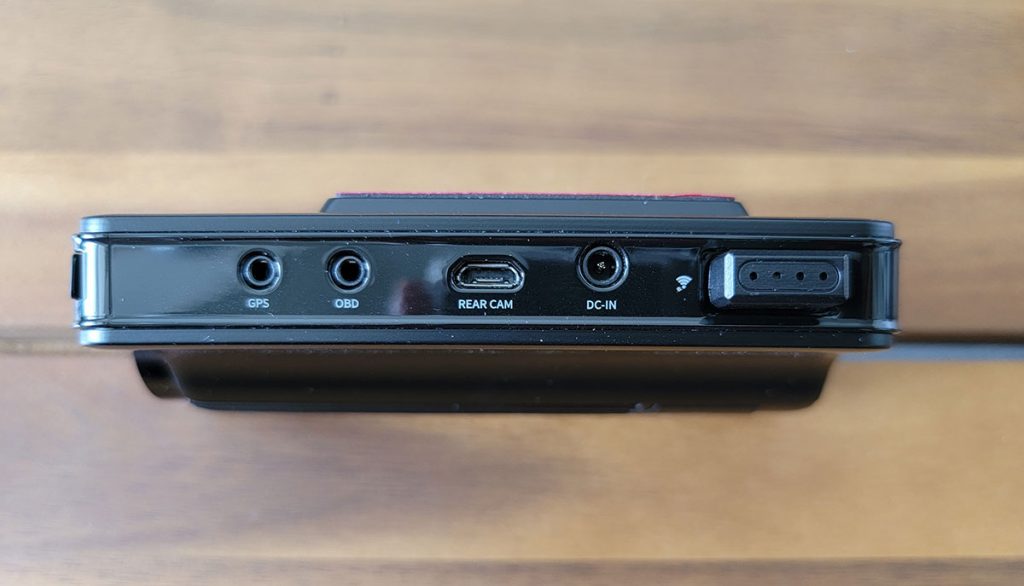 On the rear (facing you) side of the unit, you have a micro USB port, DC in, OBD, and GPS port. You can find the MicroSD card slot underneath the protective cover on the other side.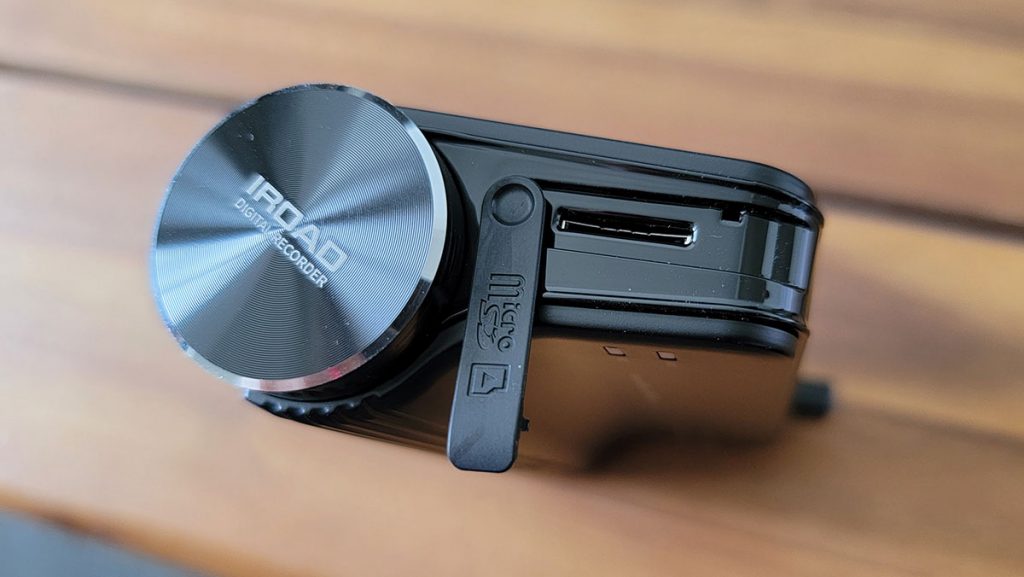 All of the cables you'll need are provided in the box and are plenty long. You shouldn't have any issues with cable length when installing.
Front Camera
The X10 has one of the widest viewing angles out of any dash-cam on the market today. All your bases will be covered with the 165 degrees viewing angle. Onboard the front-facing camera unit is an 8 megapixel 4K UHD (ultra high definition) camera.
The camera is also equipped with iRoad's proprietary X-vision technology that automatically adjusts the camera depending on the brightness outside. This helps avoid useless washed-out recordings. Other manufactures also have a similar tech to enhance video quality; however, in my opinion, iRoad's X-vision adaptation offers the highest resolution, especially on glaringly bright days.
The front camera module also features a nice security feature. There's an LED strip that flashes back and forth when your car is parked. The flashing lights can help thwart away potential theft since they'll likely notice the vehicle has some onboard security device.
Rear Camera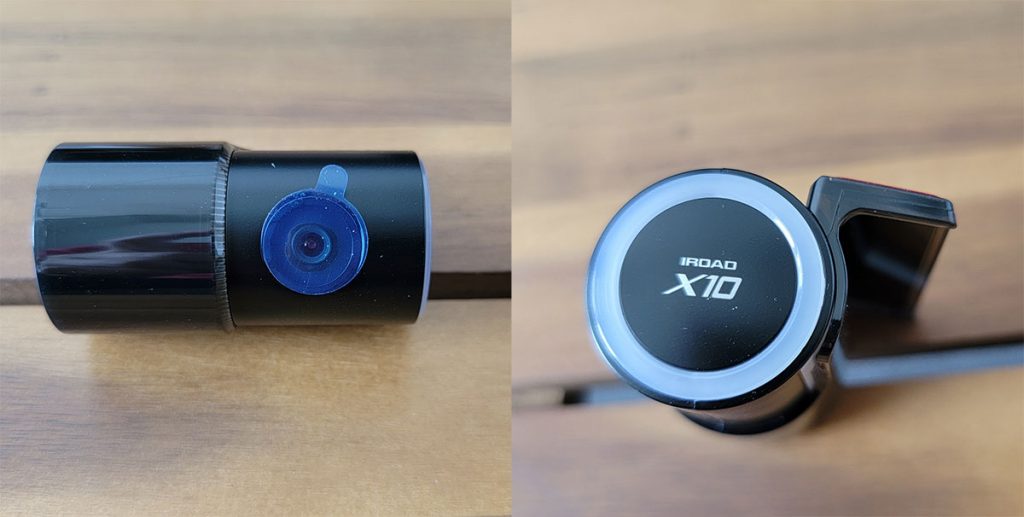 The rear camera uses Sony Exmor IMX323 Sensor. It's a good lens for a rear camera. Although the resolution isn't nearly as clear as the front camera, you'd only need the rear camera if someone rear-ends you. In that situation, you won't have any issues identifying the plate's number.
Camera Performance
[Dashcam footage coming soon]
We'll mostly be discussing the front camera. The ultrawide 165-degree camera angle gives plenty of visibility on the road. Additionally, the 8-megapixel camera gives high resolution and clear picture quality during the daytime. This isn't a surprise given the price of this dashcam. However, when compared to Blackvue and other competing dashcams, the X10's resolution under-performs noticeably.
Another issue is the locked fps. The unit is locked at 30fps for both the front and rear cameras. This may or may not matter to you, but most other dashcams on the market in this premium price range offers 60fps recording. So it was disappointing to see this feature missing.
The good news is that you'll hardly notice these issues during everyday use. We recognized it because we review products and make side-by-side comparisons. For most situations, the footage quality is adequate, and you can make out license plates and street names up to 20 – 25 feet.
Both the front and back cameras are also durable and resistant to temperature extremes. This is one of the features that iRoad is known for. Both cameras can withstand a range from -20 Celsius to 70 Celsius.
Night Time Performance
[Dashcam footage coming soon]
Other dashcam models seem to suffer when I'm on a dark highway, and then I hit a sudden area with light. The lens often has a difficult time adjusting to the light and dark areas quickly, and as a result, there's a loss in picture quality.
The iRoad X10 doesn't seem to have this problem. The front camera seems to adjust the brightness and contrast on the fly as soon as I exit a dark tunnel, enter a well-lit area at night, or go in and out of shades. Although I haven't confirmed this with iRoad's engineers, night-time visibility seems to be influenced by X-vision. Overall, night-time performance is exceptional.
OBD X Scanner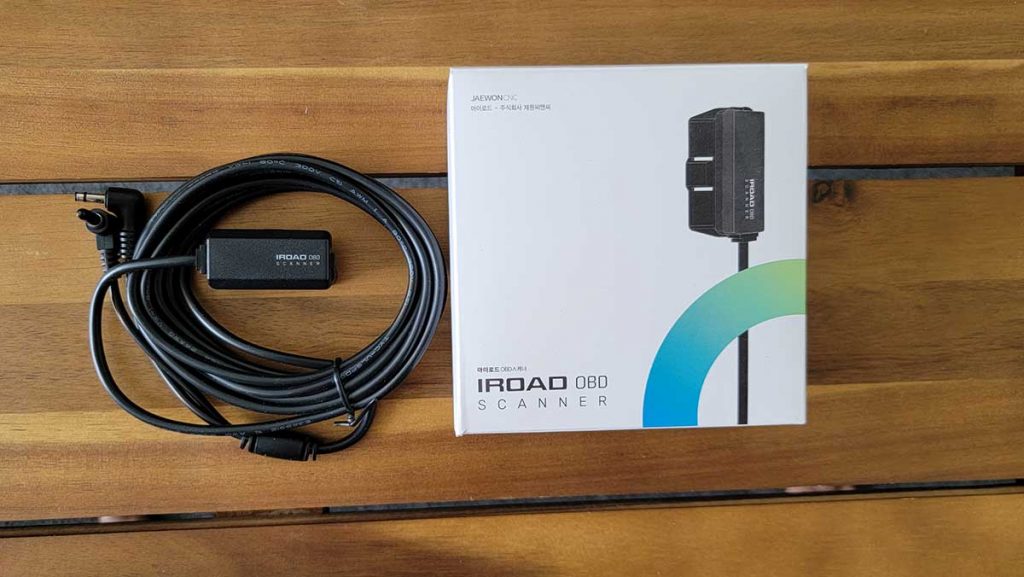 No hard wiring: This is a highly recommended optional purchase. It'll save you the hassle of figuring out how to wire the iRoad x10 to your console correctly. With the OBD scanner, you need to connect it to the OBD port directly under the driver's side console, and you're good to go.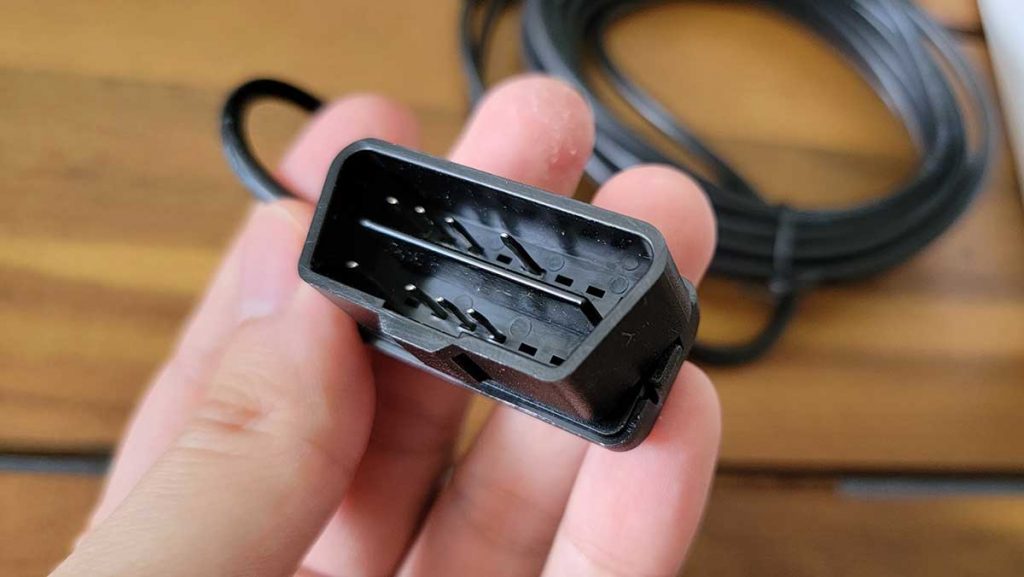 Real-time car data: However, convenience is just one of the benefits of the OBD X Scanner. With this scanner, the Dashcam can display your car's telemetry in real-time when you export the videos onto your computer. It'll show you information about your vehicle, the speed that you're driving, whether or not you had turn signals on, and much other useful information that could prove valuable in the event of an accident. Here are some of the data the scanner can display: 
Speed
Turn signals
Park/Drive/Reverse gears selected
Fuel consumption
Fuel efficiency
Coolant temperature
Transmission oil temperature
Battery information
DPF info
Detecting car issues: The OBD scanner also acts like a regular OBD scanner auto shops use to figure out what's wrong with your car. If your car has any issues, it'll display the issue code on your phone.
If you're planning to buy this dashcam, you need to buy the OBD X scanner. It's an incredible value for just an extra $49.
Viewing Videos
You can view all your videos on your iOS/Android app or on a PC/Mac. If you want to view from a computer, you'll need to download iRoad Viewer to export and view all the saved clips since the files are recorded in JDR format. For those who are not tech-savvy, this can be a bit confusing. However, follow the instructions on downloading and using the iRoad Viewer on iRoad's website, and you'll be fine.
They also recently came out with a Mac version of the viewer, so you'll be able to see your videos on Windows or Mac.
Compared to other dashcams, I like that there is dedicated software to watch all of the clips. The initial setup was intimidating, but once you start using it, you'll never want to go back. There's a level of convenience and polishness to having all of the clips in one place and quickly viewing each one without having to open/close video files.
If you have the OBD X scanner installed, the added telemetry is the real kicker. Seeing every mechanical action, you took while driving adds a layer of security and peace of mind that no other cam gave me. In the event of an accident, I would feel 100% safer and protected because I have the video footage AND the onboard data that I was driving the speed limit, signaling, and taking precautions.
Parking Mode
You'll either need the OBD scanner or hardwire the device to your car to use this feature. This is a helpful feature if you're leaving your vehicle in a garage or a sketchy part of down and you want to keep an eye on it. You can activate it on your phone. Once activated, it'll record a timelapse video at one frame per second. With the included 32GB micro SD card, you can expect up to 16 hours of recording. Not bad.
Motion & Impact Detection
Another neat security feature is motion & impact detection. Once activated, the camera will start recording if anyone gets within 3 meters of it. It'll record at 10fps, and you'll get an alert on your phone.
Storage capacity
The dashcam comes with 32GB microSD to get you started. Luckily, it can support up to 1TB microSD. That's probably far more storage than you'll need. However, it's greatly appreciated since comparable models often limit SD card storage capacity to 128GB or 256GB.
iOS/Android App
This is an often-overlooked feature when deciding which dashcam is right for you. All of the features and functionalities are useless if the user interface to access them is clunky. The engineers didn't overlook the app development, and it shows. It's a robust, responsive, and intuitive app. There's no learning curve. Downloading, connecting, and figuring out all your settings takes less than 5 minutes. It's not the prettiest-looking app, but it's clean, minimalist, and highly responsive.
When I click on the "Live view" to see the live feed from my car that's parked 100 meters away from my apartment, I expected it to take a while. But it booted up in less than 5 seconds, which is impressive given connectivity from inside my car isn't great.
Other useful features
Here is a list of other useful features that come with the iRoad X10 dashcam.
Lane Departure Warning: Alerts you when you're veering out of the lane at a certain speed. You can adjust the speed and how sensitive you want the sensors to be.
FVDW: Stands for Front Vehicle Departure Warning System. A fancy way of saying it'll alert you when the car in front of you starts to move in traffic.
FCWS: Forward Collision Warning System. The dashcam will alert you when you're going too fast and could be on course for collision.
Parking mode: Enabled recording at 1fps while parked. You can also adjust the sensitivity.
Motion detection: Will record when it detects motion.
Security LED:  Turn on/off the light security strip on the dashcam's front while the car is parked. 
High temperature shutdown: Automatically shuts the unit down when it exceeds 75 degrees Celsius while parked.
Final Verdict
The X10 does have some issues. The front camera resolution could improve and enable 60fps recording, and the Android app could use a major update.
Although there are problems, the X10 excelled in an area that mattered most – reliability. I've not had one feature crash throughout the last three months of use or failed to work on me. All sensors, parking/security modes, and safety functions work 100% of the time. This gives me peace of mind knowing that mechanically this dashcam will never let me down.
The X10 is the most complete dashcam you can buy right now. If you're looking for an easy-to-use dashcam with all the safety and security features that's also easy to set up, look no further. If you're not afraid of wires and want the latest tech and connectivity, the X10 will deliver. At $419 USD, it's an expensive investment. If reliability and peace of mind is your top priority, then the IRoad X10 is well worth it.
Penji VS Kimp: Graphic Design SmackDown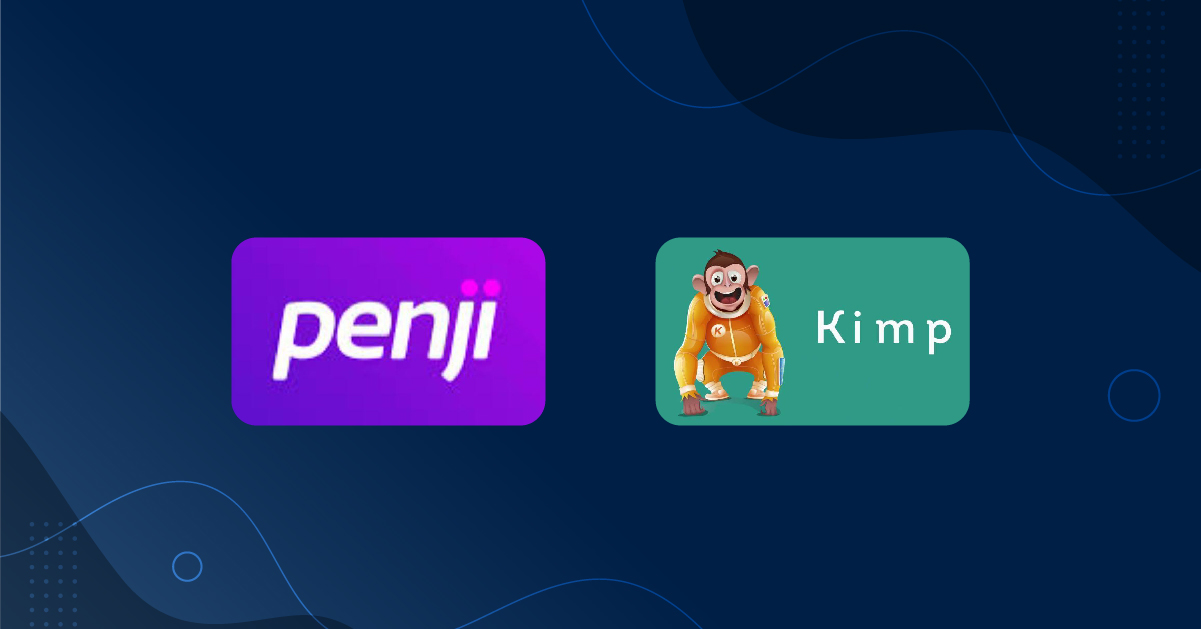 Whether you're a large company with numerous orders and presentations, or a mom-and-pop shop looking to get the word out about your business, you know the importance of good graphic design. A good logo or graph can really help your data pop. Subscription graphic design companies are here to help you stand out from the herd. Penji and Kimp are two services worth keeping an eye on, each offering unlimited graphic design. Let's see how they stack up side by side.
What Do They Have to Offer
What are you looking for when it comes to a graphic design team? What works for one business might not be what works for another. As a business owner, you have an acute sense of what you need.
Kimp

Kimp has three types of subscription packages:
Graphics only for $389/month
Video only for $589/month
Graphics and video for $889/month
Kimp's basic plans lend themselves to those who may need graphic design in a basic sense. If you are looking for any print on-demand design work, Kimp's simple plans may speak more to your needs.
Penji
Penji's memberships breakdown according to which services they offer and the number of people on your team who can submit work.
Pro offers graphics only for 2 users for $399/month
Team offers graphics and illustrations for up to five users for $499/month
Agency offers an additional designer designated to your plan and up to ten users for $899/month
Penji's plans seem more suited for businesses and marketers. They built their features to be accessible to different sized teams. Some of their plans are more tailored to help with web design as well which would lend itself to the small startup.
Winner…
It's a close one, but if judged by pricing alone, Kimp wins by a hair if you choose 'graphics only' as it will save you $10/month. As the plans go up, Penji looks to be the better choice. Two designers working on your projects and 10 different users submitting work make a big difference if you are a company with more needs. Otherwise, your business might need a designated graphic design department just to outsource its graphic design work through one user.
Trial Run
Kimp
The Kimp trial run is useful because it gives you an idea of how their operation works, but it is limited in scale regarding what it actually permits you to do. You can't request a landing page design, a logo, or any resizes. Additionally, all of your projects will be sent back with watermarks. If you have to work you need for your business, you'll need to either sign up blindly or do the trial run, have them submit your watermarked project, then go through the hoops of approval. Still, this is not a bad option if time is not an issue, and you don't mind submitting a hypothetical project.
Penji
When you set up your profile with Penji, you sign up for the service. They do not offer a free trial. Instead, you have 15 days to cancel your subscription for a refund if you are unhappy with their service. In the meantime, you get the full array of services that Penji has to offer right out of the gate. You get full ownership of all the projects sent back to you, without any limits or watermarks.
Winner…
It's a toss-up. You have to ask yourself what is more important to you. Do you want to test drive the product before you commit? Kimp lets you see how they would provide their service if you signed up. But if you have work that you want to be finished, and you're okay with committing to a service so long as the work they turn in is satisfactory, Penji is the way to go.
User Interface
Whatever graphic design company you choose to work with will be an extension of your business. They are that remote employee you don't see but are very much a part of your team. As such, you will be working with them frequently and how you choose to communicate is important.
Kimp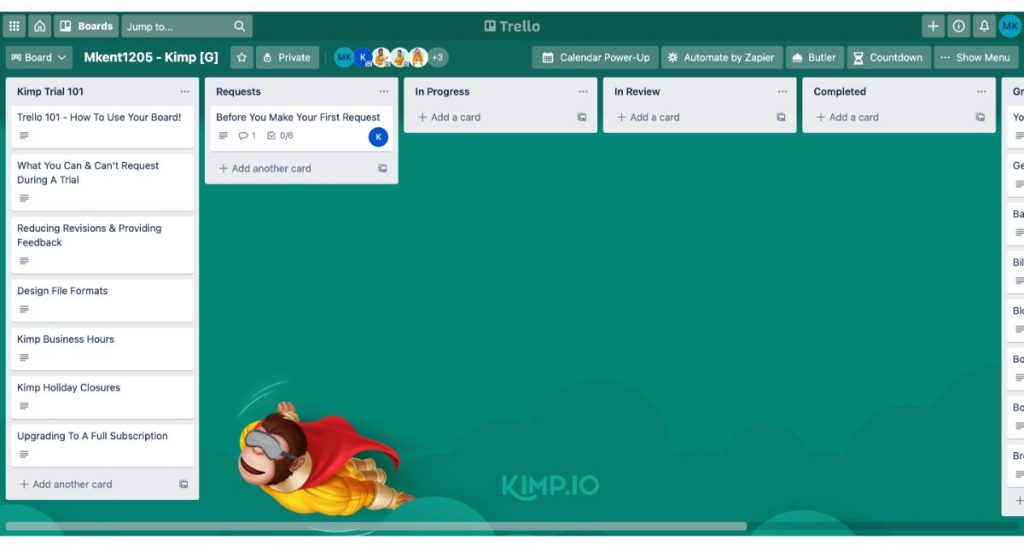 Kimp communicates with you via Trello. If you're unfamiliar, Trello is a handy website that acts as a digital projects board. Here, you can create simple tasks or massive, layered projects and share them with your team. Trello is the 3rd party interface Kimp relies on to receive projects. If you've worked with Trello before, it's only a matter of setting up a new board with your Kimp profile and signing in whenever you need to. You'll have your 'Requests' board along with 'In Progress,' 'In Review,' and 'Completed.' There is a Trello app for your phone, but it is much more user-friendly on a computer.
Penji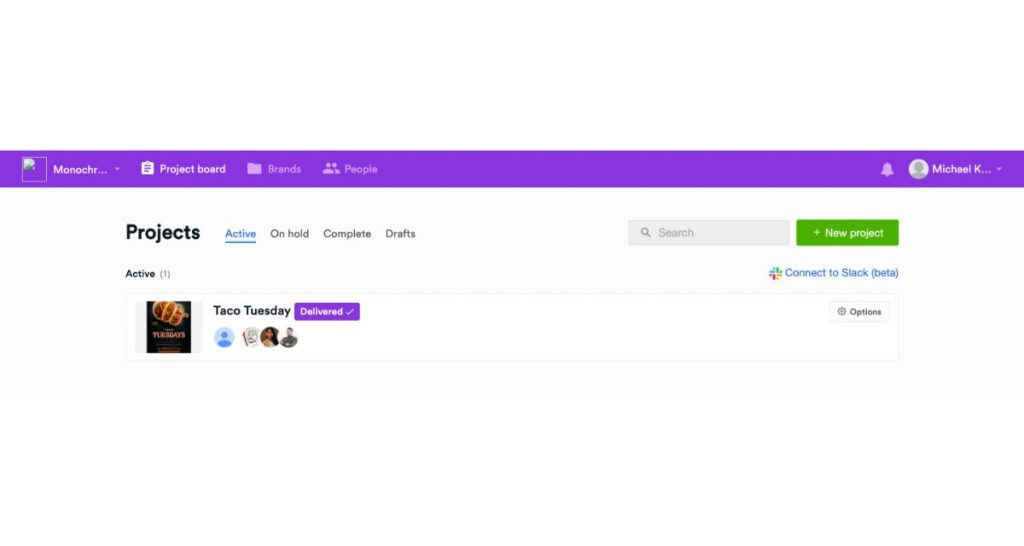 Penji doesn't use a 3rd party interface. All of your work will be done directly through their platform. The site is pretty barebones – but that is a good thing. You can see any of your current projects right on your profile, as well as projects that are on hold or any drafts. There is a live chat feature on the bottom right of the site where a team member can answer any questions. The user experience is clutter-free and, which is helpful since you won't be on the site for anything other than submitting and reviewing projects
Winner…
Penji has a better interface. While Trello is nice and familiar to many, it is 3rd party software. Its primary function is not streamlined for graphic design, and it shows. Penji's sleek and simplistic platform needs no learning curve. For a company that sells design, it's nice to have something more aesthetically pleasing and easy to use.
Before You Get Started
You've signed up for an unlimited graphic design service – now what? What's needed between creating a profile and getting submitting a project?
Kimp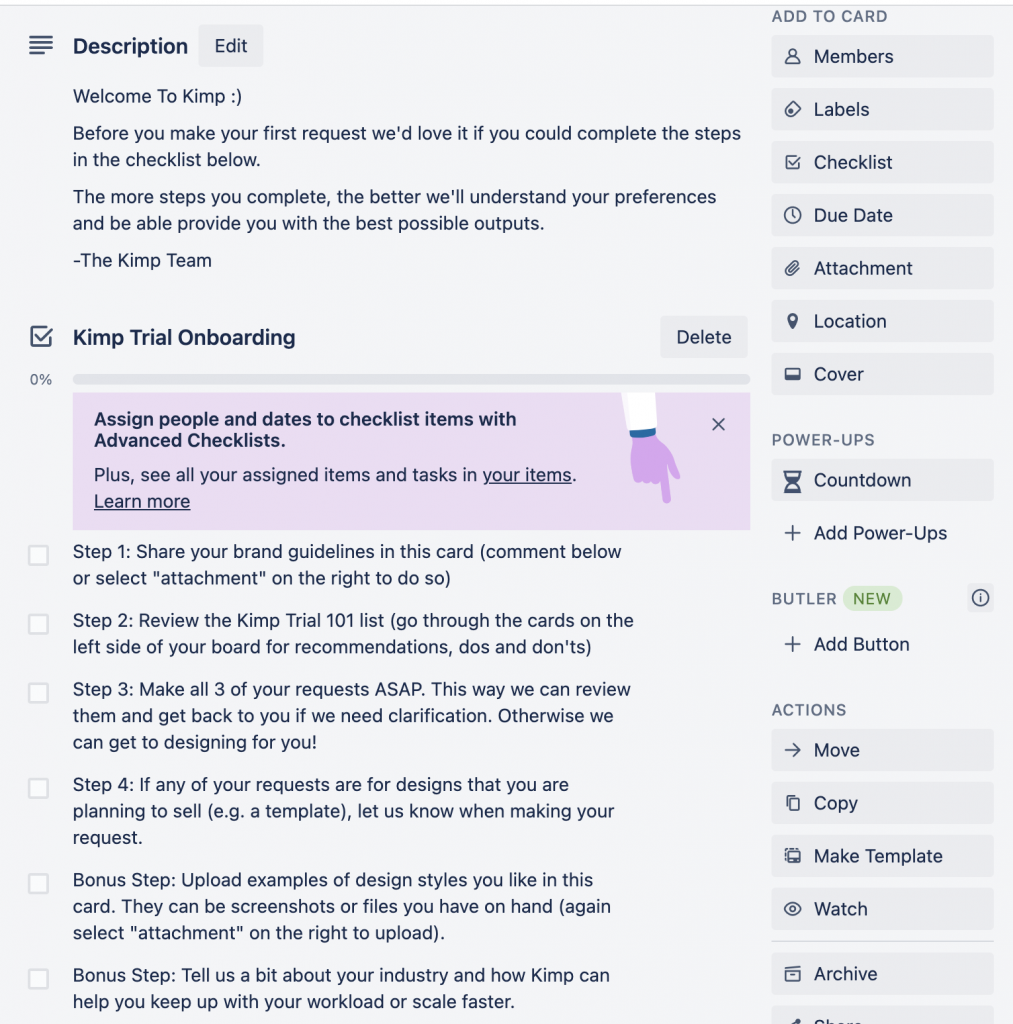 Once Kimp sends you a link to your new Trello invite, you'll be able to take a look at your work board. But if you think you're ready to start submitting work, not so fast. Under "Kimp Trial 101", you'll find a bunch of literature to help get you started. Here they will tell you what you can and cannot do, their hours according to your region, and how to upgrade to a full subscription. Under the "Requests" board, you'll find the only request that Kimp puts in that column. (The rest will be the projects you submit) Here, you will fill out some onboarding questions. You are asked to discuss your company's brand, upload examples that you like, and submit your 3 trial requests at once. This is so that Kimp can have a better understanding of who you are and what you need.
Penji
Compared to Kimp, Penji is very much 'point and shoot.' Since there is no trial version, whatever project you submit will be treated as an actual project (because it is). You can submit your first project within minutes of visiting Penji's site for the first time. New users may feel apprehensive at first. Where Kimp has an abundance of reading material, Penji has virtually no essential reading. There may be a feeling of 'what do I do now?' But this feeling won't last long. Any brand or design information that you need can be found on your New Project page. More on that later.
Winner
It's not really close on this one. Penji's ready out-of-the-box setup is ideal for anyone who wants to get to work. Not having to read a lot of literature or jump through any hoops speaks to Penji's confidence in their product and service.
Submitting a Project
A year from the purchase of your graphic design subscription, trials and tutorials won't matter, and you will have gotten used to the interface. On the other hand, the process of submitting a project will matter.
Kimp
To submit a project, you will need to make a new card on your Trello board. Depending on what type of project you need, there are different things you will need to fill in on this request. You will need to add the information to a blank card. You can find the guidelines for each time of project under the guidelines list on the far right of your Trello board. I found it easiest to copy and paste the numbered list of information from the guidelines to your new card and erase the guidelines as you fill them in.
Penji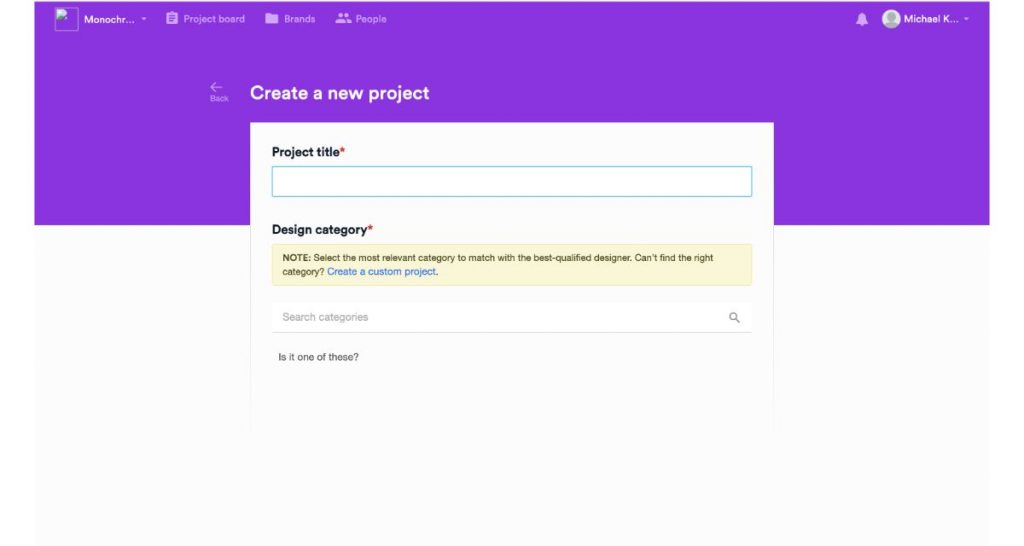 From Penji's website, you hit the green '+ New project' button, and you will be prompted to fill in the details of your project on a new screen. Penji asks for a name for your project. You then choose the type of project from a drop-down menu. Next, you are asked to describe your project. To the left of the description box is a yellow card reminding you what to include in your description. From there, you can upload any pictures you want to be included or samples of other projects you would like your new project to resemble.
Winner…
Penji is the clear winner here. Once again, it is the easiest to operate. Its prompts and designated page make describing your new project idiot-proof. Penji, being the professional design company you hired, meets you more than in the middle to figure out what's needed for a satisfactory project.
The Finished Product
It isn't enough to see a finished product and decide whether a graphic design is up to snuff. You must compare the finished product to your requests. It is also good to see how the designer can handle a curveball. What happens when they submit a project for you to review and you send back edits?
Kimp
The plan was to submit a project to Kimp with specific guidelines. Once the project was submitted for review, an edit disregarding one of the earlier guidelines would be sent back to see how responsive the designer was. Unfortunately, this part of the review is left incomplete. At the time of this article, the project had not been sent back for review before the free trial expired.
Penji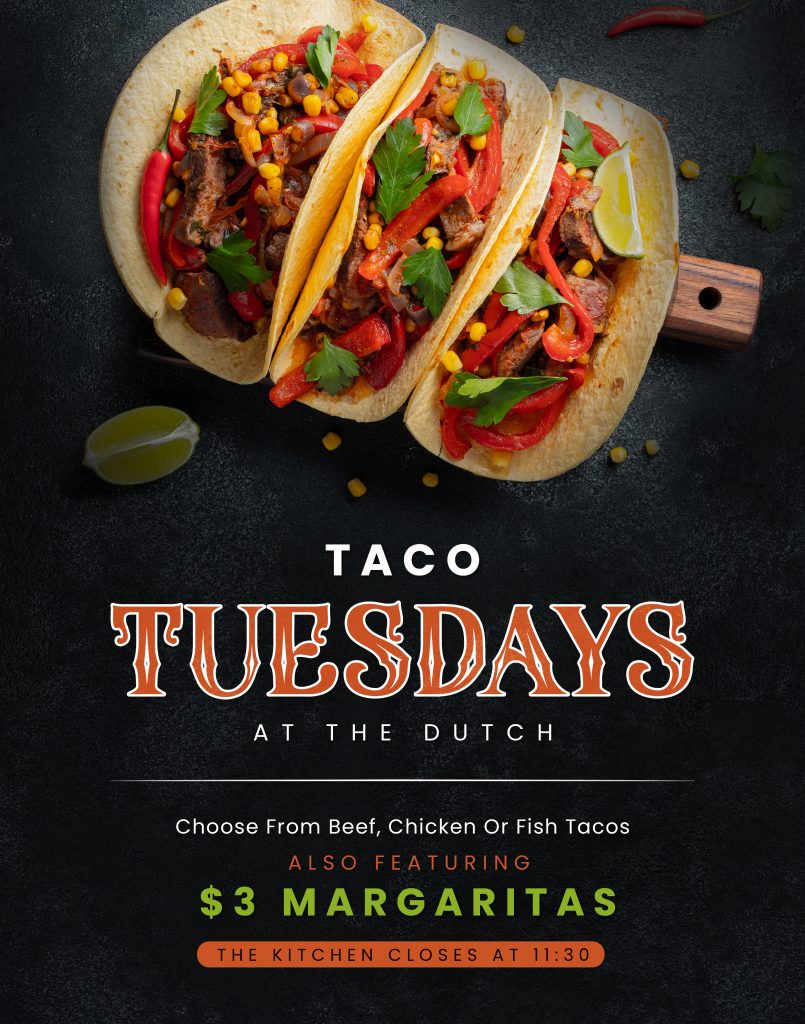 Within 18 hours, my designer sent me a draft of the project that I asked for. In this case, I submitted a project for a 'Taco Tuesday' poster for a bar. When I sent back a request that a different graphic is used, I got the final project sent back to me the next day.
The Winner…
Penji is the clear-cut winner. While working through their website and only speaking through the project request form, it was still clear that there was a real-life person on the other end who took ownership of the project and worked to deliver not just a well-designed graphic but the specific one that I requested.
My Experience With Penji (+25% Promo code) Unlimited Graphic Design Service
The graphic designer hiring process comes in many forms. Within the past 5 years, unlimited graphic design services became a desirable alternative, offering graphic design work on a monthly subscription. Penji is a Philadelphia-based startup that offers this unique business model.
You can submit as many design projects as you want via their online portal, and they'll complete your requests one at a time until your queue is complete. This type of service promises to be a great added resource for teams to improve productivity.
Does it sound too good to be true? We thought so too. So, we signed up to see for ourselves.
Quick Summary
As with any service, there are pros and cons. To help with your graphic design hiring decision, we decided to condense what we found in a bulleted list below. Here's a quick summary of our review of Penji's unlimited graphic design service.
Pros
Easy and quick to create design projects
Storage for all my requested designs
VERY fast turnaround on most projects. I expected just 1 draft in 24 hours but instead received 3 drafts. Revisions were sometimes completed the same day I submitted them.
Helpful features such as a revision tool, ability to invite team members, brand profile, and more
Upbeat and direct communication from everyone I interact with
A dedicated and responsive account manager who replies within a few hours
Cons
Can't call or talk to designers
Best if you have design projects ready to submit
Not available as an app
Overall Experience
Penji's "unlimited" design model is a great choice if you have the right expectations going in. The service is affordable for growing businesses and their output is reliable. However, if you're expecting to be on-call or face-to-face with your designer, this type of service is not for you.
Compared to designing yourself, hiring freelancers, or using Fiverr, Penji is a much better service and value by a long shot. Their team of designers lived up to the promise and exceeded my expectations.
Thinking of trying Penji out for yourself? Here's a special promo code for Owner's Mag readers:
Use the Penji promo code "OWNER25" to get 25% off your 1st month.
Disclaimer: we receive a commission when you use the code.
---
PENJI FULL REVIEW

We put Penji to the test by signing up, requesting a designs, and examining the results. Here's how it went.
Signing Up For Penji
Signing up for Penji was a relatively quick and painless process. All of my questions were answered in less than 5 minutes by customer support via Intercom and another 2 minutes to complete the checkout process.
Communication with Penji's Support Team
How fast and reliable a company's support team is before you are an active customer is a reflection of what's to come. If they're unresponsive now, it will only get worse once I'm a customer. I reached out to Penji's customer support team via their Intercom chat popup and got a response within 30 seconds, which is pretty good. I asked basic questions and the agent seemed knowledgeable.
Communication as a Customer
All communication is done online through Penji's proprietary online portal. That includes revisions, feedback, and answering any questions my designers may have.
Communication with Your Designers
Penji assigned me 1 designer, Billie, and communication with her was easy. If you have used any messaging platforms like Slack, Facebook Messenger, or Discord, you'd be familiar with this form of communication.
Billie was responsive, attentive, and always seemed to have a positive attitude no matter how demanding my requests were. She had many questions about the projects, which I tried my best to answer as a customer. Though the back and forth took longer than I wanted, I realized she was just being thorough to get the design done right, which I appreciate.
Communication with Your Account Managers
They assigned me an Account Manager, Charmaine, who was very quick whenever I needed something. It usually takes just a few hours for me to get a reply via email from her. When I had an issue with one of the projects, she quickly stepped in and helped resolve the situation.
1. Choose the Right Package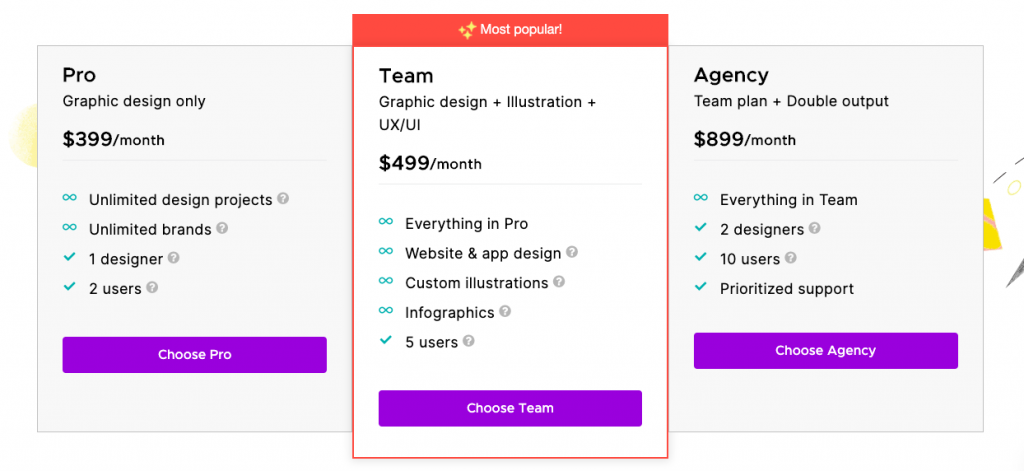 All the packages are laid out with monthly, quarterly, and yearly pricing. Starting at $399 per month for the Pro plan, you'll be able to make unlimited graphic design requests with a 24-48 hour turnaround. As your design needs grow, you'll have the Team and Agency packages to choose from.
2. Checkout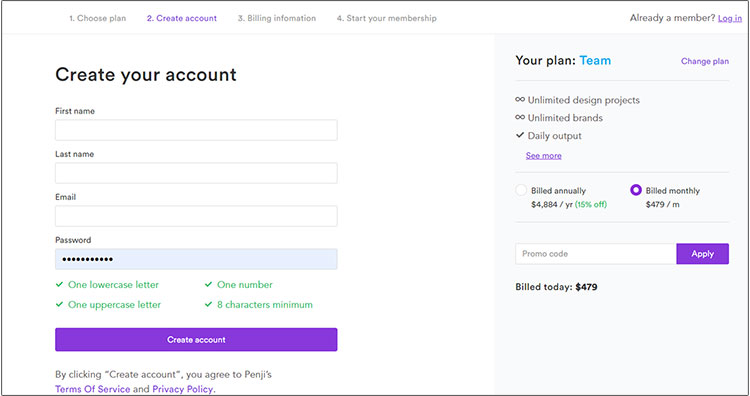 The form is straightforward and easy to fill out. Checking out was a breeze and took about 2 minutes.
---
3. Submit a Design Project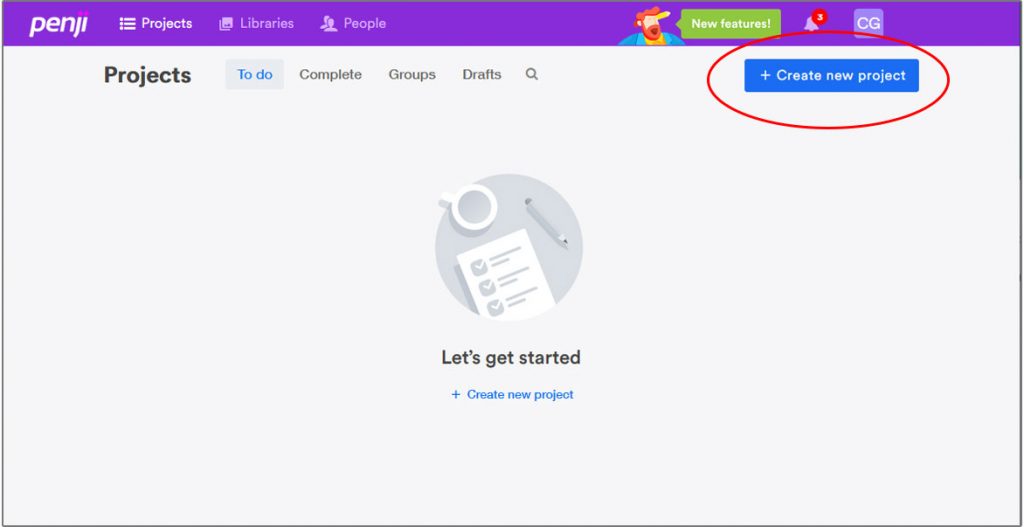 Clicking on the "+ Create new project" button, I'm presented with a visual chart of all the design categories they offer. They offer an extensive selection of options and even the ability to request a custom project.
4. Fill Out the Request Form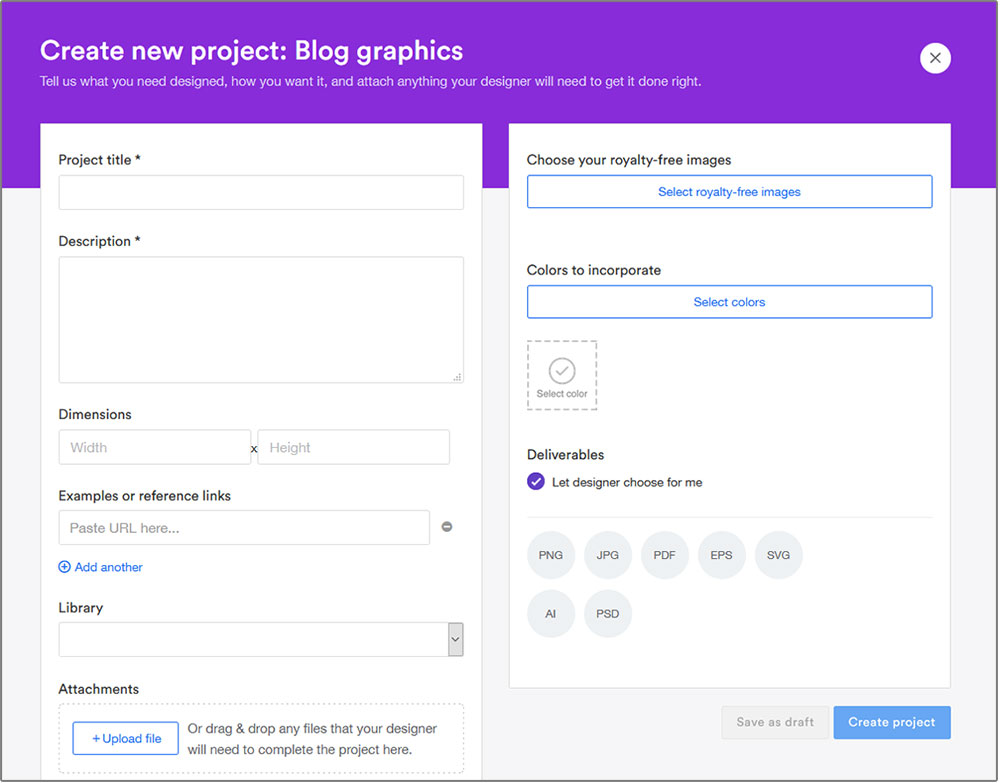 Next, I filled out a short form detailing what I wanted them to design. For those of you who hate long forms, this one from Penji is easy to follow and doesn't ask too many questions. Most of the questions are actually optional so you can be as descriptive or non-descriptive as you like.
My test projects
As a digital publisher, we produce content on a daily basis and always have a need for on-brand graphic design. I created several projects to test how well-rounded Penji is and how they handle both simple and complex requests. A simple banner should be difficult, but can they handle a complex infographic with lots of texts and imagery?
Here are my test projects:
Blog Graphic: Best DSLR Camera Equipment For Beginners
Custom Illustration: Best Vacuum Cleaner Money Can Buy
Facebook Post: Isometric Tech Gadget Graphic
Magazine Print Cover (Owner's Magazine's 2020 May Edition
Despite creating four projects, the entire process was quick and smooth. It only took a few minutes to create them and their internal platform was lightning fast. At this pace, I can see myself submitting multiple projects on their platform with ease.
---
Turnaround Time
I expected at least one draft the next day. What I didn't expect were three drafts ready for review. To give you a comparison, most freelancers and design firms we've hired take several days to submit just one draft.
The designs were surprisingly good considering that it's the first draft AND they had a 24-hour turnaround. After reviewing, I realized how they did it. Every project had a different designer. I wasn't assigned just one designer. It was like having my very own virtual design team.
4. Requesting Revisions
Though the designs were good, I still needed a few revisions. The drafts were turned around usually the same day or by the next day. Their support agent actually told me it will take 24 hours to turn around revisions. The revisions that took 24 hours were typically much more involved.
Overall, revisions were quick. Most came back within a few hours after I submitted them.
My one gripe would be that I prefer to have some sort of real-time chat with my designer or at least have a Zoom call. That's one thing I like about working with my freelancers. Whenever they were online, we could just have a back and forth conversation to get the revisions across. I can't do that with Penji.
Built-in Revision Tool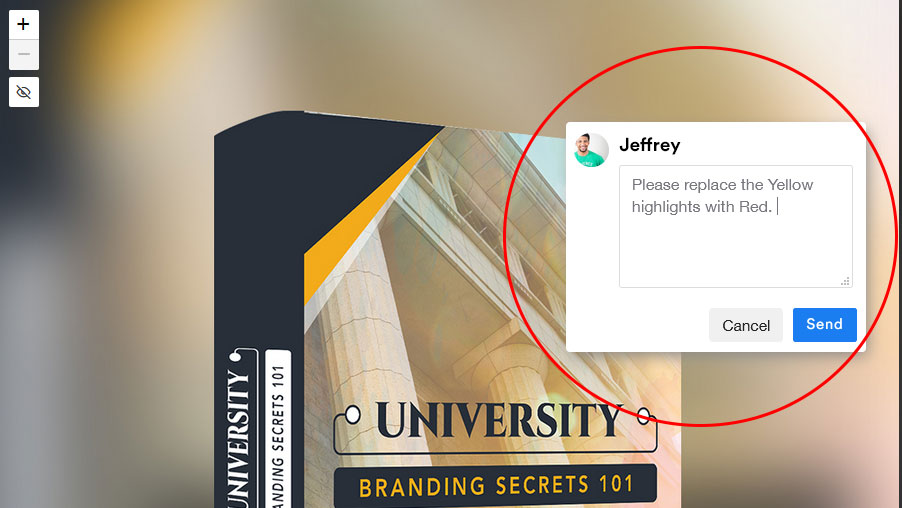 Penji has a built-in revision tool that lets me click anywhere on the design to leave a revision. I found this incredibly useful as it enables me to pin-point what I want to change.
---
The Results
It took about 1 week to go back and forth with revisions and edits for all 4 design projects. At the end of the week, I received the final drafts for all three. Here are the results of the three test projects.
1. Blog Graphic: Best DSLR Camera Equipment For Beginners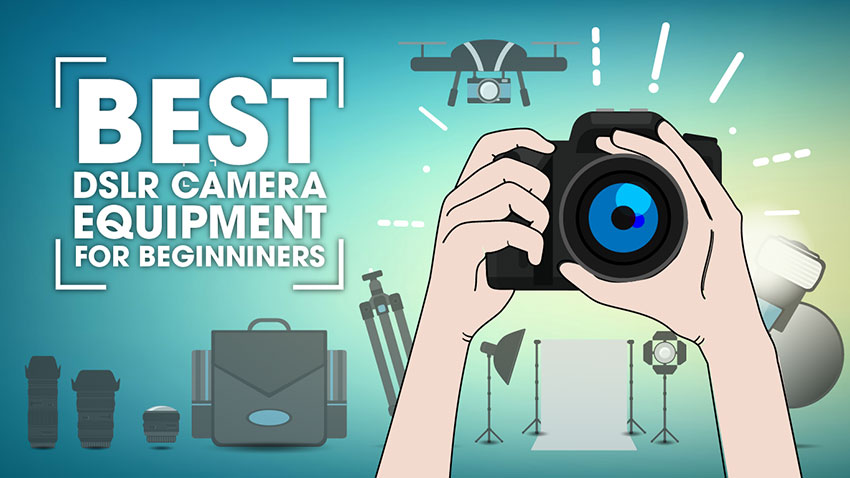 This far exceeded my expectations and will more than do for the blog I'm writing about DSLR camera equipment. I think most designers would probably just stop with 1-2 icons and graphics for this design. My designer decided to add the tripod, three lenses, drone, backpack, and a whole entire stage lighting kit.
I didn't ask for those, but I'm impressed with the quality of the design. No revisions needed. I approved this project on the first try.
2. Custom Illustration: Best Vacuum Cleaner Money Can Buy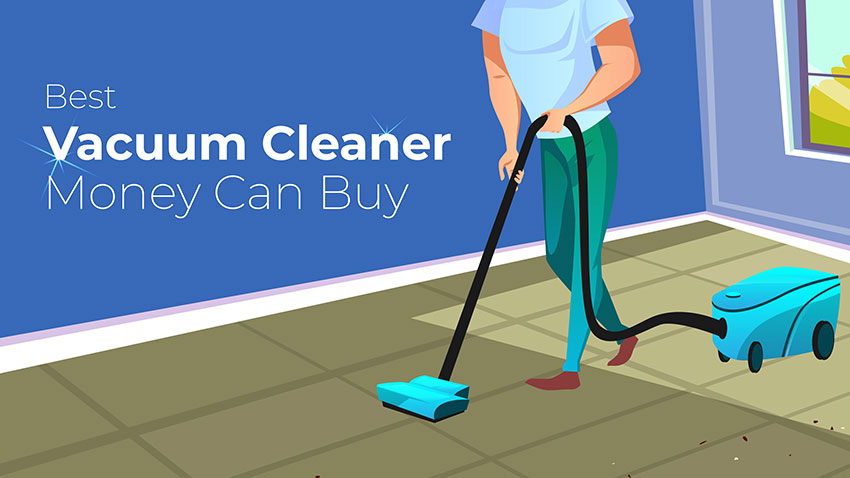 For this project, I asked my designer Kei to do a custom illustration of a man vacuuming his floor. He actually drew it up and sent me a rough sketch first before he started coloring it in. That was an extra layer of care and attention to detail I wasn't expecting. Needless to say, I approved of his drawing and he delivered this draft the next day.
Revision
Everything in this graphic was hand-drawn and then colored digitally. Like the first project, I couldn't think of any revisions except asking him to put the texts "Best Vacuum Cleaner Money Can Buy" on the graphic.
He went the extra mile and designed the text to fit the graphics. See for yourself above. It's details like these that I would have had to harass my freelancer and he would try to nickel and dime me for every revision. Great work Kei!
3. Facebook Post: Isometric Tech Gadget Graphic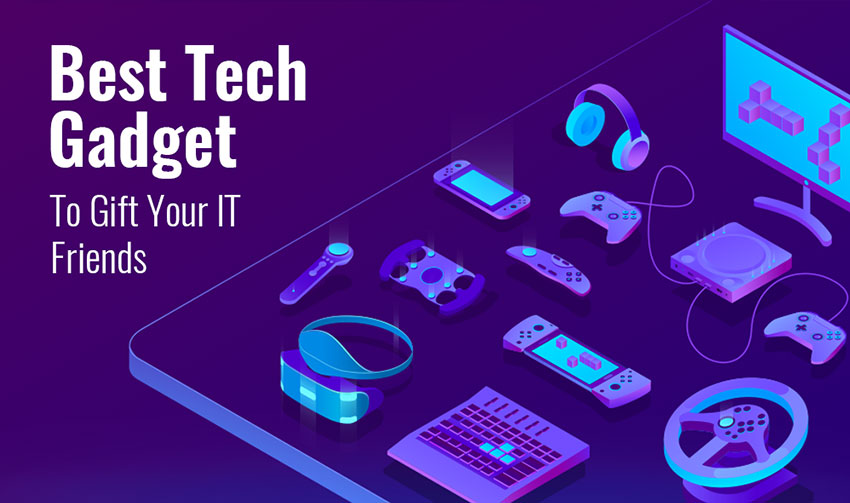 My designer Jave's first draft amazed me because of how much detail he put into this project. I had asked for an isometric graphic with various tech products laid out on an isometric glass plane. I honestly thought my description may have been a bit too vague, but he understood my vision even better than I did.
4. Magazine Print Cover (Owner's Magazine's 2020 May Edition)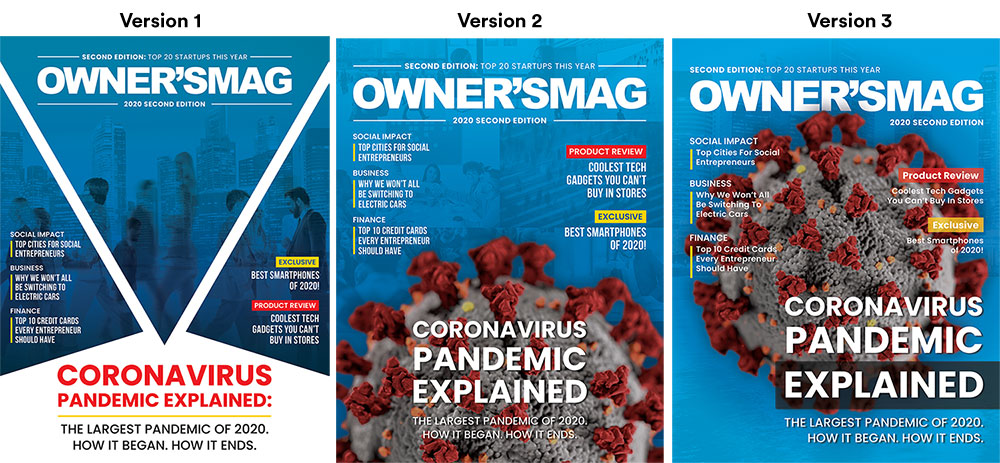 My designer Billie gave me 3 versions of the magazine cover. I don't like version 1 at all. It looks too templated. I personally like version 2 and 3 and left revision notes accordingly. The coronavirus image was entirely her idea and I love it.
Revision
This project took a bit longer than the others because my designer Billie had questions and we had a lot of back and forth. I didn't mind at all since she was asking good questions that I should've included in my design request. Overall, I appreciated the extra time she took to understand me and the project better.
About three days later, I received another draft which blew everything before it out of the water.
---
Final Verdict
All four projects were completed within two weeks and I was impressed with how they all turned out. If I had paid hourly or per project, these would've easily cost me well above $1200+ to get done, and probably taken weeks.
With Penji, it took just a few days and I paid a fraction of what I would've paid elsewhere. Definitely impressed with both the turnaround, quality, communication, and value this startup has to offer.
But Penji isn't without its flaws. The service definitely isn't for everybody.
Who would benefit:
business owners
marketers
agencies
creatives with consistent design needs
If you don't have a consistent need, the bill will start racking up after a couple of months and you won't see the value in the subscription.
However, if you do happen to fit their target demographic, then there's no better alternative out there. The speed and quality of their work easily rival other services I'd ever used. For $399 per month, this is an absolute steal.
My Honest Review of the Juiced HyperScorpion eBike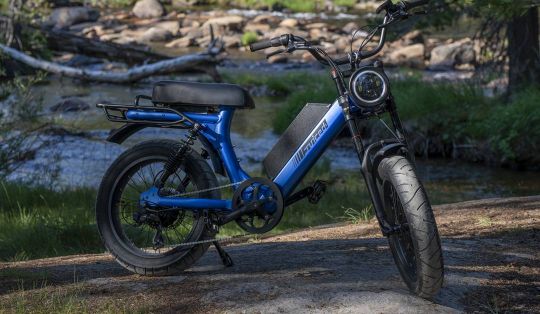 If you are even slightly curious about purchasing an electric bike, all you need to do is whisper the word 'ebike' in the same room as a smartphone, and you will forever be inundated with ads every time you look at your screen. More electric bike companies are popping up every day. COVID might as well have been the Big Bang for alternative transportation. There are many different bikes made to fit a wide range of needs. Almost too many. After thorough research, there was one ebike in particular that caught my attention: the Juiced HyperScorpion. So, I picked one up and put it to the test. Here's my honest review of Hyperscorpion ebike.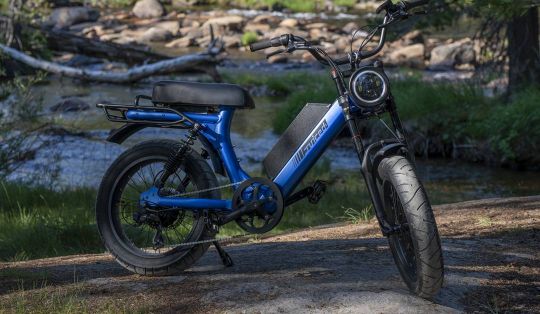 What I Need
Before digging into the review, let me first tell you what I was looking for in an ebike. As I said, there are many different ebikes out there – some are better suited for different needs than others.
A commuter
I needed a bike that would get me to work. My home is about 15 miles from the office and I drive an SUV, and the gas prices are killing me, so a bike that replaces my ride to work would save me money in the long run. I needed a bike with a decent battery.
Some muscle
I'm not small. Hovering at around 6 feet tall (my brother will be quick to tell you I'm really 5'11) and weighing in at 230 lbs, I needed a bike that could handle my size. I didn't want the bike to die halfway to work, and I didn't want it to be awkward to ride with my knees coming up over the handlebars as I pedaled.
Speed
It might not have been essential, but then again, what's the point of getting a cool new ebike if it didn't have some speed to it? I wanted a bike with some zip. Not just for fun, though – the drive to work is 30 minutes. I didn't want to have to wake up an hour earlier to get to work on time.
Stylish
Like speed, this wasn't at the top of my list as far as essentials go, but I did want an ebike that had a nice look. It wasn't so much that I needed it to look super cool – I just didn't want it to look lame. Some ebikes look awkward or silly.
HyperScorpion On Paper
I Googled, and I asked around. I clicked on the ads that showed up on my Facebook feed and Snapchat stories, and I searched Reddit and compared ebikes side by side. Finally, I landed on the HyperScorpion from Juiced.
Checking all the boxes
According to all the research, the Hyperscorpion had everything I needed. Juiced claims a 70+ mile range for the ebike. Compare that to the 45+ mile range of the base model, Scorpion, and 50+ mile range of the Ariel Rider D-Class. The maximum weight capacity for the HyperScorpion is 275 pounds. I'm well within the weight range but won't be riding with any passengers. The top speed is over 30 mph! That's wild, but more on that in a moment. The HyperScorpion is also a pretty badass-looking bike. Its step-thru style with a wide frame, fat tires, and massive headlight make it a forced to be reckoned with. Now, back to the speed.
eBike classes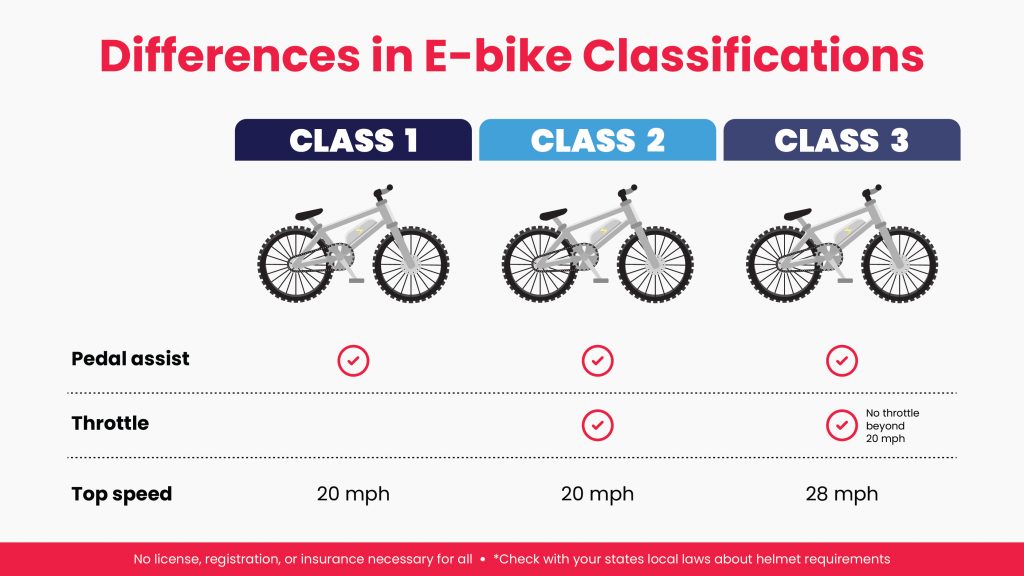 The difference between a bicycle and a motorcycle is pretty obvious. A bicycle is manually operated, and the average speed is around 12mph. It doesn't have an engine, you don't need a license, and you can't ride it on the highway. On the other hand, a motorcycle has an engine, and some can go north of 100mph. That's very dangerous, of course, and you need a license, insurance, and registration to ride one. With ebikes, however, the differences start to get less obvious.
Electric bikes fit into three different classifications. Class 1 is for pedal assist-only bikes and tops out at 20mph. Class 2 also tops out at 20mph but comes with a throttle, so you don't have to pedal. Finally, Class 3 goes up to 28mph, but you'll need to pedal to get that fast. Anything faster, and you will need to register your ebike as a motor vehicle and have insurance much like you would a moped or motorcycle
But you said the HyperScorpion goes over 30mph!
The HyperScorpion has different settings you can change on the LCD display on the handlebars. You can go from a pedal-assist only, all the way up to a class 3. Then there's 'racer' mode. By going into the settings on display, you can unlock racer mode and go beyond 28mph with the throttle only. Juiced warns that this is only to be used on private roads, off public streets. If you use racer mode on a public street, you could be subject to a fine.
Put to the Test
The specs look just fine online, but how does the HyperScorpion measure up in the real world? Over 30 mph is impressive if it's true. What about that battery? I also had concerns about customer support. Different forums online said that their support was lacking. Reports of the bike coming in the mail damaged were easy to find, and some people complained that getting ahold of someone at Juiced who would send them a replacement part was difficult. Only one way to find out.
Out of the box
When I ordered my HyperScorpion, I got a confirmation email that said it would arrive in 7 to 10 business days after it was processed. I ordered it on a Thursday evening, and the bike was traveling across the country to get to me, so I tried not to hold my breath. But it came exactly a week after I ordered it.
The bike came with some assembly required. I had to install the front tire, handlebars, and headlight. Despite the fact that the box had no visible damage from the outside, and the parts seemed secure inside, my headlight was damaged. It looked like it was crushed a little bit. It was just as I feared. The light still worked, but it was disappointing that it looked like I had been in a small accident before I even got on the bike.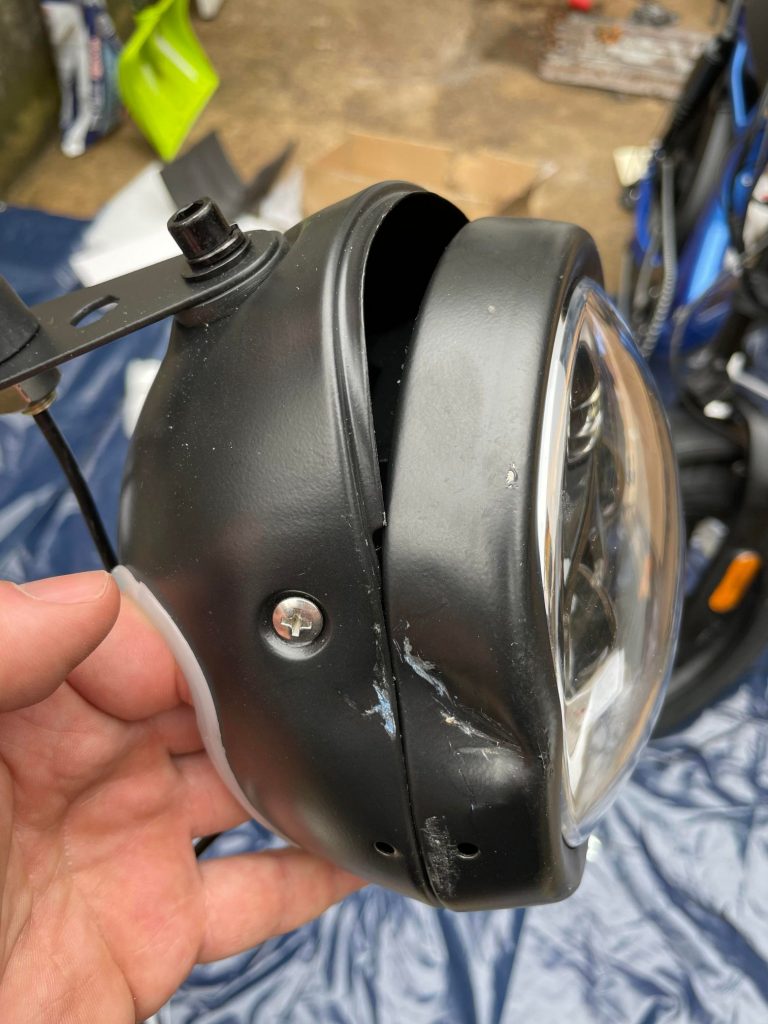 I emailed customer support with my order number and a few pictures of the damaged headlight and crossed my fingers.
Since the headlight still worked, I installed it anyway with the plan to replace it if I ever got the new headlight in the mail. Setup took less than an hour, which is great – off to ride! Right? Wrong. The battery needs to do a full charge (9 hours) before its maiden voyage.
She's a beut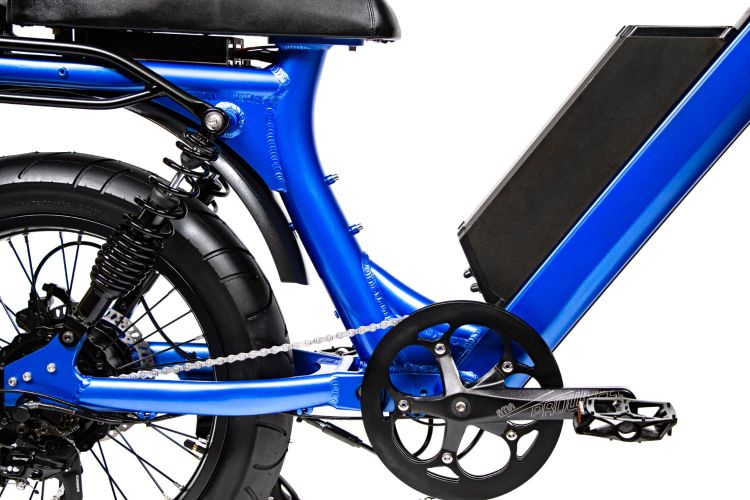 My HyperScorpion came in a sexy, sleek dark blue. The step-thru design was something I was not initially looking for. I thought they looked a little too feminine for my tastes. But the wide, bulky frame dispels that notion. The bike looks more like a rugged moped with pedals. The big tires look like you could ride it into a warzone. The headlight (even though it was damaged) belongs on a motorcycle. There is no mistaking the HyperScorpion for an ordinary bike.
The ride
I finally got to take my brand new HyperScorpion for a ride the next day. If you haven't been on an ebike before, the experience is surreal at first. One rotation of the pedals and the motor kicks in. Suddenly, it feels like you have a gust of wind at your back as you propel forward with minimal effort. If you are not comfortable on a bike, to begin with, proceed with caution, 20mph comes up pretty fast.
Even with my heavier frame, the bike went up hills with no issue. The screen on your handlebars tells you how much juice you have with your battery, and cruising around my neighborhood for an hour hardly made a dent.
So quiet
I was surprised with how quiet the HyperScorpion rides. Sure, it has an electric motor, but the bike has some serious power, and it's virtually silent. While this is pretty cool, it did raise some concerns about road presence. Motorcycles have the benefit of the loud engine to alert other cars. If you're not careful, you could easily sneak up on a car on the road.
Fortunately, the HyperScorpion comes with a horn you can reach with your thumb. It's loud enough to alert cars as you come around corners or pedestrians that wander onto the bike lane. Plus, two big mirrors and the massive headlight offer some decent visibility. Still there, is no substitute for common sense.
Warning: Pedal bite
One thing I was fortunate enough to learn about online before I rode the bike was a pedal bite. If you take a hard turn while your inside pedal is down toward the ground, you can catch the ground with the pedal and hurt yourself. I found that I naturally rode with my inside pedal up when I took turns, but this is worth noting.
Faster? Longer?
After my first commute, I learned that the specs weren't entirely accurate but not far off either. I made it to work and back in a single charge, switching between throttle only and pedal assist. After traveling roughly 30 miles, my battery was much closer to 20% than I would have liked. It would have been nice to get two days of use before charging it for 9 hours. Still, the battery is impressive, and I'm confident that the listed distance on all ebikes is a little skewed with heavier riders.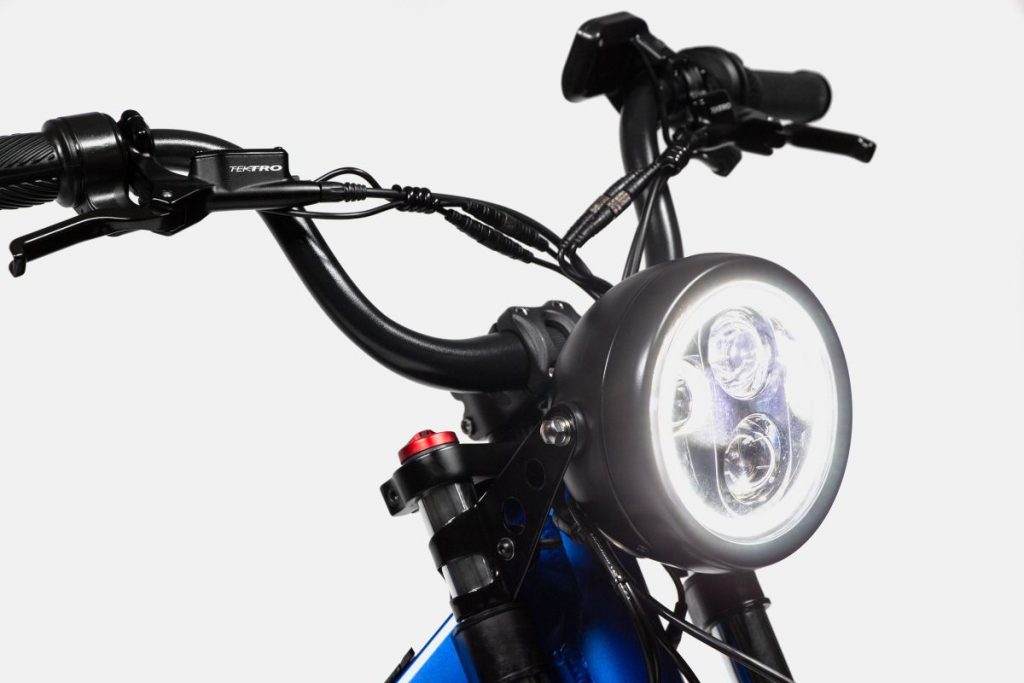 The top speed was not that far off. When I rode the bike on a <wink, wink> private ride, which I definitely did, by the way, I got up to 30mph on the dot for a brief moment. This was on flat terrain, and I really had to push it. If you are thinking you will be speeding at 30mph for long drags, you will be disappointed.
Final Thoughts
Good news: the new headlight came in within a week of my report. I can only express complete satisfaction with Juiced's customer service. They were prompt and attentive. It was a bummer that the bike came damaged, but hey – things happen. They fixed the problem as quickly as I could have expected.
After riding the HyperScorpion for a week, I say it was well worth the investment. It delivers on the distance and speed that I needed while also adding a sense of safety. The powerful headlight and mirrors add security while riding around – even at night. The fat tires transition from concrete to grass effortlessly.
Juiced delivers an amazing product that checks all the boxes for a rider that needs versatility. It's not the cheapest bike on the market. It's not even the cheapest bike by Juiced. But if you are going to spend the money on a bike that you want to rely on, it will keep you safe; then cheap should not be in your criteria. Take the time to research, plan to use this for a long time, and invest in what gives you what you need. For me, it's the Juiced HyperScorpion.