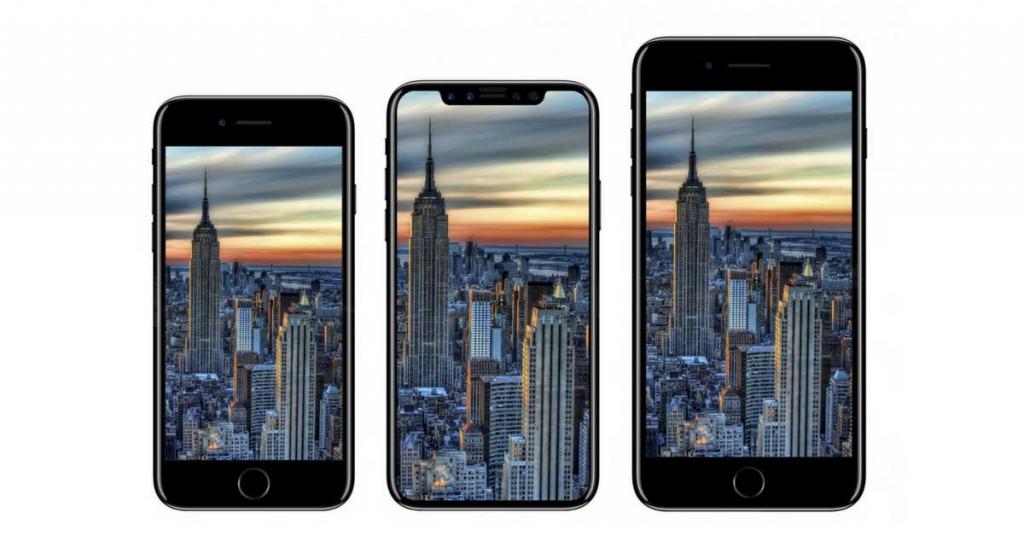 It's almost September. In the consumer technology world, that almost always means Apple is close to unveiling a new iPhone. The leaks and rumors have gone from a steady trickle to almost a rushing torrent as we inch closer to the new iPhone unveilings. In June, an internal memo about combating leaks was ironically leaked itself. Still, if the latest rumors and leaks are to be believed, this looks to be the most radical redesign of the iPhone in some time. One of the earliest rumors were that Apple would release no less than three new iPhones this year: an iPhone 7S, 7S Plus, and a premium version. The 7S and 7S Plus will largely resemble the current iPhone 7 and 7 Plus with the big exception being the rear being made of glass. This leads many to believe that all three iPhones will finally support wireless charging. This rumor seemed to be confirmed by the leaks of the wireless charging components used. Most of the iPhone rumors have been centered around the premium version (dubbed by most as iPhone 8).
Being that this is the 10th anniversary of the iPhone, Apple seems to be going all out this year. Early case leaks, dummy models, and renders seem to confirm that adopt the 2017 trend of edge to edge screens with minimal bezels on the front panel. Like the Samsung Galaxy S8/S8+, LG G6, and even the newly released Essential Phone, the new iPhone will eschew the physical home button in favor of a software home button. This virtual home button will apparently be resizable. The removal of the physical home button fueled speculation as to whether Apple would keep the Touch ID fingerprint sensor. Some people said it Apple would place the sensor on the back while other hoped Apple would find a way to embed the sensor into the screen itself.
Developers have been finding tidbits of information concerning the next iPhone based on accidentally released firmware found on the HomePod. Just recently, developer Steve Troughton-Smith seemed to confirm the existence of facial unlock when he found mentions of "BKFaceDetect" and references to an infrared camera. The firmware also seemed to confirm the final design of the device itself.
Now, even more details have leaked as a result of examining the HomePod firmware. Troughton-Smith along with developer Guilherme Rambo have been tweeting their findings. Apparently, the new iPhone will include a tap to wake function, facial expression and attention detection, and a virtual home button; the latter of which confirms that Apple is removing the physical home button as expected. The references to facial expression detection might hint at the ability to recognize faces in the dark using infrared or even halt notifications if the phone knows you're looking at it. The mention of facial details such as "mouthsmile", "mouthpucker", or "mouthfrown" could also mean that you could unlock the phone using a certain facial action such as smiling or frowning.
So we have a premium iPhone that's physically smaller than the Plus model but has a bigger screen. The screen itself will fill the entire front of the iPhone with a small cutout at the top for the various sensors. The physical home button is gone with Touch ID being replaced with facial recognition. Apple's focus on augmented reality (AR) during WWDC this year likely means the new iPhone will have enhanced AR capabilities. It also goes without saying that all three new iPhones will have the latest and greatest A-series processors which are rumored to blow away all current Android phones in terms of performance.
Unfortunately, if these rumors and leaks are true, that also means the premium version of the iPhone will likely be very expensive. Current rumors peg the premium iPhone to around $1000. On the other hand, that price tag may be worth it if these features are polished and well implemented. One thing is clear, this will undoubtedly be one of the most popular phones of 2017 and the most radical change to the iPhone since it was first released 10 years ago.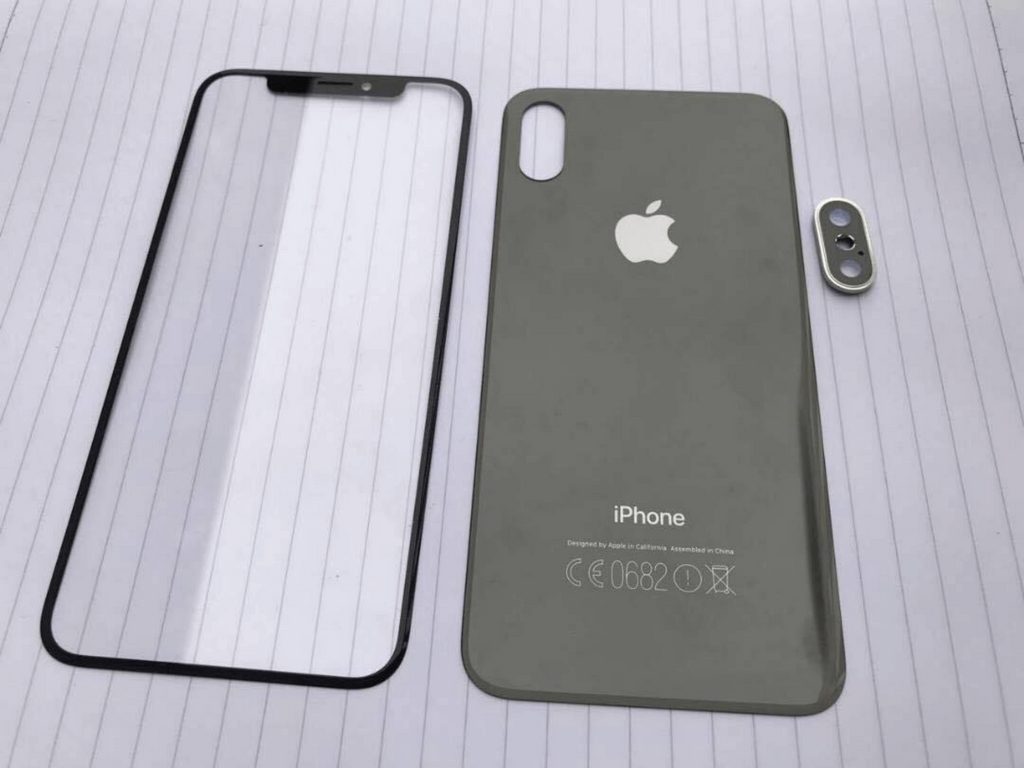 Top 5 Cities To Move To For Millennials On A Budget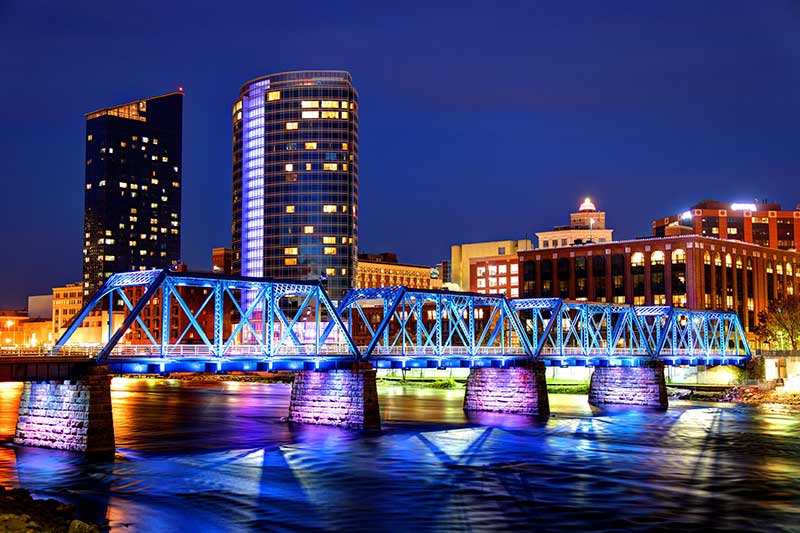 At some point in our lives, we've envisioned living comfortably in LA, NY, or other big cities in the US. It's all thanks to what we view in movies or TV shows. Sadly, due to rising costs and unforeseen economic circumstances, we may no longer attain our dreams to become a big shot in a big city.
However, hope's not all lost for millennials. There are still areas in the US where you can make a decent living without breaking the bank. In this article, we discuss the top 5 best cities for millennials to live while on a budget.
1. Raleigh, NC

Average cost of living:
Food: $388.12
Rent: $1,214.35
Utilities: $127.21
Internet: $55.79
Raleigh has become one of the best cities for Millennials because of the growing number of tech companies setting up camp in the city. Sure, there's Silicon Valley and Seattle, but East Coast millennials won't have to travel far to achieve their dreams of working with a tech company.
If you plan on working in the Research Triangle Park, you won't have problems with the commute. Bus fares are cheap, and some buses have Wifi installed.
It's not all work in Raleigh, though. Raleigh residents will have a lot to explore in their city because of their museums, parks, and attraction. Among the cities in the list, Raleigh hosts music shows almost every day in different venues. Music lovers will enjoy their time living here to discover various artists.
Besides that, Raleigh has a booming nightlife thanks to its bars. You've got choices between hidden or underground bars, so that you can visit a different one after work or on the weekends.
2. Columbus, OH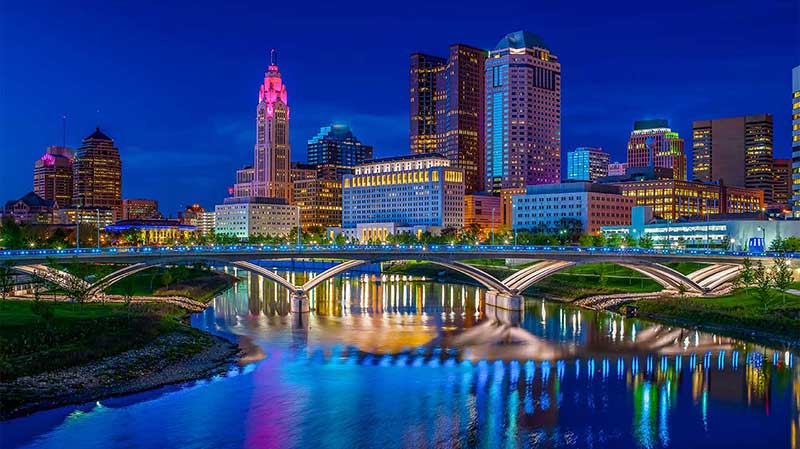 Average cost of living:
Food: $302.97
Rent: $1060.74
Utilities: $170.83
Internet: $57.40
Just like Raleigh, Columbus, Ohio, also has a thriving tech hub. In connection to that, Columbus is making developments in becoming a Smart City. Since their win in the 2015 Smart City Challenge, they're making commitments to transform the city through technology. Who knows, when you move there, you might get to see a glimpse of the future.
As for the commute, you might have to take the bus or bike around the city. You can even ride an open-air golf car for free in Downtown Columbus.
People have also started to take an interest in Columbus because of its culture and breweries. One of their most popular attractions is the German Village. So, if you're craving German food or want to learn more about German culture, that's the place you want to be.
As for the breweries, Columbus has the famous Brewery District, where you can try out their most popular brews. Plus, it's right beside the German Village, so you have more booze choices.
Also, Columbus is dubbed as America's test market. People in Columbus get the first taste of the hamburgers and wear the newest designs. So, if you want to become a trendsetter, pack your bags to Columbus and take snaps for the 'gram!
3. Grand Rapids, MI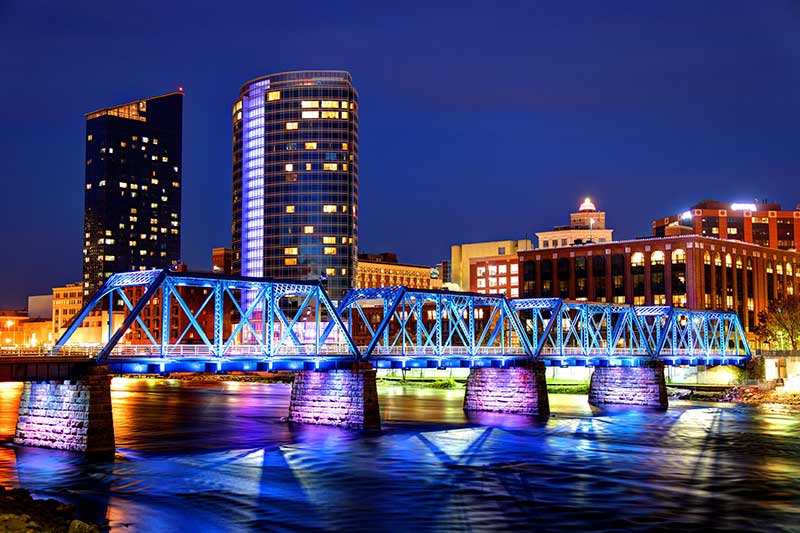 Average cost of living:
The Right Place finds the city is the number two destination for millennials to live. Aside from its affordability, its overall atmosphere is what attracts people to visit and live there.
If you plan to or want to work for the healthcare or manufacturing industry, you can thrive in the Grand Rapids, since those have prospered in the city. However, you'll still find work for any industry since there's a high demand for employees there. According to Area Vibes, there's a 6% unemployment rate in the city, so you still have a high chance of getting employed anywhere. That's why it's one of the best cities for Millennials.
Cycling is a much more affordable alternative to driving a car in Grand Rapids. You can take a bus, though, but the stations are limited.
Grand Rapids is almost an hour's drive to the beaches in the state if you want to live in an affordable city and go to a beach. However, much as you would like to go to the beach in your swimwear, you might have to prepare winter jackets because the weather is unpredictable. You can still enjoy some activities like visiting breweries and cafes to warm you during winter or become your hangout place with friends.
4. Austin, TX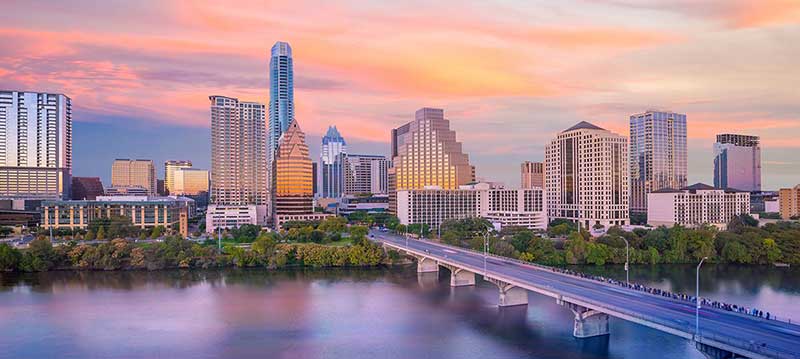 Average cost of living:
Food: $320.04
Rent: $1,660.45
Utilities: $154.52
Internet: $59.83
As compared to other cities on the list, Austin may have a higher cost of living. Still, Austin appeals to millennials because of their booming economy and sustainability measures.
In terms of commute, you may face challenges with traffic. You may use the bus instead or ride a bike to divert from the traffic.
If you're saving up for something, but want to skip out on doing something extravagant, there are free events like live performances and music fests.
The one thing any Austin resident shouldn't miss out is to try food trucks in the park too. It's something you can splurge on once in a while. Plus, Austin is the home to the South by Southwest (SXSW) festival happening every March. Here, you can discover new artists or catch their faves. These should serve as a reason why Austin is one of the best cities for Millennials to move to and build up their career.
5. Boise, ID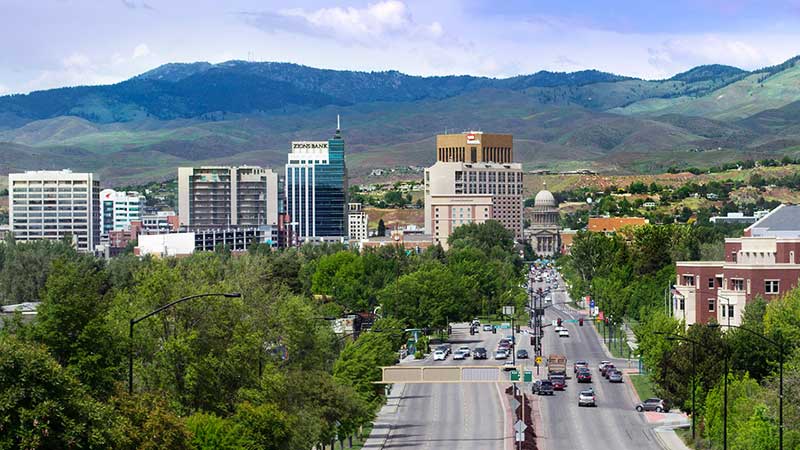 Average cost of living:
Boise has emerged as one of the leading cities to live in because of its affordability. Even California and Washington millennials move to the city for a lower cost of living. One thing that may stop you from relocating is limited public transportation.
However, Boise is also making developments in becoming a greener city like bike rentals and geothermal energy. So, this is perfect for the environmentally conscious millennials. That's why it's beginning to set itself up as one of the best cities for millennials.
In terms of work prospects in Boise, you can work for any industry, but you can consider becoming an entrepreneur. It's gaining attention as one of the fastest-growing cities to launch a startup.
Residents of Boise rave about the Boise River Greenbelt, where one can enjoy biking and scenic views. If you're an outdoorsy person, you'll enjoy hiking and skiing as well. If you're into art and theater, you're in luck because you can visit museums during the weekend and watch a production by the Boise theater companies.
Top 10 Shared Hosting Companies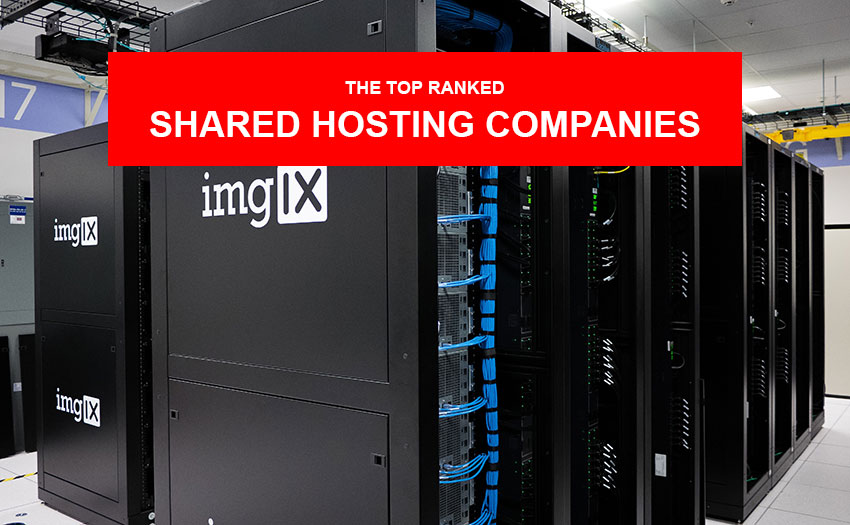 According to Google, if your website takes more than 10 seconds to load, people are 123% inclined to leave your site. That's why you need excellent hosting service to prevent that.
Dedicated hosting services can help ease that pain, but it can break your bank. So, it's best to go for an affordable option so you can save up on the things that matter. That's why you should consider going for a shared hosting service to keep your site running smoothly.
Let's take a look at the top 10 shared hosting companies on the internet.
1. FastComet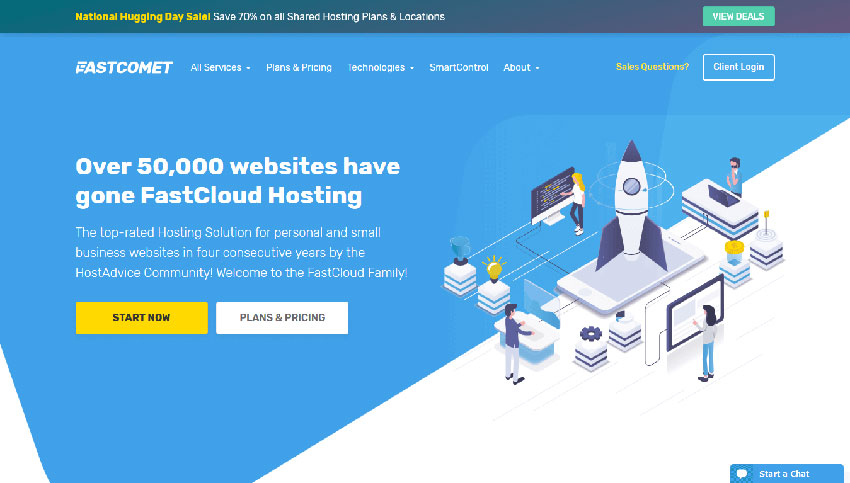 FastComet renamed its shared hosting services to FastCloud plans. Previously, FastComet named it StartSmart, ScaleRight, and SpeedUp.
Features include the following:
cPanel
SSD Space
Free Domain Transfer
Free Website Transfer
Unlimited bandwidth
The regular price for their FastCloud plans starts at $9.95/mo, while the most expensive one, FastCloud Extra, is $19.95/mo. At the time of writing, all plans are 70% off with FastCloud at $2.95, FastCloud Plus at $4.45, and FastCloud Extra at $5.95.
FastComet users may experience faster loading times boasting speeds at 200 milliseconds. Not only that, but users get a 99.99% uptime. So, website visitors don't encounter any site downtime. Plus, according to Website Host Rating, their shared server is secure for all users, which is why it's one of the top 10 shared hosting companies on the net.
According to Blogger Sneed, there's no dedicated IP address for the shared hosting server. While FastComet has better loading times and even performance than its competitors, the FastCloud plan may not load faster than usual. So, it's a much better option to upgrade to the higher plans.
2. ChemiCloud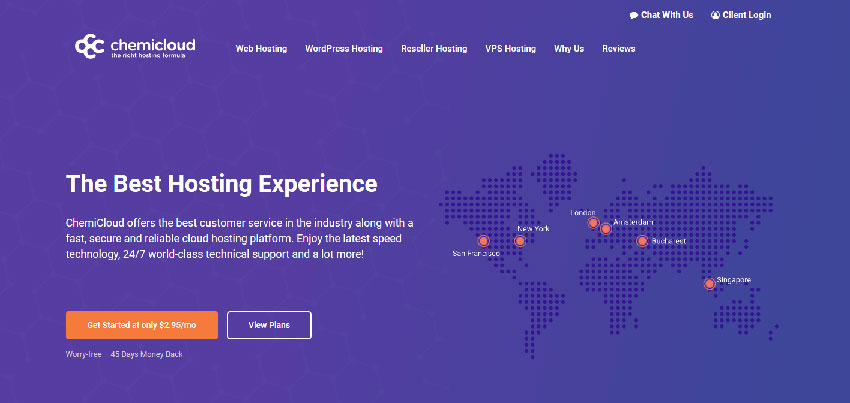 Potential customers of ChemiCloud can choose among three plans on the site. It's on sale at the time of writing, so the most affordable plan is the Web Hosting Starter for 3.95/mo for three years. ChemiCloud priced it originally for $7.90/mo. Their most expensive plan, the Web Hosting Turbo, is for $7.66/mo for three years. It's 10x faster than its two other plans.
Some features of the ChemiCloud plans:
Free Let's Encrypt SSL
Different server locations
Free migrations
For some experts, uptime is one of the many pros of the ChemiCloud hosting service. Rare are downtimes with using ChemiCloud, and there's a 99.98% of uptime most of the time. Another thing is you can migrate your site for free within 24 hours, WP Glossy says.
According to Host Review Now, ChemiCloud can be difficult to navigate since there's no FAQ or guides. Billing may become an issue for many users due to its billing cycles.
3. iPage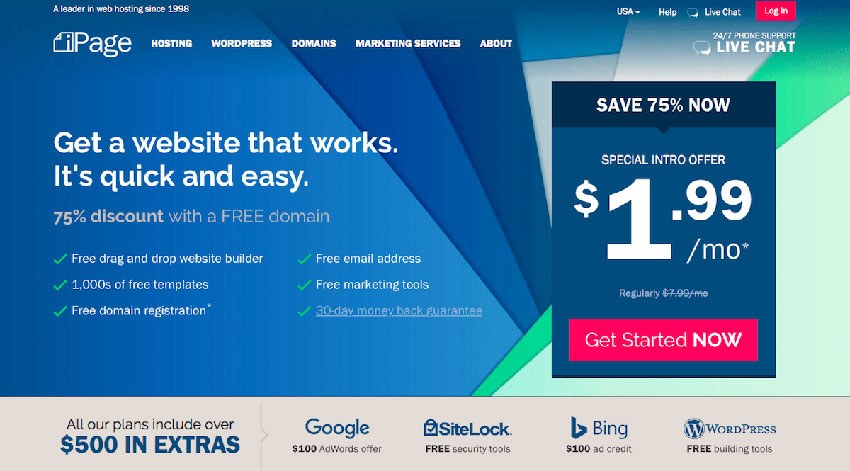 For many users, iPage is one of the top 10 shared hosting companies. The cost for an iPage shared hosting service is $1.99/mo (regularly $7.99/mo) for the first term of service. Users get some of the following features:
Free SSL certificate
Unlimited disk space
Shopping cart integration
One pro of the iPage hosting service is its user-friendly cPanel that even beginners can use easily. It's great for small business owners that need a domain quickly. TechRadar also noted that it has incredible performance even during the testing period.
Even if the starter price is lower than most hosting services, iPage tends to upsell to their customers. Another con for using the iPage shared hosting service is there's no cPanel. Besides, users have mixed reviews over their support. Also, if you'll have to migrate a site, you'll need to pay $150.
4. Hostpapa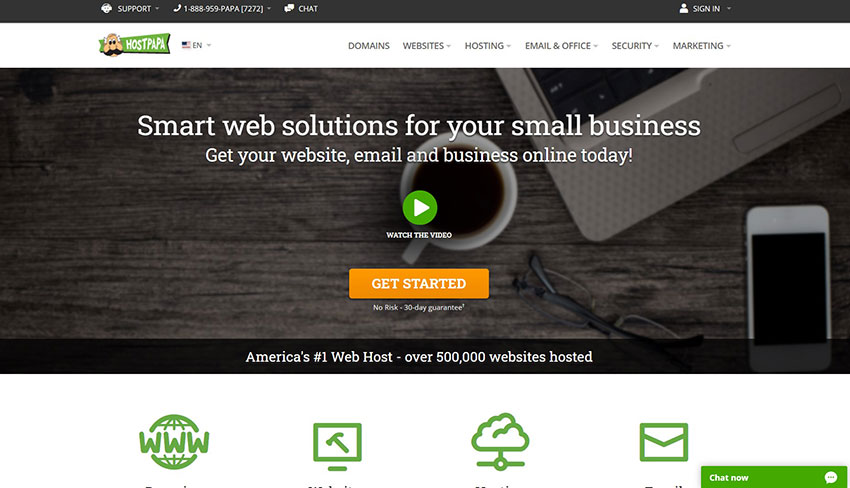 Hostpapa offers three shared hosting plans for potential customers: Starter, Business, and Business Pro. The hosting site recommends that its customers go for a Business plan. Its regular price is $12.99/mo, but they have a deal that is $3.95/mo for three years. The most expensive subscription is $19.99/mo (regular price), and their most affordable is $7.99/mo.
You can get the following features in all plans:
SSD Storage
Unmetered bandwidth
Free domain registration
Choose between a Canada or US server
Hosting Facts says that small businesses can get a bang for their buck on the Starter Plan. They offer essential features even on the plan, so it's good value for money. Another reason why small businesses could go for Hostpapa is because of the performance and speed it gives to their sites.
According to Hosting Facts, additional fees can become a deal-breaker for some potential customers. Service can be a hit or a miss from users who left reviews in TrustPilot and Host Advice.
5. Arvixe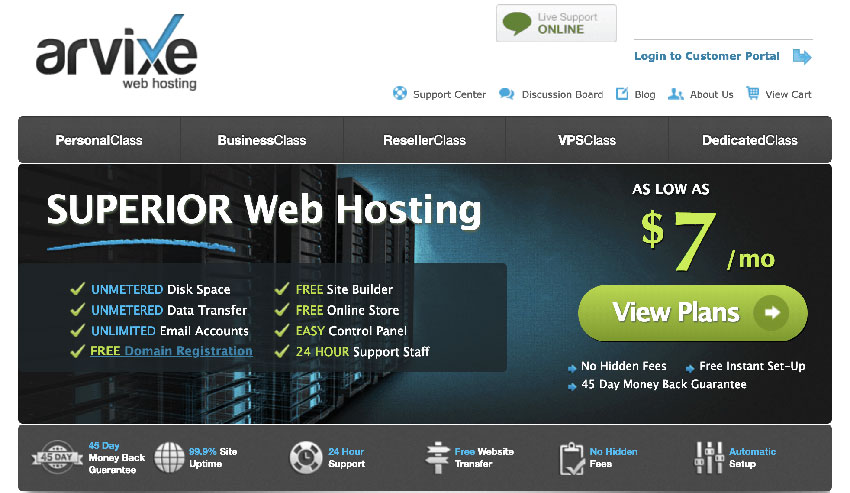 Arvixe has two plans with two categories for its shared hosting service. You can choose between a personal or business plan and a Linux or Windows shared hosting one.
Their most affordable shared hosting service is the PersonalClass Linux shared hosting service that starts at $7.70/mo. You can get a PersonalClass Pro starting at $11.00/mo. You can upgrade to more features for $20/mo.
Some features of the PersonalClass plan are:
Unlimited disk space
Free domain name
Use of cPanel
Arvixe isn't just a website hosting site. You can build a site and get excellent uptime during the testing period, according to PCMag. Plus, you may get a 60-day money-back guarantee if you want to try out Arvixe for a while.
One disadvantage of using Arvixe is that you'll need to buy an SSL certificate for $25.00 a year. You might want to consider other hosting sites if you need support often since many users across different review sites aren't pleased with them.
6. Namecheap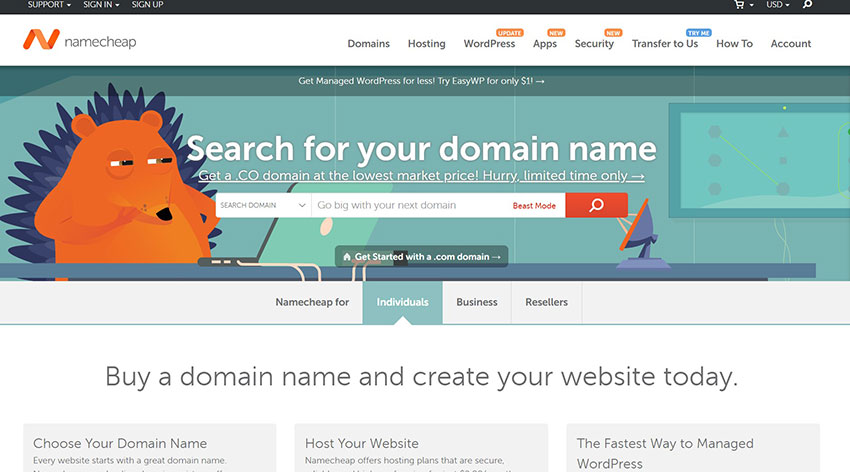 If you want to avail of a Namecheap shared hosting server, you've got three options and two servers to pick from before you purchase a plan. You can opt for a Stellar, Stellar Plus, or Stellar Business plan. Meanwhile, the two data center locations available are US and UK.
Small businesses can get more out of a yearly subscription on a US server since it also includes cloud storage. The price is $52.88 for the 1st year and $104.88 a year ($8.88/mo). They do recommend availing of the Stellar Plus subscription. You'll pay $29.28/yr for the first year, and it renews at $57.88/yr ($4.88/mo).
Some features you get on the Stellar plans are:
50GB SSD
Unlimited websites
Free one domain name
According to WhoIs Hosting This, your account and data are secure on Namecheap because they enable two-factor authentication. The cPanel is also something many find an advantage against its competitors. It's because of the ease of use and design.
Some experts note they face issues over uptime. They found that it has less than 99.99% uptime, which isn't a good thing. Plus, not many are satisfied with the support given by Namecheap.
7. Hostinger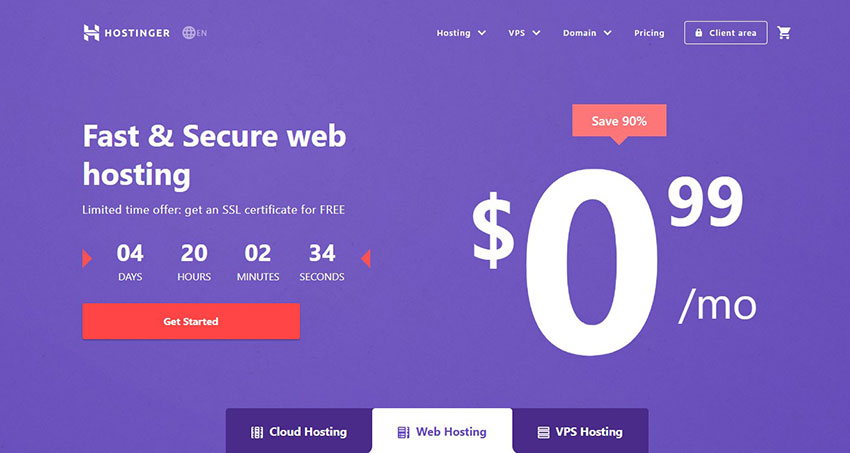 Hostinger recommends that small businesses go for Business Shared Hosting for $3.99/mo for four years. It will renew to its regular rate of $15.99 after that period. Its most affordable plan, the Single Shared Hosting Plan, is at $0.99/mo for four years. The Single Shared Hosting plan is limited, so it's best to opt for a Premium Shared Hosting plan or higher to get more features.
Here are some features you get if you choose a Premium Shared Hosting plan and above:
Free SSL certificate
Free domain
Unlimited bandwidth
Unlimited number of websites
If you want to save money, you'll need to avail of a 1, 2, or 4-year plan.
Experts notice that support is one of its main issues because you can't call their support. Otherwise, many do like that support is responsive online, so that's a plus. That's why users do find that Hostinger is one of the top 10 shared hosting companies.
8. KnownHost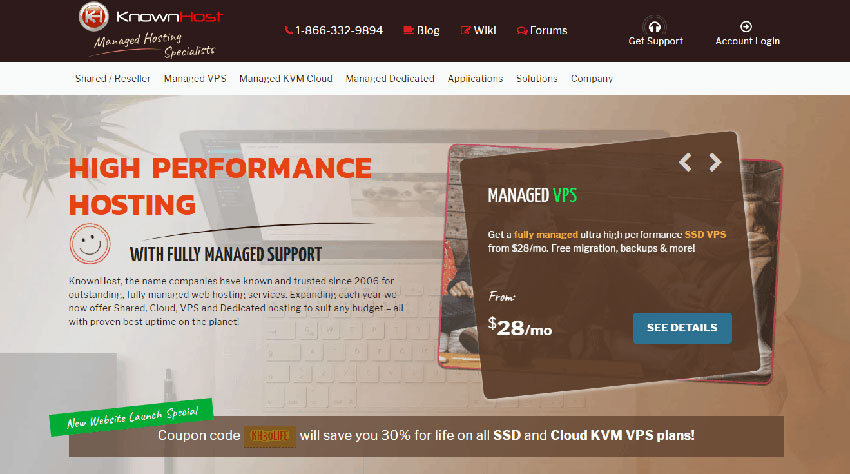 For KnownHost, they present you with three options (prices discounted for three years only):
Basic ($3.47/mo)
Standard ($6.47/mo)
Professional ($9.97/mo)
KnownHost promises unlimited bandwidth for all tiers and free SSL certificates.
Experts and users alike report that uptimes are as advertised. It seems many find satisfaction with support also. One downside about using KnownHost is that it hosts using Linux only. Otherwise, it's an excellent service overall.
9. Hostens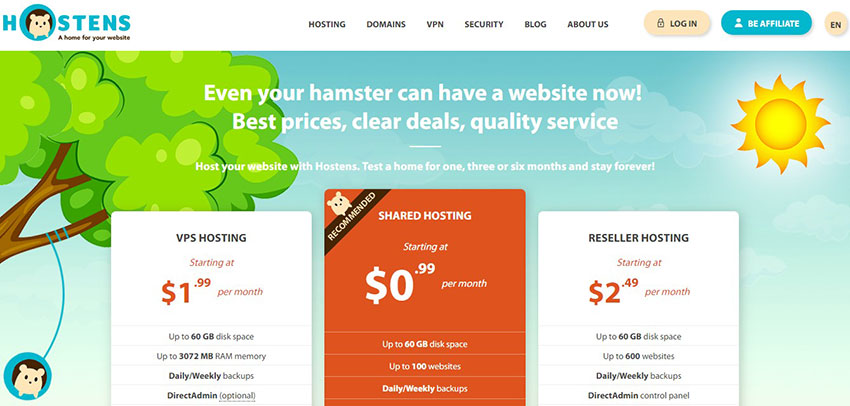 Like most of the shared hosting companies on this list, they also offer a 1, 2, or 3-year subscription. But if you just want to test the waters on Hostens, you're free to opt for a monthly subscription paying their regular price.
Their most affordable plan is the S10 plan for only $0.99/mo for three years. They do suggest you avail of their S20 plan for $1.80/mo for three years. Their most expensive shared hosting plan is $3.60/mo for three years.
Common features of the three plans:
cPanel
Free website builder
Different server locations
Aside from its affordability, Website Planet finds that there's the ease of use and the one-click installer for programs. One main disadvantage of using Hostens, though, is it doesn't offer DDoS, and it could affect your website. Despite such, it's one of the top 10 shared hosting companies on the list.
10. TMDHosting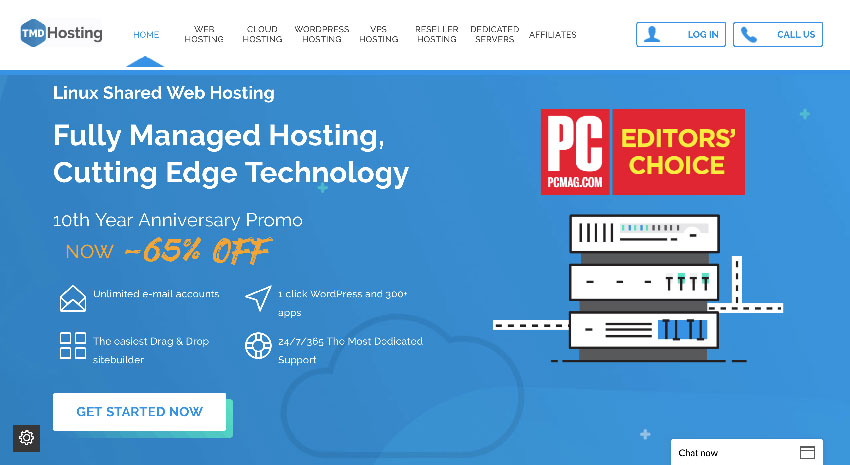 Similar to other hosting companies, you have three plan options that would best suit your small business. Their recommendation is the Business Plan priced $4.95/mo, while the regular price is $7.95/mo.
You can get the following perks when you use TMD Hosting:
Unlimited SSD space
Unlimited bandwidth
Let's Encrypt SSL
Plesk Control Panel
Website Planet finds that free daily backups are helpful. Another point goes to TMDHosting because they have servers in different locations. However, there are frequent complaints about billing from users. Other than that, TMDHosting is one of the top 10 shared hosting services for some users.
Top 10 VPS Hosting Companies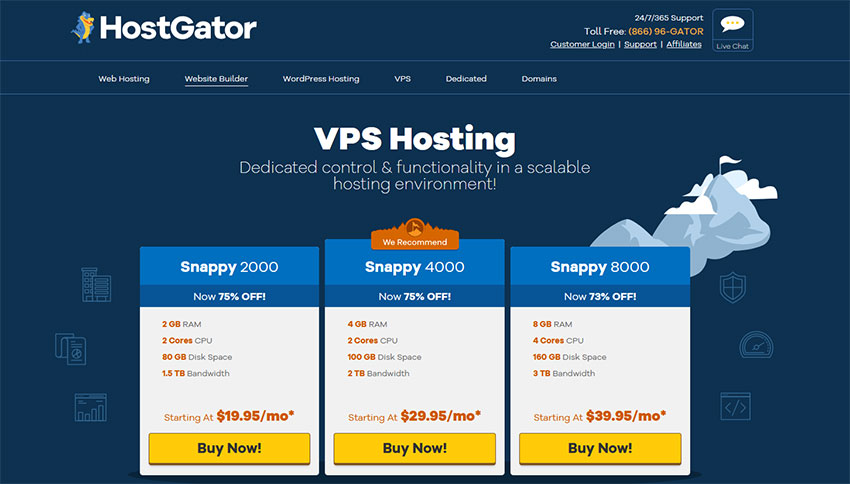 Looking for the best VPS is what probably got you here, read on to get to know ten of the top hosting companies this 2020. Finding the lovely blend of reliability and affordability can be a daunting task, so we scoured around to give you the rundown and help you make an informed decision.
What is VPS Hosting?
Publishing a website online means having to upload your files to a web server. Typically, you purchase this service from a hosting provider. This is what is known as web hosting. Think of this as cyber real estate. Shared hosting means renting a portion of the space, and dedicated hosting is where you have space all to yourself. This is what makes VPS (Virtual Private Server) special.
Shared hosting is perfect for simple websites, but as your website's needs grow, this type of hosting won't be enough. A dedicated server would be ideal but can be expensive. Then comes VPS that's almost the same as shared, but faster and cheaper than a dedicated one. You still share a server with other websites, but with less population, which is what makes it better and inexpensive.
The bigger question now is, what VPS hosting do I go for? With the multitude of choices out there, we made choosing simpler for you. Here are the top 10 VPS hosting companies we think are the best and the brightest:
1. InMotion Hosting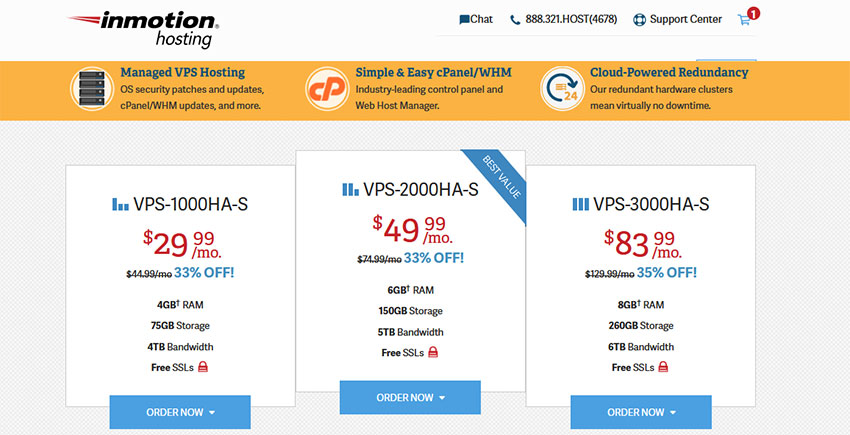 One of the strongest and most deserving of the top spot on this list, InMotion Hosting has smart features at a fair price. A few of these are its 75GB SSD storage, 4TB bandwidth, 4GB RAM, and free SSLs, among many others. They also provide shared and dedicated hosting as well as web design and tools to help with site maintenance.
They provide three hosting plans with a price range from $29.99 to $83.99 per month. These come with a 90-day money-back guarantee and chat support that's available 24/7.
2. Hostinger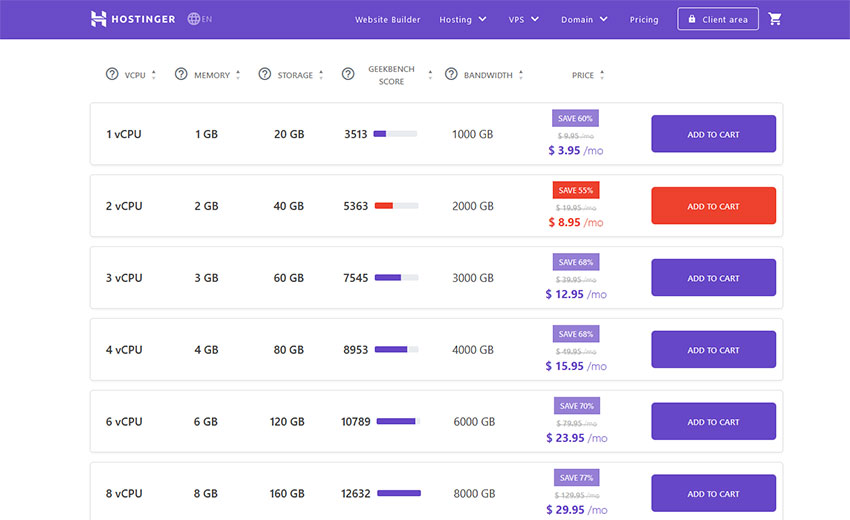 Boasting of a VPS hosting service that mimics a dedicated server, Hostinger offers one of the most affordable in its class. Starting at $3.95 a month for its basic plan of 1G bandwidth to $29.95 with 8GB bandwidth. Each plan is broken down by storage, memory, vCPU, and others.
All of their plans include IPv6 support, a dedicated IP, 100 Mb/s Network aside from the usual Ubuntu, CentOS, and Suse hosting services. Along with their fully refundable plans that allow you to try them, they also have 24/7 customer support.
3. HostGator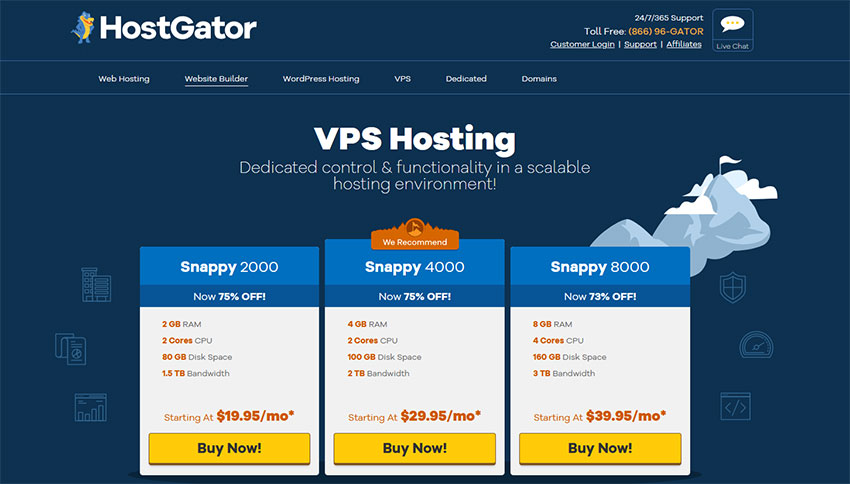 A VPS hosting that has one of the best uptimes and feature-packed plans, HostGator is also one of the most popular and reliable. It provides flexible hosting solutions that include full root access, one-click upgrade system, development tools, and offsite backup.
Prices start at $29.95 for the basic plan, which comes with 2GB RAM to $49.95 with 8GB of RAM per month. You'll get all the services of a typical hosting service, but you can also avail of their SEO services, PPC advertising as well as web design services.
4. Bluehost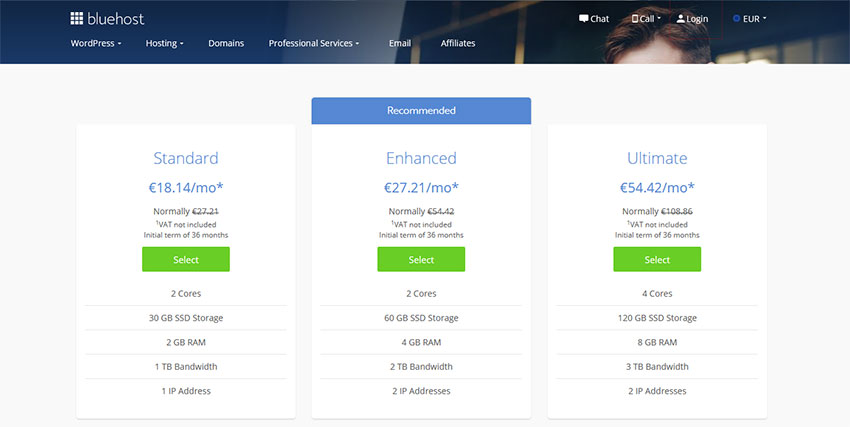 If you're looking for a VPS hosting company that gives out free domain permanently, Bluehost is for you. It lets you add more space to your account any time with their multi-server management services. Their main selling points are their 8GB of RAM and 4 CPU cores, plus their unlimited email accounts.
Their Standard plan costs $19.99 with 1TB bandwidth and 30GB of SSD storage while their Ultimate plan will get you 3TB bandwidth and 120GB of SSD storage.
5. Hostwinds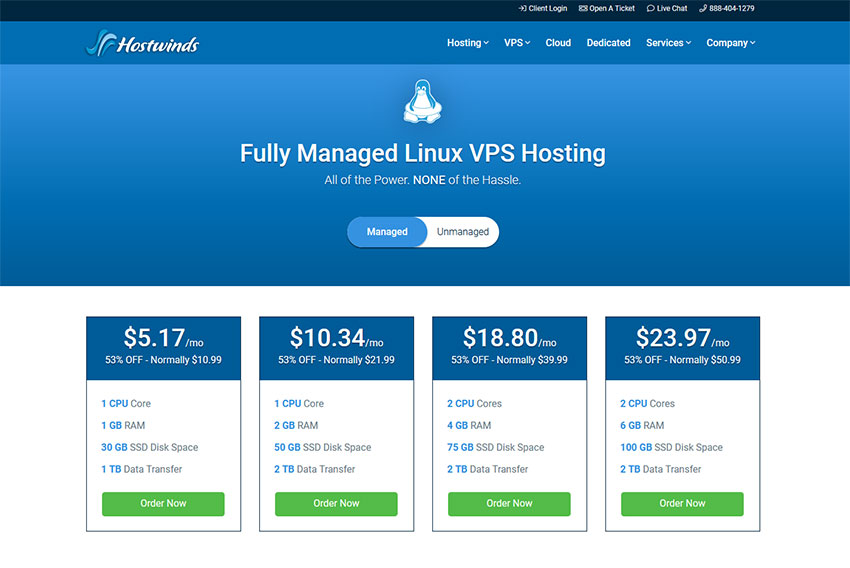 Offering unlimited email accounts, domains, and monthly data transfers, Hostwinds truly deserves this spot on the top 10 VPS hosting companies. They have several VPS hosting plans from Fully Managed Windows to Unmanaged Linux VPS, all aimed to provide specialized services.
Their Managed Windows basic plan starts at $7.99 with 1GB of RAM and 30GB of SSD disk space. The premium plan goes for $26.79 per month, which comes with 6GB of RAM and 100GB of space.
6. A2 Hosting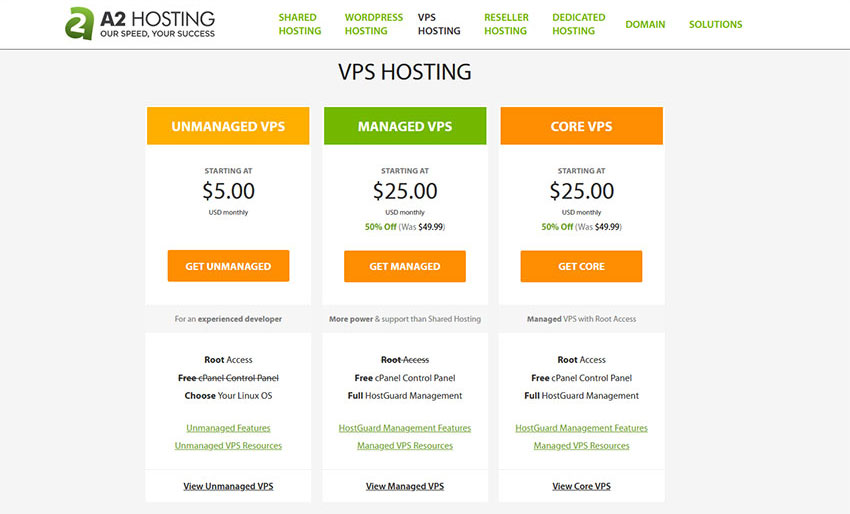 For newbies in the VPS hosting scene, A2 Hosting provides intuitive service and the best speed for your website. It also has features that even the experienced will appreciate, such as their Railgun Optimizer and preconfigured server caching. They are one of the few that take speed seriously, with an average load time of 99.99% at 424 ms.
Their plans' prices range from $25 for their Power+ plan that includes 4GB of RAM, 75GB storage space, and 2TB transfer rate. The Pinnacle+ plan is at $50 per month of 8GB RAM, 150GB space, and 4TB of data transfer.
7. iPage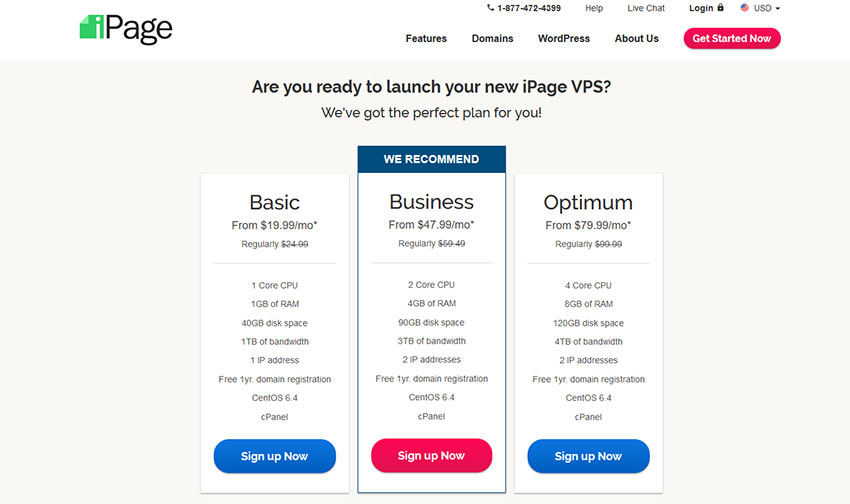 Probably the least expensive on this list, or anywhere else on the web, iPage offers great value for your money. Their unlimited disk space, scalable bandwidth, free site backups, and superb customer service are just but a few wonderful features. With an above-average uptime of 99.96% over 24 months and an average of 746ms page loading time, this is pretty fast for something so cheap.
Their one and only plan will cost you $1.99 a month, so what's not to like?
8. Liquid Web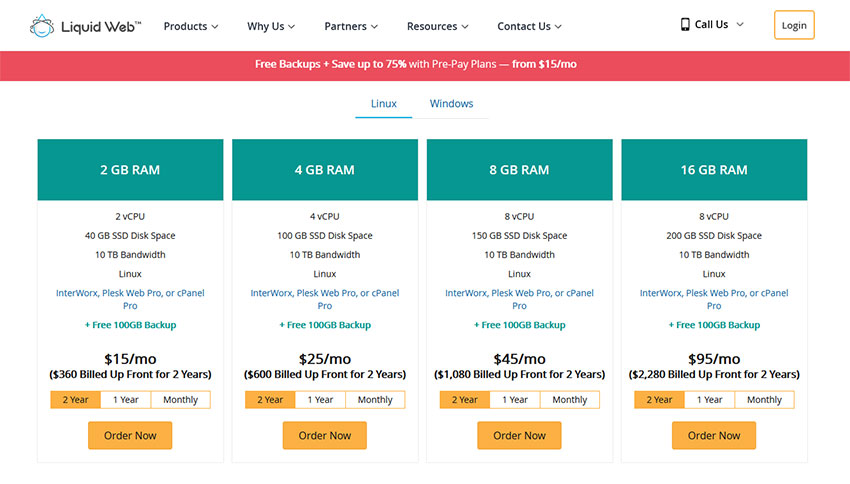 From hardware management to proactive service monitoring, Liquid Web will do almost all of the work for you. Boasting the best customer service around which they named "Most Helpful Humans in Hosting®," they are a solid choice. With 99.999% uptime, they will assure you of top quality service at $15 to $95 a month.
Although one of the costlier choices, they match it with services that are unparalleled in the industry.
9. GoDaddy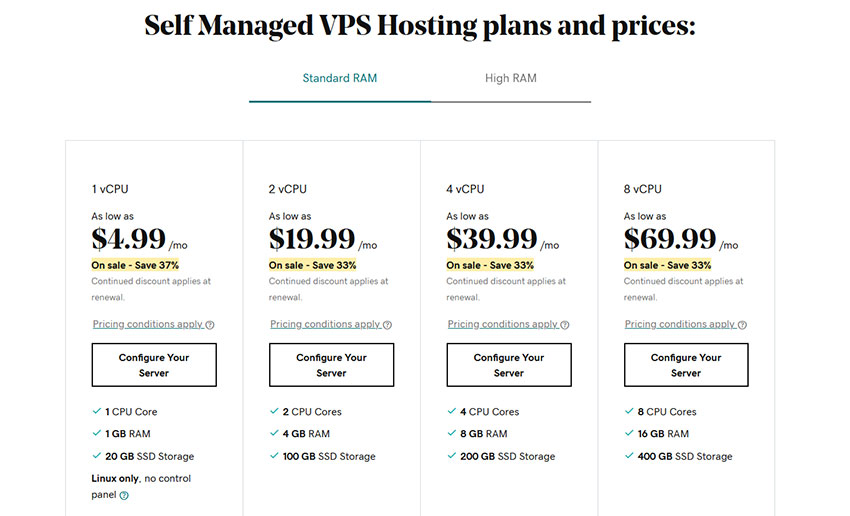 With unmetered bandwidth, stable and fast hosting (99.97% uptime, and 554ms average), GoDaddy is also one of the most well-known choices. This hosting provider allows you to integrate with 125 popular web applications. Just one click installs WordPress, Joomla, Drupal, and more.
The Economy plan is worth $7.99 per month with 100GB of storage space, while the Ultimate plan is at $16.99 per month and the Maximum plan at $24.99, which includes twice the memory load speed and free SSLs.
10. DreamHost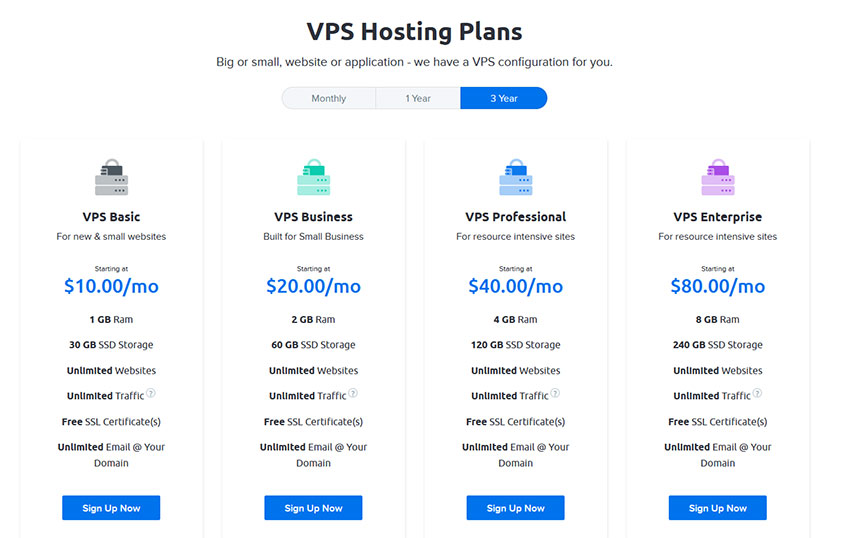 One of the oldest in this list, DreamHost, hosts more than 1.5 million sites, proof that it's also one of the best. Its above-average uptime of 99.94% and page load speeds of 648ms is practically still the same as the day they started, some 25 years ago. They have a few unlimited features, which include cloud hosting services and data transfers.
The price starts at $10 for their Basic plan, which gives you 1GB of RAM and 30GB of SSD storage. The most expensive plan, the Enterprise costs $80 a month with 8GB of RAM and 240GB of storage space.