What is a Gantt Chart Software for Project Management (with examples)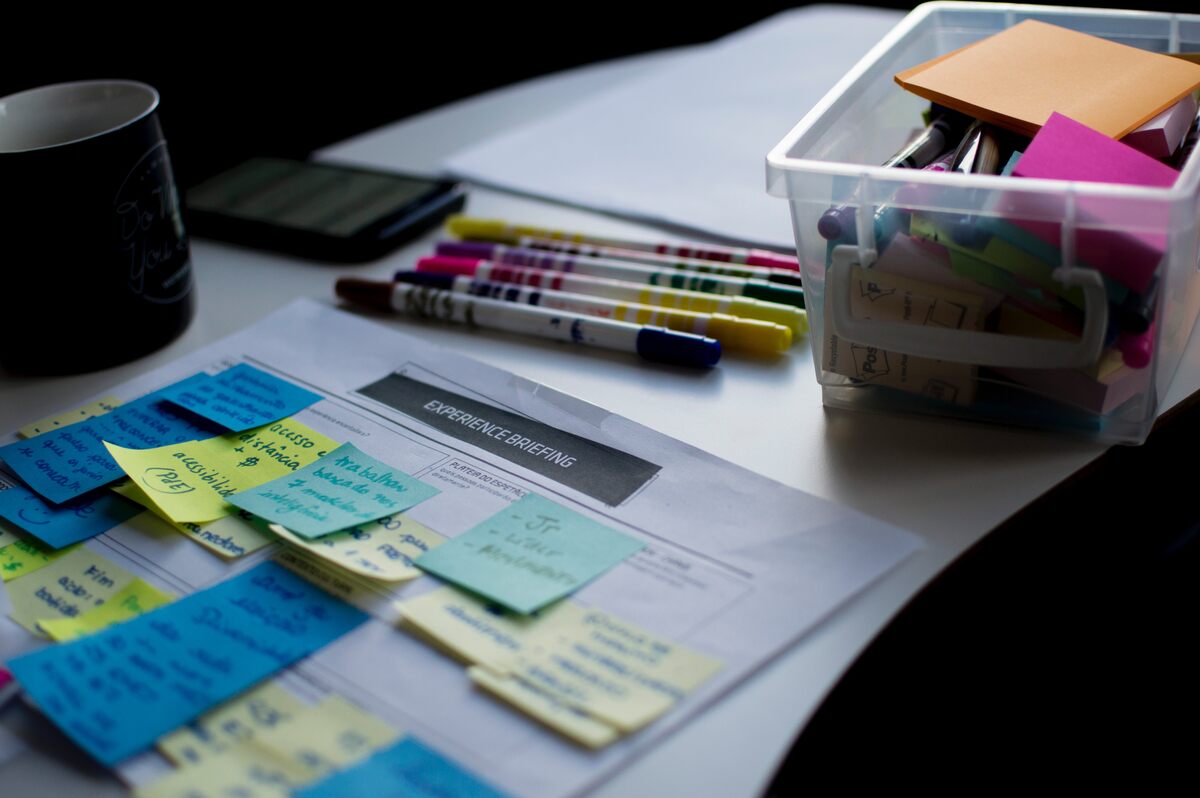 Whether you're handling a small or big team, Gantt chart software is a tool that helps keep track of projects. Using one lets you keep an eye on a project's status, start date, end date, and more. Read this ultimate guide on everything you need to know about Gantt chart tools.
History of Gantt Chart Software?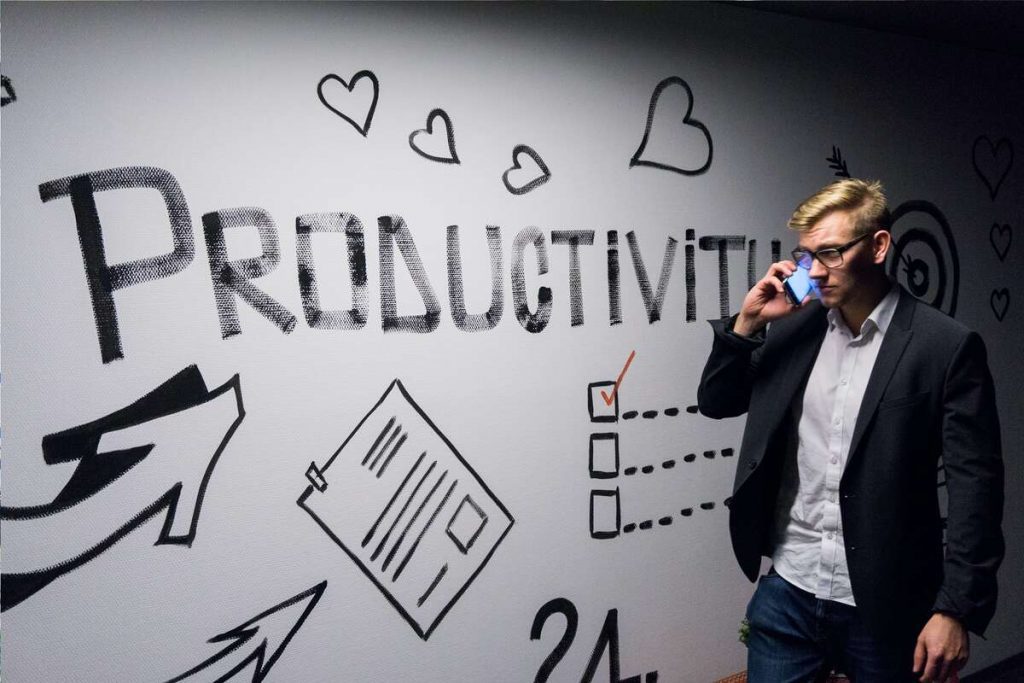 The Gantt chart was invented by American engineer and management consultant Henry Gantt in the early 20th century. Gantt pioneered scientific management, a philosophy that aimed to increase efficiency and productivity. He did this by applying scientific methods to the planning and control of work. He developed the Gantt chart to help managers visualize the tasks and schedules involved in a project.
The first Gantt charts were simple bar charts showing tasks' start and end dates. However, the format has evolved to include more information and features. During World War I, Gantt charts were used to plan and control military production. After the war, they became widely used in industry for planning and overseeing construction, manufacturing, and other projects.
Today, this helpful tool is widely embraced within every workforce sector. Unfortunately, not a lot of employers and employees know what it is. We'll break it down for you below.
What is a Gantt Chart Software?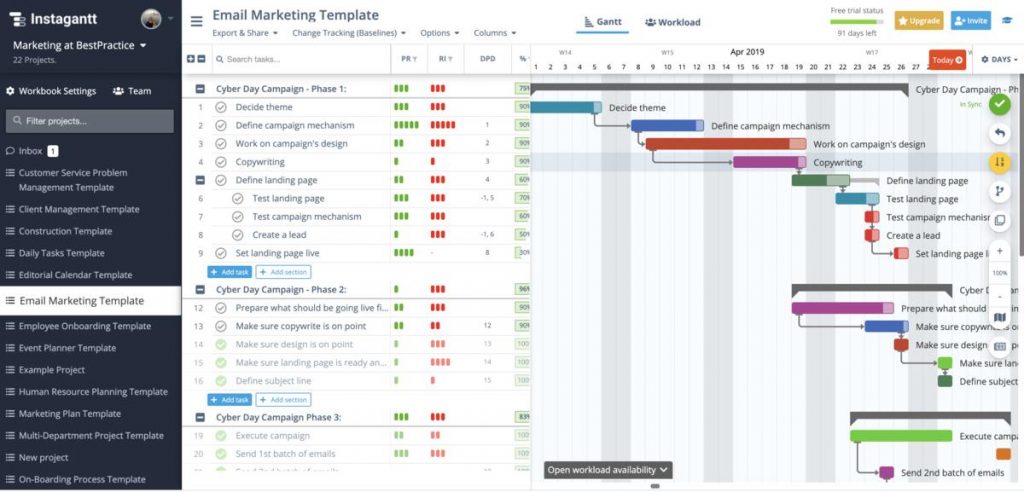 Image credit: Instagantt
A Gantt chart is a bar chart tool that displays the start and end dates of tasks, activities, or events within a project schedule. It's a visual representation of a project plan that shows tasks and their durations as horizontal bars on a timeline. Each bar represents a different task. Each bar's length corresponds to the task's duration, and the bar's position on the timeline shows the start and end dates.
Gantt charts are used in project management, providing a straightfoward overview of the project schedule. They are handy for showing the relationships between tasks and their dependencies. And these are represented by arrows connecting the bars.
For example, a task that must be completed before another task can start is shown as a predecessor. The chart can also display milestones, critical path analysis, and the status of tasks in real-time. Overall, this helps identify potential risks and delays.
Types of Information You Can See on a Gantt Chart Platform:
Different types of projects
Start and end dates
The estimated timeframe from start to finish
Current project costs
Estimated project costs
Completion percentage for every activity
Task groupings and correlation to other activities
Task dependencies
Projects phases and milestones
7 Benefits of Using a Gantt Chart Tool in Project Management
Gantt chart software might just be your new best friend if you find it hard to keep track of tasks and projects. Here's why:
Schedule clarity: A Gantt chart provides a clear visual representation of project tasks and deadlines. This way, it's easier for everyone involved in the project to understand the schedule.
Resource allocation: The chart can help companies allocate resources efficiently and identify potential bottlenecks or overlaps in the schedule.
Task tracking: A Gantt chart provides an easy way to track task progress and adjust the schedule if necessary.
Improved collaboration: The chart can help team members see the interdependencies between tasks, facilitating collaboration and coordination.
Better communication: The chart can be used to communicate project plans and schedules to stakeholders, ensuring everyone is on the same page.
Effective resource planning: It enables managers to assess resource utilization and optimize allocation to increase efficiency and minimize waste.
Project control: The chart provides a straightforward way to monitor progress and take corrective action as needed.
Which Industries Can Benefit from a Gantt Chart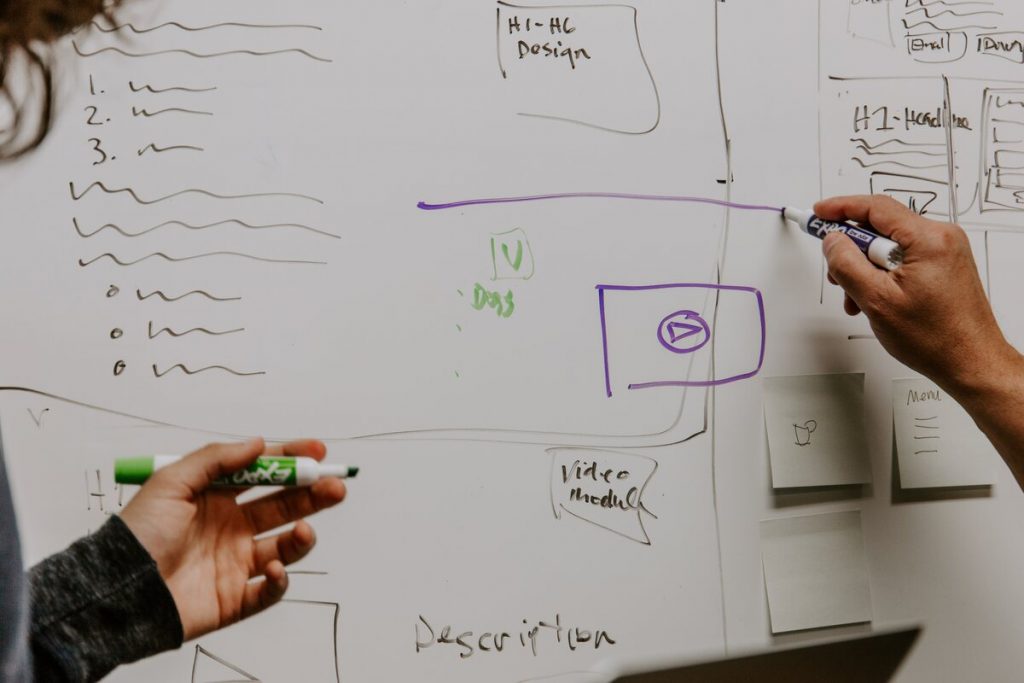 These are just a few examples of how Gantt charts can be used in various industries and project types. The chart's flexibility and ability to display task dependencies and schedules make it valuable in many different contexts.
Construction projects
Gantt charts are commonly used in construction projects to plan and track the progress of tasks such as site preparation, excavation, framing, electrical and plumbing work, and finishing.
Software development
In software development, Gantt charts can be used to plan and track the development process, including coding, testing, debugging, and release tasks.
Event planning
Gantt charts are helpful in event planning to manage tasks such as venue selection, vendor selection, guest list management, and logistics.
Marketing campaigns
Gantt charts can help plan and track marketing campaigns, including research, planning, execution, and analysis.
Film production
In film production, Gantt charts are used to plan and track tasks such as pre-production, filming, post-production, and distribution.
Manufacturing
Gantt charts can be used in manufacturing to plan and track production processes, including design, prototyping, mass production, and quality control.
Research projects
In research projects, Gantt charts can be used to plan and track tasks such as data collection, analysis, and report writing.
Website design and development
In website design and development, Gantt charts can be used to plan and track layout, coding, testing, and deployment tasks.
5 Top Gantt Chart Software Programs
Here are five Gantt Chart Programs that can help you with project management:
Instagantt is a user-friendly Gantt chart tool that helps teams plan, track and visualize their projects. It's easy to use, with features such as drag-and-drop task scheduling, real-time collaboration, and automatic rescheduling. Instagantt also offers integrations with other tools, such as Trello, Asana, and Google Drive, making it easy to use alongside other project management tools.
TeamGantt is designed for small to medium-sized businesses, teams, and individuals who need a simple yet powerful way to manage their projects. With TeamGantt, teams can easily create, edit, and share project plans, improving collaboration, communication, and project success rates for free!
Wrike differentiates itself from other Gantt chart tools by offering a comprehensive project management solution that includes multiple features and tools to help teams plan, execute, and deliver projects successfully.
GanttPRO is a versatile and robust tool that offers a user-friendly interface, making it easy to create and manage projects. Plus, it provides reporting and export functionality, making it easy to share project plans and progress with stakeholders. 
Smartsheet provides automation capabilities, making it possible to automate repetitive tasks and improve efficiency. It also integrates with various other tools and platforms, such as Google Drive, Microsoft Teams, and Trello.
Typli.AI Review: The Best AI Content Writer?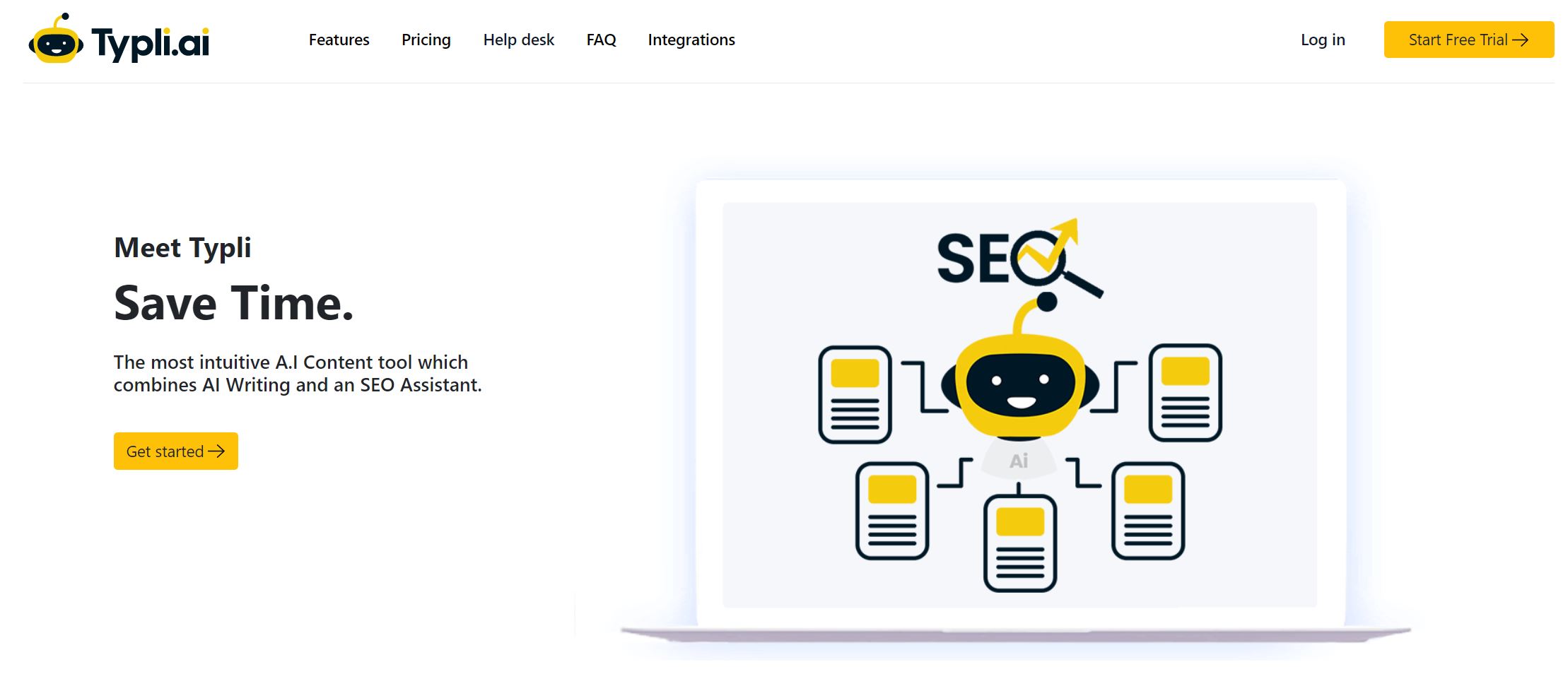 Typli.AI is an AI-powered software that helps you write content for your business in minutes. The tool is designed for professional writers and marketers who are looking for an easier way to generate ideas and content for blog posts, articles, emails, social media posts, and more.
Yes, it's designed to make work easier, but all AI writing tools have a learning curve. Some are simpler than others, and no tool generates usable content every time. Before you dive into using Typli.AI, let's see if it stands up to the test: Is Typli the best AI content writer?
Typli.AI Review: How it Works
In this review, we'll go over what Typli does, how it works, and why this tool is worth checking out if you want to create more content faster.
Typli is an AI powered software that uses natural language generation (NLG) to write content for you. This AI technology can create unique articles, blog posts, and even sales pages on a wide range of topics like travel, finance, technology, and marketing. It's all automated, so once you set up your account, you can let it do the heavy lifting while you oversee the writing process.
Typli can be used from a variety of angles. For example, you might write an outline for a blog post and then let Typli fill in the content. You might generate an email or come up with some snappy phrases for ad copy and marketing campaigns. The trick is to give AI all the information you can. The more specific you are, the easier it is for Typli to generate accurate content.
Getting Started with Typli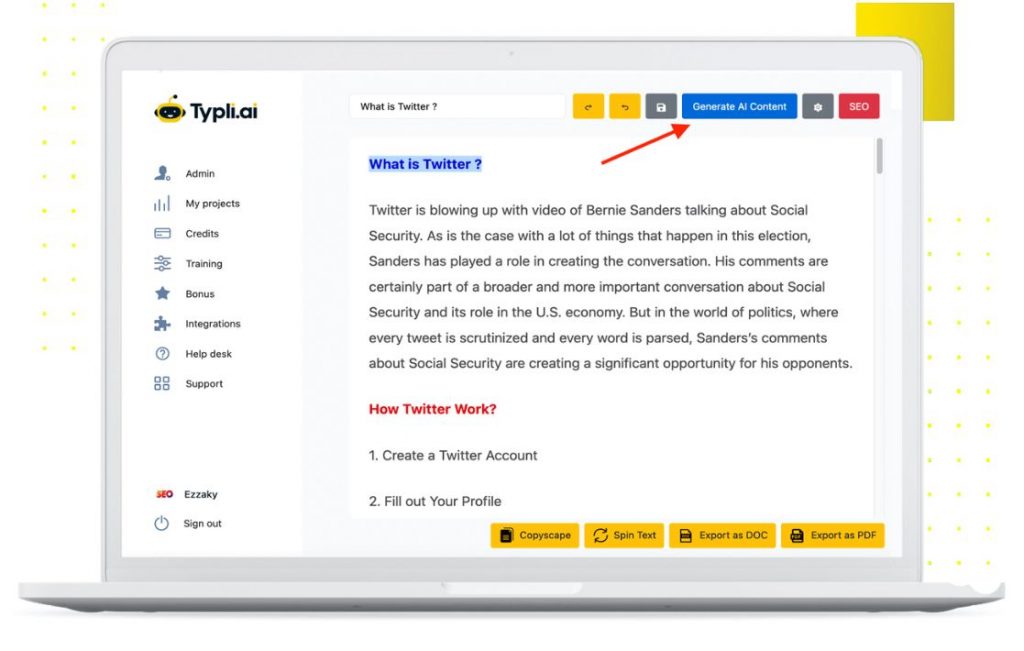 Once you start your free trial with Typli, you'll notice right away how simple the platform is. On your lefthand side is the menu. The rest of the space is your textbox for generating content.
You can start by writing a 'project title' for your content piece at the top. Next, just type into the textbox what you want Typli to talk about. For example, "How to write the best SEO content" and follow it up with "1." This lets Typli know you want to create a list article – or at least a list of bulletpoints. Then click "Generate AI content." Once the bulletpoints are generated, you can get Typli to fill in content for each one to create a blog.
The dropdown menu is especially useful if you don't know what to write about. Some of the options include:
Give me a list of misconceptions about…
Give me a list of synonyms for…
Give me a list of 5 reasons why…
You can add stock photos to your content right from inside the textbox.
The pricing options are also quite simple:
$29 gets you unlimited credits for a month
$290 gets you unlimited credit for a year
Affordability is definitely one of the upsides to Typli. But other platforms like Rytr and CopyAI have similar rates, so check them out too before making a decision.
Typli integrates with Mozilla and Chrome, and a WordPress Plugin is available. This allows you to bring AI writing into other platforms you use regularly and streamline the writing process.
Is It the Best AI Content Writer?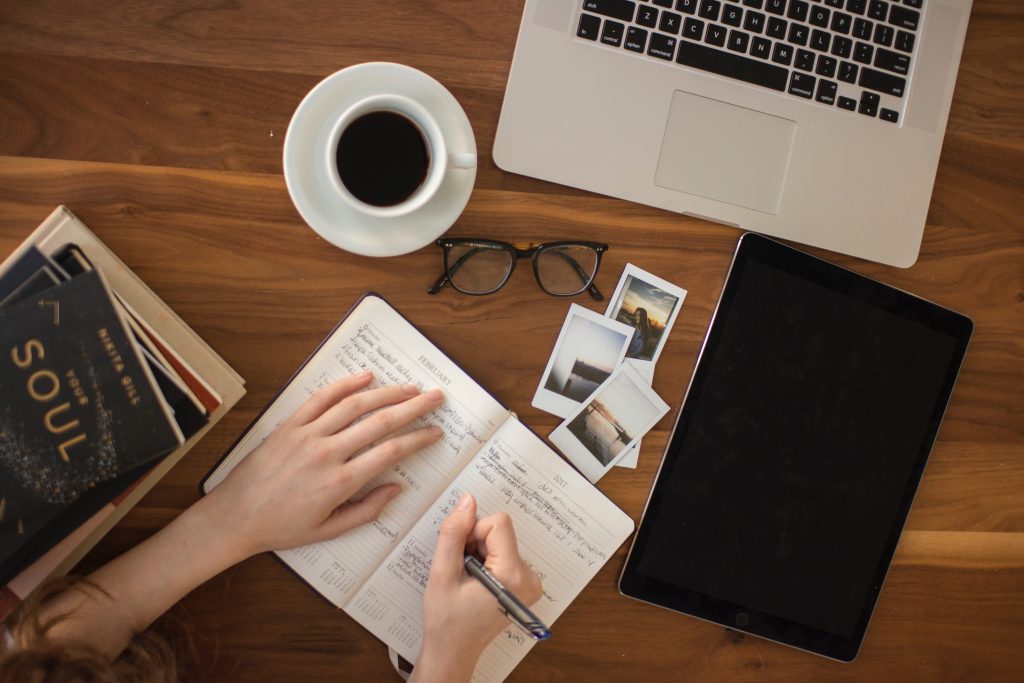 Unfortunately, the answer is a resounding… probably not. While Typli is decent at what it does, AI content writing is now a competitive market. There are plenty of other tools that do the same or even more than Typli – tools like ChatGPT, CopySmith, Jasper, and Longshot AI.
Typli is known for generating subpar content – not every time, but enough times that it makes you question the tool. Another downside is that it only writes in English, whereas other tools can write in many different languages.
Again, unlike some other AI writers, you can't sort your content into folders or categories – another easy feature Typli could've implemented but didn't. But in Typli's defense, you can export your content as PDFs or Word docs, which automates organization to an extent.
Despite the downsides, reviews for Typli are all over the board, so we encourage you to try it for yourself. One reviewer called Typli a "game changer" and another even claimed that it helped him raise his conversion rates.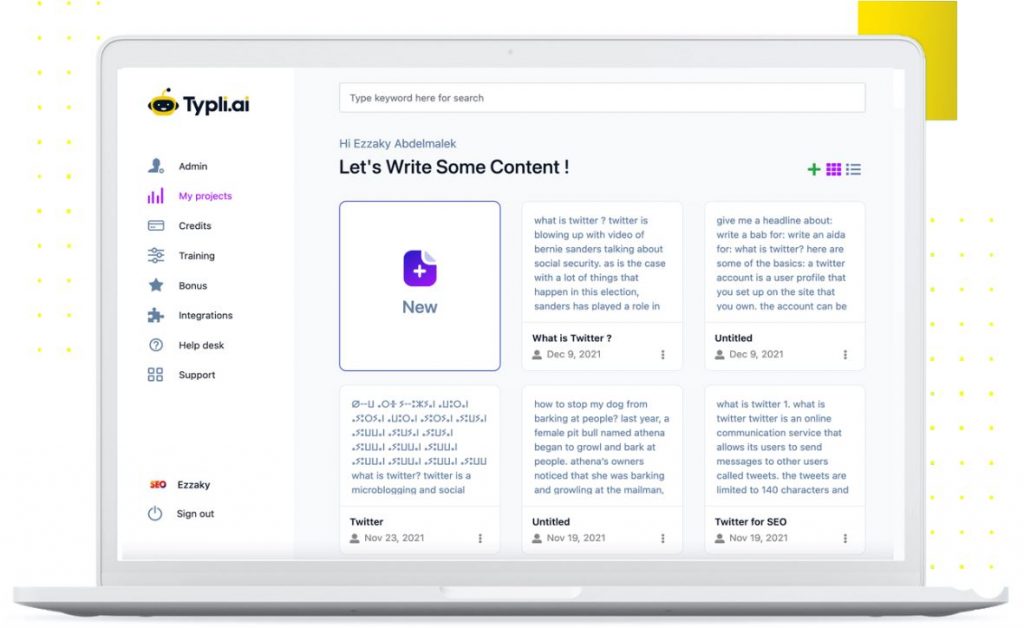 As far as negative reviews, most of the feedback centered around the quality of the content. These reviewers claimed the quality just wasn't consistent enough to keep using the platform.
As with any AI writer, the quality of the content is largely dependent on the user: what they're writing about and how they set up the document is going to have an impact. Some topics are way easier to generate content about (eg. factual information that can be found online). On the other hand, more nuanced topics could go either way – the generator might pull it off, or it might fail miserably.
Typli.AI: Worth Your Time?
Overall, Typli.AI is a decent tool for content writers and marketers. It's easy to use, affordable and can be used on any device. There's also a free trial so you can test it out before making a commitment. But keep in mind, there are plenty of other AI writers out there, and several of them look almost identical to Typli.
The software has been backed by a 7-day money back guarantee from its developers, so you have the peace of mind to try it out.
Creating Facebook Ads: 10 Paid and Free Options for Marketers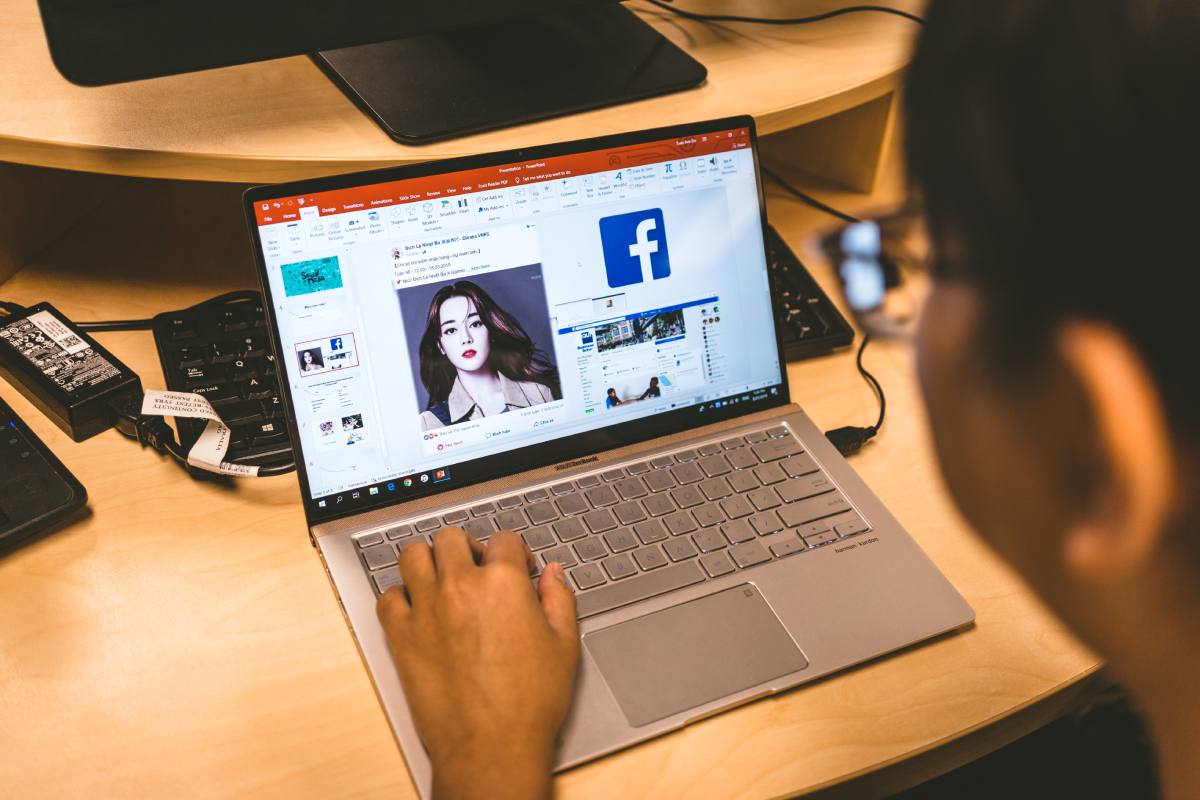 Creating Facebook ads is so much easier for many marketers nowadays. You can use a template, download the image or video, and publish it on Facebook. But with so many editing software applications to choose from, which ones have been part of most marketers' toolkits? Here are our top ten picks for Facebook ad makers.
1. Canva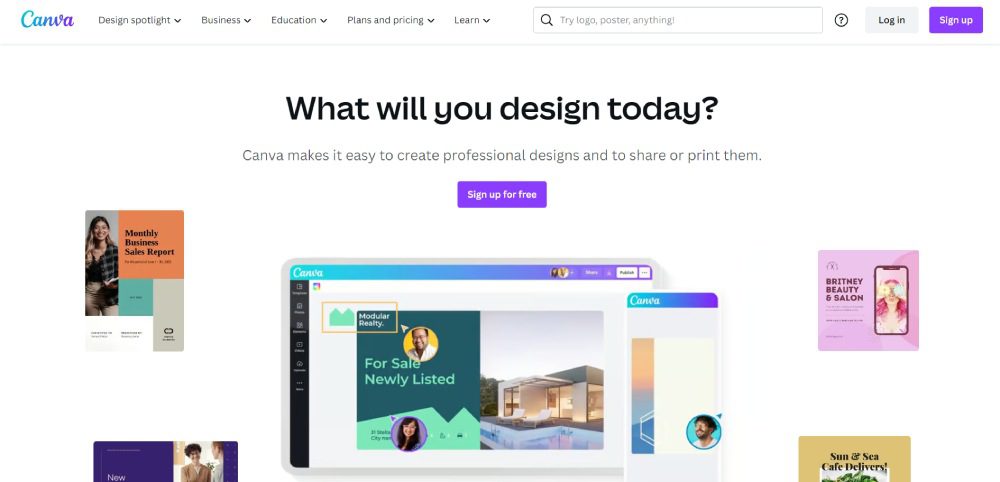 Canva is a handy Facebook ad creation tool for many marketers and small businesses. It started as a photo editing service. But it has recently offered a video editing service, making it a one-stop shop for marketers to create Facebook ads. Here's what to expect when using Canva:
Create photo or video ads using templates or from scratch
Schedule your social media posts
Incorporate branding by uploading your logo plus your custom fonts and colors
Pricing:
Canva Free
Canva Pro – $12.99/mo
2. Visme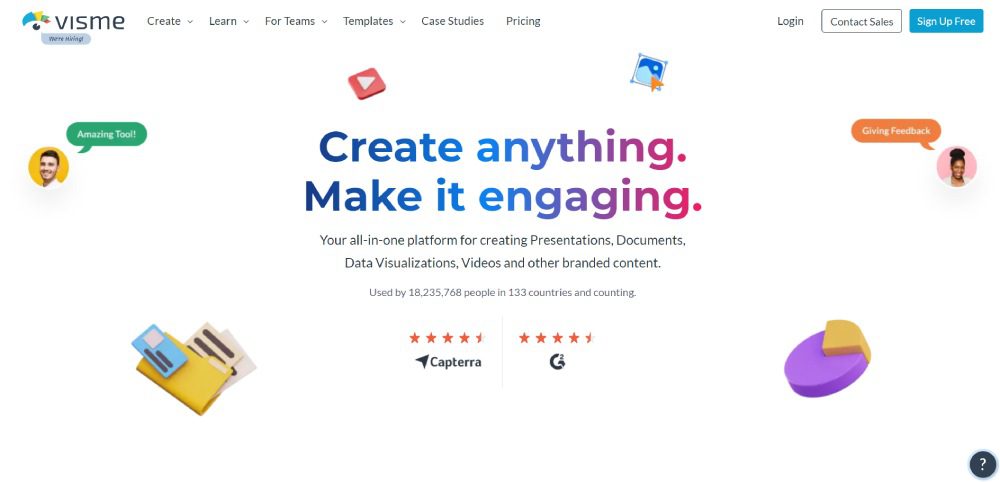 Visme is another graphic design software app that provides video editing services. According to Visme, their platform has been used by over 18,000,000 marketers, creators, and educators. Plus, this photo and video editing software is ideal if you want to show data or infographics on your Facebook ads. Nevertheless, here's what marketers love about Visme:
Use their beautifully-designed templates to edit in a few minutes
Access their royalty-free stock videos and photos
Animate your videos or add enticing design elements to captivate your target audience
Pricing:
Basic – Free
Starter – $29/mo
Pro – $59/mo
Visme for Teams – Contact sales
3. Adobe Express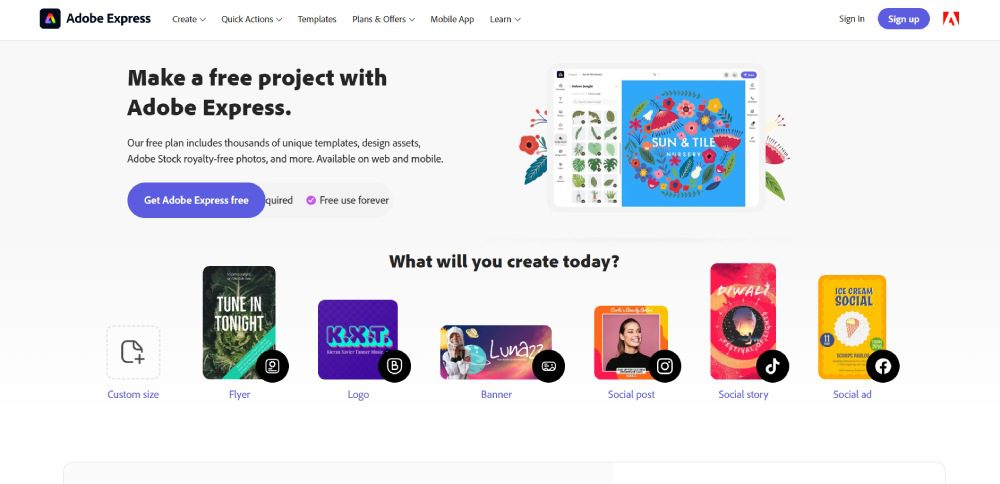 Adobe Express is a beginner-friendly photo and video ad maker. The graphic design software app provides you with access to their Adobe library. And if you need a quick edit, like video conversion or crop, resize, or trim, they have a Quick Actions feature. But you will need an account to do that. What other nifty features does Adobe Express have?
Get 2GB worth of storage even on the free plan
Share your files with the team
Edit videos in minutes and on the go using the iOS app
4. Vista
Vista is another photo and video creation tool marketers love using. The graphic and video editing platform will help you create visuals and videos in minutes. Even marketers agree that Vista is their go-to tool because of its customization options. Plus, it's affordable. But how else can it help you with your ads?
Access to 70 million stock videos and photos
Seamlessly resize your ads
Include stickers and other objects to make entertaining videos and photos
Pricing:
Starter – Free
Pro – $13/mo
5. Penji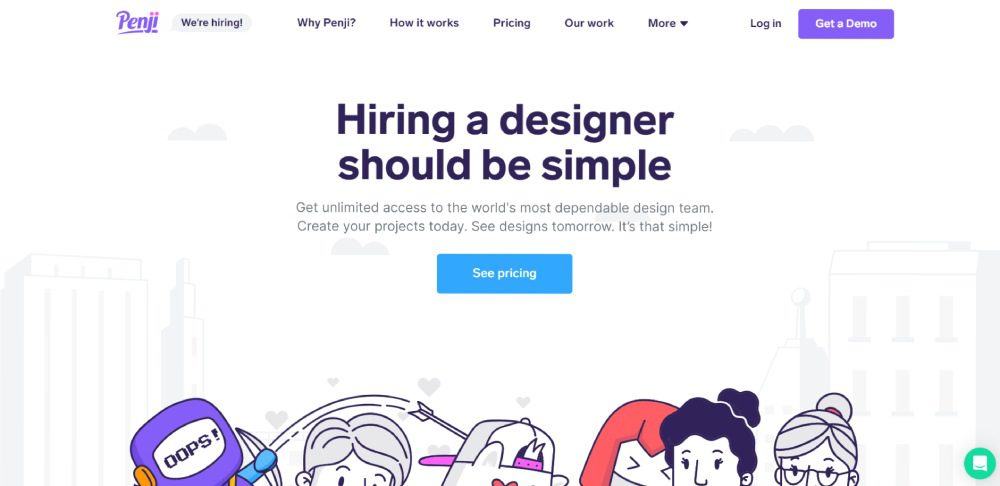 One option that marketers can consider for their Facebook ads is Penji. As an unlimited graphic design service, Penji can help marketers with their ad designs. Plus, you can expect compelling and engaging visuals since the top 2% of designers in the industry are part of Penji. Here's how Penji can help you with your Facebook ad designs:
Request as many designs as you need and manage your design projects
Use the point-and-click revision tool to leave feedback and revision notes
Communicate with designers easily on the Penji app
Pricing:
Pro – $499/mo
Team – $699/mo
Daytime – $999/mo
6. Fotor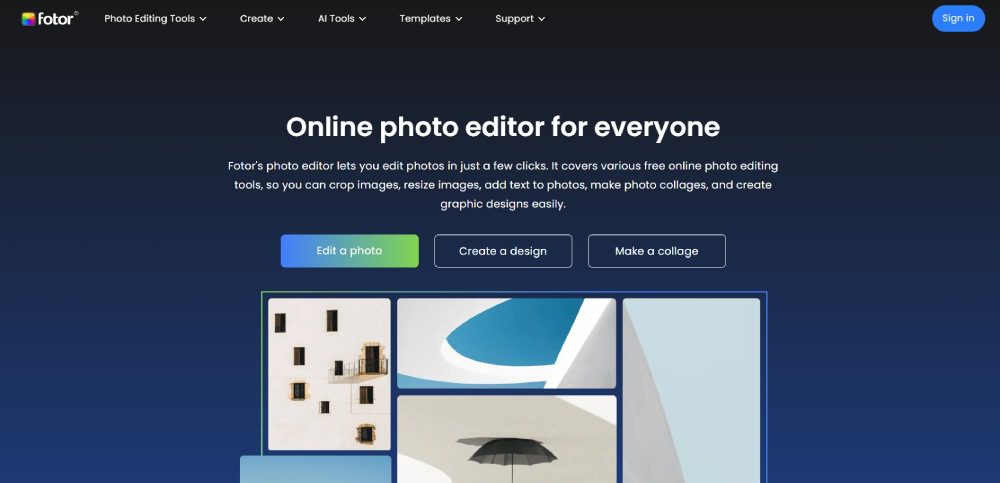 If you're sticking to photo ads in the meantime, Fotor is one of the best Facebook ad creation tools. Like most sites on this list, you can use a template to create your designs in minutes. But aside from that, why is this a top choice for creating Facebook ads?
Use optimized tools that follow Facebook's 20% text rule
Enjoy customization options to integrate your branding
Create other Facebook image assets like Facebook ad thumbnails and cover photos
Pricing:
Basic – Free
Fotor Pro – $8.99/mo
Fotor Pro+ – $19.99/mo
7. Figma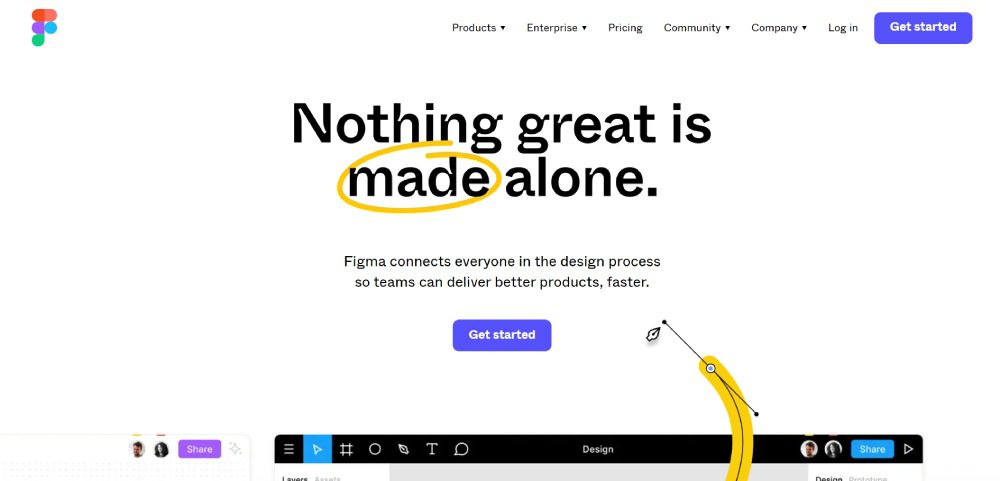 Although Figma is known for creating apps and illustrations, the design software has recently offered Facebook ad creation. This software app is ideal for experienced marketing designers. But beginners shouldn't feel intimidated by this design app; Figma will help you create designs in minutes. What else can marketers expect from this app?
Scale your designs easily
Use 1000+ templates
Collaborate with other teams without leaving the platform
Pricing:
Free
Figma Professional – $15/editor/mo
Figma Organization – $45/editor/mo (annual billing available only)
8. Clipchamp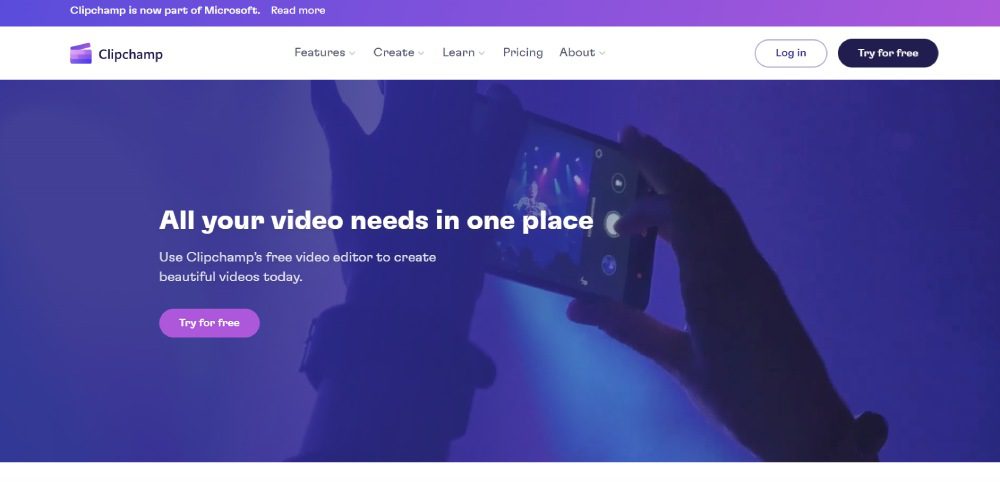 If you prefer videos over photos, here's our first choice for video editing software applications for creating Facebook ads. Clipchamp is one of the easiest video editors for any marketer. Even if you don't have experience creating videos, you can choose from their wide selection of easy-to-edit templates. But why do marketers choose Clipchamp for their videos?
Add an AI voiceover to your videos
Edit using their trim, cut, combine, split, and resize features
Make your videos compelling through filters, transitions, and text
Pricing:
Free
Essentials – $11.99/mo
9. Biteable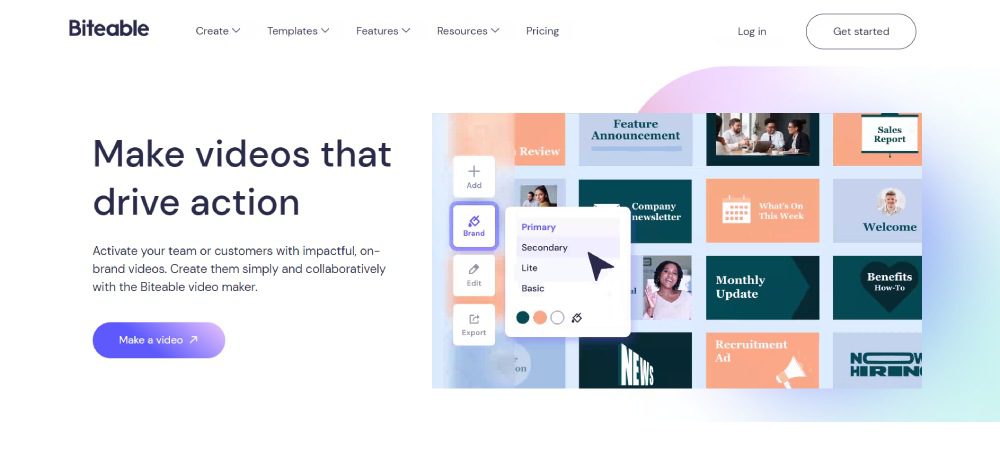 Make bite-sized videos in minutes with Biteable. Marketers have found success using this tool. The video editing application has helped increase engagement rates through compelling templates. With Biteable, marketers can do the following:
Edit their videos in one-click
Use templates for faster editing and rendering
Integrate branding into their videos
Pricing:
Pro – $99/mo
Teams – $199/mo
10. InVideo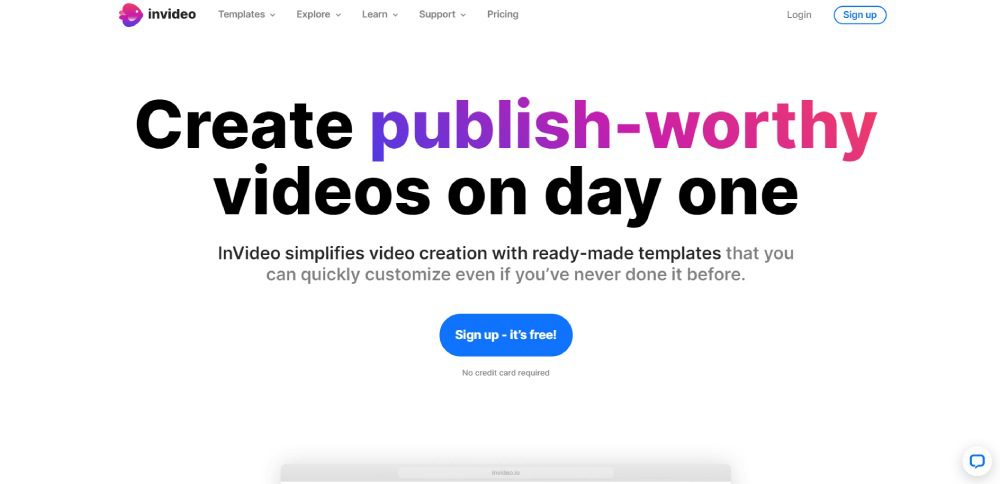 InVideo promises that it will help marketers and video editors create high-quality videos. Marketers can use optimized templates with CTA buttons and drag-and-drop features to edit their videos in a jiffy. Here are other features of InVideo:
Access to millions of templates and objects to make an eye-catching video
Animate images
Convert your text into speech in minutes
Pricing:
Free
Business – $30/mo
Unlimited – $60/mo
Quick Tips to Remember When Making Facebook Ads
Remember your objectives
Keep the audience in mind
Capture their attention in the first three seconds
Incorporate your brand through fonts, colors, and logos
Keep it short and simple
Create various assets and test them
Add animations and visual effects
Key Takeaways
Creating Facebook ads will require you to use various tools or subscribe to different services. But you don't have to worry about starting from scratch with your Facebook video or photo ads. Most graphic design software applications provide you access to libraries and templates. Or, in one case, you can request designs while you wait for your Facebook ads to arrive. Either way, you can select from these tried-and-tested options to create impressive Facebook ads for your business.
Top 10 Biohacking Products to Give Yourself an Edge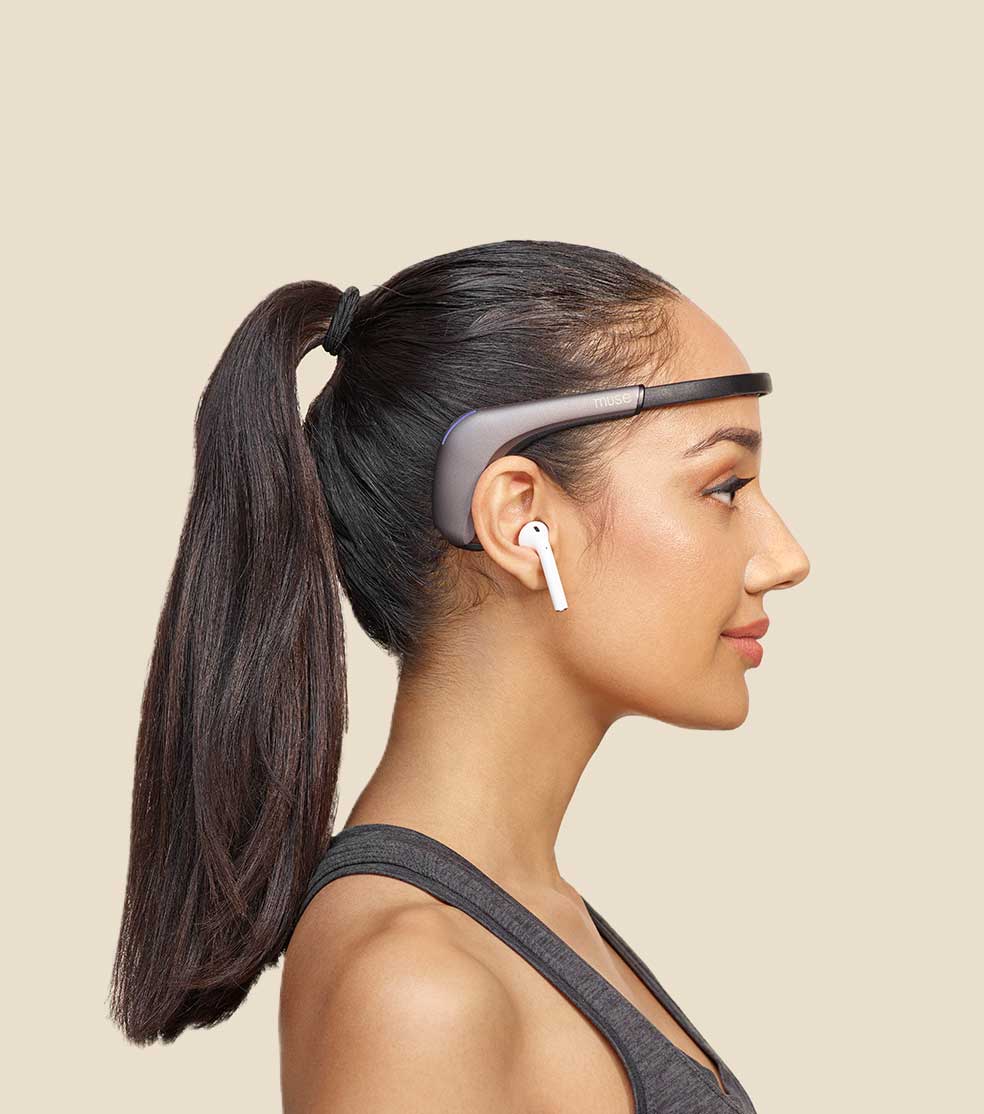 Ever since Tim Ferris announced his 4-hour work week (and shared that he sleeps in a Helix mattress engineered for the best possible sleep), the number of bros attempting to biohack their entire reality has quadrupled.
Yes, the idea of biohacking can be taken way too far – to the extent that everything you do is tracked, measured, and "optimized." Many of the things sold as biohacking products actually just give us the results we'd be getting naturally – if we were in a balanced state. So is any of it legit? In this article, we cover the top 10 biohacking products that actually have merit.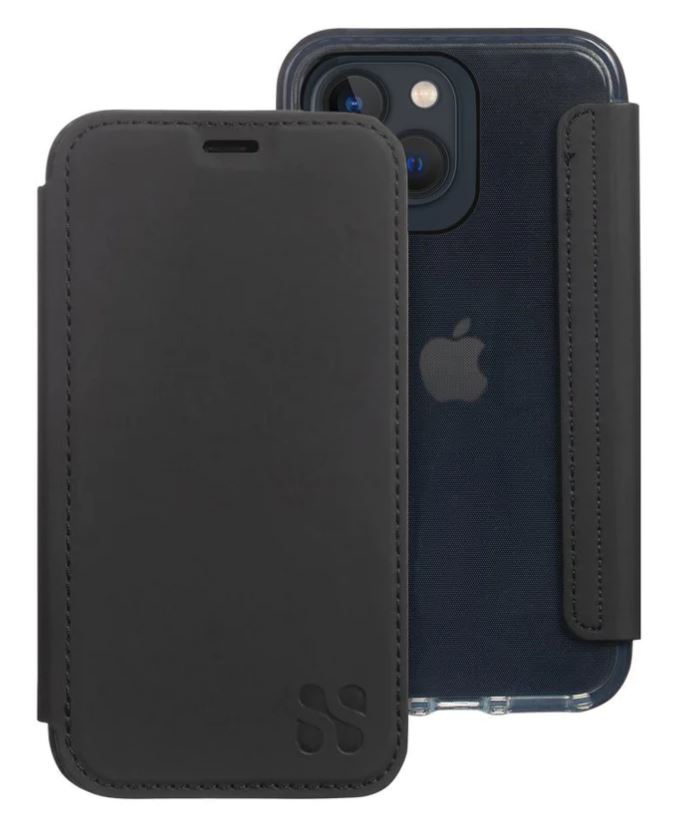 The amount of time people spend on their phones and computers continues to skyrocket. And smart people are starting to ask what the repercussions of this really are. Everything from depression to low libido, nausea, and digestive issues have been linked to EMFs, and that's just to name a few. One study even said EMFs affect our cells and create oxidative stress, which basically ages you faster. 
The data isn't looking good for EMFs. But fortunately, we have EMF blockers that might bear the brunt of the impact. There are all types of EMF blockers, but Safe Sleeve was shown to be one of the strongest for cell phones.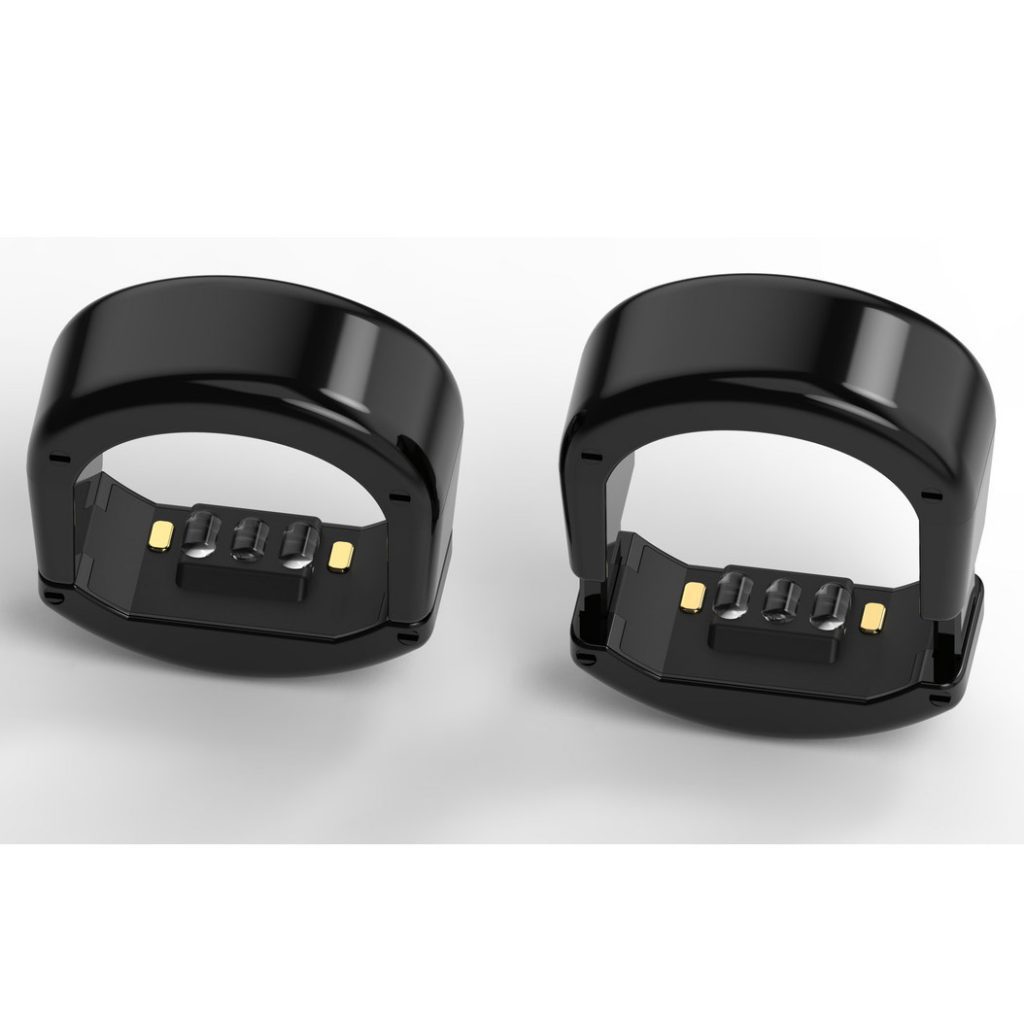 This product for biohackers is marketed as a sleep and fitness ring. It tracks a variety of good-to-known health metrics. You can track your blood oxygen levels, REM sleep and other sleep stages, workout heartrate, and more.
Circul has many competitors in the wearable tech market, so do your research before choosing. This product is unique because it features health risk predictions based on your specific data. So if something is wrong, you'll know about it.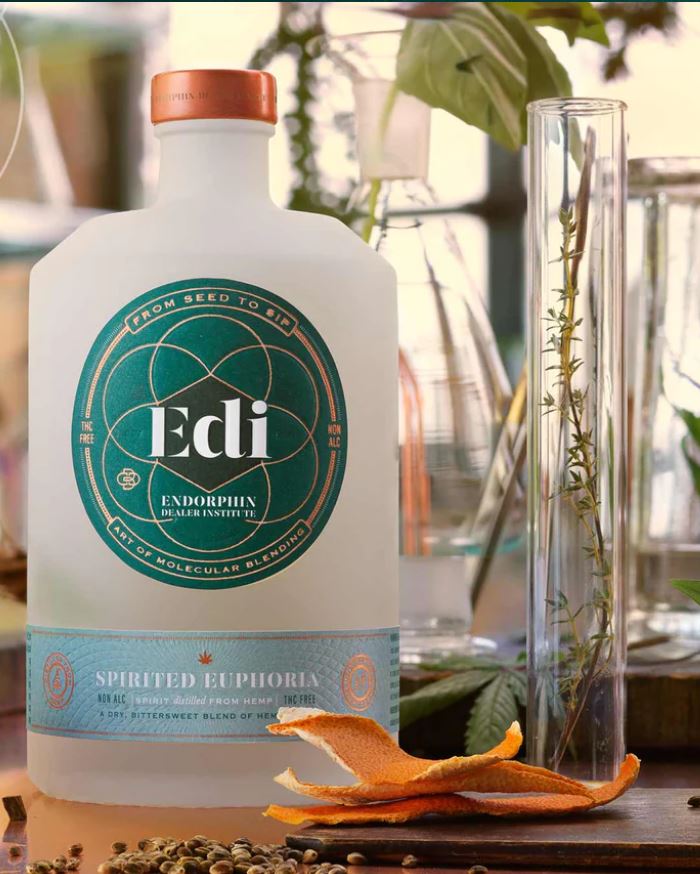 There's nothing more biohacky than skipping a hangover and waking up refreshed and ready to go. Fortunately, if you're willing to forgo the (mostly) unhealthy habit of alcohol, this can be you. Edi Spirits creates "distilled endorphin spirits." The creators say those who drink Edi will experience the pleasure of drinking alcohol without the negative side effects. 
Basically, you're getting a concoction of non-alcoholic ingredients that help you de-stress, like hemp, adaptogens, and nootropics. They even say you can drink it frequently, unlike alcohol, which is obviously a risk for anyone who cares about their liver.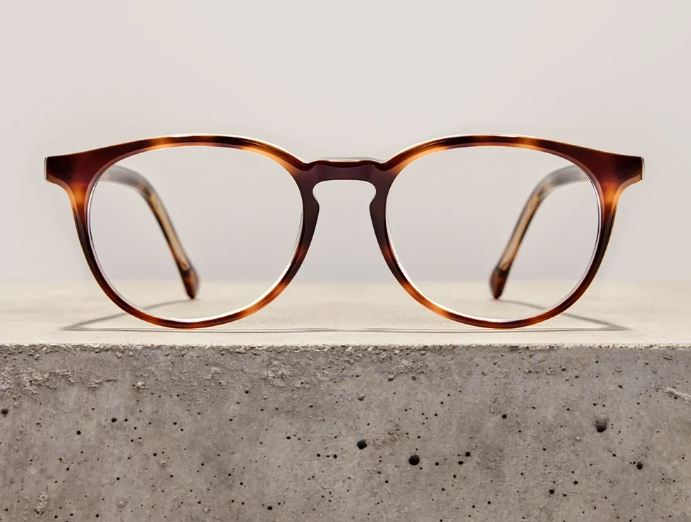 Blue light blockers are a popular biohacking product, and you can't blame people for jumping on the bandwagon. Technology, overtime at work, personal stress, junk food – with so many disruptions, our circadian rhythms are under attack. It's why an increasing number of people feel wired from too much coffee and tired after a good night's sleep.
Blue light blocking glasses are designed to eliminate one of the worst culprits – blue light from screens. This type of light has been shown to disrupt circadian rhythms, especially when we're exposed to it at night. And if you feel like a dork wearing colored glasses, these ones by Felix Gray look like regular glasses.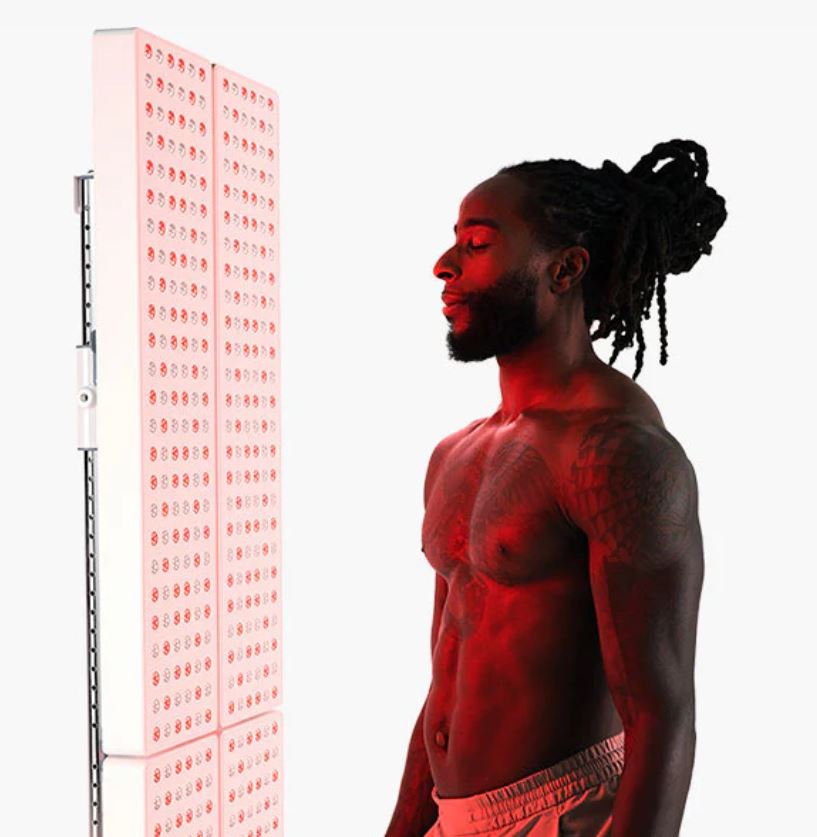 Yes, we're blocking some types of light and intensifying others. Red light therapy might sound like something from a sci-fi, but there's real evidence to back up its health benefits. This biohacking product is touted for its ability to improve blood flow and ease sore muscles and joint pain. It's also said to be great for your skin. Many red light users hop in the sauna after a workout or a long day. Joov users can pair the device with their phones to track and customize their red light treatments.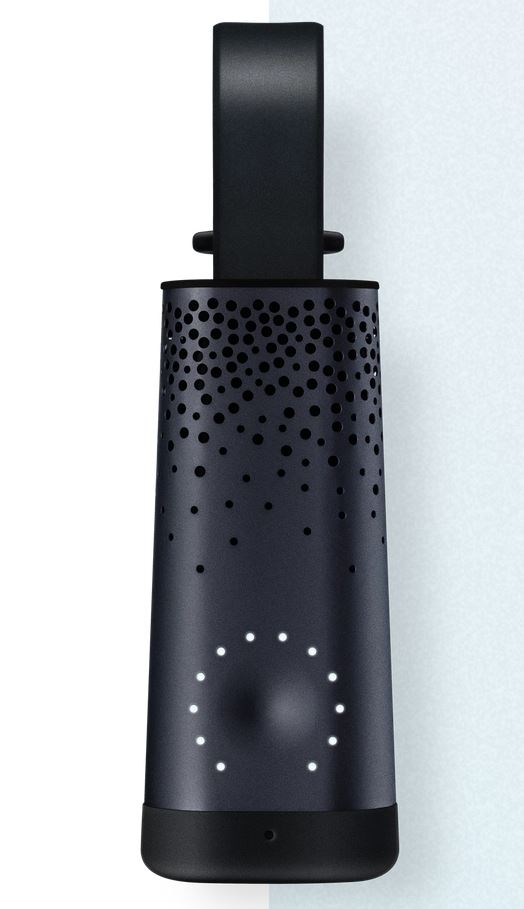 With the overwhelming number of pollutants in our environment, a new biohacking product has emerged. Flow monitors the air quality in your environment and even makes predictions so you can avoid areas of your city with poorer air quality.
Imagine knowing exactly what air pollutants you were exposed to, when, and how much. The device is paired with your phone and all data can be accessed in the app. Now you can know whether the air you breathe at home, at work, and while you're traveling is safe.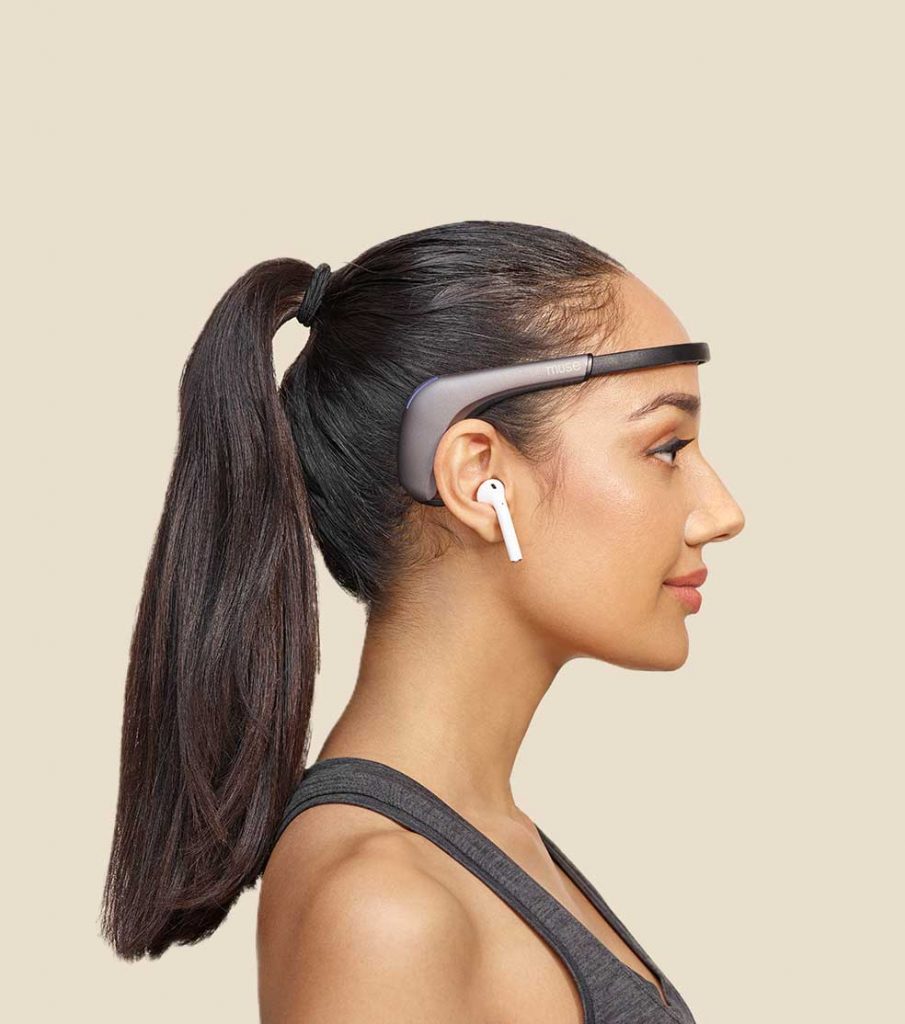 Every biohacker has meditations as a part of their daily routine. But especially when you're busy or stressed, meditating sessions aren't always as effective as you wish they were. This is where the biohacking product Muse comes in.
Muse is a headband you wear while you're meditating. The device is powered by electroencephalography, which is a type of technology that tracks brain activity and biosignals. Muse comes with an app that guides you through a process to focus your mind. The app data allows you to track your meditation progress over time.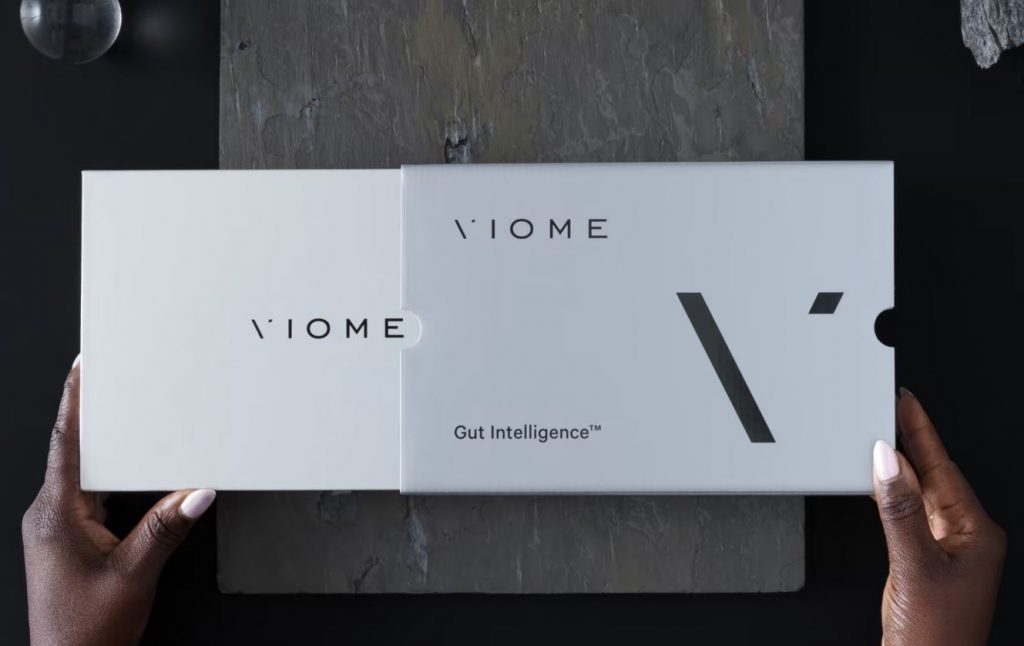 If biohacking is about optimization, there's no reason we shouldn't optimize our digestion too. People with strong digestion have fewer annoying symptoms, but there's a lot more to it. Poor digestion blocks vital nutrient absorption and may cause blood sugar problems, skin problems, and bacteria overgrowth in the gut. Once this cascade effect begins, it's hard to stop it.
Viome sells simple at-home tests you send back to Viome. Once your sample is tested, they'll let you know exactly what you should be eating – the best diet for your body. And the best part is, once you follow their advice, you can retest yourself down the road to see if your gut has improved.
9. Magic Mind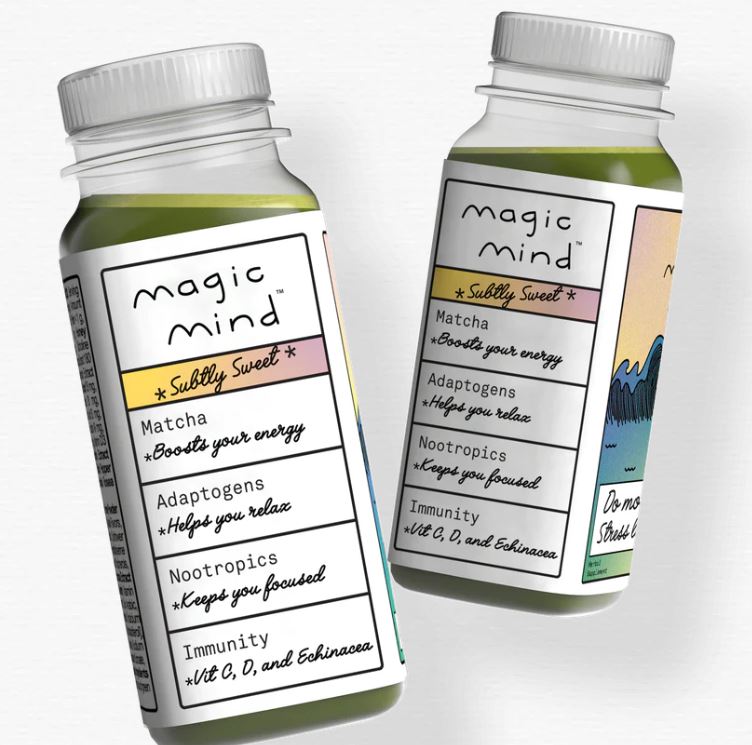 Magic Mind is the quintessential biohacking product. It's a natural liquid supplement that claims to smash procrastination and brain fog while increasing motivation and focus. the drink contains matcha, ashwagandha, choline, echinacea, and several other ingredients designed to support your productivity. So if you're looking for productivity juice that's not coffee, Magic Mind is one option.
10. Fatty15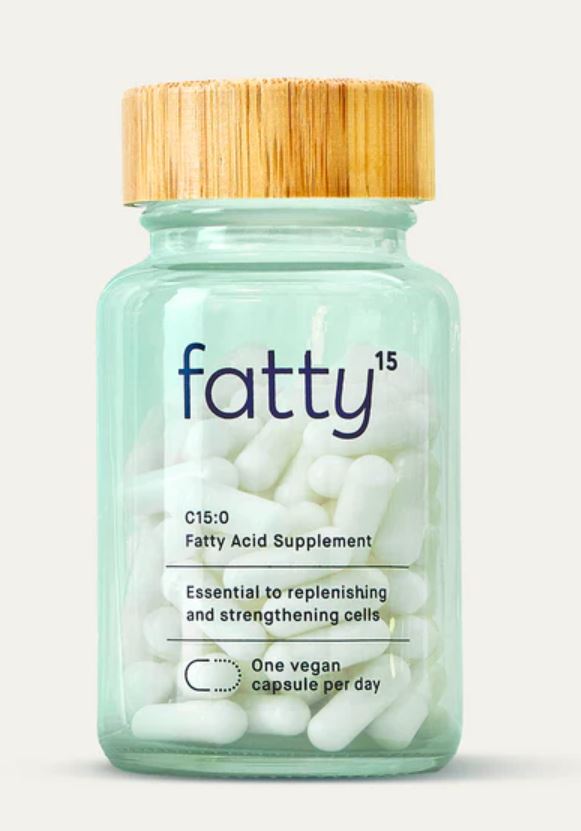 Finally, Fatty15 is a company that produces this fatty acid supplement that promises to elevate your cells. When you think, "what supplements should I take?" fatty acids probably aren't the first things that come to mind. But research shows… maybe they should be.
This specific fatty acid, C15:0 is supposed to protect your cells from oxidative stress and support your lungs, liver, joints, and more. The creators claim that this biohacking product is 3 times better than the leading omega-3 supplement.
Are biohacking products all you need?
We all want to live long and feel healthy. Science and technology has turned its head toward the health market, and new products are coming out every year promising to eliminate mental and physical issues and improve your wellbeing and performance. But these tools can easily be used to replace attunement to our own bodies and what they need to rebalance. We can't just use a series of devices to manage our wellbeing. In reality, health lies in learning to do that for ourselves.
We can get assistance from tools, but they'll never replace our innate ability to solve our own imbalances. So buy up all the biohacking products if you like, but do so with the knowledge that your responsibility to your health can't be outsourced.