Cats: The Spirit Animal of the Internet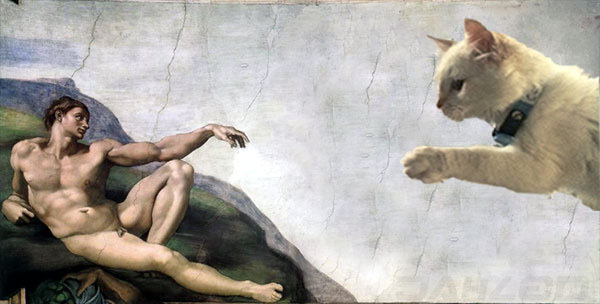 There's a mascot for everything.  All the best characters in the Harry Potter series have patronuses (which everyone knows are basically spirit animals + magic).  My own personal spirit animal happens to be a raccoon with a leather jacket and a switch blade.  We all have one.  So why wouldn't the internet?
No contender for this sought after role is more blatant than the feline.  Cats: the spirit animal of the internet.  What better symbol to represent the collective consciousness of humanity?  Who better to hold the flag for the largest repository of all human knowledge than the cat?
The interconnectedness of all things stands on the shoulders of feline giants such as The Great Nyan Cat, Grumpy Cat, Lil Bubs, Maru, Business Cat and Facebook pages like Cats on Cocaine.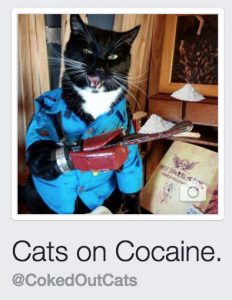 The internet can be a scary place.  Amongst the dark net, hackers, and trolls, cats stand as a rather adorable symbol.  But why the cat?  How is it that this kawaii creature dominates not only reddit but also our hearts?
The truth is, despite all the bad stuff that can go on on the internet, the popularity of cats is living proof of what our priorities are as internet users.  There are many heavy topics and circulating on the net, each one so dense that they settle in depressing layers across our news feeds.  But the one thing that always floats to the top, the one thing that is the least dense on our souls, is our sense of humor.  And the internet's most common vehicle for humor?  Yup, you guessed it.  Cats.
So maybe Harambe's gone, Brexit happened, and Trump is President Elect, but only one sovereignty will never stop trending.  There is only one that we will never tire to see in our feeds.  And that is The Cat, spirit animal of the internet.
Otakon Welcomes Writers Roland Kelts And Frederik L. Schodt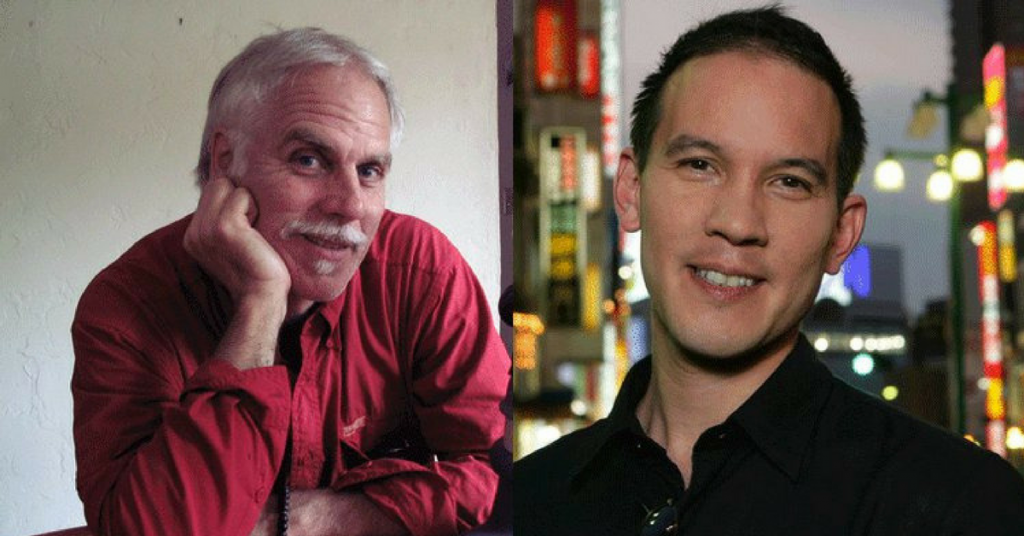 Roland Kelts, author of Japanamerica: How Japanese pop culture has invaded us, and writer, translator, and conference interpreter, Frederik L. Schodt have both joined as guests for Otakon 2017. Fans of the writers were thrilled for their appearance at the convention, as they share their most popular and influential works. Frederik writes exclusively on pop culture, technology, and history, while Roland is currently a 2017 Nieman Fellow in Journalism at Harvard University, where he is currently working on a new book. Both Frederik and Roland are devoted writers, with similarities in expressing Japanese culture in their writings.
While living in Tokyo and New York City, Roland writes for a variety of well-known publications that includes, "The New Yorker, Time," "The New York Times," "Harper's Magazine," "The Christian Science Monitor," "Newsweek Japan," "The Los Angeles Times," "The Yomiuri" and "The Japan Times," and is an authority on modern Japanese culture and media. His writings are spread throughout, though his recognition is from Japanese fans especially. Likewise, he is a frequent commentator on CNN, NPR, NHK, and the BBC. With additional lectures for TED Talks in Tokyo and The World Economic Forum in Tianjin, Roland is looking for various opportunities to share his work, in order to spread awareness to the Japanese culture.
Otakon is an annual celebration of Japanese and East Asian popular culture, with the title of holding in one of the largest gatherings of fans in the United States. In the celebration of anime, manga, video games, and especially music from the Far East, Otakon attracts like-minded fans. Created from devoted fans for fans, the staff is directed by an all-volunteer, unpaid staff. The conventions are solely for the purpose of celebrating and sharing Japanese and East Asian cultures.
Frederik is best known for his many works on manga that includes, "Manga! Manga! The World of Japanese Comics" (1983), "Dreamland Japan: Writings on Modern Manga" (1996), and "The Astro Boy Essays: Osamu Tezuka, Mighty Atom, and the Manga/Anime Revolution" (2007). He has won numerous awards for his talent in the past as a result. In 2009 especially, the emperor of Japan awarded him the Order of the Rising Sun, Gold Rays with Rosette, for his success in introducing Japanese popular culture to North America. His most influential work gave recognition to both him and to what Japan has to offer.
As of recently in 2013, his book, "Professor Risley and the Imperial Japanese Troupe: How an American Acrobat Introduced Circus to Japan—And Japan to the West," won the Circus Historical Society's Stuart Thayer Prize. Doing so, for the last three years, he has served on the executive committee of the Japan International Manga Award. Additionally, he is an active translator and has worked on much well-known manga series, as well as novels including Yoshiyuki Tomino's "Mobile Suit Gundam" trilogy.
Frederik has been involved in spreading Japanese culture and will continue as he attends Otakon 2017. The convention holds determined fans who wish to express their culture with other similar people. In Otakon 2017, writers Roland Kelts and Frederik L. Schodt are invited to continue the tradition. All while cementing their writings and work to Japanese culture, the awareness can now be shared in North America.
Otakon will be continuing their gatherings next year on August 10-12 at the Walter E. Washington Convention Center, Washington D.C.
Best Youtubers You May Not Have Heard Of For Business Advice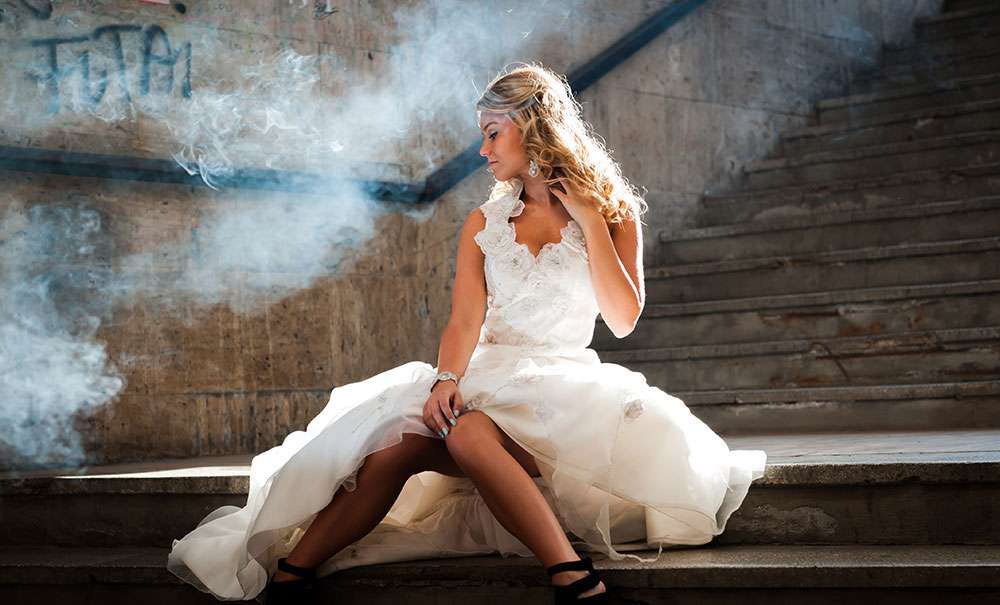 Do you know who the best YouTubers are? There is a strong chance that if you're reading this, you've been known to binge-watch countless videos of your favorite YouTubers. People like Casey Neistat, PewDiePie, Jenna Marbles, and Prank vs Prank are probably a few that you just can't live without. Well, we wanted to create a list of Youtubers that may not get the recognition that they quite deserve. Here are some of the best Youtubers you may not have heard of:
This Week In Startups
If you've found yourself searching for marketing knowledge, motivating your team, or advice from top entrepreneurs than this account is for you. The account is fun, informative, and raw content. I recently watched an interview with one of my favorite entrepreneurs, Mark Suster. The questions that Jason asks are great and you can tell he's a knowledge business professional.
Startup Grind
Startup Grind is a global community designed to help, inspire, and connect entrepreneurs. With events throughout the globe, Startup Grind has interviewed countless entrepreneurs on their channel, but what makes this account different are the in-person interviews. You can tell the content isn't scripted. The questions are real and the experiences are raw.
Moz
If you've ever heard of whiteboard Friday, you know exactly who I'm talking about. To all of those who don't know, Moz is a marketing company. They specialize in SEO and have a great product. Although I have never personally used their services, the company has an incredible reputation for being one of the pioneers in search marketing and has partnered with the likes of Google to further understand their algorithm.
Brian Tracy
Although Mr. Tracy might seem like an old corporate white dude (and he is an old corporate white dude.), the man is incredibly smart and has a ton of insight that makes sense for your business. Mr. Tracy started his Youtube fame by answering simple questions in business and due to the sheer volume of videos that he has created, being in existence for as long as he has, and having a great viewership. Throughout the years, he's been able to climb the Youtube ranks and solidify himself as a key player on Youtube throughout the business community.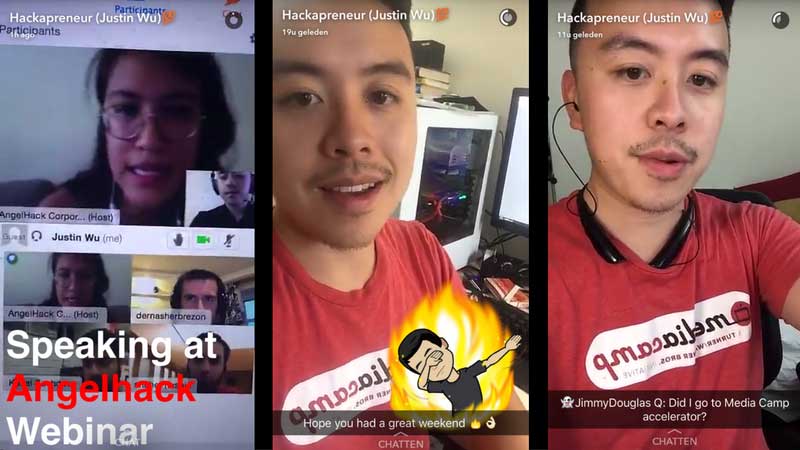 Justin Wu or Better Known As Hackapreneur
I have been following Justin for some time now. I originally found him on GhostCodes in the business section. After following him for a few months he does a lot of really neat things. One thing, in particular, are his "SnapStorms" where he goes off and drops a TON of knowledge bombs. He considers himself a growth hacker and he's been able to grow the youtube/Snapchat ladder relatively quickly by providing great content.
Emergency Awesome
If you want to learn more about comic books, this is your guy. You might be asking yourself, "Why is this on here?" Well, as a business professional, you need to make sure you're watching/reviewing/analyzing content that works. Emergency Awesome's content is so good. The amount of detail he goes into, the production value, and the consistency of his material alone put him on this list. The take away you need to know that in business, it's all about consistency. Emergency Awesome does just that.
FunForLouis
Although this account is also not directly related to business, watching FunForLouis' videos are a great way to relax and get a better understanding of how to market your business online. Louis posts a blog every day. The blogs typically range around his travels, but he gives a fantastic perspective on life. He's living his dream and he is proud to show it off to the world.
Did we miss anyone? Submit your request so we can continue to add to this post.
'Or Die Trying' Webseries Empowering Millennials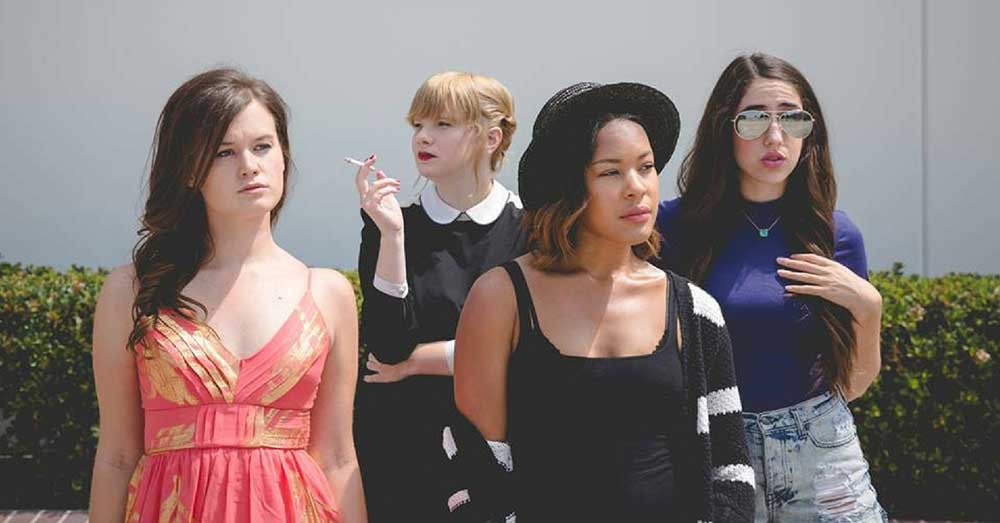 Inspiring millennials across the nation, Or Die Trying is sharing a story about four women living in Hollywood pursuing their dreams in the entertainment industry. In this exclusive interview, they reveal the truth about LA, crowdfunding, and feminism. The passion behind the webseries stem from the lives of the creator Myah Hollis and producer Sarah Hawkins. They are the masterminds behind Or Die Trying, and this is how they're doing it.
What is Or Die Trying about?
MH: Or Die Trying is about four millennial women living and working in Hollywood. When it comes to their careers in the entertainment industry, they know what they want and they have an idea of what it will take to get there, but they struggle with making all of the pieces of their lives mesh seamlessly. While they're strong in one area, they're lacking in another. It's a story about their journeys as they develop as women and try to come to some type of equilibrium, while not compromising who they are in the process.
Tell me about the characters.
MH: Amelia Tinsley is a journalist, struggling with her identity and her sense of purpose, and trying to get herself back on track. Bailey Rosenberg is a comedian who is totally in tune with who she is and what she wants, but is having opposing expectations forced on her by her mother who wants her to live more traditionally. Ellie Hansen is an indie actress who is disinterested in the idea of fame at the expense of art, even though she's constantly being pressured to "sell out." Raegan Thomas is the creator and co-showrunner of a TV show who, although she's doing very well professionally, is dealing with things in her personal life, and she doesn't really have the ability to compartmentalize the two. Each character is trying to achieve a sense of balance between two dueling aspects of their lives.
How did you ladies meet?
SH: Myah and I met a few years ago in Philly where we both lived and worked. We both made the leap to LA within months of each other in 2013, Myah moving here for writing, and I sought to pursue acting. Being friends and fellow film industry ladies, we wanted to create something together that we could call our own, as if you wait for the perfect role or opportunity to come to you, you're never going to find it. We've been work wives ever since!
Why LA?
SH: Los Angeles is like Mecca for artists and those striving to put one's dreams into fruition. Most everyone is here with purpose, and that alone can be incredibly infectious. Who wouldn't want to feed off that type of energy every day?

MH: If you're seriously pursuing a career in TV or film, this is the heart of the industry. It's where you need to be. It also helps that it's sunny all year and there's a ton of sushi.
What is your day to day like?
MH: Every day is hectic in its own way, but not extremely exciting to be honest. It's just a marathon of checking things off of checklists, chugging gallons of caffeine and trying not to sink into the warm comfort of an unproductive Netflix binge.
SH: I'm not sure I can really echo Myah's sentiments enough on the coffee bit. Coffee in an IV and an obscene mountain of emails.
What inspires you?
SH: My fellow women in film. I feel like there is such community within our little network that is just pure of heart and down to earth, so much that at times it can kick your own ego-butt every now and then. This industry can be just absolutely brutal, but when I see like-minded, passionate, badass women who just want to help level each other up, I get incredibly motivated to do the same and progress the conversation further.
MH: I think I'm most inspired by the statistical improbability that I should be successful as a writer in this industry. When I first decided that I would pursue this instead of going down one of the many roads that would lead me to a stable job, I was very aware of the fact this is something that I should fail at. More people fail than succeed, that's just a fact. You know this going in but you do it anyway. The idea of being successful despite those odds is what drives me.

Why a story about women?
MH: There aren't enough stories about women told by women. There's a unique perspective that's missing in Hollywood because women are not telling our own stories, therefore the stories that are being told are not representing us properly. It's a systemic problem that will only change if we make it our responsibility to create more complex, realistic female characters.
Who are some of your role models? Why?
MH: Shonda Rhimes is my main professional role model, for reasons that feel really obvious to me but I'll just go ahead and lay them out. She has knocked down so many barriers and has become the epitome of a woman building her own empire and playing by her own rules. She has beat the odds in every way, and that's really inspiring. My role models in my personal life are my parents and my family and close friends. I'm just surrounded by so many strong, resilient and talented people, it's insane.
SH: Amy Sherman-Palladino for the creation of Gilmore Girls, which is probably some of the best feminist writing on TV and on a personal level, my dad. He has been a huge influence on my career as an actor and as a producer, and is a constant source of inspiration.
What advice can you give to people chasing their dreams in LA?
SH: Find your "person(s)". LA can be extremely lonely and competitive if you let it. Surround yourself with people who push you to be better, to think outside of yourself, to keep the end goals in perspective when the day-to-day gets muddled and messy. That's what I love most about Myah's & I's relationship. She keeps me in check and we push on together.
MH: Don't listen to people, listen to your instincts. Listen to your gut. Succeeding in this city takes stamina. Only you know when you've had enough. Don't stop going after what you want until you're sure you don't want it anymore.
How did crowdfunding through Seed & Spark help you?
SH: Seed&Spark was one of the most challenging and rewarding experiences. Crowdfunding is never easy, but the folks at Seed&Spark vet you and prepare you on a level that is incredibly empowering. Really cool filmmakers came out of the woodwork to support us, not only financially but with loans of goods, services, promotions, etc. Our project became a community through Seed&Spark, and we're excited to continue to build that village through production this October.
How are you trying to make your audience feel?
MH: I don't ever want to tell people what they should feel. I'm kind of a psych nerd, so I can get a little hippie-dippie at times, but I really think that everyone is at a different point in their lives and different things resonate with you depending on what you're experiencing at the time. I just want people to be able to empathize on some level, but whatever feelings our show ignites is fine with me as long as they're engaged.
What is your message to your audience?
MH: You have to trust your instincts, regardless of the backlash that may cause. You also have to be willing to put in the work to become whoever it is you want to be, both professionally and personally. Those are the main things that I want people to walk away with. Other than that, I just hope people take what they need from it and that they're both inspired and entertained.
What sort of person is going to love the show?
SH: We sought to really hone in on our fellow millennial women in film, because they are our community, our niche; the ambitious, driven women who know what they want and are actively doing everything they can to make it happen. I know ODT echoes universal truths far beyond that demographic, that dreams are worth fighting for, and given by the reaction to our trailer, our Seed&Spark Campaign, and other press, I can't wait to see who latches on to it, as both men and women alike have been extremely anxious and excited for us to get it out there.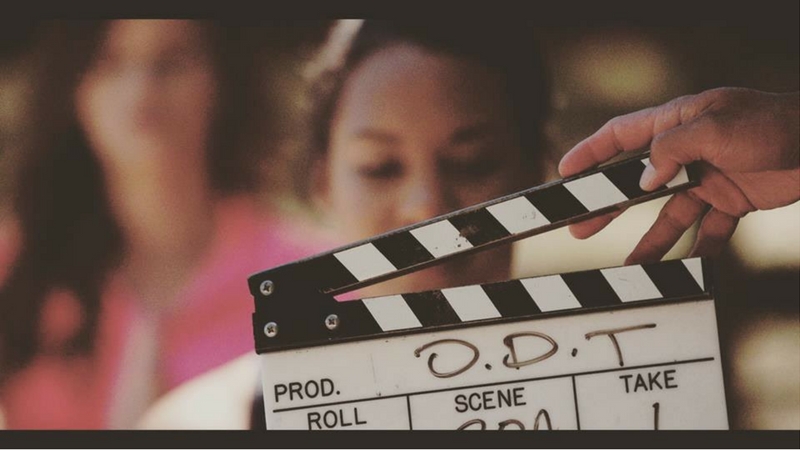 What was the happiest moment?
MH: Finishing the scripts was a huge relief. I tend to pick at them compulsively until they're exactly the way I see it in my head, so when they were officially locked in and ready to go I felt like I could finally breathe.
SH: For me, it's the seeing the community we are beginning to build with Or Die Trying. A distinct moment was at our ODT Networking Party, and looking out into the crowd to see all the amazing people who not only came out to support our series, but came out to connect with fellow filmmakers and level each other up by networking with one another. It was so cool to witness!
How has pursuing Or Die Trying affected your lives?
MH: It's completely dominated the past year and a half of my life. Everything has revolved around this project for so long, that I don't really remember what I was doing with my days before. It's also made me really confident in my abilities as a writer and producer, and very thankful to be surrounded by such talented and creative people every day.
SH: Same! ODT on the brain 24/7.
What struggles are women facing today?
SH: I'm going to chunk this down to women in film because there are some pretty wild problems outside of this industry women have been and are currently fighting against. To put it plainly, there is unequal opportunity for women behind and infront of the camera, unequal pay above and below the line, and very little movement to illuminate the female perspective onscreen.
Would you consider yourselves feminists?
SH: Yes. Men and women are equals, it's time our society reflects it. Feminism shouldn't be a dirty word.
MH: I honestly don't understand how you can not be a feminist. There are negative implications about what feminism is, but it's very simply the belief that women are equal to men in every capacity. I can't believe that's something that we're still debating as a society.
How do you feel about the film industry today?
SH: I think we are in a unique time where collaboration and creation is becoming increasingly more welcome than competition. So much of this industry is cut-throat, but when it comes down to actually bringing a project into fruition on the indie level, I believe most people are in it for the right reasons. Maybe that's naive of me to say, but at the very least, that's been our experience with ODT. Everyone just wants to be apart of something bigger than themselves, and I believe our series speaks to that.
What obstacles have you faced?
SH: The proverbial "no," and learning that it has no real merit on you or what you're capable of achieving.
MH: The great thing about building your own projects and creating your own opportunities is that you don't face many obstacles that you can't overcome. There are always logistics that need to be figured out, but the fact that you're not waiting for someone to tell you what you can or can't do eliminates a lot of that hesitation and stress that can hinder you in this industry.
Who would you like to work with in the future?
MH: Shonda.
SH: Jill Soloway.
Is there anything you want to highlight?
SH: We're headed into production of Or Die Trying this October, but you can stay tuned on our progress at odtseries.com and on social media @ODT_series and at #odtseries