Cable vs. Streaming: Which Won in the July 2022 Viewership Ratings?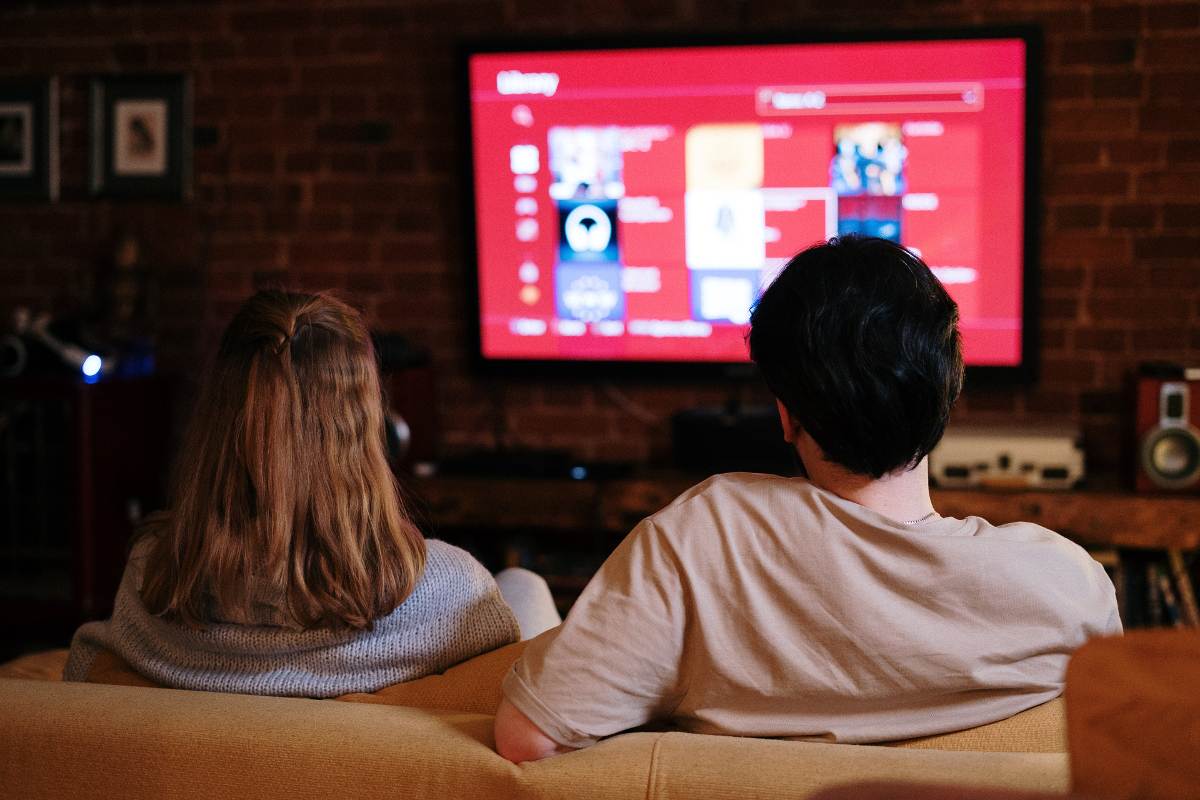 Streaming subscription services have become the new way to watch television. It's no surprise that these subscription services have dominated and even dethroned cable television as to how we watch TV. In July 2022, Americans had spent more time watching shows on streaming than on cable. Read more about the cable vs streaming war here.
Cable vs Streaming: Nielsen Insights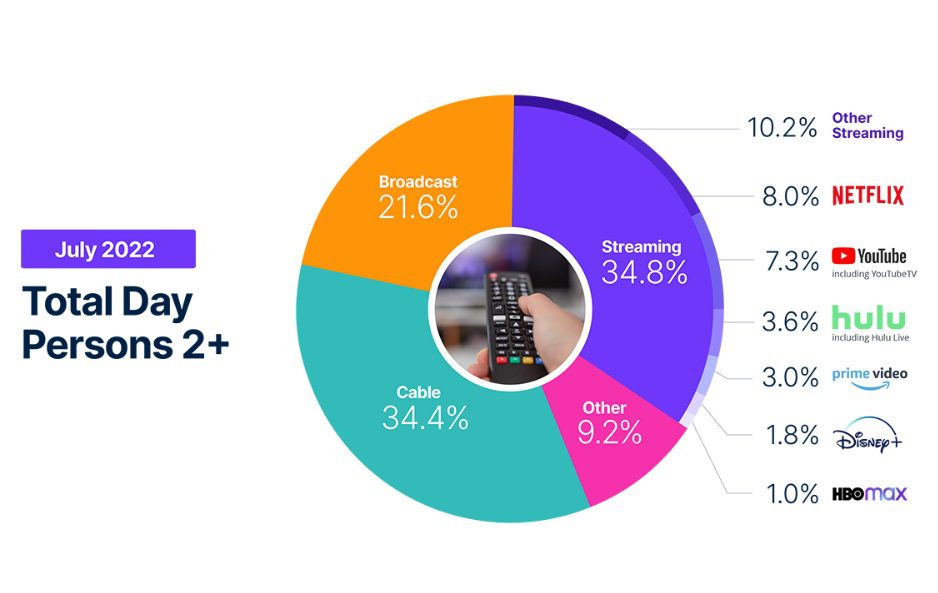 Nielsen has shared their new insights on viewership. Streaming reigned supreme in July of 2022 at 34.8% viewership. But, cable came in a close second at 34.4%. The audience measurement company has mentioned this was the first ever instance that streaming surpassed cable. But this shouldn't be a surprising metric considering the number of people watching streaming had risen to 23% a year ago. Plus, 9% more viewers had decided to end ties with cable.
Another thing to note is the billions of minutes that viewers have watched. They reported that viewers had watched a whopping 190.9 billion minutes of streaming. This broke the previous record from April 2020, wherein viewers had watched 169.9 billion minutes.
During Netflix Q2's results release, Reed Hastings, Netflix Co-Chief Executive, said that more people have been more interested in streaming, and it could be the end of cable in the next five or ten years.
Current Trends
Nielsen's numbers are an indicator that streaming services are putting in effort and ensuring quality in creating content. Two major streaming services have suffered because of this, Peacock and HBO Max, and they have lost a lot of subscribers in Q2 2022. That said, some subscribers tend to jump ship due to the availability of content per streaming service.
Although Disney+ has more subscribers than Netflix, Netflix was the winner in the streaming wars in July due to the popularity of Stranger Things. Even so, Disney+, Hulu, and Amazon had broken viewership records in July as well. Plus, considering it was July, more children were streaming their favorite shows or watching on YouTube.
John Hodulik, UBS Group media and telecom analyst, explained in this cable vs streaming war that streaming allows more flexibility in watching shows or movies. And that cable TV's attractive offering is sports. And that's the case when the summer break ends, and people will tune in to cable for their favorite sports. However, sports are also making their mark on streaming services. Apple, Paramount, Amazon, and Peacock are those with sports-related broadcasts.
Streaming Services and Costs
Netflix has been recently making headlines that it has lost subscribers and laid off employees. And for the company to continue earning revenue despite losses, the streaming giant is planning to introduce ads on Netflix.
It's not only Netflix thinking about revenue. But for them, they want to balance revenue and quality content. Warner Bros. Discovery had announced that they were no longer pushing through with Batgirl. They believe in pulling the plug on the much-anticipated movie due to content quality.
Like Netflix, Warner Bros. Discovery is planning on introducing ad-supported subscription tiers.
Current Subscription Services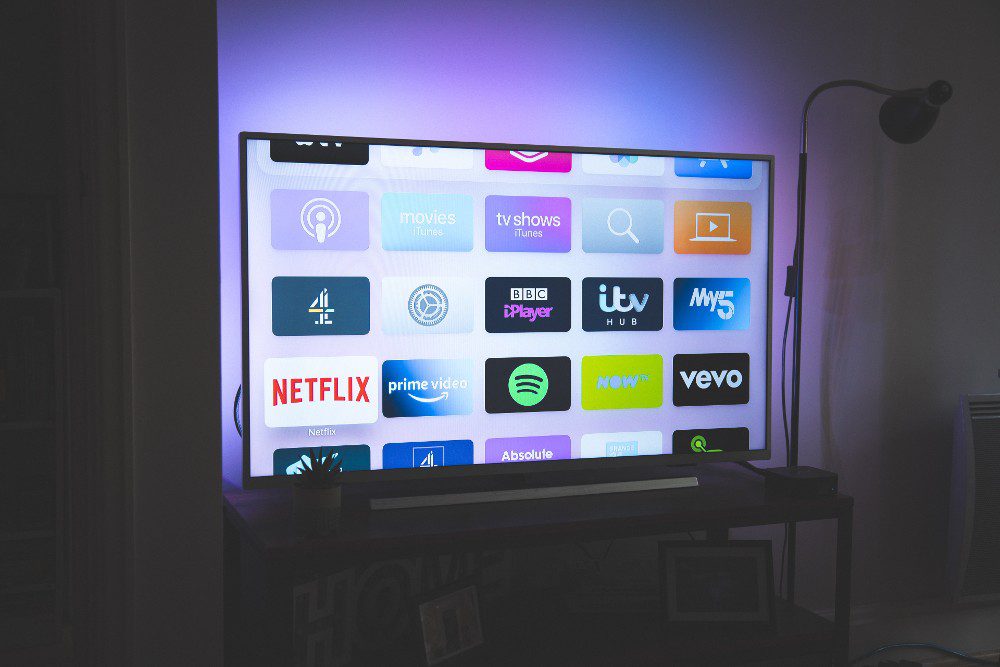 Subscription services have dominated the digital sphere. Here are the top ten streaming services:
Disney+
Netflix
Hulu
Amazon
HBO Max
Sling TV
Peacock
Paramount Plus
Apple TV
YouTube TV
Musk's New Twitter Rebrand X: Good or Bad for Business?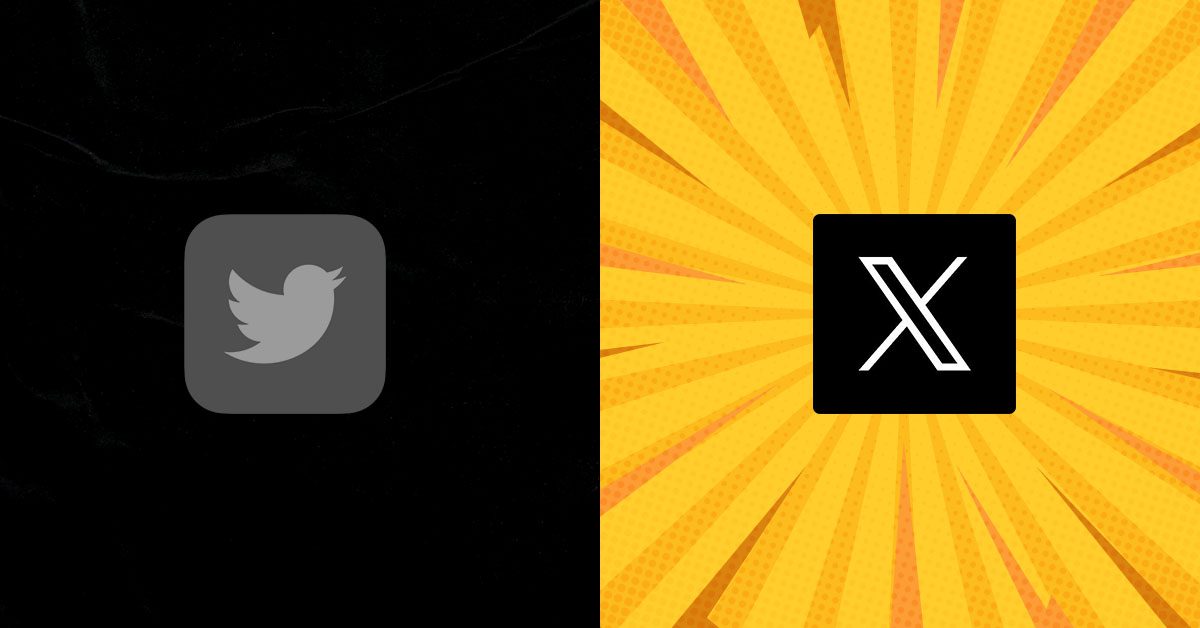 They said it wouldn't happen, but here we are: Elon Musk has killed Twitter. Well, rebranded it.
Twitter is now simply X, and people both on and off the popular social platform are going, "Huh?" We'll explore what the new branding means, how likely it is to stick, and what the reasoning behind it might be.
What happened to Twitter?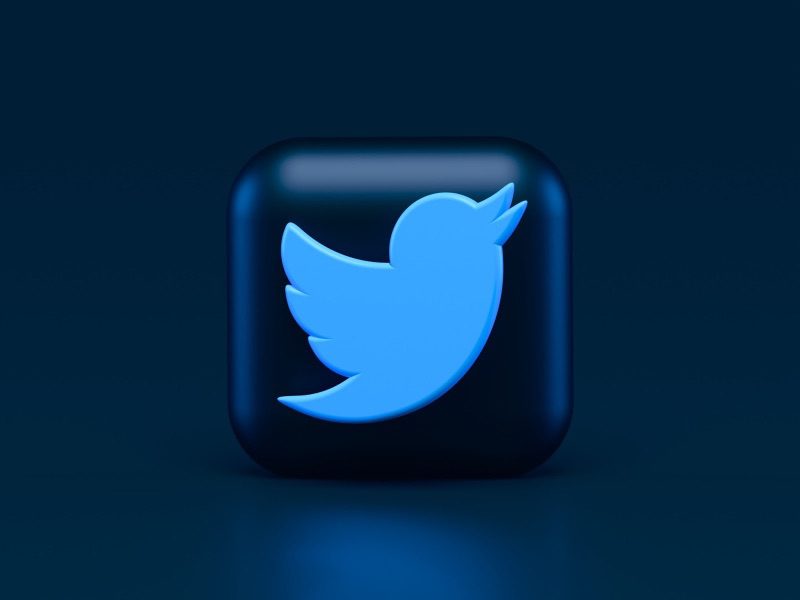 If you logged onto Twitter for the first time in a bit this week, you may have been hit with a shock. That iconic blue bird in the upper left has been replaced by a simple unicode character: 𝕏.
The announcement came suddenly, late at night on July 24th: Twitter was no more. The social network would now be called "X," and gradually, all Twitter branding would be dropped, courtesy of executive chair Elon Musk.
Changing that upper right logo on Twitter for Desktop was easy—earlier this year, Musk replaced it with a doge meme. After that, Musk made x.com redirect to Twitter and changed all company profiles from "Twitter" to "X." They actually had to buy the Twitter handle @X, which had been taken since 2007.
Is Twitter gone?
So far, a lot of X is still Twitter. The app is still Twitter, the URL is still twitter.com, and the old blue bird is still easy to find. Funny enough, if you open X without a login, you'll see the X logo above an invitation to "Join Twitter today."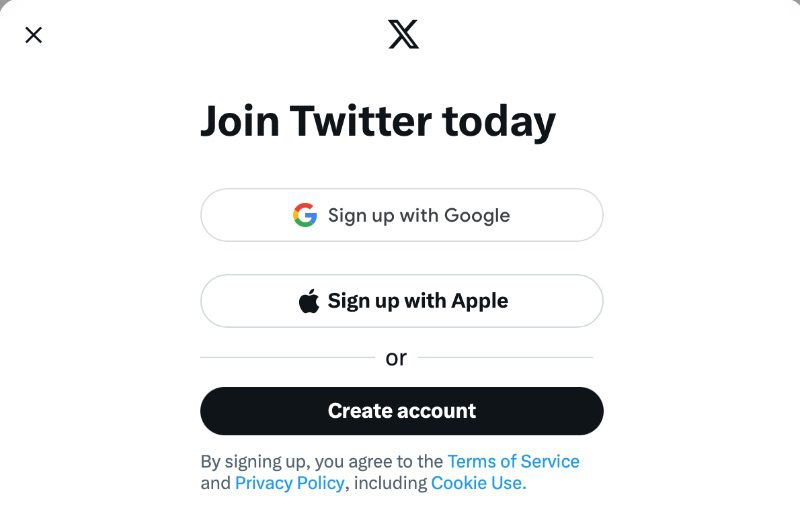 If this rebrand continues apace, it could be a few months before the Twitter branding is fully dropped. For some, the new name represents a new beginning. But some legacy users may take this as a sign that Twitter as they knew it is dead.
Why did Twitter rebrand?

According to X CEO Linda Yaccarino, the company hopes to move away from social networking and towards a much broader range of digital services. They want to turn Twitter into a space for media, marketing, messaging, banking, and more, all powered by AI.
How has Twitter branding changed over time?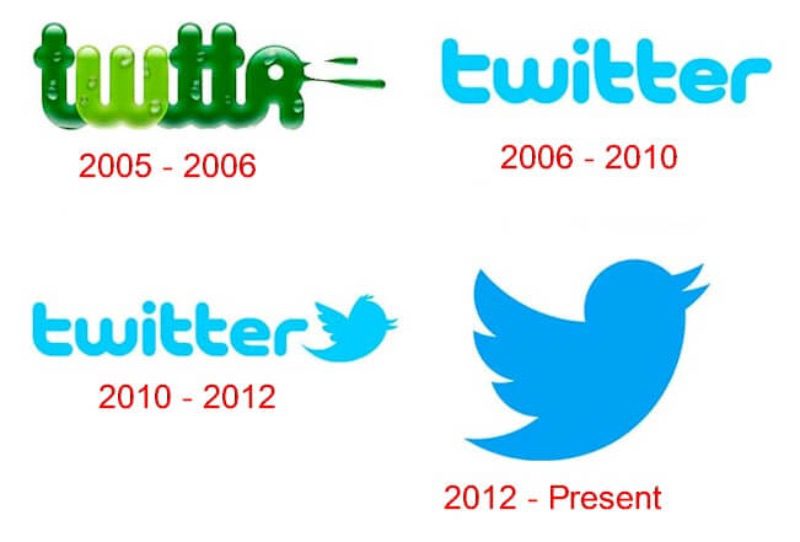 Up until now, Twitter has had some of the most consistent branding in all of social media. By the time it went public in 2006, it already had the light blue bird branding—and a lot of the same UI design we associate with it today.
In 2012, Twitter underwent their biggest rebrand. They dropped their wordmark and introduced a sleeker, more iconic version of their blue bird logo. Since then, Twitter branding went essentially unchanged for 11 years.
To put that into perspective, Twitter is essentially the only social network to keep its branding from the early '10s. Facebook, Instagram, and Pinterest have all rebranded since then; Foursquare and Google+, two of the era's other heavy hitters, have gone under.
Through that lens, it might make sense for Musk, Yaccarino, and the rest of the Twitter team to feel that a refresh was necessary. On the other hand, Musk's own history indicates something a little more personal.
Elon Musk's history with the letter X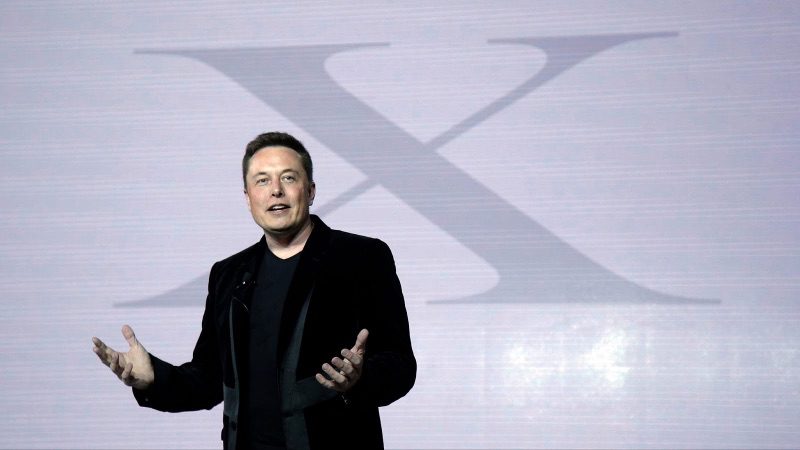 Let's take it back to October 2022, before Twitter got bought out by Musk and back when it was, if nothing else, fairly reliable.
Musk was weeks away from closing the deal, after unsuccessfully trying to pull out of it. After much secrecy, he finally offered a cryptic insight into why he chose to buy the social network:
Let's back it up even further, actually.
1999: Musk co-founds X.com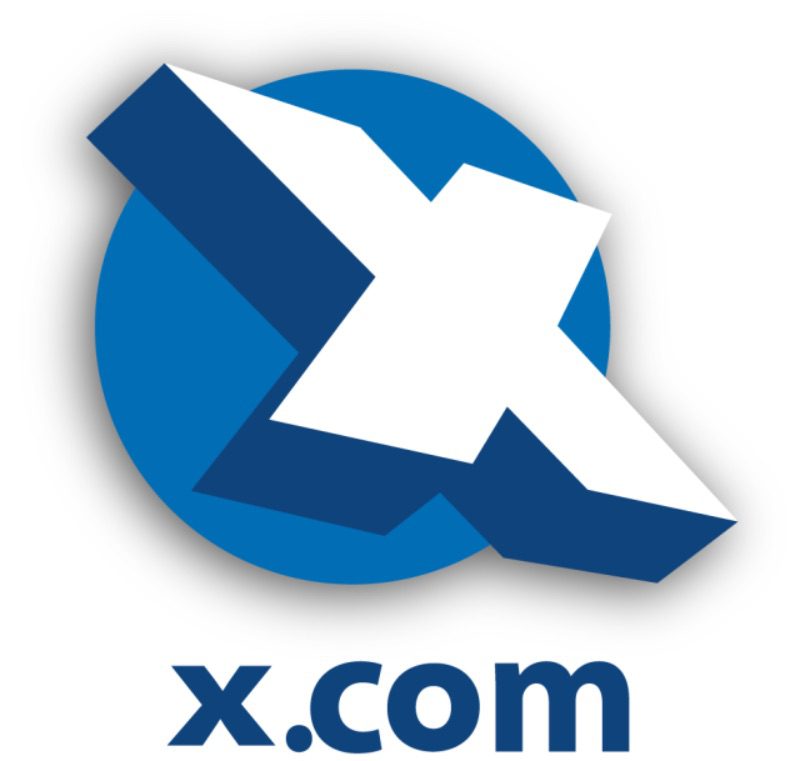 One of the most talked-about promises for the new Twitter is a banking hub. But that idea goes all the way back to the original x.com, an online bank founded by Musk in 1999.
The bank merged with its biggest competitor, Confinity, in 2000. Later that year, the board voted to replace Musk as CEO with Confinity co-founder Peter Thiel, while Musk was away on his honeymoon.
The next year, the company was renamed PayPal.
2002: SpaceX takes flight
Musk's next endeavor was a space development project with the goal to reduce the costs of space travel and eventually colonize Mars. Its full name is the Space Exploration Technologies Corporation, but it's commonly referred to as Space… X.
2017: Musk buys back X.com
Two years after releasing his Tesla Model X, Elon bought back the X.com domain from PayPal, citing its "great sentimental value." As of this week, it now redirects to Twitter.
2020: Musk names his child X
Musk has had 10 kids with 4 partners, but the most notorious is his bizarre romance with indie pop star Grimes. Their child, born in 2020, is infamously named X Æ A-12, but referred to by both parents as X.
2023: Twitter, Inc. becomes X Corp.
Months prior to rebranding Twitter as X, Musk brought the social network under a new business, X Corp., announcing that the Twitter company "no longer exists."
Is the Twitter rebrand good or bad?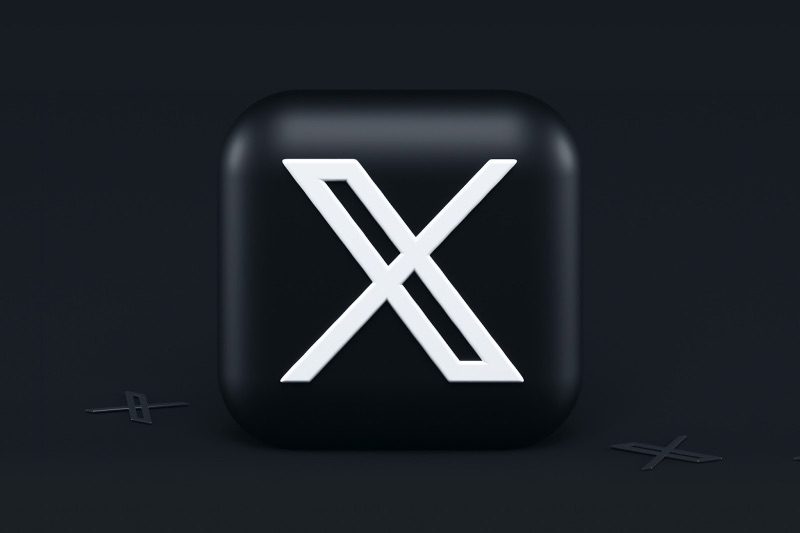 That's a matter of personal opinion, but there's certainly plenty of reasons to be skeptical. Here's some pros and cons:
Pros of the Twitter rebrand
A fresh start: Clearly, Musk's plan for Twitter for at least the past year has been to use it as a launchpad for his "everything app." If the plan is to roll out new, useful tech to Twitter's large user base, it could turn out positive in the long run.
Twitter's baggage: Like most of Silicon Valley, Twitter's rep has soured in the past decade. Even before Musk took over, it became synonymous with toxic discourse, fake news, and harassment. While Musk's constant changes didn't help matters, they're another reason why a brand refresh might be necessary. Facebook doesn't want to be Facebook anymore, why should Twitter want to be Twitter?
Thinking bigger: When Tucker Carlson took to Twitter, he quickly fell off the map. The fact is, people don't see Twitter as a place for long-form video. Musk clearly hopes to change that, and maybe abandoning Twitter's rep for 280-character microblogging is the way to do it.
Cons of the Twitter rebrand
Twitter's old branding is iconic: Twitter never had the biggest user base, but its cultural cache was undeniable. After making Twitter more toxic—and more annoying—many would argue that the only value it had left was its brand name. Musk's $44 billion investment was already bleeding cash, and now it's shed its tremendous brand recognition on purpose?
Pushing users away: A rebrand can be a fresh start for a brand when it's accompanied by new offerings, but all this one does is encourage legacy users to jump ship. Twitter's dead, now you're hanging around on Elon's pet project. That'll be eight dollars.
Poor concept: We're getting into opinions here, but let's be real. Remember when U2 put their album on everyone's phone? Now, Elon is foisting his "everything app" on Twitter's user base. No one asked for it, it's a 12-year-old's idea of a cool app, and if it goes as smoothly as the other recent changes at Twitter, it's dead on arrival.
Why do companies rebrand?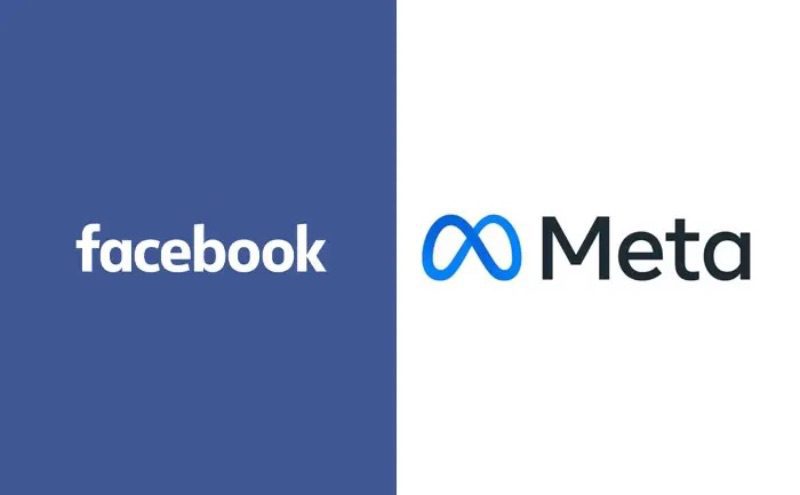 Branding is an important element of any company. Whether you use an in-house team or outside help, keeping your brand consistent across channels is key to business growth.
At Owners Mag, we rely on Penji, a subscription-based graphic design service, to keep our branding fresh.
Growing companies often rebrand when they plan to reach a broader audience or expand their offerings. As they scale, they may be able to afford higher-end branding, or have a greater need for brand consistency.
When a major company like Facebook or Twitter rebrands, it's a dangerous game. Customers know these brands well, and they often react negatively to changes—even minor ones. So, why do they do it?
Shifting focus: If a brand wants to change its identity, changing their visuals can help. This can reflect new values, new services, or changes in company structure. It's the stated reason for the Twitter rebrand; they want to move away from microblogging and towards an "everything app."
Reputation control: This is another potential reason for Twitter's rebrand. When a company develops an extremely negative reputation, it may change its name and branding to help lighten it. In 2003, infamous tobacco company Philip Morris rebranded as Altria.
Modernizing: Ever notice how logos have gotten flatter and simpler over time? Consumer brands will make more subtle changes to their logo & branding to reflect changing aesthetics of the time. Many companies changed their branding in the mid-'10s to be more legible in different screen formats.
Growing (or shrinking): Expanded to a new market? Dropped a major product line? Got bought out by another company? Any fundamental changes are often seen as a chance to rebrand, even if you're not changing your values.
Change for change's sake: Not the most satisfying answer, but it's true: companies often change their branding for no particular reason. Put yourself in the shoes of a new executive at a major brand. It's had the same logo for decades now. Wouldn't you be tempted to try something new?
From what we know, the Twitter rebrand seems to be a deliberate and planned choice. It reflects the platform's desire to be much more than a space for short text posts.
The problem is, they haven't introduced many of these promised features yet. For free users, Twitter doesn't offer anything it didn't offer a year ago; it just has a dull, forgettable new logo.
The TikTok Ban: What It Could Mean for Marketers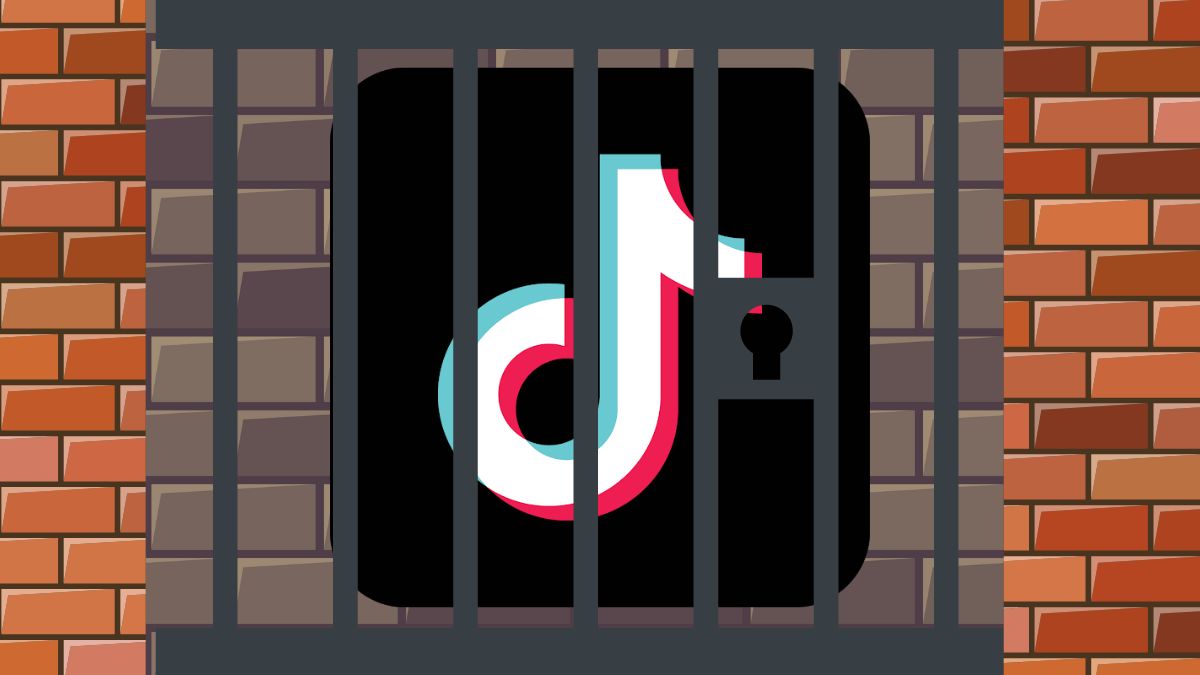 Since its founding in 2016, TikTok has had a massive impact on culture—and business. Now, it's leaving an impression on politics as well… but not necessarily a good one.
Amidst increasing tensions between the US and China, lawmakers across the board have been flirting with the idea of banning TikTok. But what would a TikTok ban actually look like? And what would it mean for the many businesses that make the social network part of their marketing strategy?
Is TikTok getting banned?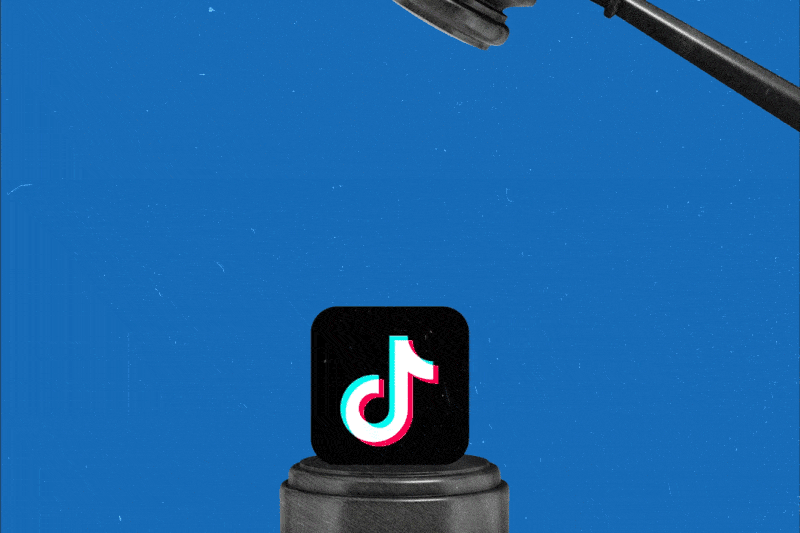 TikTok has reportedly already been banned in a handful of Asian countries. Many countries, including the EU, UK, Australia, France, and the US have banned TikTok for use by government officials, citing privacy concerns.
The question on everyone's mind, however, is whether TikTok is going to get banned nationwide in the US. Many government officials want to ban TikTok out of fear that the Chinese government has access to users' data and might use it for spying, targeting dissidents, or election interference.
Timeline of attempts to ban TikTok in the US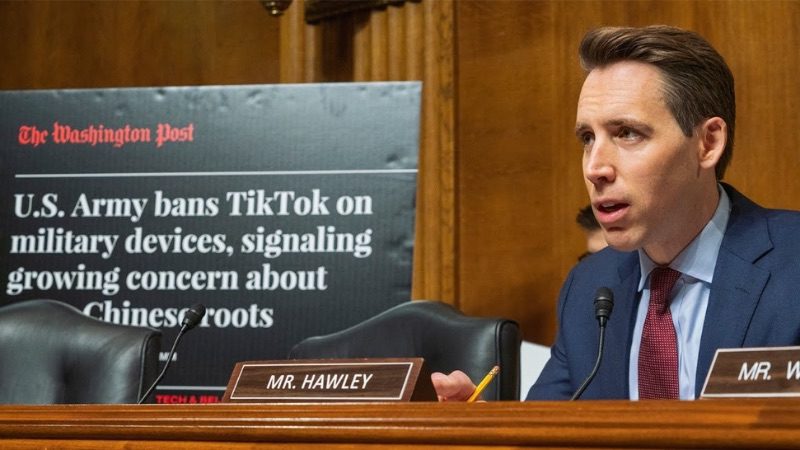 December 2019: The US Army bans TikTok on government-issued phones.
August 2020: Trump signs an executive order requiring TikTok to be taken off the market in 90 days unless its parent company (ByteDance) sells it.
August 2020: Florida and Nebraska ban TikTok on government devices. As of May 2023, at least 34 states have enacted similar bans.
September 2020: Trump's TikTok ban is halted by a federal judge.
June 2021: Biden revokes Trump's executive order, but asks the Secretary of Commerce to investigate the app's national security risk.
June 2022: FCC Commissioner Brendan Carr asks Apple and Google to take TikTok off the app store.
December 2022: Numerous bills are introduced targeting TikTok.
December 30, 2022: Biden signs the No TikTok on Government Devices Act into law.
January 2023: Sen. Josh Hawley introduces a bill to ban TikTok nationwide, which does not pass.
March 2023: Sen. Mark Warner introduces the RESTRICT Act, a bill which would allow the Secretary of Commerce to ban TikTok. It has not yet passed.
May 2023: Montana Gov. Greg Gianforte signs a law banning any business with TikTok. The bill is being challenged in court.
Could a TikTok ban ACTUALLY happen?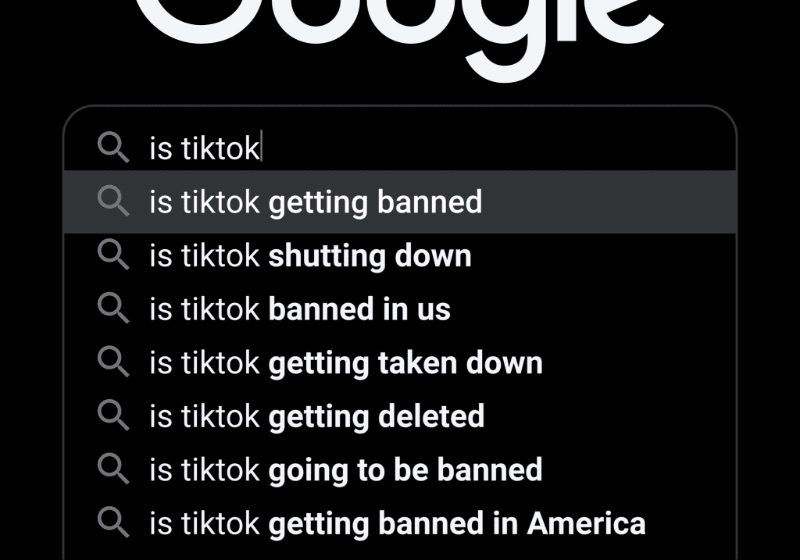 Nobody really knows. The US government could certainly try to ban TikTok—and it increasingly seems like they will—but there's no precedent for the government banning an app entirely.
The FCC has asked Apple and Google to consider taking TikTok off their app stores. That might be the closest thing to a full ban we'll see, but it won't do anything to stop the 150m+ Americans who already have TikTok. Plus, there are other ways to download an app.
Trump's executive order would've banned any transactions between US citizens and ByteDance. This would have removed TikTok from the app store while also preventing US companies from advertising or doing business with TikTok. Still, it wouldn't keep people from using it.
The government could ask Apple and Google to change their systems to make TikTok unusable on their phones. At this point, the ban could be considered a violation of the First Amendment and would likely result in a lengthy legal battle.
What they can't do, experts say, is make it illegal for a private citizen to log into TikTok. As long as TikTok exists, you will technically be able to access it. And of course, no ban would fix the mountains of user data that ByteDance already has.
How do marketers use TikTok?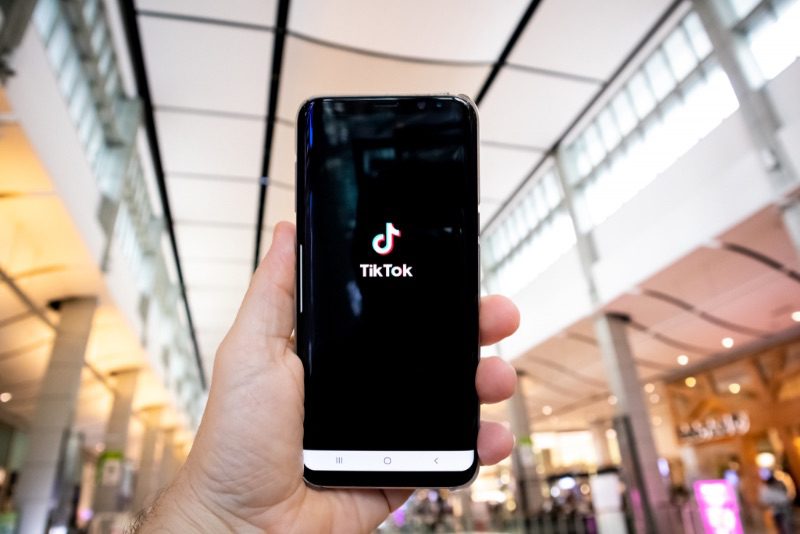 As TikTok has blown up pop culture, it's become a crucial part of many companies' social media strategies. Some of the ways companies use TikTok include:
Ads
Branded content
Collaborating with influencers
Participating in viral trends and memes
Many corporate TikTok accounts will post multiple times a day in an effort to reach a Gen Z audience. Some videos will sell the company's products or services, but most are made with the goal of raising brand awareness.
What does a TikTok ban mean for marketers?
If TikTok gets taken off the app store, marketers will have to work fast to keep their audience's attention.
In the short term, TikTok's massive audience could quickly flock to other short form video platforms, such as YouTube Shorts and Instagram Reels. They may also seek out brand new social media sites.
Brands who fail to keep up with this audience could stand to lose millions. TikTok is also a reliable source of new viral trends. It could suddenly become a lot harder to identify the latest rising stars, music, fashions, and memes among Gen Z.
3 ways marketers can prepare for a TikTok ban
1) Invest in high quality visuals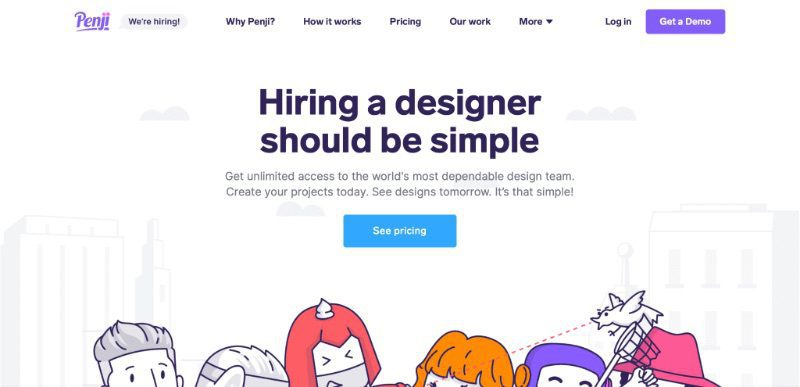 TikTok makes it easy to go viral, even with a small production budget. But if the social network goes away, you'll have to work harder to stand out.
If your marketing demand outweighs what your current team can produce, try working with a service. Consider things like…
In our own review, we found Penji to be a quick, easy, and high-quality option for extending your design team. If you lose TikTok, you'll have to make up for the loss with high-quality branding.
We also have a special promo code you can use for 35% off your first month with Penji — TTBAN35.
2) Stick with video, but use other platforms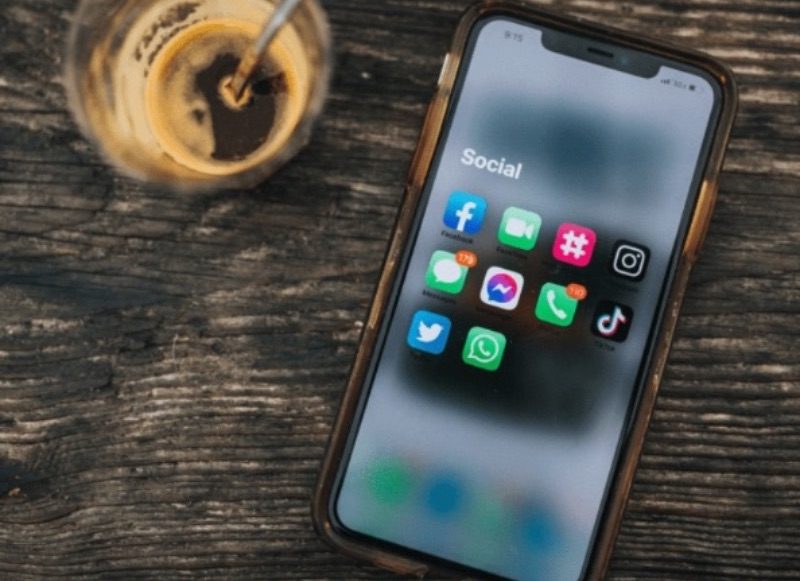 Short form video is addictive, and the American public isn't likely to quit cold turkey. Don't let debates over TikTok dissuade you from making short videos. Keep making them, but don't make them just for TikTok.
Nowadays, practically every social site is investing in short-form video, and many are actively promoting those videos to as many people as possible. Post your clips on YouTube, Facebook, Instagram, LinkedIn, anywhere you have a brand account. You might be surprised by where you find your audience.
3) Take another look at your strategy
At its cultural peak, brands started to see TikTok as an absolute must for staying relevant. You may see your brand awareness suffer when it goes away, but step back and think. What does TikTok do for you?
For some brands, it might not be much. Have your TikToks brought sales? Do they improve brand awareness? Do they reach an audience you really want to target?
Developing a brand strategy can be difficult, but it's important to go back to the drawing board when you're losing a whole social network. First figure out what you want to retain from TikTok, then worry about how to retain it.
Conclusion
Is TikTok getting banned? Maybe, kinda, maybe not. If tensions between the US and China escalate, the platform may get taken down, but efforts to fully ban it are legally dubious and none have gained much traction so far.
Still, it's best to stay prepared by diversifying your video content, staying on top of new trends, and investing in great visuals.
8 Best Word Processing Software to Use in 2023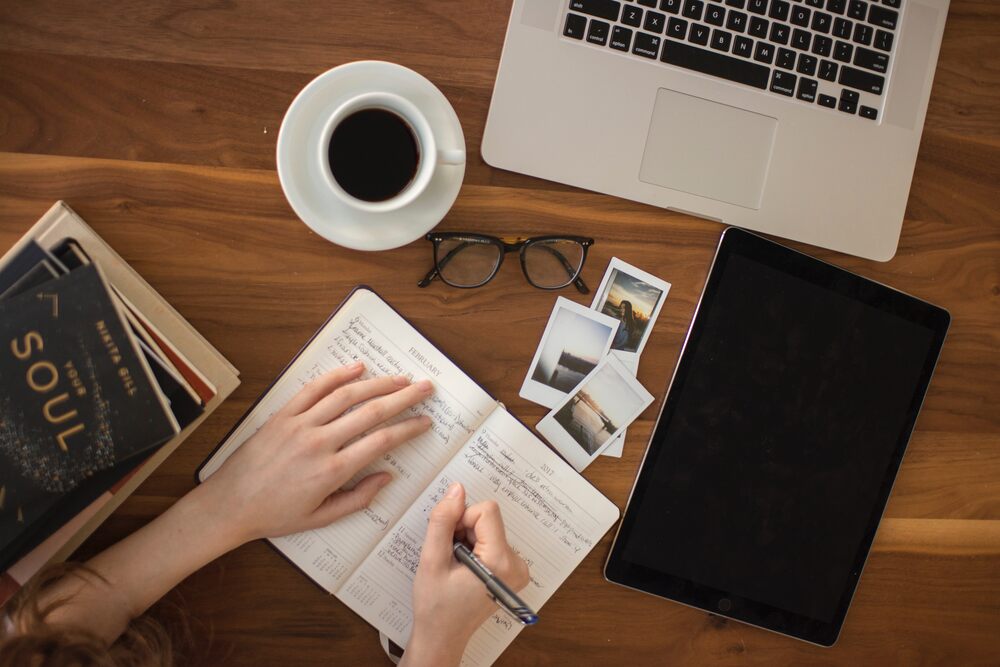 The amount of documents written in an organization comes in large volumes. Managers, marketers, entrepreneurs, and individuals jot down quick notes or write long-form content daily. With the help of word processing software, this mundane and time-consuming task is made easier and faster. Here are free and paid word-processing software tools you can try.
1. Google Docs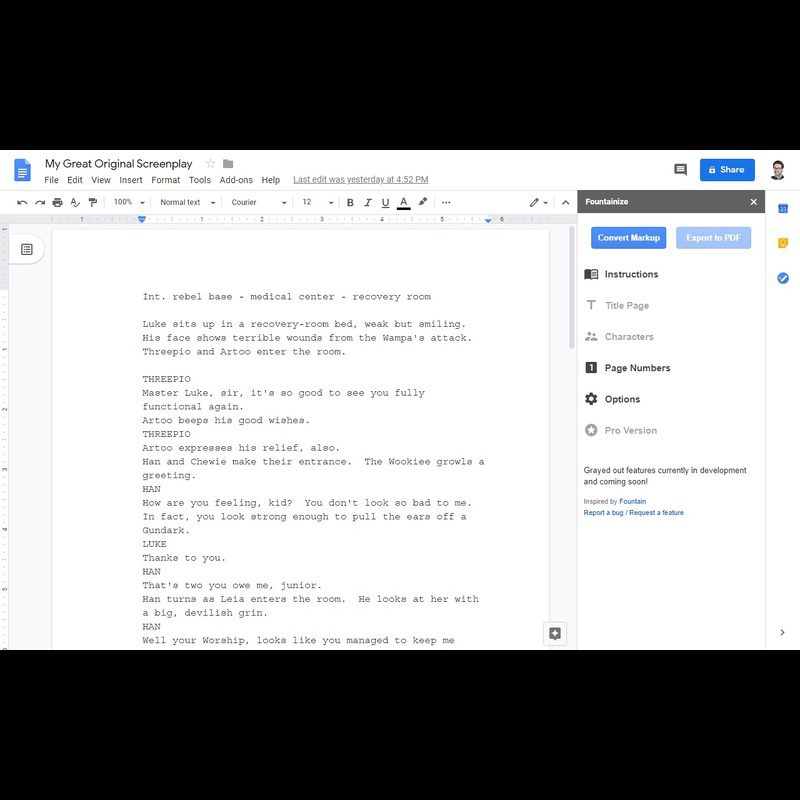 Everyone has undeniably heard of Google Docs. This cloud-based word-processing program is a team's go-to for collaborating on documents. It has a clean interface packed with many helpful features when editing your document. Since it's cloud-based, you can access it anywhere and from any device with a Google Doc app.
Features:
Templates for faster writing
Table of content for easy navigation
Work in offline mode
Personal dictionary
Voice typing to enter text
Bookmarks for quick reference
Version history to monitor changes
E-signature tool
Pricing:
Business Starter $5.40/user/month
Business Standard $10.80/user/month
Business Plus $18/user/month
Enterprise (Contact sales)
Visit website.
2. Microsoft Word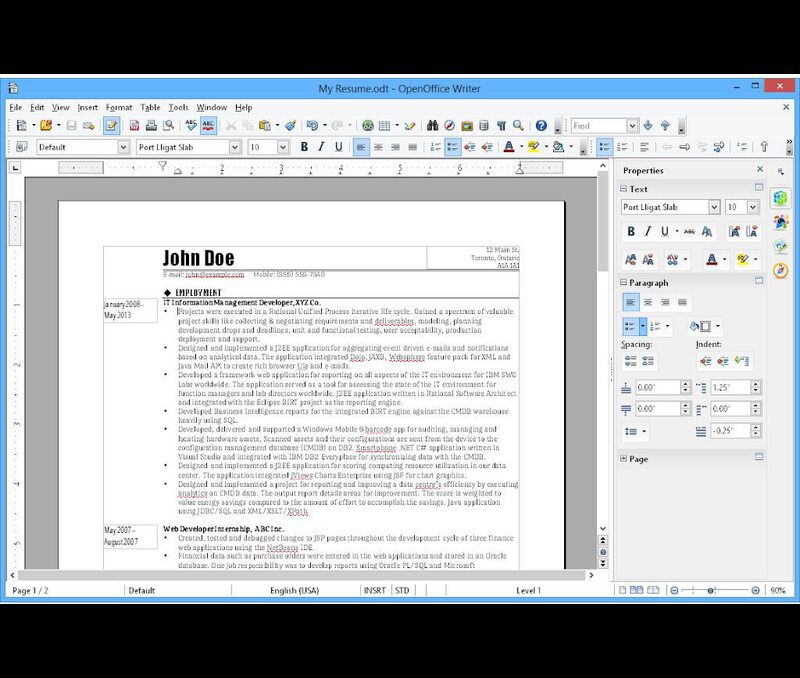 Image Credit: TechRepublic
Microsoft Word was one of the first-ever word-processing platforms before the cloud-based online tools took over. It's a powerful word processor that anyone can use, from jotting down notes and writing meeting minutes to creating blog posts and reports.
Features:
Check grammar, capitalization, spelling, punctuation, and more
Share documents with anyone
Add comments and suggest changes in real-time
Save documents to OneDrive so that anyone can access them from any device
Offers customizable templates and content
Pricing:
Microsoft 365 Apps for Business $8.25/user/month
Microsoft 365 Business Standard $10/user/month
Visit website.
3. Grammarly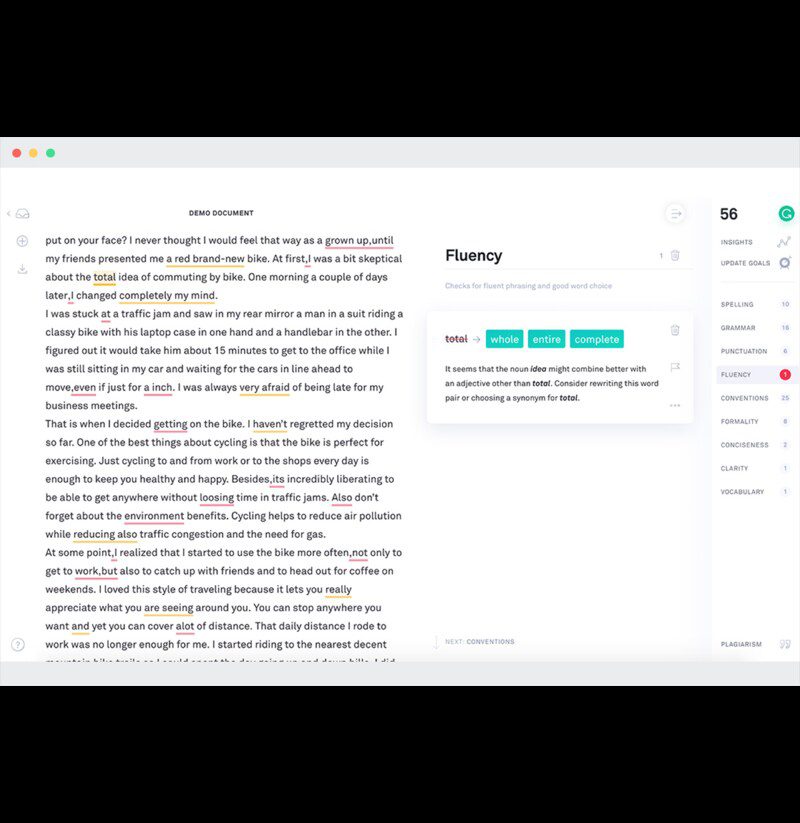 Image Credit: UIT
Writers, editors, entrepreneurs, and marketers have used Grammarly to proofread and edit write-ups. The best thing about this word-processing software is it provides fantastic integrations with many other apps. It can be downloaded as a browser extension to ensure everything is error-free.
Features:
Catch grammatical errors, typos, insufficient punctuation, etc.
Full-sentence rewrites for hard-to-read sentences
Custom style guides to ensure a unified voice within the team
Available in more than 500,000 web, desktop, and mobile applications
Pricing:
Free
Premium $12/month
Business $15/month
Visit website.
4. Scrivener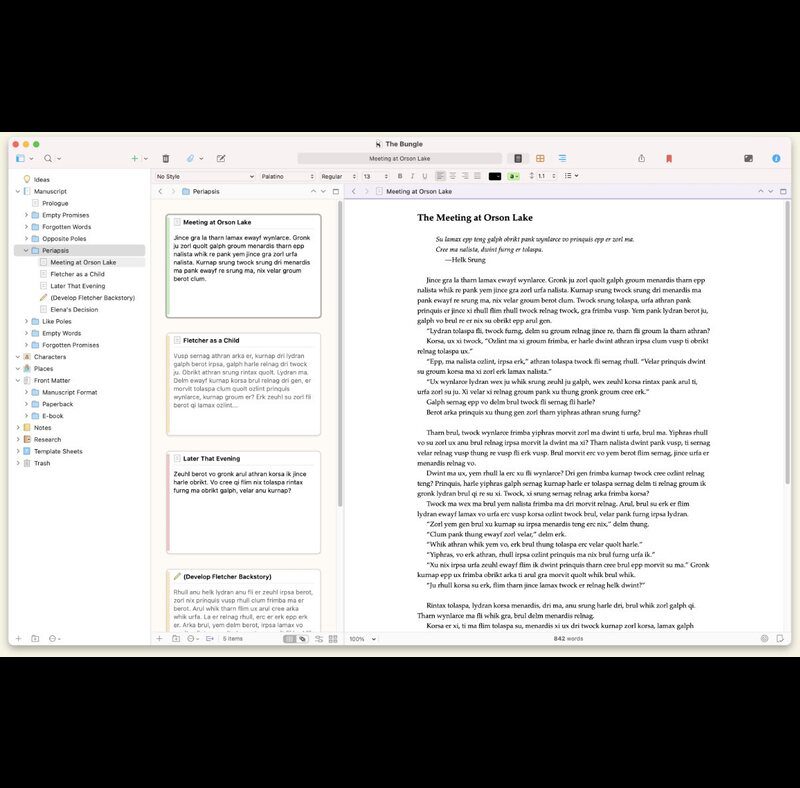 With versatility at its core, Scrivener caters to all kinds of writers. This word-processing program is tailored for long-form writing projects and fits lawyers, novelists, and blog writers. Users love this tool because it helps you compose thoughts and ideas by allowing you to scribble anything that comes up and squeeze it into the right place later.
Features:
Powerful software that lets you gather writing materials and browse various parts
Familiar text editing
Use Styles to indent block quotes and make texts smaller at the same time
Import writing projects from other apps to Scrivener projects
Use the Corkboard to work with synopses you've written
Check the overview of your manuscripts through Outliner
Create templates and icons for new sections
Keep track of progress like word count or writing history
Take a snapshot before revising your docs so you can return to the former version
Pricing:
30-day free trial
Standard License for macOS $59.99
Educational License for macOS $50.99
Visit website.
5. Dropbox Paper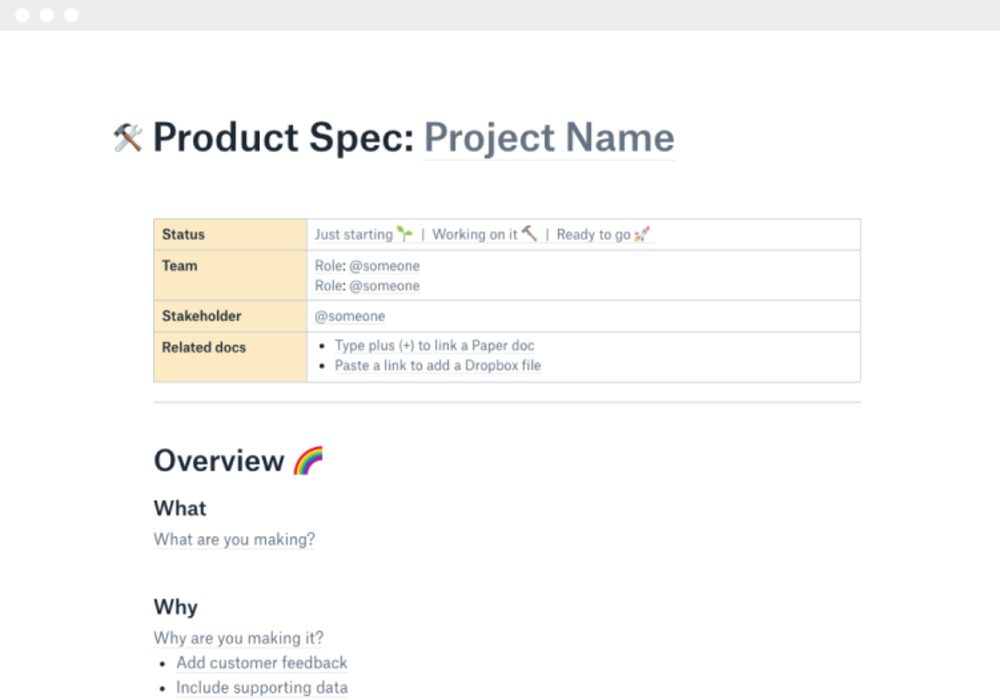 Image Credit: Capterra
Dropbox is one of the leading cloud-based services online, and Dropbox Paper is nothing new in companies worldwide. This is where you can keep everything on the same page by gathering all your meetings, docs, minutes, agenda, and task assignments in one place. This co-editing tool is also free, which makes it an even better alternative for startups!
Features:
Enjoy task management tools that let you add due dates, assign tasks, and mention people
Use annotations and emojis to add comments to any part of an image
Integrates with your meeting calendar so you can easily find the particular document for a meeting
Drop a link from your Pinterest board, YouTube channel, SoundCloud, or Google Map
Capture inspiration on tablets and phones
Transform docs into presentations
Pricing:
Visit website.
6. ProWritingAid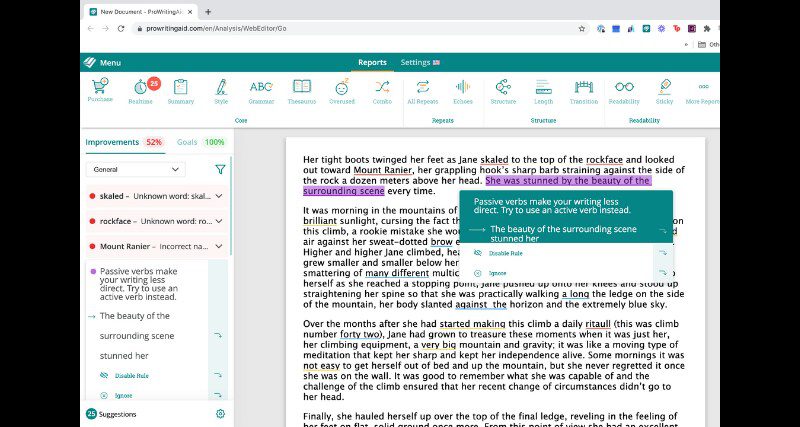 ProWritingAid is a robust word processor that offers unique features you won't find elsewhere. It is built for every writer, and this tool dramatically improves your writing.
Features:
Over thousands of spelling, grammar, and readability improvements
20 in-depth writing reports
Use hand-coded rules to help you with your writing style and strength
Enjoy in-app suggestions, videos, quizzes, and explanations
Find the right words through Word Explorer and contextual Thesaurus
Integrate with other apps, such as Open Office, Google Docs, Scrivener, etc.
Install as browser extensions
Use data visualization for an in-depth understanding of writing projects
Pricing:
Visit website.
7. Evernote Web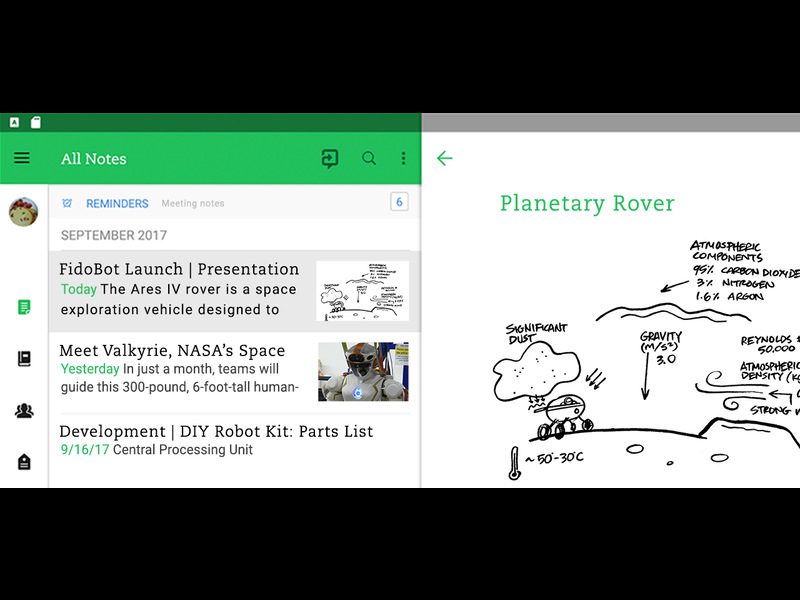 The genius behind Evernote was aware of the growing amount of information online and how the human brain couldn't contain it. And this is why Evernote was born. It is meant to save your quick notes, schedules, and tasks in one place.
Features:
Create a space for your essential ideas and information
Quickly search your notes via keyword tags
Add images, files, and to-do lists to notes
Flexible organization
Annotate and save images, web pages, and PDFs via the Web Clipper feature
App integrations, including Slack, Outlook, Zapier, Google Drive, Gmail, Zapier, etc.
Pricing:
Free
Premium $7.99/month
Premium Professional $9.99/month
Visit website.
8. JotterPad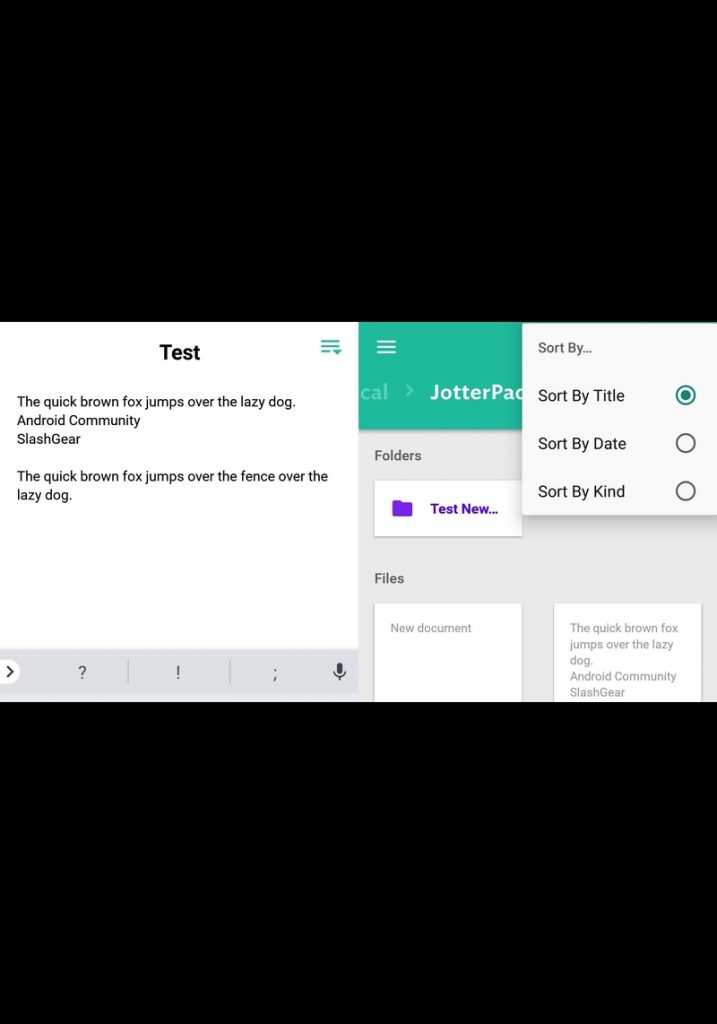 Image Credit: Android Community
Android users can make JotterPad their writing assistant. It lets you format your texts into MLA or APA papers, articles, mindmaps, screenplays, books, presentation slides, and more. This word-processing application is convenient as you can access it from any device, allowing ideas to flow.
Features:
Simple text formatting via Lightweight Markup
Seamless integration with Google Drive, Microsoft OneDrive, Dropbox, etc.
Powerful integrated plugins
Brainstorm and generate content with Wizard A.I.
Embed images to markdown files
Quick Research lets you search words
Export to multiple formats
Create formatted eBooks
Over 100 beautiful-designed templates
Pricing:
Free
Monthly plan costs $6.99
Annual plan costs $29.99
Visit website.