Owner's Magazine Best of: Business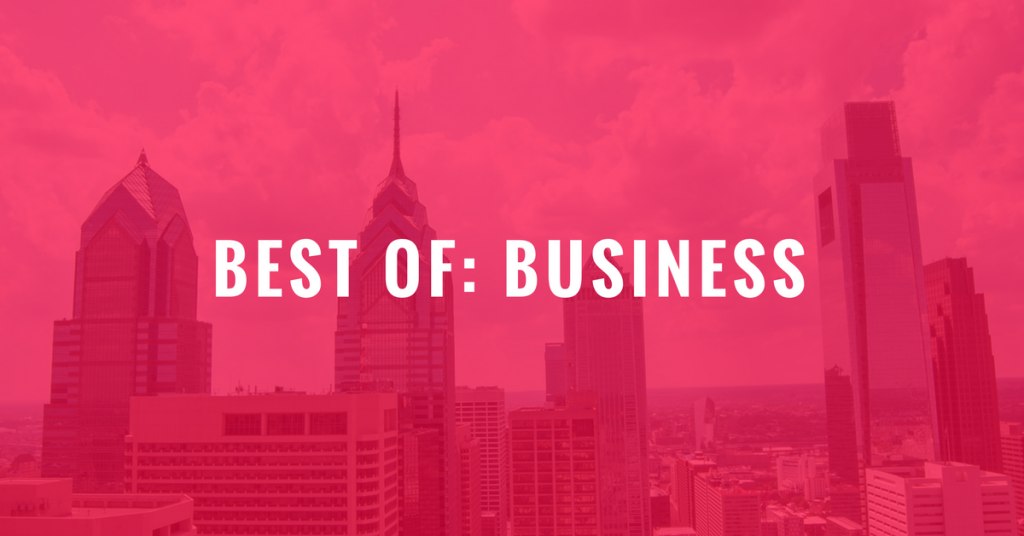 Owner's Magazine has compiled a list of some of most inspiration businesses in Camden and beyond. All of these organizations reside either in Camden or in the trial-state region. Each business has been chosen based off of the following criteria:
Commitment to Community: Each business on this list has a social responsibility to better the community. As Camden continues to develop herself into a reputable city known for its illustrious history and growing startup culture, the city continues to need businesses that give back to better the community.
Industry Leaders: Whether you're a small business or a Fortune 50 company, telling a story is important. For this year' list of the top businesses in our region, we looked at businesses who were well respected within their industry and have been declared as industry leaders amongst their community.
Commitment to the Entrepreneurship Community: Each candidate has shown an extensive commitment to bettering the entrepreneurship community.
CONGRATULATIONS TO THE 2017 OWNER'S MAGAZINE BEST IN BUSINESS: 
A.C. MOORE
A.C. Moore is a specialty retailer offering a vast selection of arts, crafts and floral merchandise to a broad demographic of customers. We opened the first A.C. Moore store in Moorestown, New Jersey in 1985, and have since grown to more than 130 stores. Our stores are located in the Eastern United States from Maine to Florida.
We are devoted to being our customers' first choice for product selection, value and service that inspires and fulfills unlimited creative possibilities. We believe that our assortment, convenience, service and pricing differentiates us from our competitors. Our assortment of merchandise consists of more than 60,000 stock keeping units, or SKUs, with approximately 40,000 SKUs offered at each store at any one time. We also offer custom framing in the majority of our stores. In-store events and programs for children and adults provide hands-on arts and crafts experience and encourage the creativity of our customers.
ALLOY SILVERSTEIN
Our success is your success.  We make your taxes easy, your payroll worry-free, and financial planning for your future our top priority – that's the Alloy Silverstein advantage.
Officially formed in 1999, The Alloy Silverstein Group extends its service offerings for both business and individual clients. We encourage you to visit each division's website to learn how we can benefit your entire financial picture.
AMERICAN WATER
We know just how important water is to daily life. It's somehow involved in everything thing we do, everything we use. When you need it, you expect it to be there — and you expect it to be clean and safe. That's what our skilled teams of experts care about most, and focus on every day. Our customers are our number one priority, and we are proud to deliver clean, safe, reliable and affordable water and wastewater services. In New Jersey we serve about 2.7 million people. To ensure your water is of the highest quality, we strictly follow regulations that are set by local authorities as well as federal standards set by the United States Environmental Protection Agency (USEPA).
ANCERO
Ancero helps businesses stay connected as their full-service, communications partner. Our award-winning Managed IT & Managed Communications solutions provide small to medium sized businesses technology services to drive growth, innovation and productivity.
Founded in 1999, Ancero utilizes their years of industry experience to incorporate the capabilities of diverse and emerging technologies to deliver strategic solutions that ensure operational excellence. Ancero's team of professionals provides organizations from the Mid-Atlantic through the Northeast Corridor with innovative ways to enhance the scope, capacity and value of their investments in technology. As a family owned and operated business, Ancero takes pride in providing superior quality of service while exceeding customer expectations.
ARCHER AND GREINER
Archer provides a vast array of services and is experienced in nearly all areas of law. We provide full-service litigation and transactional capabilities in every one of our offices. Whether a corporation, government entity or individual, we have the knowledge and capacity to represent you. All of our clients receive expert legal services in every area of the law from commercial litigation to family matters from our team of more than 175 lawyers across four states: New Jersey, Pennsylvania, New York and Delaware.
BIG SKY ENTERPRISES
MIKE REGINA- PRINCIPAL BIG SKY ENTERPRISES
We went from working in the business, to on the business. We were able to expand; we have won multiple awards, and have been on Inc. 5000 the past two years. It's a testimony to not only our process, but our people. Our people are amazing. They are all brought in on the vision and culture. We have 100% customer satisfaction, and that's never going to change. We focus on them having a great time and enjoying the process. We want to celebrate the process and not stress it. We have clients that take us on vacation. We have been to fantasy camp. Were all about the Disney experience, it separates us from others and makes us unique. Forbes called us the "Disney of real estate."
Q1. What can you attribute to your success over the years?
So, the success first and foremost, god has blessed us with. I'm a firm believer in god and religion. Secondly, my great partner, my brother, together we complement each other very wall. As I'm going through the wall, he's going through the door. It's good to have that compatibility, and to be relationship focused. We work so hard to build relationships. We build relationships, and just so happen to build buildings as well. It's by delivering value to others, that's been a huge part of it, providing a great culture and a great experience. Delivering a great product to our clients has been a great contributor to our success. People are what makes you.
When you can give them the ability to have responsibility, you set yourself up to expand.
Q2. How have you been able to expand your business over the years?
Honestly, it's about making great decision at a certain time. It's all about timing. Building relationships, creating my own network, this allows me to bring value to people that I couldn't in another setting.  There's no structure, it's all about just connecting people. And by doing that, it has allowed us to have introductions to project opportunities.  We're not bidding on projects, we're moving forward with Big Sky, our relationships get us the deal. It's because of our relationship. You can't grow unless you grow your relationships. Two is better than one.
Q3. What would you say is the one that your business has done right?
Always doing the right thing, and the right thing by our client even if it impacts us financially. At the end of the day, a happy client, will lead to new business. So if I deliver on the client, and put the client's interests first before mine, then I'm creating long term business. Business is not complicated, it's not that hard. Do as to others as you want on you. Provide them with the ultimate experience, you want to be memorable. That goes to the person down to the valet, they are all an opportunity. Create the influence. Be the person that people want to call Mehran – he's that guy, he's the go to, he's the great guy, always connected, and surrounded by good company.  Always surround yourself with people better than you. Leadership 101 – never be intimidated by it, but embrace it.
B&N PIANO
B&N Piano Sales and Service, Inc. is a family owned and operated moving business with over 30 years of experience. We are committed to offering the very best to each and every customer. We are based in Southeastern Pennsylvania and are just minutes away from Philadelphia, New Jersey and Delaware state lines. We not only care about our family members but also care about your pianos and will respect your homes/business.
The Bridal Manor
Miranda Steinman, Assistant Manager, The Bridal Manor, Sewell, NJ
The Bridal Manor is a locally owned and operated bridal boutique offering wedding gowns, bridesmaid gowns, mother's gowns, prom, formalwear, and tuxedo rentals. Located in a beautiful Victorian home, the boutique has a relaxed and comfortable atmosphere allowing you to choose your dream gown with ease. The Bridal Manor has a wide selection of styles and sizes so that any woman can feel beautiful while shopping for her wedding dress. Appointments are required to ensure a perfect shopping experience.
What can you attribute to your success over the years?
Here at The Bridal Manor, we strive to give the absolute best customer service to each of our brides. We provide a low pressure and relaxed shopping environment which differs from the experience our customers receive elsewhere. This is a refreshing change for brides who are going through the stressful process of planning a wedding. Because we are not a high pressure selling environment, we are able to build trusting and meaningful relationships with our customers. We want to empower everyone who walks into our boutique to feel special and beautiful in the gown of their dreams.
How have you been able to expand your business over the years?
The Bridal Manor has been in business for almost 20 years, which has allowed us to become a household name locally. However, by doing business for so long in a certain way, it is sometimes difficult to grow and evolve. When I joined the team 9 years ago, I knew that we needed to improve on our online presence. I slowly began to incorporate social media into our business which allowed us to promote events and to spread our name beyond the Washington Township area. We also participate in wedding expos in several towns giving us the opportunity to speak to potential clients from all over the South Jersey and Philadelphia regions. We have acknowledged that in order to expand, we must be willing to adapt. I am constantly researching trends and scouting Pintrest boards to make sure we are carrying the styles that are being shown online. We have recently expanded our plus size sections in order to accommodate all shapes and sizes and ensures that all women who shop with us feel amazing.
What would say is the one thing that your business has done right?
The one thing that we have perfected is our process. We have very clear and structured selling, ordering, receiving and follow-up processes. Through this, we are able to minimize errors and ensure efficiency. I think sets us apart from newer stores because they are still trying to figure out what works best, and this leaves a lot of room for error. The wedding industry does not allow for mistakes because we are dealing with the most important day of people's lives. Our experience and longevity give our customers peace of mind when they are shopping for their wedding attire.
CAMDEN PRINTWORKS
ADAM WOODS, CHIEF EXECUTIVE OFFICER, CAMDEN PRINTWORKS
Q1. What can you attribute to your success over the years?
A great team is probably number one. If you got the right people working with you, you're going to be successful. I would say number 2 is focusing on the quality of what we do. More than pricing, more than costs, more than any of that. For me, quality is just number one. That's how you get repeat business, and referrals. We think in terms of partnerships and relationships.
We create the good, the true, and the beautifully, for the reasonable, the adequate, and the pretty. There are a lot of folks who you can be doing a great job for, and they'll move on to someone who does an adequate job so that they can save a nickel. I don't really understand that position, and I'm not interested in understanding that. Financially, it bites me in the ass every now and again. That's true nationally, I try to offer healthcare, but I can just barely afford it, and that we've created a deregulated system, where big businesses don't have to compete in the way small businesses do. Big Bizz writes the policy. Here in Camden, we have trouble every time we turn around, and meanwhile big companies can move in and get all sorts of great things and change the fabric of the neighborhood. It feels like someone is rolling out the red carpet for big business, and not for the little guy.
Q2. How have you been able to expand your business over the years?
The biggest expansion we have made is moving into a larger building back in 2014. We increased the space; our current space is 5x times big than the old space. Tons of new room, more equipment, more room to work efficiently and effectively. We've made a couple mergers and acquisitions over the years. Some went well and some haven't. We learned a lot of from and experienced top line growth. It will help in our future growth.
Q3. What would you say is the one that your business has done right?
Family. We treat our staff and customers like a big family. We all eat lunch together every Friday. People bring their family to work on certain days. We all play basketball every day when the weather is good.
CATHEDRAL KITCHEN
NOREEN FLEWELLING, DEVELOPMENT DIRECTOR, CATHEDRAL KITCHEN
Q1. What can you attribute to your success over the years?
We are a very well run organization with a volunteer structure. Our mission is very clear; we use food to change lives.  Sticking to our mission of using food to change lives. We do that in a variety of ways. Cathedral Kitchen feeds over 315 people a day. We train people with food. We train 60 people per year in our culinary program. We have a dedicated staff of 42 employees. 25 of them are either graduates of our program, or Camden County residents. We are very fortunate, having generous donors, and large providers of food that donate to us.
Our biggest challenge is serving our guests that can't get to the kitchen. We expanded our outreach to seniors and to those that face challenges getting to our kitchen. We are looking to expand our outreach. We currently provide to schools for their afterschool programs, and to two senior centers, which we provide groceries too on a weekly basis.
Q2. How have you been able to expand your business over the years?
In 1976, there was a group of young adults who went to Philadelphia to hear Mother Teresa speak and they were so moved by her words that they came back to Camden and went around to a couple of churches and groups to raise money to feed the poor out of the trunks of their cars. Over the years, we have had different spaces that we rent, the building in which we are currently in has been built in 2009. When we built this building, we built a beautiful kitchen, in which we created the culinary training program. We have a health suite also, where we have a dental clinic that's free for Camden, Pennsauken, and Gloucester city residents. Recently, Project Hope has provided us with a medical practitioner. We have been able to expand our health services, and job training programs. In the end of 2014, we started the social CK café, and contract meal program. It is with volunteers of America. We are able to provide 1600 meals a day for children and individuals at halfway houses.
Q3. What would you say is the one that your business has done right?
Always treating our guests with compassion and dignity. We have over 8000 volunteers to run our meal program. To us, the most important thing is: our interactions with our dinner guests. Treating them with respect and compassion.
CENTER FOR FAMILY SERVICES
RICHARD STAGLIANO, PRESIDENT & CHIEF EXECUTIVE OFFICER, CENTER FOR FAMILY SERVICES
I am the president and CEO for CFS and I have been with this organization for the past 35 years. I have been a part of developing and expanding the organization and its services to children and families and individuals in Camden city, and southern New Jersey in general. Our goal is to break the cycle of poverty, violence, trauma, and addiction. All to help our people overcome obstacles, to find comfort, and to build the foundation for a successful future.
Q1. What can you attribute to your success over the years?
Here at the Center For Family Services: we have a mission, a charitable organization that tries to help people improve their lives. With families that have been facing environmental challenges, from people who have started with problems since the day they were born. We're a professional organization which provides professional help to individuals who have been disadvantaged, to teenagers who have had behavior problems, to people who have been removed from their families. We were a staff of about 20 people and had a budget of $300,000. Now we have offices in Camden and have reached over 800 staff members in the organization. With over 60 programs, we have 30 different sites, and we do a lot of in home work as well. We have a budget of over $40 million now. Success has been being true to our mission. We have strong values about social justice, and about professional services. Having services and programs that truly have positive outcomes and results. Every dollar given to us is spent wisely. We deliver on what we are saying we are going to do. We do everything with great ethics and integrity.
Q2. How have you been able to expand your business over the years?
Were aggressive about searching for grants and dollars. When we see a community need, we want to address that need if it fits into our mission. We've been able to expand because we work very hard and commit to what we say, so then funders want to invest in our organization. We help to build collaborations with others in the community. It helps to have positive outcomes and results. We have been able to expand on what works. I do want to emphasize that collaboration with other people is very important in what we do. That's with everyone ranging from people in politics, to community officials, to other nonprofits. With the community itself, we can be much more effective when the people we are helping feel engaged. It's a process they can contribute too. It will empower community engagement.
Q3. What would you say is the one thing that your business has done right?
I would say that our focus on ethics, best practice, integrity, and having a culture in the organization amongst all staff levels and board of trustees, has led to our achievements.  We have stayed in Camden and kept our headquarters in Camden, with roots back to 1920. We engage consumers in helping. There are colleagues that want to help. We meet real needs. Respecting each other and working with one another.  Our major goal is to 1) help empower people and it's to help people feel better about themselves. To take action, to help improve their lives. Helping people to improve their self-esteem so they can succeed and obtain an education. Healthy relations and everything that makes life more successful is what we strive for. Respect for diversity across all the entire organization. There is a multiplier effect of helping someone in need. Helping someone get their life on track, they will do the same for someone else in need.
CHEF'D
Flipping through a magazine one day, our founder and CEO came across a truly mouth-watering recipe, and wondered, "Why can't I literally press a button and have this gourmet meal shipped to my door?" A year later, Chef'd was born, designed as a meal kit company like no other, where the choice is truly in the hands of the consumer. With no subscriptions, the ability to re-order your favorites, and a selection of over 300 meals, Chef'd is changing the meal kit landscape one delicious meal at a time.
CITY INVINCIBLE
City Invincible is comprised of 4 Regional design firms that has a combined total of over thirty years of project collaboration. The combination of City Invincible's combined size, expertise, and experience positions the firm to creatively and economically address the complexities of today's specialized building types, codes, and client expectations. City Invincible serves the following markets: multifamily and mixed use residential, senior living, hospitality, healthcare, and education. As part of the company vision, City Invincible plans to increase its involvement in the city renaissance both professional and on the charitable side.
COMCAST
Comcast Corporation (NASDAQ: CMCSA) is a global media and technology company with two primary businesses, Comcast Cable and NBC Universal. Comcast Cable is one of the nation's largest video, high-speed Internet and phone providers to residential customers under the XFINITY brand and also provides these services to businesses. NBC Universal operates news, entertainment and sports cable networks, the NBC and Telemundo broadcast networks, television production operations, television station groups, Universal Pictures and Universal Parks and Resorts.
CONNOR STRONG AND BUCKELEW
Conner Strong & Buckelew is among America's largest insurance brokerage, risk management and employee benefits brokerage and consulting firms. The firm is an industry leader in providing high-risk businesses with comprehensive solutions to prevent losses, manage claims, and drive bottom line growth. Its employee benefits practice focuses on providing best-in-class benefits administration, health and wellness programs and strategic advisory services.
The company provides insurance and risk services to a wide-range of industries including but not limited to aviation, construction, education, healthcare, hospitality & gaming, life science & technology, public entity and real estate. Additionally, Conner Strong & Buckelew and its affiliates offer a number of innovative and specialty solutions which include captive strategies, construction wrap-ups, executive risk, safety and risk control, and private client services.
COOPER HEALTH
Cooper University Hospital is a dynamic, integrated health care delivery system that provides comprehensive medical services to the residents of southern New Jersey. As the clinical campus of Cooper Medical School of Rowan University, Cooper University Hospital is dedicated to medical education and research excellence. Cooper University Physicians, the teaching faculty of the medical school, maintains more than 100 offices at 38 locations throughout southern New Jersey and in Pennsylvania.
COOPER RIVER DISTILLERY
Cooper River Distillers is the first legal distillery in Camden, NJ ever!
All of our spirits are hand-made from scratch in downtown Camden, New Jersey and distributed to bars, restaurants, and liquor stores in South Jersey.
COOPERS FERRY
Cooper's Ferry Development Association (CFDA) was founded in 1984 as a private, non-profit corporation dedicated to coherently planning and implementing high-quality urban redevelopment projects in order to help replenish Camden's depleted tax base and to create a significant number of jobs for city residents.
From 1984 until 2000, CFDA worked to fulfill its mission by concentrating solely on the redevelopment of Camden's downtown waterfront. Serving as overall planner, promoter, and master developer, CFDA has attracted and coordinated more than $600 million of private and public investment to the Camden Waterfront. With this focused approach, CFDA has successfully put in place the building blocks for a vibrant, mixed-use waterfront community, which is anchored by family entertainment venues, office buildings & residential lofts. Most recently, CFDA has partnered with neighborhood groups and residents throughout Camden in the planning and implementation of community driven plans.
DRANOFF PROPERTIES
We build, develop, manage, market and own landmark properties that revitalize neighborhoods and remake city skylines. We immerse ourselves in every detail of every project, because every project must be without peer. We don't do ordinary.
EMR EASTERN
Our core business is the recycling of scrap metal from a range of sources such as End-of-Life vehicles/consumer products, industry, construction and demolition. This results in sales of recycled commodities of around 10 million tons a year. We have extensive ferrous and non-ferrous operations worldwide and produce over 100 grades of high quality recycled materials which are taken to market by our substantial road, rail and shipping network.
FIRSTPICK
Firstpick is a freelance marketplace where students in the creative fields can receive professional experience and payment for their work. This is one of the first student lead startups within the city of Camden. Their headquartered inside the first innovation and technology lab in Camden, Waterfront Lab. Clients who use this platform will greatly benefit due to FirstPick's through vetting process and guaranteed professional grade work all at a competitive price.
HARDENBERGH INSURANCE GROUP
The Hardenbergh Insurance Group has been a family owned and operated company for three generations. In over 60 years of business in the Delaware Valley we have focused on insuring futures of both business and families. The tradition and culture created in 1954 still continues today.
At Hardenbergh we use our 60 years of experience in the insurance industry and leading-edge technology to provide a strategic plan to best meet the needs of our clients. Our staff expertise extends to all varieties of insurance coverages and allows us to keep pace in this continually evolving industry. Our unique culture has enabled us to quickly adapt our services to satisfy our customers.
Our agency provides the best solutions for your insurance and risk management planning. We utilize the industry's top providers, and our dedicated staff creates cost effective, tailored service plans to protect your families and your financial and business goals. We are proactive for you, year round, which is the best strategy for your success.
HOLTEC INTERNATIONAL
Holtec International is a diversified energy technology company with its headquarters located in Jupiter on Florida's "Treasure Coast". The company is widely recognized as the foremost technology innovator in the field of carbon-free power generation, specifically commercial nuclear and solar energy.
HOPE WORKS N'CAMDEN
Dan Rhoton, Executive Director, Hopeworks 'N Camden
Q1.   What advice would you give to younger business professionals?
A1.   Simply, your skillset is the least important part of you as a professional. The most important part is to meet people and ask questions.  How do I, who should I ask, what do you know. The content is less important than the willingness to learn. To take feedback and learn from it. Most of the skillsets our young professionals will learn are going to be outdated. The questions you ask and the willingness you have to learn will get you very far.
Q2.   What's the one thing that young entrepreneurs should focus on in 2017?
A2.   Solving problems, at the end of the day that's what matters most. A product that solves a problem. If an entrepreneur has a product that solves a problem, you will become successful.
Q3.   What has been a mistake that you made early on that you wish you knew today?
A3.    I assumed leaders in the field didn't want to talk to me or didn't have the time to talk to me, so I didn't ask. When in fact leaders in the field not only want to talk to you, they are anxious to do so. A lot of people make assumptions that he or she doesn't have time, and they never ask. If you don't ask, the answer is always going to be no. When you do ask for help, you know what you want. One of the key scopes is to ask for what I want, ask for what I need, and to be clear about it.
HUTCHINSON HEATING AND COOLING
Hutchinson is among an elite group of HVAC contractors in New Jersey credentialed to provide Home Performance with Energy Star services to Gloucester, Camden, and Burlington counties. With a "whole system approach" Hutchinson can offer the most energy savings, best comfort and air quality for AC or heating systems.
INTEGRITY STAFFING
We generate opportunities for people to exceed their own expectations, and advance careers, companies and communities.
KINGSWAY LEARNING CENTER
Kingsway Learning Center has been around for 50 years, we provide services to individuals with special needs. Our program has evolved in the last 50 years. It started as a Saturday class in a garage and there weren't a lot of services around at that time. From birth to age -21. Our main campus is in Haddonfield, where we have early intervention birth to 3 program. Home programs. We have our program from 3-15 preschool thru junior high. We recently opened our Moorestown campus serving individuals ages 15-21.
Q1. What can you attribute to your success over the years?
Probably, it's the individualization of service. You may think that after meeting one person with autism, you met them all. That isn't the case. Our students are all totally different. We adapt to each child, and their individual needs. We empower our staff to take risks and try new things. Really get out there and work with the kids and be creative. Individualization is our goal to success.
Q2. How have you been able to expand your business over the years?
When we started, it was just a Saturday play group to support families, and it progressively expanded to meet the needs of the community. The first program that opened up was in Haddonfield. We are in what used to be an all-girls catholic high school. All research indicates the earlier you intervene, the better you can help. There was a lot of demand to expand beyond the elementary years. 12 years ago the Moorestown program opened. We have been filled to capacity. We will be providing services beyond the age 21. Overall in terms of expanding, we're always looking to answer the needs in the community. The types of the students we provided service to 50 years ago, is different now. We keep the communication in the community. Our big program is called CBI, some of the kids will go out to a job site with a job coach. Essentially they are unpaid employees of the job site and their coach provides support for them.
Q3. What would you say is the one thing that your business has done right?
We always cater to the student. It's always about the student. It's all about the children, our focus is on the student. We average about 250 children in all of our programs. A key component of our program is regular communication between school and home.
One thing that makes us stand out, is the amount of technology that is available to our students. Our kids are gaining opportunities with the technology that is available.
LAW OFFICES OF LYNDA HINKLE
Q1. What can you attribute to your success over the years?
I think probably the biggest thing is just working hard and working steady. Not ever giving up. The demands of the type of work that I do are pretty high. I think some people give up before they reach a level of success. I have seen a lot of people come and go due to the hard work that practicing law requires. When I first started my business, things didn't happen normally for me. I came out of school at the worst time in legal history. I started my practice because I didn't really have a choice. I remember my husband said "remain flexible when things don't go the way you expect them to go."
Q2. How have you been able to expand your business over the years?
The largest part of my expansion is not seen with the eyes. Real expansion is in clients, who you can't really talk about because of confidentially. I expanded the practice areas that I work in; we recently have labor unions as clients, and some towns. We represent them and meet certain goals. It's a little offshoot of the law practice. I think that they are equally difficult and not difficult. There is a certain formula in all law practices, and even human affairs. The difficulty lies in individual circumstances, and bringing clients to an understanding that is helpful to them, that may not initially meet their goals. They may be emotional and not understand upfront, but in the long run it is best for them. The most rewarding thing is bringing someone to his or her long-term goals. It's rewarding.
Q3. What would you say is the one that your business has done right?
We have always kept the client as the most important thing. Which isn't always true in law, when the bottom line is more important, but the most important thing is taking care of your client. You can't always satisfy people when it comes to law, because there is someone in a black hole that makes decisions that you can't control.  Going in front of judge a, then judge b, can be different, they have separate ideas. Sometimes client need someone to blame. The best thing to do is prepare clients for what the likelihood of success is, whether it be the financial expense if they pursue a certain course of action, will it come back to them, or will they lose money. Judges are a wild card. All you can do is comfort the client. Provide suggestions on how to deal with what they have been handed.
LEAP ACADEMY
LEAP Academy was one of the first thirteen charter schools that opened in New Jersey in 1997 and the first charter school in Camden City. It is one of the few charter schools in New Jersey offering a comprehensive K-12 program.  The School was housed in temporary modular classroom units in 1997. Since then, it has acquired five buildings along Cooper Street.  The presence of LEAP Academy has added a vibrant K-12 presence to Camden's "Education Corridor," which also features campuses for Rutgers University, Rowan University, Camden County College, and the Rutgers Early Learning Research Academy (ELRA).  The location of LEAP Academy alongside three institutions of higher education allows for Camden children to start their education in infancy with ELRA, proceed to the LEAP Academy and transition to higher education all along Cooper Street.
LIBERTY PROPERTY TRUST
As an extension of this promise, Liberty is one of the nation's leading developers of high-performance green buildings. Liberty's more than 728 industrial and office properties offer exceptional locations, flexible design, thoughtful amenities, cost efficient operations and state-of-the-art technology to the company's 1,700 tenants. Liberty continuously increases the value of its portfolio through expert management, marketing and development.
LINKED NOODLE
Linked Noodle is a platform that connects people who teach, to people who want to learn. Say you wanted to learn how to play the piano. Right now your only options are to type "piano teacher" into google, watch tutorials on YouTube, or go to school for a literal degree in music. Linked Noodle offers people with hobbies and skills a way to make money on the side doing the things they love. You shouldn't need a degree in music to teach someone how to how to sight read, and you shouldn't have to go for a formal music degree to want to learn how to play. Linked Noodle is our alternative to that. Unlike other online resources that rely heavily on online tutorials, Linked Noodle connects you with a teacher in your local community. The process starts online but ends in a tangible connection.
LOCKHEED MARTIN
Helping the future arrive is what we do. We solve the great problems of our times. We create the innovative technologies that define eras. While no one knows what's going to change the world next, we're probably already working on it.
LOURDES HEALTH SYSTEM
The Lourdes Health System is one of the region's leading healthcare providers, recognized nationally for excellence in clinical care and service to the community. The system has two general acute care hospitals, located in Camden and Willingboro, New Jersey, and a growing network of ambulatory care facilities and physician practices located throughout southern New Jersey. A major teaching affiliate of the Rowan University School of Osteopathic Medicine, Lourdes provides a full range of medical, surgical, obstetrical, behavioral health, rehabilitation and long-term acute care services. The Lourdes Cardiovascular Institute is recognized nationally for excellence in heart care. Lourdes Health System has an Accountable Care Organization (ACO), Nursing School; comprehensive Wellness Services; and LIFE program for All-Inclusive Care of the Elderly. Lourdes is well-known for its outreach services, providing care to those most in need.
NJEDA
if you are a business in need of financing to grow in New Jersey, a not-for-profit organization seeking capital to expand community services, a municipality looking to attract a major corporation within your boundaries, or a developer requiring funds for a major redevelopment project, the New Jersey Economic Development Authority (EDA) is ready to put its resources to work for you.
With our large portfolio of varied programs and services, the EDA can assist you with access to capital, including tax-exempt and taxable bond financing, loans, loan guarantees, and business and tax incentives. In addition, we offer real estate development assistance and state-of-the-art technology facilities like the Technology Centre of New Jersey in North Brunswick.
PHILADELPHIA 76ERS
The NBA franchise actually began in 1949, when six teams from the Midwest-based National Basketball League joined the Basketball Association of America to form the 17 team National Basketball Association. One of those teams was the Syracuse Nationals, which eventually became the Philadelphia 76ers.
In the spring of 1963, the Syracuse Nationals were purchased by two Philadelphians, Irv Kosloff and Ike Richman, and the NBA approved the franchise shift formally on May 22.
The franchise then held a contest to name the club and on August 6, 1963, the Nationals changed their name. The late Walt Stahlberg, of West Collingswood, New Jersey, won the contest, of which 500 different suggestions were entered.
Stahlberg was one of several who picked the 76ers. However, his accompanying 25-word explanation was deemed the best by the judges, and he and his wife received an all-expense trip to the West Coast to see the newly-named 76ers play San Francisco.
PLASTICS CONSULTING
Bruce Muller is the president and founder of Plastics Consulting. He has worked over 45 years in the plastics industry. He has experience in manufacturing, laboratory, product development, formulating, equipment design, sales, and executive management. Bruce is the founder and former president of Accurate Color and Accurate Compounding that serviced molders in 18 countries around the world for 19 years. In 1995 both companies were sold to a competitor. Bruce started Plastics Consulting in 1995 and since then has dedicated himself to designing research equipment and consulting to solve production problems and advance the plastics industry. He is recognized internationally as an expert in colorants and rotational molding. Bruce has been active in SPE for 44 years and ARM for 32 years.
Pls.MD
Plas.md is a Philadelphia, Pennsylvania-based creative studio focused on developing innovative immersive solutions for health, wellness, and education. We are a mix of engineers, artists, biologists, game designers and storytellers who expertly blend cutting edge technologies with frictionless user experiences to create applications that provide value to our clients and improve the quality of life for our users.
RESINTECH, INC.
ResinTech Inc., an acknowledged leader in ion exchange, manufactures a broad range of ion exchange resins for water and waste water treatment, including deionization, softening, metals removal, product purification, resource recovery, and pollution control. In addition to its ion exchange resins, ResinTech supplies activated carbon and inorganic selective exchangers. ResinTech has developed an application technology resource group that includes state-of-the-art laboratories and a group of scientists dedicated to expanding the frontiers of application technology. This group is put to use whenever product or process recommendations are requested, assuring customers get the most cost-effective approach to achieving their process goals
ROTHMAN INSTITUTE
To provide our communities with high quality, compassionate, and affordable musculoskeletal care that is grounded in evidence based medicine, the results of which will exceed expectations.
RUTGERS UNIVERSITY CAMDEN CAMPUS
The work we do on our 40-acre campus along the bustling Camden Waterfront is felt far beyond. We educate students for successful careers and productive citizenship. We support a faculty of sharp thinkers who turn new knowledge into creative solutions. And we share our expertise with partners—local and global—to improve
SAXBY'S
Our mission to Make Life Better permeates through everything we do. We pair the local, friendly atmosphere of a neighborhood café with consistently delicious products you'd find at a big name coffee shop. Saxby's offers expertly roasted coffee products, all natural smoothies, hand-made sandwiches and made-to-order breakfast. We live our core values by remembering our guests' names and orders, partnering with local businesses and volunteering in the community.
SUBARU OF AMERICA
Founded in 1968, Subaru of America, Inc. (SOA) is the U.S. Sales and Marketing subsidiary of Fuji Heavy Industries (FHI) of Japan and is responsible for the distribution, marketing, sales and service of Subaru vehicles in the United States.
Subaru Product Line
Equipped with unique SUBARU BOXER® engine on all models and Symmetrical All-Wheel Drive on most, the Subaru product line, renowned for durability, reliability, traction and "active safety," represents one of the highest repurchase-loyalty ratings in the U.S. market. Today, the Subaru product line includes the Impreza, WRX, STI, BRZ, Legacy, Outback, Forester, and Crosstrek.
Corporate Headquarters
Subaru of America, Inc. moved from its current Cherry Hill, NJ, fate Camden, NJ in 2017. The company markets Subaru vehicles, parts and accessories through a network of approximately 600 retailers across the United States.
TICKETLEAP
It's experiences, not things, that provide the lasting memories. Events are organized experiences and we want more of them to exist in this world by inspiring and empowering the passionate people that create them.
VOLUNTEERS OF AMERICA DELAWARE VALLEY
Presently, we operate 44 separate programs serving persons who are experiencing homelessness, seeking permanent housing, struggling with addictive behavior, coping with chronic mental illness and developmental disabilities, returning to society from the criminal justice system, and dealing with domestic violence.
WATERFRONT MEDIA
Waterfront Media is a design agency located in Camden, NJ that strives to help brands create a cohesive and complete digital strategy that includes exceptional design, programming, branded content, and creative story-telling.
Waterfront Media believes the world would be a better place if everything were designed to make an impact. Their purpose is to deliver exceptional design to every brand, every company, and every organization that they come across.
WATERFRONT VENTURES
Developing a culture by bringing more fun, innovation, and connections to the Waterfront. Waterfront Ventures is also providing education and resources for Startups & Entrepreneurs. Programs such as:
Startup Conferences
Entrepreneurship 101
Demo Weekend
Startup Tours
Waterfront Lab Day
Light House Mentorship
WAWA
Today, Wawa is your all day, every day stop for fresh, built-to-order foods, beverages, coffee, fuel services, and surcharge-free ATMs. A chain of more than 645 convenience retail stores (over 365 offering gasoline), Wawa stores are located in Pennsylvania, New Jersey, Delaware, Maryland, Virginia and Central Florida. The stores offer a large fresh food service selection, including Wawa brands such as built-to-order hoagies, freshly brewed coffee, hot breakfast sandwiches, built-to-order specialty beverages, and an assortment of soups, sides and snacks.
Getting Millennials Involved In Politics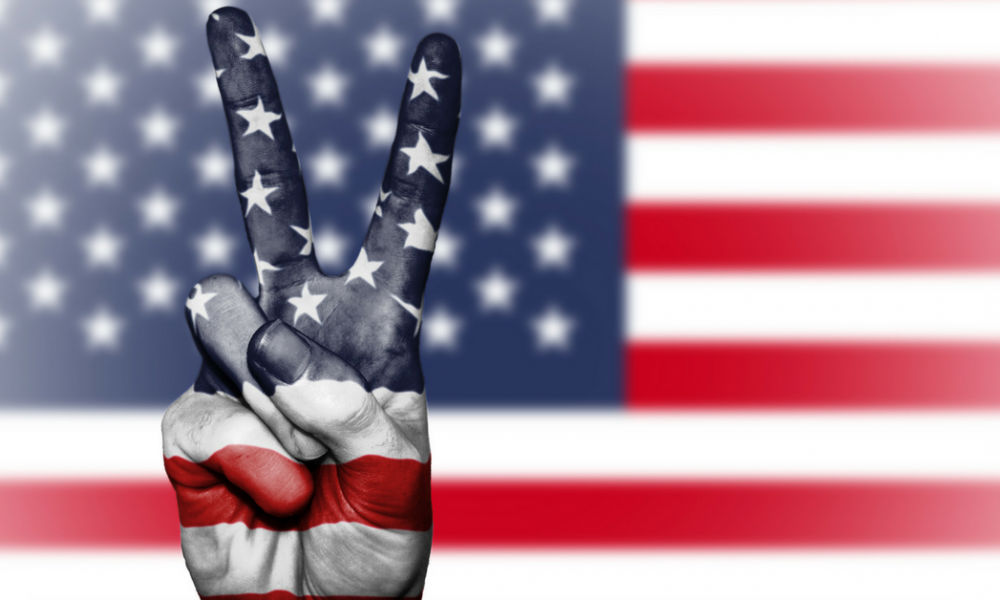 Since our most recent Presidential election, it has been more important than ever for millennials to use their voice in politics. Millennials make up a large portion of the population, and by getting involved, it can create an impact on society. Since The Great Recession, this generation has experienced unique struggles and are rightfully angry. Unemployment was at an all time high and wages fell once it was all over. Millennials are the most educated generation in American history, both in degrees and college graduates. However, what was once a job promised after graduation is no more. Millennials feel the need for a moral rebirth and are getting involved in issues now more than ever.
We got in touch with Bryan Leib, an activist trying to get more millennials involved in politics. Bryan works with nonprofits in Philly and Camden as a mentor for the youth. We asked him about the importance of politics for millennials and ways to get involved.
Why is it important for millennials to be involved in politics?
It's mission critical for millennials to be actively involved and engaged in politics in order to influence public policy and to improve our communities. Local politics that is. I'm a big believer that the best position to influence change is at the local level. I know Presidential politics excites a lot of millennials but honestly, that isn't where we can make an impact.   
What is the reason most millennials are not involved in politics?
I think it's because of voter apathy and an overall frustration for the political process. I find that most millennials are frustrated with the status quo, career politicians and they don't think their vote can make a difference. Over the last two years in Philadelphia, we have witnessed a United States Congressman, PA Attorney General, PA State Treasurer, State/City Judges and PA State Representatives convicted of corruption/bribery/racketeering charges. The Philadelphia District Attorney was indicted on +20 federal counts of bribery and fraud. A lot of us are numb to the entire political process because of those reasons and because of the current power structure and lack of accountability. How does a millennial get excited about politics with career politicians like Congresswoman Nancy Pelosi (D) and Senator John McCain (R) at the top of the power structure in their respective parties.  Both in their 70's and have held office for over 30 years. Average age of Member of the U.S. House of Representatives is 57 years and the U.S. Senate is 61 years. https://www.senate.gov/CRSpubs/c527ba93-dd4a-4ad6-b79d-b1c9865ca076.pdf    
What are ways to get millennials involved in politics?
Well, I've always suggested that if one wants to get involved with politics that they should volunteer for a campaign or intern in the office of an elected official. Volunteering for a campaign is a sure fire way to get your feet wet and make a substantial amount of political and community connections. Being involved with a campaign from the ground floor through election day is a pretty good primer for anyone who wants to aspire to run for public office office. Another way to get involved is to start attending local civic and neighborhood association monthly meetings. They are typically open to the public, free and donuts are involved.    
How did you get involved in politics?
I've always been involved with civic organizations and nonprofits in Philadelphia and Camden. Public service is in my DNA. I personally believe that politics should be 100% public service. Elected officials should show up to work every day with only one agenda item – how do they improve the community and serve the public at large.  My foray into politics was volunteering in the 2015 Mayoral Race in Philadelphia. I started as a part-time finance intern and within a couple months of proving myself to the candidate and campaign staffers, I was attached to the hip with my Mayoral Candidate as his traveling aide. We went all over the city to build new relationships and talk to community members about the issues that were important to them and their families. Shout out to State Senator Tony Williams – he showed me the ropes, put me on the map and is an amazing public servant. For that, I am eternally grateful.
What would the impact be if more millennials became involved?
Game-changer of epic proportions! We have the opportunity to re-write the entire political landscape as we know it today by 1) Voting and organizing in local elections 2) Supporting our fellow millennials in running for public office. Philadelphia millennials are the largest registered voting bloc in the city with +300,000 registered voters. However, in the 2015 Primary for offices like Mayor and City Council – only 12% of registered millennials went to the polls. I attribute his to voter apathy. To put this in perspective, there are 230,356 registered voters between the ages 35-65 who voted in the 2015 Primary. If millennials increased to a 50% voter turnout in Philadelphia then would make up +40% of the total voting electorate. With percentages like that, we can start changing the political landscape as we know it today. The power to change our future lies in our hands.  
Is it difficult to stay up to date with politics?
I don't think so. In today's age of social media, it's not very difficult to stay up to date on what's happening in politics. New media organizations like Billy Penn have launched throughout the country focused on keeping our generation informed and engaged. In addition, elected officials are more accessible than ever and if you really want to have a conversation with your elected official, they are probably only a tweet or email away.
What advice would you give to anyone interested in politics?
Start locally by 1) Getting involved in a local campaign or with your local civic association 2) Don't be afraid to run for public office and fight for your community. We can change the political landscape by 2020 by being involved in local politics – I guarantee it! We can make an immediate impact by voting and running for public office at all levels – Congress, Mayor, State House, City Council and City Commissioners. Sky is the limit.     
Converting Social Media Followers And Likes Into Dollars And Cents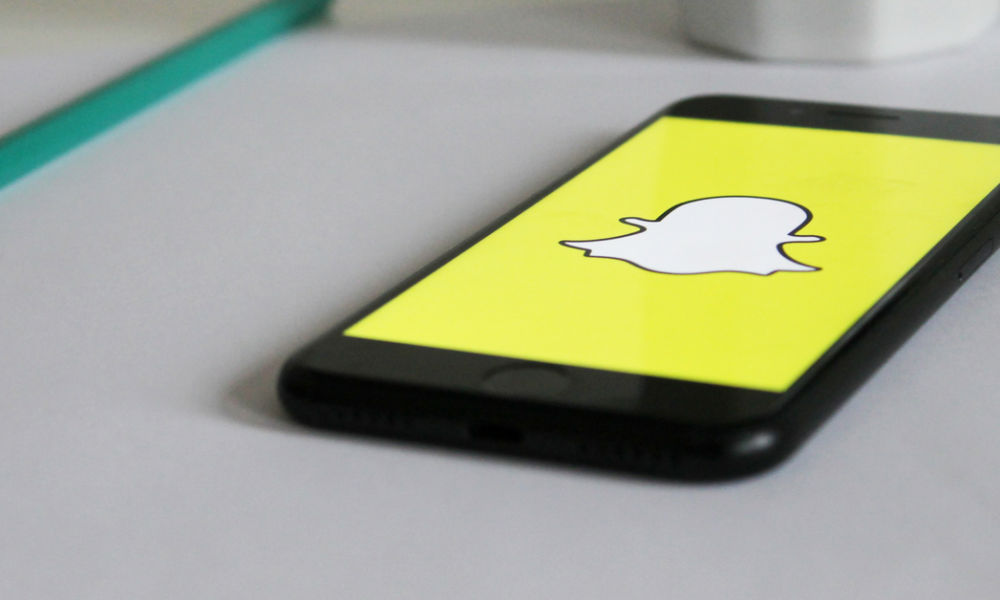 We live in an age where every business has a digital footprint. When building a brand, one of the best places to start is social media. But, how can you use social media for a business? We are often consumed with the addiction to the number of followers, but really, it's about the engagement with your audience that will help you build a loyal audience. It is more beneficial to have 5000 followers that are actively engaging than 50,000 followers with only a few hundred engaged. With the rise of influencer marketing, it's easy to see who is able to create valuable content and who is posting just to post. When you have a strong personal brand, people will want to connect with you as much as you want to connect with them. We got in touch with Connor Gallic, Marketing Manager for HYPR Brands. Connor was a social media manager when Facebook first started and has over 6 years of marketing experience. Now, he teaches people how to be successful on social media and how to create content that is relevant. He shares his advice on the importance of having a social media presence and how to do it right.
How can businesses convert followers and likes into dollars and cents?
It's often stated, but one of the sure-fire ways to convert followers into dollars is "Authenticity".  People follow your brand because they want to know what your business is about and they aren't going to make purchases if you brand doesn't seem real. You also have to give your customers content that is beneficial to them. Don't just overload them with sales materials, give them good content that they can remember you by. Social media is about staying top of mind.
In 2017, how can a strong social media presence be beneficial to a business?
I think at this point, it is a fact that a social media presence is essential to have as a business. Customers are no longer just checking google, they are looking at Facebook, Instagram, Pinterest to know more about your business. Think about when you go to order from a new restaurant, you check out the website first to see what's on the menu, then you are going to check Instagram or Facebook to see if the food looks good or what the reviews say. If a business isn't on social media in 2017, they won't be a business for long.
How can a business tell their story using a social media platform like Instagram?
As a business owner you shouldn't be asking if you can use Instagram to tell your story. You should be asking what story do you want to tell? What do you want your customers to know about you? Instagram enables them to give customers a glimpse into what is happening behind the scenes and what is really important to the business. Share those pictures of an employee's birthday event you had, post the goofy photo of the CEO. The key is sharing a story.
No human being is ordinary, so how can you become extraordinary using social media?
If you want to become extraordinary using social media, you are going to ask yourself what do you want to be known for? Do you want to be known as a photographer, pick up a camera and start taking pictures and posting. You want to be the best business consultant, you have to start writing. If you want to become extraordinary, you are going to have to work hard. Social media has leveled the playing field, but you still have to hone your craft to become extraordinary.
Irie to Aurora: Van Life with Two Roaming Nomads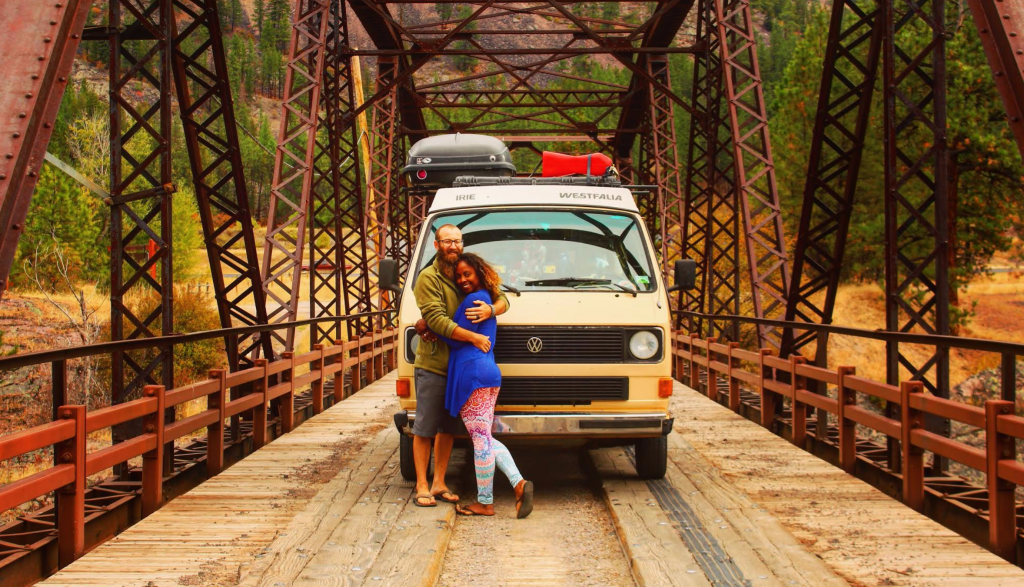 I met Noami and Dustin one hot New Orleans day while moving a piano from one house to another.  Dustin was a project manager for a construction company and Noami was an environmental scientist studying the coastal systems in Louisiana.  They seemed like your average couple, but what I discovered throughout our friendship was that they were anything but average.  Like myself, they also suffered from a particularly strong and itching wanderlust.  For this, they found and created a pretty fascinating solution: why not get a van, hit the road, work remotely, and explore?
Thus was born their adventure, which they interestingly named "Irie to Aurora".  Their time on the road is now nearing its first year of completion.  Along the way, they've amassed over 8,400 followers on Instagram.  Here's a sneak peak into their #vanlife journey.
Who's idea was this?  How did you come up with it?
I think the idea to buy a van and live on the road was both ours. When Dustin and I met it was one of the first things we talked about, and throughout our relationship, we fantasized about the idea until we finally took the leap. Best idea ever.
We both love to travel. We've taken road trips together as often as we could since before we were even dating. As our relationship grew, these trips became more frequent and for extended periods. We also followed other people on social media who were doing the same thing, living on the road. This inspired us to do what we had always dreamt of and talked about.
How long has this journey been and how long do you plan to continue?
It has been eleven months on the road and we would like to sustain this lifestyle for as long as we can. 
How did you come up with the name "Irie to Aurora"?
Noami is from Trinidad, and the word Irie is slang meaning "powerful and pleasing; a state of feeling great." Initially, when we planned the trip, our destination was Alaska to see the aurora borealis, hence Irie to Aurora. 
What has been your greatest challenge to date?
Dustin works remotely so this requires us to stay on the grid most of the time and often hunt for wifi. His schedule is fluid, so finding a routine has been challenging.
What do you guys do for work while on the road?
Dustin currently works remotely as a construction estimator.  On the road Noami works odd jobs and freelance gigs online.
What have you been the most homesick for?
Overall, I don't think we've been particularly homesick. There have been moments where we reminisce about New Orleans and miss the little things, like the food, and the music, and the people.
In what ways has this trip changed you individually and as a couple?
Living on the road and sharing 80 square feet has come with its fair share of challenges. But I think it has brought us closer together. We've learned each other's strengths and weaknesses in ways we never thought we could. Living in such close quarters 24/7 has forced us to be more mindful of our attitudes and how we impact each other's "space" because tempers do flare. We're more compassionate with each other and with ourselves. We have created a space where simplicity can flourish, a lifestyle we have both come to value. Learning to let go and let be, keeping an open heart and mind is the everyday lesson and this attitude has led to so many new friendships and experiences. Overall, life on the road has been deeply transformative, it has brought us closer to ourselves and to each other. Dustin and I are better people because of this decision and we are so grateful for each other and our life together. 
Plans for another road trip in the future?
I think the journey we're on is perpetual. There will be a few pit stops along the way but that's all part of it. However, we do have plans for Canada and maybe Central and South America, after Alaska of course.
What was your favorite place along the way?
Hmm… Choosing a favorite place is tough because each place is so unique with its own beauty, but we love Baja, Colorado, Wyoming, Montana, and Oregon.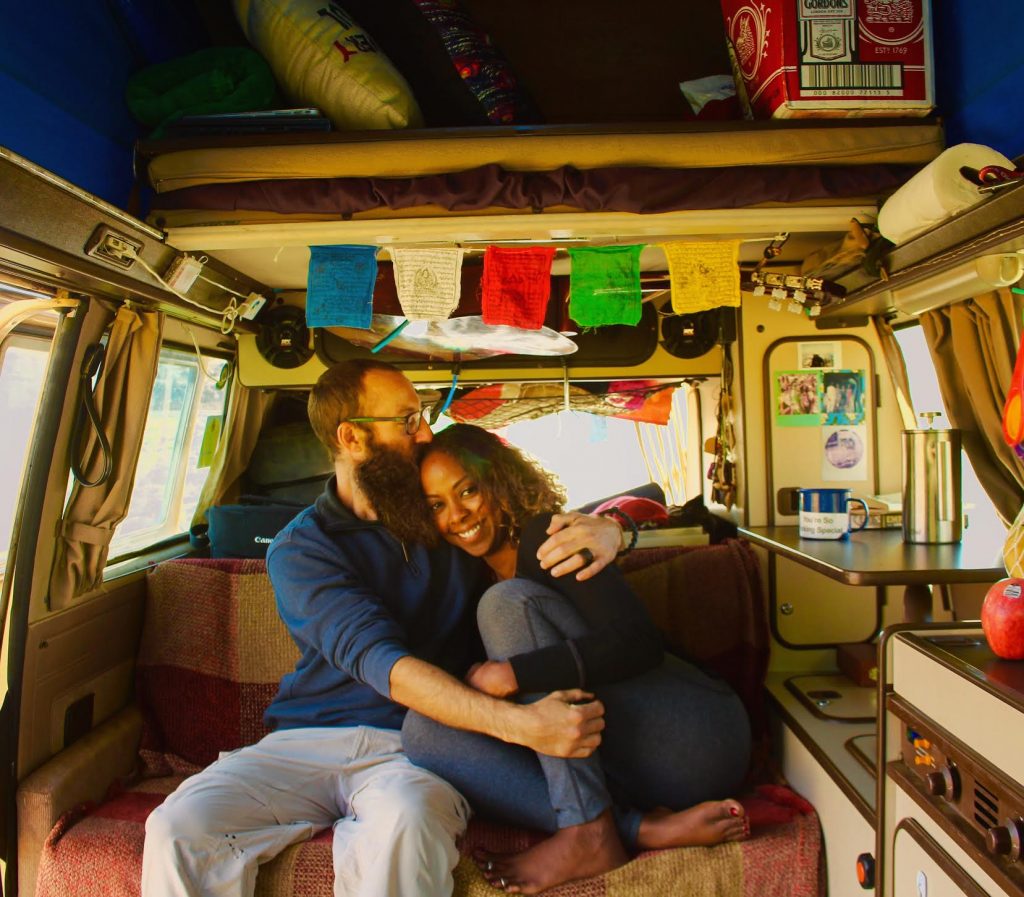 Van life might not be for everyone, but their journey is enough to make you want to buy a one way ticket to a random spot on the globe.  In an increasingly interconnected world, the ability to be fluid with your roots was once an impossibility that the internet is now making possible.  Perhaps this is a leap we should all consider, at least once in our lives.  Just like Tolkien said, not all those who wander are lost.