What Type of Bookkeeping is Best for Business?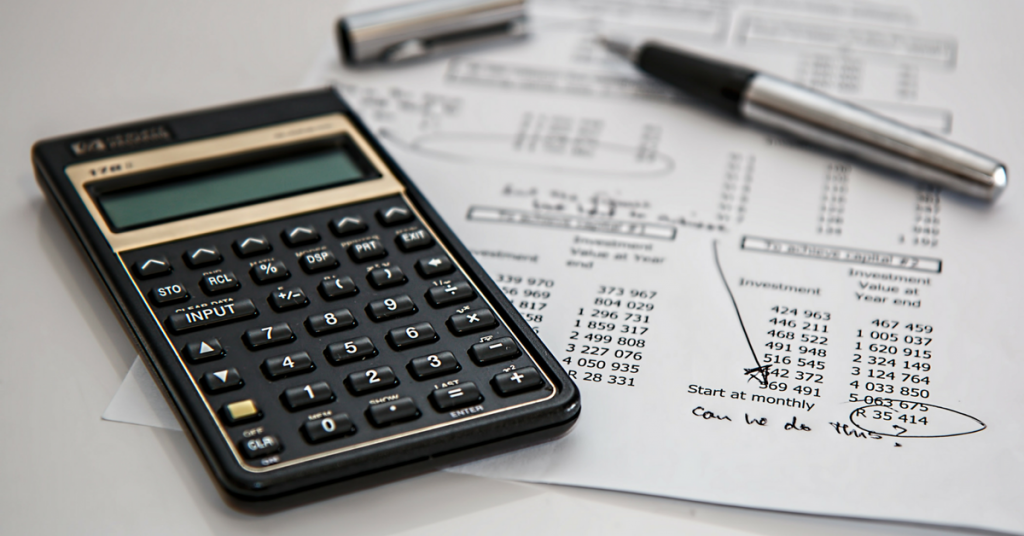 Regardless of industry or number of employees, every business requires bookkeeping in some capacity. Larger businesses might employ one, two or even more full time bookkeepers, while smaller businesses may hire a part-timer to review the books once a month. No matter the business, it's important that owners and managers understand that there is no "one-size-fits-all" approach to bookkeeping.While cost is always a dominant factor when choosing the bookkeeping process for a business, it is not the only one to consider – after all, businesses should not bank on a bargain when it comes to the person in charge of overseeing their finances. To better understand the different "types" of bookkeeping, here are three categories to consider:
1. Traditional bookkeeper
Whether your business is small or large, you'll need to hire an experienced bookkeeper with a formal education and accreditations. Specifically, the bookkeeper should have substantial experience in business accounting, preferably in your particular industry. This way, you can rely on their previous learnings, which will allow for a shorter onboarding period.It's important to consider the role a bookkeeper will play in relation to your business's Certified Public Accountant (CPA). Typically, bookkeepers are in charge of processing an organization's financial transactions and documents, including purchases, receipts, sales and payments. Those transactions are recorded in a ledger or journal. In addition to the daily ledger, most businesses use software, (think QuickBooks or Sage), to keep track of entries, debits and credits. Keeping two separate recordings, one manual and one virtual, results in a trial balance with a final total of debits and credits that match. The ideal bookkeeper, particularly those who are certified, will classify and summarize financial information into financial reports, balance sheets, income statements and cash flow statements.A CPA's priority should be analyzing business processes and reporting, and providing advice to the business owner, especially for complex tax filing concerns. While a bookkeeper handles the businesses' day-to-day transactions, the CPA will review and analyze the financials at specified times throughout the year. To ensure cohesion and integrity of the business's finances, it is critical that the bookkeeper and CPA work as parts of a system.
2. Advanced bookkeeping technology
All businesses should implement some level of technology into the accounting workflow to lessen their financial and administrative burden. When considering advanced bookkeeping technologies, businesses must ensure that the technology works harmoniously across the board, while solving for particularly tedious tasks within the workflow.For example, one of the more time-consuming, monotonous tasks in the average accounting workflow is data entry. From invoices to expense receipts, businesses are flooded with excessive yet necessary documents on a daily basis. For more streamlined and efficient data entry, businesses should employ expense tracking and management technology. Proper expense tracking ensures that employees are getting reimbursed for their expenses on the job while maximizing tax deductions and protecting the business in case of an audit.To ensure the business's expense management technology seamlessly plugs into their existing accounting workflow, owners and managers should be on the lookout for three features:1. Mobile capture: Bulky scanners are office gadgets of the past. In today's business world, mobile apps and software can turn your smartphone camera into a mobile scanner, allowing business owners and employees to simply snap a photo to extract data points, like totals, dates and vendor names, and import them into the proper location.2. Integrate with advanced accounting software: Proper "locations" are often powerful accounting software, like QuickBooks or Sage. Through integration with the accounting software, the data entry process is not only streamlined, but ensures the correct information is being put into the correct data field.3. Cloud Capabilities: In today's increasingly-connected world, business owners and employees need access to their most important business documents at all times, so it's important that their expense management systems are connected to the cloud. In addition to ease of access, the cloud promotes a collaborative work environment and allows coworkers to always be on the same page.While most businesses use some combination of advanced technology and a traditional bookkeeper, those that are looking for a completely hands-off (and expensive) approach should consider a virtual bookkeeper.
3. Virtual bookkeeper
With the ubiquity of cloud technology and the popular practice of remote collaboration, some businesses are employing new virtual bookkeeping services. Virtual bookkeepers stand in as an entire outsourced accounting department for a business. With a team of bookkeepers, businesses have a unique system of checks and balances giving the owner peace of mind.  While they may lose the personal approach of a single bookkeeper, they can rely on availability and speed with multiple bookkeepers available at a moment's notice.When deciding what kind of bookkeeper will work best, it's important for businesses to realize that advanced technology can supplement (or even replace) certain aspects of the bookkeeping workflow. While a full-time bookkeeper can certainly manage the entire process, businesses that implement certain software can eliminate tedious steps of the process, saving time and money. By allowing technology to solve for menial tasks, business owners may be able to move to a part-time bookkeeper or even take over the role themselves.Each option comes with pros and cons, and it is determining the best fit for each individual business that is paramount.   Business owners and managers should keep their bookkeeping process current; both to the market and their businesses' ever-changing requirements. There is always room for improvement, so constant evaluation and tweaking of workflows to ensure an efficient bookkeeping process, and ultimately, a better return on investment, should always be employed.
Top Cyber Week Software Deals for Digital Marketers 2019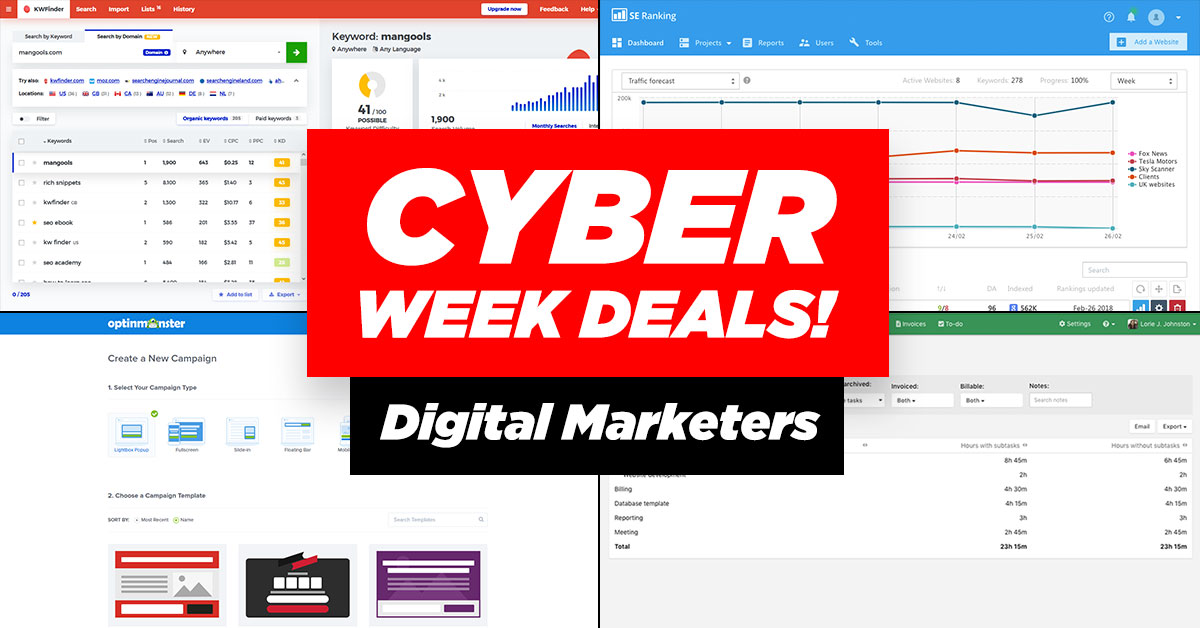 Just when you thought all the best deals were on Black Friday, we've just found some even sweeter deals for those who missed the rush this weekend. Welcome to Cyber Week, a week full of even more sales and discounts ONLINE.
Being a digital marketer is already a tough position. That's why there are so many management software and tools available to help your day to day job. Marketing tools can get expensive. Here are some of the best Cyber Monday software deals on marketing software you don't want to miss.
1. Awario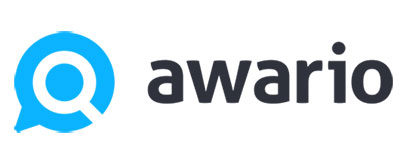 Social media monitoring doesn't have to be a hassle this year. With Awario you can stay on top of all your social media mentions, monitor your competition, explore new influencers, and engage with your audience all on one platform.
The deal: 50% off plan. No promo code needed.
2. Penji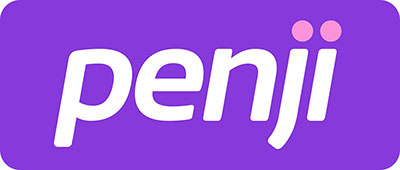 Marketers should be doing marketing, not design. I've never enjoyed designing infographics, newsletters, and marketing materials. And thank goodness we found Penji. Penji is a graphic design service that lets me work with a vetted designer on as many design jobs as I want - for a flat monthly rate of $369/m.
Hiring someone for one-off projects usually runs anywhere from $300 - $1000 per assignment. We can usually squeeze in 8 - 10 design projects per month. At $369 for 8 - 10 projects - that's a steal. But if that deal isn't good enough they're having a Cyber Week Special.
The deal: 30% off every plan - EVERY MONTH! Use promo code CYBER30. Code is limited to the first 100 customers. Valid from now until 12/6/19.
3. ProofCred

If you're selling products or services online, you'll know how important conversion is. ProofCred helps websites convert more visitors into customers by utilizing social proof notifications such as conversion counter, visitor count, recent activities, coupons, and more.
The deal: 70% off all plans. No coupon code needed. Just go to the website. Deal expires 12/7/19.
4. Poptin

If Proofcred alone isn't enough to help convert more sales, then combine that deal with Poptin. Poptin is a digital software that can help your website's conversion by monitoring visitor's behavior and displaying the right messages at the right time instead of just one annoying popup that comes up every time asking for their email.
The deal: Get 30% off for 3 months with promo code POPTINBF19. Deal expires 12/5/19.
5. Senuto

SEO tracking and content marketing are usually on separate platforms. Not anymore, thanks to Senuto. Upgrade your SEO tracking and content marketing planning with Senuto.
The deal: Get 40% off annual plans with promo code BLACKDEAL19 (it's a Blackfriday deal that carries over into Cyber week). Keep in mind, it's for ANNUAL plan, not monthly. Deal expires 12/6/19.
6. Avaza

Running an agency or a team of digital talents can be difficult. Avaza makes it simpler by integrating all your favorite tools into one platform. With Avaza you get project management, time tracking, scheduling, quotes, invoices, and comprehensive reporting all under one roof.
The deal: Get 50% the first 3 months on ANY paid plans with promo code AVAZABLACK2019.
7. SEMRUSH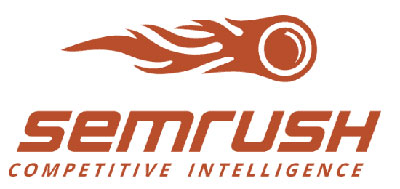 If you're a marketer who's dabbled in SEO, then you've already heard of SEMRush. It's one of the most comprehensive, robust, and accurate SEO tools on the market. Take your SEO marketing and managing to the next level with this special deal.
The deal: Get 40% off GURU plans and 2 articles. No coupon code needed. Deal expires 12/6/19.
8. Appy Pie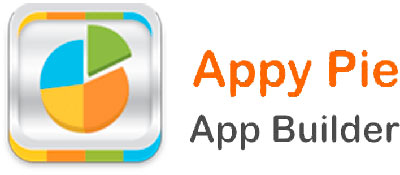 Have you always wanted to get an app developed but don't have the coding expertise to get the job done? Appy Pie lets you create your own app without any programming experience. You can create fully functioning ios/android cross-platform apps easily with an intuitive front-end user interface.
The deal: Get 70% off. No promo code needed. Deal expires 12/8/19.
Insurance Coverage For Your Business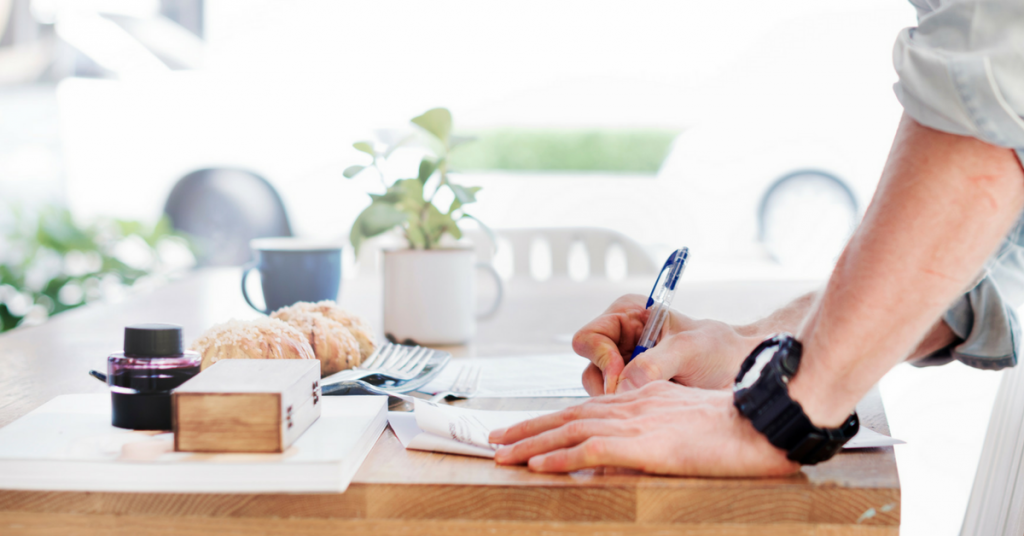 If you are running a business, you must insure it. You should understand what kind of insurance coverage you need for your enterprise. If you have a consulting business, having a proper error and omissions (E&O) insurance is important. You should purchase a general liability insurance if you want to take the lease of a building. Small businesses have a lot of things to protect.
Property Insurance coverage
You have tangible things to protect, such as machinery, merchandise, etc. There can be natural calamities like flood or earthquake. There can be major fire accidents. A fire can destroy all the machinery, and you need a replacement. The insurance should specify in clear terms that how much coverage they will provide in case of any accidents. In general cases, the property insurance covers business building along with inventories, furnishings, etc. It can also provide coverage to equipment breakdowns and the cost of removing debris.
General Liability coverage
You must purchase a general liability insurance for your enterprise. This insurance covers your products, completed operations of the company and premises operations. If you rent a building and one of your employees falls, you will be covered. If you are into a restaurant business and someone gets food poisoning, you will be covered.
E&O insurance
This insurance is also called the professional liability insurance. It is important for the people who are in the consulting business. If your consultation does not meet your client's requirement and your client sue you, you will be covered by the legal fees and defense costs.
Worker's compensation insurance
If you have employees in your business, you need to purchase worker's compensation insurance. The cost of this insurance depends on your residing state. You should remember that worker's compensation insurance is subject to audit.
Auto insurance
If you own a vehicle for your company, you need to buy auto insurance. You should add a hired and non-owned automobile liability rider. Auto insurance is important if you face any accident when you or your employee use your vehicle during working hours.
Cyber Theft of your business bank accounts
Every year huge amounts of funds are stolen from different accounts through cyber hacking. You need some protection to save your business from this financial crisis. There is a new kind of insurance in the market to cover you from cyber theft and fraudulent wire transfers. Consult your insurance advisor to know more about the insurance policy.
Small business data compromise insurance
If you are running a small business, you need to protect your vital data from getting leaked. This insurance helps protect your company's reputation of your customer's personal data is stolen or your employee's information is compromised from your business side.
If you have a home-based business, the homeowners' insurance policy usually provides very limited coverage for tools and equipment damages and business related property. Consult your insurance agent to understand each point of insurance coverage. Decide which insurance is more appropriate for your company. You can also consider buying more coverage to protect valuable data.
Step Away From The Office To Boost Creativity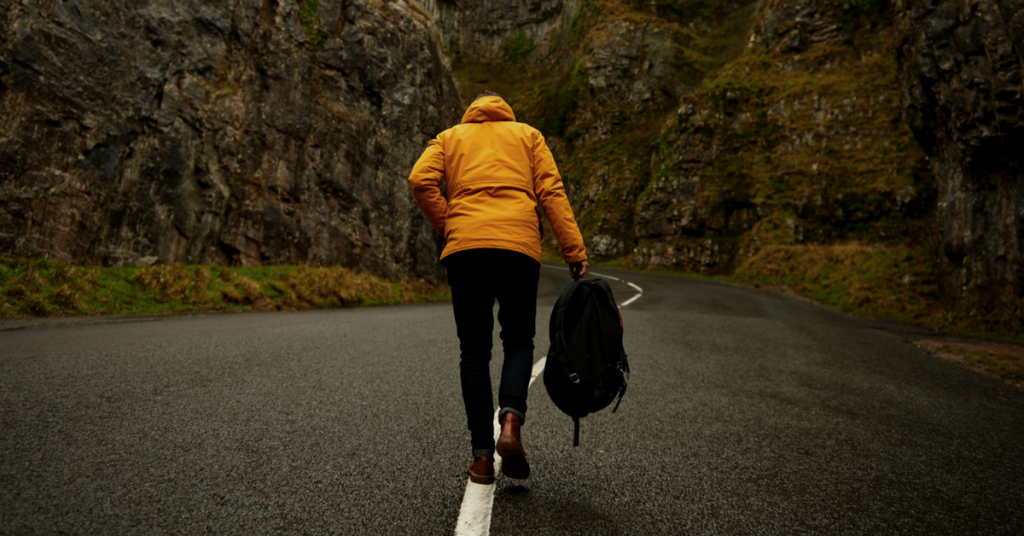 We have all faced a situation where we came across a mental block. We try to come up with an innovative idea or try to solve a problem, but that just does not happen. Hours of hard work at the office, meetings, or even dedicated effort in your office cubicle has led to no real positive outcomes. Then, after all that effort and frustration, you decide to take a break, go out of the office for a meal or drink, watch your favorite movie, or even choose to take a nap. Suddenly, creativity hits you, and everything falls into place as a result of which you see a clear solution to the problem lying in front of you. This "Eureka" moment solves all your problems in a jiffy.
The main reason behind this is that if you always focus excessively on the task that is given to you, then your brain won't be able to come up with interesting and unique solutions to your problems using the information stored in your memory. By taking a break from your routine (in the form of a walk, drink, or a nap), your brain is given the freedom to explore and search for possible solutions. So, whenever there is a problem which needs to be solved, let your gray cells relax and concentrate on the task at hand.
Some of the reasons why you should take a break from your monotonous office life are:
It improves your creativity to a large extent
Whenever you realize that your creativity is not flowing out, you should definitely take a break and move out of your office premises. One of the best ways to be inspired and remove your creativity block would be to visit some new location. So, whenever you are unable to come up with any solution, having a meal outside could be one of the best options.
It is profitable for the business
If you leave your office due to a creative block, then coming back with a fresh chain of thought will definitely boost your productivity. This, in turn, proves to be very beneficial for the business you are working for. You can also easily tag your meal as a business expense which would make sure that your bottom line is always healthy.
It is the best way to know your peers
While you are working hard for eight hours in your office 5 days a week, it might take a toll on your health as well as your working relationships. Spending some time with your co-workers and getting to know them better away from all the work related stress will be beneficial for your mind as well as the body. One of the best ways of doing so would be by socializing outside your office. This would result in the development of new relationships and friendship and at the same time reducing your stress and refreshing your mind.