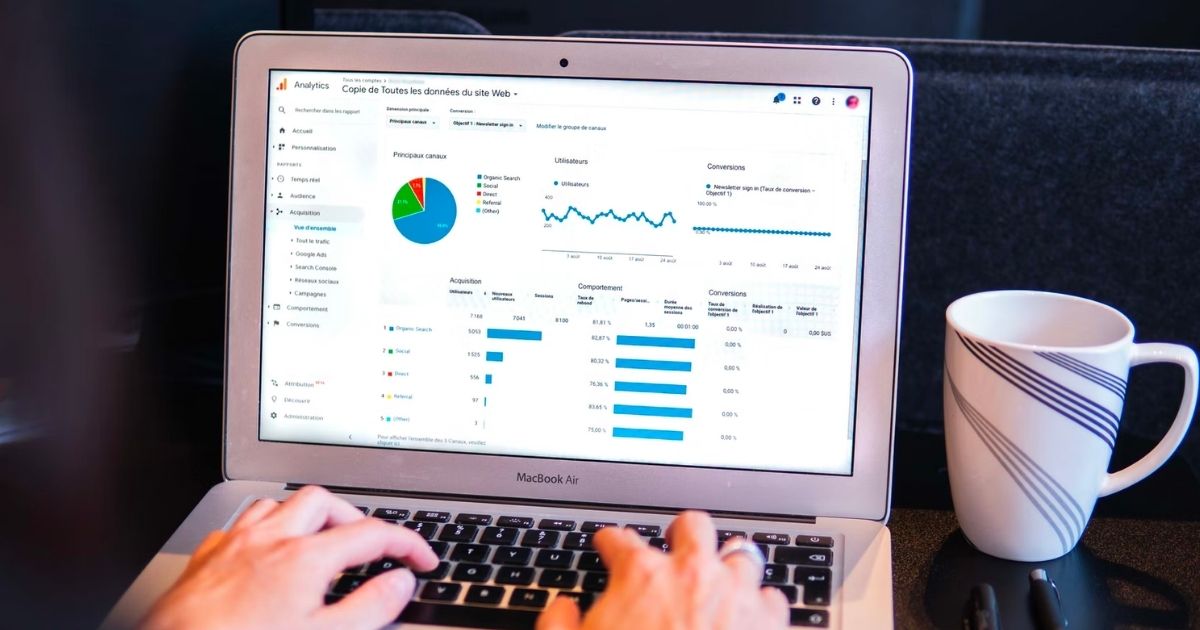 Managing your content online can be a dreary task – after all, shifting algorithms and trends can easily make content creation a chore. That's why for content creators, social media analysts, and SEO specialists, finding the best SEO software options is key to success.
Thankfully, individuals can now access easy-to-use SEO optimization tools to make their content stand out without the extra effort. Check out the list below to see the best SEO software options this 2022.
1. SEMrush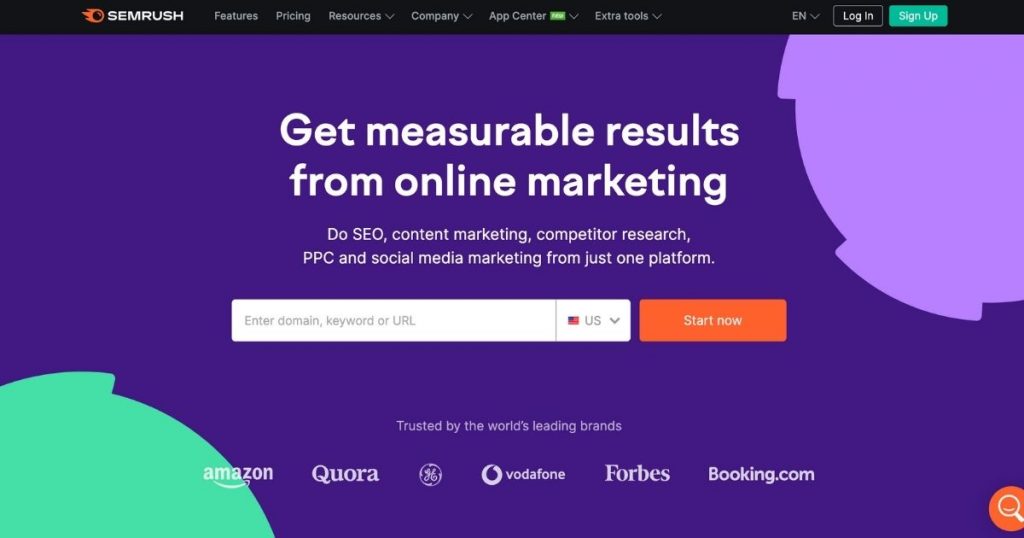 SEMrush is ideal for experienced users looking for robust strategies built on research. Its easy-to-use features come with advertising advice, traffic analysis, and product listing ads, which can help manage product feeds and listings. In fact, it is used by many companies to check their competitor's strategies. Apart from this, it is one of the best SEO tools for bloggers.
2. Ahrefs
Ahrefs is one of the best SEO software for its comprehensive analysis reports at the end of every month. However, it also hosts the usual backlink audits, competitive analysis, ranking history, keyword research, and a couple more. In addition, users can use this to devise a content marketing plan and offer successful client service. 
3. Moz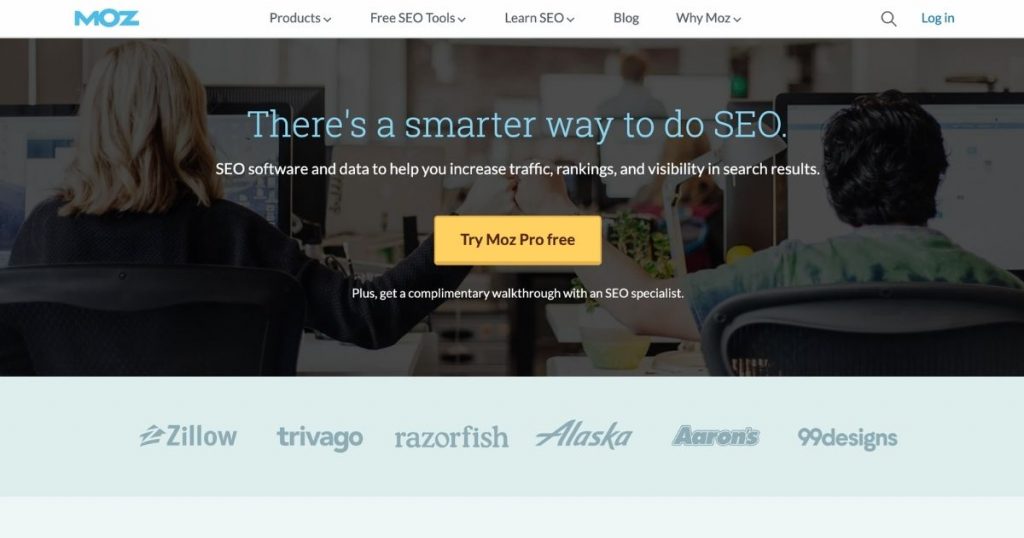 With Moz's site audits, backlink analysis, rank tracking, and other features, it is a great way to analyze your link profile. Aside from this, the site is quite handy because it evaluates tons of metrics and predicts your website rank. However, the catch is that only US databases and statistics are provided. 
4. Advanced Web Ranking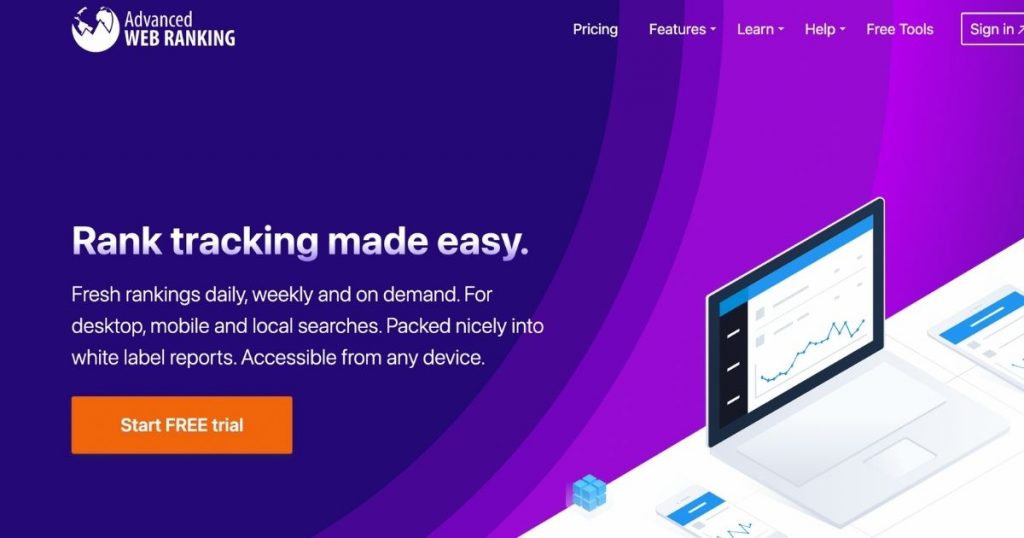 Meanwhile, Advanced Web Ranking is great for teams who want to track a lot of data, especially keywords. For instance, this software can track 3,000 search engines in more than 170 countries. Aside from this, it also provides competitor insights and has in-built SERP features. 
5. Sitechecker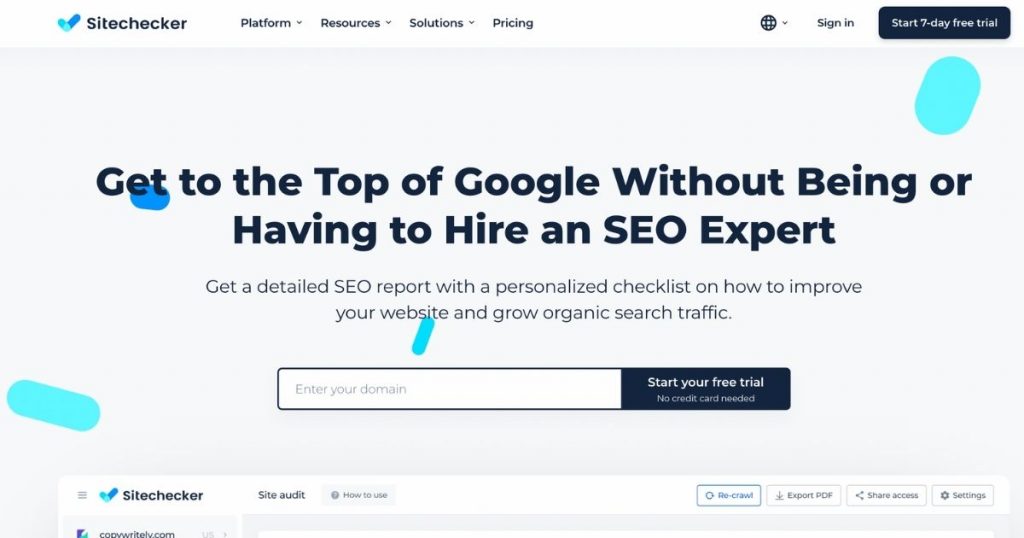 If you are looking to monitor site traffic, website changes, and check rankings, Sitechecker may be for you. For one, this program offers in-depth SEO analysis if you simply add your link to their software. From there, you can get insights on competitors, strategies, and more. 
6. Authority Labs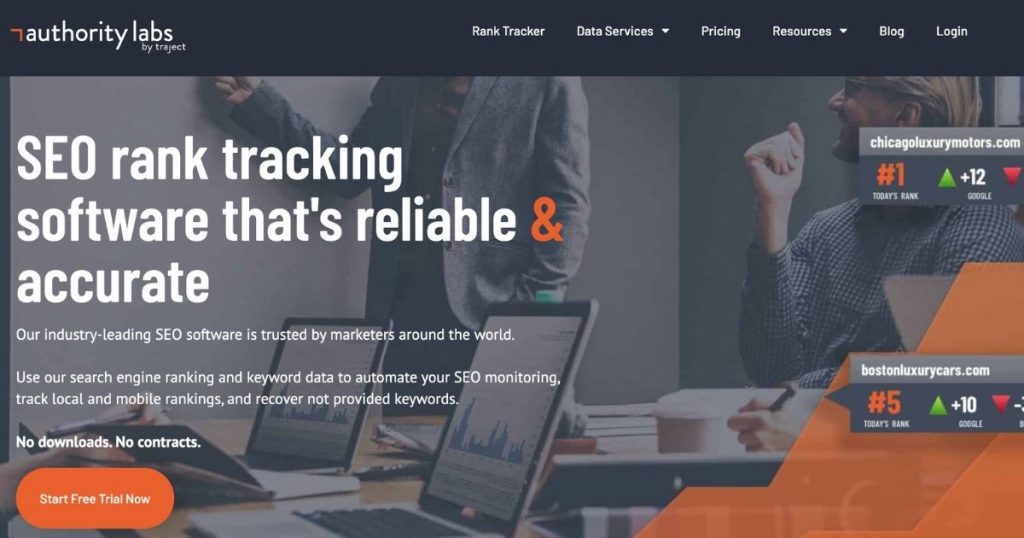 On the other hand, Authority Labs is one of the best SEO tools for beginners. Its user-friendly dashboard helps users set up sites and campaigns with ease. In addition, it can also track campaigns and strategies used by competitors. 
7. Serpstat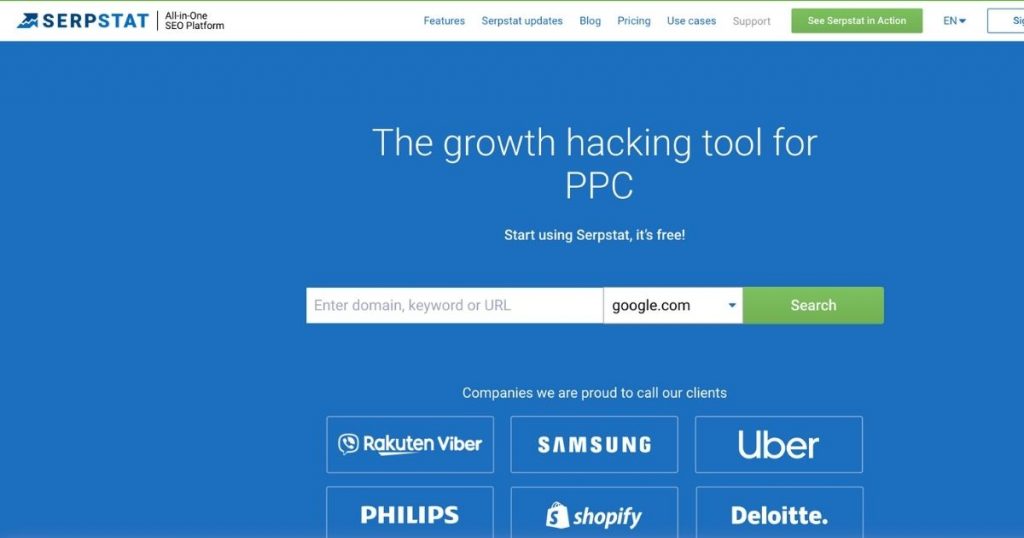 Serpstat is a comprehensive place for your digital marketing needs. For one, the software helps with complex analyses, strategies, and PPC analysis. However, that's not all. This software is known for its end-to-end support and solution, from running your ads to strategizing your content.
8. Long Tail Pro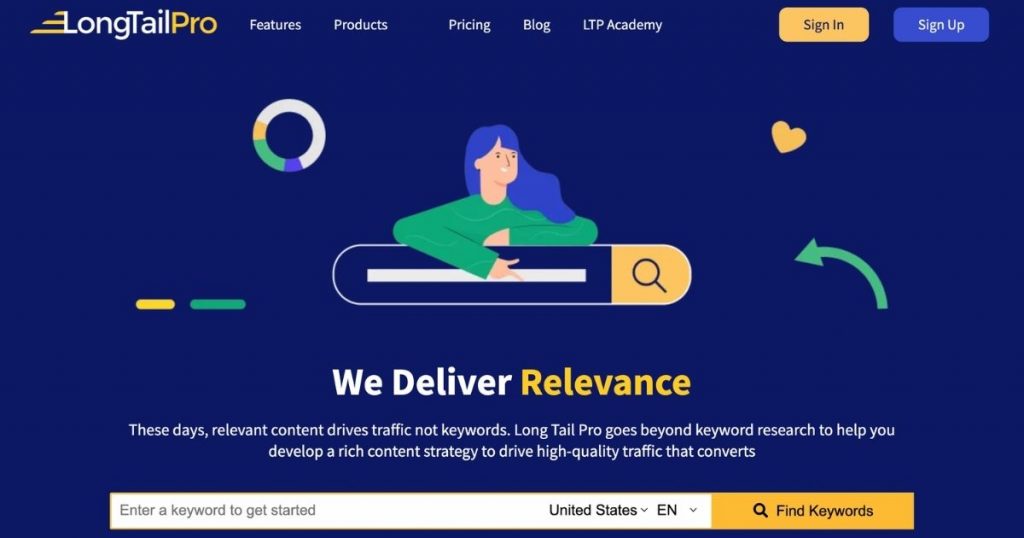 Long Tail Pro has one-of-a-kind features that can help you stand out before the others. It is great at looking for less-used keywords, which means you get to be ahead of the pack. Also, the program allows users to manage multiple projects at once, making different campaigns easy to understand. This is arguably the best SEO software for small businesses. 
9. SEObility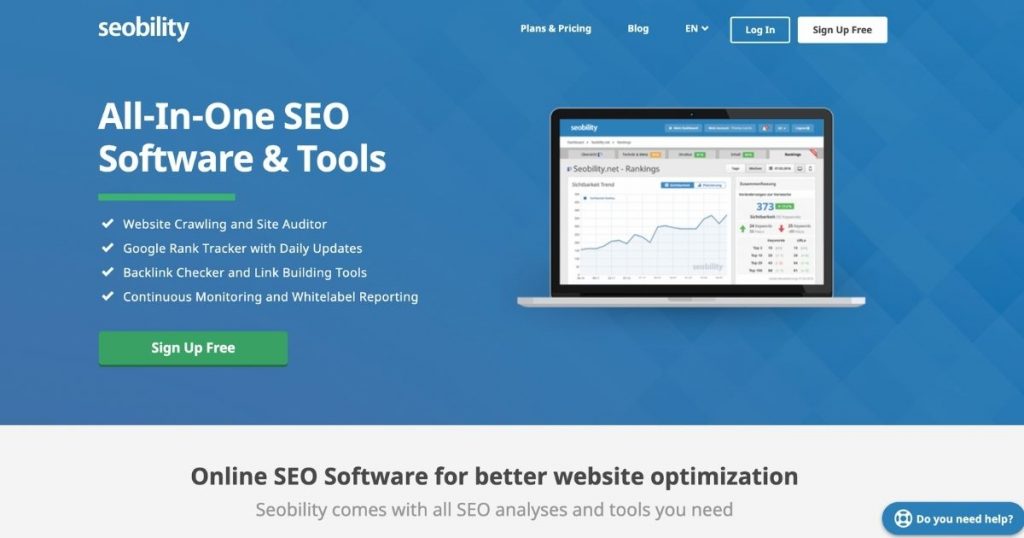 SEObility is another all-in-one software that is great for monitoring and tracking developments on your website. It analyzes all the links and content of a website to help you avoid duplicates, broken links, or other mistakes. 
10. SEOquake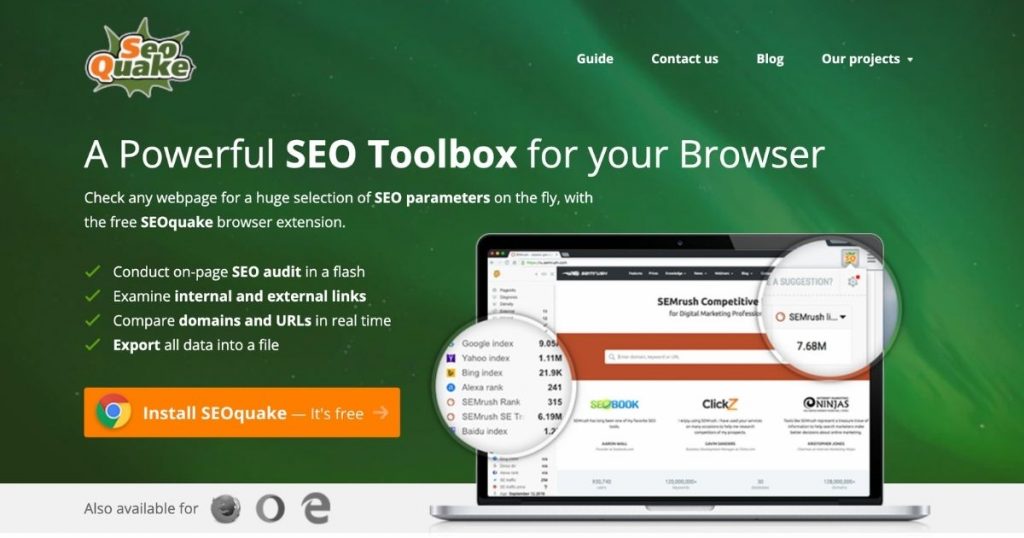 Finally, SEOquake is the best SEO software if you are looking for metrics on Google ranks, domain age, and SEMrush ranks. Apart from that, it is also one of the best free SEO tools in the market today, with its SERP overlay feature.  
Finding the best SEO software for your business involves a lot of time and patience. Thankfully, whether you are looking for free software or paid ones, you have many options you can choose from to suit your needs and budget.
DaVinci Resolve Review: King of Video Editing Software?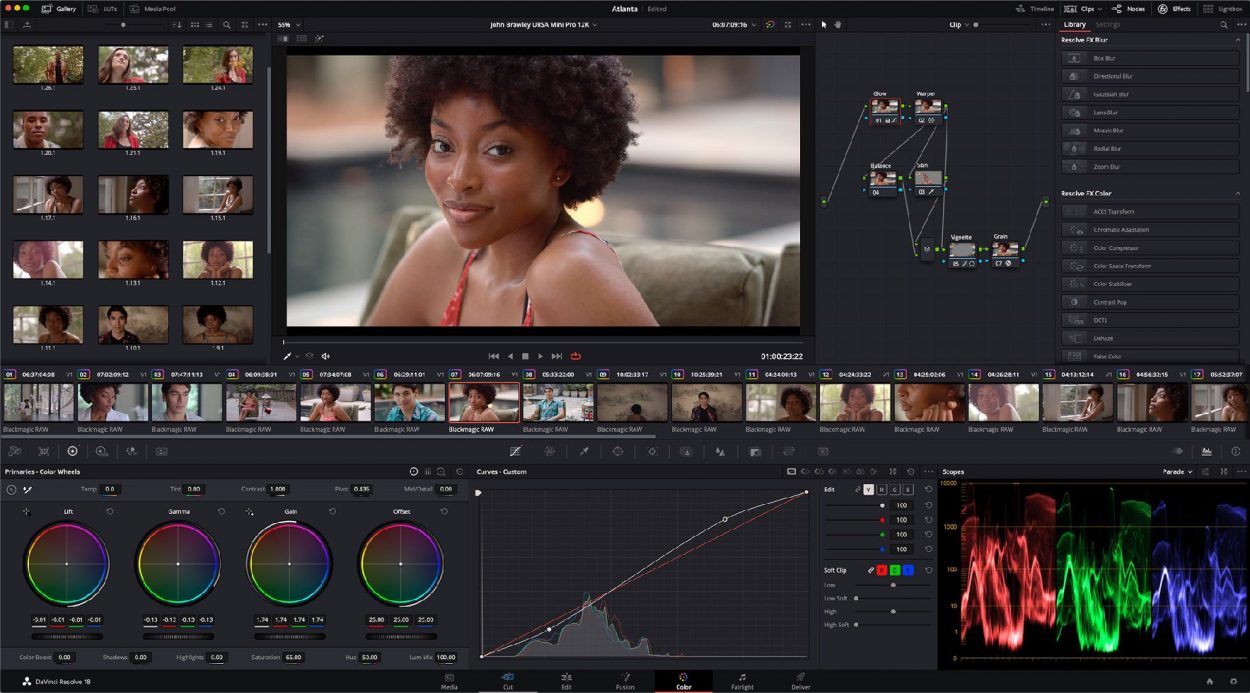 Since the inception of DaVinci Resolve in 2004, word made its way around the internet that a new sheriff was in town. While yes, there is plenty of competition for editing software, few are free and even fewer are as remarkable as DaVinci Resolve. The software has undergone many iterations over the years, and in July 2022, the much-anticipated version 18 was released. In this DaVinci Resolve review, we'll lay out the capabilities of this free video editing software and tell you how to get your hands on it.
DaVinci Resolve Review: Features
Did you know you could have the same video editing software used in post-production for famous movies, shows, commercials, and music videos? It's true. DaVinci Resolve is one of a select few tools known for its use in Hollywood editing – Everything Everywhere All At Once, Black Widow, and Love and Monsters are just a few examples.
For basic video editing, DaVinci Resolve 18 has more than enough power behind it. The software allows you to add text, create smooth transitions, sync audio to your visuals, create intros/outros, and much more.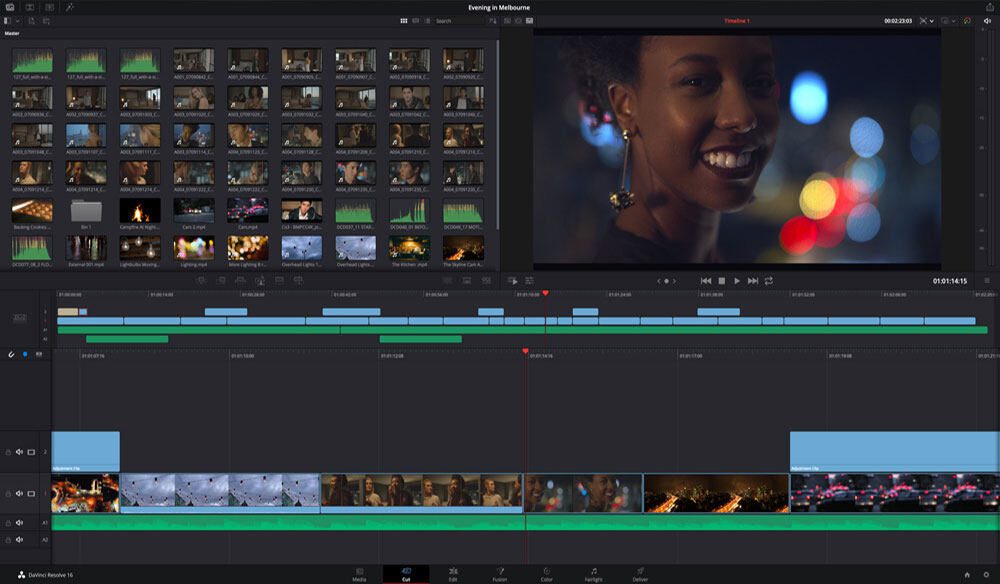 Some other features include:
automatic mask
HDR grading
super resolution
automatic depth map
subtitles
YouTube chapters
Another new feature of DaVinci Resolve 18 is multi-user collaboration. You can have several people working on a video edit together with the help of BlackMagic Cloud. This removes the tedious hassle of translating projects, exporting files, and trying to keep track of changes.
When rendering videos, you won't have to worry about watermarks. Users can edit any 8‑bit video formats up to 60 frames per second. Resolutions may be as high as ultra HD 3840 x 2160.
Here's a full list of DaVinci Resolve 18's new features.
Minimum Requirements for DaVinci Resolve
Perhaps the only catch to using this free video editing software is the system requirements. Needless to say, this is a huge download that uses a lot of RAM. Most sources recommend you have 16 GB (a Mac could squeeze by with 8) along with a 64-bit operating system and at least a quad-core CPU. You'll know you don't have the system requirements if the application lags, freezes, or playback continuously skips.
DaVinci Resolve Review: Basics
Assuming you've never used editing software in your life, how easy is it to get started? If you're willing to learn by doing and look up a few quick tutorials, it's very easy to get started on your first video.
Once you've gone through the entire installation process, click the icon to open the software. Across the bottom of the screen, you'll see viewing options. For beginners, the best place to start is in the "Edit" view.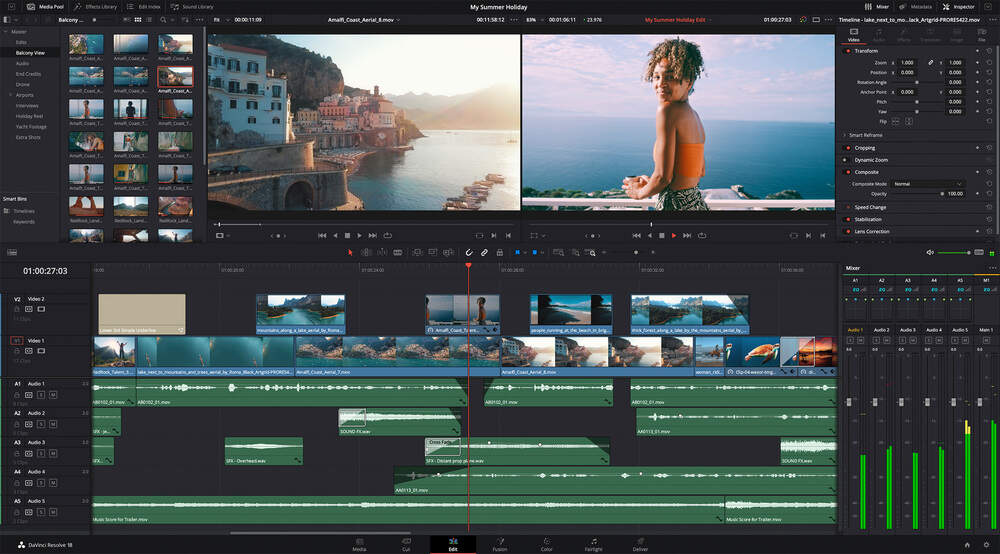 In the top left section, you'll see all the media clips you're using in a given project – audio, video, and pictures. To add media, simply drag and drop computer files into the media section. In the center, you'll see the playback screen where you can review your progress. The bottom half of the screen is where you'll do the actual editing. You can drag and drop video and audio files from the media section into the editing section and get to work.

From here, you can play with the toolbar across the middle of the screen to make cuts and begin editing your media files. Right clicking a video clip also gives you a plethora of options like linking/unlinking audio and video together. In the top right section, you'll see tools to zoom, crop, change the position of text and images, rotate, and more.
Again, there's a lot to do in DaVinci Resolve and professional editors can go much deeper than this. But the Black Magic team does a great job of bridging the gap and making the basic tools accessible to beginners.
How to Get DaVinci Resolve for Free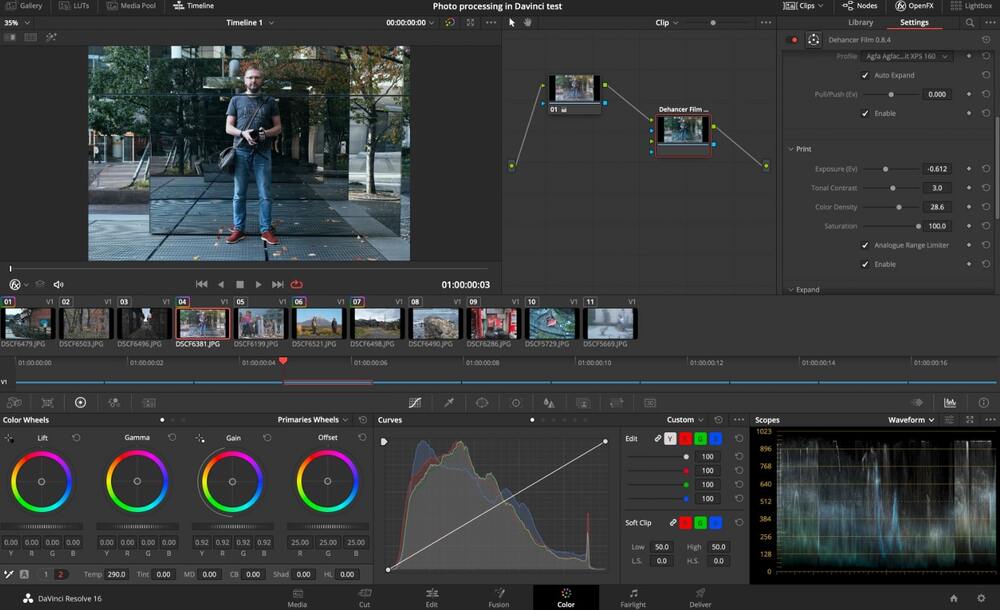 You might think it's too good to be true that such a sophisticated tool could be free. But alas, DaVinci Resolve is available for download right from the Black Magic Design website. Both Mac and Windows versions are up for grabs – Simply fill out the form and download whatever version you need. Linux users will be happy to know there's a version for them too.
Once you get comfortable with the basics of video editing, there's no shortage of DaVinci Resolve plugins to play with. You can up the quality of your motion graphics, mimic classic film stock, and remove video or audio noise. Watch your production value improve in myriad ways.
DaVinci Resolve Studio vs Free
If you think free DaVinci Resolve has a lot of features, you'll be thoroughly impressed if you opt for the paid version. It includes:
GPU accelerations
30+ Resolve FX
DaVinci Neural Engine
Supports 32k at up to 120 frames per second
Play more formats (AVCHD, AVC-Intra, and popular 10-bit formats)
If you're unsure whether or not to upgrade, there's not much to lose. The paid version (DaVinci Resolve Studio) is only $295 for a lifetime license. With that said, the vast majority of video editing projects can be done in the free DaVinci Resolve, especially if you're not skilled with editing software.
Hopefully this DaVinci Resolve review gave you a little more information so you can make an informed decision. And if you're wildly overwhelmed by all the features, spend some time browsing these DaVinci Resolve tutorials. Happy editing!
Bit.ai Review for Business [2023]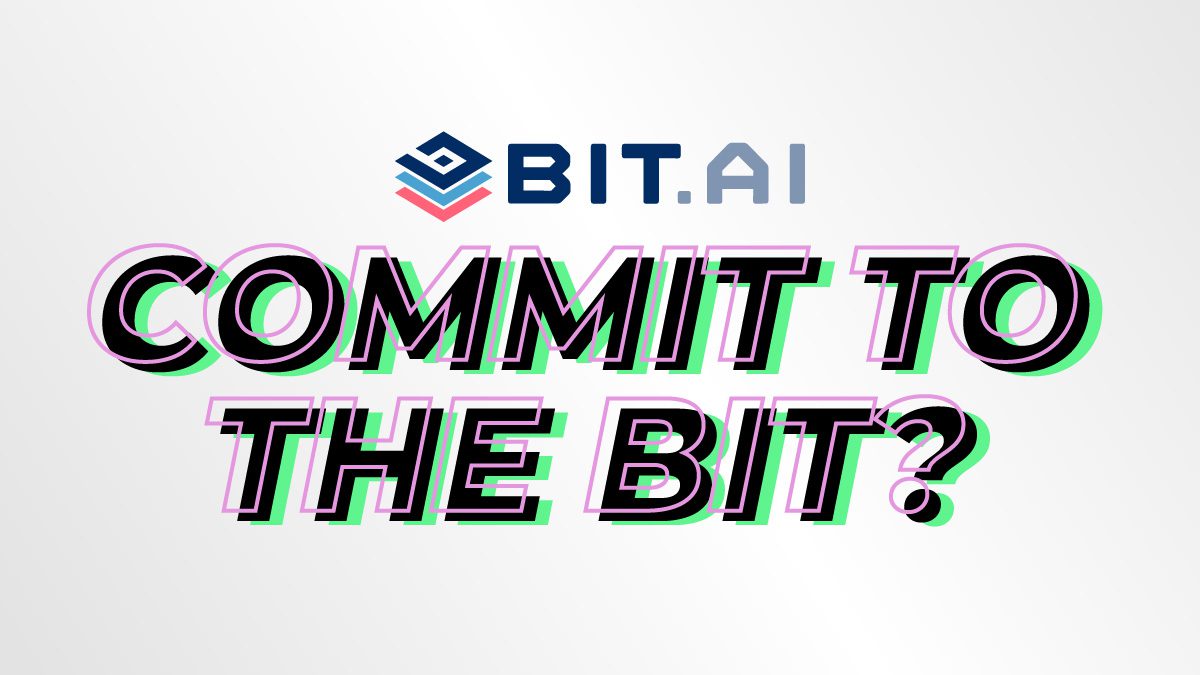 When you're collaborating on documents with other writers or co-workers, how do you keep everyone on the same page?
Truth be told, for most of you, the answer is probably Google Docs. It's quick, efficient, and easy to share. But what if there was a better way?
Bit.ai professes to be "the world's most powerful workplace and document collaboration platform." In this Bit.ai review, we'll put that claim to the test.
Bit.ai Review: What is Bit.ai?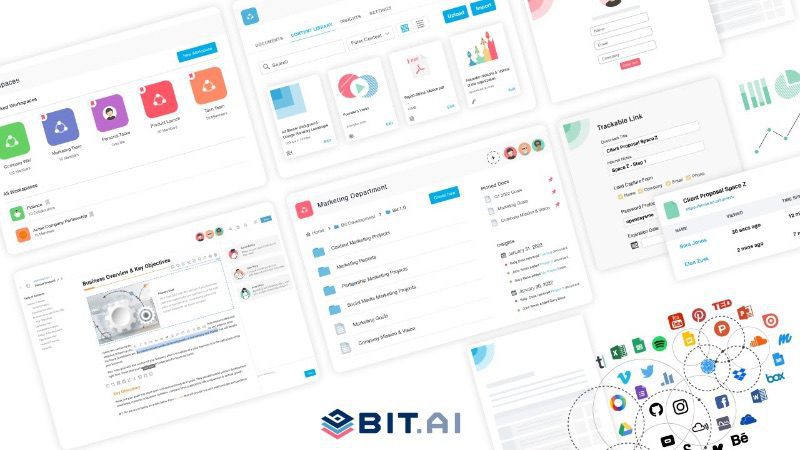 Co-founded by Raj and Saje Sandhu, Bit.ai has been offering document collaboration to companies like Canon and Harvard University since 2007. The company employs a global team with headquarters in San Francisco.
What does Bit.ai offer?
Bit offers a lot of custom features depending on your business' workflow. Some of their offerings include:
Collaborative document editor
Content library
Cloud integration
100+ file types
Automated formatting, themes, templates
End-to-end document sharing
Branded documents
Customizable workspaces
We'll explore some of the key features in the next section.
How much does Bit.ai cost?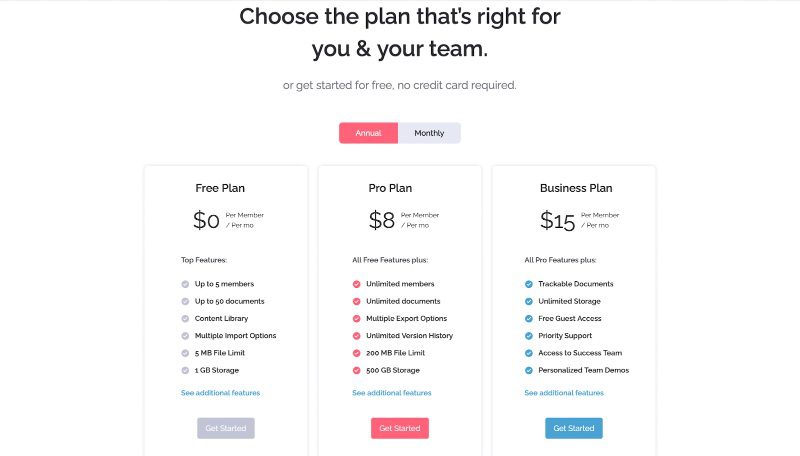 Individual users and small teams can use Bit.ai for free. Here's a breakdown of their three pricing plans:
Free plan: $0/mo. Up to 5 members, 50 documents, 5MB file limit, 1GB storage.
Pro plan: $12/mo or $96/yr. Unlimited members and documents, 200MB file limit, 500GB storage.
Business plan: $20/mo or $180/yr. Unlimited storage, document tracking tools, dedicated support, free guest access.
They also offer bespoke plans for enterprise customers, as well as discounted pricing for education, startups, nonprofits, and businesses involved in the COVID-19 response.
Bit.ai Review: How to sign up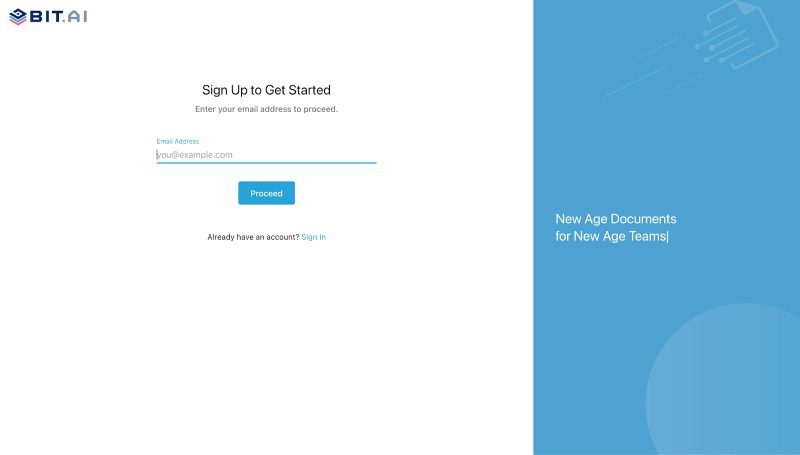 Getting started with Bit.ai is as simple as inputting your email and receiving a six-digit verification code.
After that, you're asked to fill out information like your name, your job title, and your department at your company, as well as create a password. Right off the bat, Bit puts businesses first, setting itself apart from Google Docs before you even log in.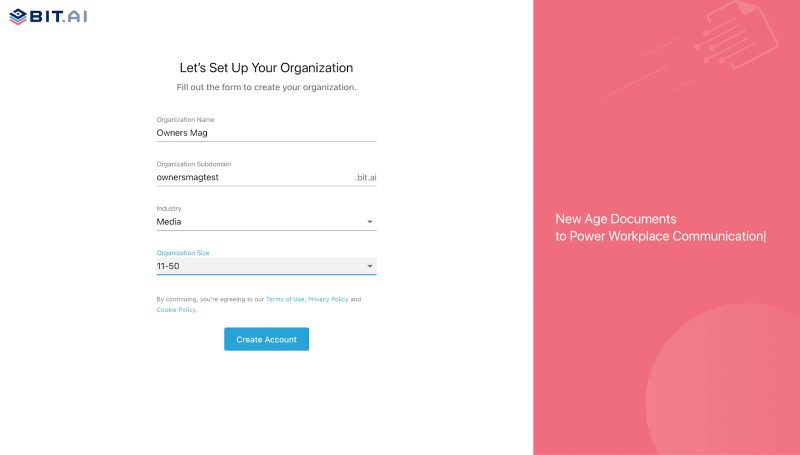 But it doesn't stop there. When you sign up, you create a profile for your whole company, getting a custom subdomain for your team to access your library.
And there you have it! Once you're logged in, you have the option to see a tutorial. If you want to upgrade to a paid plan, use the handy "Upgrade" button in the lower left corner of your dashboard.
Bit.ai Review: Features
The Bit.ai web app includes tabs for your dashboard, a list of all your workspaces, and a link tracking tab for Business and Enterprise users.
The Bit.ai dashboard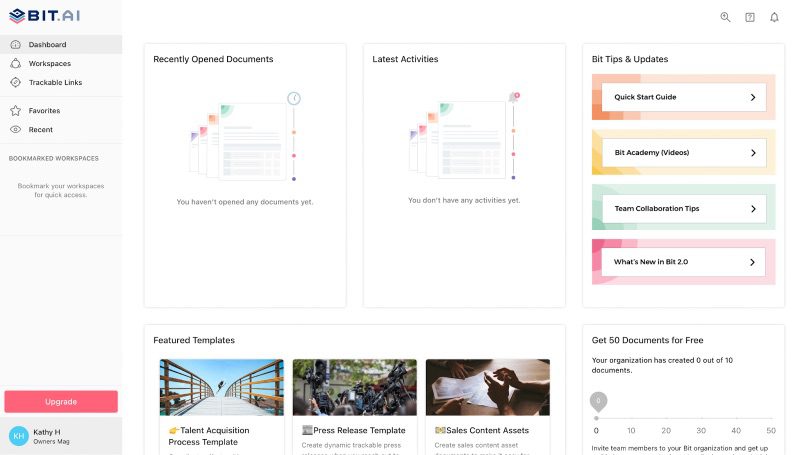 Your Bit.ai homepage allows you to view recent activity, featured templates, tutorials and updates, as well as see how close you are to your document limit if you're a free user.
With this limit, Bit.ai offers almost all of their features to free users. I prefer this model for free versions rather than arbitrarily limiting features.
You can open documents directly from the dashboard, but only using a featured template or a recently-opened one. To create something from scratch, you'll have to head over to Workspaces.
The Workspaces tab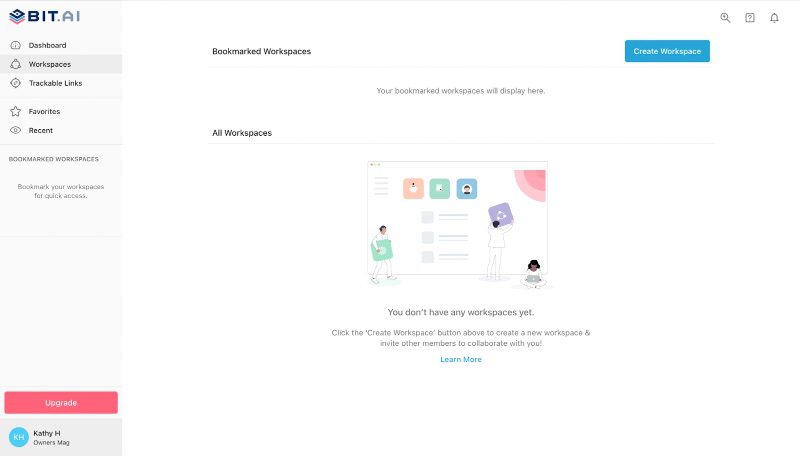 First thing's first: create a workspace. Workspaces are where your documents are created, saved, and shared. Once you've made one, you can create a new document, either by using a template, importing an existing document, or starting from scratch.
Creating a document with Bit.ai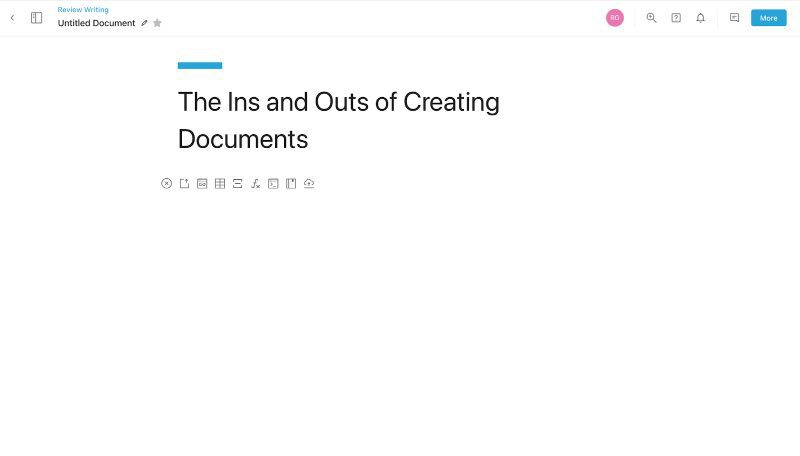 When you create a new document in Bit.ai, you're taken to a bare-bones writing editor similar to Notion. I always find it hard to start writing when you don't have anything visual to guide you, but once you get the hang of it, it's fairly intuitive.
I think the reason for this no-frills approach is to make it easier to take meeting notes and write down quick thoughts about a project. For more in-depth functions, however, you can highlight your text after you've written it to change the formatting. There's also a + icon next to your cursor that lets you add links, embeds, files, code blocks, and more.
One neat feature of this text editor is the ability to link directly to other documents and content in your Bit.ai library. It makes it much easier to cross-reference documents than it is in Google Docs, Word, Notes, etc., another great benefit for businesses.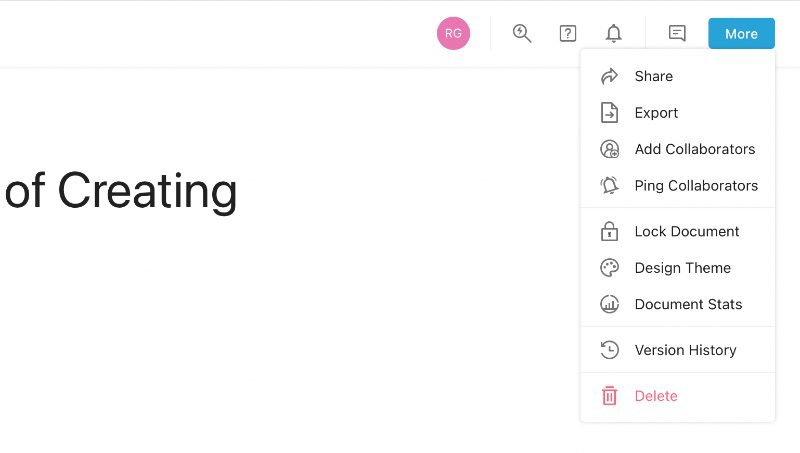 There's no need to save your documents in Bit.ai—that happens automatically. When you're done, however, you can share it with collaborators and others, lock it to prevent further edits, change its associated colors, view stats and version history. Note: exporting is only available for paid users.
Bit.ai writing templates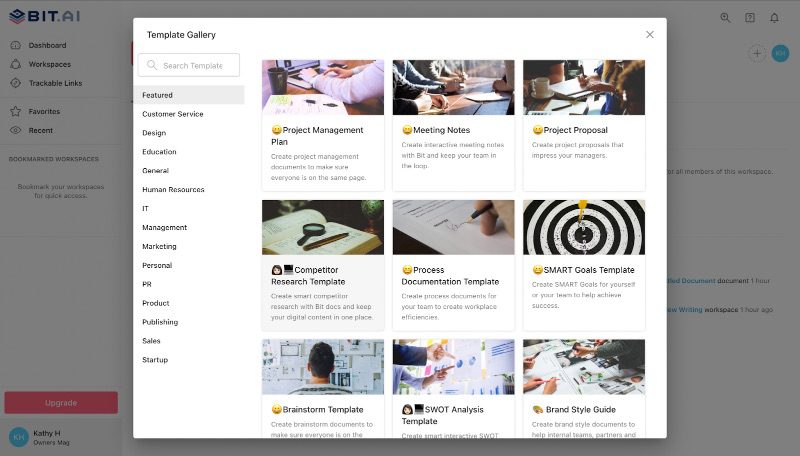 Bit offers a huge range of templates, with themes geared towards managers, marketers, designers, educators, and much more. Some of these are designed to function as static documents, such as thesis papers. Others can be hubs for entire business processes, like the video production template.
After trying out a few of these templates, they're great at showing off all of Bit.ai's functionality, but they're useful even if you don't use Bit for everything. They offer great templates for outlining your processes, making it easier to set a roadmap and including things you might not have thought of.
Importing documents into Bit.ai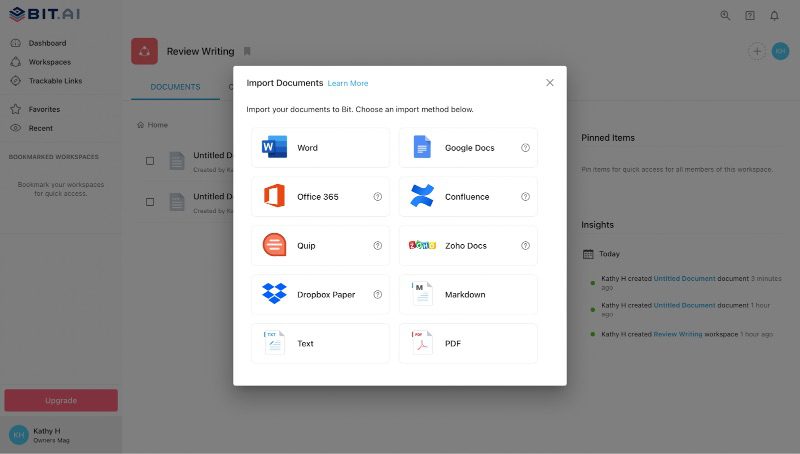 While Bit.ai professes to support a massive range of file types, their import menu is a little peculiar. You can choose to import from "Word" (which just allows you to import .docx files from your computer), from a number of cloud-based sources, or Markdown, .txt, and .pdf files.
The strange thing is, you can't click on "Word" and then upload a .txt file, nor can you click on "PDF" and upload a Word doc. I have no idea why it's formatted like this, but it made my upload attempts very confusing.
Not to mention, formatting isn't included when you upload, and the first two uncommon file types I tried (Pages and Final Draft) were both incompatible.
Bit.ai Review: Final thoughts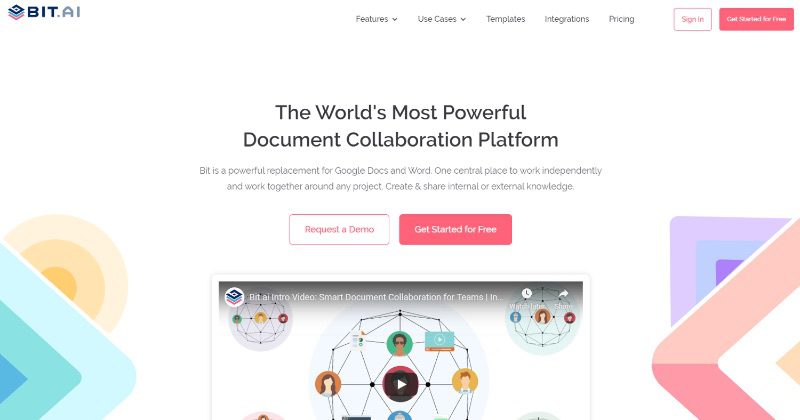 So, how does Bit.ai live up to its thesis statement? Is it really "the world's most powerful document collaboration platform?"
Eh, I don't know about powerful. It's mighty useful, and certainly more business-oriented than any of its major competitors. But it's actually a little lacking as a writing tool. You can't choose a font, there's no toolbar, and there's limited formatting options.
There are some good resources here for content management. The templates are stellar, and it has some of the easiest tools for cross-referencing other documents that I've ever seen. However, I've definitely seen tools that make it easier to organize documents and upload from your device.
Final grade: 6/10 😐
Loom Review: The Future of Video Sharing?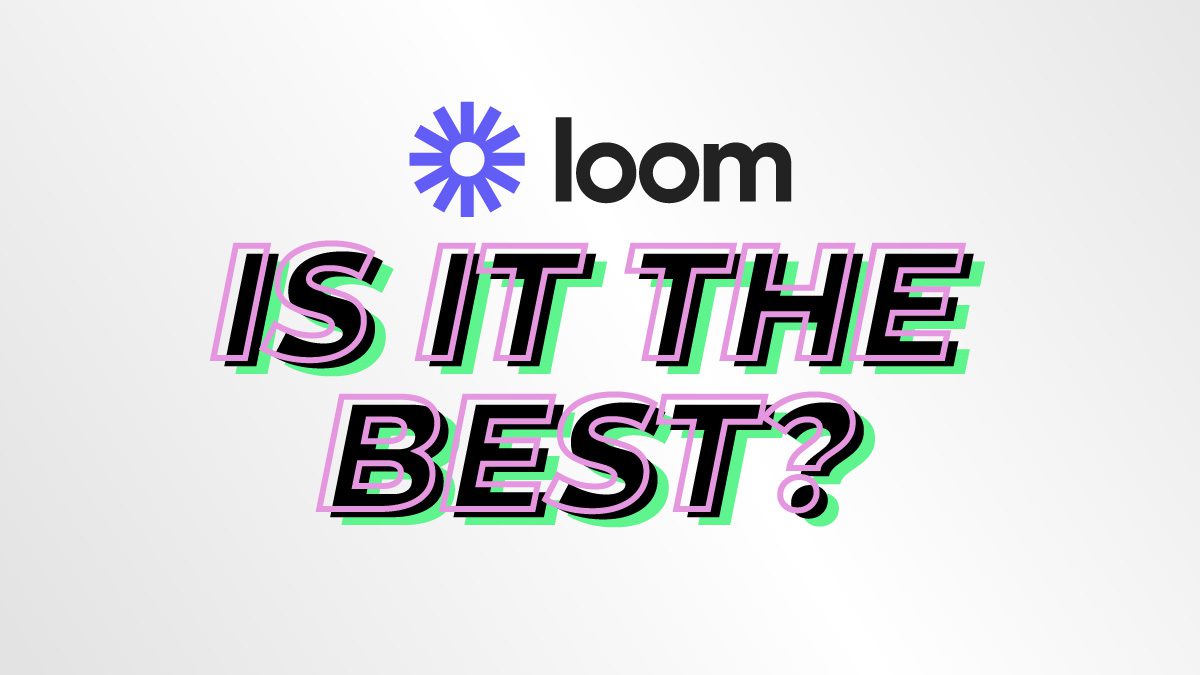 Let's say you're working with a design service.
You're working on a whole new vision for your company, and you need to articulate that vision to your designers. Sometimes, a simple text chat isn't enough to convey what you have in mind. That's where Loom comes in.
Loom allows users to quickly create videos with screen and face recordings. These make it easy to create tutorials, onboarding videos, and to share new information with your team.
How does this new spin on video sharing shape up? Here's our Loom review.
What is Loom?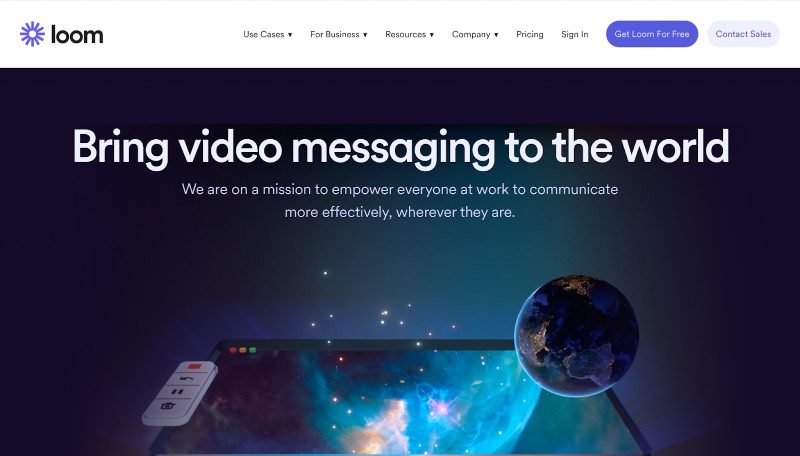 Founded in 2015, Loom has become a massive force in the business world for its convenient video tools. It now boasts over 14 million users, including high-profile companies like Netflix, Volvo, Apple, and Ticketmaster.
Some of the use cases for Loom include:
Coordinating with teams
Onboarding
Education
Design
Sales
Engineering
Customer support
Marketing
Loom pricing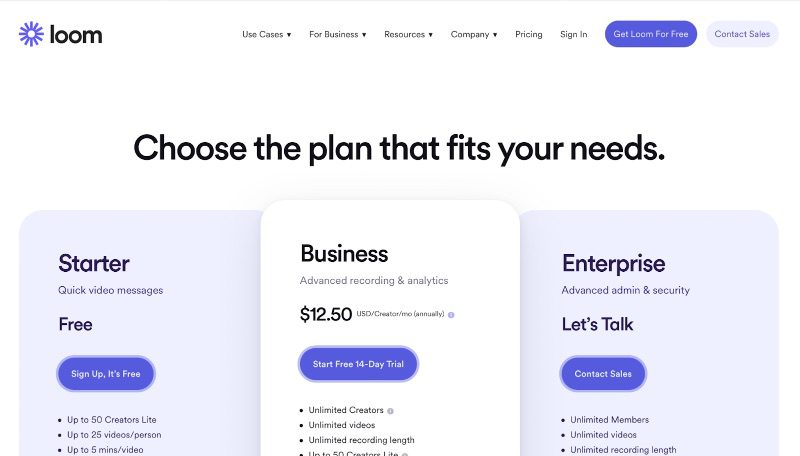 You can get started with Loom for free—which is probably a big part of the reason they can boast so many users. It's one of the easiest ways to create quick videos with editing and transcribing tools included.
Loom offers three pricing plans:
Starter – $0/mo. Up to 25 videos per person for up to 50 people. Videos can be up to 5 minutes long. Editing and transcribing tools included.
Business – $150/yr or $15/mo. Unlimited creators, videos, and length. Includes custom branding, engagement insights, embedded links, password protection, video uploads
Enterprise – Contact sales for pricing. Includes advanced security, admin controls, dedicated support, and Salesforce integration.
Teachers can also apply for Loom for Education. This free tool includes unlimited videos of up to 45 minutes, plus interactive elements, password protection, viewer insights, and more.
How to get started with Loom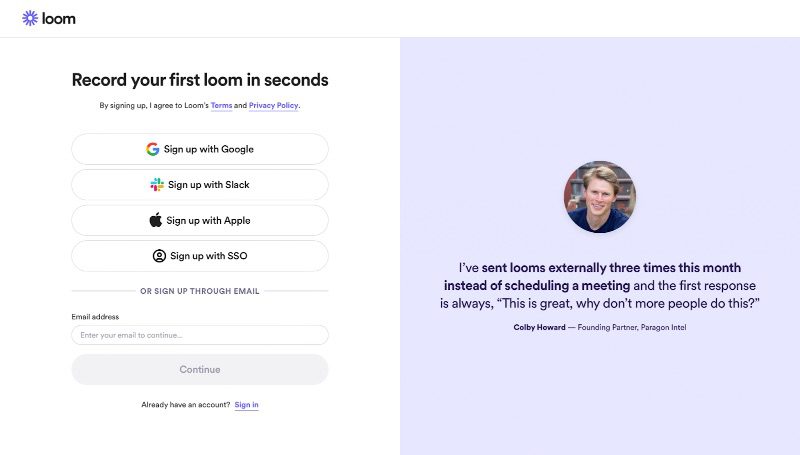 You can sign up with Loom for free using Google, Slack, or Apple accounts. You can also simply sign up with an email and password, or use SSO (single sign-on) if your employer has an account.
Once you create your Loom account, you'll get the chance to see the terms of service and privacy policies, which I always appreciate.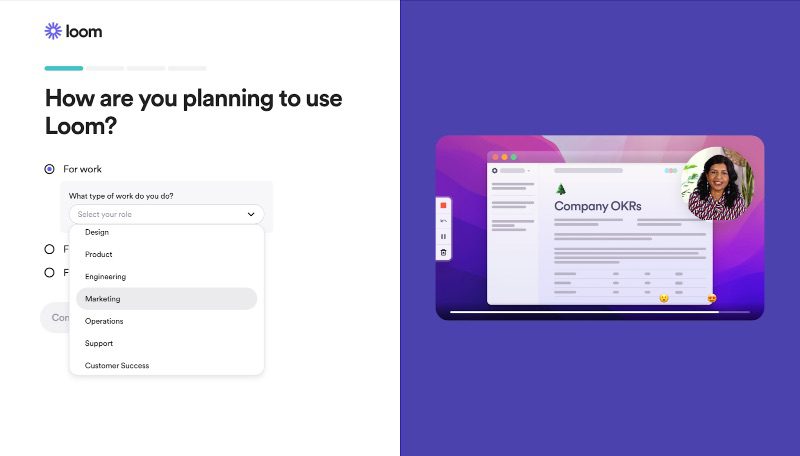 You'll be guided through a few short screens when you sign up. First, you're asked whether you'll be using Loom for work, education, or personal projects. Next, you'll get the opportunity to name your workspace and invite friends and colleagues to join it.
Loom review: features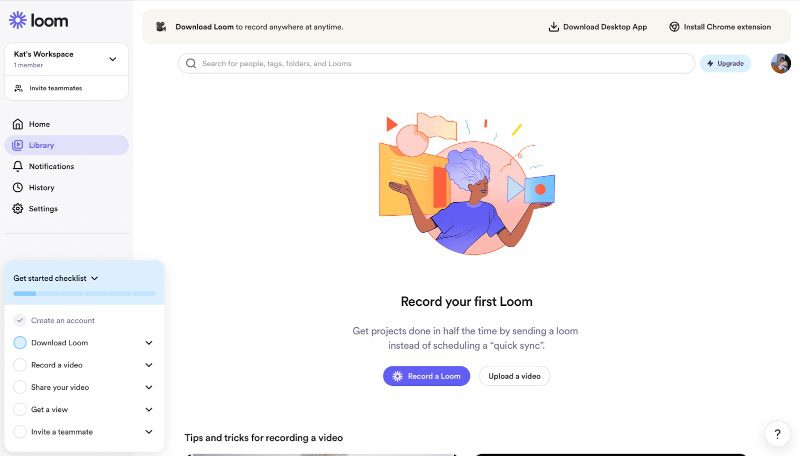 To actually make something with Loom, you'll have to install it on your computer, either as an app or a Chrome extension. This is an extra step, but for me, it was another indication of their commitment to privacy. I don't know about you, but when a website wants to use my mic and camera, I instantly freak out.
The Loom app appears as a simple overlay on your screen, with a face cam in the lower left corner and a recording timer on the upper left. A small window allows you to change settings for your recording, including:
Toggle screen recording and camera
Full screen, window, or custom size
Camera and microphone options
Recording quality
Recording canvas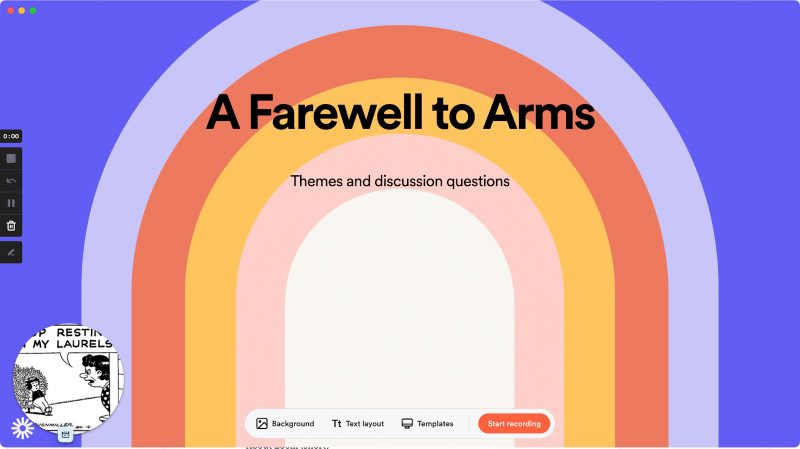 This neat feature allows you to create and customize presentation slides for your video. It seems like a useful tool for tutorials and classroom presentations (although you might get more customization options from simply creating a PowerPoint).
Speaker notes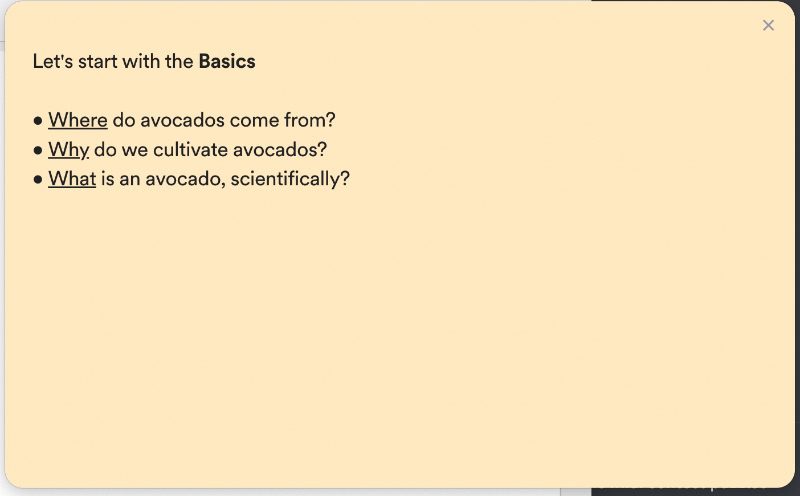 This simple notepad sticks on your screen, helping you stay prepared for long-form and in-depth presentations. Conveniently, the notes won't appear in your video, and you can move around or resize the window as you see fit.
It's really convenient to have your notes on-screen without obstructing your video, but the feature isn't quite perfect. You can make your text bold, italicized, underlined, or struck through, but that's about it.
The other issue is with the app itself. This might just be a me problem, but it seems to shut down unexpectedly when you perform certain actions like opening a menu or taking a screenshot. The notes, however, stay in their place, even when the app is closed.
Camera effects and drawing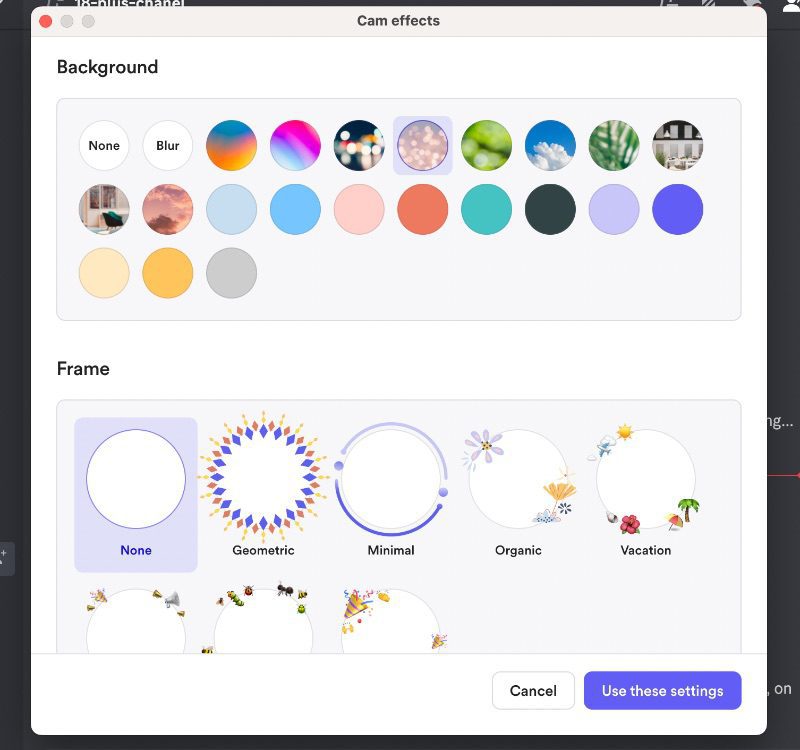 Once you start recording, you can quickly add backgrounds and frames to your video window for a personalized experience.
There's also a drawing tool you can use while you record to highlight information on your screen. I found this tool fun, but I wish you could toggle how long the drawings last on screen (as of now, it's only about 5 seconds).
Recording and sharing with Loom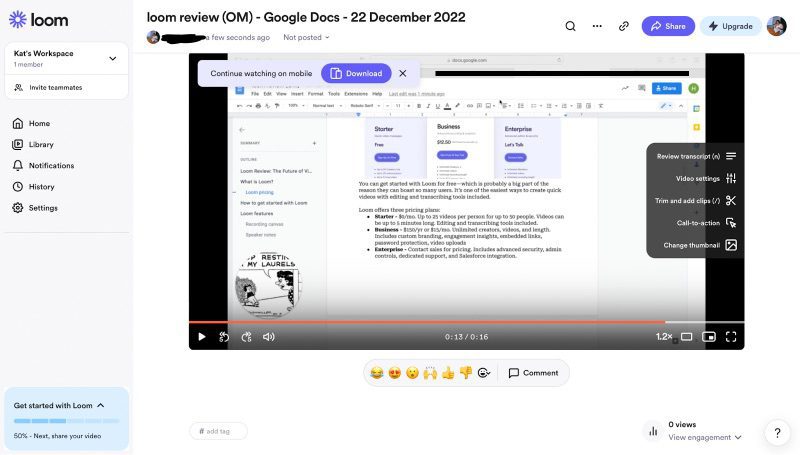 Naturally, the recording quality on Loom is only as good as your mic and camera setup. Still, I was quite impressed with the speed and quality of the recording. The instant I stopped my 2.5-minute recording, the video was up on Loom, with a URL ready to be shared and an automated transcript you can edit.
It's really convenient to have the link ready to go right away. You can add tags, a thumbnail, and a call to action to your video, plus change settings and edit the transcript.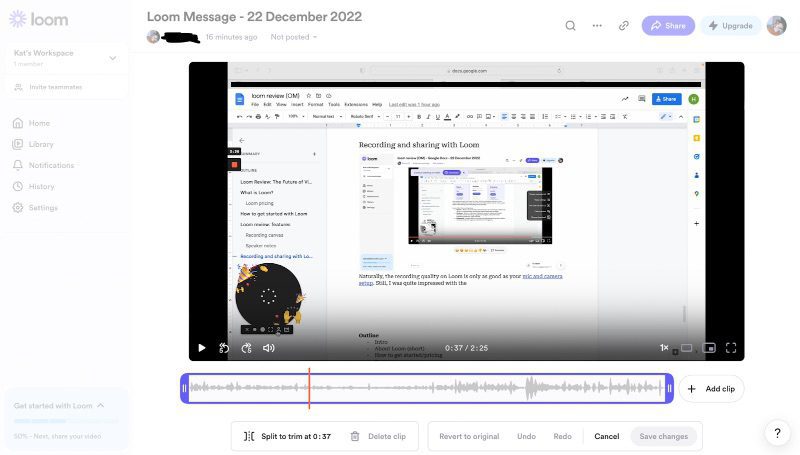 There's also a surprisingly solid video editing tool, letting you cut out clips and splice in other Loom recordings.
You can share your video right away using the Loom link, or quickly download it as an mp4 and modify it however you like.
Loom review: Is it the best?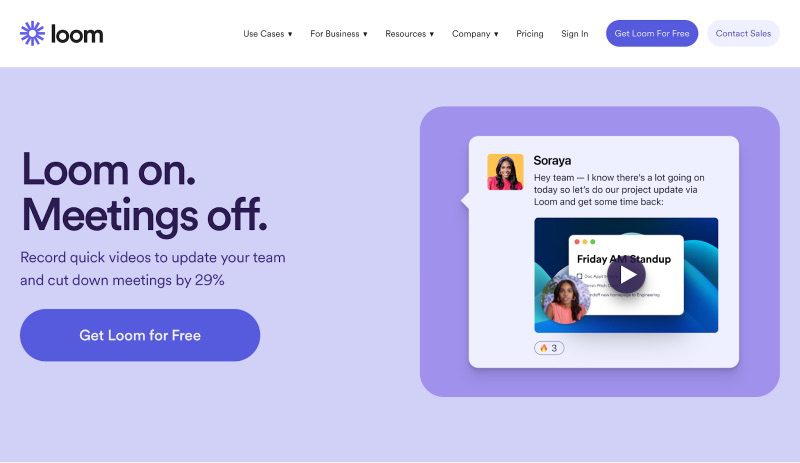 Loom isn't the only option out there for sharing screen and camera recordings. For instance, if your team already uses Slack, you can create screen sharing video clips directly from there and not have to worry about another service.
Still, there's a reason so many big names are using Loom. It offers videos that instantly upload with real-time transcription and easy sharing. It's an absolute game changer for onboarding, education, and reducing the need for unnecessary meetings.
Which version of Loom should you use?
For most users, the free version of Loom should be plenty. The Business version is most useful for large-scale teams that want to incorporate Loom into their everyday workflow. For instance, a company may use Loom to have every manager present a monthly progress report.
Where can Loom improve?
My one major gripe with Loom is the desktop app. It's got great UI and some cool features, but it seems glitchy, closes randomly, and can be hard to navigate. The Chrome extension is similarly annoying at times.
Final Loom review: 9/10 🥳