Review: The Truth About 99Designs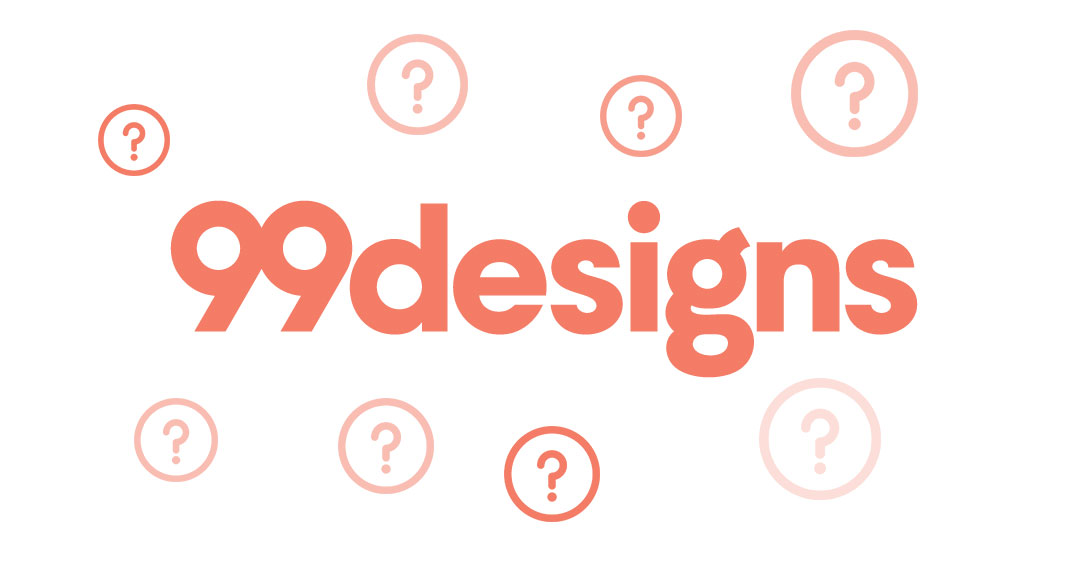 Getting graphic design work done can often be a challenge. Where do you even start? Hiring a full-time graphic designer is expensive and risky. Hiring a freelancer online can take a bit of time. And often times, your designer works in a completely different timezone, making collaboration near impossible.
That's where 99Designs come in. The company offers a talent-sourcing platform where you can create a design contest and have designers from all over the world submit their entry. You pay 1 flat fee for the contest and guaranteed many drafts. Sounds too good to be true? Let's find out!
99designs Review

In order to review 99designs accurately, we prepared several projects to submit on the platform. These projects are things that we actually have a need for and may use if the design results returned are good enough.
We'll go through the entire process that 99designs laid out and follow all rules and instructions given to us. Upon receiving the design work, we'll pass it around internally to 10 people in our office and simply give a yay or nay. Whatever the results are, will be the numerical grade given. Let's begin!
What 99designs can do?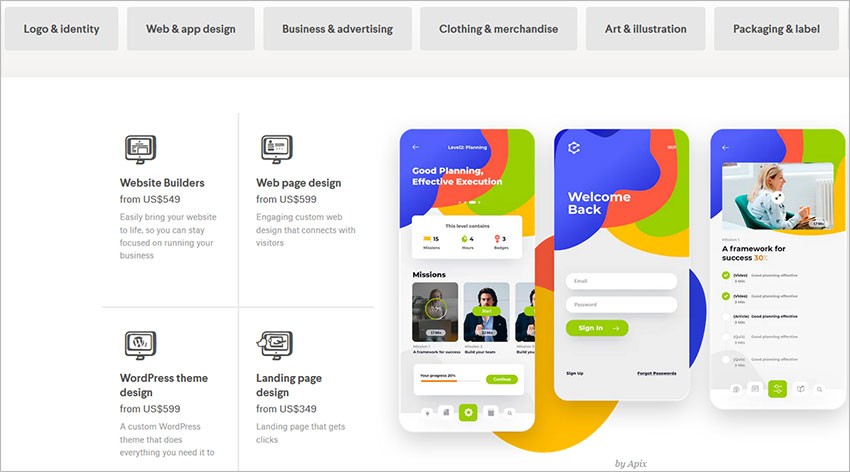 In short, just about anything but they're limited to just graphic design. In our quick 99designs analysis, they offer the following design services:
Logo & identity
Web & app design
Business & advertising
Clothing/Merch
Illustrations
Packaging
Books & magazines
And more…(the remaining categories are a bit obscured or too niche to list)
It's a fairly extensive list and seems like if you're a new startup or business, they'll cover most of your initial design needs.
What 99designs CANNOT do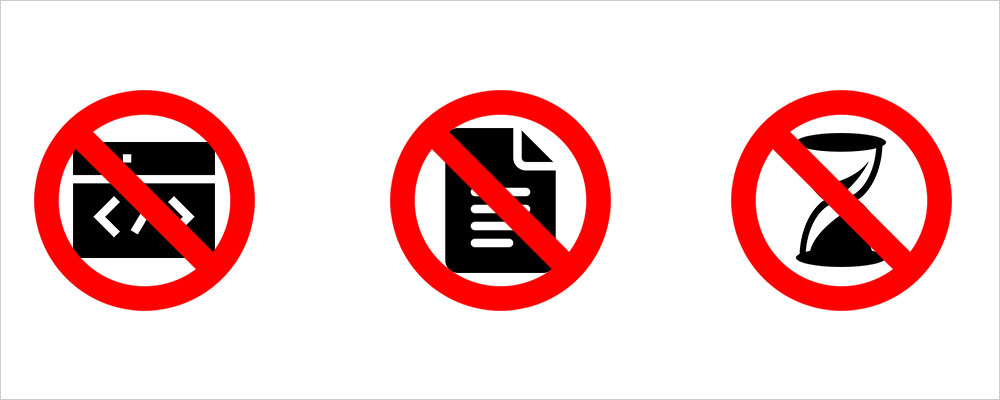 As the name implied, 99designs only offers graphic design. They can design a website or app for you, but you will need an independent development team to code it. 99designs also currently don't offer content support, which isn't that unusual. Whatever you want designed, you'll need to provide all of the content before hand.
And that also means you need to do all the proofreading as well. Whatever you submit to be designed, will be designed. The designers usually won't comment or question your grammar mistakes. So be sure to double and triple check all your content before submitting it to be designed.
Another thing to note, 99designs cannot deliver on time. The delivery runs on a rather flexible schedule that can take up to 2 weeks or longer. So if you need something done fast, 99designs may not be the best solution, even with the expedited delivery add-on purchase.
99designs' ACTUAL pricing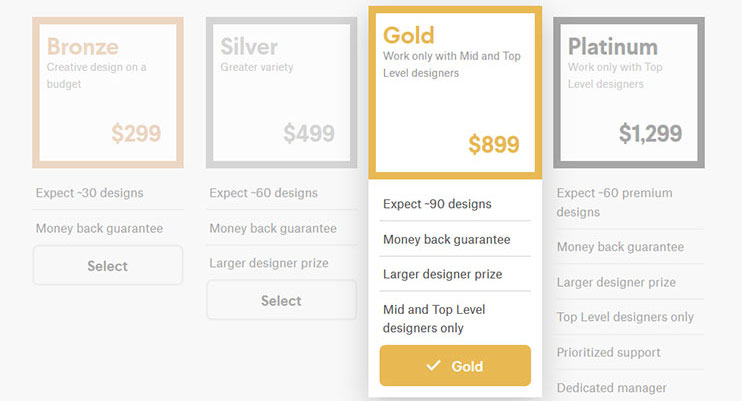 When we audit 99designs' pricing structure, we found a few of their categories to be confusing. Categories such as Logos, Web & app design, and Business Advertising can be misleading or vague. For example, when choosing a logo design, you might think you have to buy one of their packages that starts at $349. But with a bit of patience and knowing where to navigate, you can actually just buy a single logo design without any add-ons.
To avoid confusion, I'm going to break down a few of the categories below just so you know exactly how things are priced.
4 Different Tiers
After you fill out the first page of the project brief, 99designs will ask you to pick a tier. The lowest tier will give you the fewest number of design submissions and will usually be assigned to junior artists. Meanwhile the more expensive tiers get more design submissions and often given to more experienced designers.
The price breakdown below assumes you're going with the lower price tiers, since that's what most people tend to choose.
Logo & identity prices
Logo alone: $299
Packages: 5 packages offered between $349 – $599
Web design, Website Re-design, and WordPress Theme design prices
The $599 promotional price is NOT for an entire website design or re-design. This is just for ONE page. If you want multiple pages to be designed, 99designs will charge you PER PAGE. The more pages you want designed, the most it will cost. However, you'll get a steeper discount per page if you request multiple pages at once.
As of now, 99designs only offer up to 5 pages designed initially. If you need more than 5 pages designed, you'll likely need to hire a designer from 99designs afterward to continue working on the project.

1 page = $599.
2 pages = $749.
3 pages = $899.
4 pages = $1049
5 pages = $1199
Landing page design prices
Landing pages are charged at a flat rate of $349 since it's just 1 page. There are no options for multiple pages. If you want additional pages to be designed afterward, you'll have to create another $349 landing page contest, and that's not cost-effective. If you have a landing page with multiple pages, you'll have to cough $599 for the web design package.
App design prices
For the advertised price of $599, you are NOT getting an entire app designed. You're paying PER page of the app to be designed. The more pages you want done, the more it'll cost. But it's the initial page design that will cost the most. The more pages you need done, the cheaper it is per page to be designed.

1 screen = $599
2 screens = $699
3 screens = $799
4 screens = $899
5 screens = $999
Business & advertising
The prices for Business & advertising are all over the place and might not make any sense. For example, why does it cost $299 for an Album cover design…when it costs only $199 for a Podcast cover? They're both square dimension graphics with basically the same requirements. If you need an Album cover design, you can just request a "Podcast cover" to save money.
Anyway, here's a breakdown of what you can get at each different price points.
Starting at $149: Billboard, Tradeshow banner, Banner,
Starting at $199: Postcard, Flyer, Leaflet, Direct Mail, Poster, Podcast cover, Signage, Menu, Website header, Resume, Word Template, Tradeshow Booth, Other business advertising
Starting at $299: Album cover, Brochure, Booklet, Pamphlet, Email, Email newsletter, Powerpoint template,
Starting at $349: Car/truck/van wrap
Starting at $599: Infographic
Extra Add-ons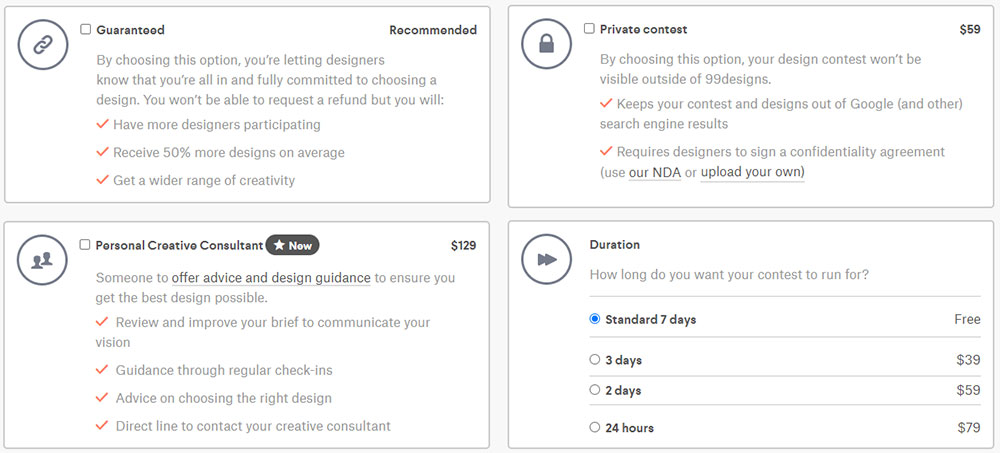 In addition to the base cost of the project, you can pay for additional add-ons.
Dedicated support: For a price of $129 extra, you can have access to dedicated customer support should you run into any problems.
Guaranteed: This doesn't cost anything, but it basically negates your 100% money-back guarantee with 99designs. The reason they offer this is because how designers are paid. Often times, they're paid pennies for participating in your design contest. Out of possible 20 – 30 design submissions, they will only get paid a reasonable fee IF you choose their design.
If you request a refund, no one gets paid. Therefore, if you choose this option, designers have more confidence that there's a stronger chance you'll commit.
Here's what 99designs promises if you choose to negate your guarantee.
Have more designers participating
Receive 50% more designs on average
Get a wider range of creativity
Private contest: This $59 add-on gives you the assurance that your design/intellectual property won't be leaked onto Google or used by designer. Designer will sign an NDA to ensure they protect your privacy. You can even use your own NDA.
Duration: Typical turnaround for 1st draft is 4 days. Need the design in a hurry? Pay a small fee for expedited delivery.
99designs pricing review
Overall, the prices can fluctuate quite a bit depending on which tier you select and how many add-ons you buy. I wouldn't say 99designs prices are cheap, because they're fairly expensive for just 1 design. They are cheaper than hiring an in-house designer or a design agency, but there are definitely much cheaper options. The one benefit of 99designs' model is that you get a lot of drafts for that price, so you have much more to choose from during each round of revisions.
How long it REALLY takes to get your designs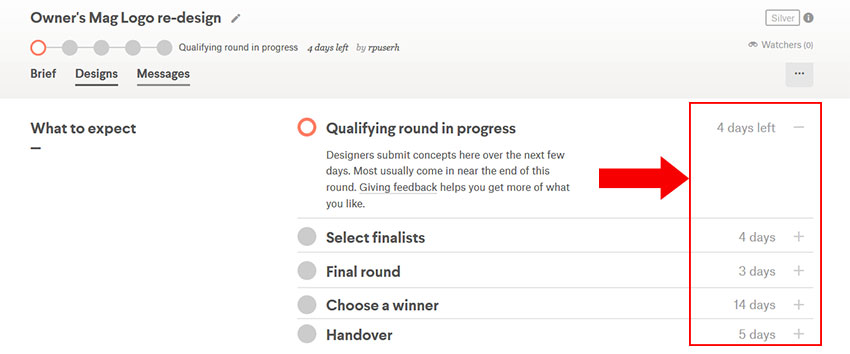 There's 5 rounds total that you need to go through before you can get your design files. Each round can take anywhere from 1-2 days up to 14 days to complete. Most of that does depend on you. If you give feedback quickly, you'll get your design files much faster. Here's a breakdown of the 5 rounds.
Round 1: Qualifying round (4-5 days)
In this round, 99design sends your project out to all qualified designers in their talent pool. Designers can choose to accept or ignore your contest. Once enough designers have accepted your contest and submitted their design work, you move onto Round 2.
Round 2: Select finalists (4 days)
It's probably 4-5 days now since you started the contest and your designs are finally in. You'll have a lot of designs to choose from. Now you have 4 days to review the designs and select up to 6 designs that you like. Any designs you don't select will be rejected. Designs you select gets to move onto the next round.
During this round, there's a 99designs review feature that lets you share the submissions with others via a shareable link. You have 4 days to select your finalists! Once chosen, the contest will be moved to the 3rd round.
Round 3: Final round (3 days)
In this round, you'll need to leave revisions for the selected finalists. Your finalists will work on as much revisions as you give them in this round. If you don't like something, you can request more revisions and they'll keep submitting. Keep in mind you only have 3 days for this round.
Round 4: Choose a winner
Contest is now officially over and a winner must be selected. In this round, you can create and send a poll to everyone you want feedback from to see which design is the best. You can only select 1 winner.
Round 5: Handover (5 days?!)
Your designer now has up to 5 days to hand over all of the design files and any copyright materials to you. Yes, you read that right. 5 days.
So…how long does it really take?
Let's assume that you're super responsive and you complete YOUR part the same day 99designs notify you…
Round 1: 4 days for all initial designs to come in
Round 2: 1 day to select finalists (because you're responsive)
Round 3: 3 days for final round of revisions
Round 4: 1 day to pick a winner (because you want the files fast!)
Round 5: 1-5 days to get files
So you're looking at between 10 – 14 days to complete a single design project. If you're a new startup or business that doesn't have strict deadlines to meet, this delivery window is perfectly fine. If you're more established and looking for someone to help you meet an aggressive marketing schedule, 99designs may not work for you.
How to get QUALITY designs from 99designs?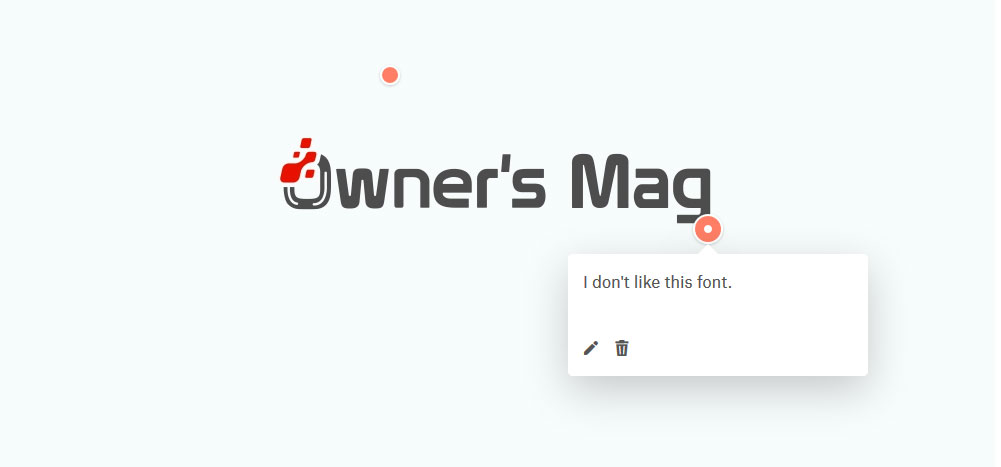 If you're coming to 99designs with a limited budget for graphic design, then chances are your results will vary. From my experience, the lower tier designers often just use templated graphics from Freepik or Envato.
If you want high quality designs from 99designs, here's what you'll need to do.
Sign up for higher tier: Choose Gold or Platinum plans. They're significantly more expensive, but that's what you need to get experienced designer's attention.
Fill EVERYTHING out: When creating your project brief, do not skip any steps. Fill out as much information as you can and spend time creating a solid brief.
Give additional examples: The last field on most form will ask "Is there anything else you would like to communicate to the designers?". Use this opportunity to give more information. Also include even more examples of what you like and don't like. This helps the designer narrow down your preferences.
Pros & Cons of 99designs
We'll start with the PROS
Affordable compared to hiring an inhouse designer
No hiring or managing of designers. They do all of that for you.
Lots of designs to choose from for each round
One platform can cover most of your design needs
Easy to use platform
Clear indicator of how far along your design is
Offers a 100% money back guarantee
Now for the CONS
Who is 99designs really for?
99designs is best suited for startups, small businesses, entrepreneurs, and anyone just starting out. The prices are affordable and you get a lot of selections. Having 20+ drafts submitted to you is a great benefit, especially if you're starting out and have no idea exactly how you want to brand yourself.
For larger businesses, marketing teams, and agencies, 99designs may not be the best fit given how expensive the bill will eventually be if you need 10+ designs per month. The 10 – 14 day delivery window can also be a major setback if you're trying to meet deadlines.
Can get expensive if you have consistent design needs
10 – 14 day delivery
Design quality is mediocre unless you're willing to pay a premium
No real way to interact with designer except through feedback
Customer support is a paid add-on
Silver Price Surges, WallStreetBets Claim They are Not Behind the Rally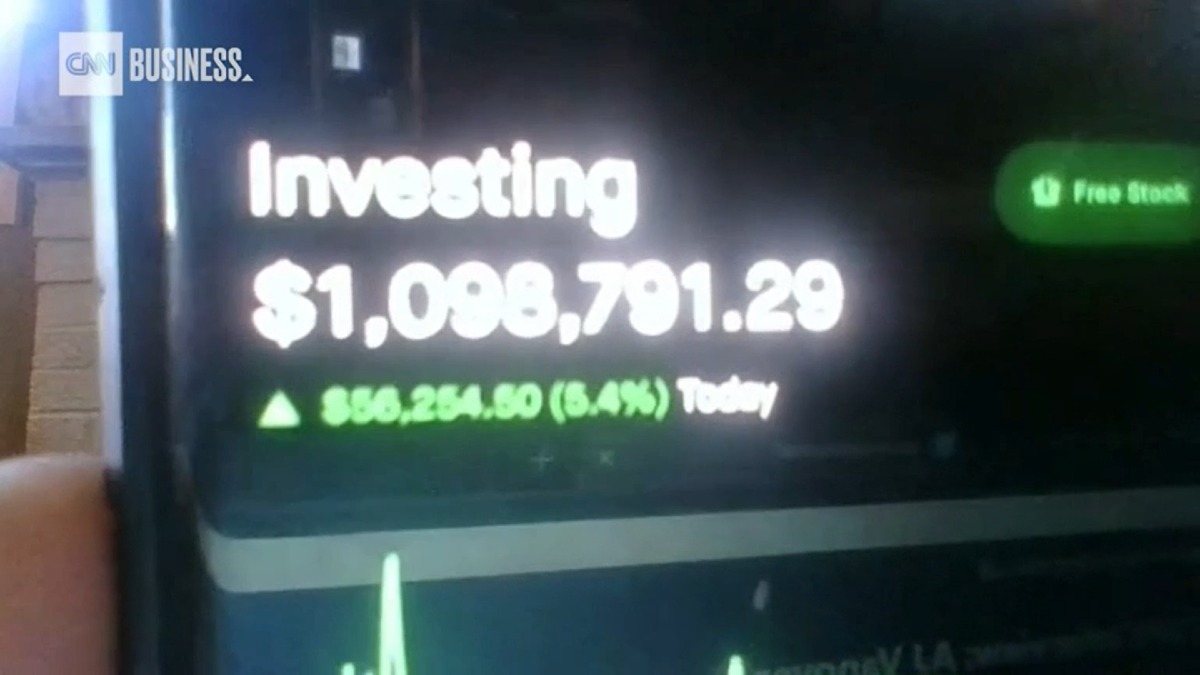 Last month, the silver market was the flashpoint in the Reddit mania. The silver price surged as much as 13%, reaching eight years high. A week prior, posts on the WallStreetBets group on Reddit called to bet on silver. This was a way to hurt the big banks as they believe they are artificially suppressing prices.
From there, the retail sites have already warned their customers that they could not meet the extremely high demands for silver bars and coins. The silver markets are currently monitored by the Commodity Futures Trading Commission. They said that they are remaining vigilant in checking these markets for potential fraud and manipulation.
APMEX, a known online retailer of precious metals, wrote that due to the demand for physical silver products, they are unable to accept additional orders until the global markets open.
SD Bullion and Money Metals posted similar notices.
UK's royal mint shared that the demand for silver products increased by 14 times over that weekend.
The #silversqueeze was trending on Twitter as well.
If a supply squeeze happens, it could have real-world implications since silver has many industrial usages. This includes solar appliances. 
What r/WallStreetBets Say
In recent trading, silver futures were up about 9%. Shares of Pan Am Silver went to 11%, and the Coeur Mining rallied more than 20%. This could prove the power of WallStreetBets. They sent AMC and GameStop to skyrocket as well. It resulted in crushing a few hedge funds that had bet against those stocks.
Meanwhile, the free-trading app Robinhood was criticized for restricting trades in GameStop. 
One WallStreetBets user wrote last week that SLV would destroy the biggest banks. While another shared that JPMorgan Chase suppresses metals for quite some time.
Others are saying that JPMorgan paid a $920 million fine last year as they need to settle charges brought by manipulating trades of futures tied to precious metals.
The Winklevoss twins, who are famous for suing Facebook's Mark Zuckerberg, also tweeted their support for WallStreetBets into silver. Cameron Winklevoss tweeted that if the silver market is proven to be fraudulent, then we must believe that the gold market will be the next.
However, a few posts on WallStreetBets suggested that hedge funds were co-opting their movement and that there was no coordinated effort when it comes to the silver market.
Senator Elizabeth Warren called for the SEC to investigate. She said that they don't know who the players are in all of this or whether there's big money on both sides. 
Experts Weigh In
Ryan Fitzmaurice, a strategist at Rabobank, said that it is not surprising to see that the consumer demand overwhelms the physical supply of silver coins by dealers in the short term. He then added that he is not certain how the Reddit trading strategy will work in the future.
It's worth noting that many Reddit users are saying that they should keep targeting GameStop shares. One argued that if you buy silver or going long on silver, you are directly putting your money into the pockets of hedge funds on the other side of GME. It was insisted that if you need an alternative investment to GME, better get in on the AMC, Blackberry, and Nokia.
A personal finance campaigner, Myron Jobson, said that many investment portfolios would benefit from silver and gold exposure as it can enhance portfolio diversification. But he added that it's only for a satellite holding.
Meanwhile, Richard Hunter said that the army of keyboard warriors and those who follow their lead could get hit by their own shrapnel. This indicates that we must all be cautious in following market trends and that we have to be smart in making decisions.
We must also remember what happened with the Hunt Brothers back in the 80s. They tried to buy as much silver with high hopes of protecting their wealth from inflation. However, when industrial buyers of the precious metal complained about the silver price, regulators stepped in. This resulted in the silver price going down, and the business of Hunt Brothers collapsed.
But if there is one thing that is certain, Goldman analysts said the event with silver prices represents that populism is still a growing political force. And now, it has the power to move markets.
The 8 best investing app alternatives to Robinhood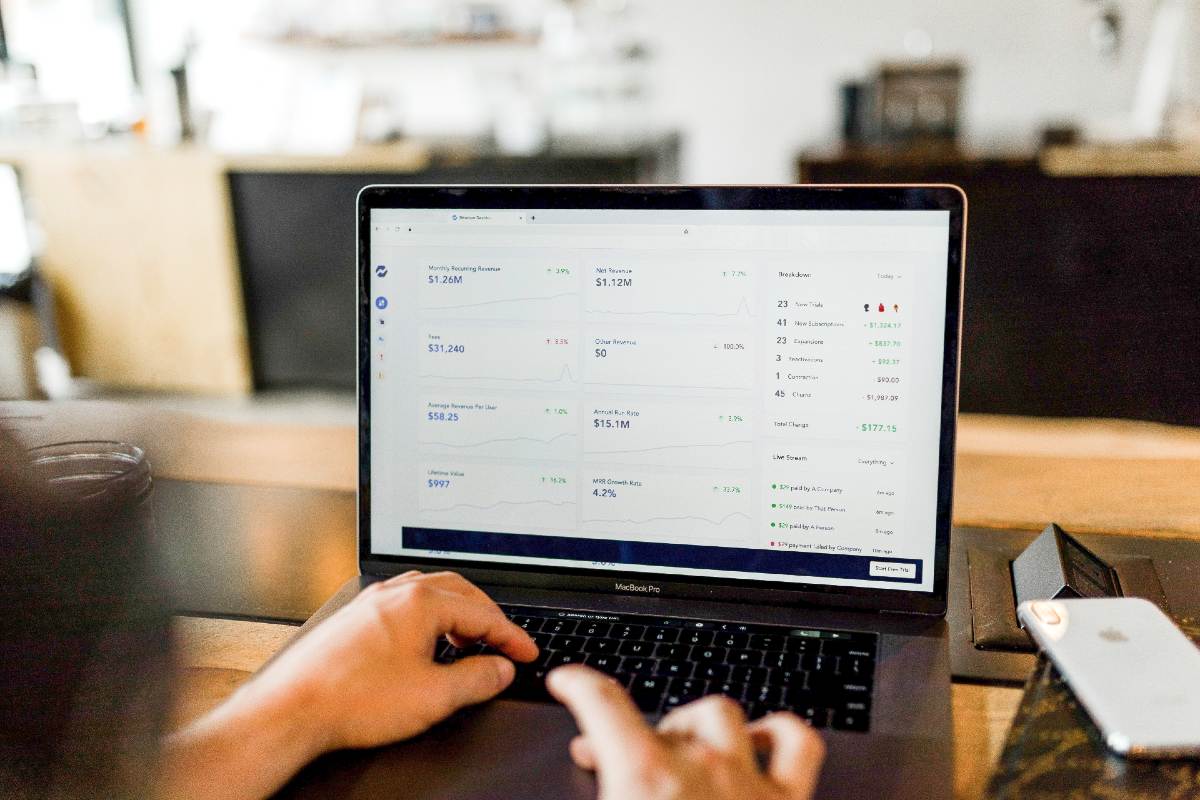 Robinhood, the investing app, disrupted the financial technology scene when they offered commission-free trading. The app had a waitlist of more than 500,000 when it was first introduced to the public in 2014. It became an instant hit as it made the financial market more accessible to new investors.
However, early this year, Robinhood got itself embroiled in a controversy concerning "memestocks." As of February 2, the app announced that they had eased the trading limits on these restricted stocks. Sadly, many are now looking for alternatives as they became disgruntled with the app.
Here are 8 of the best investing app alternatives to Robinhood that you can try out:
1. Webull

Doing most of the things that Robinhood does, many investors consider Webull as Robinhood's closest alternative. Aside from its $0 stock and ETF commissions, no account minimums, and competitive margin rates, Webull has other noteworthy features. It allows you to trade in Bitcoin, Litecoin, Etereum, and other cryptocurrencies.
And as no investing app is perfect, Webull has its downsides as well. It offers limited investment options such as mutual funds or fractional shares.
You can download the Webull app on the Apple App Store for iOS and the Google Play Store for Android.
2. Fidelity

One of the few brokerages not affected by the GameStop controversy, Fidelity has a solid track record. The app not only offers excellent trading options, it helps you get ready for retirement as well. It provides wealth management advice and a selection of market analysis tools.
Another plus for Fidelity is that it boasts of superb customer service. Unfortunately, it falls short of its relatively high broker-assisted trade fee.
You can download the Fidelity app on the Apple App Store for iOS and the Google Play Store for Android.
3. TD Ameritrade

Offering a wide selection of mutual funds, TD Ameritrade is one of the easiest to use. It provides bonds, stocks, margins, options, and many others. The app features extensive research analytical tools and an education platform. You can learn from their articles, immersive courses, tutorial videos, and events.
It's one of the best investing apps as it covers most of the basics. However, if you're into fractional shares, this app doesn't offer it.
You can download the TD Ameritrade app on the Apple App Store for iOS and the Google Play Store for Android.
4. Charles Schwab

An investing app that's hard to beat, Charles Schwab offers an extensive range of tradable securities. Fractional shares, mutual funds, stocks, bonds, futures, and options are a few of its offerings. Its mobile app functionality is one of the best around, so it's perfect for newbies and advanced traders alike.
There isn't much to dislike in this app other than its low default cash sweep rate.
You can download the Charles Schwab app on the Apple App Store for iOS and the Google Play Store for Android.
5. TradeStation

Offering more investable classes than Robinhood, TradeStation is a user-friendly platform. It features advanced tools for research and trading as well as investment education. The TradeStation Crypto allows you to trade mutual funds, futures, bonds, and cryptocurrencies such as Bitcoin, Bitcoin Cash, and many more.
One of its downsides is that there are no transaction-fee-free for its mutual funds.
You can download the TradeStation app on the Apple App Store for iOS and the Google Play Store for Android.
6. E*TRADE

One of the most popular and best investing apps around, E*TRADE is a frequent trader's favorite. Beginner investors will also appreciate this app as it has an easy-to-use interface. It offers a large selection of investment options and excellent customer support.
One drawback, but not much of a dealbreaker, is its website, which isn't easy to navigate.
You can download the E*TRADE app on the Apple App Store for iOS and the Google Play Store for Android.
7. SoFi

One of the newest investing apps on the block, SoFi, specifically targets young investors. It offers free trades of stocks, exchange-traded funds, and the capability to buy and sell cryptocurrencies. It is one of the first to offer fractional shares and free financial counseling.
SoFi may not be the best option if you want to buy bonds, mutual funds, and other bedrock investments.
You can download the SoFi app on the Apple App Store for iOS and the Google Play Store for Android.
8. Moomoo

Considered a wild card in the investing industry, Moomoo is a worthy inclusion in this list. One of the safest platforms you can trade in, this app's securities product is regulated by the US SEC (Securities and Exchange Commission) and the FINRA (Financial Industry Regulatory Authority). It has the usual research tools and a paper trading feature that allows you to simulate the trading experience before jumping in.
However, this app has a limited product portfolio and not so commendable customer service.
You can download the Moomoo app on the Apple App Store for iOS and the Google Play Store for Android.
For other investment-related and business information, you can check out other news, articles, and reviews here at Owner's Mag!
How Reddit Trolls Cost Hedge Funds $6 Billion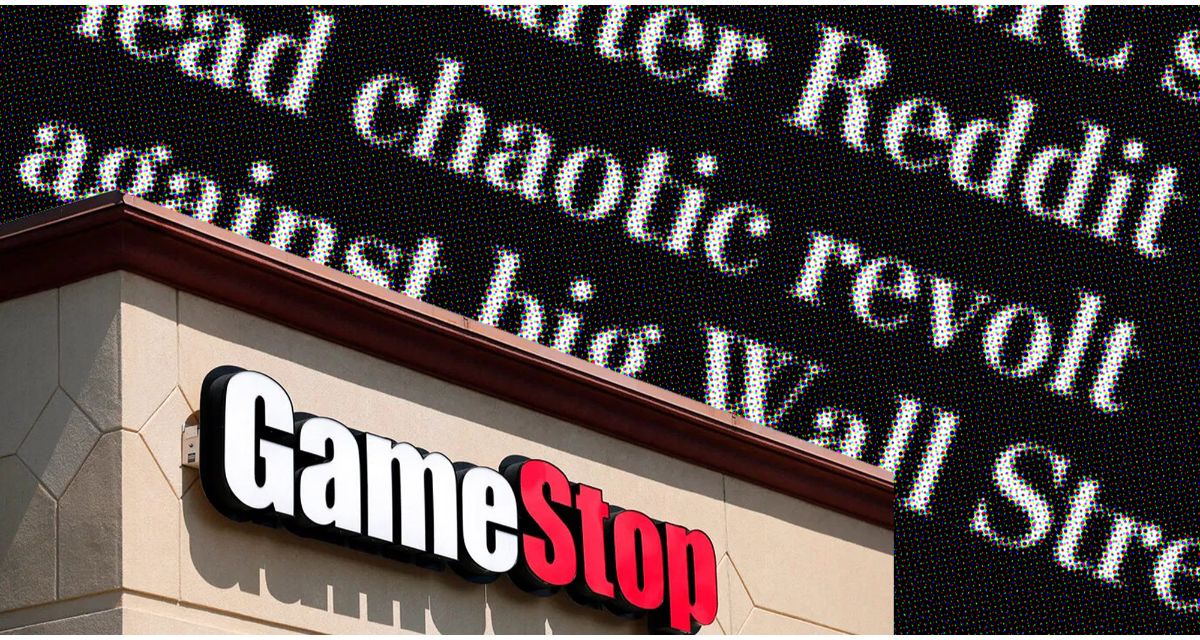 The GameStop Stock Saga has some hedge funds licking their wounds while smaller independent traders reap the benefits.
When it comes to financing, there is no accounting for the power of Reddit. Some hedge funds learned this the hard way last month when a group of retail traders organized on the subreddit, WallStreetBets bet against a short sell of the company GameStop. Now that the dust has settled, let's breakdown what happened in this epic showdown between Wallstreet and internet trolls.
It All Starts with GameStop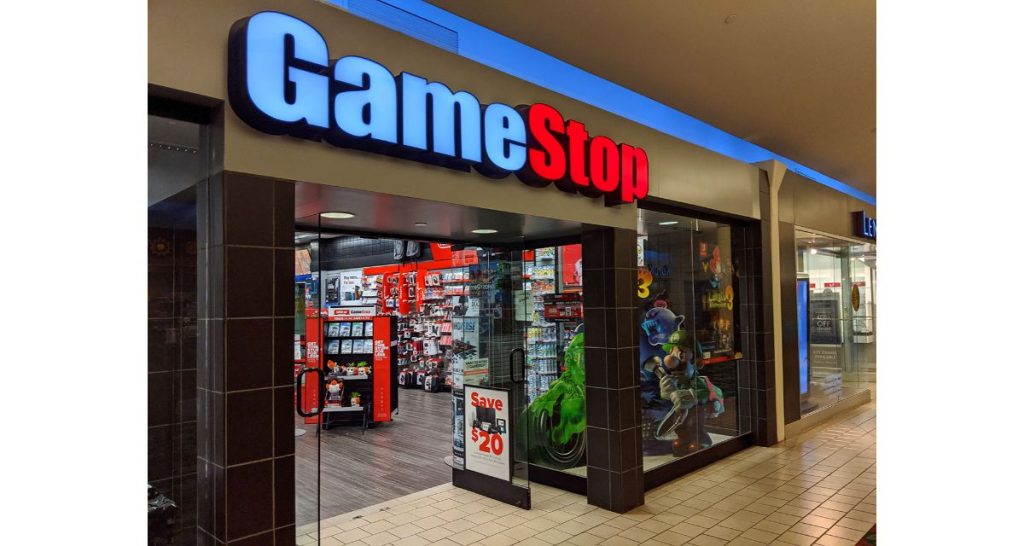 GameStop is a video game retail store with over 5,000 stores across the United States. They specialize is selling new and used video games and equipment along with some novelty toys and merchandise. It seemed that GameStop was on the downward trend over the last year. With less people shopping in malls, Xbox and Playstation introducing digital only consoles, and COVID-19 lockdowns, GameStop business was on the decline.
In September of last year, investor Ryan Cohen bought a 13% stake in the company and pushed them to move their business to an online model. That's where the hedge funds came in. Eagle-eyed investors saw this as a sure-to-fail gambit and moved to short the stock.
What is 'Shorting a Stock'?
Contrary to traditional investing, shorting a stock is how traders look to make money off a stock's failures rather than success. An investor will borrow the stock of a company from someone when they anticipate a price drop. They sell it and repurchase it once the price goes down and keep the profit minus some interest.
In other words . . .
Suppose Kevin has 100 oranges and the going rate for oranges is $2 apiece. Kevin's friend Max borrows 10 oranges from Kevin and turns around to sell them all right away for $2 an orange, totaling $20. After a couple of days, the price for oranges drops to $1, so Max goes out and buys 10 oranges for $10. He then returns the oranges to Kevin, making a cool $10 profit in the process.
This is short selling in a nutshell.
Short selling is something that happens all the time on the stock market. It is perfectly legal and, in fact helps regulate the prices of particular stocks. There is a catch, however.
In the case of the oranges – what happens when Max sells the oranges he borrowed from Kevin, and instead of the price dropping later, the price goes up? Now, Max has to spend $3 on an orange. To return the oranges to Kevin, Max has to spend more money than he made and lose $10 for his efforts.
The Showdown
When some big hedge funds eyed the downward trend of GameStop, they decided to short the stock. They borrowed many shares from the company's shareholders and sold them immediately in anticipation of the price drop.
Enter Reddit
A subreddit group, wallstreetbets caught on to the GameStop short and decided to band together and apply a 'short squeeze.' They used their clout to urge amateur investors across the internet to purchase stock in GameStop, declaring a fight against the big Wall Street firms.
When the subreddit and their legions bought up all the GameStop stock, the price shot through the roof. On January 12th, GameStop was trading at $19.95/ share. In two days, it nearly doubled. By January 25th, the stock had jumped to $76.79, and on the 27th, it was trading higher than TESLA at $347.51.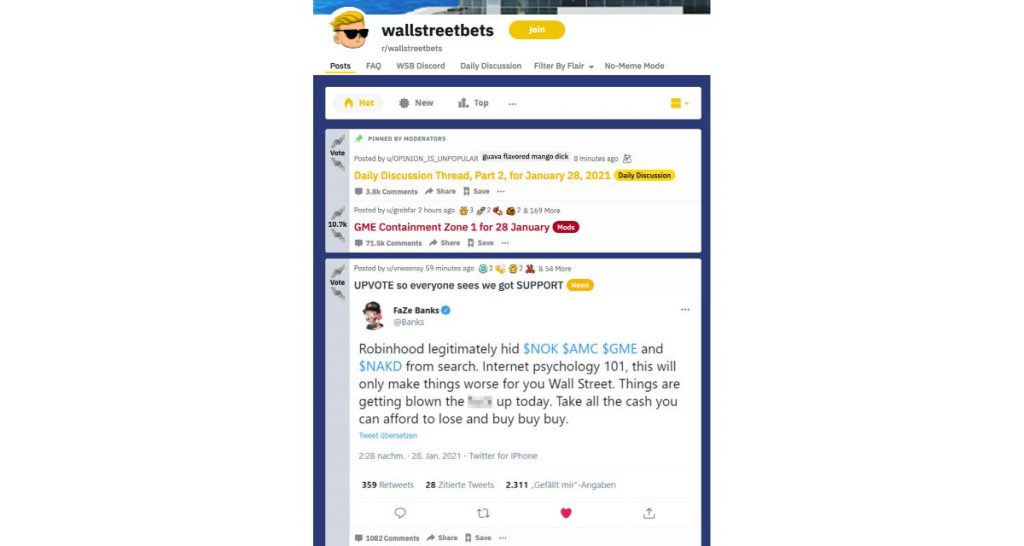 Forced to buy back at over a 1,500% increase, the short-selling hedge funds lost big time. Melvin Capital Management lost 30% of the $12.5 billion it was managing. The Guardian estimates, the Redditors cost hedge funds upwards of $6.12 billion.
On the flip side, many of the Redditors and amateur traders stood to make an exorbitant profit if they sold at the right time. Some traders claimed to have made $11 million in the whole ordeal by buying low and selling high.
Behind The Madness
Wallstreetbets claims the short squeeze was implemented as a way to stick it to the big hedge funds. It was seen to be class warfare, with many angry with the big-time traders making money by manipulating the market in a way that the little guy couldn't.
It wasn't just the internet trolls. Elon Musk got in on the action, driving up the GameStop stock with a single tweet.
The Aftermath
Trading had sky-rocketed in an unprecedented way. Robinhood caught heat for temporarily suspending the trading of GameStop. They claimed it was because they did not have the capital to back the trades. Notifications on the app warned traders of the dangers of short-selling.
Some criticized the app for cutting out the little guy during a historical time to make money.
GameStop has since returned to more modest trading but still trading significantly higher than it was at the beginning of the year. Robinhood has reopened trading to GameStop and issued a statement explaining their actions.
No doubt, big time hedge funds are weary to tick off the wrong people with their next short.