Top Black Friday Tech Deals in 2022 You Should Watch Out For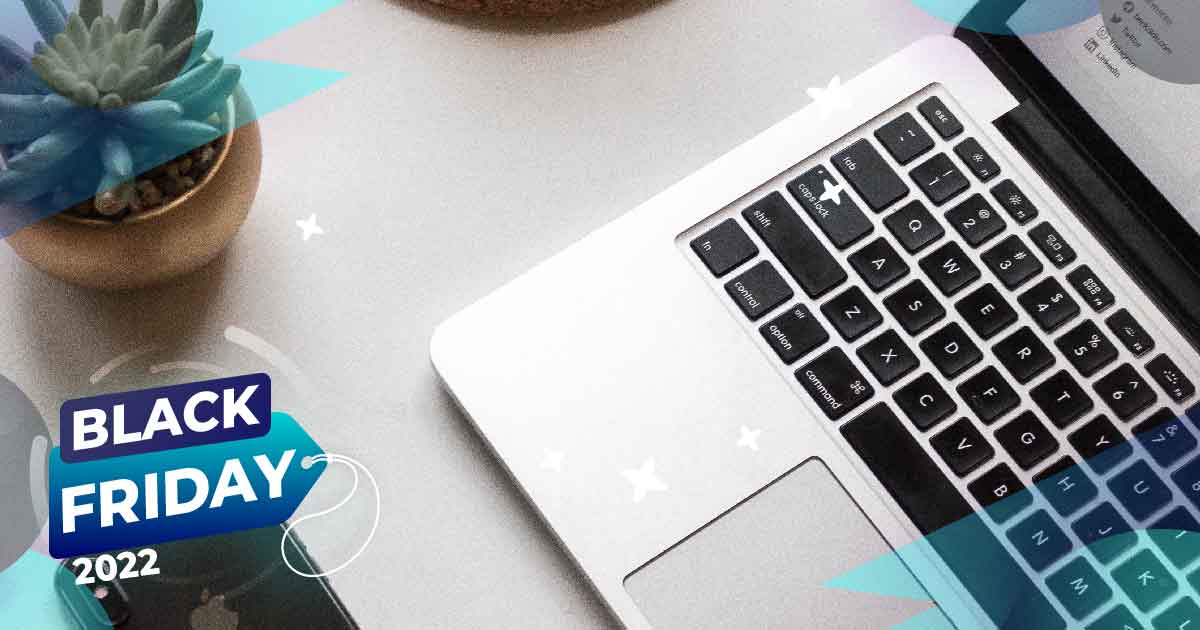 Touted as the biggest retail sale in the United States, Black Friday is indeed a big deal. Take advantage of it with the following Black Friday tech deals.
1. Amazon Eero Pro 6E Mesh WiFi System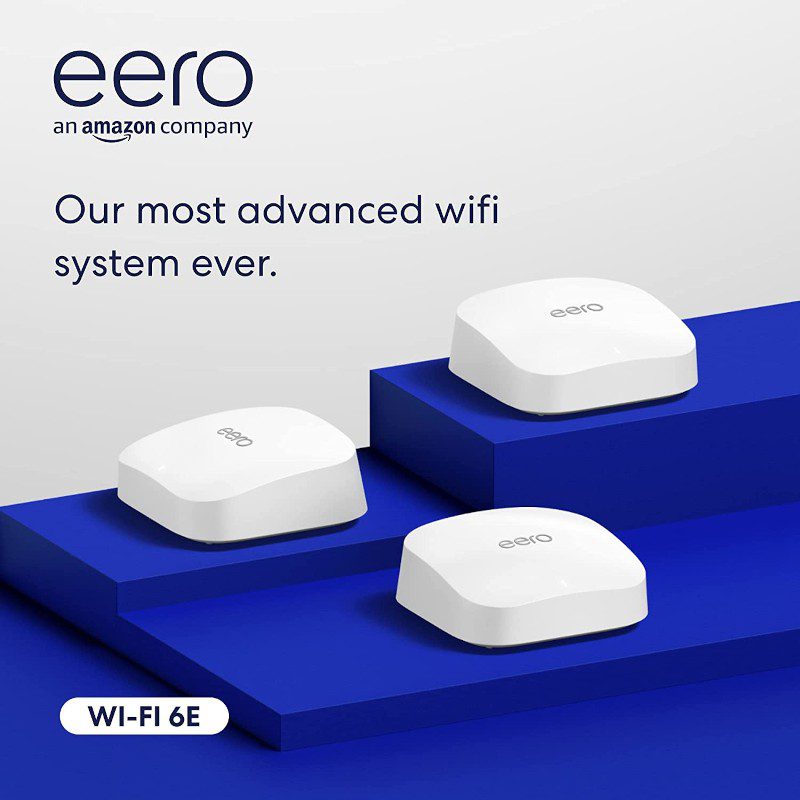 This whole-home WiFi coverage system from Amazon is fast and reliable. The Eero Pro 6E mesh WiFi system lets you enjoy rapid data transfer speeds, regardless of where you are in your house. With it, you can go from sluggish connection to fast and strong in seconds. At just around $699, it's a gift that keeps on giving.
2. HP OMEN Gaming Laptop

For the avid gamer, this gaming laptop, the HP OMEN 16, is a deal worth waiting for. It features a 16.1-inch diagonal display, high-performing processors, and excellent graphics. It comes with the Intel Core i7-12700H processor, Bang & Olufsen speakers, and an HP Wide Vision 720p HD camera. You can get this at around $1,479.99 at Best Buy.
3. Apple AirPods Pro (2nd Generation) Wireless Earbuds

The second-generation Apple AirPods Pro offers twice the active noise cancellation and spatial audio and head tracking capabilities. It will let you enjoy 6 hours of listening and 4.5 hours of talk time with a single charge. Its Adaptive Transparency feature allows outside sounds while reducing the loud noises around you. With a price tag that starts at $249, it's a steal.
4. Ring Video Doorbell (Satin Nickel) bundle with Echo Show 5 (2nd Gen)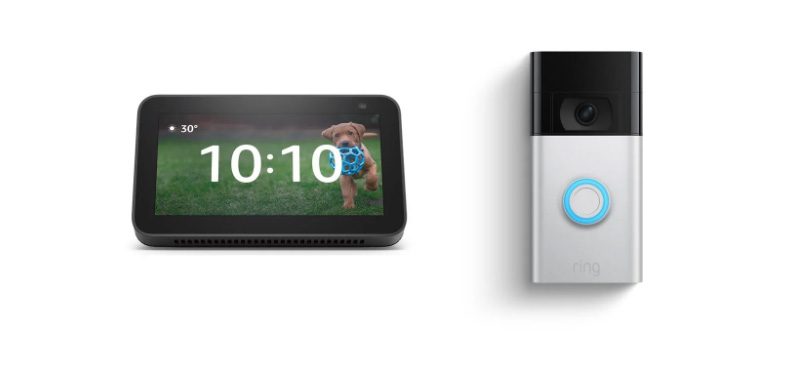 This video doorbell from Ring lets you see, hear, and speak to your visitors from anywhere. The Video Doorbell with Echo Show 5 bundle includes the Video Doorbell and an Echo Show 5 (2nd Generation), all for an affordable price of around $184.98. Its 5.5″ smart display screen gives you vivid visuals and crisp, full sounds.
5. Soundcore Life Q20 Wireless Over Ear Bluetooth Headphones

Immerse yourself in the music you love with the Soundcore Life Q20 Wireless Over Ear Bluetooth Headphones. It features active noise canceling, hi-res audio, all optimized by its signature BassUp technology. It has four microphones, memory foam earcups, and a long life of up to 40 hours of playtime on a single charge. Priced at $47.99 from its previous $59.99.
6. Google Pixel 7 Pro

Get Pixel's newest offering, the Google Pixel 7 Pro, at Verizon for a special Black Friday tech deal. You can get discounted deals with their select trade-in and 5G Unlimited plans. You can also enjoy $200 off when you switch. This phone uses AI's power, making it faster, more efficient, and more secure.
7. Roku Streaming Stick 4K

From its original price of $49.99, you can now get the Roku Streaming Stick 4K for just $24.99. It gives you two times the speed and long-range WiFi for faster and more powerful viewing experiences. Watch movies all you want in dazzling 4K, Dolby Vision®, and HDR10+ pictures without the need for cable service.
8. Fitbit Sense 2 Advanced Health and Fitness Smartwatch

Live a healthier life just by wearing a watch. The Fitbit Sense 2 Advanced Health and Fitness Smartwatch lets you manage stress and monitor a number of health metrics. It alerts you of calls and text messages and measures and improves the quality of your sleep, among many other unique features.
9. Amazon Echo Auto (1st gen)

If you're looking to take Alexa to your car, this is the perfect gadget. The Amazon Echo Auto is a first-generation device that plays through your car's speakers through the auxiliary input or your smartphone's Bluetooth connection. Its far-field technology lets you enjoy music over external noise. You can get a good Black Friday deal by trading with 25% off.
10. ASUS – 14″ Chromebook

Save $80.01 when you buy the ASUS – 14″ Chromebook from Best Buy. You can get it at a discounted price of $218.99 from its previous $299.00. This laptop features the Intel Celeron N3350 processor, 4GB memory, and Intel HD Graphics 5000 card. In addition, you'll get a free 6-month security software when you purchase now through Dec 31, 2022.
11. LG C2 Series 55-Inch Class OLED evo Gallery Edition Smart TV

Black Friday is the best time to get yourself a brand-new TV. The LG C2 Series 55-Inch Class OLED evo Gallery Edition Smart TV from Amazon is one of the sweetest deals you can find. From the regular price of $1,799.99, you can now get this for $1,296.99!
12. SAMSUNG Galaxy Tab A7 Lite 8.7″ 32GB WiFi Android Tablet

For Android users, this Samsung Galaxy Tab A7 Lite from Amazon is an excellent Black Friday deal. You can get it at 32% off at an affordable price of $109. It features a compact 8.7″ screen, a slim design, and a strong metal frame to entertain you wherever you go.
13. Powerbeats Pro True Wireless Bluetooth Earphones
Get high-performance sound tripping with Powerbeats Pro True Wireless Bluetooth Earphones from Target's Black Friday tech deals. Enjoy up to 9 hours of listening time with its adjustable secure-fit ear hooks. Its regular price is pegged at $250, but the holiday deals let you snag it at just $180.
14. Inspiron 15 Laptop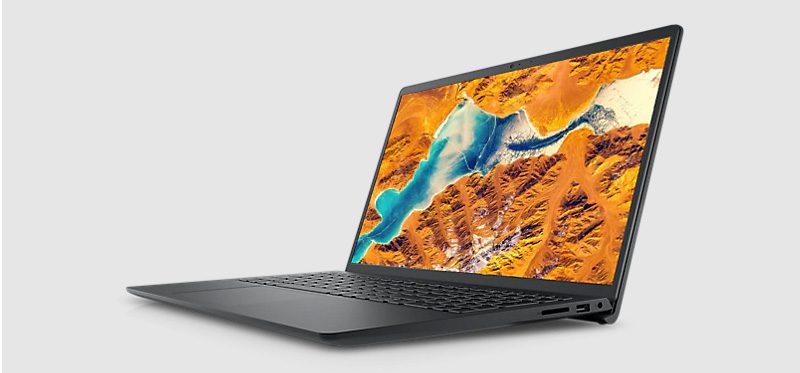 Don't miss out on the holiday deals from Dell with the Inspiron 15 laptop. You can save up to $80 with its $249.99 price tag from its regular price of $329.99 with free shipping. This 15.6-inch laptop with Intel® N series processor has good looks blending well with impressive features.
15. Razer Huntsman Elite Gaming Keyboard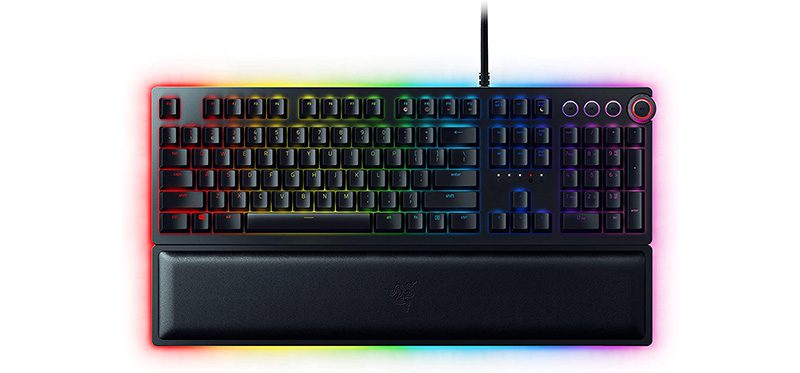 Get 50% off when you buy the Razer Huntsman Elite Gaming Keyboard from Amazon. You can get it for $99.99 from its regular price of $199.99. Its linear optical switch technology gives you a light and responsive typing experience. Its Razer Chroma feature allows full synchronization with the most popular games.
Final Thoughts
These Black Friday tech deals for 2022 are definitely worth looking out for. Take note that prices and deals can change without prior notice. You may need to check out the websites to ensure you're getting the best deals possible. And for other Black Friday deals, check out more here at Owner's Mag!
Top 10 Remote Working Tools for Businesses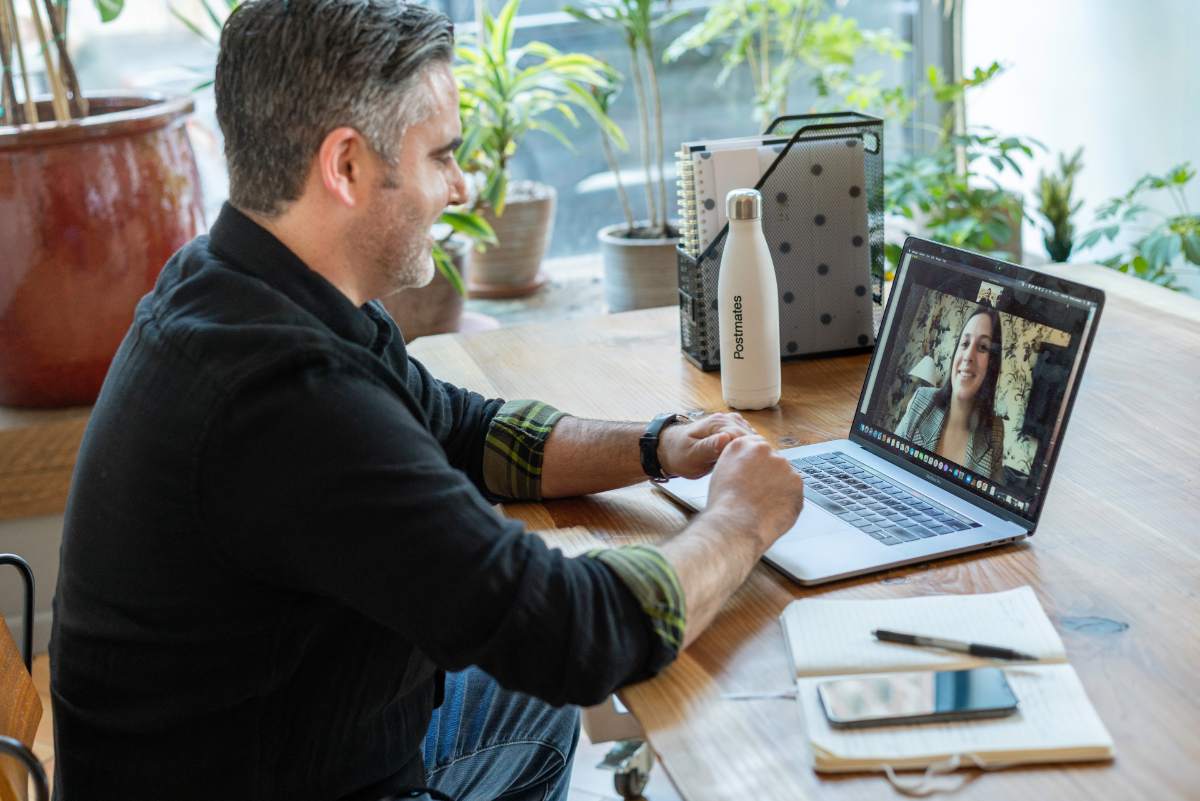 Many businesses have adopted a remote working arrangement at the start of the pandemic. And many have shifted towards a hybrid working arrangement because of vaccines and the reduced number of cases. This working arrangement isn't going anytime soon because of the flexibility offered, and businesses should continue equipping themselves with remote working tools. After all, many employees want to work from home or anywhere other than the office. 
And if you need the best remote working tools for your business, we listed the top 10 best ones!
1. Slack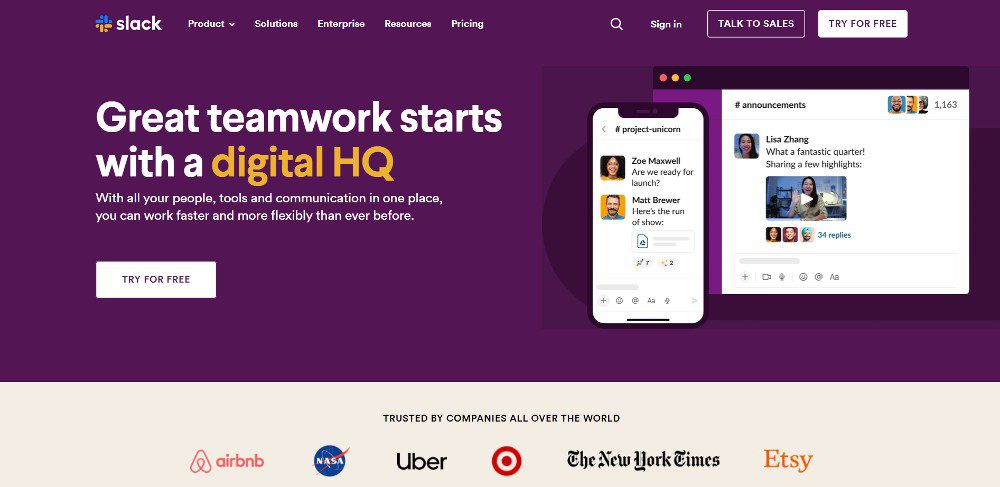 One remote working tool that gained popularity during the pandemic was Slack. Many businesses that have shifted to remote work have used Slack to communicate with fellow employees. But Slack has also branched out to bring in business clients or customers for seamless communications, eliminating the need for email threads. And one perk of using Slack is you can use it for free!
Pricing:
Free
Pro – $7.25/mo
Business+ – $12.50/mo
Enterprise Grid – Contact sales
2. Basecamp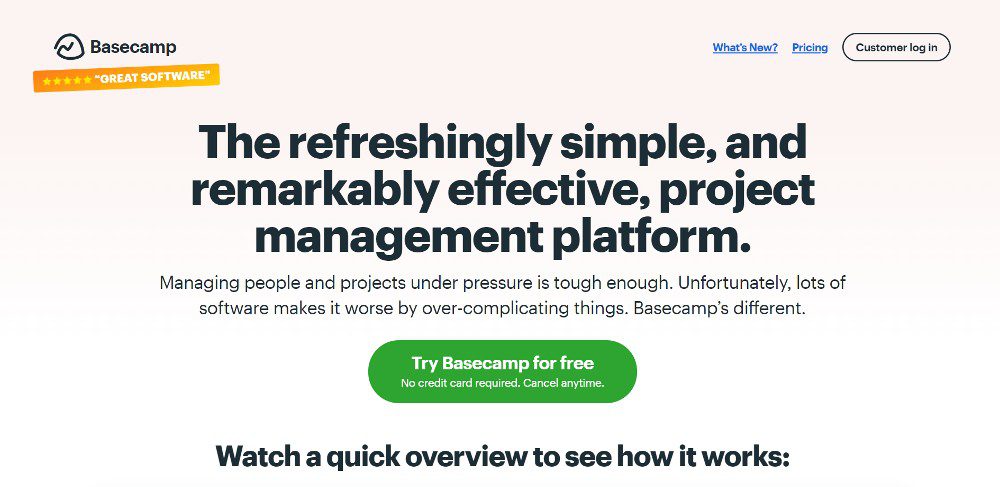 Basecamp is one of many project management tools that remote businesses can use. With Basecamp, you can view ALL of your active projects in one dashboard. From there, you can keep the conversation flowing with their Messages feature. You can also break down tasks with their To-Dos and share all the files you need to complete a project with their file-sharing feature.
Plus, you can chat with others and check in with your team without leaving the app. And for data nerds, you'll have insight into project progress with their Reports.
Pricing:
Free
Basecamp Pricing – $11/user/mo
3. Zoom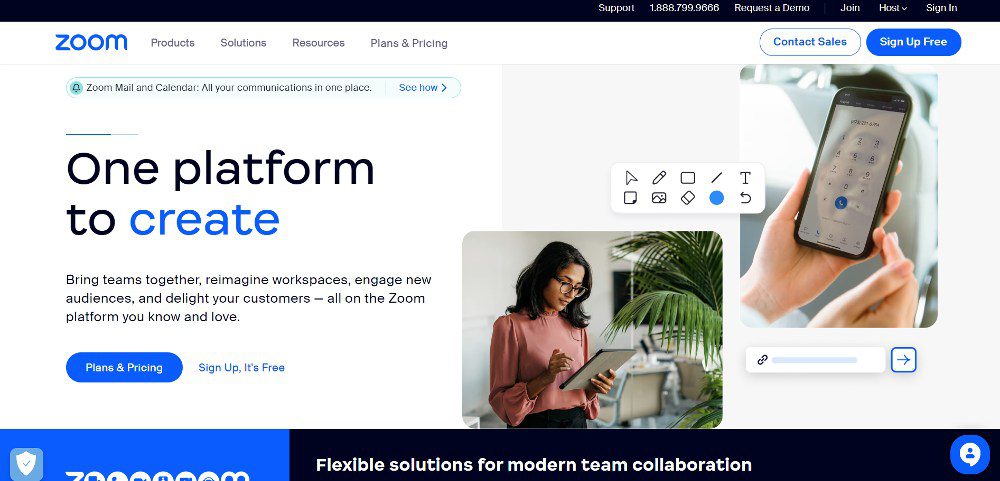 Here's another must-have remote working tool for remote teams. Zoom has become one of the most used communication tools.
For one, you can chat with your team via video, whether it's for meetings or check-ins. You can share your screen to show teams about new tasks or presentations. But Zoom is more than just a video communication tool. You can also share files here via chats. Plus, they have a whiteboard feature where you can collaborate with others and brainstorm ideas through drawing tools, connectors, and sticky notes. And you can group teams via Rooms too.
Pricing:
Basic – Free
Pro – $14.99/mo/user
Business – $19.99/mo/user
Enterprise – Contact sales
4. Google Drive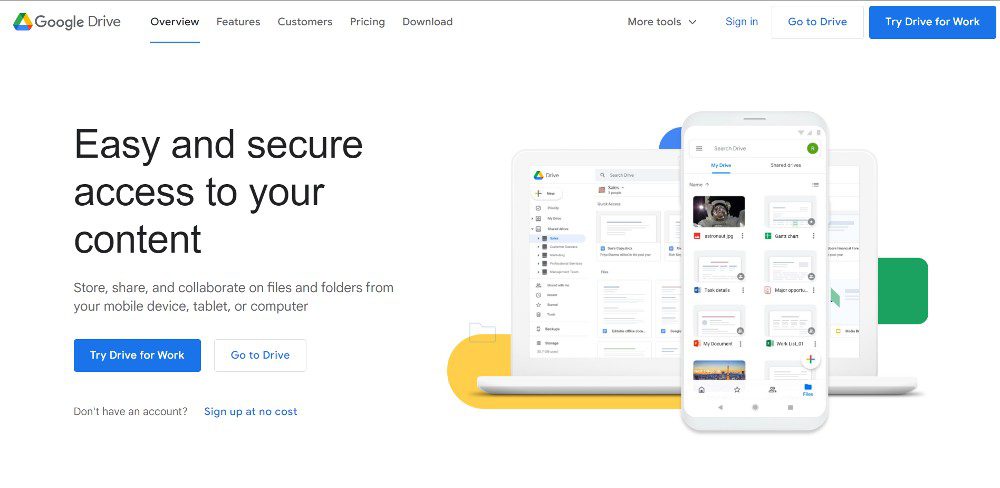 File sharing is necessary for remote teams. And if you want a file-sharing tool for your remote business, Google Drive is your best option. With Google Drive, users get 15GB once they sign up for Gmail. And it's all for free! Plus, all your files are secure with the file-sharing tool. But if your business has tons of files to share and needs more than 15GB, they have a Business Standard account plan.
Plus, employees can add more to their personal Google Drive if they need more files to share with fellow employees with a Google One subscription.
Pricing:
Business Standard – $12/mo
Personal (Google One Subscription)
Free
Basic (100GB) – $1.99/mo
Standard (200GB) – $2.99/mo
Premium (2TB) – $9.99/mo
5. TeamViewer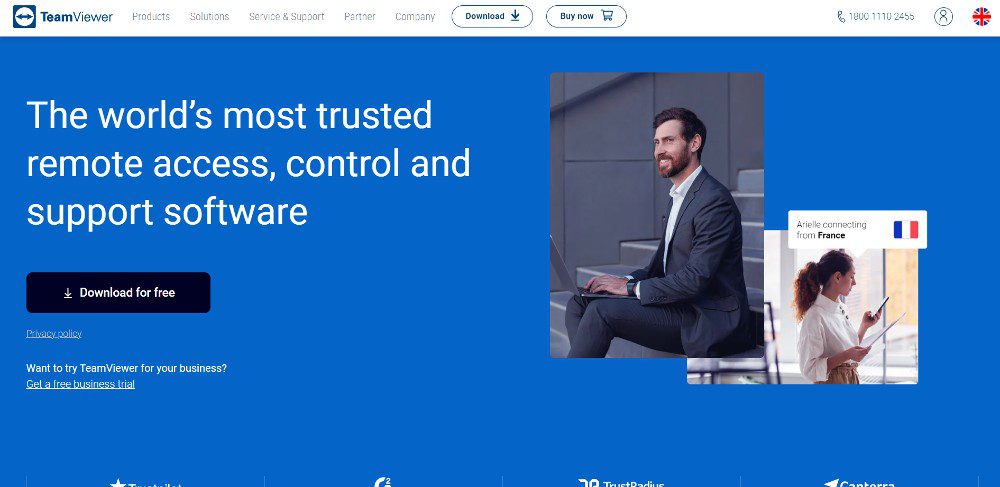 Collaborating with your team members remotely can be challenging. And if you want to take control of your team's computer to show them how things get done for a couple of minutes, TeamViewer is the best tool for this purpose.
Using this tool could seem creepy at first, but TeamViewer is ideal for tech support-related issues, file sharing, and collaboration. Plus, TeamViewer assures users that despite remote access, it has end-to-end encryption and two-factor authentication, ensuring that your team will be safe with this tool.
Pricing:
Free
Remote Access – $6.95/mo
Business – $34.90/mo
Premium – $102.90/mo
Corporate – $206.90/mo
6. 10to8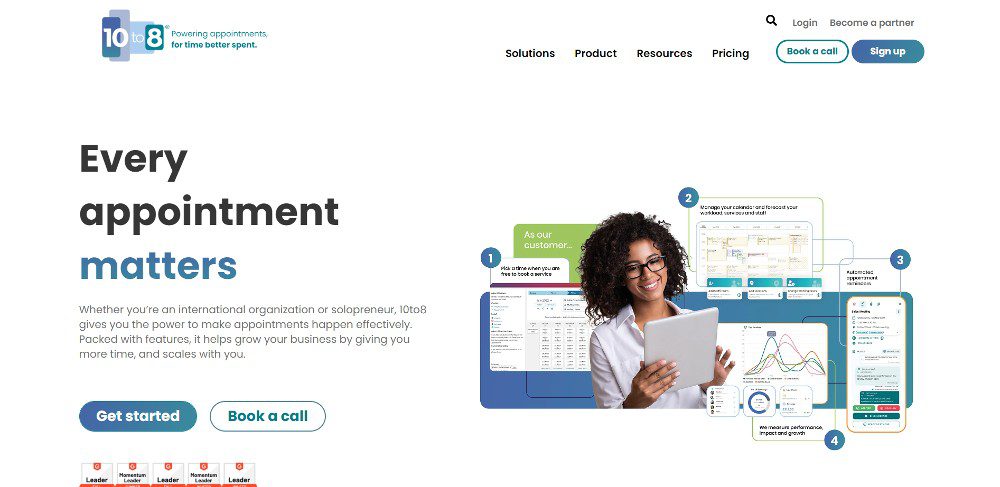 Do you need to stay on top of all your meetings with your team? 10to8 is one of the best remote working tools for scheduling and holding meetings on time. You can set appointments in a few clicks and even classify them as recurring if you repeatedly have meetings about this task or project. Once you have appointments with the team, they'll be notified via email, or it will be synced to Google, 365, or iCal calendars.
Pricing:
Free
Basic – $12/mo
Grow – $25/mo
Bigger Business – $50/mo
7. Loom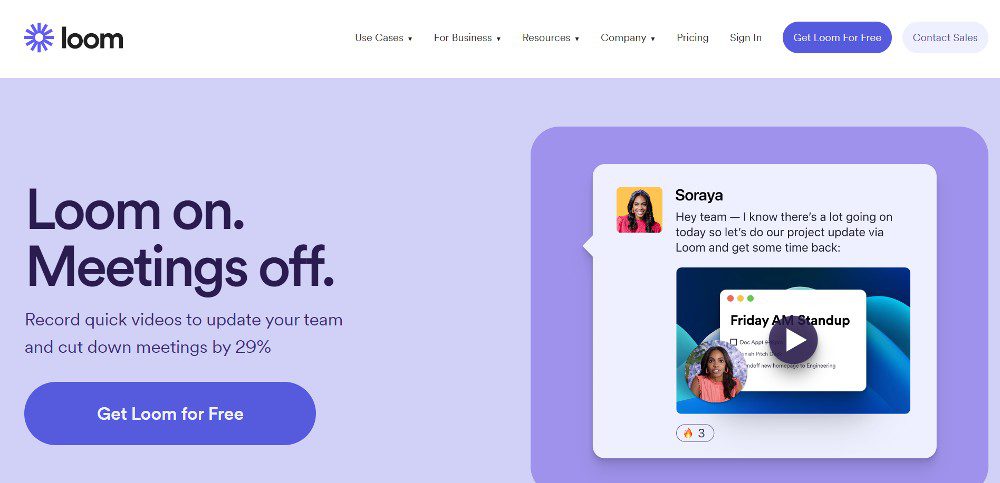 If you don't have time to hold a meeting but want to show your team members that they should be working on a new task, Loom is the best remote working tool for your team. You can share your screen and demonstrate how the new task should be done. With Loom, you can download their software to your computer or add it as an extension on Google Chrome.
You can record your screen and camera or either one. Plus, you can edit your video before sending it to your team.
Pricing:
Free
Business – $8/mo
Enterprise – Contact sales
8. Unito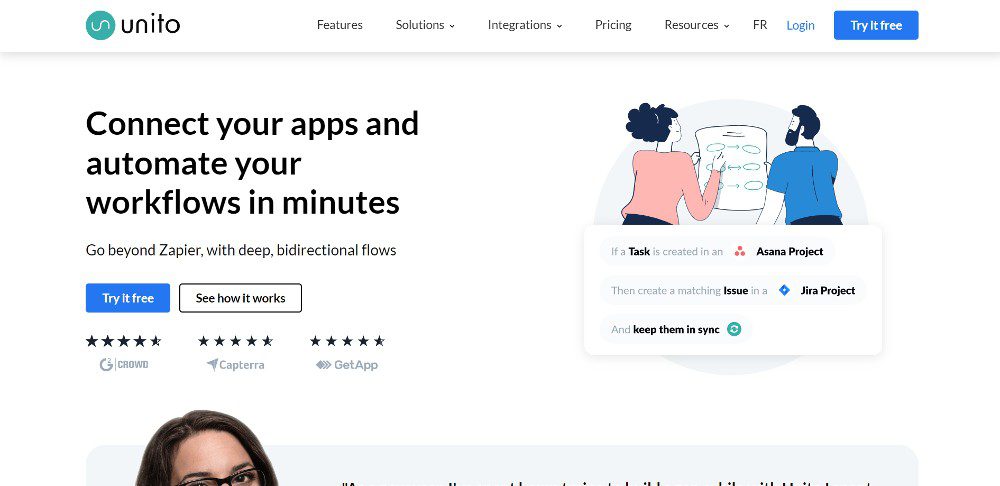 Do you spend way more time moving things around when you can focus on other tasks? You can automate these tasks thanks to Unito! Unito is like IFTTT, where you can automate certain tasks when you start or finish one. It's an underrated integration tool that you can use on the following apps:
Trello
Google Drive
Asana
Basecamp
Hubspot
Pricing:
Personal – $19/mo
Team – $30/mo
Company – $247/mo
Enterprise – Custom
9. Notion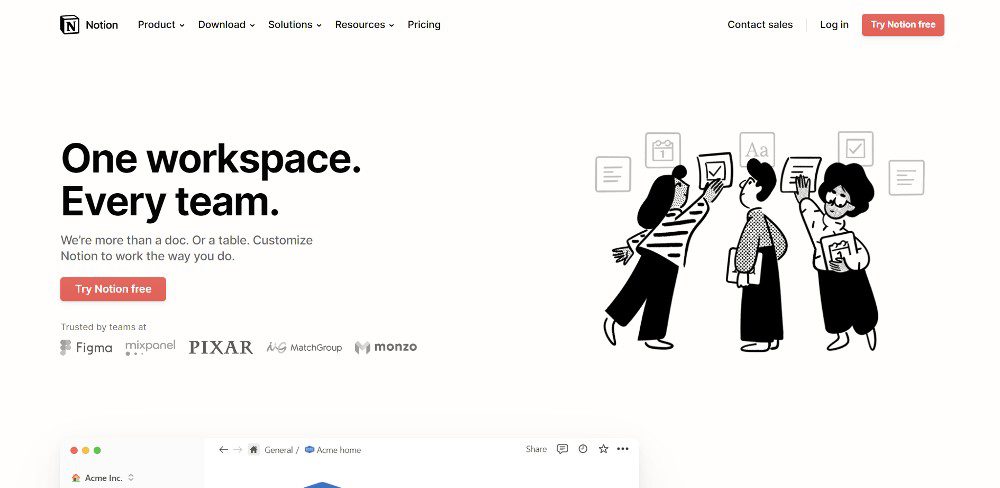 If your business is heavy on note-taking, Notion is a remote working tool you should use. With Notion, you can put all your processes and tasks in one place. Plus, you can add all of your meeting notes in there too. In addition, you can also create workflows for seamless work.
Pricing:
Free
Personal – $5/mo
Team – $10/mo
Enterprise – Contact sales
10. Officevibe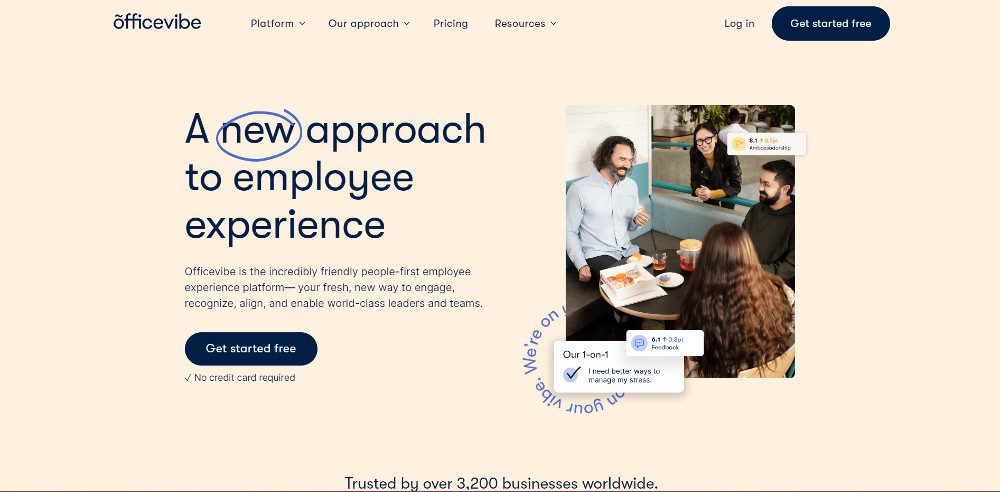 When you're working remotely, you also want to ensure your employees are heard. After all, there is no face-to-face interaction since team members work from home. It sometimes hinders communication, which prevents members to voice out their feedback. With Officevibe, you'll know what employees are thinking by allowing them to give you feedback through surveys and anonymous messaging.
Aside from feedback, recognize what employees do for you with their Recognition feature. Plus, you can align with your employees through 1-on-1 meetings and progress tracking.
Pricing:
Free
Essential – $8/mo
Pro – $12/mo
Final Thoughts
Remote working tools can definitely make your workplace efficient outside the office. You don't need to use fancy software applications to keep your business running. With project management and employee communication tools, you will have a productive remote workplace.
Top 10 Podcast Editing Software Applications for Any Beginner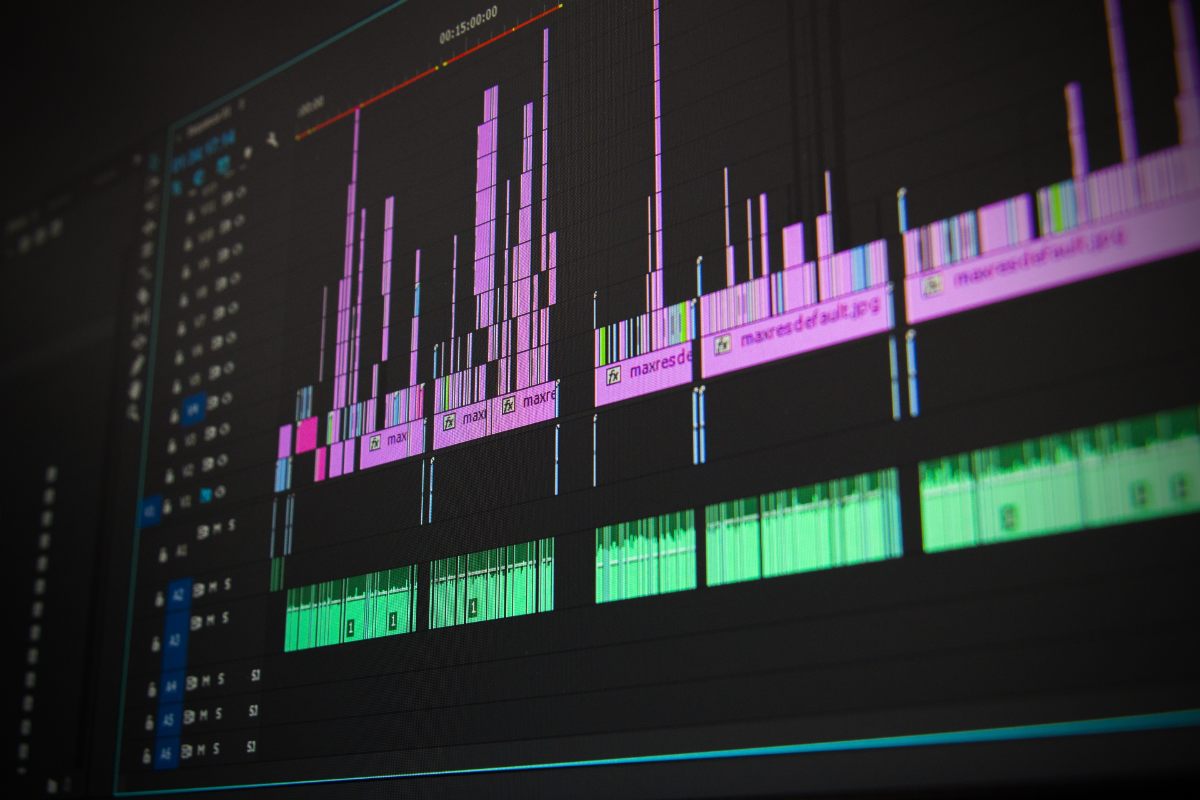 Have you recorded your first-ever podcast? Before you can publish your podcast on sites like Apple Music or Spotify, you want to make sure that you edit it. After all, you don't want people to hear that you cut your audio at a certain time, or there might be some background noise people shouldn't hear. What you need then is a podcast editing software. But which is the best one? We list the top 10 best ones.
1. Audacity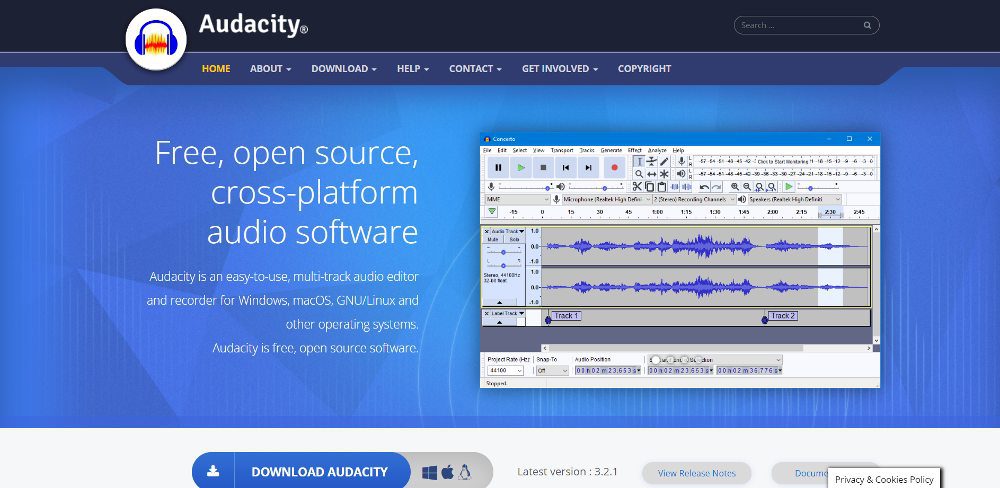 If you are a beginner and recently started a podcast, Audacity is one of the best podcast editing software applications to use. With Audacity, you can record, cut, copy, and paste audio. Plus, you can redo or undo any actions. In addition to those, you can add audio effects to make your podcast even more compelling to listen to and import or export file formats.
Pricing: Free
2. Alitu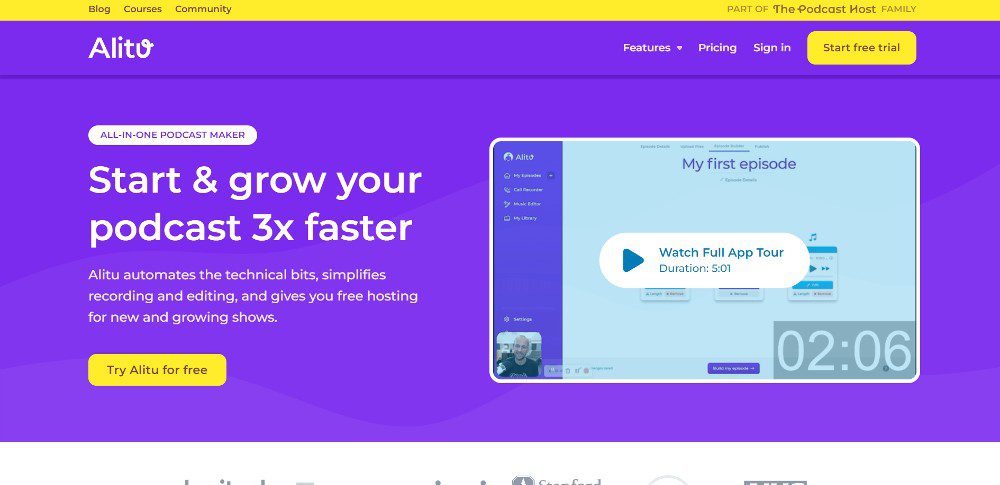 Alitu is an all-in-one podcast tool since you can record, edit, clean up audio, host, and transcribe your podcasts. The podcast tool is intuitive and beginner-friendly and will help podcast hosts edit their audio in a few minutes, compared to other podcast editing software applications.
With Alitu, you can highlight parts of your audio you want to split or remove as mistakes. You can also clean up your audio by removing background noise and ensuring loudness is consistent.
Pricing: $38/mo
3. Adobe Audition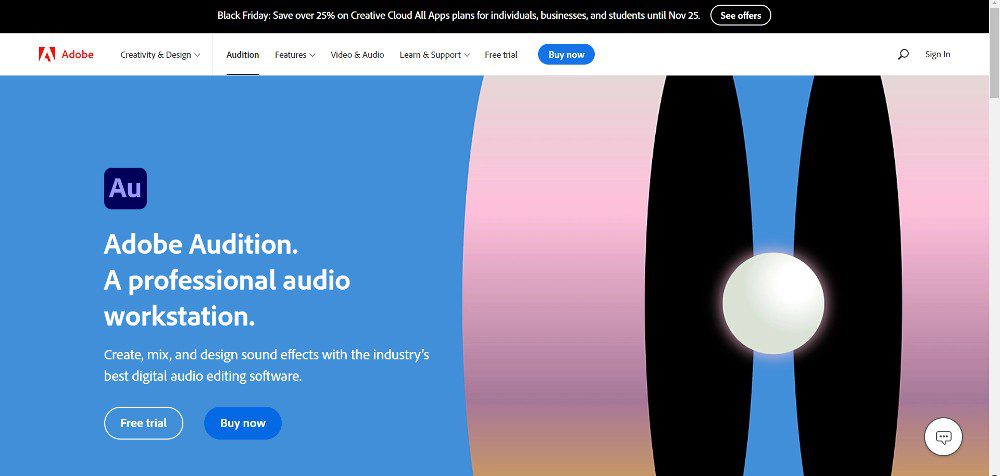 Adobe Audition is a popular tool among experienced podcast hosts and editors. But novice editors can play around with Adobe Audition. With Adobe Audition, you can record and edit your audio. You can bring out your creative side by adding audio effects. Plus, you can clean up your audio, restore, reduce noise, and mix audio when needed.
This software works best with other Adobe applications. Plus, it's helpful if you need sound bites from videos, and you can use this software alongside Premier Pro, making editing seamless.
Pricing: $20.99/mo
4. GarageBand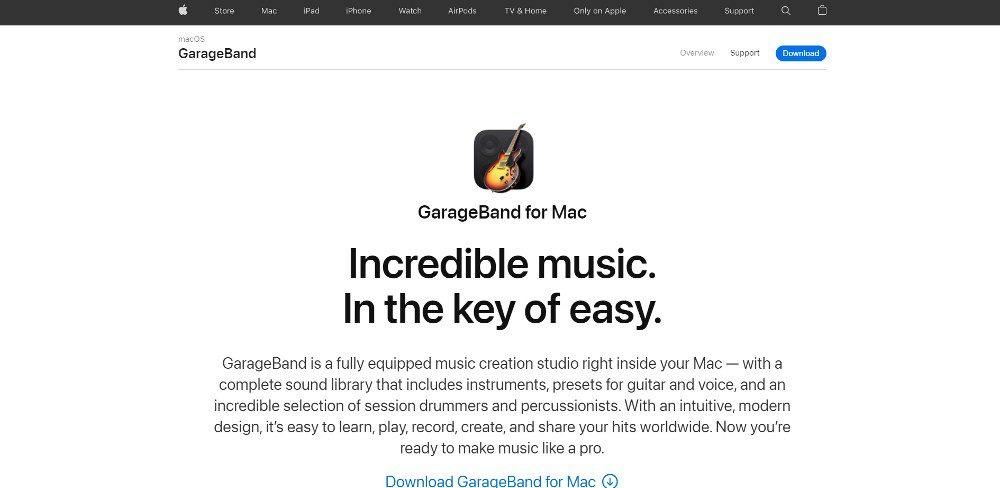 iPhone users would be familiar with GarageBand. Although GarageBand is for recording and editing music, it's also a handy app for editing your podcasts. However, those who need to edit audio files or their podcasts will benefit from GarageBand. This app is perfect on the go or if you want to edit your audio on the computer.
Pricing: Free
5. Descript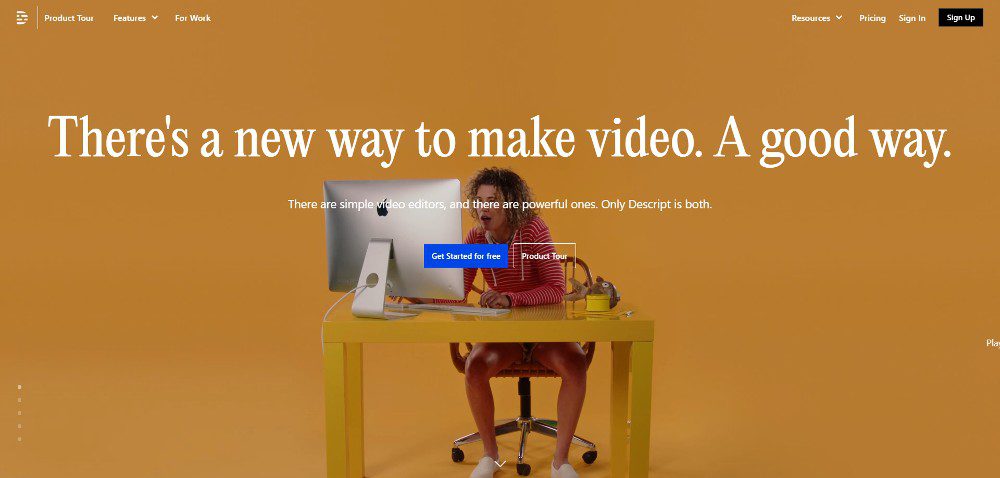 If you record videos and podcasts, Descript is the best editing software for you. Descript is AI-powered and will ensure that you will get the best audio quality once edited. With Descript, you can edit something you have said by typing it, and their AI will make an AI clone from your voice. Plus, you can eliminate background noise and remove 'um's' and 'uhs'.
Pricing:
Free
Creator – $15/mo
Pro – $30/mo
Enterprise – Contact sales
6. Riverside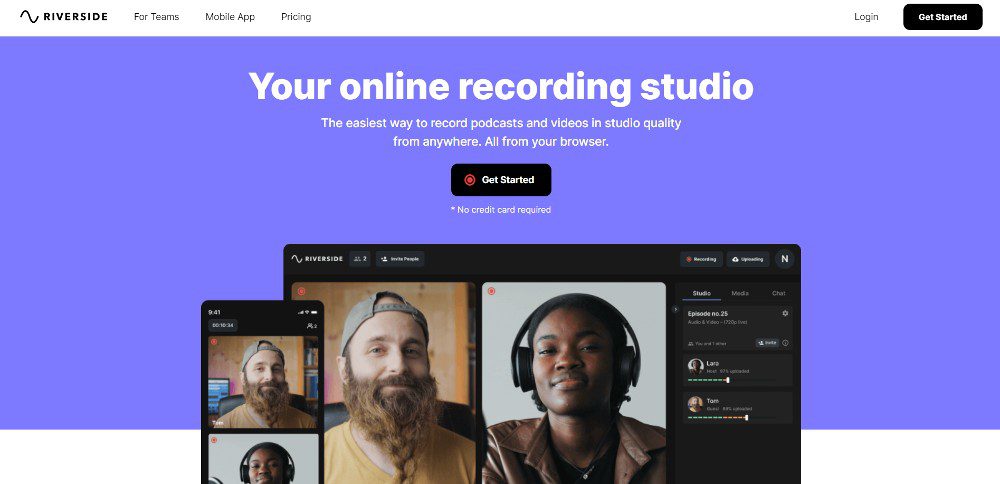 Riverside is an alternative to Descript if you need to record video and audio. Many podcast hosts love using Riverside because they ensure clear audio and separate audio and video tracks. This is beneficial to many podcast hosts who record via video first and edit the audio only. 
Plus, Riverside is also great for podcast hosts on the go, which can help them record audio anytime. Once they're done with the recording, the Riverside cloud stores the recording, and you can edit it on your desktop.
Pricing:
Free
Standard – $19/mo
Pro – $29/mo
Teams – Book a meeting
7. Hindenburg Journalist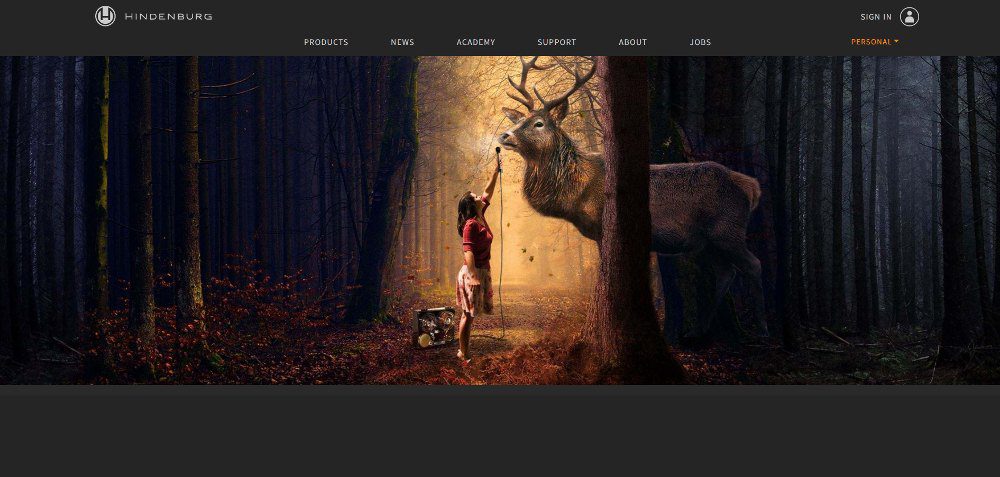 Hindenburg Journalist is an audio editing software that many professionals use. You have two options for your podcast needs: Hindenburg Lite or Hindenburg Pro.
With Lite, you can learn how to edit audio through leveling and modifying inconsistent voice sounds. Plus, with Hindenburg Lite, you can even publish your podcasts on different platforms. Of course, it has other essential features, like import and export, cut, and undo. Pro is similar to Lite. However, it has additional features like reducing uneven leveling and keeping loudness consistent.
Plus, they have an iPhone app where you can record audio and make simple edits to your audio.
Pricing:
Hindenburg Lite – $99
Hindenburg Pro – $10/mo
8. Auphonic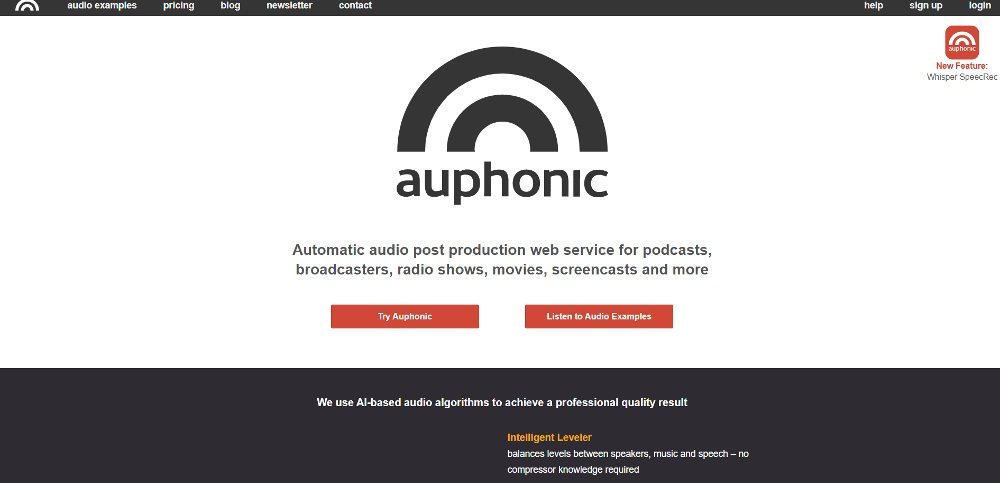 Auphonic is another online podcast editing software. Their software is geared toward professional audio editors. However, with their AI, editors of any level can use their software to edit their podcasts. Here are some of its neat features:
Loudness normalization
Audio restoration
Speech recognition and transcript editor
Encoding, metadata, and chapter marks
Intelligent leveler
Unlike most audio editors, Auphonic charges users depending on how many hours they may need the software. However, if you just need to edit quickly, you can use Auphonic for free for two hours!
Pricing:
Recurring credits
Auphonic S – 9 hours – $11/mo
Auphonic M – 21 hours – $24/mo
Auphonic L – 45 hours – $49/mo
Auphonic XL – 100 hours – $99/mo
Auphonic More – Contact Sales
One-time credits
5 hours – $12
10 hours – $22
25 hours – $50
50 hours – $88
100 hours – $150
More – Contact sales
9. Wavepad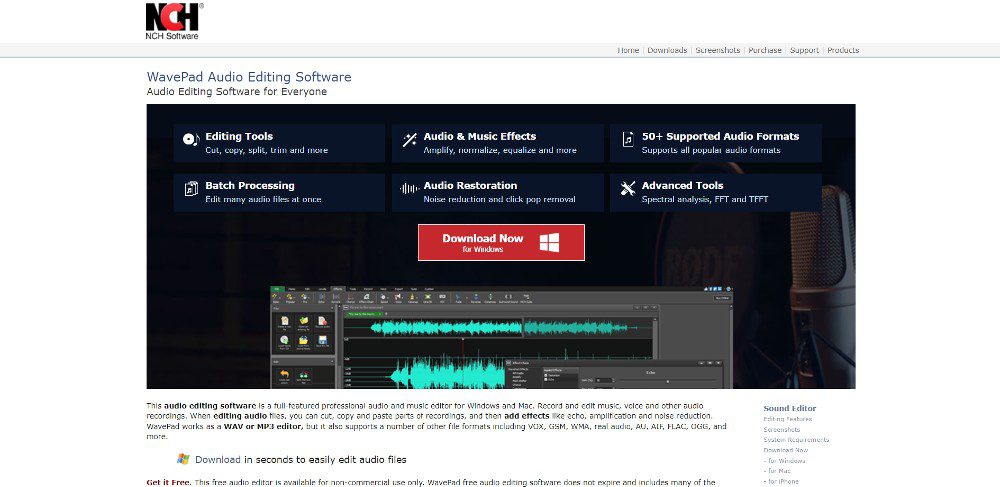 If you want a basic audio editing software, Wavepad is one of your options. Wavepad is similar to Audacity, where you can download this app to your computer. However, their software is also available on iOS and Android devices. 
With Wavepad, you can edit your audio by trimming or cutting it, add effects, restore audio, and edit multiple audio files at once. It's free for non-commercial use and has all the basic features. But if you need more than the basics, you can upgrade to their Master's edition version, which you can purchase.
Pricing:
Free (non-commercial use)
Master's Edition – $79.99
10. PodCastle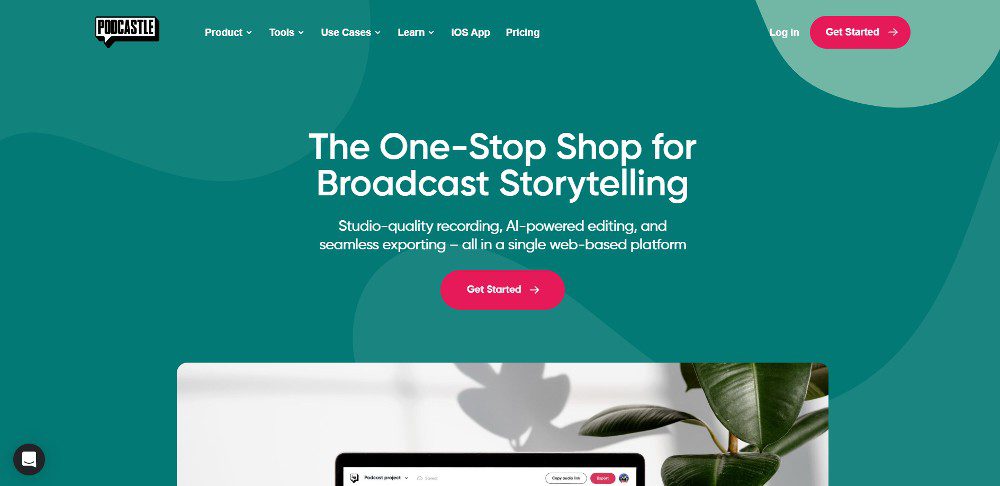 If you want an affordable all-in-one podcast solution, PodCastle is your best bet! It has all the features you'd find in a podcast editing software and more! With Podcastle, you can use their fade-in and out feature in your audio, change the speed, and add amazing effects with their sound library. Plus, if you have an iPhone and want to edit audio on the go, Podcastle has an app you can download.
Pricing:
Basic – Free
Storyteller – $14.99/mo
Pro – $29.99
Key Takeaways
As a podcast host, you don't want to skip over the editing process since you want to have a clear flow or seamless conversations with your guests. Most of the podcast editing software applications above ensure that you can use its tools and features for quick editing. And in some cases, some of them are AI-powered, shortening your editing time from hours to minutes.
Top 10 Powerful Chatbot Platform Builders for 2023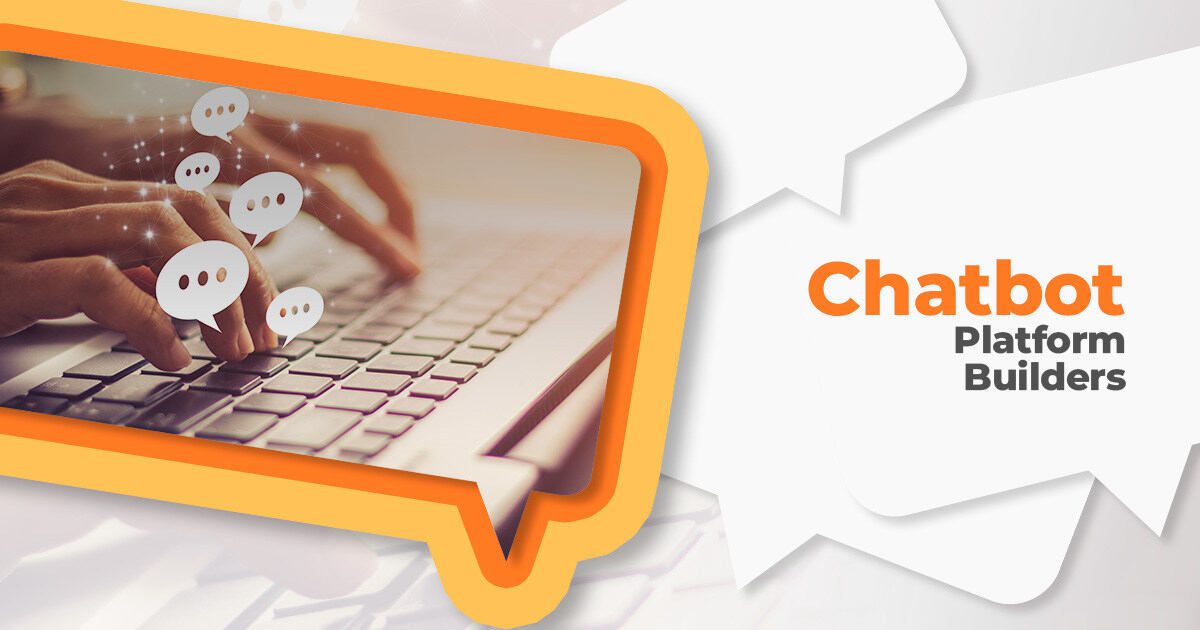 According to research, 80% of customers would pay more for a better experience. This is why customer service should be on your priority list. And one of the most effective tools you can get to provide this is a chatbot. Here are ten powerful chatbot platform builders to build yours.
What is a chatbot?
A chatbot is a program that simulates the conversation between a human and a machine. It lets humans communicate with digital devices or websites even without the assistance of a human operator. You may have interacted with one before without you knowing about it.
The window that pops up when you're on a particular website is an example of a chatbot. Chatbots help businesses answer questions, take orders, book tickets, and confirm charges, among many other uses. Below are the best platforms to help you get the right chatbot for your business.
10 Platforms to Build Your Own Chatbot
1. WotNot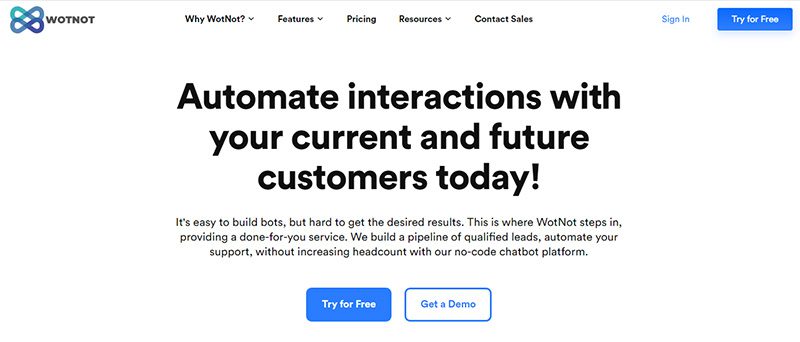 A no-code chatbot builder, WotNot lets you design and create your own chatbot even without technical knowledge. It makes it easy for your customers to hold a conversation on your website, Facebook Messenger, or WhatsApp using AI. This will give you a higher chance of converting anonymous visitors into paying customers.
You can try WotNot with its free 14-day trial. If satisfied, you can upgrade to any of its three premium plans. Pricing starts at $99 per month.
2. MobileMonkey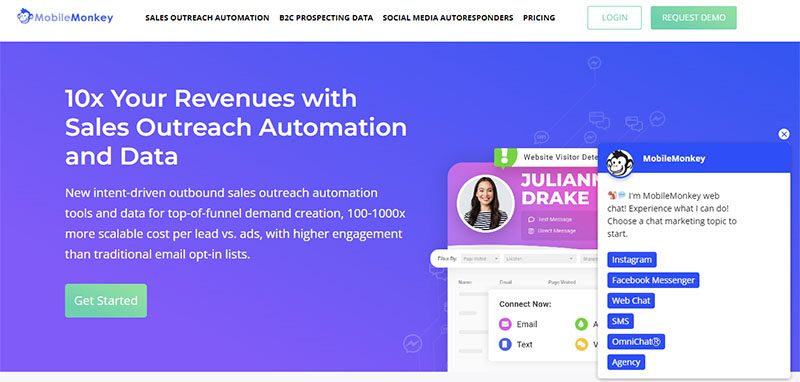 Manage your SMS messaging, WeChat, Facebook, Instagram, and other messaging channels through MobileMonkey. It allows you to build chatbots on multiple platforms, create chat blasting and drip campaigns, integrate live chats, and many others. It uses its patented OmniChat technology so that you can access all your communication in one place.
There is a free plan available, but the paid versions are affordable, with prices starting at $19 per month and can go up to $119. They also have an Enterprise plan that is customized to your needs.
3. Intercom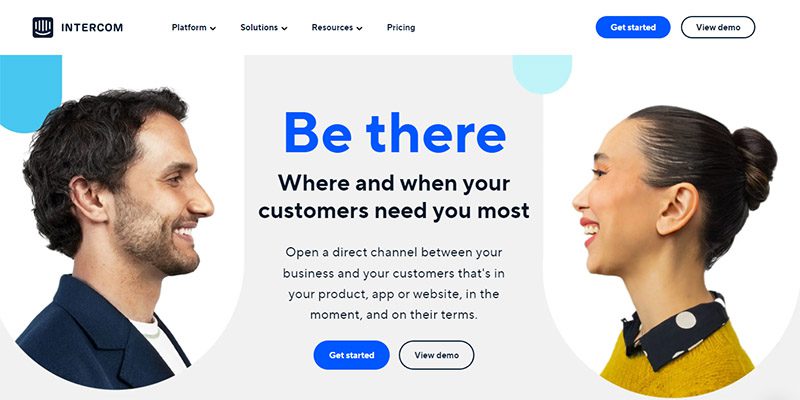 One of the more popular chatbot platform builders, Intercom's client list includes Udemy, Atlassian, and Loom. With it, you can create a chatbot quickly, even without coding skills. It has helpful features that let you target and engage qualified leads.
Intercom has plans that are suitable for small or large businesses. The Starter plan costs $74 per month, which is ideal for startups and medium-sized companies. For those with high volumes of conversations, expect to pay a starting price of $499 per month.
4. ManyChat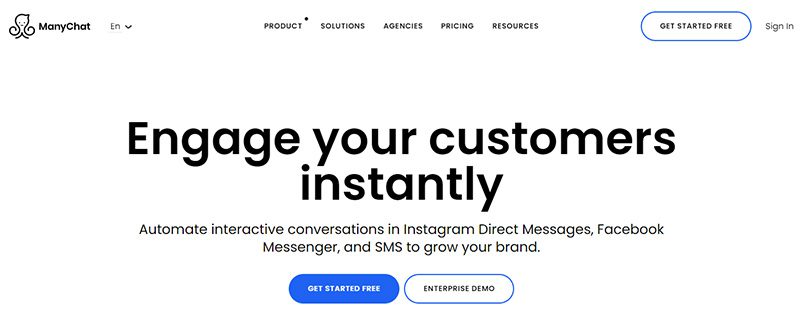 A cloud-based chatbot solution, ManyChat helps businesses facilitate chat marketing campaigns through social media platforms and SMS messaging. Its key features include drip marketing, message broadcasting, lead conversion, A/B testing, and audience segmentation. It has predefined templates that make it easy to build custom chatbots.
You can use ManyChat for free or avail of their paid plans to enjoy the platform's many valuable features. Contact them for their premium plan or choose the Pro plan and pay $15 monthly.
5. Drift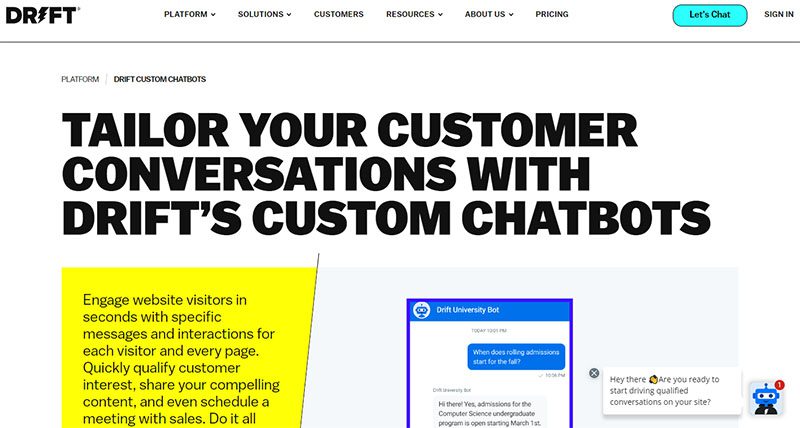 If you need to engage your customers through conversational chatbots, Drift is the platform for you. They provide live chats, email marketing solutions, and video communication tools. It is a no-code chatbot platform that uses a bot to ask questions to qualified leads and endorse them to a human sales team.
It has a free plan that you can use for live chats only. To get the most out of the service, you can avail of any of their three paid plans that will adequately cover your needs. Price starts at $400 a month if billed yearly.
6. Tidio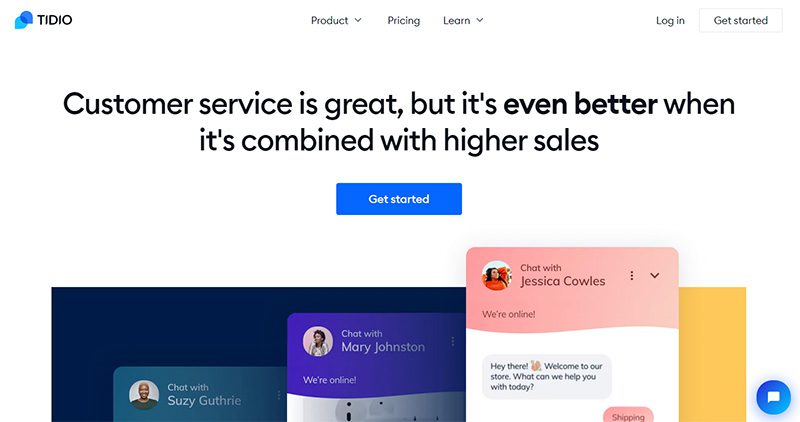 If you want to be proactive in your customer engagement tasks, Tidio is the right chatbot platform to use. Its live feature lets you see your website visitors and communicate directly with them. It offers a conversational AI chatbot and NLP (Natural Language Processing) for a better customer support experience.
Tidio has a free plan that's suitable for startups and small businesses. For other business sizes, their three paid plans will provide you with the chatbot solutions you need.
7. Landbot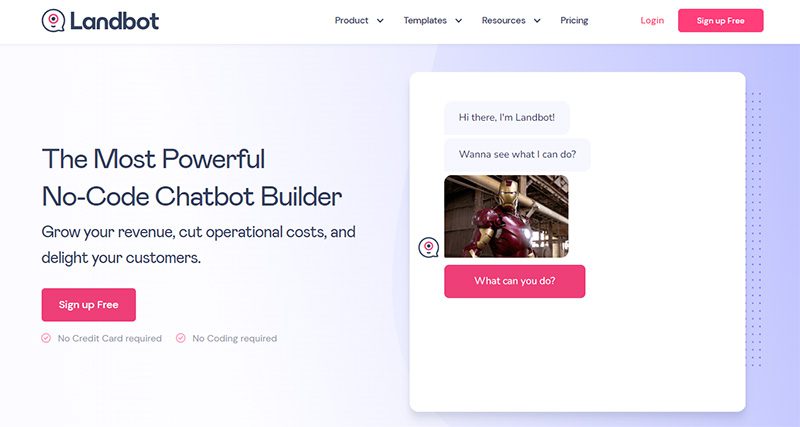 Whether it's rule-based bots or AI-powered bots you need, Landbot has them and more. Its intuitive interface lets you seamlessly interact with customers and prospects with high-quality dialogues. It allows a human agent to join in on the conversation when needed.
Its Sandbox plan is one that you can use for free forever. But a subscription to its three other plans is worth it to get more of its best features. Pricing starts at €30 per month.
8. ChatFuel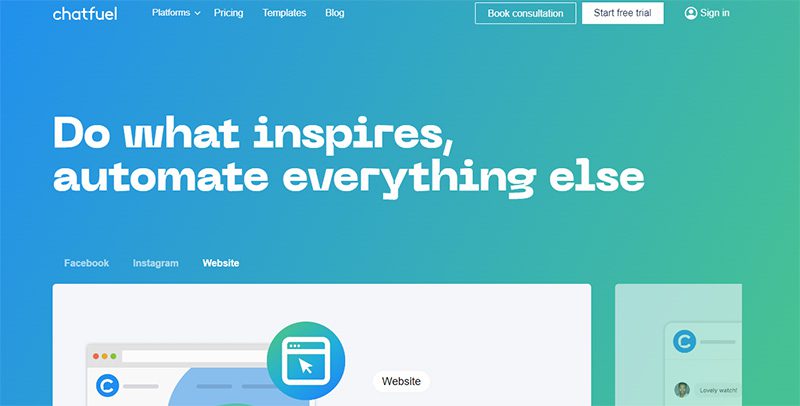 As it says on its landing page, Do what inspires, automate everything else, ChatFuel lets you focus on what matters most in your business. It will take care of communicating with prospects and customers via its easy-to-use conversational bot. It has step-by-step instructions and documentation to help you build a chatbot even without coding skills.
ChatFuel has a free plan and three more with prices that range from $15 up to $60 a month. Its free trial lets you explore and learn more about the tool.
9. SnatchBot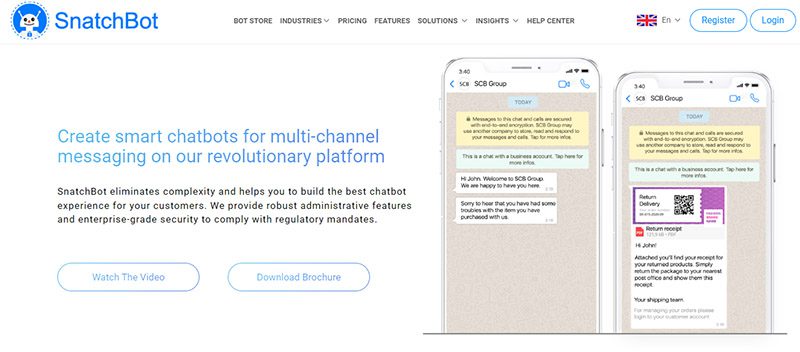 An AI chatbot platform, SnatchBot uses NLP (Natural Language Processing) and Machine Learning technologies. It offers great customization to let you create conversations however you want them. You can build two versions of chatbots: the bot or the bot/human hybrid.
You can use SnatchBot for free, but the main features are included in their paid plans. Prices range from $30 up to $999 per month. You may contact their sales team for their Enterprise plan.
10. LivePerson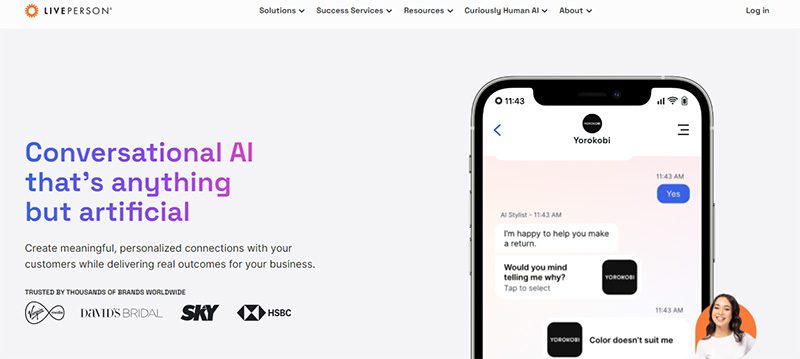 Another chatbot platform that uses the power of AI, LivePerson, is an excellent option. Thanks to this technology, you can build, deploy, and optimize your chatbots using advanced analytics and real-time intent detection. It is easy to use and has rich live chat features.
The pricing will be based on how much automation and features you need. To know the details, contact their sales team.
Final Thoughts
These chatbot platforms offer unique features, and to find which would suit your business, you need to explore and experiment. Hopefully, this list has narrowed your choices and cut down your work.