Top 10 Apple Watch Alternatives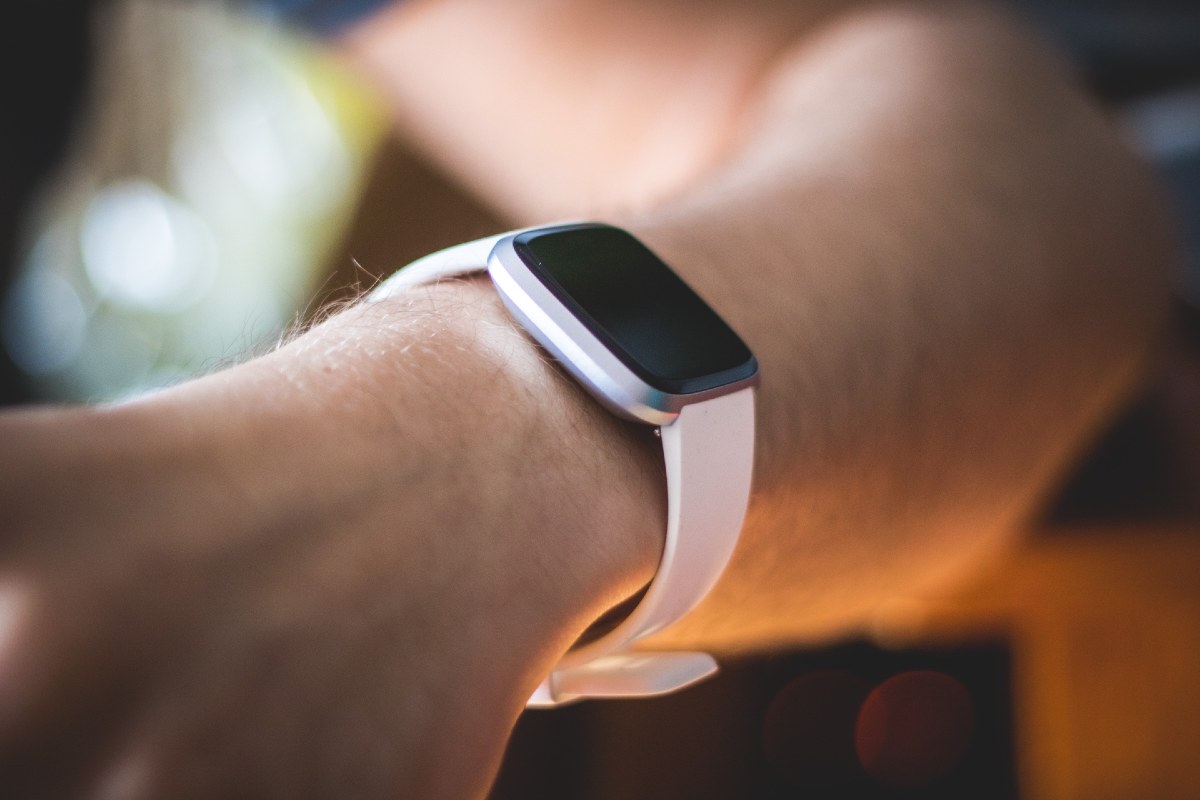 A watch can be a lot more than a device to tell time. These days, you can turn to your arm candy to take calls, check messages, stream music, and so much more.
Apple Watch is among the most popular options when it comes to smartwatches. However, not everyone is a fan. For one, the Apple Watch Series 6 costs $399, which can be a steep price tag for some.
Aside from the price point, some smartwatches also offer exciting features for all types of users. Here are some Apple Watch alternatives worthy of consideration.
1. Galaxy Watch (46mm) Silver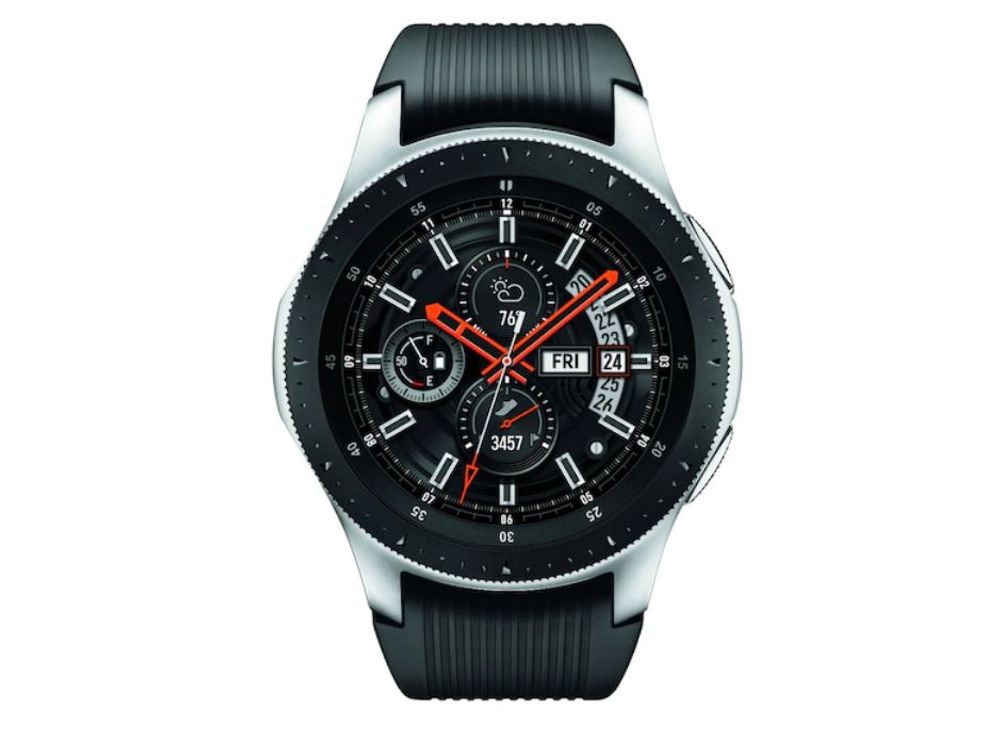 Galaxy Watch (46mm) Silver is one of the best Apple Watch alternatives to consider if you're looking for a piece with a character. Besides the look, it also has features designed to help users boost their health. These include sleep cycle tracking, calorie tracking, guided meditation, and breathing exercises to manage stress.
Price: The watch sells for $174.99 from Samsung's website.
2. Huawei Watch GT 2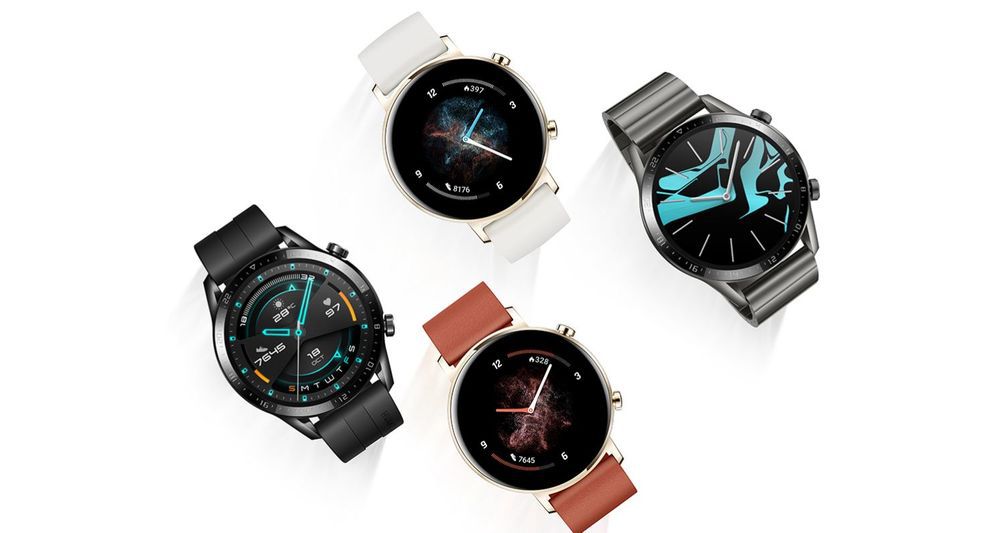 If you want a smartwatch that looks elegant and minimalist at the same time, check out Huawei Watch GT 2 42 mm. This comes in a Champagne Gold stainless steel case as well as an exclusive starry sky motion watch face. You can choose from two straps – frosty white fluoroelastomer or reddish-brown leather.
Price: Huawei Watch GT 2 42 mm sells for $179.99 on Amazon.
3. Fossil Sport Smartwatch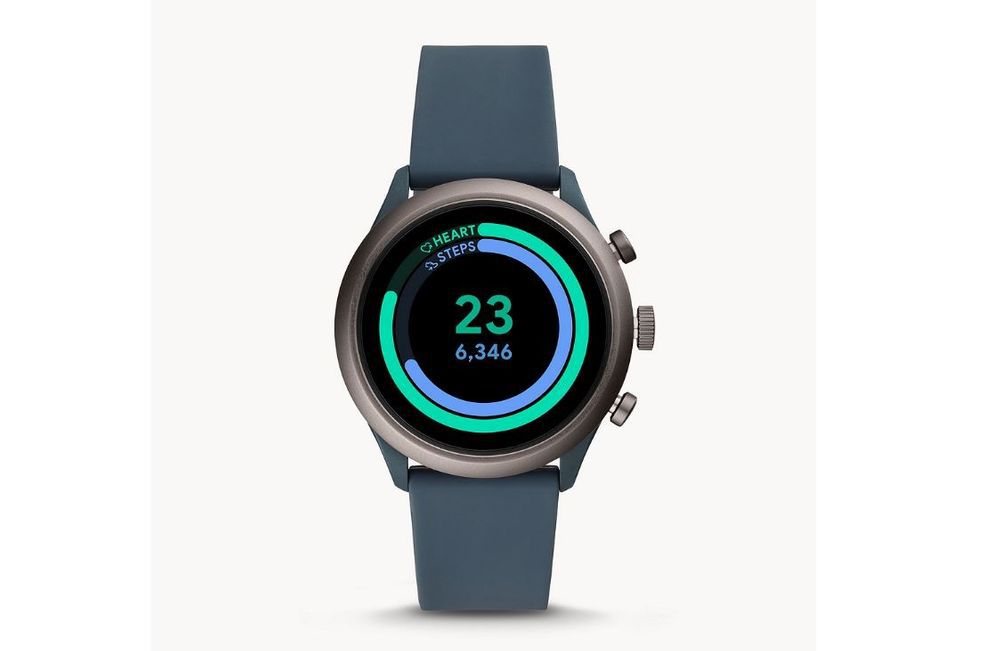 Fossil Sport Smartwatch is one of the Apple Watch alternatives 2020 that doesn't break the bank. The features of this watch include an alarm clock, app alerts, calendar alerts, email, social media, and text. It also has heart rate tracking and interchangeable watch bands.
Price: Sport Smartwatch 43mm sells for $99 from Fossil's website.
4. Fitbit Versa 2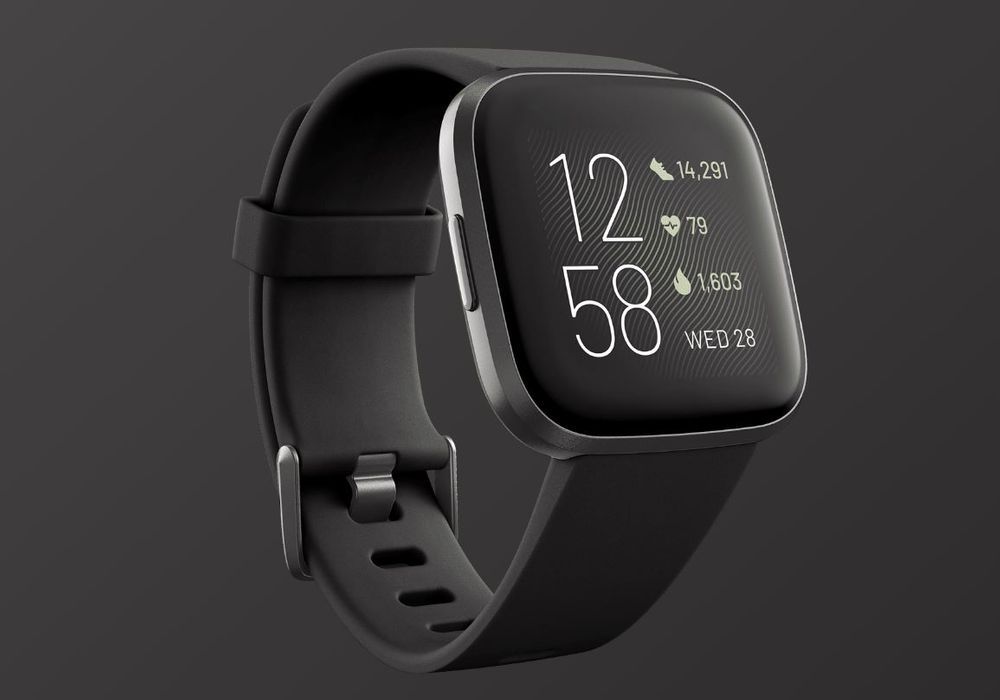 Fitbit Versa 2 looks very close to an Apple Watch. But this offering from the San Francisco-based consumer electronics and fitness company surely holds up on its own. It includes Amazon Alexa Built-in as well as new sleep tools, fitness features, apps, and so much more. It also lets you track oxygen saturation (SpO2), giving you info to help you manage your well-being.
Price: Versa 2 sells for $179.95 from Fitbit's website.
5. Amazfit Bip S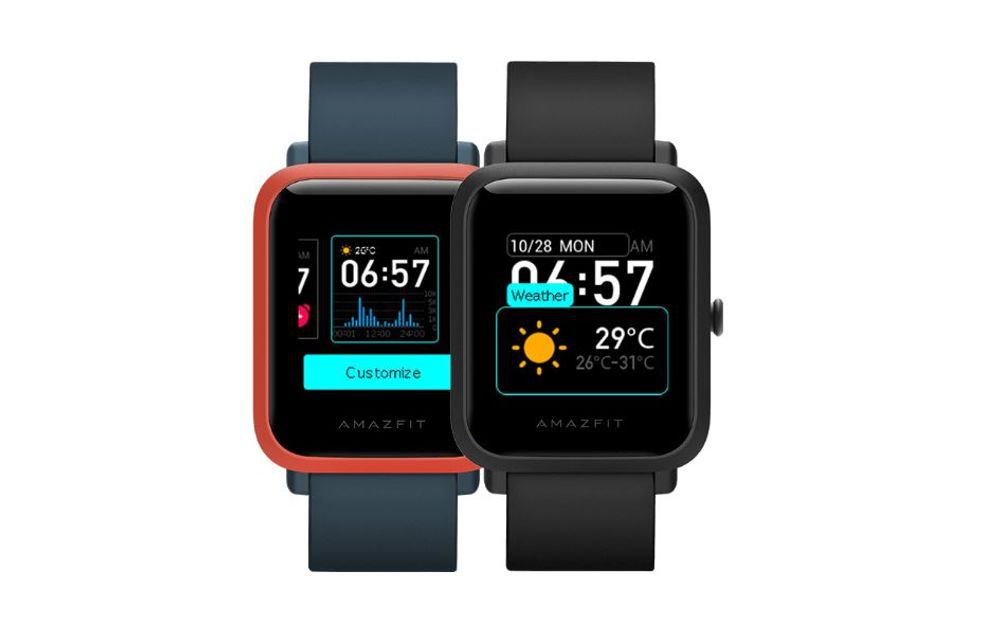 If you're looking for cheap Apple Watch alternatives, Amazfit Bip S is a great fit. This ultra-lightweight watch only weighs 31 grams with the watch band, making it a comfy accessory whether you're sleeping or working out. It comes in four colors: white rock, red-orange, warm pink, and carbon black.
Price: You can buy Amazfit Bip S at an affordable price of $69.99 on Amazfit's website.
6. TicWatch E2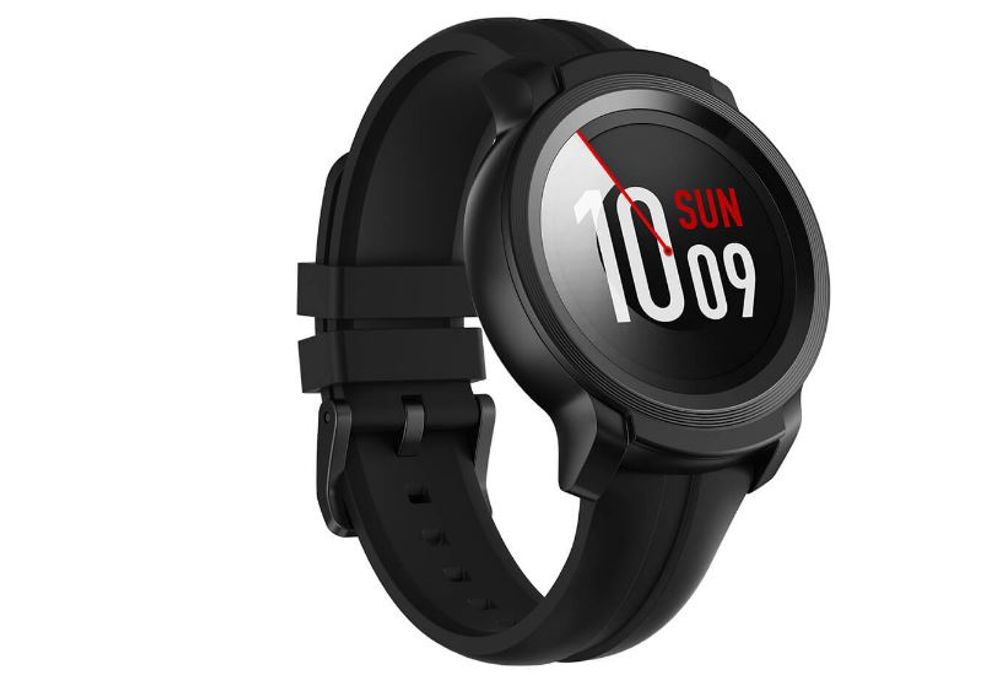 TicWatch E2 may look simple and basic, but it's never short on functions. This lightweight watch is swim-proof at 5 ATM, with Wear OS by Google™. It also comes with a heart-rate sensor with two days worth of battery life. In addition to that, its black minimalist polycarbonate watch case acts as a great background to its 1.39″ AMOLED display.
Price: You can buy TicWatch E2 for $118.39 from Mobvoi's website.
7. Gen 5 Bradshaw Gold-Tone Smartwatch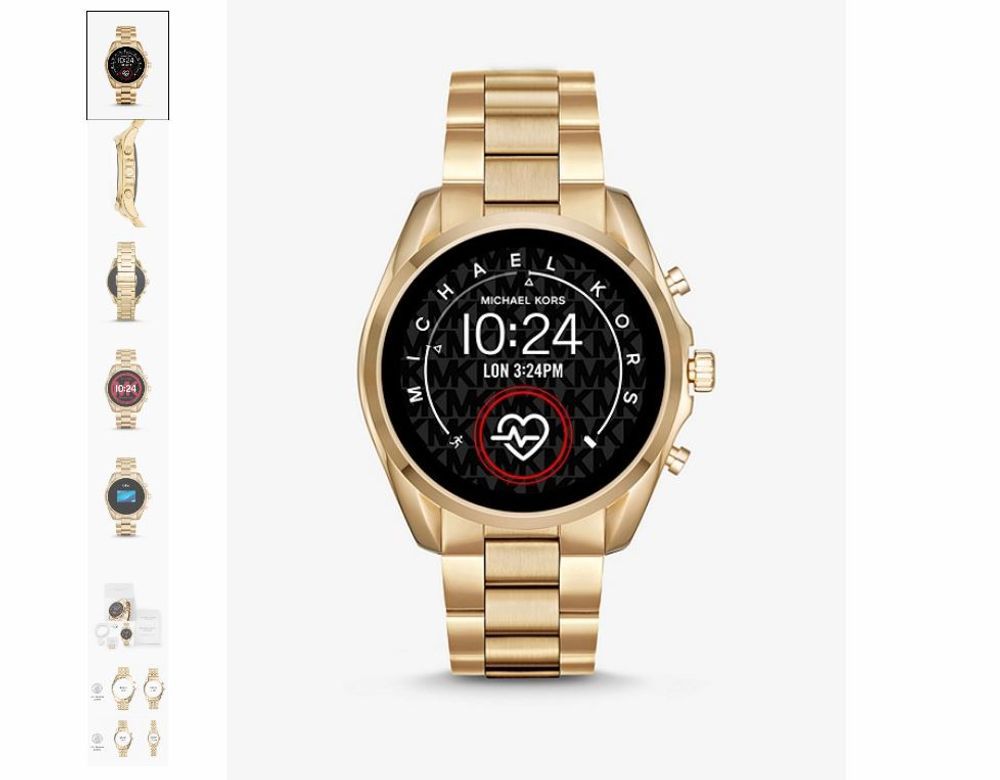 If you're looking for Apple Watch alternatives that are more fancy than rugged, check out Gen 5 Bradshaw Gold-Tone Smartwatch. This Michael Kors Access smartwatch is made from polished gold-tone stainless steel and is exquisitely classy. It's also powered by Wear OS by Google™, pairing beauty with functionality. It also attaches with interchangeable straps, sold separately.
Price: Gen 5 Bradshaw Gold-Tone Smartwatch costs $249 from Michael Kors' website.
8. Smartwatch HR – Falster 3 X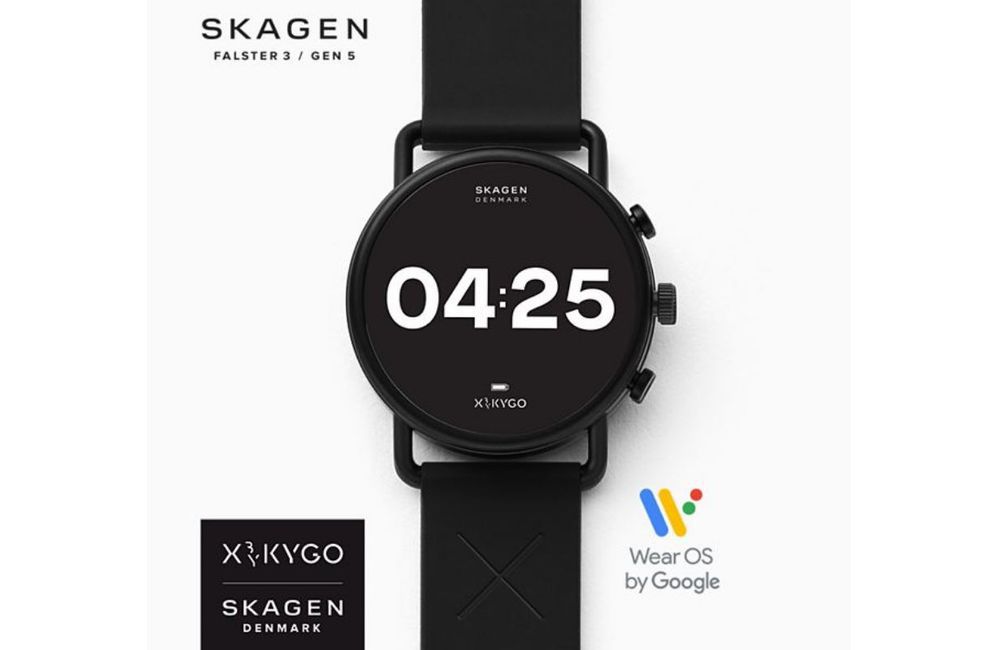 Skagen Denmark's Smartwatch HR – Falster 3 X looks simple and sleek, but it doesn't fall short of features you'd want in a smartwatch. This swim-proof watch can help you get more things done with Google Assistant, smartphone notifications, Google Pay, activity tracking, GPS, and a lot more. You can also customize your look with interchangeable silicone straps.
Price: You can buy Smartwatch HR – Falster 3 X for $295 at Skagen's website.
9. Steel HR Sport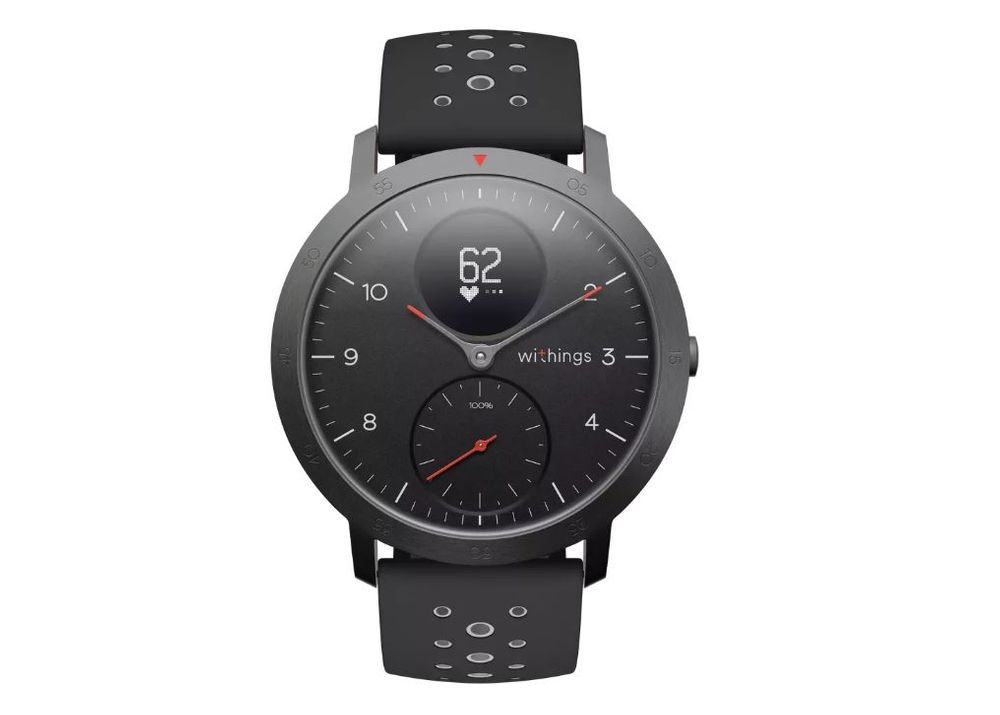 Steel HR Sport is specially designed to be your workout partner. And its cool features like heart rate monitoring, multi-sport tracking, and VO2 Max estimation surely make it a great fitness accessory. It has a water resistance rate of up to 50m and a long-life battery of up to 25 days.
Price: You can buy Steel HR Sport for €199.95 (around $235.55) at Withings' website.
10. Garmin vívoactive® 4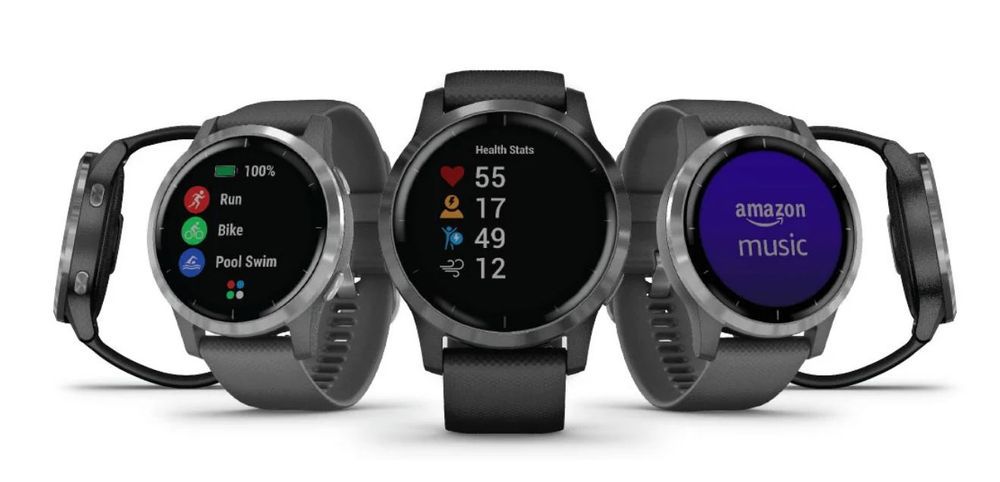 Last but certainly not least on our Apple Watch alternatives is Garmin vívoactive 4. It may not be cheaper than Apple Watch, but it certainly compensates for the hefty price tag. For instance, it allows users to go phone-free, with their workout playlists right on your wrists. In addition to that, it also got more than 20 preloaded sports apps. That's surely a great plus if you're looking to improve your health.
Price: Vívoactive 4 sells for $349.99 from Garmin's website.
Writesonic Review: Is this the Best Content Writing Tool in 2023?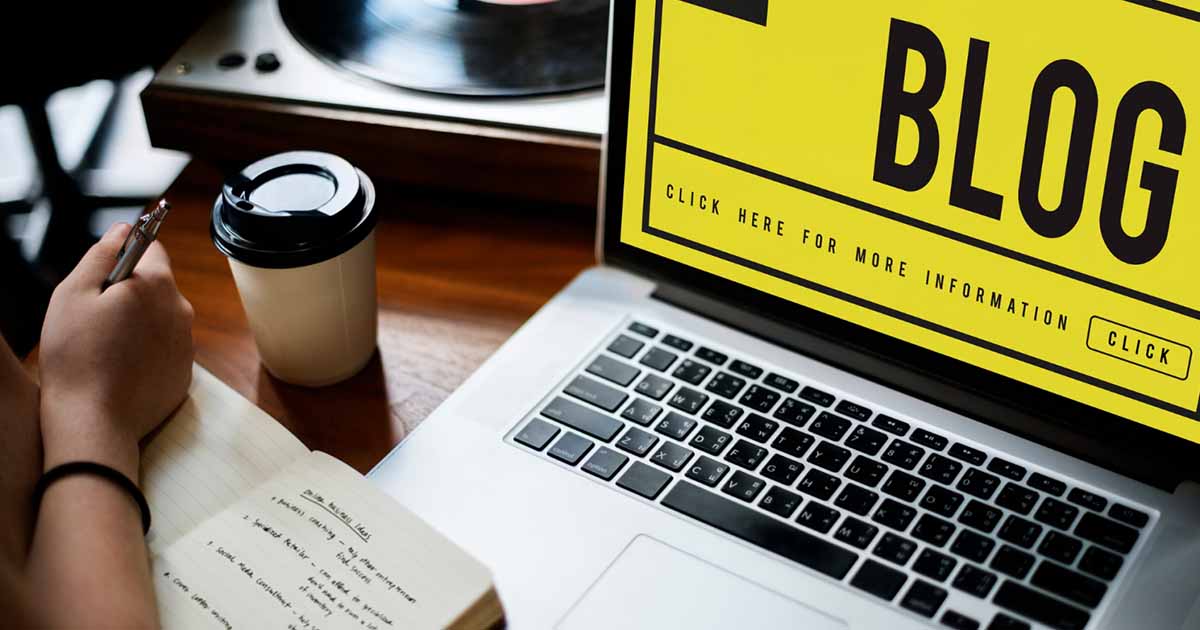 AI-assisted content writing is becoming popular. However, many wonder how to use it and if it sounds authentic. Writesonic is one of the many AI writing assistants transforming content creation. This article will help you understand Writesonic better, along with its features. Continue reading to learn more. 
Overview of Writesonic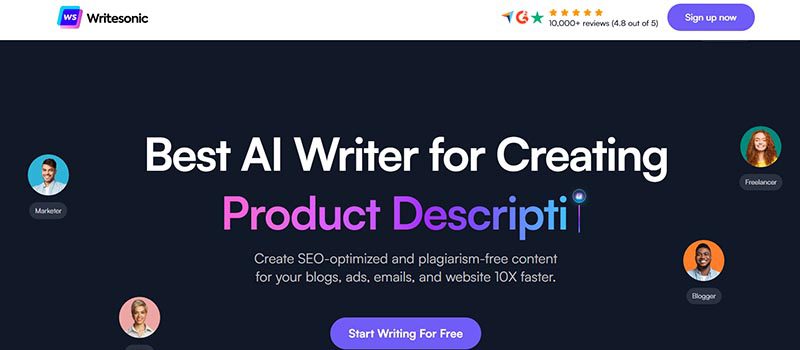 Writesonic is an AI-powered writing software that can help anyone generate an article or social media post. Writesonic uses GPT-3.5,  GPT-4, and the new GPT-4 32K. In addition to these powerhouse large language models (LLMs), it's like having a freelance writer on call 24 hours a day. Input some keywords, product descriptions, or phrases to work with, and it will return computer-generated results.
Why even use this writing app? It can help you with the so-called writer's block and solve problems with structured writing, such as headlines, meta descriptions, etc. It's so good that it sits near the top of our list of best AI content generators for 2023.
Key Features of Writesonic
Many people come to Writesonic because of its AI writing tool. But as Writesonic evolves, it creates other opportunities for users to apply advanced AI tools to different areas of their
tasks. Below are the three remarkable features of Writesonic.
1. AI Article and Blog Writer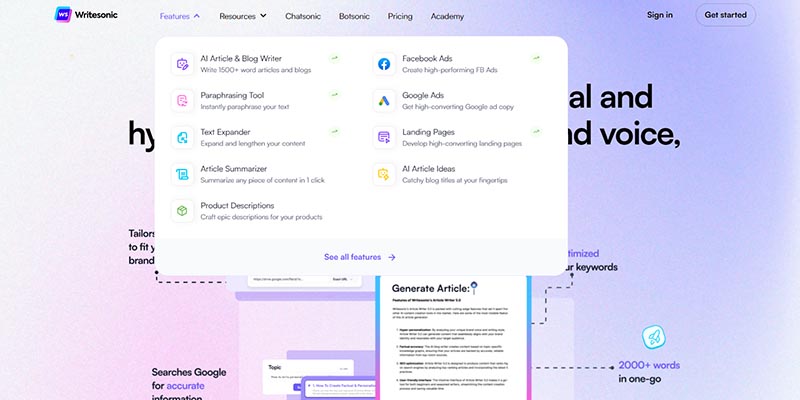 Writesonic's flagship product is its AI writer. It allows you to create long-form content using a simple four-step process.
You'll start with a topic; the AI will generate several titles/article ideas.
After choosing a title, you'll be given a few introduction options.
Next, you'll get outline options.
Once you have selected a title, introduction, and outline, the program will generate your content.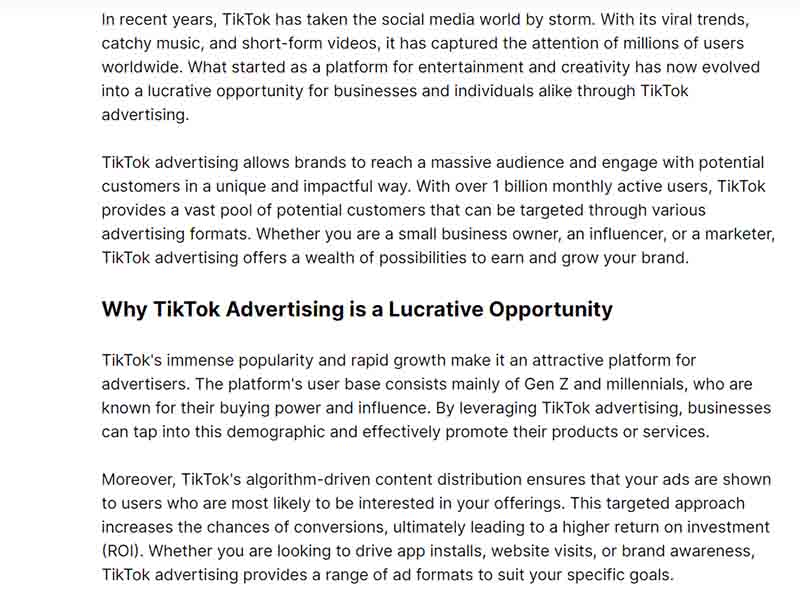 A portion of the AI article generated with the title "How to Earn from TikTok Advertising
Writesonic's AI article and blog writer is helpful for content creators, marketers, and businesses that need to produce content regularly. The tool supports content generation in 25 languages. It also allows users to set the tone of the content, ranging from exciting and professional to funny and dramatic. Writesonic can also mix different types of content creation within a single document so that you can easily create highly tailored pieces of content.
The tool can also rephrase content, expand sentences, and condense lengthy paragraphs, making it invaluable for enhancing and refining content.
2. Chatsonic AI Chat Assistant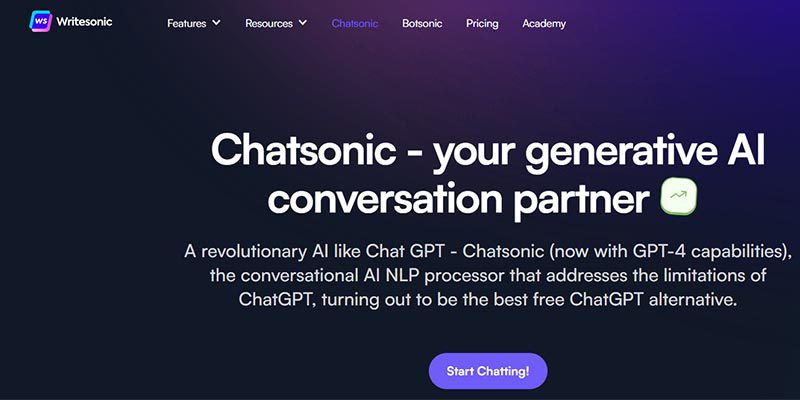 Writesonic's AI chat assistant mimics human-like conversation, providing users with a more interactive and engaging experience. It's one of the better ChatGPT alternatives out there. Chatsonic brings multiple different skills to the table within the chat interface. It natively has access to the internet and current, live data to get you the most accurate responses. It can also handle requests to generate AI art and images.
3. Botsonic AI Conversational Chatbot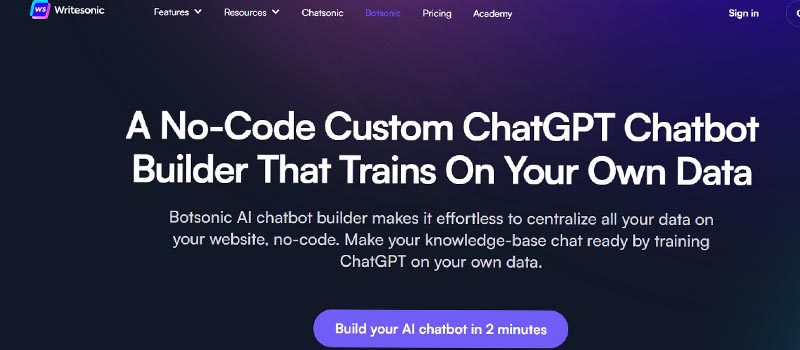 This feature increases customer interaction by providing personalized and interactive conversations. Developed to understand and respond to user inputs conversationally, it makes interactions more natural and engaging. It achieves this by building off OpenAI's API and appending prompt instructions with user chat messages.
Businesses can leverage this feature to automate customer interactions, provide personalized recommendations, and engage users in interactive conversations. For instance, a travel agency can use Botsonic to provide customized travel recommendations based on a user's preferences and previous interactions. 
Any business can "train" the AI chatbot on their data by uploading knowledgebase articles or providing specific URLs from which the bot should get information. This allows users to benefit from GPT-4 with their in-house data explicitly written for a single business.
Pricing Plans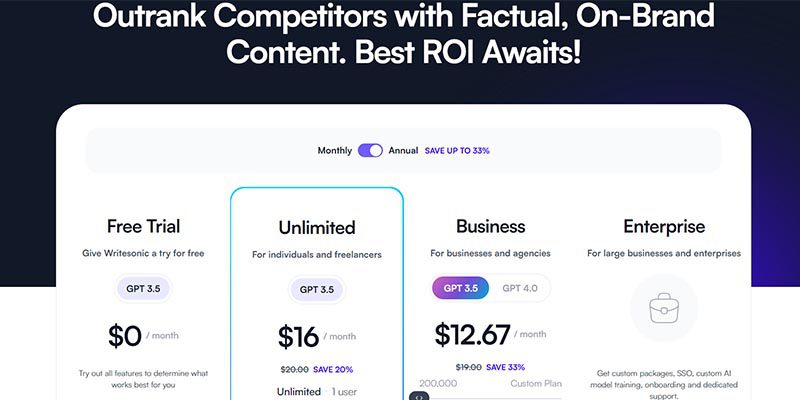 Writesonic offers various pricing plans to cater to different needs, from individual users to businesses and teams. The Pro plan is the plan most will get because it gives access to all the features.
Free Plan
The free plan allows you to try out all the features of Writesonic. It includes 10,000 words per month with a one-user limit. Some features include the following:
a ChatGPT-like chatbot
an AI chatbot builder
100+ AI templates
browser extensions,
one-click WordPress export
support for 25+ languages.
It's important to note that this is a "free plan" and not a "free trial." Use it every month if you like; it does not expire.
Business Plan
Businesses and agencies needing a set amount of generated words per month will typically opt for this plan.
It costs $19 per month and includes 200,000 words. It offers all the features from the free plan, plus:
access to GPT-4 and GPT-4 32K
a factual and personalized article writer
an unlimited no-code AI chatbot builder
an article paraphrase/rewriter
Writesonic API
Surfer integration
access to priority support.
Unlimited
The unlimited plan is best for individuals and freelancers.
It costs $20 per month for an unlimited number of words. This plan is subject to Writesonic's Fair Use Policy. Some of the inclusions of the unlimited plan are:
Chatsonic: ChatGPT-like chatbot
100+ AI Templates
AI Article Writer
Browser Extensions
1-Click WordPress Export
Zapier Integration
Landing Page Generator
Sonic Editor (Google Docs like Editor)
Complete Article Rewriter
Brand Voice
Factual and Personalized Article Writer (AI Article Writer 5.0; Uses GPT-4 32K)
API Access
Enterprise Plan
This plan is best for content teams and whole businesses. It offers custom packages, AI model development, onboarding, and better customer support.
Choosing this requires contacting sales for custom pricing.
Pros and Cons
Pros:
Suitable for all different types of content
Generates plagiarism-free content
User-friendly dashboard
Write engaging social media content
Create perfectly optimized ad copy
Works on all essential platforms
Includes an AI art generator
Cons:
Sometimes, the quality of content is not good enough
Makes content mistakes that need to be fixed
Conclusion
Writesonic is a powerful tool to use for producing your written content. While many platforms offer content generation options, Writesonic can assist with almost anything you need to write. It has features tailored for specific types of content instead of just one tool to write all content.
However, Writesonic does not claim that its AI can create perfect content independently. Instead, it aims to be a tool where humans can leverage AI to speed up content generation while still producing quality outputs.
Planner 5D Review: Is it a Reliable Tool for Interior Designers?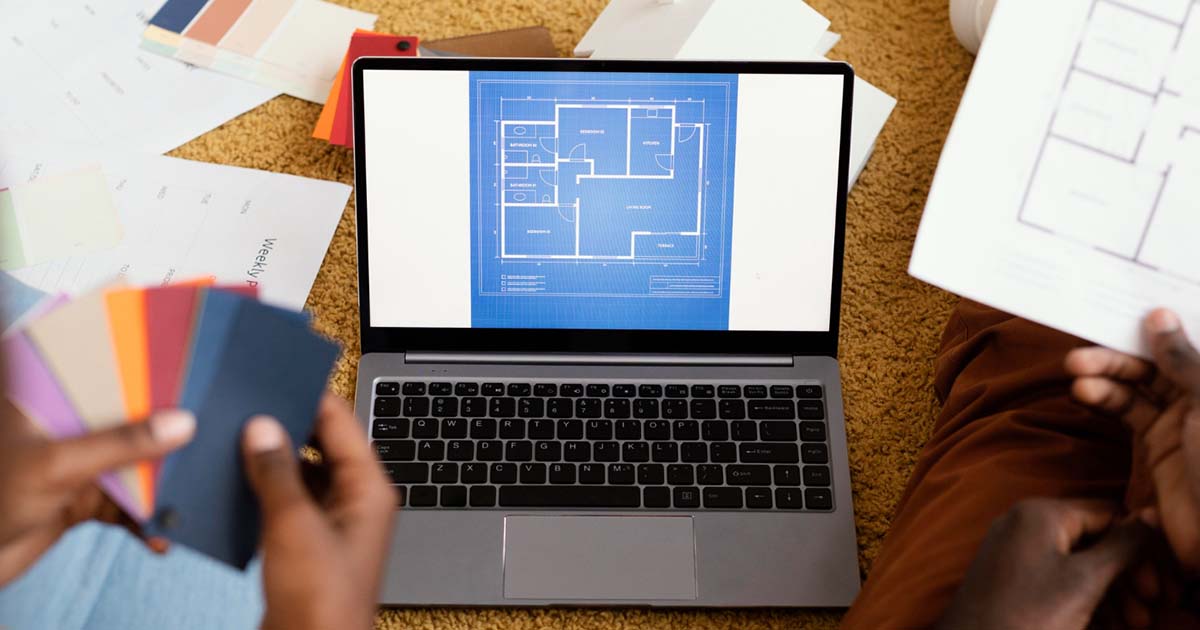 Homeowners and interior designers save time and money using an interior design app. But, with so many online and mobile applications today, choosing the right interior design app may take time and effort. That's why we'll discuss Planner 5D, an app that harnesses creativity while planning and creating your own home. Let's find out. 
What is Planner 5D?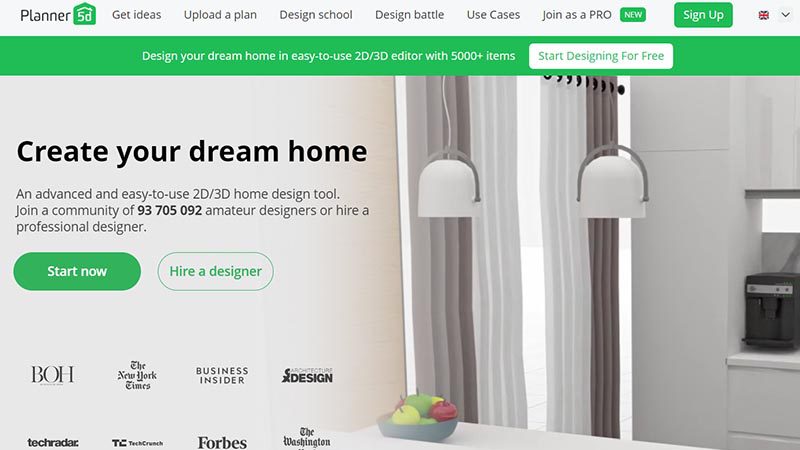 Planner 5D is an architecture tool that helps interior designers and home decorators create 2D or 3D floor plans. It allows amateurs to adjust the furniture sizes, walls, and colors to match the look of the building. Meanwhile, professionals can use it to create, save, and share designs with homeowners. 
Planner 5D founders developed the app to help non-professionals visualize their future homes. With years of experience in design software development, they wanted to offer a simple tool to assist those who don't have the means to hire an interior design agency.
Planner 5D works on various platforms, including web, iOS, Android, macOS, and Windows.
In just a few years, this Lithuania-based company has grown into a robust service with more than 64 million users and over 300 million interior design projects created.
Features of Planner 5D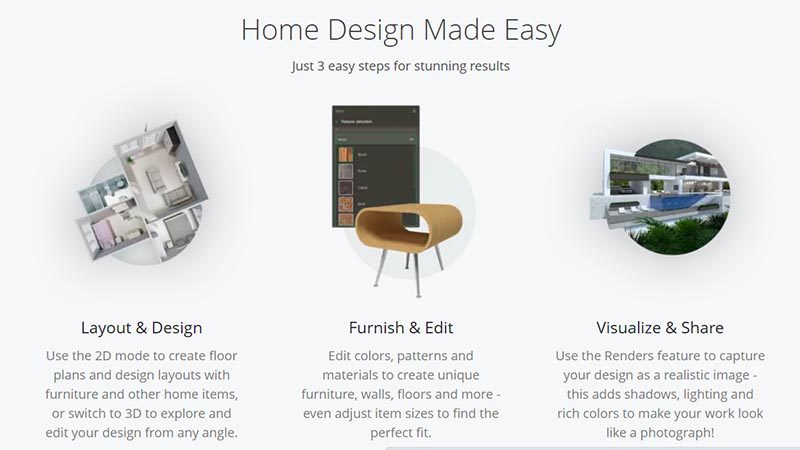 Building a beautiful home with Planner 5D only requires three easy steps.
1. Layout and Design
2. Furnish and Edit
3. Visualize and Share
1. Layout and Design
Use the 2D mode to create the house's layout. The app provides a painter format and an automatic navigator to design floor plans by drawing lines on a grid line background.
Once you're done creating the floor plan and customizing measurements, you can add elements like walls, windows, and doorways to create a replica of the space you want to design. It's good that the windows and door "snapped" directly to the walls and they automatically aligned at the right angle to the other walls.
The details of these elements, such as their size and elevation from the floor, are also easy to adjust. This can be done by double-clicking on them and punching in the measurements in the toolbox found on the screen's bottom.
Continue adding the construction features until you have completed the layout of your physical space and are satisfied with how it looks.
You can also use customizable preset templates if you prefer going through the easy route. These templates work nicely to familiarize yourself with different layouts, but we didn't find them particularly useful. The free version only has a limited number of these template options.
Using Planner 5D on mobile devices also presents a Capture Your Room feature to simplify the process. Once you give the camera access to the app, you can move your phone around to record the visual representation of the room, giving the app the data it needs to sketch it in 2D.
2. Edit and Customize
Once you're done creating the layout, click the Customize Interiors option to fill in the space according to your architectural taste.
Add tables, chairs, unique floor textures, wall patterns, and more. You'd be glad to know that the catalog isn't only restricted to indoor items but includes plenty of outdoor furniture like pools, fences, plants, and trees.
With such an extensive collection of items organized in easy-to-find categories, the software dramatically simplifies the process, making it intuitive and beginner-friendly.
You must drag the pieces out of the library and place them in your desired spot. Move them around or double-click on them to change their color, style, and other details.
3. Visualize and Share
Complete your architectural drawing using the Render feature. The system will simulate your 2D sketch and the included elements in the most photorealistic way. It adds rich colors, lighting, and shadows to make your work look like a photograph.
Compared to other software, Planner 5D gives you 3D models with a single tap instead of tinkering with existing 3D pieces.
You can also quickly switch from 2D to 3D mode to view and compare how different combinations look. If you find a potential error or need any changes, swap back to the 2D designer format and tweak until satisfied. Since there's no restriction regarding the number of revisions, you can spend as much time as you want to fine-tune for the perfect 3D modeling.
Pricing 
You can use Planner 5D for free, but only some catalog items are available. This may restrict your design possibilities, which is why you may want to try your hands on the Premium Membership.
The premium subscription packages include the following:
Individual: $19.99/month or $59.99/year, giving you access to the complete catalog, five textures, five renders, academy courses, and plan recognition.
Commercial: $399.99/year, giving you access to all custom textures, 360° panorama, lifelike 4K renders, and custom branded profile.
However, if you're not ready to subscribe to a complete package, you can purchase renders individually at $7.99 for 20 and up to $39.99 for 200 HD pics).
Pros and Cons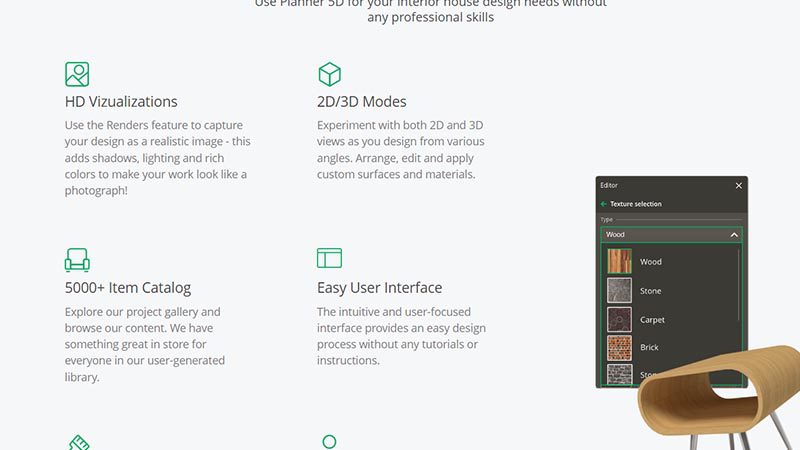 Pros
Straightforward performance
A rich collection of items
Works across multiple platforms
All-purpose solution
Supports multiple languages
Cons
The free version has many restrictions
The web version loads the system and makes your computer sluggish
There are too many pop-ups in the mobile version
Sometimes, glitches when functioning
Final Verdict
Planner 5D is a meticulously crafted service that boasts seamless functionality across various platforms. Its user-friendly interface ensures a smooth experience, enabling swift project creation regardless of your chosen device. The process of selecting and modifying objects feels instinctive, while the presence of measurements in the 2D mode ensures effortless precision throughout your design journey. While the comprehensive features require a subscription, the free version provides ample opportunity to thoroughly explore the service before getting a premium plan.
Regardless of your expertise, the Planner 5D app is undeniably worth considering.
15 Simple Floor Plan Makers Free to Use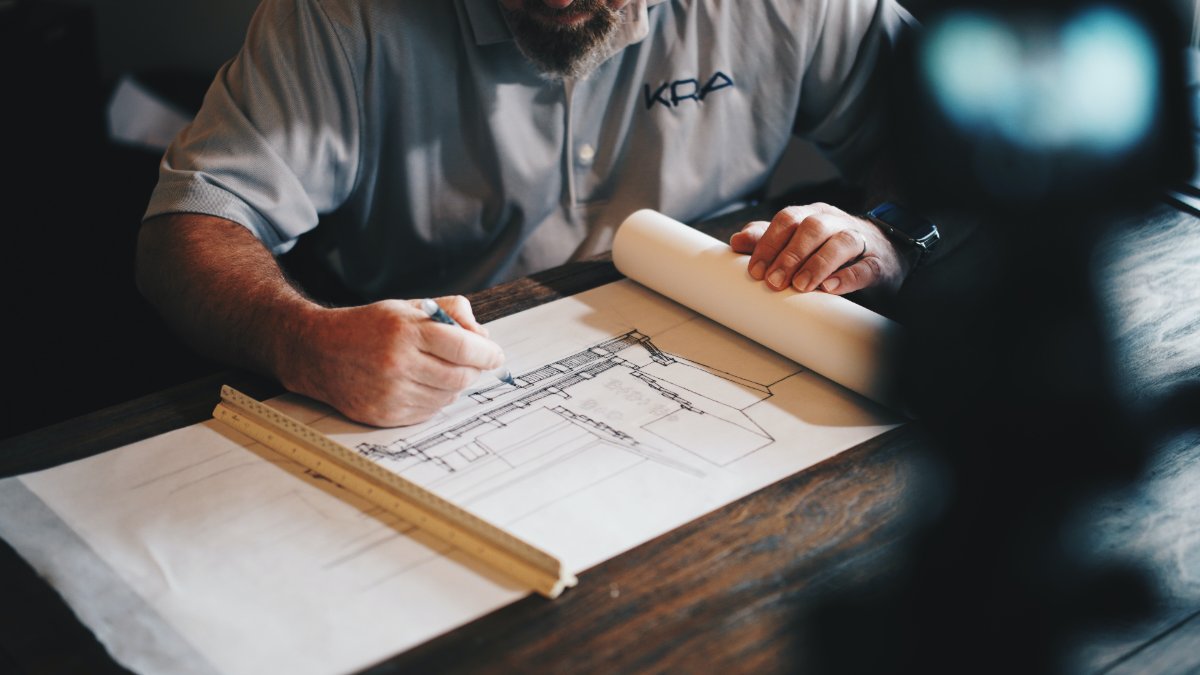 Are you finally at that point where you can finally build your dream home? If you are, try designing it first with a simple floor plan maker for free. Here's a list of the best ones!
Cedreo is a great online floor plan maker for professional and personal use. It's best to go through the tutorial first to get a glimpse of how the floor plan maker works. Their free plan maker doesn't only let you add furnishing to your floor plan but also lets you choose materials for walls and flooring.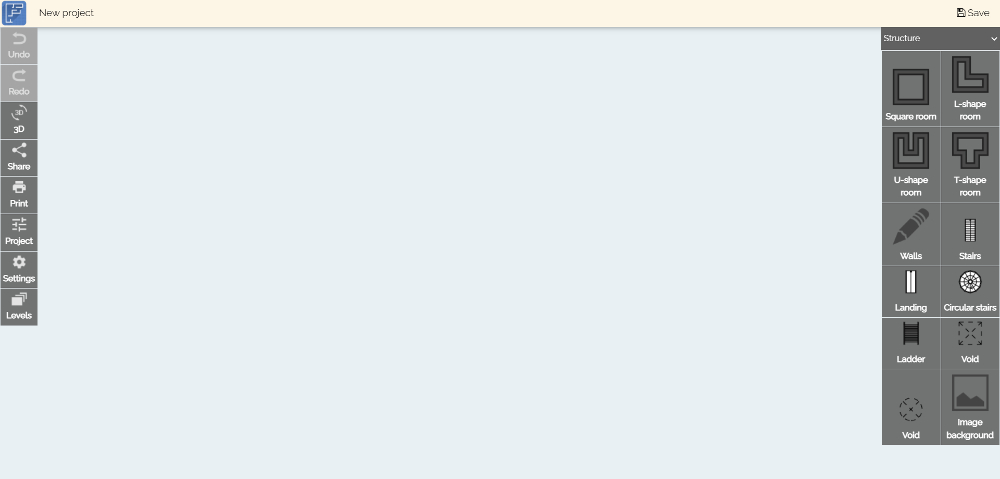 If you need a simple floor plan maker for free, the Floor Plan Creator should be at the top of your list. It has features like creating different-shaped rooms, wall drawings, and stairs. Plus, there's an app you can download too.
2. Floor Plan Creator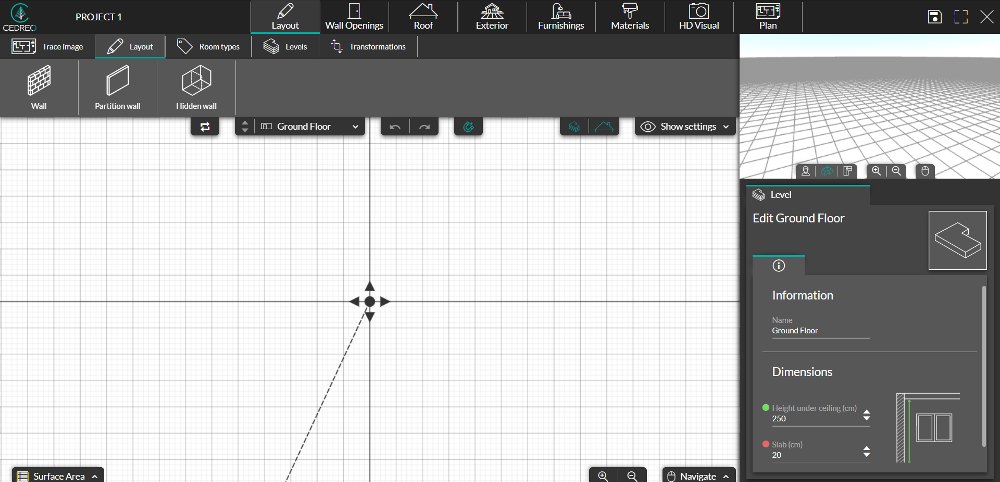 3. Planner 5D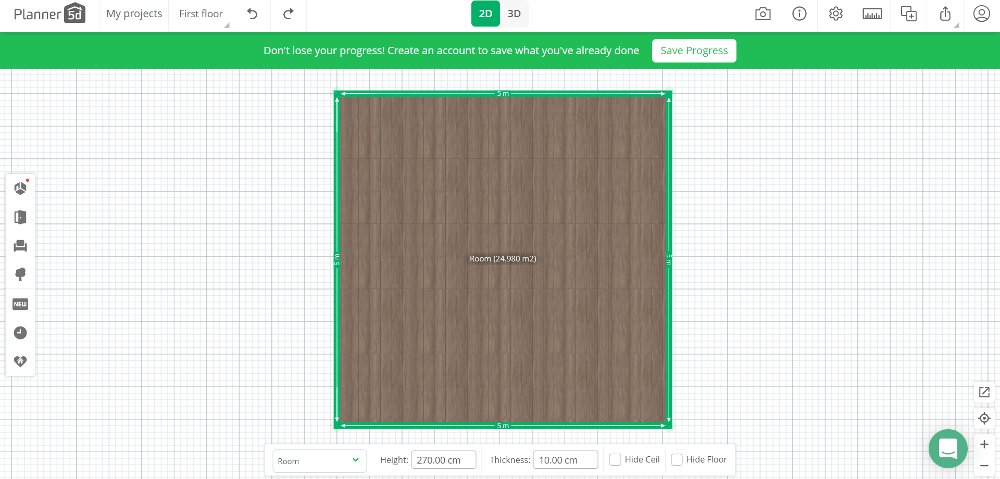 You don't need an architectural background to use the free Planner 5D floor plan creator. It's jam-packed with features that will help you visualize your future home. From furniture to outdoor items, Planner5D has it for you. When using this floor plan maker, make sure that you sign up so it won't prompt you every time you click on various floor plan elements.
4. Visual Paradigm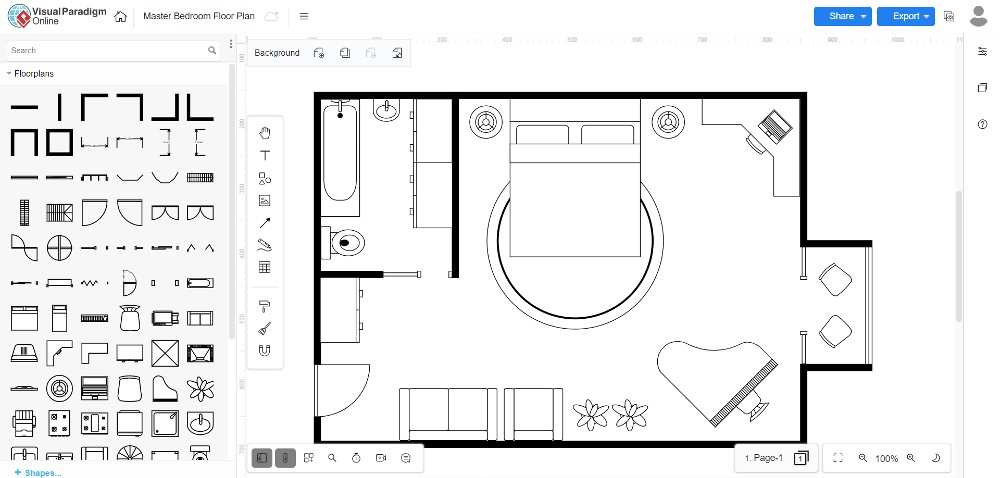 Unlike other floor plan makers in this list, Visual Paradigm gives you ready-to-use templates for residential and commercial properties. Here, you can change up the placements of elements like walls and furniture. Plus, you can export the image without registering on the site when you're good with a draft of your floor plan.
5. Home by Me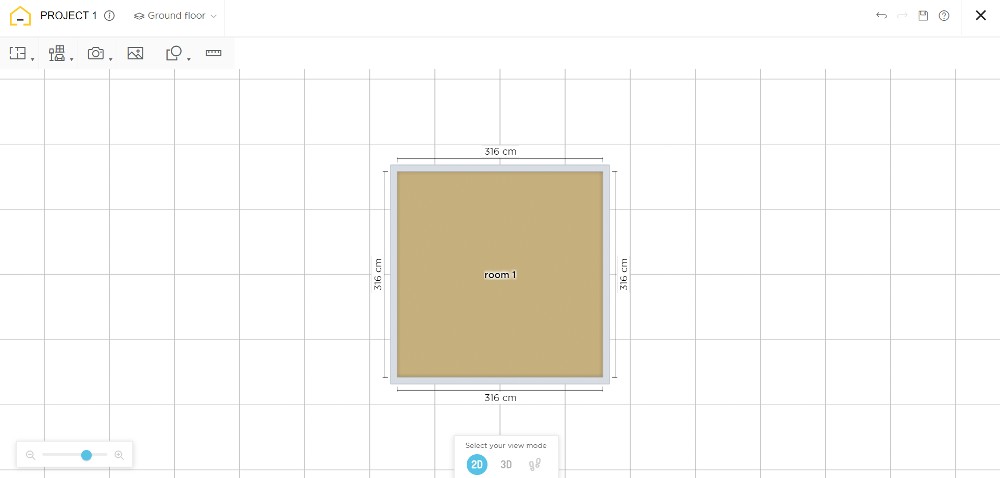 Home by Me is another simple floor plan maker for free that's beginner-friendly. It's easy to visualize your dream home thanks to their furnishing and decoration features. Plus, you can choose among branded household items and furniture as part of your imagined floor plan.
6. Sweet Home 3D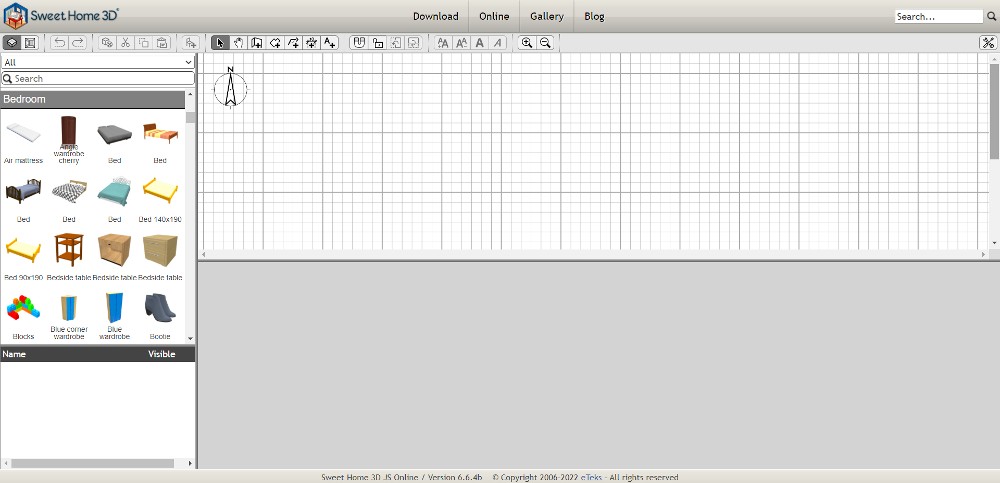 Although their site is not updated, Sweet Home 3D is one other floor plan maker to use. To start, you can choose among different homes and bedroom types. Or you could use an empty plan. Similar to other floor plan makers in this list, you can move things around and visualize your dream home with walls, doors, and furniture. Sweet Home 3D is also available for download as software.
7. Kozikaza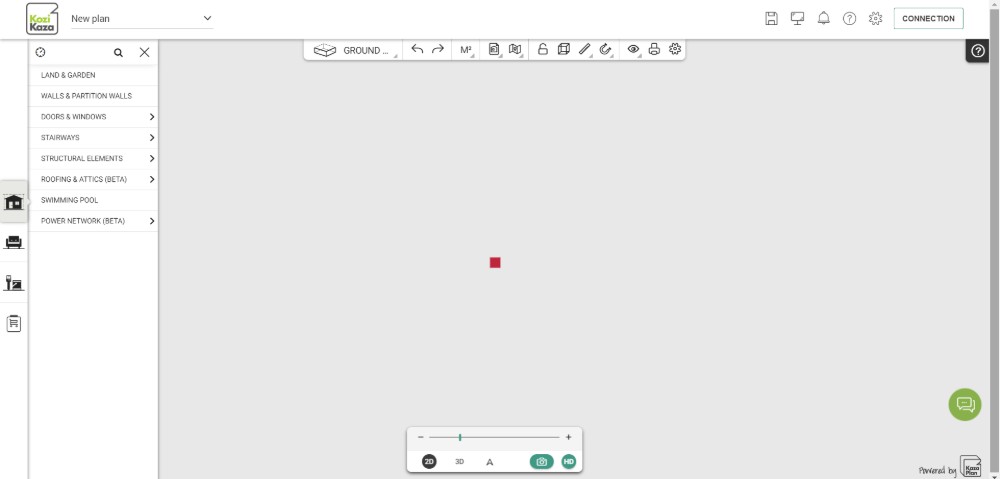 When you use Kozikaza, you can create a new plan or one from a current one, or form a new shape. Like some floor plans in this list, you don't need to sign up for an account. In this online software, you can decorate the interior and exterior. One feature not seen in most floor plan makers is the electrical setting to add plugs and electric applications.
8. ArchiPlain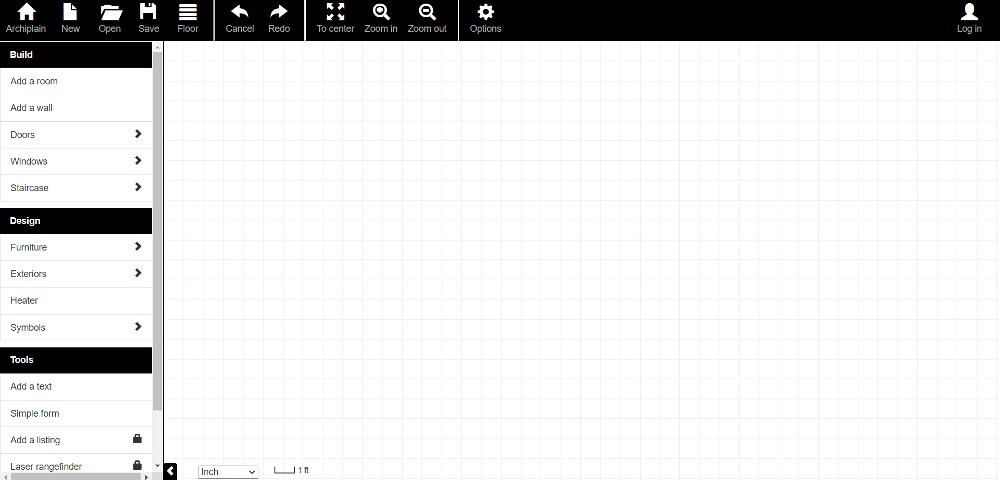 Here's another no-fuss and simple floor plan maker free to use. Although ArchiPlain doesn't have 3D renderings, it's still worth a try. Beginners, real estate agents, and interior designers can use this floor plan maker.
9. Homestyler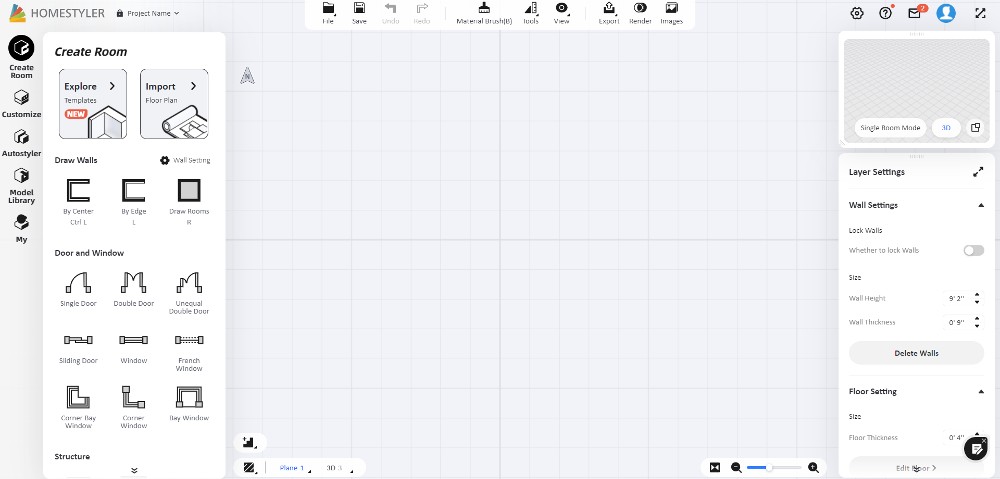 Homestyler is one of the free best floor plan makers online, from templated house and room designs to empty plans. This is a perfect tool for professionals, but those who want to build their dream home can also enjoy envisioning their new home.
10. PlanningWiz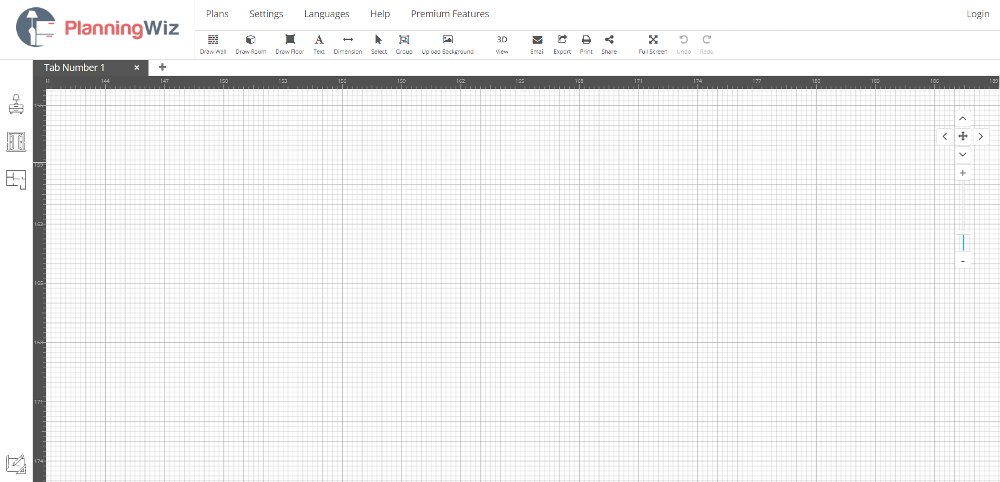 When you open PlanningWiz, you have three options, provide room measurements, open a saved design, OR start with sample designs. You can start with sample designs, especially if you have no experience using floor plan makers. In addition, you can also draw flooring, rooms, walls and add furniture as needed.
11. Roomle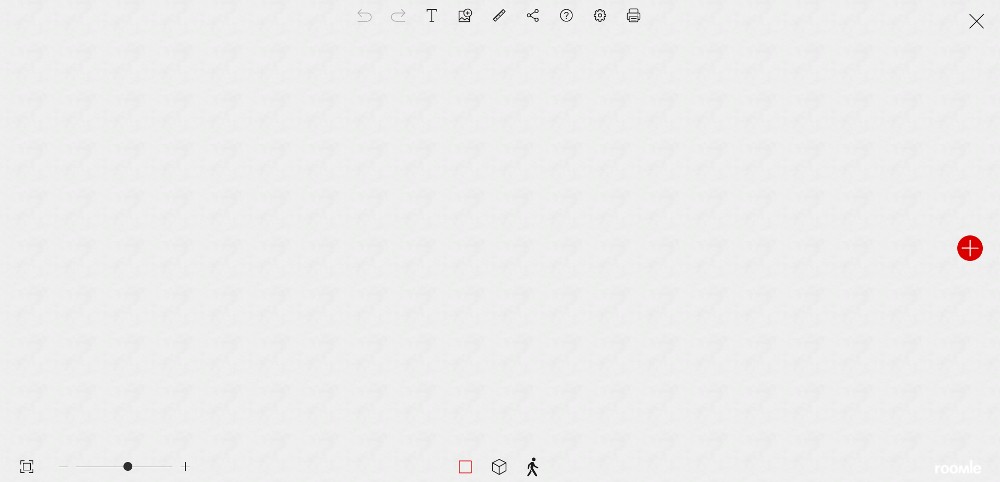 Unlike most floor plan makers in this list, Roomle immediately has 3D renders of furniture and appliances for your dream home. It doesn't have the grids you usually see in floor plan makers. You have to draw lines for rooms and add the furniture as needed. To start here, you need to sign up to play around with the floor plan maker.
12. Smartdraw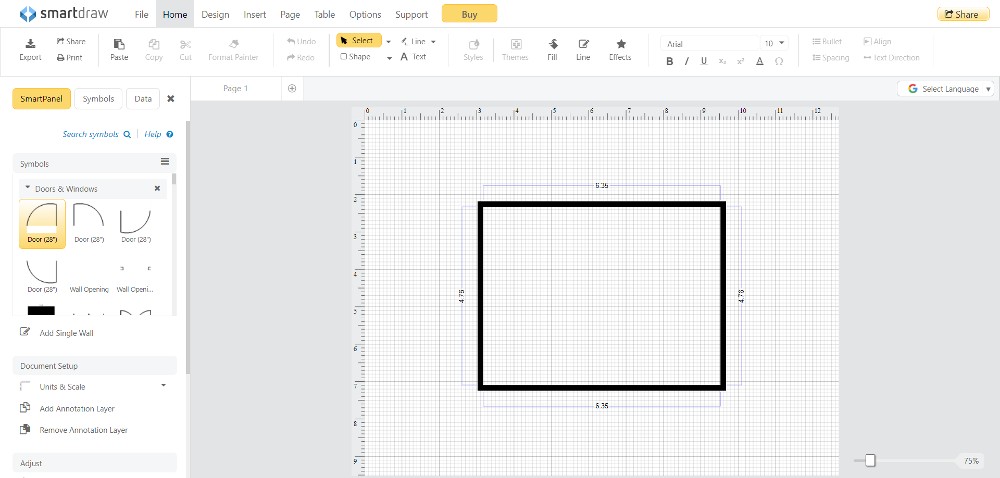 SmartDraw can seem intimidating to non-professionals, but it will help create a simple floor plan. You can start with an empty plan or use preloaded room templates to make it easier and faster for you to produce a floor plan. It may not have the sophisticated 3D rendering, but it's a great starting point for those who want to envision their dream home.
14. MagicPlan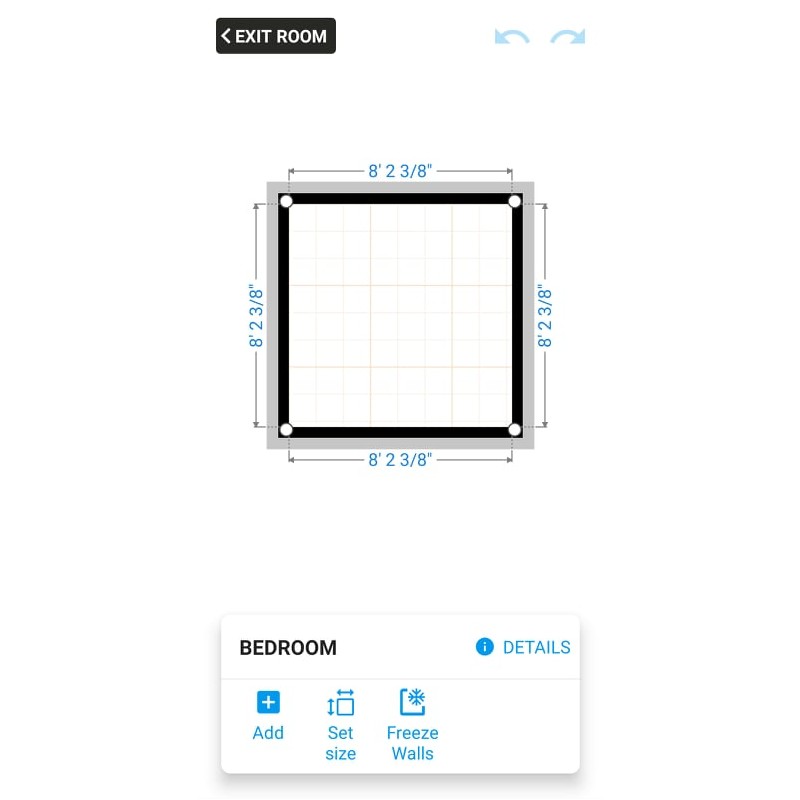 MagicPlan is an app available both on the Play and App Store. It's ideal for those on the go and want to design their dream home anywhere. The basic features are there, but you need to upgrade to unlock other objects to get more out of the app.
15. Room Planner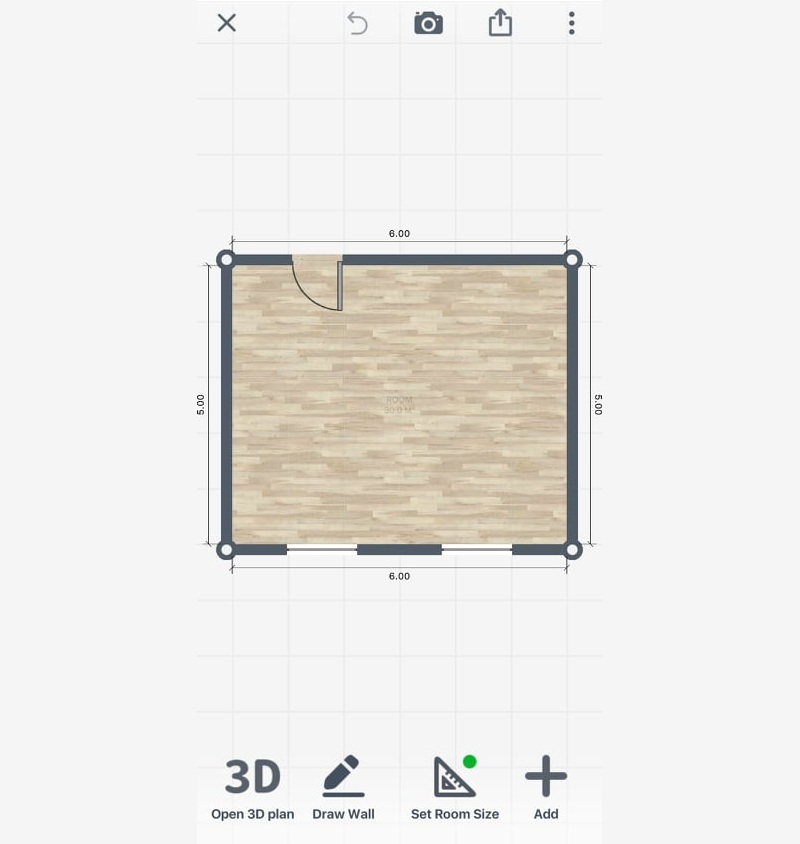 Here's another floor plan maker available as an app. As compared to Magic Plan, Room Planner has a more simple approach to adding objects and walls. Plus, there's a wide selection of objects to choose from to help you create your dream home.
16. Floorplanner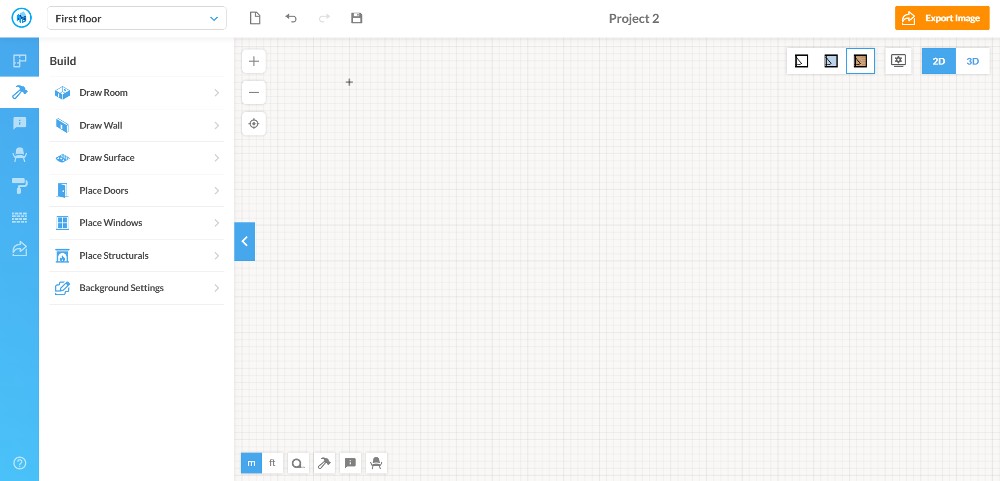 Here's another simple floor plan maker for free to use. When using Floorplanner, you have to sign up first to access their service. From there, you can choose among a room wizard, an image upload, or an empty plan. If you're a beginner, the Room Wizard is the best choice in designing your floor plan.
For other content and articles, read more here at Owner's Mag!